Are you a beginner trying to figure out how to buy a watch? Here's what you need to know!
Buying a watch can be intimidating if you're not sure where to start.
It's so easy to get caught up reading articles about this movement or that complication. Pop into forums, and it might seem as if everyone knows more than you, or at least knows the right questions to ask.
Moreover, headlines of sky-high record-breaking watches might make you wonder if your budget could even afford you a decent timepiece.
No worries! Every new watch buyer has different priorities, so I'm here to cover everything you need to know.
Different Types of Watches
The first thing to ask yourself is, what kind of watch should you buy?
There are several things to consider here: Durability, style when you plan on wearing it, and how often you plan on wearing it.
If you're buying a watch specifically because you're attending a wedding and need one to pair with your suit, then you want a dress watch.
Or perhaps this wedding is the reason you're buying a watch, but you want one you can wear every day. You'll want a model that's simple and elegant enough to wear with a suit but not one that's overly dressy.
Maybe you know you want something sporty but aren't sure what style is "you." By learning about each type, you can tailor your watch to your interests and personality.
For instance, if you love the ocean maybe a dive watch is for you.
Here are some common watch styles:
Field Watches and Military Watches
Field watches are straightforward, no-nonsense timepieces built simply to be durable, accurate, and easy to read. They make great everyday watches for men because of this.
And since it was the military that helped popularize wristwatches for men, there's a menswear essentiality about field watches similar to trench coats.
Pilot Watches
Historically, the main thing that differentiates a pilot watch from a field watch is that it's often slightly more accurate, has a high-contrast dial (often black background with white markings), and is antimagnetic.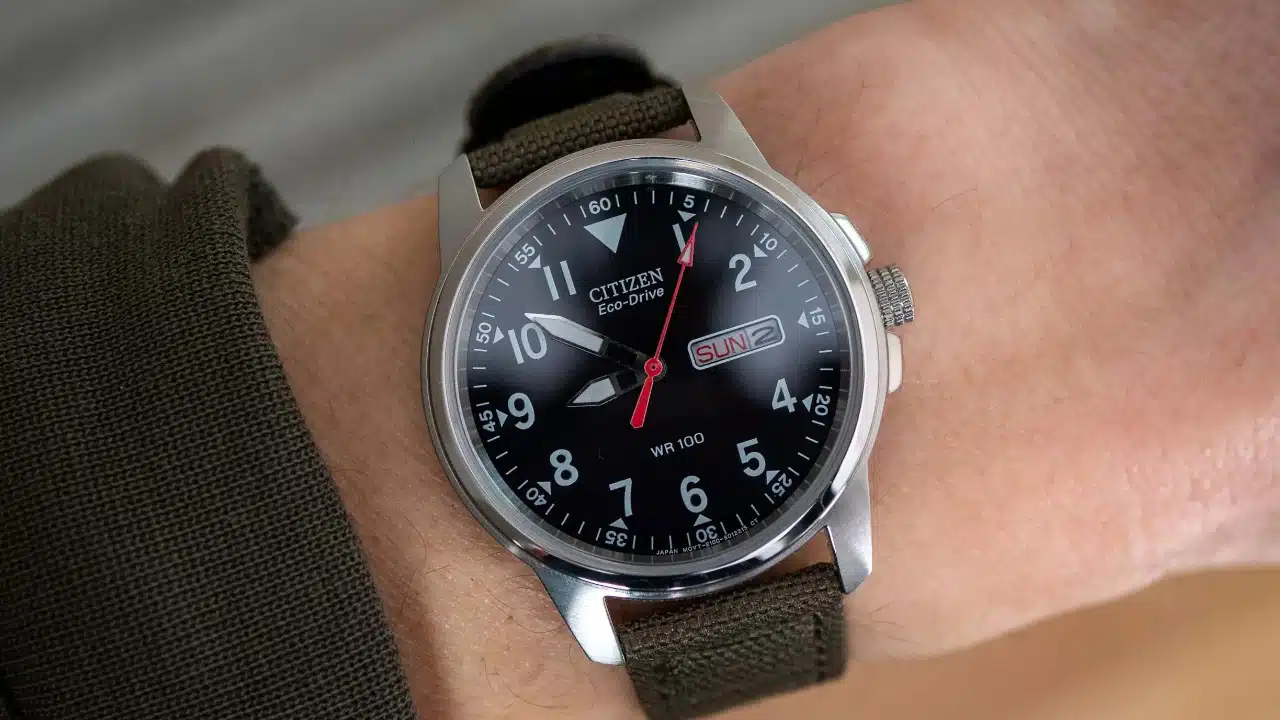 Pilot watches can look a lot like field watches or can have extra complications to give them a more gadget-like look. These features include things like a tachymeter or slide rule.
This leads me to my next category, chronographs.
Chronograph Watches
I wanted to give chronographs their category because they've been used for a lot more than just aviation. They're often associated with racing and even space exploration, the Omega Speedmaster being the most famous example.
The simplest chronograph is just a watch with a stopwatch feature, though these days, most have at least two subdials and a tachymeter scale, which measures speed.
Chronos are great options for car guys and science guys.
Dive Watches
It's safe to say that the dive watch is the most recognizable tool watch style and is often associated with luxury sports watches. This is because James Bond is famously associated with the Rolex Submariner as well as the Omega Seamaster.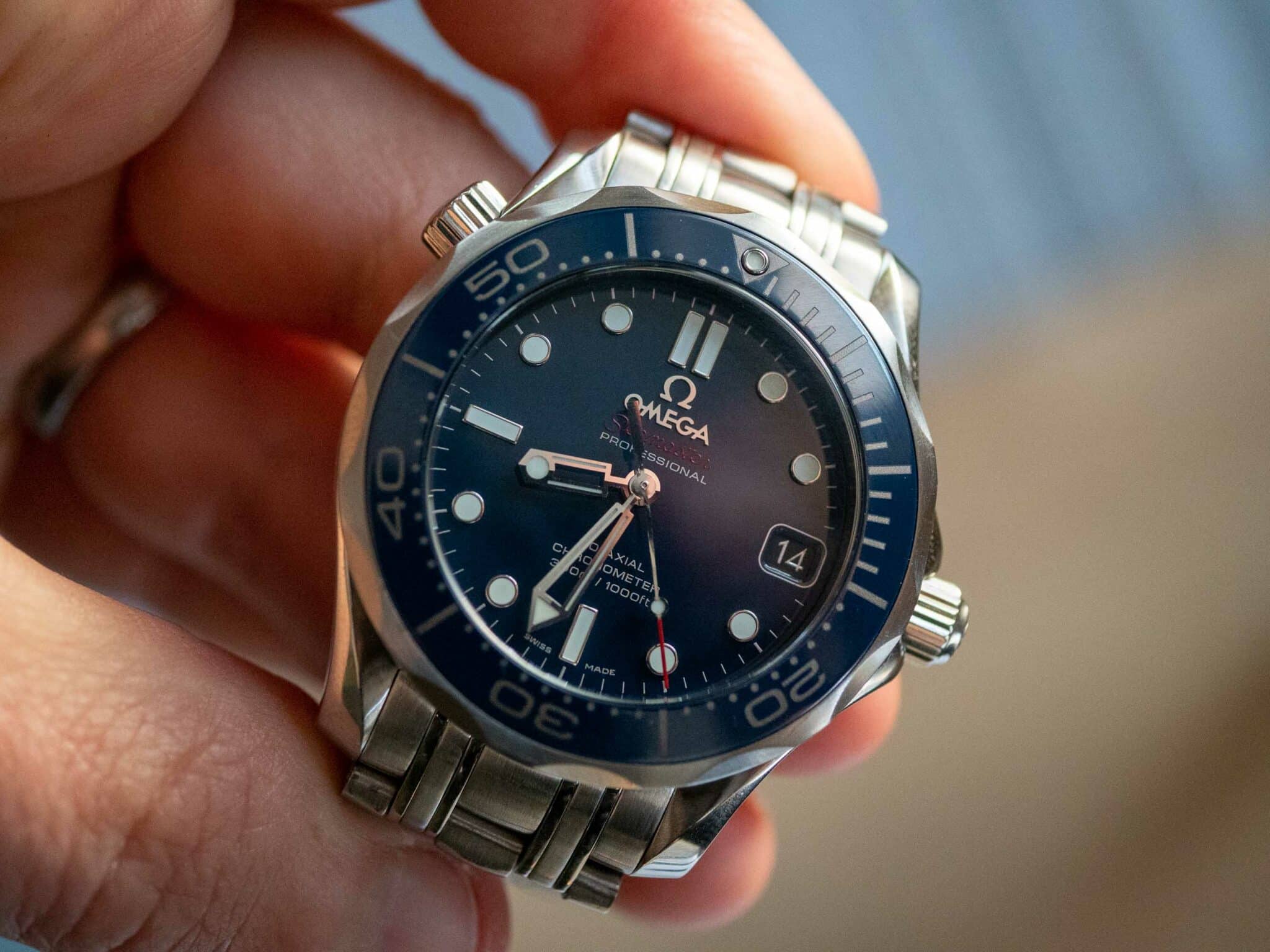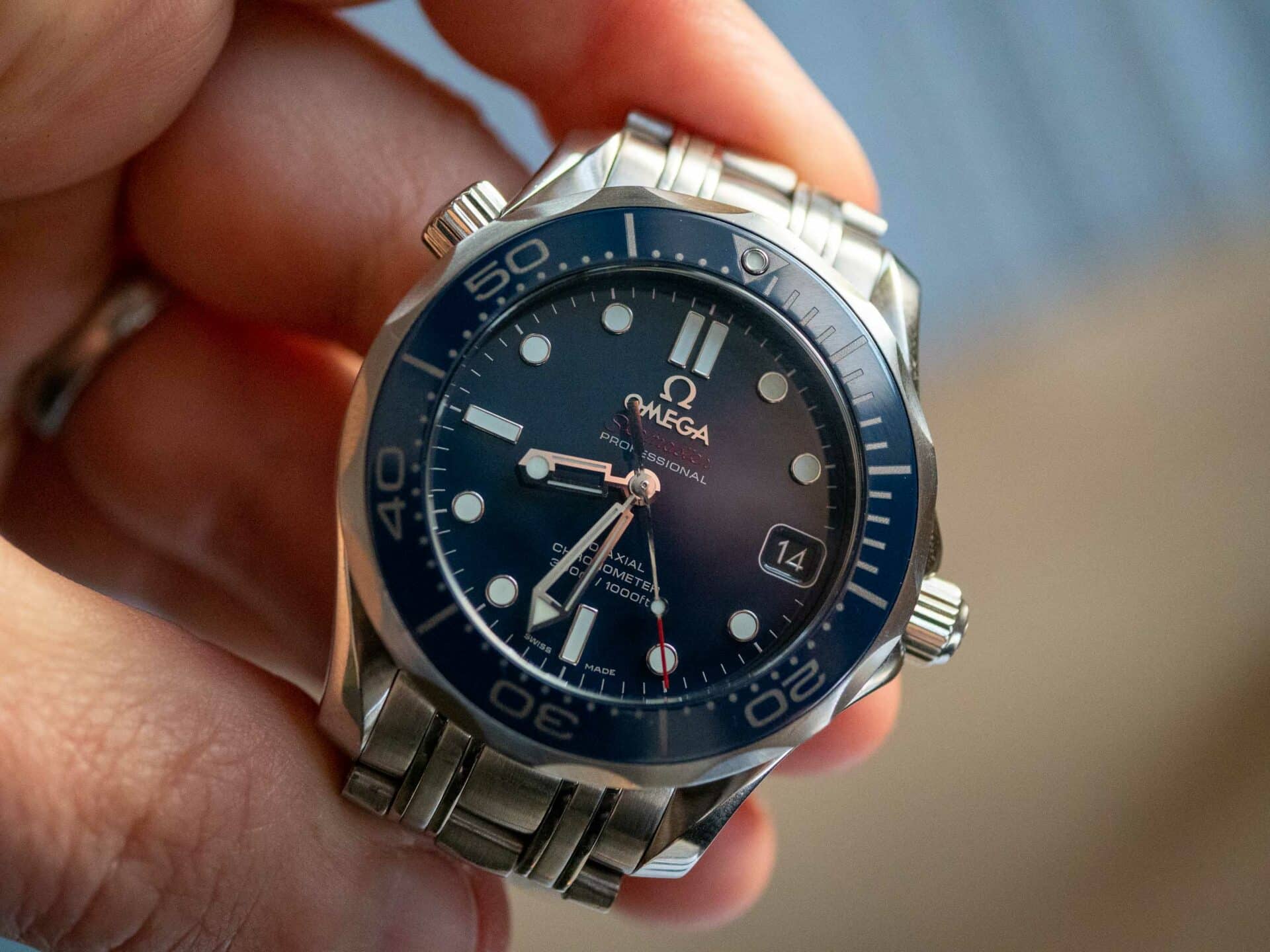 Dive watches are required to have water resistance, a unidirectional bezel, and a lume. Regardless of your relationship with the sea, dive watches are good to consider just by nature of how ubiquitous they are.
And, they're one of few types of watches that look great with a rubber strap, a NATO, a steel bracelet, or a leather one!
Digital Watches
If you love a retro-cool aesthetic, you might consider a digital watch.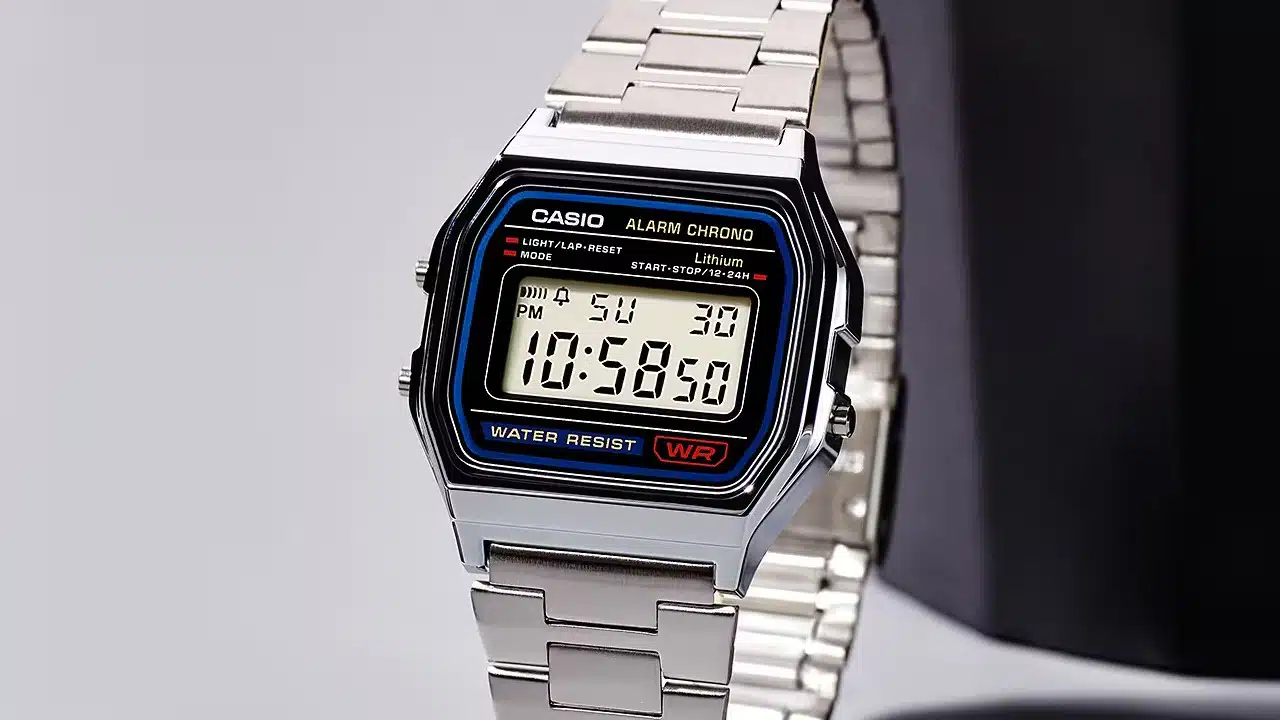 With their LCD faces and often push-button backlights, they're the original smartwatches. And despite the aforementioned retro vibe, they've gone in and out of style enough to be considered classics.
Electronics companies like Casio make some of the most iconic ones, like the Casio F91W and the A158W.
Dress Watches
Dress watches are meant to be worn on formal occasions. They're usually smaller, are traditionally attached to a leather strap, and don't have any lume. They can come in different shapes outside the traditional round silhouette, like the rectangular Cartier Tank.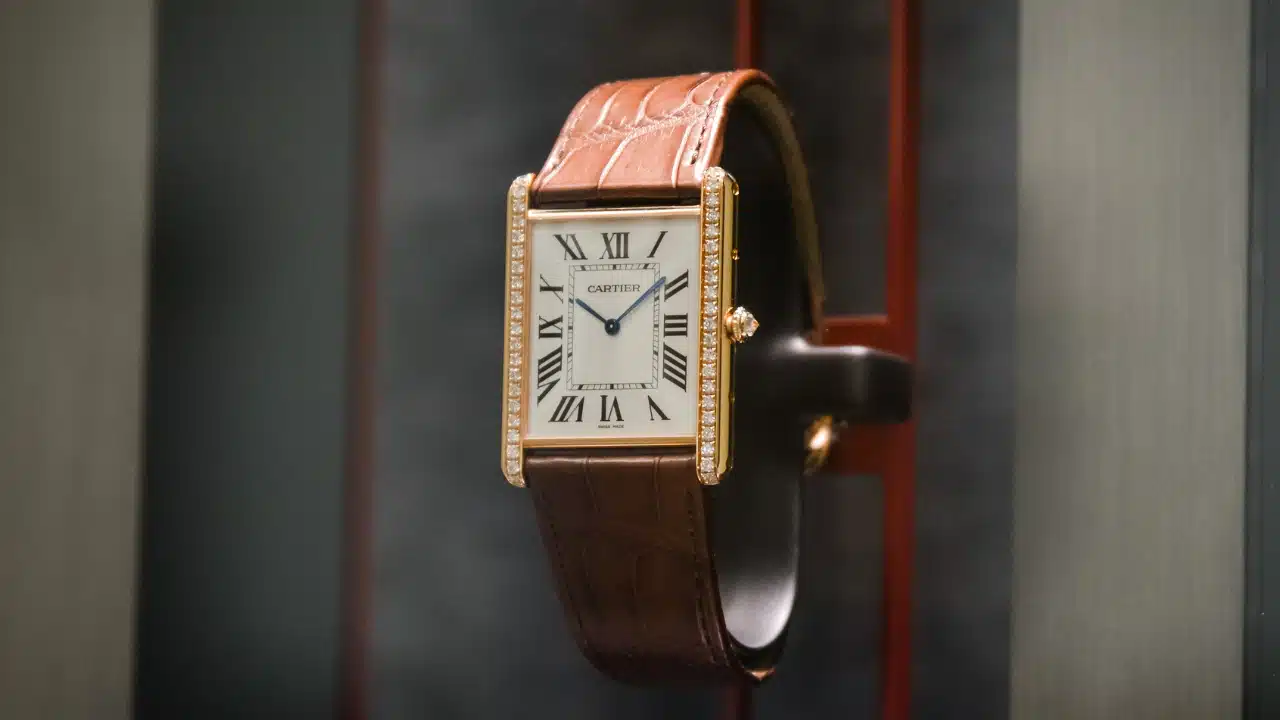 Other telltale signs of a dress watch include the use of precious metals and statelier features like Roman numerals or jeweled crowns.
Regular, Everyday Analog Watches
And, of course, there are watches out there that lack category, which is always a great choice for beginners.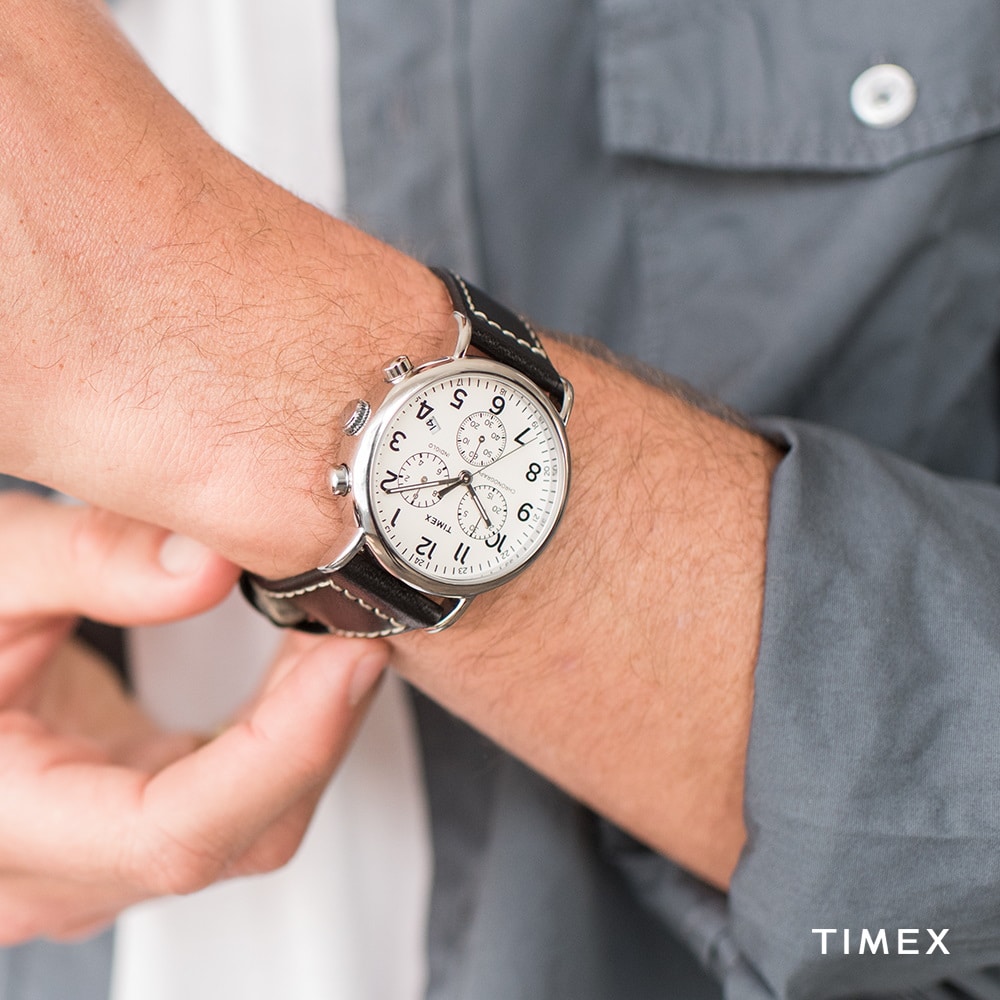 Perhaps it's based on a military watch, but it is simpler and unlumed, like the kind Timex makes. Maybe it's a Scandinavian minimalist watch with a line-forward design like the kind Skagen makes. Or perhaps, like a Movado, it's more of an accessory and less of a watch and doesn't display the time very well at all.
What's great about many of these watches is that you can often transform them from an everyday watch to a dress watch by simply changing the strap. Try a metal bracelet or a rugged leather strap for your day-to-day, then a more elegant tapered leather strap for dressed-up occasions.
Different Places To Buy A Watch
Thanks to the internet, there are more places to buy watches than ever. Even more, it's safer than ever to buy watches online! Here are the most common places to buy watches.
Authorized Dealers (ADs) and Straight From the Maker
The safest route, especially if you're planning on going straight for an investment piece as a beginner, is ADs or the watchmaker itself.
Authorized dealers are ones that the brand officially partners with, meaning they get their stock straight from Patek Philippe Rolex or Audemars Piguet. Often, with high-demand models, ADs might put you on a waiting list. If you're not in it for the hunt (which some collectors are), this might be a turn-off.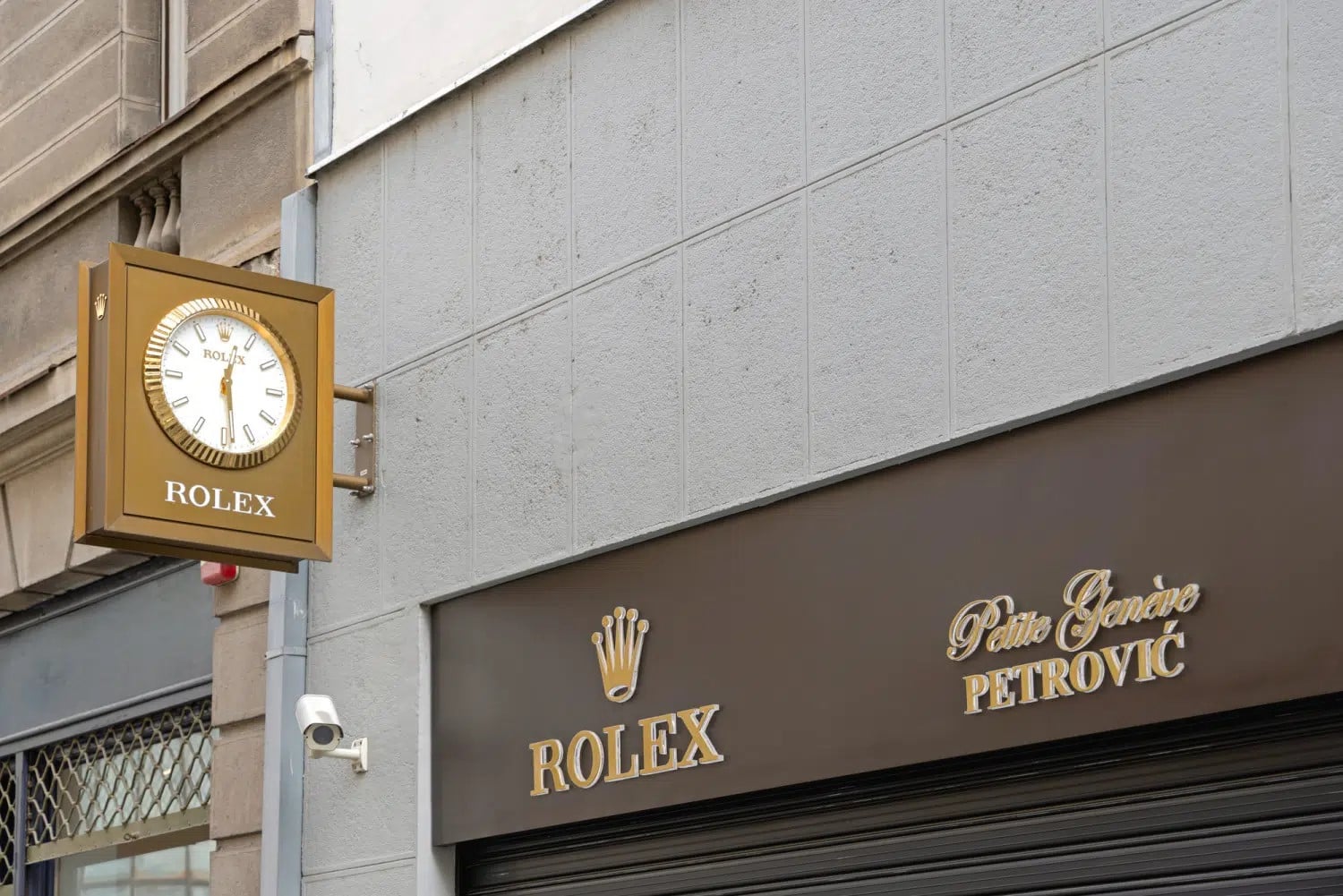 Moreover, you'd be paying either market prices or above-market prices. It's the classic you-get-what-you-pay-for mentality, though, since you'd have everything from the official packaging to the official papers. This is important for resale or if you're generally thinking about your estate.
And, of course, certain brands sell directly to consumers. This includes budget brands like Timex all the way up to Cartier and Omega.
The Secondary Market
The secondary market is wide-ranging. You can acquire a luxury piece from a big auction house like Sotheby's or Christie's, or get one on eBay.
The big-name auction houses are safe to buy from since they have specialists ensuring the pieces are legitimate with trackable provenance. And these days, even eBay has a trustworthy authentication program. These are particularly good resources if you're looking for a vintage watch.
And similar to car-buying, you can, of course, buy privately. Also similar to car-buying, doing this can range from high-trust to low-trust situations, so tread carefully.
B2C and C2C Retailers
Online retailers like Amazon and eBay host both B2C and C2C sales.
B2C means business to consumer, which means that businesses of all types sell watches on these platforms, similar to a store in a mall.
C2C means consumer to consumer, meaning anyone, including you, can sell your watch on eBay or Amazon. This would be the online version of a private sale, so it's technically a secondary market transaction. You may or may not get the best quality item with all of the proper paperwork. There's nothing wrong with any of this as long as you know what you're getting.
That being the case, as with any private sale, keep in close contact with your seller, and don't be afraid to ask every single question you have before clicking buy.
And finally, whether or not you get a good deal on these platforms is highly variable.
The Grey Market
The biggest benefit of buying from the grey market is that you often will get a good deal. I dig deep into exactly what the grey market is in this article, so check that out for more details.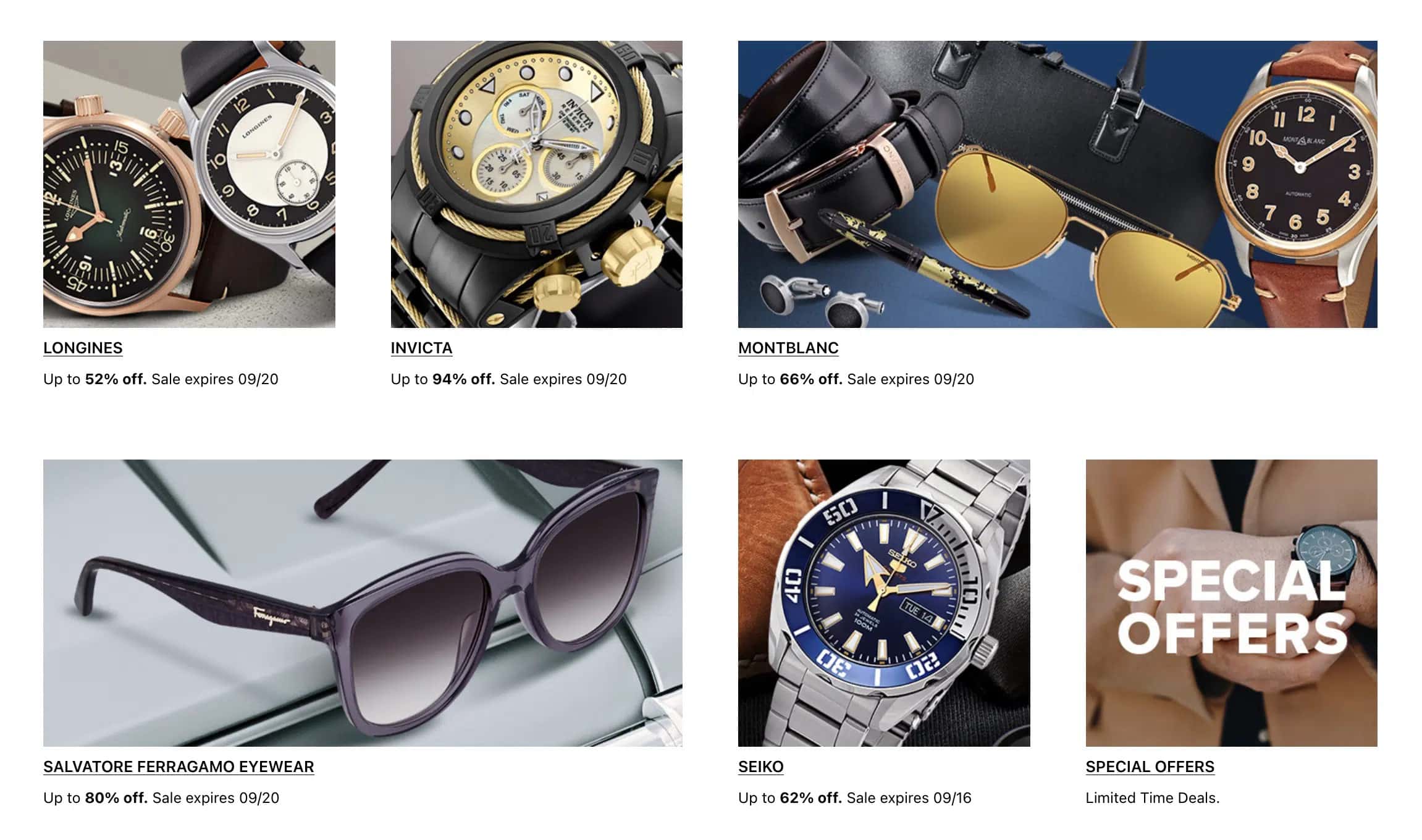 Grey market sellers, like Jomashop, are unauthorized dealers. This means that the brands haven't officially partnered with them, and they've received their stock from elsewhere. Often, this means they're selling other retailers' overstock, similar to what TJ Maxx does with clothes.
It's not illegal, it's easy, it's cheap, and it's definitely controversial. You won't always get the proper packaging and paperwork, but if that isn't important to you, this is a great avenue.
Are You Looking for any Specific Features?
In addition to deciding what kind of watch you want and how to acquire it, you should definitely consider specifics in both function and build.
Constructions
Most watches, especially everyday watches and sports watches, are made of stainless steel. This is a generally good option because it's strong and resistant to corrosion and tarnishing. Plus, it has a classic, trend-resistant look.
Titanium is another option that's as strong as stainless steel or stronger, depending on the type of titanium. However, it's much lighter.
Ceramic, which Swatch is known to use, comes in several vivid colors, is lightweight, extra hard, and is virtually scratch-proof.
You might even consider hardness treatments like PVD or DLC, which can also result in an authoritative black aesthetic or a cool gunmetal grey look.
As mentioned, dress watches can be made out of precious metals. Gold is strong but not scratch-resistant, while platinum is hypoallergenic and extremely strong. Of course, precious metals come with a high price.
Quartz Watches vs Mechanical Watches
We go deeper into watch movements in our dedicated guide (so check that out when you're done here!), but in general, you'll be choosing between a quartz watch and a mechanical watch.
Quartz watches are battery-powered, more accurate, and often cheaper. Still, you can find luxury timepieces, like the original Omega Seamaster 300 from the '90s, with pretty good Swiss quartz movements.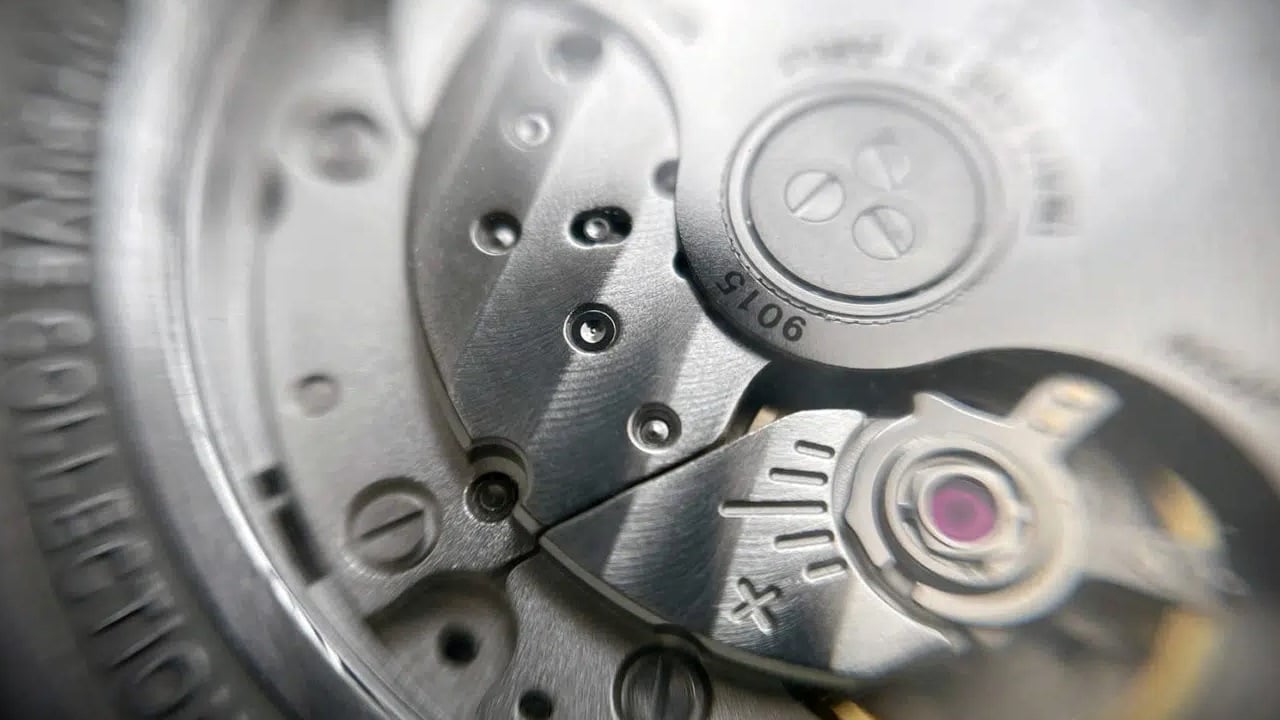 Other interesting quartz movements include solar-powered ones and mecha-quartz movements, which are chronographs with a quartz timekeeper but a buttery smooth chronograph hand sweep.
Mechanical movements are either manual-wind or automatic, the latter being more common these days. Mechanicals are considered to have more horological value because of their traditional use of clockwork mechanisms.
Manual winds need to be wound to work, which means you should also consider its power reserve capacity so you know how often you need to wind it. Automatic watches wind themselves up through the power of your wrist movement.
If you're particularly horologically curious, you might want a mechanical with an exhibition case back so you can watch the movement at work.
Watch Crystal
Of course, we also have a guide for watch crystals, so read that to get more in-depth info.
Budget watches are often equipped with plastic dial protectors. They're the weakest, least scratch-resistant, and least clear. On the bright side, they're the most affordable.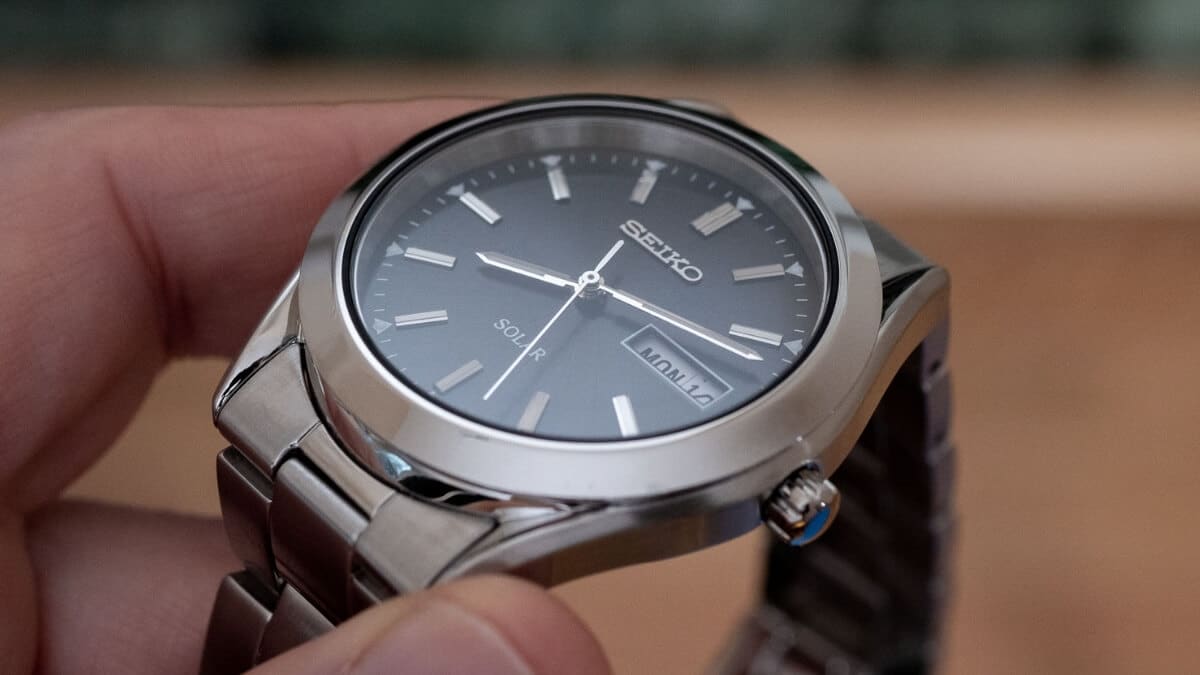 Mineral crystals are shatter-resistant super clear, but prone to chipping. You'll find them on vintage watches and entry-level contemporary watches.
The gold standard is AR-coated sapphire crystals. They're scratch-resistant, and the AR coating provides clarity that sapphire doesn't naturally have.
In my opinion, any watch over $500 better has a sapphire crystal or at least a really good trade-off with another function or feature.
Watch Complications
A watch complication is any function on your timepiece that goes beyond timekeeping.
Do you want a perpetual calendar or a tourbillon? Maybe you're a world traveler who wants a GMT watch.
We have a whole watch complications guide to help you figure out whether or not you want a watch with features other than telling the time.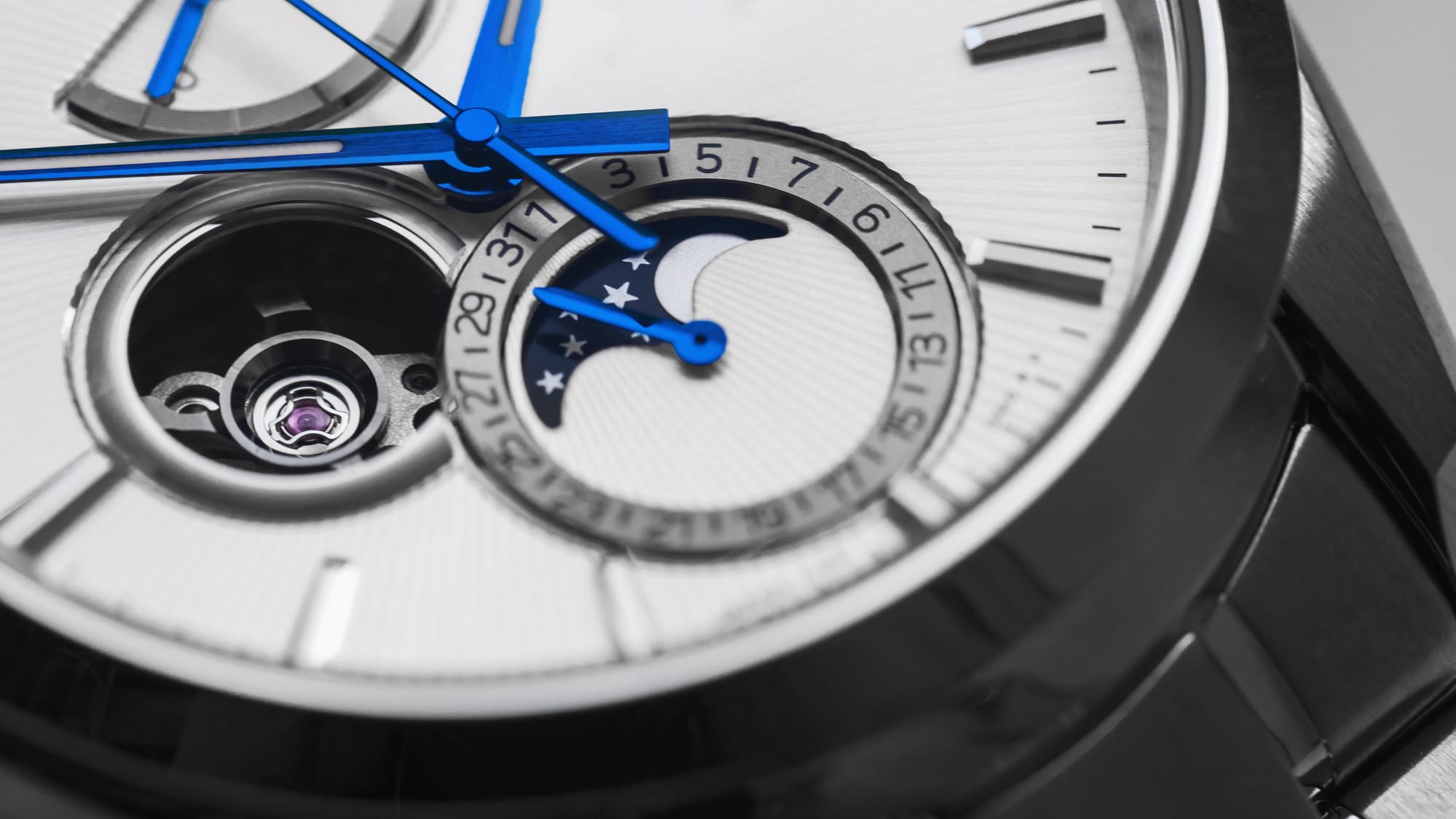 Sometimes, these complications also add a visual component that you simply like the style of. Moonphases add a touch of romance, while the Explorer II GMT hand is an iconic part of its look.
Brand and Lore
Style aside, one of the reasons we buy watches is its history and cultural associations. Maybe you're an aspirational buyer who has your eye on Rolex specifically.
Sometimes, buying a watch is about having an accessory that represents who we are, and sometimes, it's about having an accessory that represents who we want to be. That's the fun in watches.
Perhaps you want something with a cool story, like the Omega Speedmaster, which went to the moon.
In fact, you don't even have to look at expensive watches to get any of this. The Bulova Lunar Pilot also went to the moon and came with its own unique story that isn't as famous as the Speedy's — a true conversation piece.
If you want to be James Bond, keep in mind that he wore affordable watches from Seiko and Hamilton, as well as his more famous Rolex and Omega timepieces.
FAQs
Here are some commonly asked questions about watch buying!
How Do I Buy a Vintage Watch?
Acquiring a vintage watch requires more diligence. Make sure it still works (or accept that you'll simply be wearing it as a piece of jewelry). Also, make sure you trust your seller and are certain that it's gone through some sort of authentication process, if relevant.
How Do I Buy a Rolex Watch?
The most trustworthy way to buy luxury watches is through an AD or through the brand itself. Otherwise, things to consider include whether or not it has its papers and original box, authentication, and even provenance.
What Should I Know Before Buying a Watch?
Consider what style of watch you want and how much you're willing to pay for it. Consider its construction, capabilities, and even brand if that's important to you.
Conclusion: Finding the Perfect Timepiece
When it comes to how to buy a watch, take note:
First, decide on your budget and make a range for yourself.
Then, decide on the style you're going for and what materials, movements, and perhaps extra features you might want.
Consider all of the different ways you can acquire a watch. Maybe you find you're willing to pay a little more for certain avenues and a little less for others.
It's a lot of moving parts, but you'll find that once you've made a few solid decisions, all of the other parts just fall into place.
And finally, have fun doing it!
Do you have any watch-buying tips? If so, leave them in the comment section!