If you're looking to learn what a pilot watch is, we've got everything you need to know right here!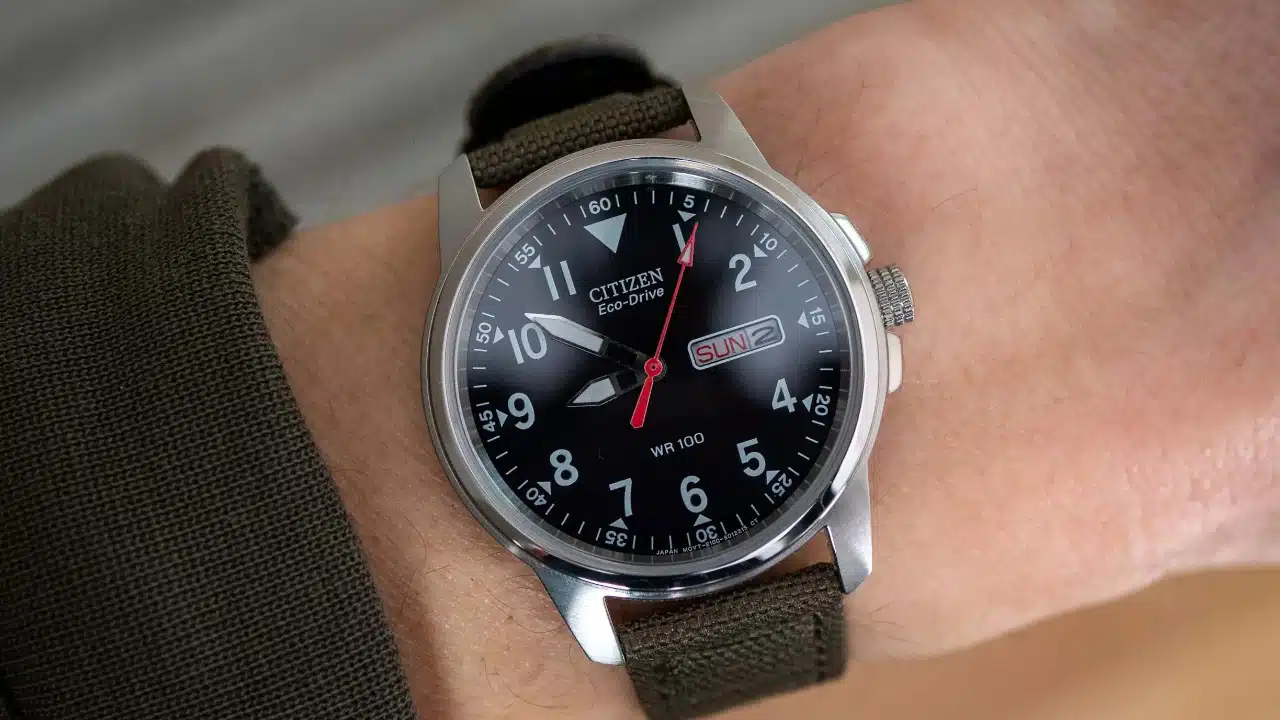 The pilot watch is arguably the second most ubiquitous style of sports watch next to the dive. And while I love myself a good diver, I'm sure the lion's share of this is rooted in Submariner dominance.
See, I prefer to wear dives, but I'm forever fascinated with the topic of aviator timepieces.
Pilot watches have an objectively wider range. In fact, they're almost enigmatic.
I've heard collectors say that the difference between a field watch and a pilot watch is where you wear it. And beyond that, both a Roman-numeral-clad Cartier Santos and a hyper-sporty Bulova Lunar Pilot are aviator watches.
Are there any constraints at all? Does it even matter? Don't let the confusion deter you from exploring the topic of pilot watches. This is where it gets good.
What Makes a Pilot Watch?
The reason why pilot watches are sometimes hard to distinguish from, say, simple field watches is because their basic prerequisites overlap greatly.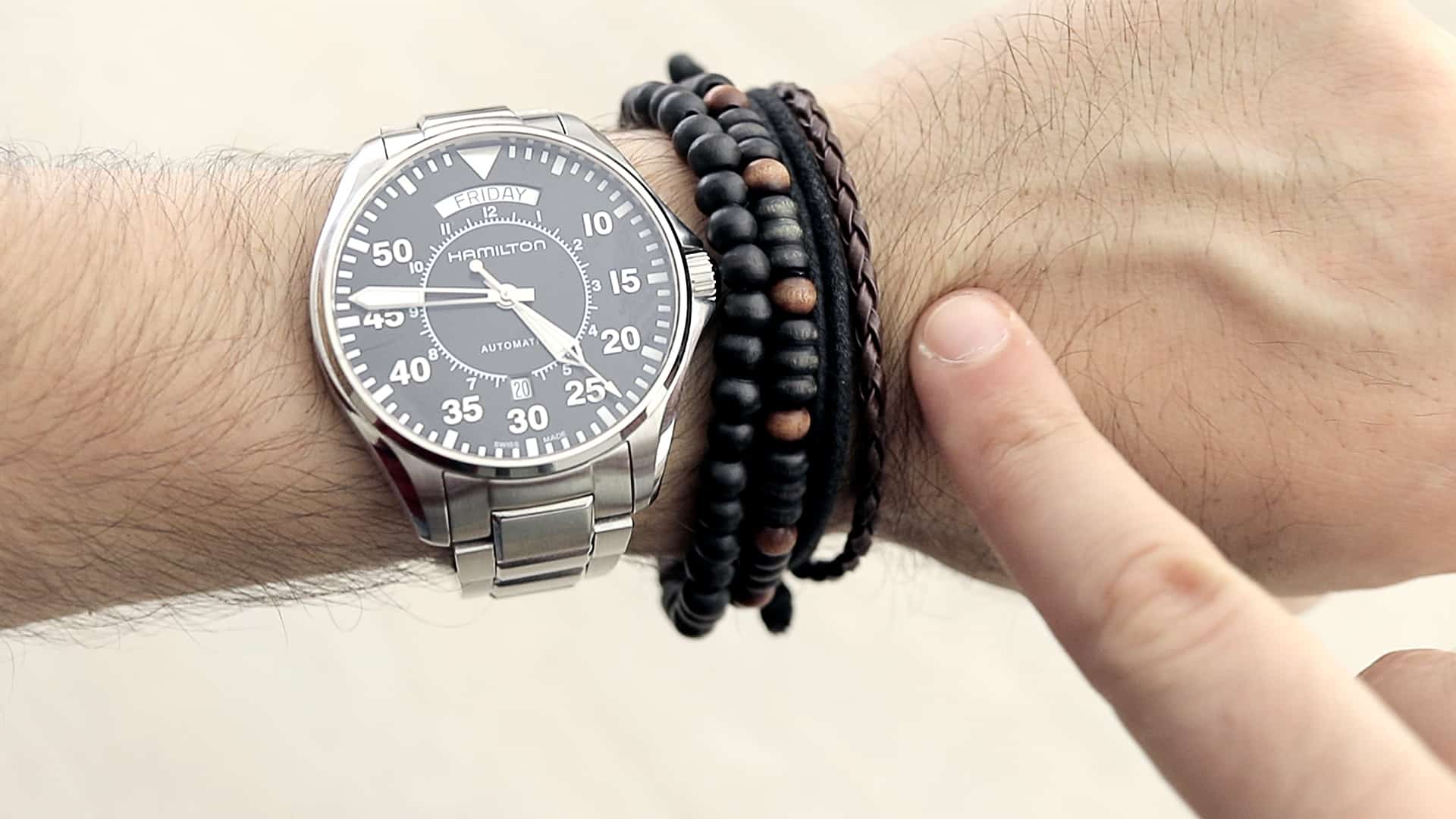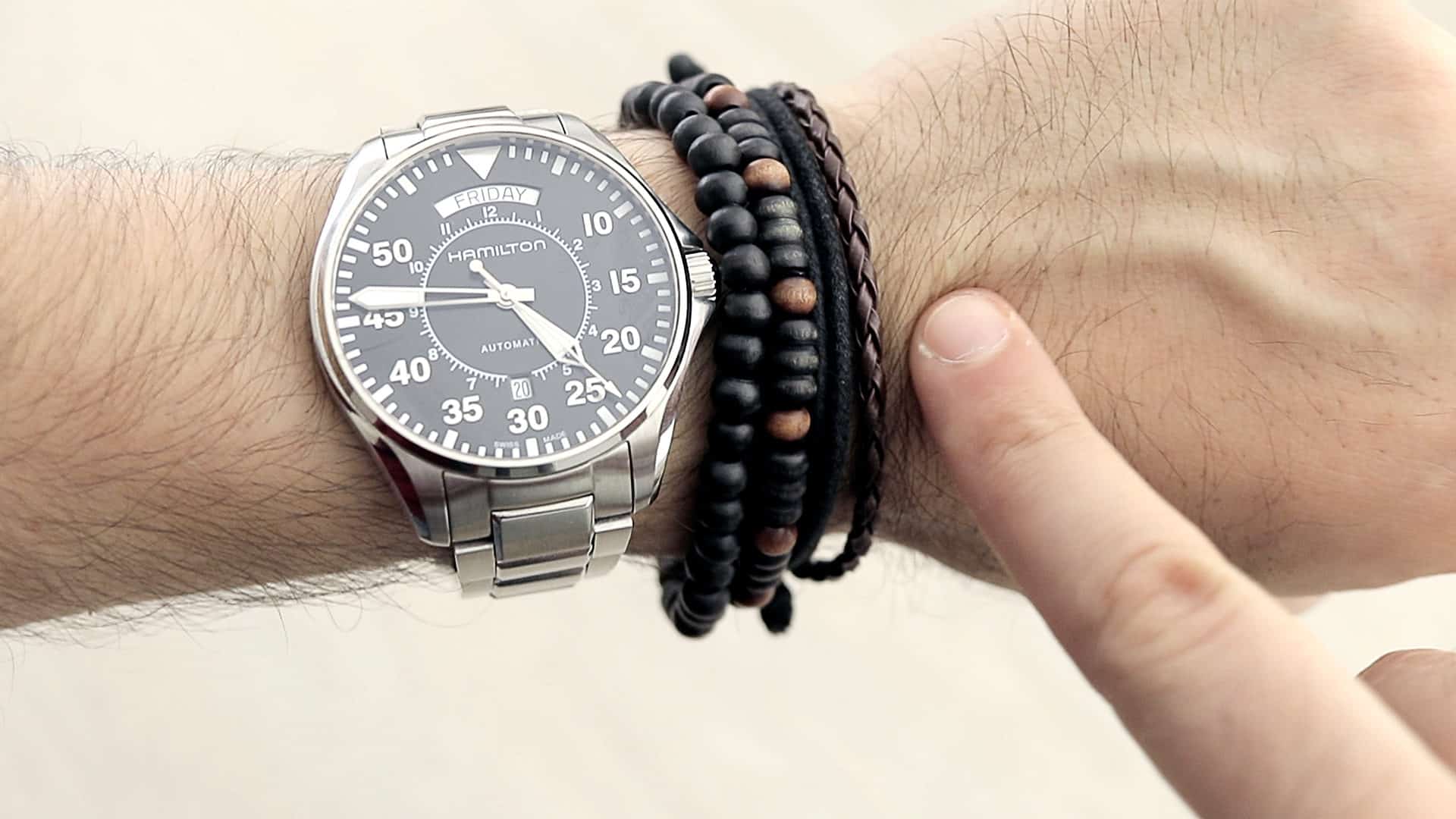 Here are some essential features that all aviation timepieces require:
Clear legible markings so that the pilot can read it a glance without taking his eyes off the horizon for too long.
A large dial was an initial prerequisite, but the most important thing is that it's easy to read.
High contrast so that you can read it in low-light conditions.
Highly accurate.
Durable, so that it can handle turbulence and falls from altitude.
While all of those features can easily apply to field watches, too, here are some qualities that can cinch a model's pilot status.
Large crown so that you can grip it while wearing gloves.
Antimagnetic — historically, plane engines were highly magnetic, so it was especially important for pilot watches to be able to function in the face of that. Prior to GPS, watches were used to calculate navigation.
Chronograph functions. Not all pilot watches are chronographs. However, Chronos allows pilots to use elapsed time measurements to figure out navigation or fuel usage.
And sometimes, for modern pilot watches, there are self-aware references in the design. The Laco Flieger is based on traditional German pilot watches, and the Aristor 262-S ME 262 has a delightful illustration of an aircraft below the hands.
Overall, the requirements for flight watches make them more than capable everyday timepieces that also have a lot of character.
History of the Pilot Watch
The history of pilot watches is inextricably linked to the history of men's wristwatches in general.
Up until the 1900s, wristwatches were considered women's jewelry. However, WWI soldiers found them more convenient than the more common pocket watches. And so, the trench watch, or the field watch, made wristwatches acceptable for men to wear.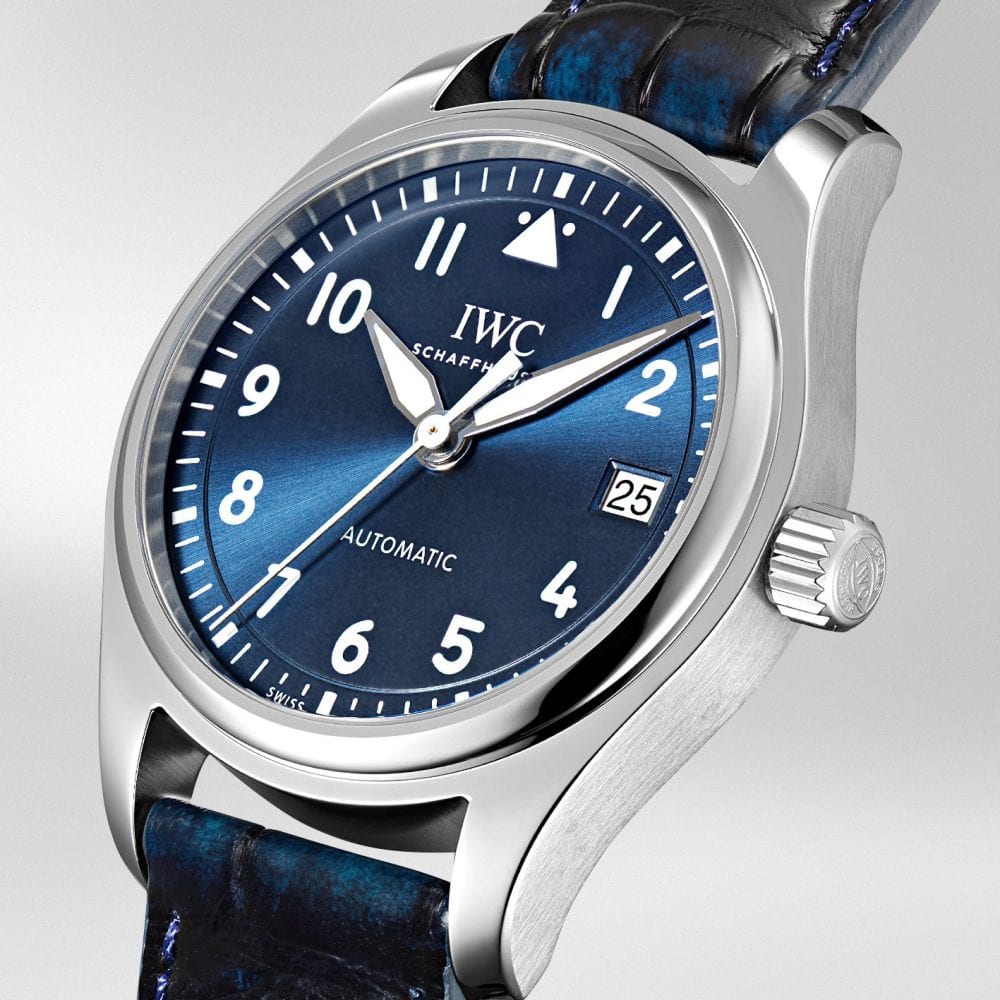 Still, there were men wearing wristwatches even slightly before the war. These men were pilots.
When it comes to the origin of men's watches, the pilot watch to the field watch is like Jamestown to Plymouth in the founding of America. The former technically came first, but the latter tends to play a bigger part in the lore.
The first recorded pilot watch was the Cartier Santos in 1904. So, for those of you who didn't know, yes, that small, square-shaped timepiece you might consider a dress watch is, in fact, an aviator watch. 
It was made for Brazilian aviator Alberto Santos-Dumont by Louis Cartier himself after Santos-Dumont expressed grievances about the inconvenience of pocket watches in the cockpit.
The dressier parts of the timepiece, such as the jeweled cabochon crown and those Roman numerals, were actually present in this original model. If you think about it, though, a lot of vintage sports watches had dressier aesthetics.
For example, the original Omega Seamaster, before the more recognizable CK 2913 came out, was so dressy it eventually became the Omega De Ville. The sportier CK 2913 took over the Seamaster moniker (learn all about that here!).
More athletic-looking pilot watches soon followed. Zenith and Longines started to make their models in the early 1900s, many flaunting gigantic pocket-watch-like crowns, the cathedral hands, and the blocky yet sharp font of the Arabic numerals we now associate with vintage flight watches.
Then, of course, in 1939, Stowa produced the Flieger, or the German pilot watch, which is still a popular style today emulated by basically any watch brand that has an aviator subline.
Both the Flieger Type A and the Flieger Type B were equipped with sword hands and the quintessential DIN 1451 font. However, A is simpler and more legibility-focused, while B is more focused on navigation with a minute main track and a smaller center track for hours.
And the Omega Speedmaster, though it's built for the racetracks, qualifies as a pilot watch. You can at least call it a flight watch — it flew to the moon, after all.
What To Look For in a Pilot Watch
If you're considering a pilot watch, you'll likely want a legit version that at least checks off the prerequisites mentioned previously. Once you've gotten that, you might want to consider the following.
What aesthetic are you going for? Do you want a military-forward Flieger? Perhaps you want something super sporty, like the Speedmaster or the Bulova Lunar Pilot. 
Again, pilot watches come in a wide range of looks. I think two broad categories to start with are: first, do you want a more minimalist pilot watch like the Laco 1925, something extremely busy like the Citizen Navihawk A-T, or something in the middle?
Second, do you want a more vintage look or a more modern look?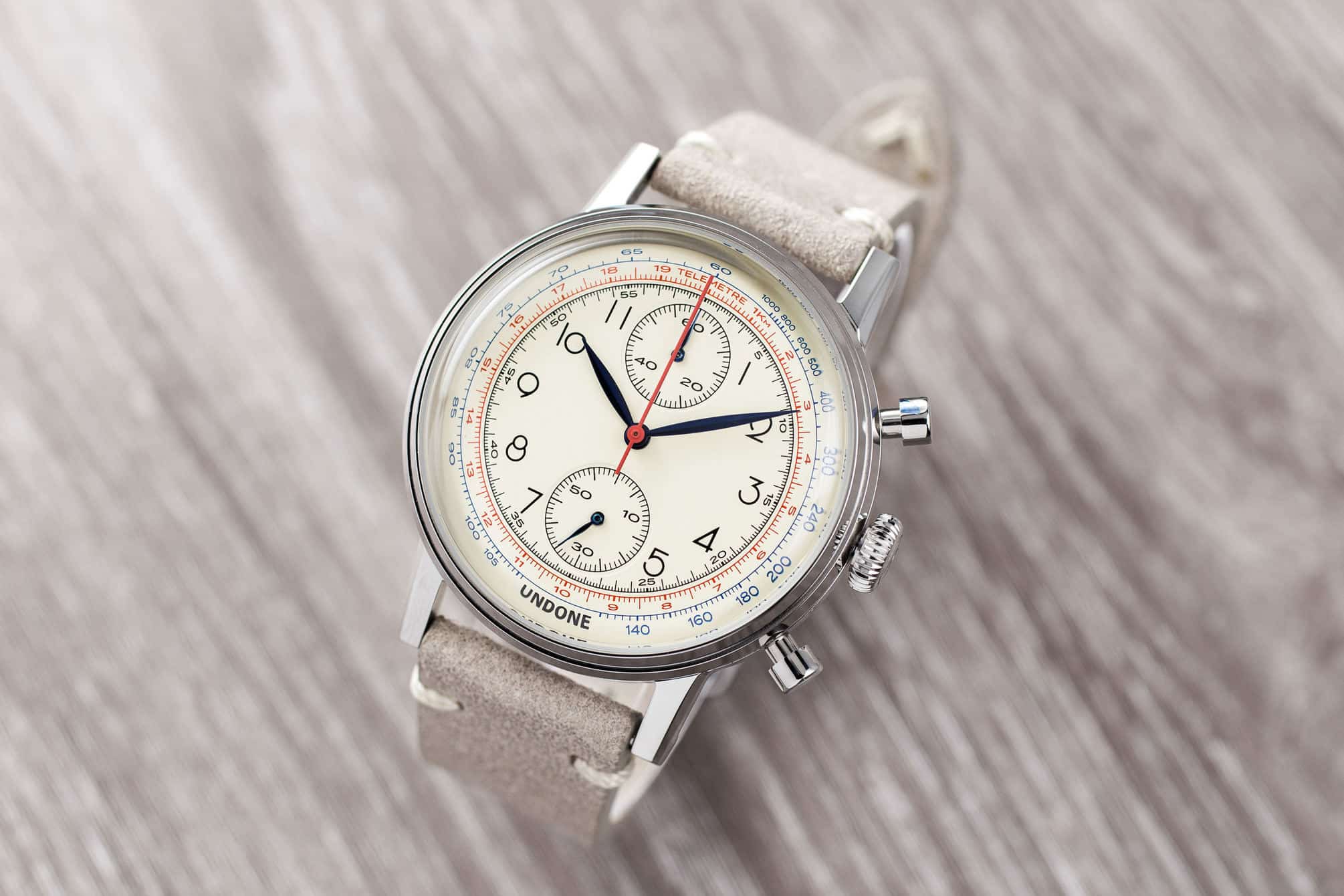 Next, do you want any extra functions? Chronographs aren't a requirement for a pilot watch. Still, they're a fun, coveted feature that also infuses the watch with a science-esque design sensibility. A slide rule bezel also achieves this, as seen in the Casio MTP4500D Aviator Watch.
Other extra functions include a GMT hand, a push-button light, a specific kind of lume (for example, no-charge tritium versus traditional photoluminescence), and extra-strength hardening treatments for the case.
And finally, what kind of story do you want your watch to tell? Looks and function obviously feed into this, but perhaps you want a model with historical significance like the Cartier Santos.
Let's be real, we watch nerds love a conversation piece!
Best Pilot Watch Brands
First of all, you can't go wrong with the heritage brands that I've been there from the start.
Cartier has its Santos, Longines has its Heritage Avigation, and Breitling has its Navitamer. These brands mix sporty aviation elements with upscale, dressy features, resulting in pilot-oriented luxury sports watches.
Rolex's pilot watch isn't actually the GMT Master II. Well, it is, but it's more the cosmopolitan watch made for commercial pilots. The Air-King is more akin to Lacos and Stowas of the world.
And if you love German flight watches, Sinn is a great brand, along with the aforementioned Laco and Stowa. Sinn takes the heritage Flieger look and beefs it up with heavy builds and spec-forward certifications.
CWC and Marathon are both no-nonsense, pragmatic watchmakers that build genuine military and service models.
Naturally, you can always turn to workhorse Japanese brands like Citizen and Seiko to find standard, disciplined, yet high-value entry-level pieces.
FAQs
Here are some quick answers to common questions about pilot watches!
What Is the Point of a Pilot Watch?
Originally, pilots needed high-contrast watches that were easy to read at a glance. They were antimagnetic since plane engines used to be magnetic. Pilots used these watches not just for time but also for navigation, climb and descent, and fuel management.
What Is the Difference Between a Pilot Watch and a Field Watch?
Both are durable, accurate, and legible. Pilot watches also tend to be antimagnetic and have larger crowns so that you can use them with pilot gloves. They were also slightly more accurate for measurement and navigation purposes.
Do Pilots Still Wear Pilot Watches?
Pilots don't need to wear pilot watches anymore. Like divers with dive watches, pilot watches can be used as a contingency plan in the unlikely event all of their aviation technology fails.
What the Difference Between Pilot Watches VS. Field Watches? It's Complicated
So now you know why a fancy, dressy Cartier can be called a pilot watch, along with a beefy German military piece. It's equal parts function, history, and looks. And sometimes, it takes a self-aware touch, like adding an airplane emblem on what might otherwise be a field watch.
Keep in mind, though, that a field watch can be a pilot watch and vice versa. It's not as simple as the only difference between the two is where you wear it, but for some comprehensive-enough models, it truly is the case.
Ultimately, it's these aviation requirements that make the pilot watch one of the most useful kinds of sports watches. And again, I think it's great that they range widely in form and function.
What kind of strap do you prefer for your pilot watch? Let me know in the comment section!