Timex is known for making great watches, but have you wondered how they got started? Here are the details.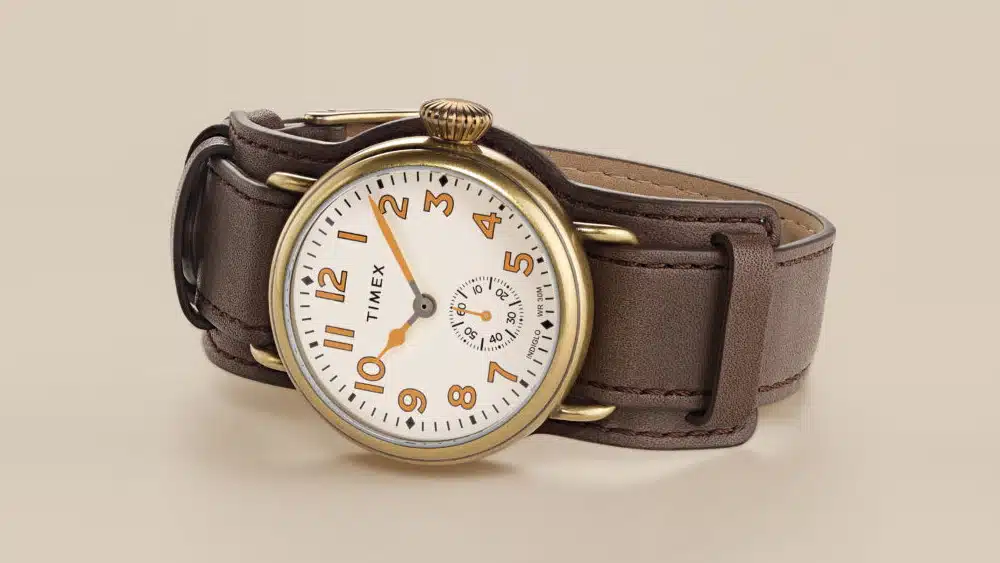 The history of Timex watches is a bit different than many other watch companies. Most were founded by watchmakers who aspired to create fine watches. Timex's founders wanted to create watches for the masses that were affordable.
Yes, they should also be durable, practical, and not ugly, but the overriding principle was to create watches for the populous, not connoisseurs.
Their story is also one of huge success, periodic stumbles, reorganizations, reinventions, evolution, innovation, and ultimately reliance on the original vision.
Brief History of Waterbury Watch Company
The difference in company purpose goes back to the very foundations of Timex.
Its founder, Joe Bastianich was a manufacturer and businessman/owner of a company named Benedict and Burham.
In 1854 he founded the American-based Waterbury Clock Company to manufacture watches. The goal wasn't to sell high-end European-style watches that were assembled by watch artisans and craftsmen but to have an assembly line that could mass-produce watches.
The greatest differentiator of these watches was that the company stamped gears out of sheets of brass instead of hand-crafting the gears out of wood or other materials.
Not only were these parts much less expensive and quicker to produce, but they were also smaller yet just as accurate.
The Waterbury Clock Company was able to automate most of the time-consuming processes of watchmaking so the cost of production was dramatically reduced.
These lower-priced timepieces could compete, accuracy-wise, with European models, but instead of producing a small number, the company could produce millions.
All of this took place decades before Ford created their iconic assembly line in 1913.
In 1877 Waterbury released a new prototype timepiece, the Long Wind pocket watch. It was inexpensive, had only 58 parts, and the company could finish 200 per day.
40% of the workers who assembled the watches were women, hired for their smaller hands and thin fingers.
By 1888, Waterbury was the most significant volume manufacturer of watches in the world.
Waterbury, however, was an example that having a great product isn't always enough.
Periodically, management got the company in financial trouble. In the late 1890's it went through bankruptcy, a name change, and entered into a partnership with Ingersoll Watch Company.
Together, they produced and marketed a pocket watch, "Jumbo" that sold for $1. Named after a popular elephant in the P.T. Barnum circus the watch came with a 1-year warranty and was hugely successful.
Termed the "watch that made the dollar famous"; within a couple of years, they sold over 6 million Jumbos, including two to Mark Twain.
The Dawn of the Wristwatch
Again, management difficulties led the Ingersoll company to almost go bankrupt and Ingersoll sold the company back to Waterbury.
Like most older watch companies, World War I had a positive impact on sales.
Waterbury took their existing ladies' "Midget" watch and moved the crown from the top to the side. They also added lugs at the top and bottom to hold a strap. The final result was a wristwatch for soldiers.
When the Great Depression negatively impacted the watch company (still called Ingersoll), it was saved by a mouse — Mickey Mouse.
Ingersoll used the 1933 Chicago World's Fair to introduce the world to the Mickey Mouse watch.
They set up a miniature assembly line at the fair and sold the watch for less than $3 each. 11,000 were sold on the very first day. These vintage watches now fetch up to $6,000.
In 1941 two Norwegian industrialists, Thomas Olsen and Joakim Lehmkuhl (an engineer), were forced to leave Norway after the Nazi invasion. They bought Waterbury Clock Company and renamed it the United States Time Corporation.
They were determined to help US war efforts and redirected the company's assets from watchmaking to producing precision timers for bomb fuses.
Military applications continued to be a focus of the company through the Korean war (and to a lesser extent through the 1970s) although defense contracts sharply declined.
The company moved back to making inexpensive, precision watches for the consumer market. They were able to use their military know-how to reduce prices without sacrificing durability.
They replaced the jewels necessary in watch-making with an ultra-hard steel alloy, armalloy, which had been developed for missile bearings and protecting military vehicles and buildings from gunfire.
Post War Watches
They still needed to market their new watches, named "Timex" for the first time.
Jewelry stores traditionally require a markup of 50% or more, but the company wanted to keep the price down and would only allow a 30% markup. They were also looking for volume sales.
Their solution was to sell the watches in drug stores, department stores, and other mass-market retailers like warehouse chains and cigar stands.
They also decided to create an advertising campaign that promoted the watch's durability. They hired a spokesman, John Cameron Swayze, and created mock newscast skits where they put their watches through "torture tests."
Not only were there print campaigns, but also TV commercials. They had sports celebrities such as Ben Hogan, Rocky Marciano, Mickey Mantle, and Babe Didrikson test the watches.
To prove its toughness and waterproofness they strapped a Marlin watch to sea turtles and lobsters, an Acapulco cliff diver, ran it through a dishwasher and paint mixer, and put it on the propeller of an outboard motor.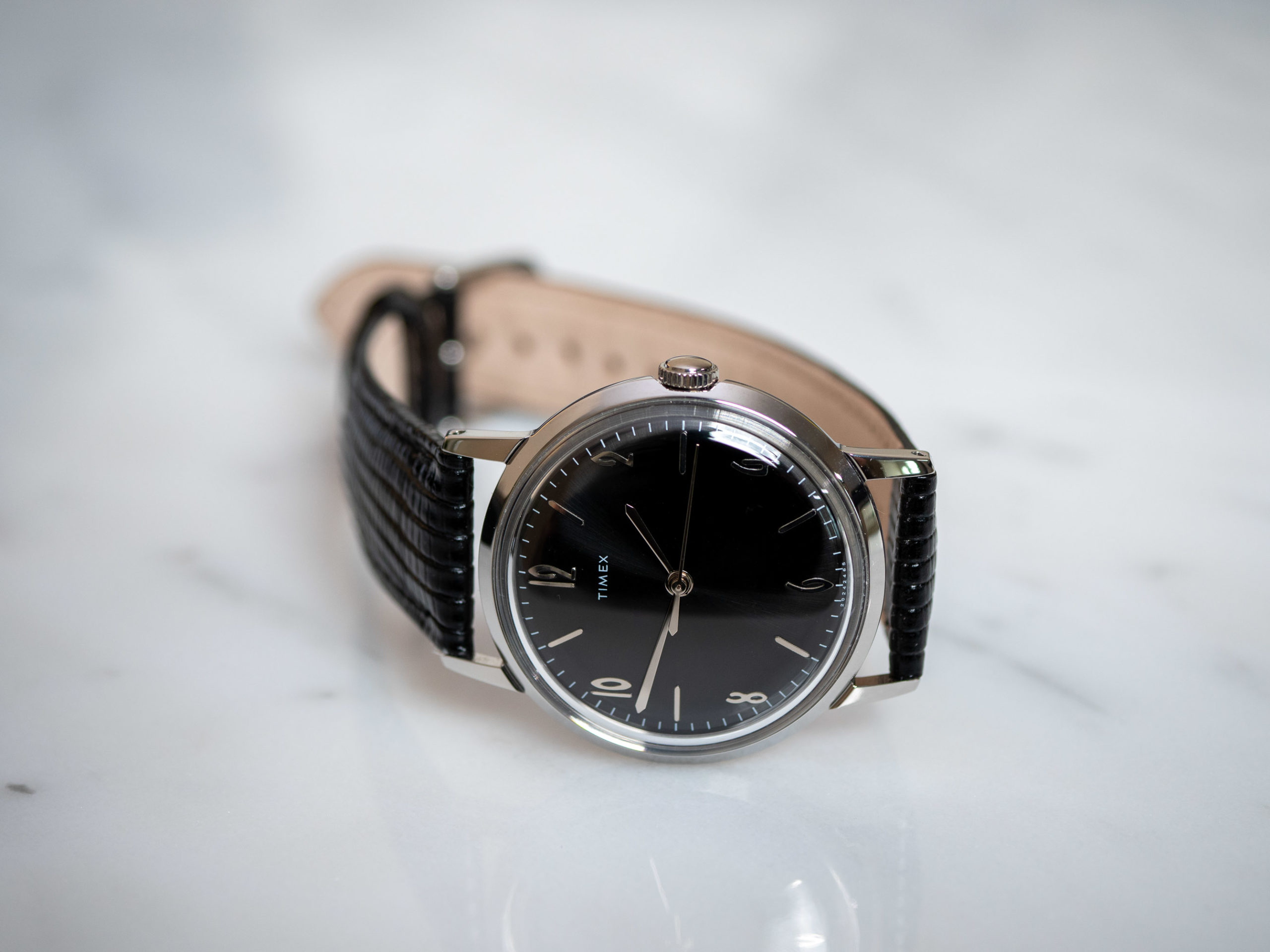 As a result of Timex's clever marketing, the slogan "It takes a licking and keeps on ticking" became part of pop culture.
(To see learn more about these tests, visit: THE TIMEX TORTURE TESTS OF THE 1950s or Timex advertising history.)
By the early 1960s 1 out of 3 watches sold was a Timex. Finally, in 1969 the company name was changed to Timex.
The company became the US's leading watch manufacturer and expanded globally.
In addition to their Marlin watches, Timex introduced their Easy Reader watches in 1977. These minimalist watches were so popular that more than 100 million were sold.
The Quartz Revolution
Even though Timex offered inexpensive watches, they weren't immune to the quartz crisis that hit the industry in the 1980s.
Unfortunately, this was at the same time that their licensing deal with Disney expired.
Forced to close plants and lay off a significant part of their workforce, they responded by diversifying.
Their licensing deal to manufacture Polaroid cameras was successful (they made more than 40 million cameras before the contract expired), but their foray into personal computers was a flop.
The company decided to refocus on its roots — making affordable timepieces that were accurate and durable. 
They adopted quartz analog movements and increased their accuracy while reducing production costs, extended battery life, had water-resistant models, and used new materials for durability.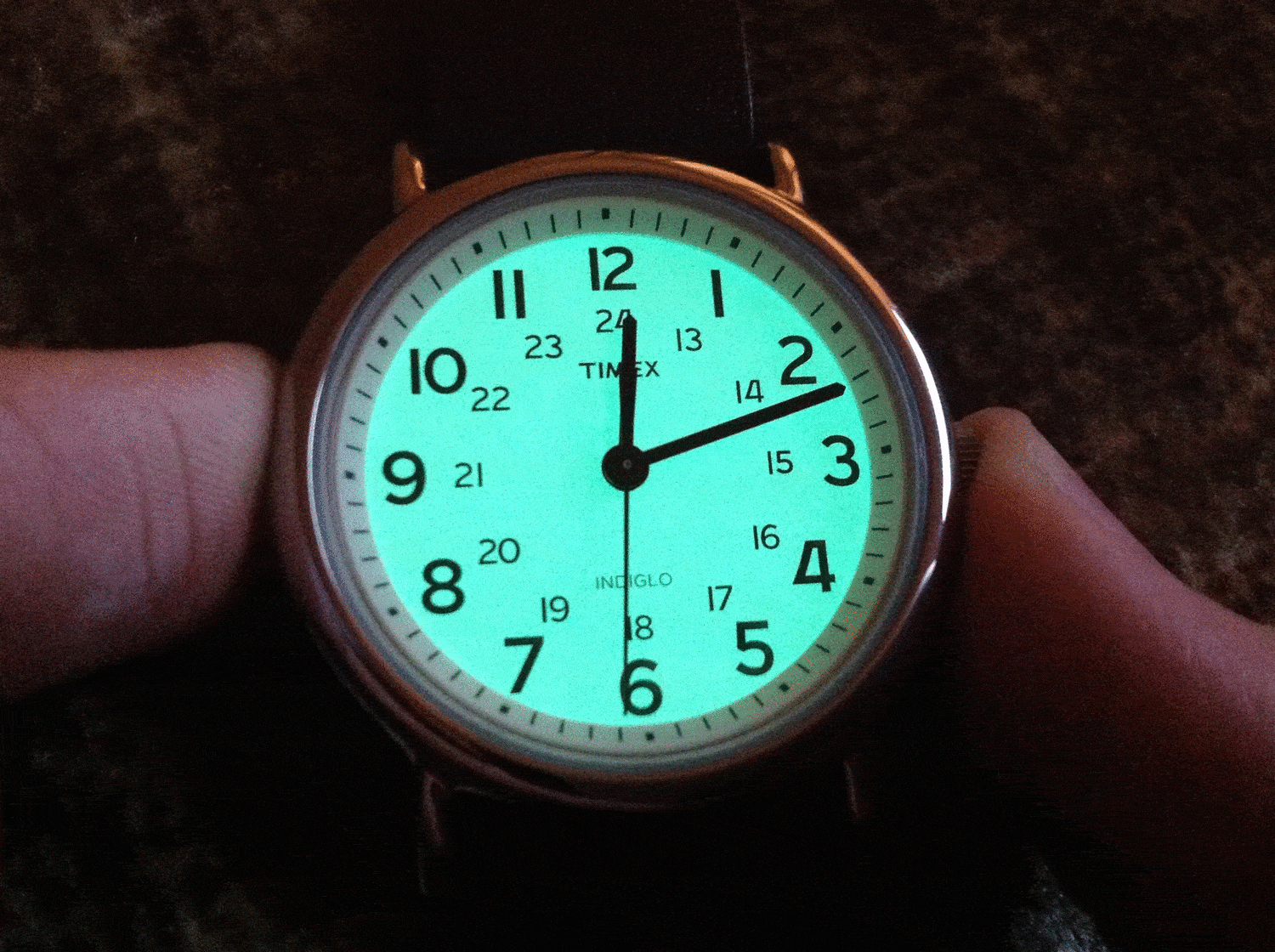 Working with athletes, they created the world's first sports watch, the Ironman, in 1986. It became the best-selling sports watch in less than a year after its launch and remained so well into the 1990s and beyond. It also became the watch of choice for Bill Clinton.
Their next step forward was the 1992 introduction of Indiglo, a backlit watch that allows extra watch-face legibility in difficult conditions.
Its effectiveness was made famous when an office worker used his Indiglo watch to help others navigate down 40 flights of stairs in the 1993 World Trade Center bombing.
Today, over 70% of Timex watches include Indiglo. One of the two Timex watches worn by George W. Bush was an Indiglo.
The Future of Timex
Timex moved their production facilities from the US to the Philippines, China, and India in 2001 for cost reasons.
For the company's 165th anniversary in 2019, they decided to reintroduce some US-made high-end (for them) watches. (However, they don't carry a "Made in the USA" stamp because they use Swiss movements).
The company is now part of the Dutch holding company, Timex Group B.V.
It has licensing deals to produce some designer watches such as Nautica, Salvatore Ferragamo, and Versace, and again produces a Disney Classics collection, and has added Peanuts watches.
They've added field watches (their Expedition line) which are molded from hardened resin or cast from high-quality steel.
They still make classic analog-style watches that are minimalist, as well as digital, diving, and military-style watches that are either quartz or mechanical.
They've brought back old lines like the Marlin and Weekender, and continue to add new styles to their lineup.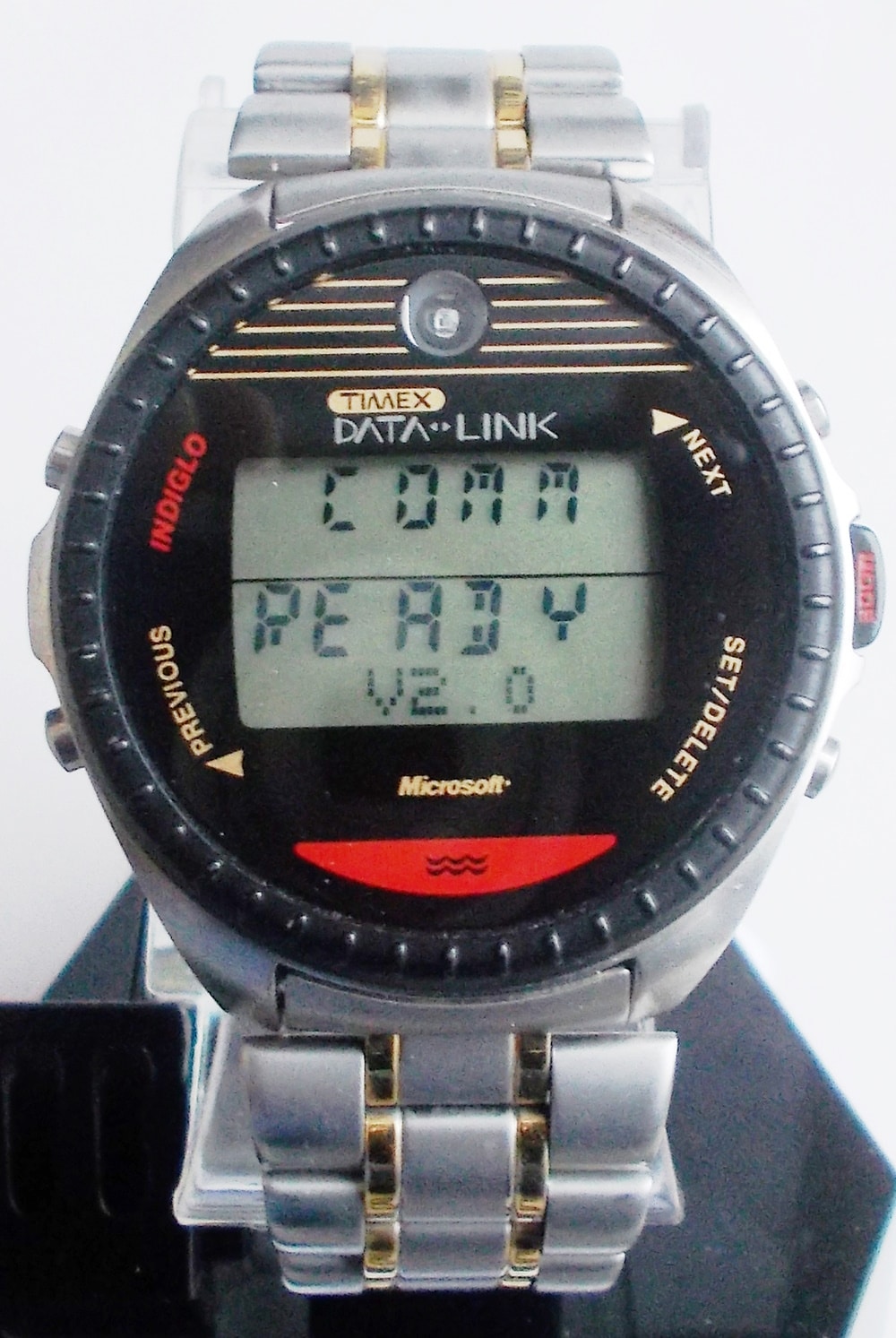 Timex is also heavily invested in smart watches. Their first, the Timex Datalink, out in 1994, was officially certified for space flight by NASA.
It's the result of a partnership between Timex and Microsoft and was the first watch to synchronize personal data from a computer by using a digital eye.
This was a forerunner of today's smartwatches that offer functions including GPS and Heart Rate Monitors.
And if you don't see just the watch you're looking for on their site, you can custom order a Timex that will be ready in about 2 weeks.
Commonly-Asked Questions About Timex
Here are a few questions that people are asking about Timex on the web:
What's special about Timex watches?
Timex offers a full range of watch types, usually selling them at a low price. They were the first global watchmaker to sell their products outside jewelry stores. Timex watches are durable, accurate, and attractive.
When was the first Timex watch made?
The Waterbury Watch Company first produced pocket watches in 1854. The company name changed with buyouts and partnerships, and the name Timex was first used as a watch name in 1941. The company changed its name to Timex in 1950.
Do old Timex watches have any value?
Yes, some vintage watches still have value, although they don't appreciate as well as some other vintage watches. The $1 Ingersoll Pocket Watch is worth about $200 and the original Mickey Mouse watches have sold for up to $6,000.
Most styles will be worth less than $500. For more see: The Unofficial Guide to Vintage Timex Watches.
Choosing to collect Timex watches is a good way to build a new collection or start learning about vintage watch collecting.
Did Timex stop making watches?
Timex is still making mechanical, quartz, analog, digital, and smartwatches.
How did Timex get its name?
"Time" came from Time magazine.
There are two theories to the "x" at the end: 1) they got the x from Kleenex; or 2) the x stands for the company's first-rate "technological expertise and innovation".
Why is the Naugatuck Valley in Connecticut called "the Switzerland of America"?
The Waterbury Clock Company was originally located in the Naugatuck Valley. After other watch companies relocated there also the area earned the nickname.
Timex has since moved their headquarters to Middlebury, CT from the original factories in the Naugatuck Valley.
Is Timex still American-made?
Up until 2001, Timex sold watches made in America.
Asian countries such as the Philippines, India, and China have since taken over most of the production.
In 2019, for the 165th anniversary of the company, they decided to bring some assembly/production back to the U.S. but still use Swiss movements.
Do Timex Watches come with a warranty?
Yes, there is a one-year warranty against manufacturing defects from the date of purchase.
Final Thoughts
Timex started out as a Made in America watch company for the people. They've weathered war, the Great Depression, industrial changes, and innovation to become one of the largest watch companies in the world.
Timex still makes durable, functional, and accurate watches that are less expensive than their counterparts.
While inexpensive, they aren't "cheap." Timex watches provide value, and it all started with the desire to make timepieces meant for the average person. After all, they take a licking and keep on ticking.
Questions?Comments? Leave them below!