NATO straps are one of the most interesting types of watch straps. Here are some cool ones you can buy!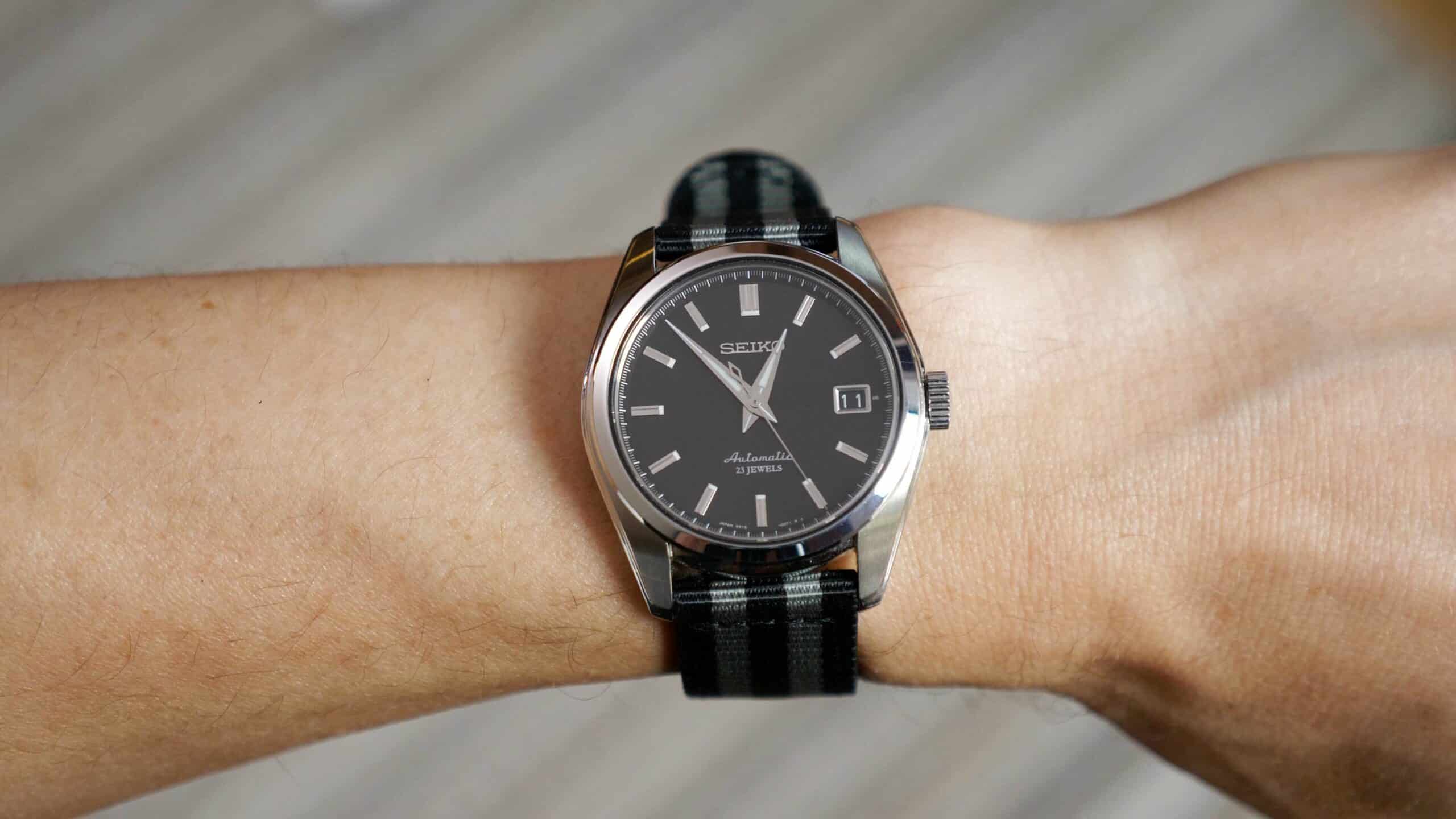 It's not surprising that the humble NATO dark-horsed itself into the core essentials of watch straps. I always say that most men's closet staples are ones that have been tried and tested by the military — trench coats and waxed cotton, anyone?
And as the leather strap requirement for professional and formal contexts loosens, metal bracelets often take up that mantle, leaving room for NATOs as easy, fun, and affordable everyday watch straps.
Before we get to our 17 top-notch selects, let's get some clarity on the NATO itself.
What Is a NATO Strap
The NATO strap was built for the British Military in the early '70s. It was standard issue, constructed so that it was durable enough for the trenches and beyond, and so that if a spring bar came loose, you wouldn't lose the watch itself.
ZULUs vs NATOs (Historically)
A lot of this is technical, and not super relevant these days, but one way to describe a NATO is by comparing it to a ZULU strap.
At its inconsequential purest, a ZULU is made from one long strap, while NATOs have an extra strap to slide through two lugs, allowing there to be an extra piece underneath the watch.
However, five-ring ZULUs can have this extra strap as well, compared to the more basic three-ring ZULU.
NATOs vs ZULUs (Today)
A more relevant difference, regardless of strap amount and since we wear watches mainly for the visuals of them, is that NATOs have flat, rectangular keepers, while ZULUs have thick, rounded keepers.
All that to say, most would agree that any one-strap nylon watch band with rectangular keepers is still a true NATO.
Hope that wasn't too confusing!
NATO Straps: 17 Great Picks
Here they are, 17 great NATOs (and ZULU hybrids) in a range of prices and materials.
BluShark AlphaShark Nylon Watch Strap
What else would you pair your Submariner with? The Blushark AlphaShark Strap comes in the instantly-recognizable gray-and-black, three-stripe variant, which is also referred to as the James Bond strap.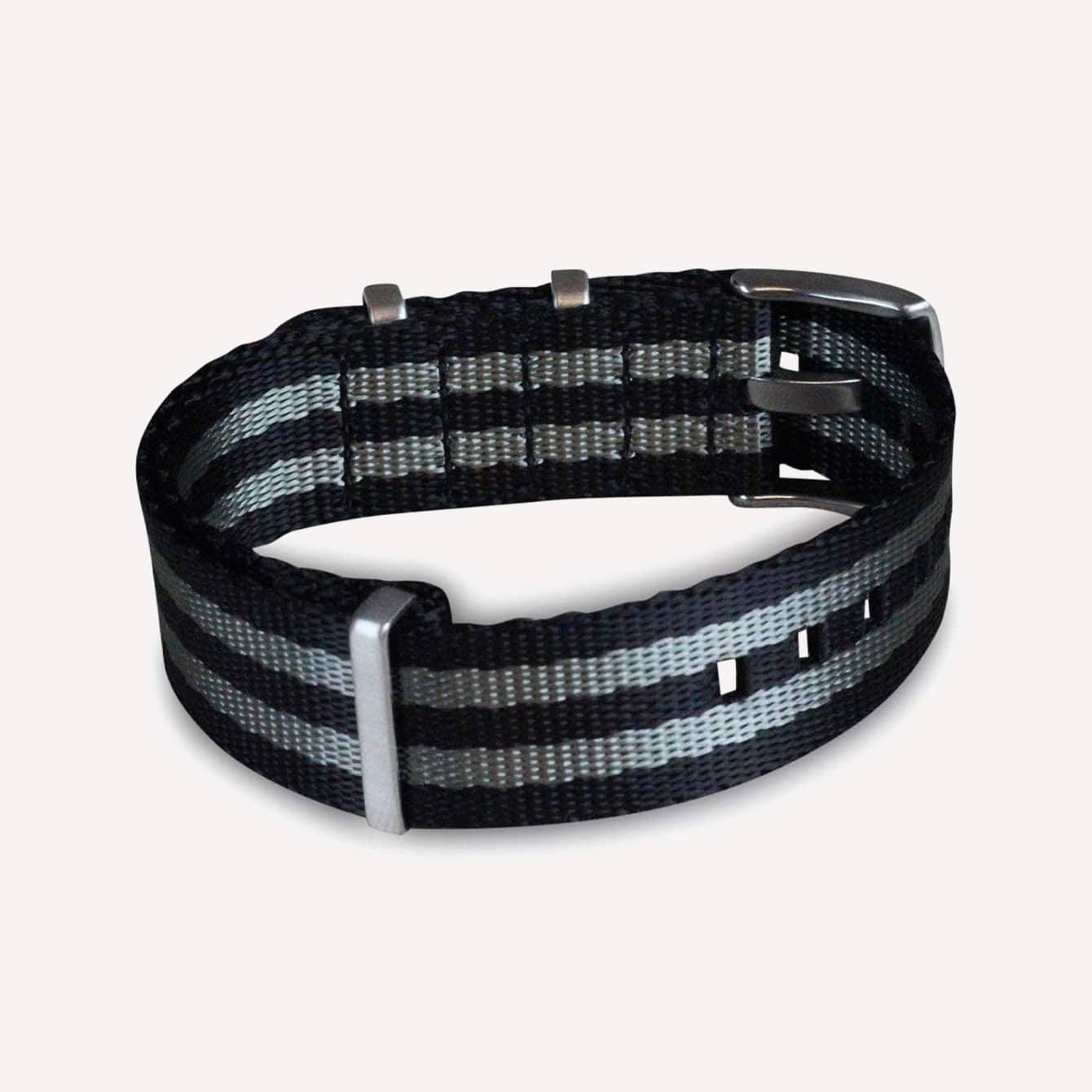 Yes, over $30 is a touch costly for nylon, but pop culture association aside, the AlphaShark is known for its seat belt weave, which is both incredibly strong and boasts a silk-like shine on its surface.
As far as NATOs go, this one definitely has a touch of elegance to it. And that's despite its tough build and rounded stainless steel hardware.
Crown & Buckle Supreme NATO
The Supreme NATO from Crown & Buckle is an extra thick strap made with a dense and durable composition. In addition to this super strength, it's also visually sleeker since this special weave prevents the creases and furrows you often see on the surface of such ruggedly-entwined nylon.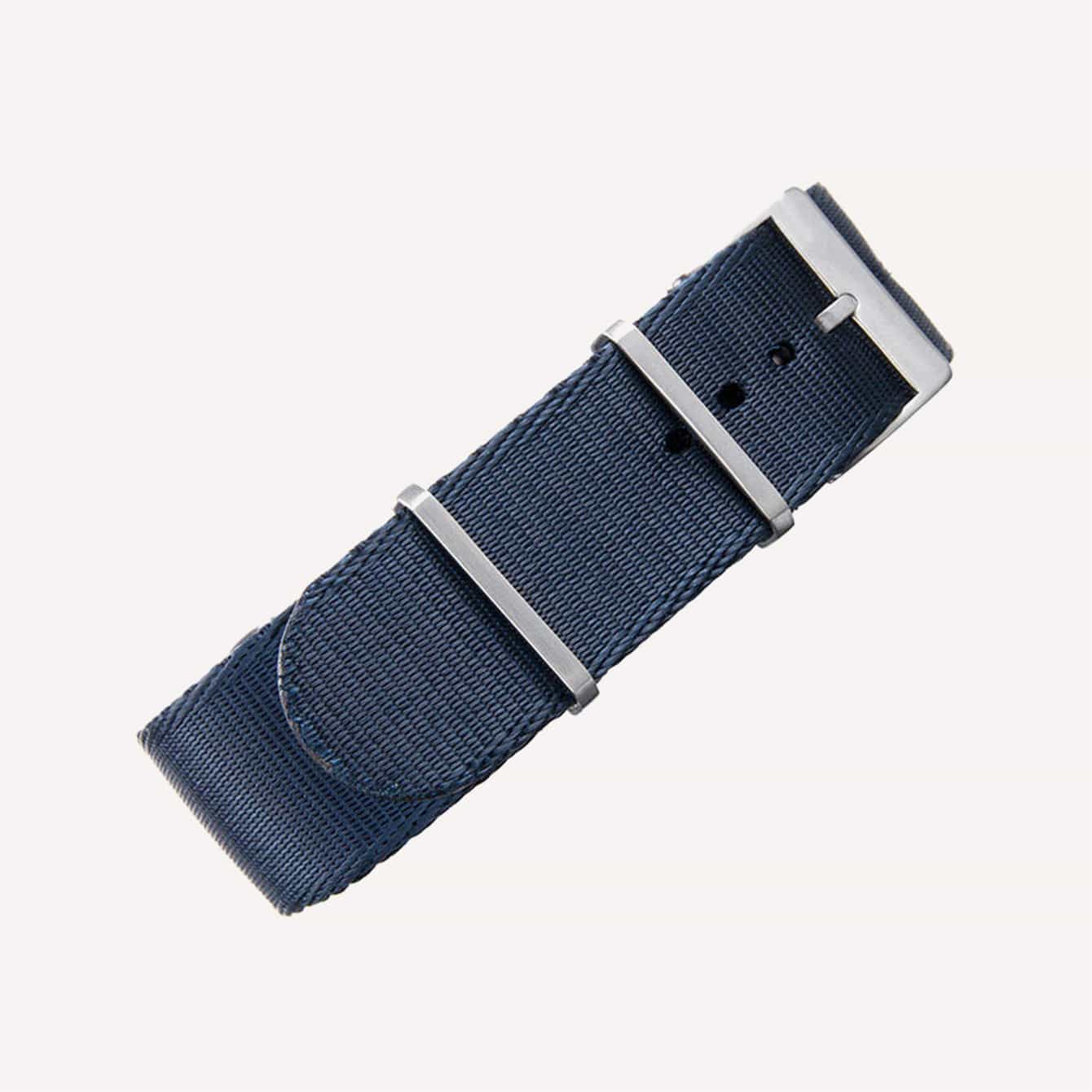 Its main strength is also a slight drawback, since the thickness, 1.4mm to be exact, makes it difficult to work with in the face of tighter spring bars. If you can get past that, it's a great, lasting, and reliable everyday strap.
Ritche Ballistic Four-Pack
Checking all of the boxes for the perfect entry-level NATOs, Ritche Ballistic Straps are cheap, come in a four-pack, and are still solidly constructed with ballistic nylon and black-coated stainless steel keepers. This also gives it a nice, authoritative look.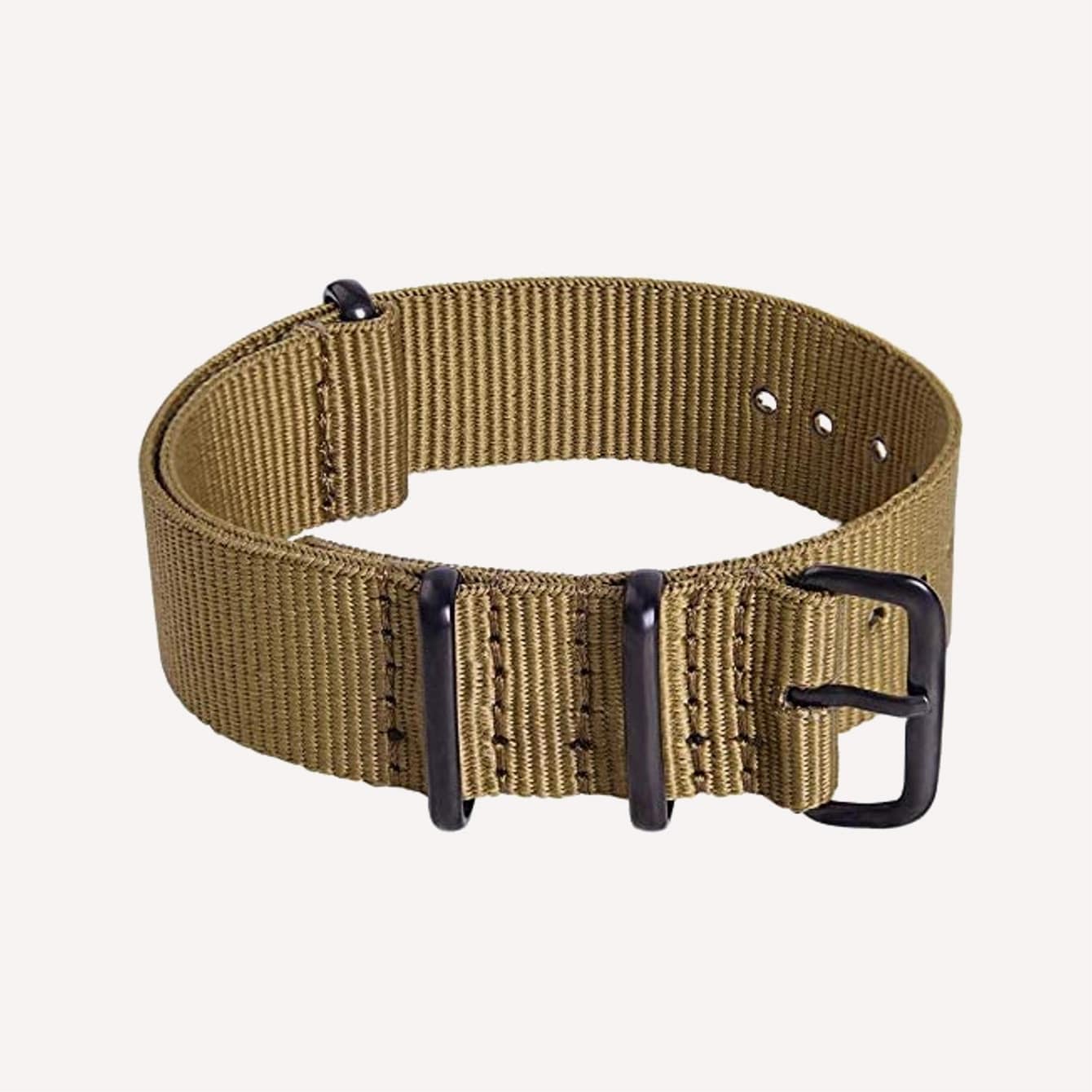 Even more, their low price and wide selection make them perfect for experimentation and collecting. There are striped variations, a nautical blue, and a military green, among several others.
Plus, the adjustment holes and strap ends are glued tight to prevent fraying, which is a pretty considerate touch given how low the price is.
Bonetto Cinturini Rubber NATO
Yes, there are in fact rubber NATOs. Servicemen go by land, air, and sea, after all. This Rubber Strap from Bonetto Cinturini is easy to wear thanks to its simple silhouette, combined with subtle topography that makes it interesting yet neutral.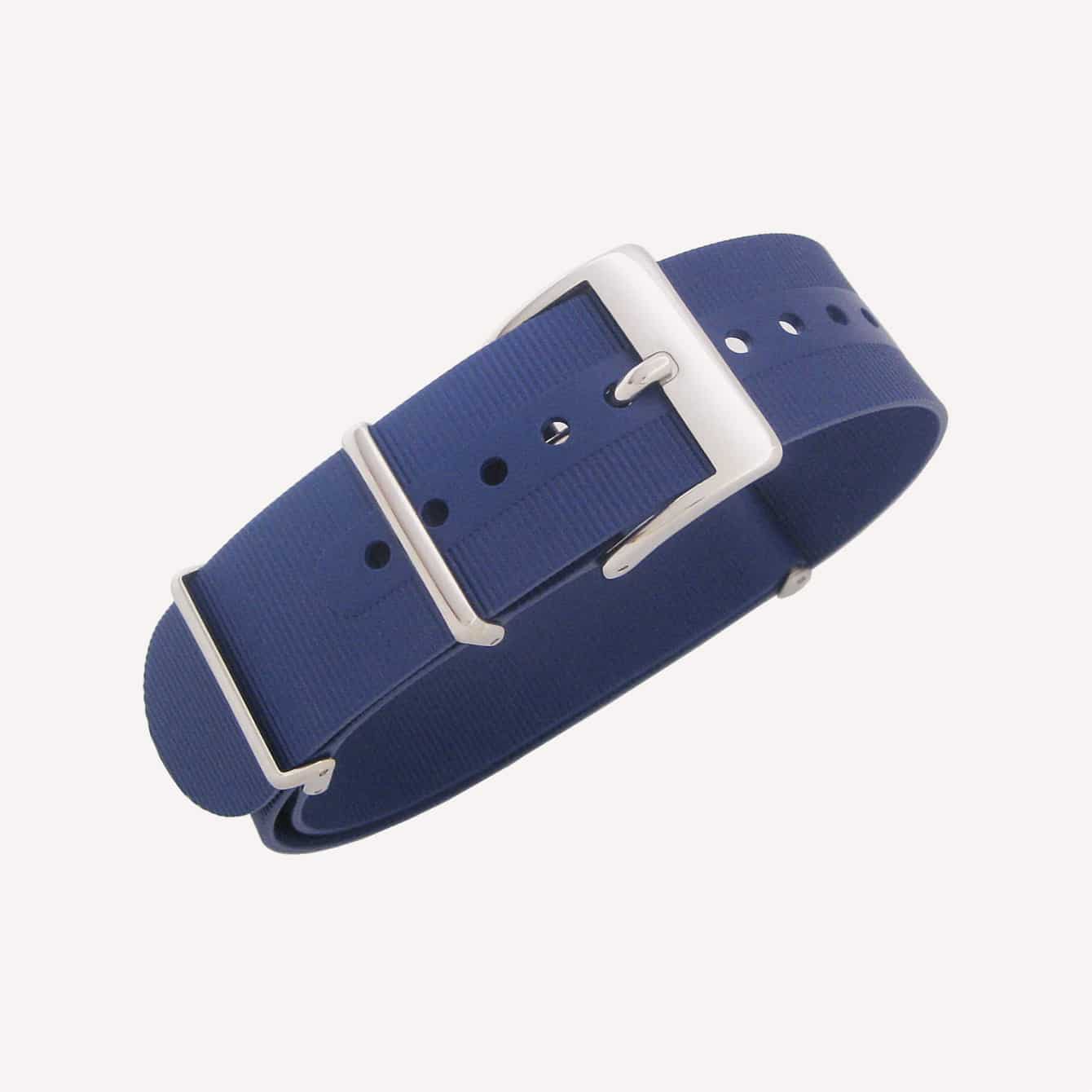 It's a two-piece design, with an extra piece attached to the second keeper with a spring bar.
Additionally, it's made of nitrile rubber, which is abrasion resistant, and especially resistant to crude and petroleum oils, as well as hydraulic fluids.
This makes it a perfect option for those of you who work in industries like automotives, electricity, and manufacturing equipment, among others.
StrapsCo Elastic NATO Strap
The Elastic NATO from StrapsCo, as its name suggests, features a special composition that gives it a lot of flexibility right out of the box. It's definitely one of the most comfortable NATO straps out there.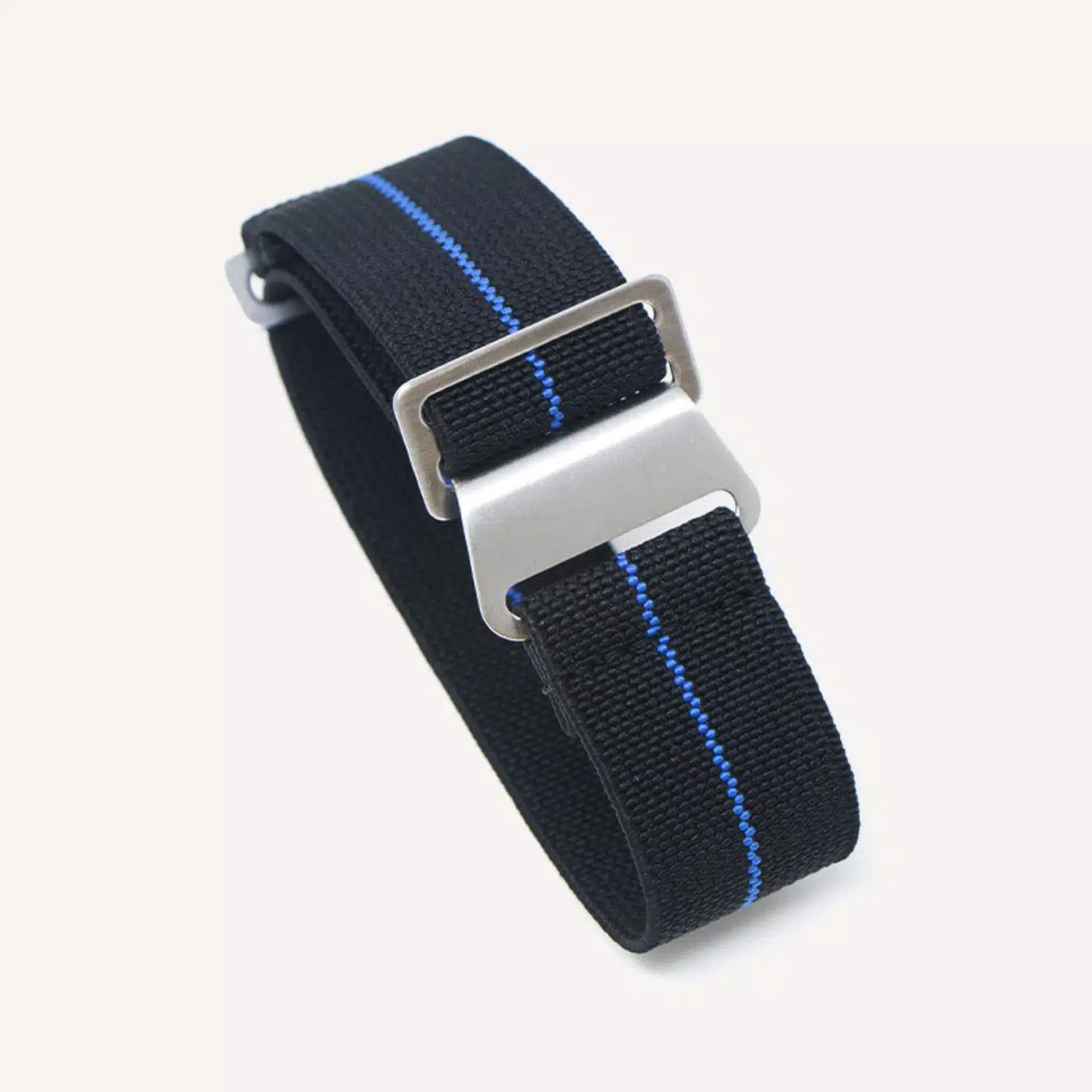 Visually, this weave gives it a cool texture that makes the accent lines on certain versions have an almost pixelated aesthetic. Between that and the unique hardware, this NATO has a fun, modern look.
The hardware, by the way, is based on a parachute's canopy release system, which makes adjusting the strap super easy and reliable.
Omega Fleming Five-Stripe
After you put the AlphaShark on your Sub, pair this guy with your Omega Seamaster.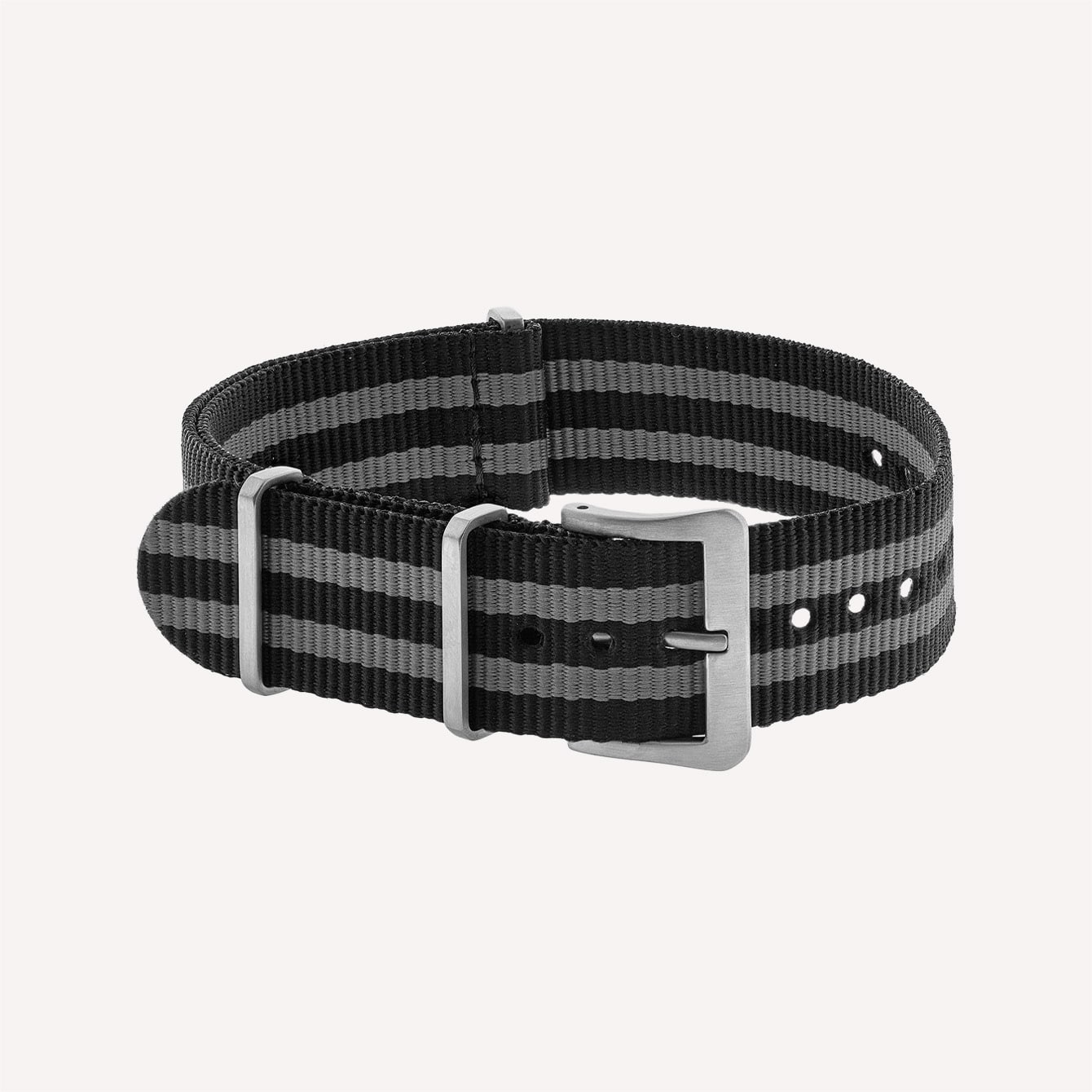 Okay, so the Omega NATO Five-Stripe is pricey, but I absolutely love it. The five stripes are a dynamic style, though the black-and-gray palette makes it neutral and versatile. It looks cool on field watches or dive watches.
Form and function combined, the hardware is impeccably-polished stainless steel and the buckle is signed.
Is it possible that it's only as expensive as it is because it's the James Bond Spectre NATO? Perhaps. But it's undeniably well-built.
Crown & Buckle Leather NATOs
A leather NATO is like a really good aviator jacket. It has an attractive, functional shape and design, and it's built with classy leather.
Crown & Buckle's Leather NATOs are made from beautifully-oiled full-grain leather and complemented with ZULU-style rounded keepers (either in brushed stainless steel or black PVD).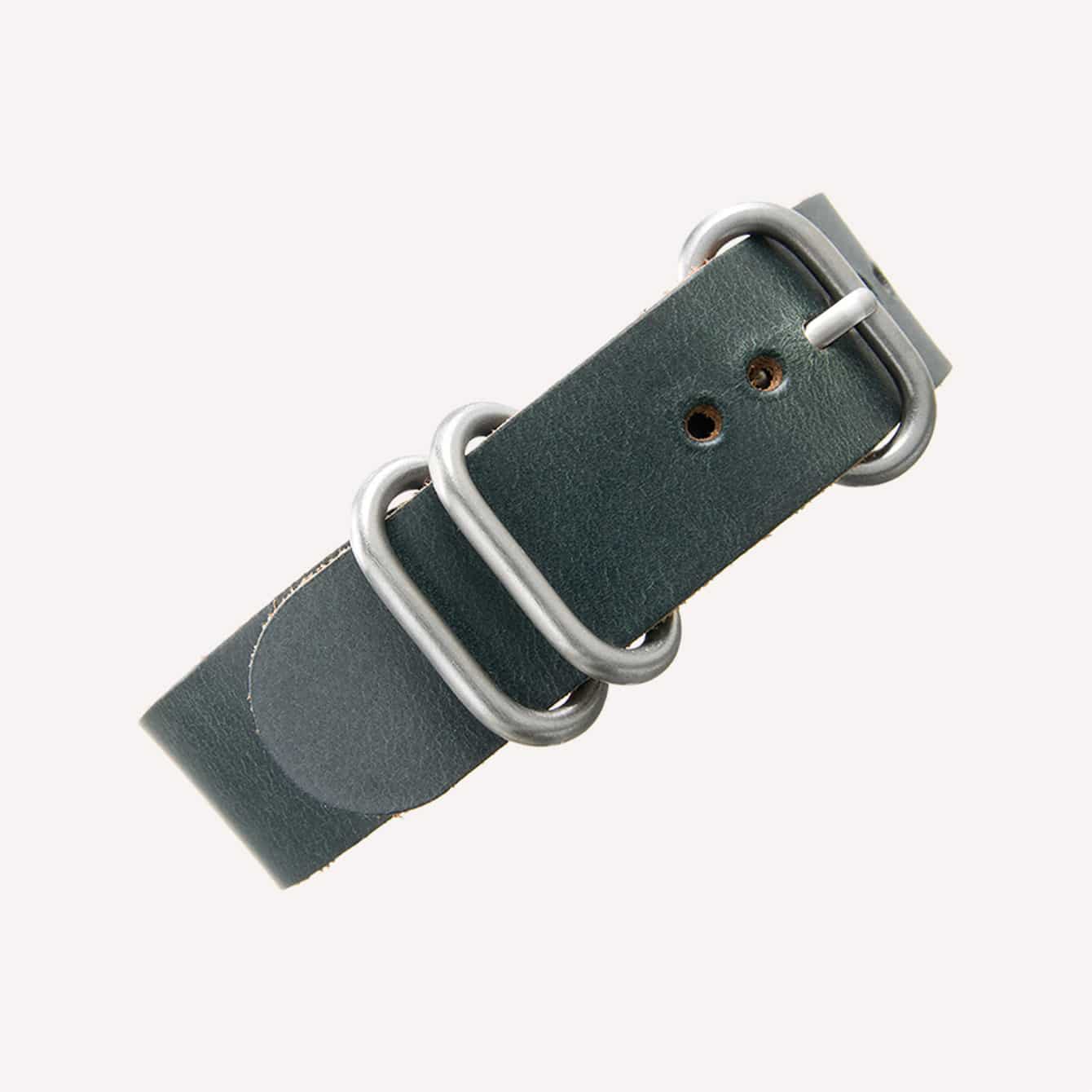 Moreover, the Chromexcel leather, though durable, is soft enough that it doesn't need breaking in. It feels as supple as it looks.
The azure colorway is a grayish blue that can be paired with any watch or outfit, the ruby is striking and deep, while the dark chocolate features elegant pebbling.
WatchGecko Zuludiver Vintage
The Zuludiver Vintage from WatchGecko has a retro-cool vibe about it. Its strong, textured, and the grayed surface gives it a charming lightly-used aesthetic.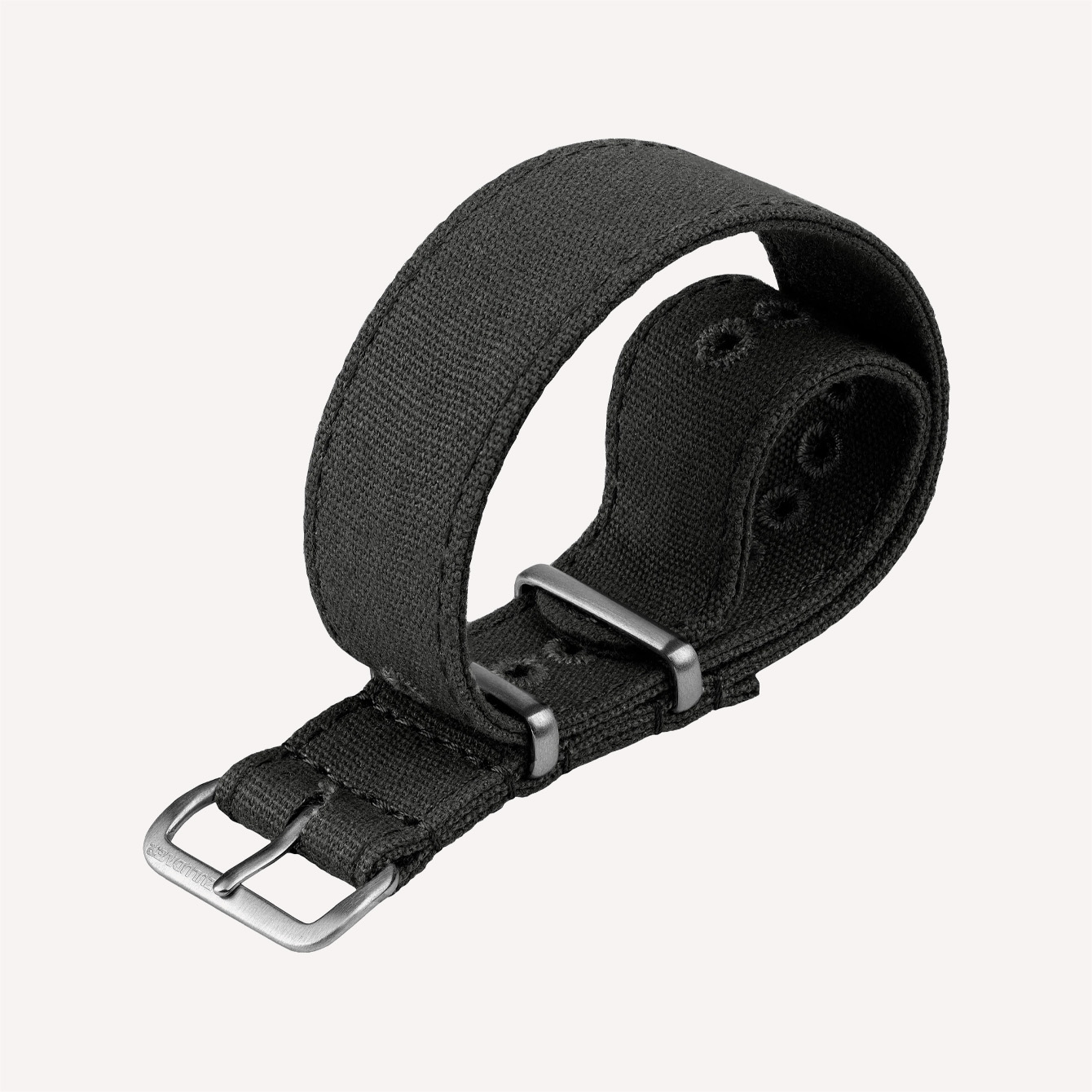 Still, the edges and adjustment holes are fortified for extra solidity.
It's slightly thicker than average, which means it'll fill up the watch's lugs without any play. Uniquely, the keepers are square but with soft edges, making it look like a middle-ground between a ZULU and a NATO.
WatchGecko Zuludiver 141
Have a vintage field watch in a rare strap size? The WatchGecko Zuludiver 141 comes in a wide range, from 18mm to the elusive 19mm, all the way up to 24mm.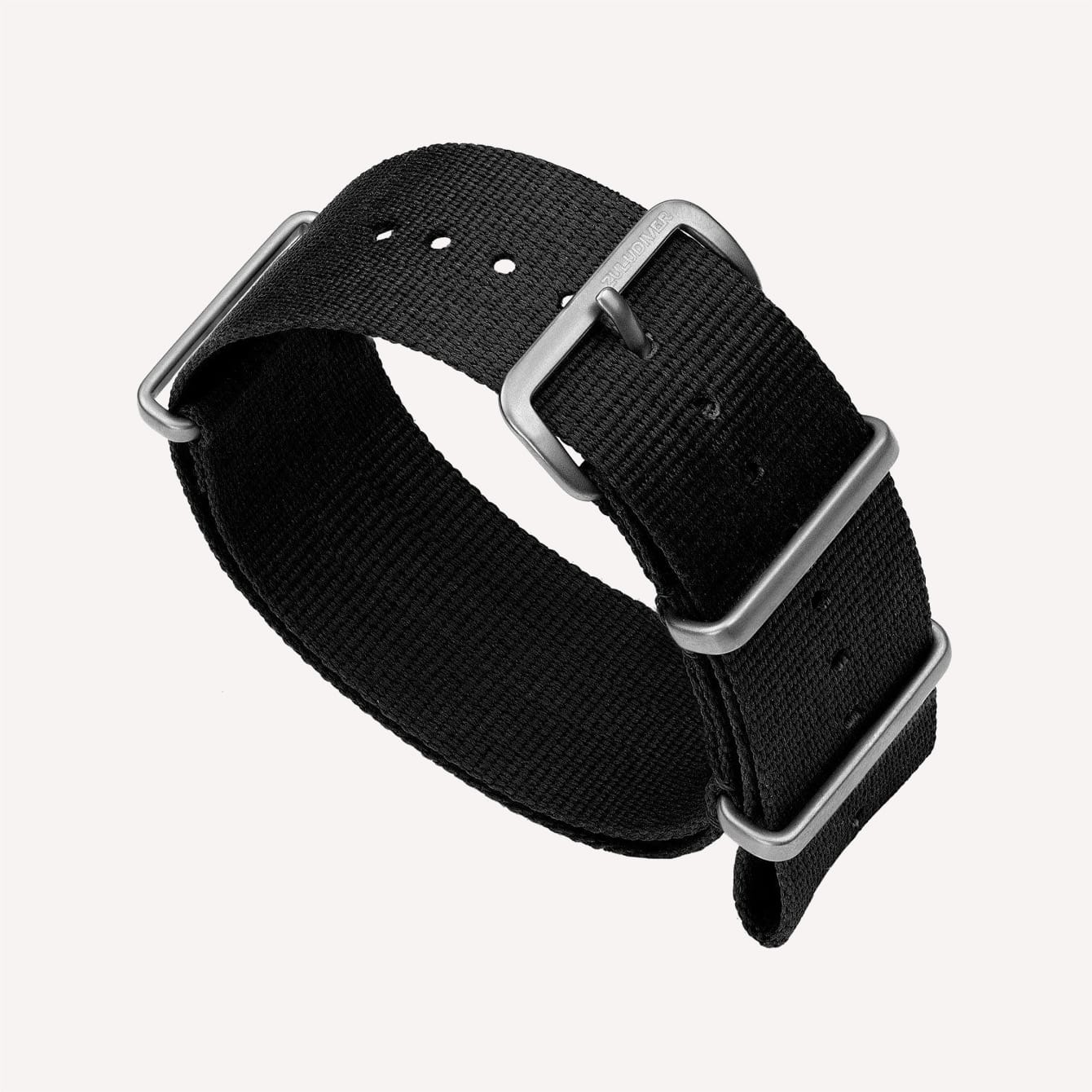 And it's definitely a great partner to a field watch, modern or vintage, because of its sturdy look and ZULU-like keepers. You can get these keepers in polished or satin stainless steel, and even PVD black.
It comes in all of the classic colorways: black, a bluish-grey, and two shades of green.
Barton Leather NATO
The Barton Leather NATO embodies that monochrome, matte, and leather-forward look that screams classic pilot watch. Have a German Flieger or a slide-rule-clad aviator? These straps are tailor-made for those. Even the keepers are made of leather.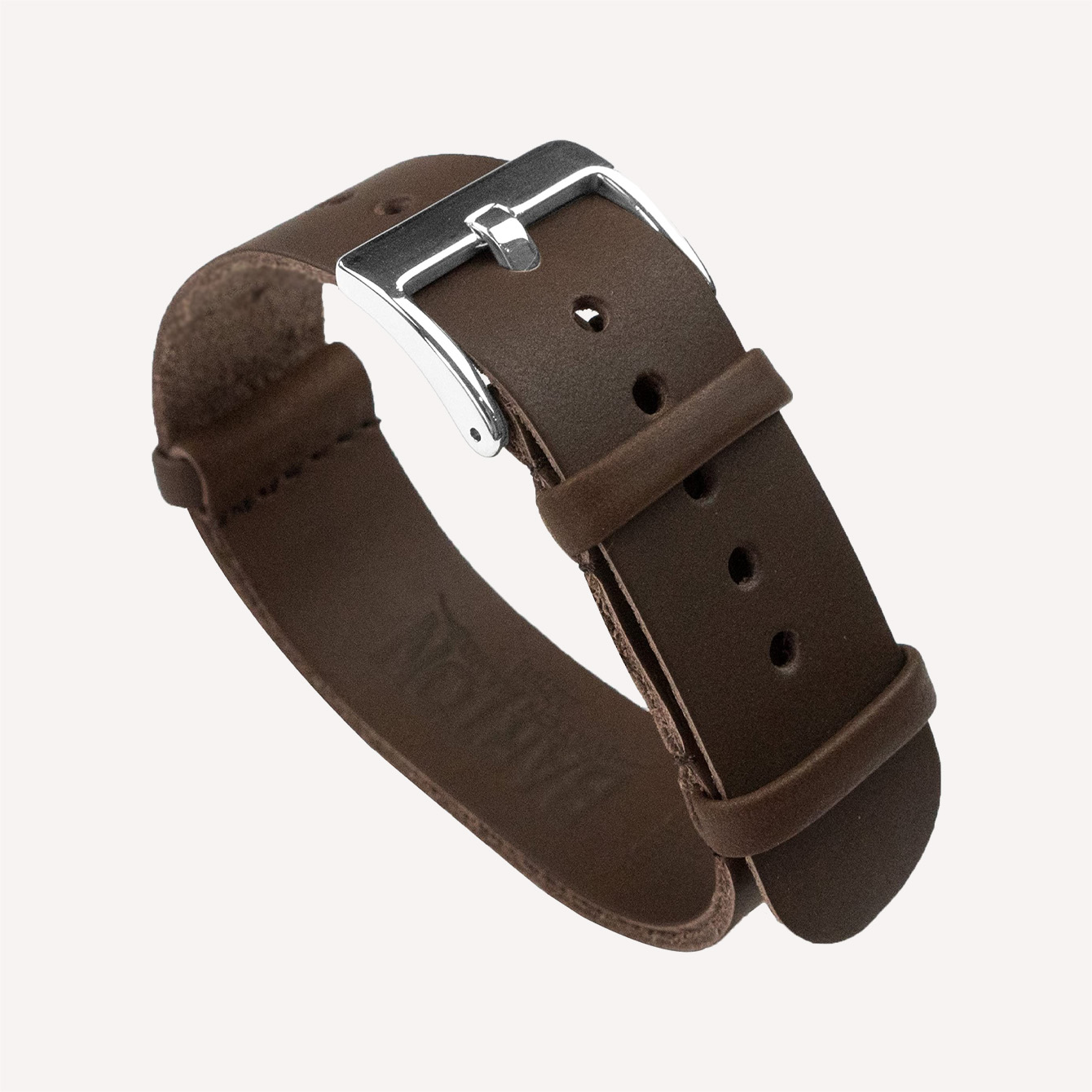 The rugged napped surface is more obvious on certain colors, like the gingerbread brown, but looks absolutely buttery.
It's made out of top-grain leather, which is just a rank below full-grain, but it's super flexible, comfortable, and not bad considering the ~$20 price point.
Barton Elite NATO
The crown feature of the Barton Elite NATO is its oversized nylon keeper. It does one of two things.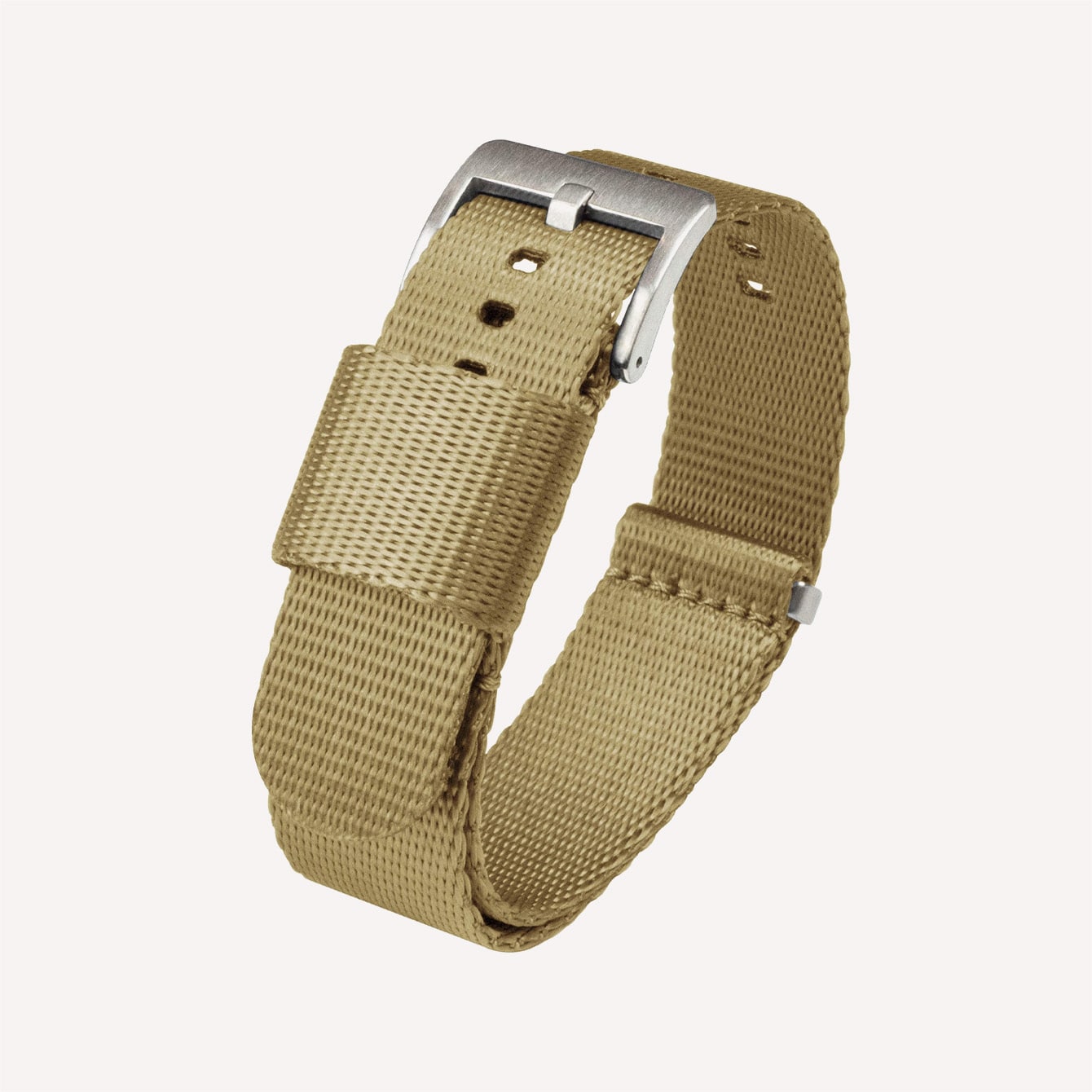 First, it ensures your wrist isn't banging around your desk the way a metal keeper would when you're typing up an email. Second, it gives it a distinguished, one-material look that, because of the lack of metal, has a more clothing-like, textile aesthetic.
The only piece of metal is the buckle, the brushing of which looks exquisite next to the seatbelt webbing of the tough-as-nails nylon. It comes in a wide range of colors, patterns, and sizes, which is also a plus.
CNS Watch Bands Premium Strap
Interestingly, CNS Watch Band Premium Strap is made of polyester, which means it's especially strong, but boy does it have a pleasant wrist feel. Like a well-balanced whiskey, its formula is tempered by cotton, giving it softness without compromising the brawn factor.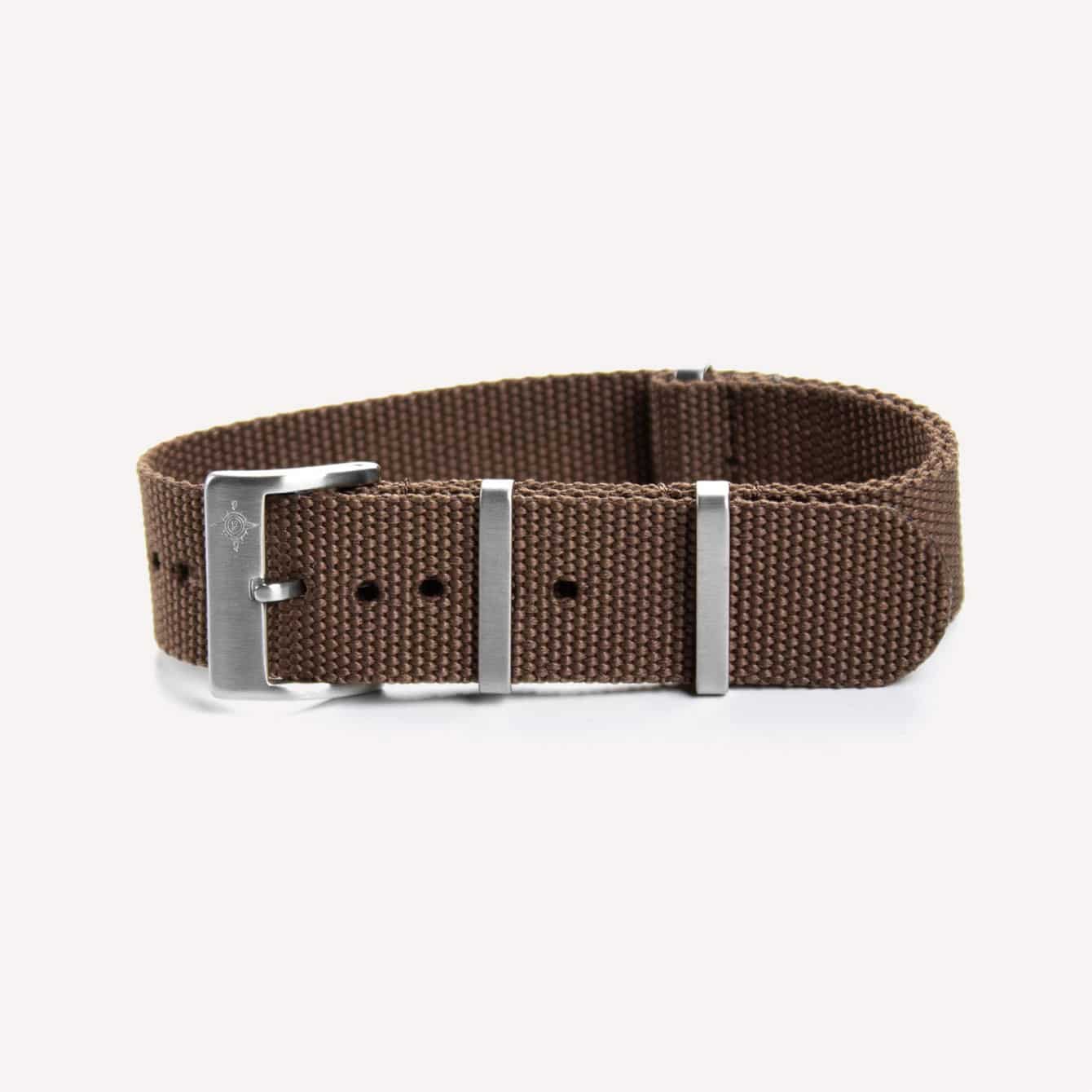 Also, the hardware is hypoallergenic since it doesn't have nickel in it.
In general, CNS is a good brand to turn to since they have such a substantial collection of nylon watch straps in the ~$10 to ~$13 range.
Clockwork Synergy Classic NATO
If you're looking for unique, even loud, takes on the NATO, look no further than the Clockwork Synergy Classic Strap line.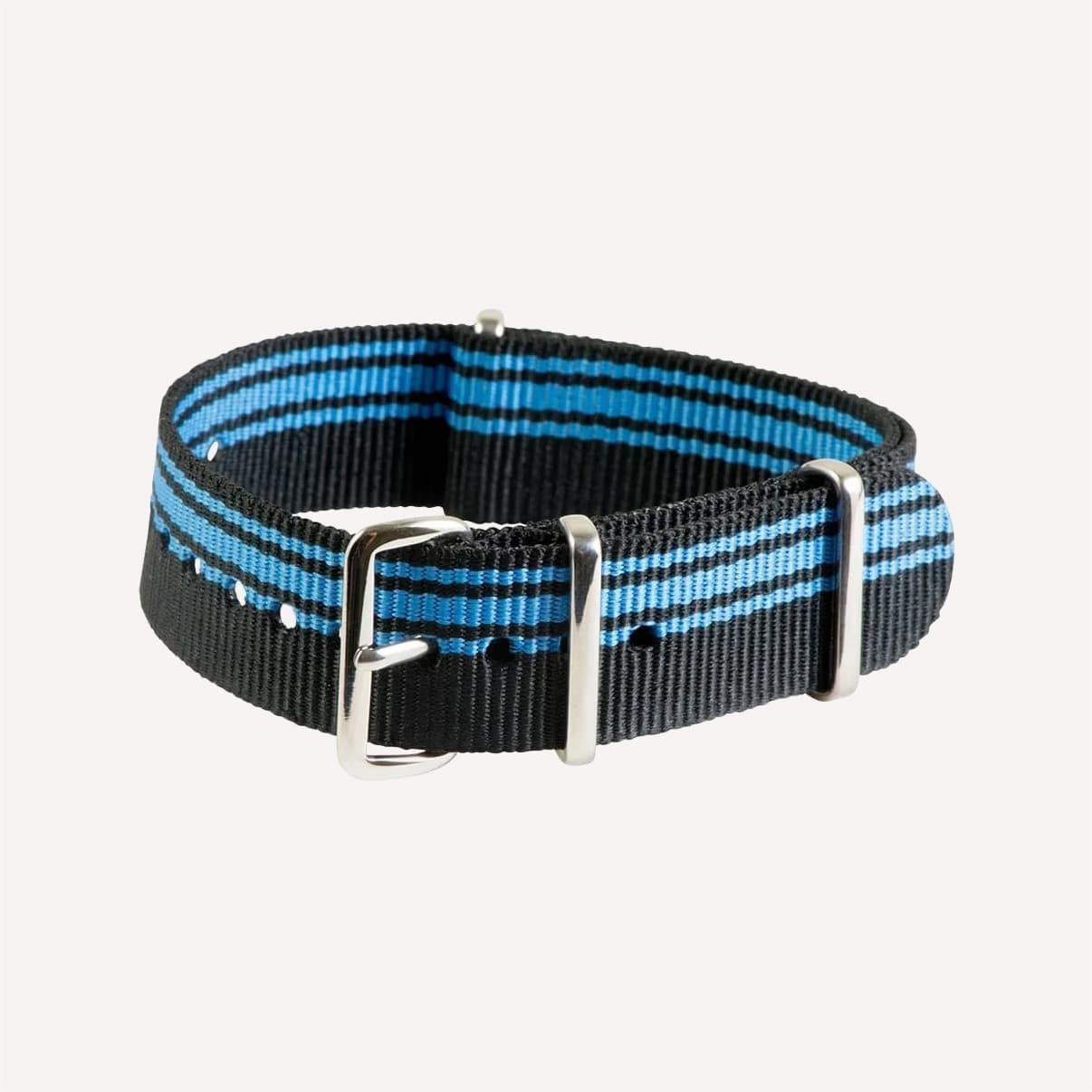 They check all of the boxes for good construction, including a nylon body and stainless steel hardware. Even more, the 1.25mm thickness feels great on my thin wrist.
The Ducati black with neon blue stripes is a distinct but not completely out-there remix of the classic three-stripe, while the turquoise and orange are bright and lively though the black accents tame the overall look.
At the risk of using superlatives, there's a design here for most, if not all.
Crown & Buckle Supreme NATO straps
Supreme Straps over at Crown and Buckle are made of ballistic nylon and are also at that reasonable 1.25mm size.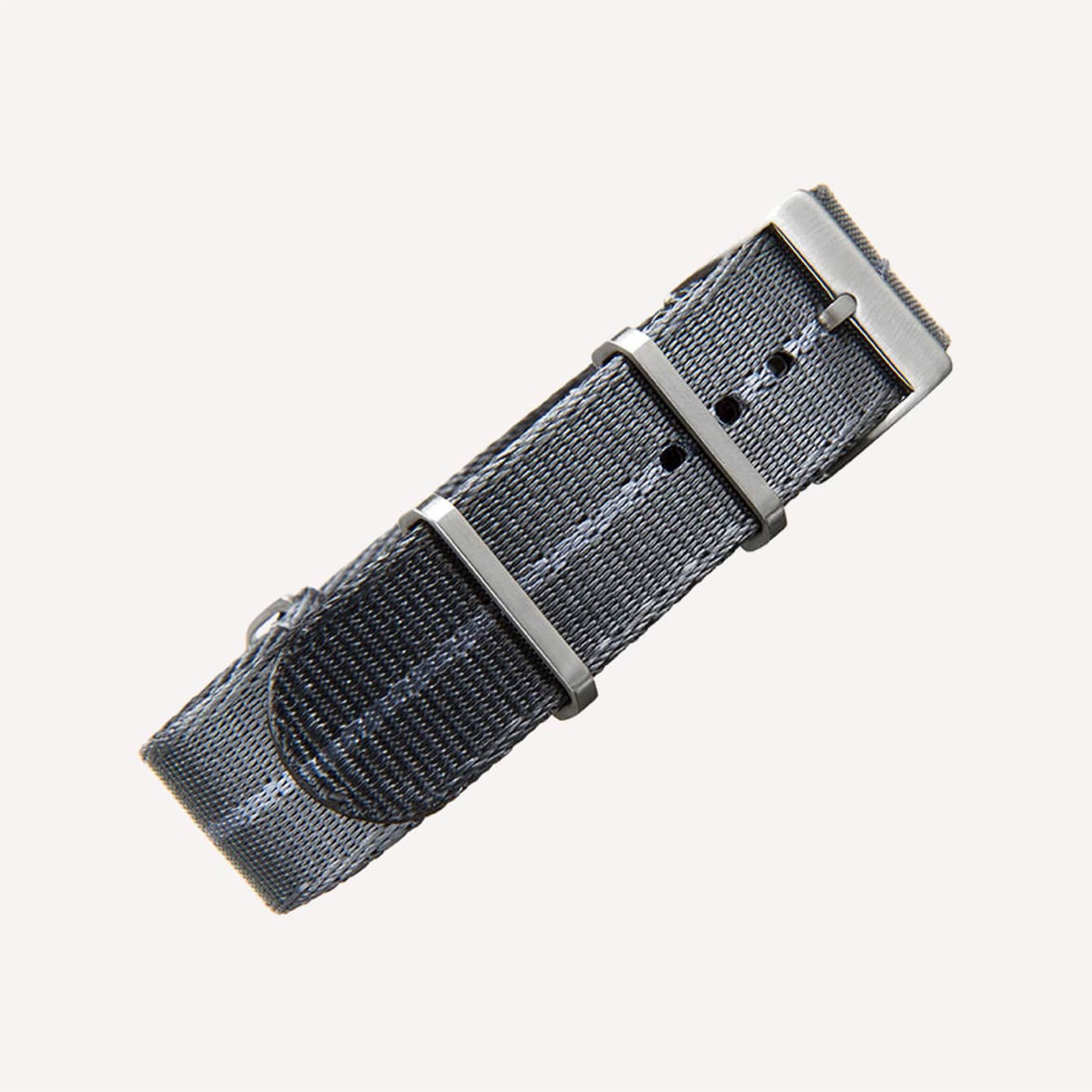 While a Supreme Strap may be stiff at first, but once you've broken it in, it will last you a very long time.
Made from an especially air-tight weave, "ballistic" is smooth, one of the strongest nylon constructions in the world, and has straight, clean edges and holes so it can't fray.
The entire bracelet is made using high-tech means, from ultrasonic-fused nylon to the CNC-machined buckle. Technicalities aside, this basically just means smart tech gave it impeccable edges and surfaces throughout.
Watch Gecko Zuludiver Sennen
What makes the Zuludiver Sennen over at Watch Gecko unique is its visibly thick weave. This texture-forward aesthetic carries on into the hardware's soft-edged turns.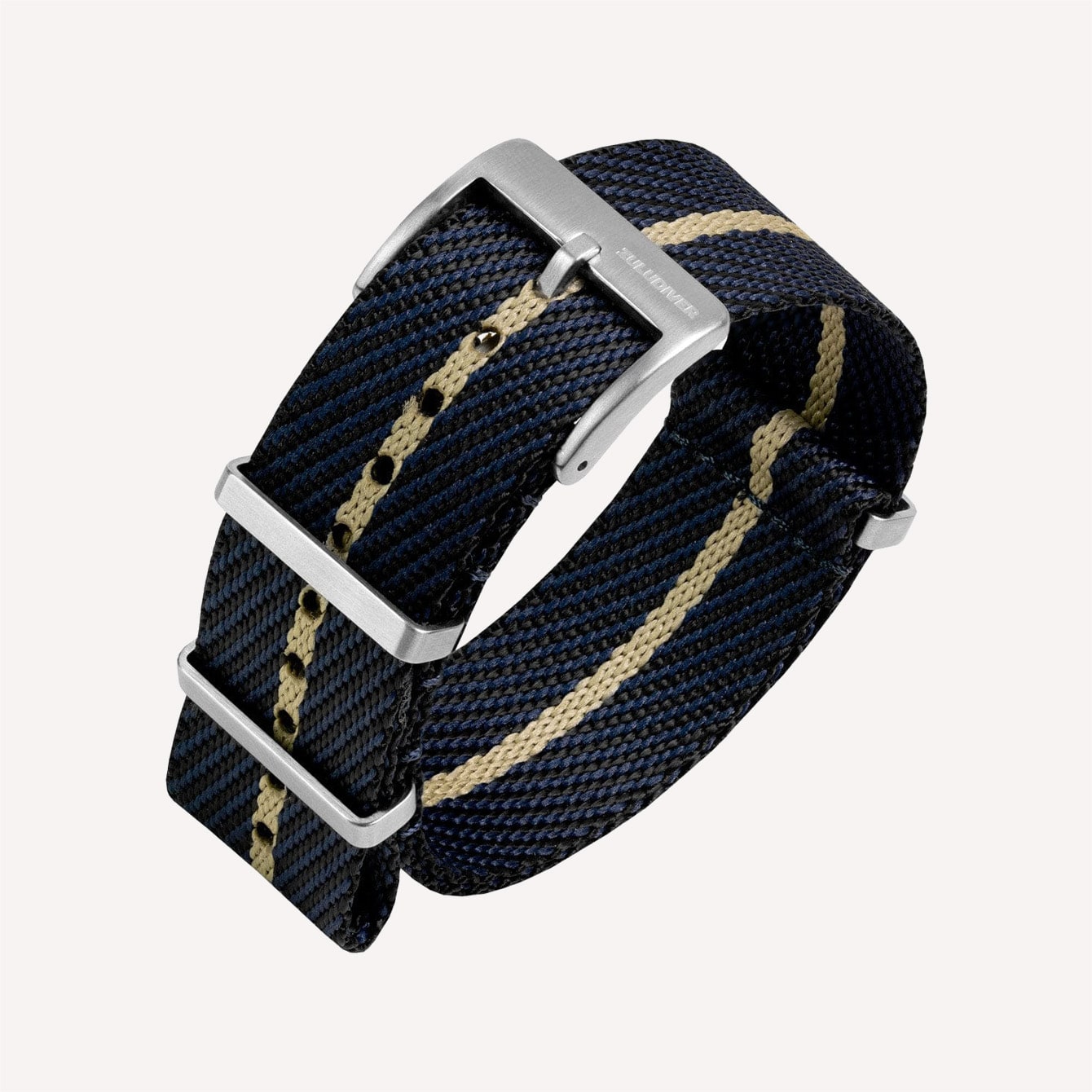 Throughout the different colorways, there's a dominant darker color, but really it's two shades (black and dark navy, for example), which highlight the topographical braiding. It makes it more dimensional, and I think, gives it a sophisticated look.
Even more, the hearty weave fortifies the strap's entire construction. So it's as strong as it is good-looking.
Bulang and Sons NATO Straps
If you want a more luxurious NATO, check out Bulang and Sons NATO Straps. They look and feel upscale, especially if you go for a leather version.
The leather NATOs are made from all-natural cowhide, which feels supple and immediately soft, yet is strong enough to last years. And of course, since it's all-natural, you'll get a nice patination going over these years.
Even if you go for a traditional nylon, Bulang and Sons make ones similar to the AlphaShark, in that they're flawlessly woven, with clean, strong finishes, and a surface that glistens no matter where the light hits it.
Bark and Jack NATO Strap
The Bark and Jack NATO straps are all about details. It's made of that previously-mentioned seatbelt material, which is strong because the weaves literally hold tighter to each other the harder you pull on the strap.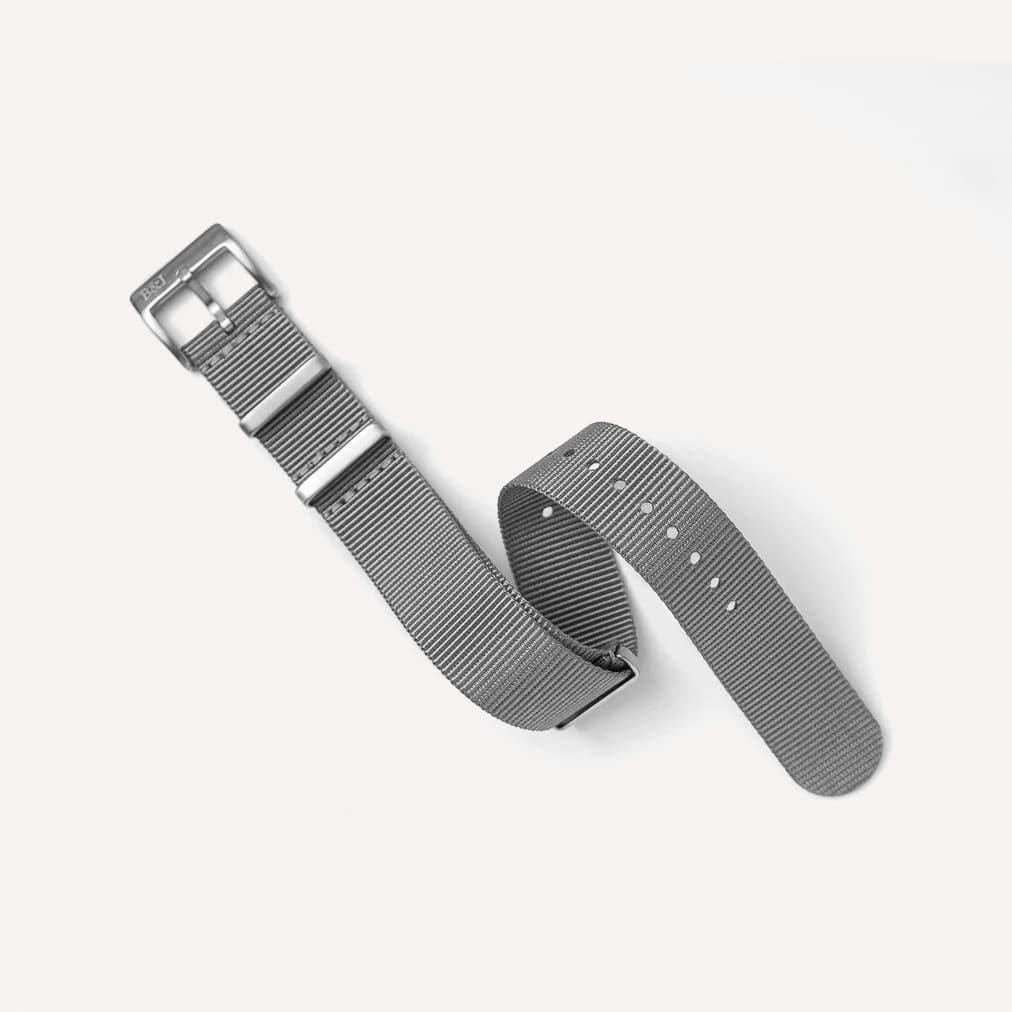 Meanwhile, the adjustment holes are fray-proof and user-friendly, thanks to their heat-sealed edges.
If comfort is your main priority, go for this NATO. It may flaunt a tough build, but it's soft on your skin, doesn't need any breaking in, and will even get softer and more comfortable over time (without getting weaker, of course!).
FAQs:
Still have some questions about NATOs, but are short on time? Here are some quick answers to common questions!
Are NATO straps more secure?
Yes, NATO straps are made so that they're attached to the spring bars of the watch. That way, if one gets loose, you won't lose your watch. Plus, they're built for durability, often with dense nylon.
How do I choose a NATO strap?
It depends on what's most important to you. If durability is your main priority, go for a ballistic nylon one. If you want added flex or comfort, go for elastic constructions. Of course, you also want to consider personal style.
What's the difference between a NATO and a Zulu strap?
These days, you can tell them apart by looking at the hardware. ZULUs have thick, rounded keepers, while NATOs have flat, rectangular keepers.
Conclusion
There's more to NATO straps than just the three-lined nylon versions you often see, though those are pretty classic.
They're a good go-to if you want a reliable, comfortable strap for your tool watch, but you can also find fashion-forward options and well-built high-end NATOs too.
Questions? Comments? Leave them below!