Looking for an alternative to the popular Cartier Tank? This list has you covered.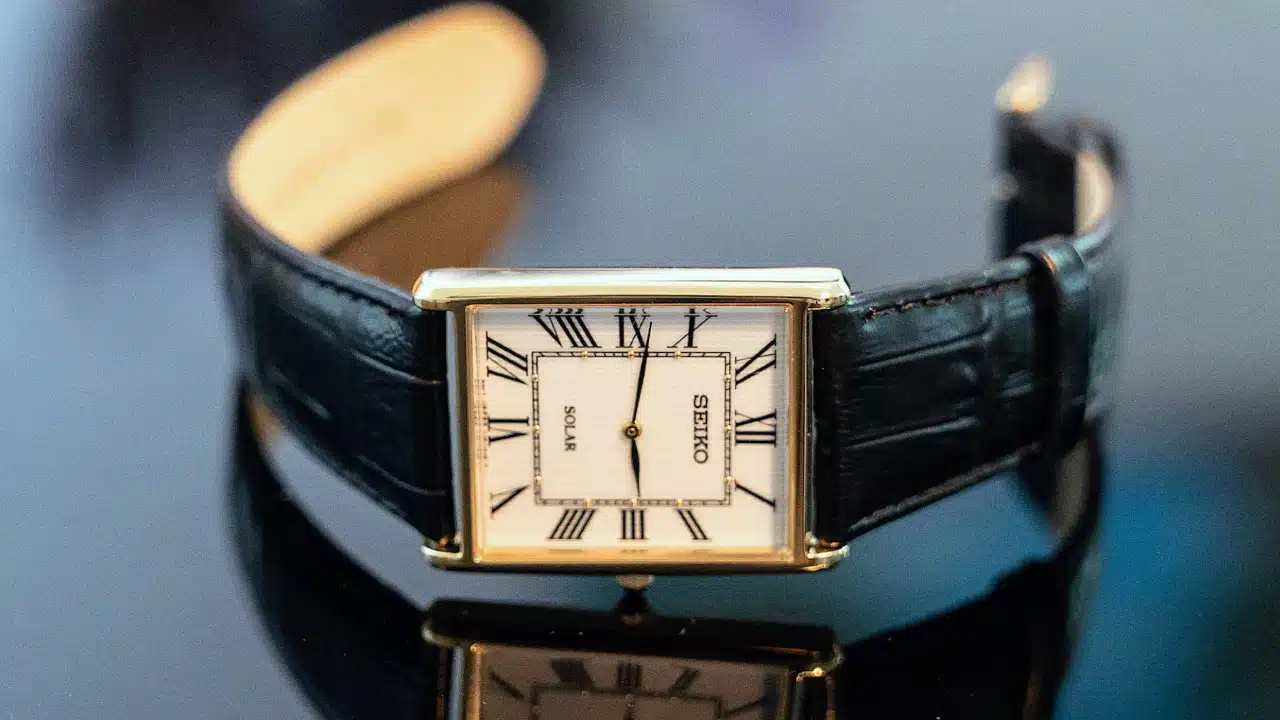 Designed by Mr. Cartier himself in 1917, the Tank is undisputably the brand's most famous design.
Louis Cartier modeled and named it after a World War tank called the Renault FT-17. The square case, those royal blue sword hands, and the Roman indexed dial are some of the most recognizable combinations in the watch world.
The design is actually quite simple, which is why it has so much crossover appeal. Additionally, the style is more than a century old, which makes it a tried and true, timeless design.
It's this simplicity that makes these watch alternatives so interesting. It's a design that watch designers can heavily remix without losing sight of the source material.
A Cartier Tank can set you back anywhere between $7,000 to $20,000. It's no wonder why Cartier Tank alternatives are pretty popular.
We've rounded up 10 of the best Cartier Tank pinch hitters right here. Let's get to it.
Cartier Tank Affordable Alternatives
We've categorized the selects under two groupings: Those under a grand, which make up most of the list, and the luxury picks. All but one of the high-end alternatives are still more affordable than a Tank.
Below are some less pricey options if you like the style of the Tank but are on a budget:
Seiko SUP880
A good homage is one that pays as much attention to creating thoughtful differences from its inspiration, as it does embody the similarities.
Unlike most, the Seiko SUP880 ghostwriter is bold enough to completely take on the Tank's signature slanted Roman indices, but it isn't just a relabelled fake.
The subtle pinstripes on the dial provide texture and dimension. Meanwhile, there are gold accent dots below the indices, while the case and strap sport a mostly uninterrupted, bracelet-like silhouette.
These qualities give this watch that men's jewelry look that Cartier tends to go for.
Top it off with leaf hands instead of sword hands and a black jewel crown instead of a blue one, and this guy becomes more than just a cover band.
Dimensions: 32mm case length, 5.1mm thickness, 22mm band width
Case material: Stainless steel
Water resistance: 30m
Basically, the Seiko SUP880 lifts the feel and vibe of Cartier, without swiping every single specific detail of the Tank.
Bulova Classic 96B107
The Bulova Classic 97B107 is just as elegant as the Tank, with several statement accessory details.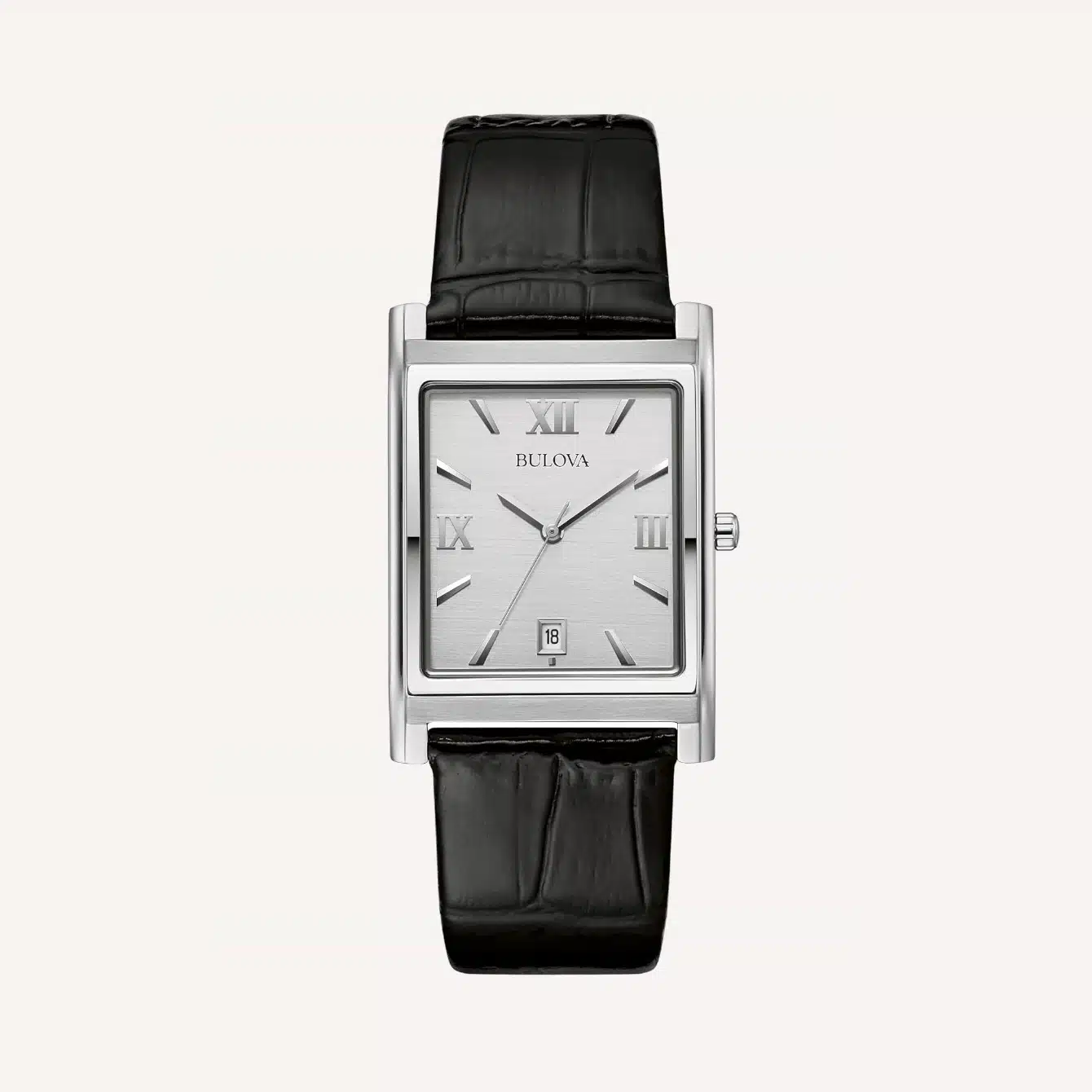 It features high-gloss applied indices and case, 41mm case length, and curved mineral crystal. These details create an eye-catching blend of modern and vintage aesthetics.
The Bulova 96B107 still has a vintage feel, yet the stainless steel and silver colorway adds a touch of modernity.
Compared to the Tank, this Bulova features many more steps and dimensions on its face, creating pretty striking light-play.
Of course, any Cartier watch would be a statement piece, maybe even a flex, because of the brand's focus on status.
Dimensions: 41mm case length, 6mm thickness, 20mm band width
Case material: Stainless steel
Water resistance: 30m
However, the Bulova Classic 96B107 takes a more design-oriented approach to this. It does so without compromising the clean-lined minimalism of its inspiration watch.
Seiko Diamonds SNE461
The stars of the show here are the Statistik Nachhilfe Seiko SNE461's bejeweled indices, which are made to look like diamonds. The rest of the design choices are there to complement these high-shine stones.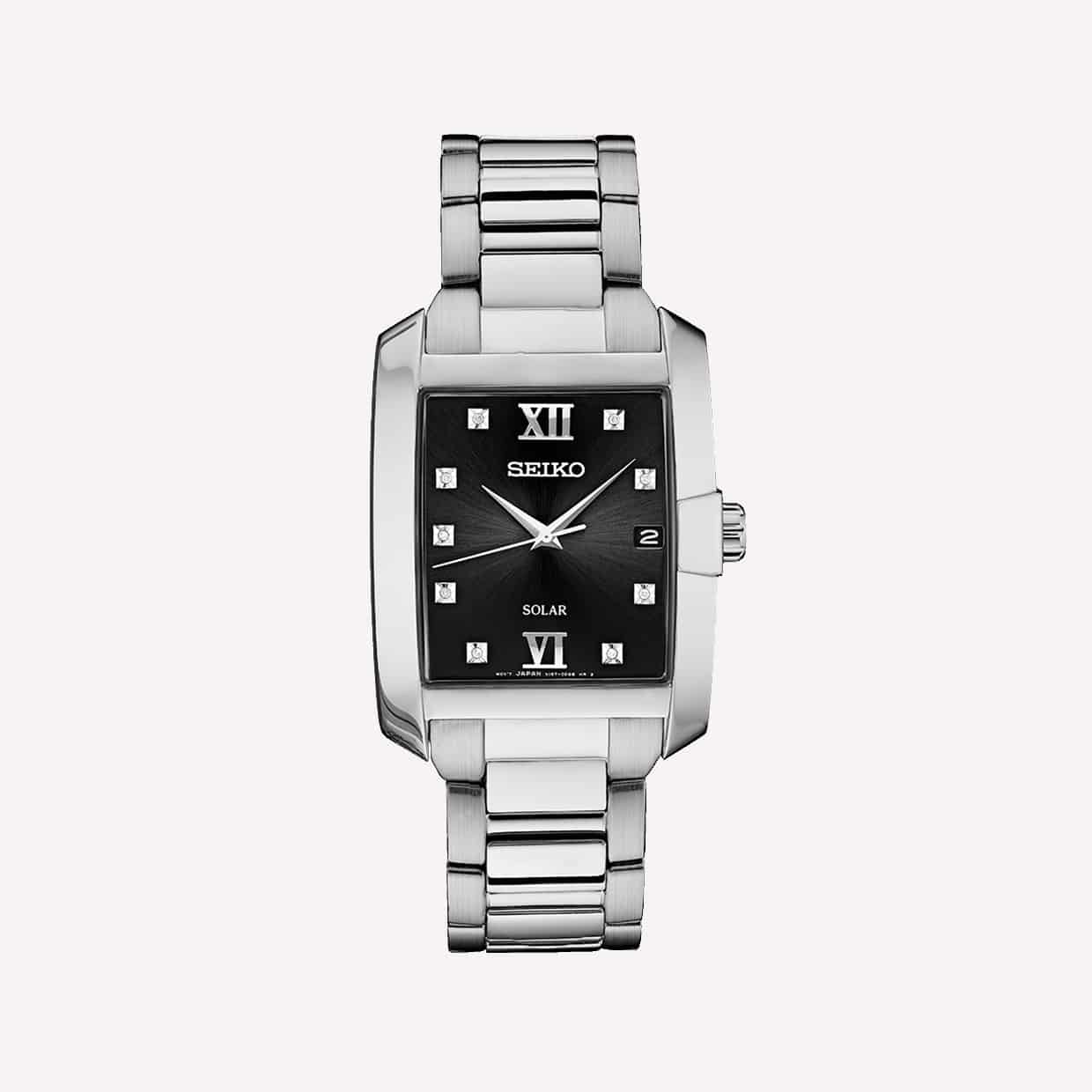 Clean, modern lines throughout the case and bracelet match the multi-surfaced jewels, even incorporating a step near the crown.
The silky black dial allows the indices to pop, but not as dramatically as it would on a stark black, narrowly avoiding being gaudy.
I wouldn't call this watch an entry-level timepiece to jeweled watches, there are nine crystals on it after all.
Dimensions: 34.5mm case length, 10.7mm thickness, 20mm band width
Case material: Stainless steel
Water resistance: 30m
It's definitely an intermediate step, taking thoughtful approaches to frame the stones, compared to say the Bulova 96K105 or the Wittnauer Laureate which appears later on this list.
Peugeot 2051GBK
The Peugeot 2051GBK is a good old-days style watch, leaning even harder into the vintage look than the visually similar Seiko SUP880.
The face is definitely ornate, sporting all Roman indices and an inner square with a wavy flinqué pattern. However, the frame bezel and crown are exceedingly minimalist, basic but not generic, reminiscent of a well-loved jazz standard.
The frame takes up much more real estate, so it balances out the fancy dial face for an overall mature and classic style. The bezel is also 4k gold-plated, a small hat-tip to Peogeot's history since they started in 1957 with a focus on handcrafted gold watches.
Dimensions: 40mm case length, 10mm thickness, 22mm band width
Case material: Stainless steel
Water resistance: 30m
If you love the idea of the Seiko SUP880, but want something more understated and still dressy, the Peugeot 2051GBK is an excellent historical option.
Breda Virgil
Minimalist and unabashedly modern, the Breda Virgil is the cool guy's take on the classic tank style. Breda is a lifestyle label that focuses on infusing classic watch templates with contemporary vibes.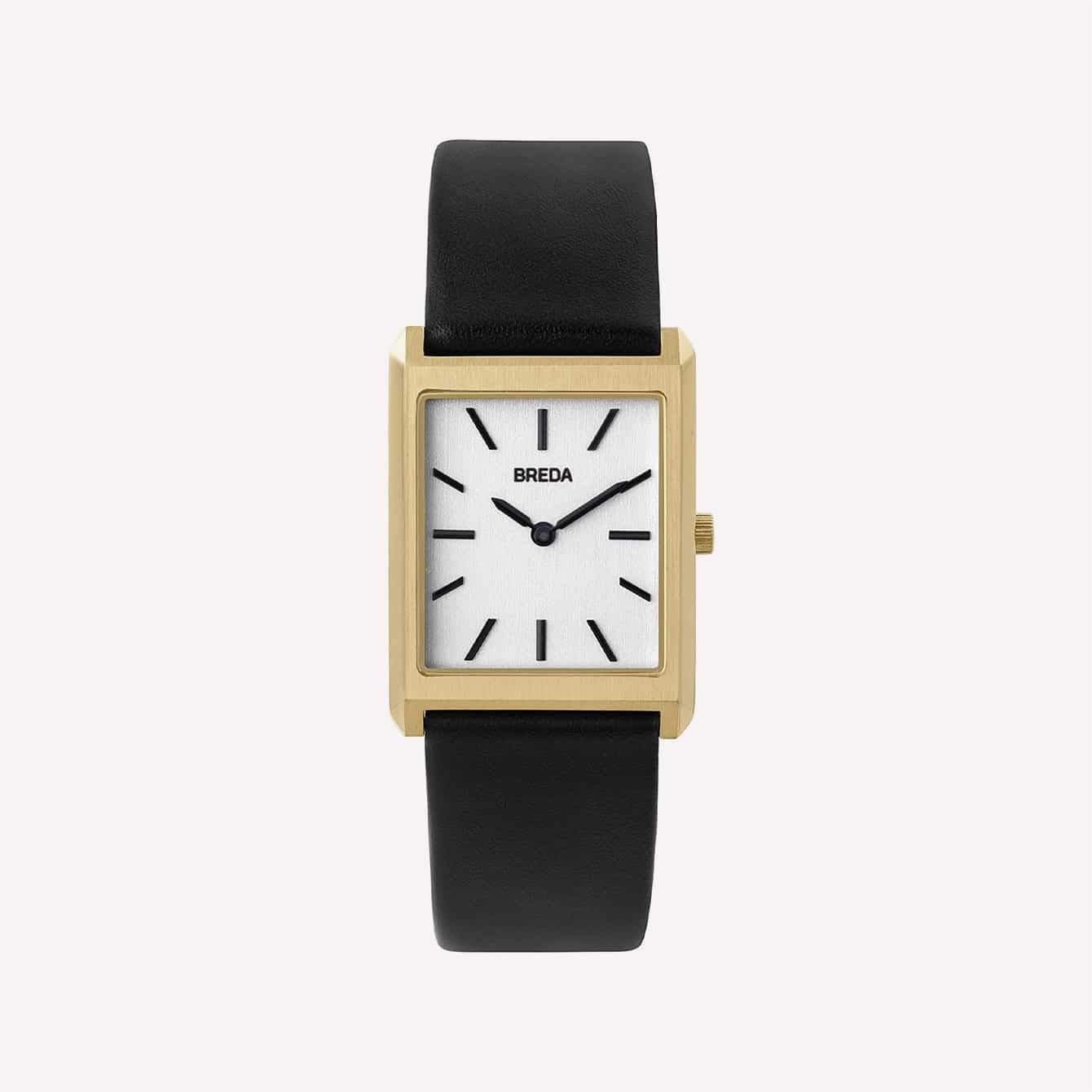 Their GQ-approved watch lines include collaborations with artists, influencers, and others in the finger-on-the-pulse community.
The gold case with a black strap is the standard Virgil. The all-black case with a black strap feature a gold crown and matching gold applied indices on top of a matte but similarly-colored dial background.
It's not great for legibility, but that's not really what this watch is about.
Dimensions: 26mm case length, 7mm thickness, 20mm band width
Case material: Stainless steel
Water resistance: 30m
Go for the Breda Virgil if you're looking for an affordable Tank style watch that you can wear with your limited edition COMME des GARÇONS Converse sneakers.
Hamilton Boulton H13519711
Another fully Roman-marked timepiece, the Hamilton Boulton stands on its own as a respectable and historical watch model.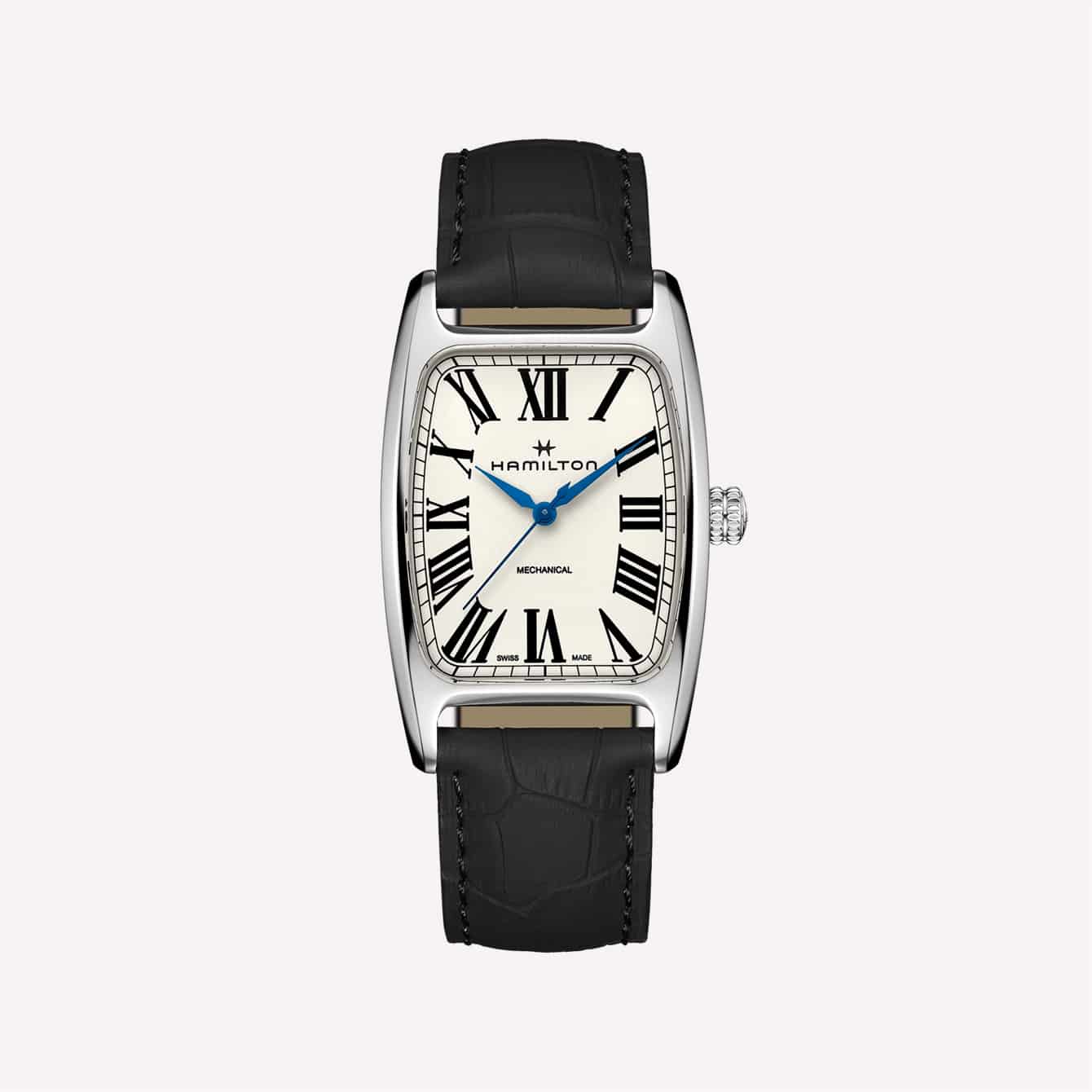 To everyone's pleasure, Hamilton has a tendency to reissue their heyday models. The original H13519711 came out in the '40s.
Its tonneau shape is more rounded than a true Tank-style watch case.
Between that and the almost psychedelic pulled look of the corner hour markers, the Boulton is definitely more of a swingin' swanky type of dress watch than the Cartier Tank is. No surprise there, since this is the brand that brought us Elvis's asymmetrical Ventura watch.
Dimensions: 38mm case length, 7mm thickness, 22mm band width
Case material: Stainless steel
Water resistance: 50m
The blue hands and two-story crown add a touch of classic nobility to this 80-hour mechanical Art Deco timepiece.
The Best Cartier Tank Alternative Luxury Picks
Here are some higher-end Tank-style watches for all you high-rolling watch aficionados out there:
Wittnauer Laureate
What you'll shell out for a Wittnauer Laureate depends on its availability. I've seen its price fluctuate from $600 to $1000 on the secondary market.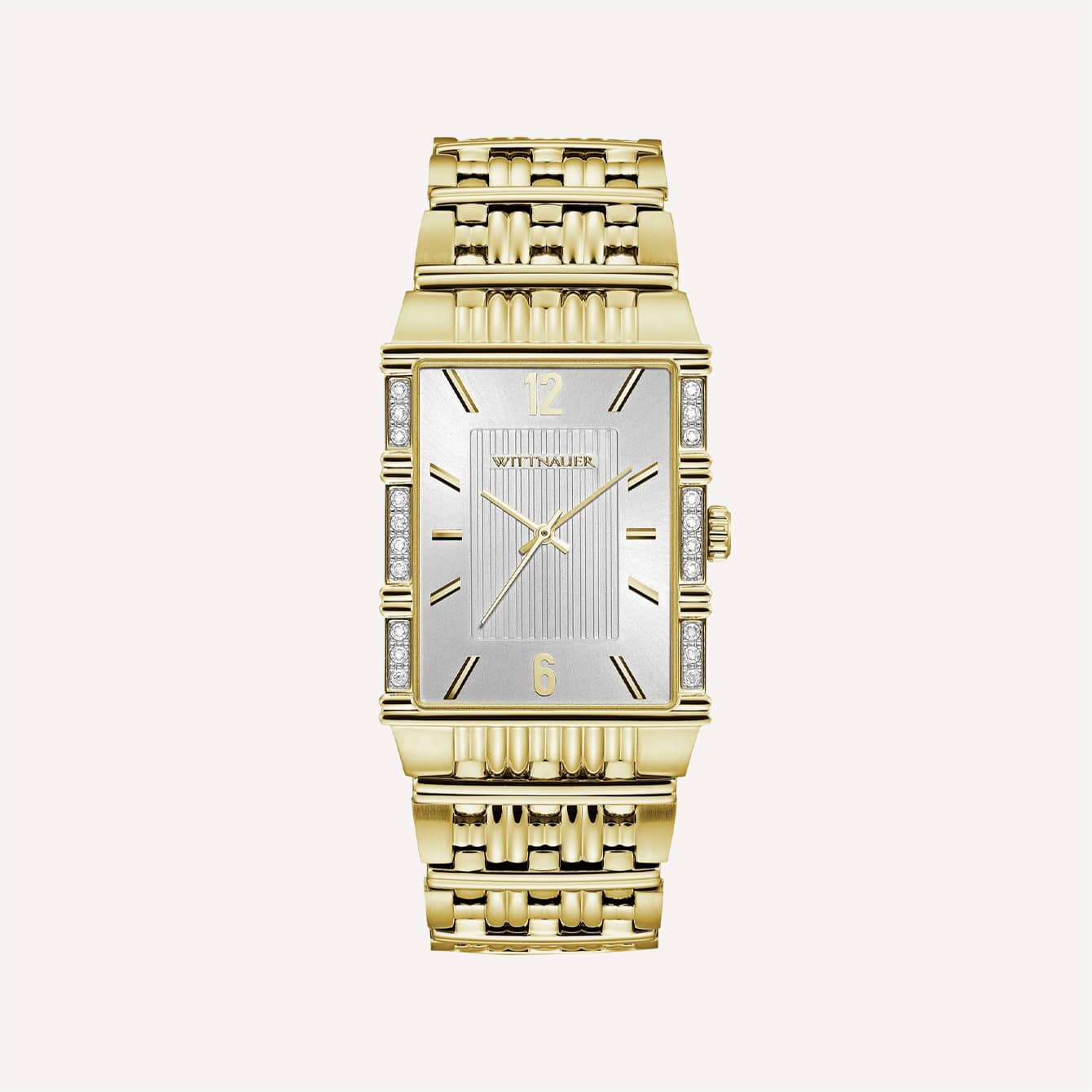 However, I think its wholly intricate design and its diamond accents safely ensure no guy is going to sport this casually, so here it is under our luxury category.
What makes the Laureate so popular among Cartier fans is, first off, Cartier fans love their gems.
Secondly, the Laureate is the same style of watch fancy guys were wearing around the time the Tank came out.
Few brands make timepieces like this anymore. Its aesthetic is similar to the windows of an extravagant Gilded Age mansion.
Dimensions: 45.3mm case length, 10.3mm thickness, 19mm band width
Case material: Stainless steel
Water resistance: 50m
That being the case, the Laureate is definitely more of a piece of jewelry than a time-teller, but still runs on a reliable quartz movement from workhorse Citizen.
Jaeger-LeCoultre Reverso
The power watch of the round-up, Jaeger-LeCoultre's Reverso is sleek and sharp. With its modern and easy-to-read Arabic numerals, the Reverso represents a different kind of status symbol than the more aristocratic Roman-clad, jewel-crowned Tank.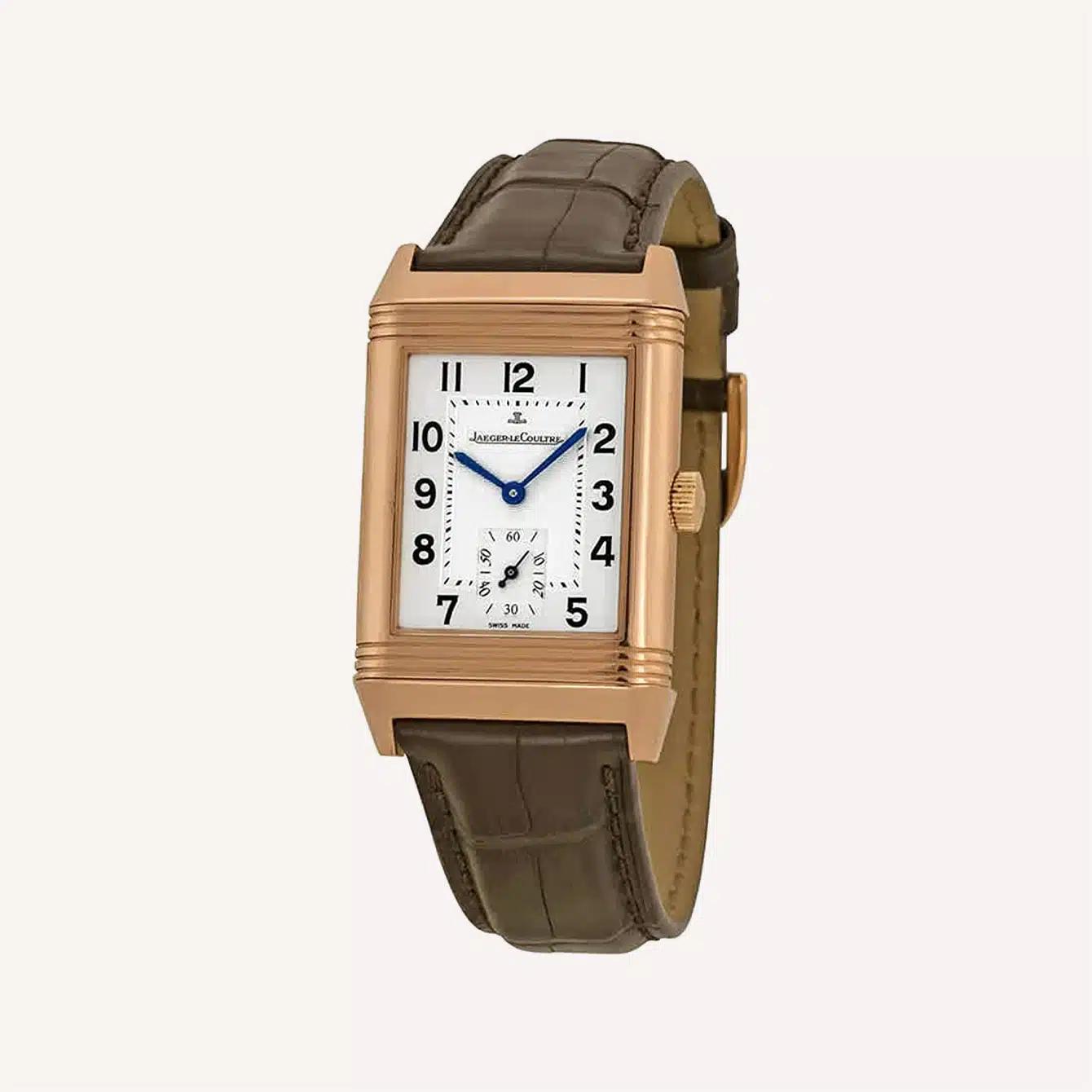 This one says, "I'm too busy closing deals to read the classics." After all, it's both Leo DiCaprio's Gatsby watch and Don Draper's Mad Men watch.
The version we highlight here boasts a scratch-resistant sapphire crystal, an 18kt pink gold case, and a silver guilloché dial with blue sword hands.
Dimensions: 42mm case length, 9.5mm thickness, 18mm band width
Case material: Gold
Water resistance: 30m
Also, keep in mind that this iconic and versatile hustler's watch is the only alternative on the list that's actually more expensive than the Tank.
Longines Dolce Vita
If the Cartier Tank represents long-established patrician status, and the Jaeger-LeCoultre Reverso embodies a sort of Bankers Club power flex, the Longines Dolce Vita is inspired by the good life, the symbol of the well-travelled gent who just might be a man of leisure.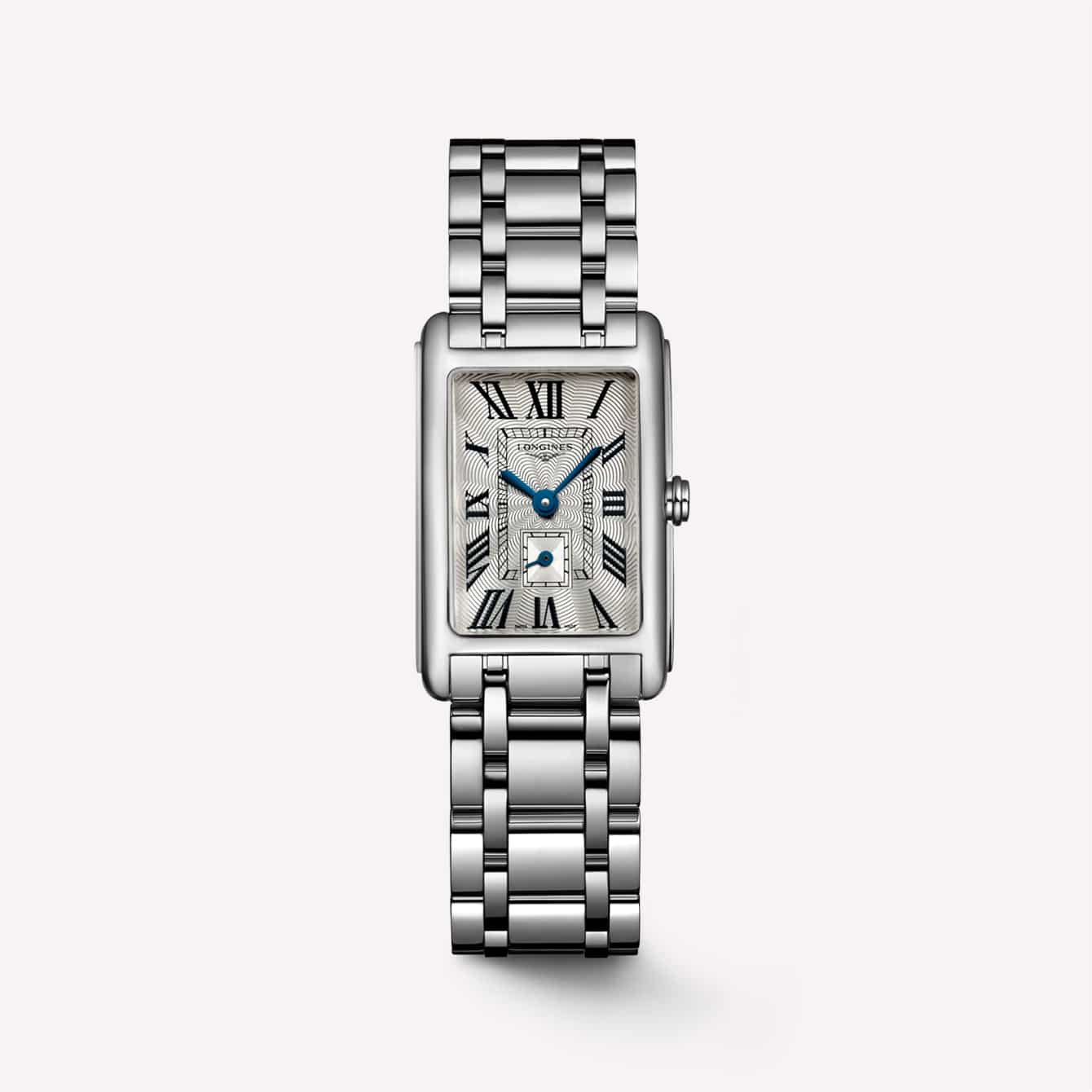 Inspired by vintage 1920s tank watches, the clean but blunt lugs are the most Tank-like on this list. The trademark blue filled-in obelisk hands color-match the Roman numerals, and sit on top of a silver guilloché dial.
The multi-linked strap combines the sweeping rounded look of a jubilee style bachelorarbeit schreiben lassen kosten, and the masculine practicality of an oyster bracelet.
Dimensions: 37mm case length, 6.65mm thickness, 20mm band width
Case material: Stainless steel
Water resistance: 30m
Don't let categorizations fool you. Any silver-toned Dolce Vita is 100% a unisex watch, and would look excellent on men with small or big wrists. Besides, the slowly fading bigger-is-better trend never applied to a proper dress watch anyway.
Baume & Mercier Hampton
The biggest design strengths of this Baum & Mercier Hampton are its decidedly architectural build and its masterful combination of gold and silver tones.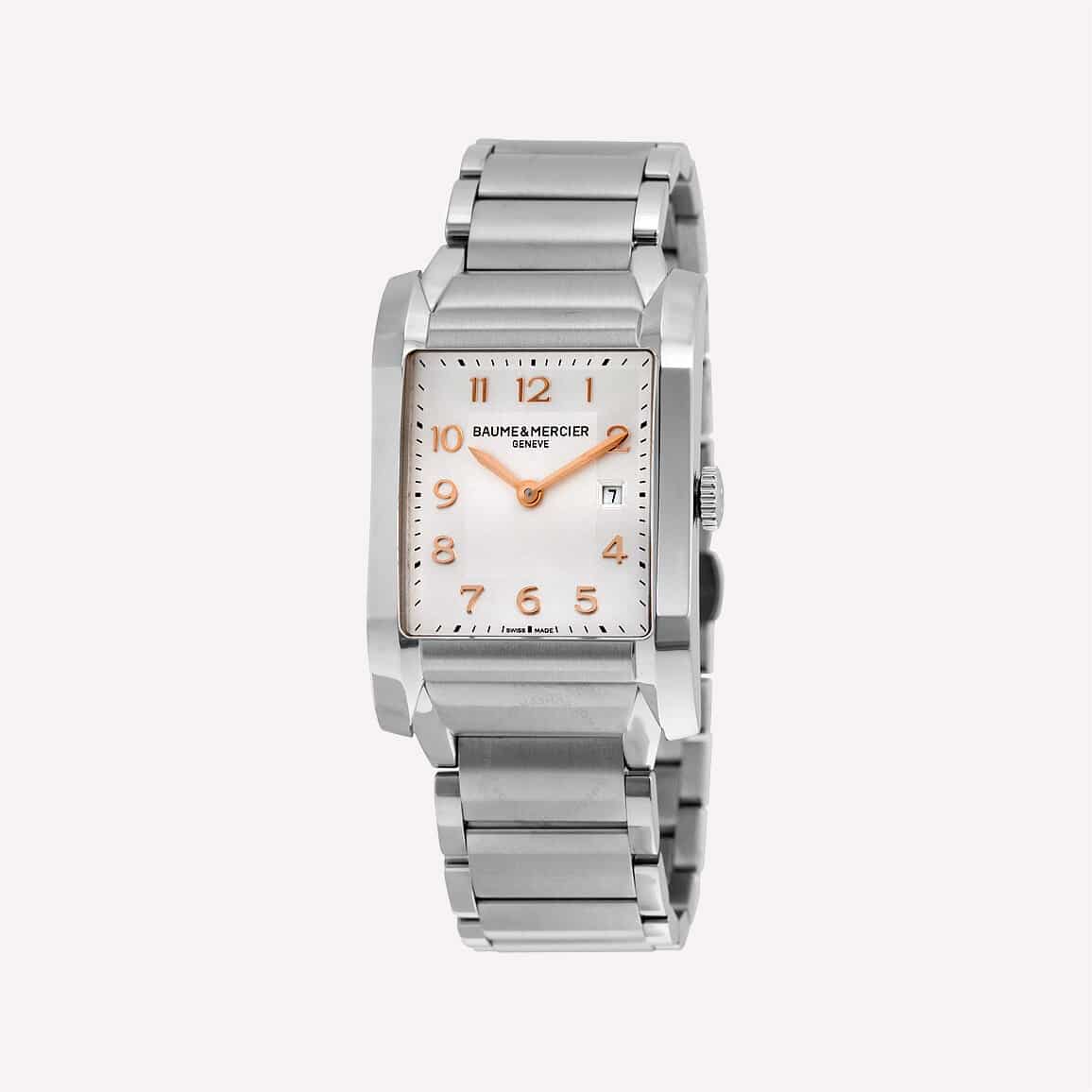 In fact, it looks a lot more like a delicate, elegant version of the Jaeger-LeCoultre Reverso.
The rose gold hands and applied Arabic indices complement the stainless steel construction masterarbeit ghostwriter, and truly glisten in front of the silver sunburst dial.
Dimensions: 40mm case length, 10.2mm thickness, 21.5mm band width
Case material: Stainless steel
Water resistance: 50m
With its flat crown, dimensional date window, and sliding lugs, it's clear that Baume & Mercier labored over every small detail in the Hampton's color and topography.
Cartier Tank Alternatives Conclusion
The most impressive part about the Cartier Tank is how little it's changed over time. That's what makes an iconic watch an iconic watch.
You can tell the difference between a 1960 Submariner and a 2020 Submariner at a glance. This isn't always the case with a Tank ghostwriter hausarbeiten. So, it's always fun to find alternatives and homages that play around with the style more than an actual Cartier Tank would.
Which alternative would you get? Let us know in the comments!