Time is money with these extravagant watches! Let's get a closer look at the most expensive watches in the world.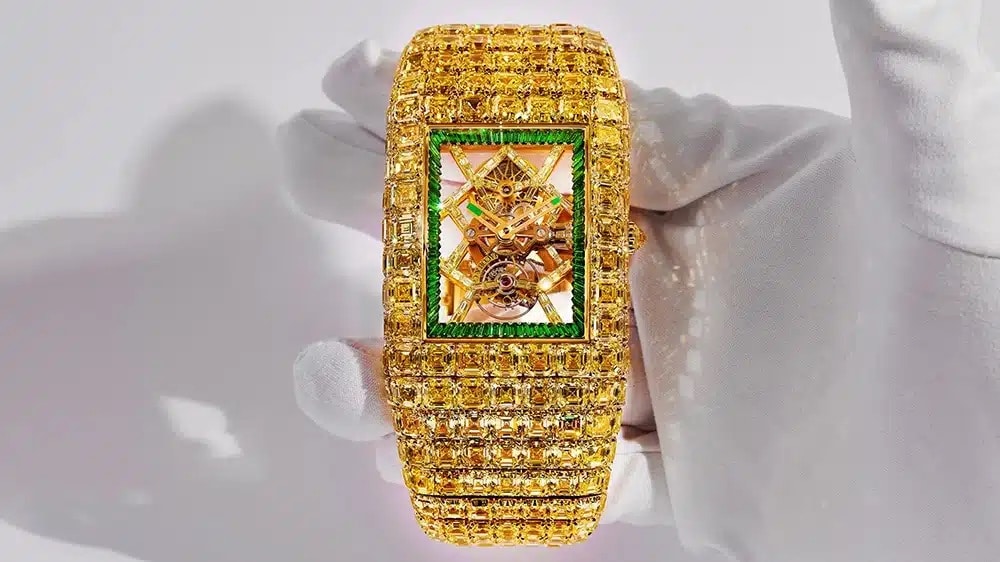 "Time is money" — we've all heard the phrase. But what if time literally translates to heaps of cash placed stylishly on your wrist?
With the most expensive watches in the world, you can! Enter the world of million dollar watches that are so luxurious they'd make that limited-edition streetwear drop look like child's play.
From horological history to modern-day wonders, the watches on this list have tales as captivating as their price tags. Just think of this as a tour of a museum — only instead of art on walls, it's wearable art that ticks.
As we get beyond those hefty price tags, these masterpieces also offer a peek into a world where innovation meets extravagance. Each tick and tock speaks of a labor of love and the brilliance of true craftsmanship. That's the magic we're diving into today.
We're about to embark on a journey through the top twelve most expensive watches ever made.
Rolex – Gold and silver round analog watch lying on the table
What Is the Most Expensive Watch in the World 2023
Now, the suspense is part of the fun. Before we reveal the coveted title of "the most expensive watch in the world 2023", let's take a moment to appreciate some other masterpieces.
Specifically, the 11 other timepieces that have earned their place on this legendary list. More than just ticking hands on a face, these watches feature centuries of tradition, ingenious craftsmanship, and some intriguing stories you don't want to miss.
So are you ready? Let the countdown begin!
Vacheron Constantin 57260 – $8 Million
Kicking off the list is the Vacheron Constantin 57260, with its impressive price tag of $8 Million.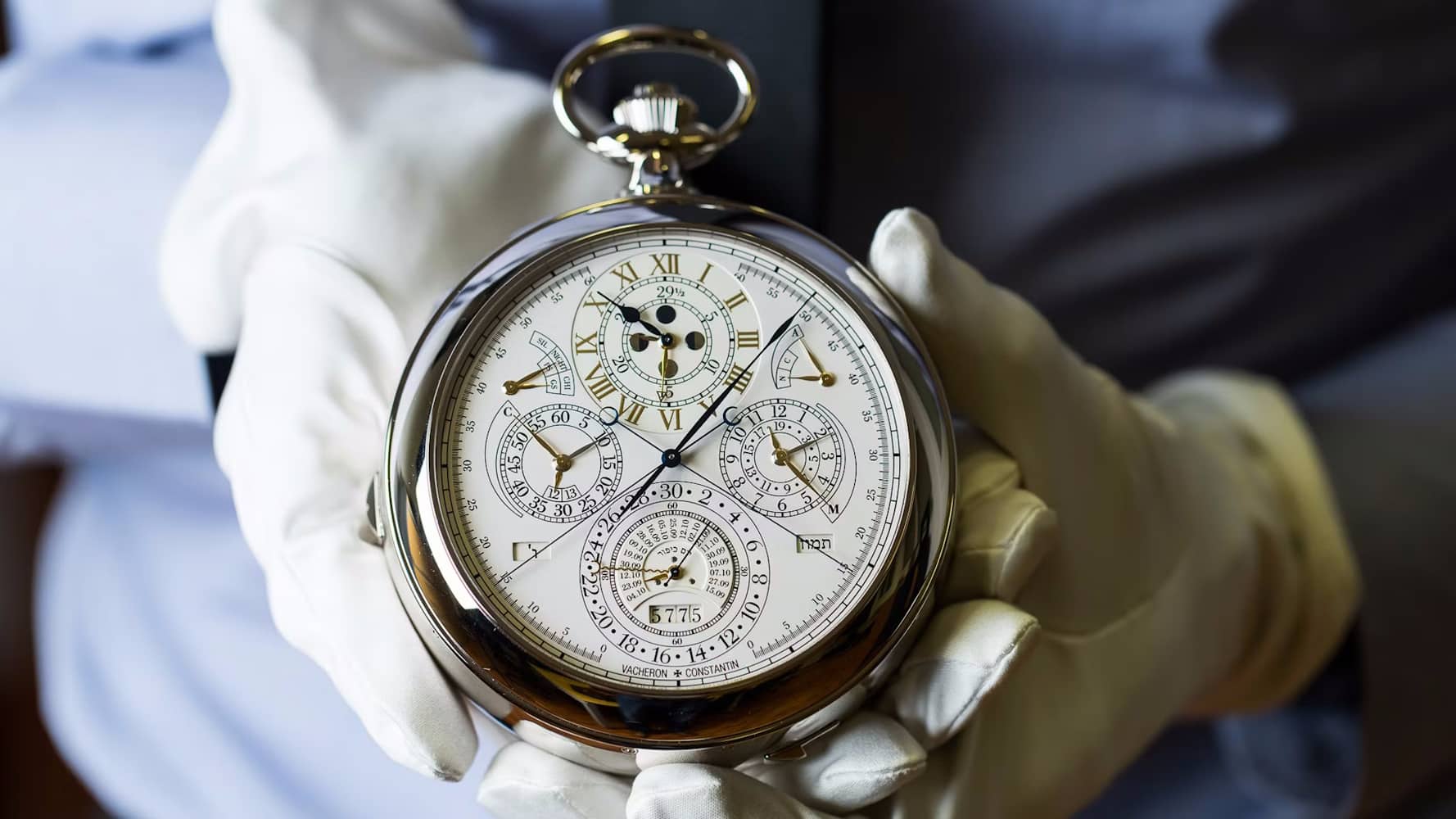 Born from a legacy that goes back to 1755, Vacheron Constantin has, time and again, redefined the boundaries of horology. With the 57260, they didn't just push the envelope — they rewrote the book!
Designed to commemorate the brand's 260th year, this watch is not just complicated; it's the very definition of horological artistry, boasting an astounding 57 complications. From the perpetual calendar to the mesmerizing Armillary tourbillon, every feature is a testament to meticulous craftsmanship and innovation.
Wrapped in an exquisite 18-carat white gold case, every glance reveals another layer of its rich heritage.
Is there a watch out there that could possibly outdo its complexities? We'll just have to wait and see. But for now, the Vacheron Constantin 57260 stands unchallenged on this list of the most expensive watches in the world.
Patek Philippe Gobbi Milan 'Heures Universelles' Ref. 2523 – $9 Million
Long before technology transformed how we track time across the globe, the Patek Philippe Gobbi Milan 'Heures Universelles' Ref. 2523 was the watch that intertwined innovation and luxury.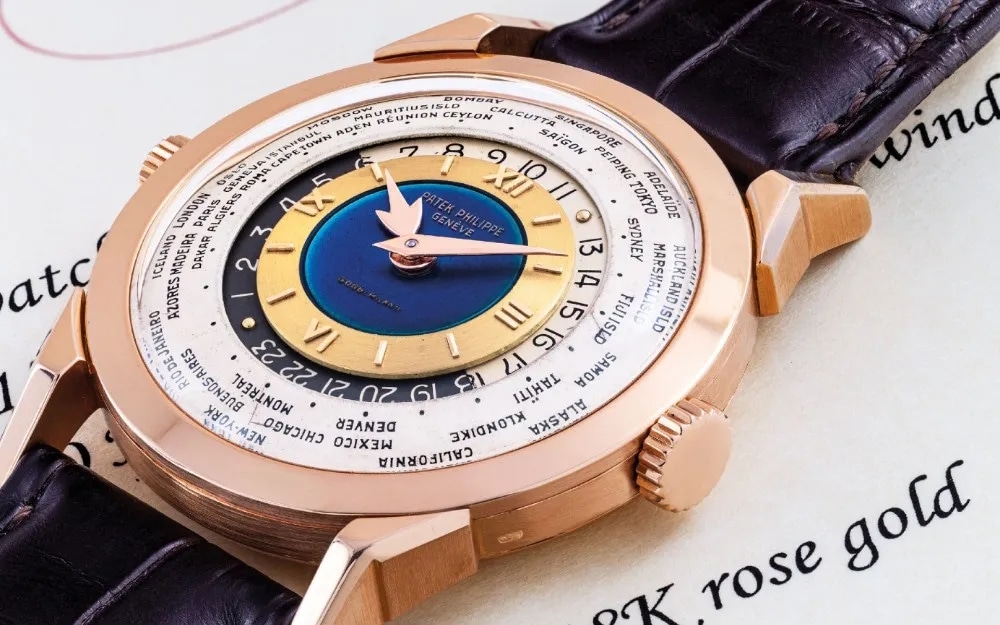 Unveiled in 1953, this horological gem epitomizes what many regard as the 'Golden Age' of design and craftsmanship. More recently, it stole the spotlight at Christie's Hong Kong auction
Who's the genius behind this revolutionary 'heures universelles' or 'world time' system? None other than the legendary watchmaker Louis Cottier.
His trailblazing efforts in the 1930s miniaturized the 19th century system, paving the way for this watch to display the time of every region on Earth!
With an intricate dial showcasing 40 global cities and a two-tone 24-hour ring that differentiates day from night, setting this watch is an experience in itself.
However, what truly makes this piece an auction highlight is its rarity. Out of the 26 Ref. 2523 watches crafted , only five in pink gold have ever graced the auction stages.
Among those, the polychrome translucent blue enamel disc versions are the rarest, with only four making an appearance in three decades.
Patek Philippe Stainless Steel Ref. 1518 – $12 Million
Ever thought steel could outshine gold? Well, it's true, at least with the Patek Philippe Ref. 1518!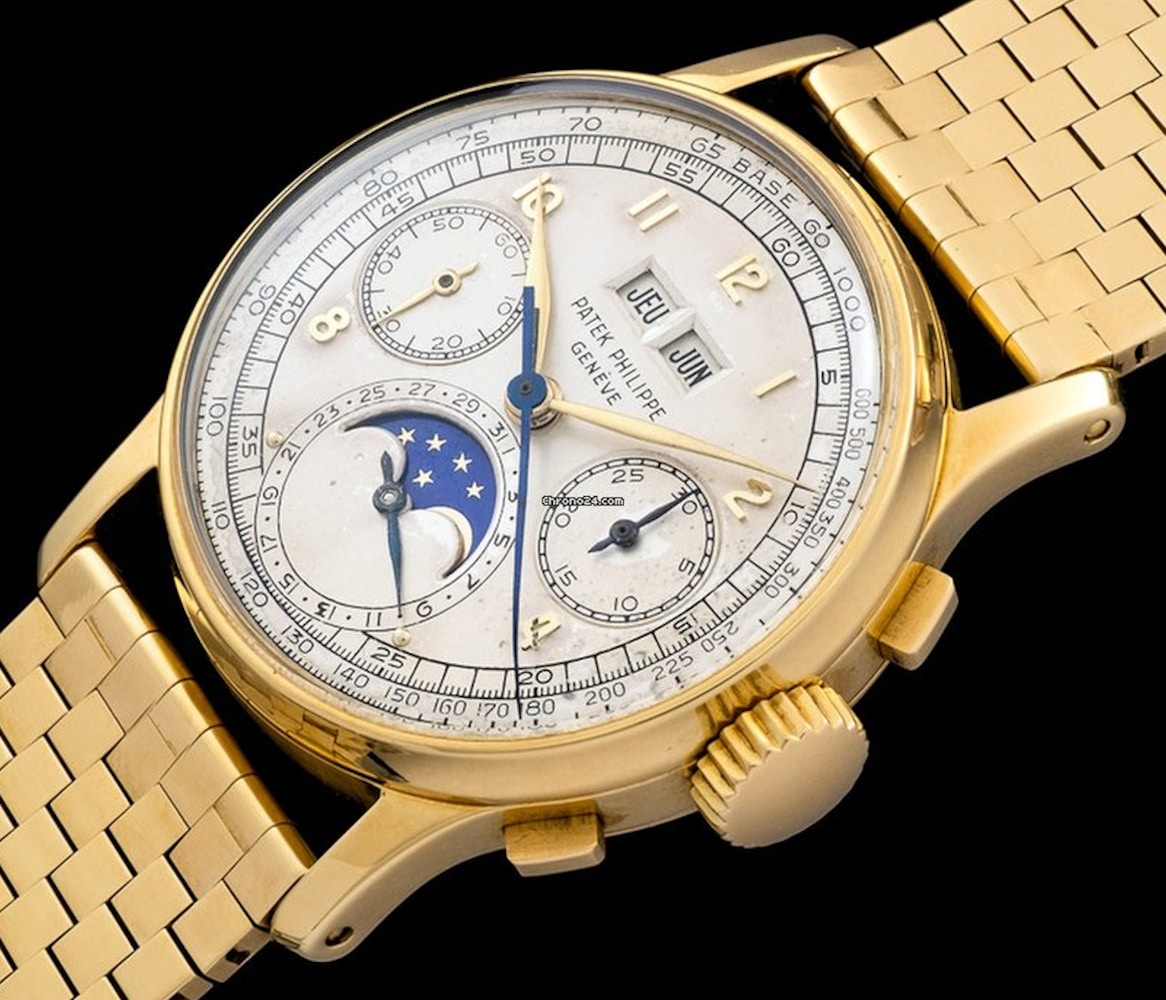 Born in the 1940s and oozing vintage charm, this stunner turned heads by being the first to pair a perpetual calendar with a chronograph. But the real highlight? That sleek stainless steel case — a rare twist from Patek's usual gold flair.
At auction, it didn't just break records; it smashed them, fetching a cool $12 million.
With only four of these Patek Philippe Watches in existence, this is the ultimate wrist candy for those craving exclusivity with a bit of nostalgia.
Talk about timeless elegance with a steel twist!
Paul Newman's Oyster Cosmograph Daytona Ref. 6239 – $17.7 Million
Number 9 on the list is where cinematic history meets horological mastery.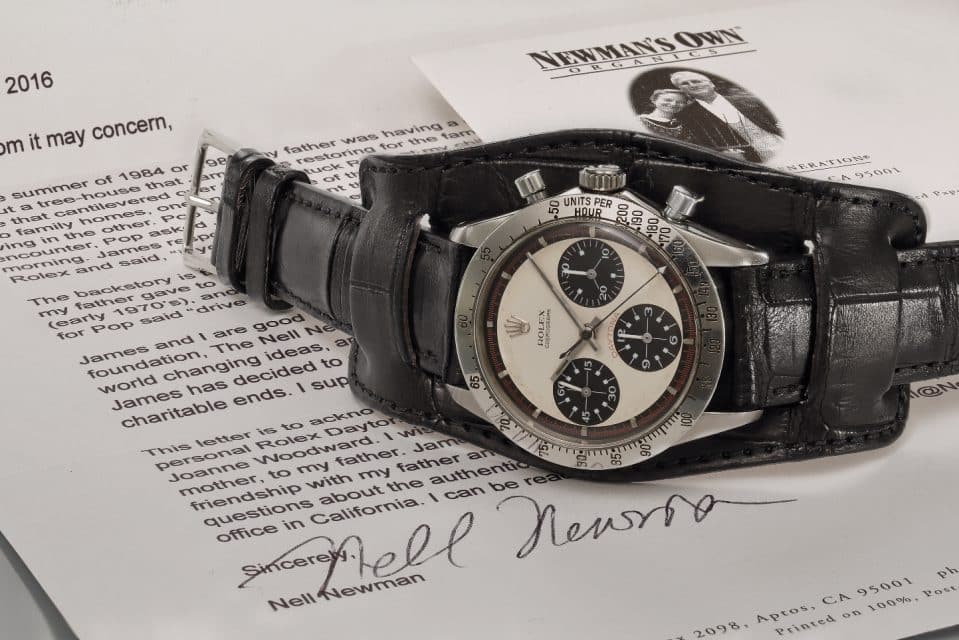 With its distinctive black and cream exotic dial echoing an Art Deco allure, this Rolex doesn't just woo watch enthusiasts but also draws in Hollywood buffs.
It all started as a thoughtful gift from Joanne Woodward to her husband, the legendary actor and avid racing enthusiast Paul Newman. She engraved the Rolex Daytona Ref. 6239 with the heartfelt message: "Drive Carefully."
After capturing attention in 2017 for fetching a whopping $17.75 million — becoming the priciest Rolex ever auctioned — this legendary wristwatch took a brief hiatus from the public.
But guess what?
It's back under the spotlight, now gracing the Rolex Gallery at the Academy Museum of Motion Pictures in Los Angeles.
Newman once wore this piece casually, but it has since evolved into a symbol of luxury. Now, any Daytona with a similar dial is referred to as a "Paul Newman."
Jacob & Co. Billionaire Watch – $20 Million
Calling number 8 home on this list of most expensive watches in the world is Jacob & Co.'s Billionaire Watch (aptly dubbed the "Billionaire Timeless Treasure").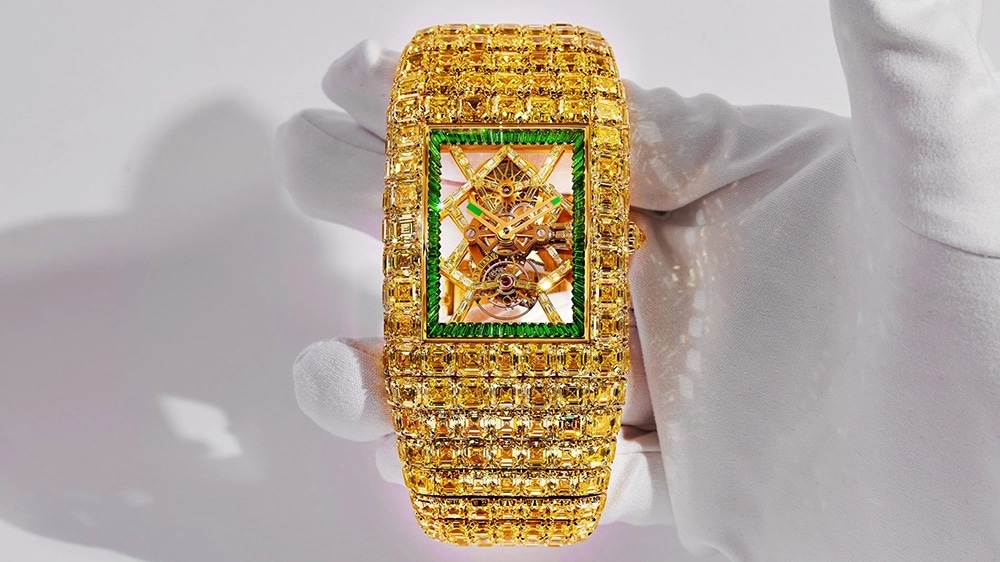 Revealed at the Watches & Wonders exhibition in Geneva, this timepiece is a $20 million marvel!
In fact, Jacob & Co. spent three and a half years scouring the globe for the most flawless yellow diamonds. (In the process, they almost depleted the world's entire stock of these rare gems).
To top it all off, scattered among these diamonds are 76 vibrant green tsavorites that encapsulate the watch's intricate mechanics.
A flip of the watch will also reveal a playful touch: the word "billionaire" engraved with a cheeky smiley within the 'o', showing off a lighter side to its opulent timepiece.
Patek Philippe Henry Graves Supercomplication – $24 Million
Clocking in at $24 million, the Patek Philippe Henry Graves Supercomplication is the apex of horological genius.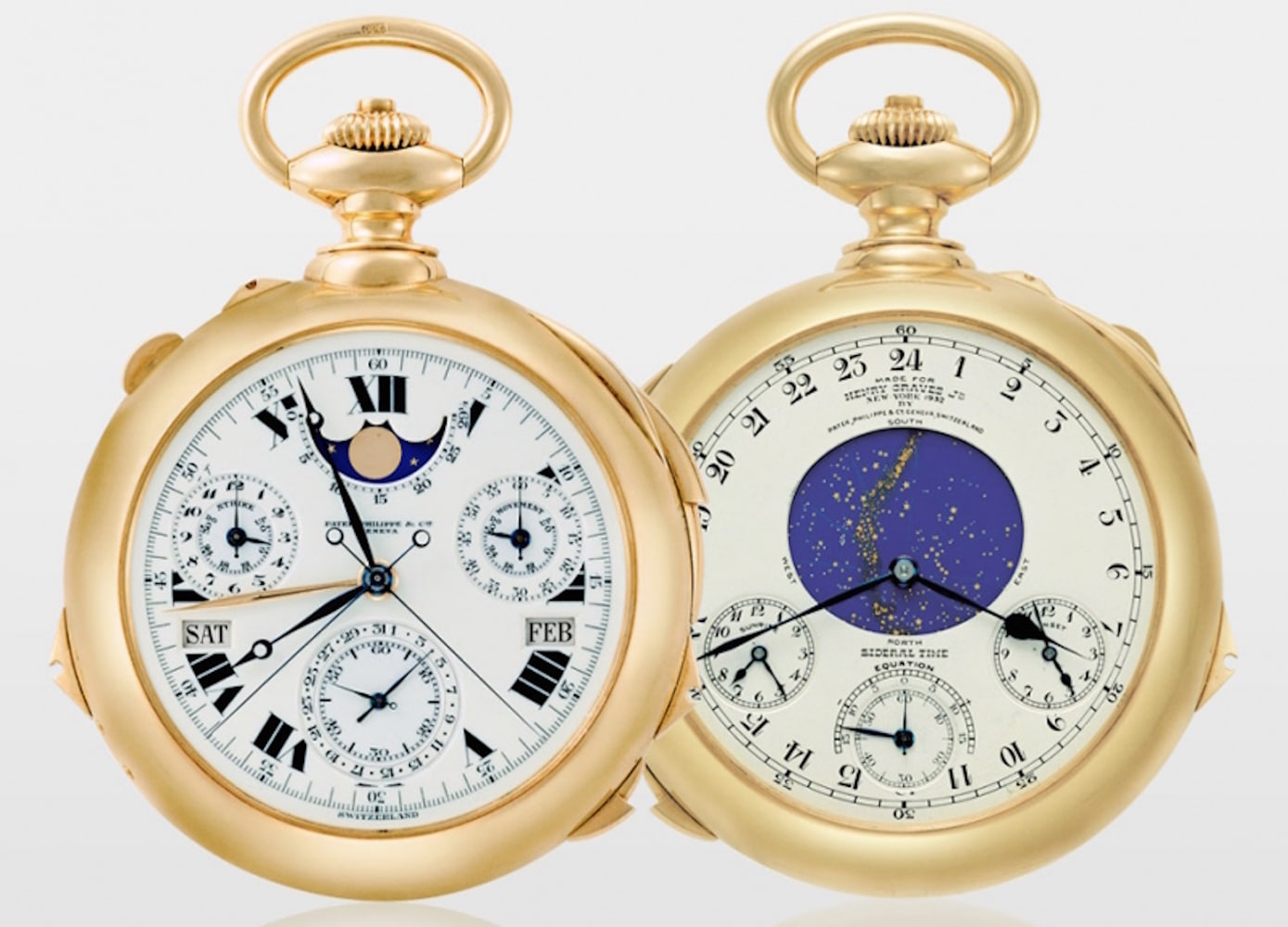 Crafted from 18-karat gold with a dizzying 24 complications, it's the brainchild of banker Henry Graves Jr., who aimed to outdo a rival's prestigious watch.
From Westminster chimes to a celestial map of NYC, it's a handcrafted marvel.
Although, it didn't keep its status as the world's most intricate watch. The fact that its creation did not involve computers solidifies its unmatched legacy.
After a storied journey through history and esteemed collectors, this masterpiece fetched the highest ever price for a timepiece in a 2014 Geneva auction.
Speaking of Patek Philippe and historic auctions, we can't move on without mentioning the Phillips Hong Kong Watch Auction that recently took place in May. With passionate bidders from 63 countries, this event saw a jaw-dropping HK$220 million in sales.
Notably, the Patek Philippe Reference 96 and its Perpetual Calendar Chronograph Wristwatch turned heads.
Yet, the true masterpiece was the Rexhep Rexhepi Chronomètre Contemporain reference RRCC01, hitting a record-shattering HK$7.2 million ($918k USD).
Chopard 201-Carat – $25 Million
The number 6 spot belongs to this absolute showstopper! Step right up and feast your eyes on a real jewel: Chopard's 201-Carat watch.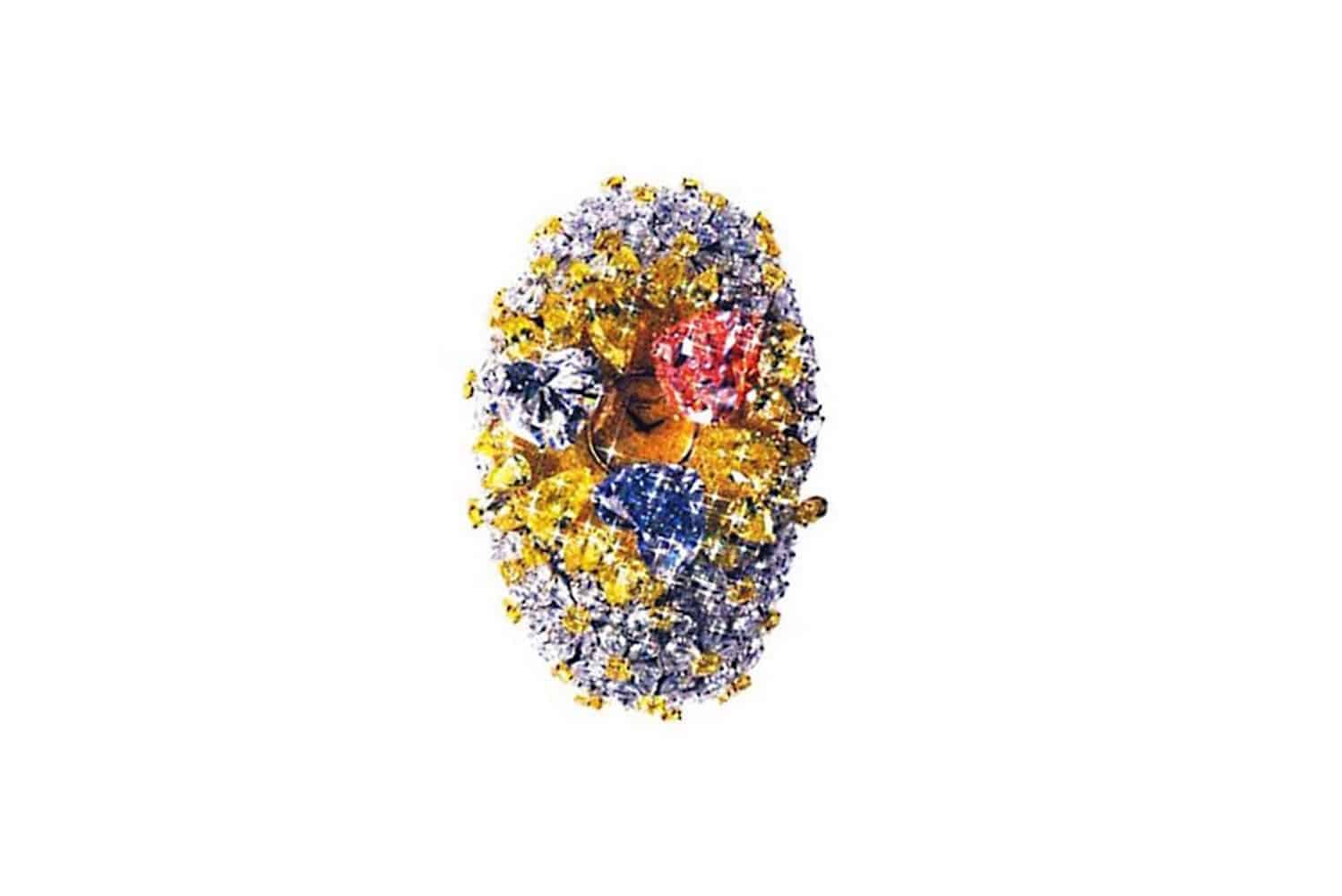 Redefining luxury watches since its creation in 2000, this piece comes with a price tag of $25 million.
Why the high price? It's really a show for your eyes!
At the heart of this spectacle are three dazzling, heart-shaped diamonds — a vivacious pink, a cool blue, and a crystal-clear white. But, there's a magic trick! When pressed the gems move aside, like the curtains at a Broadway show.
This simple action reveals a hidden watch face waiting for its moment to shine.
Jaeger-LeCoultre Joaillerie 101 Manchette -$26 Million
The Jaeger-LeCoultre Joaillerie 101 Manchette is a true masterpiece.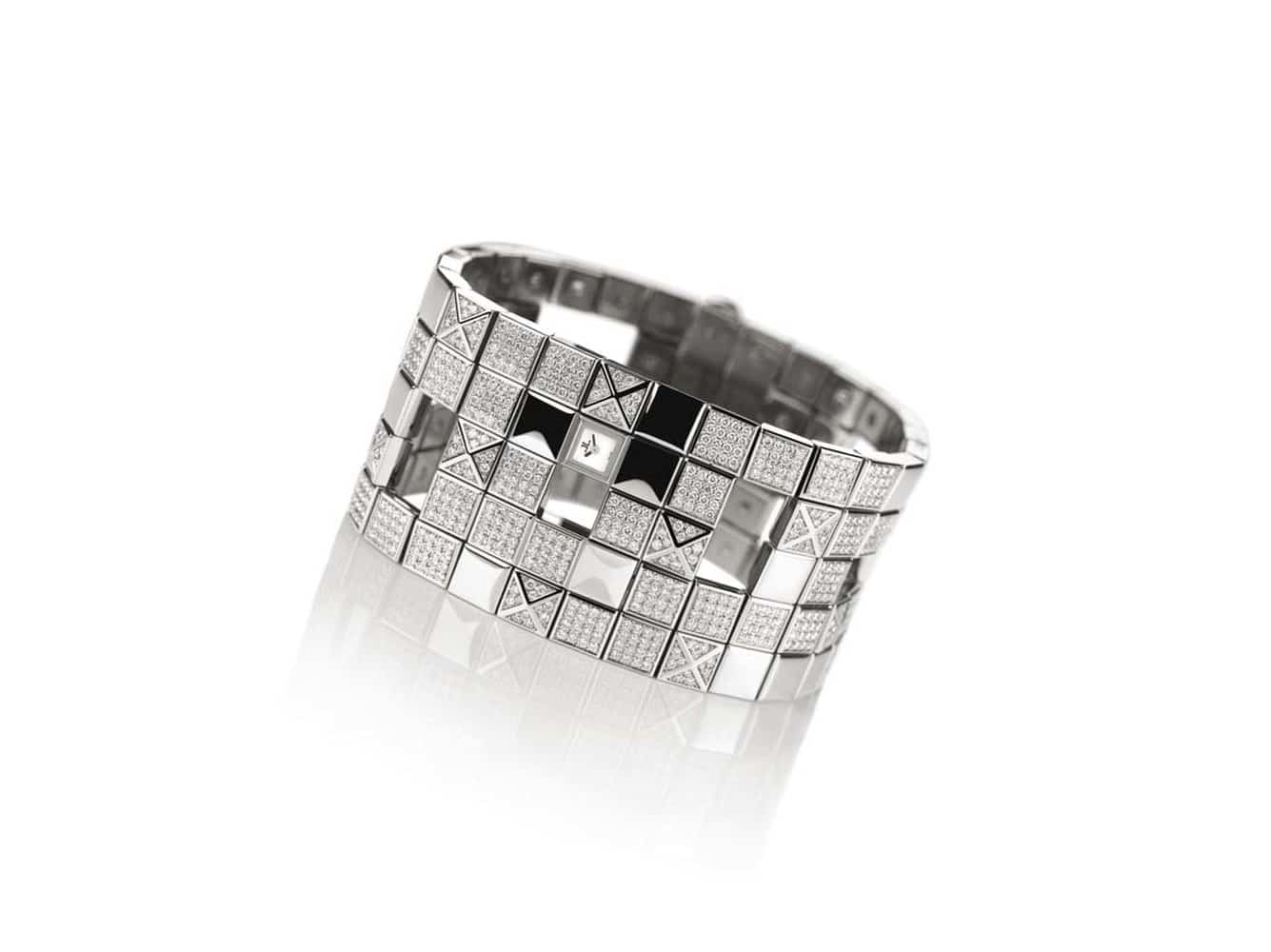 It has made its way to number 5 on the list of the most expensive watches in the world, boasting a staggering $26 million price tag. Why? This timepiece is dripping with 576 diamonds and assembled with 98 unique components.
From its precise 21,600 vibrations per hour balance wheel to the radiant silver dial shielded by sapphire crystal, there's no missing this piece — it's a crown for the wrist.
While part of the exquisite 101 series, alongside the iconic 101 Feuille and 101 Reine, what makes the Joaillerie truly special are its top secret patented mechanics that remain a mystery.
Breguet Grande Complication Marie Antoinette – $30 Million
Let's take it back to 1783 when a secret admirer commissioned a jaw-dropping timepiece for Queen Marie-Antoinette. They aimed to make an unrivaled masterpiece, substituting gold wherever possible and loading it with every complication imaginable.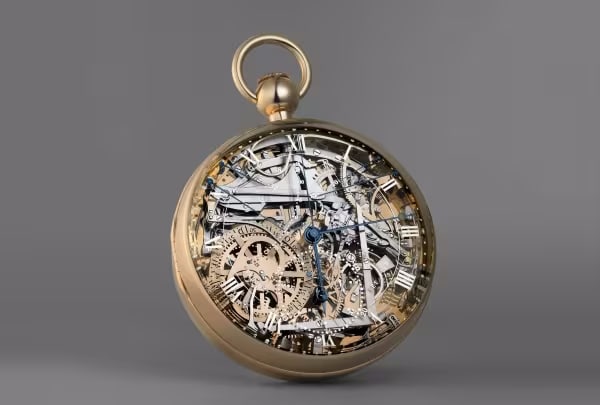 Completed 44 years after being ordered, this timepiece, once stolen and later found, inspired Nicolas G. Hayek to replicate its glory in 2008.
Priced at $30 Million, the Breguet Grande Complication Marie Antoinette is a journey through time. It features 823 meticulous parts and sits in a beautiful case carved from Marie-Antoinette's favorite Versailles oak tree.
Patek Philippe Grandmaster Chime Ref. 6300A-010 – $31 Million
The history making Patek Philippe Grandmaster Chime Ref. 6300A-010 comes in at number 3. Fetching a record-breaking $31.2 million at Christie's Only Watch charity event, it surpassed icons like Paul Newman's Rolex Daytona.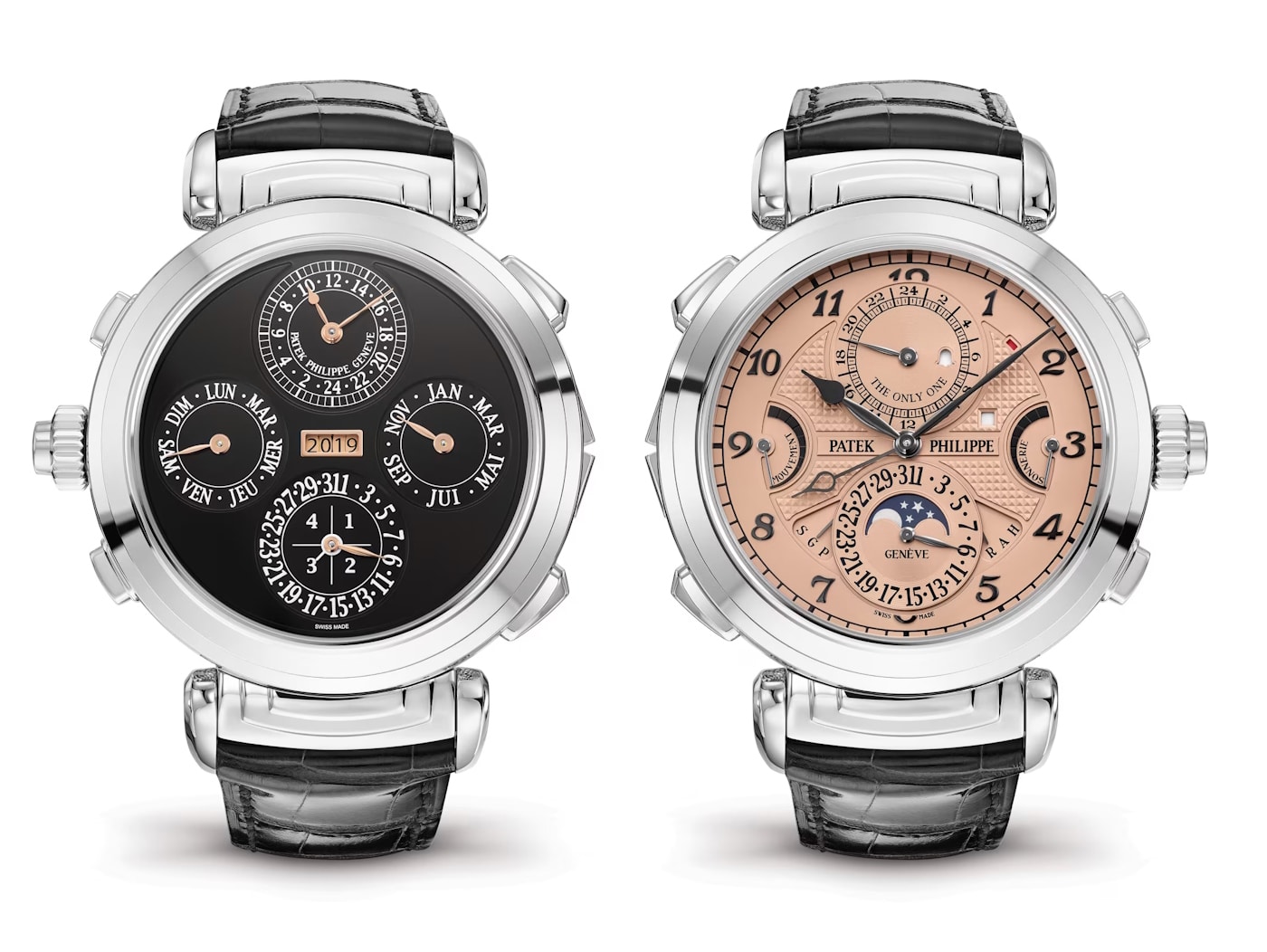 Designed for Patek Philippe's 175th anniversary, this marvel took seven years to craft and boasts dual dials, 20 complications, and six patents.
Beyond its luxury, the auction where this watch was sold championed a noble cause, raising CHF 38.59 million to combat Duchenne Muscular Dystrophy.
Graff Diamonds the Fascination – $40 Million
Coming in at number 2 is Graff Diamonds' The Fascination — a fitting name for this timepiece!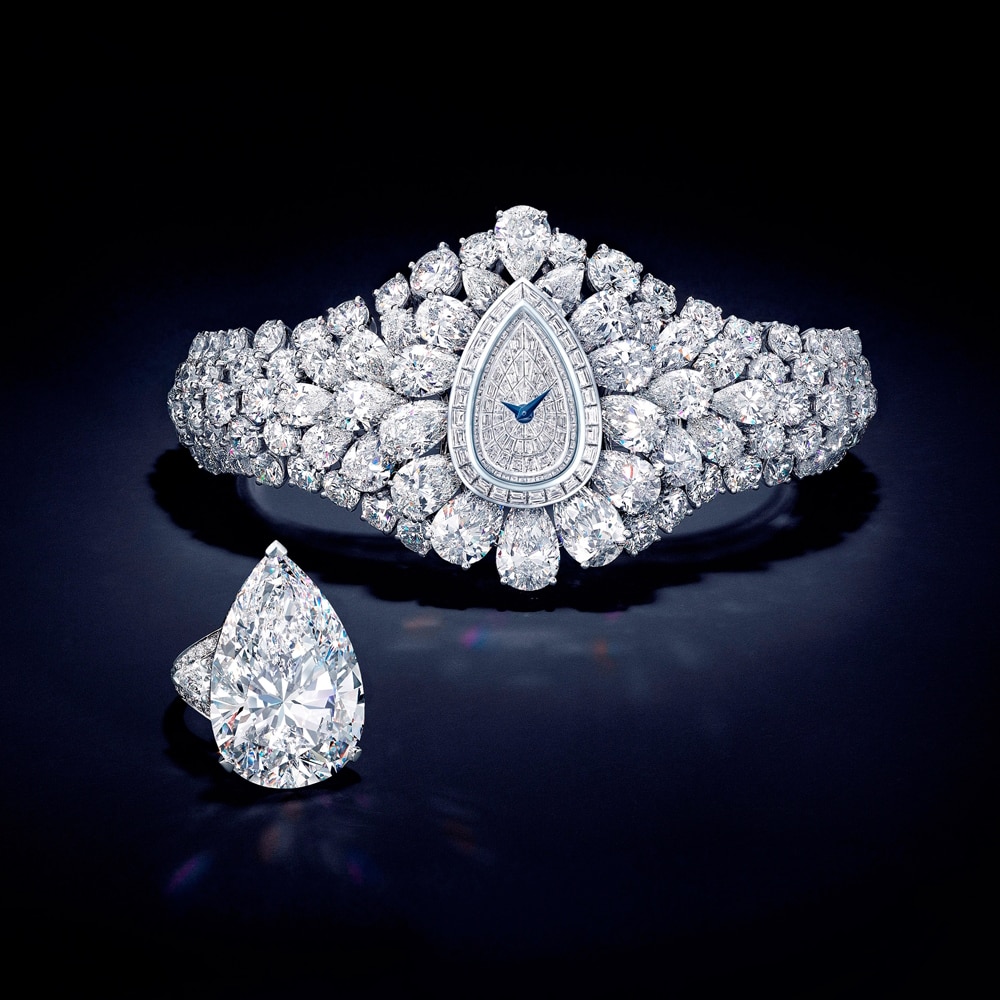 Launched at Baselworld, this display of Graff's unparalleled artistry and Swiss watchmaking finesse carries a cool $40 million price tag.
With an astounding 152.96 carats of exquisite white diamonds, its crowning glory is a rare 38.13-carat pear-shaped diamond.
But here's the magic: the watch can transform. Swap out the central diamond for a diamond watch face, and turn the jewelry piece into a sparkling bracelet watch.
That's not all! You can also alter it again to wear the pear-shaped diamond as a ring.
The Most Expensive Watch in the World
So far, we have covered numerous time-telling marvels, but the crowning jewel awaits! Embedded with centuries of watchmaking heritage and adorned with the rarest of jewels, the most expensive watch in the world in 2023 is not just a timepiece.
It's a testament to flawless craftsmanship and genuine beauty.
Ready for the grand reveal?
What Is the Most Expensive Watch in the World? –
Now, what's the most expensive watch in the world? You're looking at it. Number 1 is the Graff Diamonds Hallucination — a dazzling $55 Million spectacle!
The Graff Diamonds Hallucination is a watch that's so luxurious, so extravagant, it doesn't just tell time — it tells a story of unparalleled opulence.
Unveiled at Baselworld 2014, it's an unbelievable piece with a whopping $55 million tag, making it the world's priciest watch.
Laurence Graff, the mastermind behind this marvel, wanted more than a watch. He dreamt of a symphony in diamonds — and with the Hallucination, he created a one-of-a-kind piece.
It's a statement, a celebration, and a masterpiece from this renowned jeweler. Featuring a delicate quartz dial, the Diamonds Hallucination showcases a kaleidoscope of 110 carats worth of the rarest diamonds that really steal the show.
From the fiery allure of Fancy Vivid Yellow to the romantic blush of Fancy Intense Pink, each diamond tells a tale of rarity and luxury.
Who Wears the Most Expensive Watch in the World
In the world of horology, celebrities often don watches that are more than mere timepieces — they're powerful statements of style, status, and artistic expression.
Names like Franck Muller, Richard Mille, A. Lange & Söhne, and Audemars Piguet's iconic Royal Oak collection have become synonymous with luxury and spotted on the wrists of Hollywood A-listers and international moguls.
These watches, often crafted with an exquisite enamel dial or a meticulously designed minute track, not only tell time but showcase wealth.
Among the masterpieces owned by the rich and famous, one stands for its unmatched elegance and record-breaking price tag. Yes, the suspense is palpable.
So, who owns the most expensive watch in the world?
That title goes to the undefeated champion, Floyd Mayweather. The boxing legend is not only renowned for his skills in the ring but also for his penchant for the finer things in life. His collection boasts elite cars, jets, and the best accessories.
In 2018, he revealed one jewel in his collection on Instagram — a staggering $18 million Jacob & Co. Billionaire watch. Unlike any other watch, this 47.5mm spectacle sparkles with 260 carats of emerald-cut diamonds, some as massive as three carats.
Its intricately skeletonized design, paired with a tourbillon and a 72-hour power reserve, proves it's not just about the bling but also the brilliant craftsmanship.
Conclusion
As we wrap up our look at the most expensive watches in the world, it's clear their true value exceeds their hefty price tags.
From Patek Philippe's symphonies of time to Graff Diamonds' celebration of unmatched luxury, each watch here holds tales of passion and craftsmanship that are simply priceless.
Are you ready to get a front-row seat to the world of timepieces? Subscribe to our newsletter for expert advice, the latest collections, and special discounts on watches specially designed for you.