If you want to see some truly interesting watches, check out this round-up of timepieces that hardly tell time.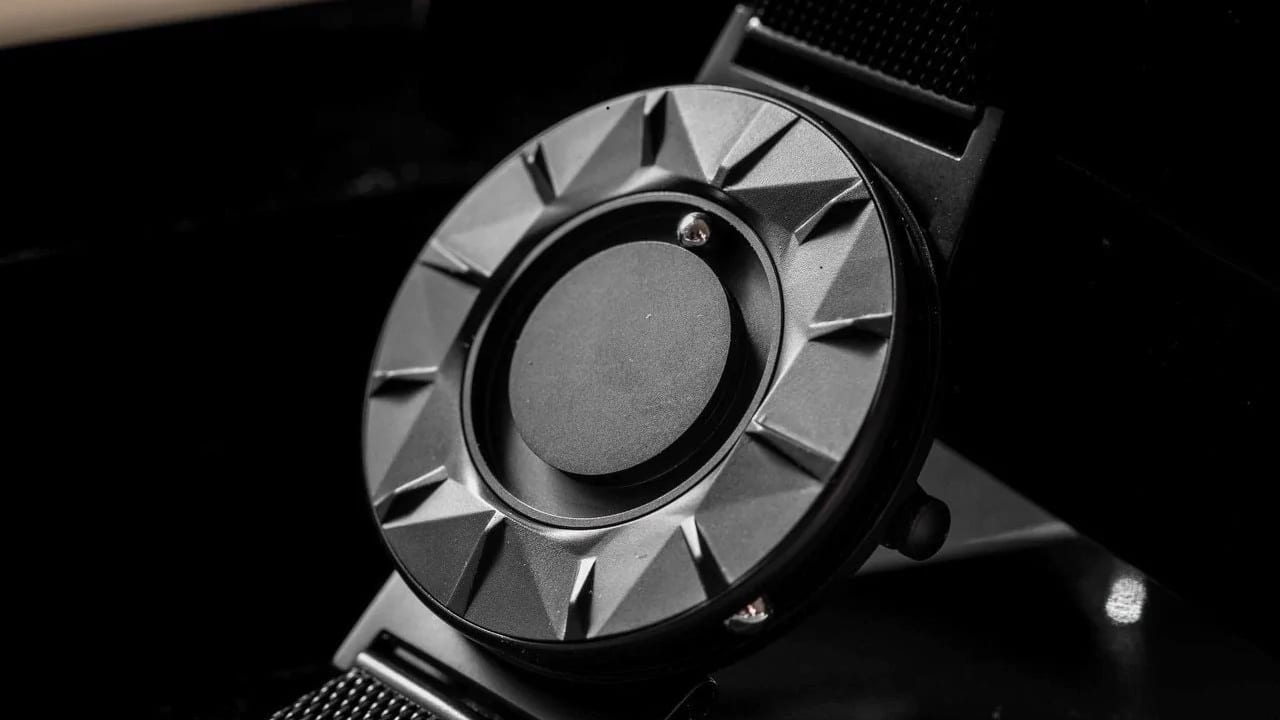 Andy Warhol famously wore an unwound Cartier Tank simply because the Tank was, in his words, "the watch to wear."
It turns out this was just one of the many ways Warhol was ahead of his time. Today, even the horologically inclined are more invested in a movement's heritage and craft.
These days, watches are worn first and foremost for style. Since most people check the time on their phone, in recent years there's been a whole slew of timepieces that are jewelry without a time-telling function.
From the Tik Tok viral rubber ducky watch to nostalgia-starved millennials wearing pro-prop-level Power Ranger communicators, there's a lot to choose from.
But not all non-timekeeper wristwatches are high-end toys or irreverent Duchamp-esque wisecracks. We've got 14 truly unique watches here that don't tell time, or at least are very hard to read.
Watches That Don't Tell Time: 14 Models to Consider
This round-up consists of investment pieces of couture art, irreverent fashion watches, and truly fascinating wrist technology. Here they are in no particular order:
Eone Bradley Element Black
An artistic piece of topography, the Eone Bradley Element Black is somewhere between a wearable sculpture and a modern accessory.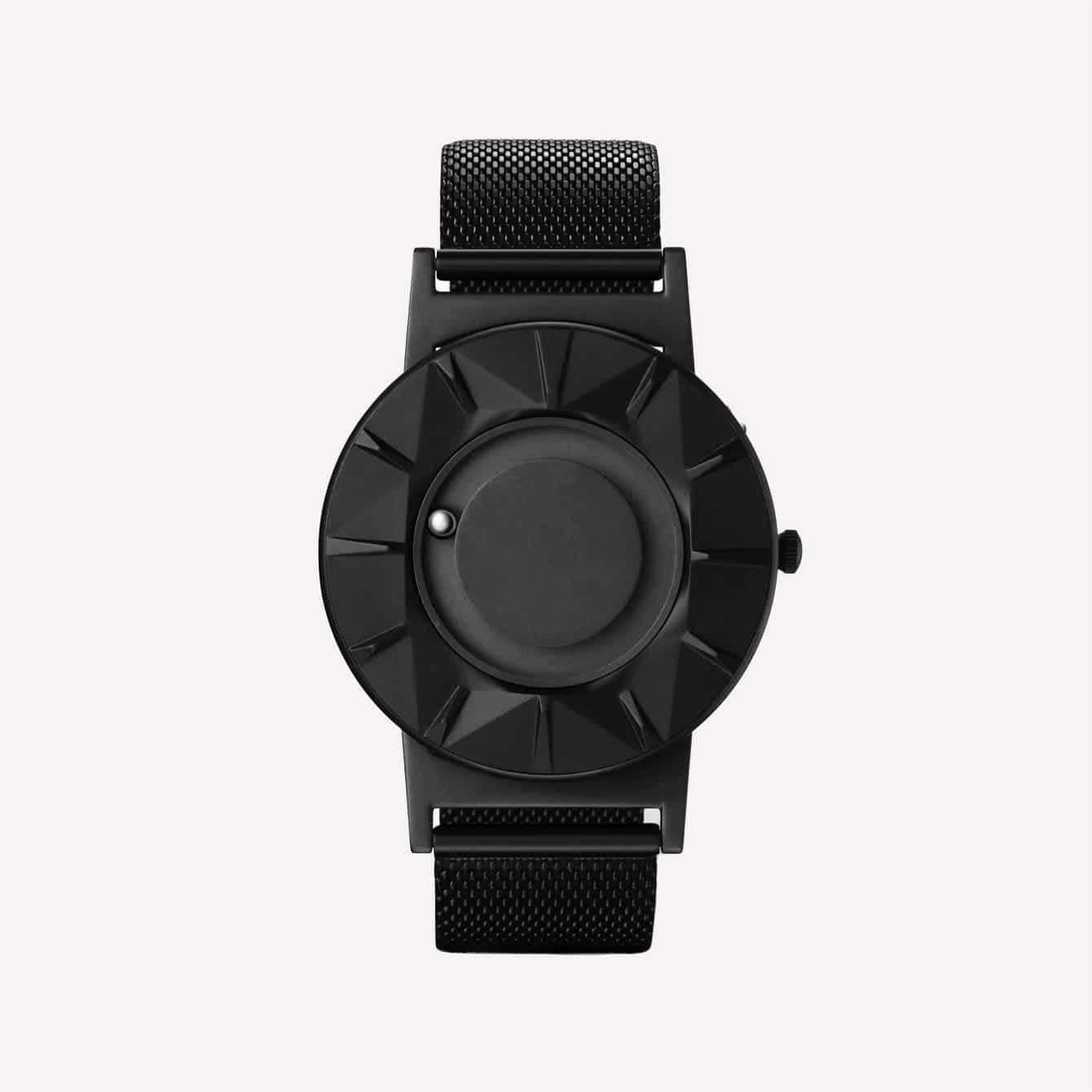 It's the kind of chic fashion-forward aesthetic that wouldn't intimidate those with more traditional personal styles because of the neutral, monochrome palette.
Plus, it's made with ceramic and PVD-plated, so it has a touch of visual authoritativeness and a vivid, non-murky hue despite being stark black.
Given this unique build, this watch is incredibly tactile.
Dimensions: 40mm diameter, 11.5mm thickness
Case material: Stainless steel, ceramics
Water resistance: 30m
Technically, you'd be able to tell the time by feeling around the contoured "indices" and the moving silver balls in the center and outer moats, but mostly it's just a cool piece of gear.
Projects Xela Calderometer Steel
Alexander Calder is an artist known for his innovative mobile sculptures.
The Projects Xela Caldometer Steel takes Calder's colorful plate-like mobile pieces and places them on a watch face resulting in a modern combination that's somehow both striking and understated.
As the pieces move over and under each other, each with a different frequency, they create depth, much like Calder's sculptures do.
The use of primary-colored plates is playful but reined in by context.
They're partnered with a black piece and a white piece that shimmers with texture (all on a neutral background and case), so the red, yellow, ghostwriter and blue plates almost serve as color accents.
Dimensions: 40mm diameter, 8.8mm thickness
Case material: Stainless steel
Water resistance: 50m
Even though it's a fashion watch, the thoughtful art reference gives it a level of designer street cred.
BinBond-228
While the BinBond-228 is definitely a fashion watch, and admittedly not to everyone's taste since it's borderline toy-like, it cranks up that retro-futuristic look that brands like Hamilton and Bulova popularized in the '60s and '70s.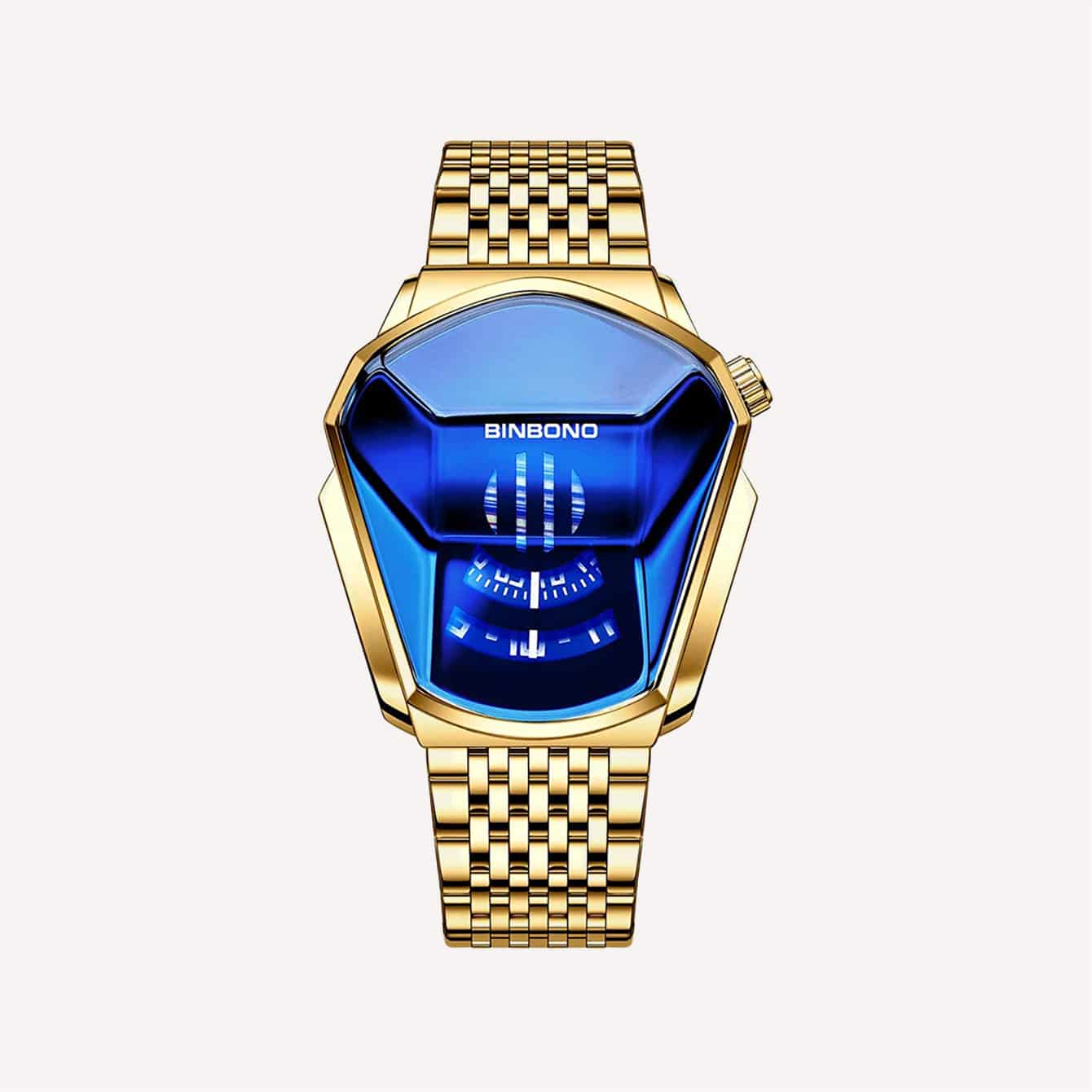 With a complex bracelet, a shield-like silhouette, and multi-layered and multi-surfaced glass, this watch offers visual intrigue and face distortion at every angle.
Dimensions: 43mm diameter, 7mm thickness
Case material: Alloy steel
Water resistance: 30m
At the very least, with a very affordable price tag, it's a way to test drive that off-future aesthetic. If you're comfortable running around Programming Assignment Help town in a BinBond-228, you can definitely pull off a Bulova Computron or a Hamilton Ventura.
Xeric Trappist-1 NASA Edition James Webb
The first of two Xeric watches, this edition of the Trappist-1 is named for James Webb, the powerful space telescope, and of course, NASA's second-ever administrator.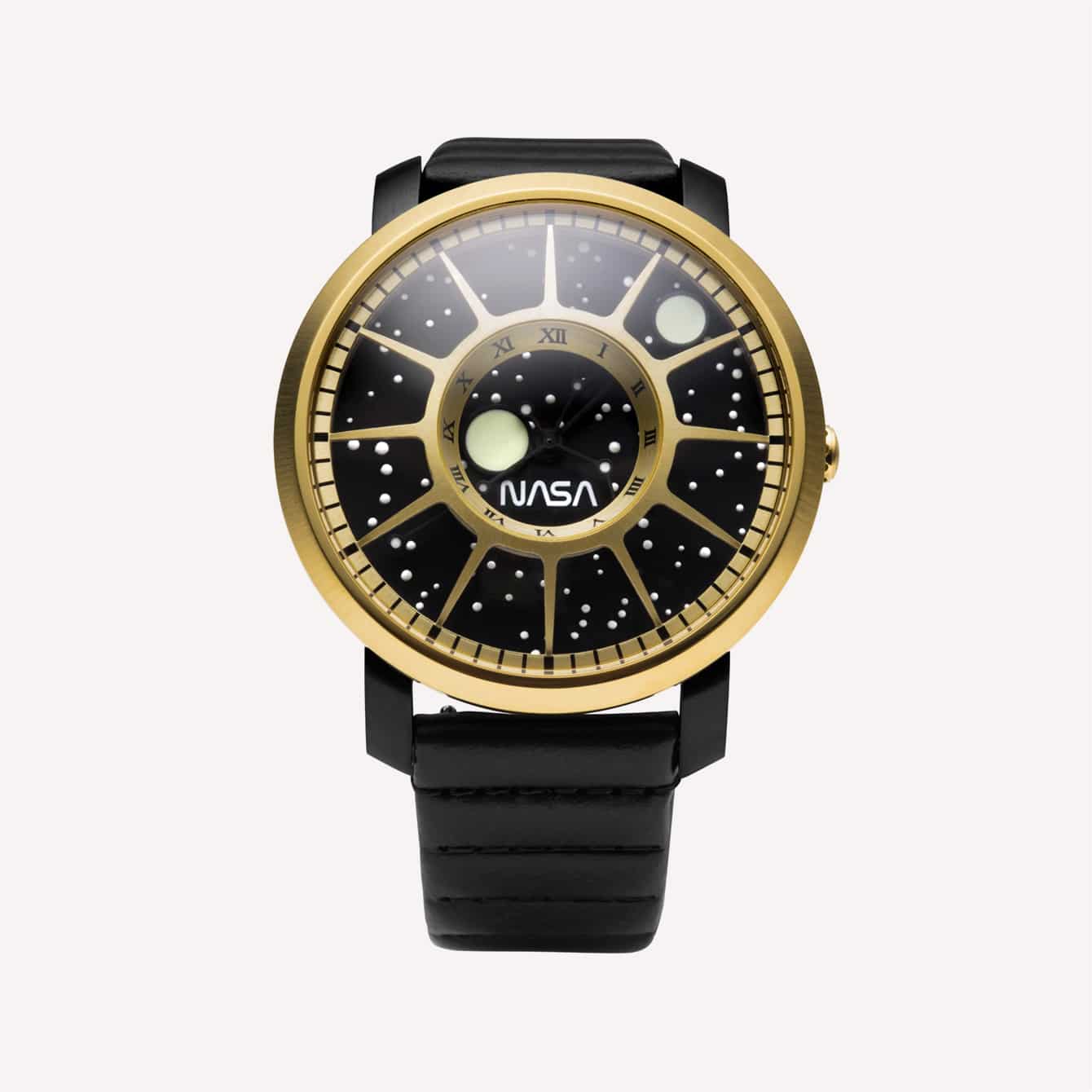 Appropriately, the dial gives you the experience of stargazing into space, from space, thanks to the vibrant and sharp silk screening.
This is framed and sectioned off with a structure that simulates looking from a space observatory and up into the viewing deck.
Instead of watch hands, the planetary elements point to the time, though the hours are a bit clearer to read than the minutes.
Dimensions: 44mm diameter, 11mm thickness
Case material: Stainless steel
Water resistance: 50m
The watch sort of tells you more-or-less what time it is within five minutes — meaning, it might be 11:20 or 11:25, or it might be 10:20 or 10:25.
Xeric Regulator Automatic
While the Xeric Regulator Automatic is actually one of the more "legible" dials on this list, learning to read it is basically like learning a vague, new language.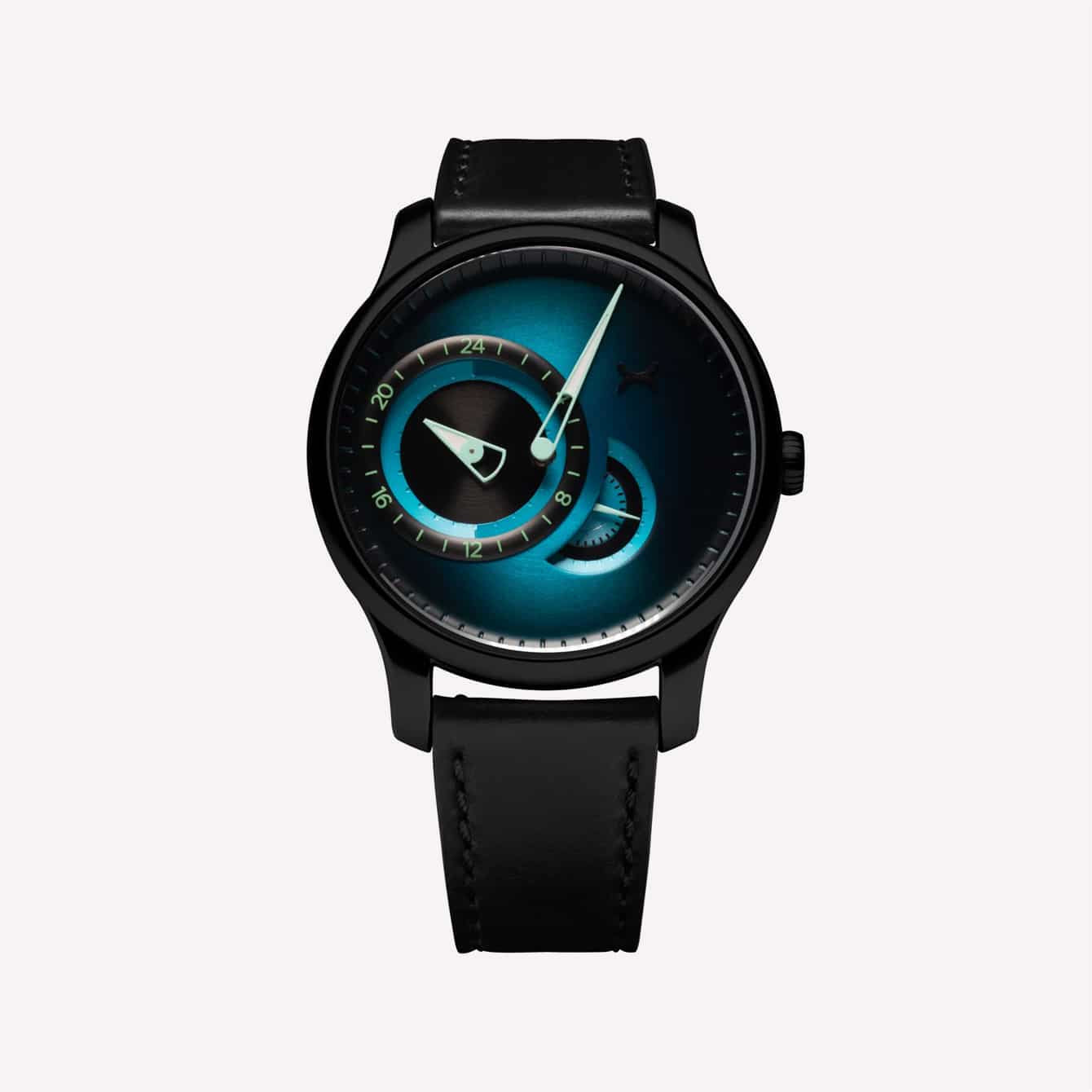 With its use of watch hands, a subdial, and a marked outer dial, it features the broad strokes of a conventional watch. To an extent, you can measure its level of quality like a standard watch.
For example, the dial is impeccably brushed and applied, complemented by a high-polish onion crown, and its leather strap is lush and finely textured.
Still, the mix of raised and sunken features and the fact the hands are coming out of the dial from different places makes this an overall quirky piece.
Dimensions: 42mm diameter, 12mm thickness
Case material: Stainless steel
Water resistance: 50m
It's unconventional enough for those who are looking for an eye-catching and out-there wrist accessory, but sleek enough for those with more conventional, albeit chicly fashionable, tastes.
Project Bauhaus Century Steel
The Bauhaus Century Steel is another watch from Projects that takes its inspiration from art history. It's simple, fun, and an excellent conversation piece.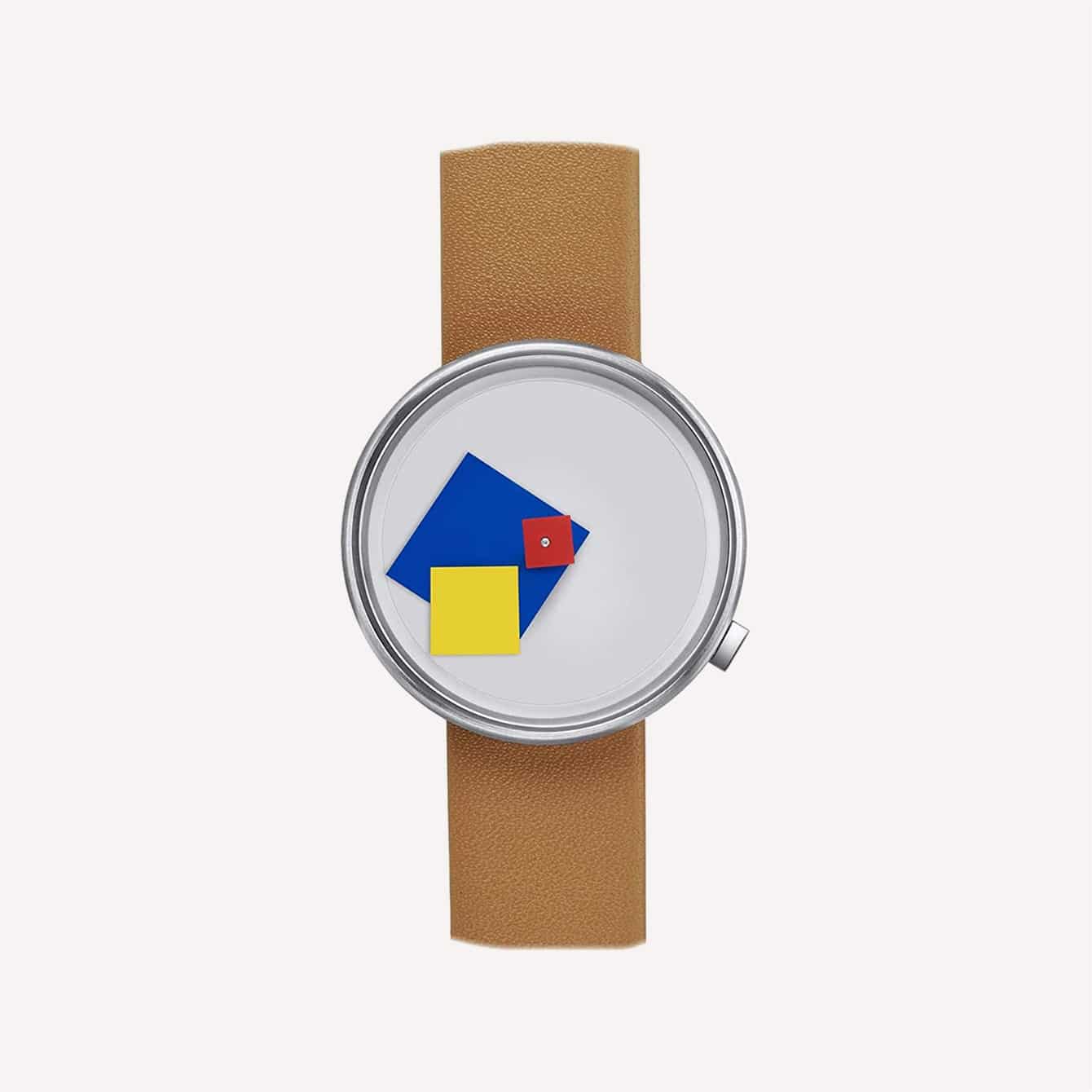 The bare white dial is almost Scandinavian in its starkness, but the yellow, blue, and red square pay homage to its namesake design philosophy, being the center of the overall polygonic aesthetic of the timepiece.
Dimensions: 40mm diameter, 9mm thickness
Case material: Stainless steel
Water resistance: 30m
Even the crown is square-shaped, so while there aren't a lot of details on this watch, the few that are there were deeply considered. And if you prefer something with less color, check out the black and white Bauhaus watch.
Humism Kato
If you're interested in unconventional watch designs, Humism is a worthwhile brand to check out.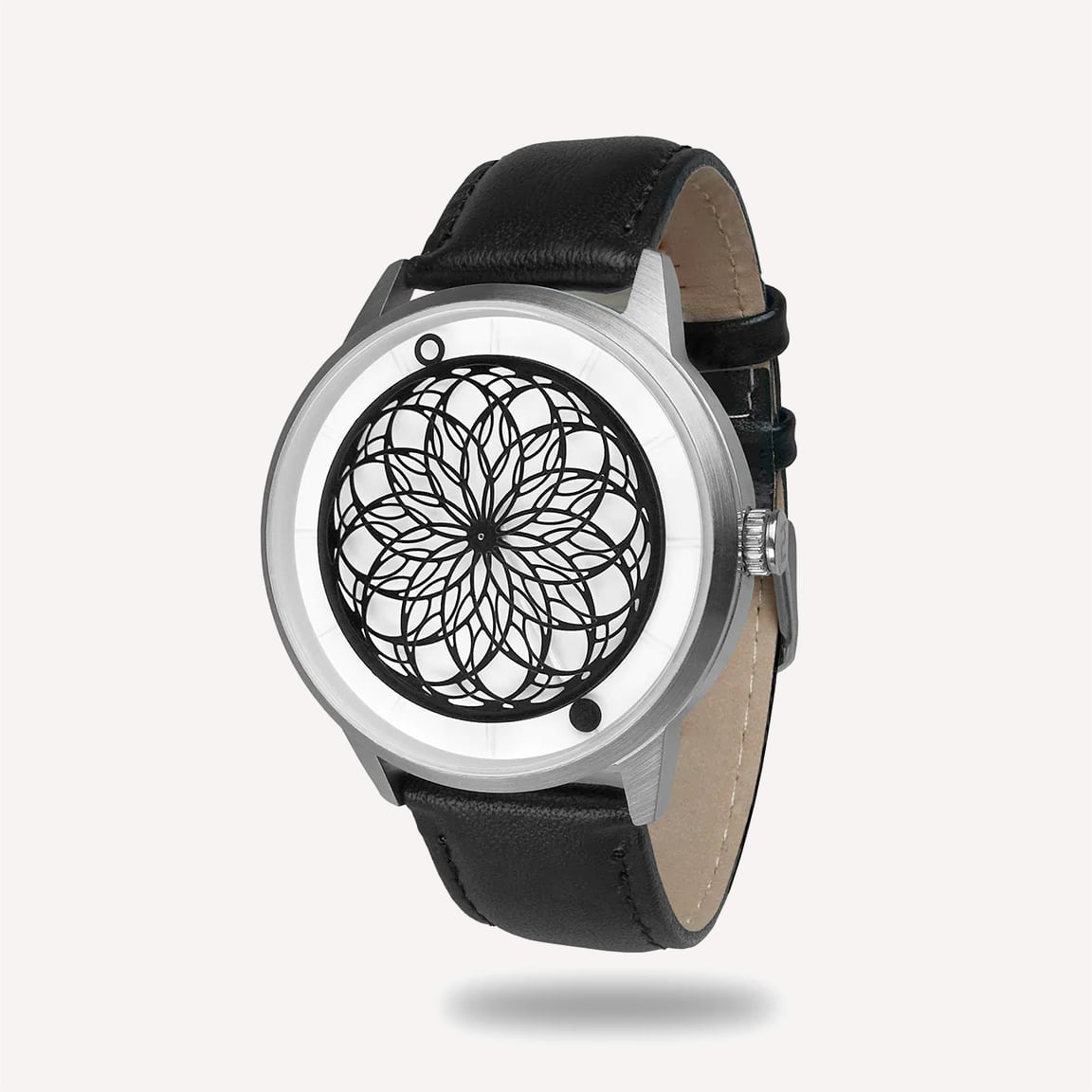 They're an independent design studio in Singapore that considers watches an artistic medium, often forgoing easy time-telling dials altogether — which is the case with this Kato watch.
The moving and overlapping concentric circles are hypnotizing, the petal-shaped elements constantly expanding and contracting harmoniously. It's complex but impressively not messy.
Dimensions: 39mm diameter, 11.4mm thickness
Case material: Stainless steel
Water resistance: 50m
And even though you can't tell time on this watch, it runs on a Seiko automatic movement, which has been beautifully embossed with a line-forward pattern.
HYT Soonow Drop One
The HYT Soonow Drop One is definitely the investment watch on the list. This piece has the combined market power from several overlapping demographics, from Hypebeasts to art collectors.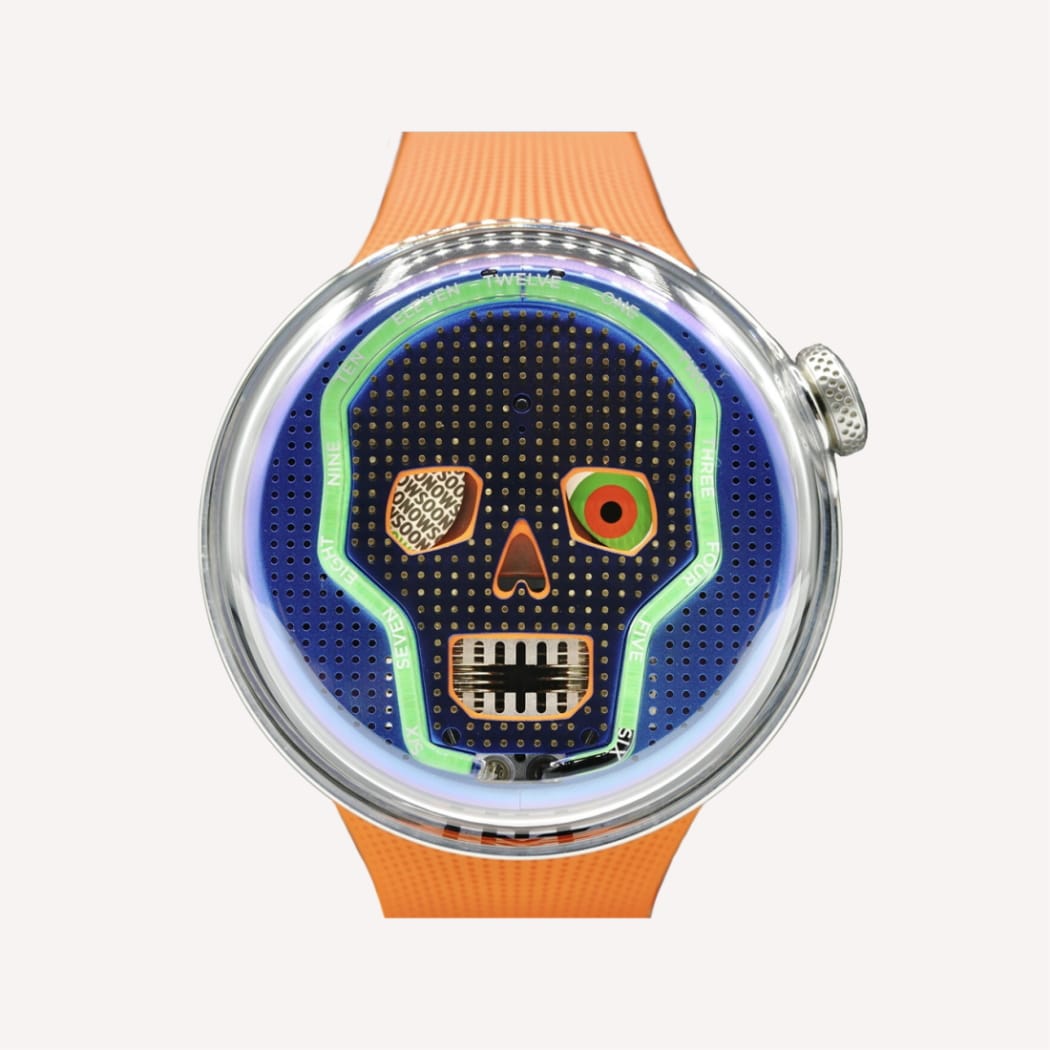 Style-wise, this watch is bright, fun, and the kind of 'trendy' that never really falls out of trend. I mean this in the sense that it will likely maintain its boldness, and in the sense that it's undeniably well-made.
The perforations around the neon green skull design are present not just on the titanium dial, but on the strap and crown as well — there are 937 holes in total.
Within the skull, the surface is adorned with exactly 313 pins made of 18-karat gold, while the skull's interior elements are complemented with an orange lacquer.
Dimensions: 48mm diameter, 20mm thickness
Case material: Stainless steel
Water resistance: 50m
The combinations of warm and cool throughout the entire watch, and the way blue and purple "flirt" on the dial (as described by HYT), aren't just visually attractive, but prove the designer is clearly versed in color theory.
CIGA Design Series U Blue Planet
While the Blue Planet Watch from Series U by CIGA Design is filled to the brim with thoughtful details, the star of the show is obviously the topographical rendering of the planet earth as the center dial.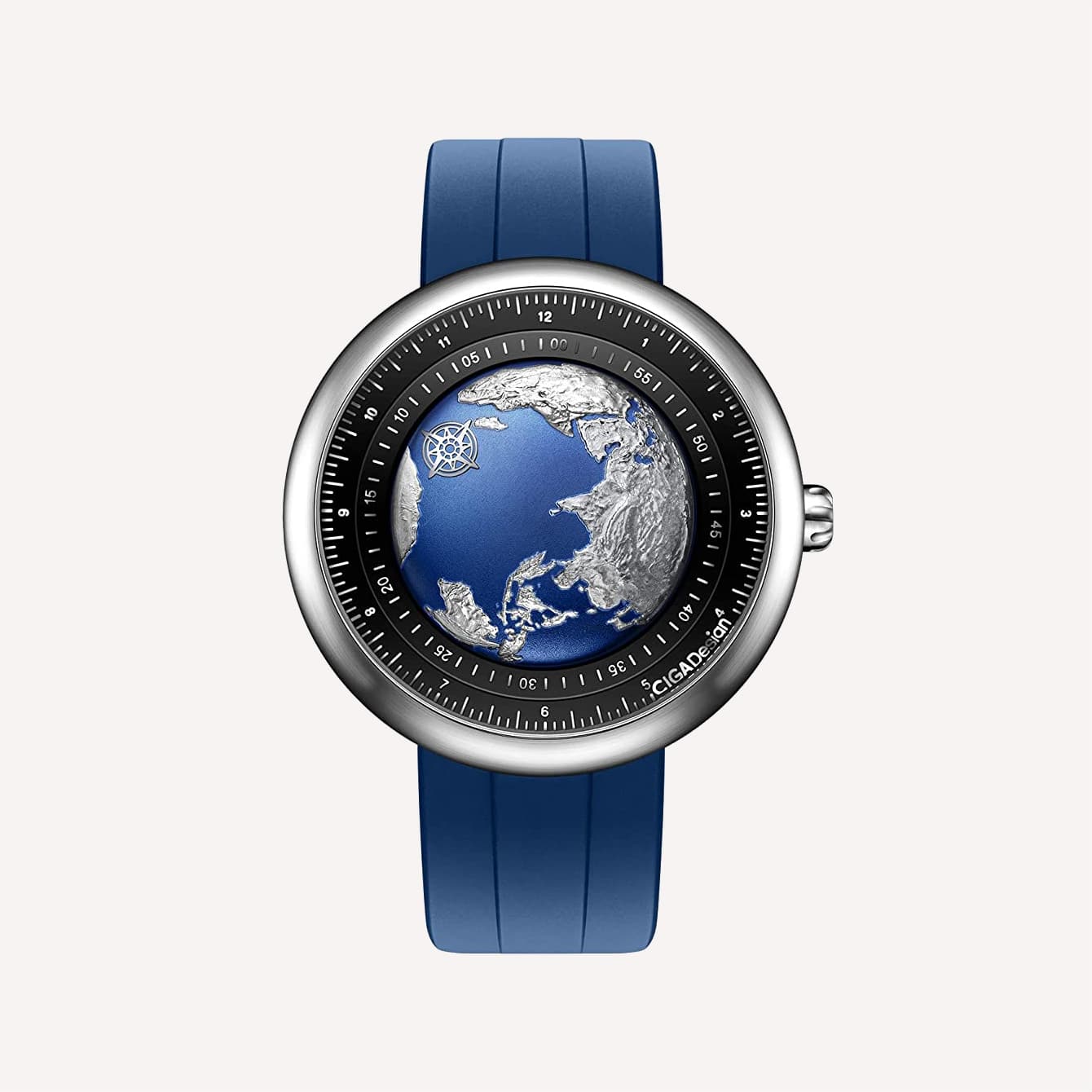 Apparently, CIGA uses state-of-the-art micro-carving technology, which is clear to see considering the minute details of mountains and lands on the earth's surface. It's small yet monumental.
The fact the curved center dial is less recessed than the timekeeping rings makes it even more dimensional, giving it a buoyant look.
Dimensions: 46mm diameter, 15mm thickness
Case material: Titanium alloy
Water resistance: 30m
Even more, the curve of the sweeping titanium case carries on uninterruptedly into the sapphire glass, giving the entire watch a beautifully smooth look from all angles.
Mr. Jones A Perfectly Useless Afternoon
Designed by an artist of quirky illustrations, Kristof Devos, A Perfectly Useless Afternoon from Mr. Jones is a bit like the viral rubber ducky watch in that it's light-hearted, colorful, and irreverent.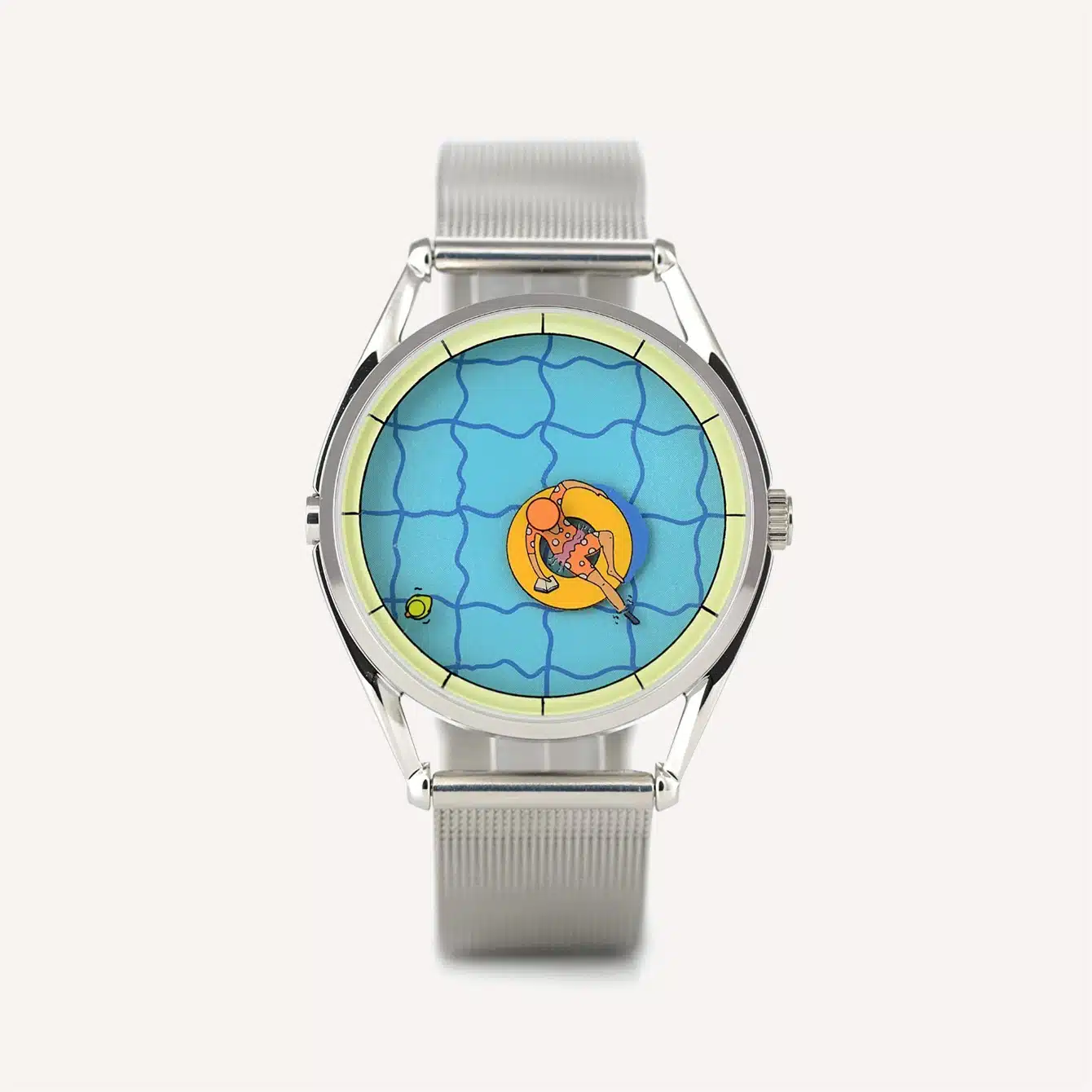 Unlike the rubber ducky watch though, it isn't a "gag" and is well-built overall.
You can get a vague idea of what time it is via the figure relaxing in a pool floaty (the hour marker), and the plastic duck (the minute marker).
Not being able to tell the time is thematically appropriate though, since Devos wanted the design to represent slowing down and relaxing.
The blurred lines on the dial give the illusion that the top elements really are floating on something with depth.
Dimensions: 37mm diameter, 11mm thickness
Case material: Stainless steel
Water resistance: 50m
All Mr. Jones watches are hand-assembled by the studio's small team, sapphire glass and all, giving the piece a level of artisan credibility.
Mr. Jones The Ascendant
Another Mr. Jones model, this time designed by gilding artist, Marion Labbez, The Ascendant depicts the moon, stars, and a moving mountain in an almost eastern-style illustrative fashion.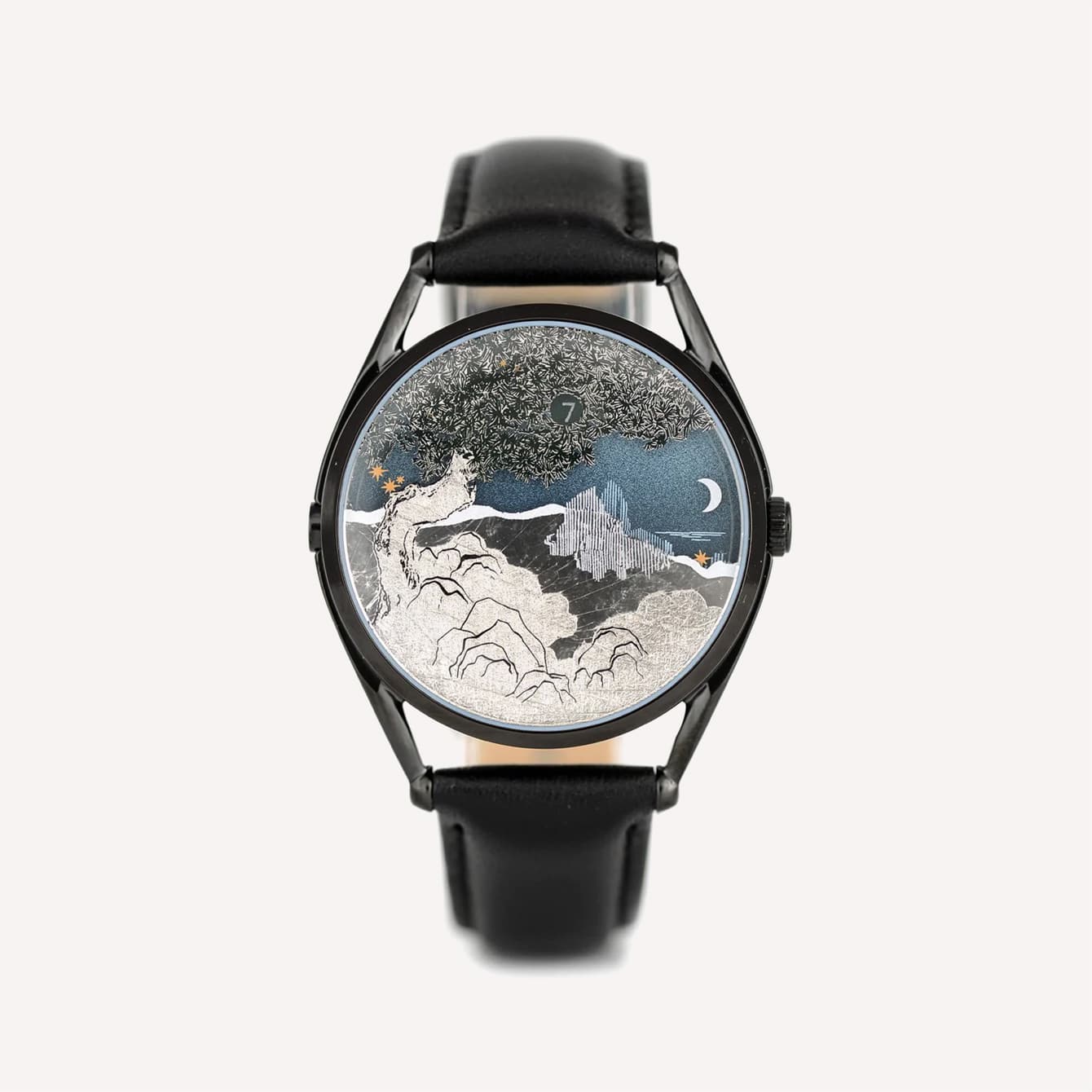 Of course, there's exquisite gilded palladium throughout, adding a touch of shine to an already elegant dial and body.
And despite its unconventional look and painstaking detail, the even-handed hues and dark case make it surprisingly neutral, and easy to style.
Like a few others on this list, you can technically get an idea of what the time is on this watch, with some calculation and understanding of the symbolism.
Dimensions: 37mm diameter, 11mm thickness
Case material: Stainless steel
Water resistance: 50m
The silver star represents 30 minutes, the large gold star represents 10 minutes, and the small gold star is five minutes.
Van Cleef & Arpels Midnight Planétarium
This watch is a wonder in that you can always find something new on the dial because of the crisp but plentiful spillage of stars on the night-sky dial, yet, the represented planets anchor the design, so it doesn't look like always-changing chaos.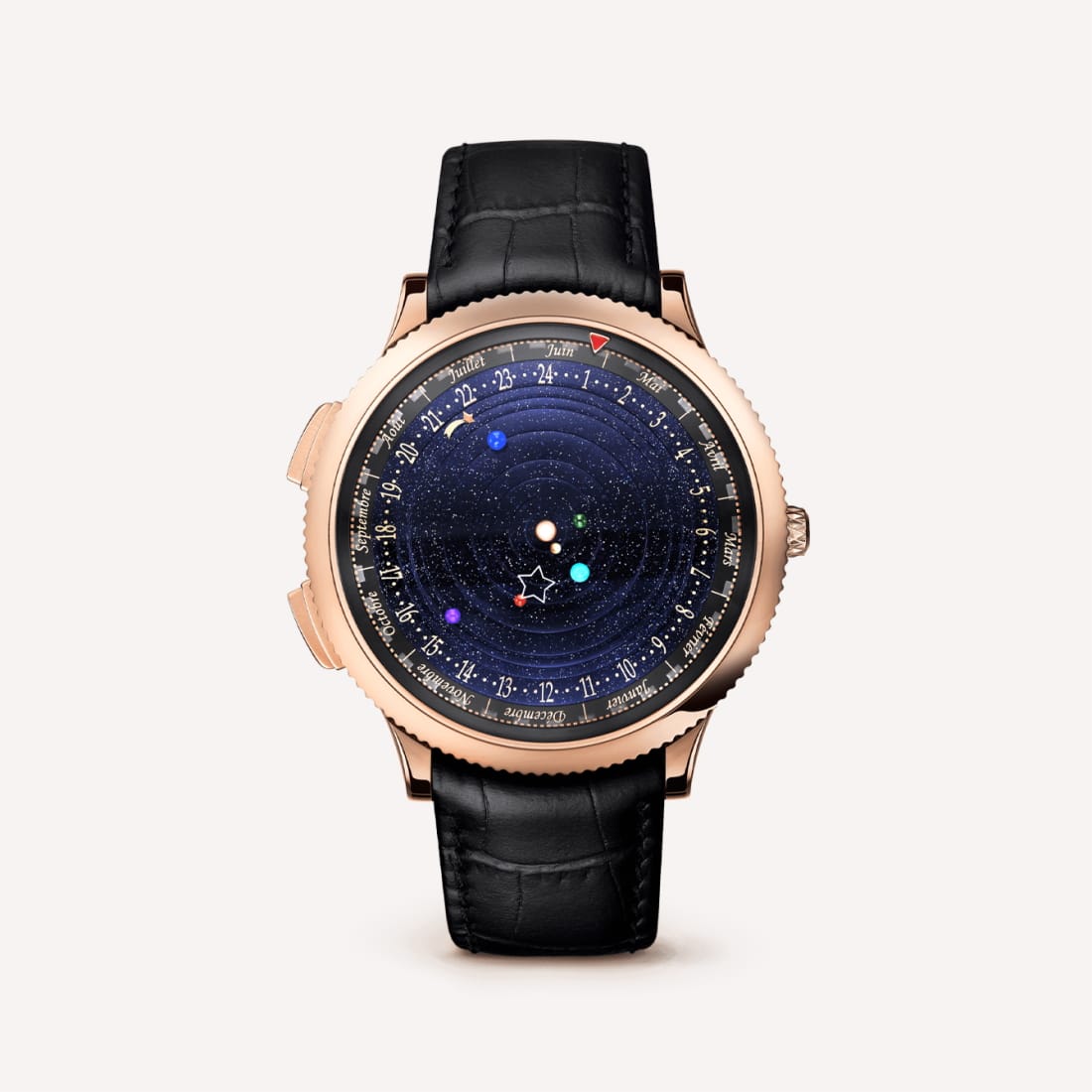 It's dynamic but grounded.
The three-dimensional composition includes planets Earth, Mercury, Mars, Venus, Saturn, and Jupiter, each built with a rounded piece of precious gems.
Dimensions: 44mm diameter, 13.4mm thickness
Case material: 18k rose gold
Water resistance: 30m
And while you can't read the time on this watch, the gems accurately represent the orbits of each planet. It's all topped off with a rose gold case and a supple leather bracelet.
ZIIIRO Z0002WB3 Mercury
The dial of the ZIIIRO Z0002WB3 Mercury is a bit like a '90s computer screensaver, but way cooler, in that the way it moves is pretty mesmerizing.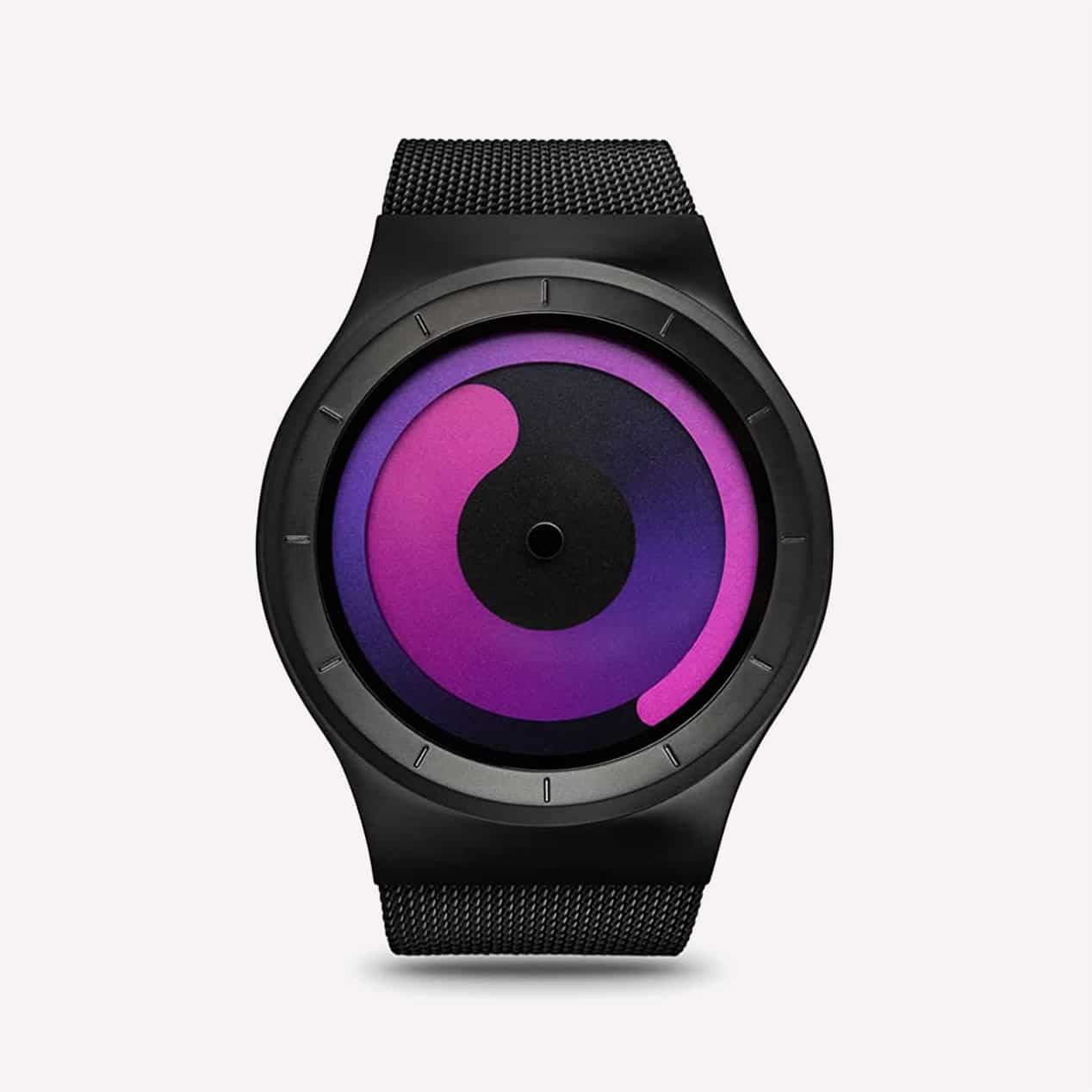 The outer swirl represents minutes while the inner swirl represents the hour.
Especially with the gradient colors on both of them, seeing both swirls circuit in tandem with each other is a veritable feast of color and movement.
Dimensions: 40mm diameter, 8mm thickness
Case material: Stainless steel
Water resistance: 30m
It also adds visual depth, making the dial look like a psychedelic Wonderland rabbit hole from a bird's eye view.
Romain Jerome Day & Night
Probably one of the most love-it-or-hate-it examples of a watch that can't tell time, the now-defunct Romain Jerome brand released the Day & Night in 2008 to instant infamy.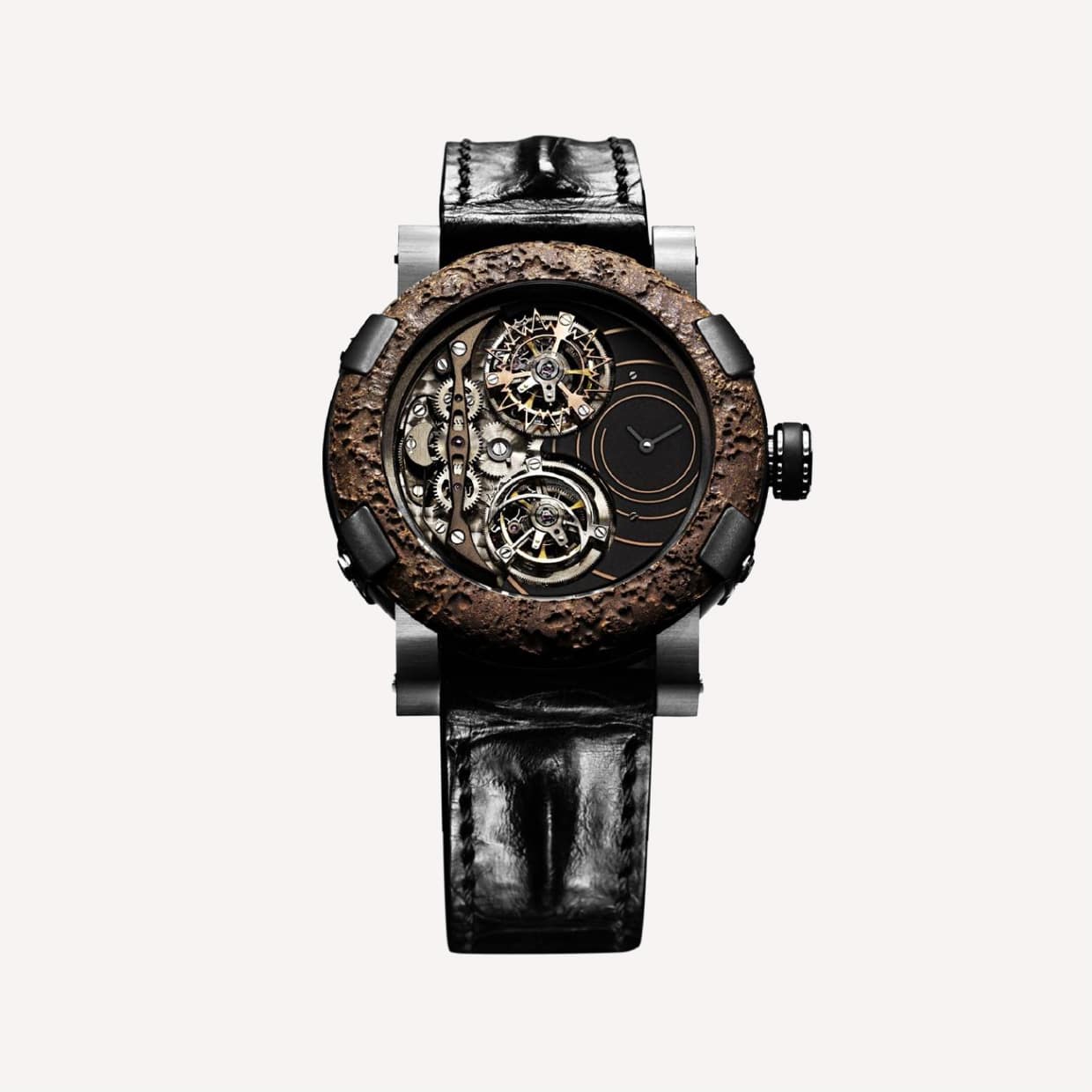 Even though it's practically (read: likely definitely) impossible to get your hands on one, this avant-garde timepiece is worth mentioning because of the waves it made.
Never say never though Ghostwriter. This guy might end up on the auction block at a Christie's or Sotheby's of the world, but likely for far more than its initial $300,000 price point.
And despite the fact it won't tell you the exact time, its tourbillons are objectively innovative.
The AM tourbillon cage is made of rose gold and stops after 12 hours, before the changing-of-the-guards — meaning jura ghostwriter, the night tourbillon cage, in steel, continues for the next 12 hours.
Dimensions: 46mm diameter, 15mm thickness
Case material: PVD-coated Stainless steel, Titanium
Water resistance: 50m
The 'rust' aesthetic of the cage and overall steampunk akademisches ghostwriting aesthetic provide an outrageously tactile look, one that was so popular that this watch sold out within hours of its release.
Conclusion
While it's unlikely that Swiss hard-hitters like Rolex or Omega, or highly-respected watchmakers with horological chops, like Seiko, will dive into the no-time watch pool anytime soon, it's fascinating to see how big that pool has gotten.
From highly wearable pieces of art to the unabashedly weird, it's even cooler to see the range represented.
Questions? Comments? Leave them below!