Looking for the best field watch? Great! Here are 18 diverse options for your consideration.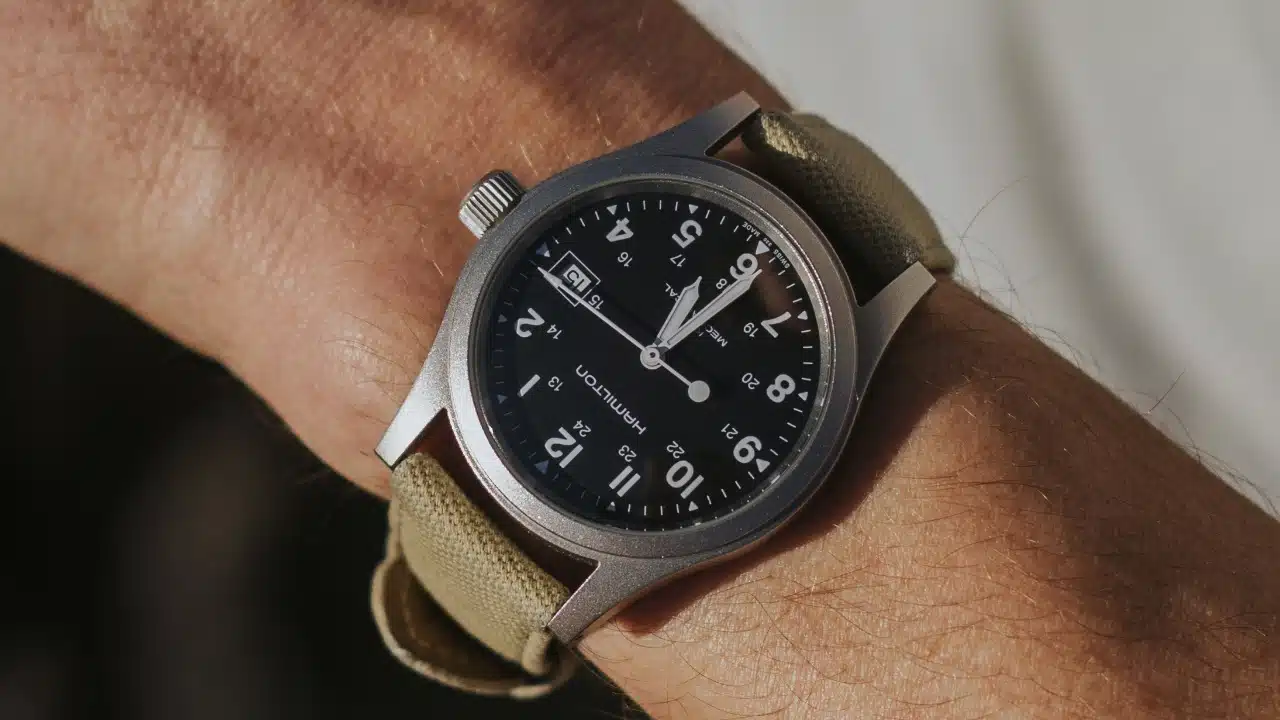 It's no coincidence that one of the qualities that makes something a menswear essential is that it has roots in the military (service boots and trench coats, for example). After all, if it's functional enough in the trenches, then it's more than good enough for the office or on a night out.
The field watch is the best example of this.
Think about the essential functions of a good watch: Accurate, legible, and excellently durable. These are basically the prerequisites of a true military timepiece.
Truly, there's no better distillation of an honest, no-frills timekeeper.
Plus, they look cool — as do the 18 best field watches here.
18 Best Field Watches
Here they are, at all price points and styles, and in no particular order!
Yema Urban Field
As its name suggests, the Urban Field from Yema is an urban and contemporary take on the classic field watch. It'll bring a chicness to your casual outfits and a sense of fun to your smart or formal outfits without looking out of place in either scenario.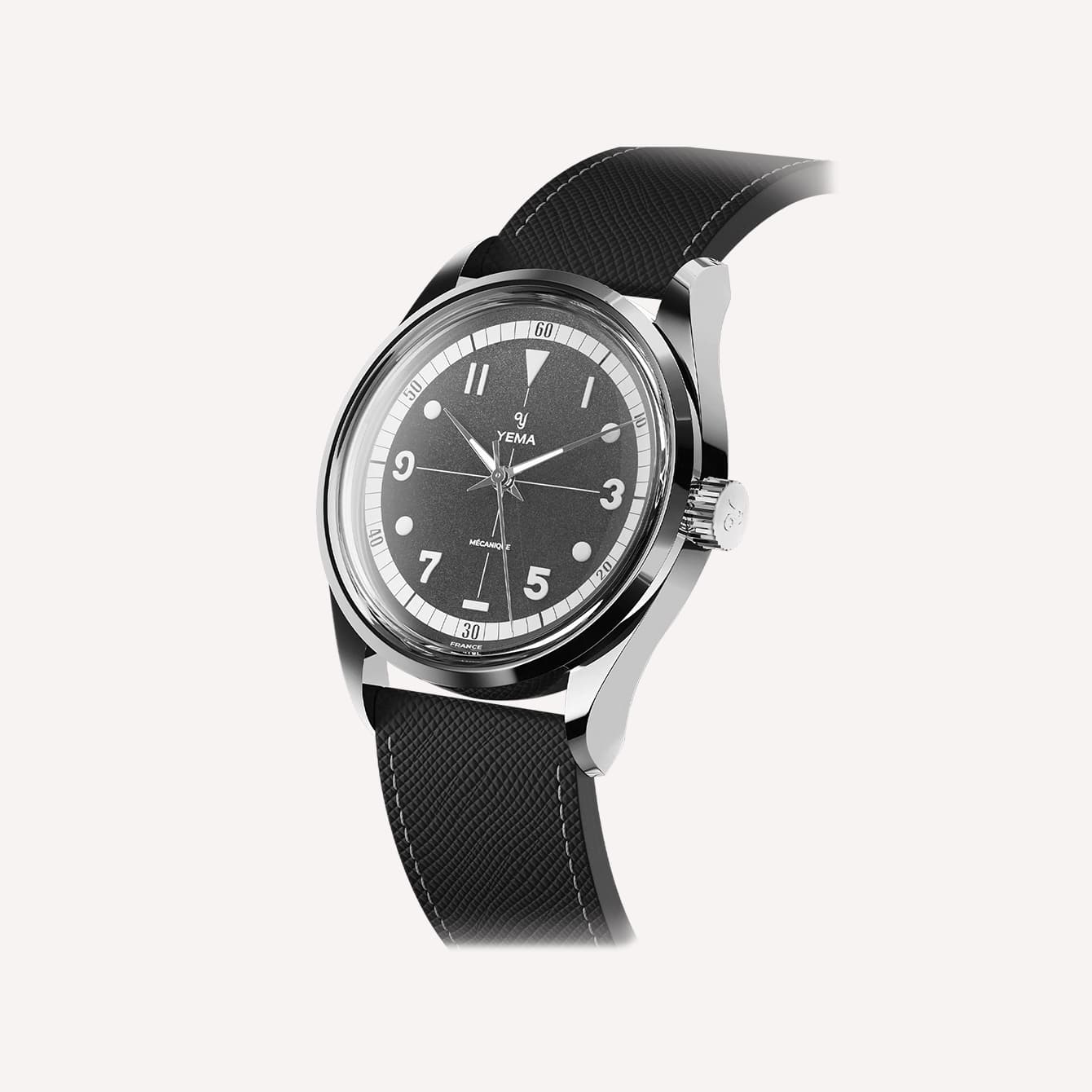 The former mentioned "sense of fun" comes from the mix of shapes and Arabic numerals, making it reminiscent of a California dial. However, the stark color and slick hands ensure it's a sophisticated kind of fun.
I also love how the texturing on the background balances an organic style with the man-made architecture of the dial elements.
This impeccably-finished and obviously premium timepiece includes a sapphire on the front, providing that charming distortion on the edges and the back.
Dimensions: 37.5mm diameter, 7.8mm thickness
Case Material: Stainless steel
Water resistance: 100m
The multi-layered Sellita movement is fully decorated with gold tones and blue screws, making it as entertaining for aesthetic lovers as it is for the horologically curious.
Formex Field Automatic
There are two things this Formex Field Automatic has in common with a G-Shock. First, it's built to be solid as a tank. Second, it has the hard edges and matte aesthetic, but in a completely different, traditionally round and way more colorful expression.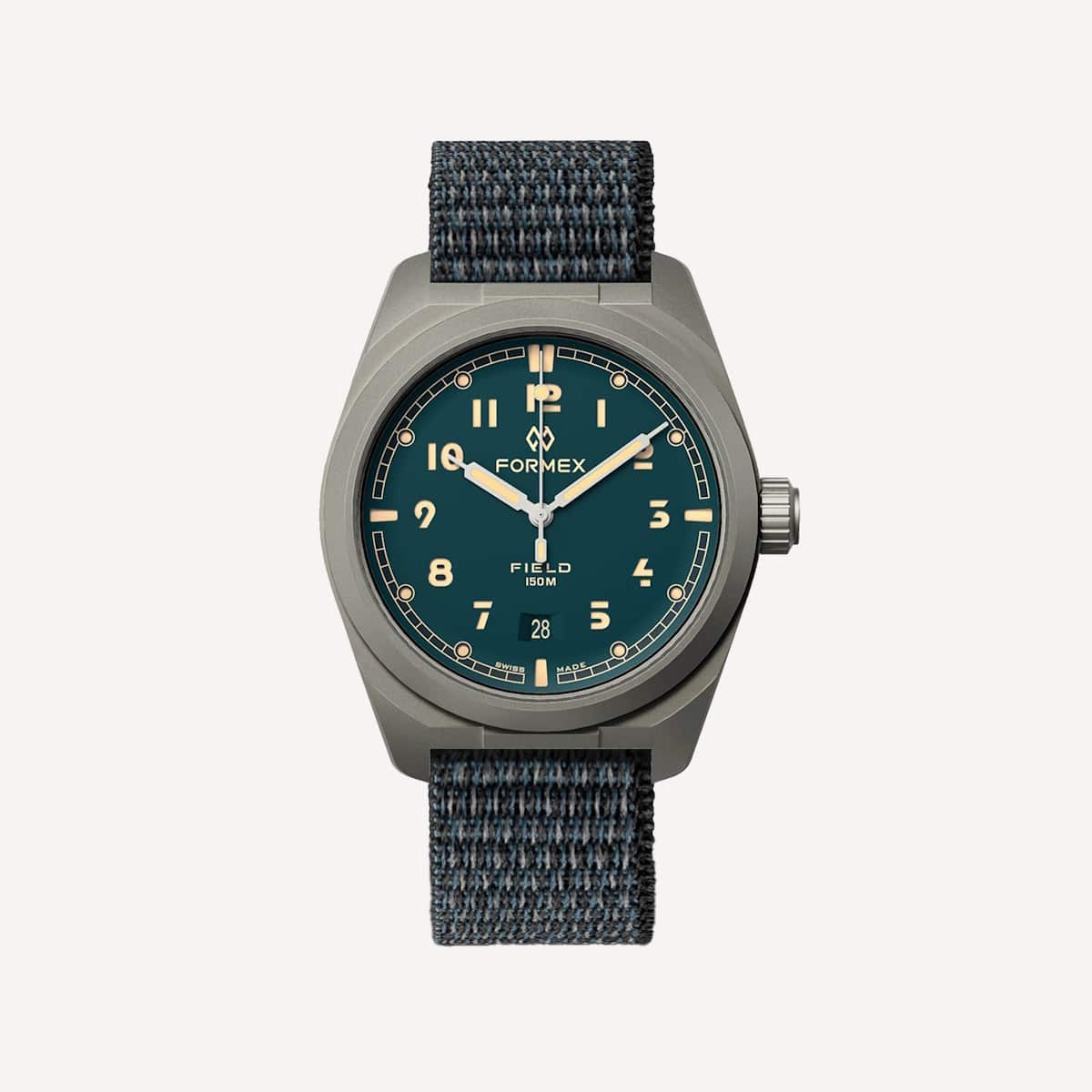 I like to describe it as a grown-up appropriate toy because the dimensional sandwich dial, gadget-like style of the case and dial elements give it a delightful, almost robot-like vibe.
Imagine if your favorite, most complex Transformers action figure turned itself into a refined men's watch.
Dimensions: 41mm diameter, 10.6mm thickness
Case Material: Titanium
Water resistance: 150m
This Swiss automatic boasts a grade 2 titanium construction. This means it's been hardened for extra durability, even beyond titanium's natural strength. It's stronger than stainless steel but far lighter. It also adds to the tough, matte look.
Lorier Falcon
Balancing a decorative look with a clean one, the Lorier Falcon has the quality finishing and sporty look of a classic luxury sports watch. When it comes to its design language, it's like a more ornamental Explorer I.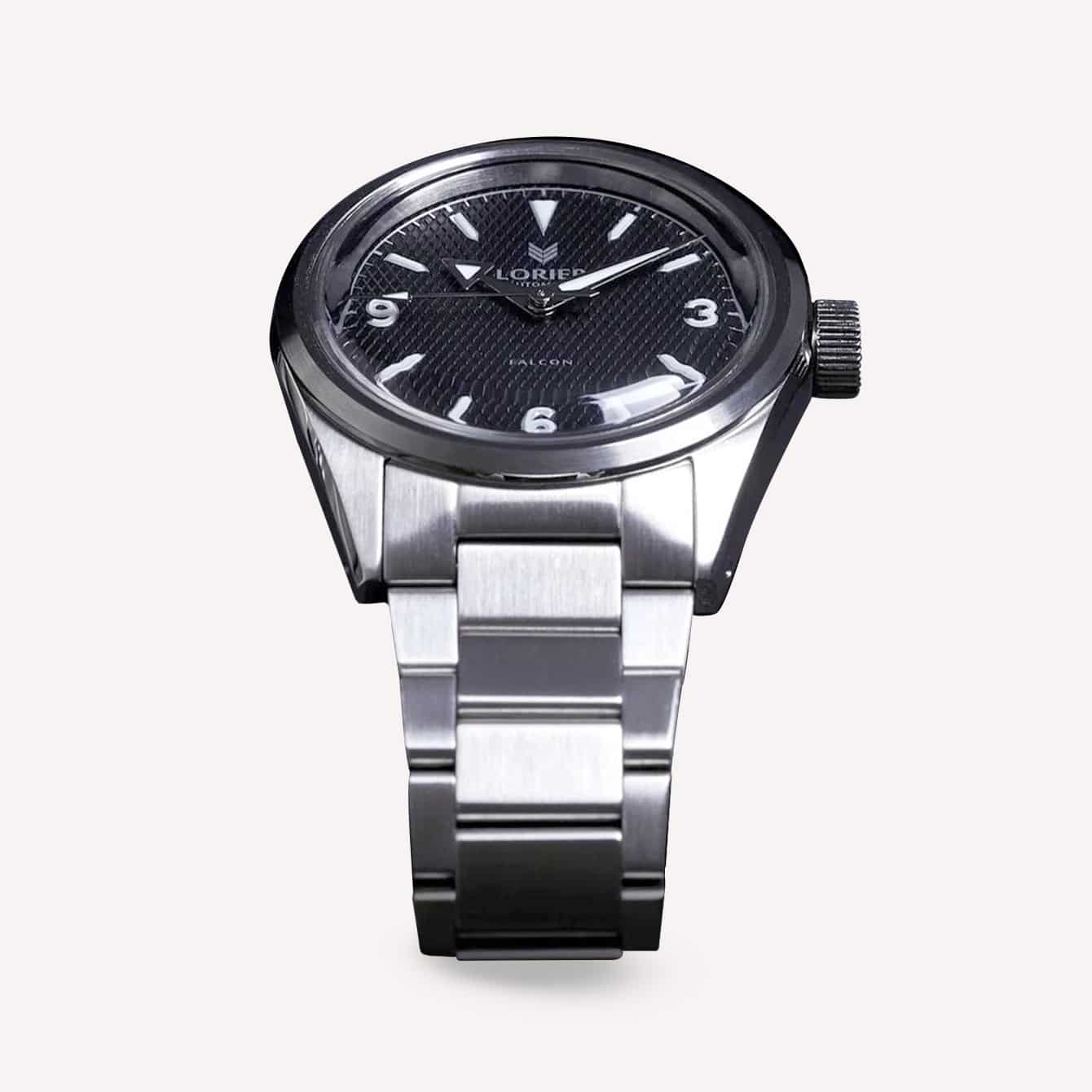 This comes mainly from the elegant honeycomb dial and the throwback edge distortion of the hesalite crystal. Of course, a sporty broad arrow hands and the rounded font of the cardinals balance out the dial.
It has touches of fanciness, but this isn't an aesthetically delicate watch by any means.
It even runs on a high-beat Miyota automatic.
Dimensions: 36mm diameter, 9mm thickness
Case Material: Stainless steel
Water resistance: 100m
Still, that nine-millimeter height makes this watch comfortable to wear for all wrist sizes, as well as easy to slip in and out of a sleeve.
Seiko SRPJ85
I've raved about the 36-millimeter field watches that Seiko released in 2023. It's truly a gift to the slender-wristed.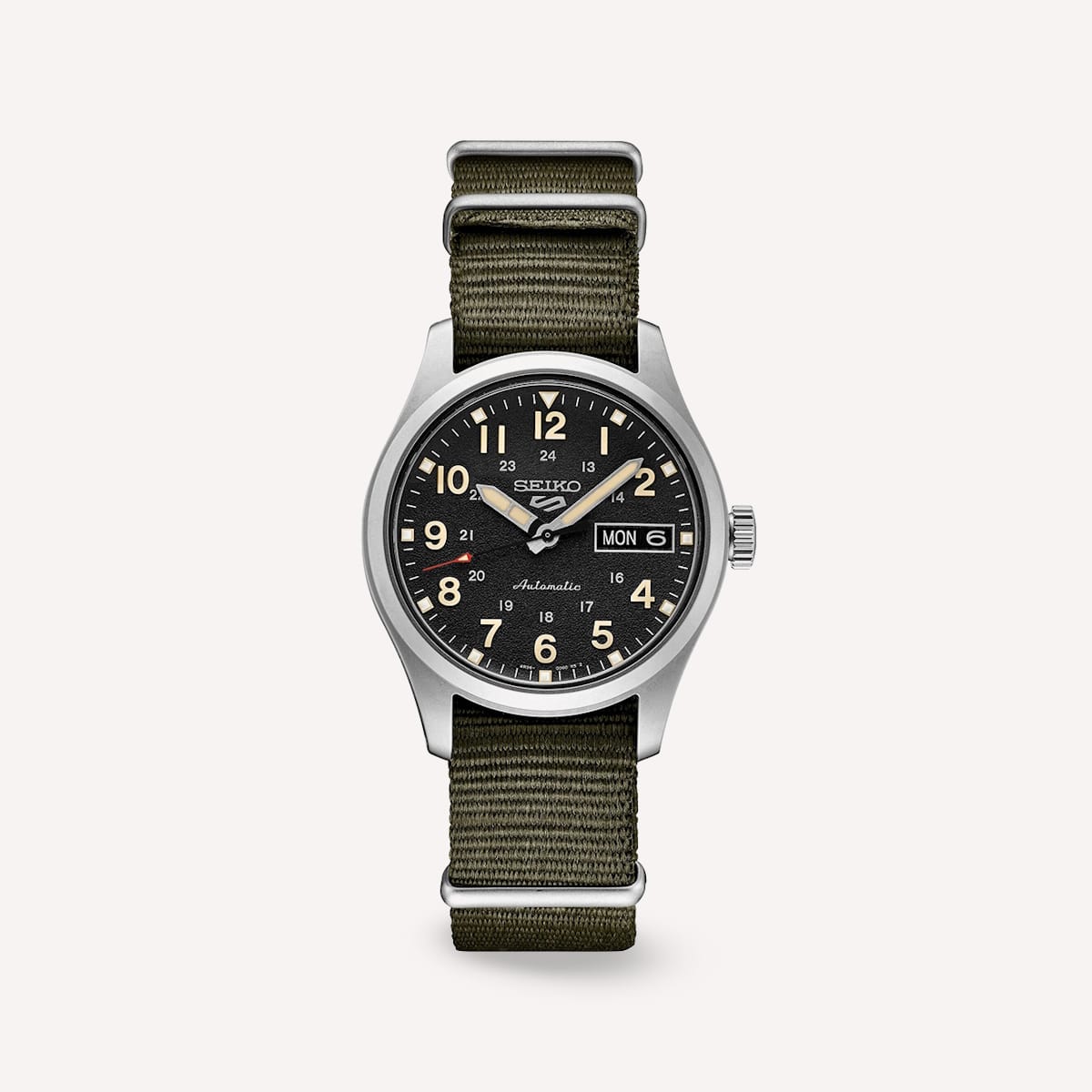 The SRPJ85 is my favorite because the gravel-like texturing on the dial, complemented by tropical-esque indices, combines modern sensibilities with old-school adventurer looks.
Moreover, that cursive Automatic stamp below the windowed hands is a crowd-pleasing touch of retro.
Dimensions: 36mm diameter, 12mm thickness
Case Material: Stainless steel
Water resistance: 100m
Like many of Seiko's modern sports watches, the SRPJ85 runs on their 4R36 automatic movement, which can be hand-wound and hacked. Even more, there's an exhibition caseback so that you can watch it in action.
Vero Smokey 64
The design revisits we didn't realize we wanted until now; that is, the Smokey '64 from Vero is a throwback straight from its namesake year, 1964. It's also a celebration of Smokey Bear, America's favorite fire safety mascot.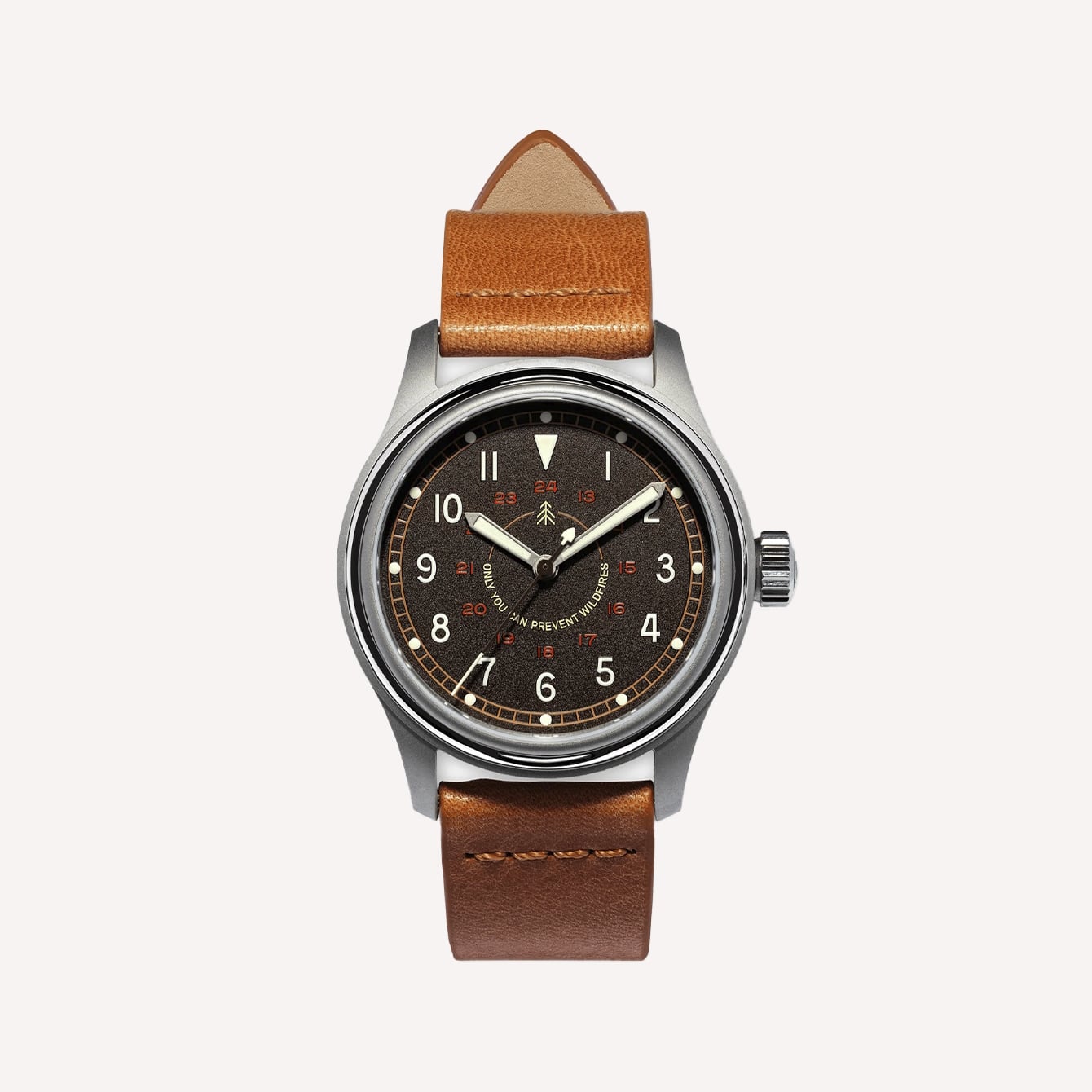 The railroad edges, sword hands, and overall authentic approach to field watch design make for a practical foundation. (This includes the 24 hour track, which also serves as a visual color accent).
Between that and the AR-coated flat sapphire, you can instantly read the time from any angle on this dial.
However, the earthy yet bright color palette and dimensional dial texturing make it look exceptionally outdoorsy. There's still a style factor here, and it balances crunch and refinement. The swerve of the lugs into sharp breaks is one example of the latter.
Dimensions: 38mm diameter, 12mm thickness
Case Material: Stainless steel
Water resistance: 120m
Think of the Smokey '64 as a classy camping watch or an outdoorsy everyday watch.
Benrus DTU-2A Field Watch
If you're looking for a true field watch, then allow me to introduce you to a literal product of the US military. The Armed Forces had very specific requests for Benrus when they issued the DTU in 1964.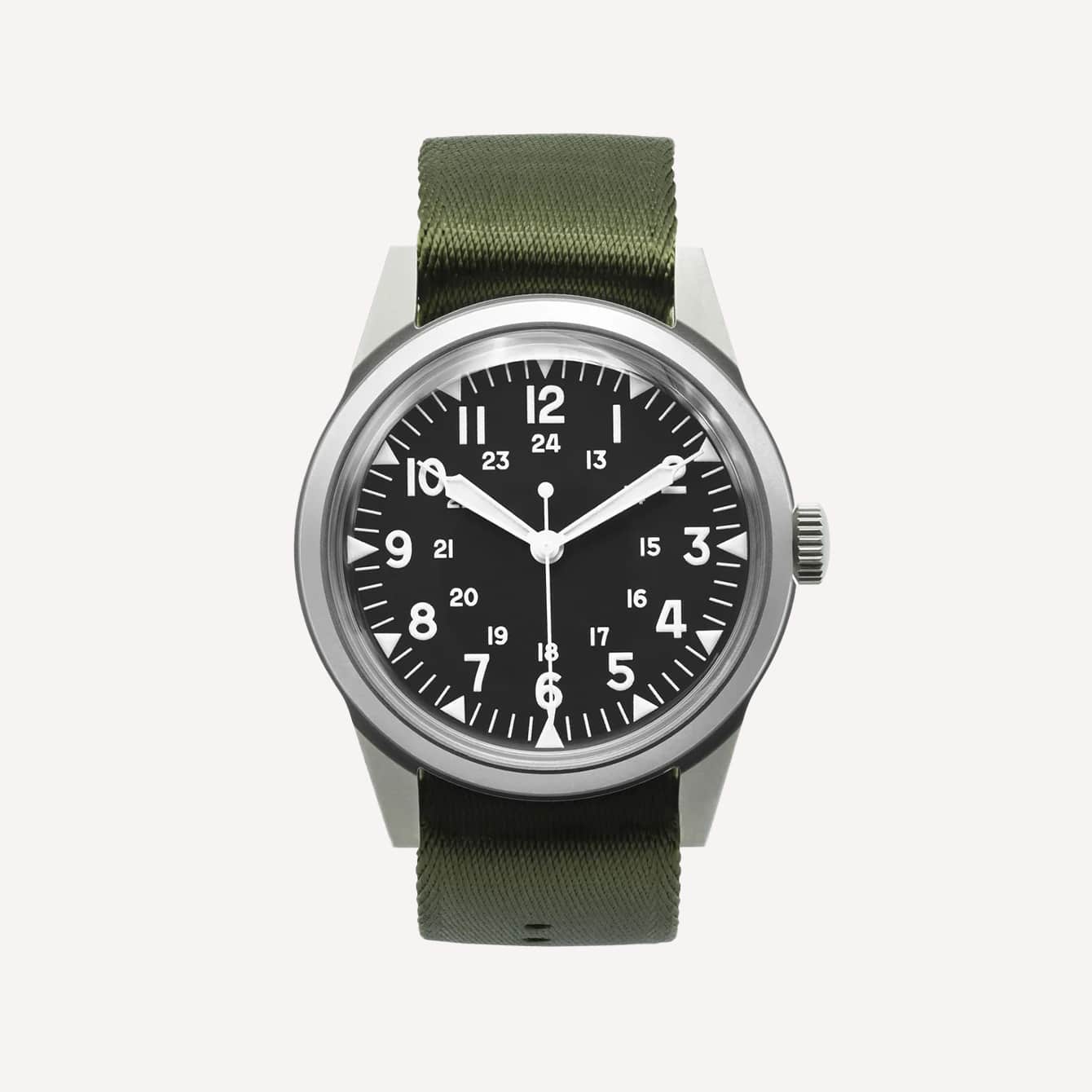 So if this DTU-2A can handle combat, it can handle whatever we everyday watch wearers will put it through.
It's as simple as a field watch should be, but it has such a speedy, dynamic look. The flush second markers, triangular hours, and syringe hands have a line-forward and triangle-forward aesthetic. These features adds excitement to the dial and makes it easy to read.
I mean, look at it. The second markers are full-on, pointing back at the hands as they point to them.
You can wear this watch with any strap, but I think a simple, raw leather or a NATO best matches its tough yet unassuming look.
Dimensions: 39.5mm diameter, 12.8mm thickness
Case Material: Stainless steel
Water resistance: 50m
Functionally, it runs on a Swiss automatic with a 38-hour power reserve. Its bead-blasted stainless steel case is extra hard, while the double-domed acrylic dial protector is a nod to army watches from the '60s.
MTM Black Hypertec H-61
If the Leopard 2A7A1 manifested into a wristwatch, it might be the MTM Black Hypertec H-61. The Leopard 2A7A1, by the way, is a truly superior army tank.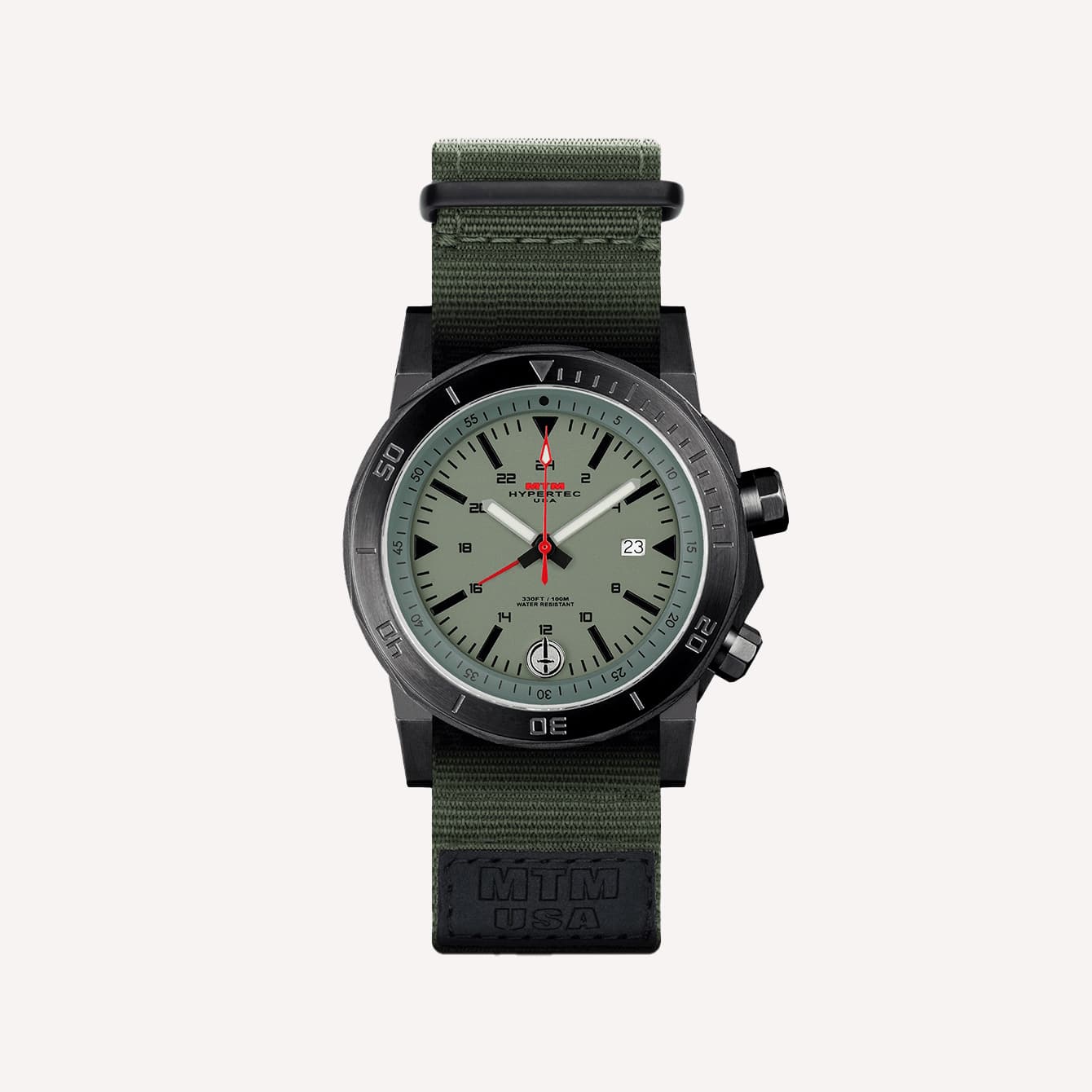 The Hypertec H-61 has tough-as-nails looks, wear, and construction. Starting with its looks, that black stainless steel bezel, pumped up with its robust crown and hard-edged lugs, looks like clean onyx.
Partnered with the forest green brass dial, its military style is undeniable.
Moving on to how it wears, it's a larger watch, which works for the overall design. However, at only seven ounces, it's not crazy heavy or uncomfortable.
Dimensions: 42mm diameter, 12.5mm thickness
Case Material: Stainless steel
Water resistance: 100m
It's also a strong beater, so it isn't all bark and no bite. Its sapphire crystal and locking, screw-down crown provide water resistance, all while boasting a GMT indicator.
Nodus Sector Field Watch
Depth and dimension aren't the main priorities for a field watch since they're meant to be pragmatic and often lacking superfluousness. This is why the Nodus Sector Field Watches really stand out in this category.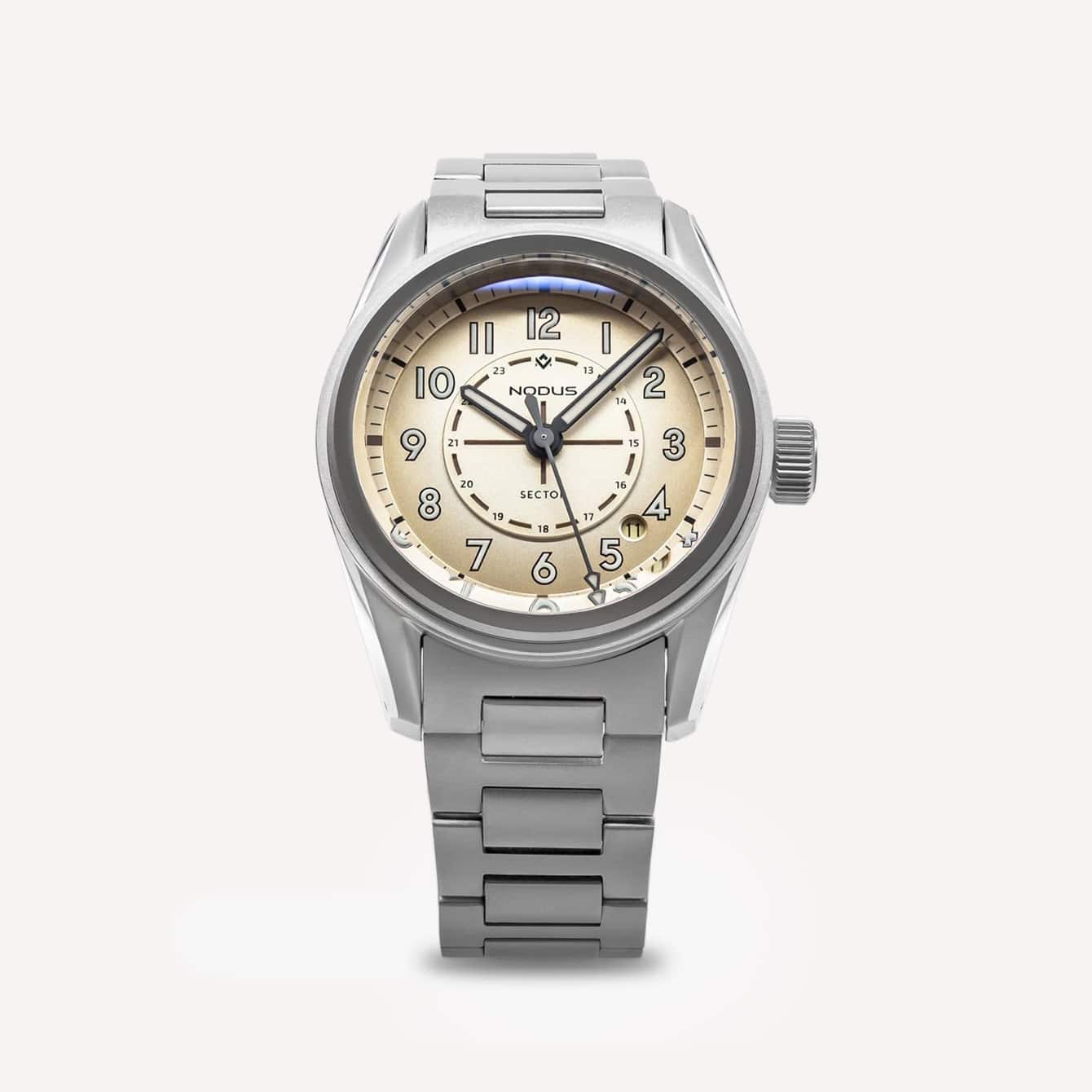 More importantly, the added depth provides visual intrigue without taking away from its legibility. On the contrary, it actually adds to it.
The multi-layered physicality of the dial is seen mainly via the inner dial, with cut-outs between the 13-to-24 hours, making that area easier to read.
The gradient on the one-to-12-hour track makes the indices pop with legibility as well as personality. The mirrored chapter ring adds light to different angles while also providing even more fascinating dimensions.
Furthermore, there are three available colorways, each taking on this template in a unique way.
Choose your fighter: The sand-colored Malibu version has a beachy or desert-like quality about it, with a more subtle gradient.
Dimensions: 38mm diameter, 12.5mm thickness
Case Material: Stainless steel
Water resistance: 100m
The red-hued Redwood is less monochromatic, with gold accents and a different shade of red on the index track. Meanwhile, the Marina is a lively and versatile blue color.
Adam Benedict Genesis
I came across this promising new microbrand, Adam Benedict, pretty recently — within the last two years or so.
I was instantly impressed with the unique simplicity of the Genesis watch, as well as its cool concept, top-notch finishing, and the history behind its design.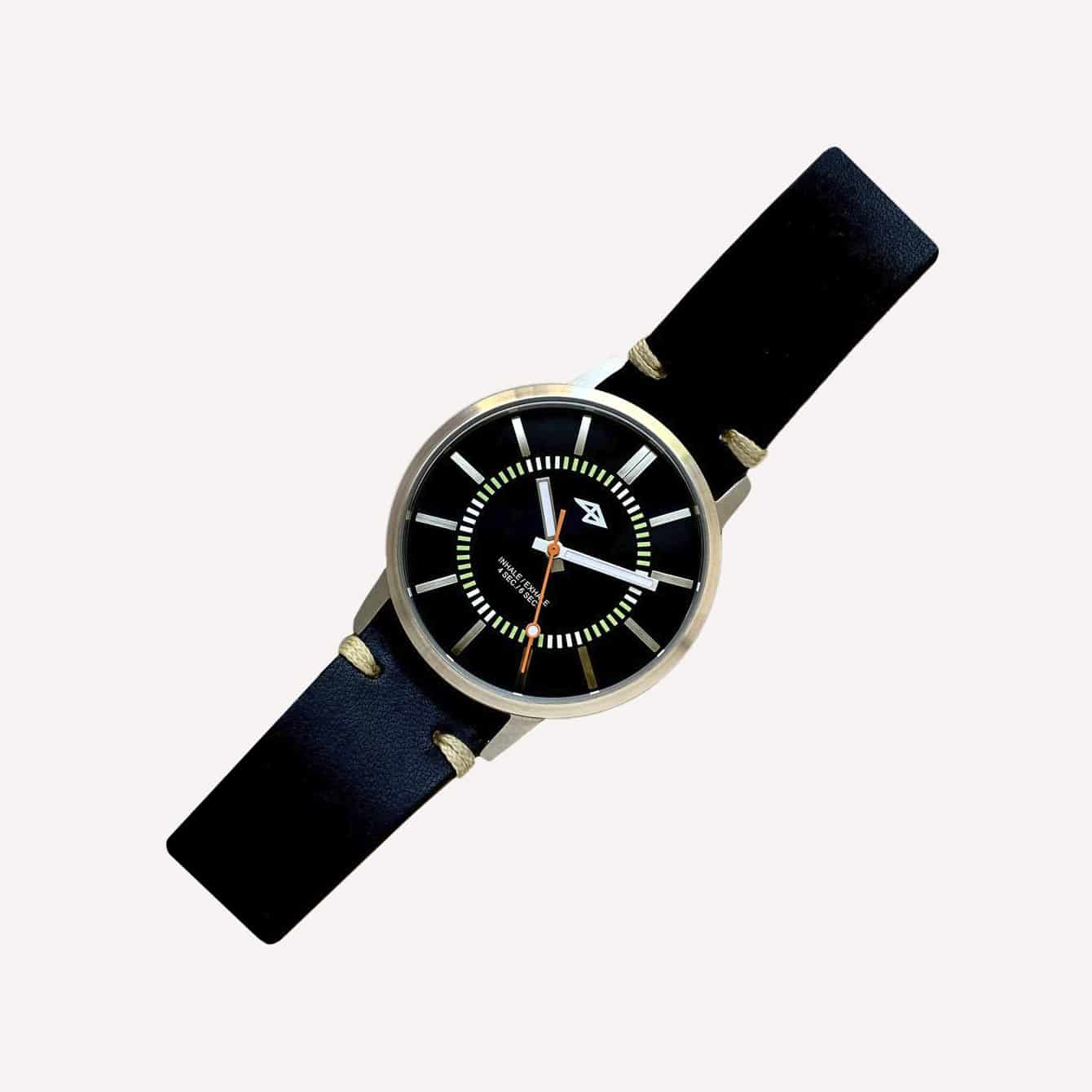 Founded by the great-nephew of the founder of the Benedict watch company the Genesis is even modeled after the Benedict Park-O-Phon. And while the Park-O-Phon is unambiguously dressy, like a vintage Bulova Seville meets a vintage Omega De Ville, the Genesis isn't.
It's universal, pragmatic, and built to last, just like a good field watch.
Each Genesis colorway features a sunray dial with immaculate baton-shaped elements, making it easy to read and easy to wear with, well, almost anything. It's a good option for a one-watch collection.
Dimensions: 40mm diameter, 8.5mm thickness
Case Material: Stainless steel
Water resistance: 100m
Here's my favorite part. Its deceptively simple dial is actually designed to help you breathe better (mercifully sans a blue light screen or app notifications). Just follow the alternating colors of the inner dial: Four seconds for inhaling and six for exhaling.
Timex Expedition North
There's nothing like an all-black watch to make you look extra official.
This Timex Expedition North, with its black stainless steel body, a matteness that's borderline dark gunmetal, and its stark dial, makes you look like you have the highest level of TSA clearance.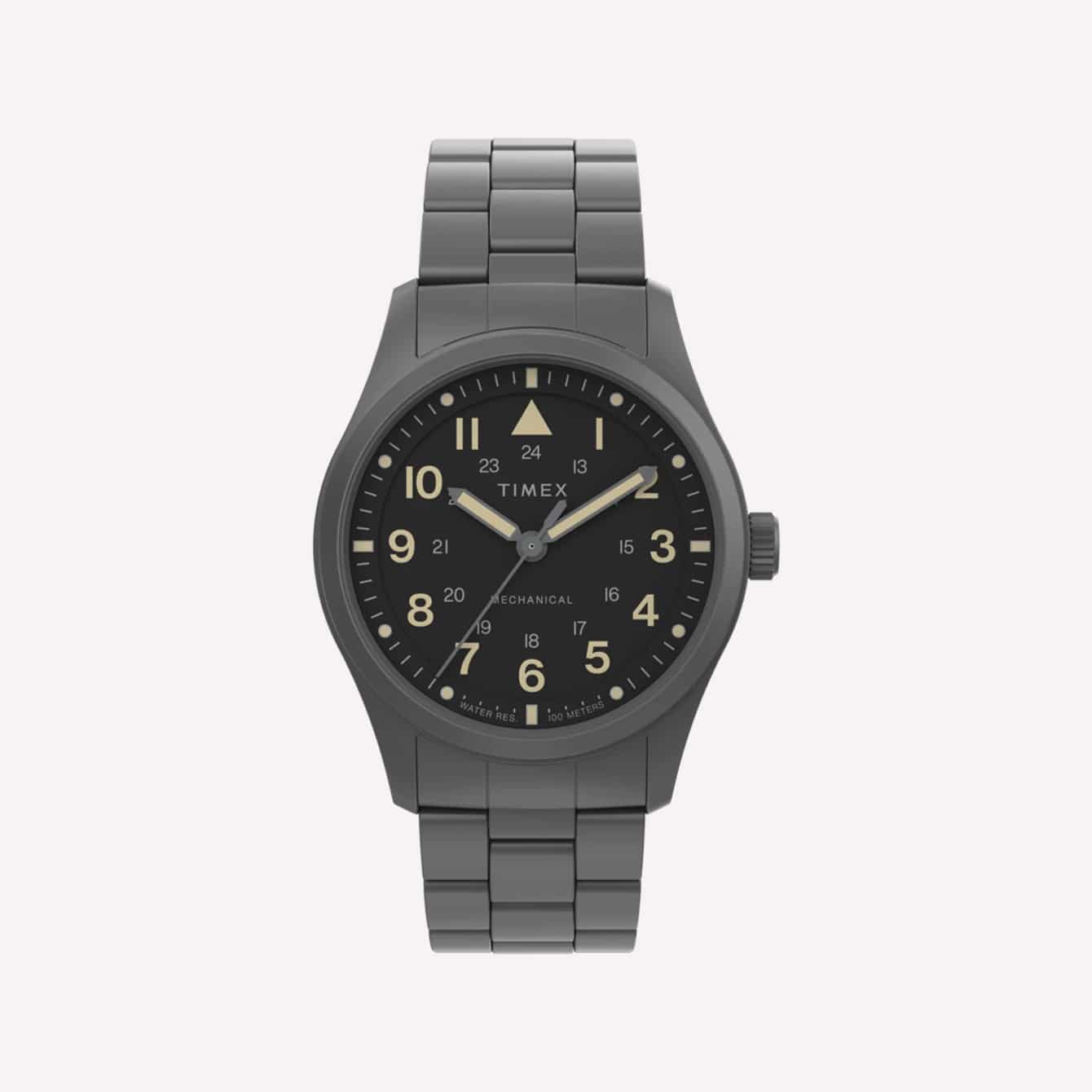 It's commanding and sleek but still as rugged as a Timex Expedition should be. And don't worry; the contrast between the color of the hands and indices with the color of the dial ensures perfect legibility. That brilliant lume helps with this, too.
Dimensions: 38mm diameter, 8.5mm thickness
Case Material: Stainless steel
Water resistance: 100m
The manual hand-wind movement is quite a treat. It adds tactility and an engagement factor, which, if you're like me, can be used to simply draw attention to this good-looking watch at any point in time.
Nite MX10
There are two qualities about the Nite MX10 that make it stand out from other field watches.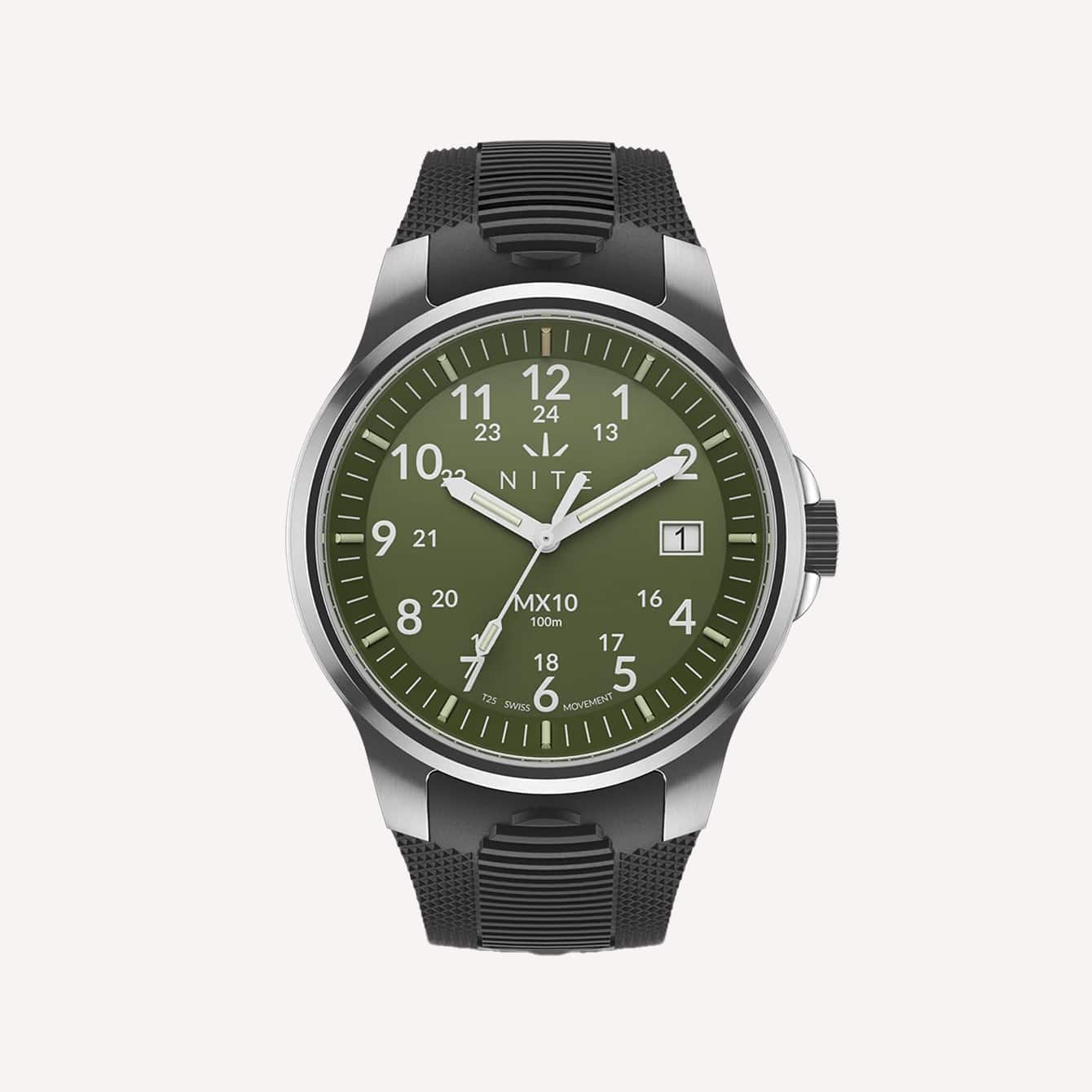 First, it has the sturdy shape and silhouette of a deep diver. The guarded crown and the flush rubber strap, which give the same hearty look as hooded lugs, make the entire watch look like a leak-proof, zero-hole submarine.
This also makes the vivid color of the dial look lively and fun, in contrast to the serious overall build. It's definitely a strong-man of a watch, though its 39-millimeter diameter sits on most wrists sensibly.
Dimensions: 39mm diameter, 11.6mm thickness
Case Material: Stainless steel
Water resistance: 100m
Second, the MX10's lume is tritium-powered. This means it doesn't need to be charged and won't fade like the more common photoluminescent lumes, nor does it need to be activated by a button like an electroluminescent lume. The dial will show off its fadeless glow if you're in the dark.
Smiths Everest PRS-25
Many of you might know about how Sir Edmund Hillary, with Tenzing Norgay, climbed Mount Everest, Rolex on the wrist. It's a big part of the Explorer I's lore.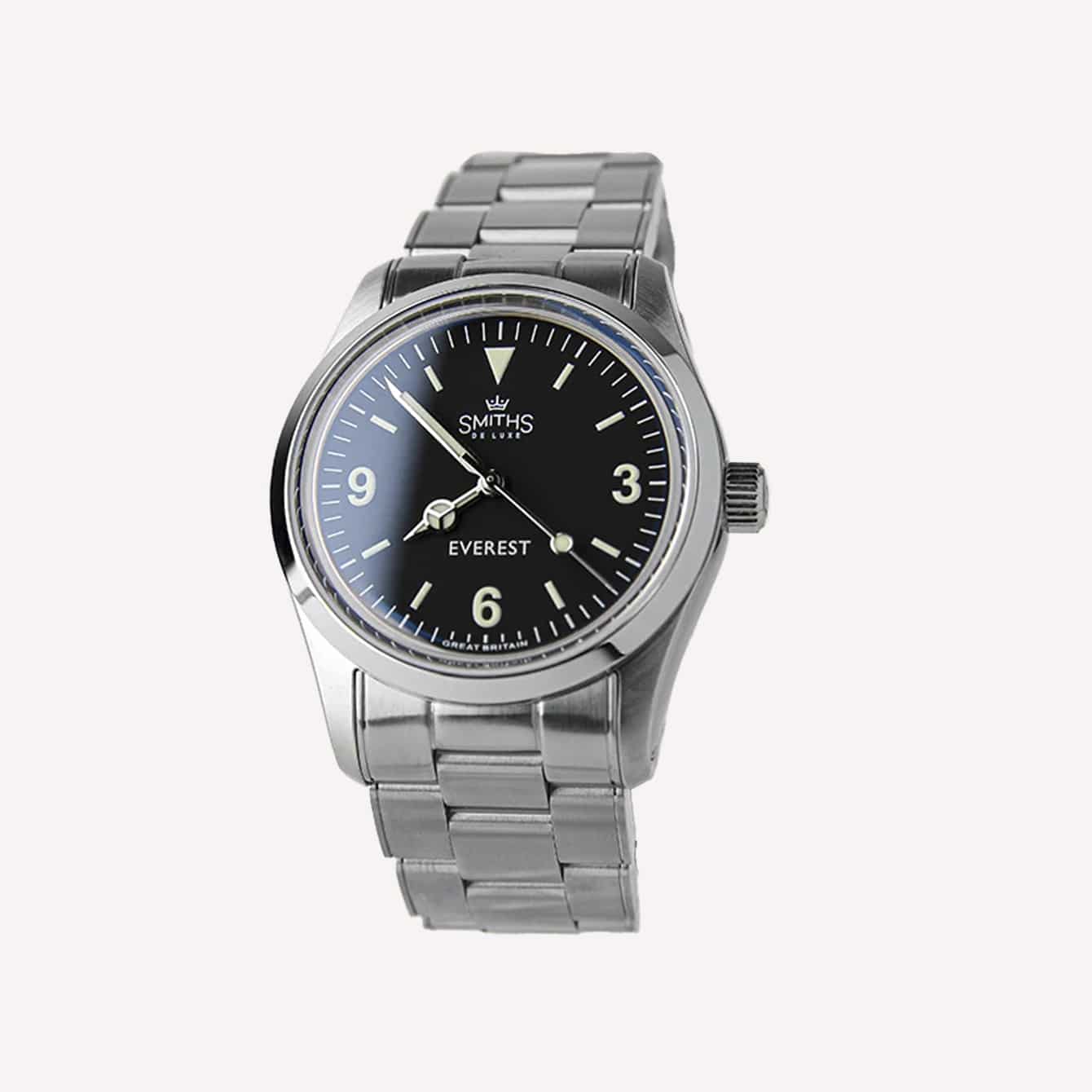 Of those of you who know this, a fraction might also know that they made it to the summit with an Everest watch as well. It's a bit like how the Speedmaster went to space with the Bulova Lunar Pilot, but the former gets all the glory.
Well, Smiths went out of business, which allowed Rolex-only narrative to live on in popular culture.
However, Timefactors in England has relaunched Everest, and the PRS-25 is one of the best Explorer I alternatives. It's a lot cheaper and equally historical but arguably just as difficult to obtain.
Timefactors sells the PRS-25 in a sort-of pop-up shop format. It's only available for purchase every couple of months, each for a limited amount of time. Sometimes, that shopping window lasts only a few minutes.
Still, it's a handsome and slick field watch, clad with a Mercedes hand and Arabic cardinals.
Dimensions: 39mm diameter, 11.3mm thickness
Case Material: Stainless steel
Water resistance: 100m
Current models run on a Miyota 9039, and older ones on a comparable 9015. The only difference is that the 9015 has a date, which doesn't show up on the dial face anyway, so the switch makes perfect sense.
Vaer A3 Tradition
The Vaer A3 is old-fashioned in a good way. The peppered aesthetic of the floating triangular indices, their tropical color, and the syringe hands are timeless and charming, as the straight-forward silhouette and guardless crowns.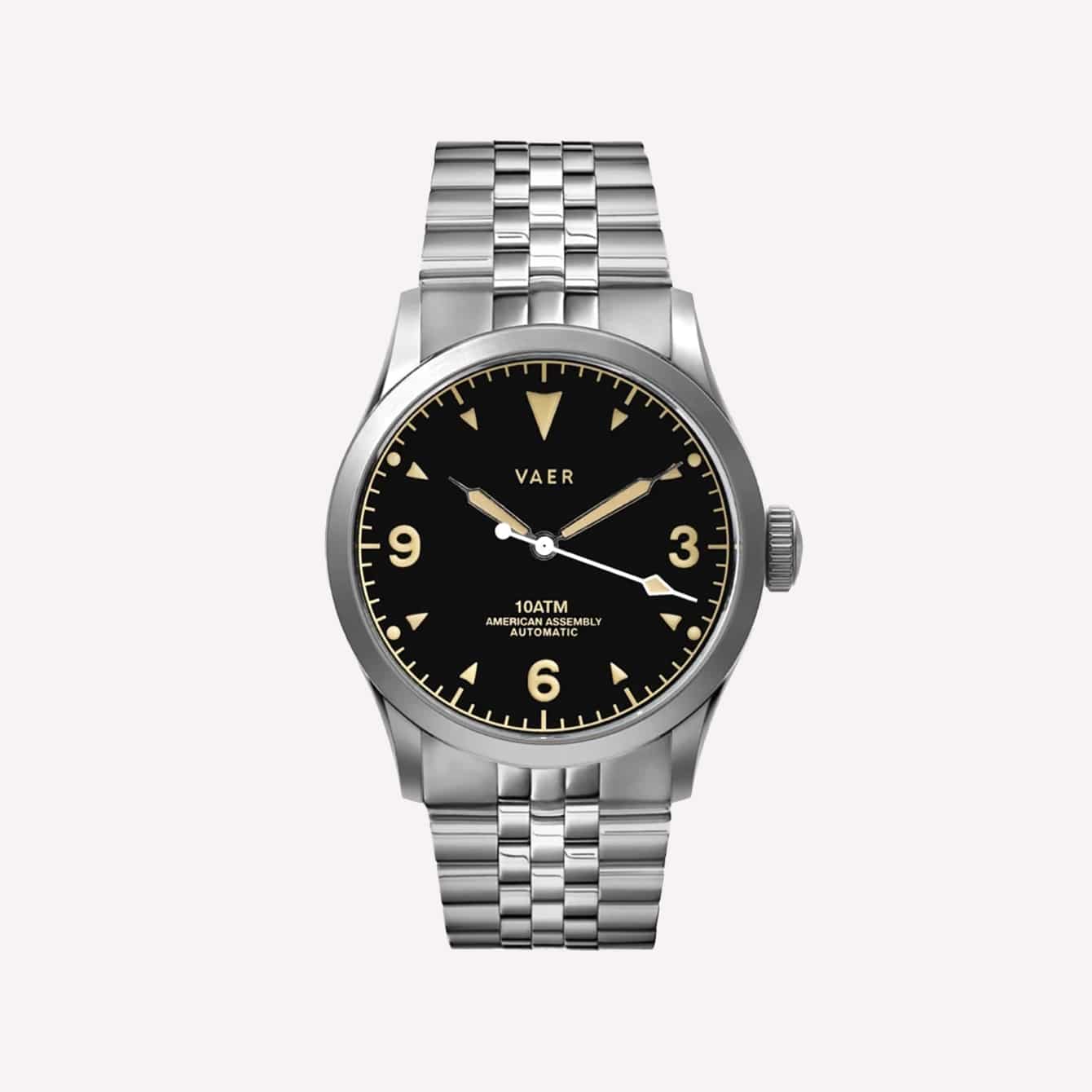 When someone is looking for a no-nonsense everyday timekeeper that's durable and reliable, I tend to direct them to Vaer. It's crafted in the good ol' US of A and features an understated style, perfect for those who don't care about fashion but still want to look good.
Dimensions: 36mm diameter, 9.4mm thickness
Case Material: Stainless steel
Water resistance: 100m
Speaking of which, this is a great watch for experimenting with straps. Its clean, adaptable look makes it go with most bracelets, while the easy strap change lugs make it easy to do.
Hamilton Khaki 38mm Field Mechanical Watch
The Hamilton Khaki Field is as frenetic-looking as the Benrus, with a similarly line-forward aesthetic, giving it the same dynamism and legitimate military look.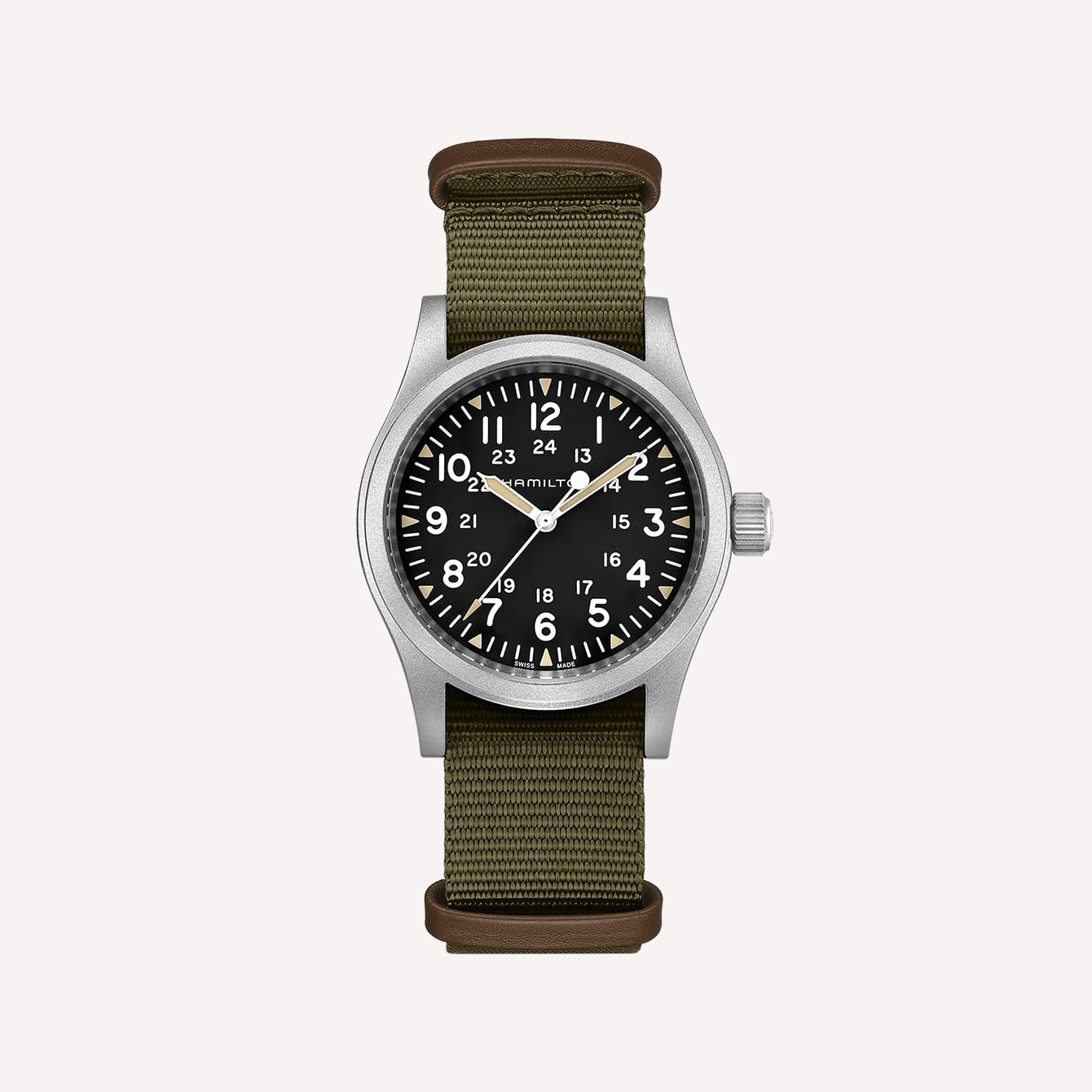 The blueprint is taken straight from Hamilton's archives, making it a real American design and another 1960s reissue.
However, a Hamilton's H-50 powers this watch, which is a manual hand winding movement.
I know that it's not as convenient as an automatic, but honestly, do we even use our watches to tell time these days? Don't we just love the style and gadget aspect? I love a manual hand-winding watch because it's more engaging.
Dimensions: 38mm diameter, 9.5mm thickness
Case Material: Stainless steel
Water resistance: 50m
Besides, it has an 80-hour power reserve, so it's not like you'd be winding it every day.
Bulova Hack Watch
The Bulova Hack Watch is another American icon, kept alive by the Japanese Citizen group. The Bulova Hack achieves the always impressive balance of doing justice to a time-honored template while standing on its own as a distinct model.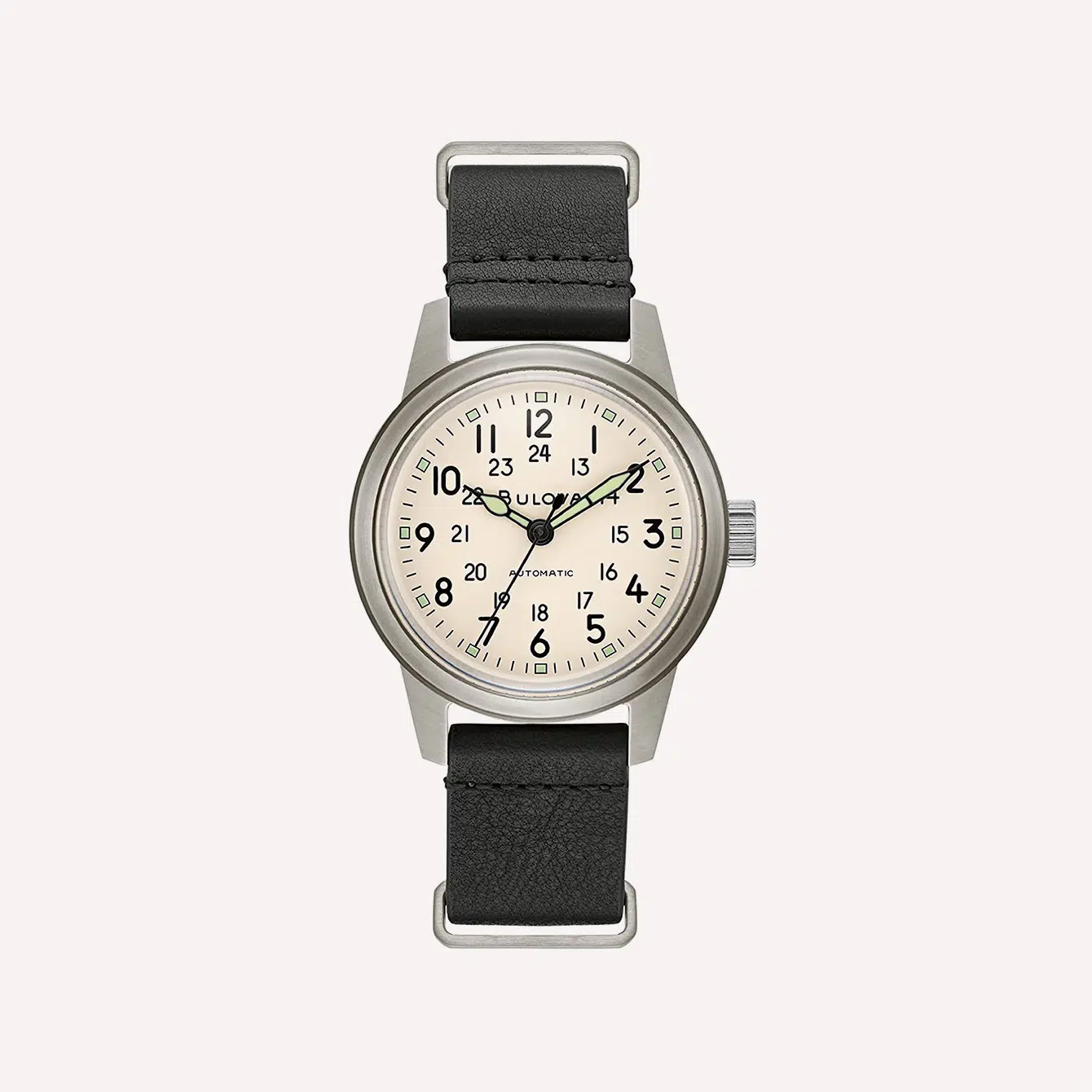 I think a big part of this comes from design decisions like the pseudo-cathedral hands. They have the same ceremonial shape but lack the heavy detailing, so it doesn't look too ornate for a field watch. By the way, those unique hands are powered by a 21-jewel automatic movement.
Dimensions: 38mm diameter, 13.45mm thickness
Case Material: Stainless steel
Water resistance: 30m
It comes with a leather NATO, another distinct classic. It's not the first watch to use a leather NATO, but obviously, the woven ones are more common. It's a relief to see a watch stand out without breaking any rules.
Jaeger-LeCoultre Polaris Automatic
The Jaeger-LeCoultre Polaris is one of those field watches that can be worn casually and formally. That's not just because of the big fancy name perfectly applied onto the flawless center dial — though that surely helps.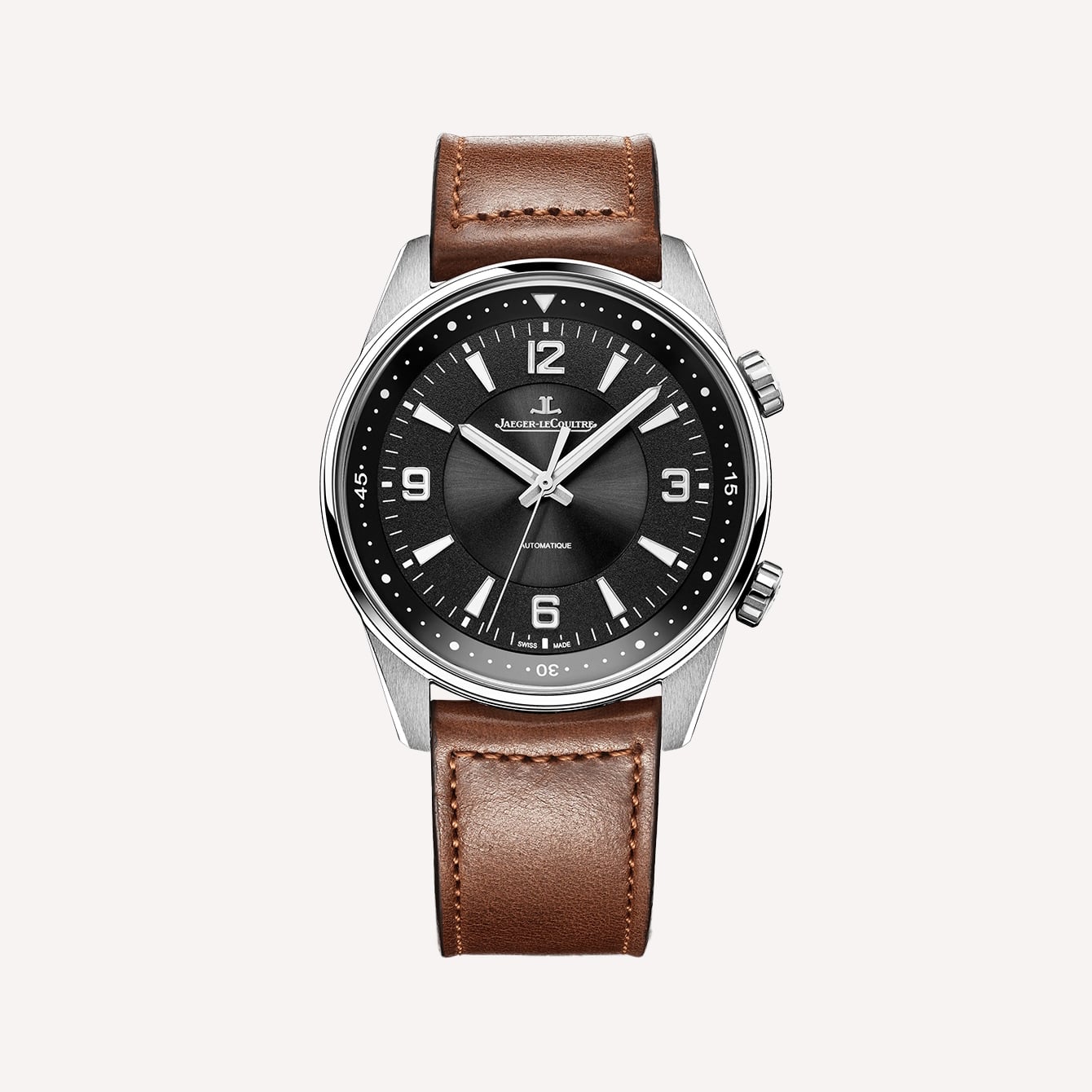 It's a truly athletic timepiece, combining field watch elements with aviator elements, including the sizable cardinals. Beyond that, every single detail is beautifully and perfectly crafted.
The dial itself is a mix of sunburst and granular surfaces, as well as the glass-meets-ceramic aesthetic of elegant opaline.
The calfskin leather strap it comes with is supple, buttery, and tight-grained. It feels soft but full-grain and strong, meaning it'll get better with age as it patinates.
Dimensions: 41mm diameter, 11mm thickness
Case Material: Stainless steel
Water resistance: 100m
You can even watch the 30-jewel, high-frequency Swiss movement through the case back. And trust me, it's as complex and hard-wearing as it is beautiful.
Rolex Explorer I 36
Just as the Oyster Perpetual is a Rolex in its purest form, I've always said that the Explorer I is the stripped-down template when it comes to Rolex sport watches.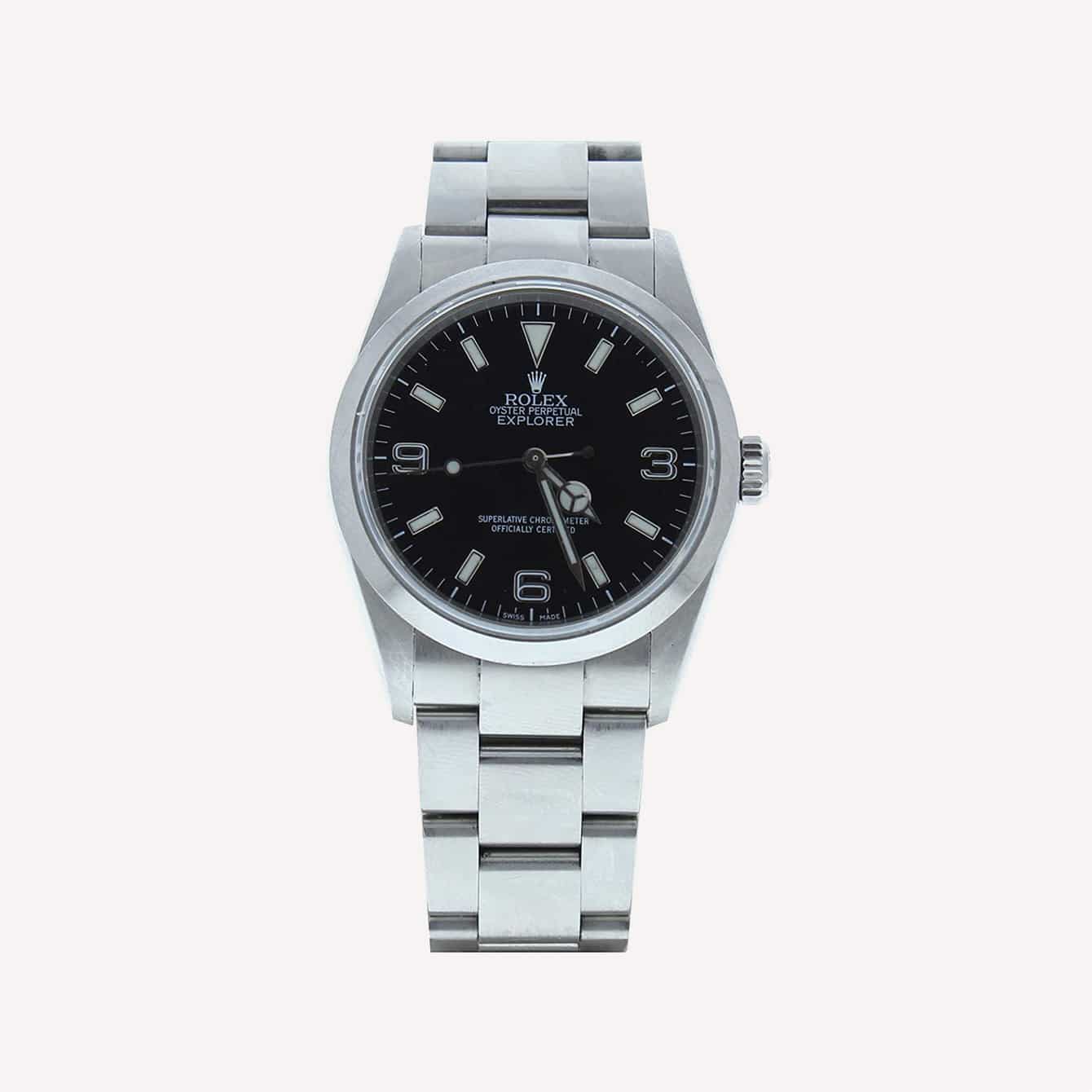 Its strong, versatile, accurate, and newer versions all flaunt those Rolex patents and in-house materials. The COSC-certified movements are even more accurate than what's required for certification, meeting an in-house standard few luxury brands care to implement.
The best versions of these newer models are the 36-millimeter ones in 2021. And they did more than just shrink it down to its original size.
The lug distance is reduced, and the slightly curved terminals are also brushed in the same way the end links of the bracelets are. Visually, this makes the dial face look bigger and easier to read while sitting extra comfortably on your wrist.
Dimensions: 36mm diameter, 11.5mm thickness
Case Material: Stainless steel
Water resistance: 100m
This Explorer I, at 36 millimeters, is the quintessential luxury sports watch, improved by going back to the old size but in a new way.
Rolex Explorer II
Just as important as its predecessor, the Rolex Explorer II is like a sequel with a completely different cast. But it's a successful sequel, of course. (For a complete overview of the differences between the Explorer I and II check out this article).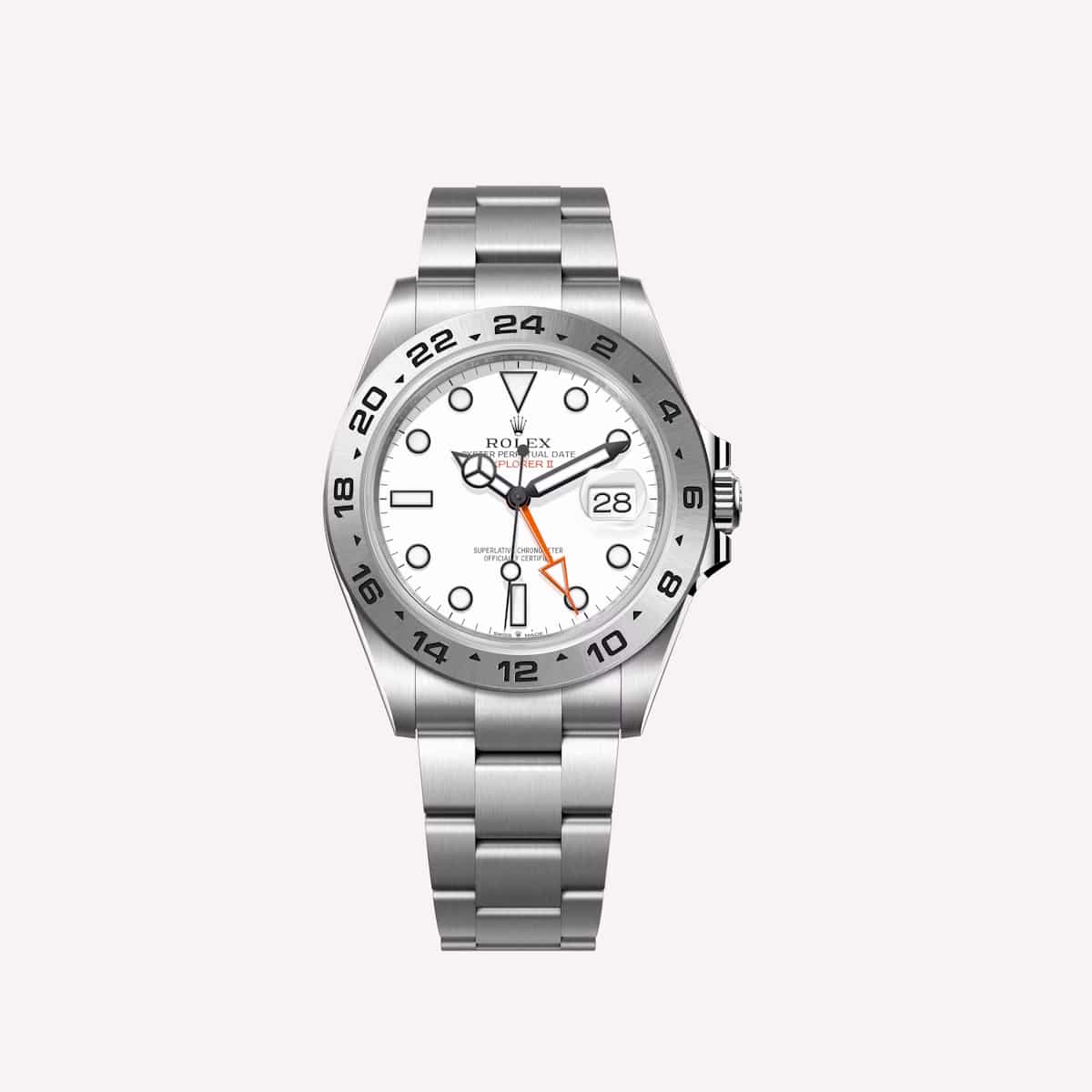 While the Explorer I is for the mountains, the II is built for the caves. This is why there's a combination GMT-hand-static-bezel.
More than being used to figuring out several time zones like a GMT Master, this extra hand is there so you'll know whether or not it's AM or PM, even if you can't see the sky.
This makes the Explorer II the first of its kind, functionally and style-wise.
Dimensions: 42mm diameter, 12mm thickness
Case Material: Stainless steel
Water resistance: 100m
Naturally, that orange (or red) GMT hand is iconic. It's especially striking when paired with the white Polar dial, though both the black and white versions are classics. Few watches make robustness look as classy as the Explorer II does.
FAQs
Here are a few more questions (and answers) about field watches!
What Makes a Good Field Watch?
A field watch must be rugged and durable, accurate, and it must be legible from any angle.
Essentially, it should be the best at the fundamental functions of a timekeeper: no-frills, no complications necessarily.
Is a Field Watch a Good Everyday Watch?
Yes, since field watches are so simple and strong, you can wear them as everyday watches regardless of your lifestyle.
When Should You Wear a Field Watch?
You can wear a field watch any time. In fact, although people mostly associate them with sporty and casual situations, there are elegant and even luxurious field watches that can be worn with suits.
Conclusion
Often, when you hear "field watch," you think of a pretty casual and no-frills military piece. This is mostly true, but even within that constraint, you now know there's a wide range of options and styles.
Furthermore, there's a wide range when it comes to just how casual or just how luxurious a field watch can be.
Want something really high-end that you can with a full suit? Jaeger-LeCoultre has you covered. Perhaps you want a Swiss Made mechanical that won't break the bank. Check out Hamilton.
Regardless of the model, I stand by my statement that a field watch is the perfect manifestation of a good, honest timekeeper.
What's your go-to field watch? Share with me down below in the comment section!