Looking for a chronograph timepiece that's suitable for smaller wrists? We've rounded up the best options to choose from.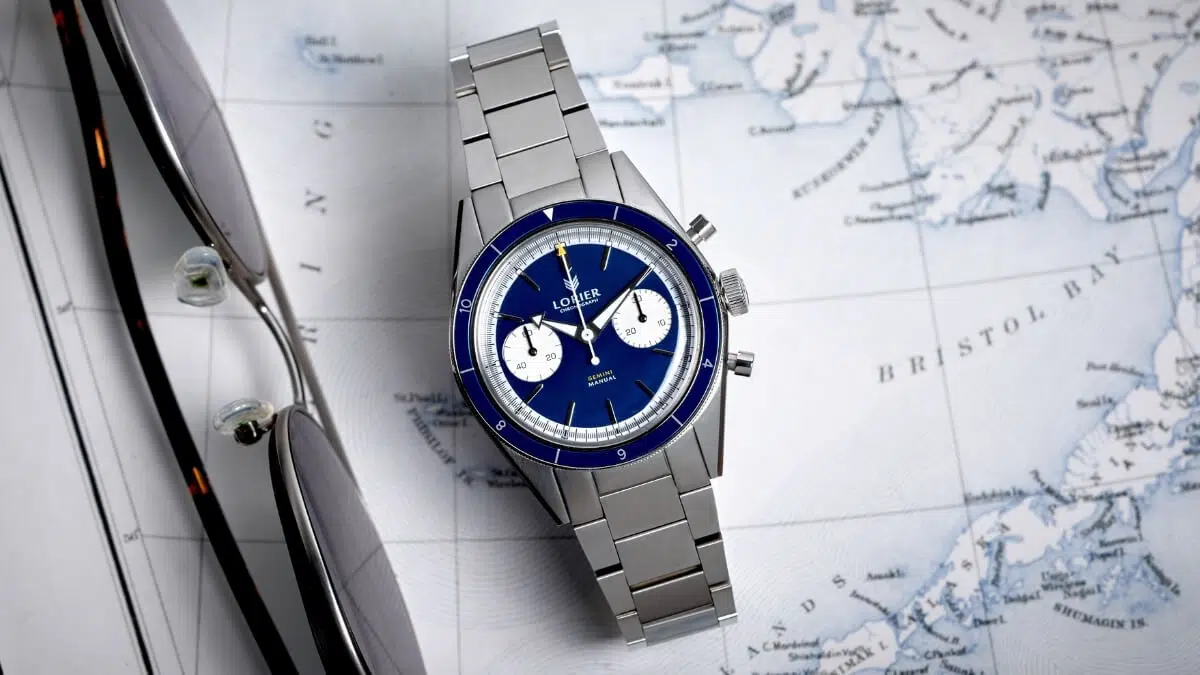 Chronographs are great, aren't they? They look cool and sporty, and they have an auto racing and flight history that should get any guy's blood pumping.
Chronographs also have the ability to perform mathematical calculations or time the steak on the grill. But when it comes to the best chronographs for small wrists, there just aren't any options.
Okay, that's not true. Sure, most chronographs are naturally large, as they typically contain complex movements, and their dials need to display a lot of information.
However, guys don't need to settle for a 44-millimeter behemoth in order to wear one of these awesome, sporty pieces. Let's take a look at some of the best chronographs for small wrists.
How to Choose a Chronograph for a Small Wrist
In general, chronograph watches are large, and it was originally out of necessity. Pilots using chronographs to time flights, make fuel calculations, and other plane-related tasks needed large dials they could reference quickly.
Also, race car drivers might have just a second to check their watch before the next turn, so a large dial helped them check their split and get their eyes back on the road.
But things have changed. There are smaller chronographs that are ideal for thinner wrists or guys who just prefer something a bit more moderately sized.
After all, not everyone can pull off the "bling" of a 48-millimeter Breitling. Here are some simple tips for choosing a chronograph for a small wrist:
Timing Bezels Are Your Friend
There is an element of optical illusion when it comes to buying a chronograph (or even a diver). Lots of glass makes the watch appear true-to-size, while a bezel shrinks the dial and makes the watch appear smaller.
This was a key factor in choosing many of the timepieces featured later in this article, so look for timing bezels, tachymeters, and slide rules to help shrink your chronograph.
Case Size Matters
Obviously, case size is a factor in choosing any watch for a small wrist. But chronographs are tool watches, and going too small will defeat the purpose.
Generally speaking, look for a chronograph with a case size between 38 and 41 millimeters. Forty-two is often too large, but anything less than 38 millimeters can be too small to read quickly (however, there are exceptions to both of these parameters).
Movements
Most of the best chronographs for smaller wrists are quartz-powered, particularly in the affordable realm.
The reason for this is that creating a mechanical or automatic chronograph movement that's small and thin enough to fit in a smaller watch is very expensive, meaning only some of the most streamlined or luxurious brands can afford to do it.
Keep that in mind so you aren't turning your nose up at a perfectly good quartz-powered chronograph that would fit your wrist perfectly.
Strap Width
Just like the illusion created by a bezel, the right strap width can make a larger case feel smaller.
For instance, a 40-millimeter case with a 20-millimeter lug width will fit a smaller wrist better than the same case with an 18 or 19-millimeter lug width. And, for smaller wrists, the strap tapering a few millimeters at the clasp never hurts.
The Best Chronographs for Small Wrists
Now that you know what to look for when choosing a chronograph for a smaller wrist, let's take a look at some of the best models available. The following chronographs are modestly sized but vary quite a bit in price range. However, there is something for almost everyone on the list.
Timex Weekender Chronograph
If you're considering affordability to be the primary factor when choosing a chronograph for a small wrist, the Timex Weekender Chronograph will reign supreme. This quartz-powered chronograph costs just over $50, though pricing can depend on where you shop.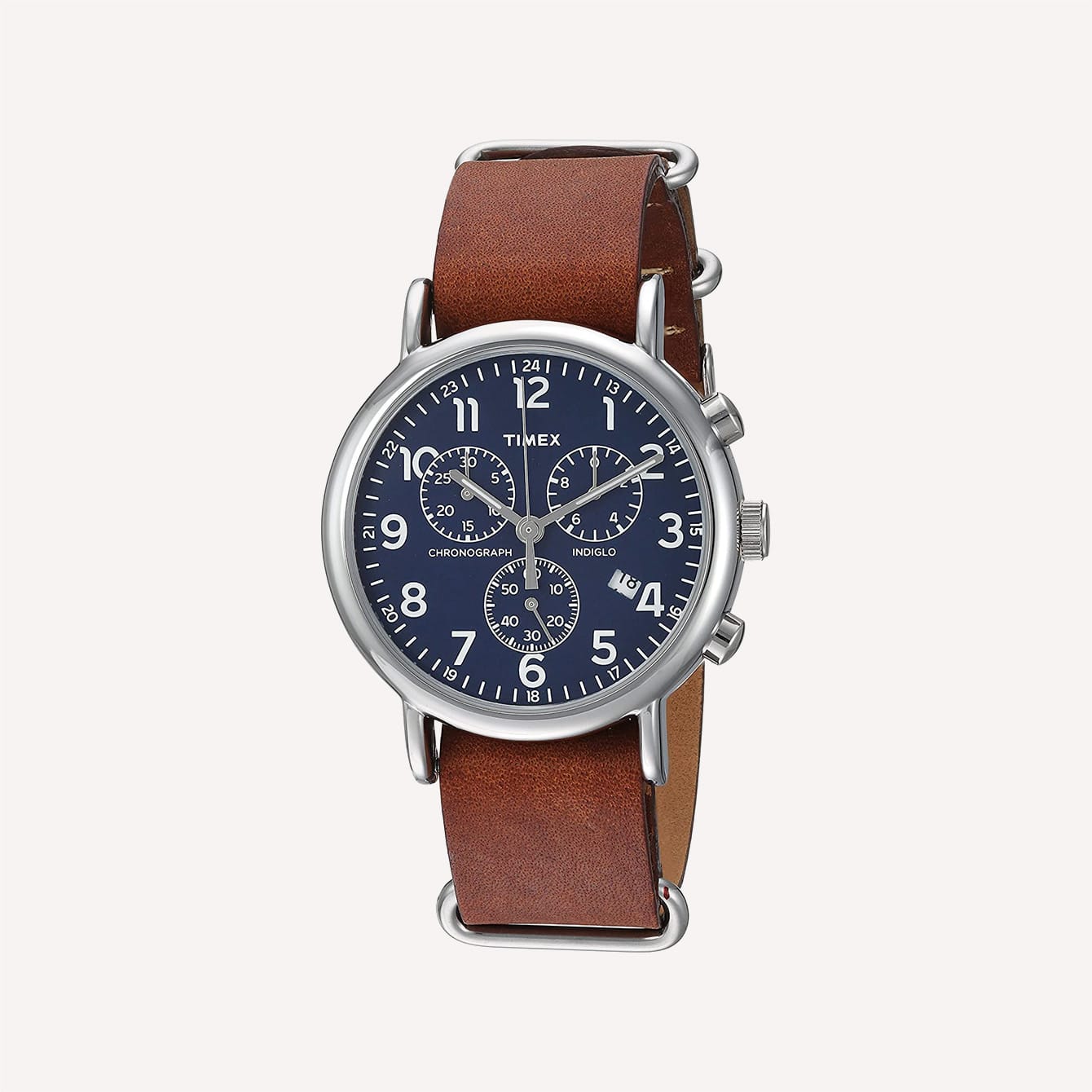 While the Weekender Chronograph doesn't have a timing bezel or slide rule, its 40-millimeter case size and short, curved lugs make it an excellent choice for smaller wrists.
It also features a date window at the 4 o'clock position, a timelessly cool Indiglo backlight, and it's available in several colorways.
Seiko SNA411
The Seiko SNA411 "Flightmaster" might be the quintessential chronograph for smaller wrists. It's a quartz-powered chronograph with a case that does measure just outside our parameters at 42 millimeters.
However, the 21-millimeter strap width and the insanely short lugs allow for a very comfortable fit on thinner wrists.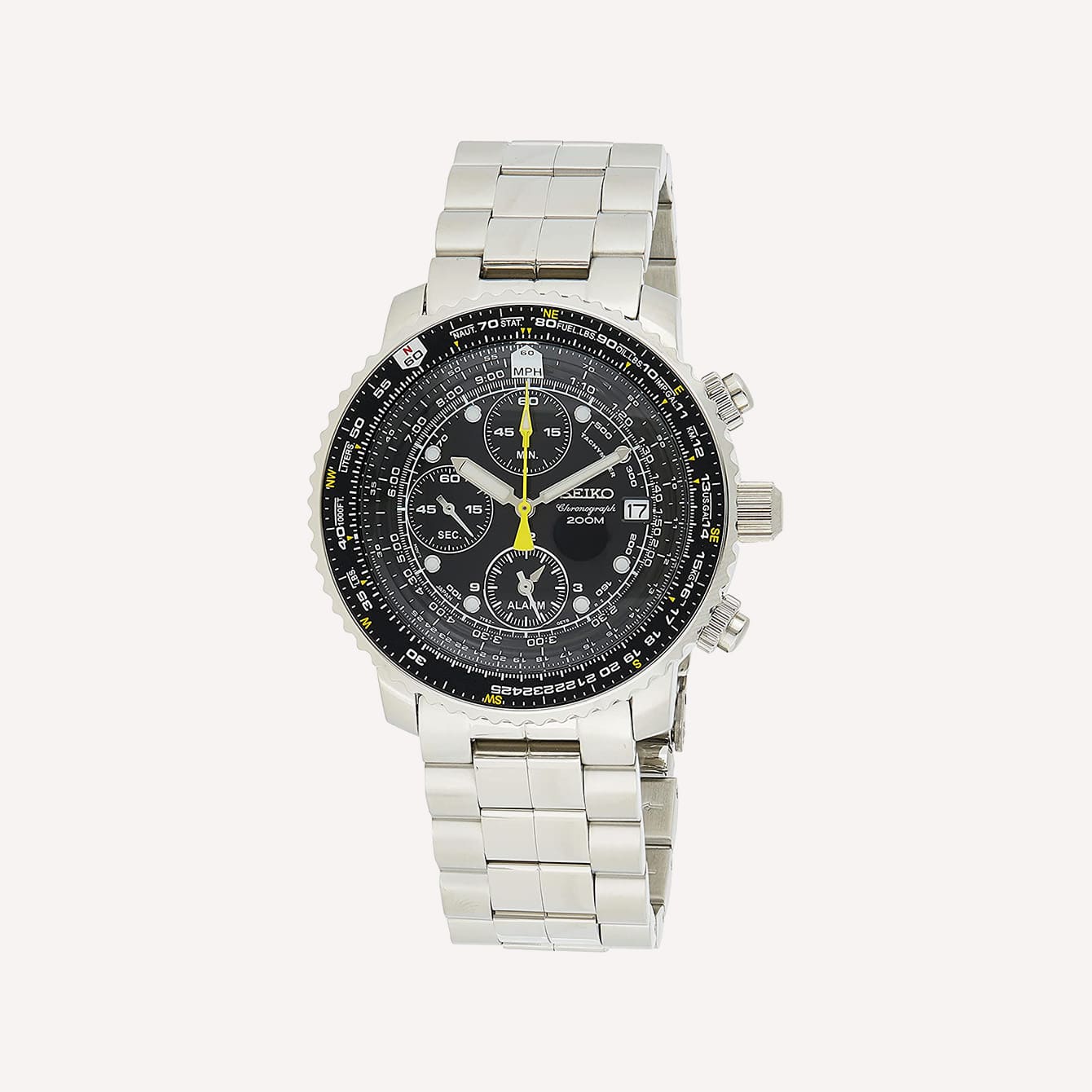 As for features, the Flightmaster has them. This model features a slide rule bezel which helps to shrink the apparent case size while also calculating speed, fuel usage, and even tip calculation for taking care of the wait staff (though each requires a true understanding of how to use a slide rule).
It also features screw-down pushers, a screw-down back, and a thick piece of Hardlex crystal, providing 200m of water resistance.
Dan Henry 1962
When it comes to racing watches, the semi-microbrand Dan Henry has some wonderful modestly-sized pieces. As a racing fan and long-time collector, Dan Henry designs these watches with the horological enthusiast in mind.
The company's panda-dialed, quartz-powered 1962 chronograph is no exception, and its 39-millimeter case diameter makes it a great choice for thinner wrists.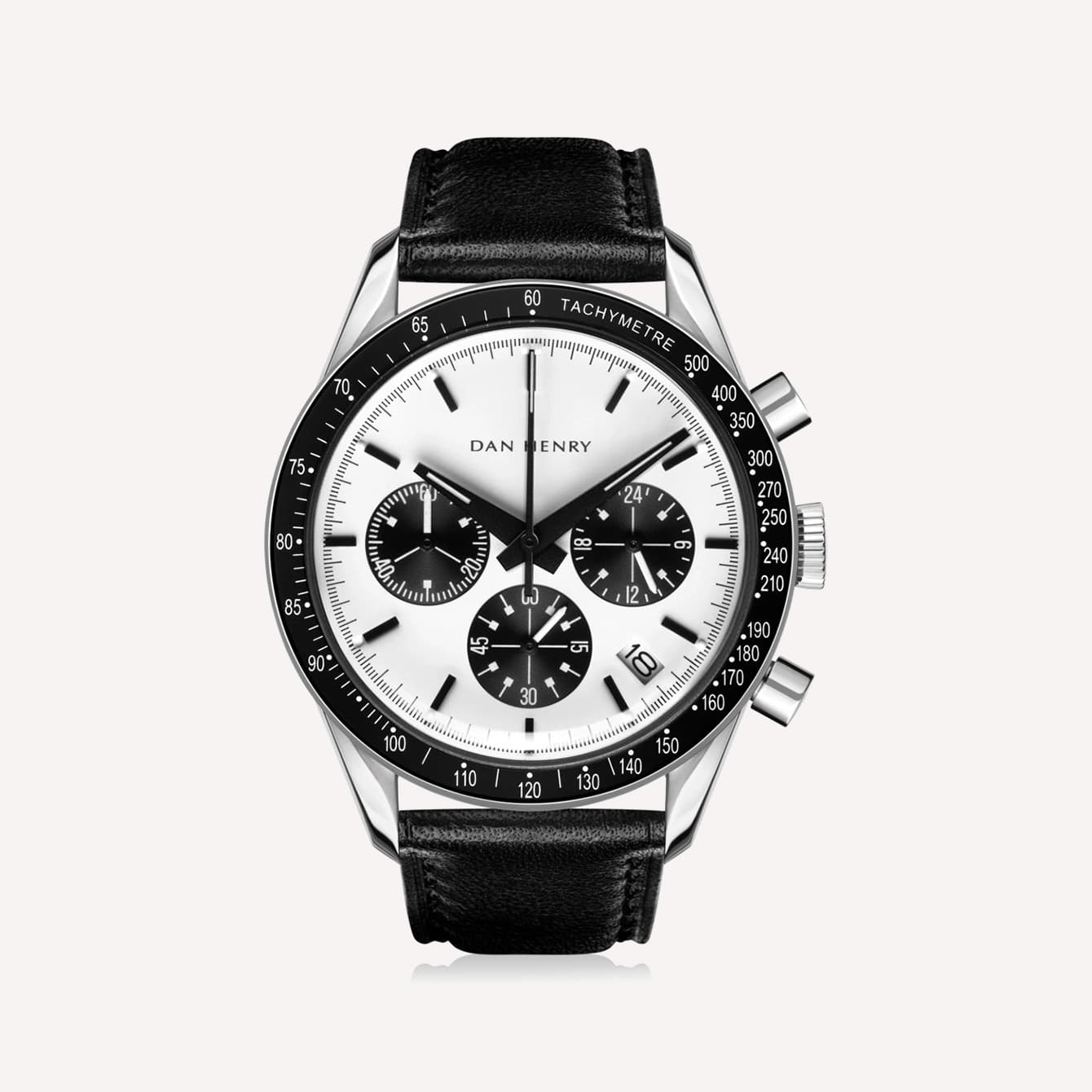 Not only is the 1962's case size small-wrist-friendly, but it also features a tachymeter bezel, typically used to calculate speed. While the bezel is relatively thin, it has just enough presence on this 39-millimeter case.
This chronograph features a 20-millimeter lug width to further compress the case size.
Seagull 1963
Affordable mechanical chronographs for smaller wrists are hard to come by, but the Seagull 1963 checks most of the boxes. This 38-millimeter watch comes with a Seagull ST21 movement with hand-winding, and it's a gritty, durable workhorse (though maybe not incredibly accurate).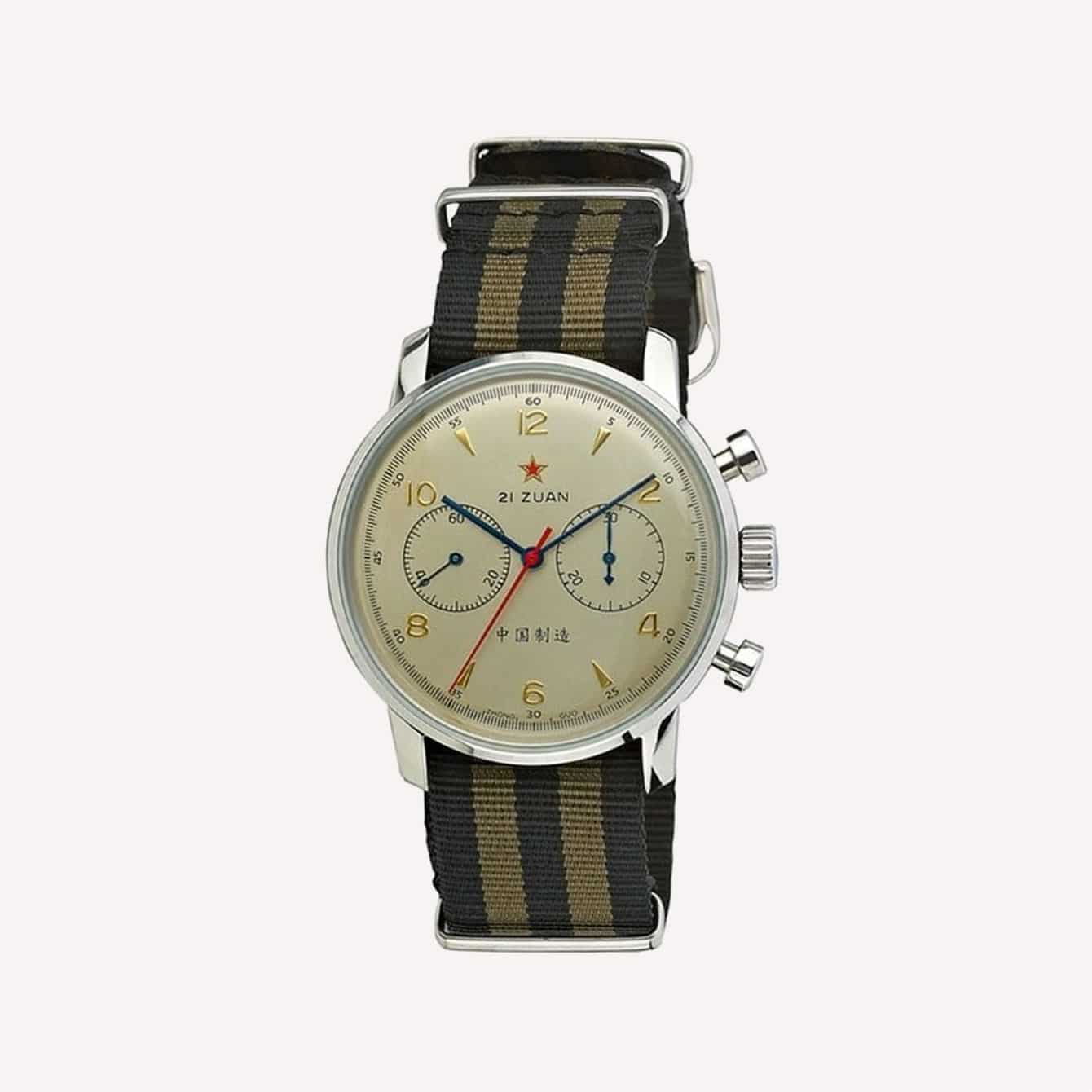 The Seagull's claim to fame is its movement, and though it lacks a bezel, it has plenty of compact dimensions to help support its spot on this list.
For instance, the 18-millimeter lug width fits nicely with the compact case size without dwarfing the wrist. Also, the case measures 13 millimeters thick, providing enough presence on the wrist without being too bulky.
You can read our full review of the Seagull 1963 here.
Lorier Gemini
Speaking of Seagull movements, what if you found a Seagull-powered chronograph with better styling and more attention to detail? Enter the Lorier Gemini; a New York-based microbrand watch with macro-level styling for smaller wrists.
It's available in three colorways, all of which come on stainless steel bracelets.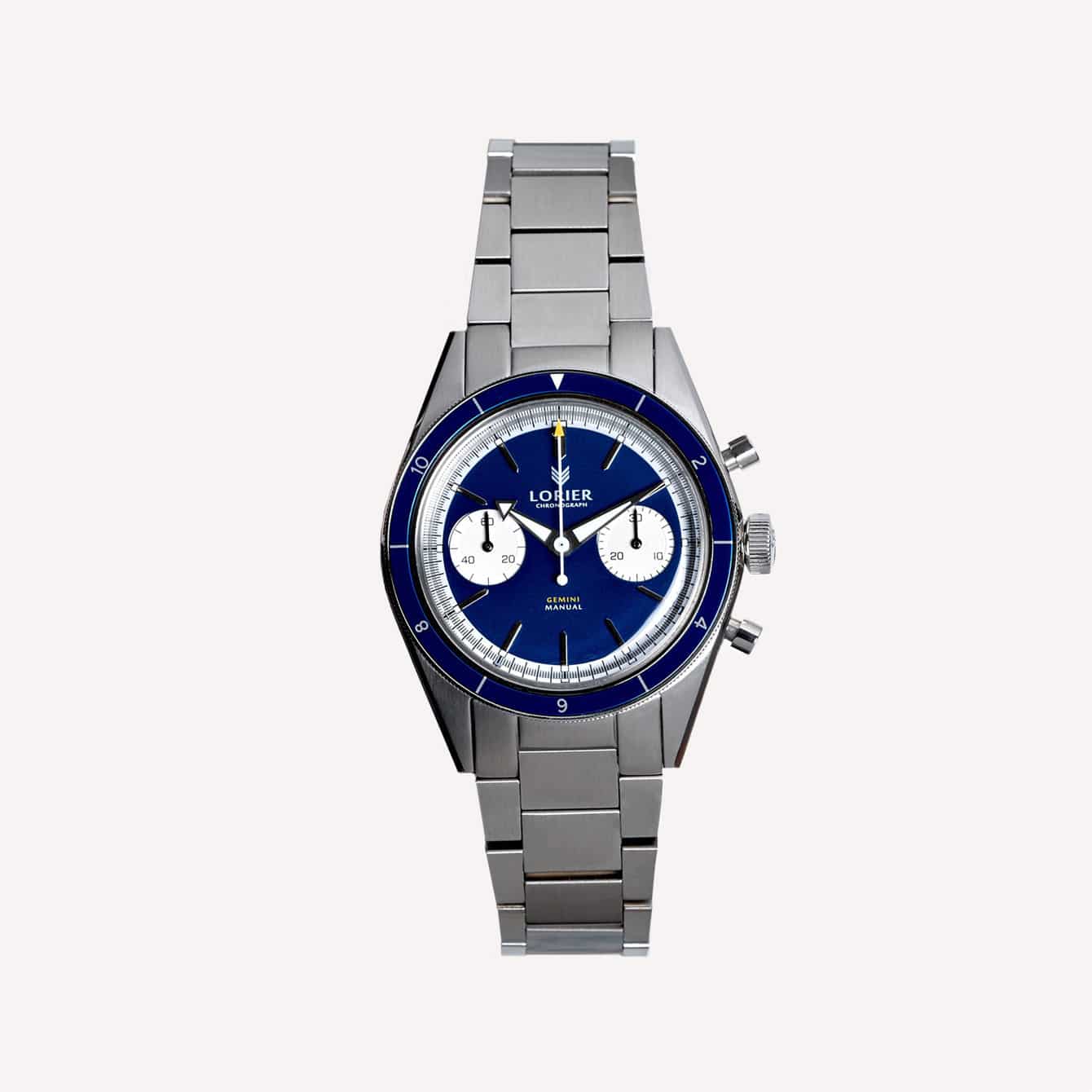 The Gemini's case measures 39 millimeters in diameter, with an overall thickness of right around 12.5 millimeters. It also features 20-millimeter lugs, but the bracelet tapers gracefully to 16 millimeters at the clasp.
The already-modestly sized case also benefits from a 12-hour bezel that looks great, serves as a timing mechanism, and can double as a second-time zone. And since it's priced at right around $500, it packs a lot of value.
Sinn 356
As we climb the ladder of affordability, the next logical step is the traditional German Flieger-style pilot's watch, the Sinn 356.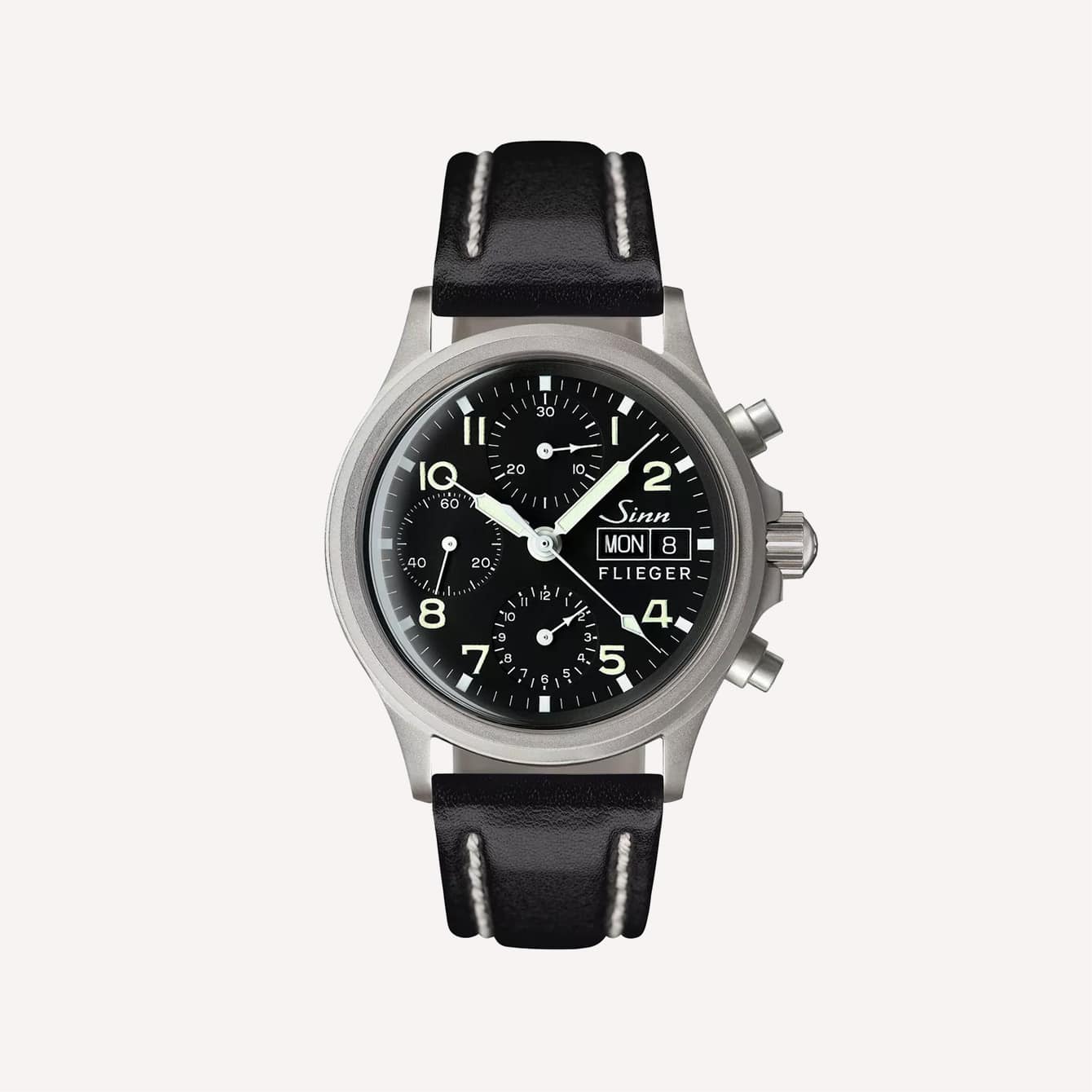 This 38.5-millimeter pilot's chronograph features a black dial with large pronounced numerals, making it as at home in a cockpit as the larger originals. And, coupling the case diameter with the 20-millimeter lug width makes this watch feel even more modestly sized.
Obviously, it's the 356's case diameter that makes it such a great fit for smaller wrists. However, it's the easily-read, clear design of its Flieger-style dial that makes it such a great watch in general.
Hamilton Intra-Matic 40MM
Chronograph lovers typically have a soft spot for history and panda dials, and the Hamilton Intra-Matic excels at both. Between the rich brand history, black-and-white motif, and the modest 40-millimeter case size, the Hamilton Intra-Matic is a sure thing for smaller wrists.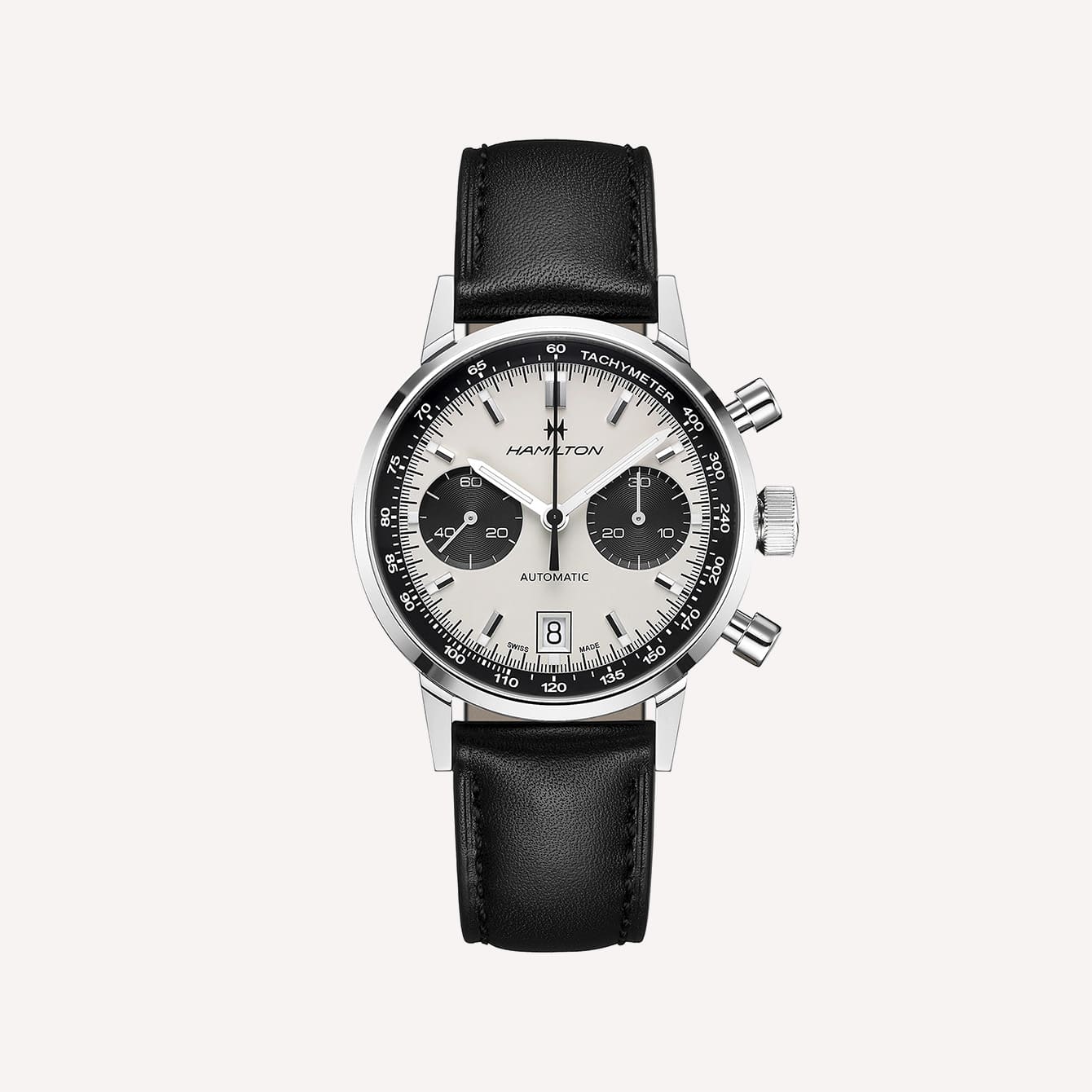 The Intra-Matic features a Swiss automatic H-31 movement with 60 hours of power reserve, which is fairly impressive from a watch in the $1,600 price range.
And while this piece doesn't have an exterior bezel, it does feature a black tachymeter surrounding the white dial under the glass. Also, the case is relatively thick and features a 20-millimeter lug width, helping to shrink the Intra-Matic apparent size.
Omega Speedmaster Reduced
This one's kind of a cheat, and certainly not inexpensive, but a list of chronographs for smaller wrists would be incomplete without one. The Omega Speedmaster Reduced was released in the late 80s and shaved a few millimeters off of the legendary Moonwatch.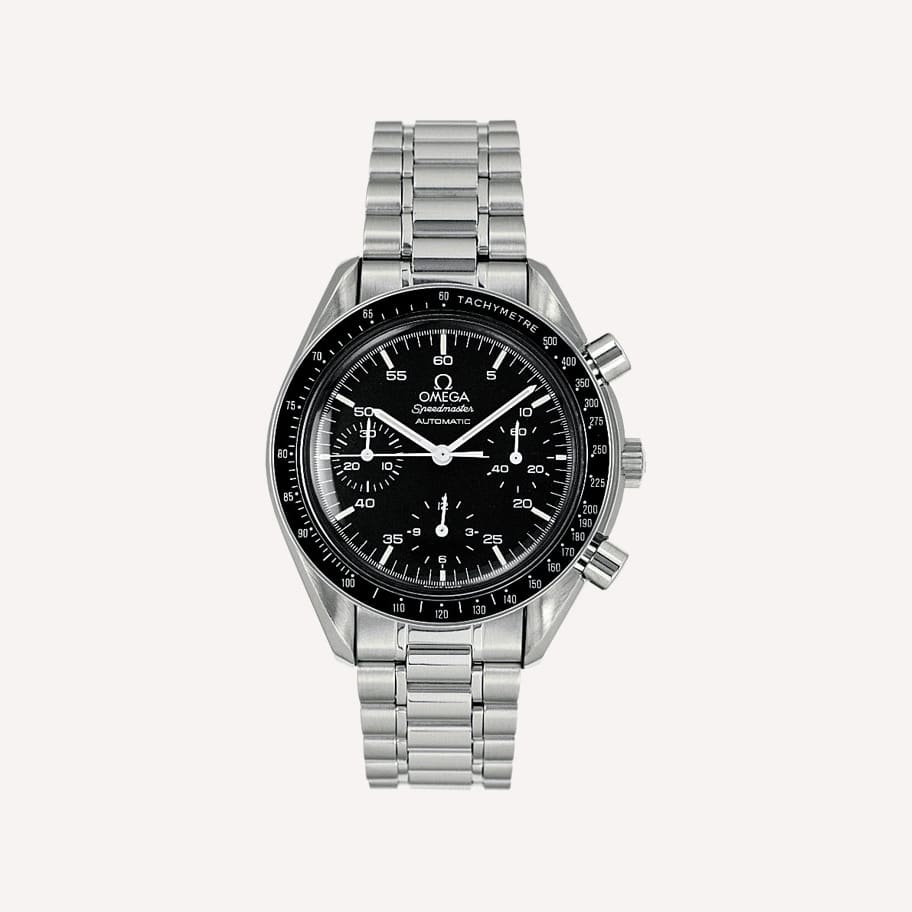 At a comfortable 39 millimeters (plus an iconic tachymeter bezel), it's ideal for guys who love the heritage of the famous watch but don't have the wrists for the real thing.
The problem with the Speedmaster Reduced is that Omega discontinued it. However, there are always pre-owned examples available on Chrono24 and Crown and Caliber.
Zenith El Primero
One could argue that the crown of chronographs for small wrists belongs to Zenith, and the Revival El Primero A3817 is the prime example. Though the case might be diminutive at just 37 millimeters, it has more style (and design) than watches 10 millimeters larger.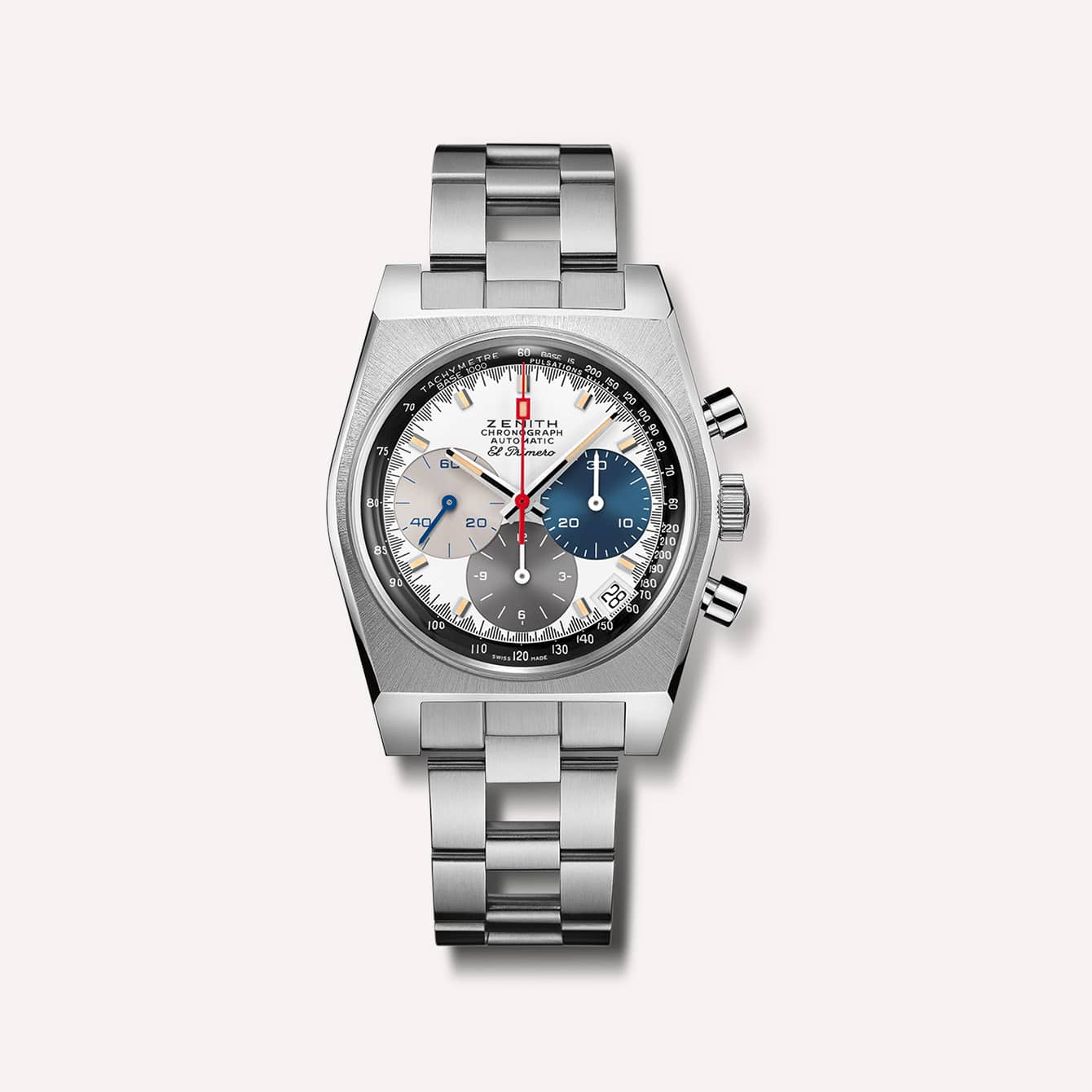 The Revival El Primero A3817 chronograph is named after the watch's movement, which was the first high-frequency chronograph movement.
The El Primero movement premiered in 1969, housed in the same case as the A3817. Even 50 years later, it's still one of the best automatic chronograph movements available. And, to add to the El Primero's cool factor, it features a tachymeter and a pulsometer on the bezel.
Final Thoughts
Those were just a few of the best chronographs for smaller wrists, but any one of them would make an excellent addition to a collection.
Should any of the models chosen not excite you, use the tips above to find the perfect chronograph for your wrist size. There is a chronograph out there for every wrist and budget.