Looking for a cool minimalist watch that looks good on small wrists? Here are some fantastic options to choose from.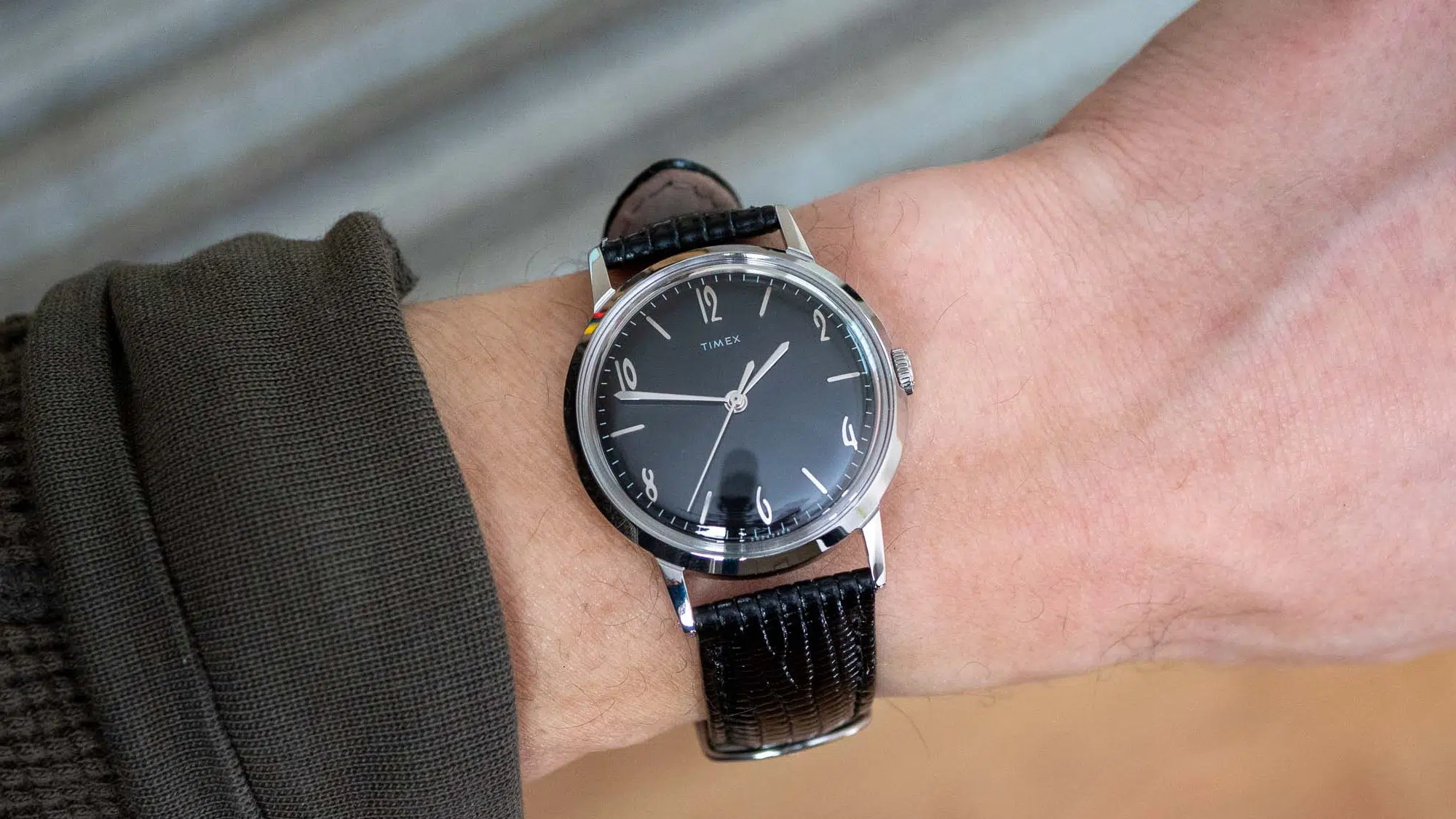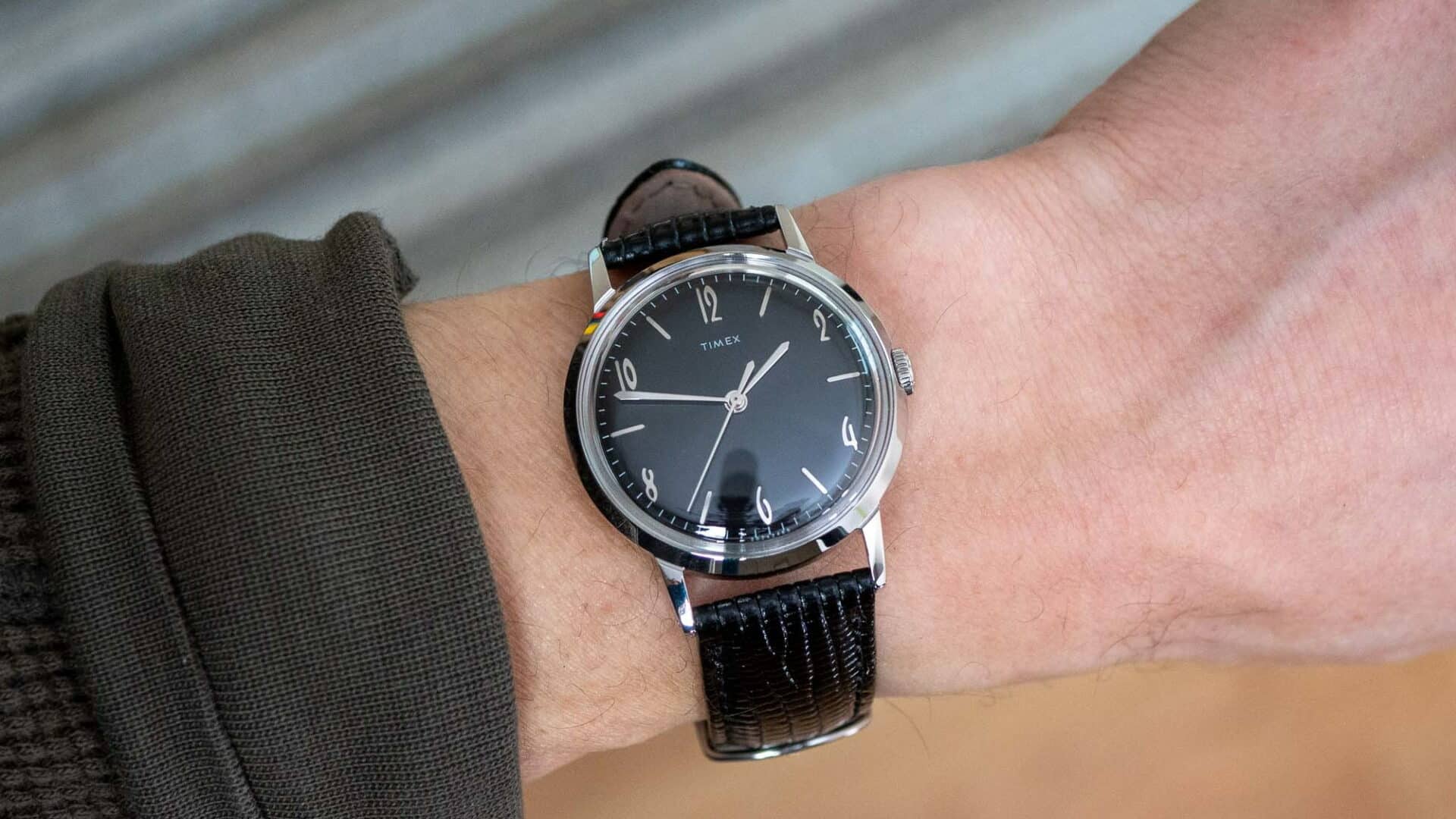 No matter how much you have to spend on a watch, there's one rule you should never break — match your watch size to your wrist size. Go too large, and your wrists and arms will look small in comparison (no good).
Another way to accentuate your style when you have a smaller wrist is to go for a minimalist look that doesn't draw too much attention to your watch. So we scoured the internet and compared our research with our own watch-owning experience to bring you this list of the 15 best minimalist watches for small wrists.
They run the gamut from dressy to casual to sporty and beyond, so you're sure to find something that fits your style (and budget).
Best Minimalist Watches for Small Wrists
Here they are in no particular order…
Sinn Uhren Modell 556 I
The German watchmakers at Sinn have a different style than many of the Swiss- and Japanese-made minimalist watches you'll find.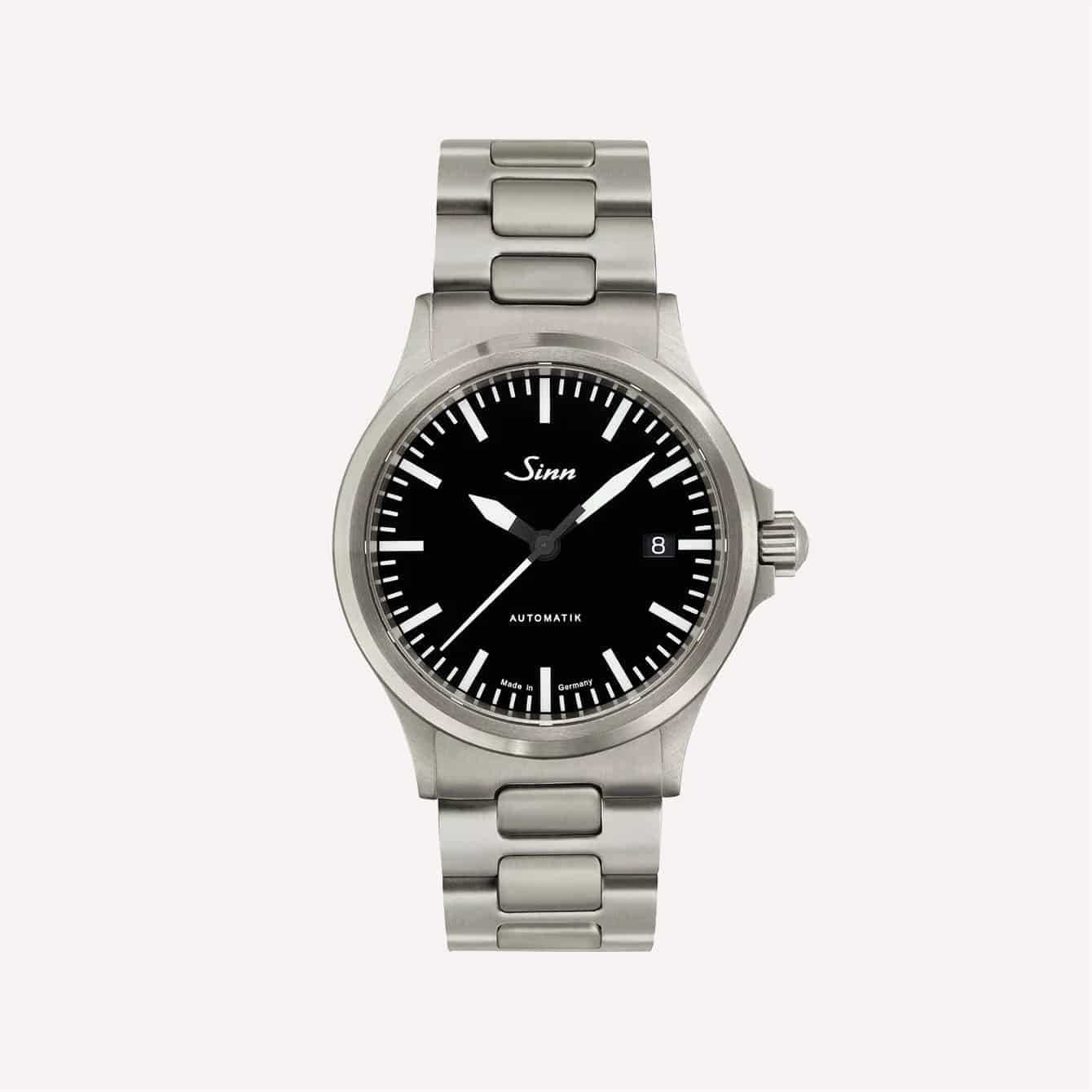 This is especially evident in their Modell 556 I billed as an "elegantly sporty watch."
It's particularly cool that you can choose from about two dozen different bands to match with the black and stainless steel case.
Bulova Rose Gold Two Tone Watch
For a different take on a dressy minimalist watch, check out Bulova's unique combination of a rose gold 37 mm case and brown leather band.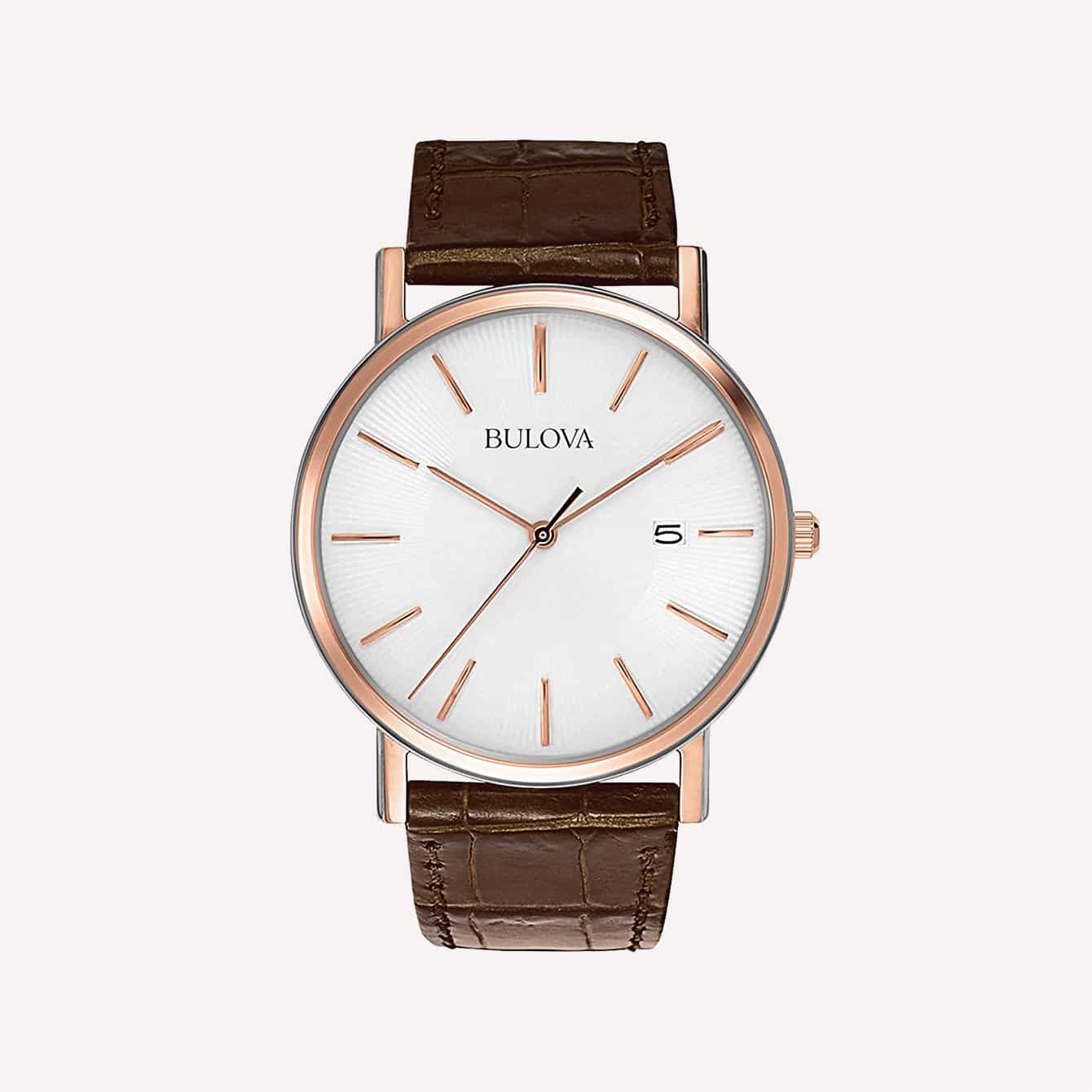 The face is exceptionally simple and legible, further emphasizing the color choices and making this a real stand-out piece even while retaining a minimalist edge.
Junghans MAX Bill Hand-Winding Watch
The German-made Junghans MAX watch is reaching into the pricier side of minimalist watches, making it a good choice as a dedicated dress watch for special events.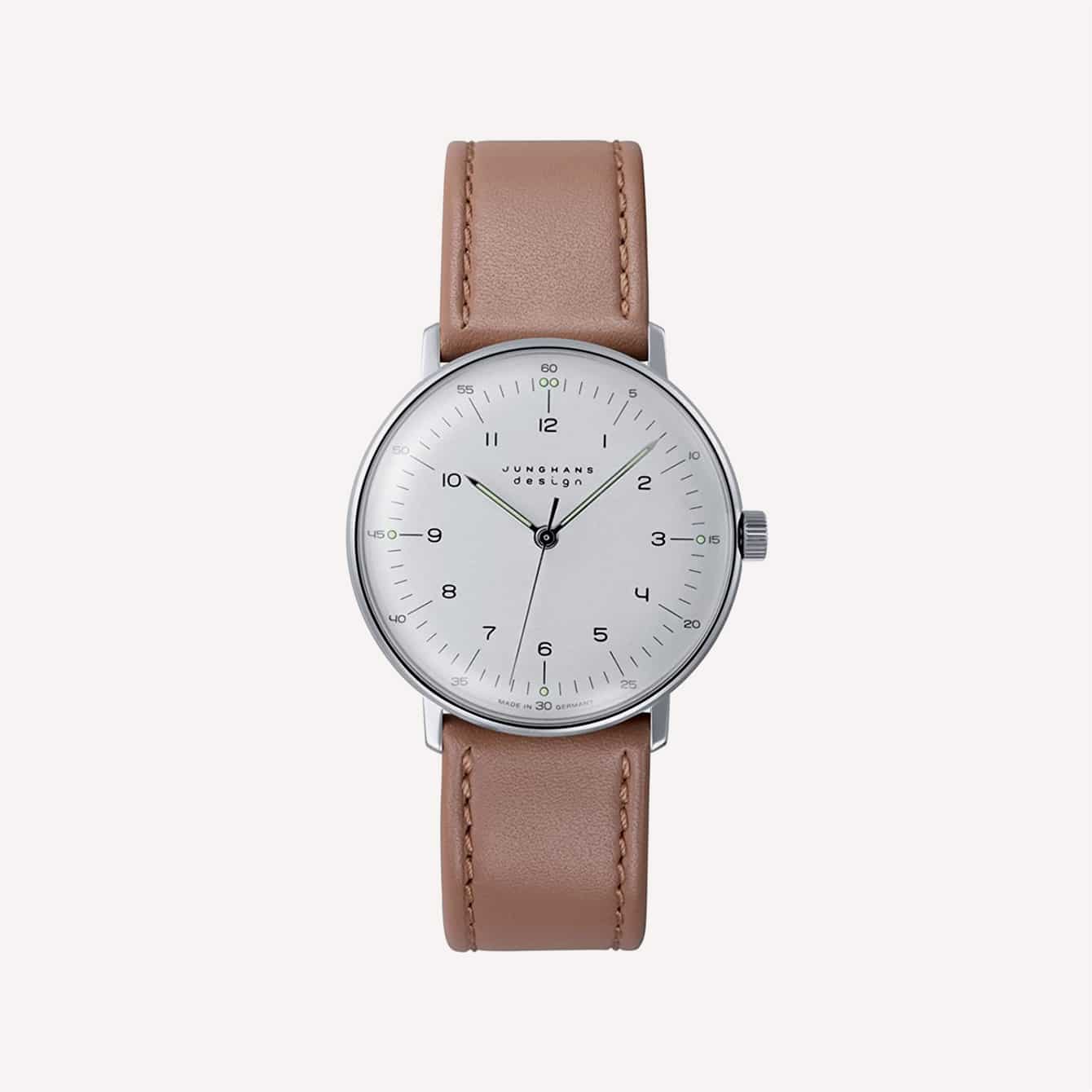 Silver-toned hands complement a silver-plated dial, and the light brown calfskin leather band completes the high-class look and feel.
Seiko Presage SRP837J1 Watch
The Seiko Presage is pushing the boundaries of what you might think of as "minimalist" because of its heavier look and feel from lots of stainless steel paired with a dark black face.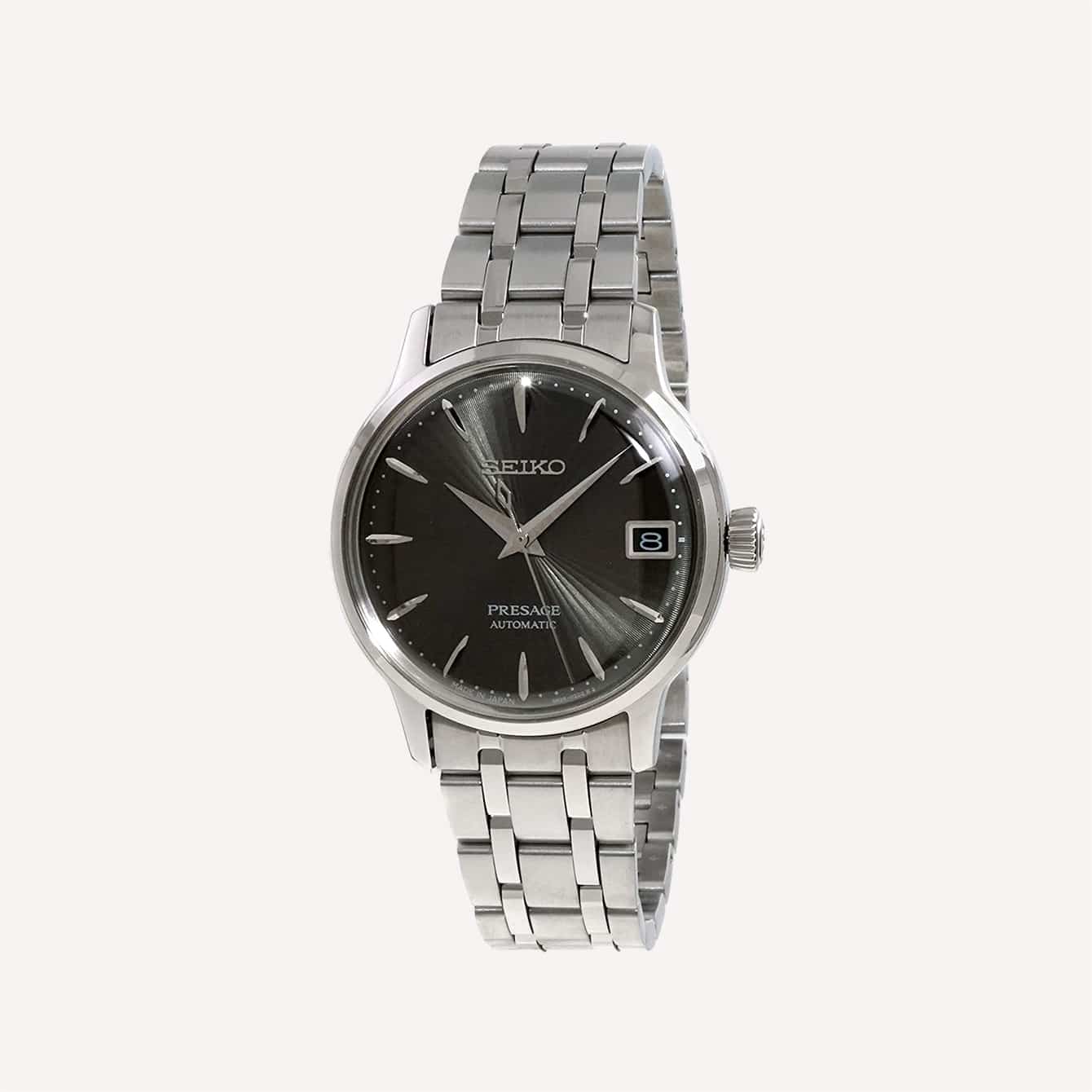 But the lack of numerals and refined case shape really bring things home into the minimalist range, and the 33.8 mm case is ideal for guys with small wrists.
Rolex Oyster Perpetual Date Automatic Men's Watch
It wouldn't be a "best watches" list without mentioning what is arguably the most famous watch brand of all time, Rolex.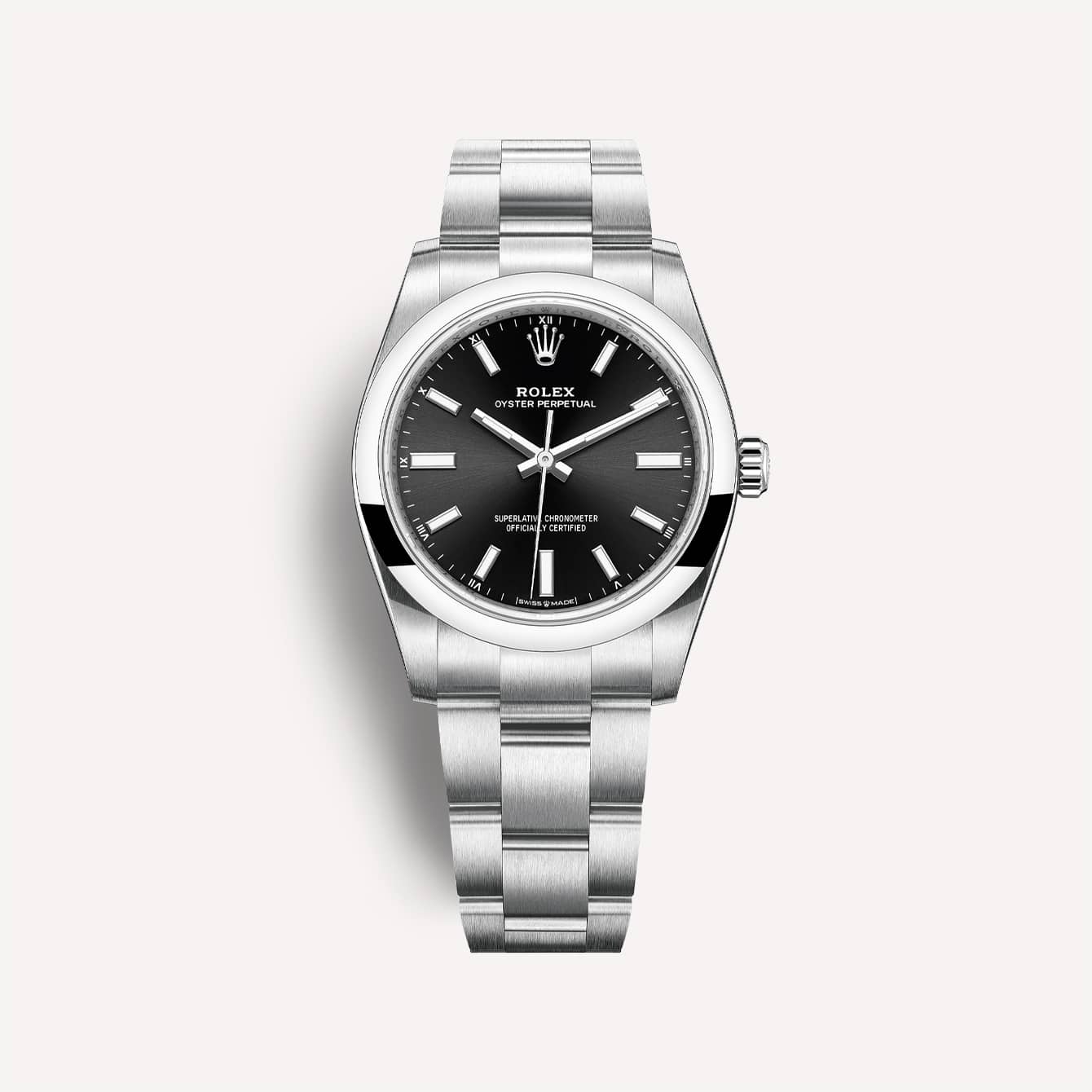 Their Oyster watch is minimalism perfected, with index hour markers and a high-contrast perpetual date viewer embedded in the black dial.
The Rolex Oyster is the way to go if you're looking for a watch that's also an investment likely to appreciate in value over time.
Casio F91W-1 Classic Resin Strap Digital Sport Watch
Some might argue that Casio's F91W-1 isn't exactly a minimalist watch — but in the realm of digital multi-function watches, it's about as pared-down as they come.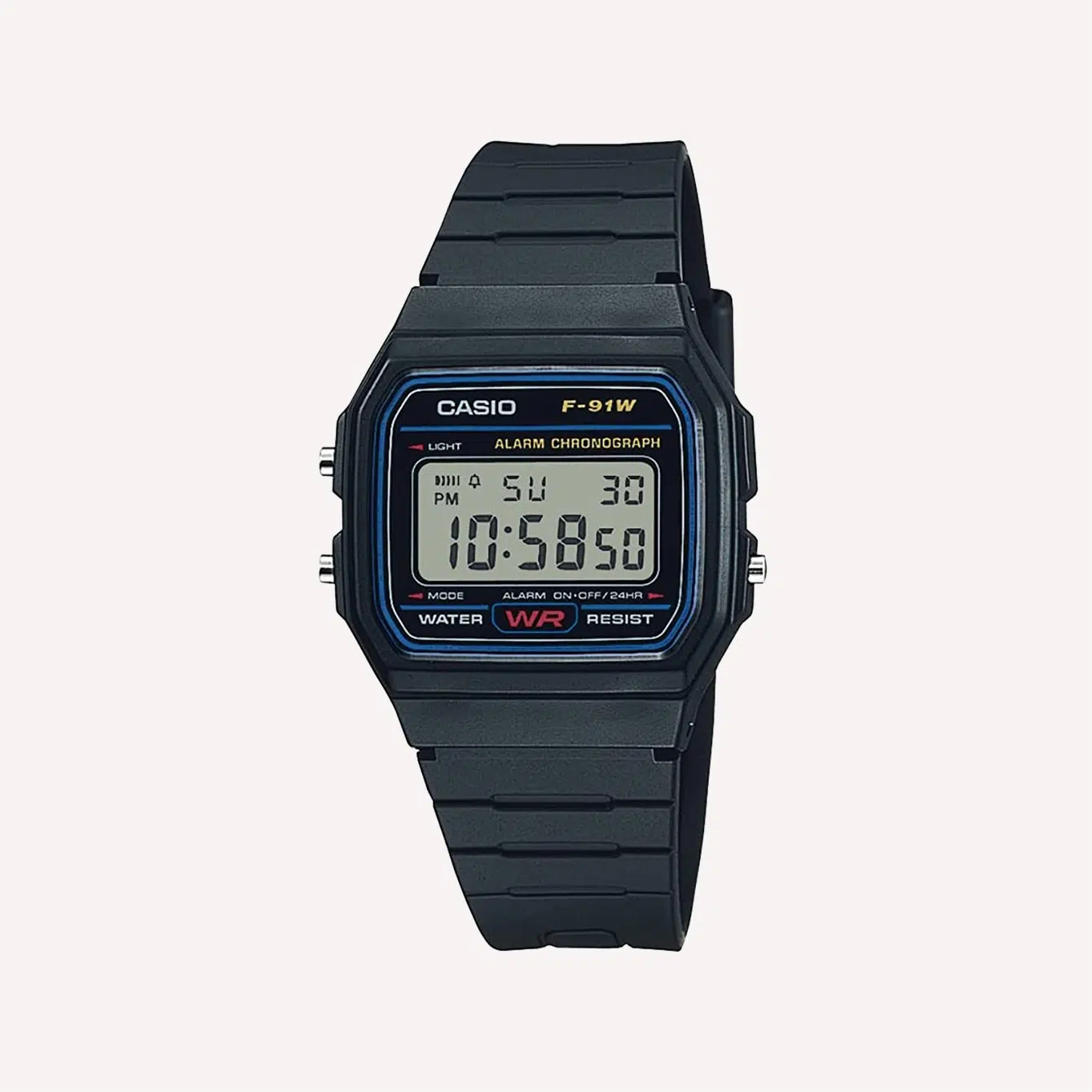 The resin case and band are super lightweight, and chronograph functions are controlled by a simple three-button system that doesn't stick out too far from the watch's case.
Nomos Ludwig 33
At the upper end of the price range for minimalist watches, you'll find stunners like the Ludwig 33.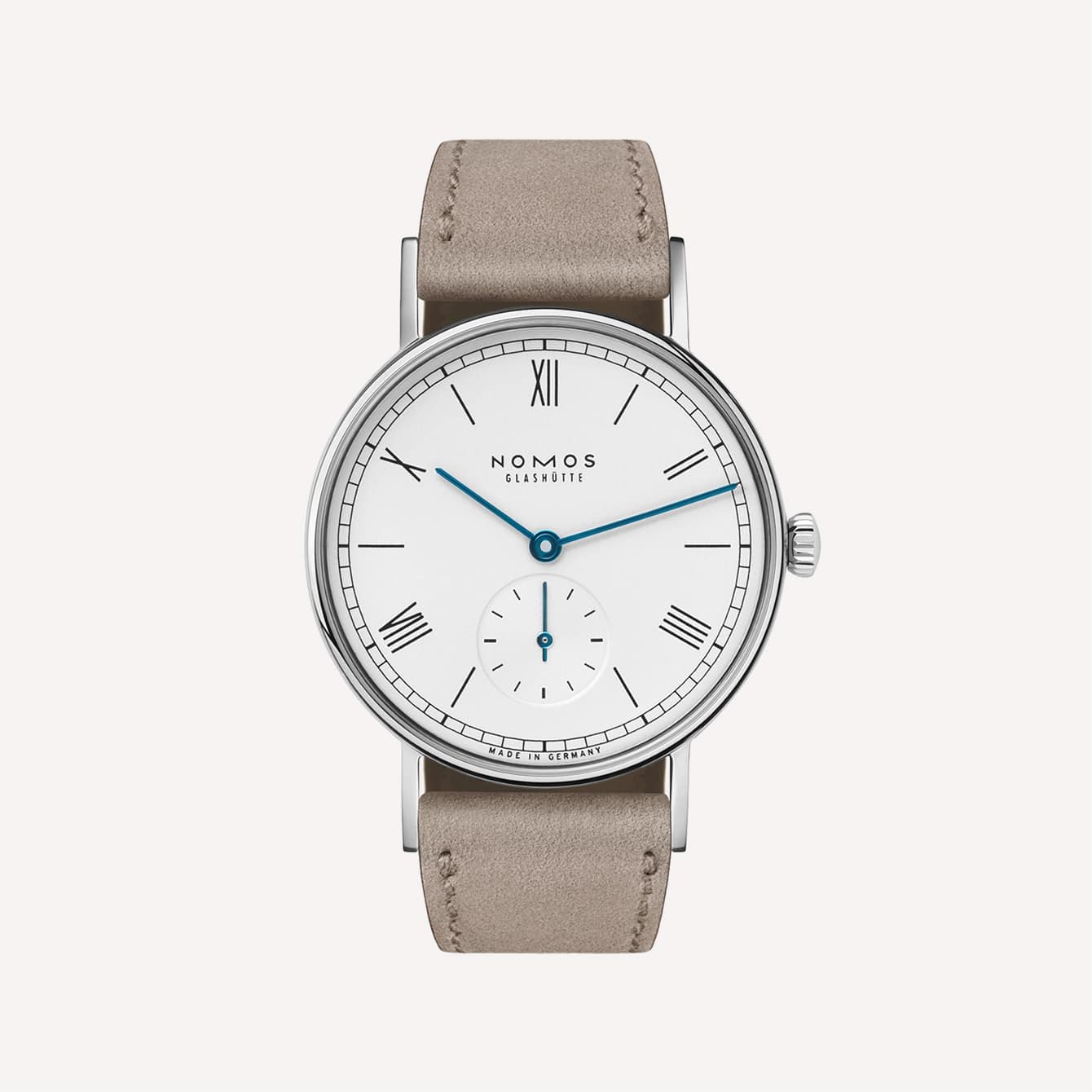 Its white silver-plated dial, tempered blue steel hands, and velour leather strap all contribute to the watch's high-class look and feel — and with a case size of just 33 millimeters, it's perfect for guys with smaller wrists, too.
Mido Baroncelli Automatic
Black and silver both complement and contrast with each other in Mido's Baroncelli Automatic, making it a casual dress watch that's as versatile as it is handsome.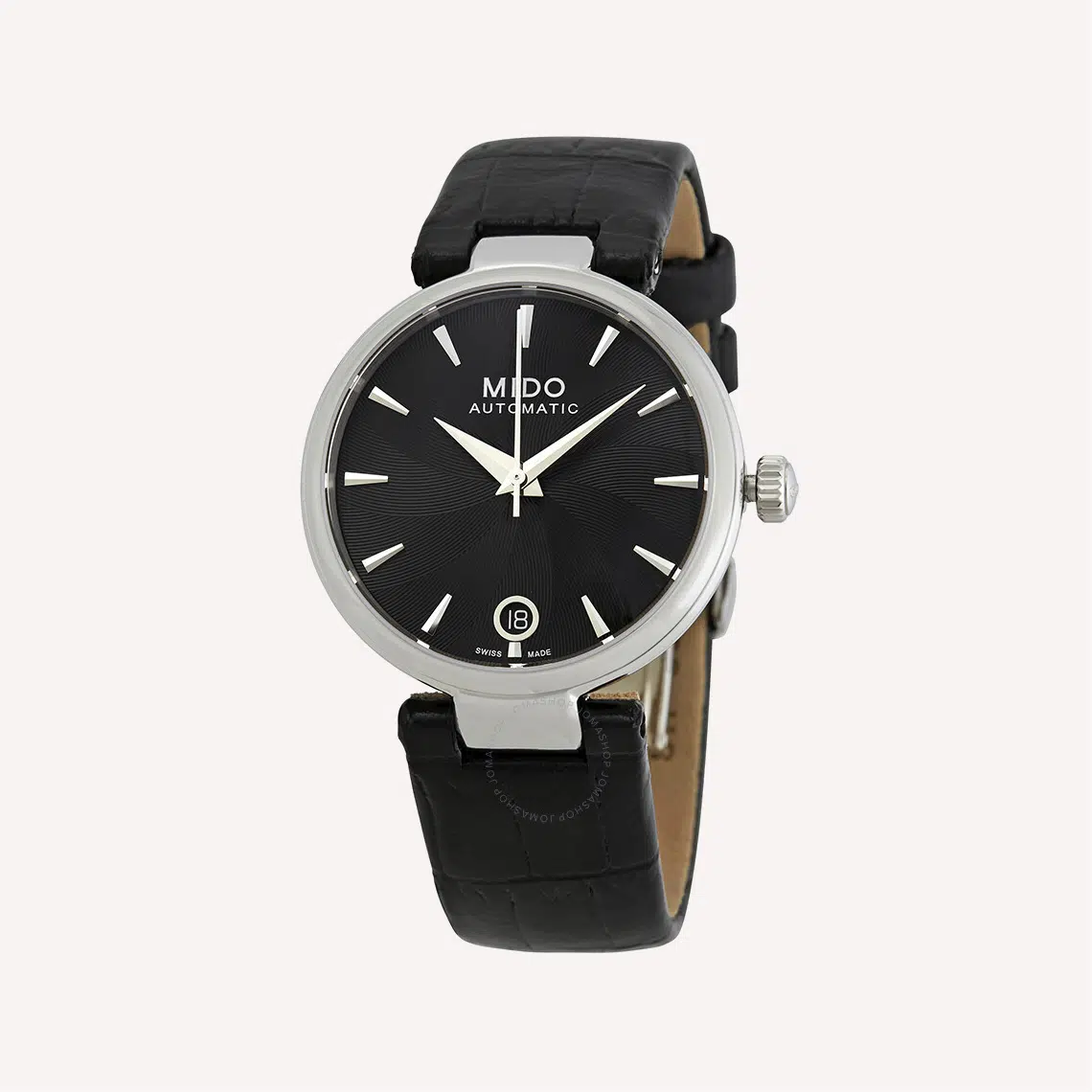 A date marker at the 6 o'clock position is a clever touch that differentiates it from other minimalist watches.
SEIKO 5 Men's SNK793 Automatic Stainless Steel Watch with Blue Dial
Seiko's Blue Dial SNK793 is probably the flashiest watch on this list, but it still ticks all the minimalist boxes: A simple color scheme, uncomplicated dial, and easily wearable stainless steel band.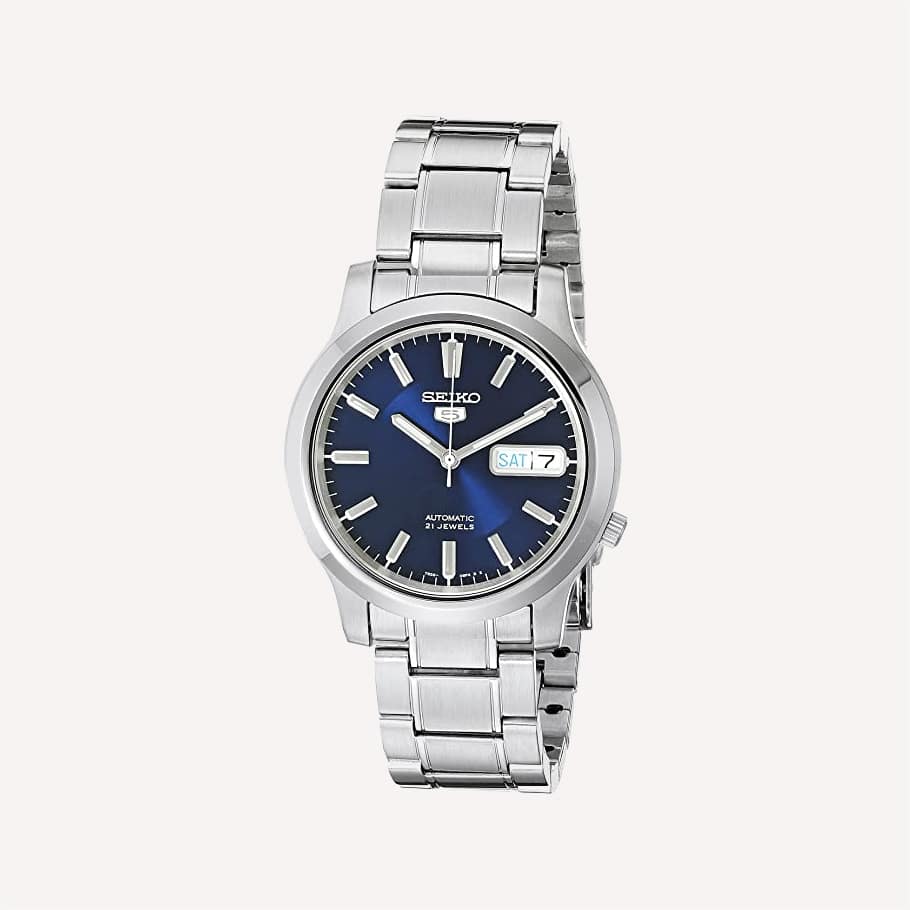 And with its case at 36 mm, it makes for a great smaller watch at a relatively affordable price.
Mondaine Classic Gents Watch
The classic color combination of white, black, and red always makes for a striking presentation — and Mondaine's Classic Gents Watch puts this colorway to great use.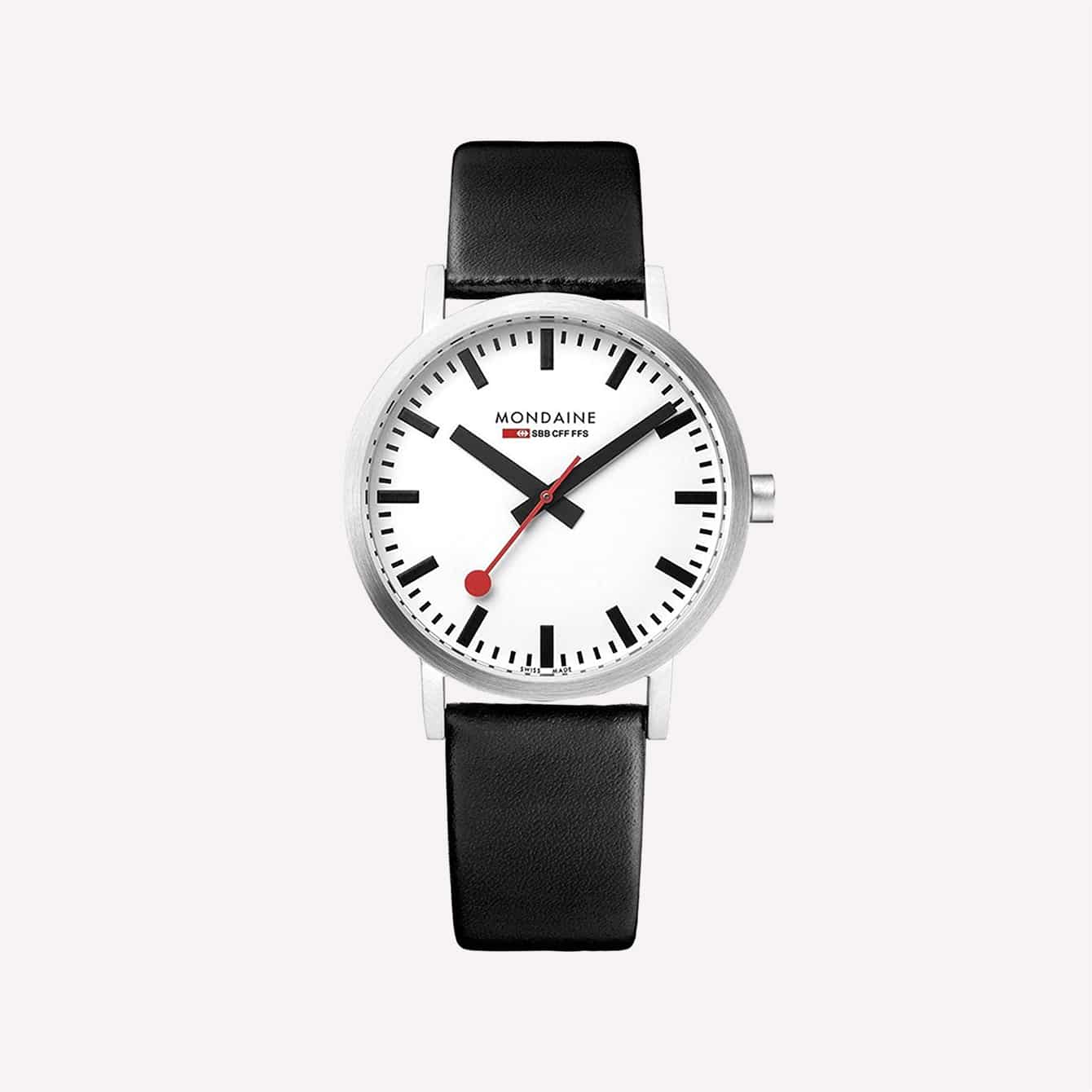 It's about as minimal as a watch can get, without so much as a single number on the face.
Tissot PR100 Black Dial Black Leather Watch
With one of the simplest faces of any watch on this list, Tissot's PR100 is ideal for guys who want a watch that's barely there.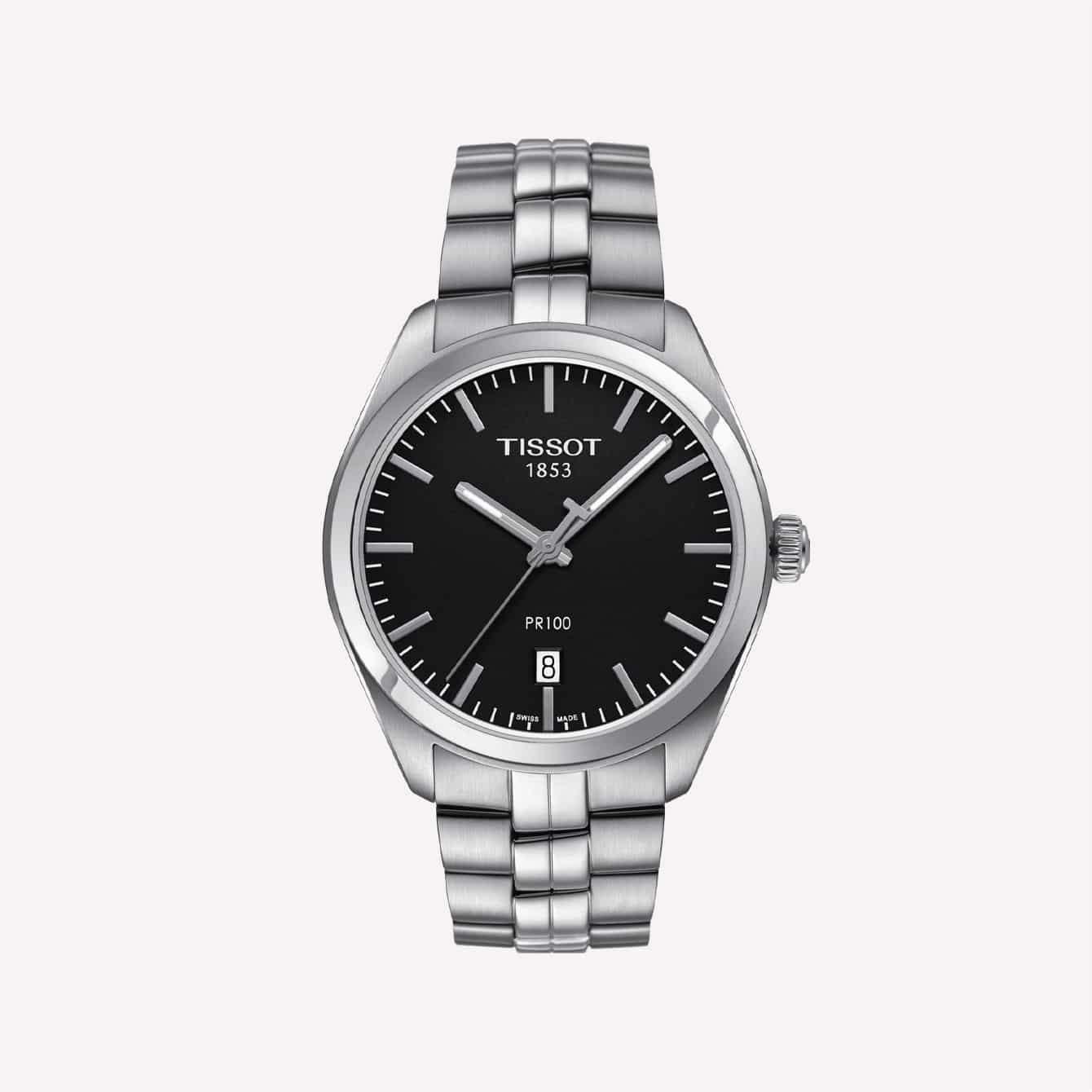 The Tissot PR100 is fully capable of complementing both dark- and light-hued outfits thanks to its contrasting dial and petite 33 mm case, making it a versatile player for all types of activities.
Timex Men's Easy Reader Day-Date Expansion Band Watch
A classic from Timex, the Easy Reader does exactly what it says.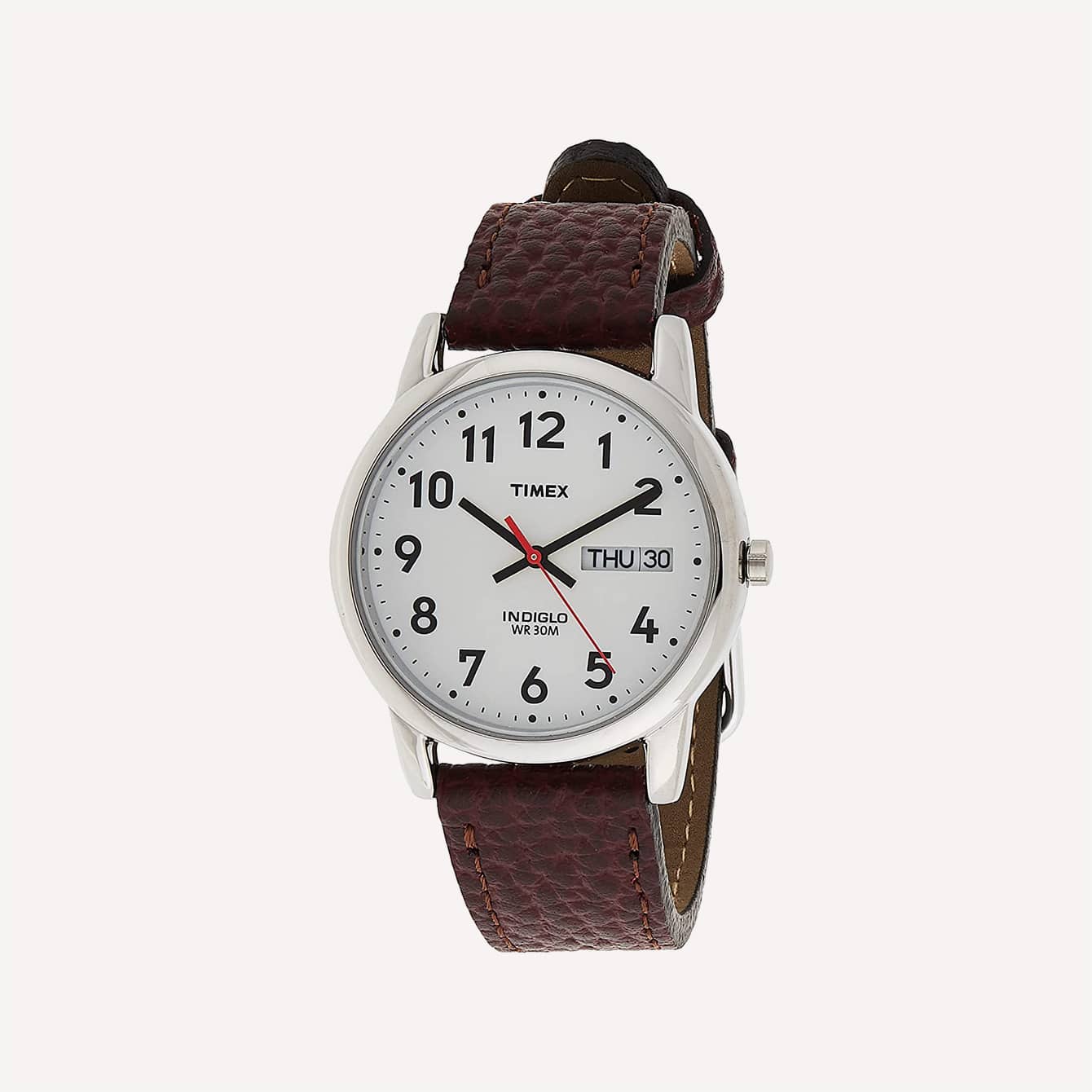 Large numerals and a high-contrast face make it exceptionally easy to tell the time no matter your lighting conditions.
Even better, this is one of the few minimalist watches for small wrists you'll find that comes in under $50, making it a fantastic pick for any guy on a tight budget.
Sternglass Naos XS Silver
The slim 6 mm case on Sternglass's Naos XS Silver helps it to sit directly next to your wrist — almost more like a bracelet than what you'd expect out of a standard size watch.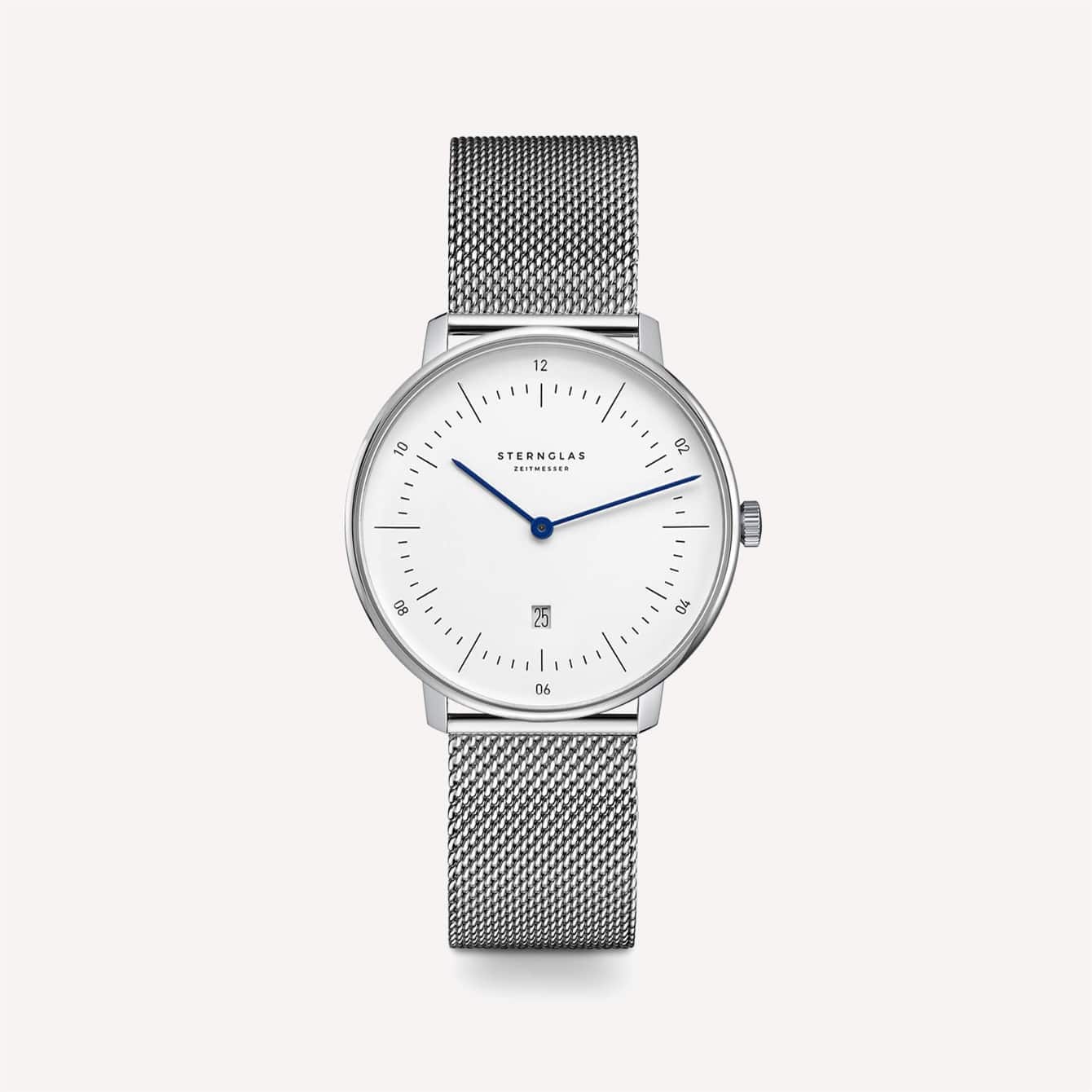 That pairs nicely with its Milanaise woven stainless steel strap, creating an effect of a super thin dress watch.
Timex Marlin Hand-Wound 34mm Leather Strap Watch
The Marlin's 34 mm case and narrow leather strap make it a great fit for small wrists.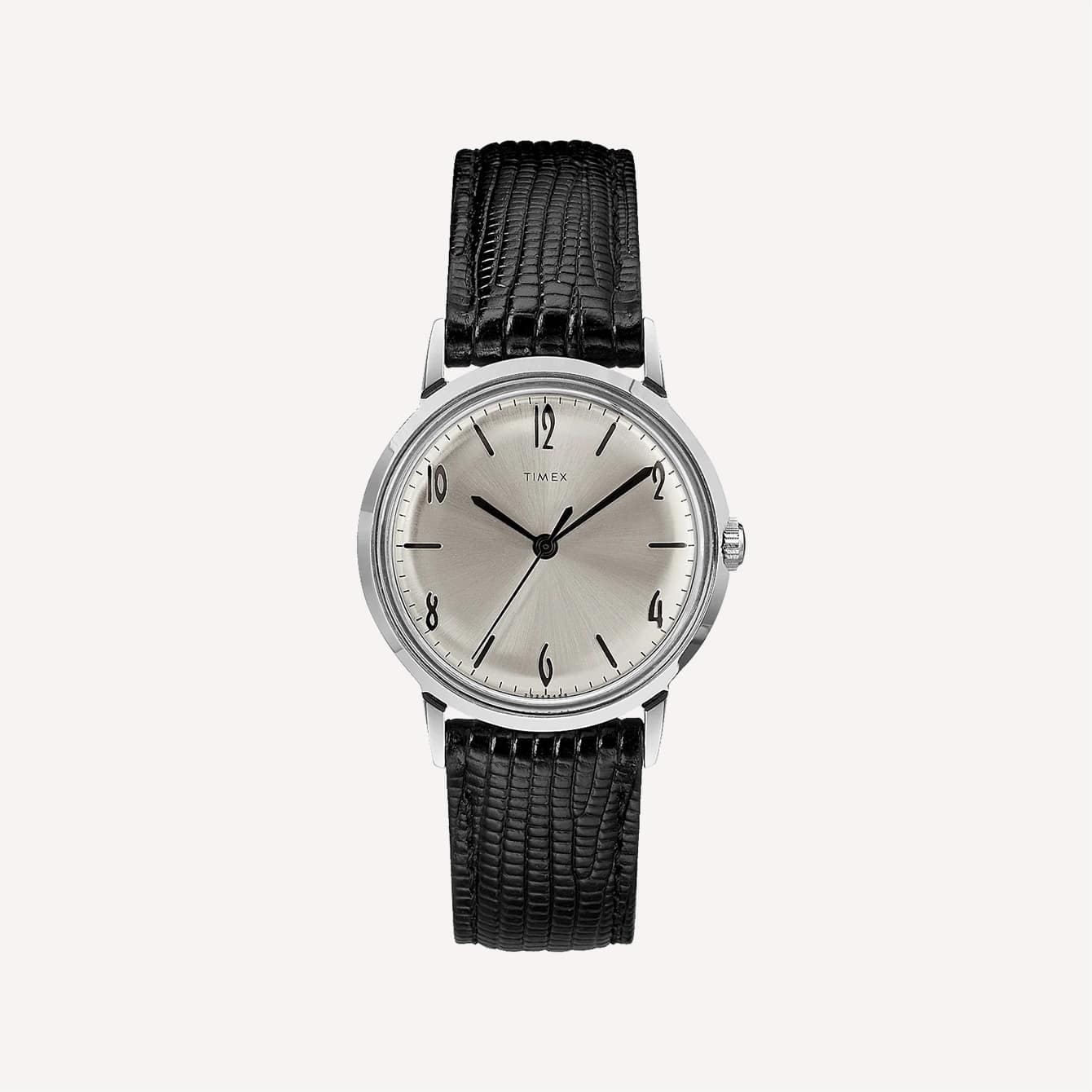 When you combine that with an affordable price point and a casually dressy aesthetic, you get one of the best everyday watches for people with small wrists.
That's all topped off with a simple numerical dial to complete the minimalist look and feel.
The PKG01 by Void Watches
Looking to keep the numbers on your watch face but still have an overall minimalist impression? The PKG01 by Void Watches will be just right for you.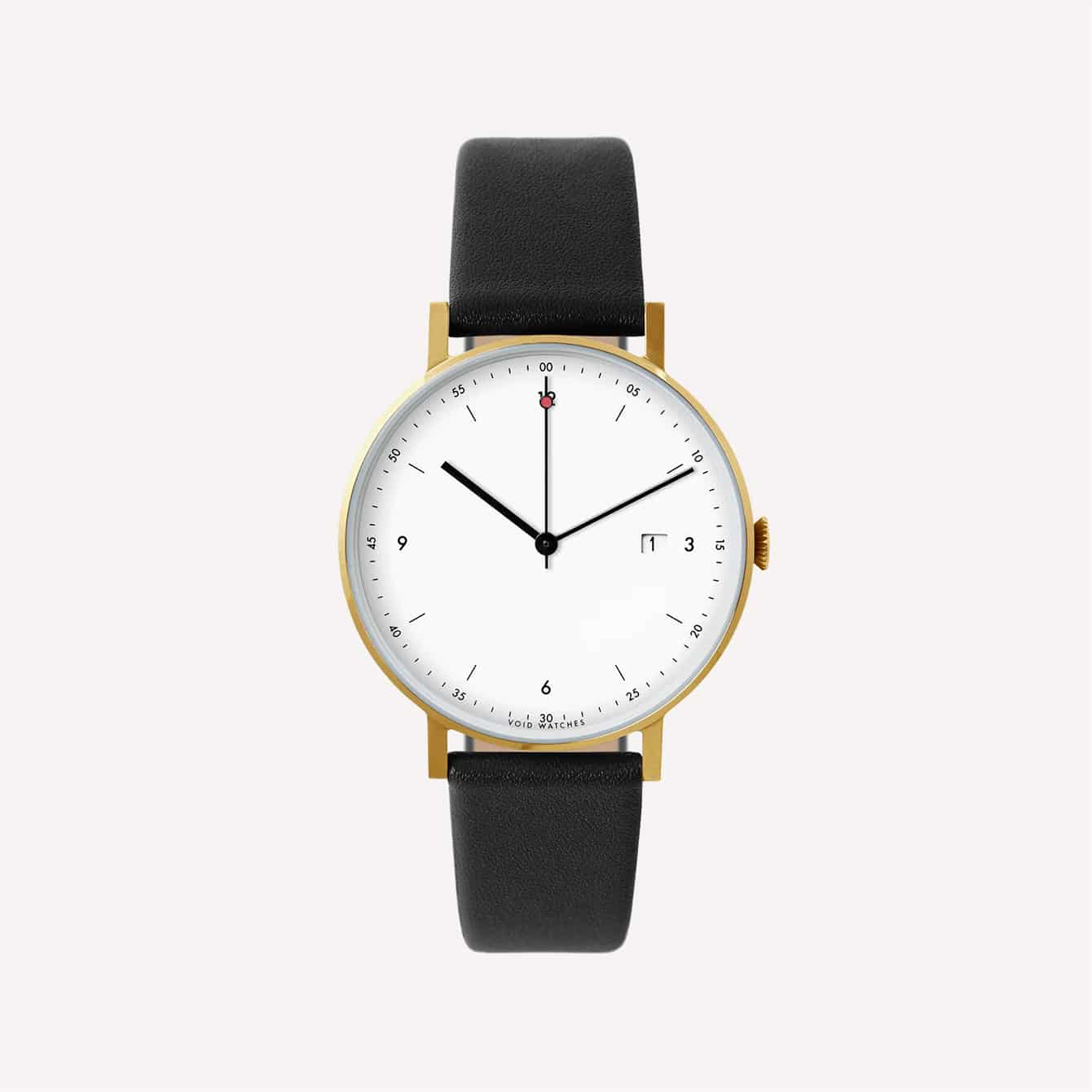 Its undersized numerals blend into the background when seen at a glance but offer easy reading and great clarity when you focus in. And you can choose from nearly 20 different case colors to pair with just as many types of straps.
Frequently Asked Questions
And to finish things up, we'll answer a few of the questions we hear guys ask most often about minimalist watches for small wrists.
Which Watch Is Best for Small Wrists?
It depends on how small your wrist is and what sort of events you'd like to wear your watch to.
Something like the Timex Marlin listed above is a great all-rounder, but you can also go for the even smaller Tissot PR100 if your wrists are exceptionally slender.
Do Watches Look Good on Small Wrists?
Watches absolutely can look good on small wrists — you just need to find the right watch size to complement your wrist size.
A 34 mm case seems to be the sweet spot for most guys with small wrists, though a 36 mm case can work if you have the right outfit to pair with it.
Final Thoughts
As you can see, there are a lot of great minimal watches for small wrists. All you have to do is decide which one to get!
Questions? Comments? Leave them below?