Want an aviation watch that doesn't overpower your wrist? Here are the best small pilot's watches you can buy.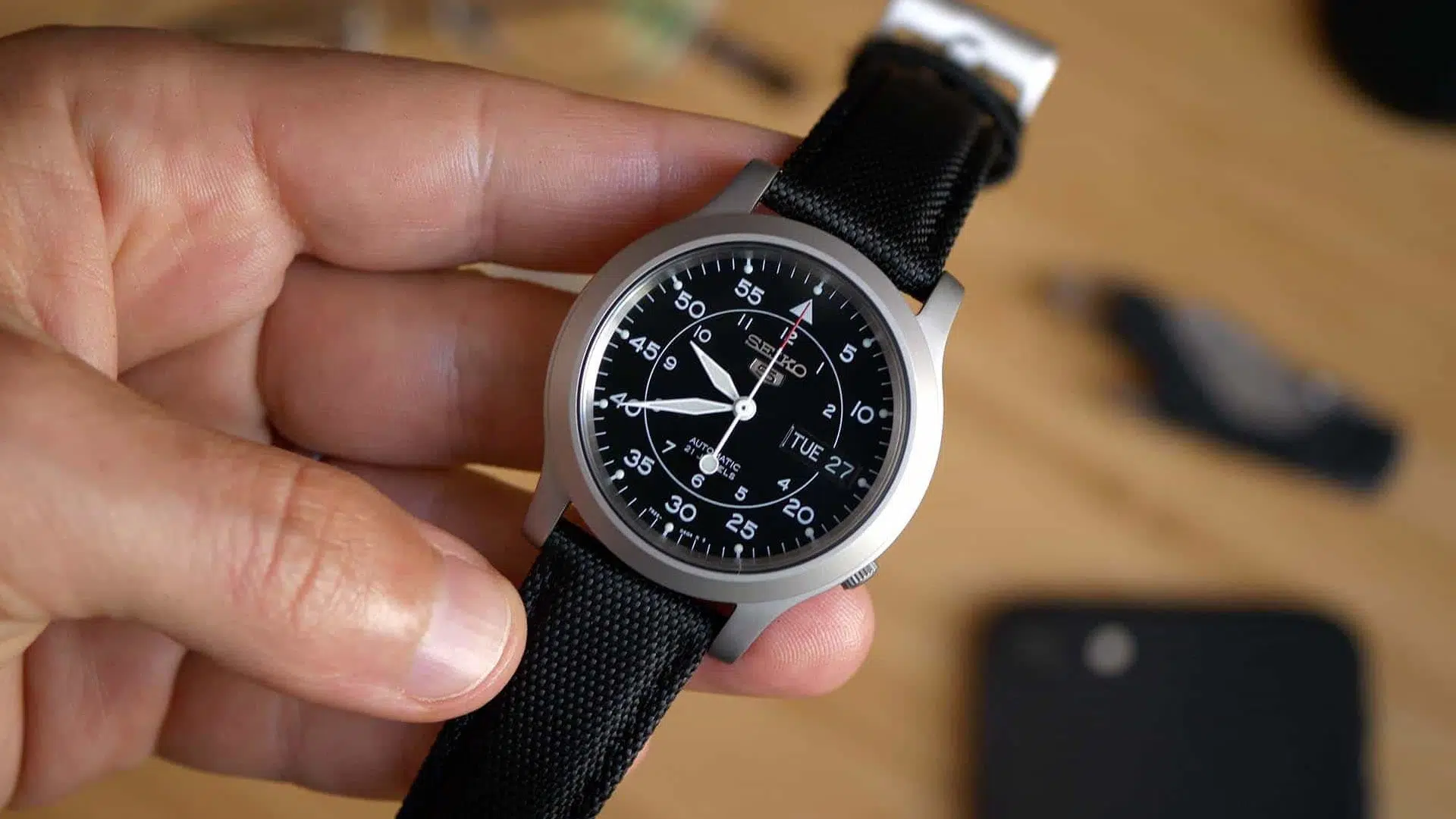 Since aviation watches are made to be legible and durable, there's a misconception that they need to be huge. In fact, the main tactic for making pilot timepieces easy to read from every angle has always been contrast, not size. Basically, aviation watches for small wrists have never been uncommon.
With a similar design template as field watches, aviators must be durable and simple, not ornamental.
The biggest historical differences with pilot timekeepers, other than who wears them, is that they're antimagnetic and often require higher accuracy than other watches. Especially during WWII, mechanisms in plane engines were highly magnetic. Also, before we had GPS, watches needed to be used for navigation calculations.
These days there's a lot of overlap. All the small aviation watches here fall safely into the pilot category, both in style and function.
15 Small Pilot's Watches
Here are our best picks in no particular order…
IWC 324001 Pilot
The 324001 Pilot is a classic IWC aviator but with a sized down case. This version has a beautiful slate gray dial, while all of the 342xxx watches look like different colored versions of each other.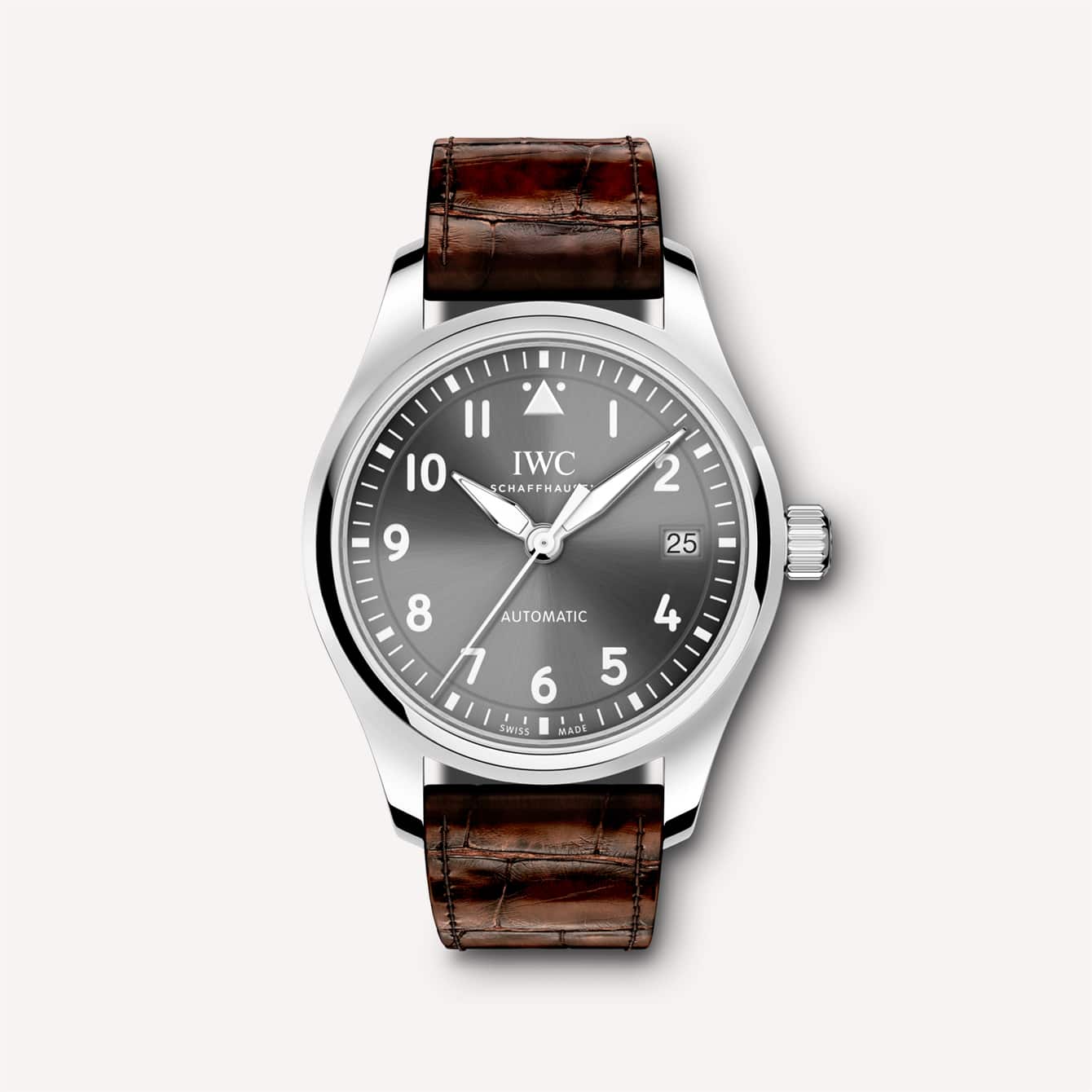 The exception is the 324010, which looks like a mix between IWC's 324xxx timepieces and its 326xxx line (one of which is also on this list!).
The 324s are the "complex" counterpart to the 326s, with outlined alpha hands, a stepped bezel, and a stepped outer track on a sunburst dial. Of course, these watches are still exceedingly simple, but the added dimensionality gives them a high-end look.
Dimensions: 36mm diameter, 10.5mm thickness
Case material: Stainless steel
Water resistance: 60m
The 324001 runs on IWC's 25-jewel 35111 caliber, which is reliable and super slim, allowing for this watch's 10.5mm case profile.
Seiko SNK809
The trusty SNK809 makes many pilot watch round-ups thanks to its in-house automatic movement, its shockingly low price tag, and Seiko's well-studied combination of best practices.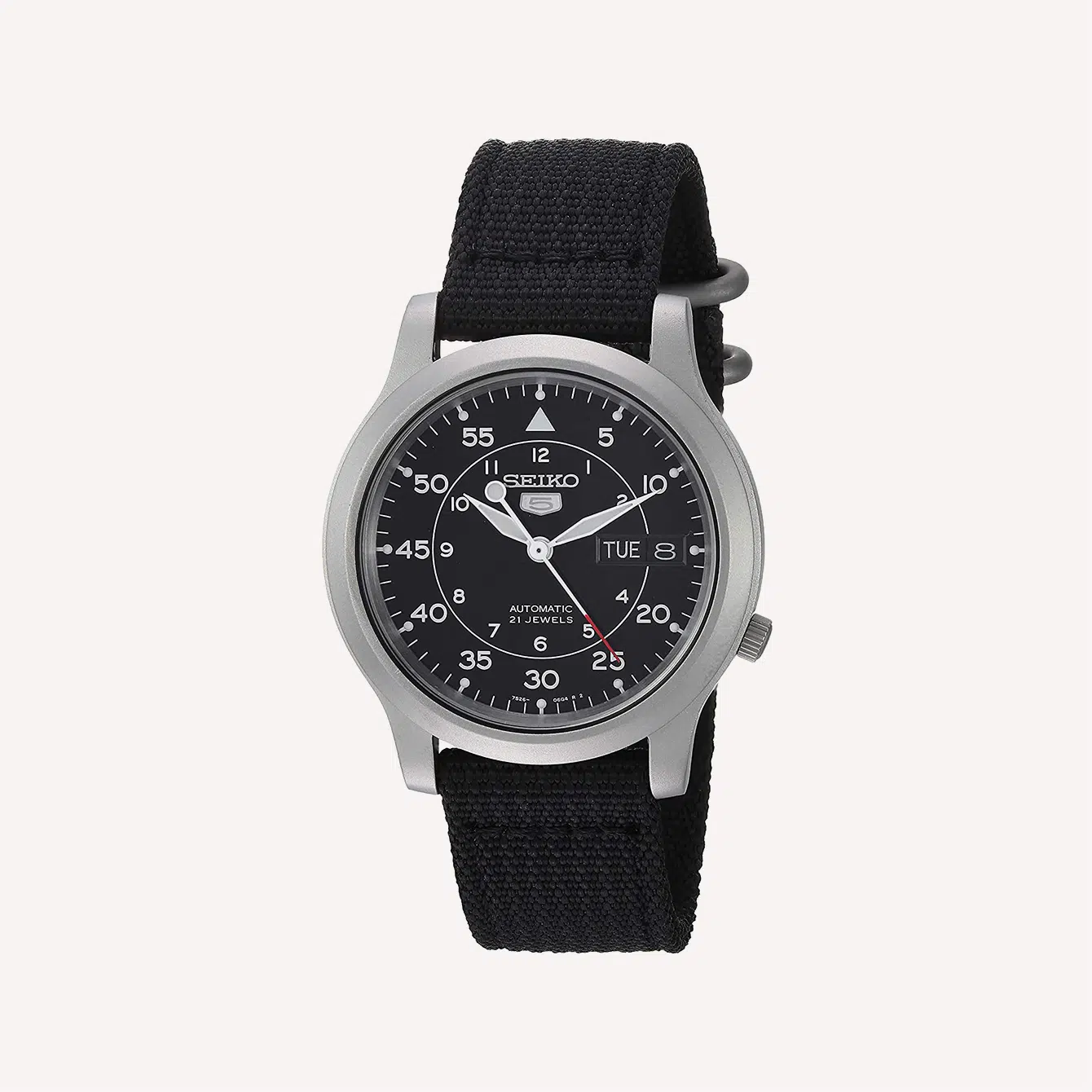 The SNK809 is the perfect entry-level aviator and will even suit you if you're just looking for a good affordable automatic.
Seikos are built for the horologically curious. There's a see-through caseback where you can watch the Caliber 7S26, a fine and robust movement, especially for the price.
Dimensions: 37mm diameter, 11mm thickness
Case material: Stainless steel
Water resistance: 30m
Function aside, it's definitely one of Seiko's legacy movements which gives the watch some "street cred."
MKII Hawkinge
If you're one of the many collectors who love when there's a good story behind a design, you'll be interested in the MKII Hawkinge, which is a truly historical timepiece.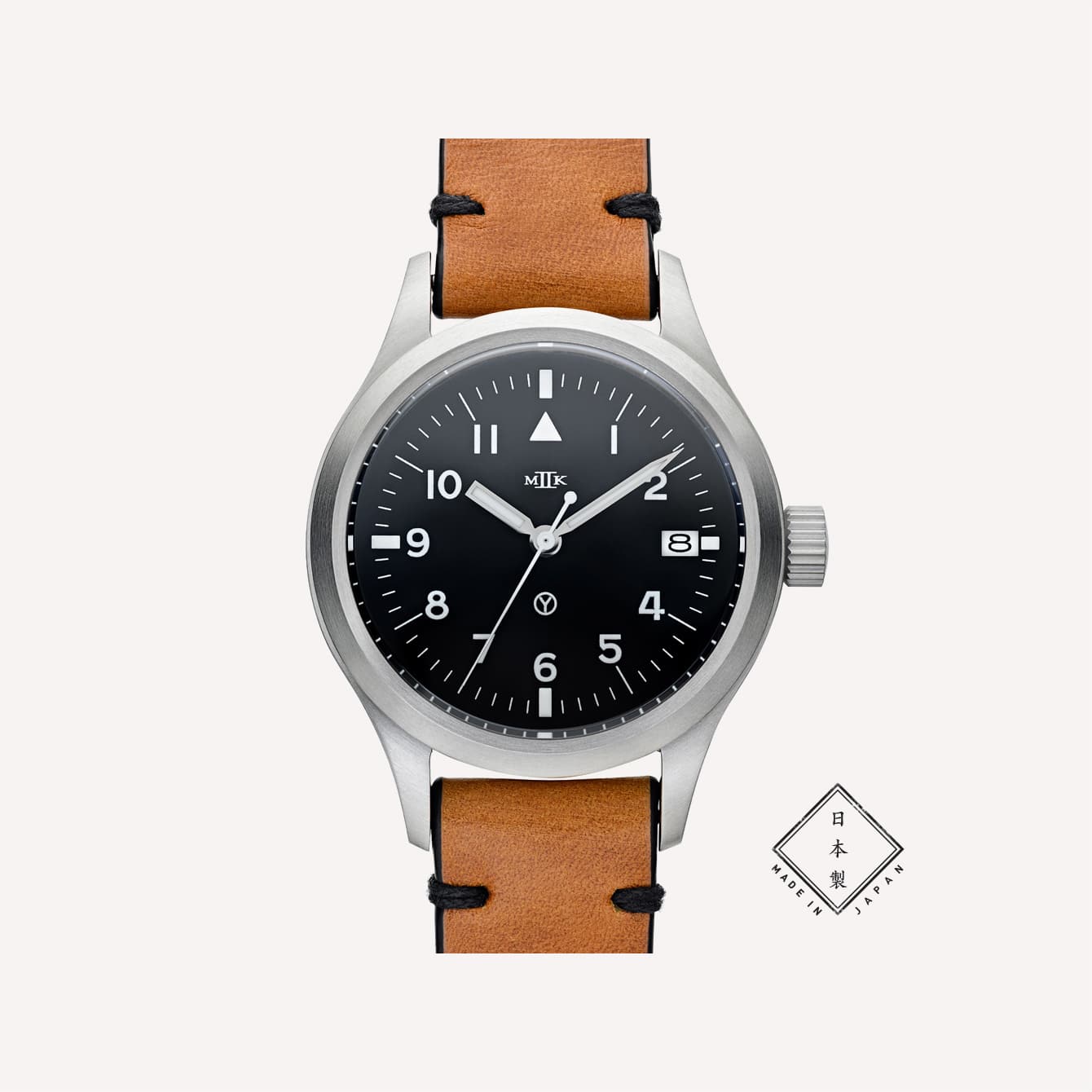 A legit tool watch, it's based on the timekeepers issued to the pilots of the British Overseas Airways Corporation from 1948 up until the '80s.
Dimensions: 37.8mm diameter, 12.75mm thickness
Case material: Stainless steel
Water resistance: 100m
The Hawkinge is utilitarian-looking like a traditional aviator watch but also sleekly streamlined with an AR-coated double-domed sapphire. It runs on a durable Japanese-made automatic movement with hacking.
Rolex Air-King Reference 114200
At 40mm, many modern-day Rolex Air-Kings are arguably a fine choice for smaller wrists. Today's focus though, is the 34mm Reference 114200 from 2007, not just because it's smaller, but because it comes in a few variations, giving the shopping experience a level of customization.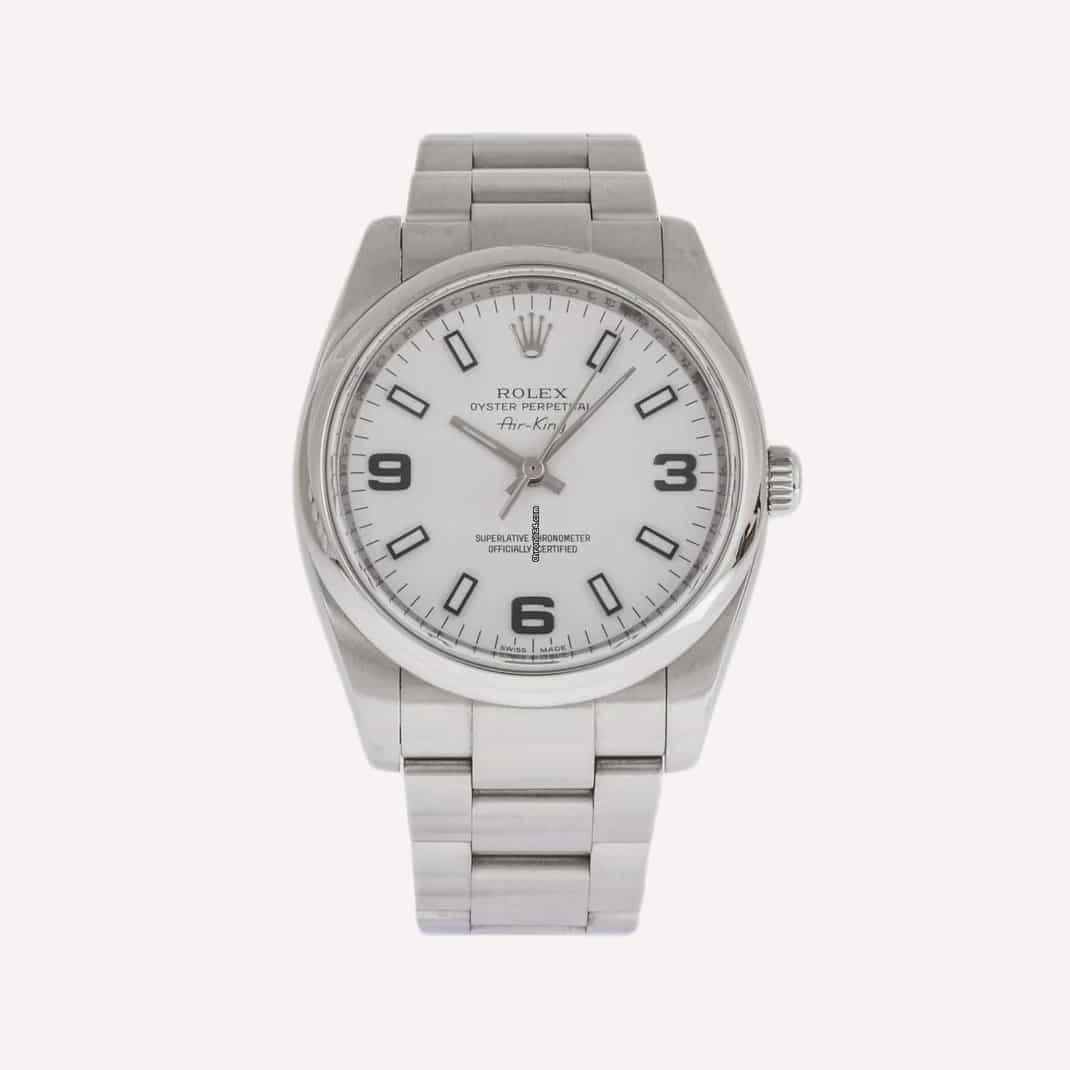 There are matte dials, sunburst dials, and even dials with Roman numerals. With its applied batons, Arabic 3, 6, 9, and the Rolex crown for the 12, the standard 114200 index-style is immediately recognizable.
Another popular variation is the extra sporty all-Arabic variation.
Dimensions: 34mm diameter, 11mm thickness
Case material: Stainless steel
Water resistance: 100m
Regardless of which aesthetic you go for, you can count on that COSC movement and the brand's consistent investment value.
Dagaz Thunderbolt
While the Dagaz Thunderbolt is mainly for those looking for an excellent-functioning but no-frills tool watch, the ladder hands and red accent give it a distinct look.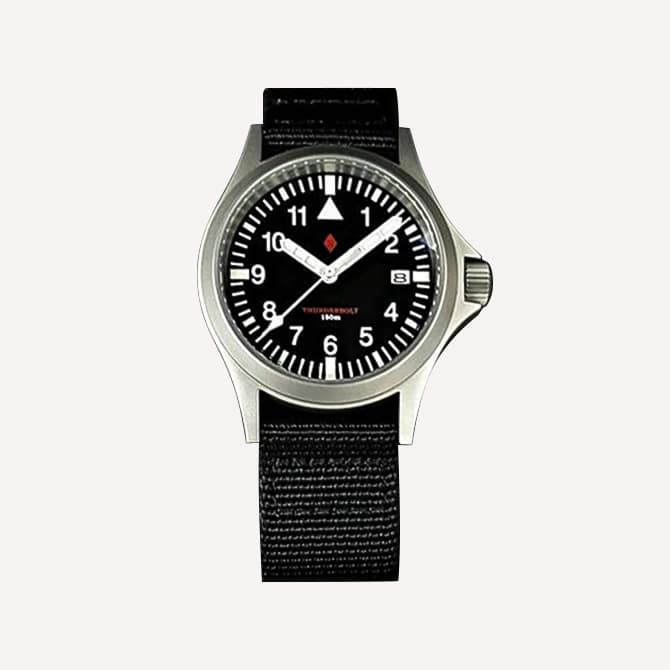 The matte bead-blasted steel is extra durable, while the double-domed sapphire is anti-reflective and cuts distortion at every angle. Its semi-matte dial with glossy print is super legible and layered with SuperLuminova.
Dimensions: 39mm diameter, 11mm thickness
Case material: Stainless steel
Water resistance: 150m
Inside, Miyota's 9015 easily serviced movement features 24 jewels and hacking. If you're looking for a simple and honest workhorse, go for the Thunderbolt.
Traser P5900 Type 3
The Traser P5900 Type 3 has a unique modular look. It sports a plastic case with a steel bezel, contributing to its segmented aesthetic. Even the dial's outer track is made up of inserts instead of being part of a singular dial surface.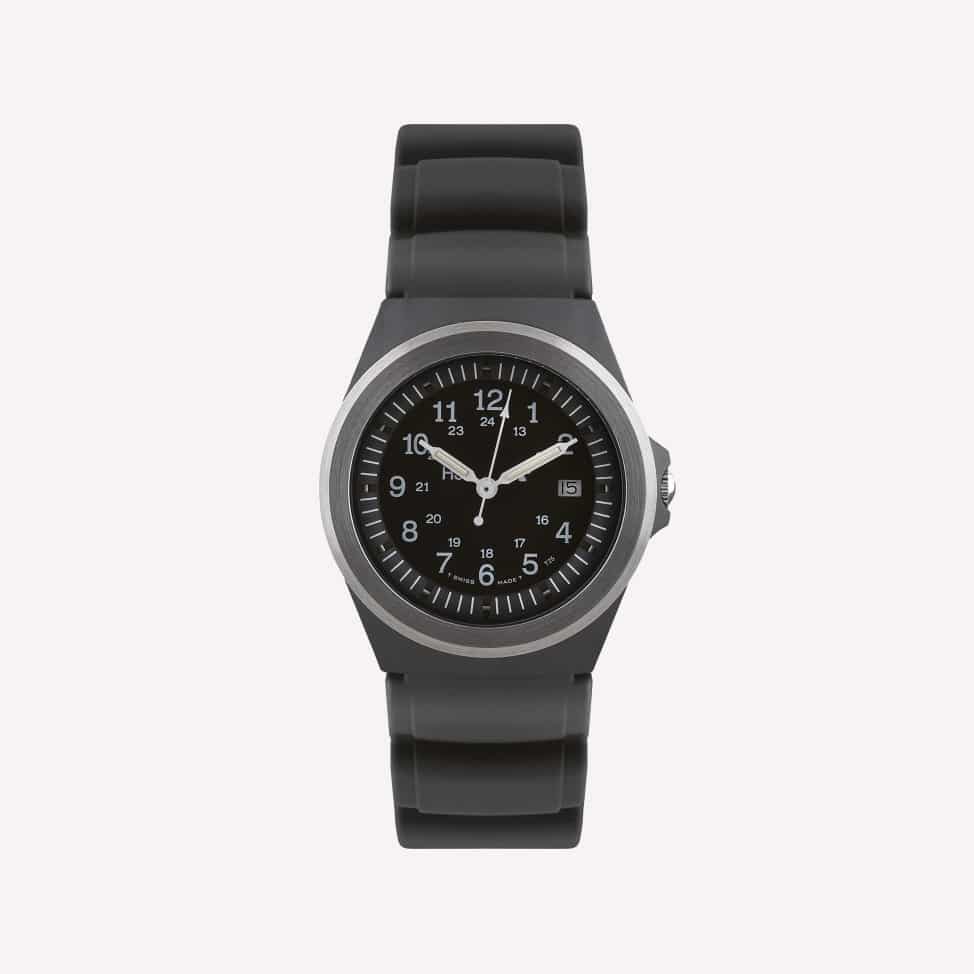 Good looks aside, this timepiece is a legitimate tool. It runs on a Ronda 505 quartz movement, which is reliable and consistent, and it meets the requirements of the US Nuclear Regulatory Commission.
Dimensions: 37mm diameter, 10mm thickness
Case material: Plastic
Water resistance: 30m
Featuring a green and orange lume, which helps with legibility, this watch is fun to look at. Plus, the flat metal back will sit comfortably on your wrist.
Citizen Eco-Drive BM8180-03E
Citizen isn't really known for small watches, but the BM8180-03E is a welcome exception. With a thickness of 9.5mm, it wears comfortably on all wrists sizes.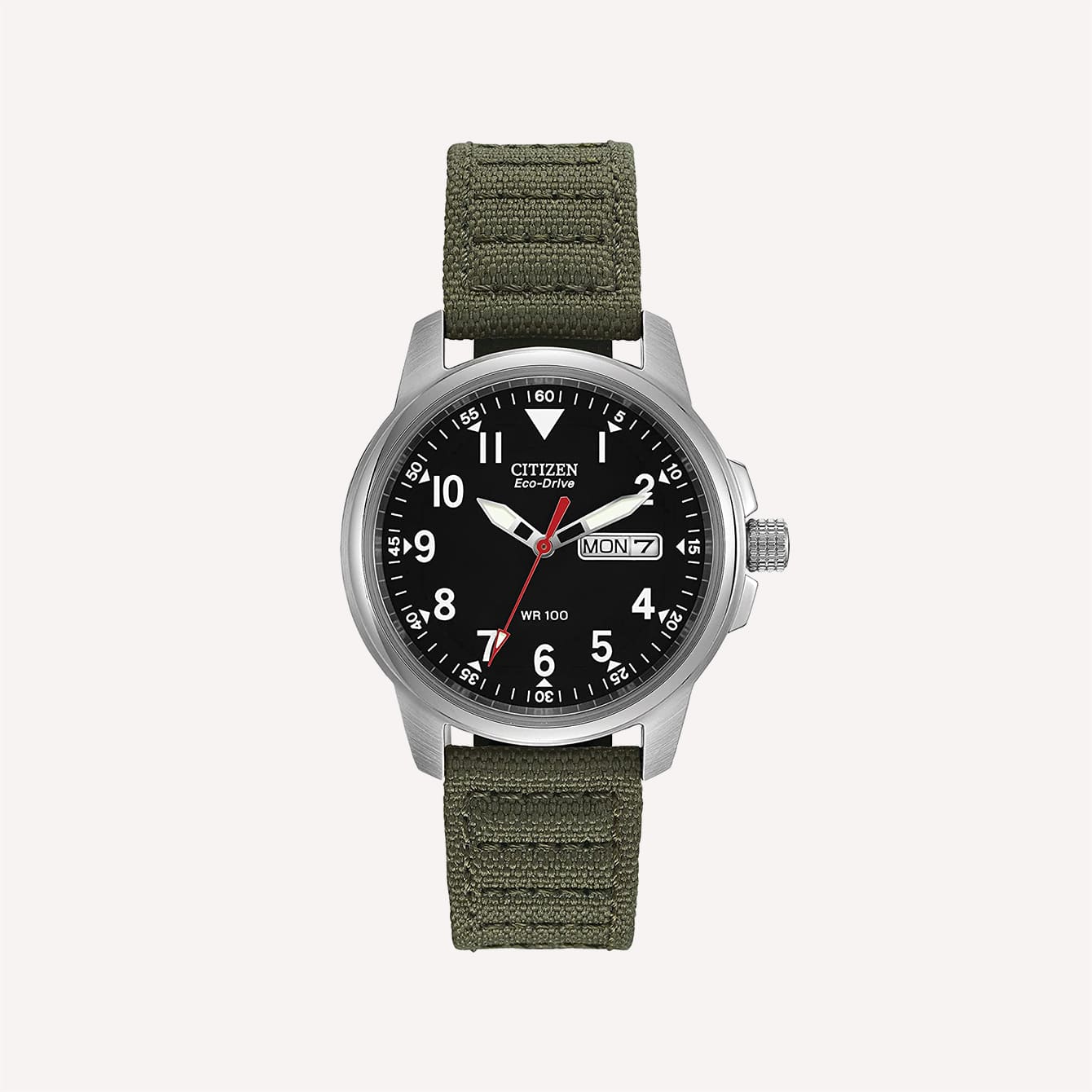 This watch is equipped with all of Citizen's horological chops, from the well-lumed hands to their Eco-Drive movement (which converts any light into energy, creating zero need for battery changes — ever). Also, the crown is long and knurled, which makes it easy to operate.
The BM8180-03E is also referred to as "The Chandler" on Citizen's website. Pro-tip with the Citizen brand though: Pay attention strictly to the reference numbers.
Dimensions: 37mm diameter, 9.5mm thickness
Case material: Stainless steel
Water resistance: 100m
There are many models with the same name that don't have anything to do with each other, at least not in a way that affects us wearers.
Maratac Mid Pilot Watch
The Maratac Mid Pilot is a shrunken down version of the full-sized Pilot.
The full-sized version is known for two recognizable qualities: its charming small seconds subdial, which is run by a capable Miyota 8245 automatic, and its onion crown.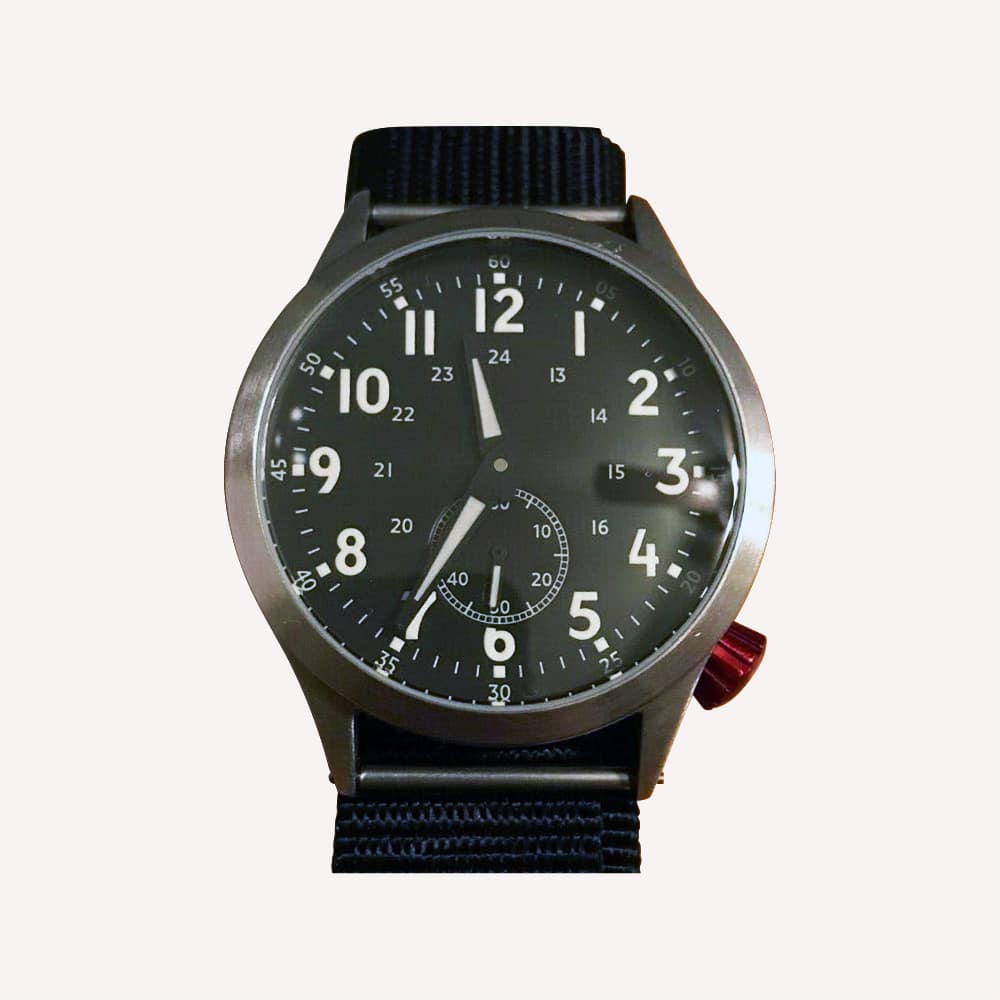 This thick-bodied crown makes it easy to work with. Cleverly, Maratac tucks the crown away between the 4 and 5 o'clock position, so it doesn't jab your wrist.
The Mid Pilot does retain its big brother's thickness, so this guy will sit pretty stoutly on your wrist. It does give it a G-Shock-like sporty wear, which many people like and isn't often an option afforded to us slender-wristed gents.
Dimensions: 39mm diameter, 12.5mm thickness
Case material: Stainless steel
Water resistance: 100m
Function-wise, this watch boasts Super Luminova C3 and a domed sapphire.
Messerschmitt ME 262
The Messerschmitt brand from Germany, operating under Aristor watches, builds charismatic designs that are also cheap yet durably built.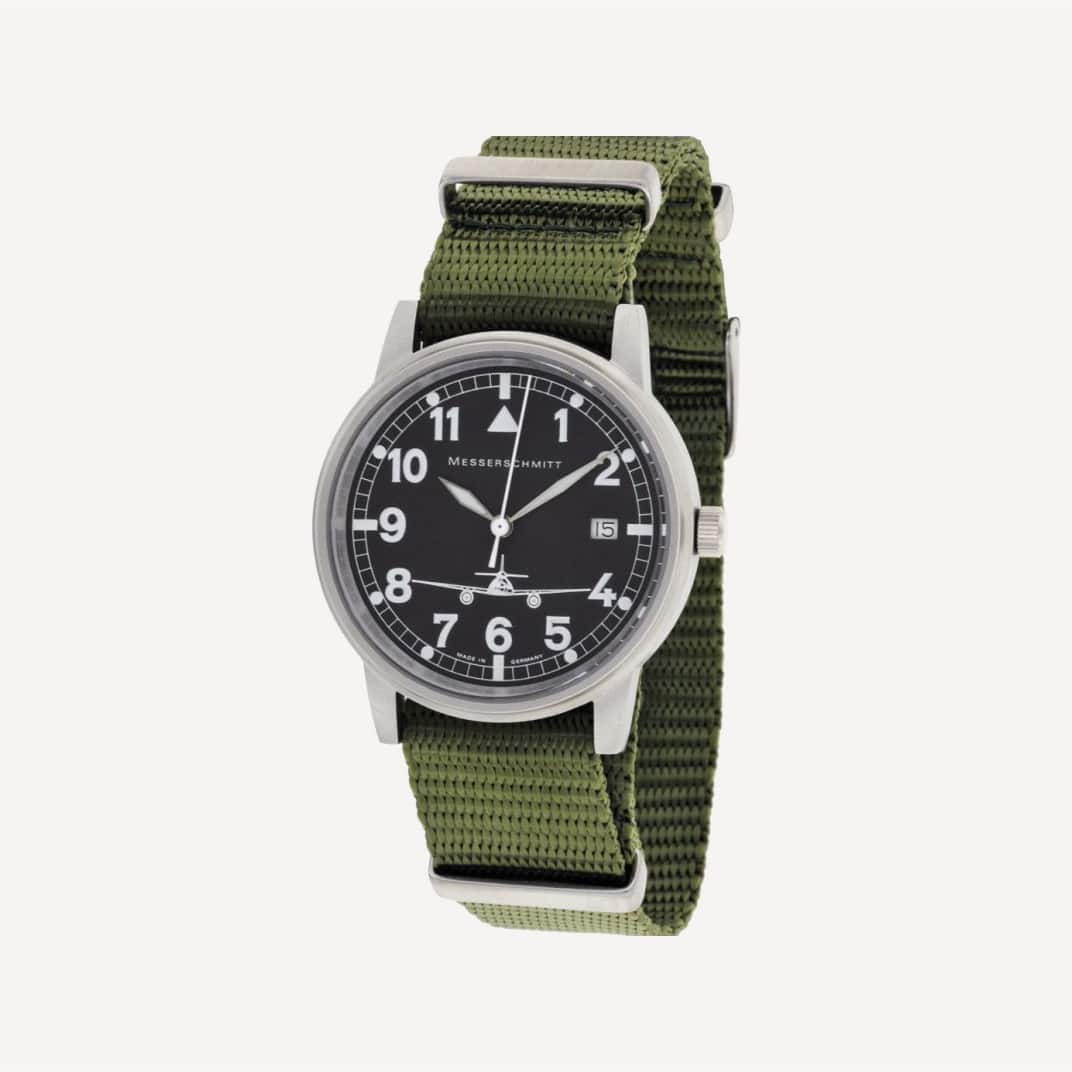 The ME 262 features a boldly dotted railroad track on its outer dial that beautifully complements the star of the show — a delightful illustration of an aircraft, with its wings touching the 8 and 7 o'clock indices.
Thanks to the matte stainless steel case and otherwise simple aesthetic, the overall look is fun but well-balanced.
Dimensions: 39mm diameter, 12.5mm thickness
Case material: Stainless steel
Water resistance: 50m
Also, the Ronda 715 quartz movement is precise and light, resulting in a 49-gram watch that's easy on the wrist.
Messerschmitt ME109-1069G
Slightly more playful than the ME 262 but just as seriously constructed, the Messerschmitt ME109-1069G has two important qualities going for it.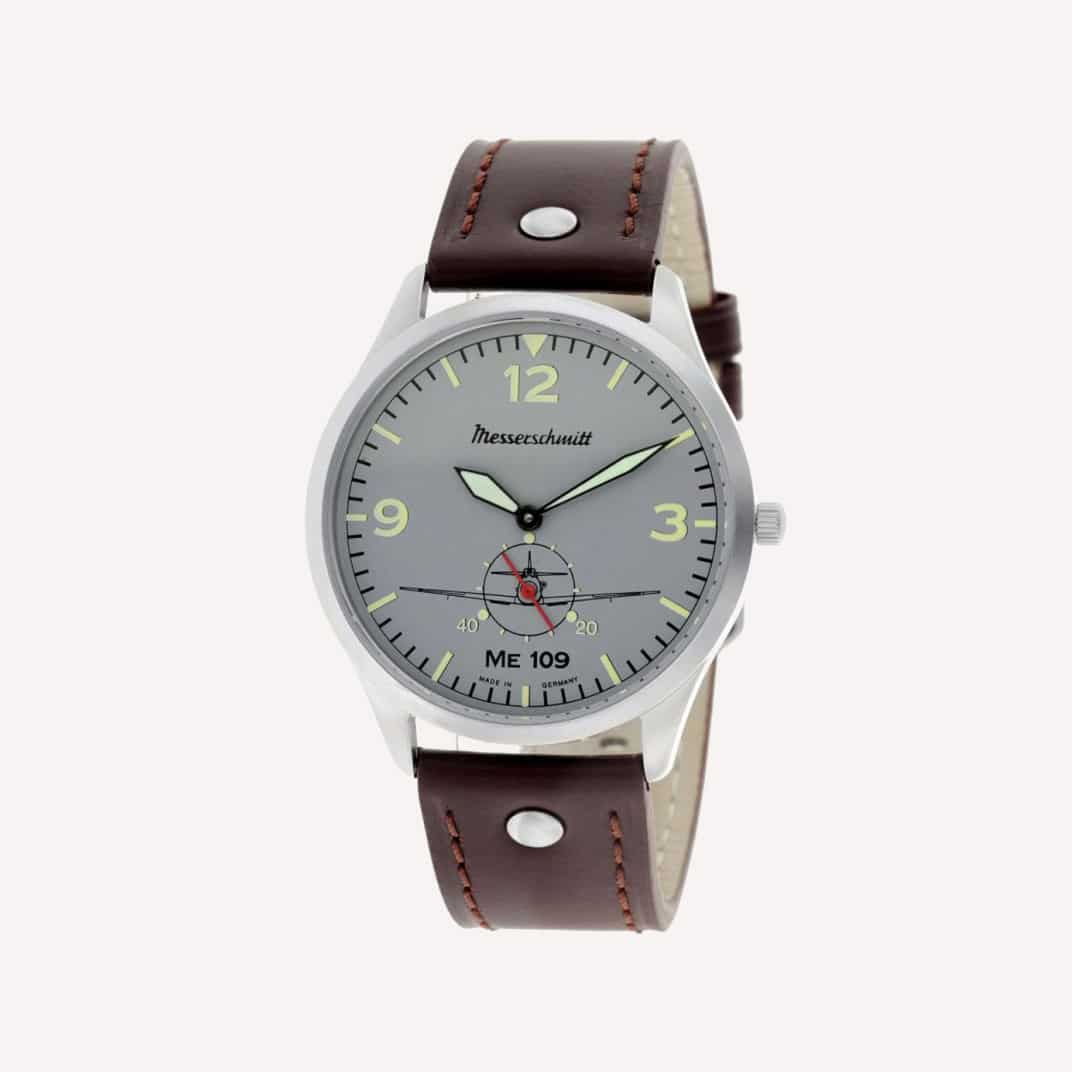 First, since this is Messerschmitt, is its looks. The gray dial allows the light-colored indices and hands to really pop. Best of all is its small seconds, which sports an airplane illustration equipped with a red propeller that serves as the subdial's hands.
The second thing is its exceedingly thin case. At 7mm, this watch wears lightly on any wrist, thanks to the skinny and precise Ronda 1069 quartz movement.
Dimensions: 39mm diameter, 7mm thickness
Case material: Stainless steel
Water resistance: 50m
Finally, the sandblasted stainless steel watch case is cleanly-finished and easy to take care of.
IWC 326802 Pilot Spitfire
The 326xxx IWC Pilot watches have a more vintage look to them than the 324s. They have a traditional matte dial instead of the stepped sunbursts of the 324s.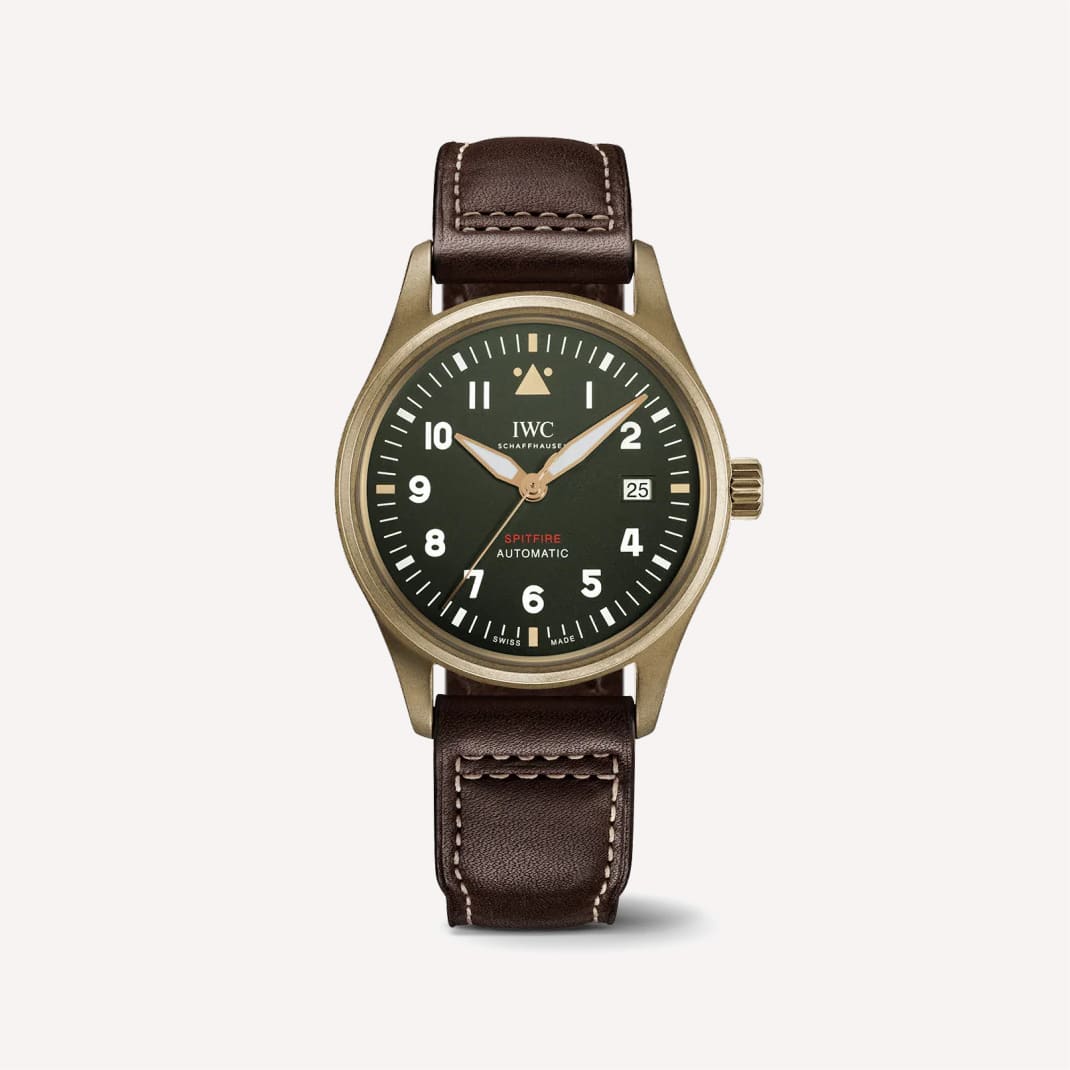 The Spitfire, specifically, leans hard into this, with an exquisitely antique style. The bright green dial complements the distinguished bronze case, arguably the watch's most unique quality.
Dimensions: 39mm diameter, 10.6mm thickness
Case material: Bronze
Water resistance: 60m
Still, the Spitfire is functionally premium, with hacking central seconds, anti-reflective and anti-scratch sapphire that's convex for pressure resistance, and a soft inner antimagnetic case.
Laco Flieger Karlsruhe Pro
Laco's Flieger Karlsruhe Pro is the quintessential German pilot watch on both the looks and performance fronts.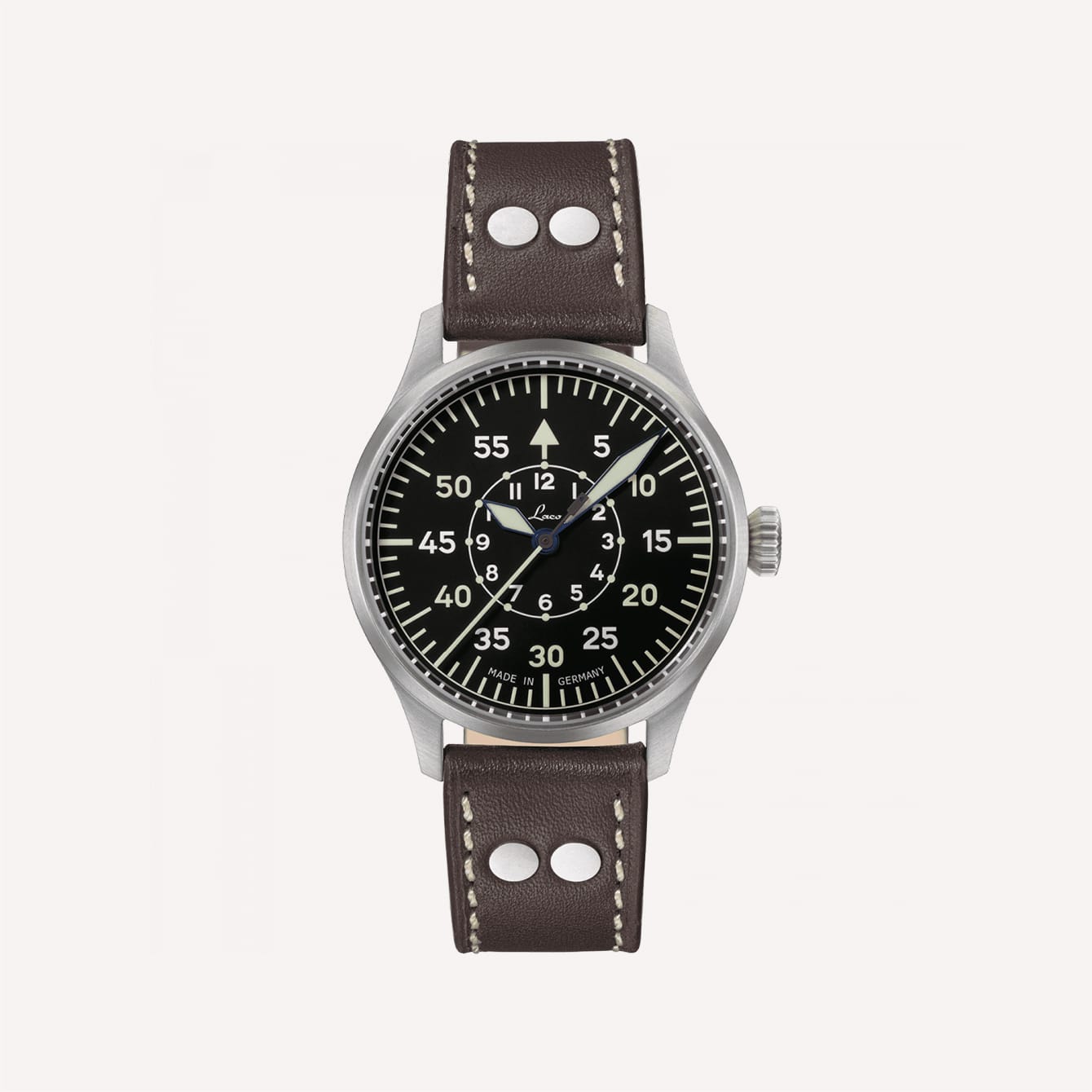 What makes it so special is that it comes with customizable features, including its size. The smallest option is a reasonable 37mm, with a 10.95mm profile.
You can also get the stainless steel case with a traditional brushed finish or a dark sandblasted finish. For the double-domed sapphire crystal, you can choose between one-sided AR coating or two-sided.
You can also opt for a sapphire caseback to see the movement, whether you go for automatic or hand-winding.
Dimensions: 37mm, 10.95mm thickness
Case material: Stainless steel
Water resistance: 200m
Basically, Laco offers the look of a classic Flieger with your choice of functions and features.
Hamilton Khaki Pilot Pioneer
Design-forward with a touch of retro-futurism, the Hamilton Khaki Pilot Pioneer is a veritable feast of textures.
The railroad track and tropical accents pop on top of the gravelly gray background; all encased in a round Space Odyssey-esque case that looks like a cushion shape transforming into a vintage round.
This watch is truly distinct, both in dial design and silhouette.
Dimensions: 36mm x 33mm, 9.95mm thickness
Case material: Stainless steel
Water resistance: 100m
It's modeled after watches worn by the British Air Force in 1973 and runs on the 80-hour H-50 hand-winding movement.
Glycine Airman Vintage GL0372
Straight from a 1950s military cockpit, the Glycine Airman Vintage GL0372 has crossover appeal from tool watch purists, nostalgia buffs, and contemporary design lovers.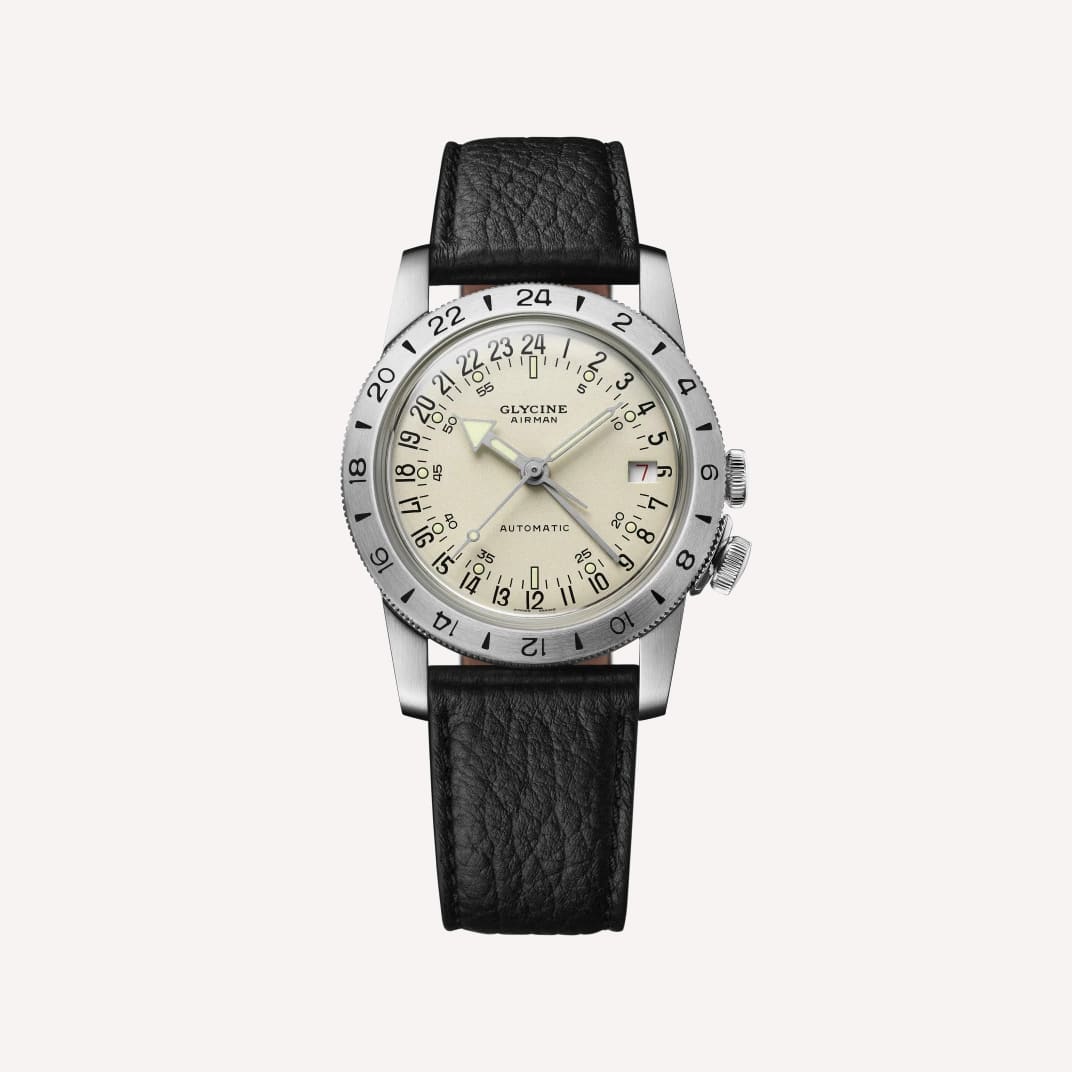 This watch is protected with a boxed crystal, and the bezel numbers, dial numbers, and index shapes are so close together at the edges that they create visual intrigue from every single angle.
Dimensions: 36mm diameter, 11.6mm thickness
Case material: Stainless steel
Water resistance: 30m
Everything from the cream dial to the brushing and polishing and to the window cut-out is immaculately precise. Unsurprisingly, it's all hand-finished in Switzerland. Though lockable, the bezel can be operated to time-match the GMT hand as needed.
San Martin Titanium Pilot SNO30-T
Classic and a bit clinical, the San Martin Pilot SNO30-T has great bang-for-buck when it comes to performance, it can last you forever.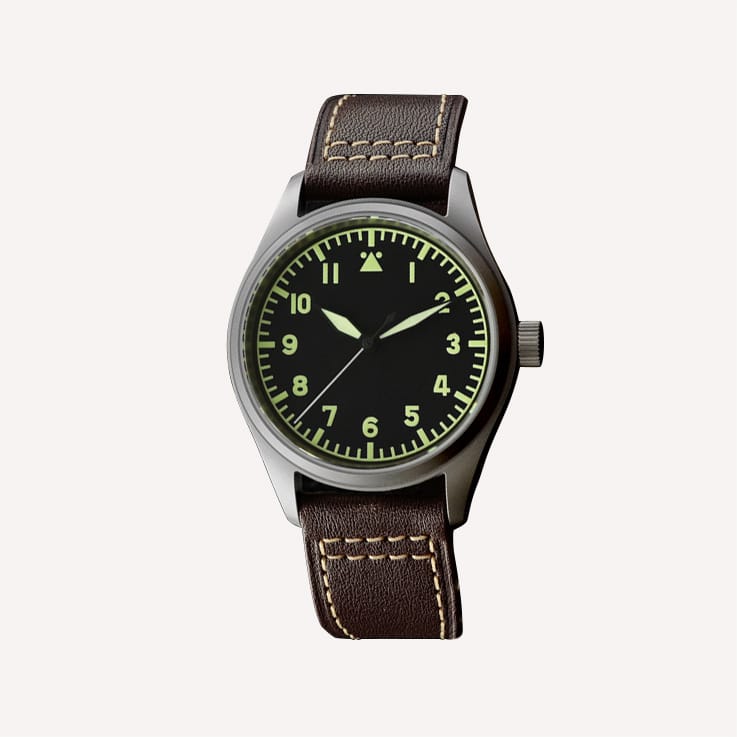 It runs on a robust 24-jewel Seiko movement, which is protected with an AR-coated sapphire on the front and a screw-down caseback in the back. It also has more water resistance than a lot of aviation watches that are far more expensive.
Dimensions: 39mm diameter, 12mm thickness
Case material: Titanium
Water resistance: 200m
Top that off with a titanium case (which is just as strong as steel but almost half as light) and C3 lume, and you've got a ~$200 tool watch that's timeless in looks and that really punches above its weight.
FAQs About Pilot Watches
Here are the answers to some common questions about aviation watches.
Do Pilot Watches Look Good on Small Wrists?
Yes. Pilot watches are built to be strikingly legible regardless of their case size. There's nothing about aviator timepieces that makes them more appropriate for one wrist size over another.
What Is the Smallest IWC Big Pilot?
The smallest Big Pilot is 43mm, which isn't very small at all.
Which Breitling Watch Looks Good on Small Wrists?
Both the Superocean and the Chronomat come in a 36mm size. The smaller Superocean sports a bold and legible look, while the Chronomat is streamlined and versatile.
Breitling aviator watches for men tend to run pretty large. Their women's Navitimer comes as a 38mm. They feature a pearled bezel which gives them a jewelry-like look, but they're perfectly fine watches for both genders if you like that style.
A Wide Range of Small Aviation Watches
Looking for something antiquey? There's the IWC Spitfire.
Something substantial, cheap, but fun? Messerschmitt actually has plenty more small watch designs than the two we feature here.
Despite the simple template, there's a wide range of aviator watch interpretations.
The good news is, despite the fact that many brands approach pilot watches with "hugeness" in mind, they don't actually have to be huge.
Questions? Comments? Leave them below!