Looking for a watch that has a square or rectangular face? We respect that! Here are some awesome options to consider.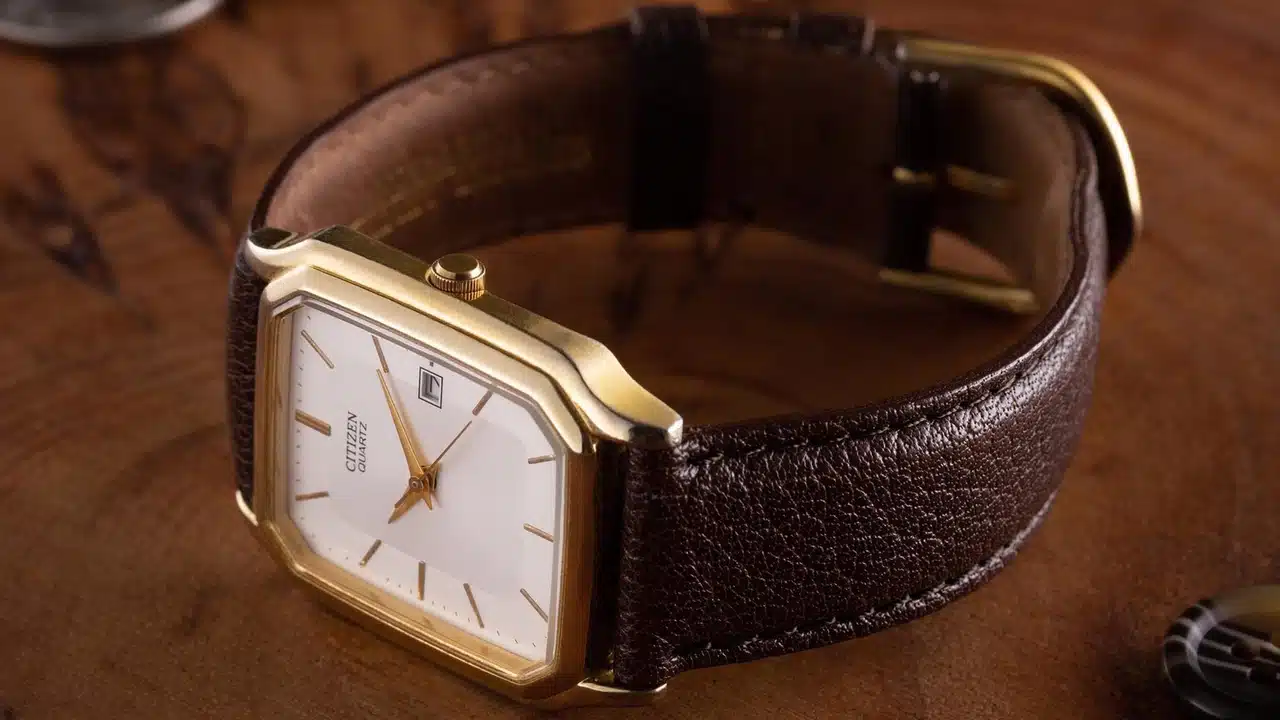 The main reason that most timepieces, from clocks to pocket watches, were historically round is because the movement is made up of mostly round pieces. The gears are round, the springs are round, and the hands more easily sweep across the edges of a round dial face.
That's why there's something so interesting about a square watch face. It stands out because it isn't as instinctually designed. However, since square wristwatches have been around for decades, they can pretty much be styled like their round counterparts.
Since they're a low-barrier way to try something different, but not overly weird or risky, opting for a square or rectangular watch is a great style option.
Our Picks for the 20 Best Square and Rectangular Watches
Here are my 20 watch choices, all representing different styles and price points!
Cartier Santos
From stainless steel and precious metal variations to even titanium, there's basically a Cartier Santos for most people looking for a square-shaped watch. The overall aesthetic is industrial-meets-chic, with its signature visible screws and the screw-fastener crown.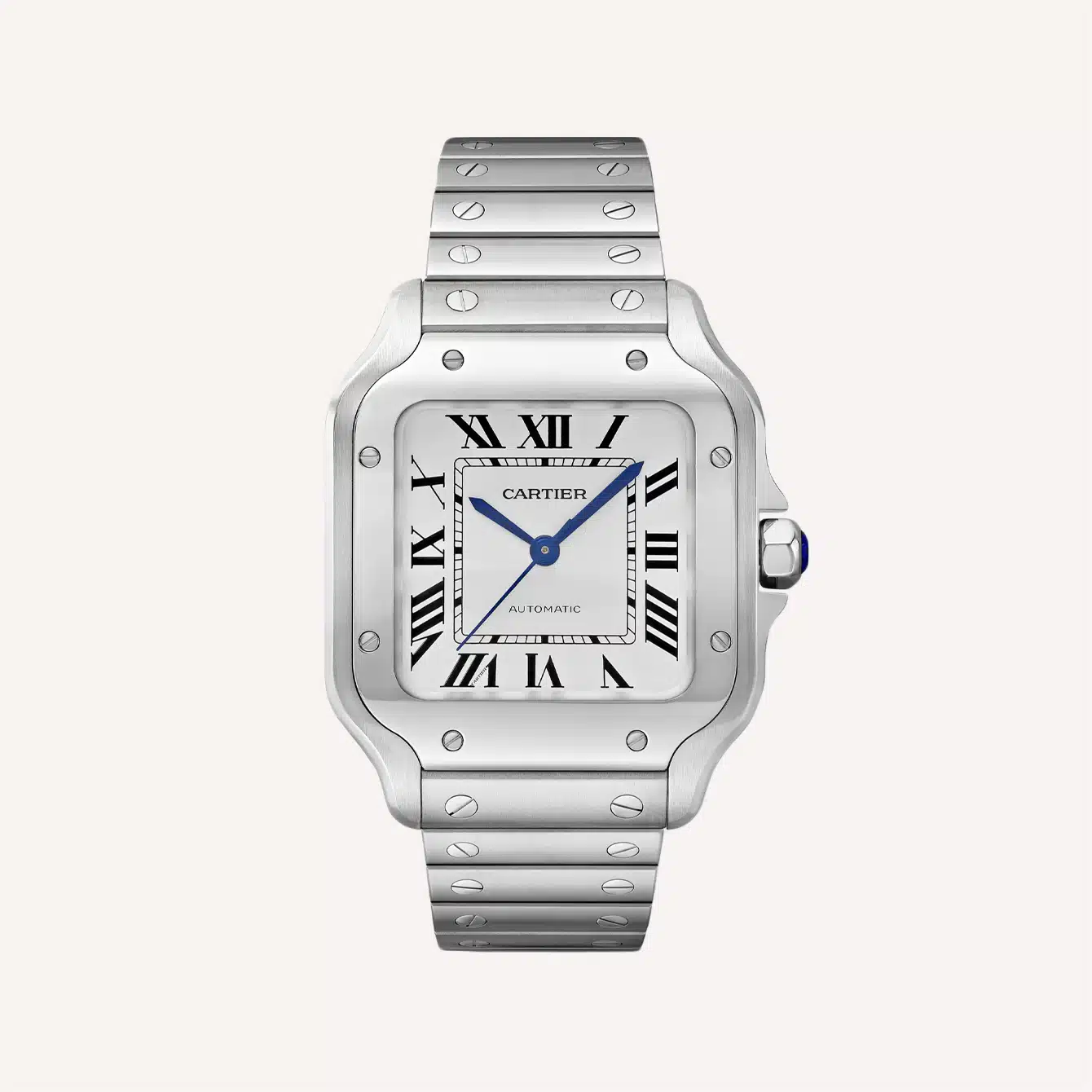 The Santos de Cartier is a generally more athletic design (the XL version being 43.3mm), while the Santos Dumont's onion crown sans guards and leather strap has a dressier vibe.
The small Dumont has a traditional dress watch size of 38mm by 27.5mm, making it suitable for most wrists.
As someone who personally doesn't love a lot of dress watches, my favorite part about the Santos is that it's evening-wear-appropriate (if you choose to break the old-school rule that you shouldn't wear a watch with formalwear, that it).
Dimensions: 38mm-42mm diameter, usually around 10.34mm thickness
Case material: Stainless steel, precious metals
Water resistance: 100m
However, its industrial undertones make it easy to wear for guys like me who aren't always comfortable with dress watches.
Oris Rectangular
Its Art Deco design and sword hands make the Oris Rectangular as classic as it gets. The dial is vividly marked, while the stepped flanks add дропшиппинг a sophisticated dimension to the watch's surface.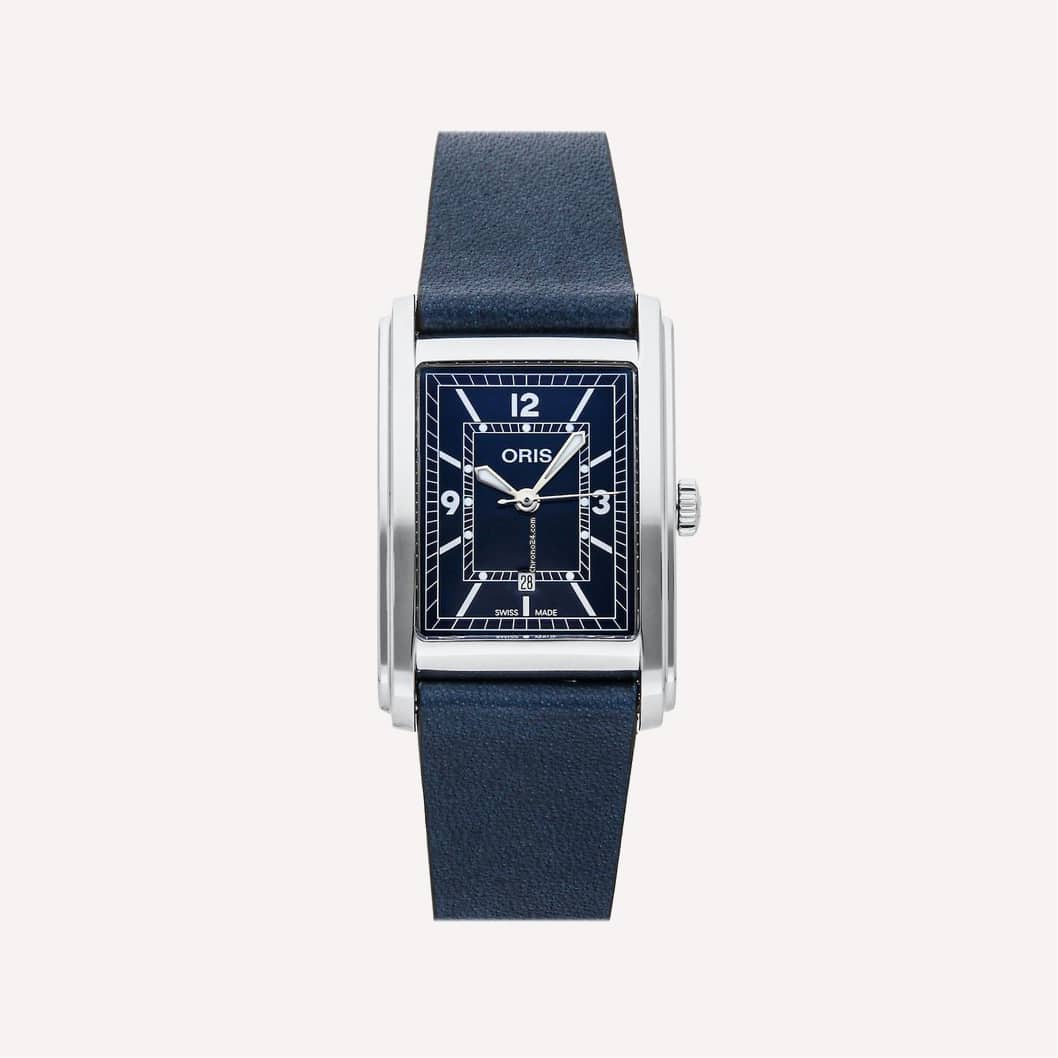 Moreover, the taper on the lugs provides both a comfortable wear and a classy silhouette.
The best part about the Rectangular is that it comes in four expressive colorways.
This doesn't sound like a lot, considering how many variants the Santos comes in, but each is super distinct from the other, offering an option for most tastes without having as many complex moving parts to consider.
The white and anthracite versions are neutral and versatile, though the former comes with a bright yellow leather strap. Meanwhile, the blue and Bordeaux versions are expressive but not overly loud.
Dimensions: 38mm x 25.5mm, 10.3mm thickness
Case material: Stainless steel
Water resistance: 30m
Plus, you can view the Swiss automatic caliber via the exhibition caseback.
Seiko SUP880
Possibly a Tank homage, the SUP880 still stands on its own thanks to Seiko's trademark attention to detail. Like its source material, this timepiece sports the distorted Roman indices, a perfect balance of classy and unusual.
The background features subtle stripes that give it a textural wallpaper feel, adding some elegant softness to the aesthetic.
This also adds complexity without going overboard, and balances out the shinier elements, like the gold accent dots by the indices.
Dimensions: 32mm x 28mm, 5.1mm thickness
Case material: Stainless steel
Water resistance: 30m
It's definitely regal, but not incredibly flashy, making it a great professional timepiece as well as a dress watch.
Seiko SWR052
While the SUP880 is the more iconic square Seiko watch, it's not always easy to find on the secondary market. The SWR052 has a similar look and feel but is more immediately available.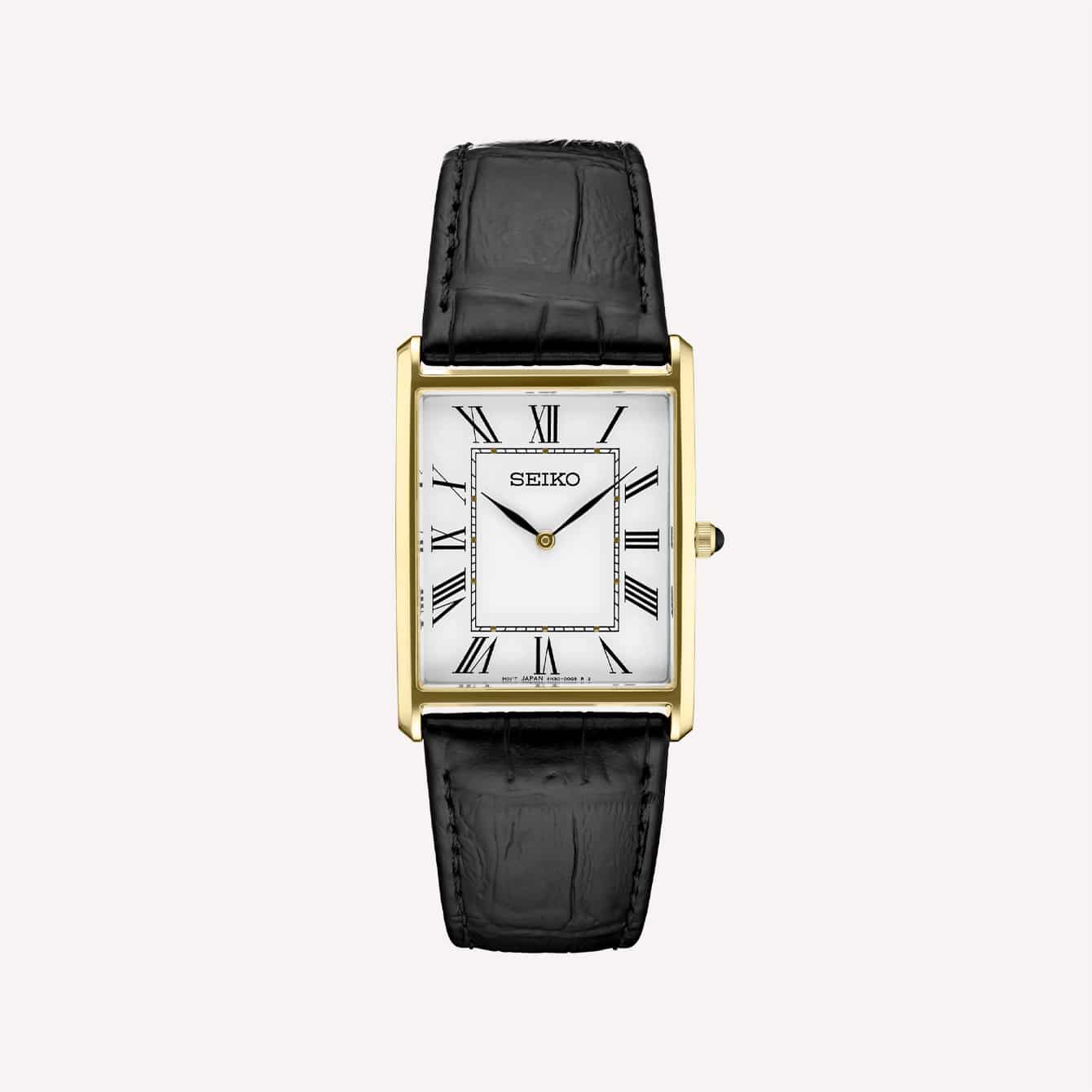 It's basically the same watch, with slight differences that make it simpler, sharper, and more modern.
Dimensions: 32mm x 28mm diameter, 12mm thickness
Case material: Stainless steel
Water resistance: 100m
The lugs are literally sharper, while the cleaner background offers an understated counterpart to the more decorative SUP880. Still, постільна білизна all of the model's stamps are included, from the accent dots by the hour markers to the jewel crown.
Hermes Carre H Watch
I don't typically go for fashion brand watches, even one's from high-end brands, but I've found that Hermes tends to partner strategically with some great outside designers.
In the case of the Carre H Watch, designer and artist Marc Berthier combines the modernity of an Apple Watch with an industrial feast of textures.
He does so in a refined way that would satisfy guys who are into fashion with a capital F and the more workwear-leaning guys.
Pictures don't do justice to how dimensional and flawlessly applied this timepiece is. There's exquisite brushing on the outer layer and a granular ring where the indices are placed, making it extra legible.
Dimensions: 38mm diameter, 10mm thickness
Case material: Stainless steel
Water resistance: 30m
On the back side, you can see the 28-jewel movement at work, which is adorned with bridges, plates, and a rotor decorated with the H pattern.
Cartier Tank Solo
Arguably the world's most famous rectangular timepiece, the Cartier Tank is the dress watch version of the Submariner in that it launched countless homages. The shape is based on WWI Renault tanks.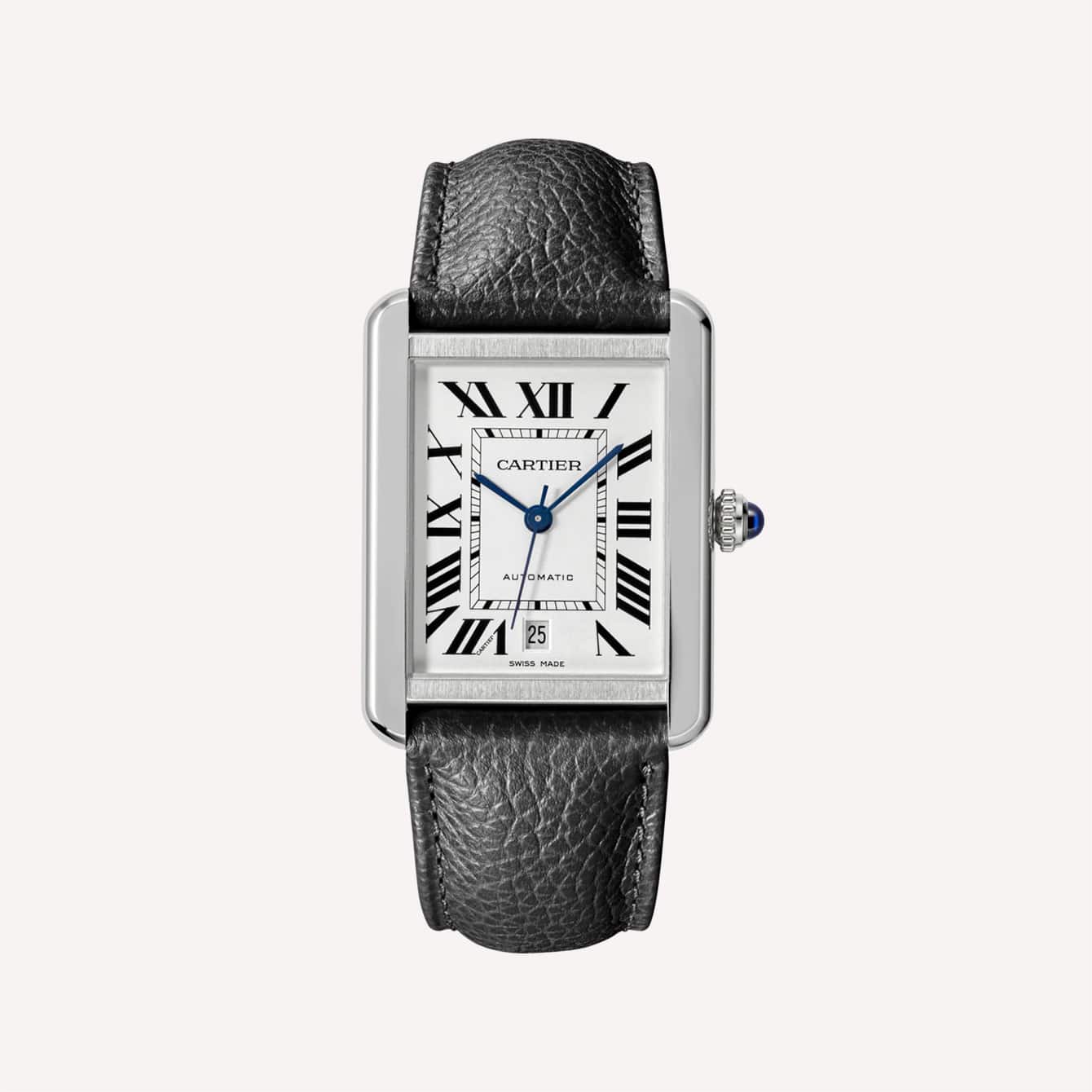 Between this military inspiration and its refined execution, the Tank Solo is wildly versatile: It's unisex, it can be worn with every day casual attire or with eveningwear, and it's an instant heirloom.
Dimensions: 41mm x 31mm, 7.65mm thickness
Case material: Stainless steel
Water resistance: 30m
This XL version is still reasonably sized at 41mm by 31mm. The thin 7.65mm is particularly impressive for an automatic. And all of the iconic elements are included, all the way down to the jewel crown.
Hamilton Boulton
Another Tank-inspired model, the Hamilton Boulton has a roaring '20s remix about it, with the curved brancards providing a beautiful sweep on the surface and the silhouette.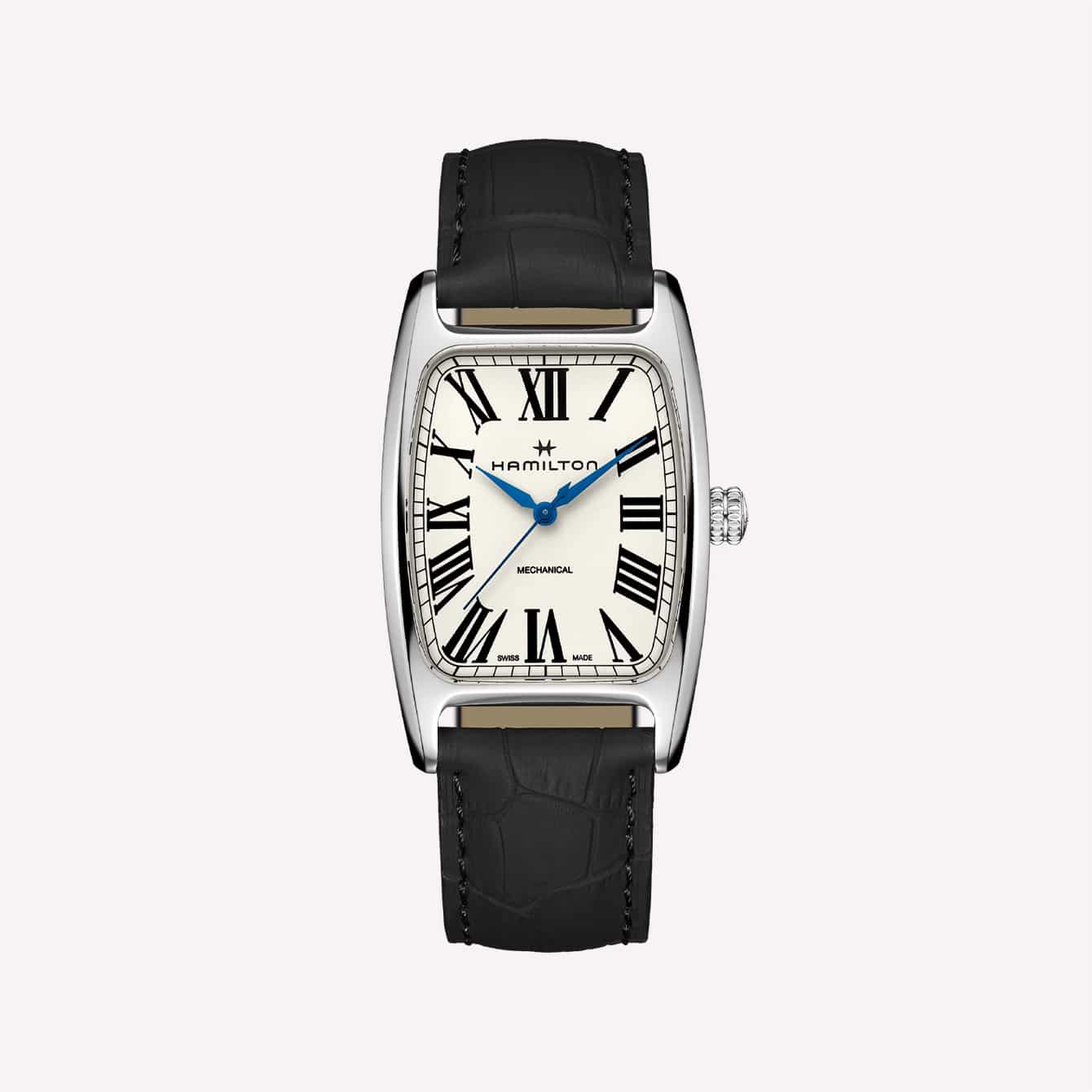 Some might say it has a touch more of personality than the standard Tank, at a fraction of the cost.
Its beautifully-blued hands and perfect polish make it look like it's at a far higher price point at first glance.
Dimensions: 38mm x 34.5mm diameter, 11.2mm thickness
Case material: Stainless steel
Water resistance: 50m
It's a mechanical hand-wind, which is great for two reasons. The two-story crown is undeniably opulent, and also easy to grasp. Relatedly, the tactility component makes it fun to operate.
Casio G-Shock DW5600E-1V
This Casio is as classic as a Tank, for a million completely different reasons.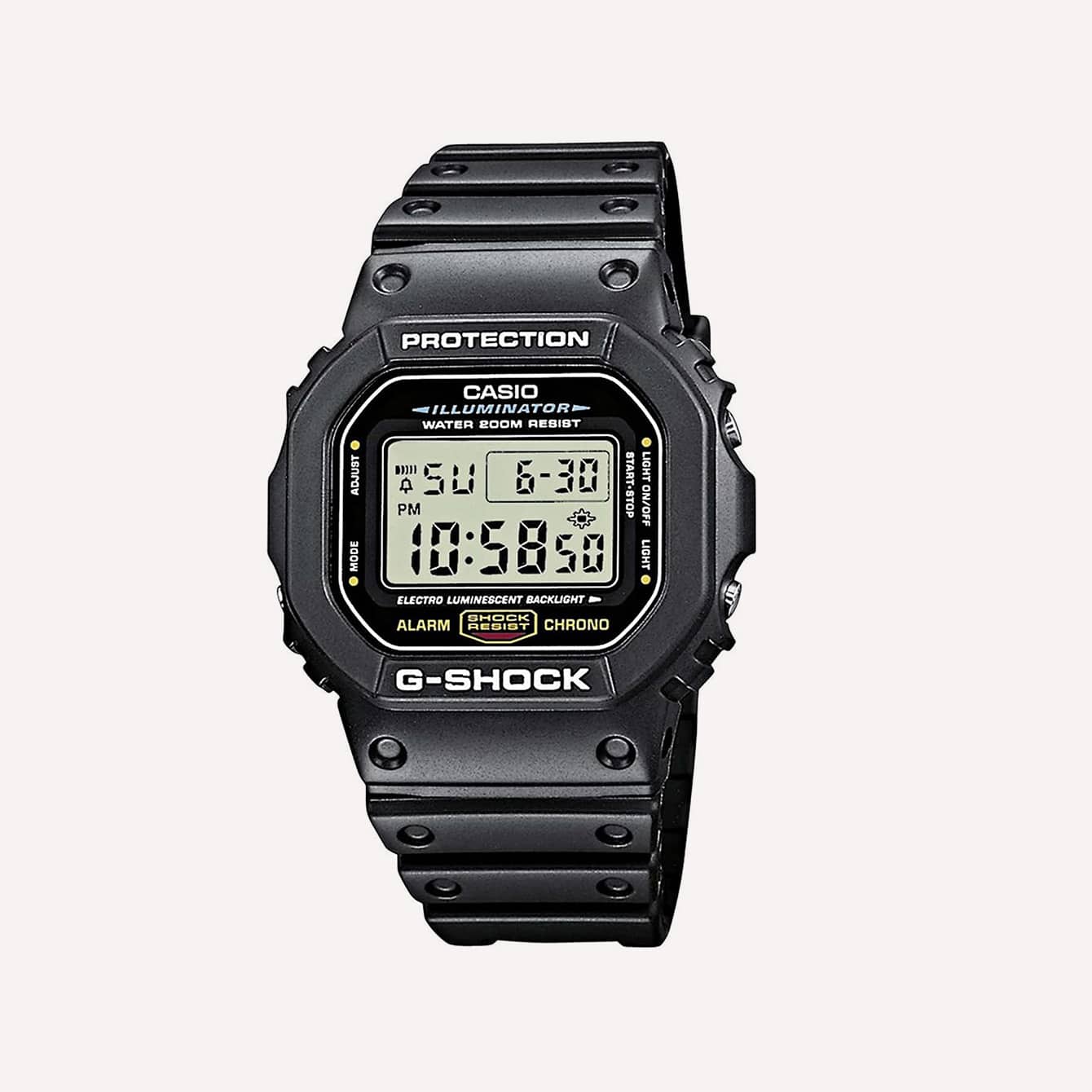 With its tough-as-nails build and its authoritative character, it's the quintessential G-Shock. This includes its 45mm diameter, which admittedly isn't for everyone.
The DW5600E-1V's looks and functions are inextricably related, which makes it a perfect watch for those who love a practical aesthetic. The thick resin bracelet adds to the general look but is as comfortable as rubber.
Dimensions: 45mm diameter, 15mm thickness
Case material: Resin
Water resistance: 200m
This watch boasts 200 meters of water resistance, the legendary G-Shock shock resistance, and a backlight that can be seen from a mile away, all of this for a (usually) sub-50 price tag.
Hermes Cape Cod
Here's another great Hermes watch with a completely unique look from the Carre. It seems the brand has a knack for wrist accessories (just ask any lady, and she'll tell you about the iconic H bracelet).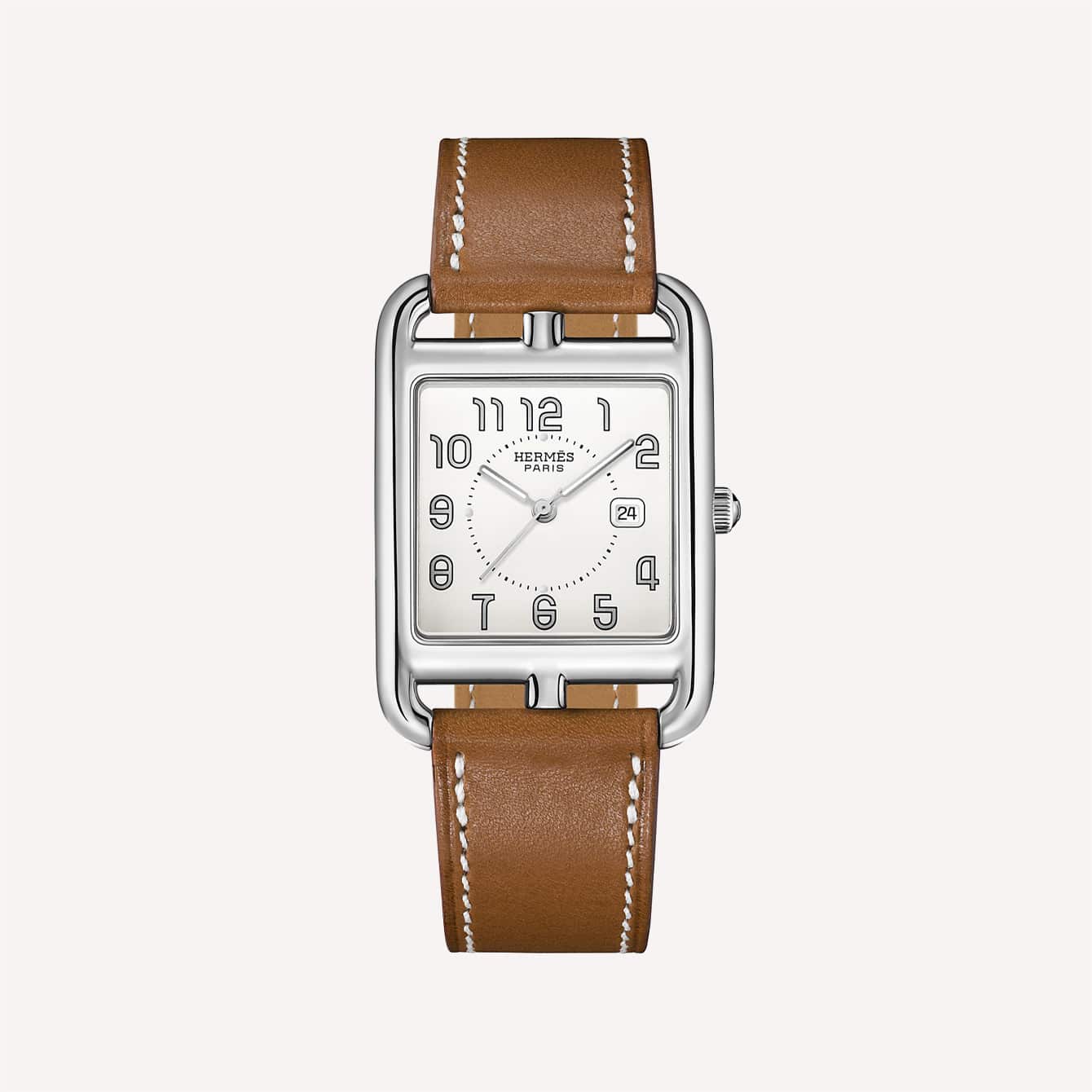 So the Cape Cod is categorized as a women's watch, but there's nothing inherently feminine about it. Even the 37mm height is a classic size for a men's dress watch. Design-wise, this timepiece does a lot with the little it uses.
The extra projections on the top and bottom of the case make for an interesting and unique figuration, along with the angular, almost Deco font of the indices.
Dimensions: 37mm x 29mm, 10mm thickness
Case material: Stainless steel
Water resistance: 30m
Despite these borderline quirky elements, the high-quality build (also seen in the supple leather strap) makes this watch a classic wear, both professionally and casually.
JLC Reverso Classic
If the Tank is the Submariner of dressy square watches, then the JLC Reverso Classic is the Omega Seamaster 300. It's a classic in its own right, but with a few modern touches, some on the margins of being flashy.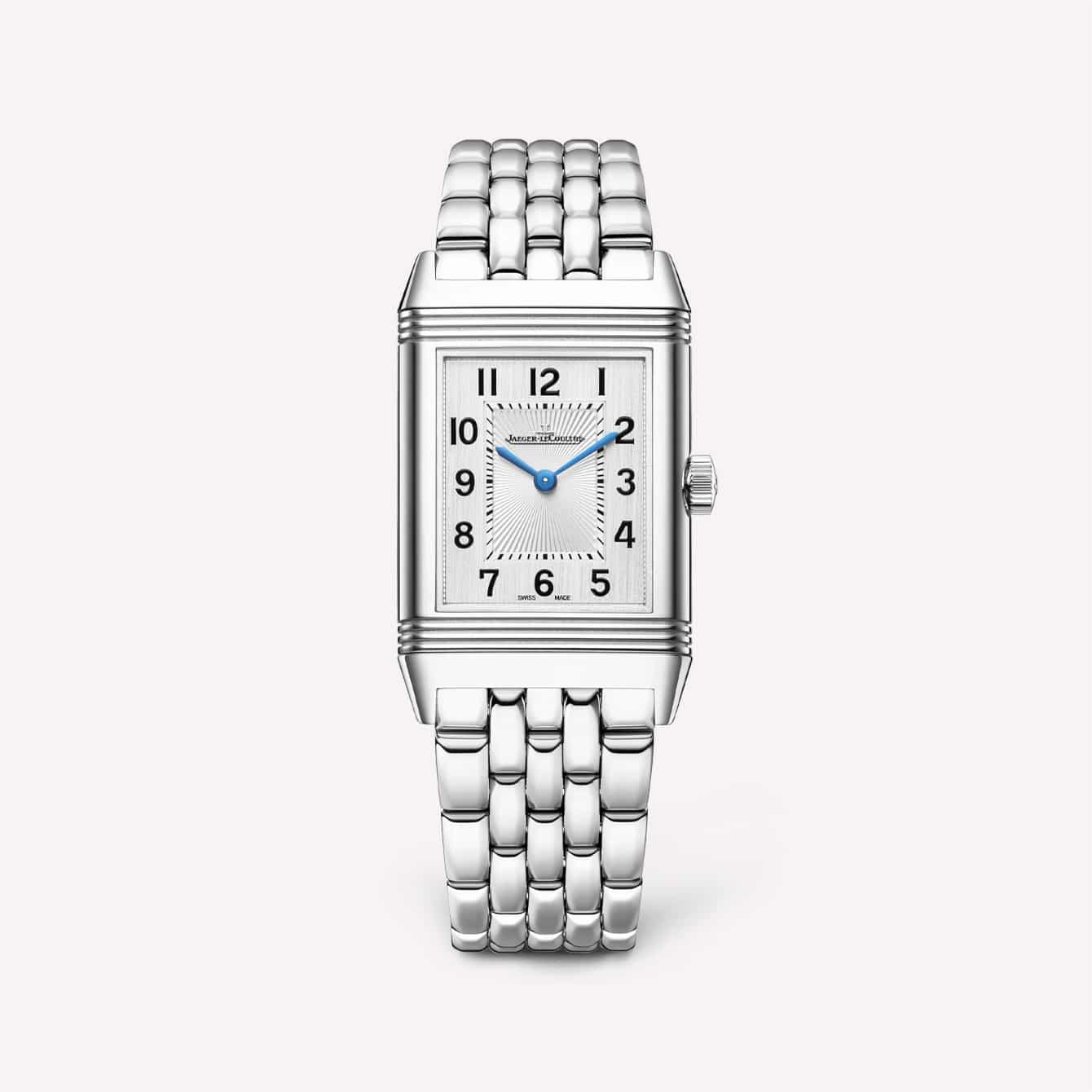 The Arabic markers are less stately than Roman numerals but don't take away from the watch's elegance — which is apparent whether you go for the high-glisten stainless steel bracelet or the full-grain ostrich leather strap.
The silver satin face is complemented by a guilloche center dial, sunrayed for extra pop, while the blued hands cinch the nobility factor and the readability factor.
Dimensions: 40.1mm x 24.4mm, 7.56mm thickness
Case material: Stainless steel
Water resistance: 30m
And in case you didn't know, the case flips over to hide the dial. This was originally implemented so that polo players could protect it from damage while on the field, and is still a cool party trick.
Frederique Constant Carree
You might consider the Frederique Constant Carree a Reverso alternative since so few watches on the market flip over the way they do.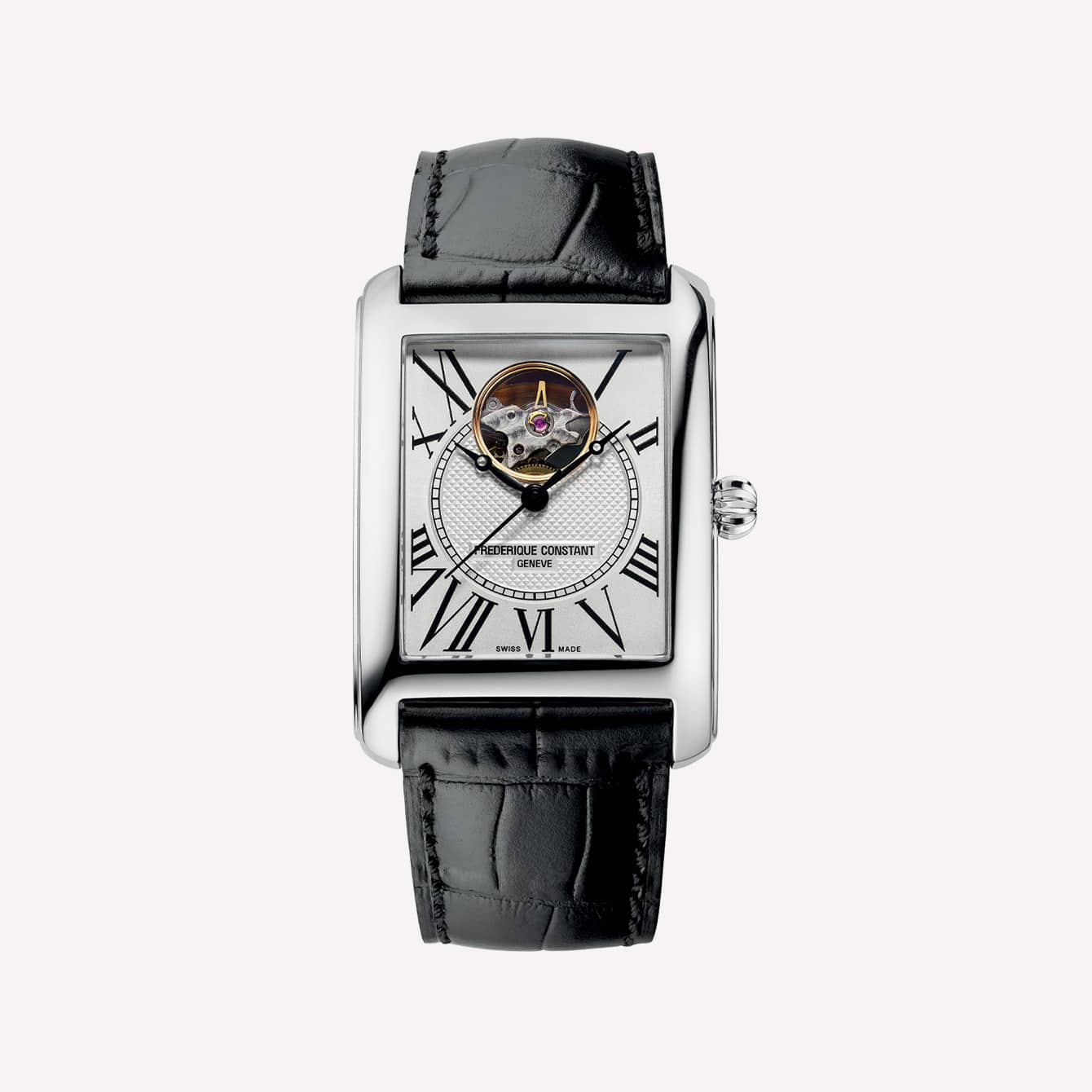 The Carree, however, is in no one's shadow especially considering how much more affordable it is. With its exhibition caseback, the flipping action has some practical use aside from being fun.
Dimensions: 40mm x 30mm, 10mm thickness
Case material: Stainless steel
Water resistance: 30m
And speaking of fun, this watch flaunts a unique look. The Wonderland-Esque Roman indices combined with the open heart on the front provide an unconventional appearance that's distinct and lively.
Tag Heuer Monaco
Cool design? Check. Impressive lore and history? Check. Pop culture cache? Double check.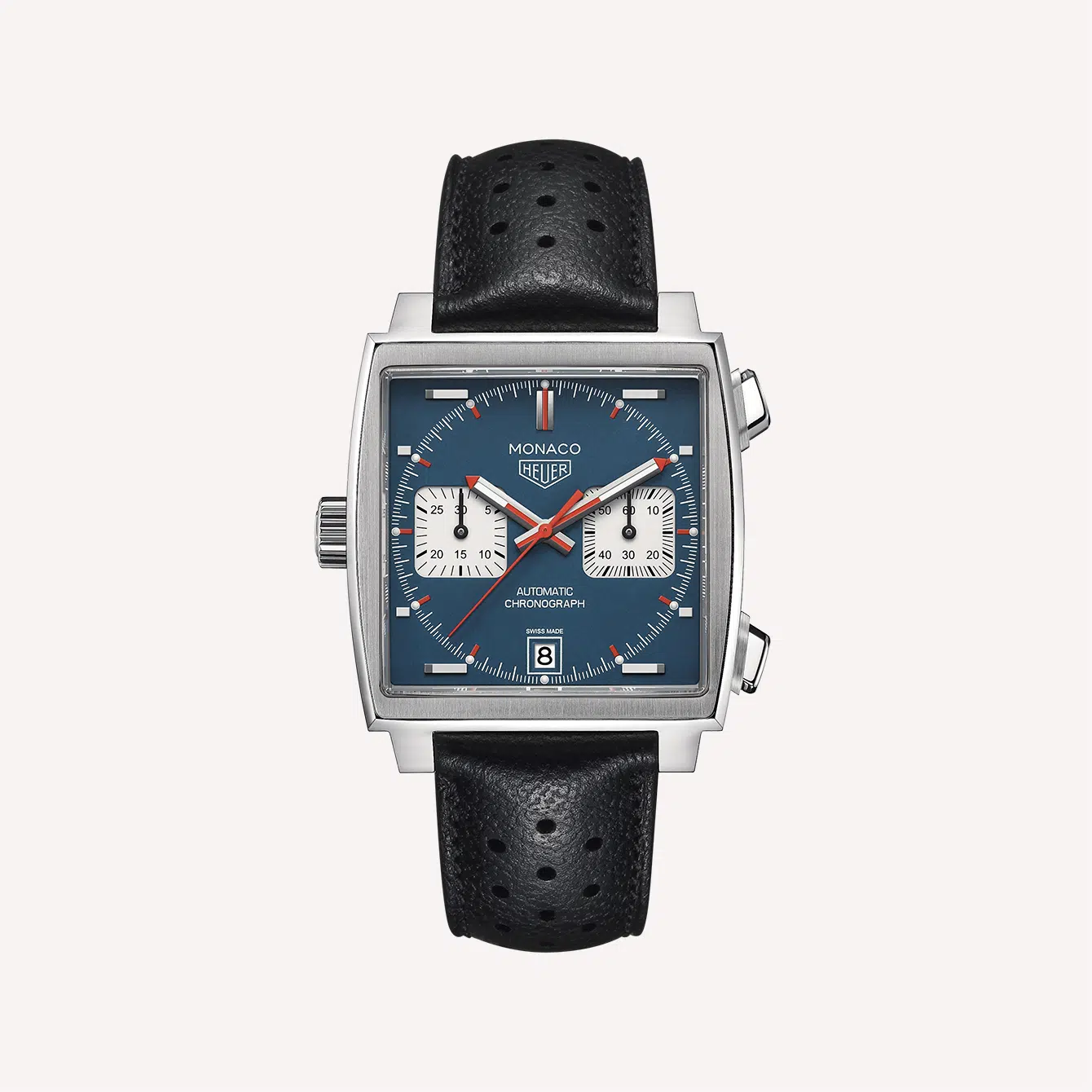 This Tag Heuer Monaco is an updated version of the 1969 model worn by Steve McQueen in the film Le Mans. It's truly striking, a rare square chronograph, and wears its automotive heritage on its sleeve.
It runs on Tag Heuer's Calibre 12 which, as a COSC Chronometer, is obviously high-frequency.
Dimensions: 39mm x 39mm, 14mm thickness
Case material: Stainless steel
Water resistance: 100m
Additionally, it's built with 59 rubies and comes with rapid date correction. This watch is as functionally sound as it is uniquely stylish.
Tissot Classic TXL Chronograph
Like the Tag Heuer, the TXL Chronograph also has a racing heritage. Its glut of shiny silver-tone surfaces and outer dials designed like those from vintage dress watches make it dressier though.
This also makes it more versatile. You can wear this watch with a suit, a tuxedo, or even jeans and a t-shirt. Its very small size helps with this too.
The best part about this chrono is that, regardless of its relatively low price, it's officially Swiss Made and genuinely well-built.
Dimensions: 38mm x 33mm, 12mm thickness
Case material: Stainless steel
Water resistance: 100m
It has a scratch-resistant sapphire and an accurate quartz movement.
Nomos Tetra
The purveyors of time-honored German design, Nomos, take the Bauhaus sensibilities they've mastered and implement them into a square dial face with the Tetra. It's simple but charming, features sharp corners, and has a fun, abbreviated look.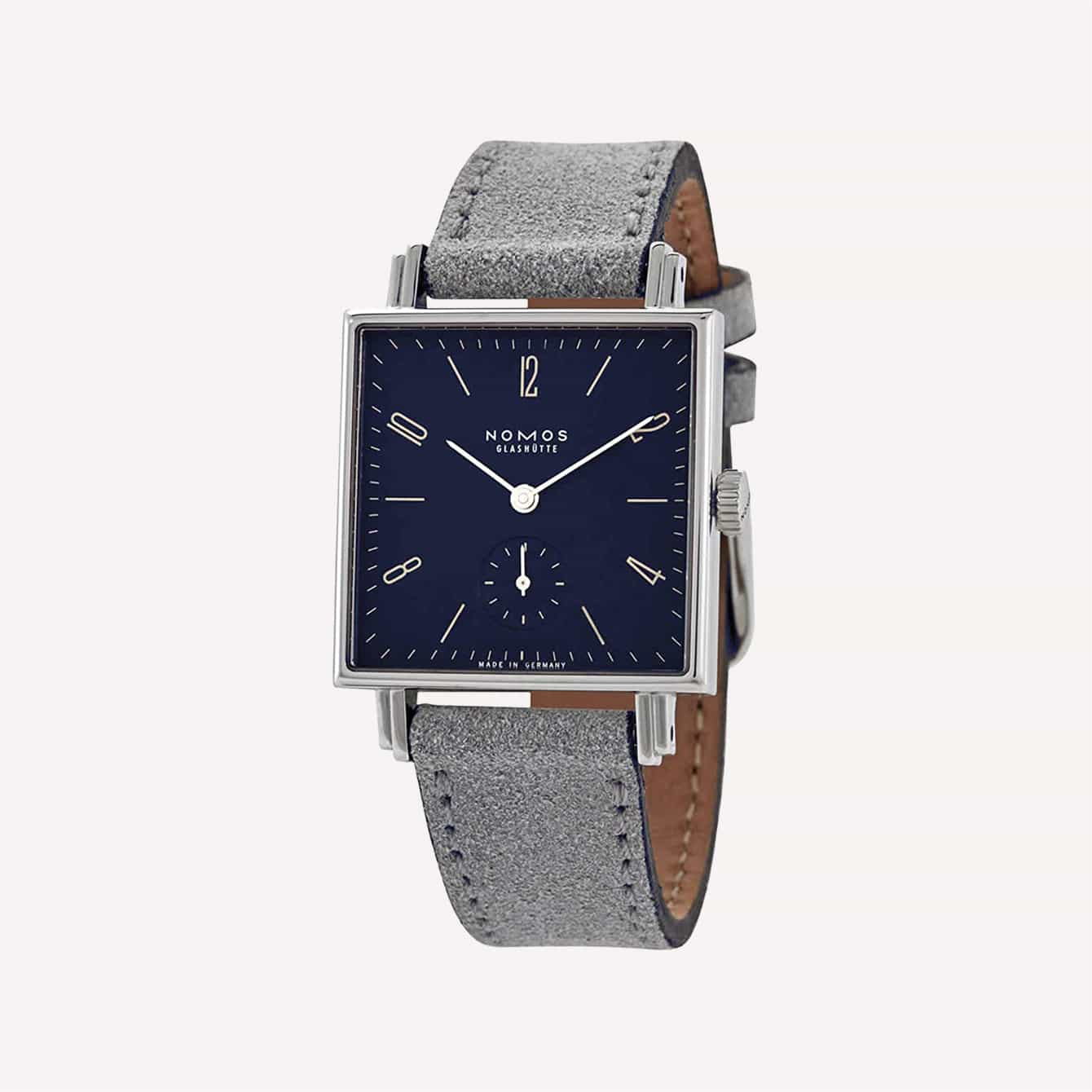 I love that it looks like the elements of the dial were simply speckled over the surface. Nomos certainly has a way of making their watches minimalist but not boring.
The lugs are stepped and the subdial is recessed, so there's a touch of dimension if you look closely. It pairs in a stylish, well-balanced way with the napped strap.
Dimensions: 29.5 mm x 29.5 mm, 6.3mm thickness
Case material: Stainless steel
Water resistance: 30m
Also, the mechanical hand-winding movement gives the watch an interactive quality, perfect for gadget lovers.
Feice Bauhaus Automatic
If you love the look of the Nomos Tetra, but would rather not throw down a couple thousand, then Feice's homage is a great option.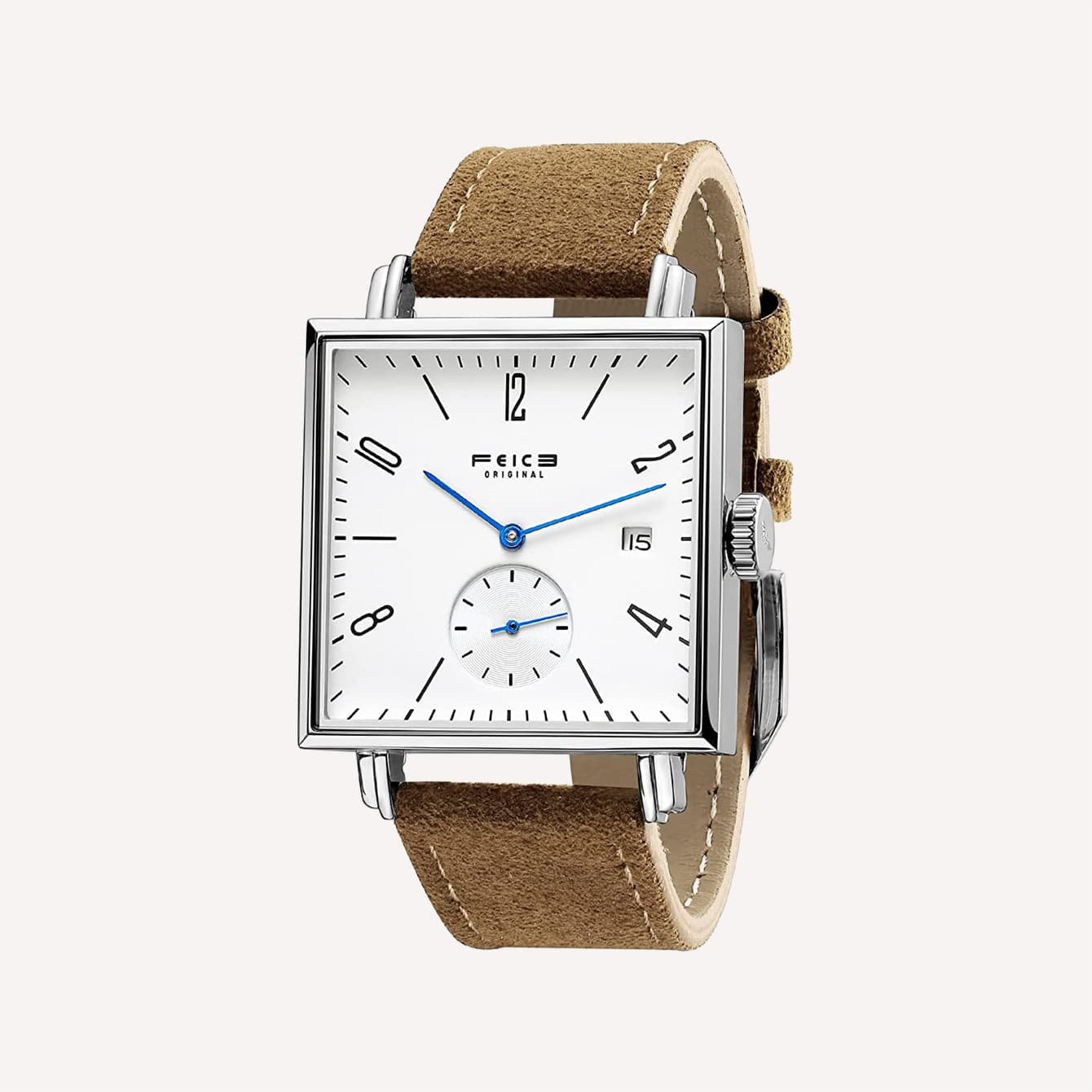 It's basically a reasonably-built legal replica, featuring all of the signature Bauhaus-inspired Tetra elements minus the actual branding.
It's streamlined, reasonably-built (it even has a sapphire crystal), and costs a fraction of the price of the Tetra.
Dimensions: 34mm x 34mm, 10mm thickness
Case material: Stainless steel
Water resistance: 30m
Naturally, it's not as well-finished and runs on a quartz movement, but it'll scratch that Nomos itch.
Vacheron Constantin American 1921
The definition of an investment piece, the Vacheron Constantin American 1921 meets all of the auction house prerequisites. It's a reissue of a Roaring '20s model, which means it's historically important.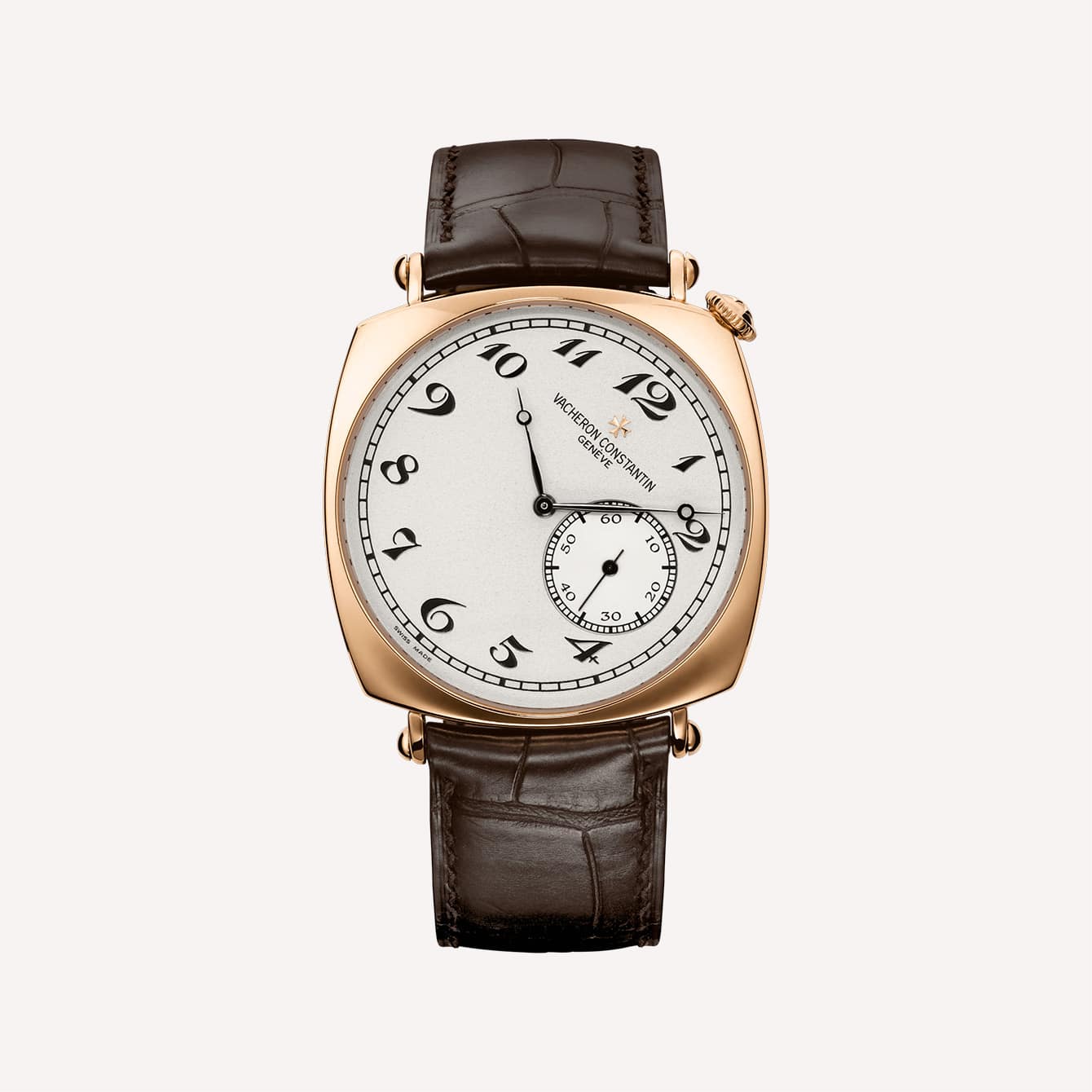 It was specifically designed for the American market, giving it a touch of exclusivity. And, it's unique and excellently built, from its 18k pink gold case and sapphire crystal to its alligator strap.
Admittedly quirky, the dial is purposefully slanted and even has its crown on the northeast corner. This doesn't come off as gimmicky though, since it lines up with the experimental and lavish designs of the Jazz Age.
Dimensions: 40mm x 40mm, 8mm thickness
Case material: 18k pink gold
Water resistance: 30m
If you can pay for the price of admission, this is definitely a worthwhile consideration.
Seiko SNKN37
The Seiko SNKN37 has the same bloated-square look as the Vacheron American 1921 but is far sportier and not nearly as quirky.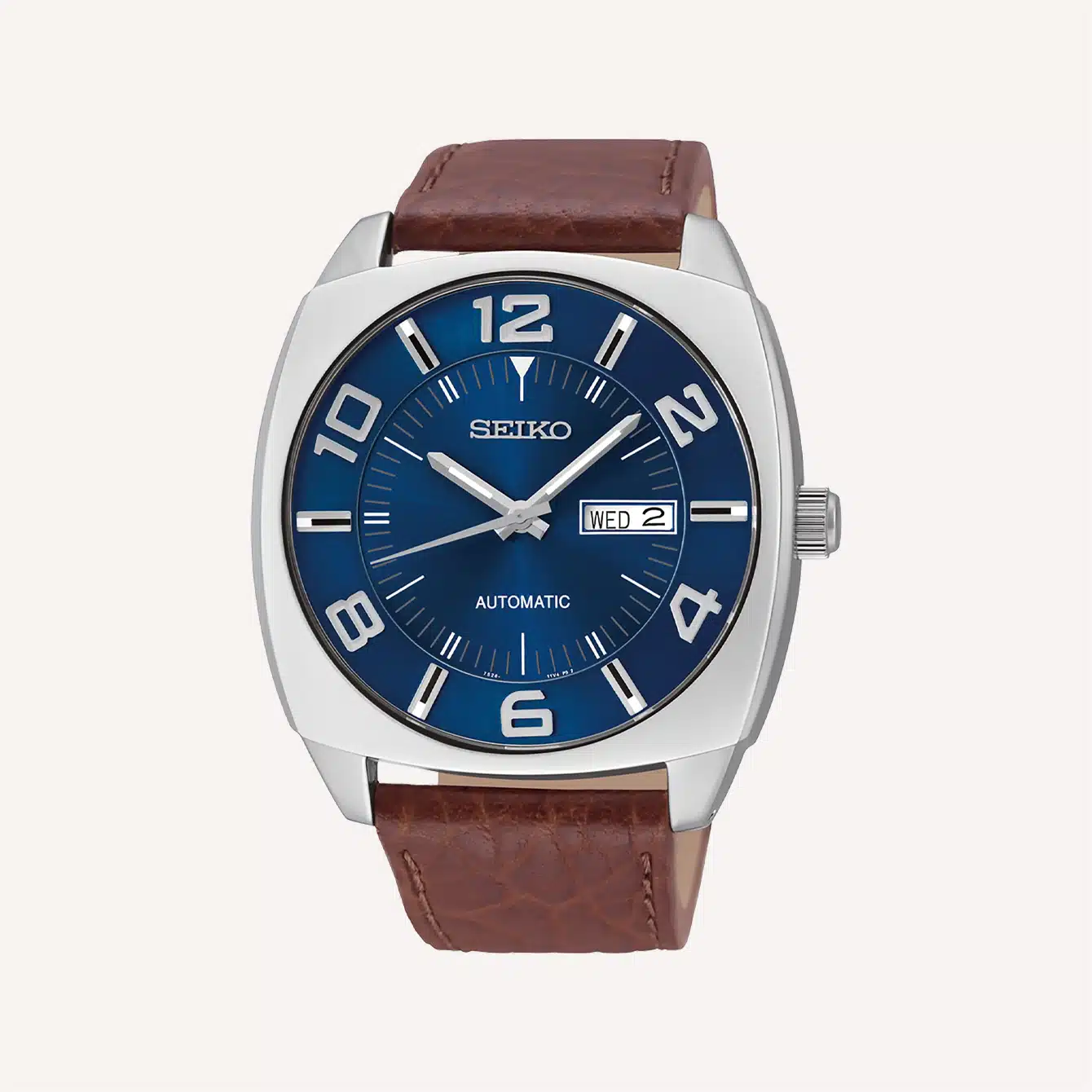 Seiko leans into this athletic build with the 43.5mm size as well, which wears a bit like a G-Shock but is not as imposing.
The every-other baton-and-Arabic indices look dynamic with the line-forward center dial. It's basically a cool, leather aviator jacket, but in watch form.
Dimensions: 43.5mm x 43.5mm, 11.4mm thickness
Case material: Stainless steel
Water resistance: 50m
It runs on Seiko's 7S26 automatic caliber otherwise known as their heritage workhorse. And as giving as Seiko tends to be, you can view this movement through the back window.
Bulova Frank Sinatra My Way
In Bulova's heyday, they were taste-makers when it came to American watch design, so it makes sense that they'd be the ones to bring the Sinatra touch to a watch range.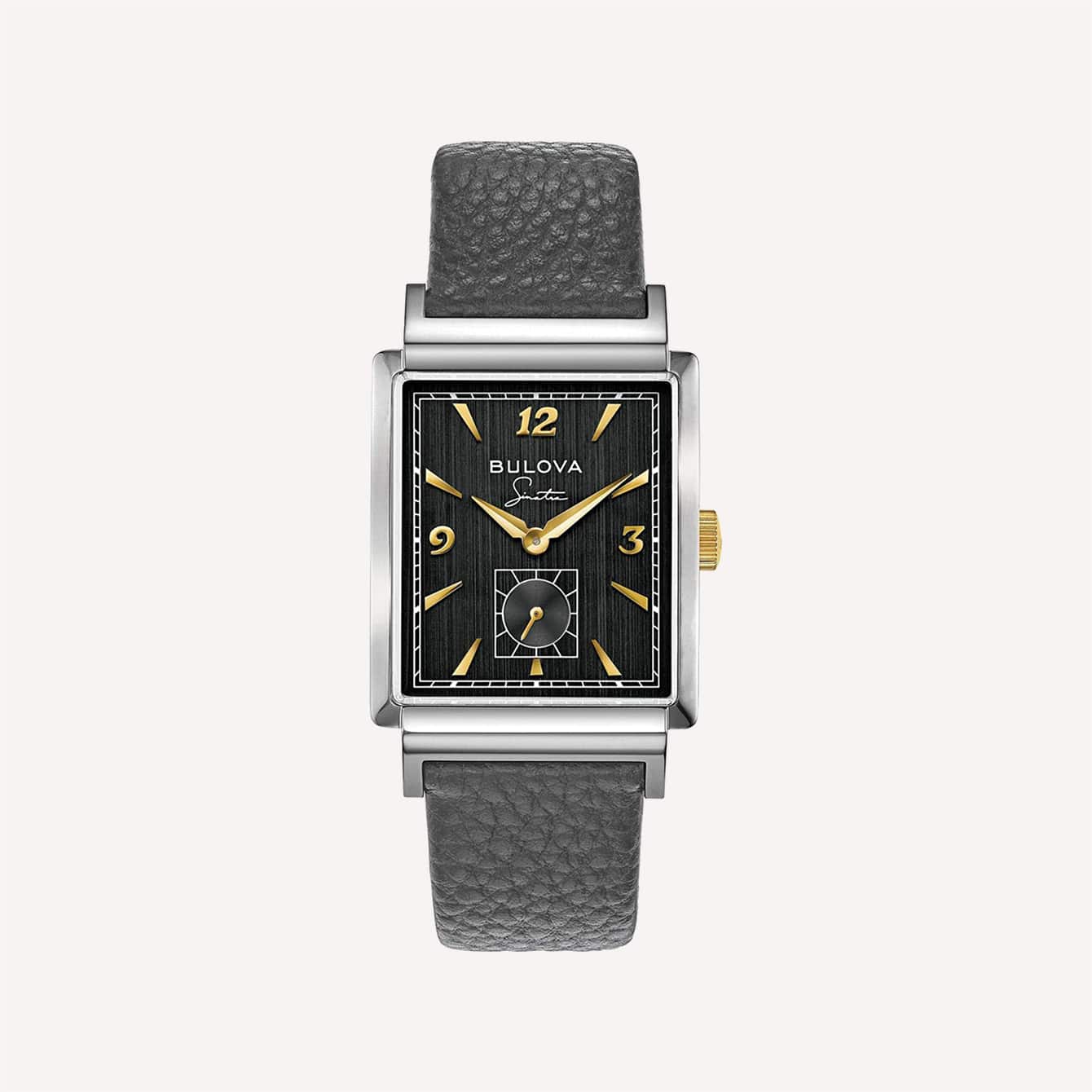 The My Way is ritzy, charming, and just a tad flashy. It would look great on your wrist as you sip a martini.
The curved sapphire protects the retro-cool wood panel texturing, complemented by yellow-gold-toned applications.
Dimensions: 34mm x 29.5mm, 12.5mm thickness
Case material: Stainless steel
Water resistance: 30m
Much like Sinatra's music, this Deco-Esque timepiece boasts a classic panache that will never go out of style.
Casio World Timer AE-1200WH-1CVCF
I'd say there's something Bond-like about this watch, but we know he prefers divers. Still, the Casio World Timer definitely has that international superspy look, but not in a costumey way.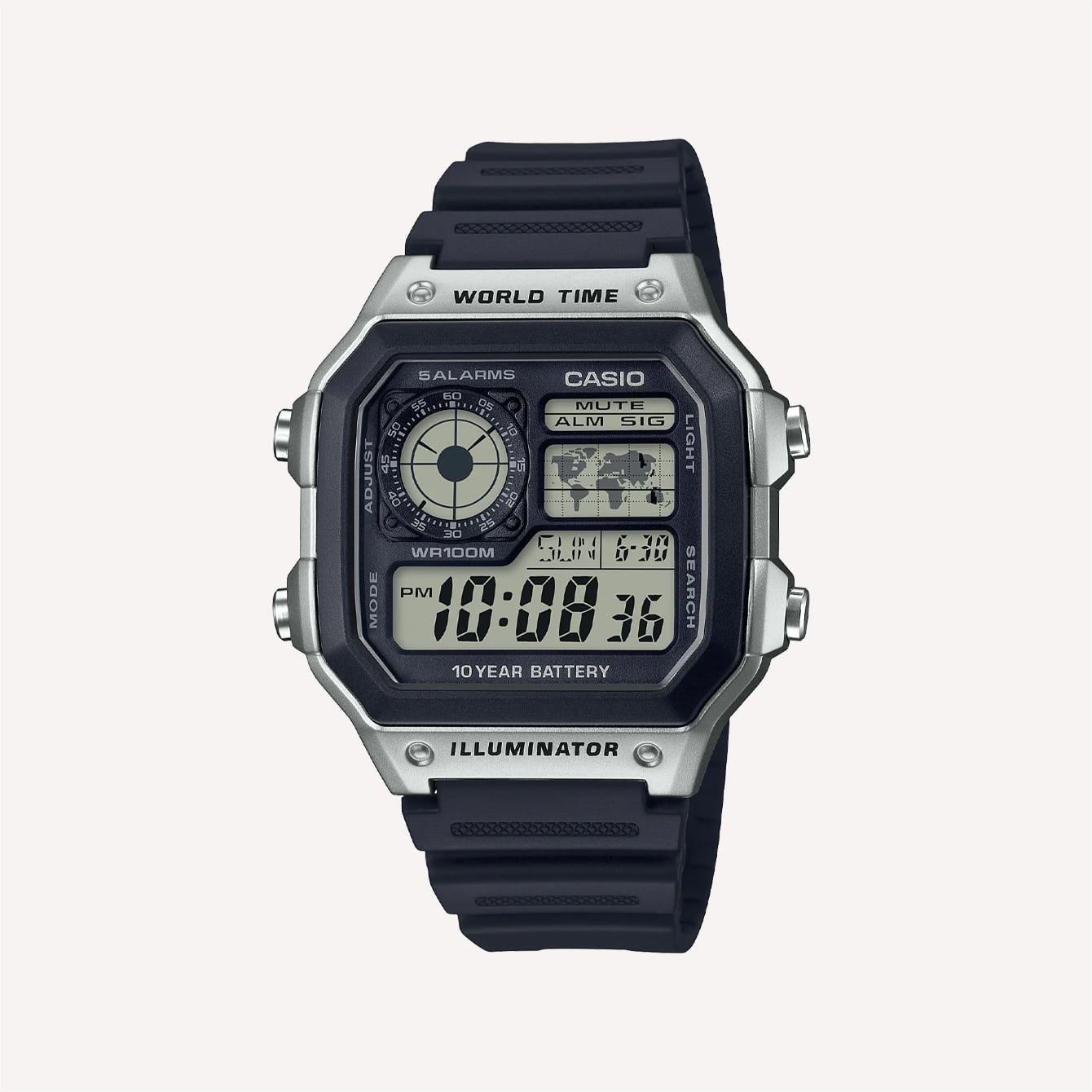 Every component of its control panel dial has an actual use, including five different alarms, a stopwatch and timer, and 31 time zones.
Dimensions: 39.5mm x 39.5mm, 12.5mm thickness
Case material: Resin
Water resistance: 100m
Each has a different aesthetic, from the digital timekeeper to the visual map, which makes this bang-for-buck watch a truly snazzy gizmo.
Brew Retrograph
From an incredibly green independent watch label (of which there are so many not worthwhile ones out there) to a go-to brand for that soft chronograph look, Brew served up an instant classic with the Retrograph.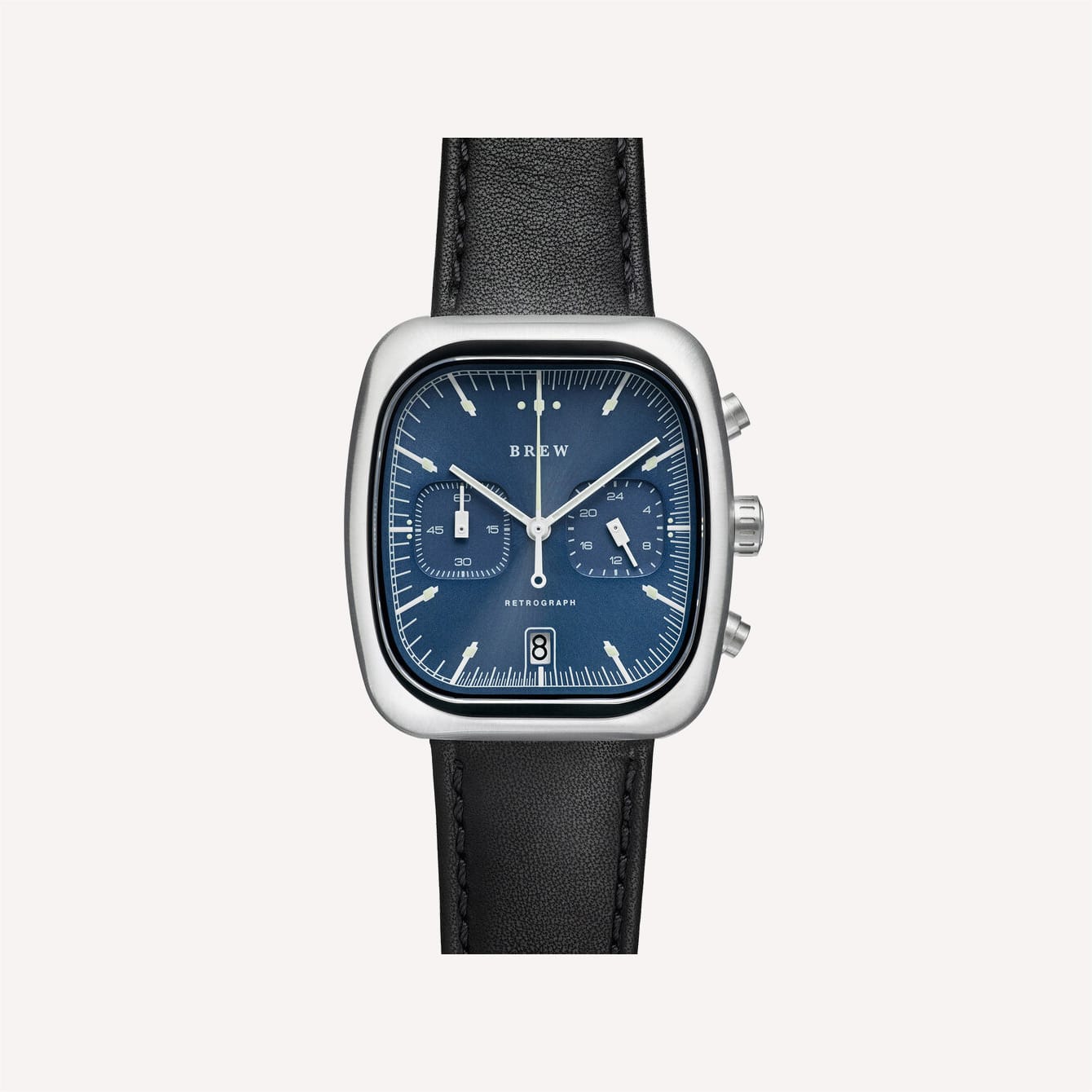 The trapezoid shape sweeps elegantly, while the sunray dial looks silky under any lighting.
It works well too since the meca-quartz movement is quartz-accurate but has a smooth chronograph sweep.
Dimensions: 41 x 38mm, 10.4mm thickness
Case material: Stainless steel
Water resistance: 50m
And with its lugless design, it wears comfortably on small and large wrists alike, even at 41mm.
Casio A500WGA-1
One thing square watches do well is pull off the retro-cool aesthetic, many of the pieces on this round-up being perfect examples ghostwriter hausarbeit. What's great about the Casio A500WGA-1 is that it does this with two retro qualities: The square shape and the all-gold look.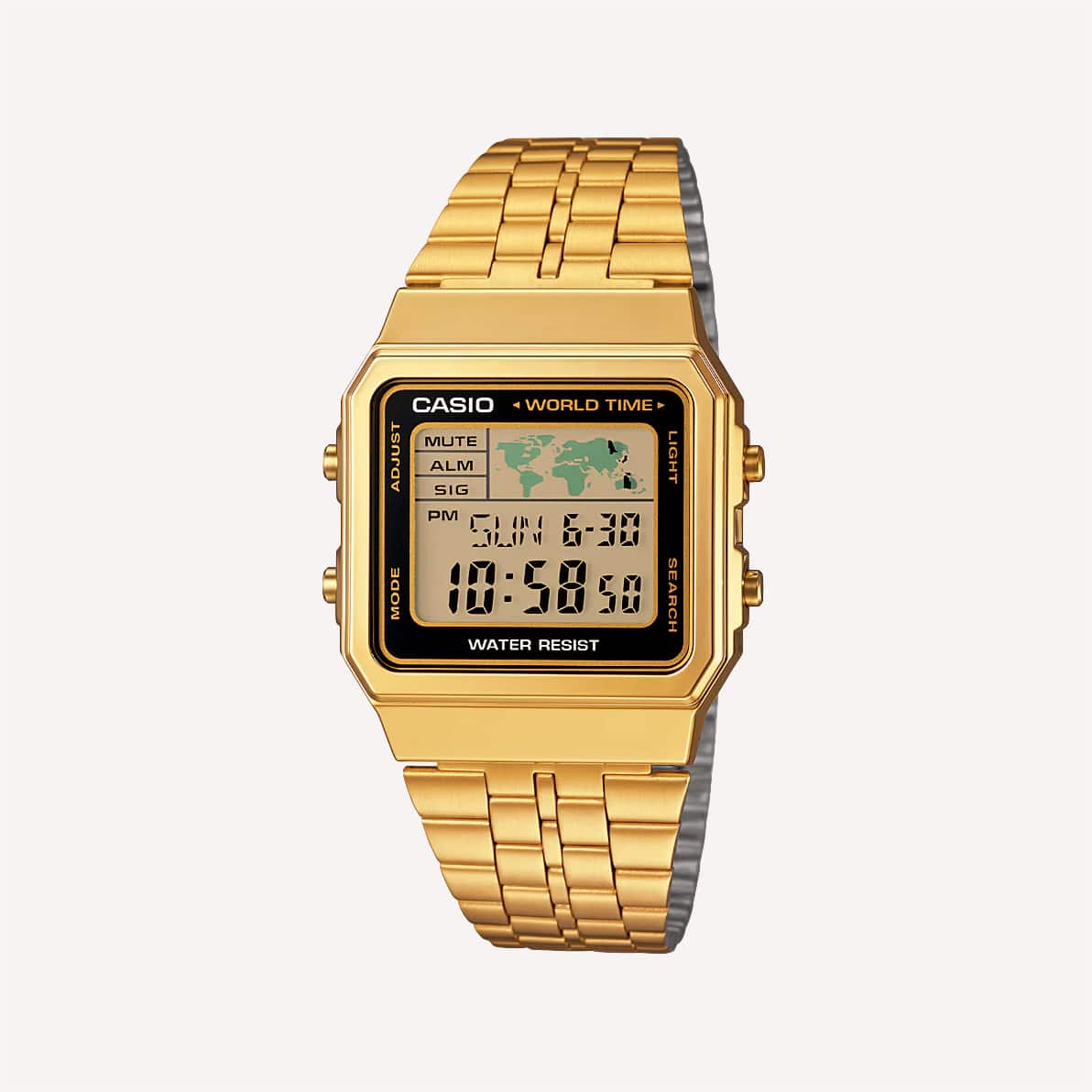 If you've been considering an all-gold watch, this guy is a pretty effective entry-level option.
The price is right, the color doesn't look random since the whole look has a throwback way about it ghostwriter facharbeit, and it's as function-forward as the World Timer.
Dimensions: 33mm x 33mm, 10mm thickness
Case material: Stainless steel
Water resistance: 30m
Plus, the green-colored time zone map really pops against the gold.
FAQs
Here are a few commonly asked questions about square and rectangular watches.
Do Square Watches Look Good?
It depends on your subjective personal style, however, square watches are still classic but are relatively unique since round ones are more common.
Can Men Wear Square Watches?
Yes. There's nothing inherently feminine or masculine about square watchcases.
Do Square Watches Wear Bigger?
In general, yes. A 40mm square watch wears larger than a 40mm round watch because of the corners ghostwriter hausarbeit. Still, most square watches are more rectangular, often with a shorter length or height.
When Were Rectangular Watches Popular?
They first became popular in the '20s and '30s and have stayed consistently popular since.
Conclusion
Whether you want an investment piece like the Tank or the American 1921, or a fun beater like, well, any Casio on this list, there's a piece for every budget and personal style.
I'm of the opinion that most watch collections should have at least one square watch in there. It's an easy and non-intimidating way to mix things up!
Questions? Comments? Leave them below!