Are you looking for the best Seiko watch under $500? Here are 15 here to choose from!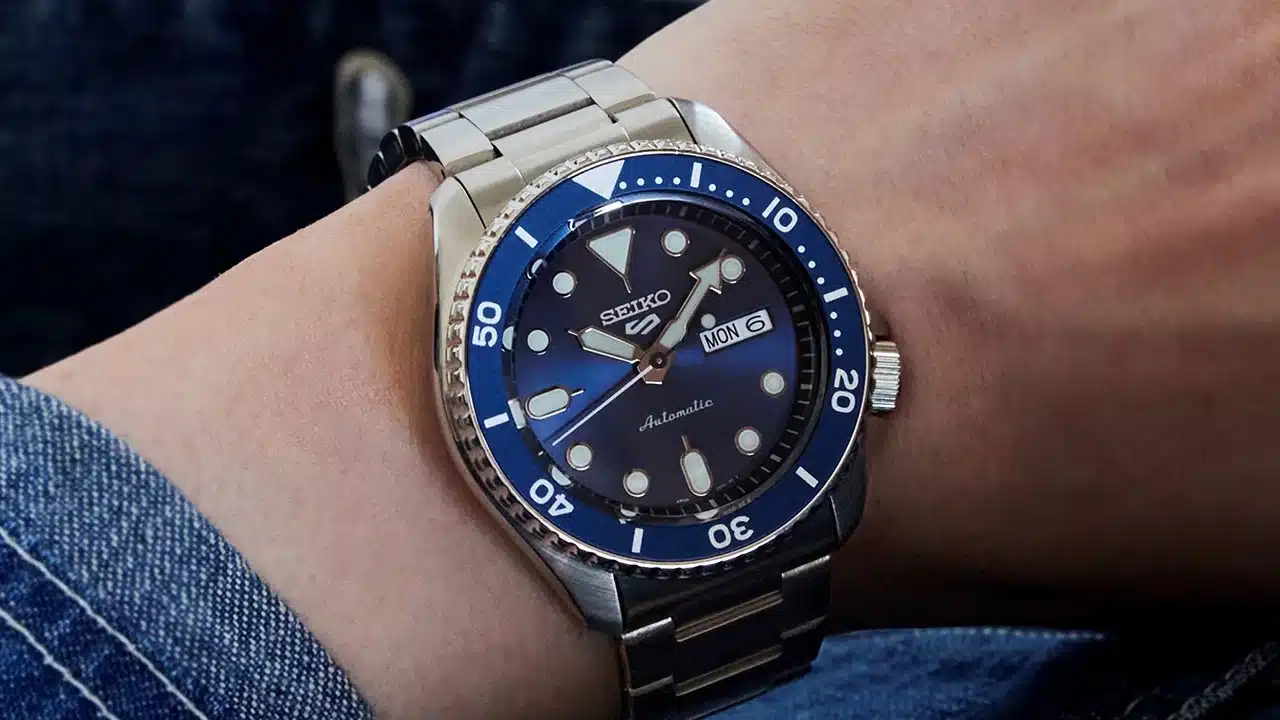 I'm a big Seiko fan. They've democratized watches, offering basement-low prices for some workhorse mechanicals. Remarkably, they've done this without getting deterred from raising their luxury models either. Plus, they have such a wide range, both in function and style — what more can a watch lover ask for?
The problem with finding Seiko watches under $500 isn't the lack of options but the glut.
To save you from this rabbit hole, I've rounded up 15 diverse options, from dive to dress!
Here they are, categorized to help you navigate.
Best Seiko Dive Watch Under 500
The dive watch brought Seiko into the sport watch fold (62MAS, anyone?). Here are some excellent available options!
Seiko 5 Sports SRPK17
The SRPK17 literally stands on the shoulders of giants. It's a visual one-to-one of the 1968 SKX style of sports watches and was released to commemorate Seiko 5's 55th anniversary.
With its cushion case and line-forward design, this watch is both classic and unique.
Plus, it has that historical factor and lore we watch collectors love so much.
It's limited to 15,555 pieces, making it a literally unique model, though its sub-500 price point is an open door to the ground floor of a potential investment piece.
Dimensions: 39.5mm diameter, 12.5mm thickness
Case Material: Stainless steel
Water resistance: 100m
Function-wise, although it looks straight out of the '60s, it's equipped with a hacking 4R36 automatic and a good 100 meters of water resistance.
Seiko SRPD51
You'd be hard-pressed to find Seiko's most recently retired, legendary SKX watches for around $500 (even less than a grand). This SRPD51 comes from the pseudo-replacement line and, therefore, flaunts the look of a truly classic, on-template diver.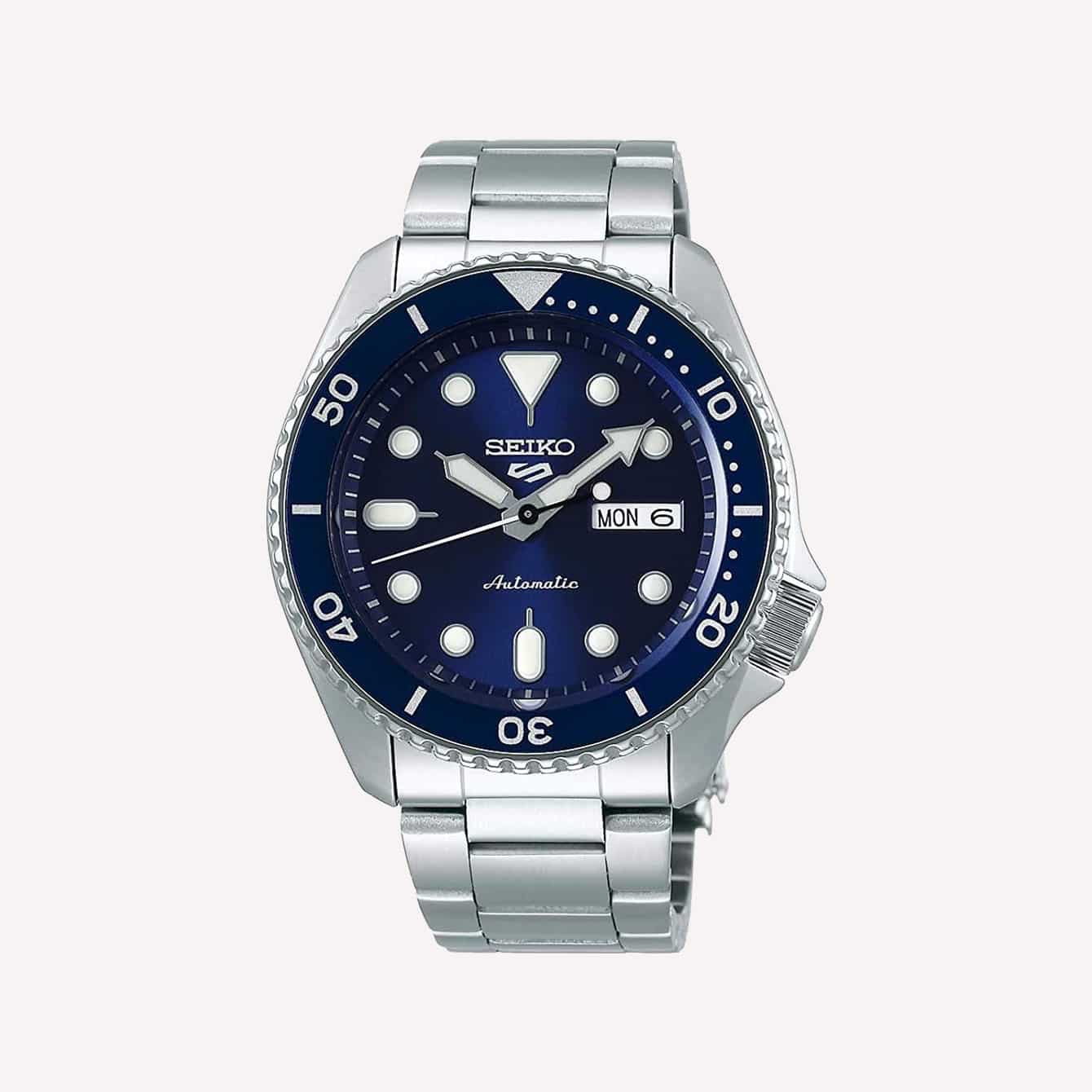 With its crisp unidirectional bezel, broad arrow hands, and 4 o'clock crown, it's solidly built and features Seiko-specific elements. This elevates it from being simply a standard.
Dimensions: 42mm diameter, 32mm thickness
Case Material: Stainless steel
Water resistance: 100m
It has a nice shine to it, too, without being overly sparkly, giving it a contemporary vibe. And for you horologically curious folks, the back showcases the automatic movement.
Seiko SRPD53K
It might seem unnecessary to include the Seiko SRPD53K since it's so functionally and visually similar to the SRPD51, but the 53K is just such a good Pepsi bezel watch.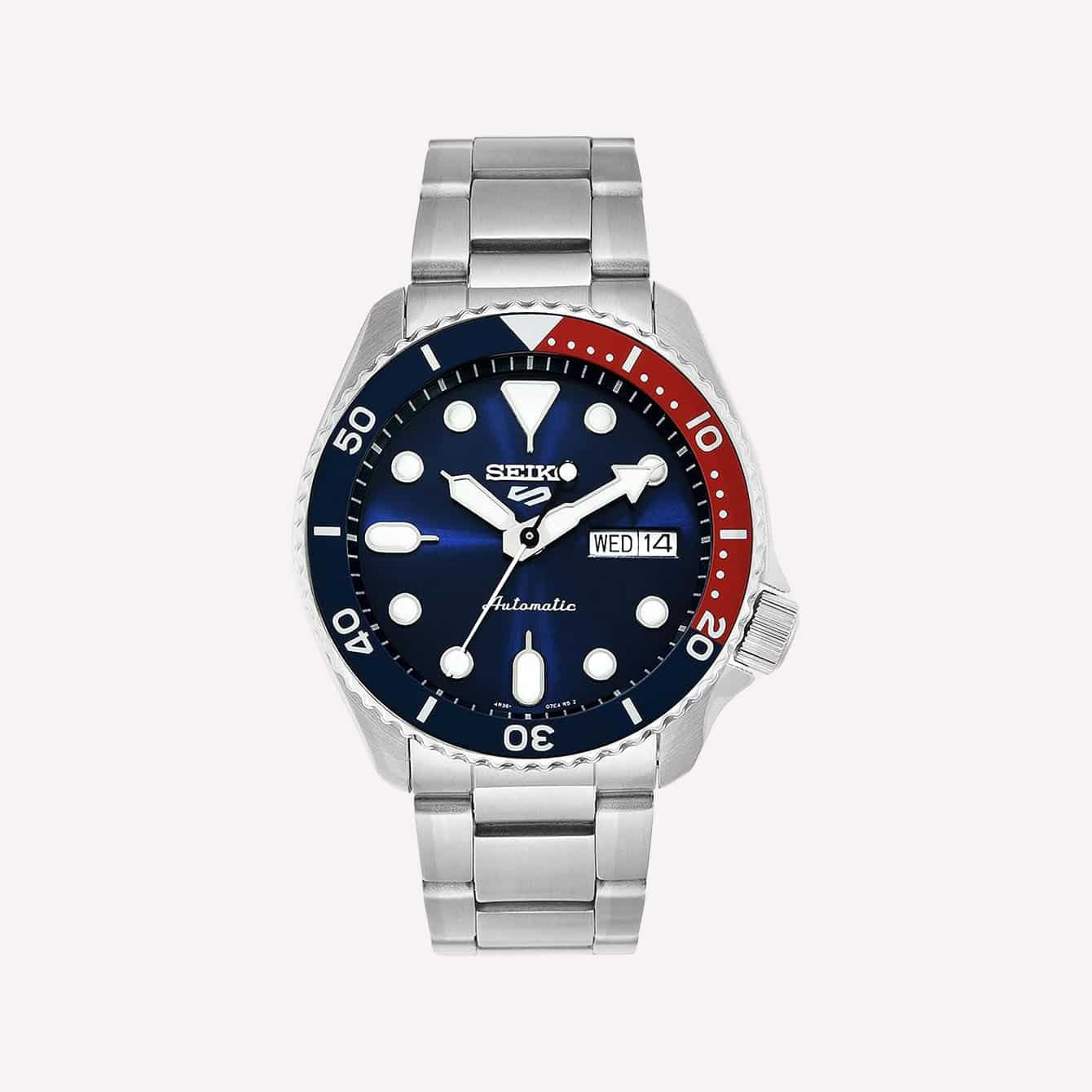 Yes, it's a classic dive, and yes, it runs on the reliable and viewable 4R36 movement that all of its cousins do. But the quarter-red bezel and the silky blue dial just go together so well.
Dimensions: 42mm diameter, 32mm thickness
Case Material: Stainless steel
Water resistance: 100m
Moreover, that bottlecap edging on the unidirectional bezel just cinches the whole Pepsi aesthetic.
Seiko Prospex SNE573
Since Seiko is known for its innovative approach to watch power, I had to bring a solar Perspex into the mix.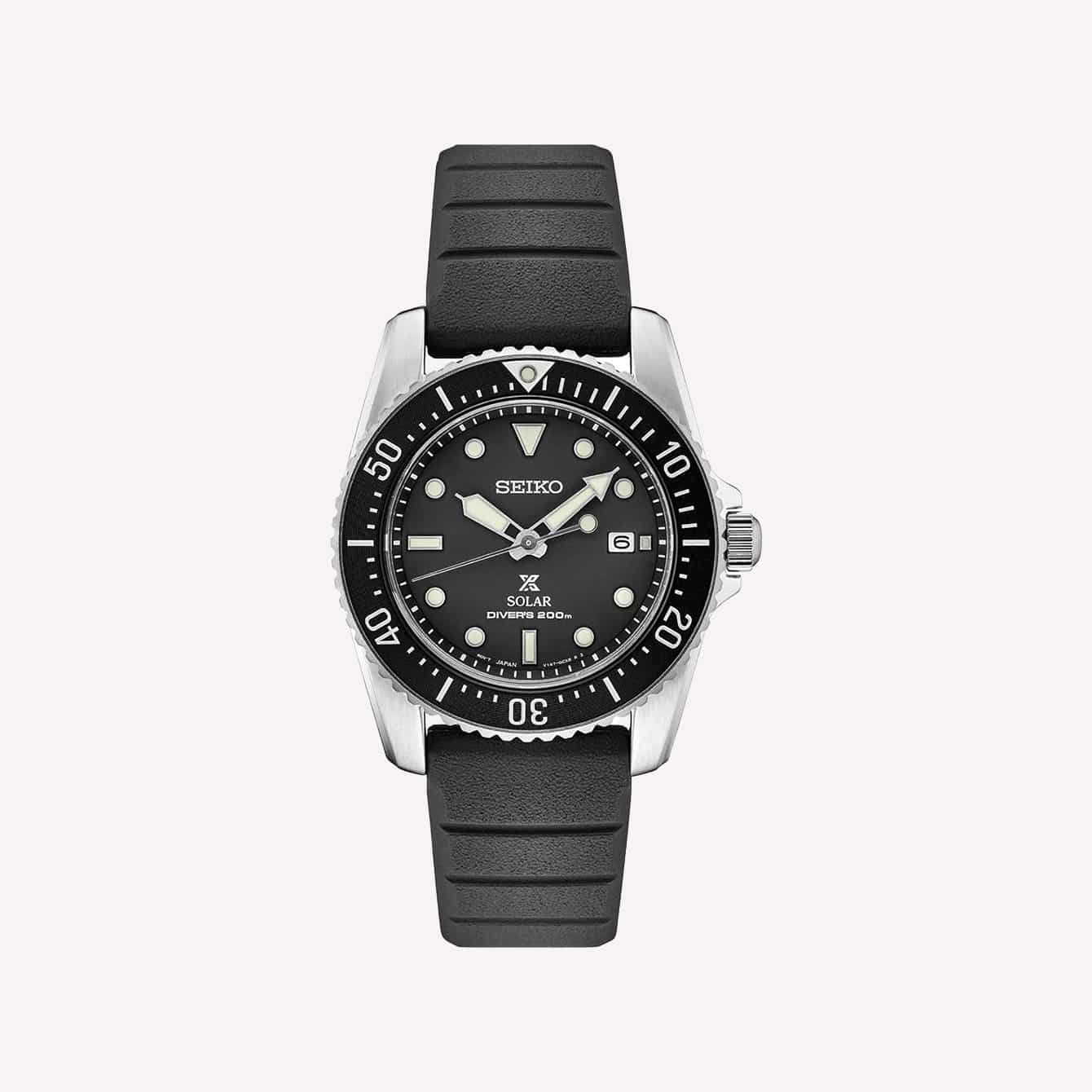 The SNE573 isn't just one of their light-powered models but one that brings divers and surfers together. It has a pragmatic design but has details like windowed hands and industrial but smooth lugs that give it loads of character.
After a day of sun exposure, perhaps via surfing, this watch has a 10-month battery life.
Dimensions: 38.5mm diameter, 10.6mm thickness
Case Material: Stainless steel
Water resistance: 200m
Even more, it's equipped with a sapphire crystal, which Seiko tends to forgo in favor of their own Hardlex.
Best Seiko Dress Watch Under 500
I love Seiko for their workhorses, but you don't have to go to Grand Seiko to find some truly classy dress watches.
Seiko SWR049
Seiko has a few Tank-like options that get spotlight for being good Cartier alternatives. However, I love the SWR049 specifically because of how well it stands on its own. It's cleaner and more straightforward.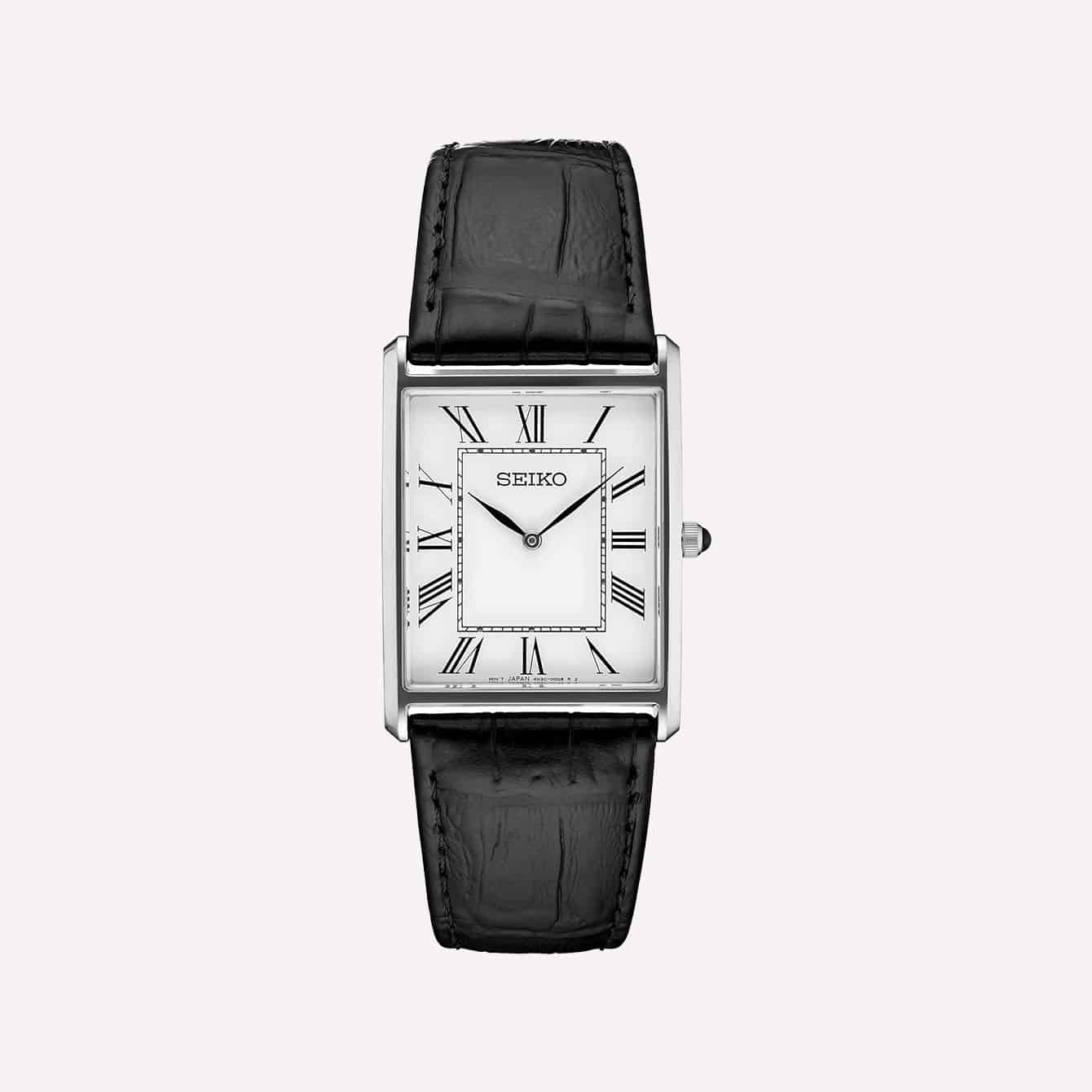 It still has the stately Roman numerals, each side exhibiting the iconic leaning composition. But it doesn't have dial waves or the ornate crown. Basically, it's as dressy as it is professional.
I also think the silver-toned stainless steel looks less "fake" than the gold-toned one.
Dimensions: 40mm diameter, 6.98mm thickness
Case Material: Stainless steel
Water resistance: 50m
The profile of this quartz watch is minimal but interesting. There's a layer of polish, a layer of brushing, with the glass sticking up just a tad. My only recommendation with this watch is that you replace the budget leather strap it comes with.
Seiko Presage SRPB43
In my opinion, 40 millimeters is just a touch too big for a dress watch — usually. However, the Seiko SRPB43 flaunts truly exquisite shine and texturing, complemented by sophisticated dagger indices.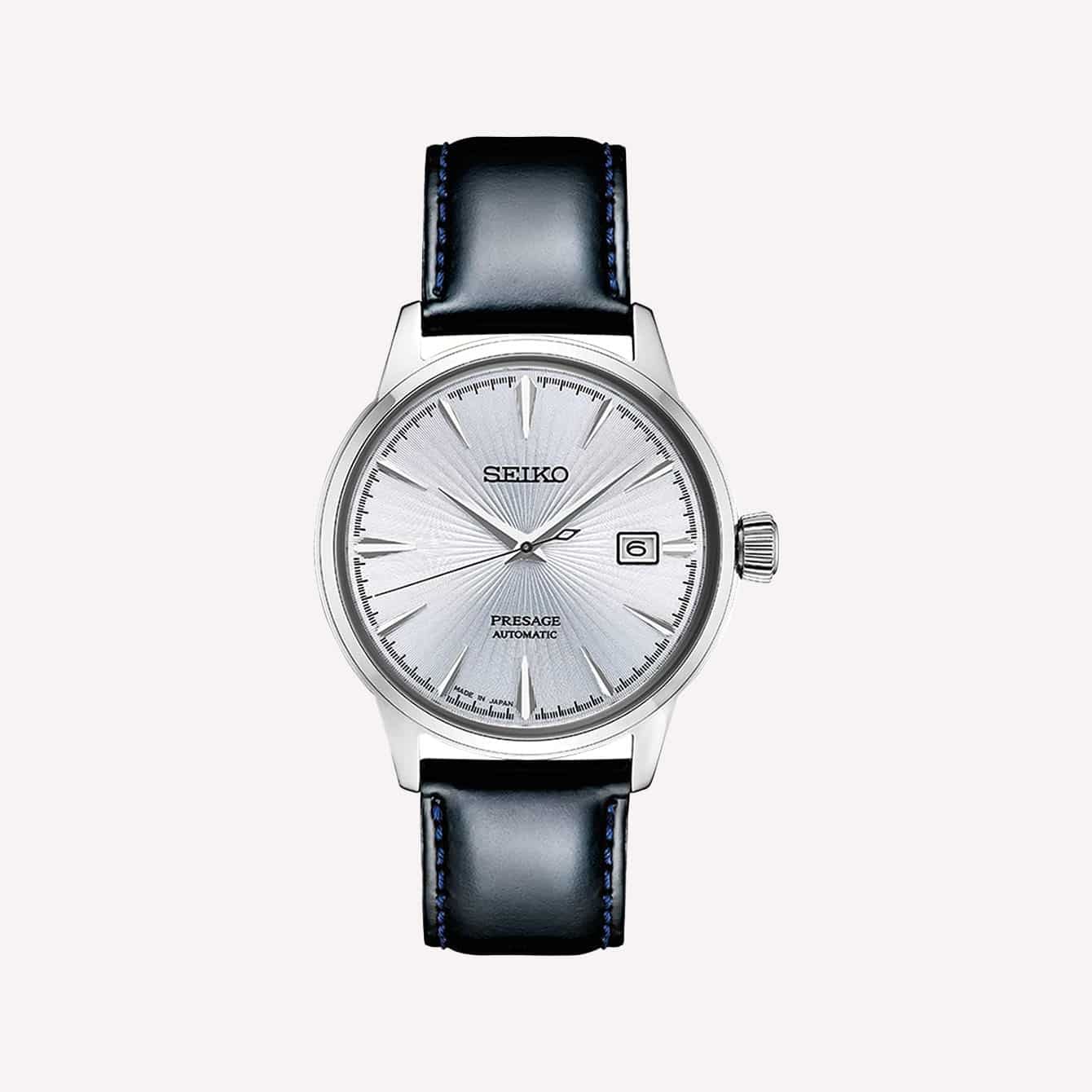 It's only right that you give this beautiful design more dial room.
The Cocktail Time watches combine Japanese harmony with true horological craft, something no one does better than Seiko. In fact, this is the whole mission statement for the entire Presage subline, which makes it more distinct than the core Seiko line.
Dimensions: 40.5mm diameter, 12mm thickness
Case Material: Stainless steel
Water resistance: 50m
Turn to the exhibition case back to see the gold-and-silver-toned 23-jewel 4R35B, an automatic with hand-winding and hacking.
Seiko Recraft SNKP27
Depending on the strap you pair this watch with, the Seiko Recraft SNKP27 can be either a dress watch or an everyday watch. Regardless of how you wear it, though, it boasts a retro-cool look that's undeniably striking.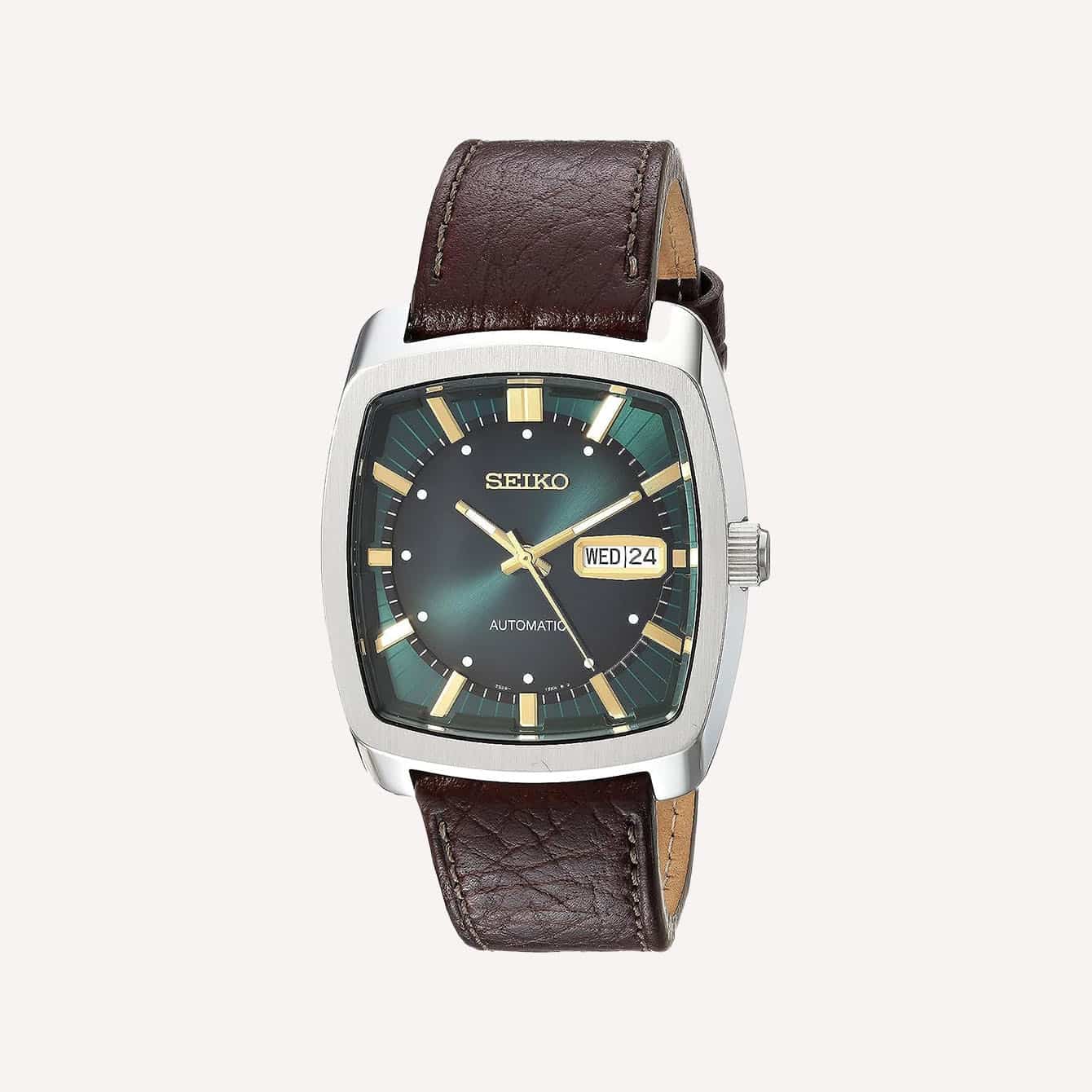 The multi-sectioned dial combines silky surfaces with cleaner, high-shine surfaces in an emerald hue, perfectly accented with gold throughout.
Of course, the only way to contain this '70s-to-'80s banker look is with a clean-surfaced cushion case.
Dimensions: 41mm diameter, 13mm thickness
Case Material: Stainless steel
Water resistance: 50m
If you're looking for a conspicuous and unique timepiece, the SNKP27 is your guy.
Best Seiko Chronograph Watch Under 500
Chronographs tend to be pretty pricey because of how complex they are. Thanks to Seiko's clever use of quartz movements, though, they've managed to serve up some great chronos for under $500.
Seiko Titanium SSB387
It's shocking how much specs and function you get out of this ~$200 watch. Not only is the Seiko SSB387 a working chronograph but it's made out of titanium.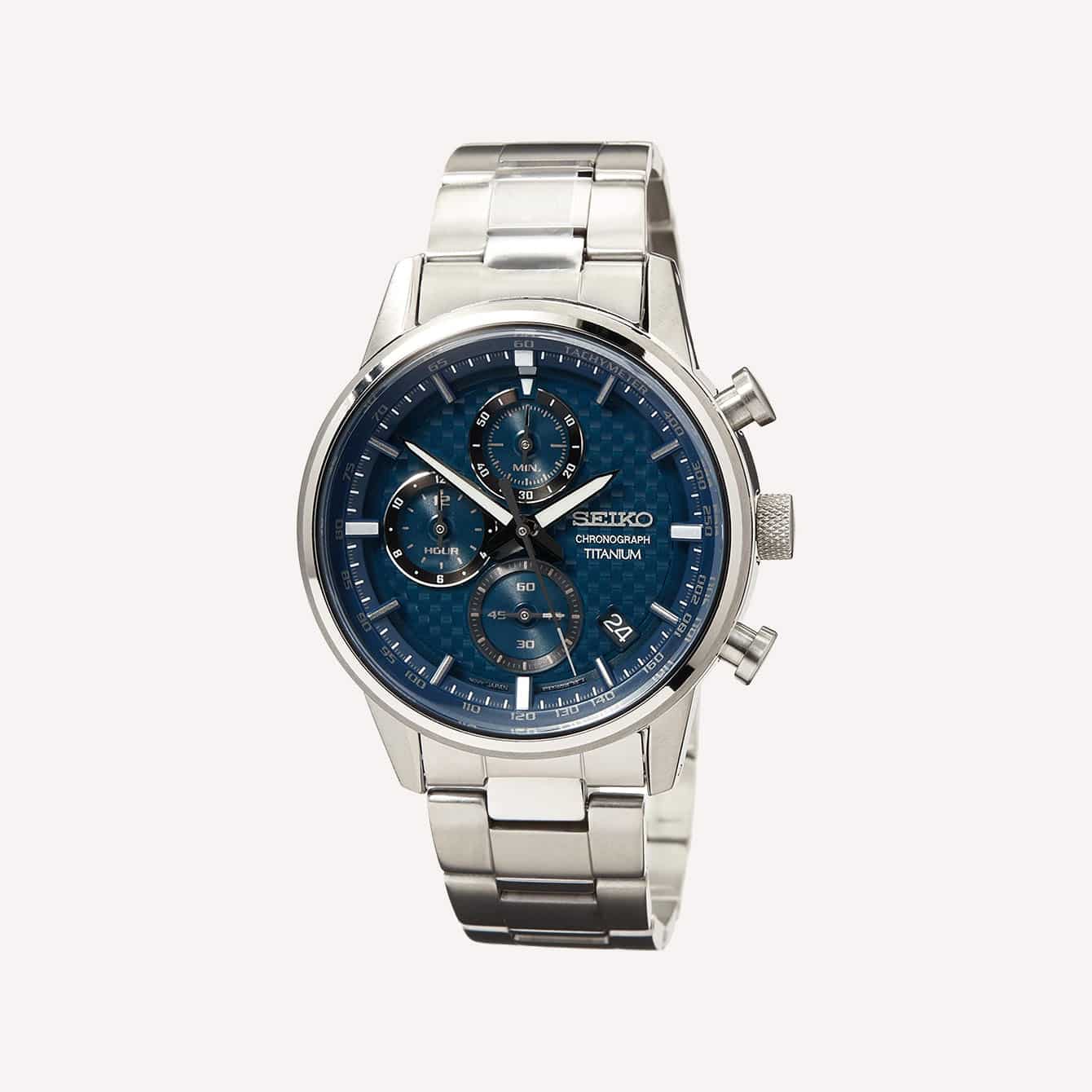 It's just as strong as stainless steel, maybe stronger depending on what titanium Seiko used, but half the weight.
It also has a distinguished look that's just a tad more matte, more industrial, but still quite shiny.
The dial is truly meticulous. The indices look like they've attached the outer dial to the main dial, giving it fascinating topography.
Dimensions: 41mm diameter, 14mm thickness
Case Material: Titanium
Water resistance: 100m
Meanwhile, the carbon aesthetic of the surface perfectly balances sportiness with elegance. This watch is a feast of textures.
Seiko SSB403
If you love a good racetrack watch, the Seiko SSB403 looks like it can go hundreds of miles per hour. It's incredibly athletic looking but also tech-forward, as the sectioned-off dial almost looks like a repurposed spaceship.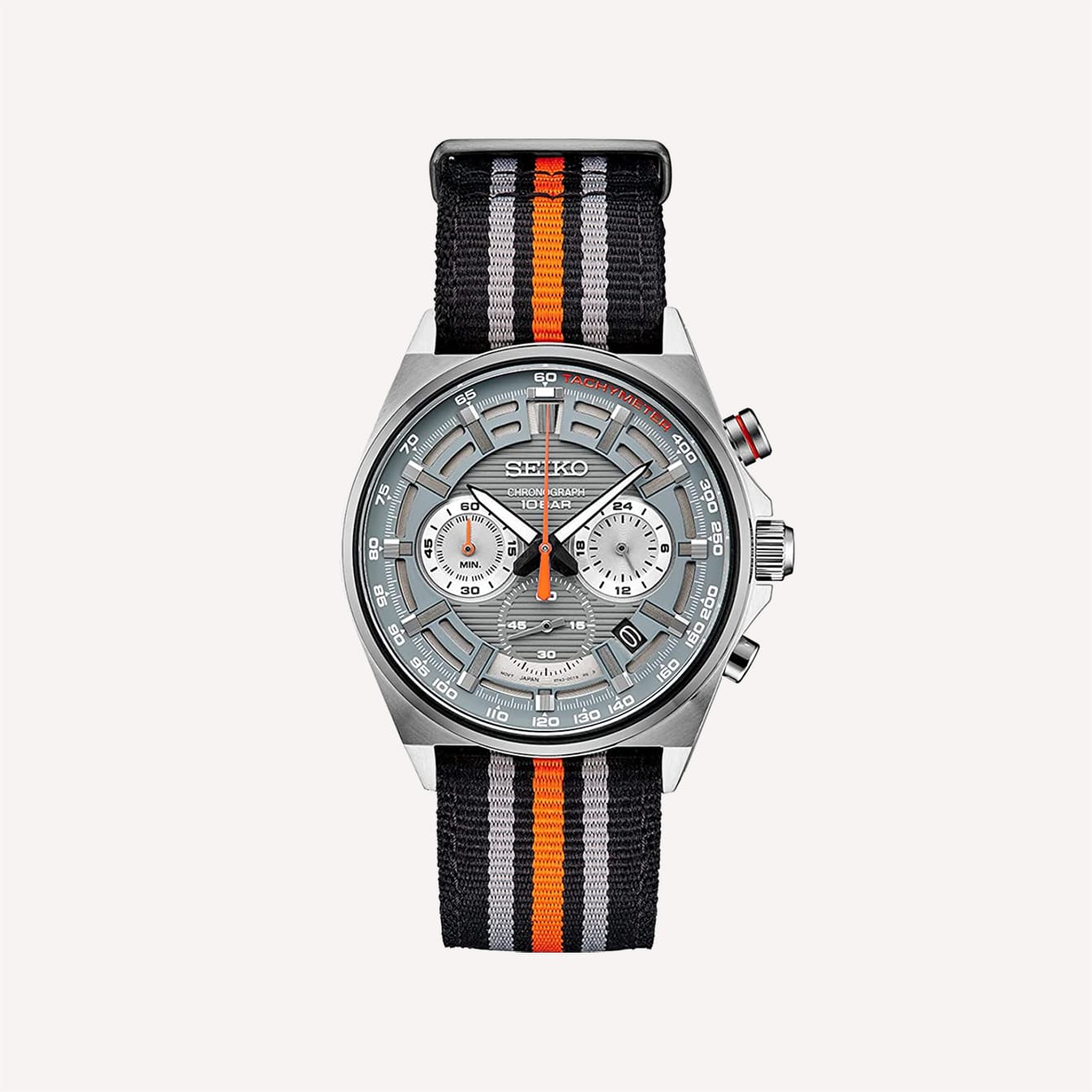 The center dial, which is the deepest layer of several, is grill-clad and hosts the cut-out layers above it. It's complex, cool, and an undeniably fun watch.
I also enjoy its unique silhouette, as the pseudo-hooded lugs give it the gravitas of a carrier vehicle.
Dimensions: 41mm diameter, 12mm thickness
Case Material: Stainless steel
Water resistance: 100m
I recommend sticking with the orange-accented NATO strap it comes with because it matches the accents on the watch itself. You have to love some pops of color.
Seiko Pilot Chronograph SNA411
There are three main approaches chronographs take: Elegantly industrial like the Titanium SSB387, racer cool like the SSB403, and finally, the sciencey look. The Seiko Pilot Chronograph SNA411 fulfills that latter look.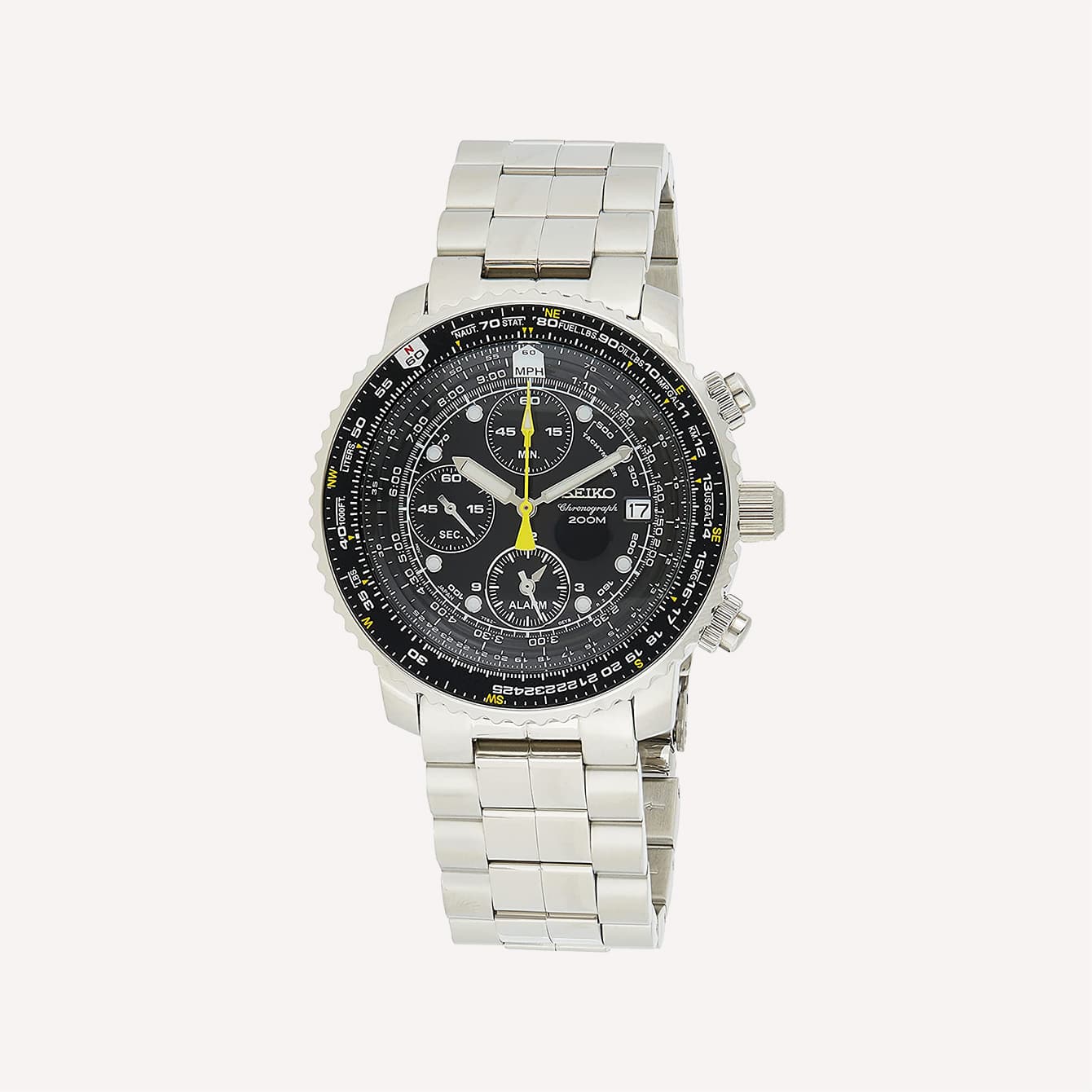 Between all of the numbers and lines, this busy watch looks like a complex control panel, not least of which is due to its rotary slide rule.
It's a manual calculator that's just a more hands-on way to do what your phone does in seconds — but boy is it fun to use. Think of it as a neat party trick.
Dimensions: 42mm diameter, 13mm thickness
Case Material: Stainless steel
Water resistance: 200m
This watch runs on the 7T62 caliber, a tuning fork quartz movement that transforms energy to keep the vibration going. As always, Seiko represents every watchmaking wonder, not just mechanicals and not just one kind of quartz.
Best Seiko Automatic Watches Under 500 (H2)
And, of course, Seiko is known for its reliable and bang-for-buck automatics. Here are five of the best!
Seiko SRPJ85
The SRPJ85 is my favorite field watch from Seiko 5's recently launched 36-millimeter line. It runs on their go-to 4R36, an automatic that hacks and hand-winds, and is available to see through the caseback.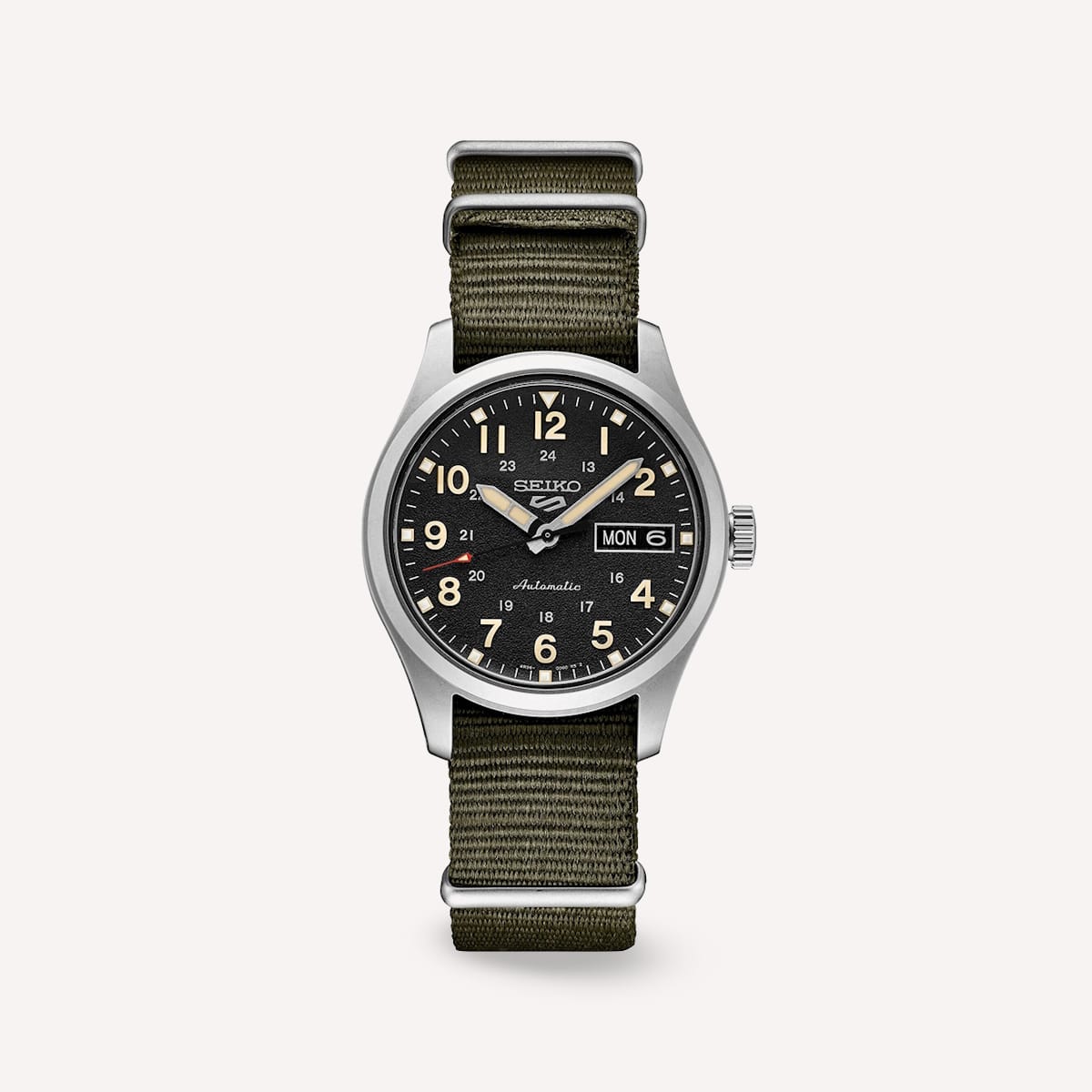 Visually, the colors and textures really light up the otherwise on-template field watch design. The dial has a natural-looking pebbling, while the tropical hands give it a well-loved look.
Plus, the outlined hands, with the red syringe second, makes this watch easy to read from any angle.
Dimensions: 36mm diameter, 12mm thickness
Case Material: Stainless steel
Water resistance: 100m
The windowed hour hand and the cursive Automatic moniker are just two of many design choices that come together to give the SRPJ85 watch a lot of personality.
Seiko SNK Field Watches
The SNK field watches were once known as a sort of starter mechanical or an entry point to "good" field watches.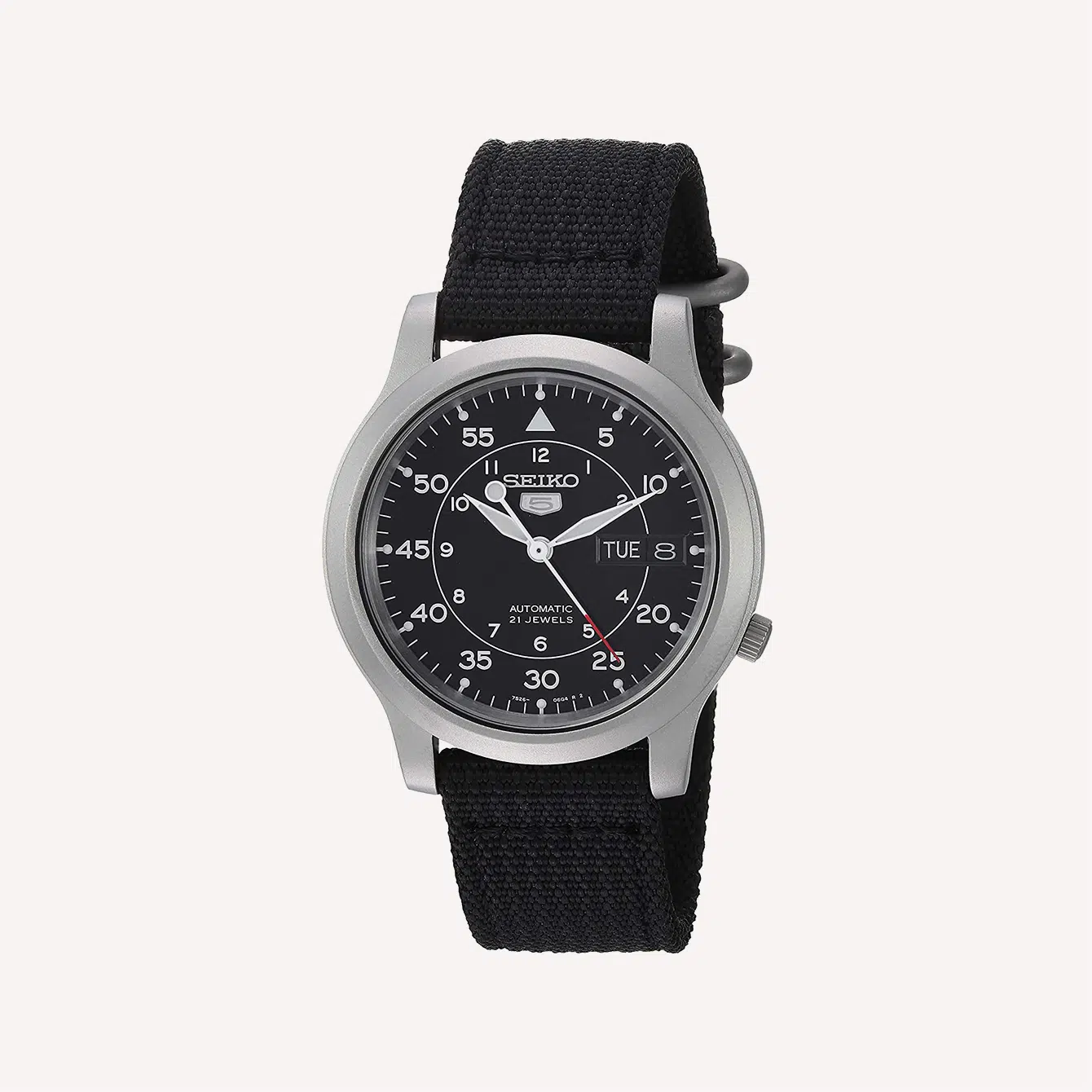 Their prices may have jumped from the ~$100 range to the ~$200 range, but they're arguably iconic within the Seiko community.
They run on the heritage 7S26 movement, a true workhorse and the non-hacking predecessor to the 4R family of movements.
Dimensions: 37mm diameter, 11mm thickness
Case Material: Stainless steel
Water resistance: 30m
I love the almost Swatch-like collectibility of these watches. They come in several colors, including the black SNK809 or blue SNK807 versions, which look more modern, or the cream SNK803 and green SNK805 versions, which are reminiscent of actual military aesthetics.
Seiko SNKL45
If you want an understated, universal timepiece that can go with everything, the Seiko SNKL45 is the budget world's answer to a Rolex Oyster Perpetual.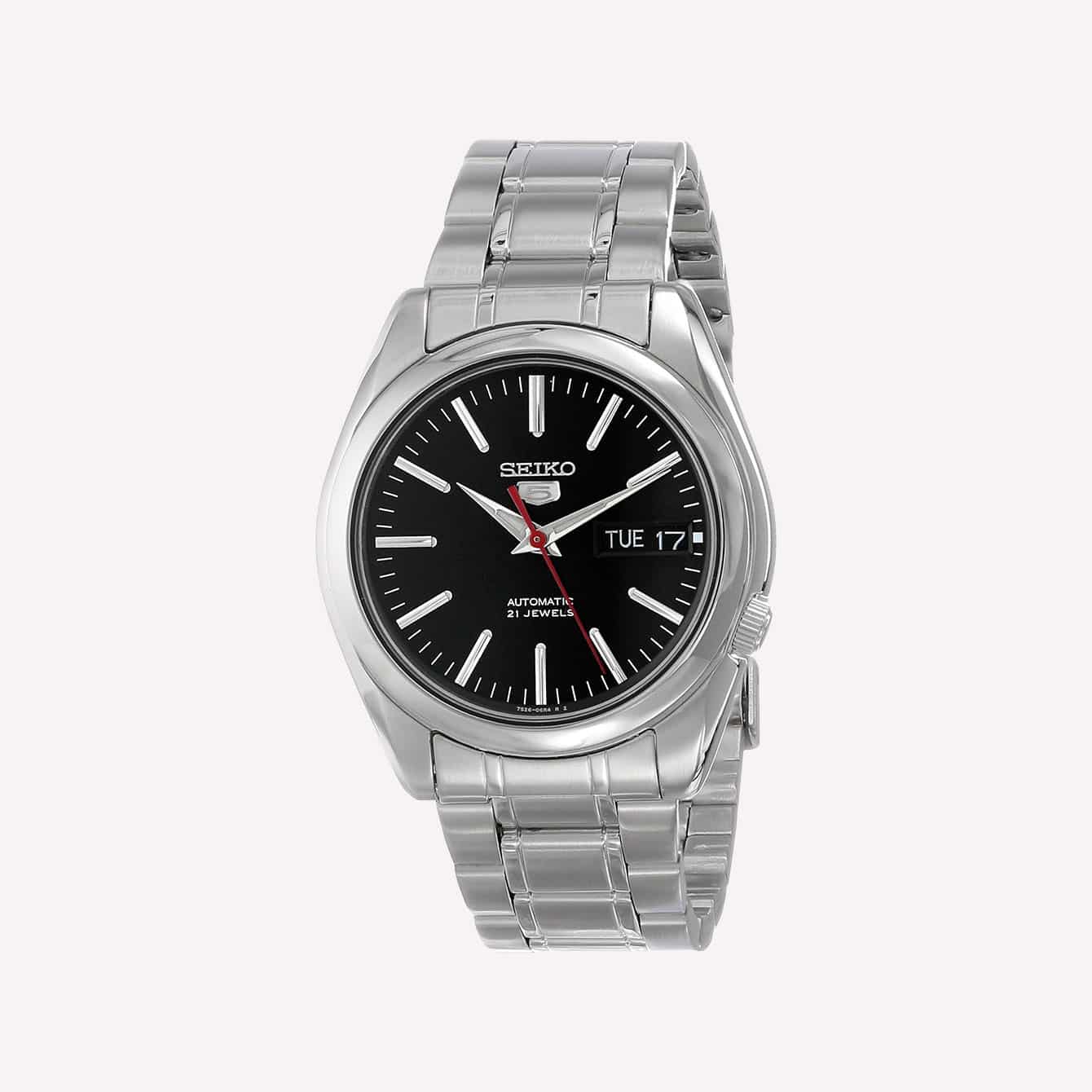 It's an everyday watch, but it won't look inappropriate with a suit, at the gym, or on a hike. 
Even the crown is recessed, so it doesn't interrupt the silhouette.
Dimensions: 38mm diameter, 10mm thickness
Case Material: Stainless steel
Water resistance: 30m
With its baton indices, sword hands, and tried-and-true contours, the SNKL45 perfectly balances sporty elements with dress watch elements.
Seiko 5 SRP Watches
The SRP watches are like upgraded SNKs. They have a more sophisticated field watch design, one infused with some aviator elements. And they run on the hacking and hand-winding 4R movements.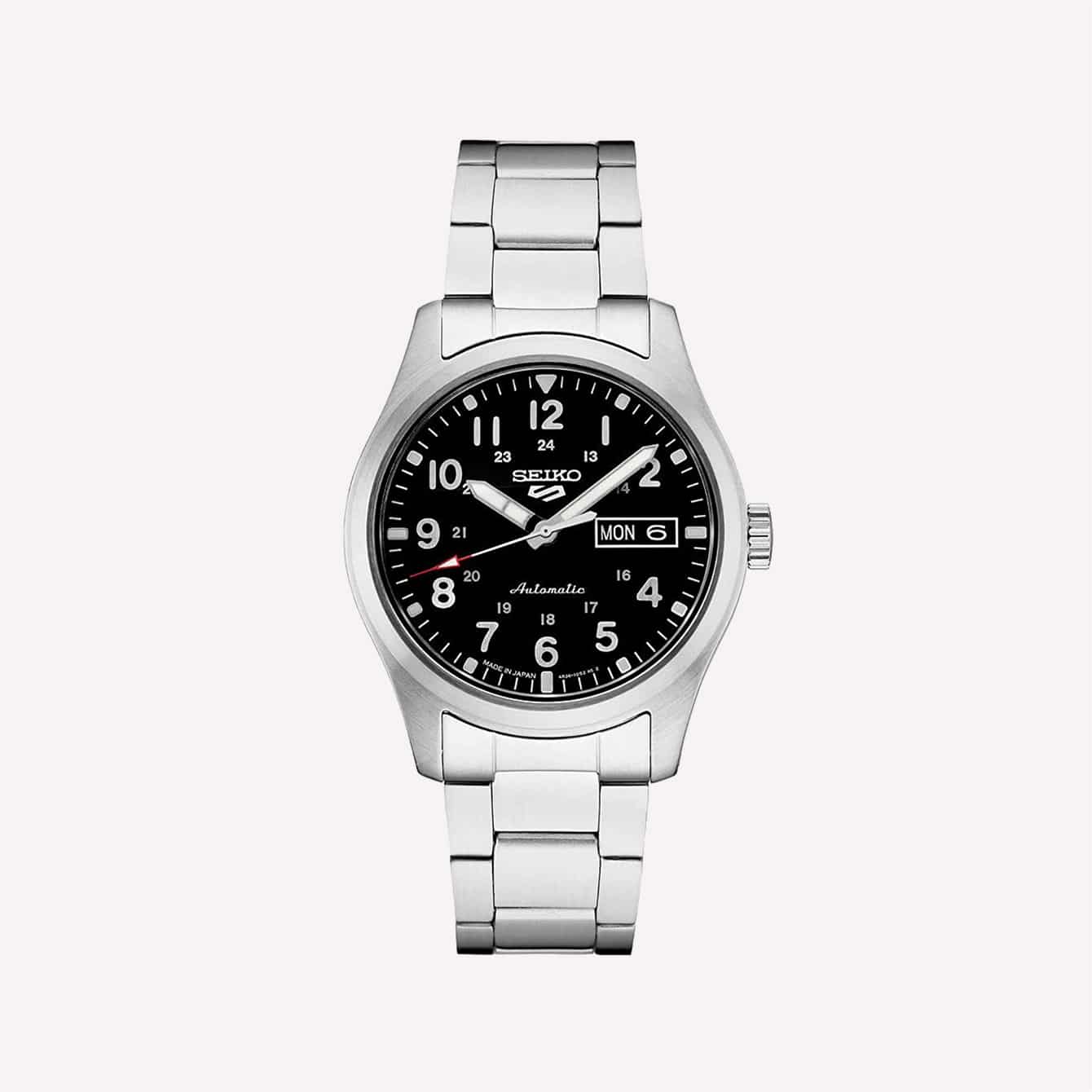 I actually think that the pilot font used on the indices makes them more legible. Meanwhile, the raised outer track gives the entire dial a more dimensional look.
Dimensions: 39.4mm diameter, 13mm thickness
Case Material: Stainless steel
Water resistance: 100m
You can go for the classic black dial SRPG27 or the textured colorways, which make it look related to the SRPJ85. There's the slate-toned SRPG31 or the tropical SRPG35.
Seiko Presage SRPE41
You might consider the SRPE41 a dress watch, but I think its striking red hue just might make it inappropriate in a black-tie setting. Still, this kaleidoscoping pressed guilloche dial serves up so much visual intrigue.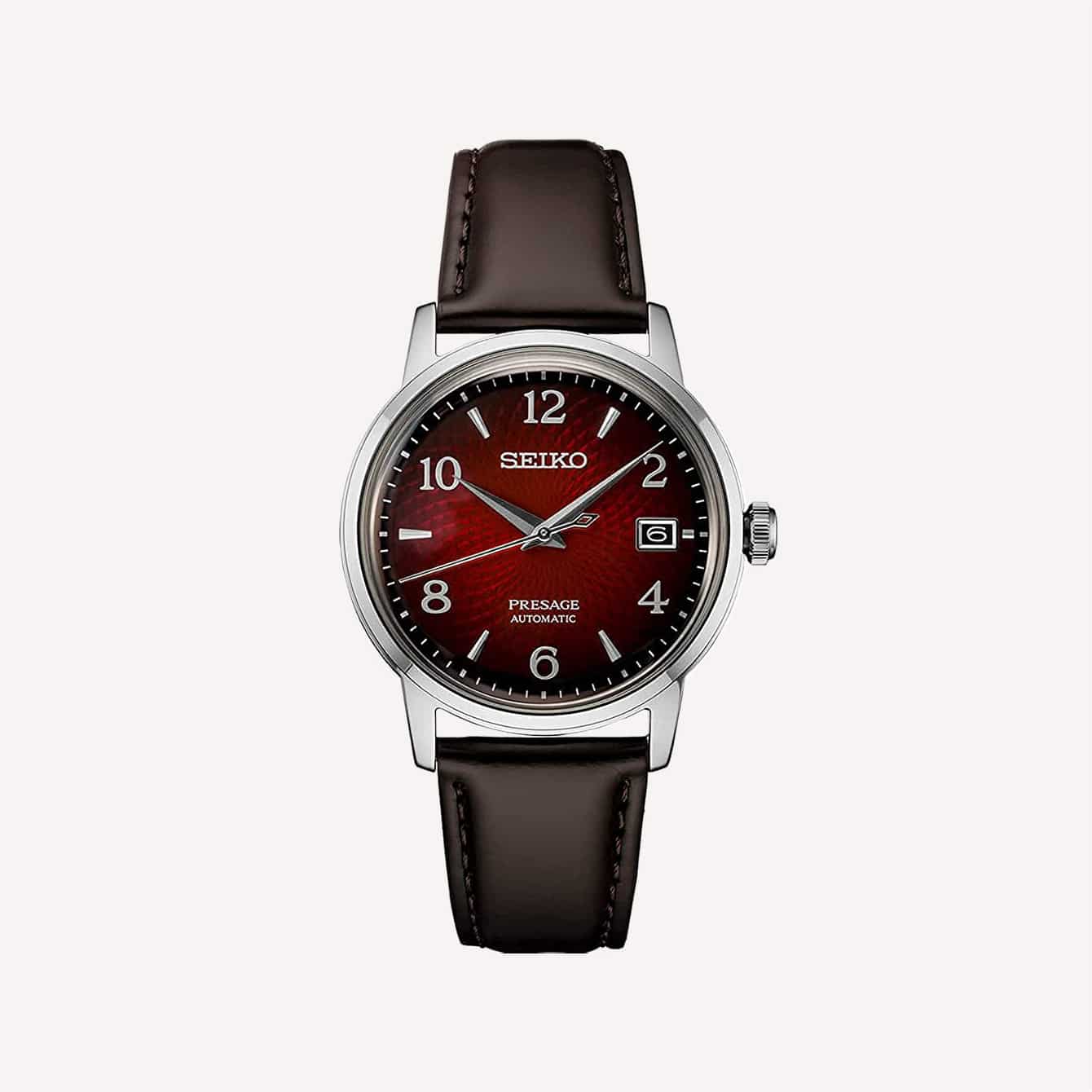 The boxed crystal adds even more dimensionality, feeding into the eye-catching look instead of tempering it.
It's a decidedly glossy statement piece. And, of course, you can admire the movement via the caseback.
Dimensions: 38mm diameter, 11.8mm thickness
Case Material: Stainless steel
Water resistance: 50m
This watch runs on Seiko's 24-jewel 4R35 movement, which you can hack and hand wind. As Seiko does, this is an easy-to-use watch.
FAQs
Here are some frequently asked questions regarding Seiko watches!
Are Seiko Watches Worth Buying?
Yes, they have a wide range of price points and styles, so there's likely going to be something for everyone. In general, Seiko is known for reliable models made with discipline and efficiency.
Is Seiko Better Than Tissot?
It depends on what you're looking for. Seiko has a wider range, while Tissot focuses on sports watches and a few iconic everyday and dress models. Tissot does have that coveted Swiss-made moniker available, though.
Conclusion: There's a Seiko for Everyone
The most impressive thing about Seiko is that they have such a wide range of price points. It's the fact that even within the price points, they have a wide range of styles and options.
Even within the $500 constraint, you have automatics of different calibers, dress watches, sports watches, and even some affordable luxury pieces.
I hope you found the Seiko watch for you here!
What Seiko model speaks to you? Drop a comment and tell!