24-hour watches are a fascinating niche. Here's our list of the best ones you can buy!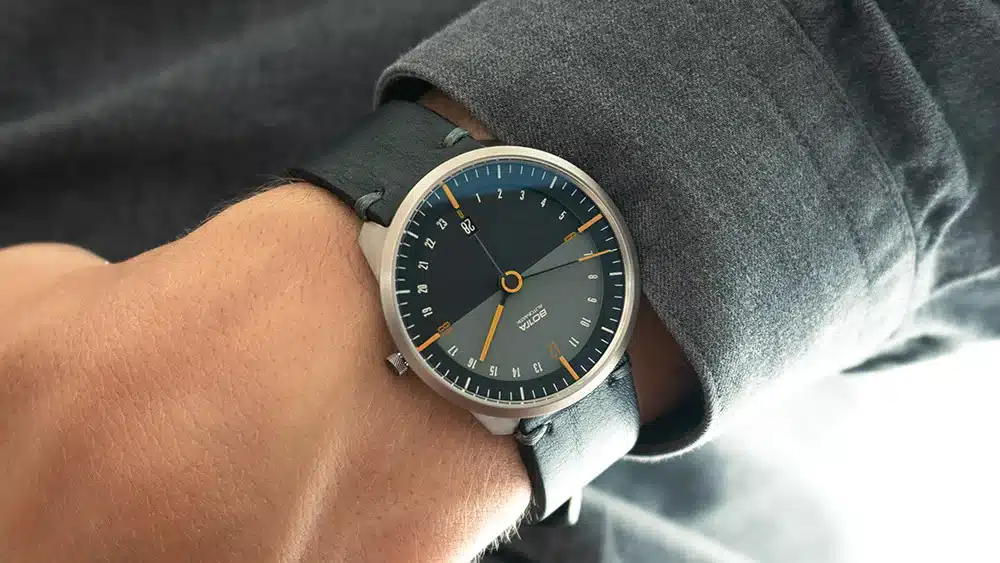 These days, watches with 24-hour dials are a style category of their own. They were originally a practical feature for aviators or military personnel who do in fact tell time that way.
And sure, even today, most timepieces with 24 markers are indeed field or pilot watches. However, like any once-practical design cue, the 24-hour dial can simply be an aesthetic choice.
Since we wear watches for concepts and stories, as well as fashion, a lot of astronomically-themed models utilize the 24-hour dial.
The AM/PM distinction is relatively new. Ancient man used sundials that didn't break the earth's complete revolution into two sections and many clocks in the Middle Ages also used 24-hour faces.
Even today, in many parts of the world, everyday people still tell the time using 24-hour specifications.
The 24-hour watches we rounded up here represent a wide range of styles, concepts, and, of course, price points.
24-Hour Watches: Our 15 Picks
Here they are, from the most affordable to the most luxurious!
Svalbard Limited Edition Watches
It's difficult to highlight just one model from Svalbard. They have a big range of 24-hour watches produced in super limited quantities, with a maximum of 500 per model. Still, this new UK-based brand really dove head-first into this niche.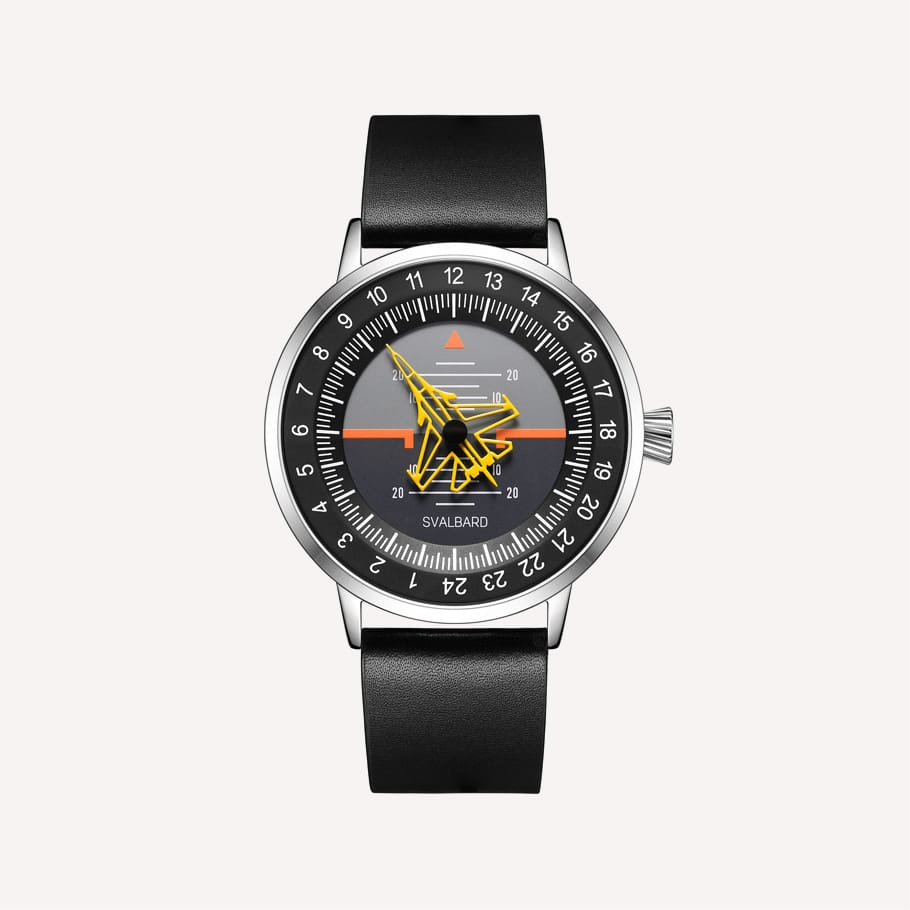 They offer basically every concept a 24-hour dial can be worked into, from the understated to the eye-catching.
There are sun and moon dials, ornate and baroque pieces with elegant texturing, and aviator pieces, including artistic takes that implement fun details like a generously-sized jet-shaped hour hand — among several others.
The pieces are fairly priced, with several sapphire-protected automatics at the ~$200 range and Swiss quartz pieces at around ~$150.
It's worth checking in on their 24-hour dial section every so often, just to see what new things they're doing with that range as models are added and sell out.
Vostok Komandirskie K-65
Vostok watches are the epitome of Eastern European watch design, and this K-65 is a great example of that. They take the bones of classic tool watch design languages from the West, in this case, that of a diver, and spin it into a new dialect.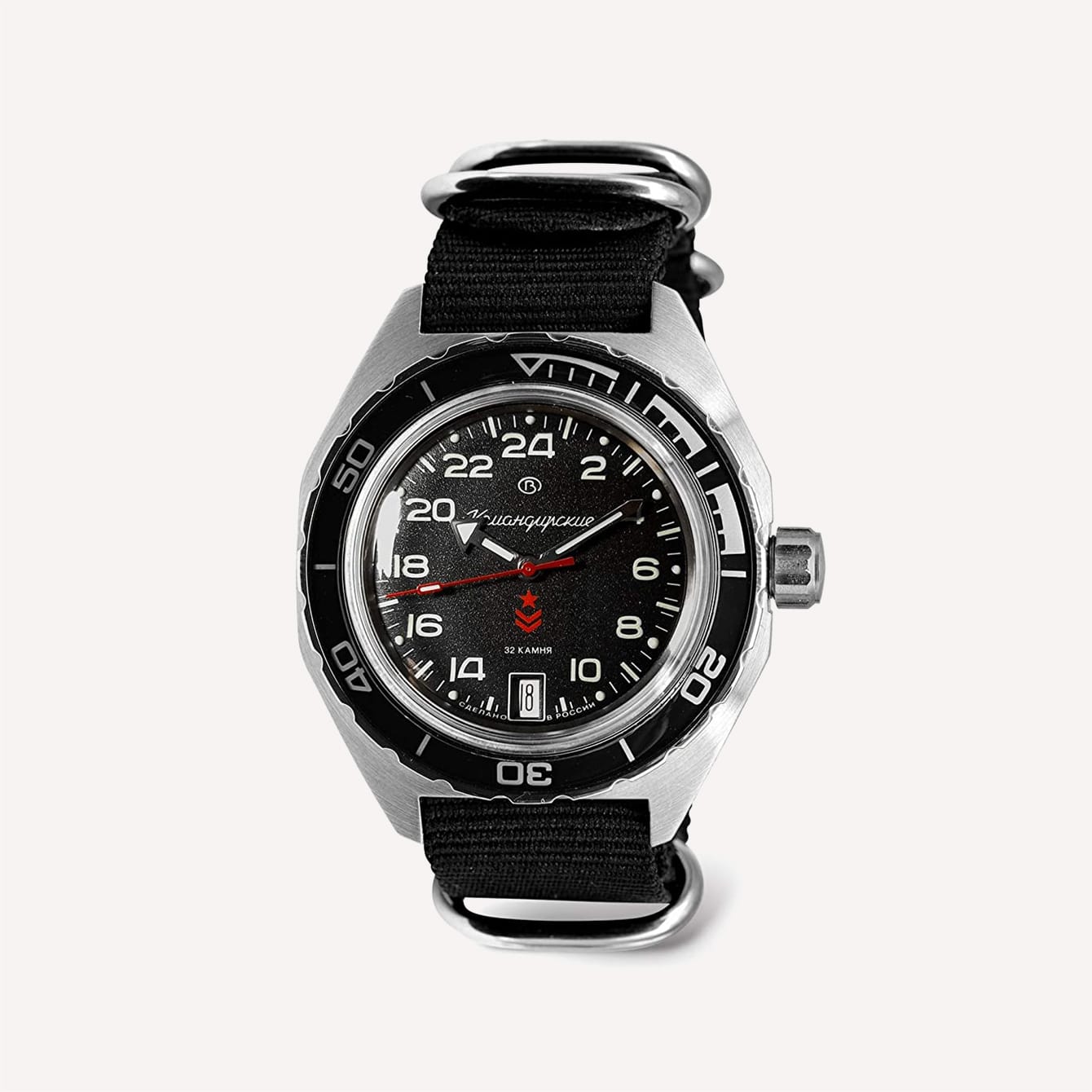 It's familiar and different. The case is a general cushion shape, but with harder edges for a more military look, appropriate considering the 24-hour dial.
The details on this automatic piece are excellent, with the red accents popping in front of the textured dial, which also matches the texturing on the crown.
Dimensions: 42mm diameter, 15mm thickness
Case material: Stainless steel
Water resistance: 200m
You can style this watch like a standard dive, but it's a smidgen more eye-catching without begging for too much attention.
Dolphin True 24 Hour
If you can get your hands on it, the Dolphin True 24 Hour is a striking timepiece, thanks to its contrast-forward design, but still quite versatile, thanks to its use of neutral shades.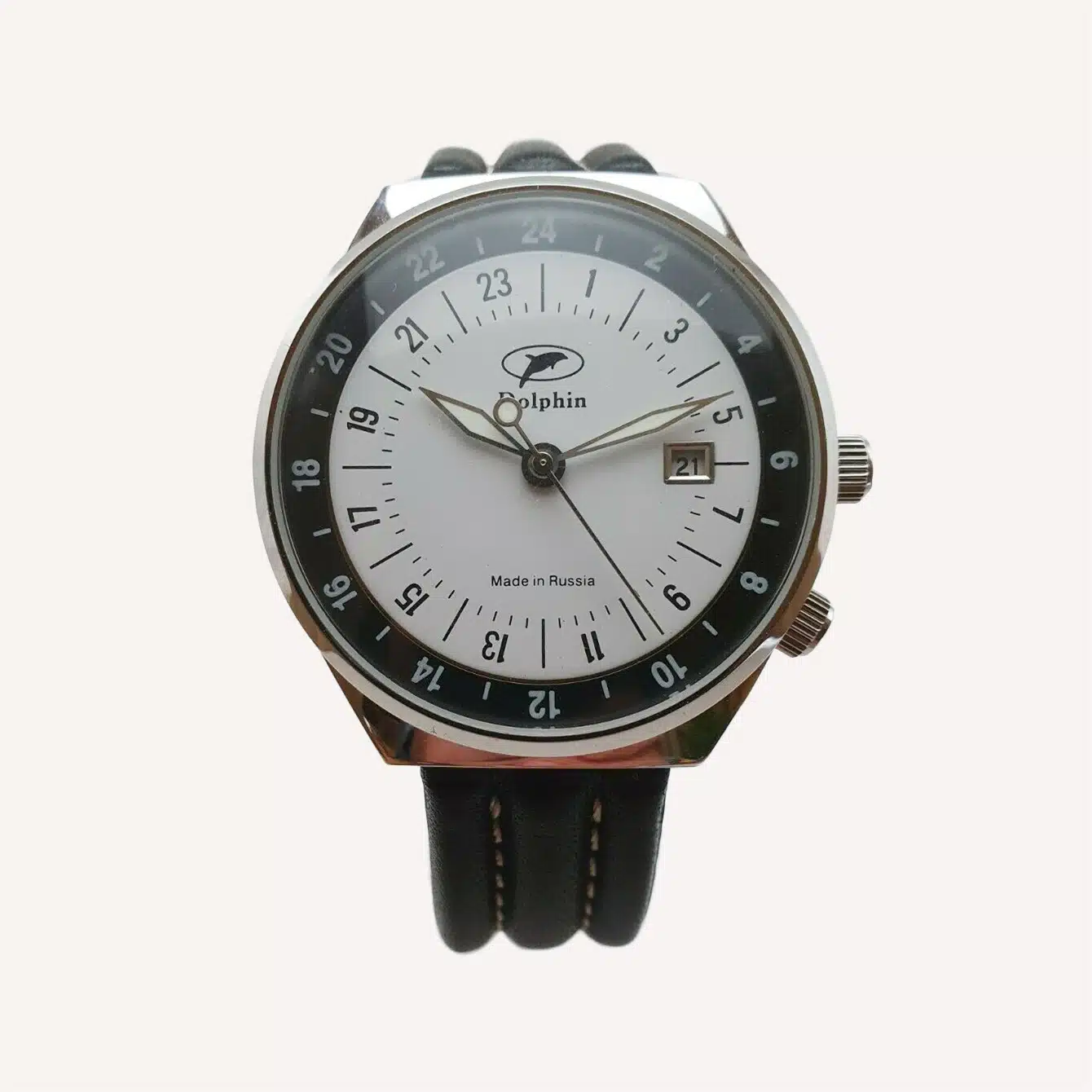 The black and white dial, sword hands, and roulette table markers have earned this guy a real cult following. If a "cult member" catches you wearing one on the street, he'll definitely ask you where you got it.
I also love how the hooded lugs make it distinct and solid-looking.
Dimensions: 40mm diameter, 14mm thickness
Case material: Stainless steel
Water resistance: 30m
This 35-jewel automatic isn't consistently available anywhere, but if you're able to find one on the secondary market, it won't be super expensive. Moreover, Dolphin isn't a brand that really ever gets faked, making it an overall easy purchase when it is available.
Seiko 5 SRPxx
The Seiko 5 SRPs are, in the best way possible, as standard as field watches get. From the beater build to the traditional aviator-style font you see on IWCs and Lacos, these guys are timelessly cool and easy to wear.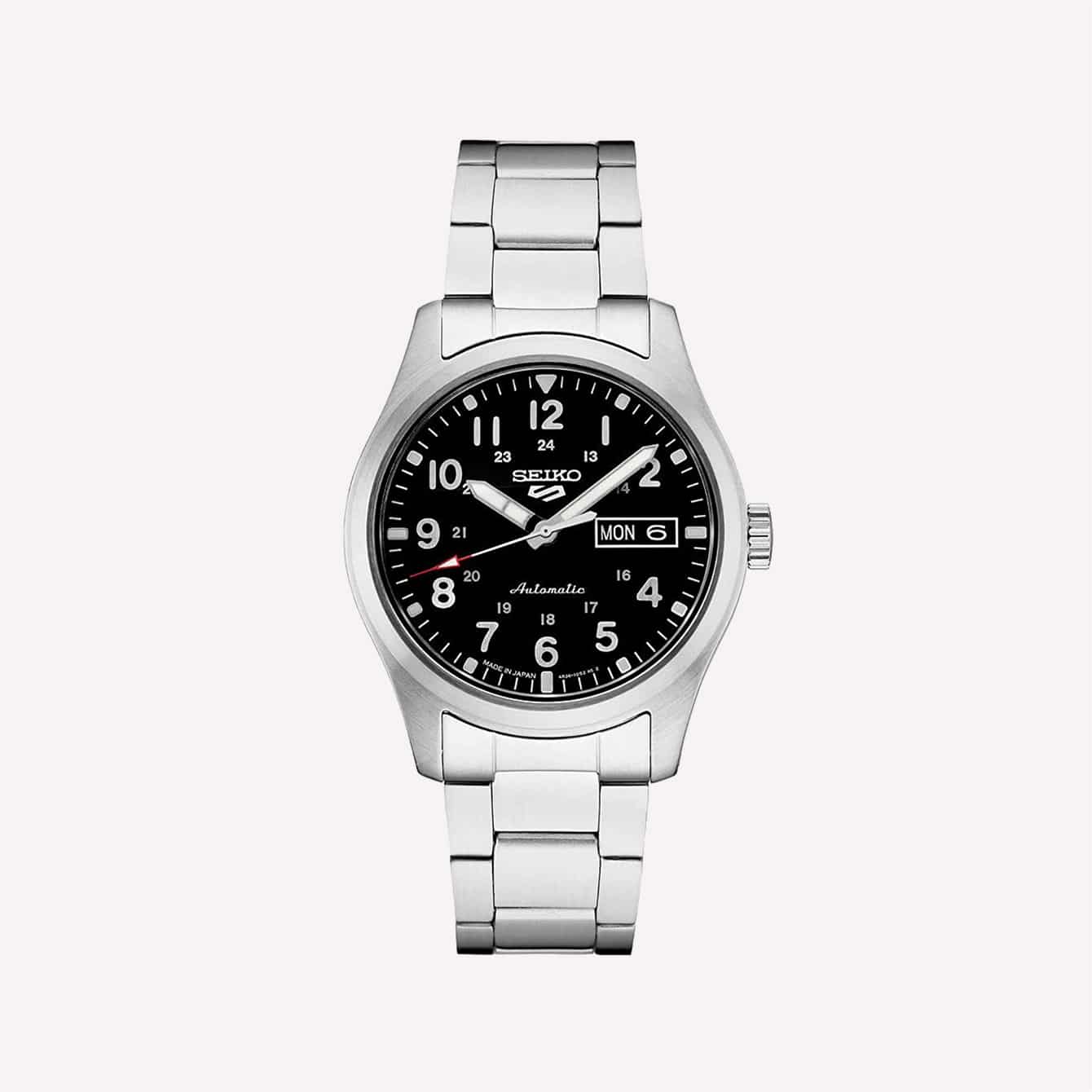 They're a bit like upgraded SNKs, in that both are classic army-style timepieces that come in a few colorways, but the SRPs have more water resistance and run on the 4R movements which offer hacking.
Dimensions: 39.4mm diameter, 13mm thickness
Case material: Stainless steel
Water resistance: 100m
Moreover, the SRPs have variants with textured dials, offering a touch more dimensionality and visual intrigue.
Bulova Hack
The 98A255 variant of the Bulova Hack is a classic field watch straight from the brand's archives, but with extra off-template details that make it unique without compromising the on-template look.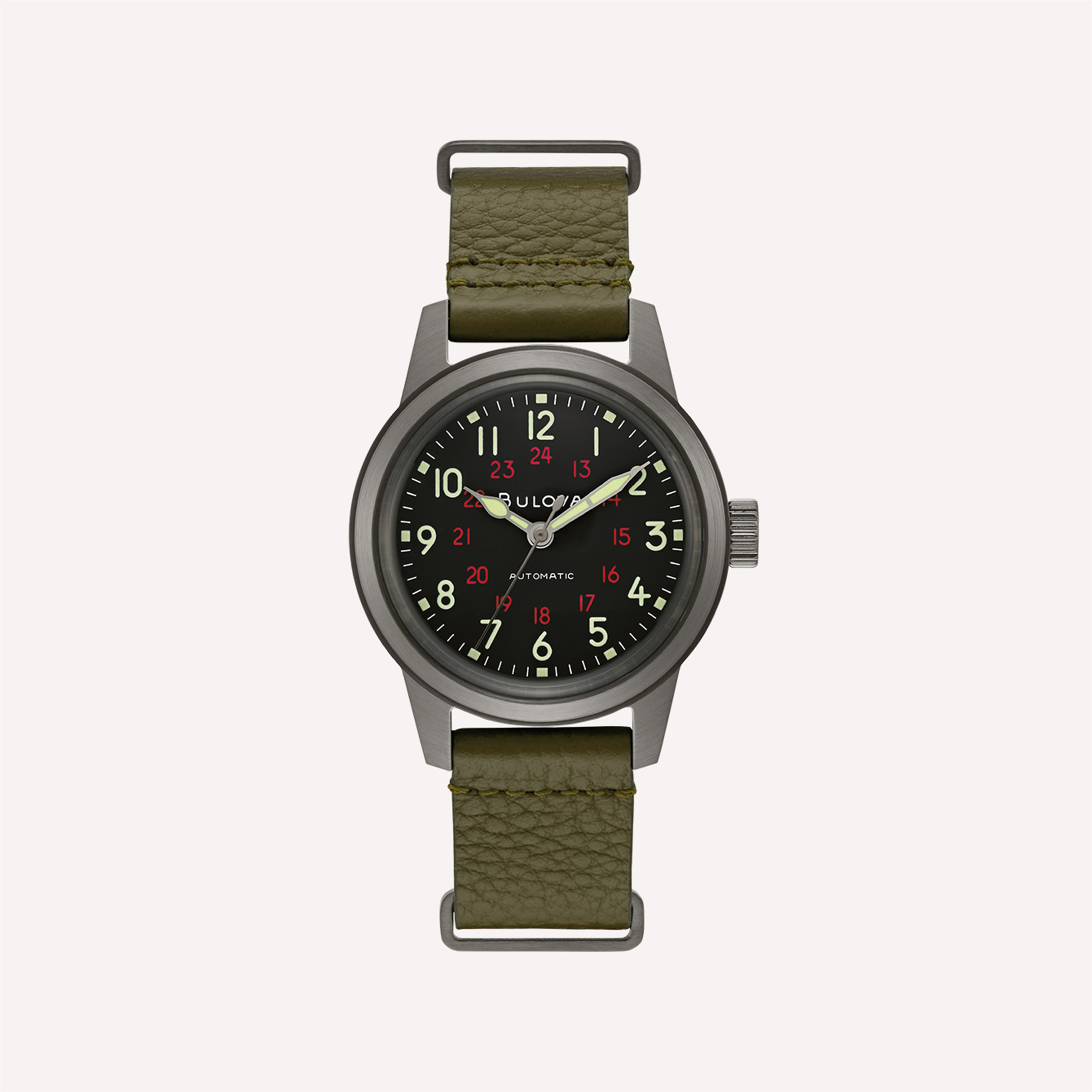 The red font of the 24-hour markers adds a pop of color, while also helping with the legibility.
The gray stainless steel gives the case a gunmetal effect which, along with the flat bezel surface and rounded sides, leans hard into the authoritative professional factor.
Finally, the hands are decorative, shaped like cathedrals without the overly ornate interior lines, so it doesn't look out of place on the dial.
Dimensions: 38mm diameter, 13.45mm thickness
Case material: Stainless steel
Water resistance: 30m
It's powered by a 21-jewel automatic with a 42-hour reserve. Between that and the model's American watchmaking heritage, the Hack is a high-value timepiece.
Hamilton Khaki King
The Hamilton Khaki King is a deluxe and elegant take on the standard field watch. The most noticeable difference being the fully spelled-out day (a la the Rolex Day-Date) in the 12-hour section.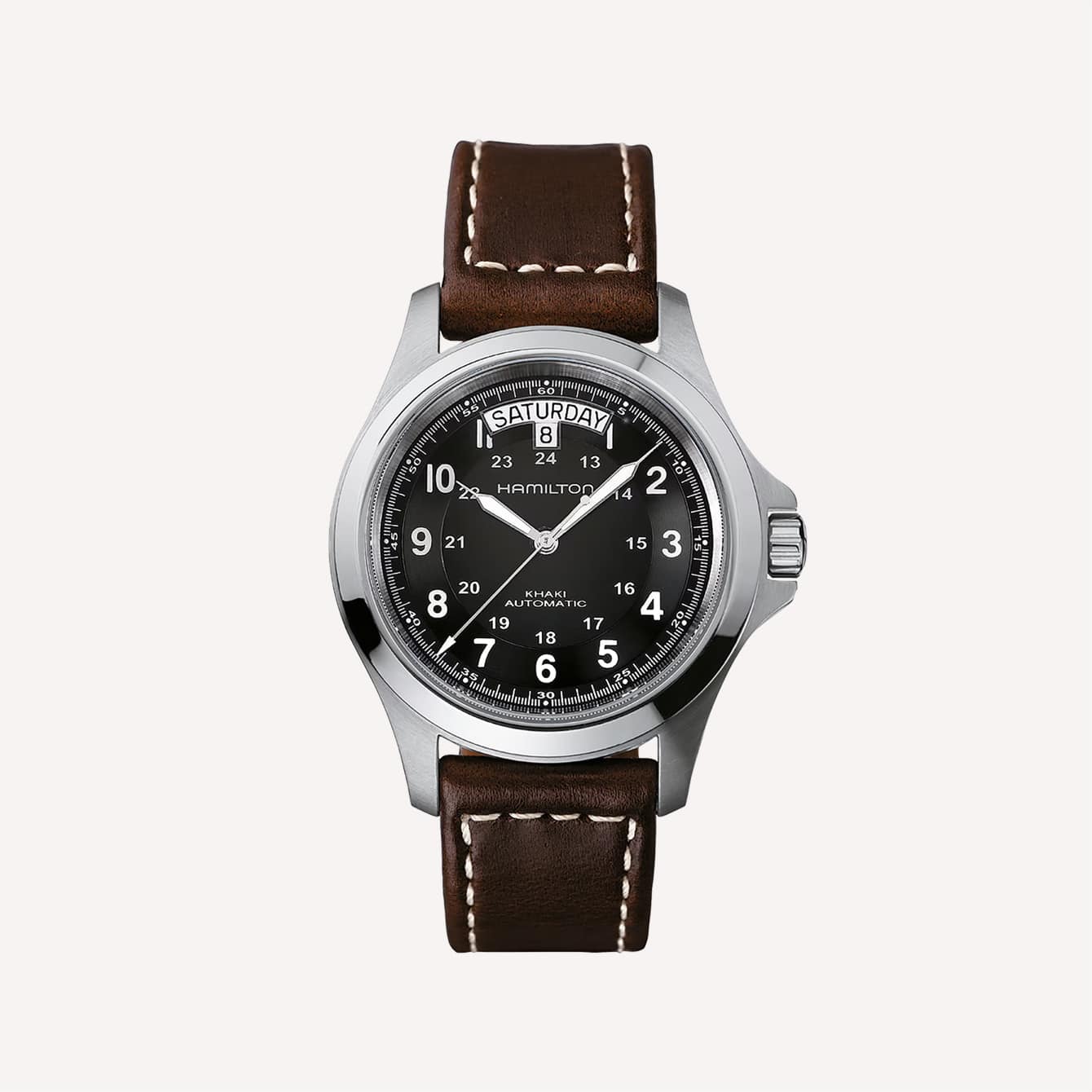 Moreover, the subtle track behind the one-to-12 markers highlights these indices, while giving the 13-to-24 markers their own center dial.
Suffice it to say, the symmetrical face is wildly easy to read from most angles, not least of which is due to the tapered, syringed sword hands.
On top of all of that, this timepiece has a premium build, which includes an anti-reflective sapphire crystal and Hamilton's H-40 movement.
Dimensions: 40mm diameter, 11mm thickness
Case material: Stainless steel
Water resistance: 50m
It's a beautiful automatic, viewable through the caseback, with an 80-hour power reserve. You can put this watch on your dresser on Friday night, and it'll still be going when you put it back on Monday morning.
Steinhart Ocean One Vintage
Steinhart is mainly known for serving up some quality homages, and this Ocean One Vintage is reminiscent of the original 1970s Explorer II.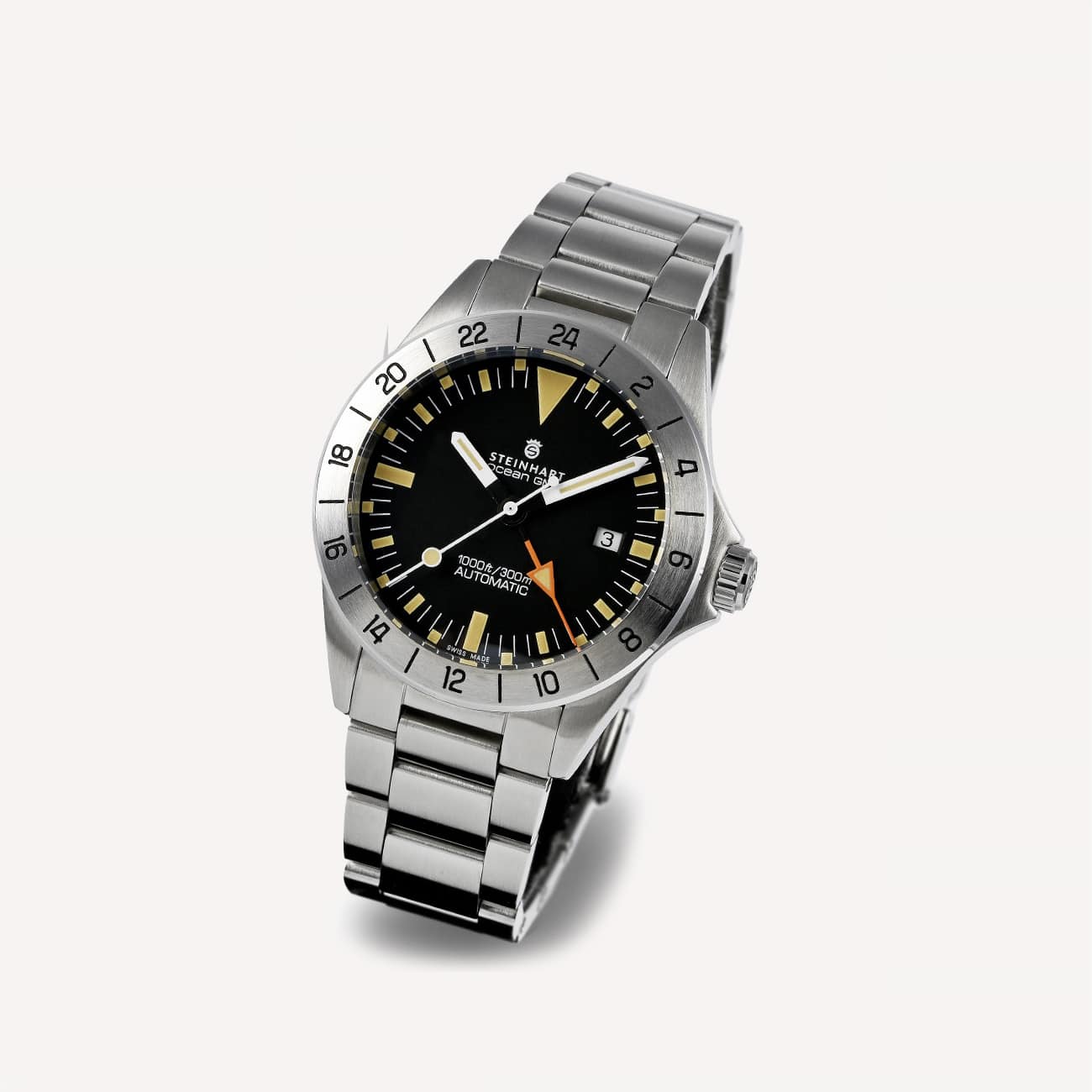 It has a solid military design, a tank-like bezel, and hour markers made of sticks and squares that give the black dial the look of a radar panel.
It's a truly well-built watch, even boasting 300 meters of water resistance. The Elaboré version of a reliable ETA automatic GMT that this watch runs on is adjusted for more precision than the standard version.
Dimensions: 42mm diameter, 14mm thickness
Case material: Stainless steel
Water resistance: 300m
Basically, this spec-forward timepiece has an authentically vintage design, but is sturdier and won't come with all of the hassles that buying and keeping a vintage watch can often come with.
Christopher Ward Sealander GMT
If there's one thing that Christopher Ward excels at, it's details. And, despite the relatively clean design of the Sealander GMT, this watch is chock full of them.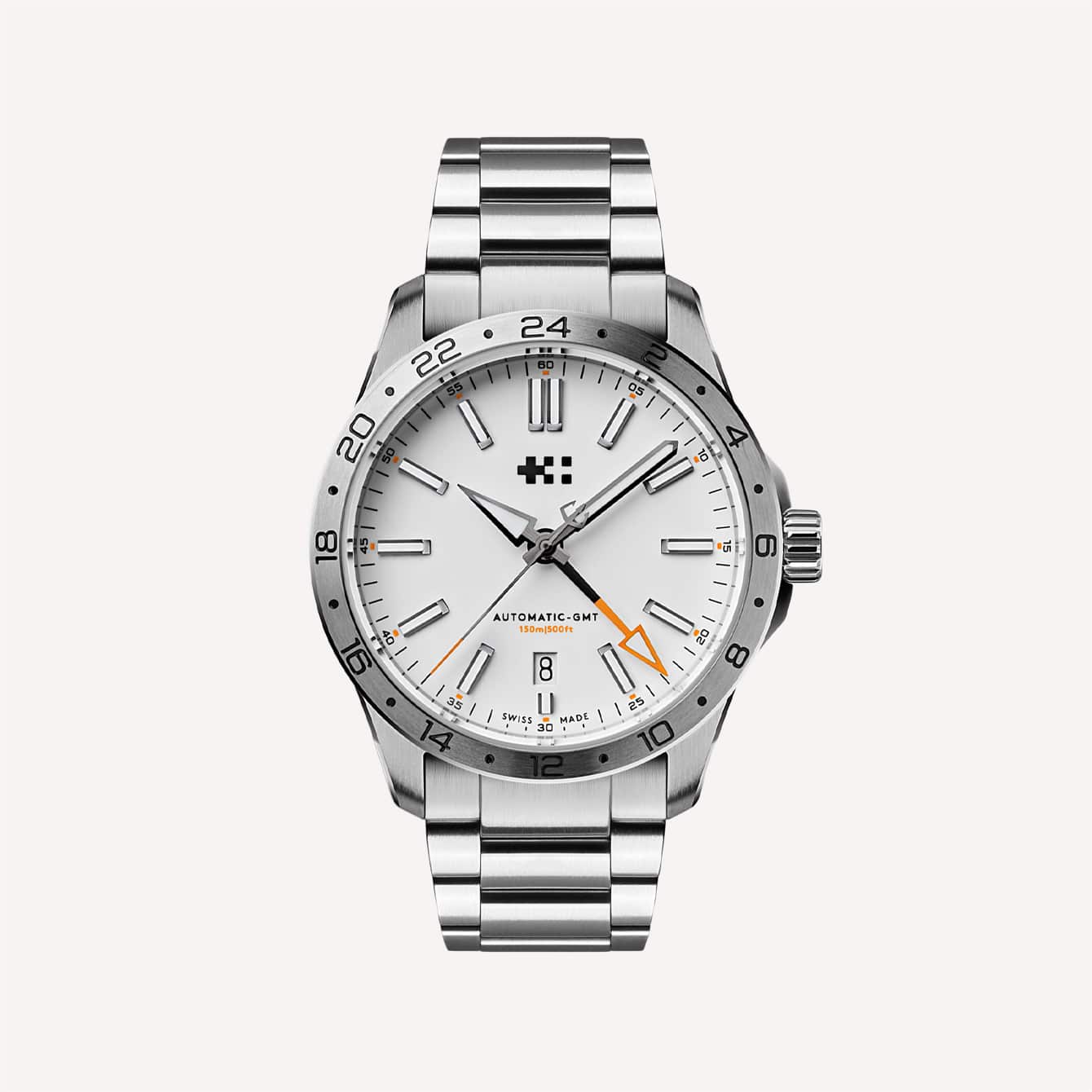 The dial features a lot of long and slender-shaped elements, giving it a sharp look but also a lot of legibility. The dimensional batons and minute markers point back at the dagger hands.
Naturally, the second hand is equipped with the trident counterweight. The orange accents ensure the overall look isn't sterile (as do the dimensional indices), but are minimal enough that they don't take away from the tidy aesthetic.
Dimensions: 39mm diameter, 11.85mm thickness
Case material: Stainless steel
Water resistance: 150m
I also love the bright, blue tone of the lume. It really pops on the lacquer dial and reminds me a bit of Rolex's Chromalight.
Glycine Combat Sub
There's something refreshing about seeing an on-template dive watch in matte colors.
The Glycine Combat Sub, with its classic blend of circular and rectangular indices, and simplified almost-Mercedes hands, looks as if it's only incidentally stylish. I think this gives it a more effortlessly cool look.
The smaller case size with the 12mm height is a great balance.
Dimensions: 36mm diameter, 12mm thickness
Case material: Stainless steel
Water resistance: 300m
The 36mm diameter looks great and fits all wrist sizes, but the GL224 Swiss Automatic gives it enough of that substance that makes tool watches satisfying to wear.
Botta Tres 24
If you love that pragmatist German engineering aesthetic and the sleek look of Carrera car-inspired timepieces, the Botta Tres 24 is your guy.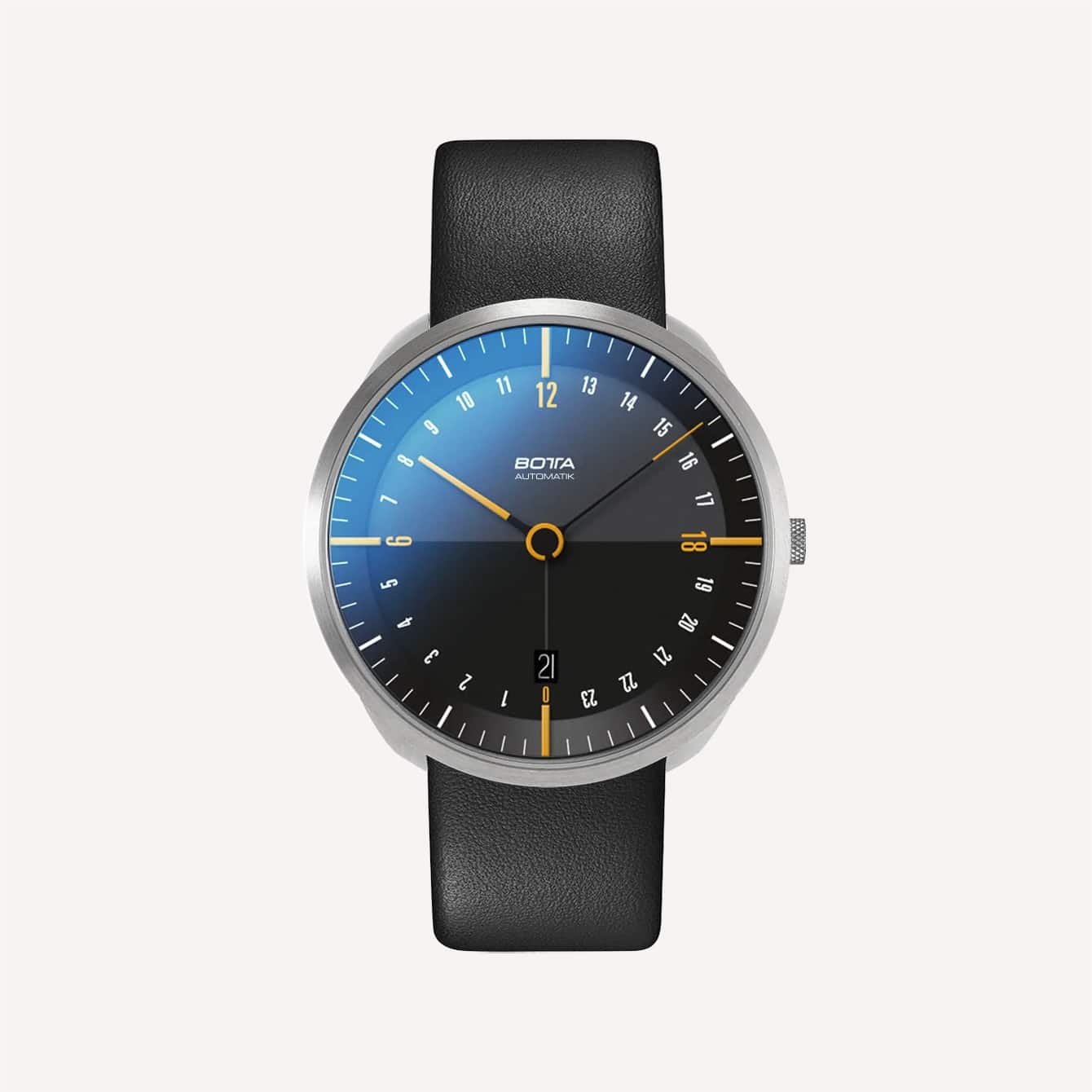 The design is line-forward and practical, utilizing accent pops and tonal shades to make the dial easily readable. Still, this watch boasts the sleek lines of a luxury sports car from every angle.
Specifically, looking at the case from the side reveals curves and angles that are simultaneously gem-like and industrial, fully cinching its Disney Tomorrowland vibes.
Dimensions: 40mm diameter, 9mm thickness
Case material: Titanium
Water resistance: 50m
What's more, the titanium case is light yet strong and has a slightly matte, almost gunmetal look compared to stainless steel.
Glycine Airman GL03xx
Going straight to the source, the Glycine Airman has been a go-to 24-hour timepiece for tool watch fans for decades. Some might say what the Speedmaster is to chronographs, the Airman is to 24-hour watches.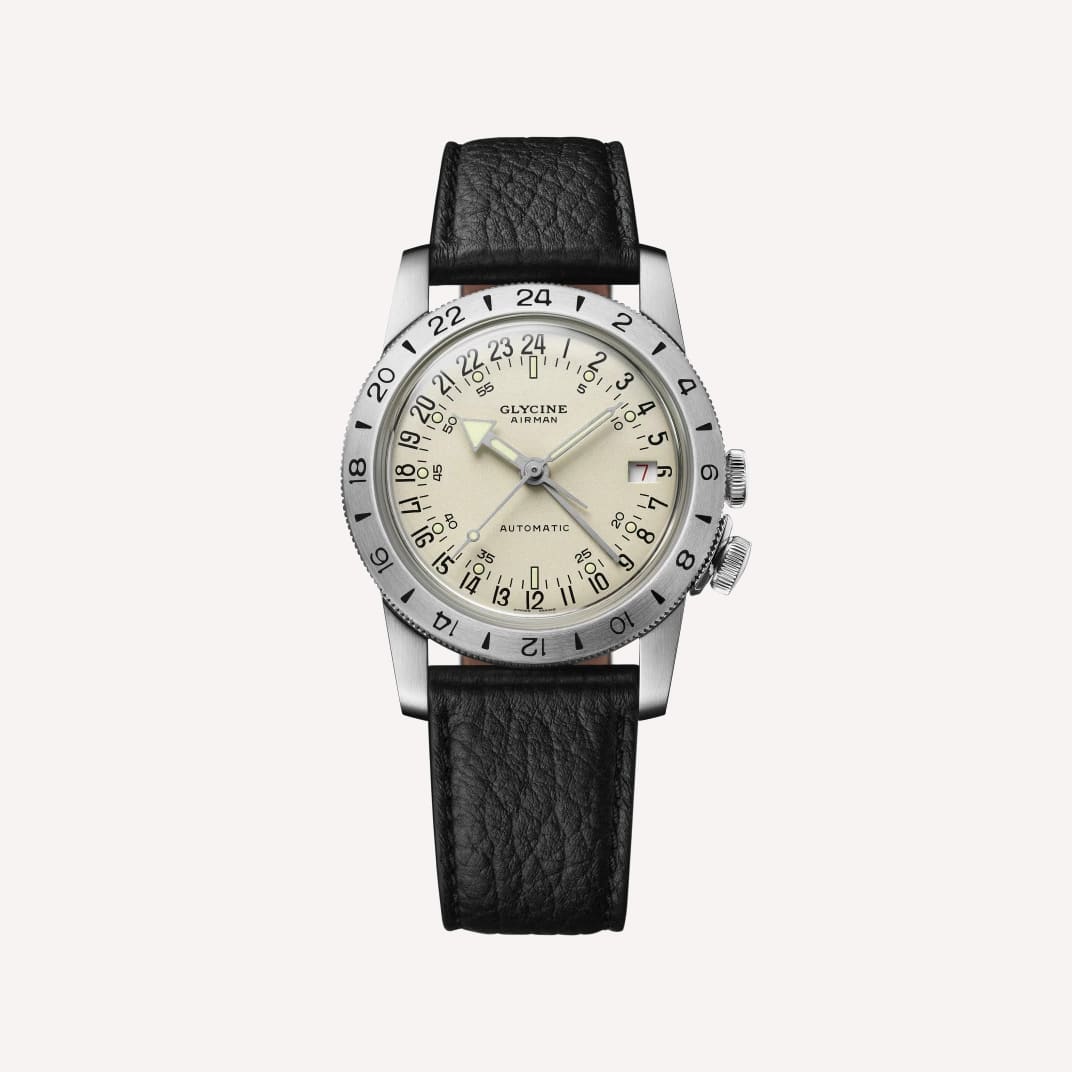 All of the design happens at the edges, with a busy 24-hour track on the dial, which is balanced out by a tamer 24-hour bezel.
Whether you go for the elegant cream dial or the highly-versatile black dial, it has that quintessential professional look.
Dimensions: 36mm diameter, 11mm thickness
Case material: Stainless steel
Water resistance: 30m
It's hard to tell since the specs are exactly the same, but both colorways come in two versions: The "purist" version, which only has a 24-hour hand, and the 12-hour version, which has both a 12-hour and 24-hour hand.
Tudor Black Bay Pro
This Black Bay Pro from Tudor is like an upgraded Steinhart Ocean One Vintage.
It looks a lot like the original Explorer II, the one from the '70s that was erroneously named after Steve McQueen, with the same hard military-style bezel.
However, it's a COSC-certified Chronometer and, as a Tudor watch, in the same family as the Explorer II.
This gives the watch an air of legitimacy, more of a family resemblance rather than a complete design lift.
Dimensions: 39mm diameter, 12mm thickness
Case material: Stainless steel
Water resistance: 200m
Plus, it combines the vintage-inspired body with the mixed-shape indices you'll find on modern Rolex models. Add the Tudor snowflake hands to the mix, and you've got all the boxes checked for collectability.
Grand Seiko SBGM245
Imagine an army-inspired timepiece, but one that's sleeked out with harmonious Japanese design sensibilities.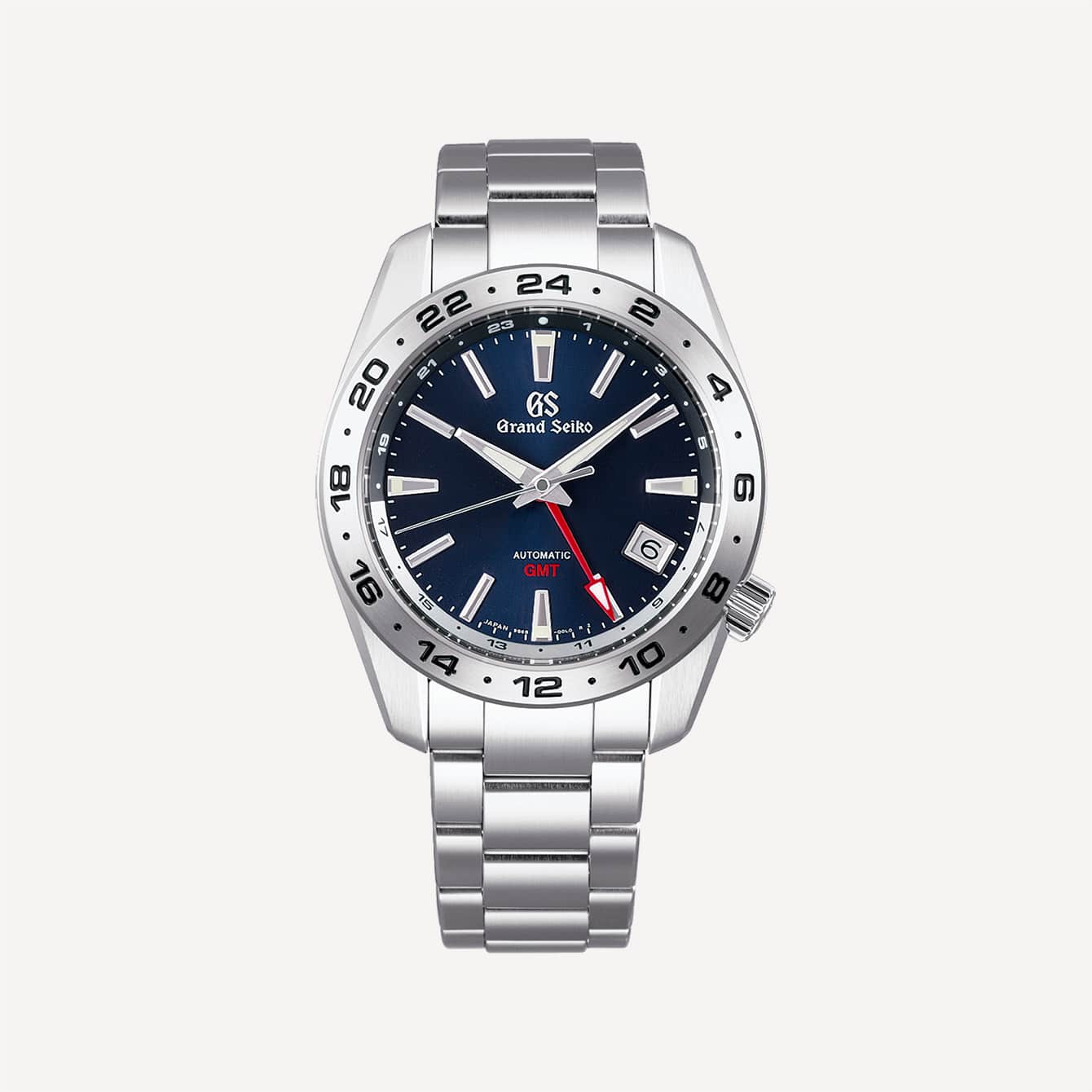 The Grand Seiko GMT SBGM245, with its radiant sunray dial and dimensional baton indices, is sporty and elegant. And since this is Grand Seiko, it flaunts both high-level function and an incomparable handcrafted status.
The movement is, as all Seikos are, an in-house creation. Caliber 9S66 features a 72-hour power reserve and commendable accuracy.
Dimensions: 40.5mm diameter, 14.4mm thickness
Case material: Stainless steel
Water resistance: 200m
The hands, indices, and case are hand-polished using the Zaratsu technique which results in mirror-like polish and flawless brushing.
Breitling Navitamer Cosmonaute
No one does maximalism like Breitling. The B02 Navitamer Cosmonaute squeezes a 24-hour dial just beneath the three subdials of this iconic design, created by Willy Breitling himself.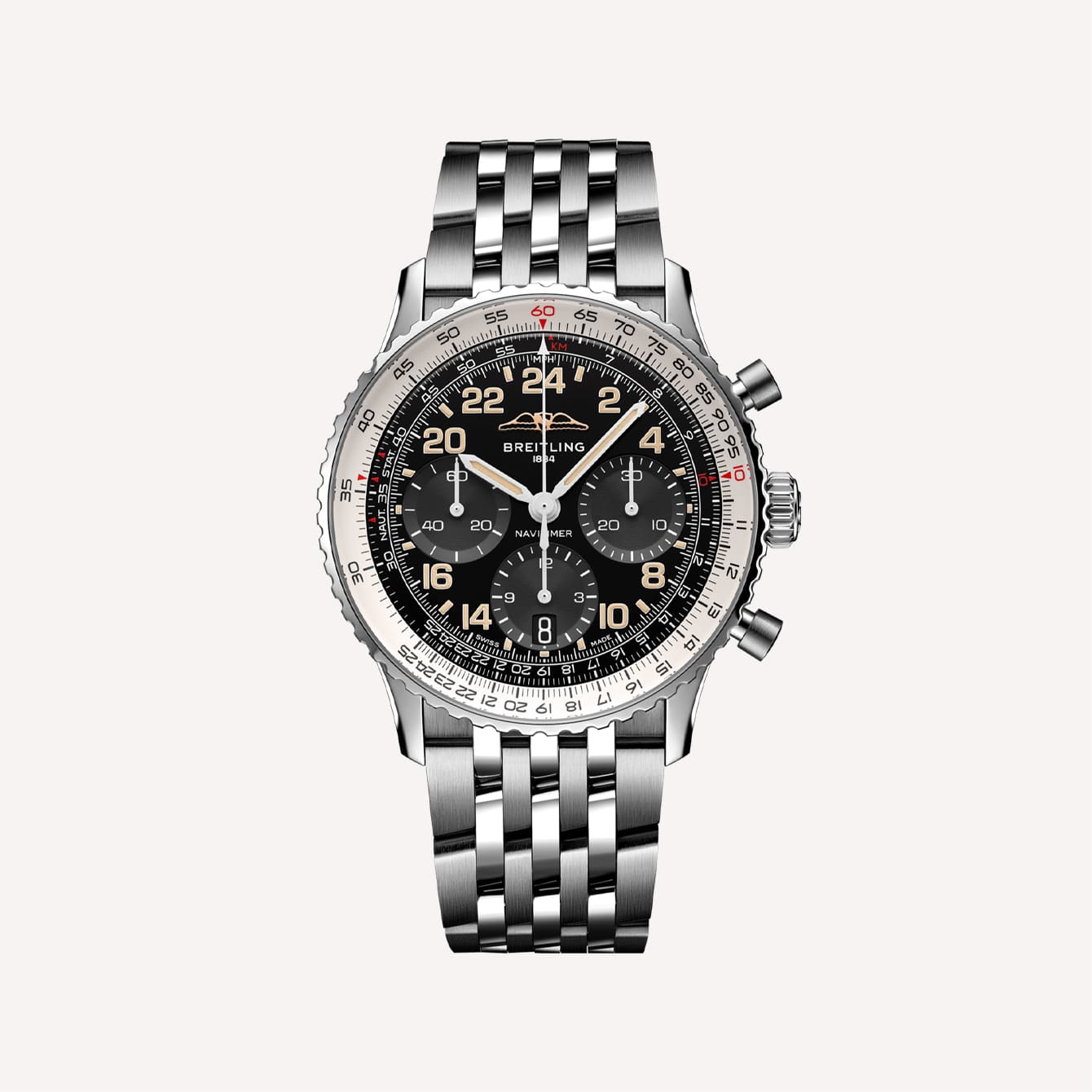 If you're the kind of collector who loves a model with lore, the original Navitamer was also the official watch of the Aircraft Owners and Pilots Association, before going into space in 1962.
What I love most about this watch is that it takes science-inspired features, most noticeably the slide rule outer dial, and elevates it into an artistic design.
Dimensions: 41mm diameter, 13mm thickness
Case material: Stainless steel, platinum
Water resistance: 30m
The mechanical hand-wind movement provides a functional tactility to match the visual tactility, and also has 39 jewels, high frequency, and a 70-hour power reserve.
Rolex Explorer II
The Rolex Explorer II is that extraordinary instance of a sequel becoming as popular as the original. While the Explorer I is for mountaineering, the II is for spelunking, which explains why it has a GMT hand combined with a static 24-hour bezel.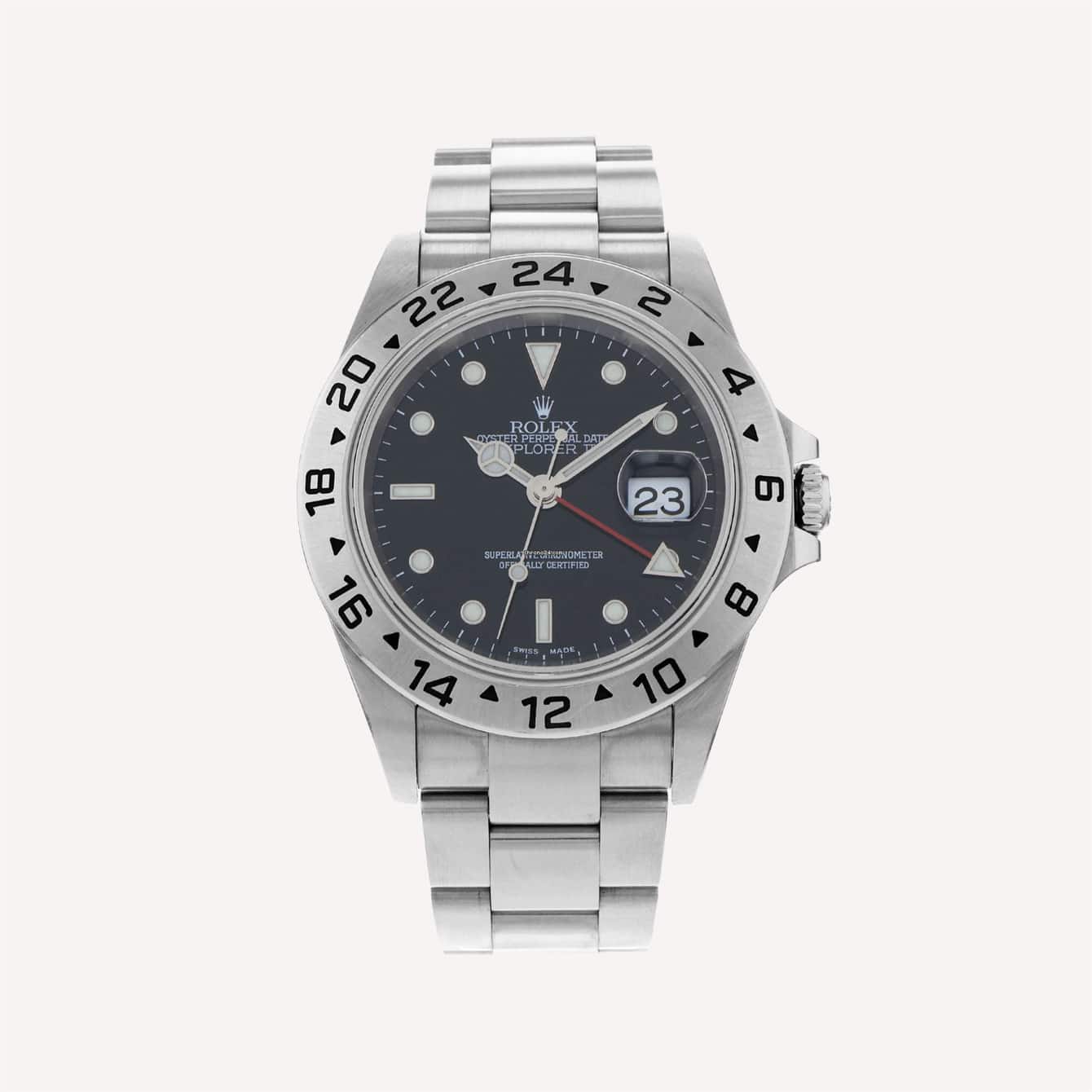 This way, you can tell whether it's AM or PM even when you're deep in a cave. As always, though this pairing was purely for function, it's now what makes the Explorer II so iconic, design-wise.
The Polar version, aka the white dial colorway, is a touch more popular than the black version and is definitely more unique.
Dimensions: 42mm diameter, 12.5mm thickness
Case material: Stainless steel
Water resistance: 100m
Some might say it's come to be the top representative of luxury sport watches, at least in the field category. Modern versions are armed with proprietary features, including a 31-jewel COSC-certified movement, and the beautiful blue Chromalight lume.
FAQs
Here are some common inquiries regarding 24-hour watches!
How do 24-hour watches work?
24-hour watches work just like regular 12-hour watches, except they run on military time, featuring hours one through 24, instead of one through 12, then back to one for the PM portion of the day.
How do you read a 24-hour watch face?
After the 12th hour of the day, instead of going back to one, the dial depicts the 13th hour. This is the same as 1 pm on a 12-hour clock. From there, 14:00 is 2 pm, 15:00 is 3 pm, and so on.
What was the First 24-hour Watch?
Ancient Egyptians used 24-hour sundials, while clocks in the Middle Ages were also 24 hours. In 1953, Glycine introduced the 24-hour rotating bezel, which was then popularized by the Rolex GMT Master.
Conclusion
Whether the 24 markers are on the bezel, on the dial, or both, this design is found on more than just military watches. Sure, they might not be as easy to read for those of us who are used to the 12-hour design, but they certainly look cool.
Questions? Comments? Leave them below!