In this guide, we take a look at the fascinating history of wrist watches. Read on to learn more.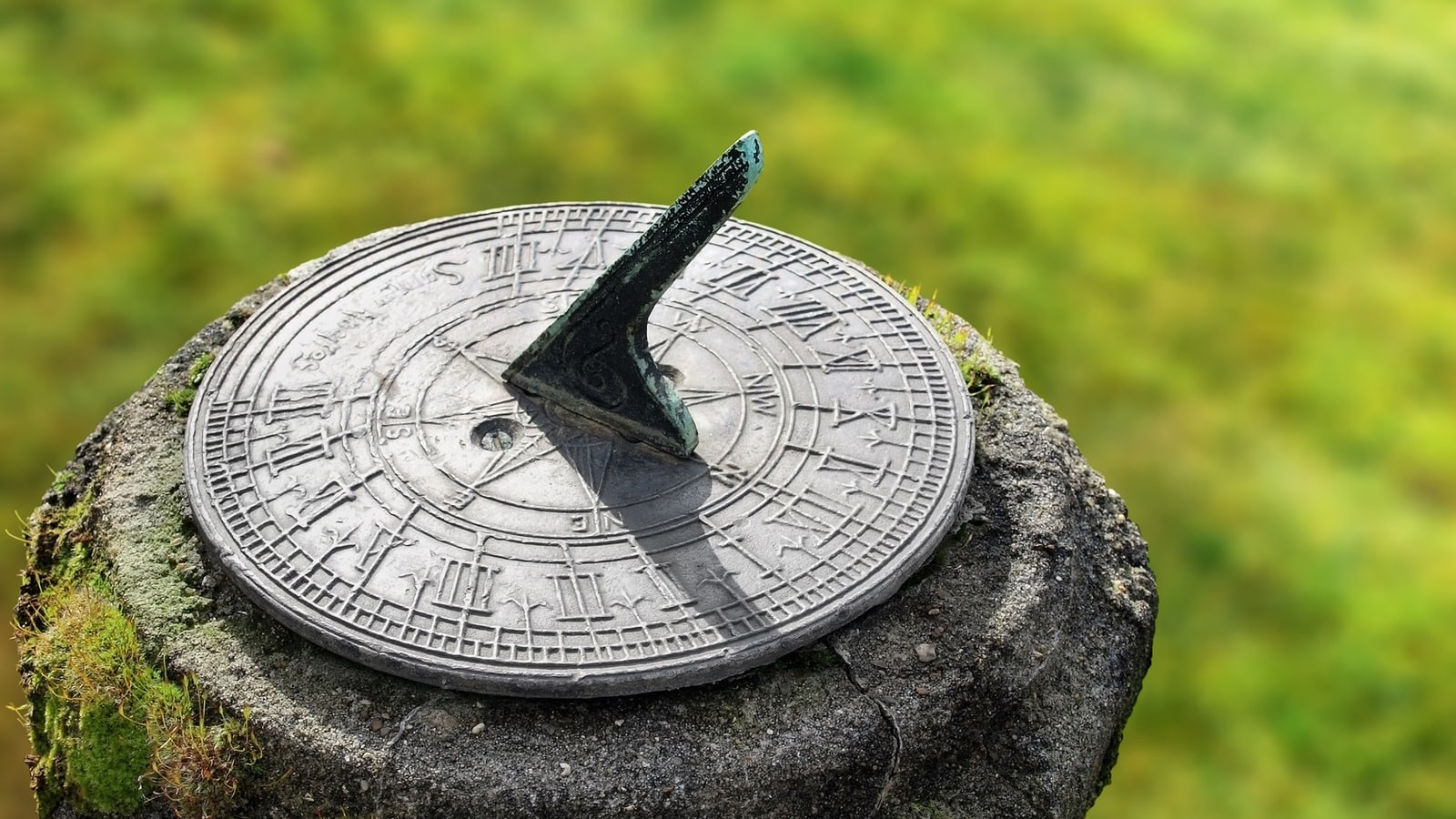 Take a look around you and count how many places you can check the time. Now imagine what the world would be like without the concept of time or the ability to just glance down at your wrist to keep your life on track.
Whether it's on our wrist, on our phone or computer, or using the clock on the wall, we live our lives by the clock.
Today's wrist watches are functional and decorative, but their evolution is based primarily on practicalities. They're such an integral part of our lives that it's hard to believe that the modern wristwatch is only slightly more than 100 years old.
A Very Brief History of Keeping Time
As much as 5000 years ago man was trying to keep track of time. The earliest examples are sundials discovered in Egypt and China. Even though they were only a shadow on a
plate with markings, the basic format is still reflected in today's clocks and watches. Sundials weren't perfect — shadow lengths differed depending on longitudinal location and you couldn't tell time at night.
Night timekeeping was solved in various ways.
The Egyptians devised a vertical plumb-line that aligned with Polaris around 600 BCE.
Anglo-Saxons used marked candles since 1500 BCE which burned at a documented rate and the Chinese and Indians used incense clocks in the 6th century based on the principle of burn rate.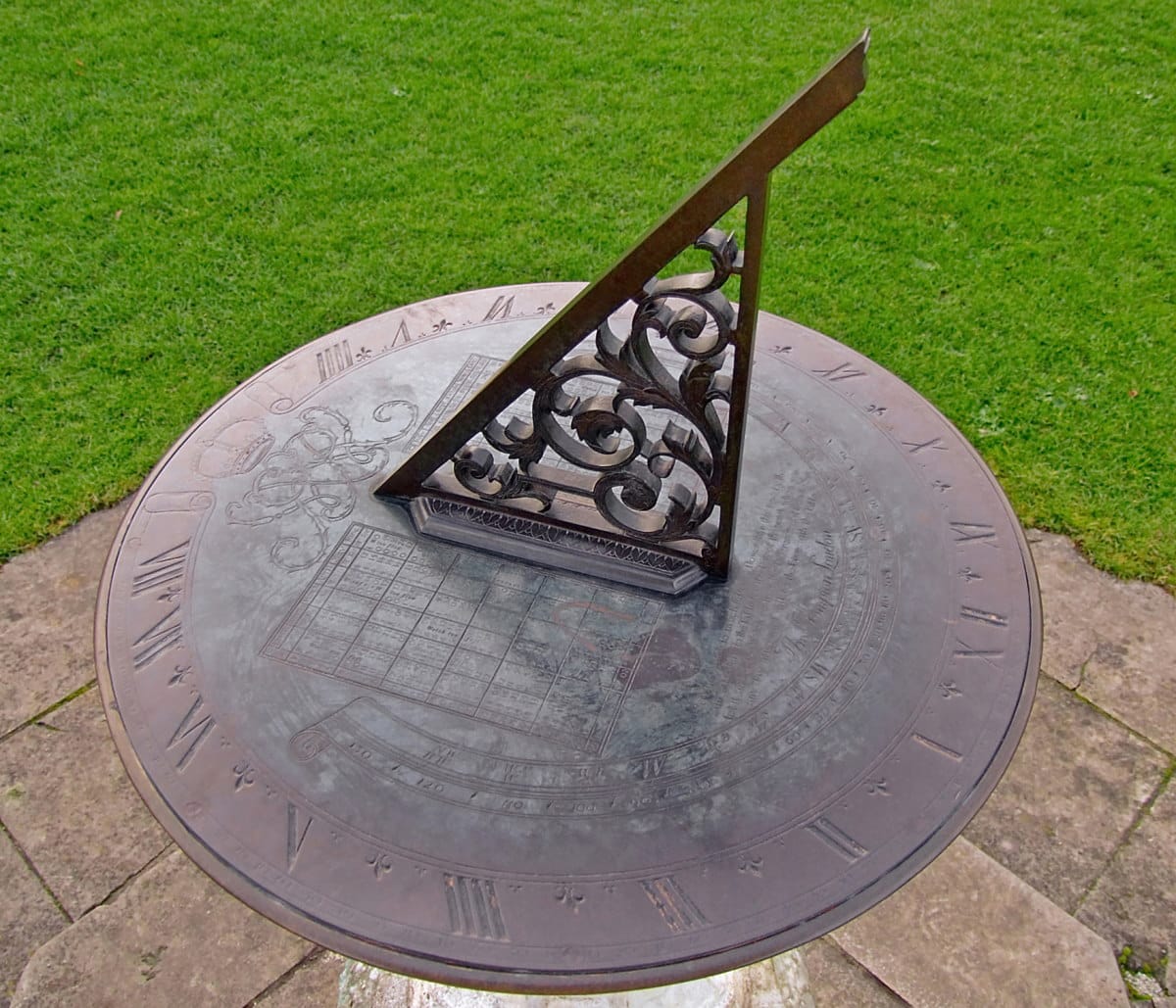 Other cultures created water clocks (which also functioned at sea) and the Persians invented the astrolabe which not only tracked time but also zodiac signs and lunar phases.
All of these time-telling mechanisms were used by a single person and few were able to afford them. Eventually, locksmiths started engineering mechanical clocks, replacing water clocks, that were located in church towers and marketplaces so that entire villages could benefit from knowing the time.
The next major advancement in timekeeping was driven by practical necessities. In the age of exploration, determining your longitude was imperative; being wrong by 1 minute equated to 28 km when navigating the tropics.
Latitude was accurately determined by the stars. While Ferdinand Magellan relied on 18 hourglasses to help with his circumnavigation of the globe in 1522 it wasn't accurate enough, or portable enough, for everyday use.
The term "watch" did evolve from sailing vernacular. Hourglasses kept track of the 4-hour shifts of duty or "watches" so the term came to mean a time-measuring device.
Eventually, a German locksmith, Peter Henlein, created the first portable, pocket-sized clock using a spring mechanism that kept relatively accurate time. This was the beginning of the miniaturization of the clock.
The trend continued and by 1571 Queen Elizabeth I was gifted an "arm watch" or wristwatch by an admirer. From this time on, wristwatches were associated with women as decorative jewelry. Men used pocket watches.
In addition to timepieces getting smaller, they were also getting more accurate. Instead of losing almost an hour a day, now accuracy was measured by a minute or less per day. By 1690, mechanical engineering advanced enough that timepieces could have hour, minute, and second hands.
In 1714 the word chronometer was first used by Jeremy Thacker, a Yorkshire clockmaker.
250 years after Elizabeth received her watch, the first "official" wristwatch was created for Queen Caroline Murat, Napoleon's sister in 1812.
By the later part of the century, men had accurate pocket watches and women wore theirs either around their neck, as a broach, or on their wrists.
As watches became a necessity, watchmakers started to proliferate.
The Emergence of Watchmakers & Wrist Watches for Men
Patek Phillip was founded in 1839 and produced the first Swiss wristwatch in 1868, designed for Countess Koscowicz of Hungary. Wristwatches were still exclusively a female adornment.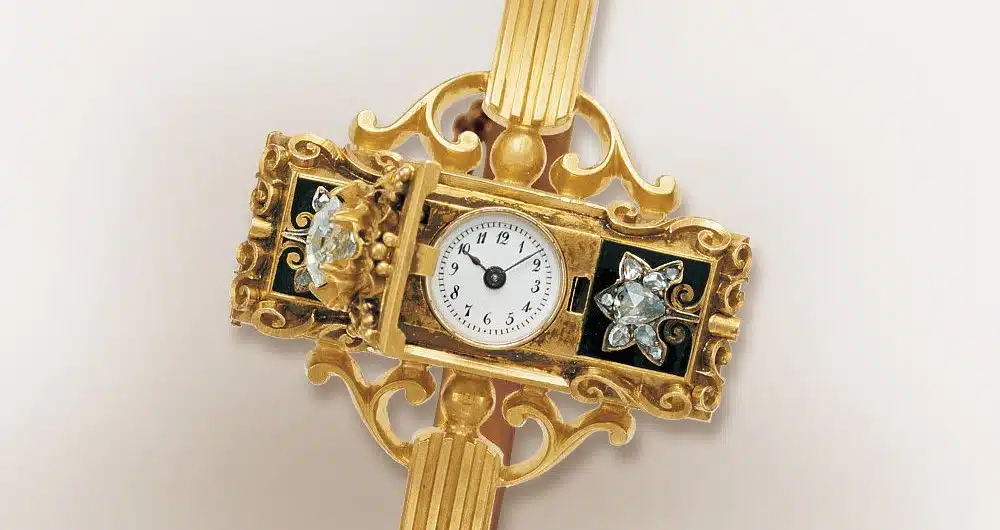 Omega, also Swiss, introduced their first wristwatch in 1892. It had a minute-repeating feature and was a wearable clock with a chime.
While among the first, the Swiss were not the only watch innovators. In 1893 Garstin Company of London patented their "watch wristlet" and Wildsorf & Davis started producing watches that were sold to other jewelers for rebranding.
Soon, they began selling the watches themselves and renamed their company Rolex in 1908. By 1910 they became the first company to produce a watch that received certification as a chronometer in Switzerland.
Their attention to accuracy won them an award in 1914 from the Kew Observatory in London.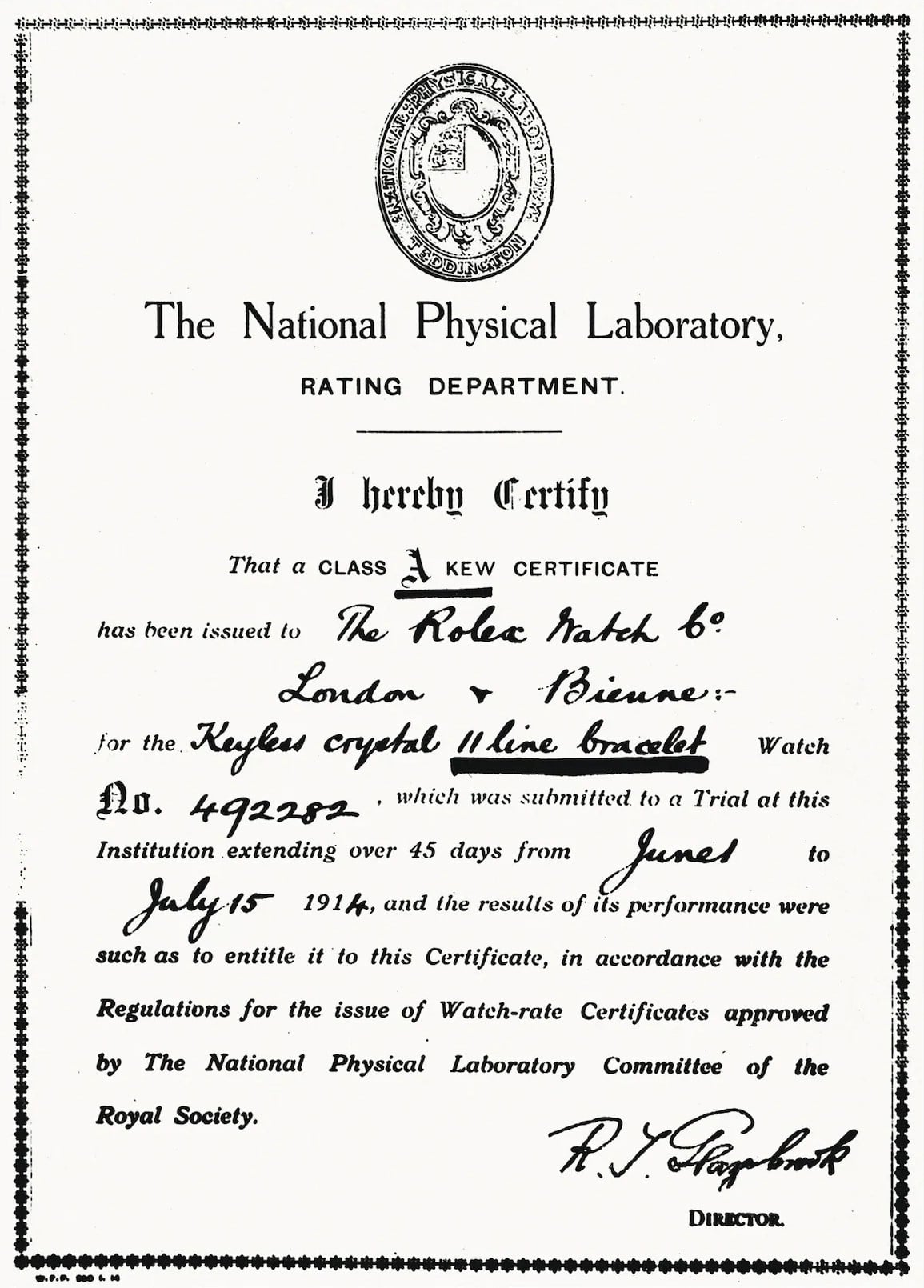 In 1904 Alberto Santos Dumont, a Brazilian flying legend, asked Louis Cartier, a French jeweler, to design a watch that he could wear on his wrist so he could tell time at a glance while in flight. This first "pilot's" watch design became a classic and is still sold by Cartier in a large variety of finishes.
Dumont's request highlights what other aviators and military personnel had discovered: while pocket watches provide accurate time, it's inconvenient to grab your watch from your back pocket if you're in a hurry or if you're actively doing something.
This was made imminently clear during the Franco-Prussian War and the Second Boer War (1899-1902) when the British army started using standard pocket watches that were fitted onto a leather strap to be worn on the wrist.
This allowed troops to precisely synchronize their military movements while in battle.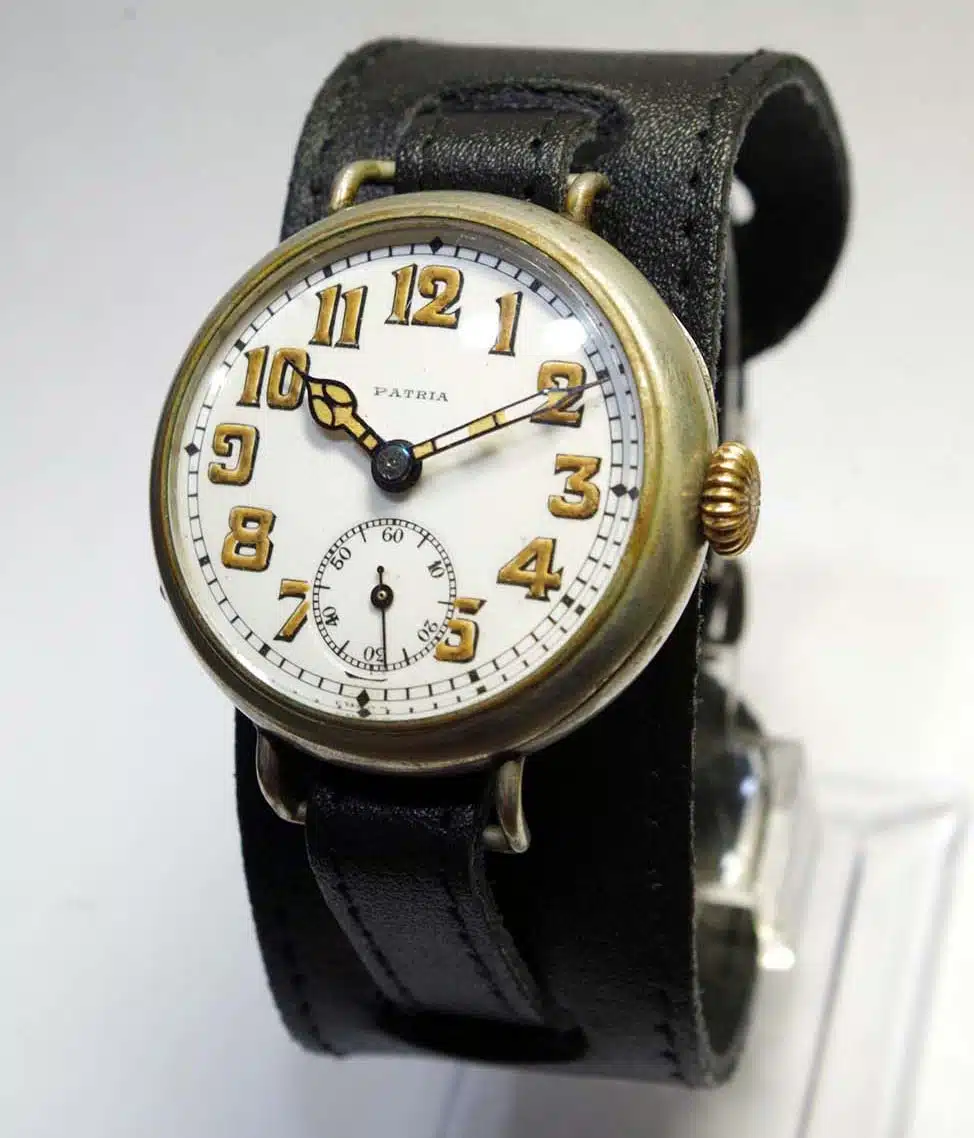 As warfare changed, wrist watches for all soldiers became even more important. During World War I, trench warfare and advancements in armory led to the creation of the creeping barrage tactic whereby the infantry would advance behind artillery barrages.
If movements were mistimed, soldiers would be blown apart by their own artillery. The British War Department started issuing wristwatches to all soldiers.
Changing circumstances required technical advancements: soldiers needed luminous dials so they could read the time in poor light conditions, and shockproof housings and scratch-resistant glass were needed to withstand the harsh conditions.
The Swiss incorporated these necessities and produced watches for both sides of the war. By the time the war ended, the wristwatch went from being a female adornment to a sign of "manliness".
Watchmaking improvements in aesthetics, mechanics, and accuracy didn't end with the war. Cartier based the shape of their new designs on the shape of tanks. Cartier tank watches are still being produced with few changes.
The first automatic watch was reintroduced by John Harwood (the concept was first explored in the 18th century). The first digital wristwatch was introduced. No, it's not like modern digital watches — the numbers were painted on wheels which clicked into view at the proper time.
Progress wasn't limited to new watchmakers. Patek Philippe invented the first known perpetual calendar wristwatch.
Rolex created an Oyster case that was waterproof. In 1927 Mercedes Gleitze wore one in an attempt to swim across the English Channel. (The attempt was aborted after 10 hours due to bad weather but the watch proved to be waterproof.)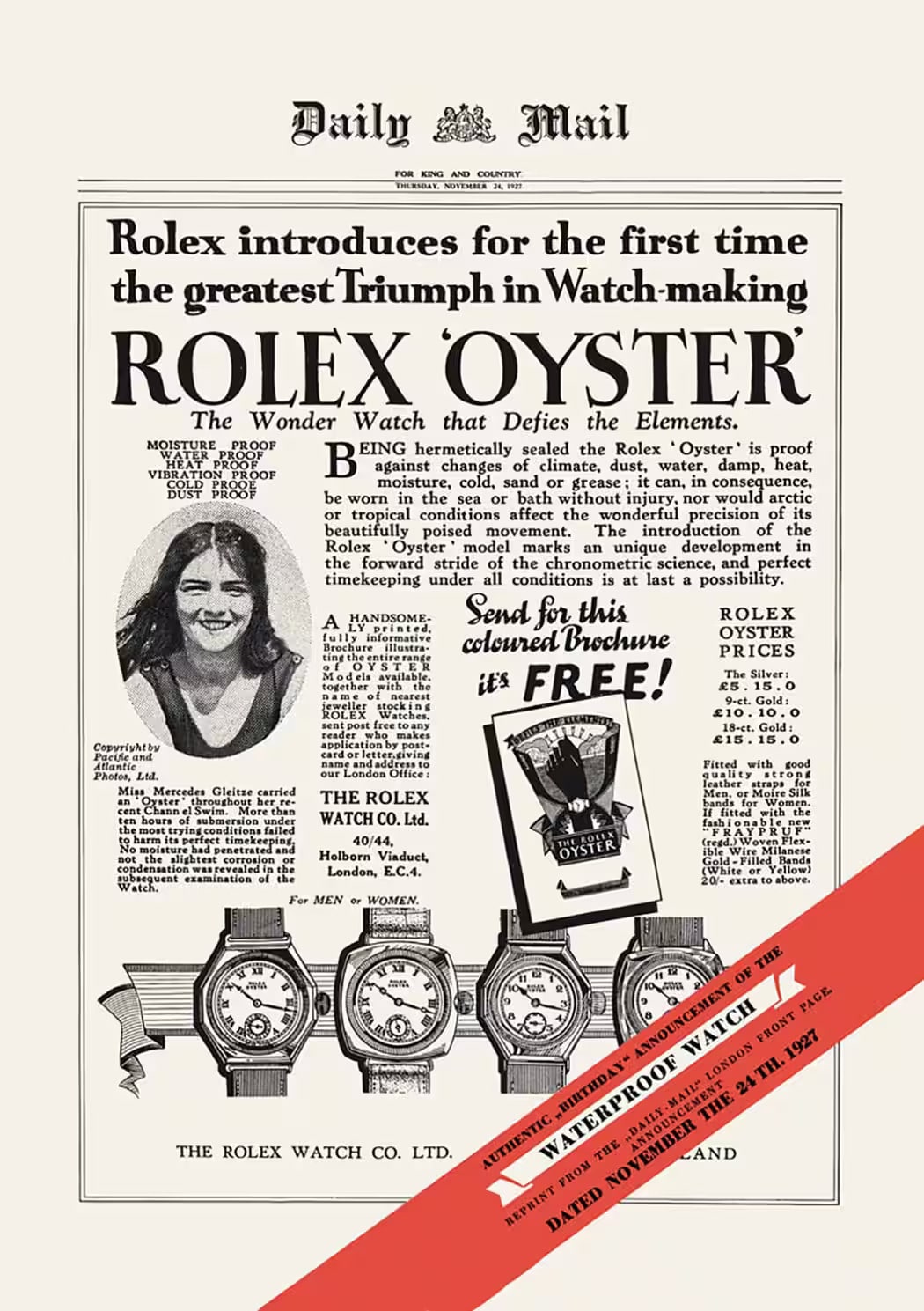 By 1930, the wristwatch was firmly established in men's fashion, outselling pocket watches 50:1, and watchmakers were busy innovating new designs and mechanics.
Rolex used their Oyster case to introduce the first self-winding watch with a perpetual rotor. Omega created the first commercially available diver's watch in 1932.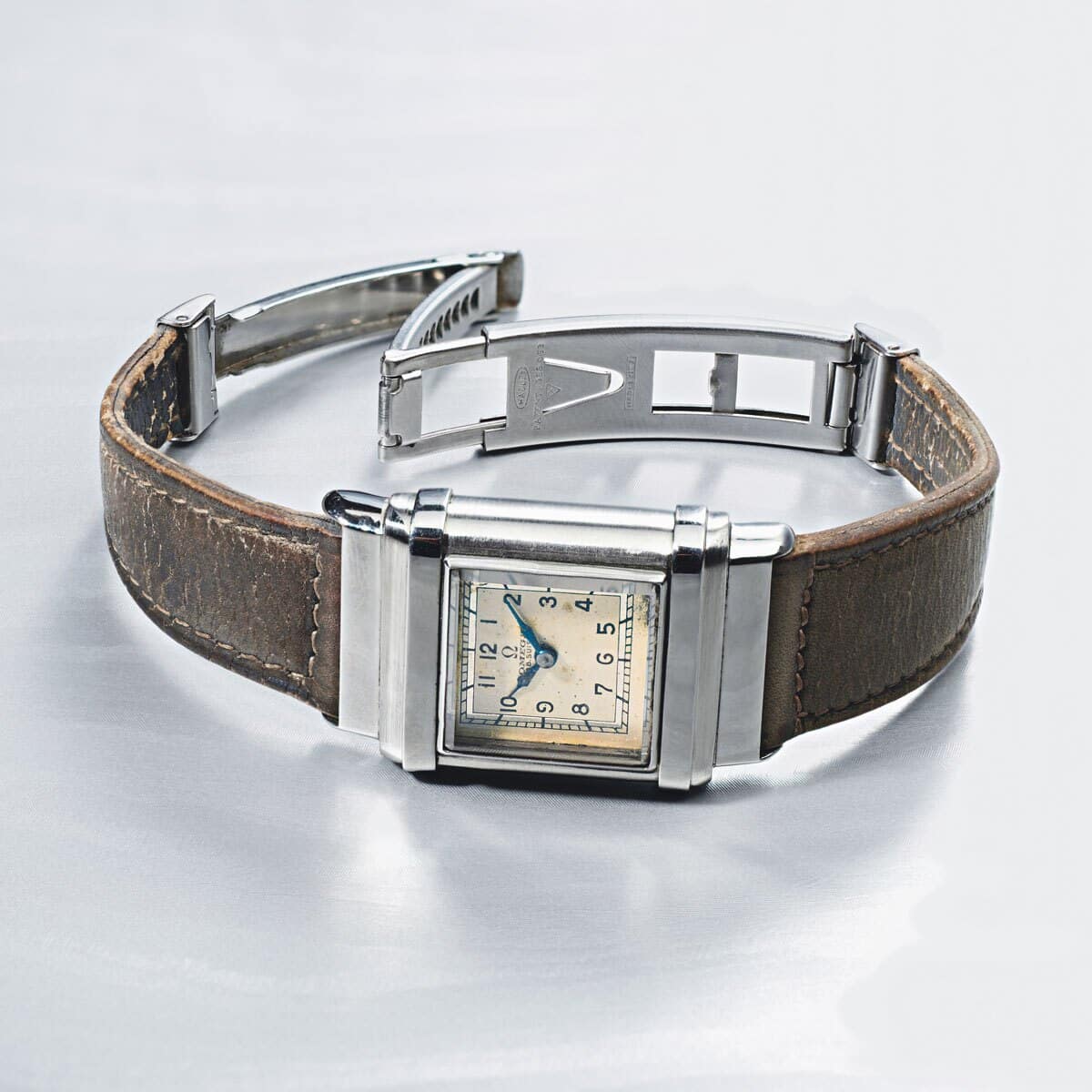 They also industrialized water resistance, shock-proofing, and anti-magnetism for all watches by 1940. Patek Philippe invented the first known perpetual calendar wristwatch in 1945.
The 1930s also saw advancements in technology that would eventually change the watch industry.
The first quartz clock was created by engineers working at the Bell Telephone Laboratories using vacuum tubes. Quartz clocks were so accurate, though large, that they could measure small weekly variations in the rotation of the earth.
Fun Fact:
The first Mickey Mouse watch was sold at the 1933 Chicago World's Fair for $3.25. In 1957 the 25 millionth produced was given to Walt Disney.
Also in the early stages of development were electric-powered watches. Granted they were expensive, bulky, and needed a constant supply of power or huge batteries so they were used only for scientific experimentation. However, by the 1950s the first battery-driven wristwatches were ready for production.
Many of the watches today are based on the designs developed by Rolex, Omega, Patek Philippe and Cartier in the first half of the 20th century. They added such classics as the Rolex Submariner, the Omega Seamaster, and Omega's Speedmaster (the official watch of NASA) in the 1950s.
Analog watches added functions (Patek Philippe even has a watch with 33 different functions) such as chronometers, but the next major innovation took watches in a whole new direction.
Quartz & Digital Watches
Seiko and its sister company Epson began developing the electric quartz movement in 1950, however, it wasn't until Christmas Day, 1969 that they were able to begin selling the mass-produced Seiko Astron.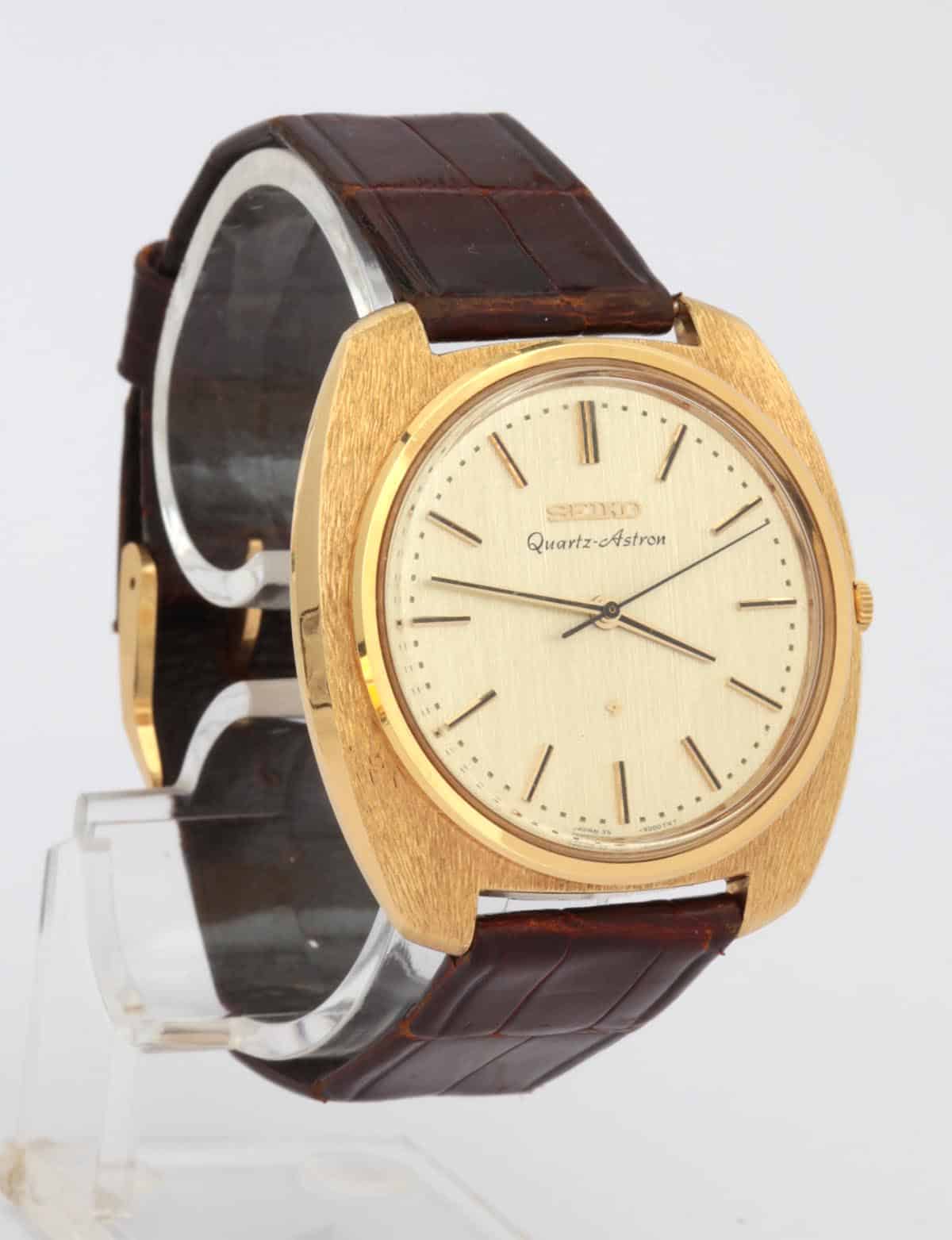 New technology isn't cheap and the watch cost $1,250 (the equivalent of over $10,000 in 2022). Quartz watches have few parts so they are actually much less expensive to produce, especially in large quantities so they became extremely affordable.
Soon, new companies were producing quartz watches as promotional items. The impact on traditional watchmakers was catastrophic.
By 1970 only 600 of the 1600 Swiss watch companies were still in business. Rolex even started making an Oyster Quartz version. This is the only quartz watch Rolex ever made.
At the same time, Hamilton Watch Company was starting to work on their new watch design. They were approached by Stanley Kubrick to design a digital watch for his movie 2001: A Space Odyssey.
The watch wasn't ready for the film, but years later the very first digital watch, billed as "Time Computer", made its debut on The Tonight Show Starring Johnny Carson on May 5, 1970.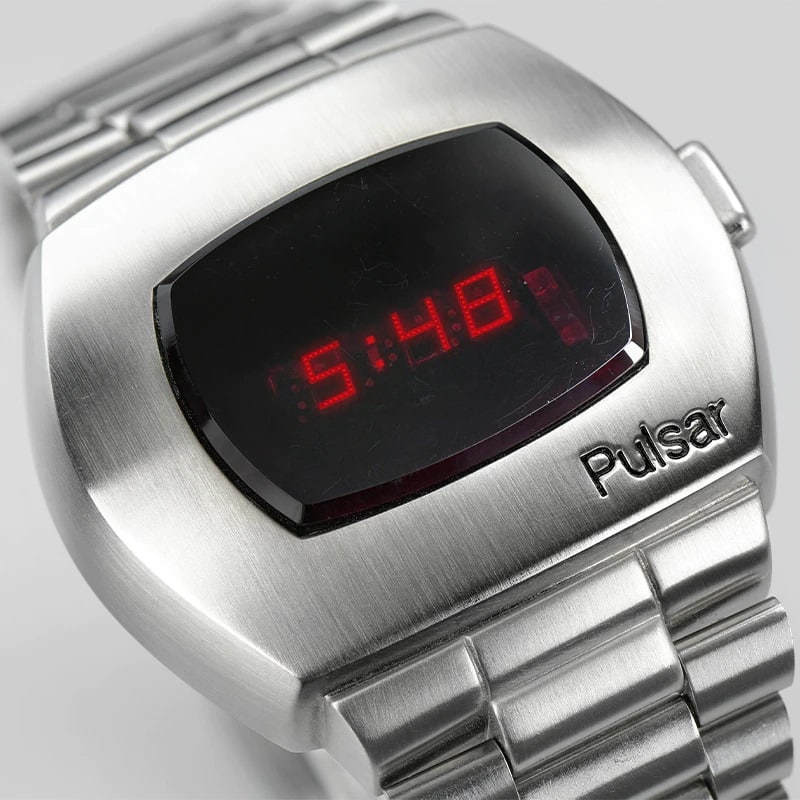 It ran on rechargeable batteries and you had to push a button for the time to display.
It was soundly disparaged by Johnny. The public, however, was captivated. It took 2 more years before a working watch was ready for sale – for $2,100 ($14,245 in 2022).
The watch sold out in the first 72 hours. Even though there were issues with quality control — consumers had trouble seeing the display in the sun, with corrosion, and with limited battery life — it had celebrity fans such as Elvis Presley, Sammy Davis Jr., Keith Richards, Jack Nicholson, President Ford and James Bond in Live and Let Die.
People were fascinated by the light-emitting diode (LED) display behind the synthetic ruby crystal.
Obviously, quality issues were corrected and more companies such as Casio entered the market with their iconic black resin G-Shock and DW-5000C watches. These watches were reliable and rugged.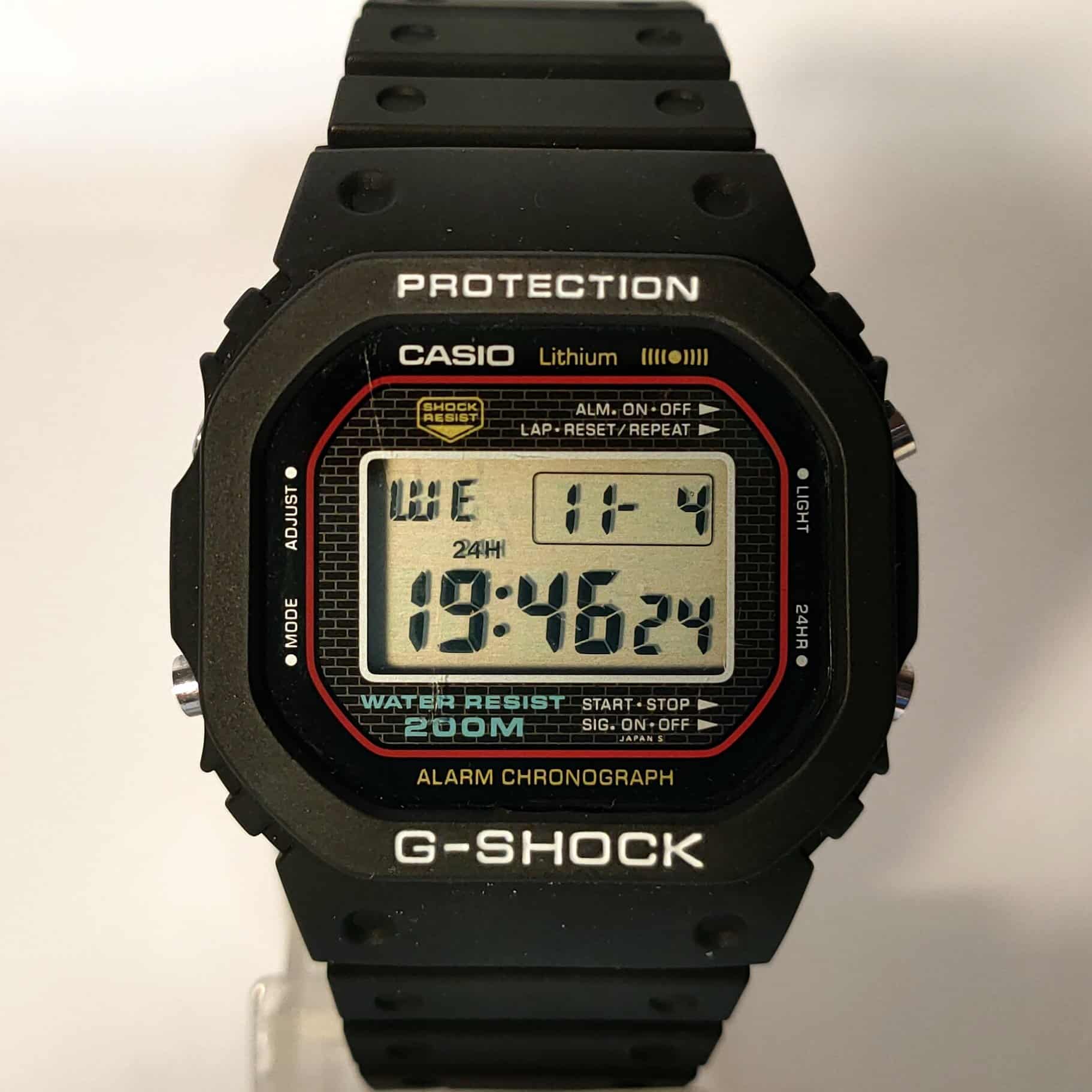 In the mid-1970s Hamilton was bought by the Swatch Group and the Pulsar brand name was sold to Seiko.
Like analog watches, once the reliability was established and the price decreased, watch companies started adding functions such as calculators, TV screens, cameras, and even miniature games like Super Mario Brothers.
Digital and quartz watches earned a permanent place in the wristwatch market, but by the mid-1980s mechanical watches started to rebound, especially in the higher-priced segment of the market.
While the first digital watch might have been billed as a time computer, that idea became reality with the advent of today's smartwatches.
Apple introduced their first smartwatch in 2015. It had a vivid OLED screen that linked to iPhones that displayed information, sent messages, and took health statistics. Since its introduction, Apple has sold more than 30 million watches — more than all the Swiss watchmakers combined.
The smartwatch trend is not limited to Apple, brands such as Tag Heuer and Montblanc have included "connected" digital watches in their offerings.
Today, many people are running their lives from their wristwatches (or their watches are running their lives).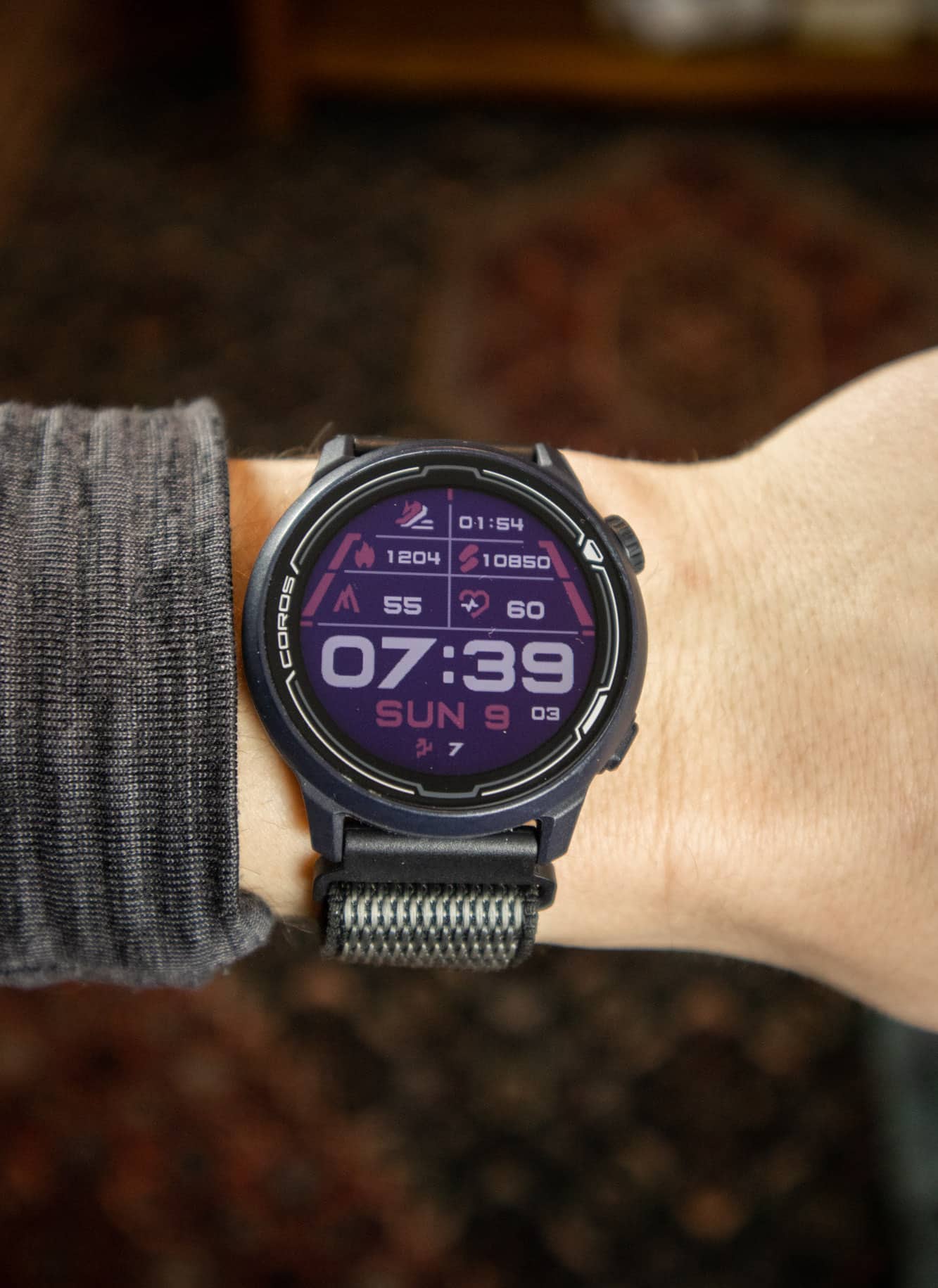 Strangely enough, many others have opted to go "watchless" because they prefer to just pull out their phones to check the time.
Final Thoughts
There is a place for all types of watches in today's world: inexpensive quartz watches (often digital), traditional analog watches, very often the higher-end and bejeweled, and smartwatches.
Non-luxury brands take up 60% of the current market, Apple is projected to sell 250 million smartwatches by 2025, and Rolex still makes 1 million watches a year. Each has found its niche and there is a place for them all in the $93 billion wristwatch market.
Questions? Comments? Leave them below!