Curious about timepieces from Germany? We've rounded up the 15 best German watch brands you can buy from right now.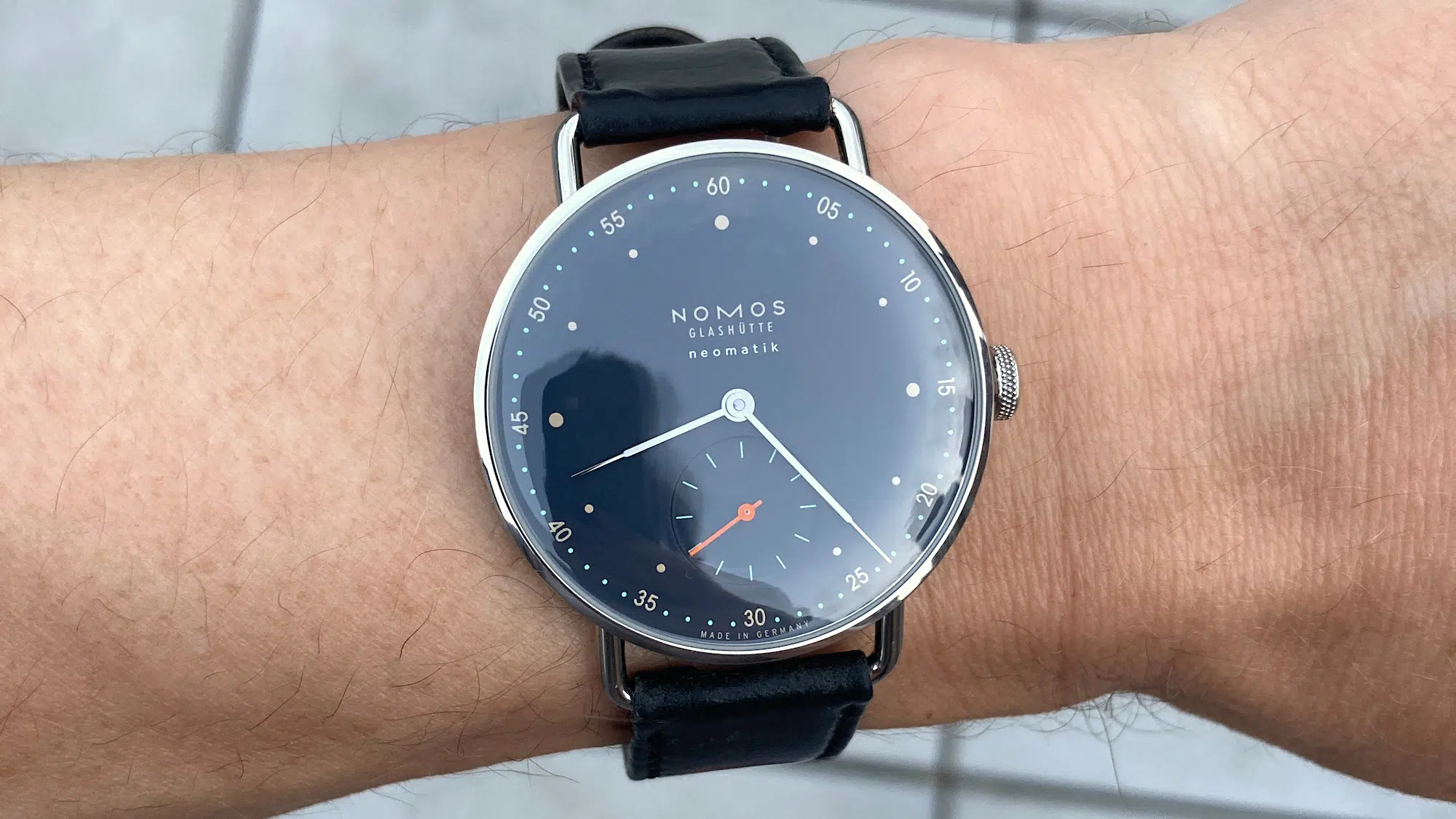 Often considered the silver medalists of the watch world, German brands have a deep heritage in watches and clocks. They're known for their attention to detail and focus on utility— it's that German efficiency, after all.
Even today, fatherland timepieces often have top-notch craftsmanship, though their designs are typically more withdrawn than other watchmaking schools.
For example, many German movement makers, finding rhodium-clad brass too shiny, use a matte copper-nickel alloy instead. (After all, they did start the Bauhaus movement, a sentiment-light aesthetic that combines art with manufacturing).
If you love a high-quality but clean, even basic, wristwatch, you might consider a German timepiece.
From heritage timekeepers taking on Swiss big-leaguers to artistic microbrands and traditionally simple to experimentally expressive, we've included a wide range of German brands on our list.
Watch Brands from Germany
Here are the best watch brands from Germany in no particular order…
A. Lang & Söhne
A. Lang & Söhne is one of the highest-end German watch brands out there. The founder is Ferdinand Adolph Lange, a horological icon thanks to his development of the detached Glashütte escapement.
So why is A. Lang & Söhne so reputable? Generally, it's their attention to detail.
After precisely assembling each watch movement, the watchmaker then takes it apart, so they can clean each piece all over again before reconstructing it. The artisans then hand-insert the gold chatons before placing the movement in a precious metal case.
Plus, the brand's trademark floral pattern is engraved by hand on the balance cock. As such, no two A. Lang & Söhne watches are exactly alike, making them like pieces of art.
The Saxonia Annual Calendar Automatic is a quintessential A. Lang & Söhne timepiece. It's elegant and efficient, with just a hint of romanticism via a small moonphase. And, of course, there's an exhibition caseback.
Dimensions: 38.5mm diameter, 9.8mm thickness
Case material: Stainless steel
Water resistance: 30m
Their artisans don't spend all that time building a beautiful and high-quality movement just to hide it.
Junghans
There's nothing more German than the austere Bauhaus aesthetic, and Junghans goes all in.
They were founded in 1861, then became the world's biggest clockmaker before making a name for themselves in the wristwatch game in the '50s. That's when they hired Modernist designer, Max Bill.
Junghans wristwatches sport the very same design as Max Bill clocks in the Museum of Modern Art's collection. So even if you're going for a low-priced fashion watch, it'll have an "artsy street cred" about it.
Junghans was also the official Olympics timekeeper in 1972. A sports connection that important always adds points to a brand's credibility score.
The 38mm Max Bill Automatic features his iconic MoMA design. Logical efficiency meets creativity in the watch's simple, Weimar-esque aesthetic.
Meanwhile, the German watchmaking chops are evident through the silver-plated minute track, the convex double-side coated sapphire, and its automatic movement.
Dimensions: 38mm diameter, 10mm thickness
Case material: Stainless steel
Water resistance: 30m
One great thing that Junghans does is create cheaper quartz variations of their automatic timepieces, following the design of the automatics to the tee.
This Quartz Max Bill looks exactly like the automatic right down to the sustainably lumed hands.
Damasko
If you're looking for an indestructible tank of a watch, Damasko is Germany's answer to G-Shock.
It was founded in 1994 by Konrad Damasko, who originally had a career in aerospace, creating high-performance materials and operations.
Damasko watches are built with patented and super-strong materials inside and out. In fact, Eurofighter pilots wear these timepieces when flying newly produced and modified aircraft.
The DK30 sports a submarine steel case hardened and bead-blasted for a brightly polished yet matte finish. It runs on an in-house automatic movement, engraved with "DAMASKO," that you can view through the back.
Dimensions: 39mm diameter, 9.95mm thickness
Case material: Submarine steel
Water resistance: 200m
The dial is legible, simple, and delightfully looks like a radar computer screen.
Montblanc
Montblanc is a potentially controversial pick since the watchmaking facilities are in Switzerland.
The luxury brand, also known for its status-symbol pens, was founded by German banker Alfred Nehemias and engineer August Eberstein in 1908. The headquarters is located in Hamburg. Call it a Swiss/German hybrid, perhaps?
What makes Montblanc stand out is that they didn't enter the watch game until 1997, yet they did it in a genuinely horological way.
Most luxury brands that enter the watch market simply use their name, slap it onto a decent watch (or not-so-decent watch), and move on. Montblanc chose to put in the effort to become a respectable watchmaker.
Montblanc has a few options in the sub-40mm category, including the Star Legacy Automatic, which combines Swiss elegance with German practicality and simplicity.
Design-wise it strikes a balance between tasteful and super fancy.
Added design elements are used sparingly— they are sufficiently ornamental yet ensure plenty of negative space. And, of course, it has an automatic movement, a date, and a sapphire crystal.
Dimensions: 39mm diameter, 9.34mm thickness
Case material: Stainless steel
Water resistance: 30m
At the risk of hyperbole, this is an aristocratic dress watch for the ages.
Braun
Watches are the second thing people typically think of when they think of the Braun company.
First are their electric shavers. Max Braun was an engineer who founded his company in 1921, and it's these engineering roots that make Braun watches quintessentially German.
They're neat, functional, and affordable. And while these watches aren't horology disruptors, those in the know remember that renowned industrial designer Dieter Rams was the brains behind the sterilized, practical aesthetic.
And, that Apple's now-iconic design language was definitely inspired by (and perhaps lifted from) Rams.
If you're looking for a minimalist and functionalist watch style, look to Braun. Their Braun x Paul Smith collab, for example, adds a bit of playfulness without compromising the brand's trademark simplicity.
Dimensions: 34mm diameter, 7mm thickness
Case material: Stainless steel
Water resistance: 30m
The unisex Braun Classic AW50 is especially slender wrist-friendly. Plus, it subtly plays with texture, giving the basic template a bit of intrigue. The dial matches the case tone but sports a subtle graininess, a theme seen throughout the timepiece.
Laco
If you're big into aviator watches, you likely have a Laco in your collection.
This Pforzheim-based brand built the first DIN-certified pilot watches for Germany— each model passed several strength tests via the German standardization institute.
Along with IWC and A. Lange & Söhne, Laco was one of five watchmakers chosen for use by the German Air Force.
Naturally, Laco leans heavily into aviator styles when it comes to branding. Even their popular Laco Sport Chronographs, to which they owe a lot of their popularity, feature the bold lines and legibility of a pilot watch.
The Speyer Original Pilot Watch is classic air force all the way, with its alpha-style hands and outer military time ring. It runs on the super-reliable Sellita SW 200-1 movement.
It's also sturdily built with a sandblasted steel case, domed sapphire crystal, and solid engraved caseback.
Dimensions: 39mm diameter, 12.5mm thickness
Case material: Stainless steel
Water resistance: 100m
The Laco line has a wide price range, so you can also find timepieces under $500 and beautiful antique-inspired watches, like the Kempten Erbstuck, for over $2000.
NOMOS Glashütte
NOMOS Glashütte is a relatively new member of the Glashütte club, having launched in 1990. Still, they've quickly made a name for themselves.
They're one of the biggest producers of mechanicals in Germany. They're also a member of the Bauhaus initiative, Deutscher Werkbund, which connects industrial production with handcrafted art.
Suffice to say, NOMOS' mechanicals are truly artisan. Their chronometry department makes most of the parts by hand. If you're looking for a modern watch with very German sensibilities, NOMOS Glashütte is for you.
Their award-winning flagship model is the NOMOS Tangente, a fun take on the Bauhaus style. There's an abbreviated-looking subdial and tidy Arabic numerals paired with stick hands.
Dimensions: 38mm diameter, 6.65mm thickness
Case material: Stainless steel
Water resistance: 100m
The hand-winding movement is fun and tactile. And while all of NOMOS' watches are in the $1500 range, it's still more affordable than comparable high-end, hand-made Swiss timepieces.
Sinn
Sinn departs from the clean and abstract aesthetic of stereotypical German design but is completely on-brand when it comes to professional-level function.
Maximum functionality affects the watch's aesthetic, resulting in a heavy, robust, and strong look.
Unsurprising since Helmut Sinn was a WWII pilot, the company started in Frankfurt. That was before an engineer, Lothar Schmidt, took over in the 90s ensured that the brand racked up professional certifications.
For example, their pilot watches are accredited in accordance with the official European pilot standards by the Aachen University of Applied Sciences. Meanwhile, Sinn's dive watches are certified by the largest maritime classifier in the world, Germanischer Lloyd.
The Traditional Pilot Chronograph 103 is super busy, and also very large. However, it's meant to be bulky and high, so even those with bigger builds would go for a size that towers above their wrist.
Remember, German pilots needed quick visual access to their watch at a second's notice from any angle!
Dimensions: 41mm diameter, 15.5mm thickness
Case material: Stainless steel
Water resistance: 100m
You can get this watch with a shock-resistant acrylic protector per traditional military watches or as a domed sapphire. The movement is an anti-magnetic 25-jewel automatic.
Glashütte Original
Glashütte Original is an esteemed brand, and that didn't happen by accident.
First off, they only make a few hundred pieces per line, which justifies their high prices. This, however, was a purposeful move on their part to create exclusivity.
Second, the company we call Glashütte Original was founded in 1994. Yet, they lay claim to the utility-focused traditions of Glashütte 1845, allowing them to wear the mantle of tradition and to evoke more brand lore.
Before you write them off as clever marketers or history revisionists, Glashütte Original funds the Alfred Helwig School of Watchmaking, which produces German watch artisans in the Saxony tradition. They're also in the Swatch Group, so they're kind of like Omega's German cousin.
The automatic Senator Sixties is a reasonably-sized 39mm watch. Here, in a retro-modern style, very un-German Arabic markers adorn an efficiently German dial.
Dimensions: 39mm diameter, 9.4mm thickness
Case material: Stainless steel
Water resistance: 50m
The silky surface of the face adds a touch of elegance too. In a brilliant way, this watch is simple yet unmistakably recognizable.
ARCHIMEDE
I like recommending ARCHIMEDE watches to those seeking robust, well-made, and professional timepieces that are borderline brandless.
However, if asked, it isn't a brand you need to tiptoe around since they have an excellent reputation among those who do know about them.
ARCHIMEDE was founded in 1924, started using the brand name in 2003, and is family-run to this day.
Much of the business is run in-house, including prototyping and QC. ARCHIMEDE builds their cases right from solid blocks of metal, and their line includes titanium and bronze watches, as well as stainless steel.
While ARCHIMEDE offers a good number of options for the small-wristed, including those in the 36mm range, the Pilot 39's bronze case gives it a unique "antiquey" look.
Dimensions: 39mm diameter, 9.8mm thickness
Case material: Bronze
Water resistance: 100m
The gem-shaped bronze crown also distinguishes it from other crownless vintage-inspired designs. Overall, this brand combines a family business touch with disciplined German manufacturing.
Junkers
Another great aviator watch brand, Junkers, is a good place to turn to for all you quartz fans out there.
It was founded by Hugo Junkers' great-granddaughter, a German aircraft engineer and designer and pioneer of all-metal airplanes during both world wars.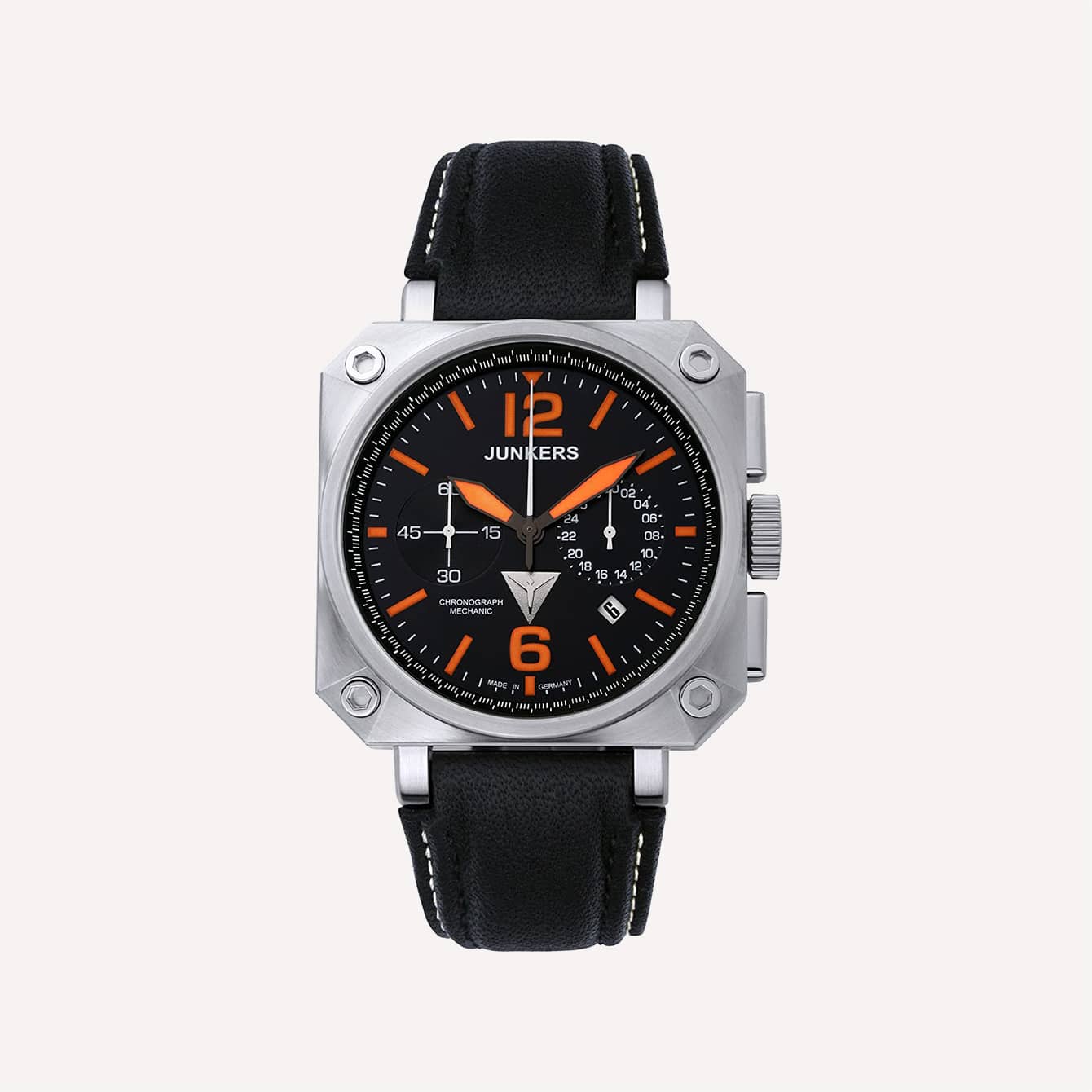 Design-wise, Junkers reminds me a bit of a German Longines in that their watches are often sleek, functional, and elegant like their Swiss counterparts but slightly more restrained. Yet, Junkers offers a range of aesthetics, some borderline Panerai-esque, like the Junkers Horizon.
The Junkers Dessau 1926 Flatline is a charming aviator watch with slightly expressive design elements (look at those curls on that font and the outlined leaf hands).
Dimensions: 39mm diameter, 7mm thickness
Case material: Stainless steel
Water resistance: 50m
It runs on the Ronda 6004.D quartz, an accurate Swiss movement with five jewels, and a repairable gold-plated end-of-life indicator. It's also super thin, perfect for smaller wrists.
Mühle Glashütte
I know it seems as if fatherland watchmakers love their pilot watches, and they do, but Mühle Glashütte builds some excellent divers!
They've been around for 150 years, one of the Glashütte OGs, and started out by building measuring and nautical instruments. Similar to Sinn, this engineering background is evident in the robustly-built, high-function timepieces.
Mühle watches are admittedly huge, but if you don't mind that, you've got a unique choice of divers. All of the essential functions needed for a true dive are squeezed into each watch without completely compromising German minimalist sensibilities.
The ProMare Go is their smallest diver at 42mm.
Dimensions: 42mm diameter, 12.7mm thickness
Case material: Titanium
Water resistance: 300m
I love how the measuring tools are pushed as far out to the edge as possible, creating a substantial matte negative space in the middle. As big as it is, remember that the case is titanium, so it's lighter than it looks but remains strong.
MeisterSinger
Since famed German jeweler, Manfred Brassler, started it, it's no surprise that MeisterSinger is a go-to brand for elegant and ornamental gift watches.
Like the Breguet circle-adorned hands, MeisterSinger uses one singular hand as an aesthetic trademark. This design was inspired by ancient sundials and the clock tower of Westminster Abbey.
The romantic and fanciful designs of many MeisterSinger watches distinguish it from typically unsentimental German designs.
The LunaScope is a great example. A peaceful feast for the eyes, this exquisite piece features an alluring moonphase, a noble-looking sunburst blue dial, and an exhibition caseback so you can admire the 25-jewel automatic movement.
Dimensions: 40mm diameter, 12mm thickness
Case material: Stainless steel
Water resistance: 50m
In history, a "meistersinger" was a German melody composer in the Middle Ages, so the musicality in the watch design makes perfect sense. The LunaScape was also awarded the Red Dot Design Award and the iF Design Award.
Daniel Malchert
More of a genuine artist than a microbrand, Daniel Malchert is a modern-day master that first caught the watch community's attention in the early 2010s with his "Schlossberg" watch.
He's a fourth-generation watchmaker with a watch workshop certified by Swatch in Quedlinburg, Germany. Unsurprisingly he's a go-to servicer for brands like Omega and Longines.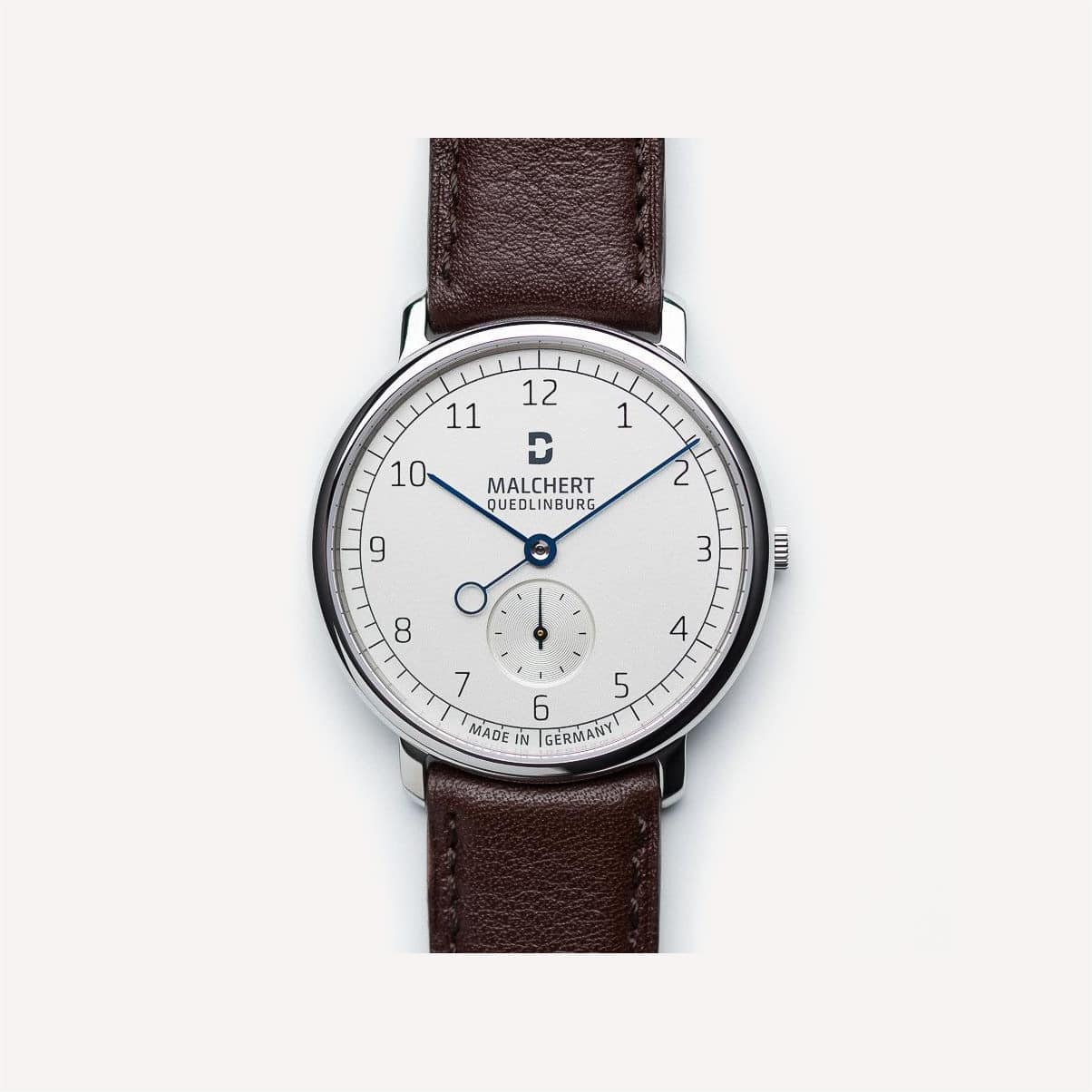 His Schlossberg Watch is classic and clean, with meticulous attention to detail.
It was important to him that all of the numerals are a specific size and distance from one another, and his first Schlossberg model even had hand-engraved gold plates.
In honor of traditional watchmaking, the plate and balance cock surfaces are grained by hand, while the minute hand's shape is based on one Malchert found in his grandfather's parts box.
Dimensions: 36mm diameter, 6.65mm thickness
Case material: Stainless steel
If you want in on this rare insider's watch, Malchert's workshop can be contacted on his website.
Schäuble & Söhne
If you're into limited editions and personalization, Schäuble & Söhne is a prestigious boutique microbrand founded in 1924. Each model is personally developed by Gunther Schäuble, a descendant of the original founder.
They're known for traditional German craftsmanship and their small series and special models that can even be modified individually.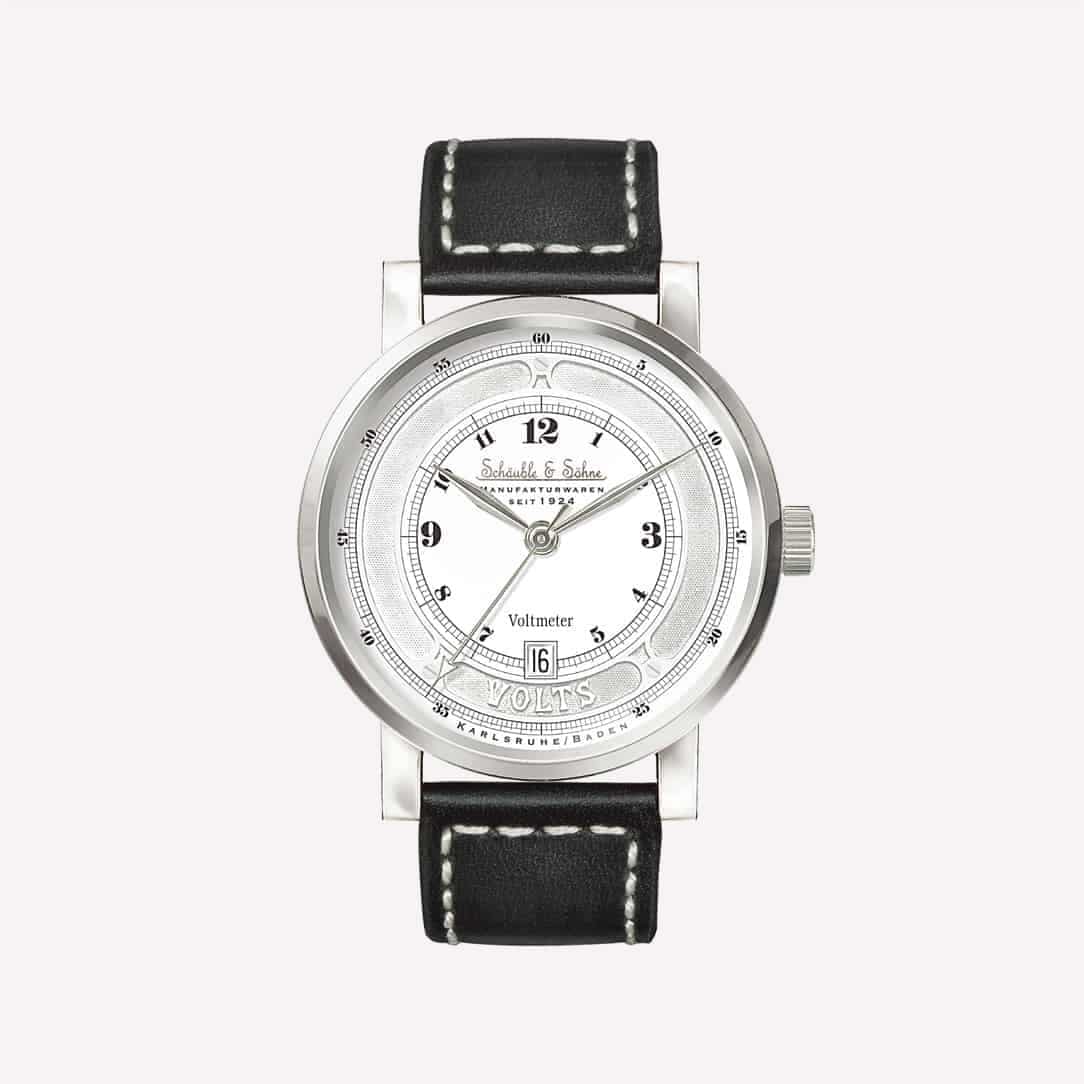 Check out their limited editions page to see what they're capable of. A great example is the distinct and elaborately-designed Ludwig Automatic Watch.
Cut-outs surround the inner dial circle with beautiful textures peaking out. Overall, it's a unique multi-surface mix of antique and elegant that still comes together in a clean fashion.
Dimensions: 40mm diameter, 11mm thickness
Case material: Stainless steel
Contact them on their website for more info on these unique timepieces.
Which Brands Pique Your Interest?
As you can see, German watch brands are more than just minimalist Bauhaus designs.
They can range from whimsical and elegant to massively robust. Yet, even within the traditionally German category, there are several brands that put their own spin on the classic templates.
The great thing is that regardless of the style you love, there is a range of prices and many high-quality options available.
Questions? Comments? Leave them below!