Ready to buy your first watch? This guide will show you what to look for.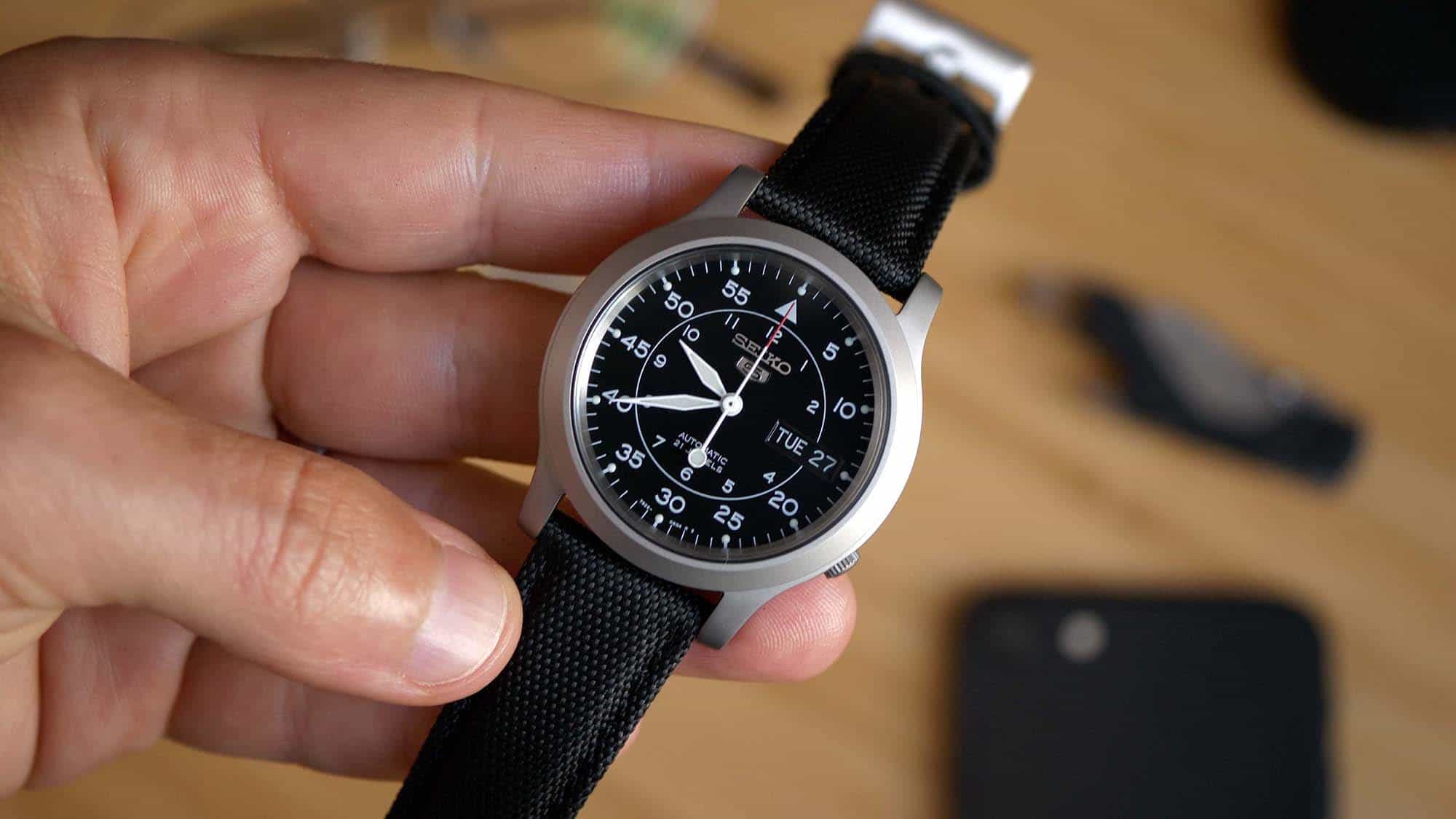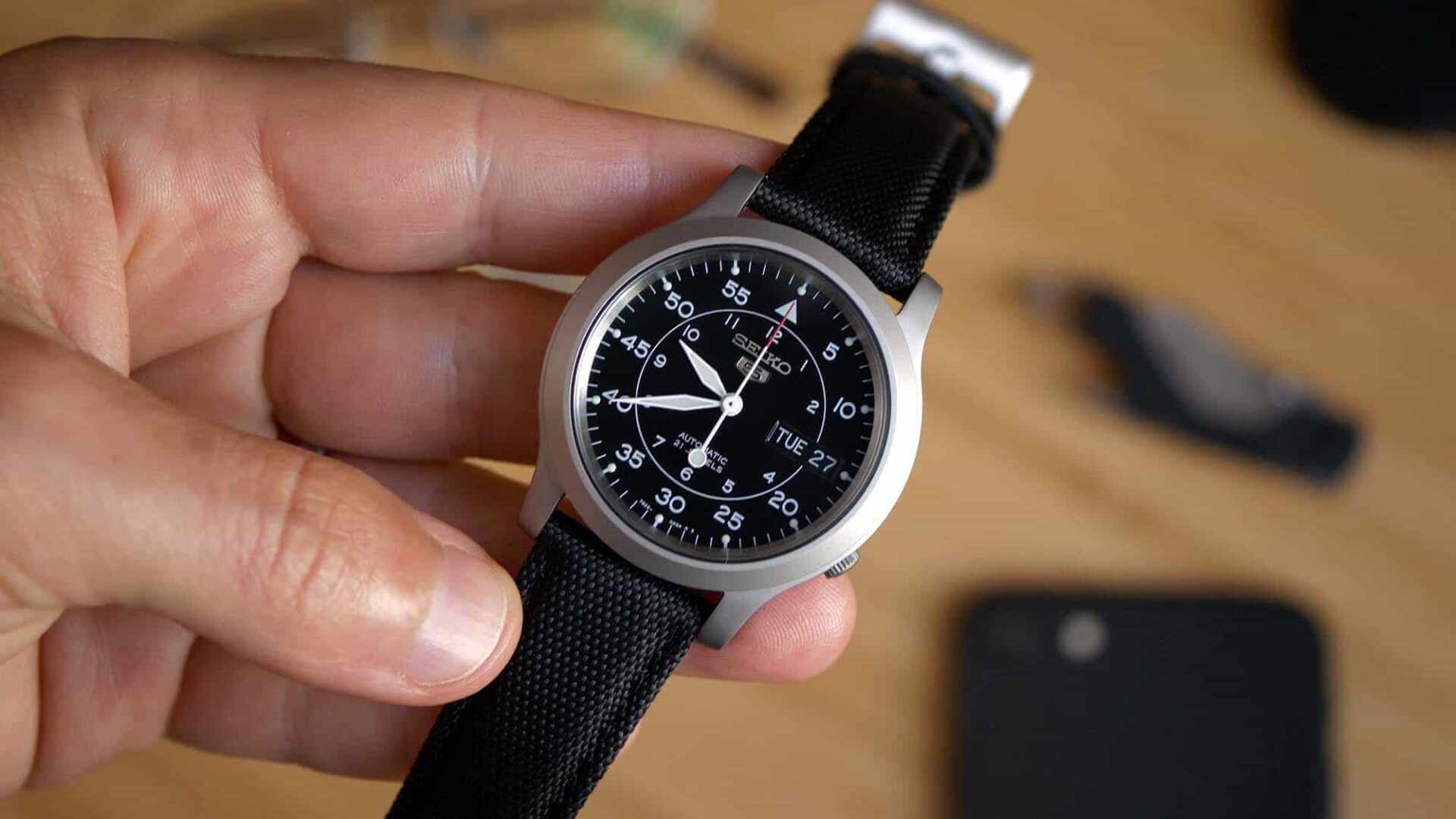 Maybe you're tired of digging your phone out of your pocket just to know what time it is. Maybe you're looking for a fashion accessory. Or maybe you simply saw someone wearing a nice watch and thought it was about time you had one, too.
Whatever the reason, you've found yourself in the market for a wristwatch. If you looked around already, you've probably noticed there's a lot out there, and it can be hard to know why you'd get one watch and not another.
For most people, the first watch they buy will be the cheapest one that they think looks the best. You don't need much help with that kind of purchase — all it takes is a few minutes on Amazon to find a watch you like the look of, and they'll all tell the time for you just fine.
But like anything, the more you learn about watches, the more you realize you don't know. And as you start to consider more and more variables, it only gets harder to make your choice.
This article will help you get a sense for what's out there, where you can find it and how much you should pay for it.
There's a lot of information in this article, and a lot more out there to learn. But really, don't overthink it. Take what's useful to you, and buy with confidence whichever watch you're most excited to wear.
A Few Quick Notes
While it's personal taste that determines which watches we like and which ones we don't, here's a few quick tips that can keep your first watch from being your last watch.
Try not to go crazy. There are a lot of cool and nifty watches out there, but for your first purchase, try to find something on the simple side. Something you'd be comfortable wearing in a variety of settings, formal or informal.
Something it's easy to be in the mood for. That way, it'll be a watch you actually wear, rather than one you throw in a drawer.
Size can matter — especially if your wrists aren't particularly big. Look for a watch with a diameter between about 38 mm and 42 mm. Those sizes work on just about everybody, and familiarity with something in that range will serve as a good reference point later.
If a watch can come on a stainless steel bracelet, strongly consider buying it that way. Bracelets match more outfits than other options, like rubber or nylon straps.
Also, pairing a watch with an aftermarket bracelet can be more costly and tricky than picking up secondary straps. It's generally best to get it on the bracelet and figure everything else out later.
Genres of Watches
Since about the 1950s, the watch market has been split up into a number of distinct styles, or genres. Knowing what genre watch you're looking for is one of the easiest ways to narrow your search.
The genres mostly stem from adventurous professions, like diving, aviation and racing. Those jobs demanded watches with certain characteristics, like water resistance for divers or a second-time-zone hand for pilots.
These days, those associations are mostly fodder for marketing material. Still, the heritage of the genres we have today leaves us with an array of watches suited to different lifestyles, wardrobes and historical interests.
Broadly speaking, the genres are either focused on durability or are more geared toward elegance and refinement. Some crossover pieces blur the lines between these categories. Here are the genres a beginner should be most familiar with:
Dive Watches
They are usually made of stainless steel and are highly water-resistant.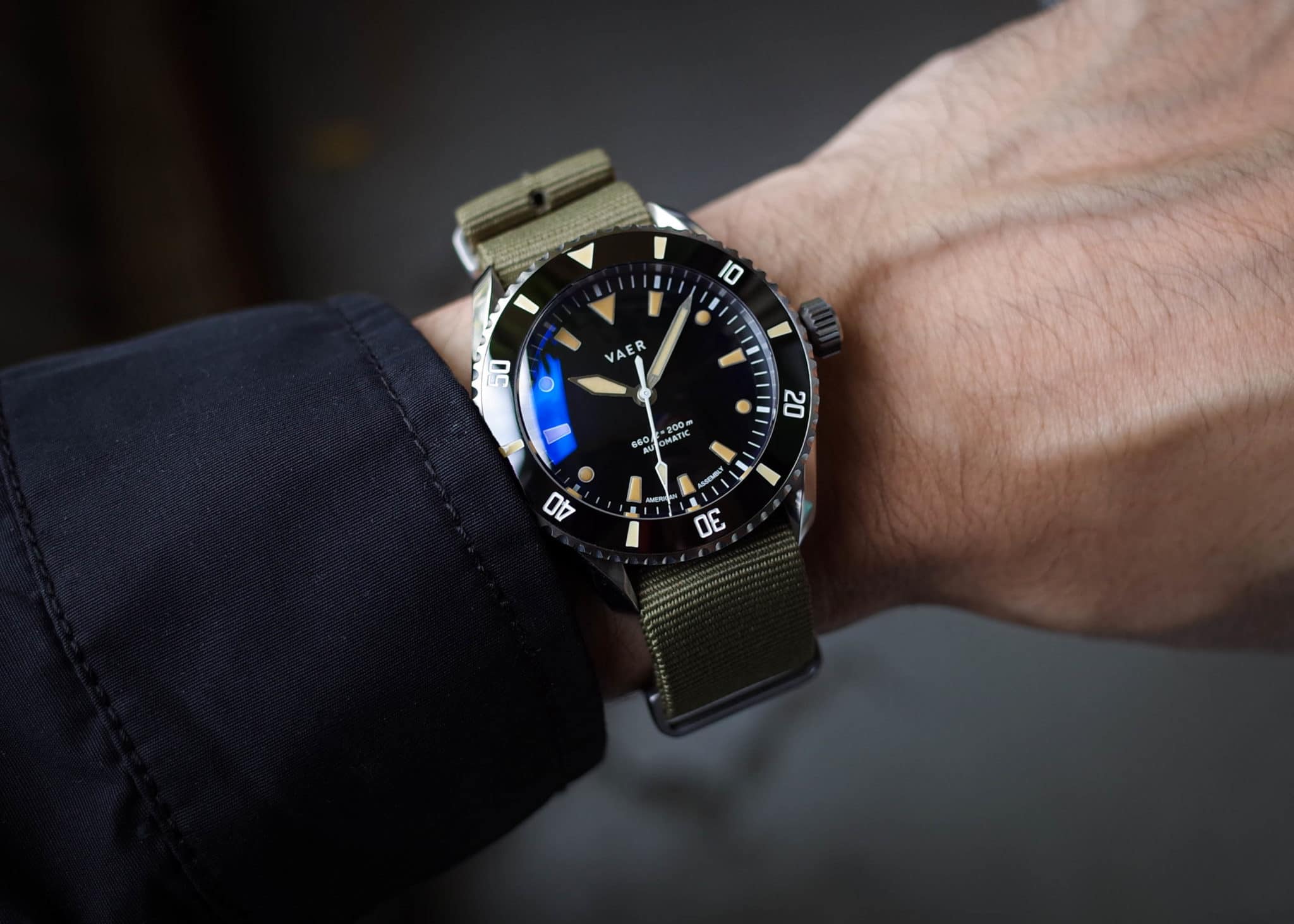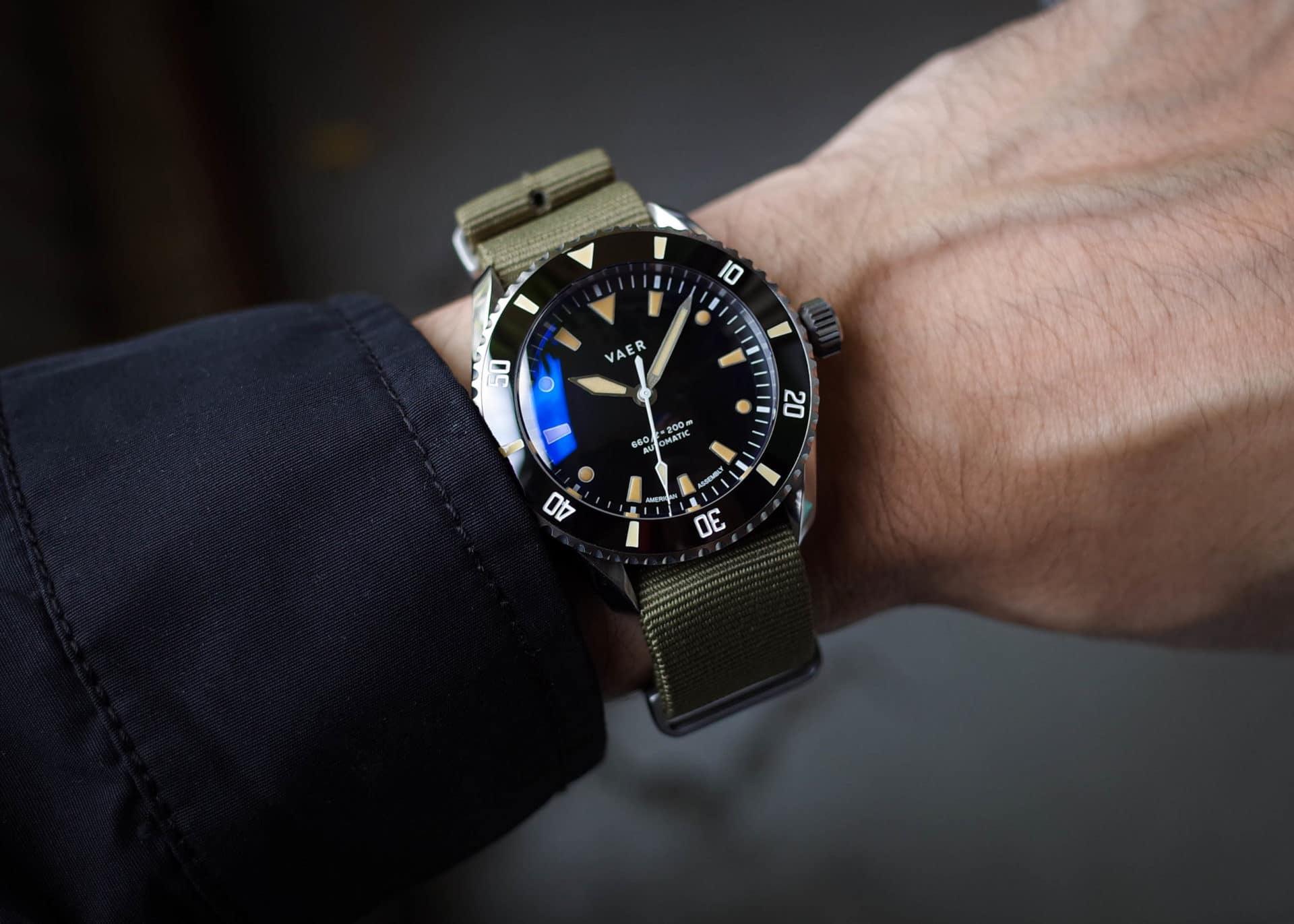 Dive watches are known for chunkier case design and rotating bezel around the dial.
Dress Watches
These watches are thin, smallish and elegant!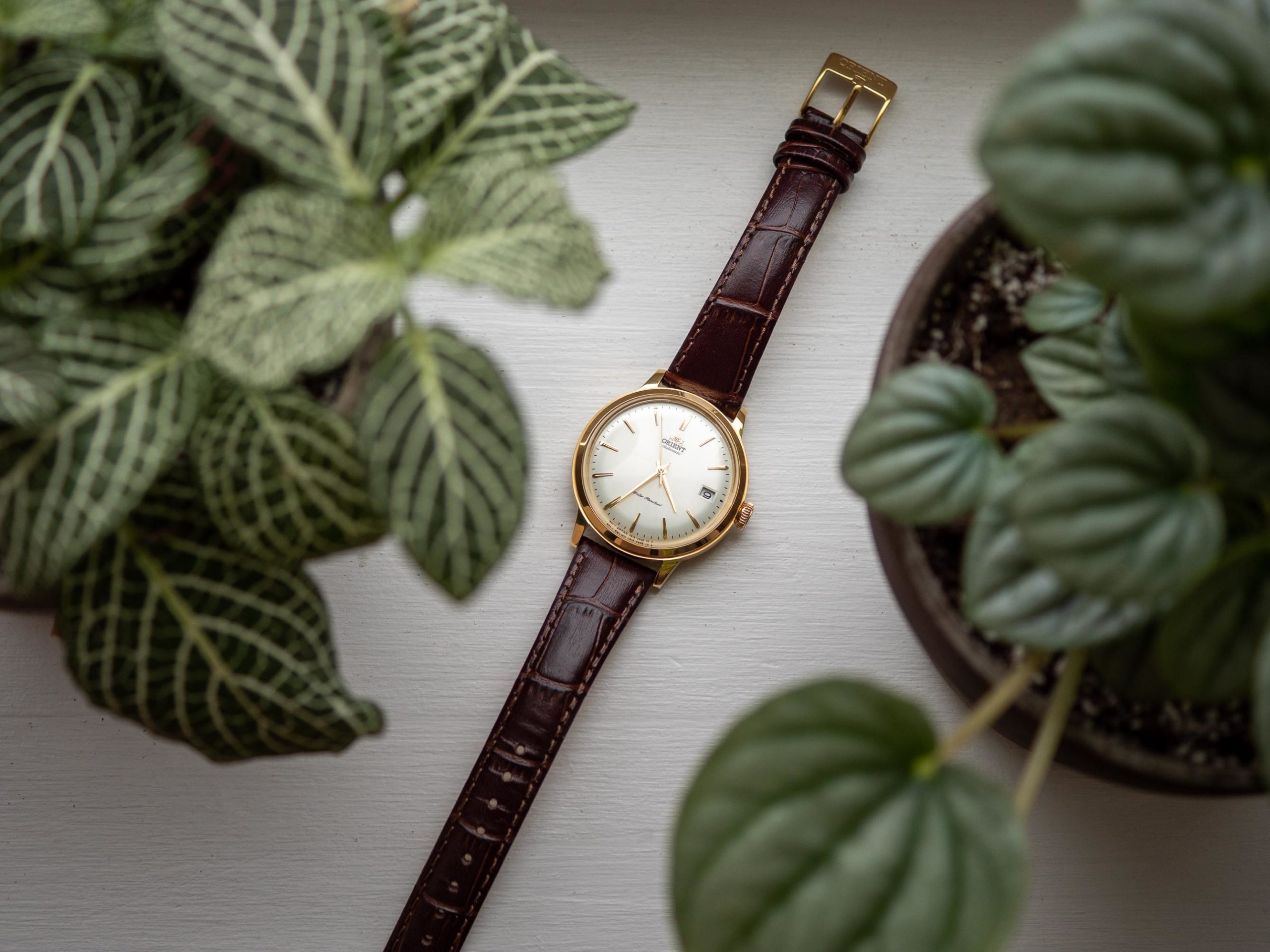 They are usually lacking complications and significant water resistance.
Field Watches
Simple in design, easy to read, and usually on the smaller side.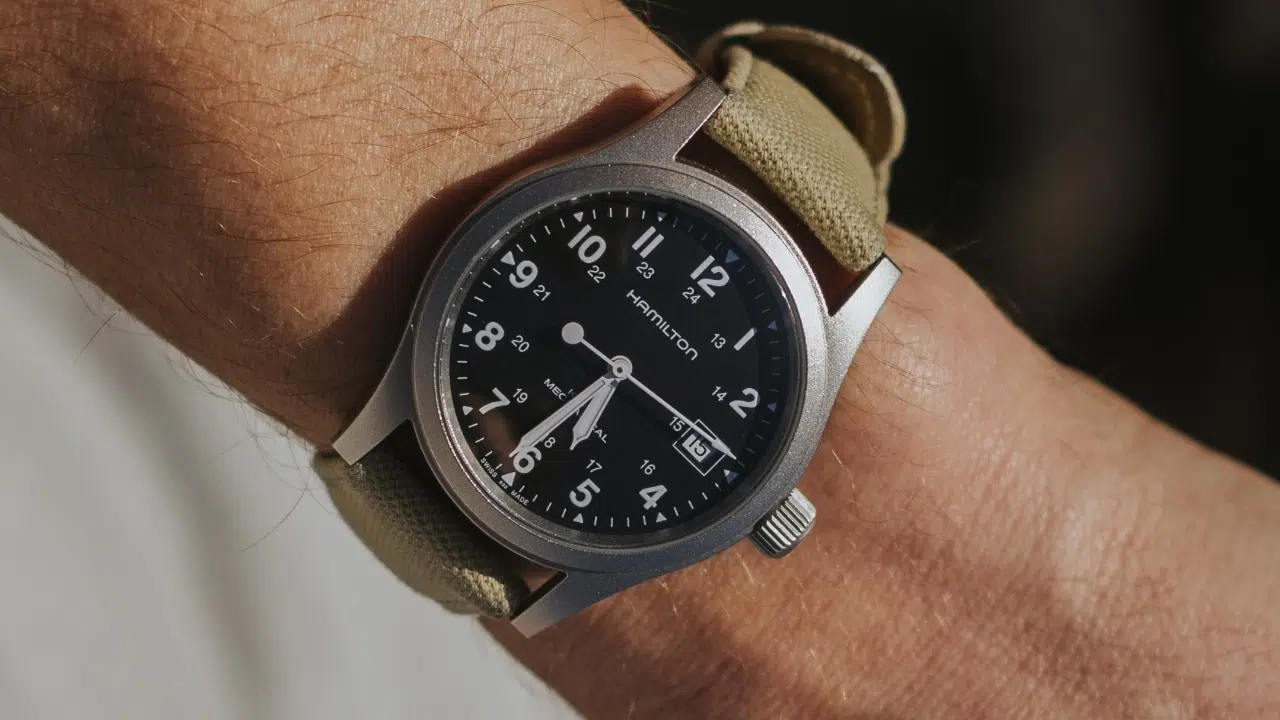 They are often associated with outdoor or military wear.
Chronographs
These are easily distinguished by the subdials used for their stopwatch functionality.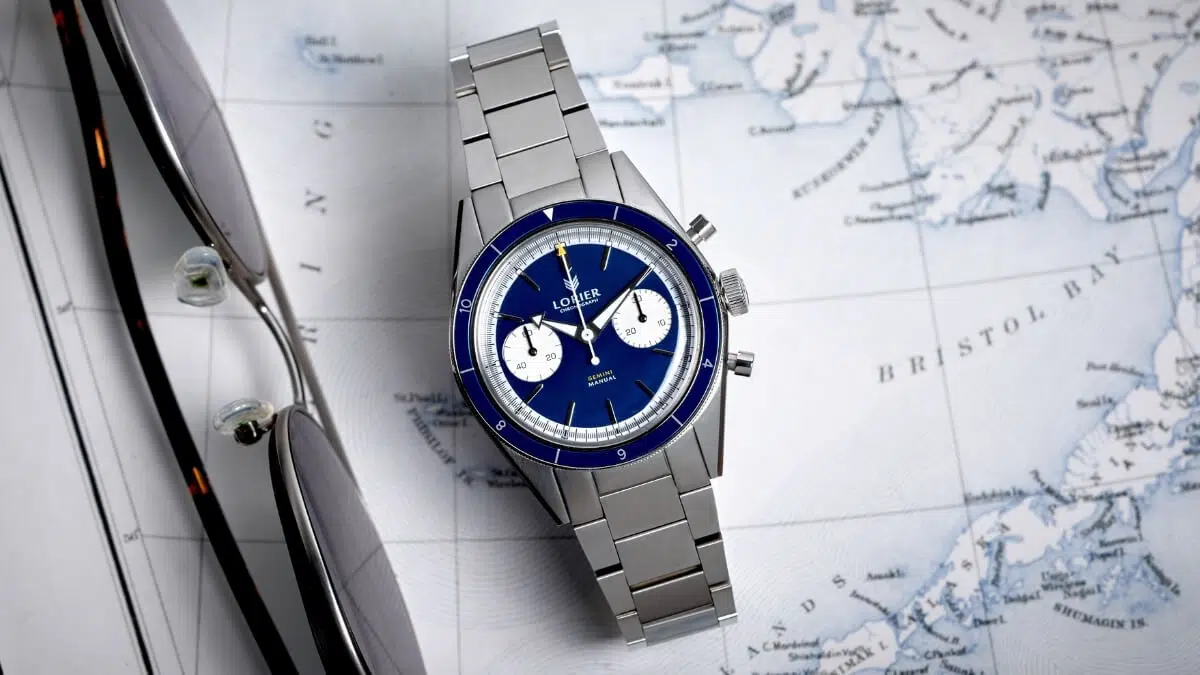 Chronograph watches visually stand out for having buttons on the case in addition to the crown.
GMT
These are equipped with two hour hands and a rotating bezel.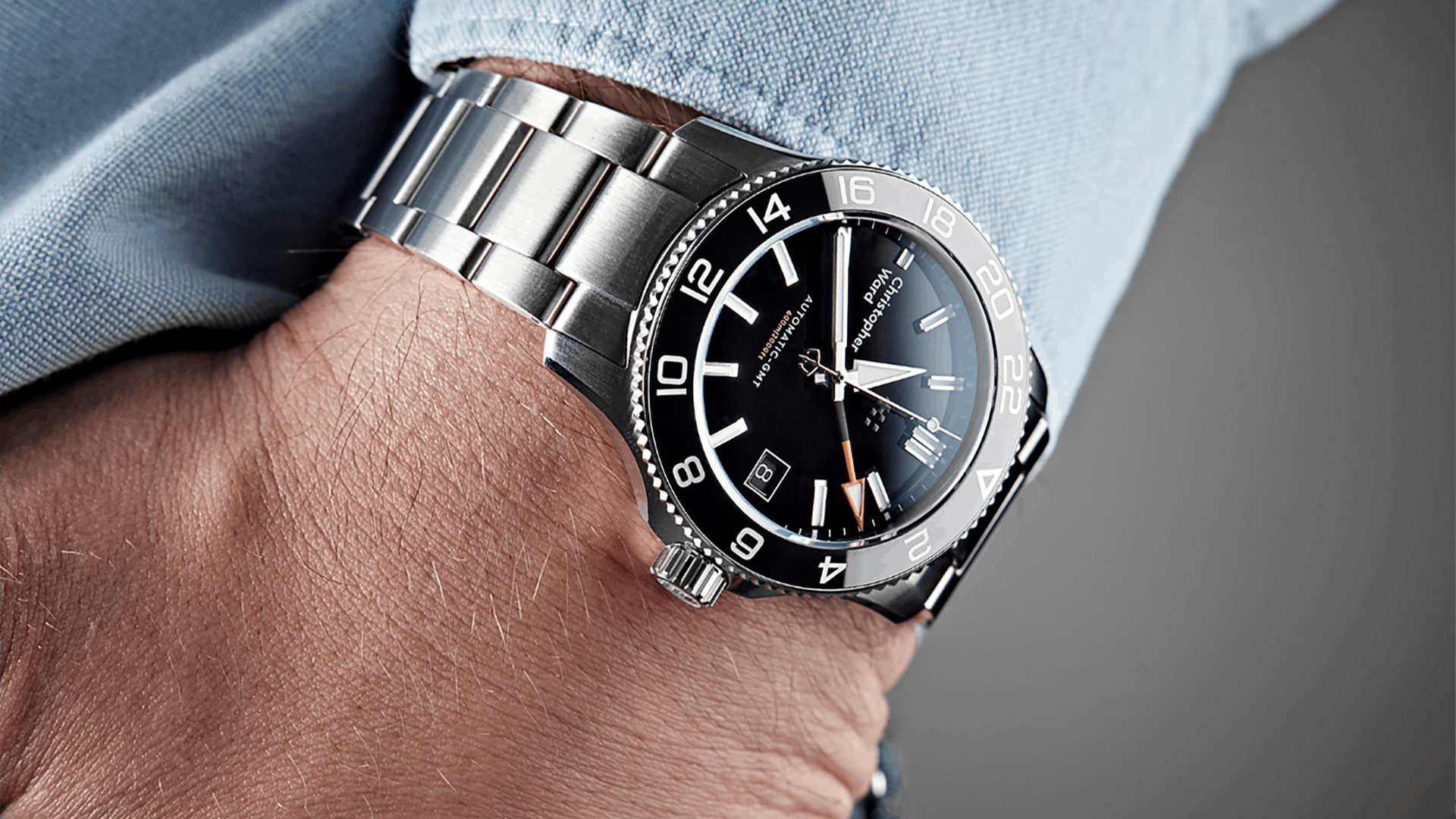 GMT can be used to keep track of two time zones at once.
Digital
It's a broad category, but digital watches are generally considered tough "beater" watches.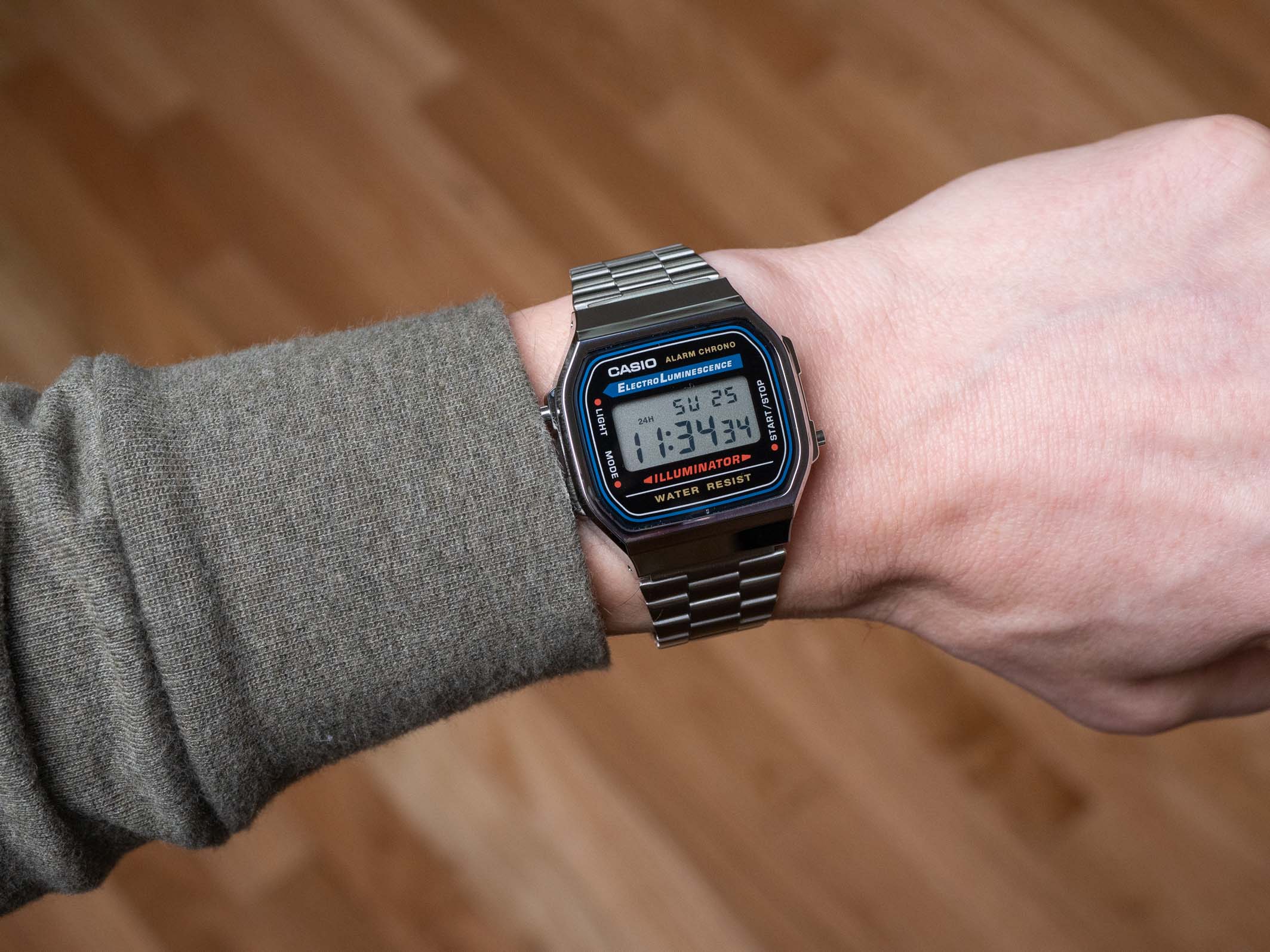 These are usually equipped with multiple features like alarms, timers and stopwatches.
The Movement Makes the Watch
The most general way to classify a watch is by its movement — the unit inside the watch that counts time and moves the hour and minute hands.
There are three types of movements: quartz, automatic and manual. Which one you should get depends on what you value in a watch.
Quartz movements are electronic, battery powered movements. The name comes from the tuning-fork-shaped quartz crystals that help these movements regulate their timekeeping.
These movements are cheap and low-maintenance, ticking for years until they need a battery change. They are small and compact, so the watch cases are often slimmer than others can be.
To top it all off, quartz movements are also the most accurate on the market, losing as much time in a month as their automatic and manual counterparts do in a single day.
So quartz is the best, right? Well, not necessarily.
Automatic and manual movements are mechanical. Instead of batteries and crystals, they're powered by gears and springs.
On a manual, or hand-wound, watch, you power the system by turning the crown, which coils up a spring. Automatic movements have a piece called a rotor that spins as you move your arm, powering the movement throughout the day.
Mechanical movements are old-fashioned and outdated, but in a way that's more like vinyl records than black-and-white TV sets.
Watch enthusiasts may wax poetic about the retro joys of mechanical movements, but bear in mind they are objectively less accurate, less convenient and more expensive.
The costs will keep adding up, too: if you're maximally caring for your watch, every few years you'll be taking it to a watchmaker for a check-up that can cost hundreds of dollars and take weeks to complete.
Quartz is the way to go if you want to find something at the crossroads of affordability, accuracy and ease of use. But for more engaging, hands-on timekeeping, spring for something mechanical.
How Much Should You Pay?
The price you should be looking for depends on why you're looking for a watch in the first place.
If you've got the money and just want to get yourself a nice timepiece, it could be wise to throw down hundreds, or even thousands.
Watches start to be considered "luxury" right around the $1,000 mark. A watch that is that costly should stand the test of time, ticking away for your children and grandchildren if cared for properly. It isn't hard to argue that that's money well spent.
But if you think you're liable to keep buying more watches as a hobby, it's never a bad idea to start low and slow.
Once you get your first watch, you may realize things you don't like about it. You might come to a better understanding of your own taste and start wanting something different. Until you're confident you have that understanding, it's best to avoid converting a paycheck or two into a watch.
When you're shopping for a watch for the first time, it will probably strike you as ridiculous that many writers and marketers consider watches costing hundreds of dollars to be "affordable," "budget" or "entry-level."
Of course, that's compared to watches that cost many thousands. It's no secret that much of the watch market is priced well above the value most people would place on any watch.
A great watch doesn't have to cost an arm and a leg, though. Buying a battery-powered watch rather than a mechanical one can save you a pretty penny. And even on the mechanical side, plenty of good-looking, loveable watches can be had for $500 or less.
The good thing is that at the low end of the market, you really do get a lot more for your money as the price rises. The difference between a $50 watch and a $500 watch is much more striking than $500 vs. $1,000.
The truth, though, is that nobody knows better than you how much you should pay for a watch. From my perspective, it's an equation of how much money you have and how important this watch is to you.
You may do the math differently, but rest assured there's plenty of great value to go around in all segments of the market.
Where Should You Buy It?
Broadly speaking, there are three ways to buy a watch:
Brand-new and legit: Straight off a manufacturer's online storefront or out of an authorized dealer's showroom. You'll get the best warranties and the worst prices this way.
The gray market (or, new old stock): These are genuine watches being sold by unauthorized sources, often sites cheaply scooping up an AD's backstock. It's legal, and the discounts can be significant, but the manufacturer's warranty is void and the seller's may not be that good.
Pre-owned: Somebody lists one of their watches for sale online, you send them money and they send you the watch. The good thing is you can haggle all you want, but the closest thing you'll get to a warranty is PayPal Purchase Protection.
Going the brand-new and legit route pays off in certainty and security. Your money is safe in the hands of a company with a reputation to uphold and a new customer they're accountable to. The top gray market sites have fair reputations, too, but when the dollar values get to a certain point, the confidence that you're in good hands becomes invaluable.
However, buying watches on the gray market or pre-owned can make the whole market much more approachable, depending on your financial situation. Before paying retail price for a multi-hundred dollar watch, consider these venues for a better deal.
Two of the most popular gray market sites are Jomashop and Ashford. Wherever you buy, do your research: look at the warranty and read people's experiences with the site.
There's also a healthy online market for watch resale and trading that can take some sting out of a big buy. For example, I recently bought somebody's watch for 25% off retail, didn't like it, and traded it for somebody else's watch, which I like much more (and could likely sell for a profit).
If you're opting for pre-owned, good examples of popular go-tos are Chrono24, the /r/watchexchange subreddit, the Watchuseek forum and eBay.
For safety and security, stick especially to established communities. Check what previous listings sold for, ask sellers for references to their previous buyers, and be picky. Don't put too much money into a sketchy transaction just to get a piece of wrist candy.
The 7 Best First Watches To Buy
With all of that said, let's take a look at some of the best choices you can make for your first watch purchase.
These represent some of the top contenders that pack the most value in the most popular categories of the watch market. Pick up one of these watches and be assured you've made a sound decision.
Timex Weekender
It works well. It looks fine. It's cheap and readily available.
When you need to buy a watch, a Timex Weekender is probably the watch you ought to get. It's inexpensive, but it's a solid product, and it's basic, but it's well-regarded.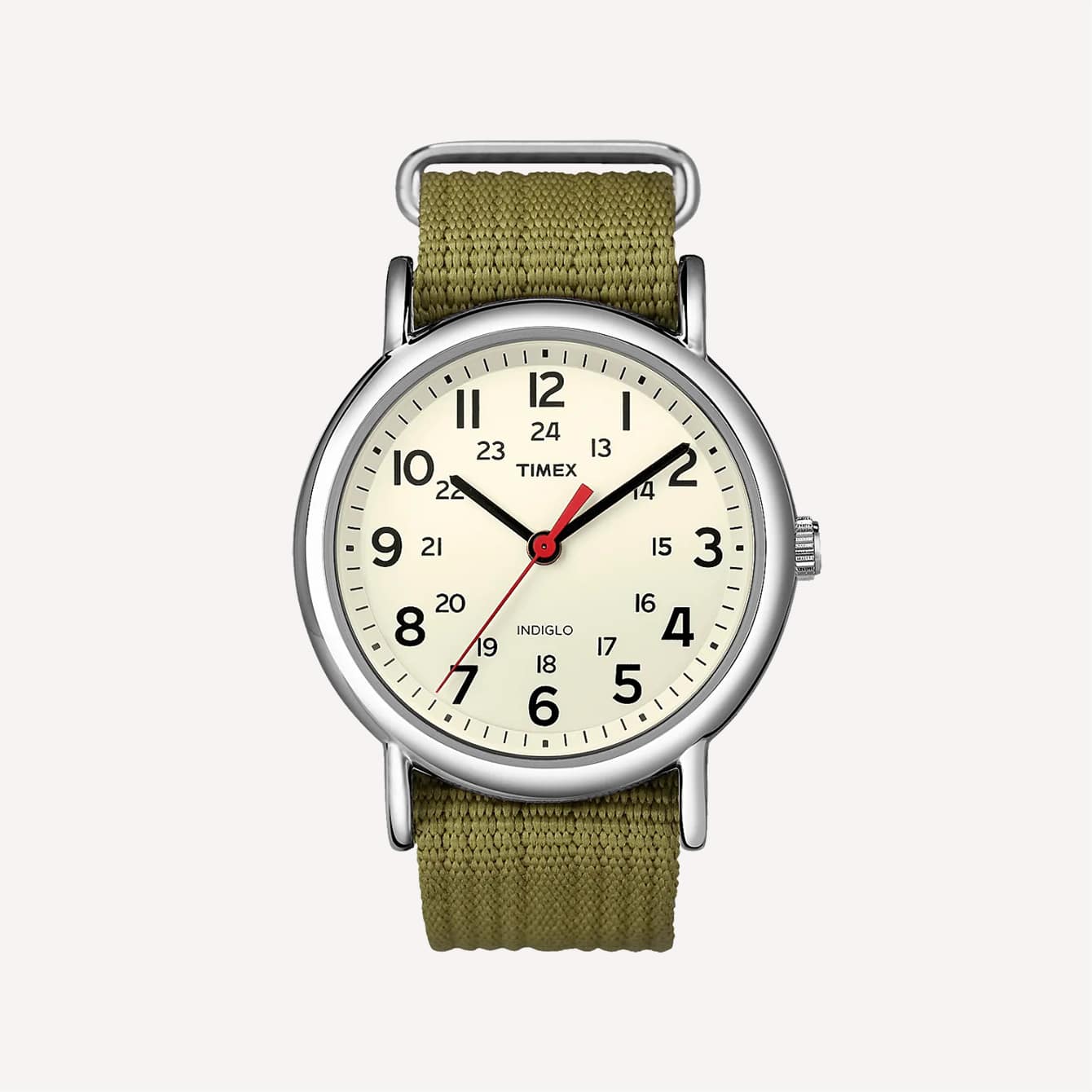 It tells the time about as well as anything does, and can stand up to a quick dip or a splash in the sink.
The design has all the aesthetic sophistication of an English essay, but with simplicity comes versatility, so it will hardly look out of place anywhere you go. And with Timex's Indiglo feature, the whole watch face lights up when you push in the crown, so you can read it in the dark.
The watch is available with a variety of different straps, and can serve as a good gateway to the world of third-party straps because it looks good with just about anything.
Movement: Quartz
Case diameter: 38 mm
Water resistance: 30 meters
One less fortunate thing to be aware of is that this watch ticks loud enough to hear across a small, quiet room. Watches aren't usually audible even at close range, so if you spend a lot of time in quiet areas, this one may get on your nerves (or those of people near you).
Seiko 5 Sports
There's a lot in the Seiko 5 Sports collection, but it's the wide range of dive watches that demand your attention.
When it comes to mechanical dive watches from widely recognized brands, it's this range from Seiko that offers the most for the price. It's just about the best way to get a taste for what dive watches are all about.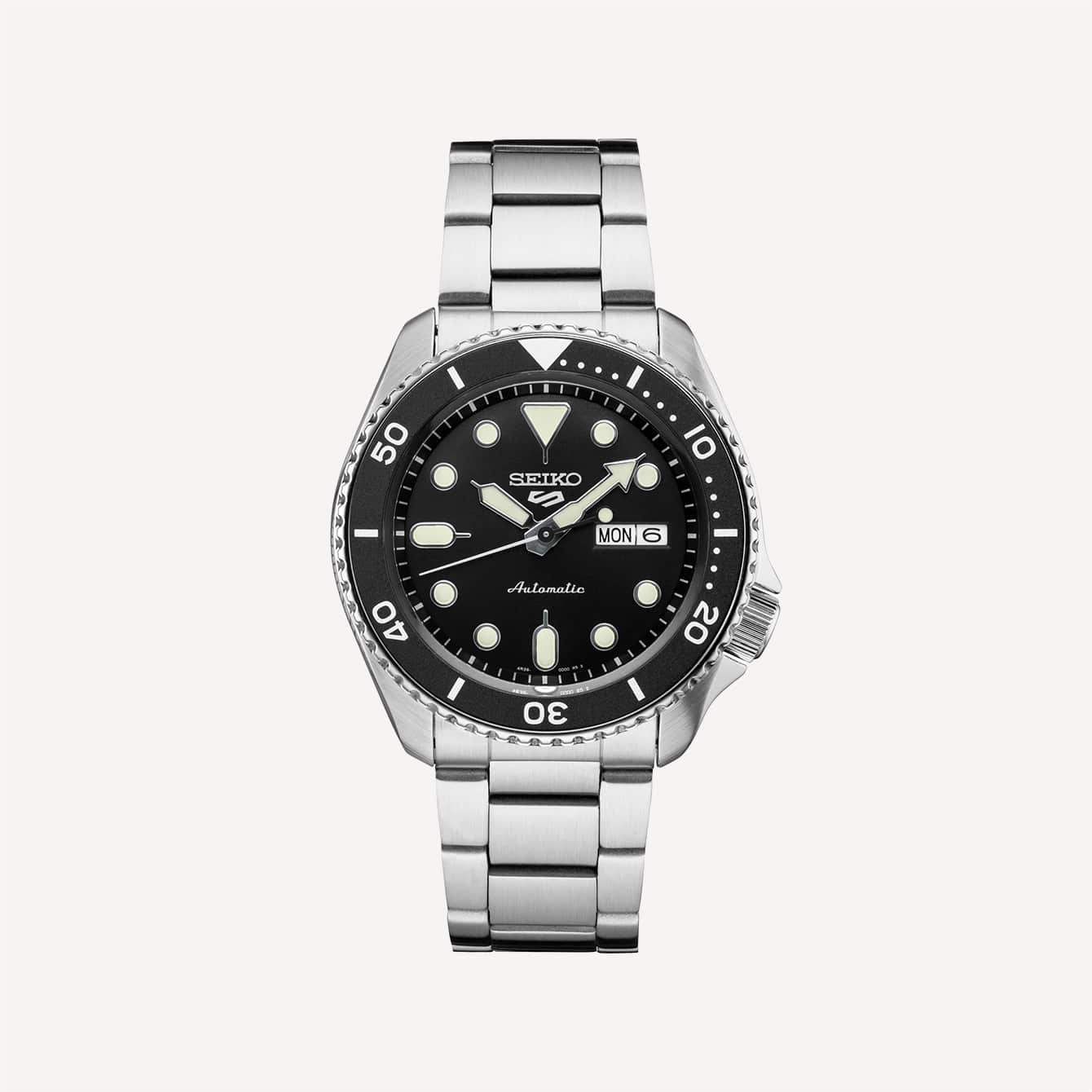 There are bold and subdued aesthetic variants alike to suit just about any taste, but all share the same well-proportioned and comfortable case from Seiko's popular but discontinued SKX watches. While not water resistant to a dive watch's customary 200 meters, it's perfectly good for just about everybody at 100 meters.
These watches also feature what's called an exhibition caseback. Basically, the back of the watch is see-through, so you can observe for yourself the automatic movement powering the watch. The movement isn't particularly prettied-up for display, but if you're into it, it's still a neat trick.
Movement: Automatic
Case diameter: 42.5 mm
Water resistance: 100 meters
If these Seikos aren't your style, Orient has some very good mechanical dive watches available in this price range.
Hamilton Khaki Field Mechanical
With its clear numerals and lack of a date feature, Hamilton's Khaki Field Mechanical is pretty much the platonic ideal of a field watch. It's also one of the biggest names in the world of military-inspired watches.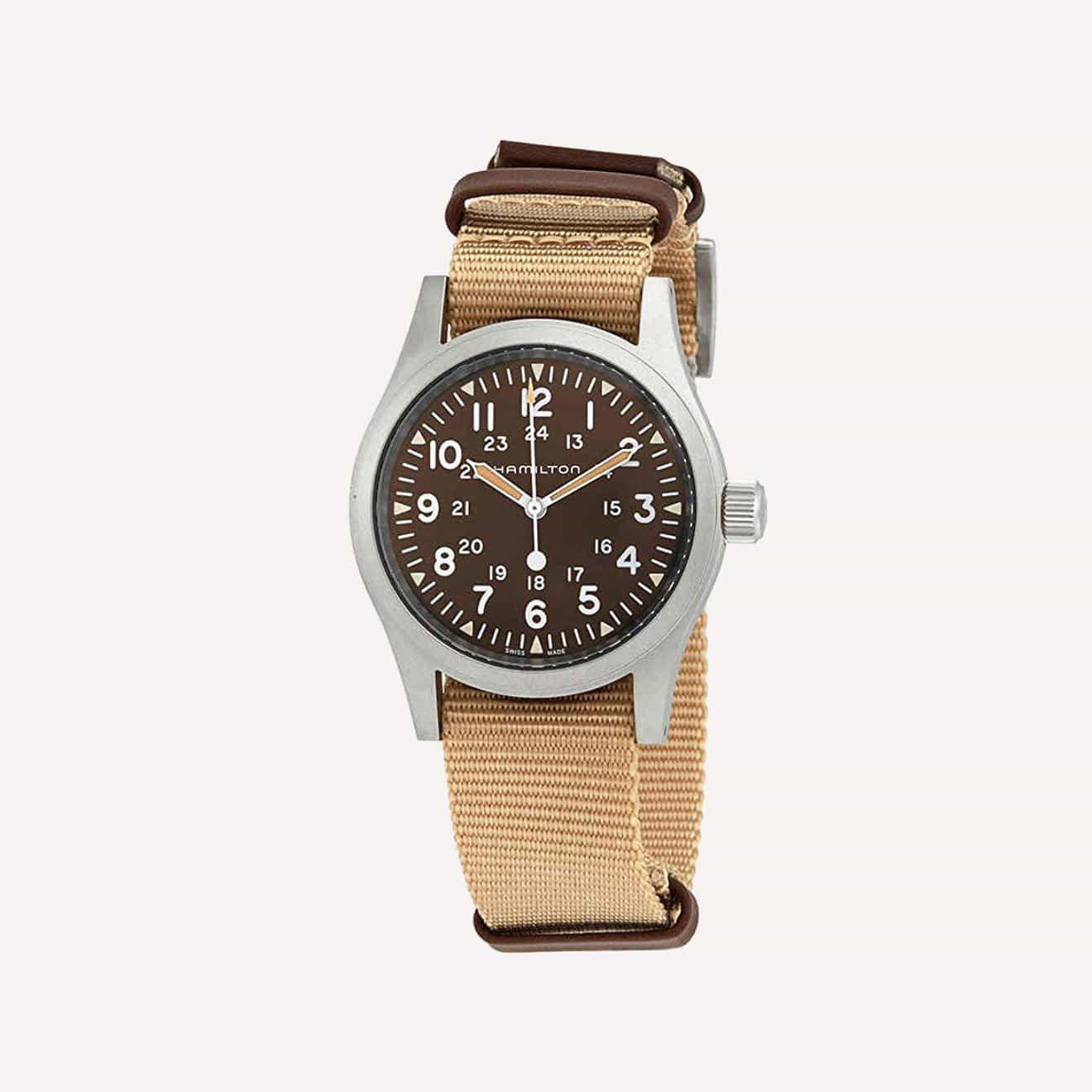 If you're attracted to the rough-and-ready side of the watch world, this is a classic piece you'll find yourself wanting eventually.
Based on the company's U.S. military-issue watches, it's easy to read and water resistant, making it a go-to recommendation for a utilitarian, rugged timepiece with a mechanical heart. This watch is not only tough but also versatile, available with a white dial or black dial, and on a strap or on a bracelet.
Movement: Hand-wind mechanical
Case diameter: 38 mm
Water resistance: 50 meters
The simple design calls back to Hamilton watches worn by soldiers in conflicts from World War II to Vietnam. True to its no-frills nature, it's a strictly hand-wound movement, though automatic variants are sold.
Timex Marlin
This is perhaps the best-looking dress watch with the most heritage you can buy for under $200.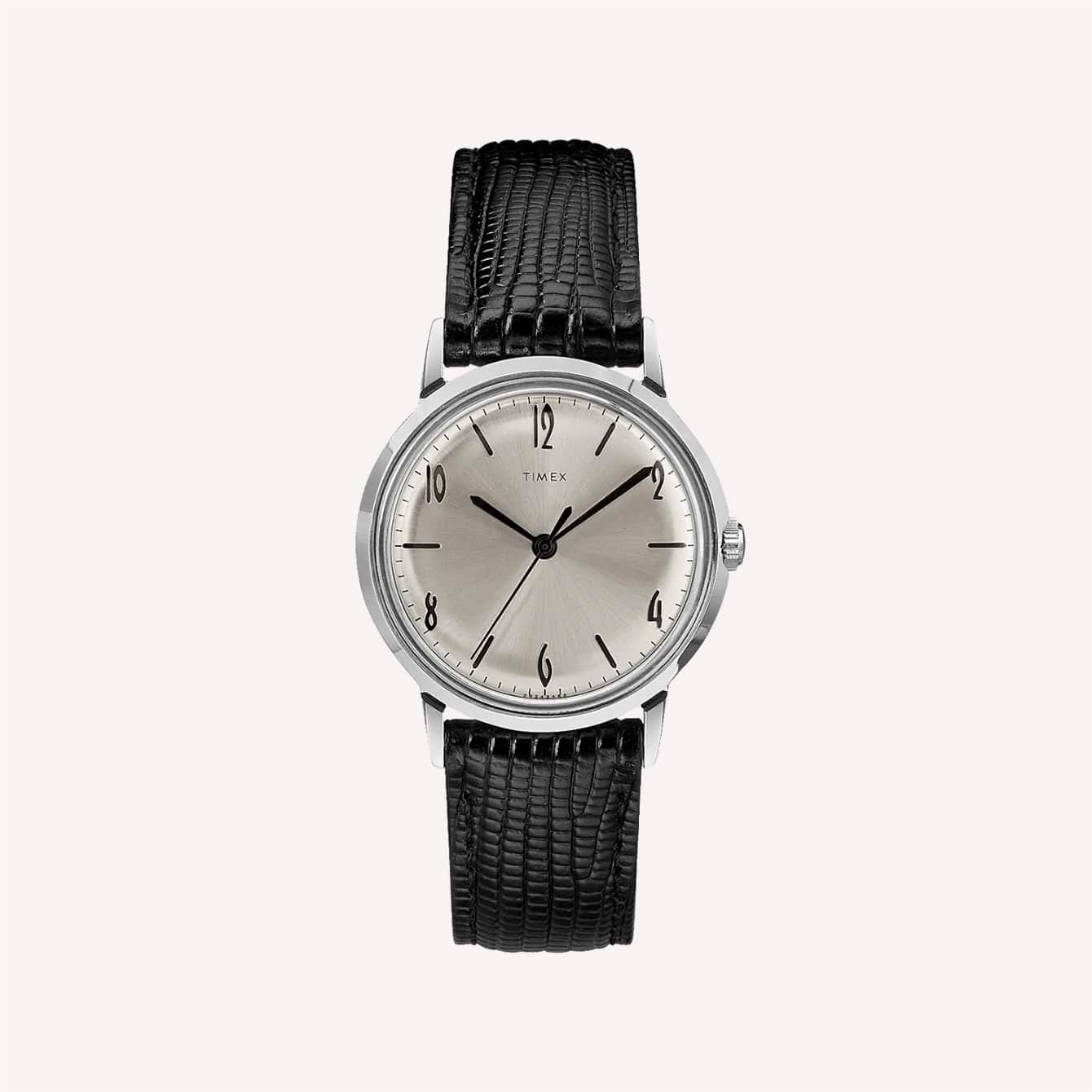 It's a reissue of a '60s watch, so it's nothing groundbreaking. But to this day the lanky numerals, sunburst dial and lowkey 34mm diameter make this watch a classy, but interesting choice with good design that anyone can appreciate.
Movement: Hand-wind mechanical
Case diameter: 34 mm
Water resistance: 30 meters
It can be had with either manual or automatic movements, so your Marlin experience can be exactly as retro as you'd like it to be.
Casio G-Shock GWM5610
If you're interested in watches that can go anywhere and do anything, this is the watch to start with.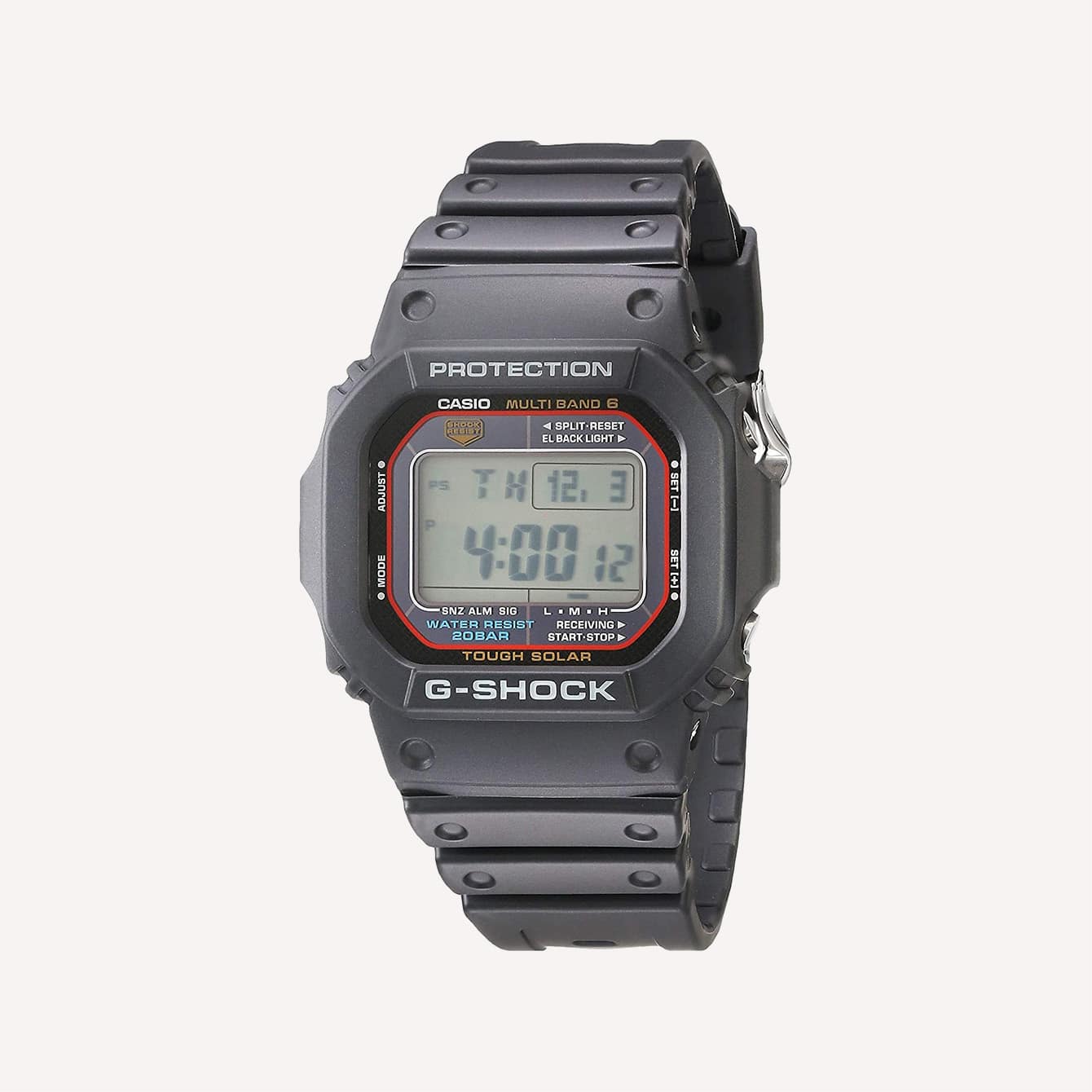 It takes Casio's practically indestructible, highly water resistant DW-5600 model and makes it so it never runs out of battery and always tells the correct time.
First, it's solar-powered, so just wear it outside every now and then and you'll never have to think about the battery again. Also, it has the Multi Band 6 feature, which uses radio waves to synchronize with the same "atomic" time sources that phones and computers use.
Movement: Quartz
Case diameter: 46.7 mm
Water resistance: 200 meters
From a utilitarian perspective, few watches will give you more for your money than the G-Shock GWM5610.
Seiko SRPB41
Seiko's Presage collection is where you should go to find some of the most beautiful dials in the sub-$500 price range.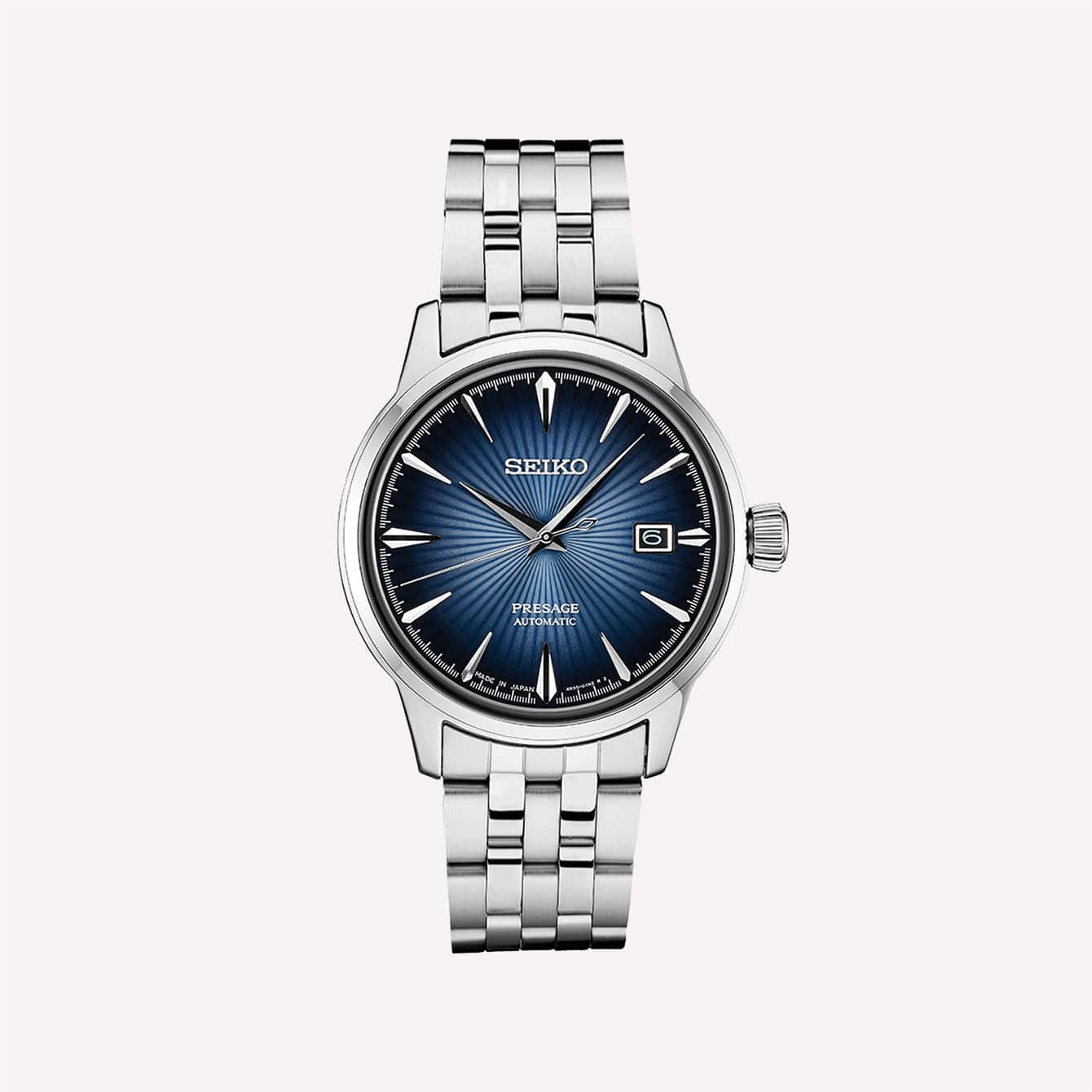 It's in this piece that you'll find one of the prettiest Presages around. It's part of a series of watches inspired by cocktails, in this case the Blue Moon.
Movement: Automatic
Case diameter: 40.5 mm
Water resistance: 50 meters
If you want your watch on the fancy side but think other dress pieces are too sedated or old-fashioned, this and many others in the Presage collection have something more playful and eye-catching for you.
Seagull 1963
The Seagull 1963 stands out for more than just being the only chronograph on this list. It's also the only Chinese watch, and definitely the most unconventional in appearance.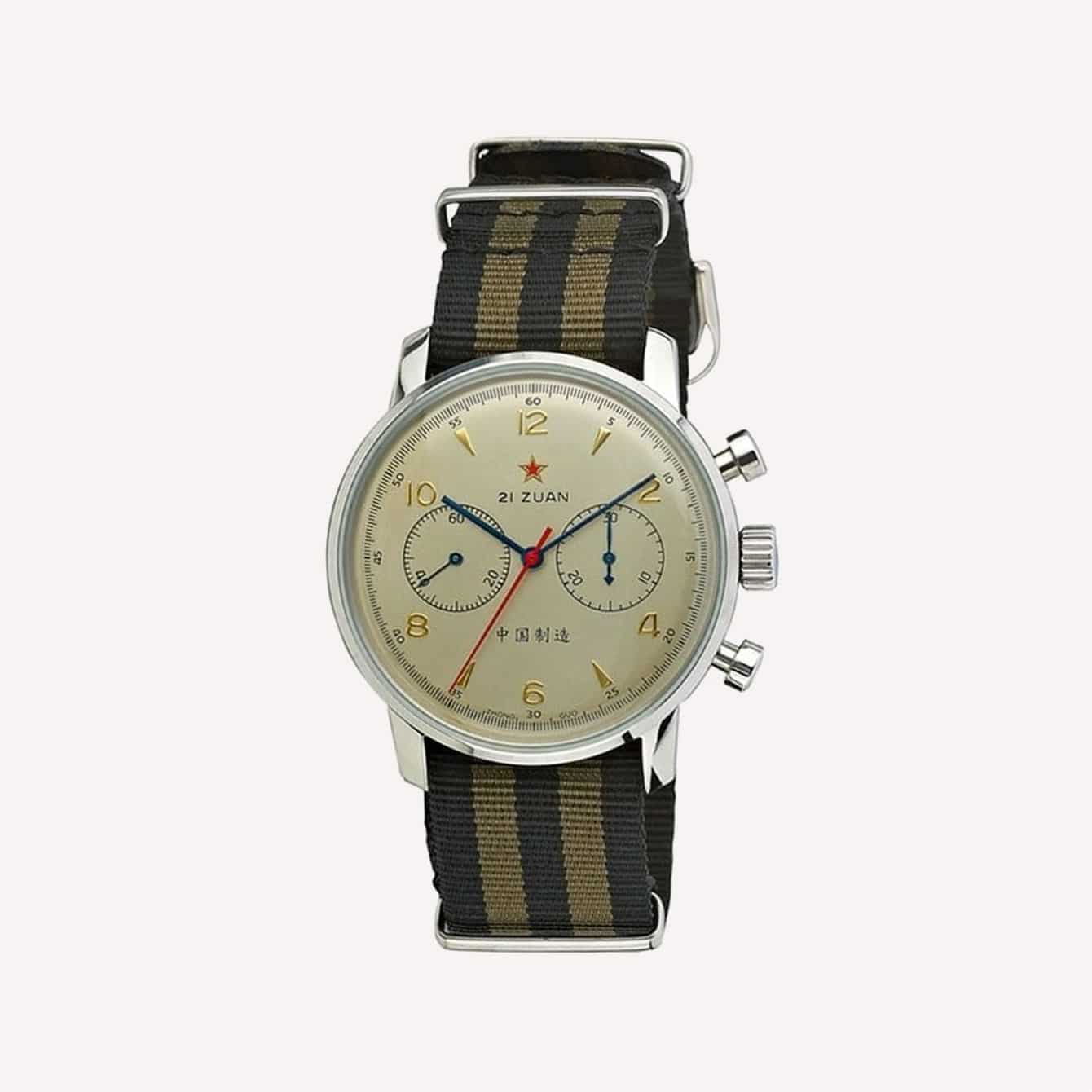 But this odd duck has earned its spot on the list because it's just about the only mechanical chronograph you're going to find for the price. It also features an exhibition caseback, granting you a view into one of the coolest-looking non-luxury movements.
This chronograph has garnered a respectable following in the years since it became the first watch manufactured in China in the early '60s. For those of you who want something off the beaten path, here's a quirky piece with a lot of history.
Movement: Hand-wind mechanical
Case diameter: 38 mm
Water resistance: 30 meters
If you like chronographs but aren't into this design, Timex has the next best option: a great range of quartz chronographs south of $200.
FAQs
Here are the answers to some frequently asked questions about buying your first watch.
How Do I Get My First Watch?
There are a few ways to go about buying a watch. You can get them brand-new from an authorized dealer or manufacturer website. You can also get new watches on "gray market" websites that can offer great discounts, but less guarantees. There's also the pre-owned route, for which there are many different venues online.
What Should I Buy for a First Watch?
Lean toward something simple, with a steel bracelet if you can find one, between 38 and 42 mm.
If you think you're likely to buy more watches, you should probably pick up something in the low hundreds of dollars. But if it's more of a special purchase, go as big as you care to. Really, though, the choice is yours — get something you're excited to put on and genuinely desire.
How Do You Pick a Watch?
Consider the following factors together: its appearance, functionality and price. Key questions to ask: Do I want a mechanical or battery-powered watch? What features do I need? What stylings are a must for me? Is the size suited to my wrist? Then, finally, you can ask: Can I afford it?
Conclusion
It's tough to go wrong with your first watch — after all, it's your choice. But if you start with one of the selections above, you'll be getting a lot for your money. You'll also be making a solid first step into the world of watches with a legitimately great piece, no matter what you choose.
Otherwise, shop around and remember what you learned in this article. There are a lot of great watches out there waiting for you to find them.
Questions? Comments? Leave them below!