Getting a cool watch doesn't have to be an expensive endeavor. Here are some awesome watches for $50 or less!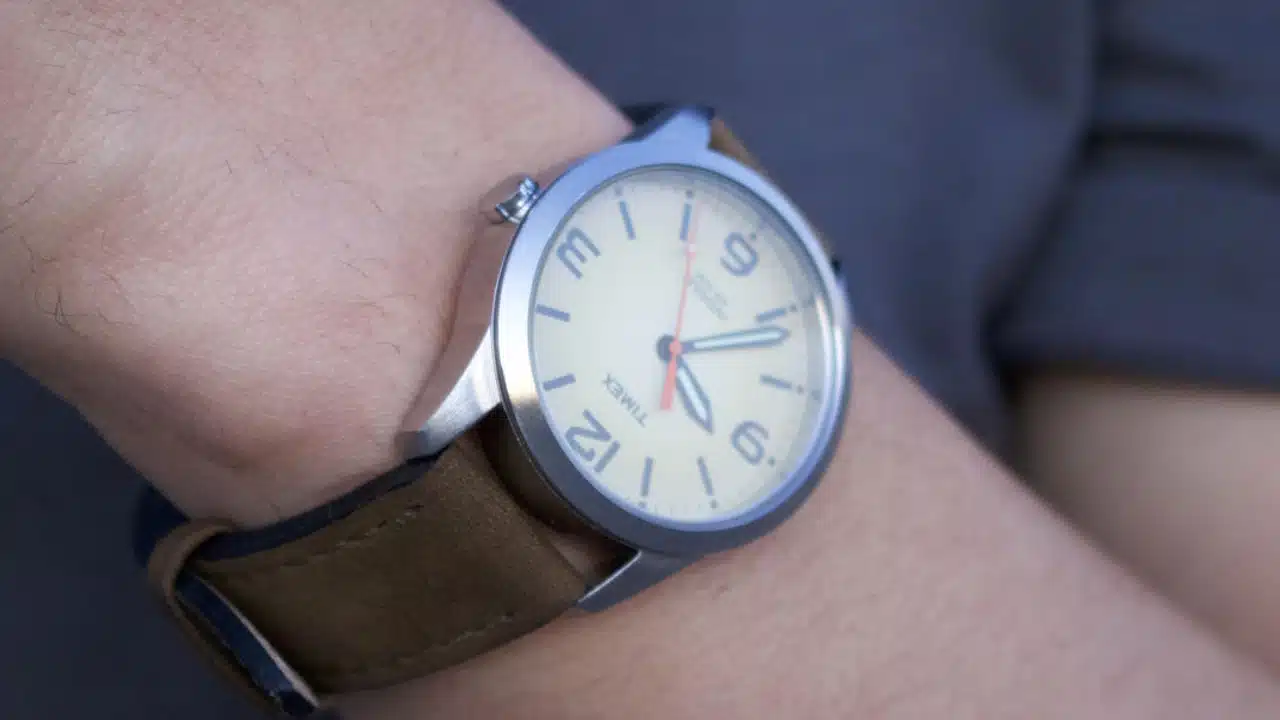 We live in a world of watch auction record-breakers going for millions. Moreover, even budget pieces often have several zeros at the end of their price tags. You'd think finding a nice, respectable watch under $100 would be impossible, even less so for under $50.
Fortunately, there are several sub-$50 treasures out there. You just have to do a little creative digging — or not, because I did it for you.
Undeniably, one of the patron saints of cool, Timex, which was dubbed by Rolling Stone as the world's best watch brand, will make up a lion's share of my list. Casio is another name you'll see several times.
Budget Watches: 15 Under $50
Here they are, 15 budget models including dress watches, casual timepieces, and tool watches!
Timex Weekender 38mm
With its classic field watch design, the Timex Weekender is probably the king of the beaters.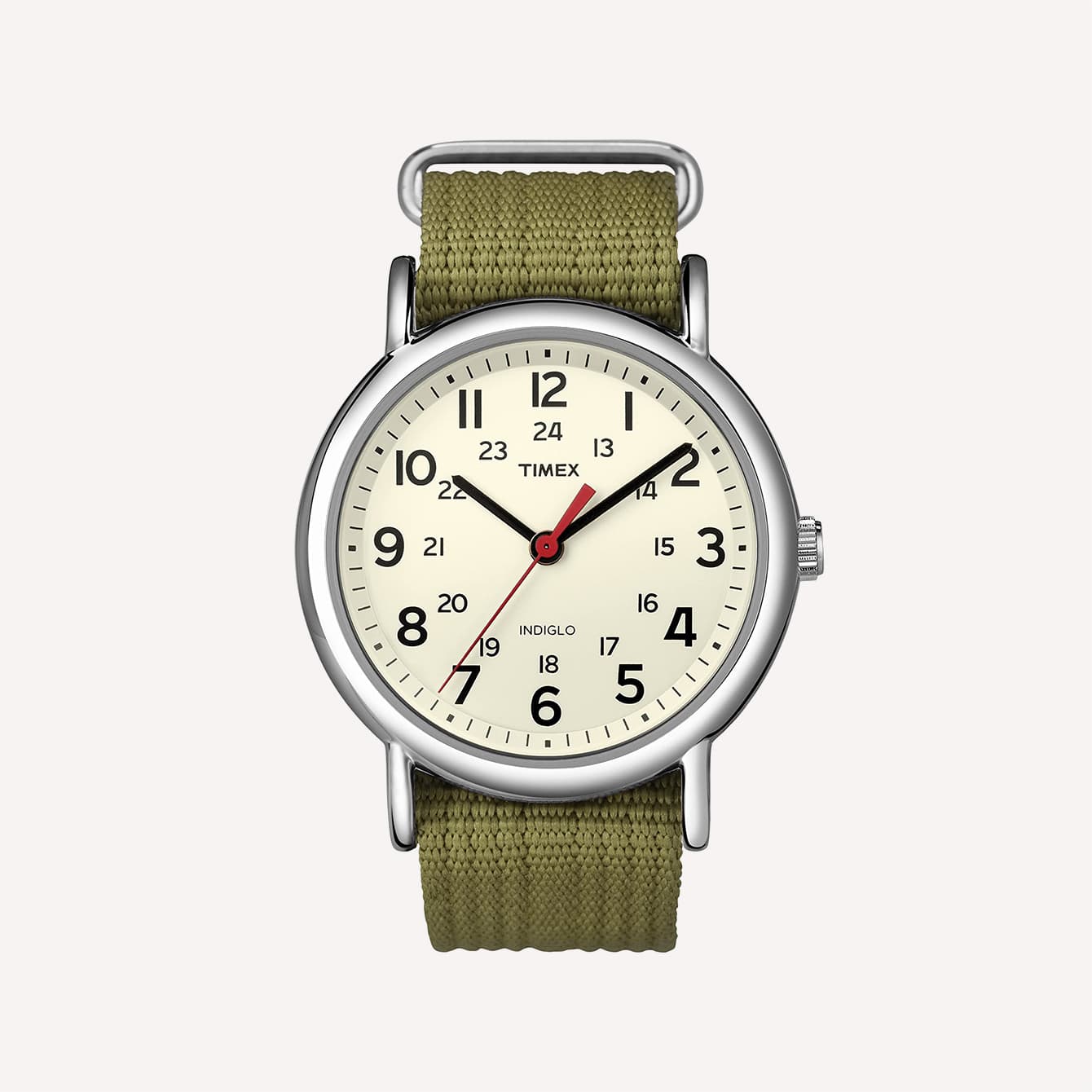 Whether you go for the cream dial which leans hard into the vintage vibe, or the bolder white and black variations, it has that kind of adaptability that's earned Timex its reputation for effortless style. In short, it's an easy, casual everyday timepiece.
It can go with a Nato, a steel bracelet, or even a leather strap. Plus, the Indiglo backlight and red second hand are fun features that also contribute to the dial's top-notch legibility.
Dimensions: 38mm diameter, 9mm thickness
Case material: Brass
Water resistance: 30m
The 38mm case isn't just more authentic when it comes to hat-tipping the original field watches, but it also suits a wider range of wrist sizes.
Casio A168WA
Thanks to its retro-cool design and, I think it's safe to say at this point, icon status, the Casio A168WA often finds itself in collections with far more luxurious models.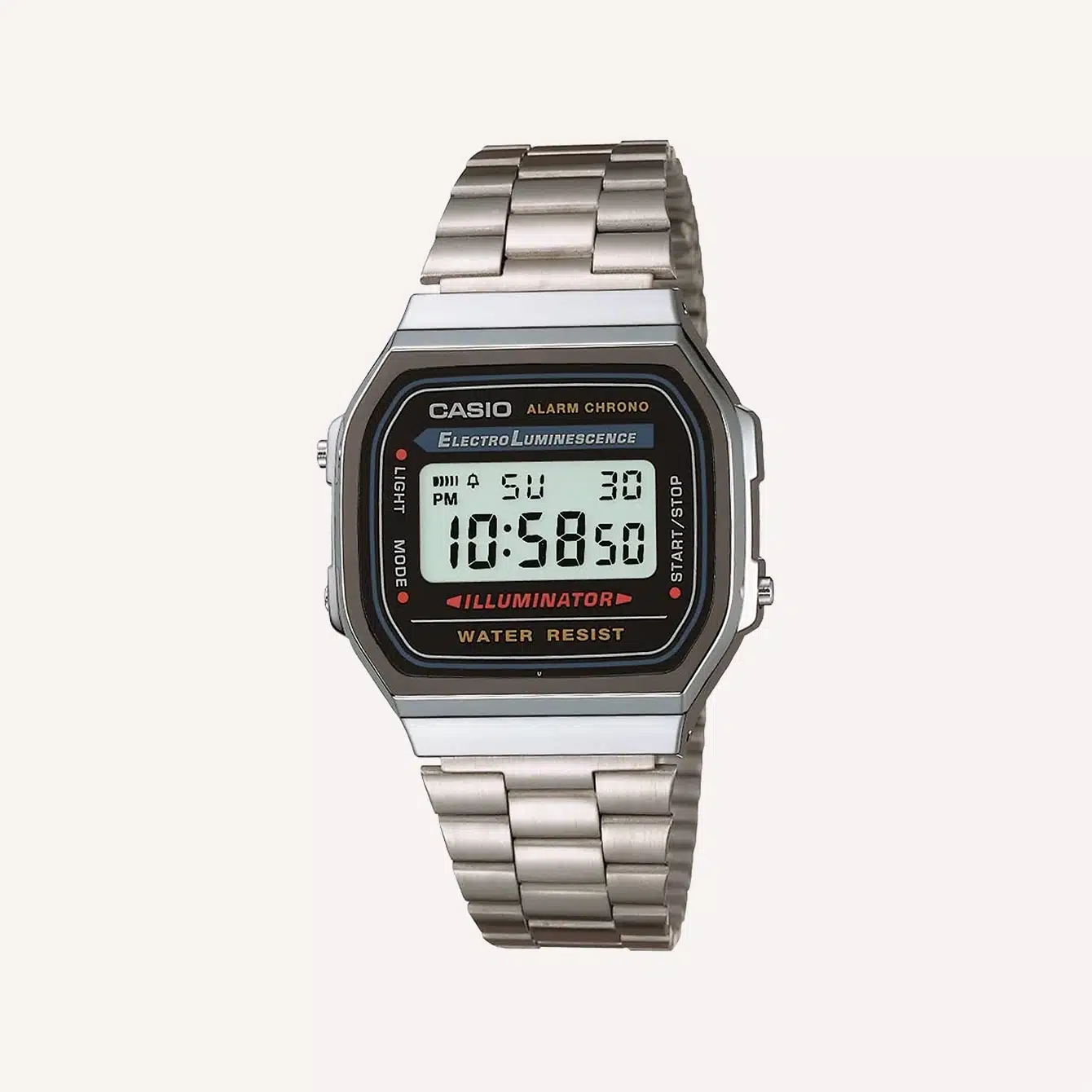 That's because this guy, though easy to obtain, is a box to check for the comprehensive collector.
For you '90s kids, I've heard it compared to a "starter Pokemon" — an essential and respected team member that end up in the same line-up as rarer finds.
Appropriately enough, I always say that the gray case with the red, black, and blue accents reminds me of the old-school Nintendo Gameboys. It's a serious watch with a fun energy.
Dimensions: 32mm diameter, 7mm thickness
Case material: Plastic
Water resistance: 30m
It's easy to use and easy to read and features an auto-calendar, an EL backlight, and a stopwatch.
Casio G-Shock DW5600
Ever quintessential, the DW5600 to G-Shock is almost like what the Oyster Perpetual is to Rolex. It's a base model of sorts, featuring all of the signature G-Shock necessities, and none of the non-necessities.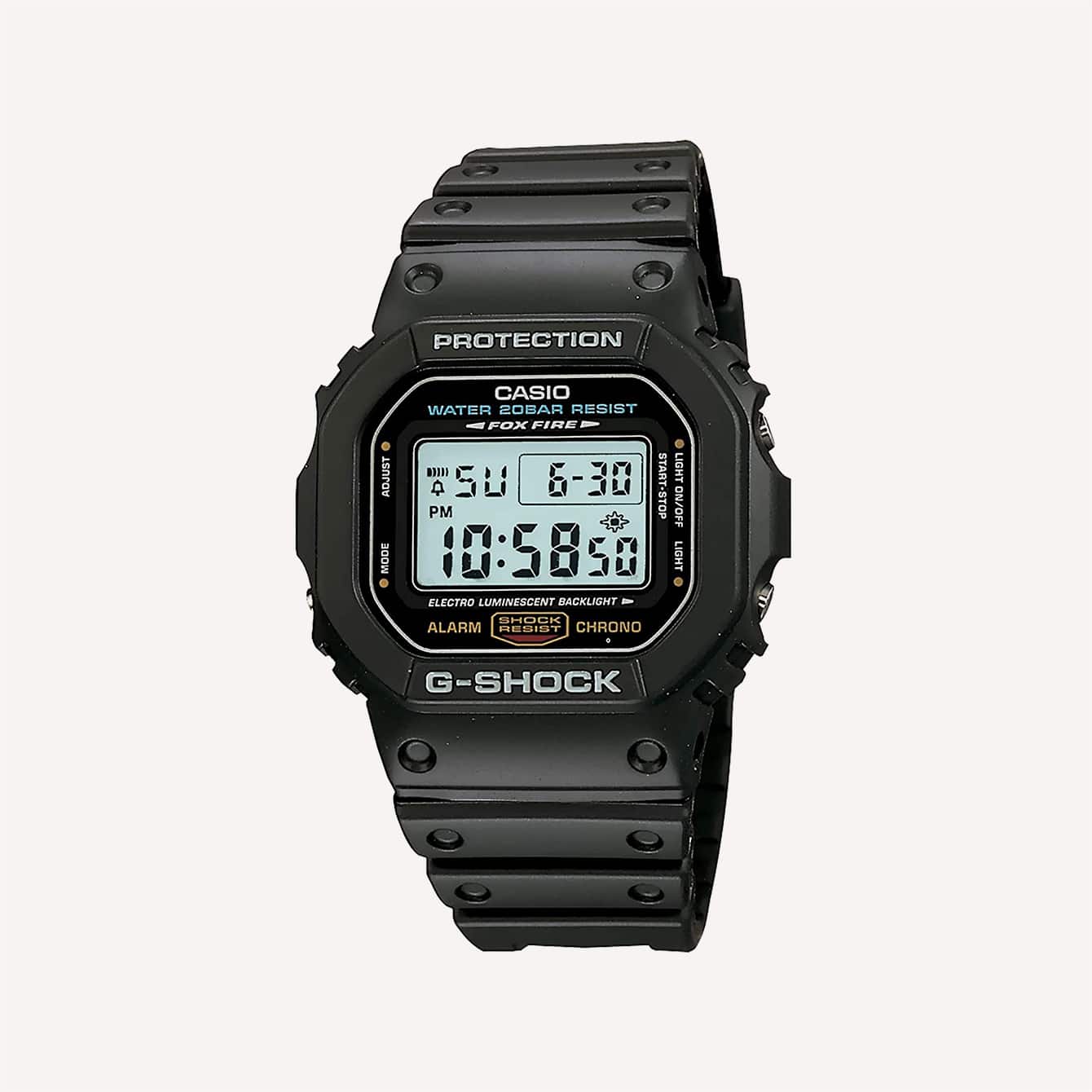 Admittedly, the 43mm case isn't for everyone. However, a G-Shock is meant to wear big (which also isn't for everyone), and its light resin case makes it far more manageable than most bigger-is-better watches.
Dimensions: 42.8mm diameter, 13.4mm thickness
Case material: Resin
Water resistance: 200m
Aesthetically, it's a true G-Shock representative, though it doesn't rely on just looking strong. Its features, from the 200 meters of water resistance to its wildly durable build, ensure the construction and functions are as brawny as its design is signaling.
Seiko 5 Railway Vintage '80s
The vintage Seiko 5 Railway, which was in production from 1980 to 1989, hovers around the $50 mark. It's sometimes a little less, sometimes a touch more, but there's always a few floating around in the secondary market, and it's one heck of a hidden treasure.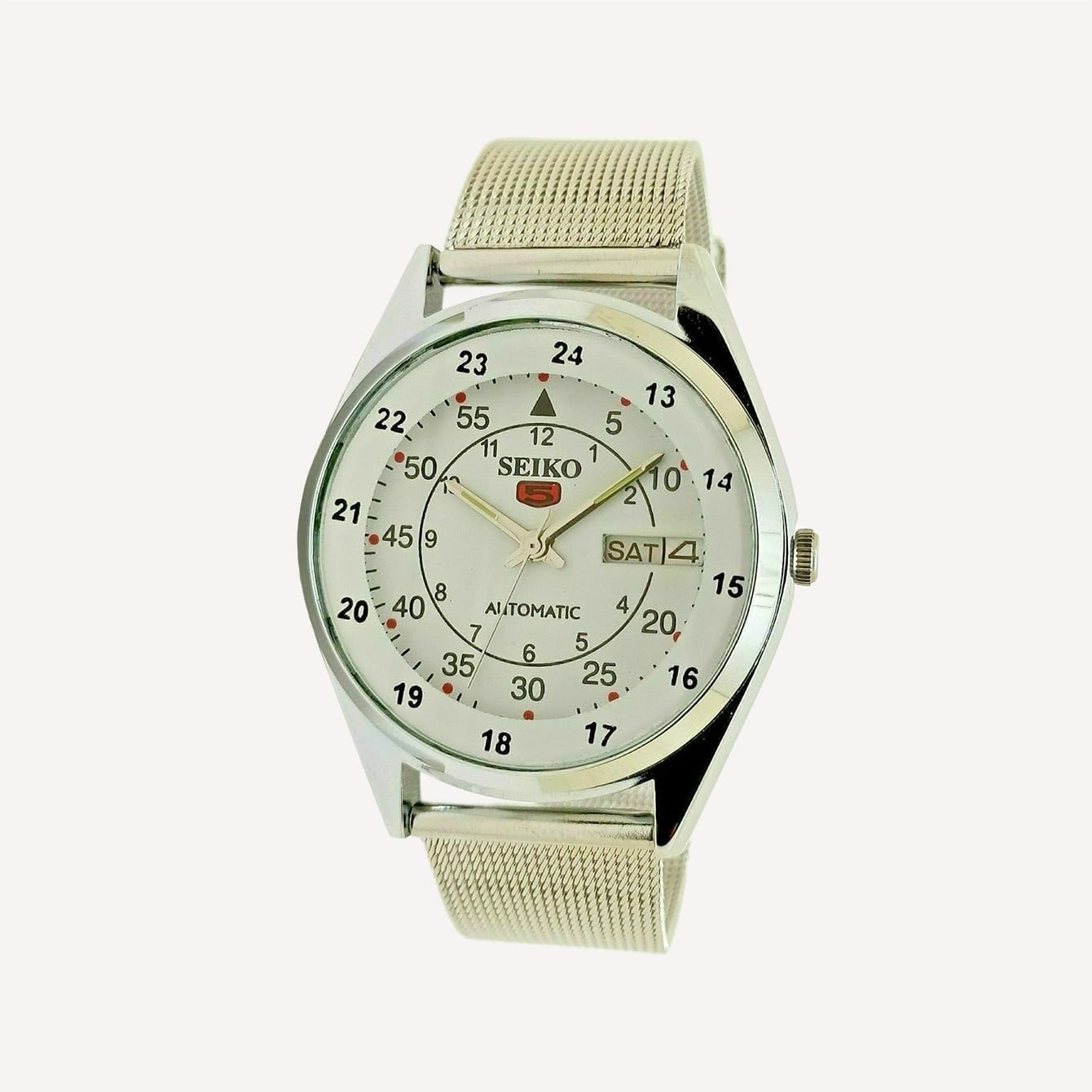 With its flush 13-24 track floating above the main dial, this watch plays with flatness and dimensionality in an analog way.
It's more charming than the more sophisticated topography of modern watches in the same way hand-drawn art and animation can have more character than their CG and computer-generated counterparts.
It looks great with a leather strap or its sparkly beaded stainless steel bracelet. As a Seiko 5, this watch should technically be water resistant, but vintage watches tend to be finicky on that front. That's likely why most sellers list it as not water-resistant.
Dimensions: 36mm diameter, 12mm thickness
Case material: Stainless steel
Water resistance: N/A
It might be more resistant than expected, but I wouldn't test it.
Timex Weekender Chronograph
The Timex Weekender Chronograph is exactly what its name implies. It's the Chronograph version of the prior covered Weekender.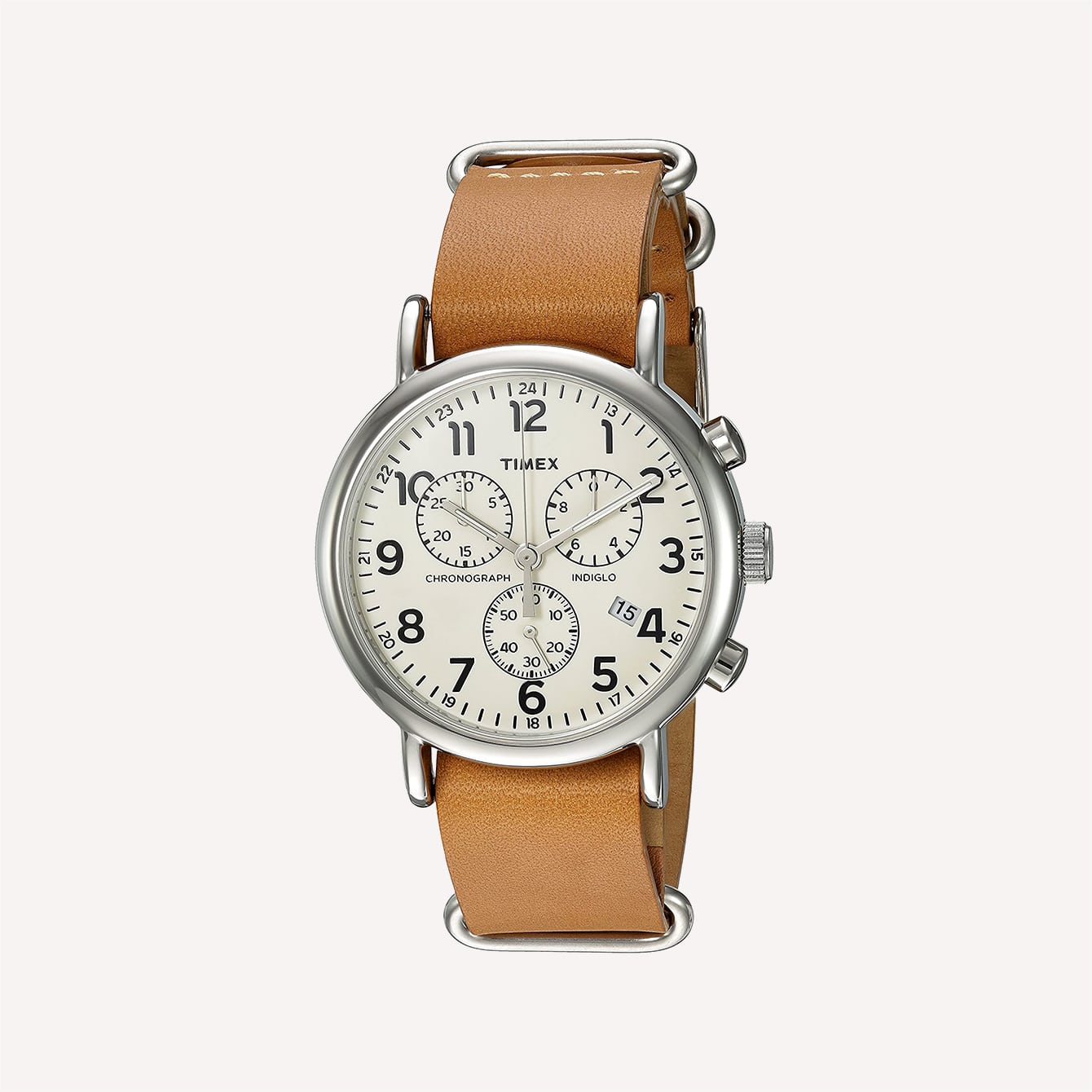 So, it's a classic, versatile, and stylish (without trying too hard) timepiece, and it has three subdials on the face. The busier dial makes it just a little more dynamic.
In addition to the button-activated Indiglo backlight, this Chrono also has a slanted date window at the four o'clock position, and, of course, a stopwatch function.
Dimensions: 40mm diameter, 9mm thickness
Case material: Brass
Water resistance: 30m
This also makes it more tactile than the core Weekender.
Casio Vintage A171WE-1AEF
The A171WE is a classic Casio taken out of the square silhouette it so often lives in, then poured into a more traditional round shape.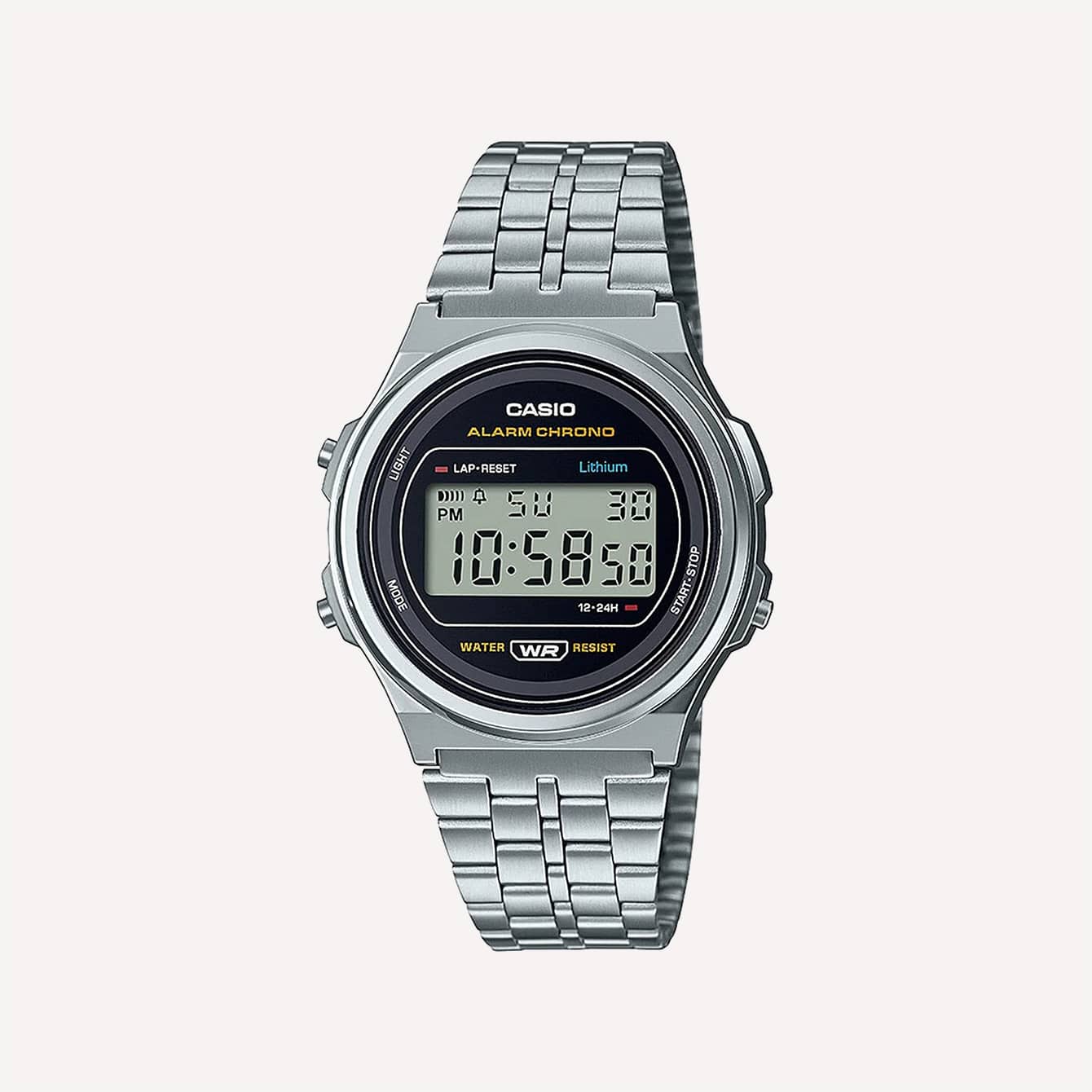 It's a fascinating and fun remix for everyone but is particularly striking to those who are familiar with the standard Casios.
It still has that retro look, though the face is far less saturated, with more breathing room between the texts. It's generally sleeker and less dense.
There are also exquisite details throughout, like how the round bezel steps off onto the sectioned-off lug. The intersection of the circular shape and the break in the lugs is a wholly satisfying sight.
Dimensions: 38.8mm diameter, 8mm thickness
Case material: Stainless steel
Water resistance: 30m
The gloss of the resin case complements the bracelet, Casio's infamous rolled link design, which is always visually stunning, even if it does pull at your arm hairs.
Casio World Time AE-1200WH-1AVCF
This is the watch James Bond should have worn during the especially campy '70s era that inspired Austin Powers. This is a compliment.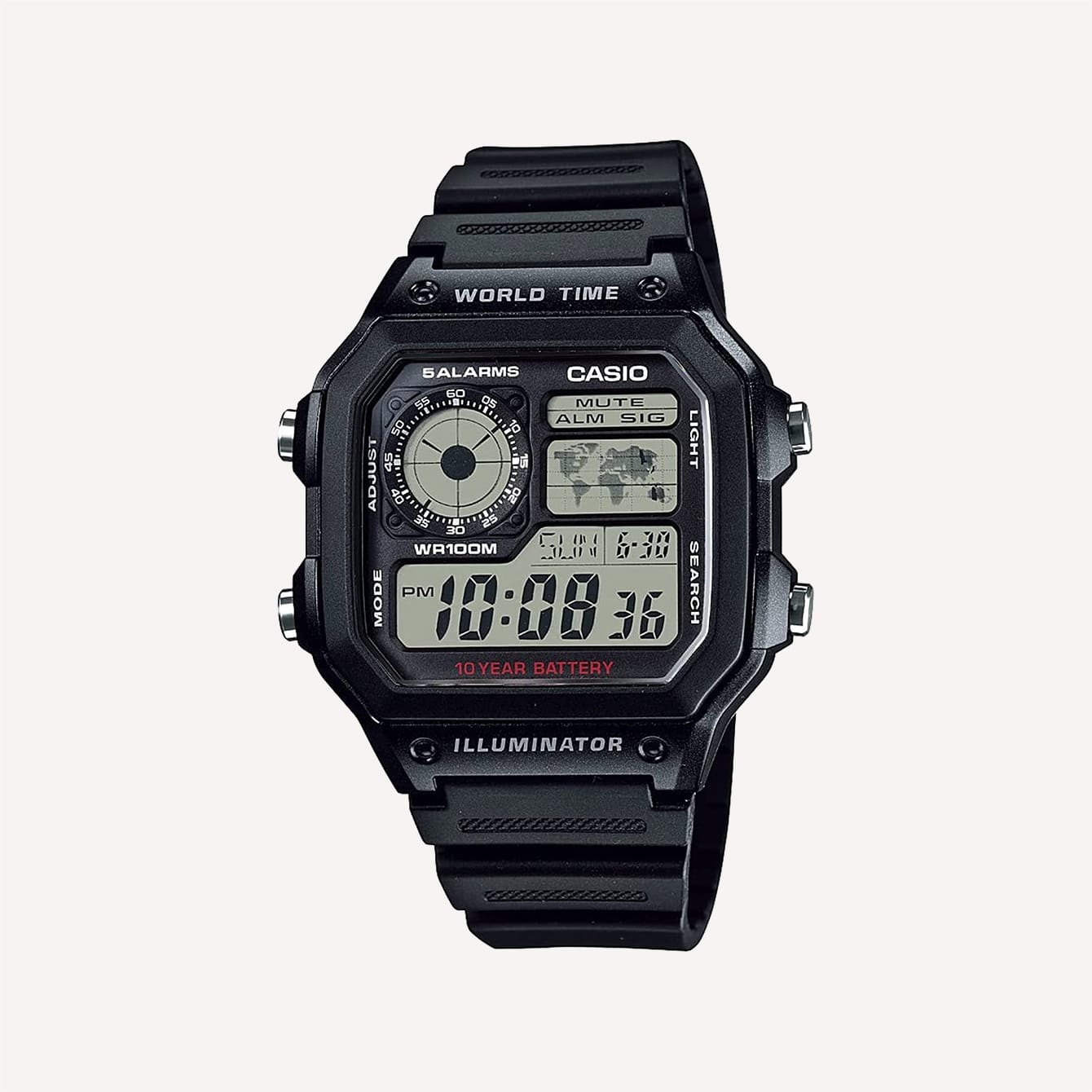 By that, I mean, it leans hard into a cool factor, subtlety be abandoned. It's like a toy for grown-ups, but a real piece of gear that's perfectly acceptable for an adult man to wear.
The multi-sectioned dial has a command-center look, with its radar console right next to the digital world map.
Dimensions: 39.5mm diameter, 12.5mm thickness
Case material: Resin
Water resistance: 100m
It's filled with functions and features including, but not limited to, 31 time zones, 100 meters of water resistance, an automatic calendar, and a stopwatch.
Swatch Bricablanc SUOW710
For those who like the matte, near-future (as defined by the '90s) Swatch aesthetic, the Bricablanc SUOW710 is pretty quintessential. The best part is that its palette and minimalistic design infuse it with a level of modernity on top of its near-Millenium look.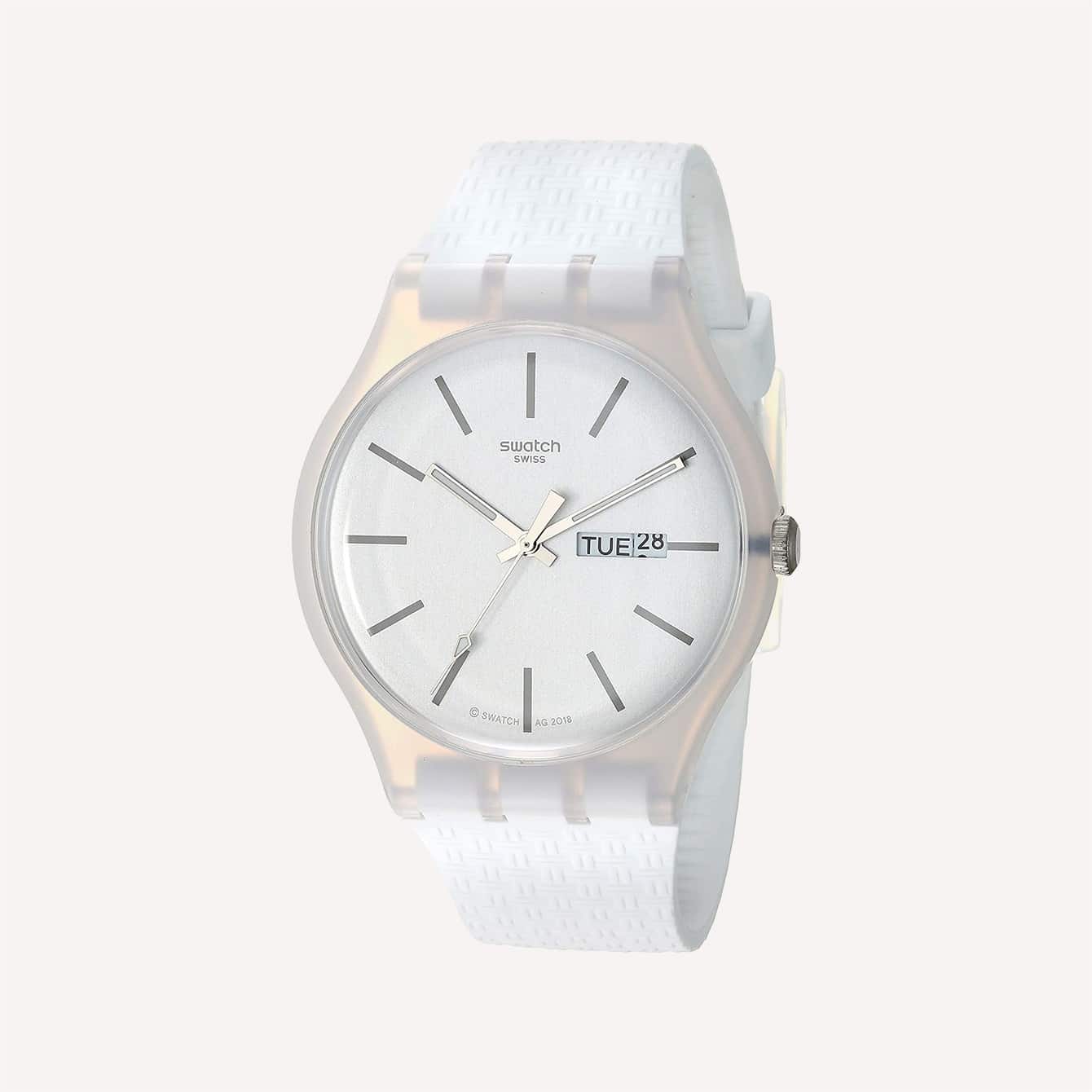 The slightly transparent lugs may be reminiscent of the time of frosted hair tips, but the slim baton hands and sterile palette give it a touch of Scandinavian and contemporary Apple-esque sensibilities.
Dimensions: 41mm diameter, 9.85mm thickness
Case material: Plastic
Water resistance: 30m
It's a great watch for those who like a non-costumey throwback, as well as a watch that's striking but not loud.
Timex Expedition Scout 40mm
Though a straightforward military timepiece, the Timex Expedition Scout is more thrilling than the standard field watch, while respectfully staying on-template.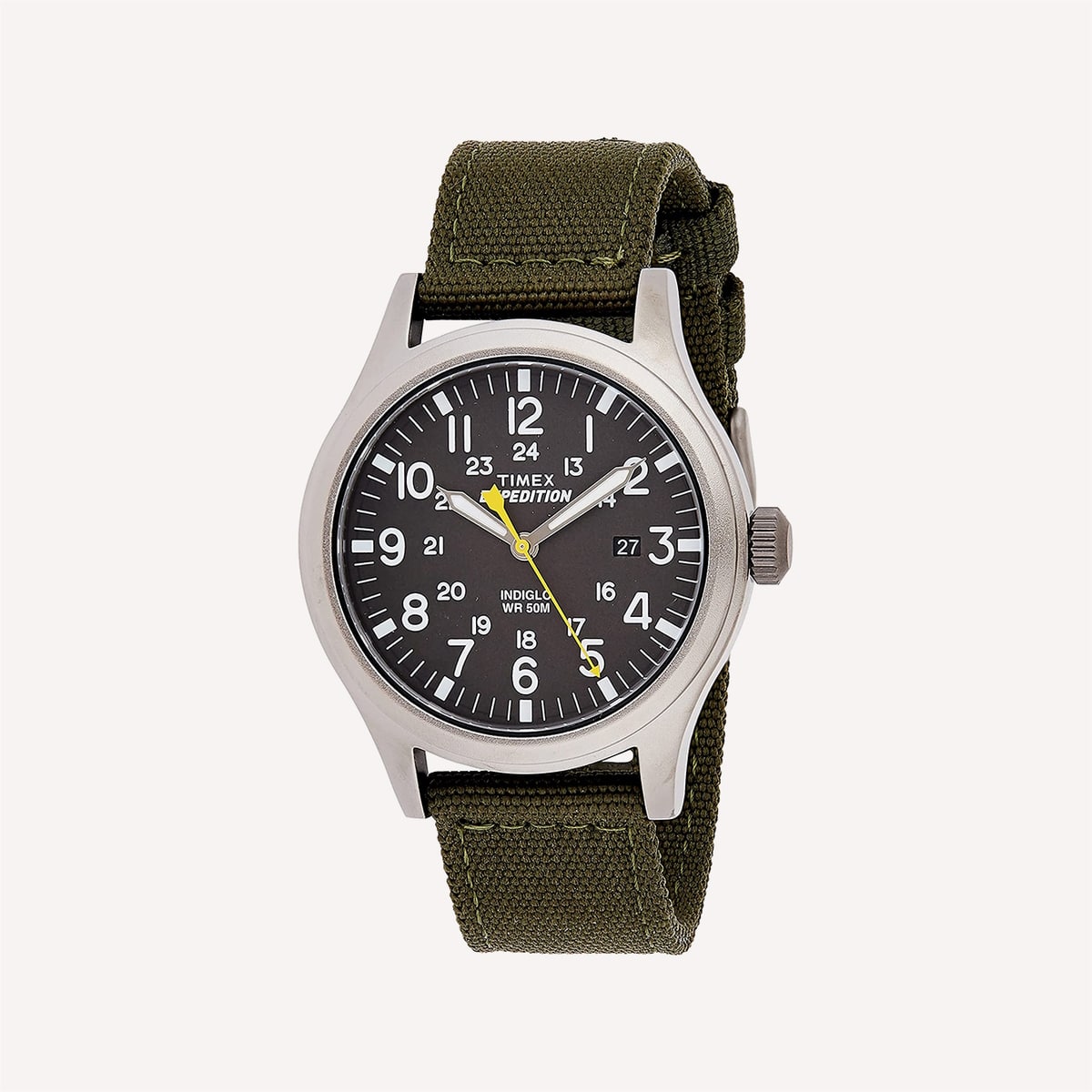 The flush outer track makes way for the one-through-12 markers which then make way for the 13-to-24 markers, ensuring the dial is well-populated, even as it maintains its clean but speedy look and perfect legibility.
The bezel has more steps and the lugs sweep, giving it more movement and dimension than the Weekender. It's still no frills, but there's definitely a lot of dynamism in there, even if you don't notice it at first glance.
Dimensions: 40mm diameter, 10mm thickness
Case material: Brass
Water resistance: 50m
Naturally, the dial is well-lumed in case you need to see the time in the middle of the night and want to avoid exposing yourself to a blue light.
Casio Vintage CA-53W-1CR Calculator Watch
From the wrist of Marty McFly to that of Serena Williams and even world leaders, the calculator watch has had a quiet renaissance. This is the best kind of comeback because you can get in on it without looking like a trend opportunist.
Trends aside, the Casio Vintage ca-53W-1CR, with its eight-digit calculator, fundamentalist design, and reasonable dimensions, is the kind of calc watch that makes you look like you've been wearing them all along.
Dimensions: 35mm diameter, 8mm thickness
Case material: Resin
Water resistance: 50m
Plus with its stopwatch, alarms, and several other functions, it's just a fun accessory to wear. It's also a great conversation piece.
Casio MTP series
Okay, so forgive my second Oyster Perpetual reference of the day.
But, the Casio MTP series is a lot like the OP in that its sleekness, simplicity, and silky dial allow you to pair it with a leather strap and a suit, but its solid build also means you can put it on a stainless steel bracelet and wear it with basically anything. It's the perfect model for a one-watch collection.
Dimensions: 38.5mm diameter, 9mm thickness
Case material: Stainless steel
Water resistance: 30m
You can get it in gold, if you were to be so bold, or you can find Casio MTPs with Roman indices, two-tone constructions, or even a stately fluted bezel.
Casio MDV106-1A Diver
No, you don't have to hit the $100 mark or resort to Chinese homage makers (no judgment though) to get a classic dive watch in that Submariner reminiscent style.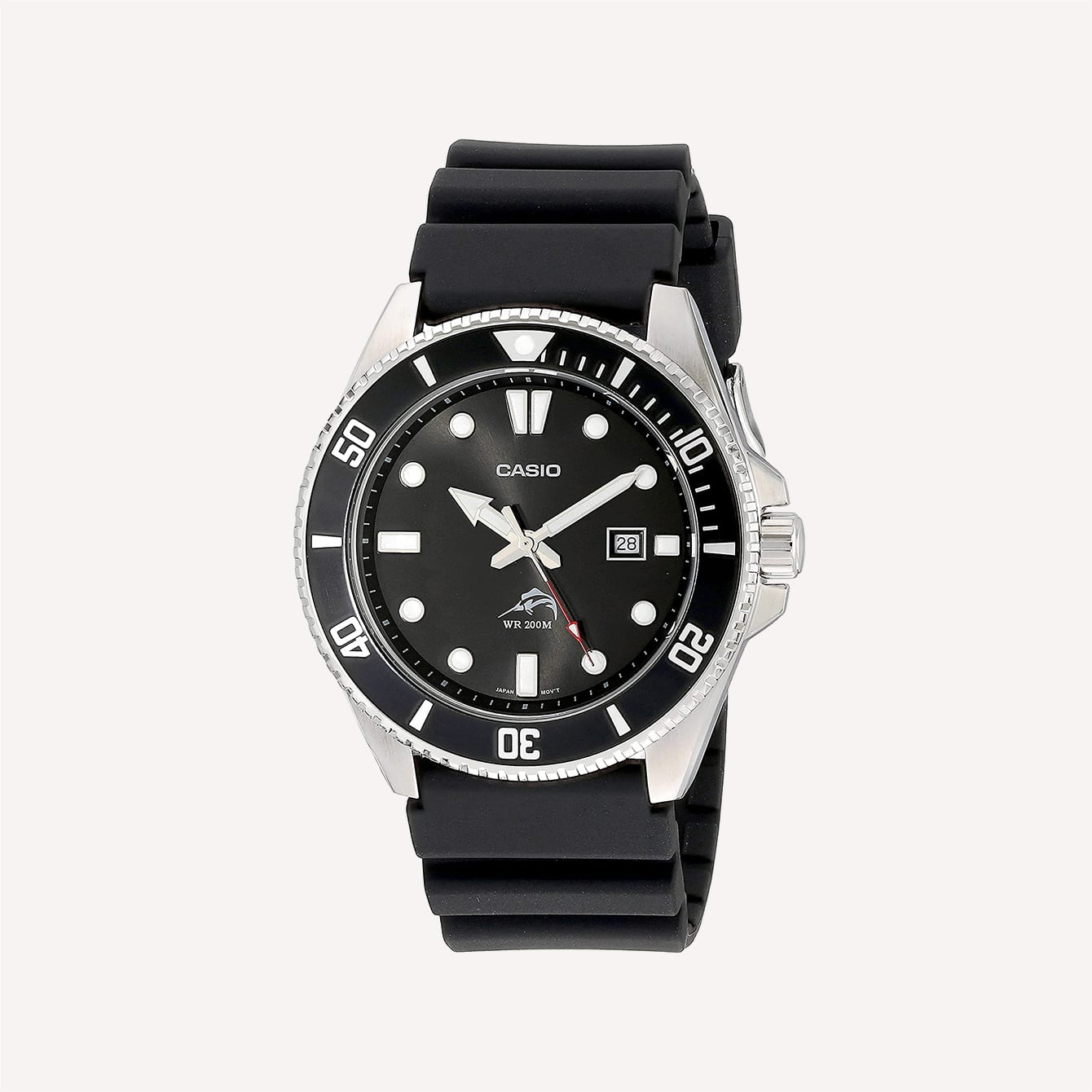 Everything is there from the unidirectional bezel and the 200 meters of water resistance. Even the hands look like a cross between the Rolex Mercedes hands and the Seamaster broad arrows, with a red second hand not unlike the GMT on an Explorer II.
It's clearly taking its inspiration from the hard hitters, but comes out with its own distinct personality.
Dimensions: 44mm diameter, 12mm thickness
Case material: Stainless steel
Water resistance: 200m
I also love the marlin logo beneath the hands. The entire design is simply easy to be charmed by.
Gute C016 Automatic
When I said no judgment about turning to Chinese homage makers, I meant it, and here's proof.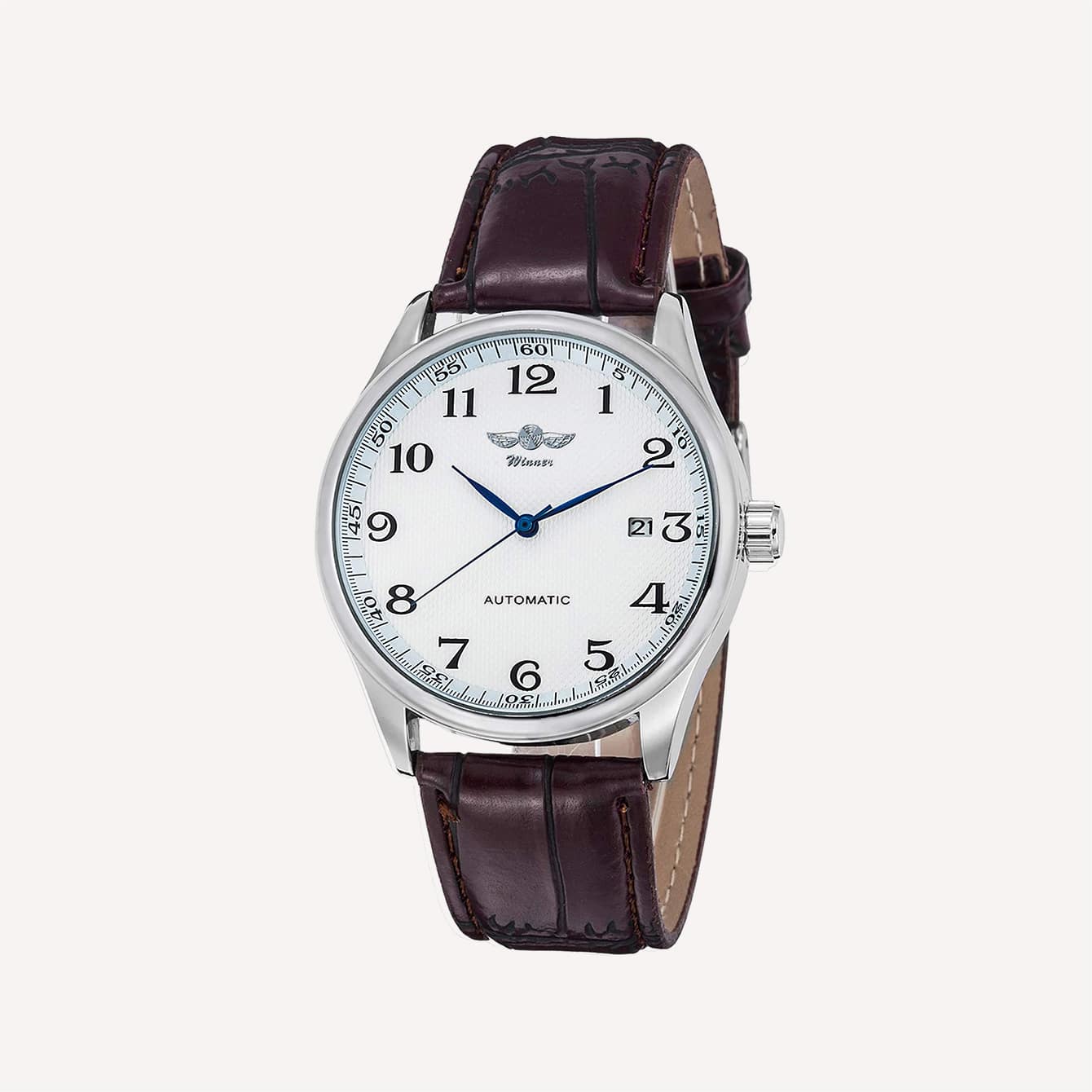 Even the Parnises and Seagulls of the world rarely, if ever, serve up automatic watches in the $50 range these days.
This Gute C016 is on this list to satisfy the tight-budgeted horologically curious set.
It runs on a robust automatic, likely a Seagull or Seagull-adjacent (who owns what company gets confusing in China since over 60% of them are state-owned), and you can watch this movement through the caseback.
Dimensions: 40mm diameter, 13mm thickness
Case material: Metal
Water resistance: 30m
It's a pretty good-looking design too. It has all-Arabic indices for legibility, thin feuille-like hands, and an elegantly textured background. For a sub-30 timepiece, it's not too shabby.
Fanmis Mechanical Square Chronograph
Ever considered one of those super distinguished square chronographs, but aren't sure if it's for you? Well, don't drop just thousands of dollars on a Tag Heuer Monaco.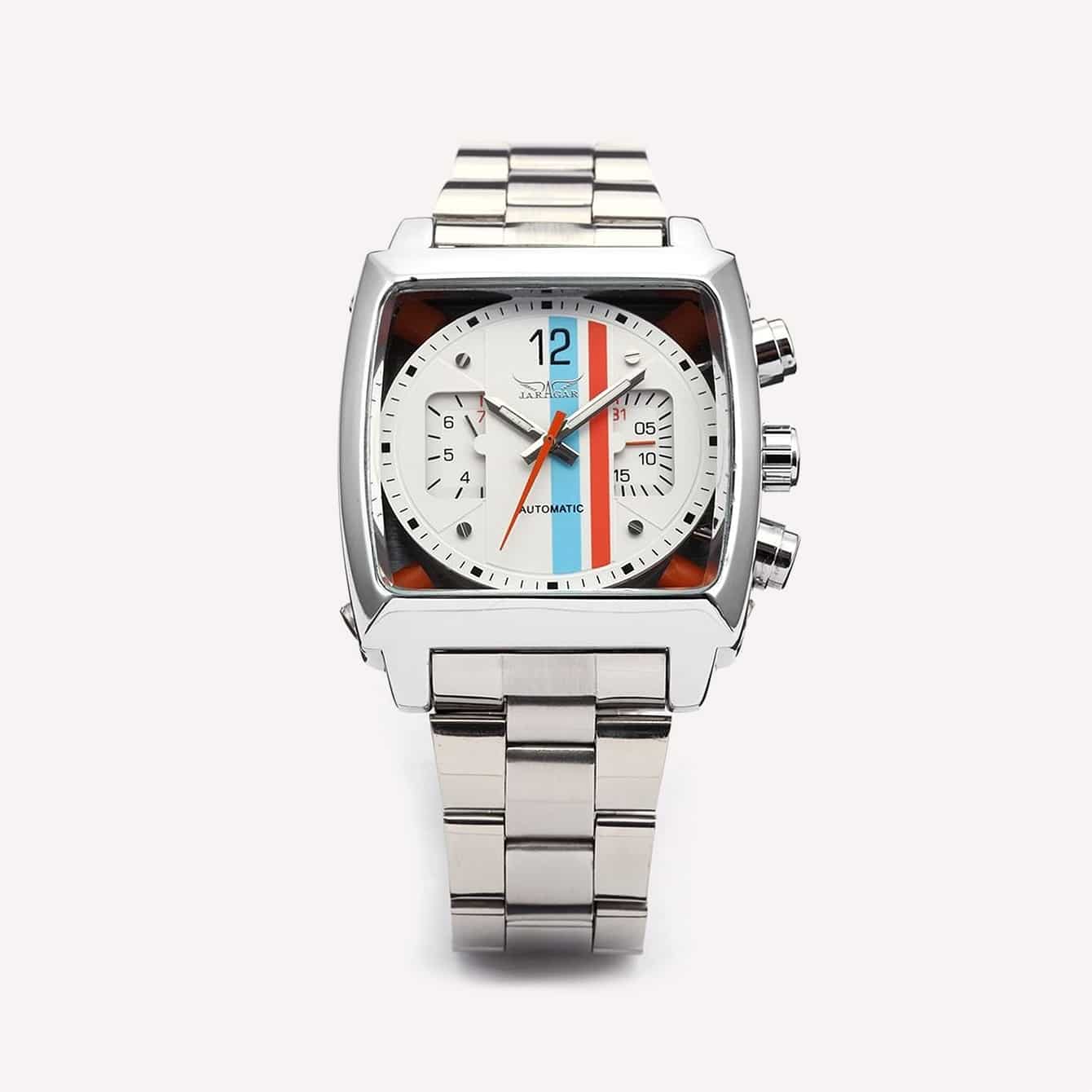 Instead, try this Fanmis Mechanical Chronograph, which is around ~$40, comes in black or white and has a similar sporty throwback look about it.
It's also an automatic with an exhibition caseback.
Dimensions: 42mm diameter, 14mm thickness
Case material: Stainless steel
Water resistance: 30m
Sure, the movement is pretty raw-looking, but it's another way-below-market mechanical.
Timex Two-Tone Dress Watch
While a lot of two-tone watches might be a bit too jazzy for some tastes, this Timex Dress Watch features moderate details that temper a lot of the would-be intimidation factors.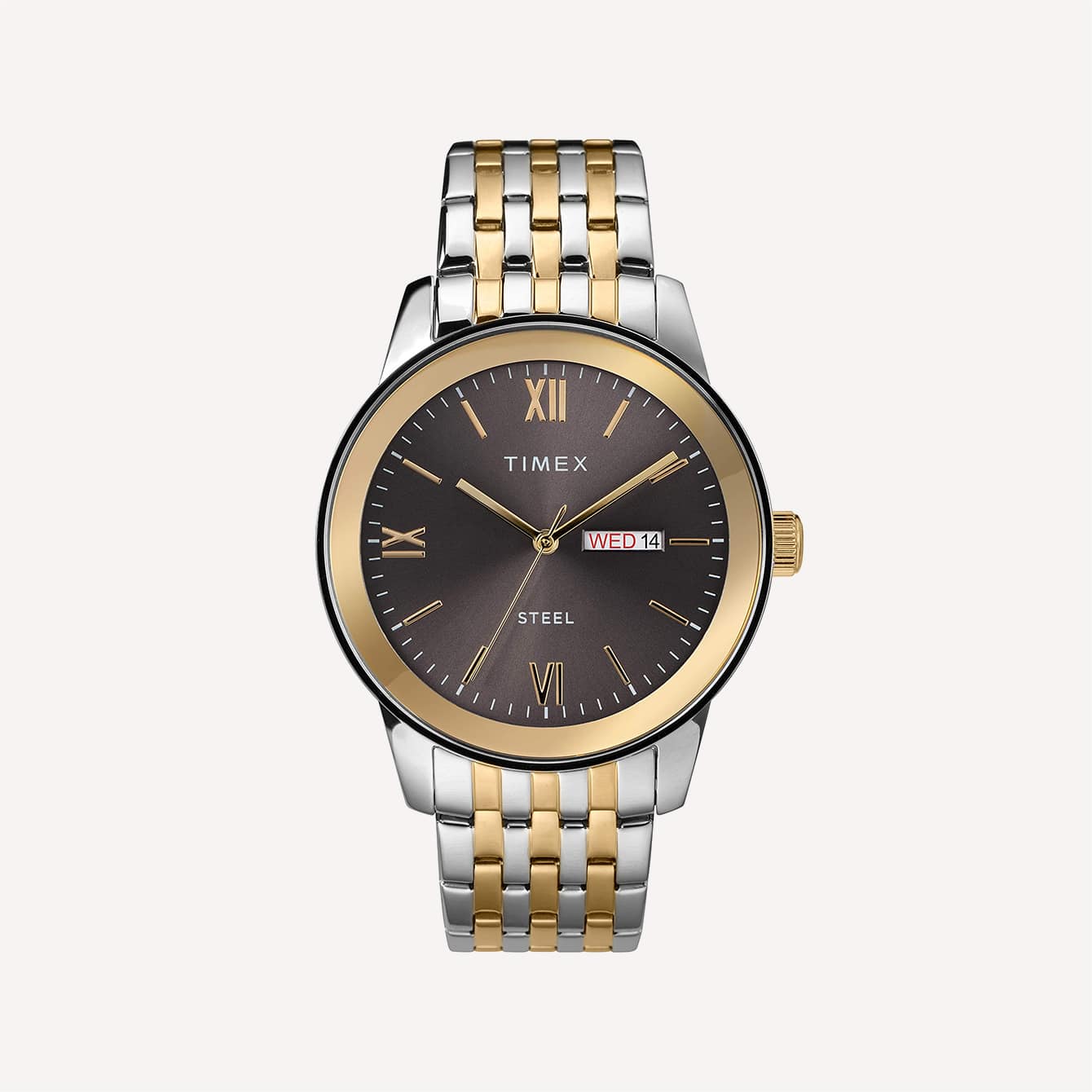 For example, the Roman cardinals match the fanciness of the silver-and-gold, but they're in a still, modern font, each line on each numeral resembling the simple, sterile baton hour markers and baton hands.
The dial is beautifully silky, but in a neutral dark charcoal, bringing all of the details together evenly. And if the two-tone is too much for you, it also comes in all-black and black with a silver case.
Dimensions: 41mm diameter, 11mm thickness
Case material: Stainless steel
Water resistance: 30m
I wish this model was smaller, at least a 40mm, ideally a 38, but it's reasonably thin and light on the wrist.
FAQs
Still have some questions? Here are some frequently asked ones on sub-50 watches and budget watches in general!
What are cheap but good watches?
If you stick to quartz watches, you can find a lot of good timekeepers with solid builds.
Brand-wise, Seiko sells great budget mechanicals, while Tissot offers Swiss Made automatics at relatively low prices. For the sub-50 category, Timex and Casio are good bets.
Can you find an automatic under $50?
You might get lucky on eBay with vintage Seikos or just sellers trying to get rid of their watches. Otherwise, the Chinese watch market, easily found via Amazon, is the easiest place to find the elusive sub-50 automatic.
Should you buy cheap watches?
You should buy whatever you want and can afford, as long as you know what you're getting.
Sub-50 watches obviously won't be as function-forward or durable as more expensive watches, but you can find reliable and cool-looking models within that category.
Conclusion
I hope you were able to find a sub-50 model in this round-up for you. Even if you aren't on a budget, you'll notice there are a number of esteemed models, like the Casio A168WA or the Timex Weekender, that are wildly affordable.
I also think cheap Chinese mechanicals are good options for you would-be modders to tinker with.
Plus, there's something more impressive about wearing a cool budget watch confidently. It shows a level of discernment beyond just throwing down a few zeroes.
What's your cheapest watch? Let me know down below!