Looking for a good US-made watch? From affordable but well-designed timepieces to high-end automatics, we've rounded up the twelve best American watch brands.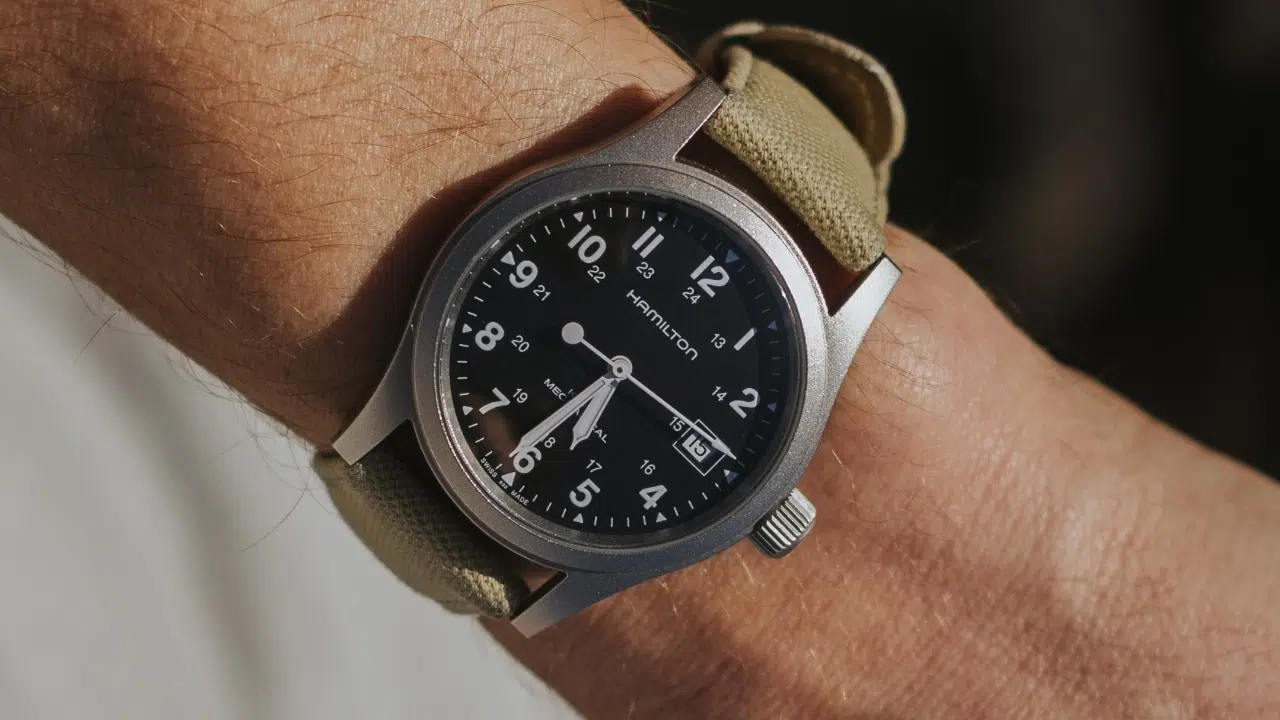 People turn to Swiss timekeepers for classically sophisticated watches, the Germans for efficient Bauhaus timepieces, and the Japanese for textbook discipline mixed with Eastern influence.
Uniquely, US watch brands aren't guided by a broad heritage-based approach. Since America's watch-making heyday was in the 1800s and early 1900s, nostalgia is common in American watch design, but that means something different for every brand.
Believe it or not, the home of the brave used to be a big player in the watch world. In this list, we've included young, exciting brands hoping to get the US back on the map on the world of horology, as well as respected heritage watchmakers. Of course, there's definitely overlap between the two categories.
After all, another theme that runs through American watch brands is entrepreneurial individuality.
12 Best Watch Brands from America
Here is our list of the best watch brands from America in no particular order…
RGM
If the US ever makes it back into the mechanical watch game, RGM will undoubtedly be credited as having helped start the movement.
Founded in 1992 in Mount Joy, PA, RGM offers a wide range of styles, from simple to complex but always bold and classy. All of their watches are built with American-made cases, parts, and even including movements.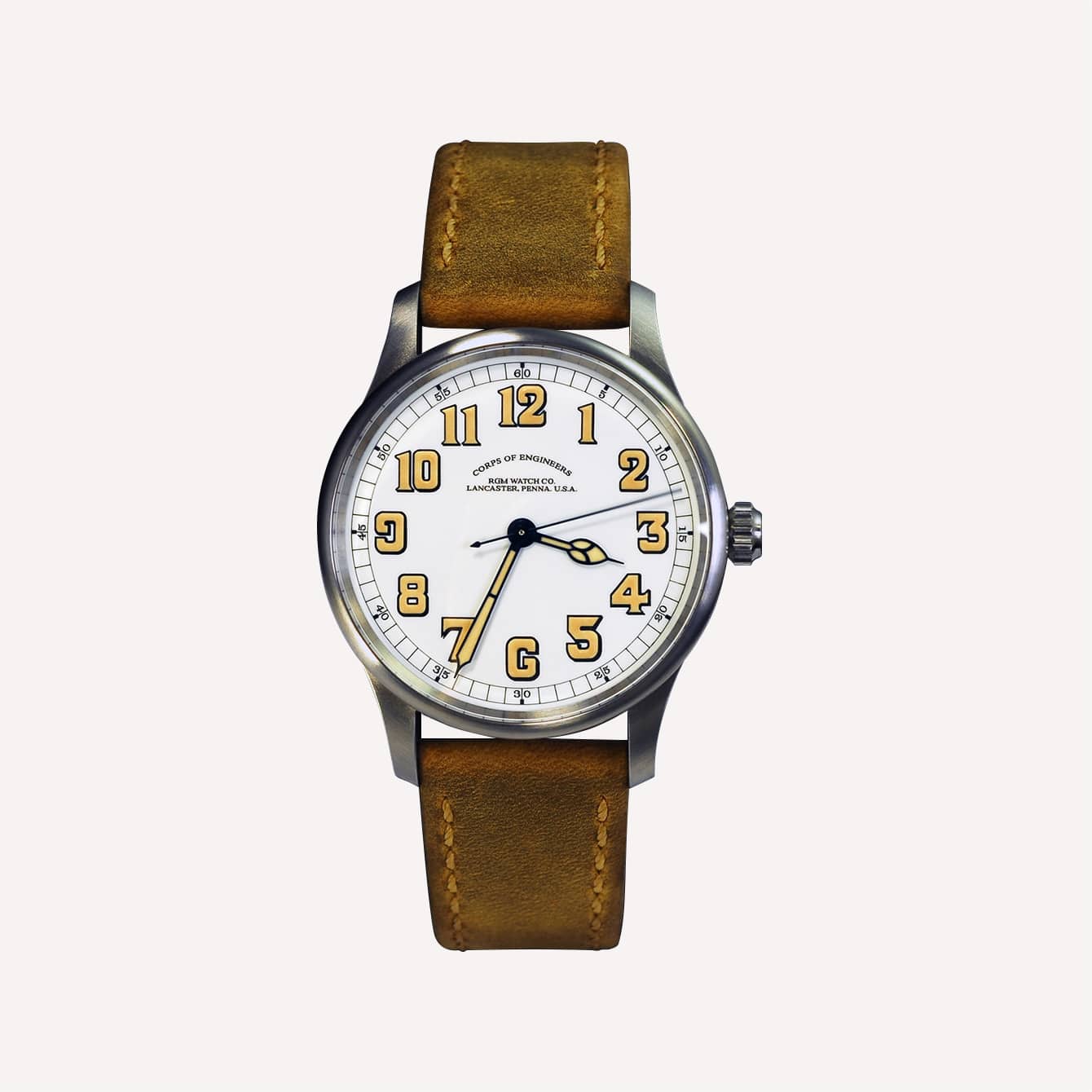 This makes RGM pretty radical, especially since they've been doing this since the early 90s. It also makes them the closest thing to an American counterpart to Swiss hard-hitters, at least practice-wise. RGM also does custom timepieces and trade-ins.
Their pieces range from all-American baseball-themed, to elegant and sturdy guilloché dress watches, to vintage-inspired instant heirlooms.
The 151-COE "Corps of Engineers" is one of their high-grade antique-style watches that sits nicely on a smaller wrist.
Dimensions: 38.5mm, 10.5mm thickness
Case material: Stainless steel
Water resistance: 50m
It runs on an in-house 21-jewel automatic movement with impeccable perlage and Cote de Geneve lines. The scratch-resistant sapphire crystal is beautifully domed for a fun throwback look.
Timex
What makes Timex a special American brand is that it's one of the few original Naugatuck Valley watch companies that have survived. Timex hasn't just survived; it's thrived.
In the 1800s, the Naugatuck region of Connecticut was known in the watch world as America's Switzerland. Naugatuck hosted several watchmakers who brought sophisticated European timekeeping techniques to watch wearers of all incomes in the US.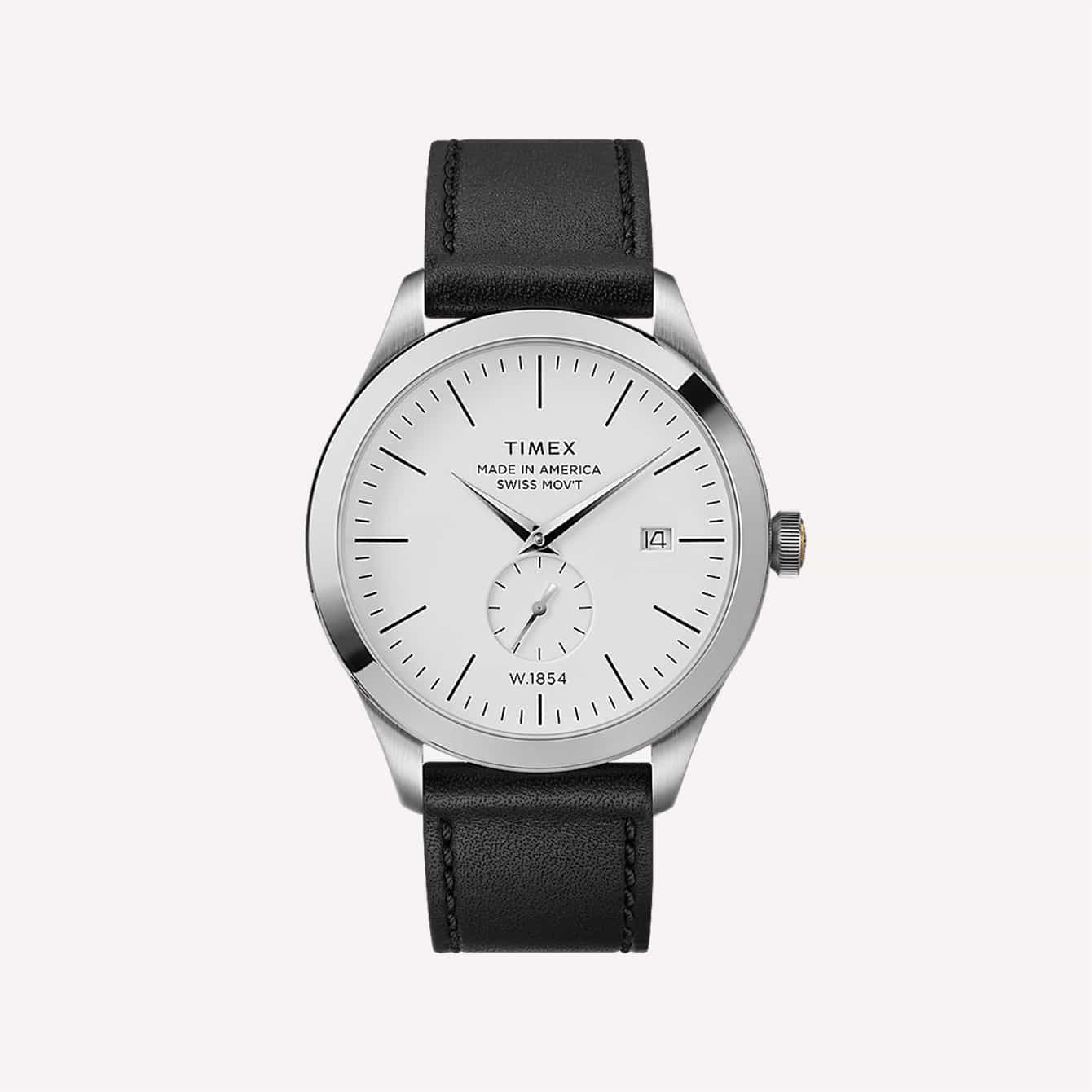 Timex is still known for bringing good designs to the masses. The heavy tick of their watches is infamous, as is their durability and super bright Indiglo light.
The brand is known for design-forward pieces, so even their cheap fashion watches boast creative chops, efficient lines, or the hand of a designer (Todd Snyder, for example).
Their higher-end American Documents line is worth mentioning since they're made in the USA yet run on Swiss automatic movements.
Dimensions: 38mm diameter, 9mm thickness
Case material: Stainless steel
Water resistance: 30m
However, their slender wrist-friendly Weekender 38 is a perfect example of democratized design. It's a super cheap, classic military watch that's durable, legible, and comes in a few variations. It's definitely one of the most beloved beaters out there.
Shinola
Detroit-based Shinola is an important new American watchmaker for two reasons.
First, though they use Asian and European parts, everything is put together stateside. While so many companies outsource, Shinola is bringing back Midwestern manufacturing.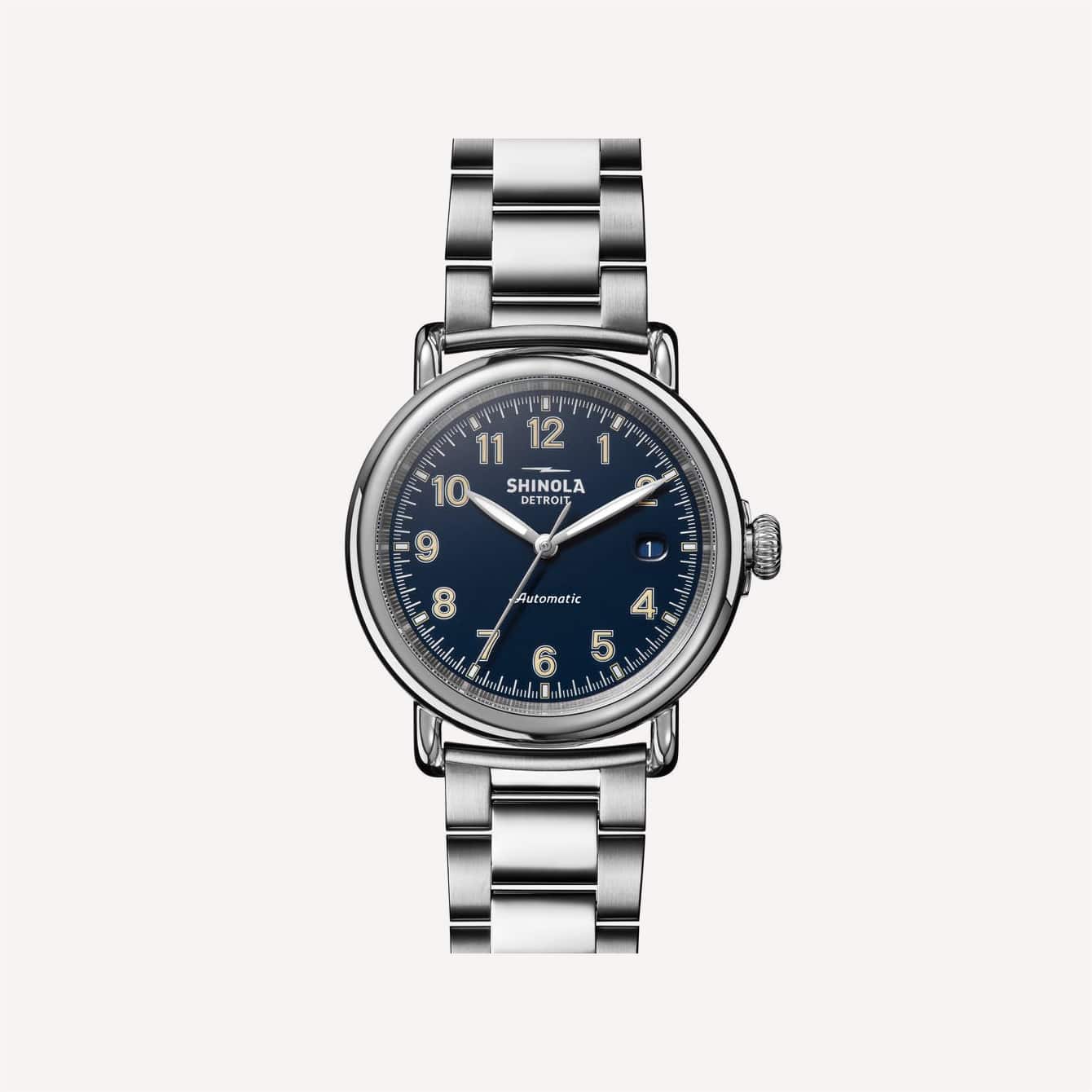 Second, they have an excellent offering of watch straps. They have a whole floor dedicated to leather making at their HQ, where artisans create their high-quality straps. Shinola crafts a special material, their Largo Aniline Latigo leather, which is supple and patinates exquisitely.
They offer a good selection of sub-40mm watches (even more if you dip into the ladies section), including the Runwell Automatic.
Dimensions: 39.5mm diameter, 11.94mm thickness
Case material: Stainless steel
Water resistance: 30m
The blue enamel dial complements the bold Arabic numbers, all outlined in white to make the indices pop. Suffice to say, this watch wins the legibility award. It runs on a workhorse Sellita and is versatile enough to go with a stainless steel bracelet or one of Shinola's famous leather straps.
Autodromo
Autodromo is a motorsports lifestyle brand that was started in New York by Bradley Price, a gearhead and industrial designer.
The brand is rooted in the fact that car fans and watch fans tend to overlap significantly. As such, the thing that sets them apart from other watchmakers is that the sports lifestyle emphasis results in some genuine, true-blue automotive timepieces.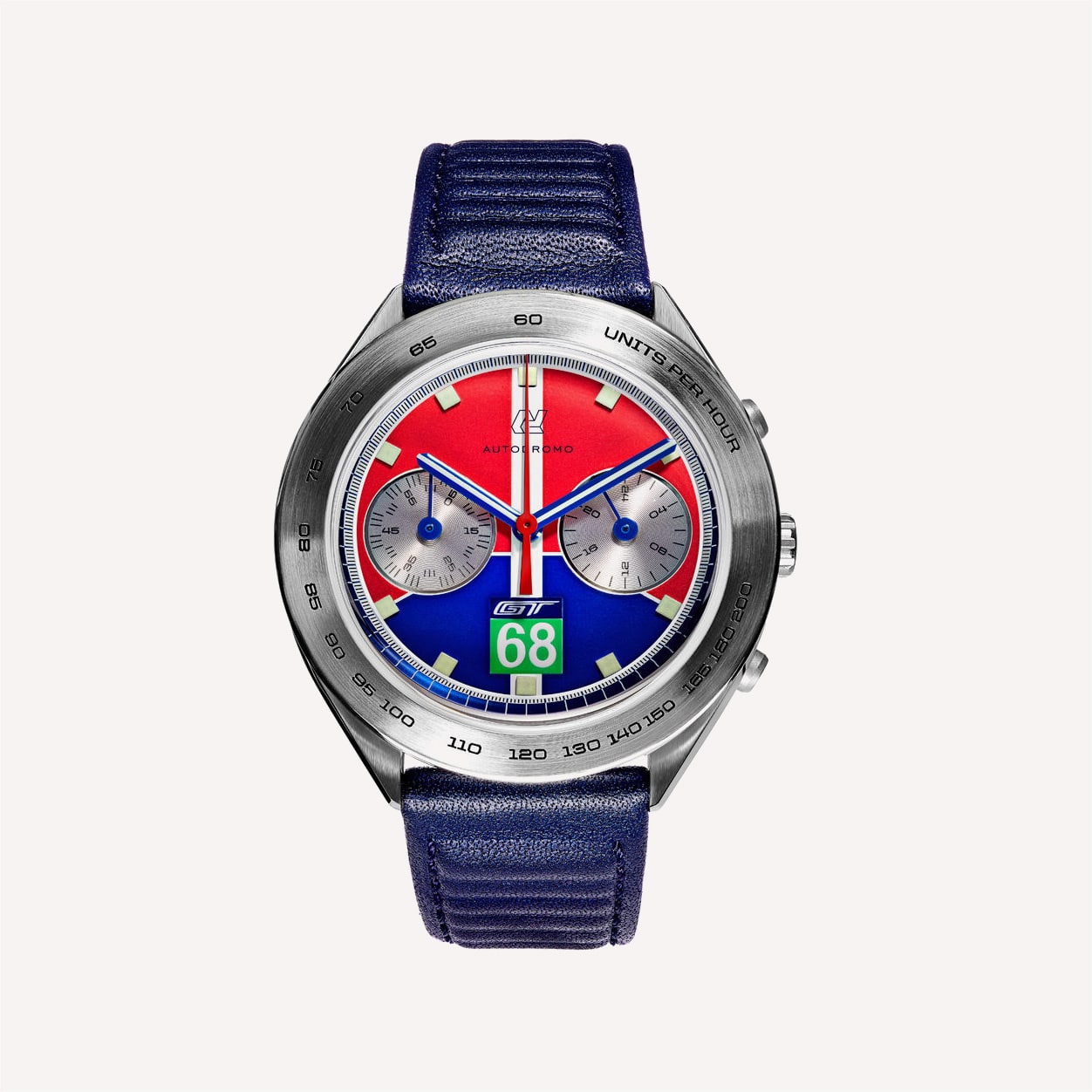 Their 2016 Ford GT Endurance Chronograph is the best example of this sporty design with the Le Mans dial. Officially licensed by Ford, this watch is dedicated to America's love for motorsports.
The red and blue dial is inspired by the class-winning Ford GT at the 2016 Le Mans 24 Hours race and is emblazoned with the number 68, the winning car number.
Dimensions: 40mm diameter, 11.3mm thickness
Case material: Stainless steel
Water resistance: 50m
Other excellent features include a domed sapphire crystal and the Seiko hybrid meca-quartz movement.
DEVON
After Scott Devon designed the one-lap record-breaking Devon GTX supercar, he built the innovative Tread 1 watch. From there, DEVON, the LA-based watch brand, was born.
These cutting-edge watches use interwoven time belts to showcase the hours and the minutes for a complex yet readable and function-forward aesthetic.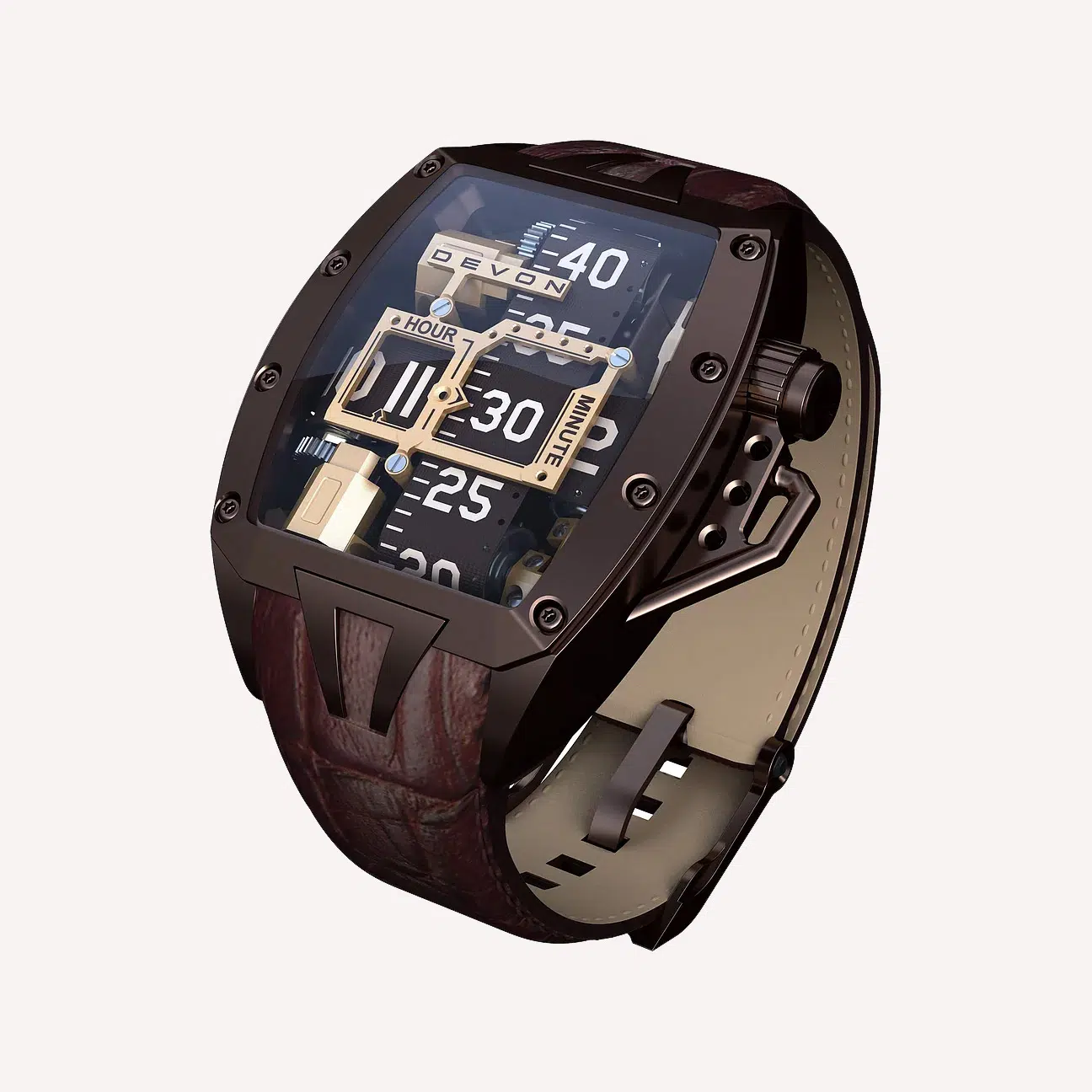 In fact, the Tread 1 was nominated by the Gran Prix d'Horlogerie de Geneve for best design and concept. Though it didn't win, DEVON is the first American watch brand to be bestowed this honor.
The mesmerizing Tread 2 watches come in several colorways and are slightly simpler than their Tread 1 predecessors. The dials on the 1s are equipped with four time belts, while the 2s have two belts, one displaying hours and one displaying minutes.
These belts rotate like a treadmill, displaying the current time via a showcase window close to the center of the dial face.
Dimensions: 44mm diameter,14mm thickness
Case material: Stainless steel
Water resistance: 50m
I will say that as cool and noteworthy DEVON watches are, they tend to be huge. Though it adds to the aesthetic, the 44mm tonneau case is just too big for many of us!
Martenero
Martenero came up through a crowd-funding platform before its debut in 2014. Their designs are fascinating because their dials feature several aesthetic components, organized in a way that still looks pretty minimal.
The result is a collection of modern, clean watches that have a touch of whimsy. Their automatic timepieces fall in the reasonable sub-700 category.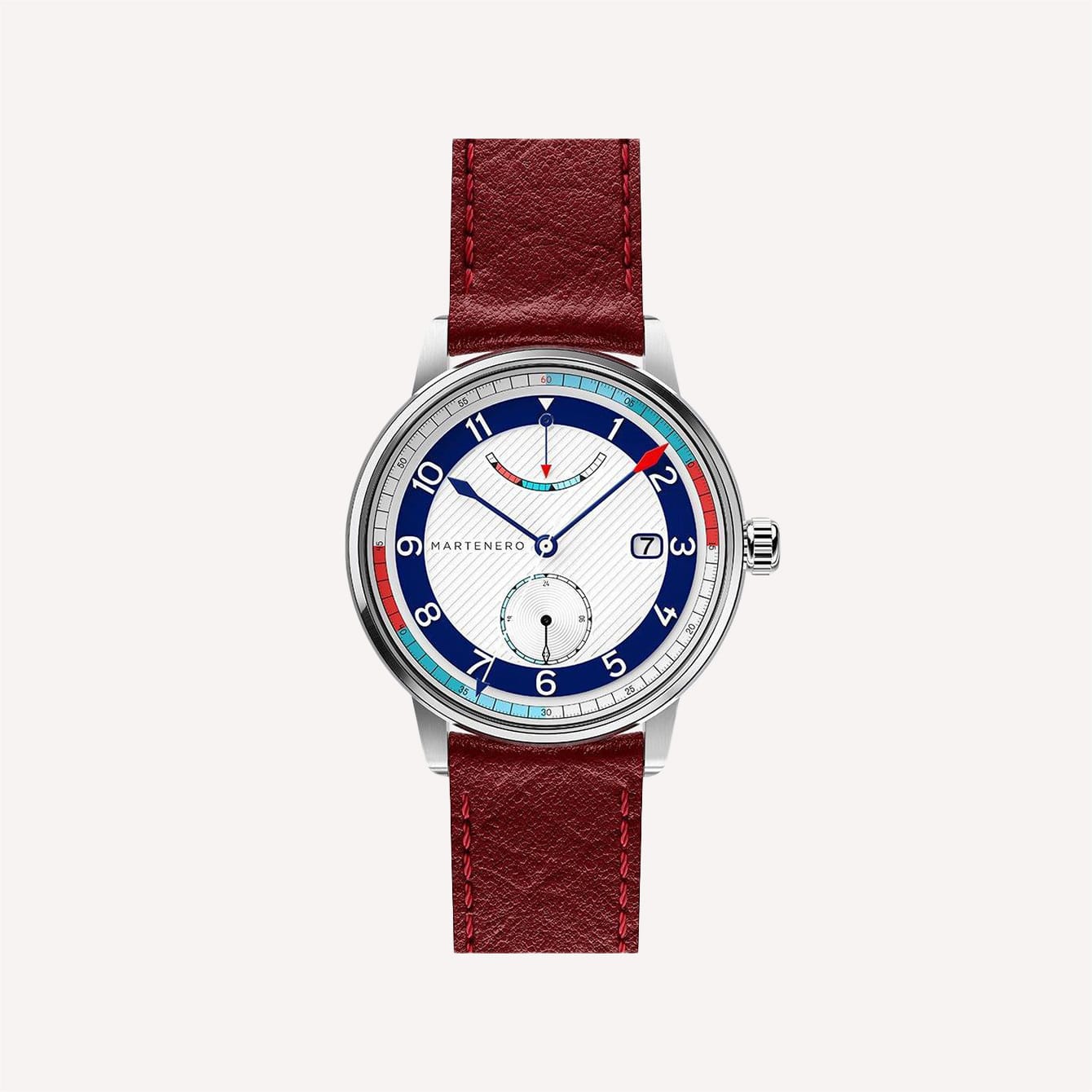 While Martenero has a few 39mm options available, I want to focus on their 40mm Edgemere Reserve because it perfectly exemplifies the brand's style.
Dimensions: 40mm, 11.8mm thickness
Case material: Stainless steel
Water resistance: 50m
There's not a single negative space on the face of this nautical-themed watch, but the strategic balance of lines and color blocks gives a spacious, uncrowded feel.
Plus, the use of primary colors is fun and only slightly playful. The Edgemere runs on a 26-jewel Miyota automatic and is equipped with a sapphire crystal.
Bulova
So Bulova is now owned by Citizen. But, it was founded in New York City during the height of the American watchmaking era, and its main office is still in the Empire State Building. Today, they definitely lean into the nostalgia side of things, often re-releasing past icons, of which they have many.
They also offer several vintage-inspired collaborations like their Frank Sinatra line.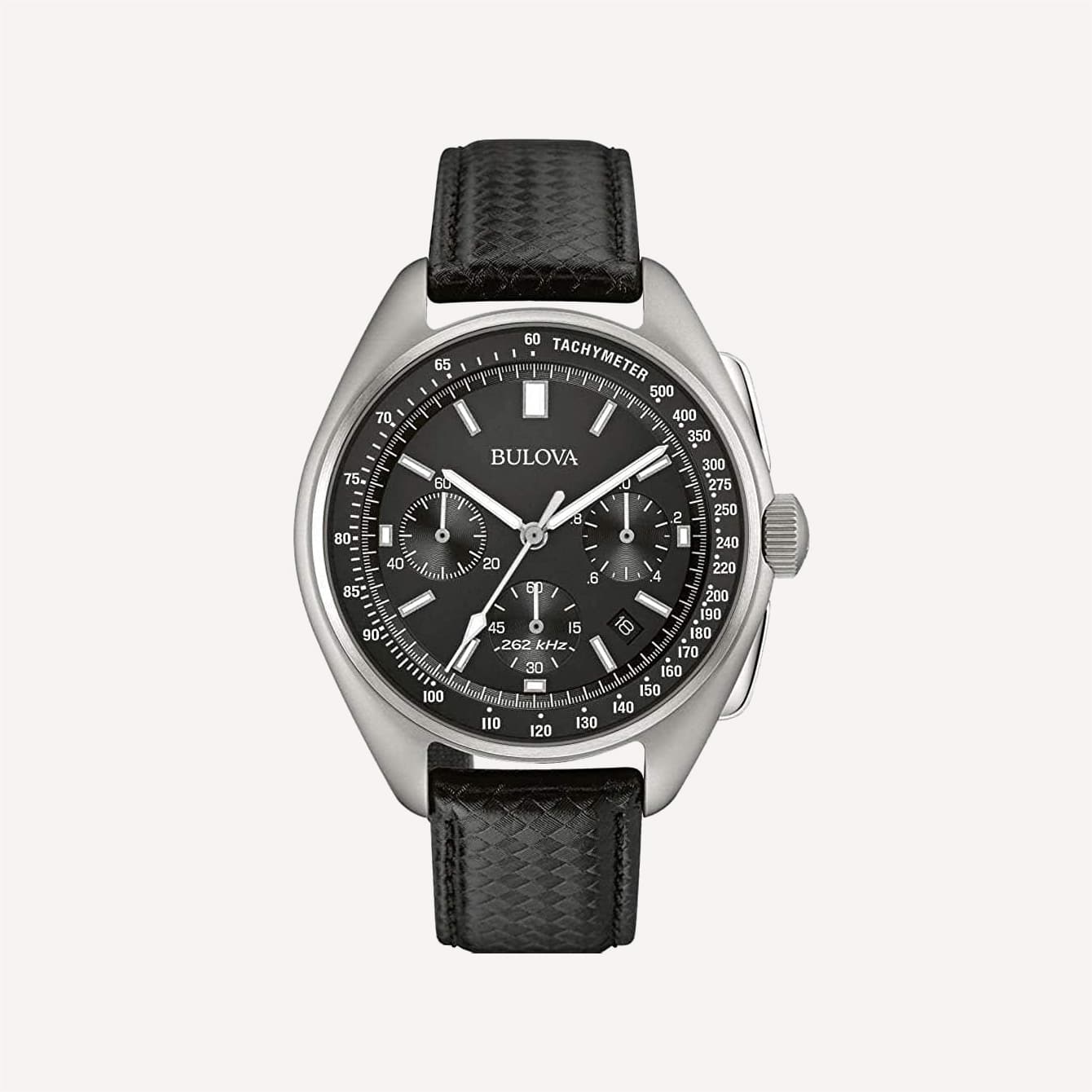 Horologically, Bulova is most associated with precision since they invented the ultra high-frequency (UHF) quartz movement, which vibrates eight times more frequently than standard quartz watches. When watch historians think of high-quality quartz movements, Bulova often comes to mind.
The Bulova Lunar Pilot commemorates the 50th anniversary of the Apollo 15 lunar mission. On this mission, its chronograph became "the first and only 'unauthorized timepiece' to be worn on the moon."
This brand offers many beautiful timepieces perfect for small wrists. The Bulova Sutton is a truly elegant dress watch that punches way above its price point. It runs on a 21-jewel automatic, part of which you can admire through the open heart.
Dimensions: 33mm diameter, 12mm thickness
Case material: Stainless steel
Water resistance: 30m
The main shortcut on this sub-300 mechanical is its mineral dial protector, which you can easily replace if you so choose.
Vortic
Very few brands, perhaps no other brand, can do what the Vortic Watch Company does. Based in Colorado, Vortic fully restores old American pocket watches.
We're talking about restoring the original hands, the dial, and even the actual movement. Then, they 3D print titanium cases for the newly restored timepieces and repurpose them into wristwatches. Since most of the original pocket watches they resurrect are from the 1900s, this is one heck of a feat.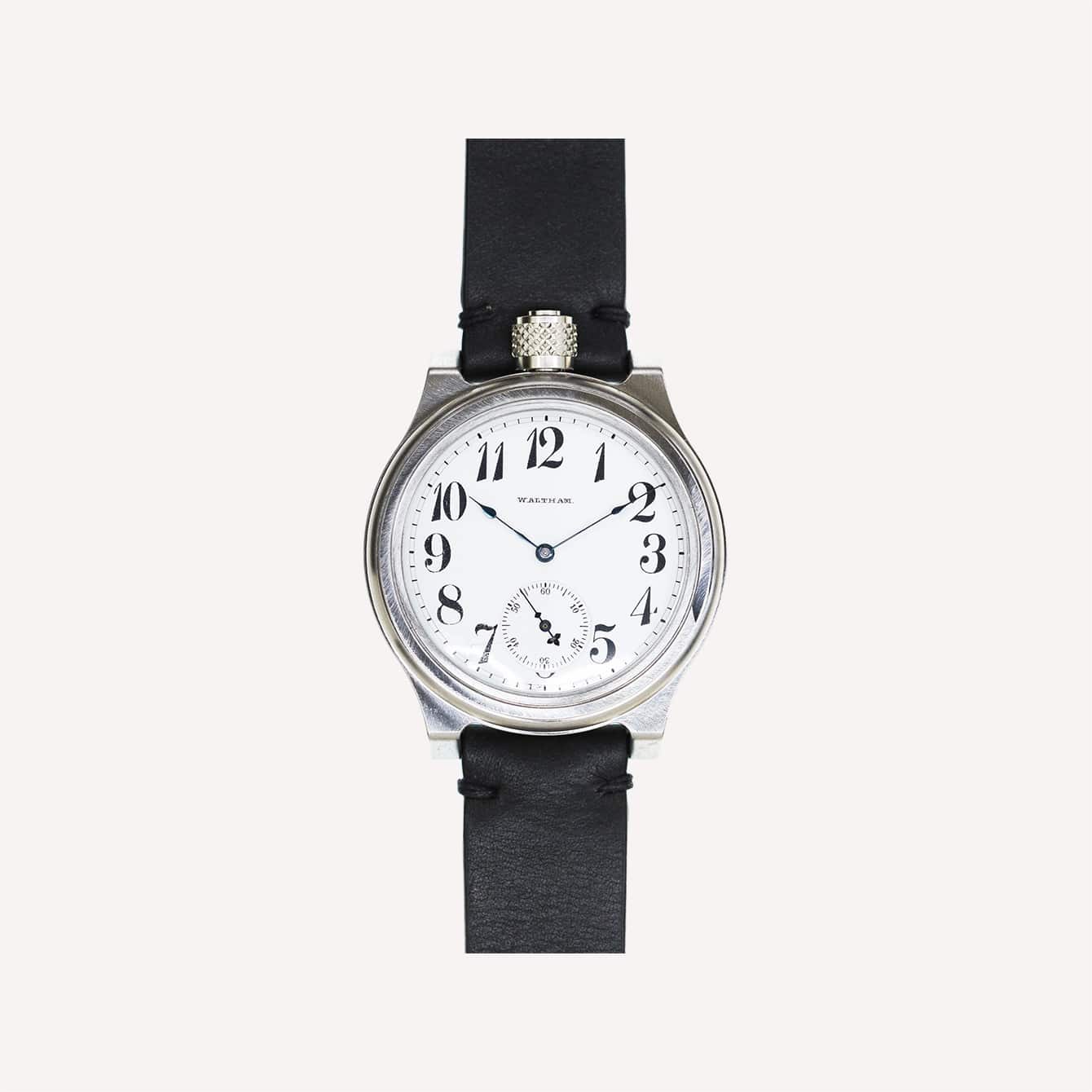 The caveat is that their fully American-built watches are sold in small batches and are gone forever once each batch is sold.
Head to their website to see what's currently being offered, or if you want to have one of your own antiques converted. If you really love some past sold-out models, you might get lucky on eBay.
Dimensions: 46mm diameter, 12mm thickness
Case material: Stainless steel
Water resistance: 10m
Vortic watches range from $1500 to $5000, which is justified considering how unique and expertly crafted these revived heirlooms are.
Brew
Indicated by their name, Brew builds watches based on industrial coffee machines.
This is definitely a creative departure from the more traditional inspirations, like automotive sports and diving equipment. But I love the coffee connection because it expands the options when it comes to men on the search for a watch that matches who they are. We're not all "rugged adventurers" after all.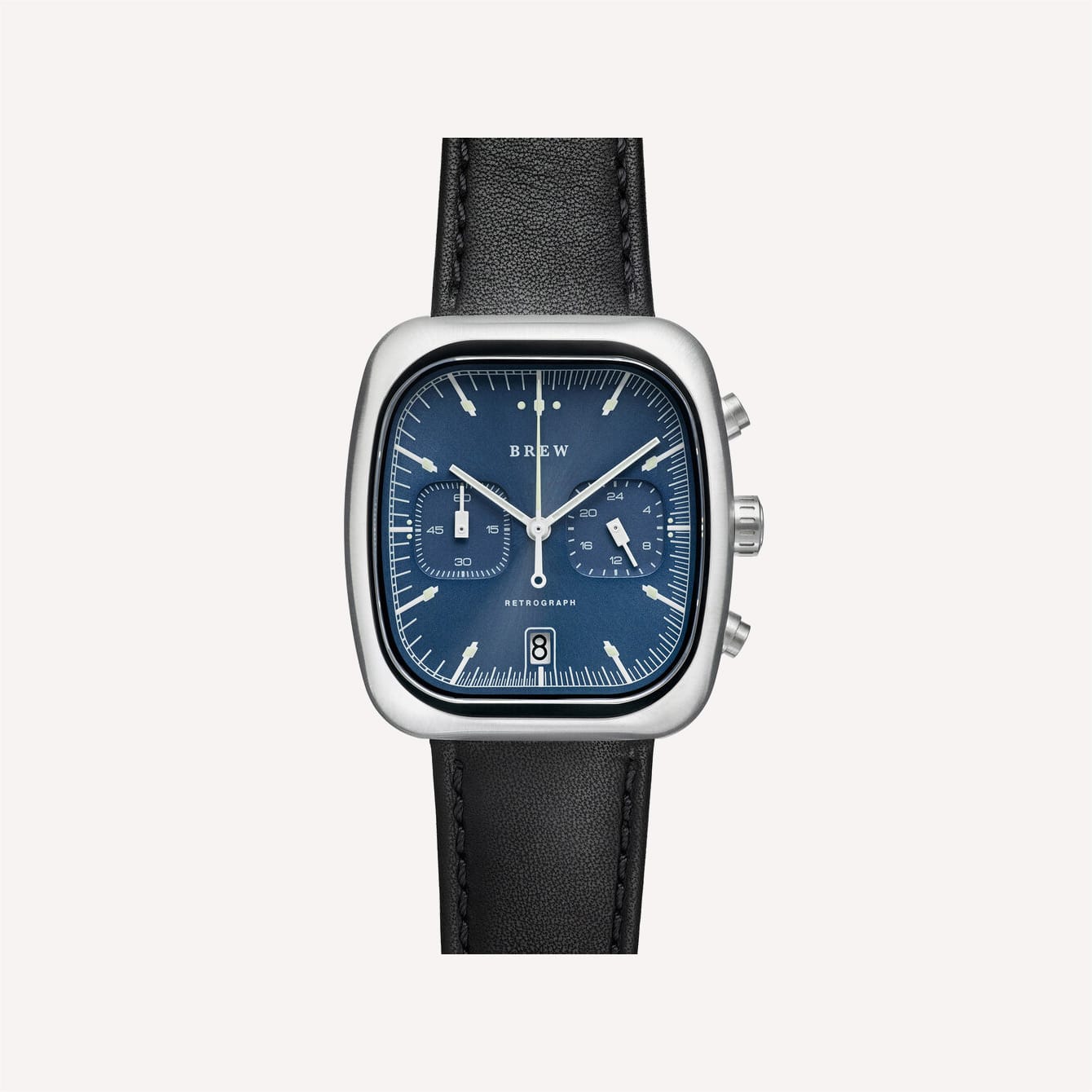 Their cobalt blue Retrograph watch features a softer-looking chronograph style.
The case is a blunt-cornered trapezoid, as are the subdials, for a sweeping retro-inspired look. Like all of their timepieces, it sports a variety of brushing and accents throughout.
It runs on Seiko's meca-quartz movement and features SuperLuminova on its sunburst dial.
Dimensions: 38mm x 41.5mm diameter, 10.4mm thickness
Case material: Stainless steel
Water resistance: 50m
It's thanks to the Retrograph line that this independent brand became a go-to for in-the-know collectors ever since the founders launched their successful crowdfunding campaign in 2017.
Oak & Oscar
Despite being fairly new by watch industry standards, collectors already associate Oak & Oscar with a trademark design language.
This Chicago-based independent brand is famous for bold, matte sandwich dials and distinct stencil-style indices.
Their Olmsted 38 takes a classic field watch template and gives it that "Oak & Oscar treatment."
The stark blue dial is stylish and easy to read in dim light thanks to cut-out Arabic indices and the pop of orange via the second hand. It runs on a 21-jewel Swiss movement and is protected by a double-domed sapphire crystal with several layers of anti-reflective coating.
Dimensions: 38mm, 10.8mm thickness
Case material: Stainless steel
Water resistance: 100m
Oak & Oscar source the leather for their high-quality straps from Horween, a Chicago-based tannery. Horween is one of America's oldest and most well-respected tanneries.
LÜM-TEC
LÜM-TEC is a brand that embraces the American "bigger-is-better" aesthetic. That being the case, their watches are known to be strong and legible and are a popular choice for the outdoorsy set.
LÜM-TEC is actually the showcase brand for Wiegand Custom Watch LLC, which is family-run and based in Ohio.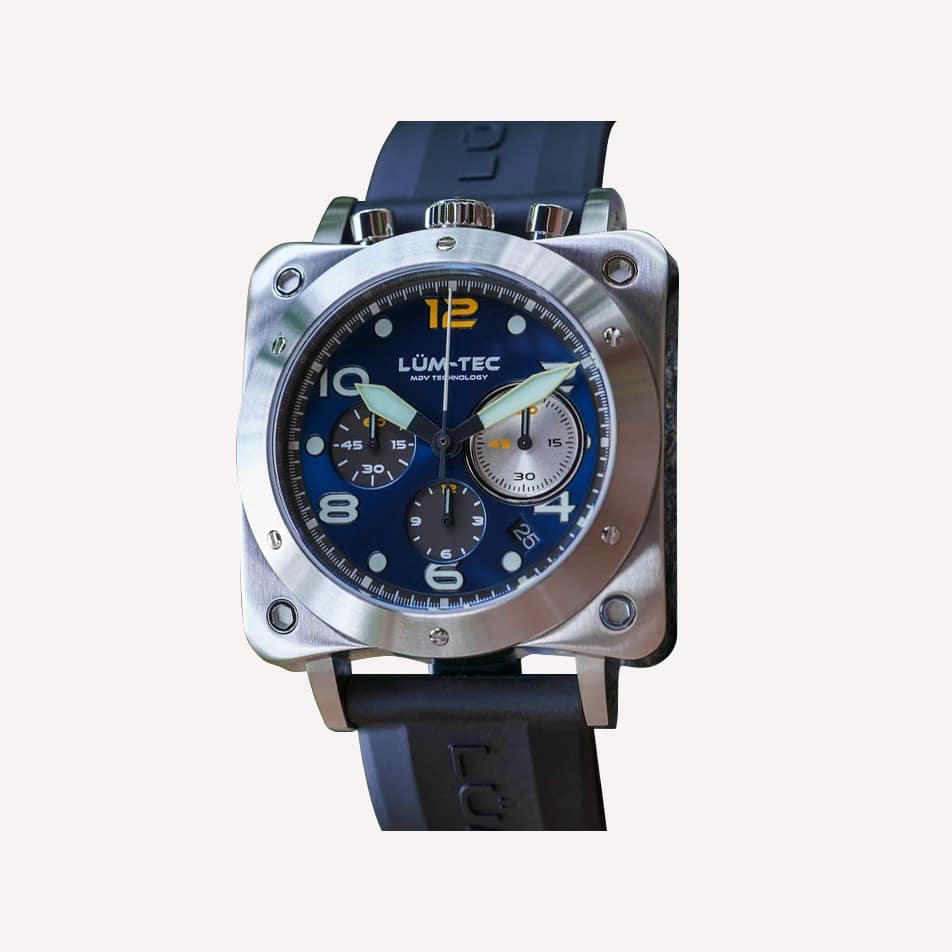 They also have a proprietary MDV lume, which is extra bright and glows for over a day. It's made using white titanium dioxide and several layers of Super LumiNova.
If you're looking for watches with a lot of sectioning and multiple tank-like surfaces, LÜM-TEC is a good brand to turn to.
Dimensions: 42mm diameter, 12.8mm thickness
Case material: Stainless steel
Water resistance: 100m
Their watches are big, but more in a function-forward way, rather than a gaudy way. Though one of LÜM-TEC's smaller offerings, the Bull42 A25 chronograph is still huge, but the square backing of the watch face allows it to wear like a thick cuff bracelet.
Hamilton
Hear me out. I know that the very Swiss Swatch Group now owns Hamilton, and I know the watches aren't made in the US.
However, I'd be remiss if we didn't at least point out their decades of important contributions to American watchmaking. Moreover, even today, many of their popular designs are based on US-designed vintage pieces.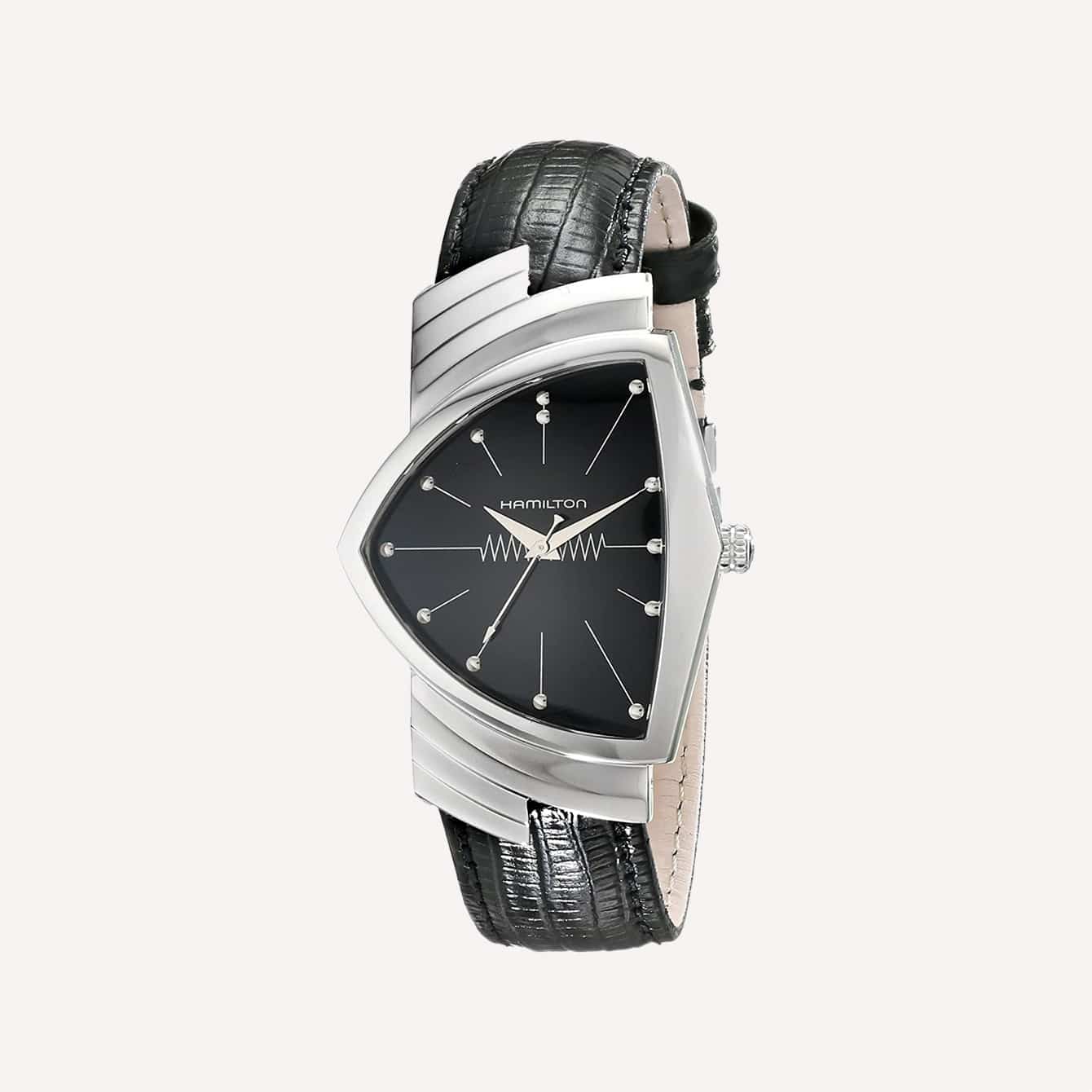 Hamilton was founded in 1892 in Pennsylvania. Their watches became popular in the railroad industry because of their reliability. They then invented the first digital electronic watch and designed the legendary asymmetrical Ventura watch.
Modern Venturas come in several variations, sporting the classic, distinct shape. The Hamilton H24411732 sits well on thinner wrists thanks to its 31mm case.
Dimensions: 31mm diameter, 11mm thickness
Case material: Stainless steel
Water resistance: 50m
The retro-futuristic watch was worn by Elvis in 1961's Blue Hawaii and has since been linked to the singer, music and movies in general, and the aesthetic of the swinging 60s.
Final Thoughts: Wide-Ranging American Watches
There are two things I love about going for an American watch. If you go for a heritage watchmaker, you can find affordable timepieces with a name and design that the collector community respects. It's a testament to how it's not always about the price tag.
If you go for one of the young, new disruptors, you'll be one of a few people who actually sport an RGM or a Brew watch. It shows a sense of individuality in your search for a high-quality timepiece. Regardless of what happens to these brands, it will always be a unique acquisition.
Questions? Comments? Leave them below!