Are you looking for a good watch on a budget? Here are 16 of the best affordable watches for men.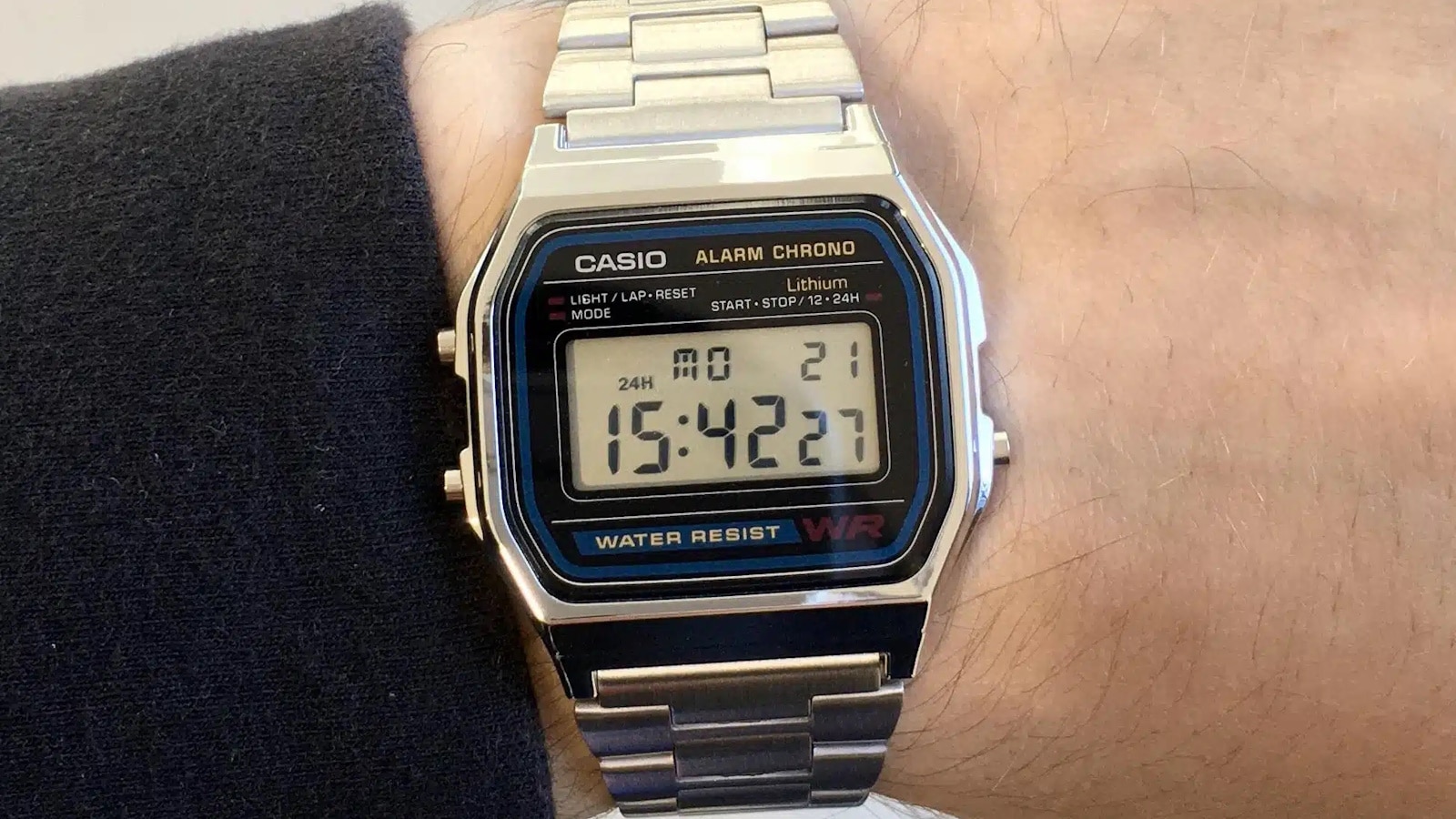 The watch world often makes headlines for sky-high auction prices or which celebrity is wearing what luxury piece. It's easy to think that the best affordable watches are just cheap fashion models or clunky mechanicals from questionable retailers.
If you dig deep, though, you'll find that a lot of democratizing has happened in the watch market.
For a long time, Seiko's been serving up entry-level mechanicals at the same price as equivalent quartzes. Timex and Casio are good brands for reliable, stylish, and historical models at around or below the $100 mark.
Whether you're looking for an affordable dive watch, automatic watch, or luxury watch, all categories are represented here.
16 Best Affordable Watches for Men
Here they are, in no particular order!
Casio World Timer AE1200WH
I like to call this model Casio's international watch of mystery. That radar console and world map give it hard superspy vibes.
By the way, these features aren't just for for looks. The Casio World Timer does exactly what its name implies, featuring 31 different time zones on top of its timer and automatic calendar.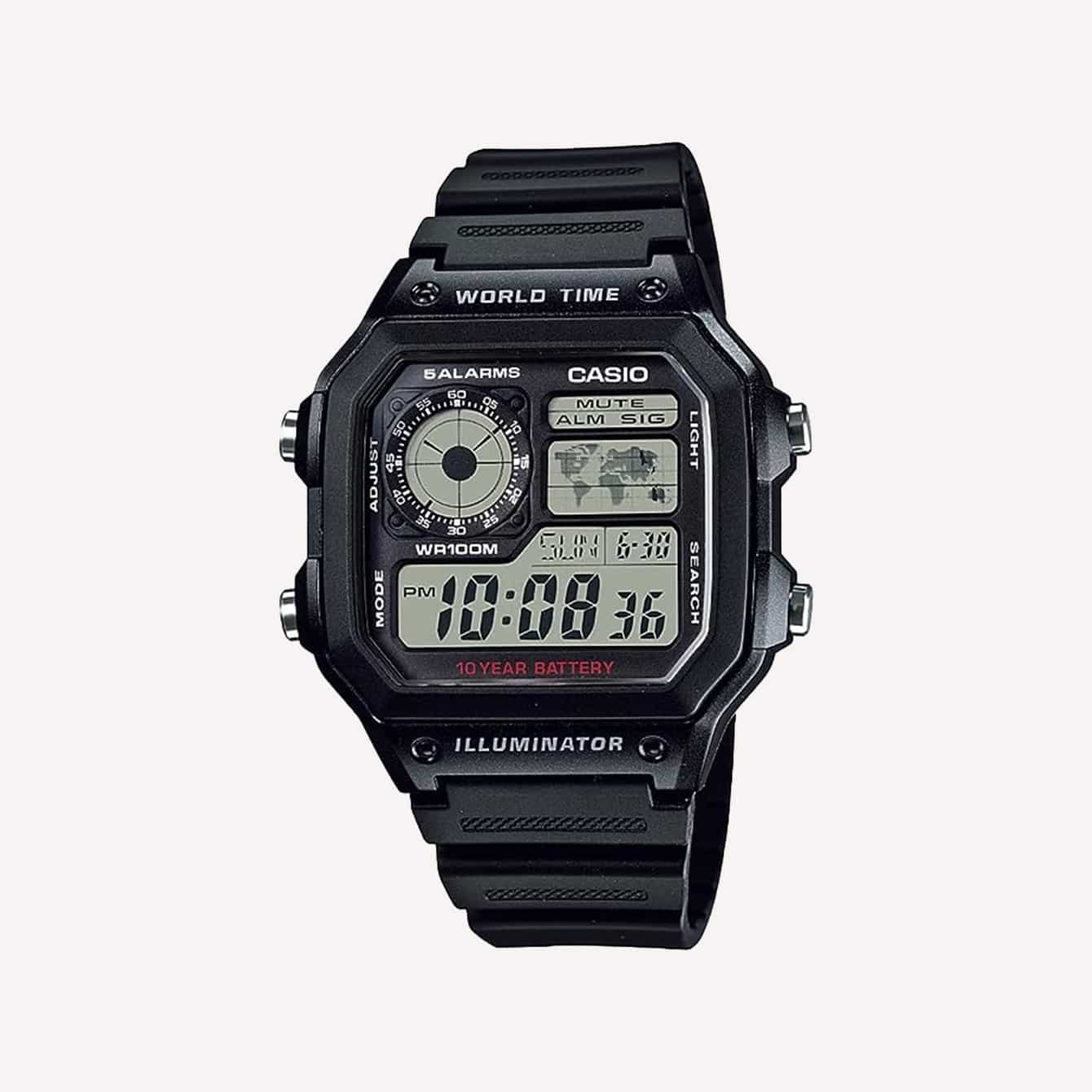 It's water resistant at a whole 100 meters.
You can get this watch for around ~$20. And despite how much is going on the dial, it remains 39.5 millimeters, which can fit on just about any size wrist.
It's just a fun watch to tinker with, like a toy for grown-ups.
Dimensions: 39.5mm diameter, 12.5mm thickness
Case Material: Resin
Water resistance: 100m
I love the commanding look of the all-black 1AVCF, as well as the gadget-forward 1CVCF, which has silver accents.
Orient Kanno Diver
The Orient Kanno is a quintessential dive watch that you can get at a much lower price than even a lot of equivalent Seikos. A lot of the Kanno's counterparts with 200 meters of water resistance, like the SKX watches, have multiplied in price on the secondary market.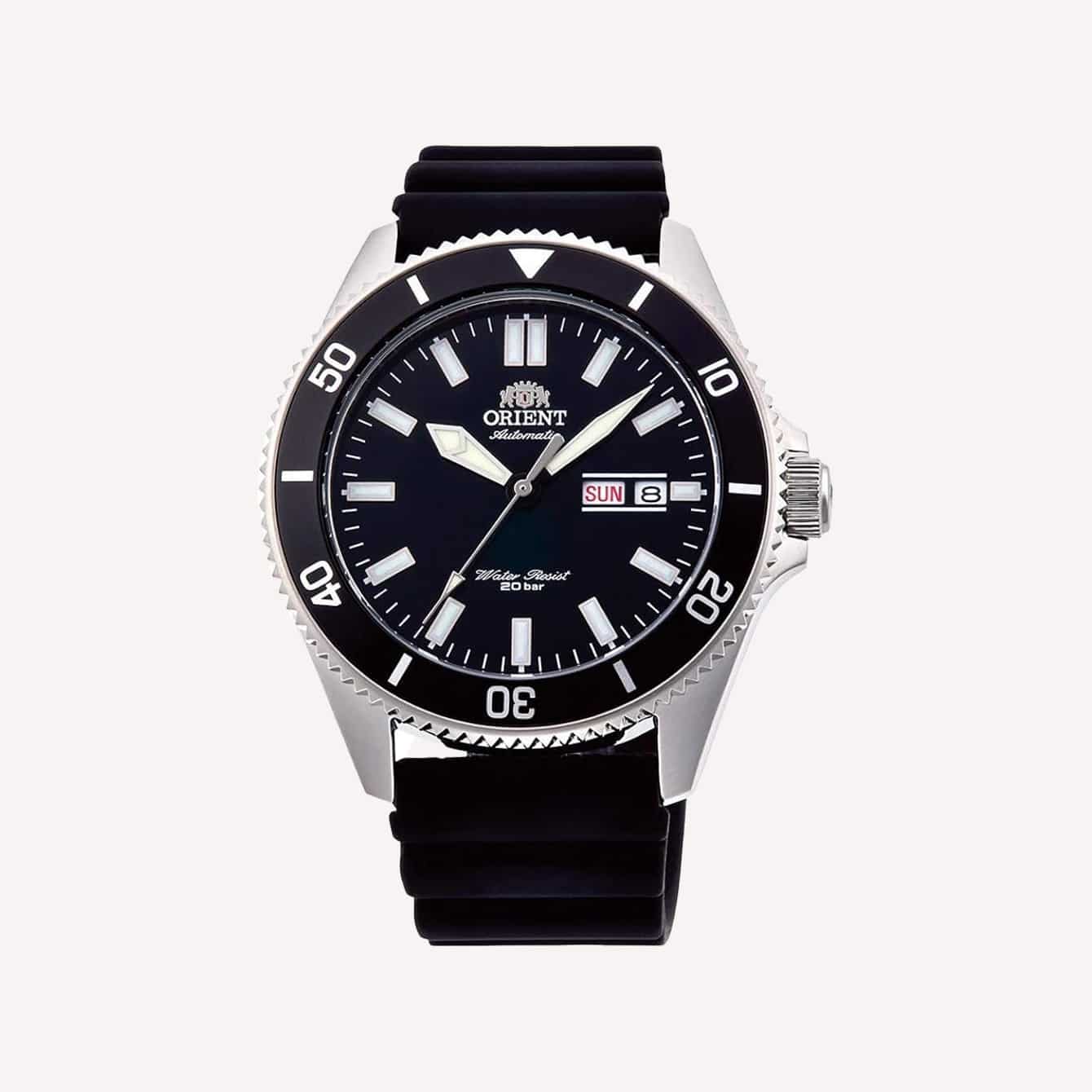 It's certainly big but not overly thick. I hope you can get over the large size.
Let me point out how much I love the dissonance between sword hands and the rectangular indices. It's not everyone's cup of tea, but I think it brings dynamism to the dial and distinguishes it from the other on-template dive models.
Dimensions: 44mm diameter, 13mm thickness
Case Material: Stainless steel
Water resistance: 200m
And for you horologically curious gents, this watch runs on a fully automatic movement. It's definitely one of the best for its price.
Q Timex GMT
I don't say this lightly. I believe the Q Timex GMT is the best budget Pepsi bezel watch on the market, perhaps ever. I have two reasons for this.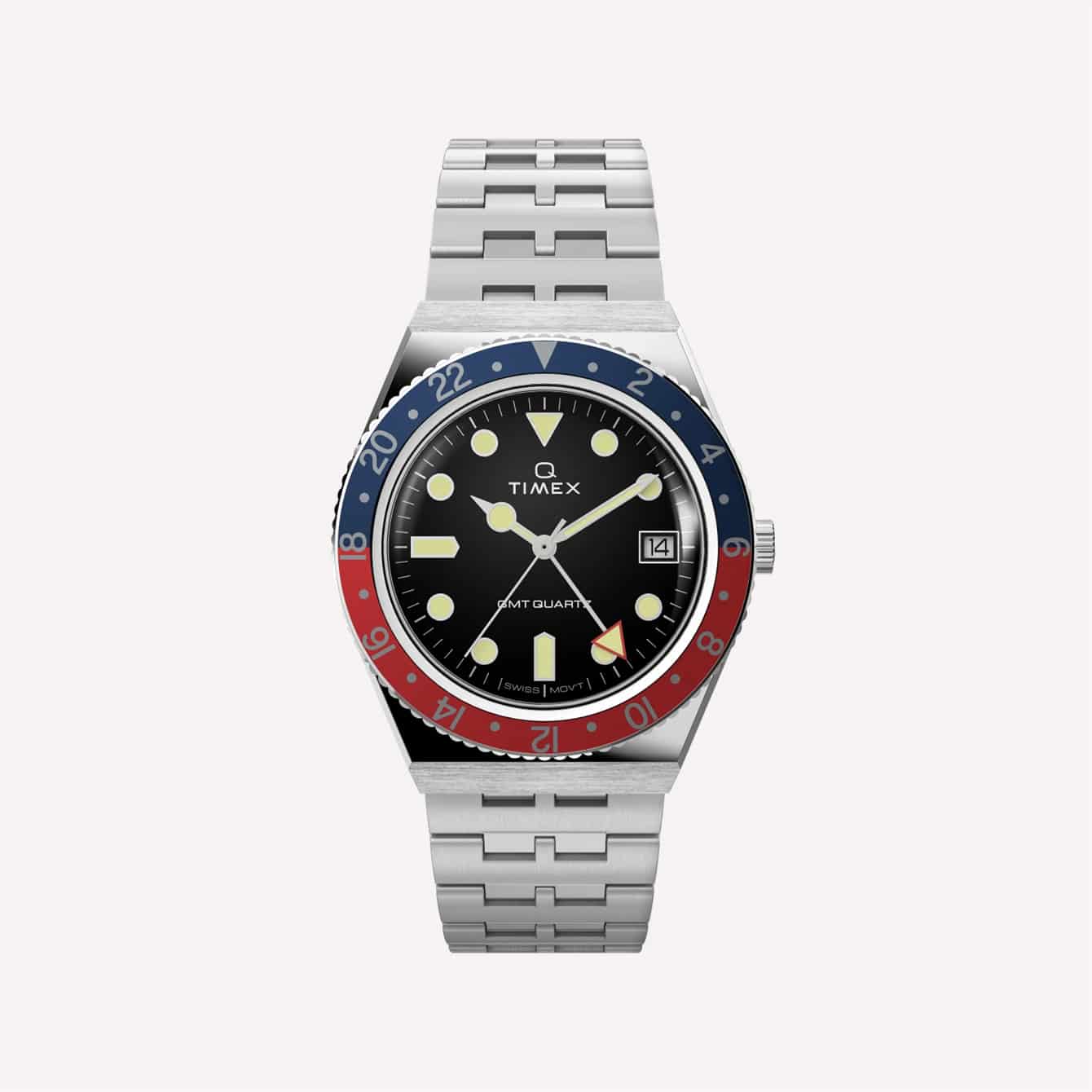 First off, it's a truly historical American design. Even though Timex watches aren't generally made in the US anymore, you can say that the visuals of this watch certainly are. It comes from the brand's archives.
The Q Timex GMT is a reissue of a 1979 model, encapsulating all of its features, including the easy-to-use battery hatch.
It uses the standard Pepsi design and makes it its own with Timex-specific features. That leads me to point out that the composition is distinct. In other words, it's not a full copy of the GMT Master.
Dimensions: 38mm diameter, 12.5mm thickness
Case Material: Stainless steel
Water resistance: 100m
The gradual silhouette created from the hooded lugs results in cuff-like wear, while the "M-link" bracelet provides a machine-esque aesthetic.
Bertucci A-2T Titanium
Sometimes, a good watch is just a straightforward and reliable one. You don't have to turn to fashion watches for this because simple field watches check all of the boxes. And they have that classic menswear look about them.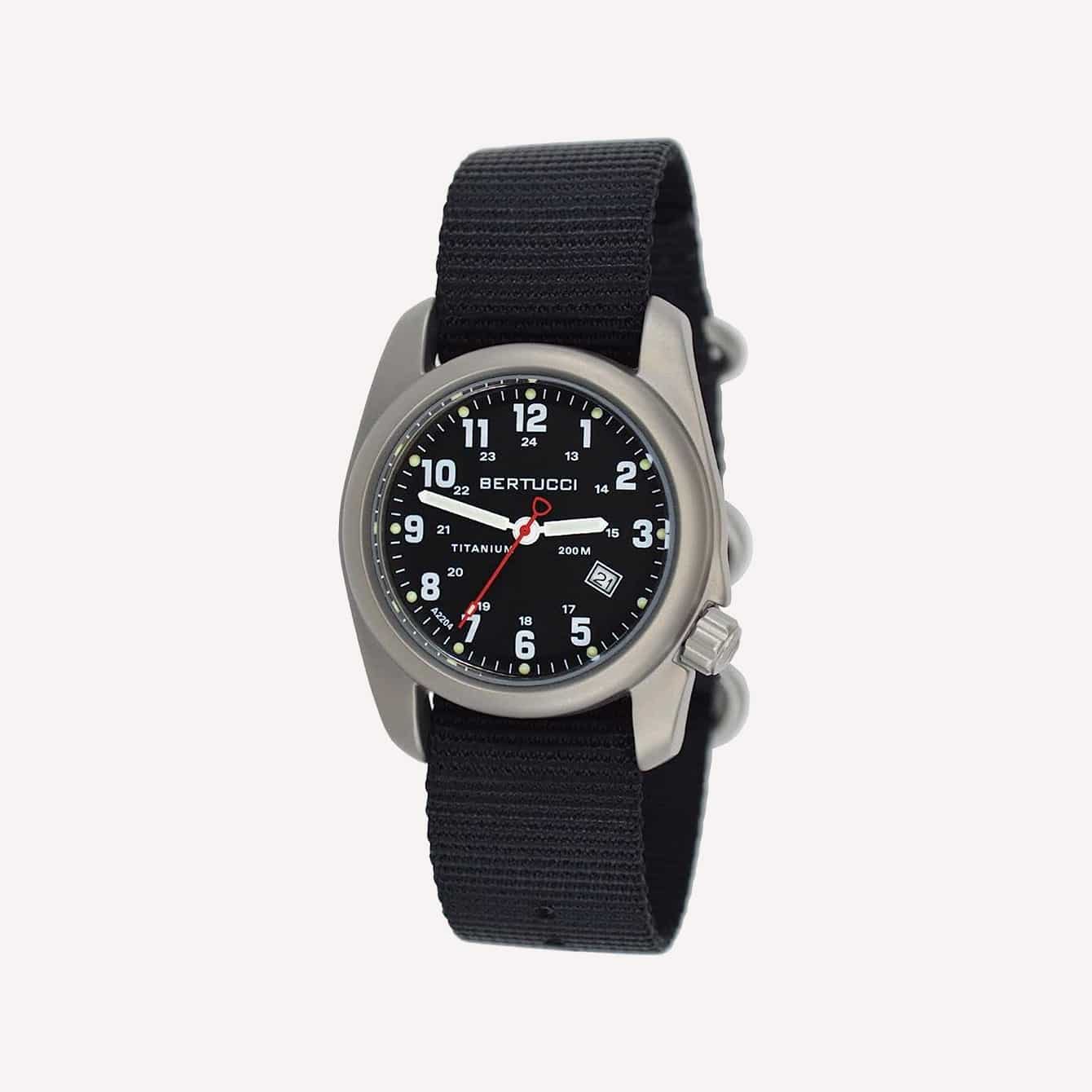 With its legible all-Arabic indices and reliable movement, the Bertucci A-2T encapsulates everything about a good, solid watch but has major upgrades that don't take away from its everyman look.
It has a respectable 100 meters of water resistance, runs on an equally respectable Swiss quartz, and is made of titanium.
Not only does this make it way lighter than stainless steel, but it is stronger than a lot of variants of steel, too.
Dimensions: 40mm diameter, 14mm thickness
Case material: titanium
Water resistance: 100m
The A-2T gets tons of points for durability as well as how easily it goes with any casual outfit.
Swatch Bioceramic Think Time
This Swatch Bioceramic Think Time combines the sterile Apple-esque look with the brand's signature look — a playfully collectible European sensibility. Imagine Scandinavian minimalism combined with German Bauhaus.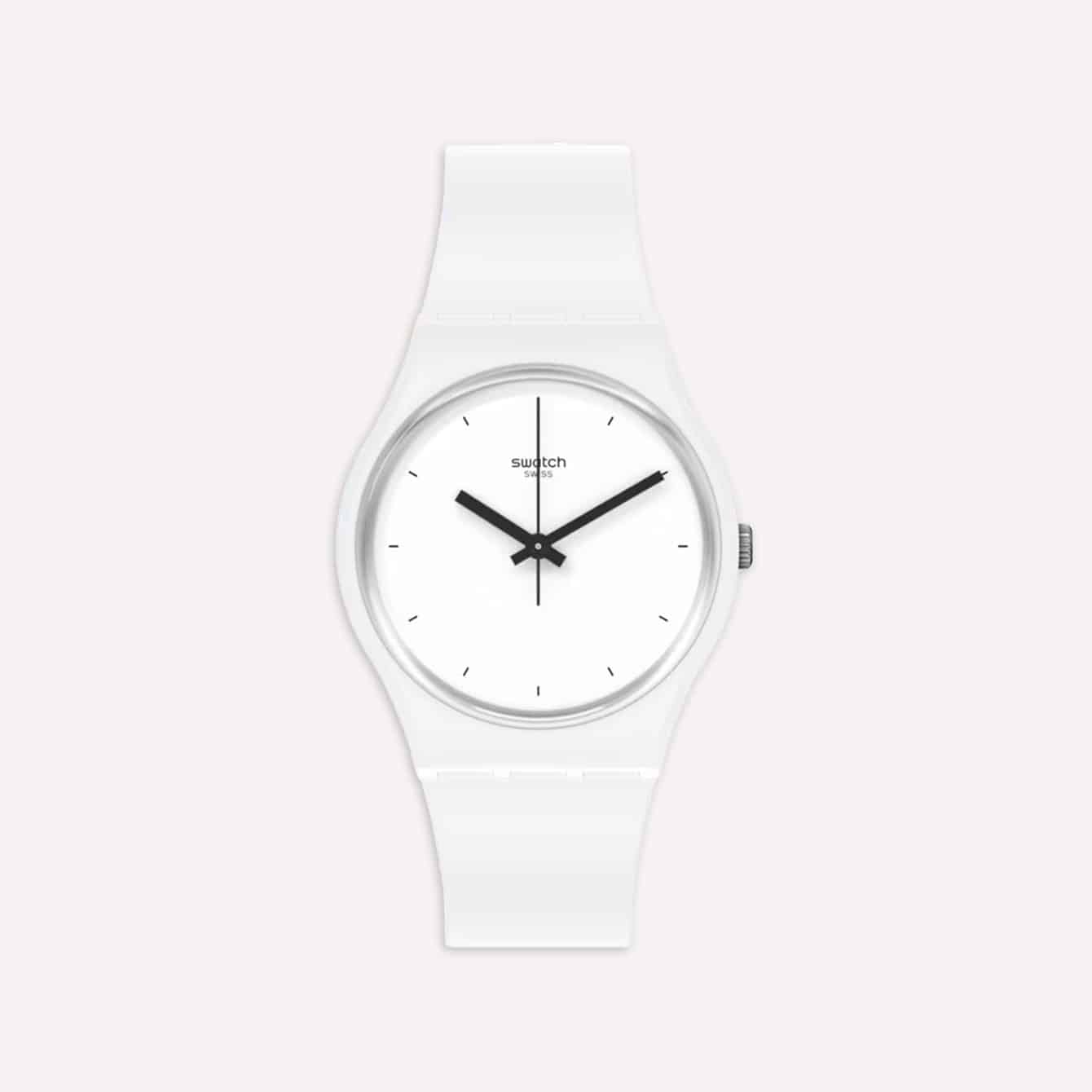 It's a perfect, adaptable, everyday timepiece. While we know that Swatch models tend to be fashion watches with a simple name, this Think Time is still better than any old fashion piece.
It's made out of Swatch's Bioceramic, an innovative material that's strong but feels soft on your skin. It feels like something in between plastic and metal.
Dimensions: 34mm diameter, 8.75mm thickness
Case material: Bioceramic
Water resistance: 30m
Moreover, this material comes from castor-plant oil, which contributes to its pleasant hand-feel (or wrist feel in this case).
Hamilton Khaki Aviation
You don't even need to get to the $500 mark to find a Swiss-made automatic watch from a reputable brand.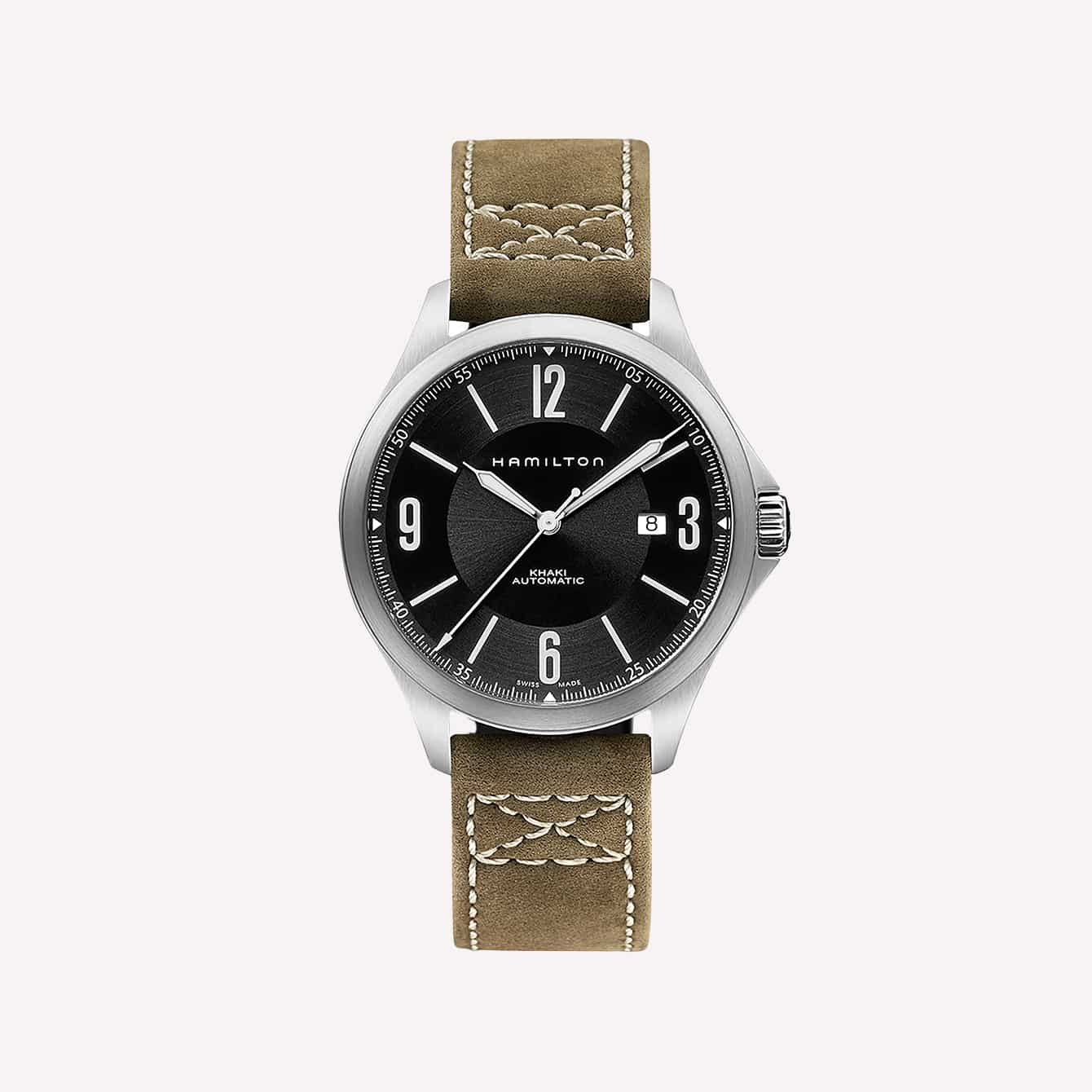 American icon Hamilton is a lot like Timex in that they're an old American watchmaker that's no longer made in America. However, since Swatch bought them, they have American designs with Swiss horological chops.
This Khaki watch, Reference H76665835, comes from Hamilton's Aviation Collection. As a pilot watch, it's necessarily durable and legible from every angle. The syringe hands and large cardinals make this possible while also giving it a bold yet sharp look.
Even more, the details are impeccable. The silky dial and beautifully polished bezel just level the whole look up.
Dimensions: 42mm diameter, 11mm thickness
Case Material: Stainless steel
Water resistance: 50m
And yes, it runs on a Swiss automatic movement, checking off all of the boxes of what some might consider entry-level luxury.
Braun BN0021
If you're looking for a cheap but good watch, I highly recommend looking at timepieces made by German electronics brands. They won't disrupt horology as we know it, but they're made with the famed Fatherland discipline and an engineer's detailed efficiency.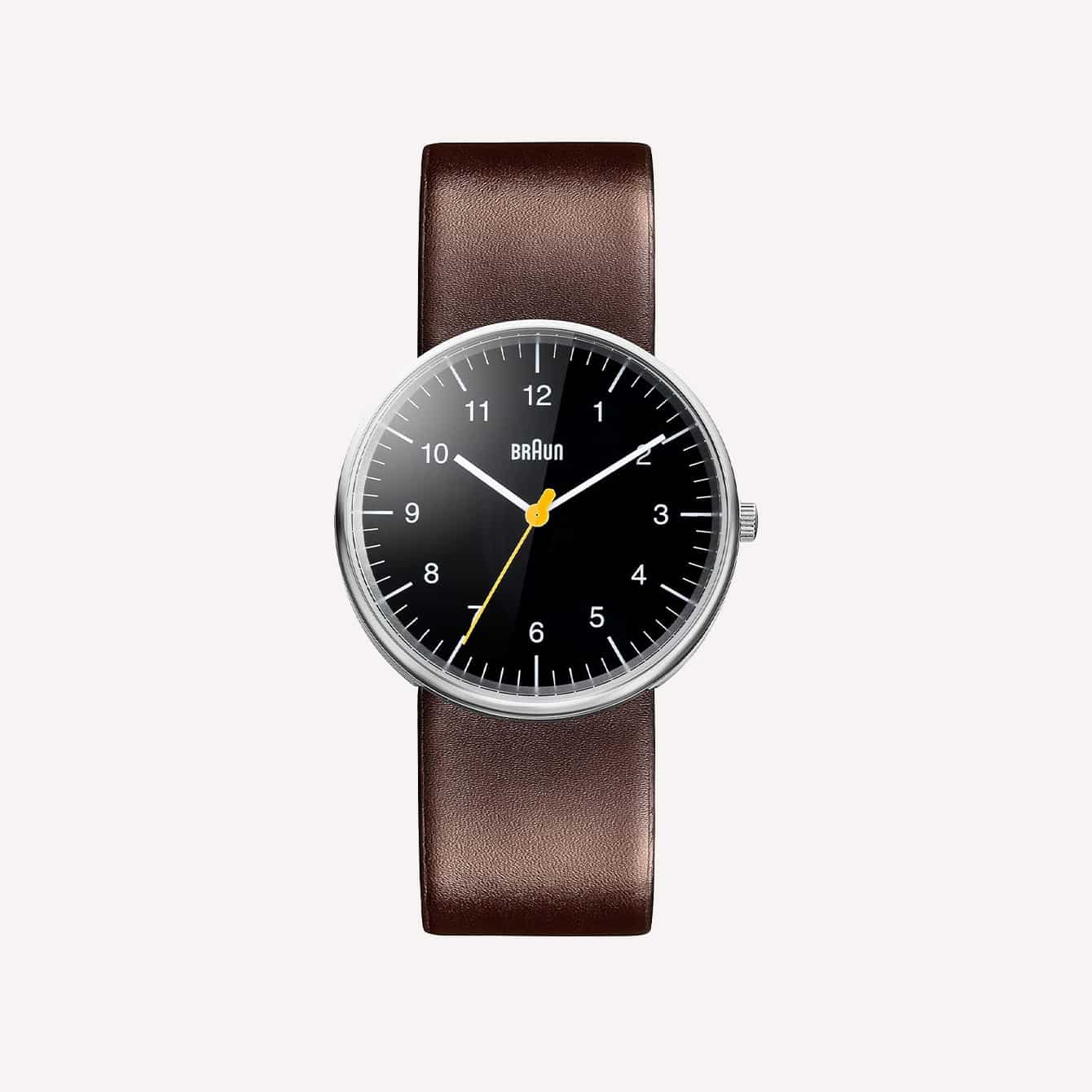 The Braun BN0021 has that German minimalist look to it, a line-forward design that's simple but not without character.
There's even some cool designer street cred to Braun watches. Dieter Rams started designing for the brand in the '50s, pioneering the functionalist aesthetic that definitely inspired Apple.
Dimensions: 38mm diameter, 8mm thickness
Case Material: Stainless steel
Water resistance: 50m
This watch is an austere Bauhaus piece and can be incorporated into a wide range of personal styles.
Orient Bambino 2nd Gen Version 2
As I clarified in my Orient Bambino guide, a Bambino's generation number refers to its movement, while its version number refers to its watch face design.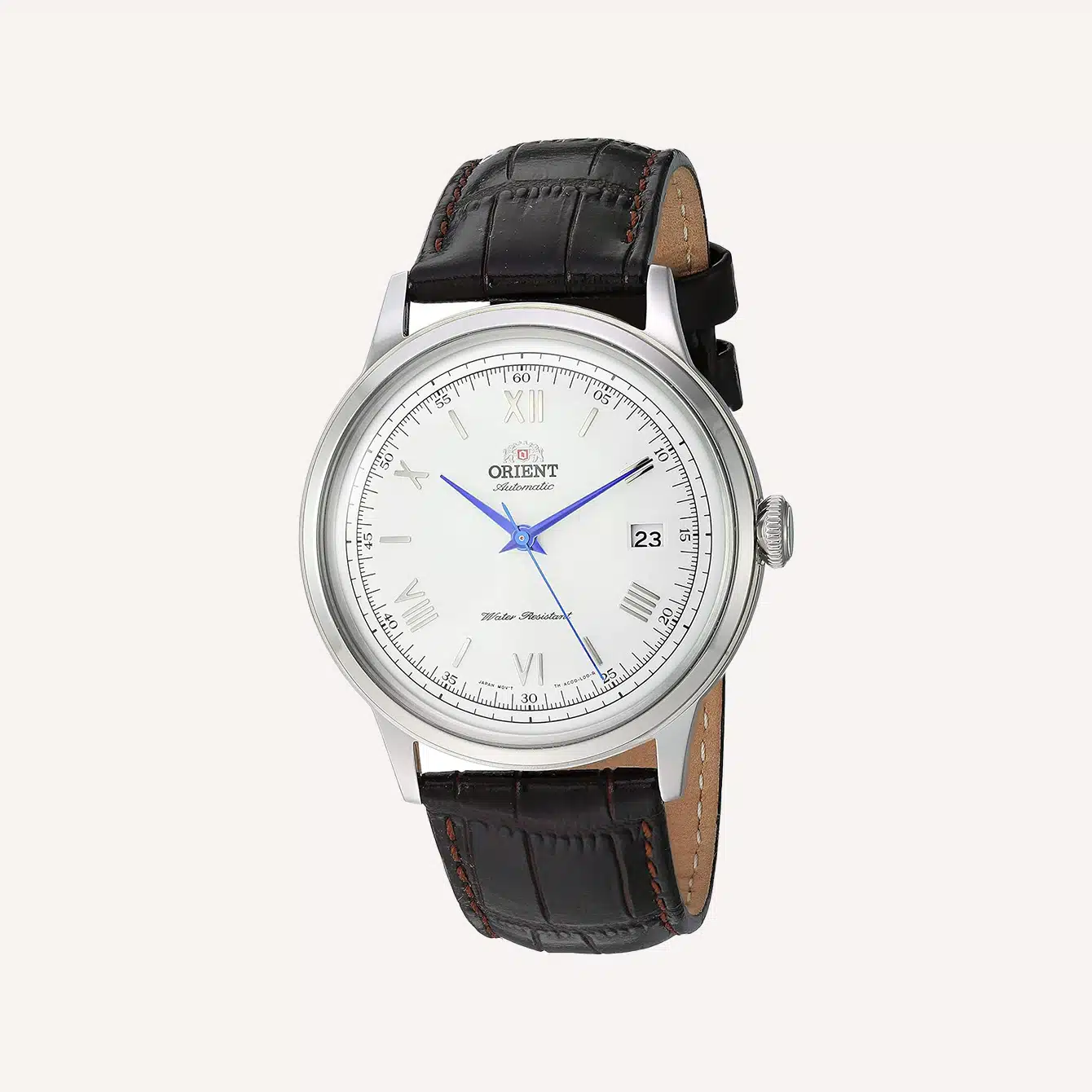 This second-generation Bambino runs on an updated movement. It's a lot like the first generation's movement, but this reliable 22-jewel automatic also has hacking and hand-winding. Both these features make the watch easier to use (and also more fun, in my opinion).
As a Version II, it's the most antique-like of the Bambinos. You can see this with its gem-like onion crown and Roman numerals.
Dimensions: 40mm diameter, 11.5mm thickness
Case Material: Stainless steel
Water resistance: 30m
It's a stately dress watch if there ever was one. Still, the old-world style is tempered by the straightforward font of the indices and the stepped case. It won't look out of place partnered with a 21st-century outfit.
Seiko SRPJ85
Seiko really went back to the authentic ways of the field watch when they released the 36-millimeter SRPJ85. I love a good Seiko 5 watch, but they don't often come down to this size.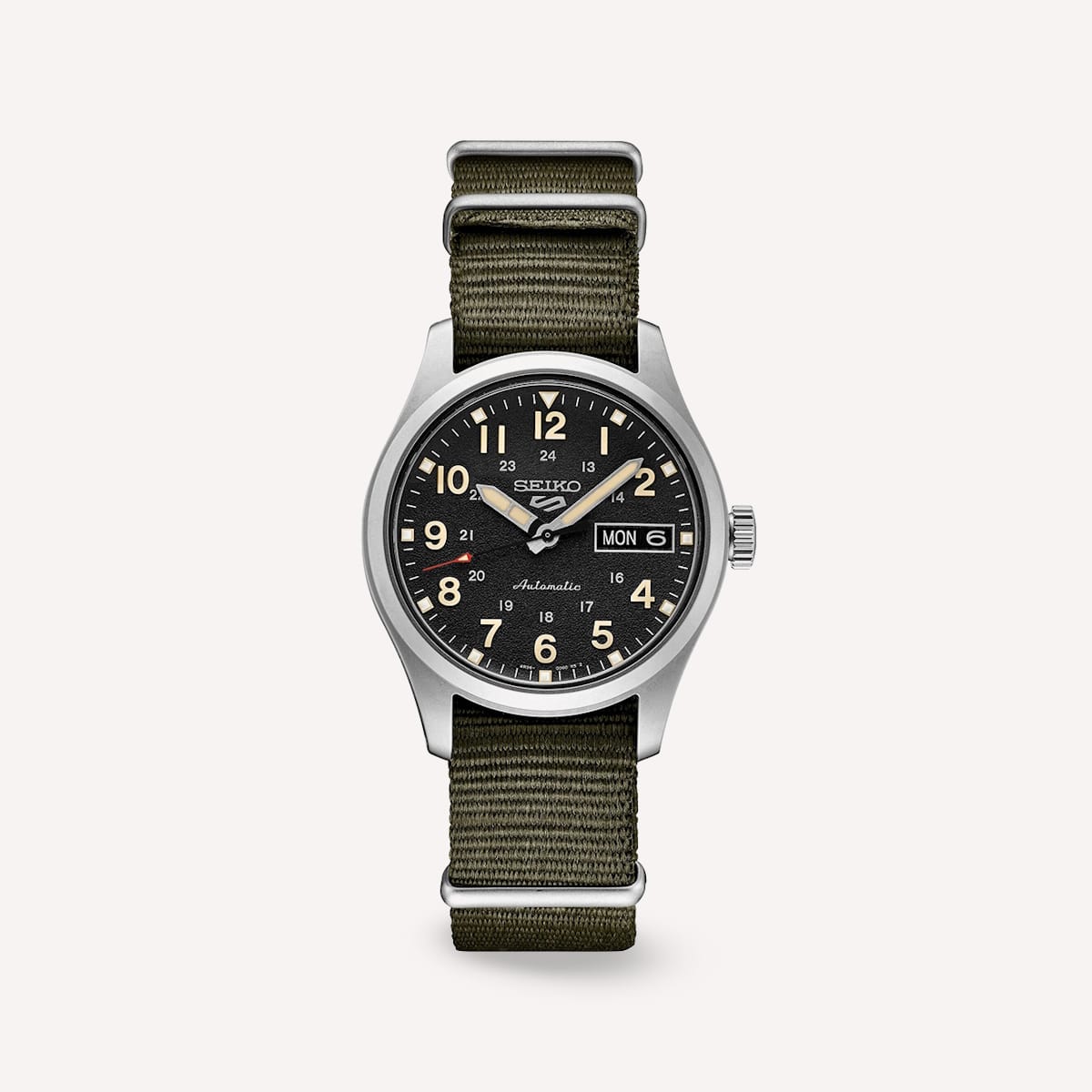 Despite its smaller stature, it still runs on Seiko 5's go-to automatic, the 4R36, a workhorse with hacking and hand-winding. I like this movement, but regardless of how you feel about it, you have to admit that having an exhibition case back is always cool.
The watch face takes a standard field watch design but adds excellent color and texture. The gravelly dial has an almost organic aesthetic, while the tan hands and indices look downright tropical.
Dimensions: 36mm diameter, 12mm thickness
Case Material: Stainless steel
Water resistance: 100m
This guy is definitely my favorite Seiko 5 field watch in a long time.
Bulova Lunar Pilot
If you like stories, then this is the watch for you. It's the Speedmaster's literal pinch-hitter, otherwise known as the other Moonwatch. Think of it as Speedy's closest competitor when it comes to lore and looks but at several fractions of the cost.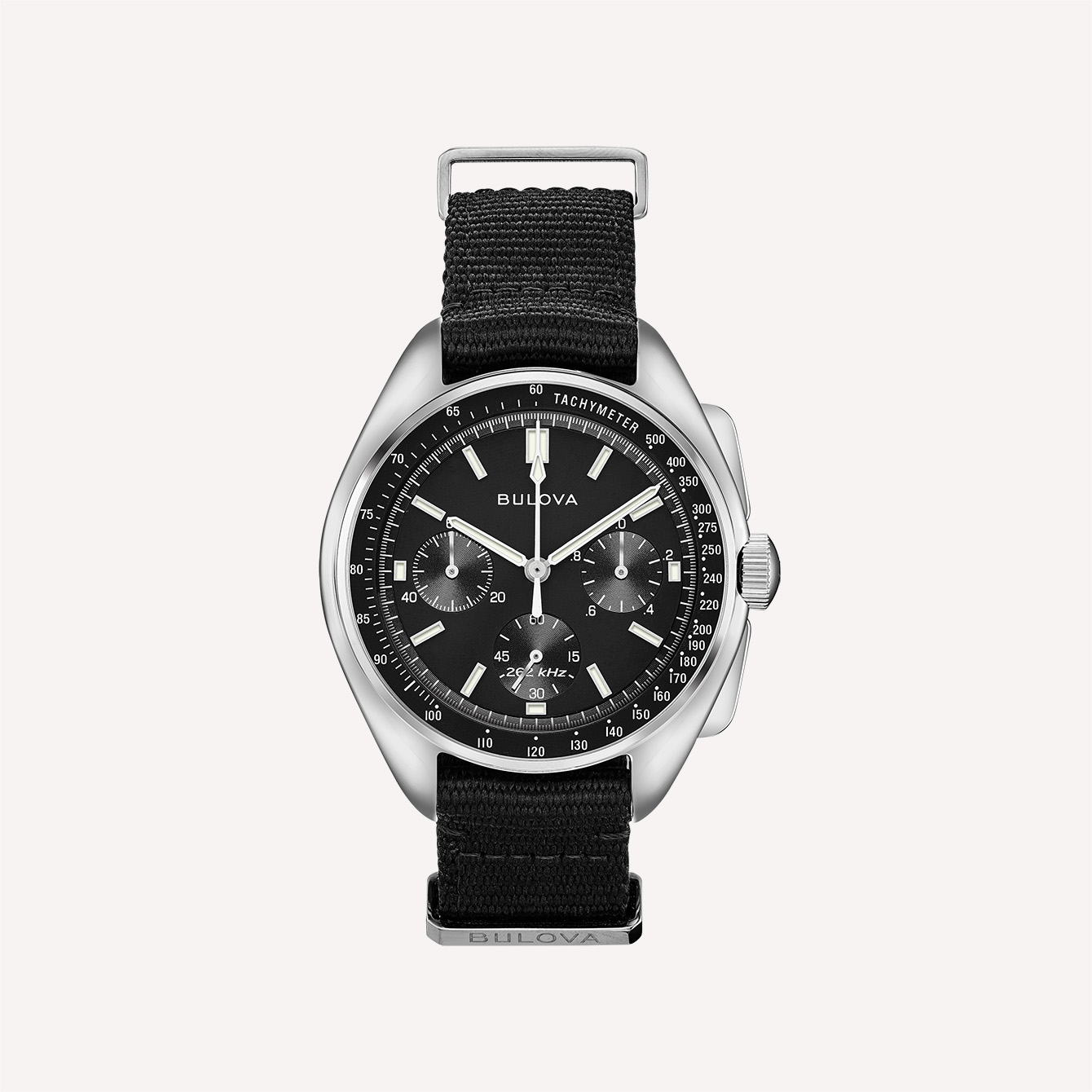 The year is 1971. Commander David Scott's Omega broke during the Apollo 15 mission. Fortunately, he had his other watch with him — a Bulova.
NASA was made aware of this long before Bulova started marketing this chronograph as a Moonwatch but apparently couldn't talk about it because of their other partnership.
The Lunar Pilot is an undeniably good, honest watch. It's less flashy than most chronographs and has a sciencey look about it.
Dimensions: 45mm diameter, 15mm thickness
Case Material: Stainless steel
Water resistance: 50m
It runs on high-performance quartz that's highly accurate and has a frequency eight times greater than most quartz movements.
Timex Marlin Mechanical
The Timex Marlin Mechanical oozes with '60s swank and is one of the most charming watches you can find in the $100 realm. At 34 millimeters, the Marlin has a kind of class from a bygone era, also seen through its flush crown and almost distorted Art-Nouveau-esque indices.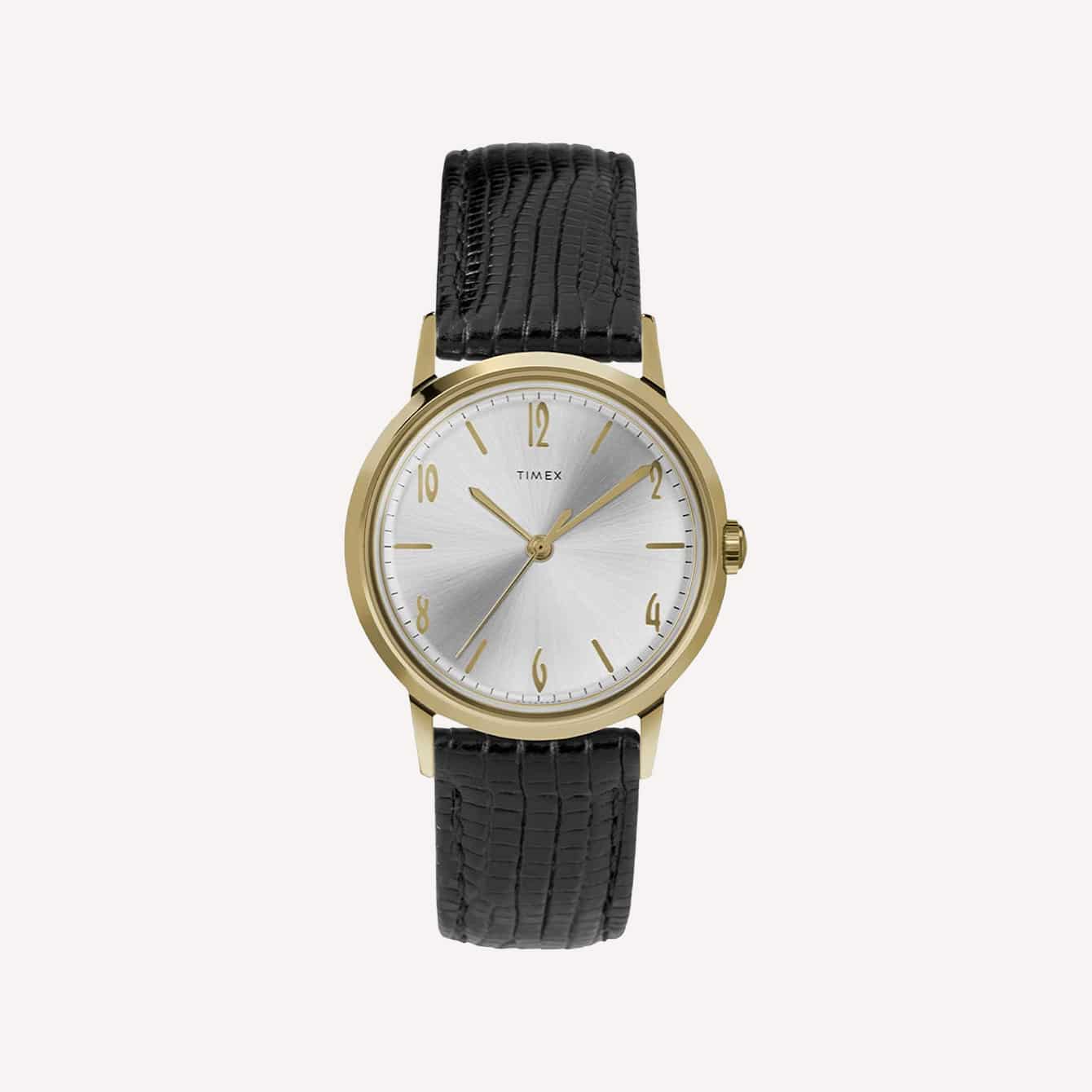 We also have a hands-on review here.
The genuine leather strap isn't premium quality, but I love the lizard embossing on it. It definitely matches the whole watch's sipping-a-Manhattan aesthetic.
Alternatively, you could swap out the strap for a stainless steel bracelet (here's how).
Dimensions: 34mm, 10mm thickness
Case Material: Stainless steel
Water resistance: 30m
I'm a big fan of manual-winding mechanicals on reissued models because of the tactility they provide and their era accuracy.
Tissot Everytime Automatic
This Tissot (Reference T1094071603201) is elegant enough to wear as a dress watch but simple and versatile enough to be an everyday watch.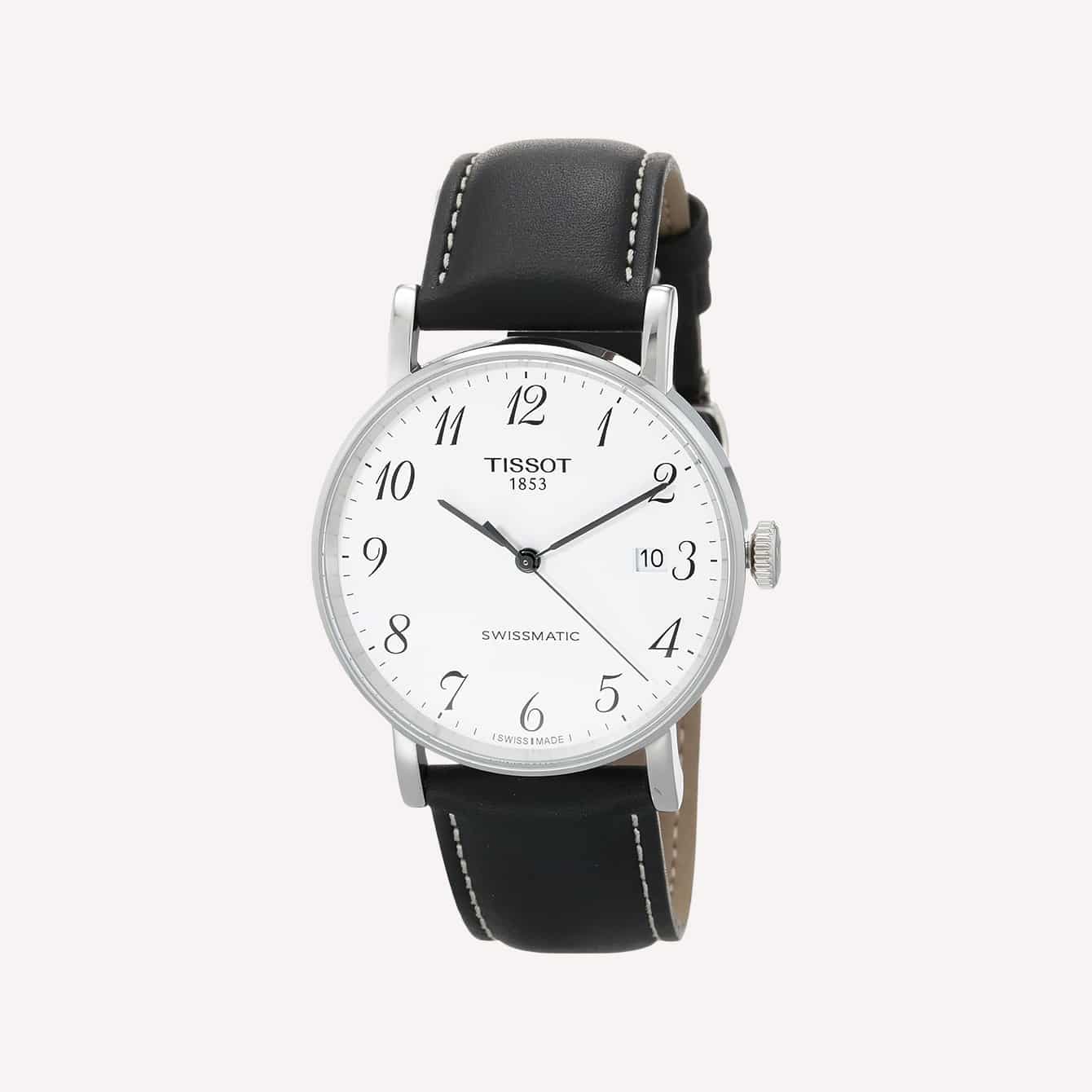 The most remarkable thing about it, though, is the fact it's a genuinely Swiss-made timepiece, an automatic no less. Additionally, it's from a true heritage brand. Even with all that, it's priced way below $200.
It runs on the brand's Swissmatic movement, which has an impressive 72-hour power reserve, enough to timekeep accurately even if you put it down for three days.
Why would you, though? The Wonderland-like font of the indices gives the watch character without compromising its overall understated look.
Dimensions: 40mm diameter, 11.5mm thickness
Case Material: Stainless steel
Water resistance: 50m
It's an effective choice for a one-watch collection.
Swatch Bioceramic "Moonswatch"
The Mission to X series is a subline of Swatches, each representing a mission to a different part of space. There's a Mission to the Sun watch, a Mission to Venus watch, and so on. It's a cool concept.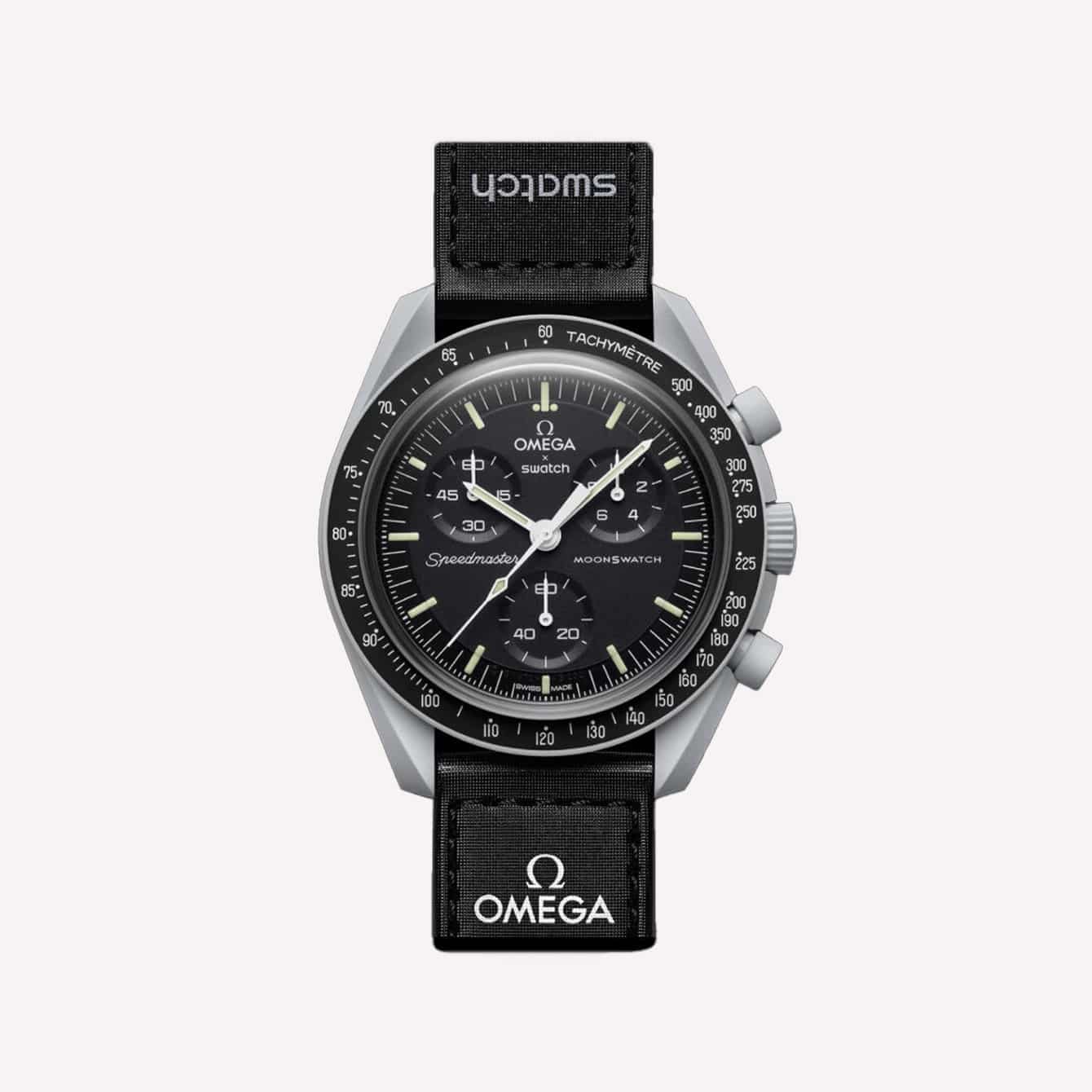 Omega, being part of the bigger Swatch Group, made the Mission to the Moon watch a sort of diffusion range derived from the Speedmaster Moonwatch.
It's a cheaper but still good-looking version of the Speedy. And unlike any other homage, it has the prestige of brand legitimacy.
It's a beautifully finished watch made out of Swatch's gunmetal-esque bioceramic.
Dimensions: 42mm diameter, 13mm thickness
Case material: Bioceramic
Water resistance: 30m
I also think that the moon medallion on the back of the case is a nice touch. 
Casio AI58WA
Why is it that the Casio A158WA often finds its way into collections with much more expensive timepieces? Could it be that even the most high-end watch collectors will never forget their first Casio? Possibly.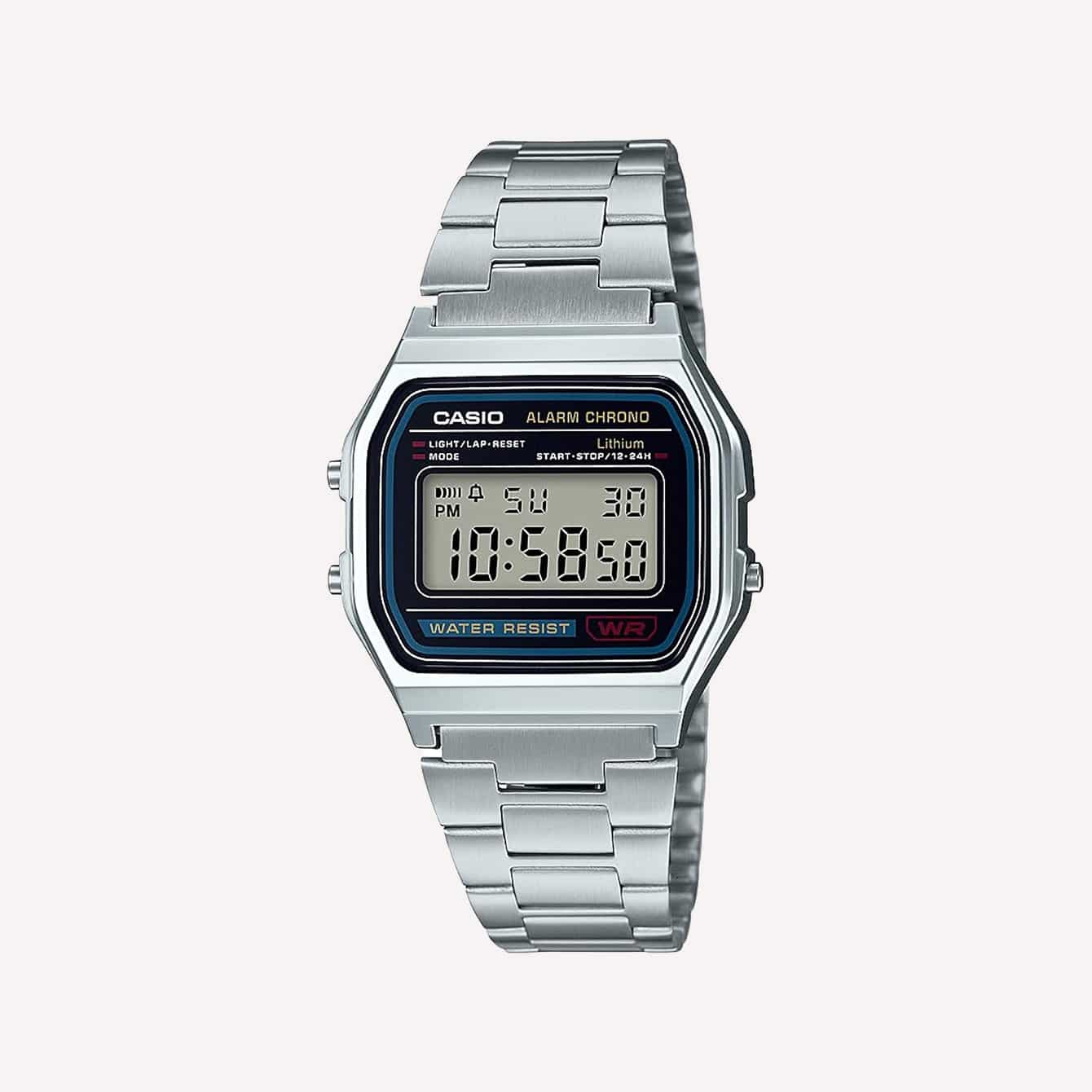 But mainly it's because it's an objectively good watch with a retro-cool look that you don't really get with the Swiss hard-hitters. With its data-processor electronics style, it's an icon in its own right.
In addition to being fun to look at, it's also a reliable timekeeper.
Dimensions: 32mm diameter, 7mm thickness
Case Material: Plastic
Water resistance: 30m
It has all of the Casio features I've come to love, including the stopwatch and the EL backlight.
Seiko 5 SRPD71
The Seiko SKX dive watches are still "affordable" in the grand scheme of watches, but let's be real. It used to be $150, and now it's close to a thousand.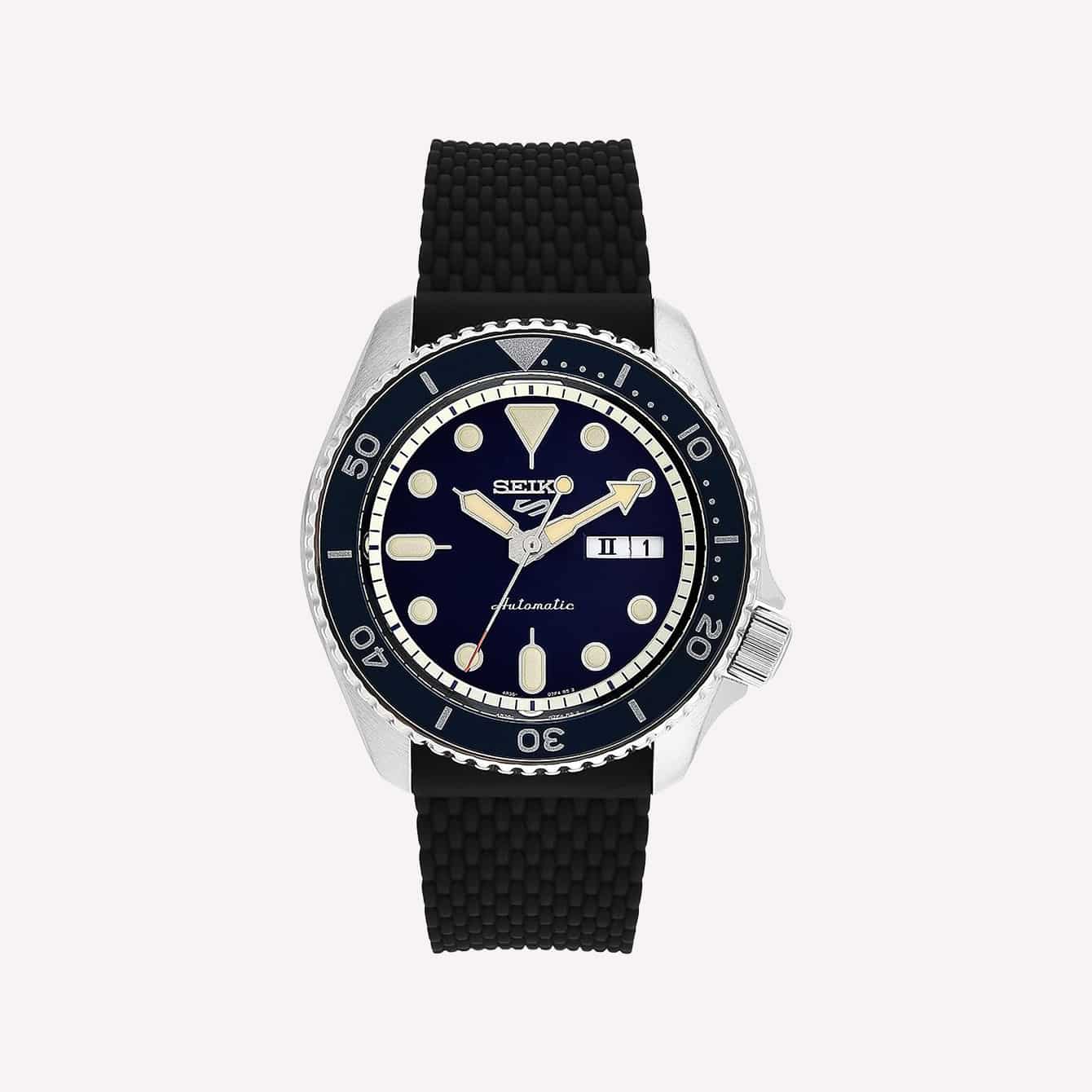 It's a great watch, but if you want true affordability, I recommend looking at some of the SKX descendants that Seiko 5 is churning out.
The SRPD71 is a modern, livelier take. The Automatic moniker in cursive is a retro throwback, but one that didn't actually appear on the SKX007 or its cousins. Still, the same indices, hands, and rotating bezels are all there.
It's not as water-resistant as the SKX, but 100 meters is enough for most people.
Dimensions: 43mm diameter, 13mm thickness
Case Material: Stainless steel
Water resistance: 100m
Moreover, it runs on the 4R36, which is a lot like the heritage 7S2S that the SKX ran on but upgraded with hacking and winding.
Glycine Combat Sub Line
Okay, so Glycine was bought out by Invicta. I can agree that this doesn't sound great. In practice, though, Glycine has continued to be what it always was: An entry-level luxury offering in the Swiss watch world.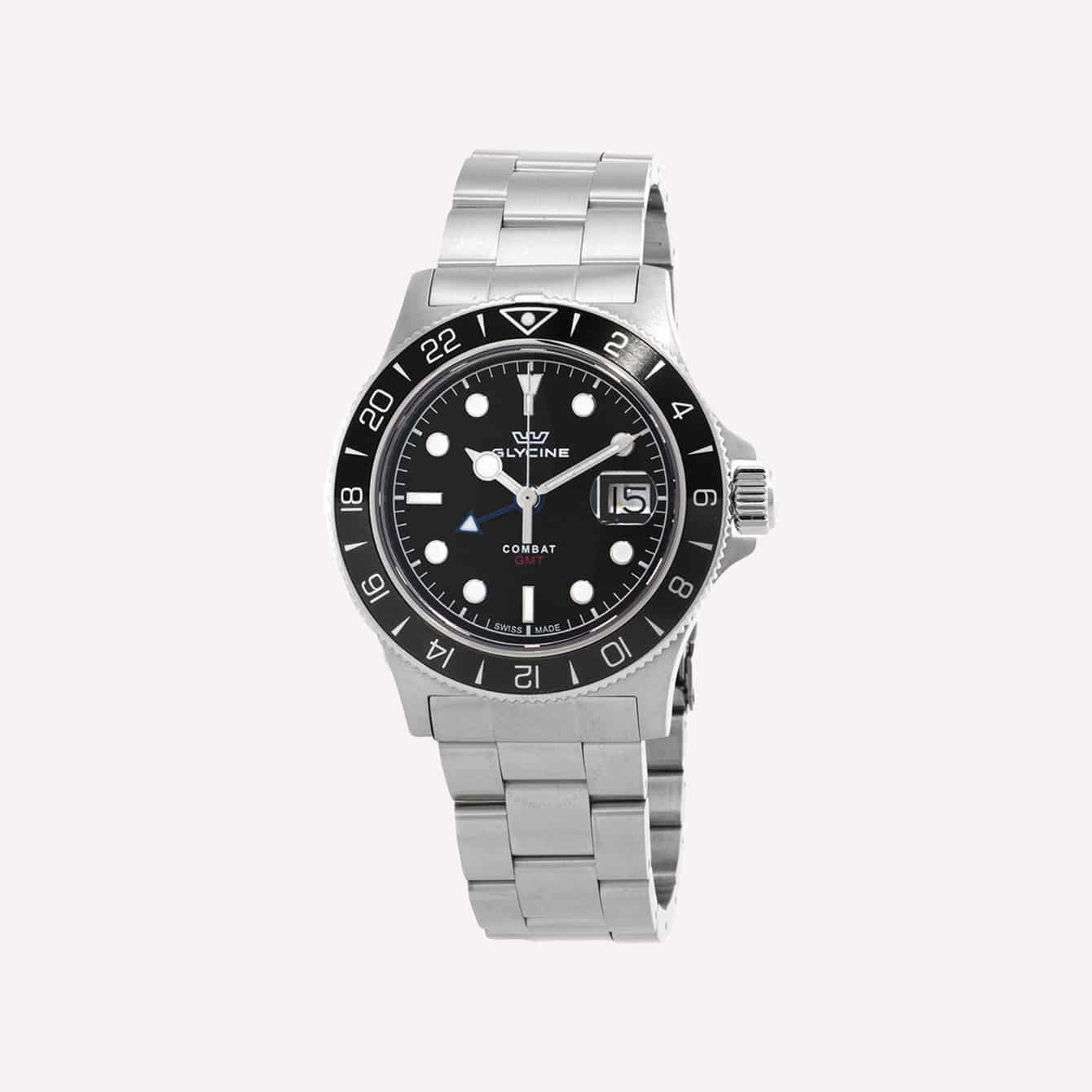 It's astounding that you can find their Combat Sub-line for way under a grand, ranging from over $300 to around $600, depending on the variation.
It's a fun but classy tool watch that you can find in different dial and case colors. Go for silver-toned stainless steel for a traditional look or a bronze case for a distinguished, handsome look.
Dimensions: 42mm diameter, 10mm thickness
Case Material: Stainless steel
Water resistance: 200m
Regardless, they run on Swiss automatic movements and flaunt top-notch durability.
FAQs
Here are a few more answers to common questions regarding affordable men's watches!
Which budget brand is best?
It depends on what you're looking for. Seiko offers excellent entry-level mechanicals, while Timex serves up great heritage designs. Casio, meanwhile, has iconic retro-cool timepieces.
What is a good entry-level automatic watch?
Brands like Tissot and Hamilton have great entry-level Swiss-made automatics. Seiko is a go-to brand for the most affordable entry-level mechanicals, and they have several good models.
Are cheap watches durable?
A watch doesn't have to be expensive to be durable. You can find stainless steel and even titanium watches with quartz movement for under $300.
A Good Watch Doesn't Have to Be Expensive
I've been collecting watches for decades now. Having worked in the world's leading auction houses, I've had access to some of the most expensive watches in the world.
And still, I have a $100 vintage Bulova as my go-to dress watch. I can also sit and watch the exhibition caseback of my sub-500 Seiko for hours.
By the way, both of these watches sit right next to my Rolex Explorer II and my Omega Seamaster in my watch case.
A watch doesn't have to be expensive to be good. Many of the affordable models presented here are more than good enough for a one-watch collection.
What's your favorite affordable watch? Let me know in the comments!