If you want a watch that will actually fit small wrists, these 36mm options are what you need!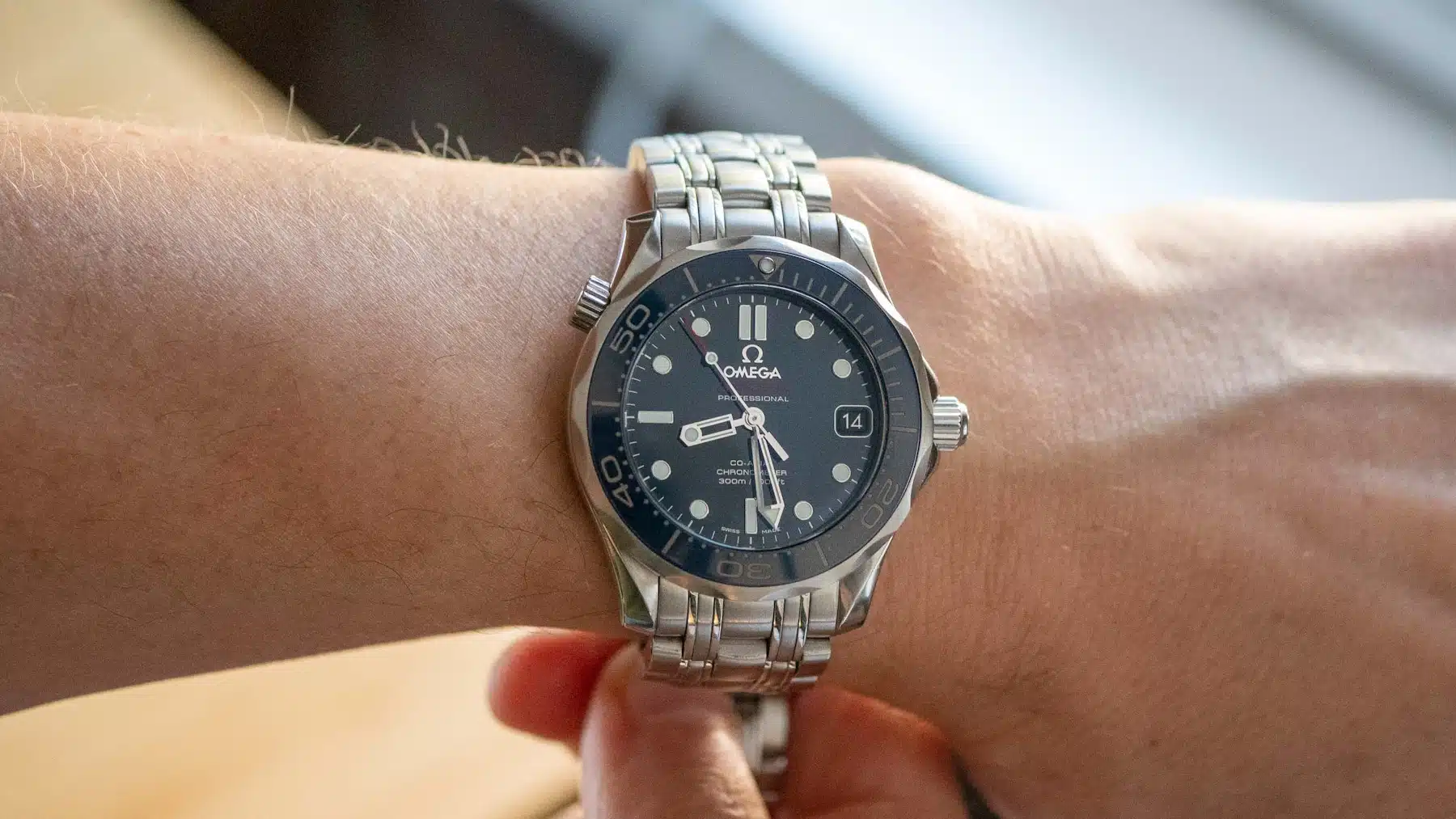 I think that 36 millimeters is the perfect size for a watch. And I'm not just saying that because I have small wrists. Not only are they versatile and look great on any arm, large or thin, but they're the real, original size of men's wrist watches.
Keep in mind that for a long time, wrist watches were considered women's jewelry. It wasn't until men in the army needed a more practical way to carry timekeepers than pocket watches that guys started wearing timepieces on their wrists.
And guess what size these many of these original field watches were? 36 millimeters.
Smaller watches are handsome, versatile, and much more timeless than the super huge models popularized in the '80s. So, without further adieu, here are 15 great 36-millimeter watches for men, from dress to tool, and from budget to luxury.
36mm Watches: 15 Options at Every Price Point
Here the watches are, in no particular order!
Baltic MR01
On the size front, not only is the Baltic MR01 a reasonable 36 millimeters, but it's less than 10 millimeters tall (including the glass, which is an acrylic that even has a high dome). So don't let anyone fool you into thinking automatic movements can't be thin.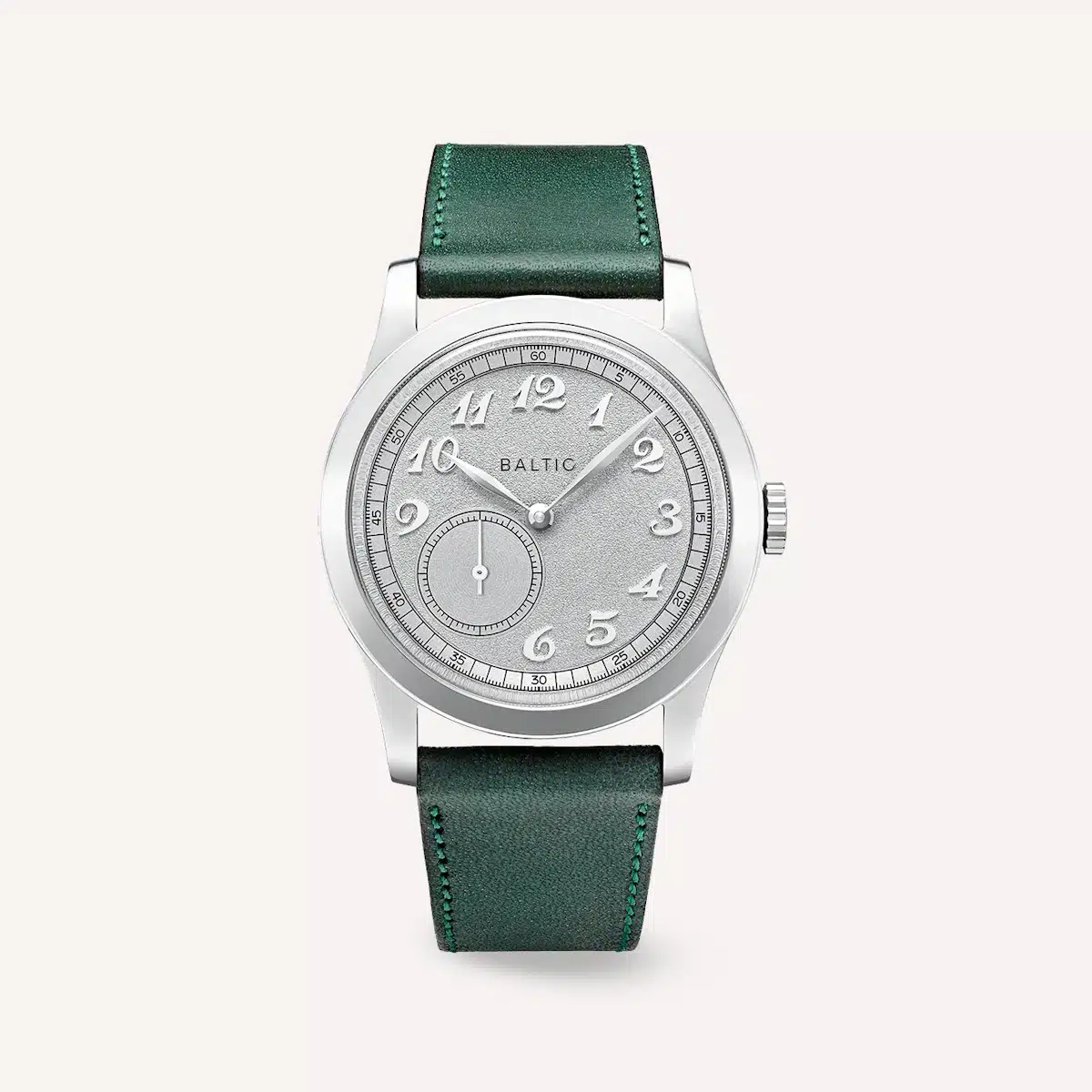 And that short crown, which is incredibly close to the case body, adds to the overall comfort and wearability.
On the design front, Baltic achieves an interesting and eye-catching look that isn't gaudy. It's a watch for those who like something unique but not outlandish.
The silhouette of the entire watch is classic and simple, while the Wonderland-esque font of the Arabic indices and feuille hands are fanciful, creating a perfect balance.
Thickness: 9.9mm
Case material: Stainless steel
Water resistance: 300m
The sophisticated texturing on the dial, pragmatic outer dial and subdial, and the minimal leather strap tie it all together in a very grown-up way.
Seiko SRPJ85
Seiko has given us a true gift in 2023, and that's their series of 36-millimeter field watches for Seiko 5 Sport. The SRPJ83 has a beautiful sandy palette that would look great with a pair of desert boots, while the SRPJ81 is stark, modern, and versatile.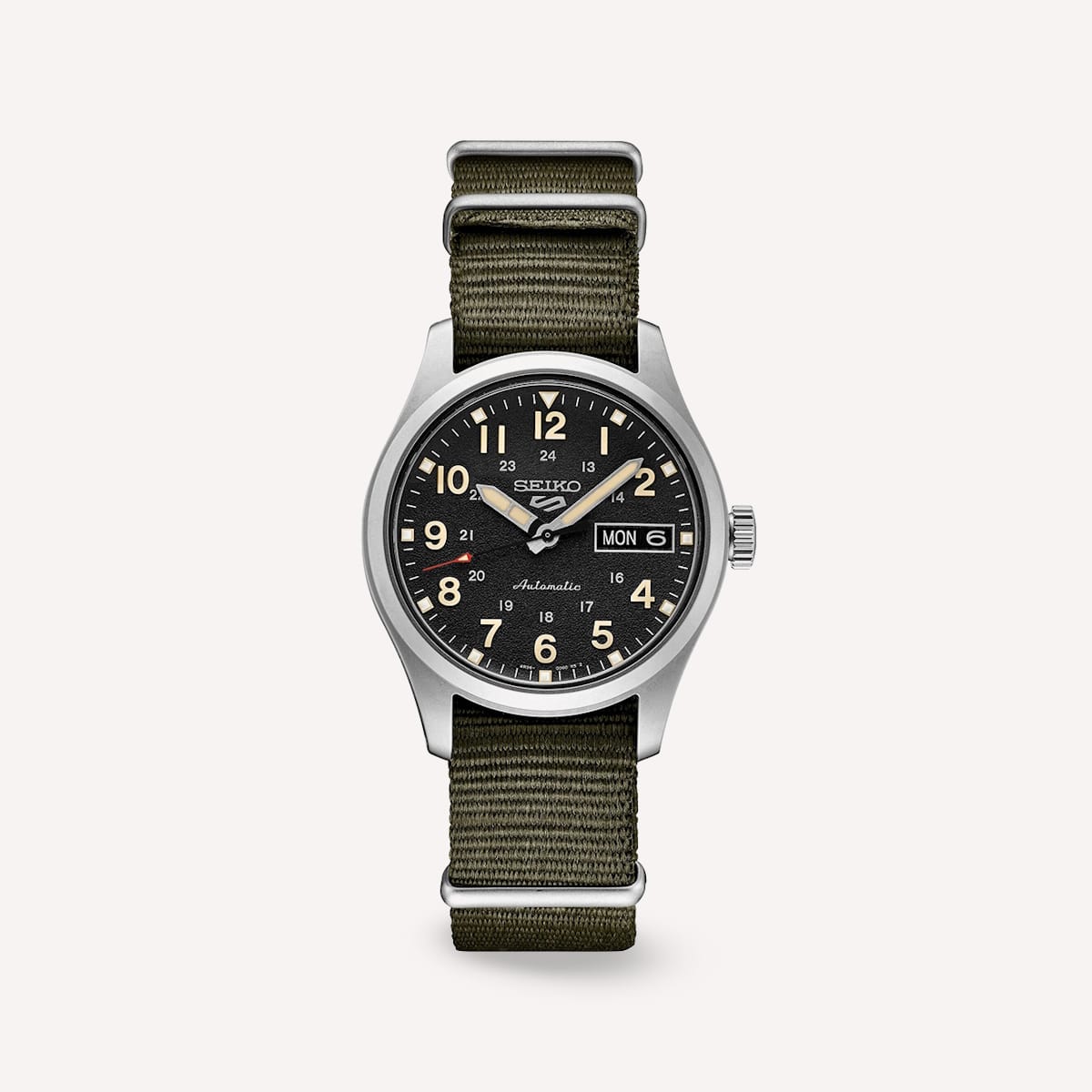 However, I love the SRPJ85 because the black textured dial with the tropical-looking indices and hands combines the best of both of those.
It is such a quintessential field watch, and Seiko definitely gives the audience what they want. There's the outlined hands and double-windowed hour, the syringe-like second with the red tip, and the Automatic appellate in cursive.
At this new great size, it's probably one of their best everyday field watches.
Thickness: 12.5mm
Case material: Stainless steel
Water resistance: 100m
It runs on the 4R36 movement, beloved for its hacking and hand-winding capabilities, which of course can be seen through the caseback.
Timex Expedition North
The Timex Expedition is definitely a go-to for an affordable field watch. It's one of those rare cheap, yet iconic, models that fascinate even the higher-end collectors.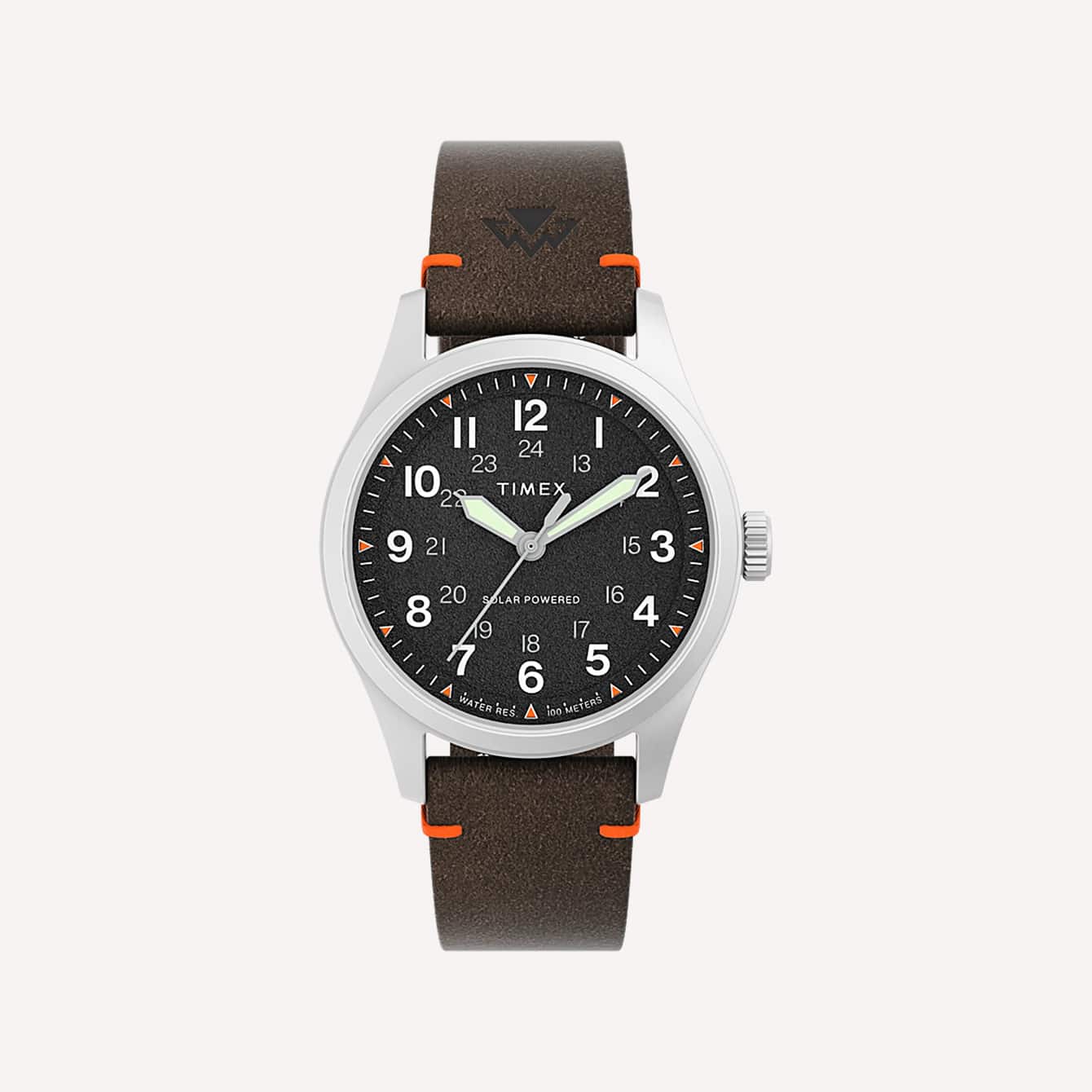 This Expedition North is a lot like the previously mentioned Seiko, in that it's an on-template field watch with Arabic indices, an up-to-24 inner dial, and even that cool granular background.
It's a bit more no-nonsense though. It runs on a far more accurate quartz movement which is solar-powered, for one thing, and also features a sapphire crystal, and is still water resistant at up to 100 meters.
Thickness: 8.5mm
Case material: Stainless steel
Water resistance: 100m
The Expedition North doesn't lack class though. Some Timex-specific elements include the pops of orange via the hour triangles in the outer dial which also help with legibility, as do the syringe hands. And, the strap it comes with stylishly texture-matches and accent-matches the dial.
Rolex Explorer 36
Considering how sophisticated Rolex's marketing team is, they were bound to bring back the Explorer in its original 36-millimeter size. First off, the watch industry is rife with nostalgia (in the form of reissues).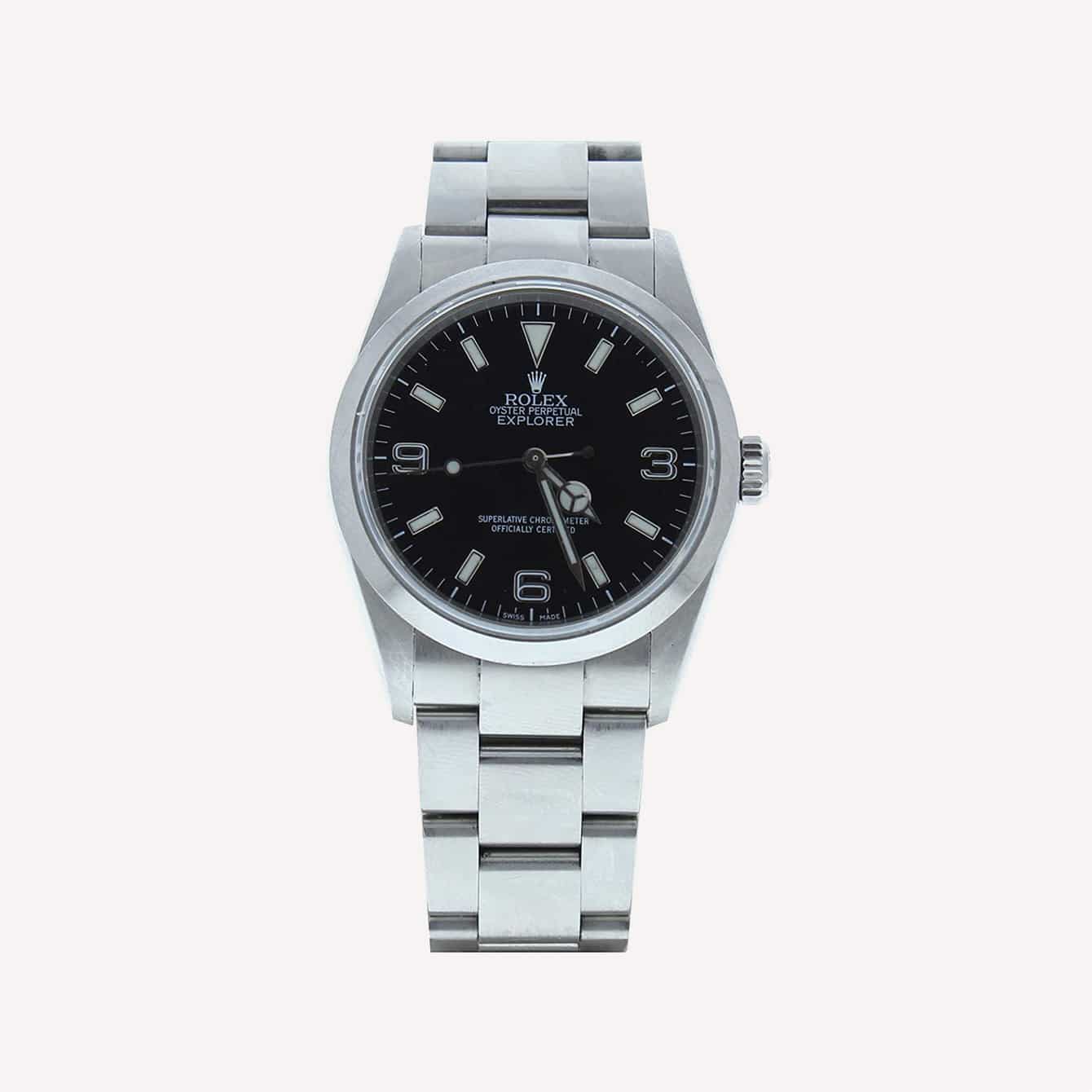 Second, collector circles have fully learned that bigger isn't better. And I'm not willing to die on many hills, but one that I am is that the Rolex Explorer is at its very best when it's at 36 millimeters.
This is because it's iconically beautiful in its simplicity. The wide-font cardinals make the dial practical, sporty, and easy to read.
In my opinion, it doesn't need to be any bigger. The signature Mercedes hands are better framed since there isn't as much negative space. And finally, the shorter crown is timeless and a much better wear.
Thickness: 11.5mm
Case material: Stainless steel
Water resistance: 100m
Naturally, all of the modern Rolex creature comforts are there, from the blue lume and shiny Oystersteel, and the accurate and durable COSC-certified movement.
Rolex Day-Date 36
I honestly won't even wear dress watches bigger than 36 millimeters, and I can go even smaller than that. The Rolex Day-Date is both the fanciest everyday watch ever and the most solid and sturdiest dress watch ever.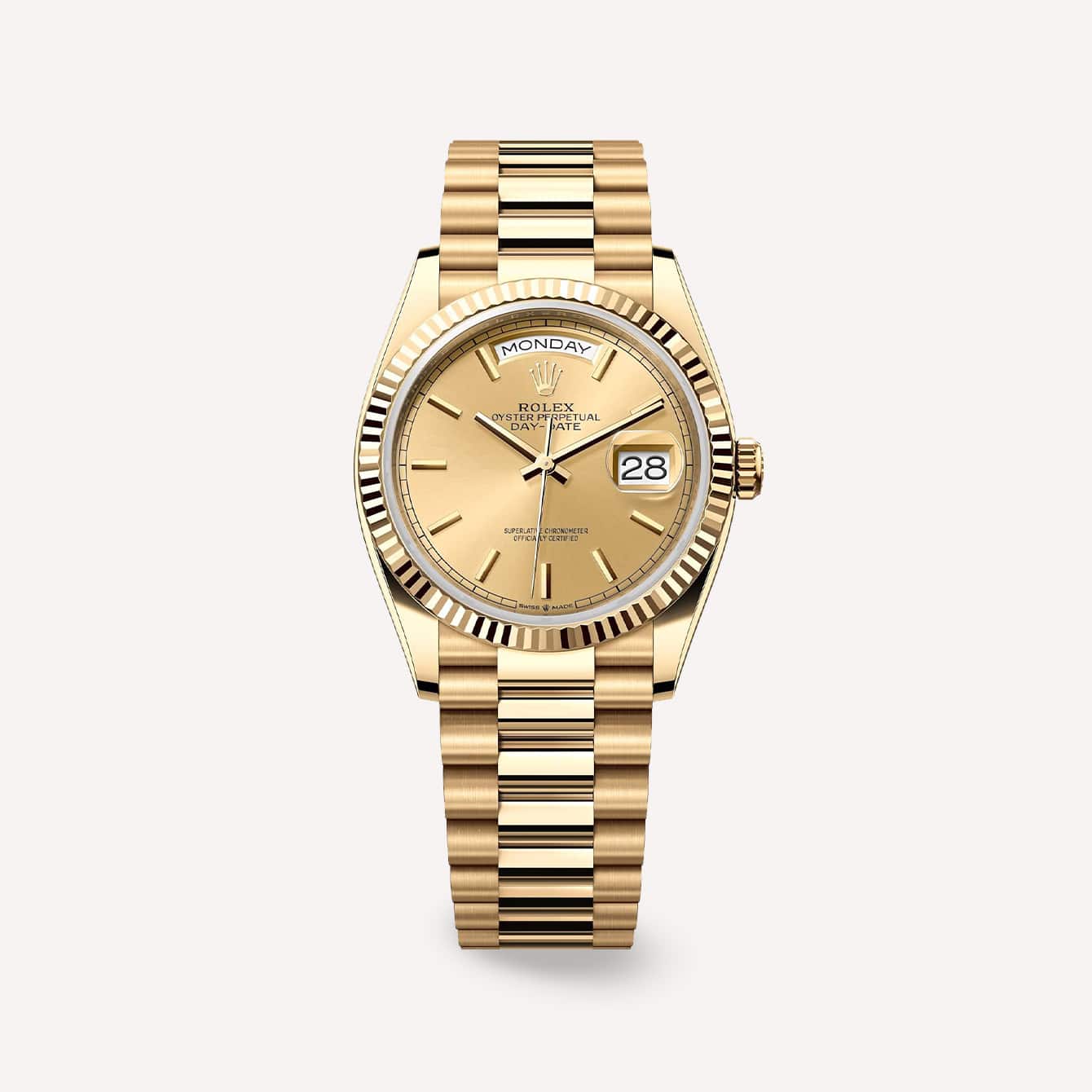 It's also a major flex, with its gold construction and classic fluted bezel. However, the simple dial and baton hands, silhouette with minimal movement, and concise crown shift it from loud flex to simply regal — as does the smaller case size.
Thickness: 12mm
Case material: Gold
Water resistance: 100m
Moreover, the size helps cinch its capabilities of becoming an instant family heirloom. As always, Rolex builds their watches to last. If you're going to invest in the always-impressive Day-Date, make sure you're also ensuring it lasts style-wise.
IWC Pilot's Watch
One of the best qualities of the IWC Pilot Watch is its versatility. In particular, it's the perfect evening-wear watch for guys who prefer sport watches to dress watches.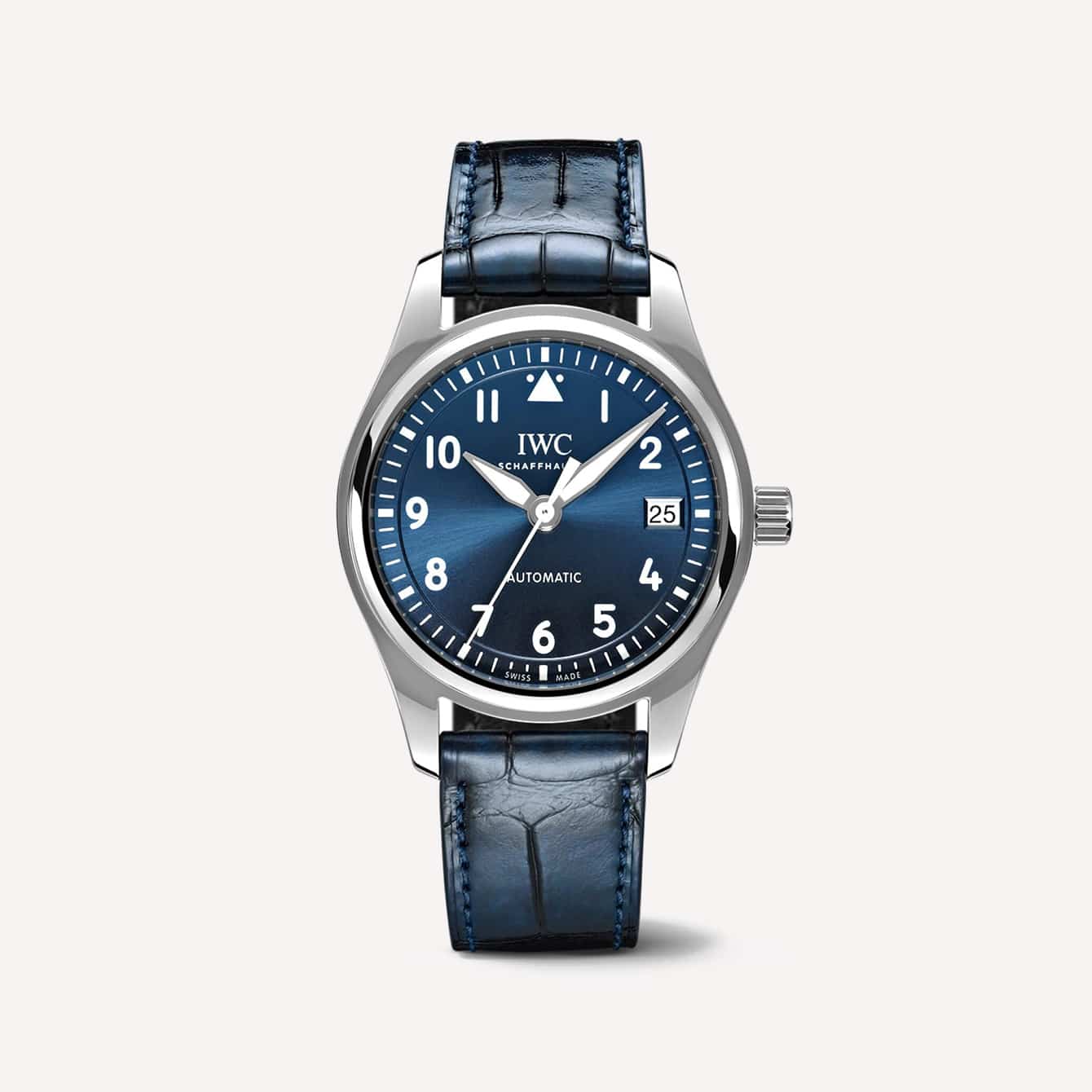 It's a tried-and-true pilot watch, with simple Arabic numerals in that professional font that almost looks like a thicker DIN 1451.
Then there's the sword hands and easy-grip crown. It's straightforward looking, with a reliable automatic movement and a strong build.
But, beyond that, the details level it up to a refinement beyond the standard pilot watch. Even more impressively, is the fact it doesn't compromise the watch's fundamental factor.
Thickness: 10.4mm
Case material: Stainless steel
Water resistance: 60m
The swerves of the case and lugs, the sunray dial, and topnotch polishing allow you to wear this with a leather strap and a suit at your most formal, or with any other strap as an everyday watch.
Tudor Black Bay 36
The Tudor Black Bay is like a solidly contemporary homage to a vintage watch. It doesn't try to look vintage, but takes what we know and admire about old watches, and rebuilds it in a fully modern way.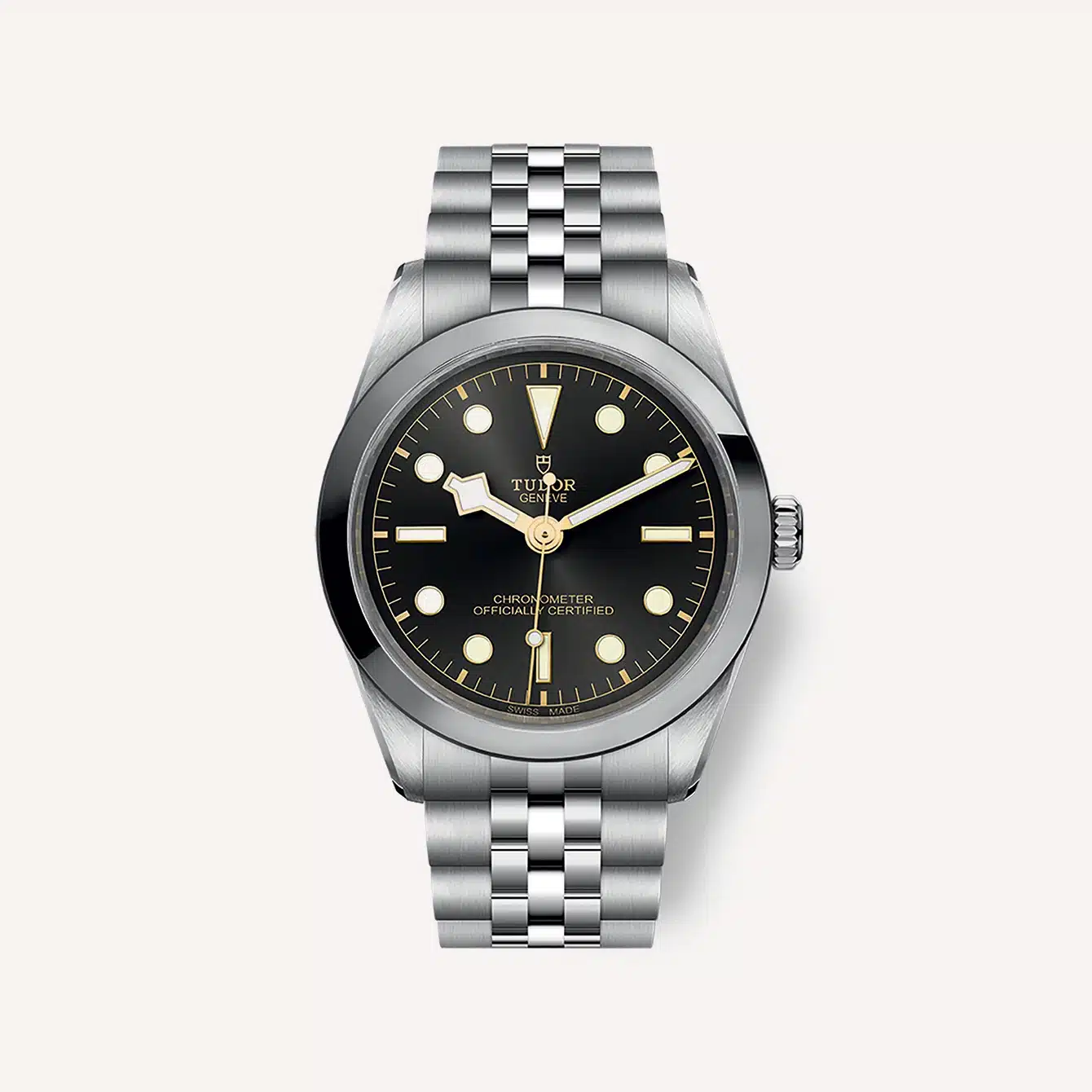 For example, we all love the faded, tropical indices and hands against a stark black dial on an old Submariner. On this Tudor, you instead have light yellow indices and dials, defined with gold accents, against a silky black dial.
Meanwhile, the short, guardless crown adds a retro spin on an otherwise 21st-century silhouette. Truly, these hat tips wouldn't look their best on a watch that's 40 millimeters or over.
Thickness: 10.4mm
Case material: Stainless steel
Water resistance: 100m
As for its great modern features, the meandering links of the bracelet are an attractive complex frame for the simple dial face. Functionally, the COSC-certified movement is always a welcome element in a Tudor.
Oris Divers Sixty-Five
With the Divers Sixty-Five, Oris pulls a standard watch world move, and that's updating an old-style diver for modern wearability. What makes this timepiece special is that it's done in a subtle way, using extra dimensionality.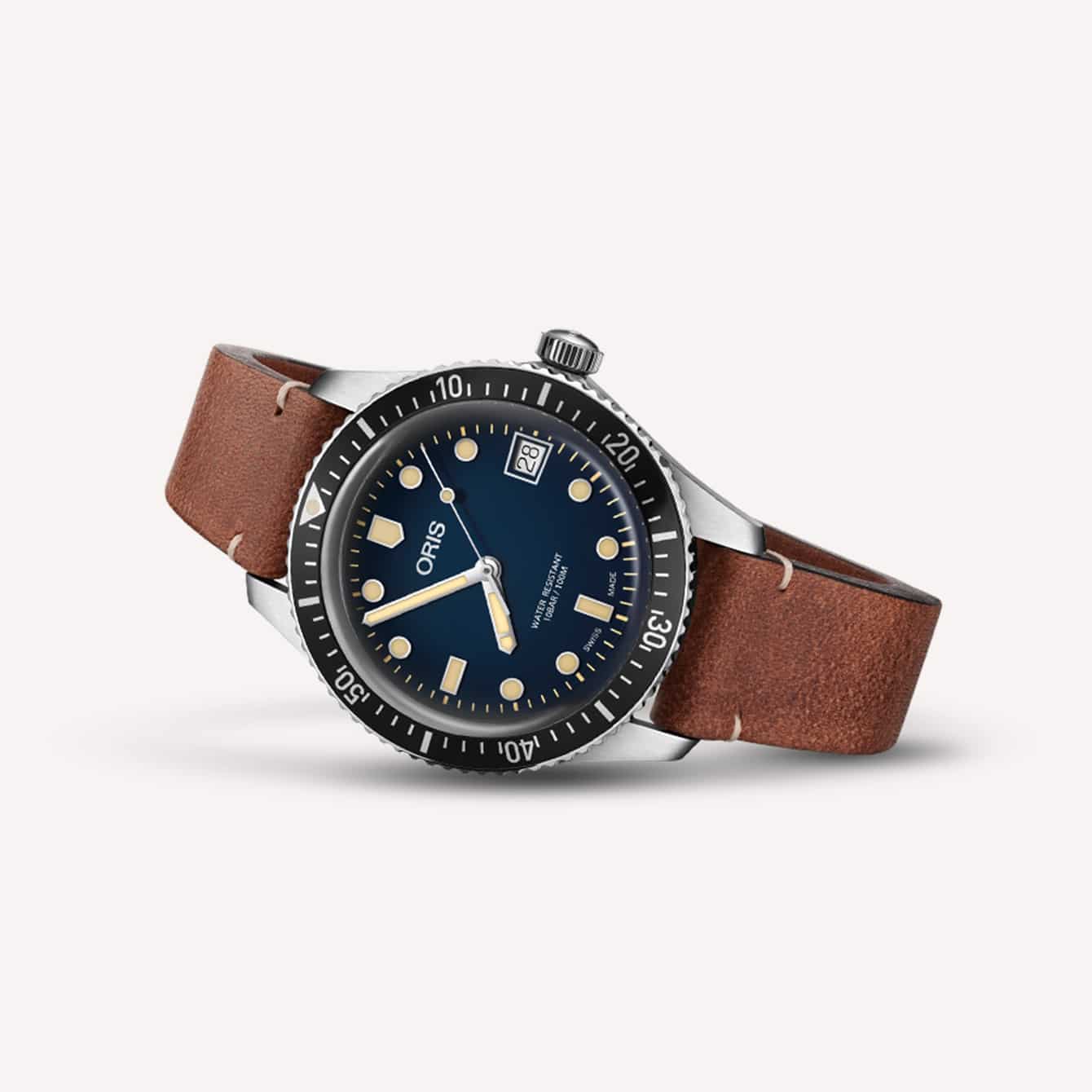 It's attractively peculiar and places it in a sort of time vacuum. I think this makes it an instant classic too.
The indices, for example, aren't applied, but they are slightly raised. Meanwhile, the dark outer dial isn't separated by a track or hard line, allowing the exquisite distortion from the double-domed crystal to provide an ethereal transition from the center of the dial. It's intriguing to look at from every angle.
Thickness: 13mm
Case material: Stainless steel
Water resistance: 100m
Of course, the case size and simple crown are self-aware throwbacks. No worries though, the way it's built isn't a throwback. The crystal is a scratch-resistant sapphire, the movement is a 26-jewel Swiss automatic, and it all comes with a two-year warranty.
Longines Legend Diver
You have to hand it to Longines, the Legends Diver checks all of the boxes of a proper dive watch but manages to avoid any cliches (even the ones we really like).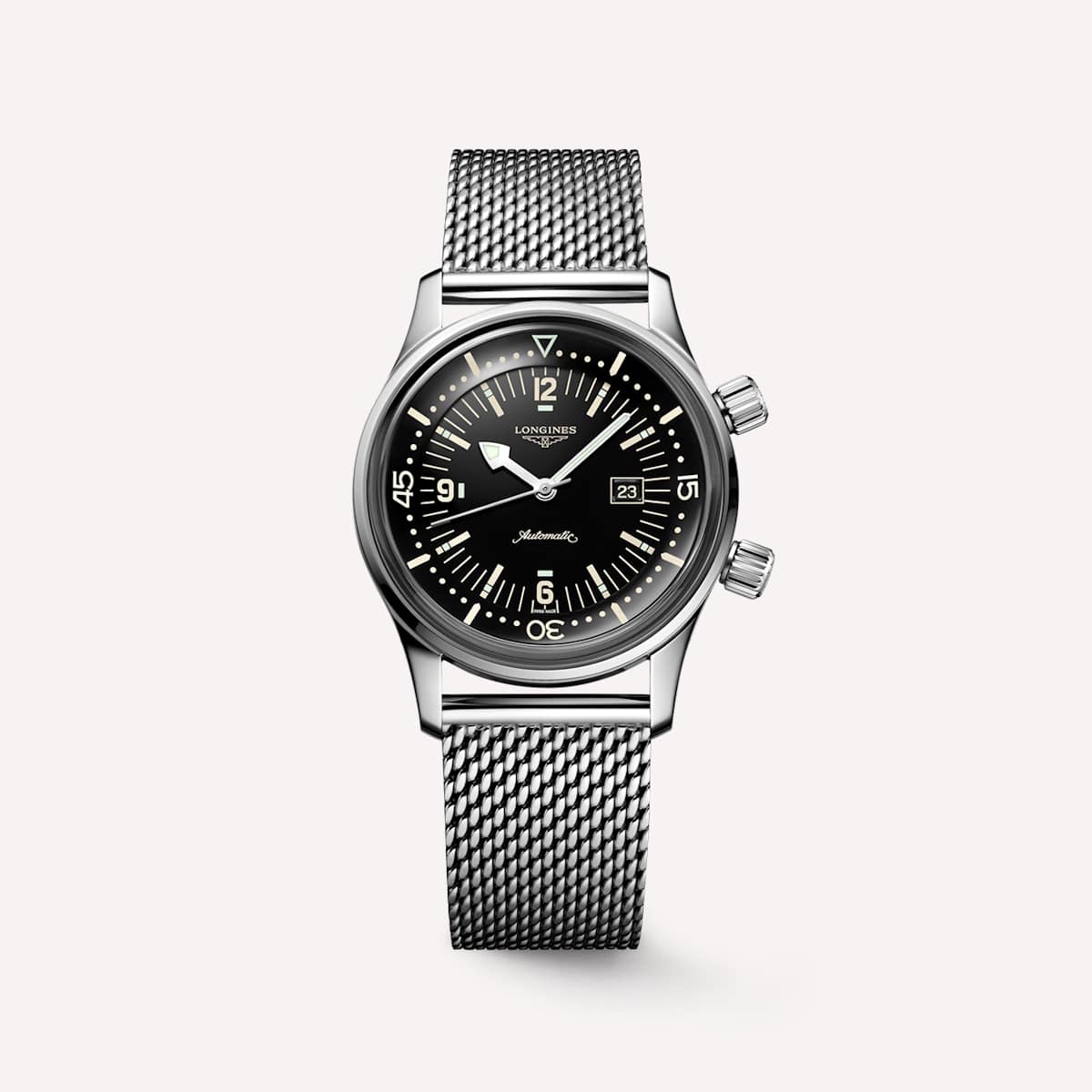 It almost looks like a cross between the broad arrow Seamaster and the Submariner, with plenty of Longines-specific visuals to top it all off.
Immediately, the black-and-tan palette, the arrow-shaped hour marker, and flush line-and-baton indices are familiar.
The slide-down inner bezel and clean, polished outer bezel though? Truly nothing like it. It makes the whole watch look clean and contained under the sapphire, for a slick overall aesthetic.
Also, operating a bezel that's under a glass is surprisingly satisfying, like you're building a miniature ship in a bottle.
Thickness: 11.9mm
Case material: Stainless steel
Water resistance: 300m
This watch can basically go with any strap you pair it with. I'd say the beads-of-rice steel bracelet ties the whole look together best. It has a sparkle factor about it but is practical like the industrial-looking knurling on the crowns.
Laco Vancouver
Often when you hear "minimalist design", you think "Scandinavian minimalist." But sometimes, you just want something clean-looking, without that modular and polygonic approach.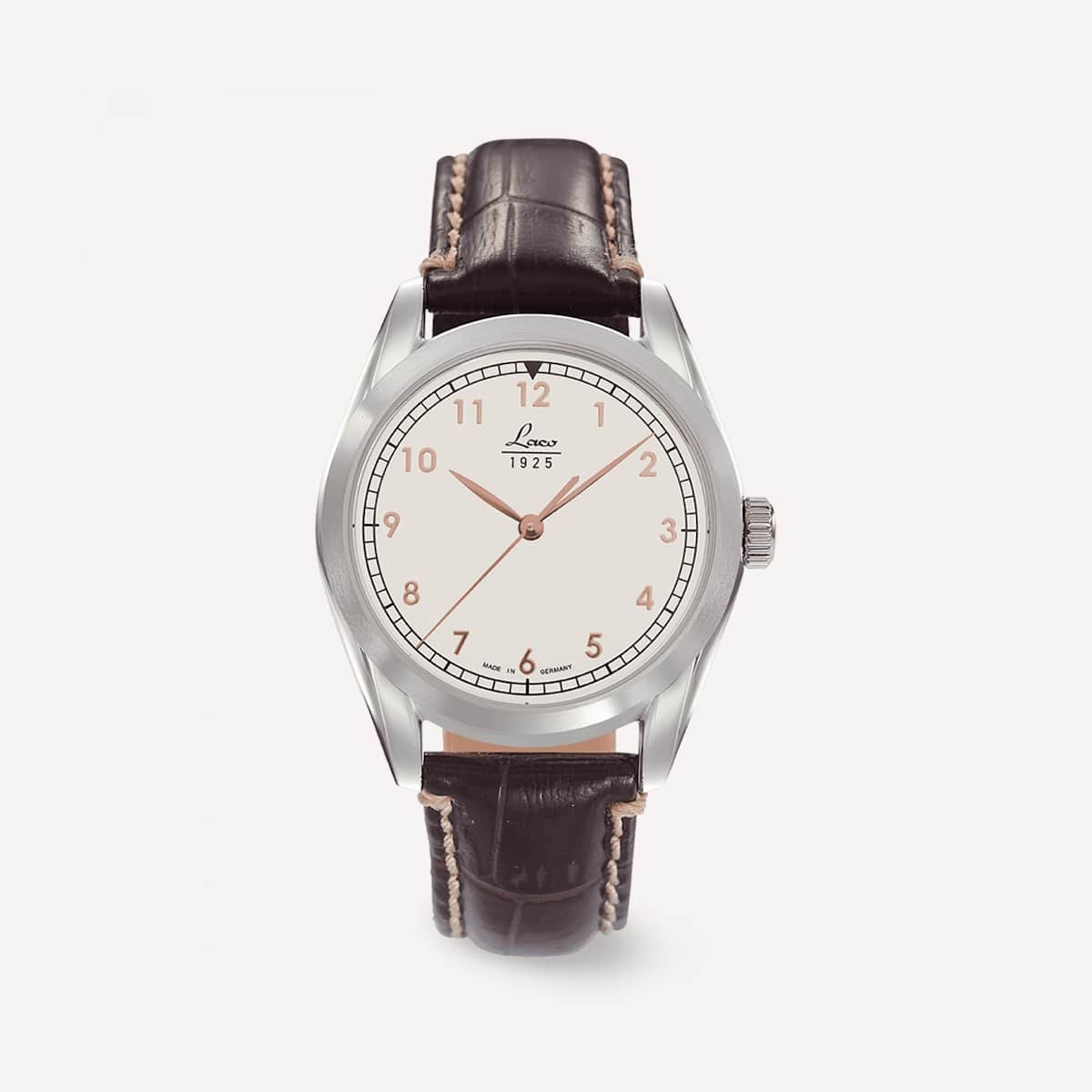 With the Vancouver, Laco uses a time-honored men's watch design, that is it could be a field watch or it could be a pilot watch depending on who's wearing it.
They then strip it of any superfluous elements, resulting in a piece with a refreshing amount of negative space that still has that classic watch character to it.
The Arabic indices are small but bold, while the hands are definitely a feuille style, or at least feuille-inspired, but much thinner. If this were more Scandinavian, they'd probably be straight hands, but again, the vintage men's watch qualities aren't omitted, just minimized.
It runs on a Swiss automatic, which you can see through the exhibition caseback. Even more, you can get the rotor engraved, making this watch a great gifting option.
Thickness: 10.9mm thickness
Case material: Stainless steel
Water resistance: 50m
On the front, there's a domed anti-reflective sapphire and a case with matte and polished surfaces, staying on-brand with the simple-but-interesting approach.
Omega Seamaster 36mm
James Bond may have worn the bigger version of this iconic wave-dial Omega Seamaster, but ever since its debut, it was available as a 36-millimeter watch.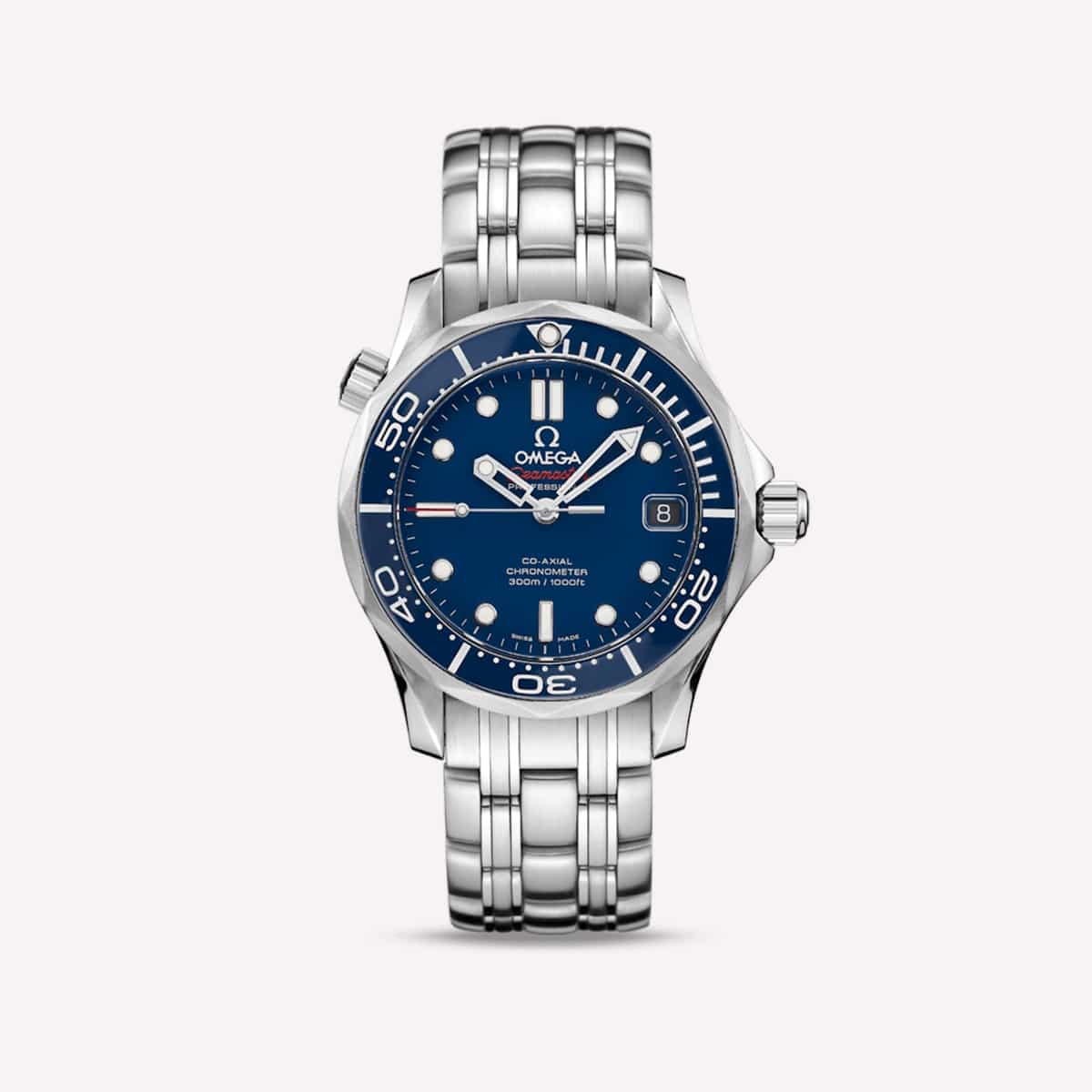 I think it's the best version of it, and so does the Prince of Wales (it's the only watch he's ever been seen wearing, and even wore it during his wedding).
This beloved design, with its scalloped bezel, skeleton hands, and its strapped-in-looking stainless steel bracelet, has made its way onto several iterations of the Omega Seamaster.
They've been made in a few colorways, though the black and blue are the most ubiquitous, and between the two, the blue even more so.
It has a lot more going on visually than the Broad Arrow Seamaster and the Submariner. And despite this borderline flashy look, the wave dial has managed to make it on the Mount Everest of dive watches. Since "classics" are usually standards, it's safe to call this design a paradigm-shifter.
Thickness: 12.7mm thickness
Case material: Stainless steel
Water resistance: 300m
While the watch worn in GoldenEye famously and iconically ran on a quartz movement, modern-day versions can be found with Omega's Master Chronometer Co-Axial Escapements. There are even wave dial Seamaster with exhibition casebacks.
Lorier Falcon
The Lorier Falcon would be a genuinely elegant watch even without its signature trait. But that trait, otherwise known as the honeycomb dial, really takes its class over the edge.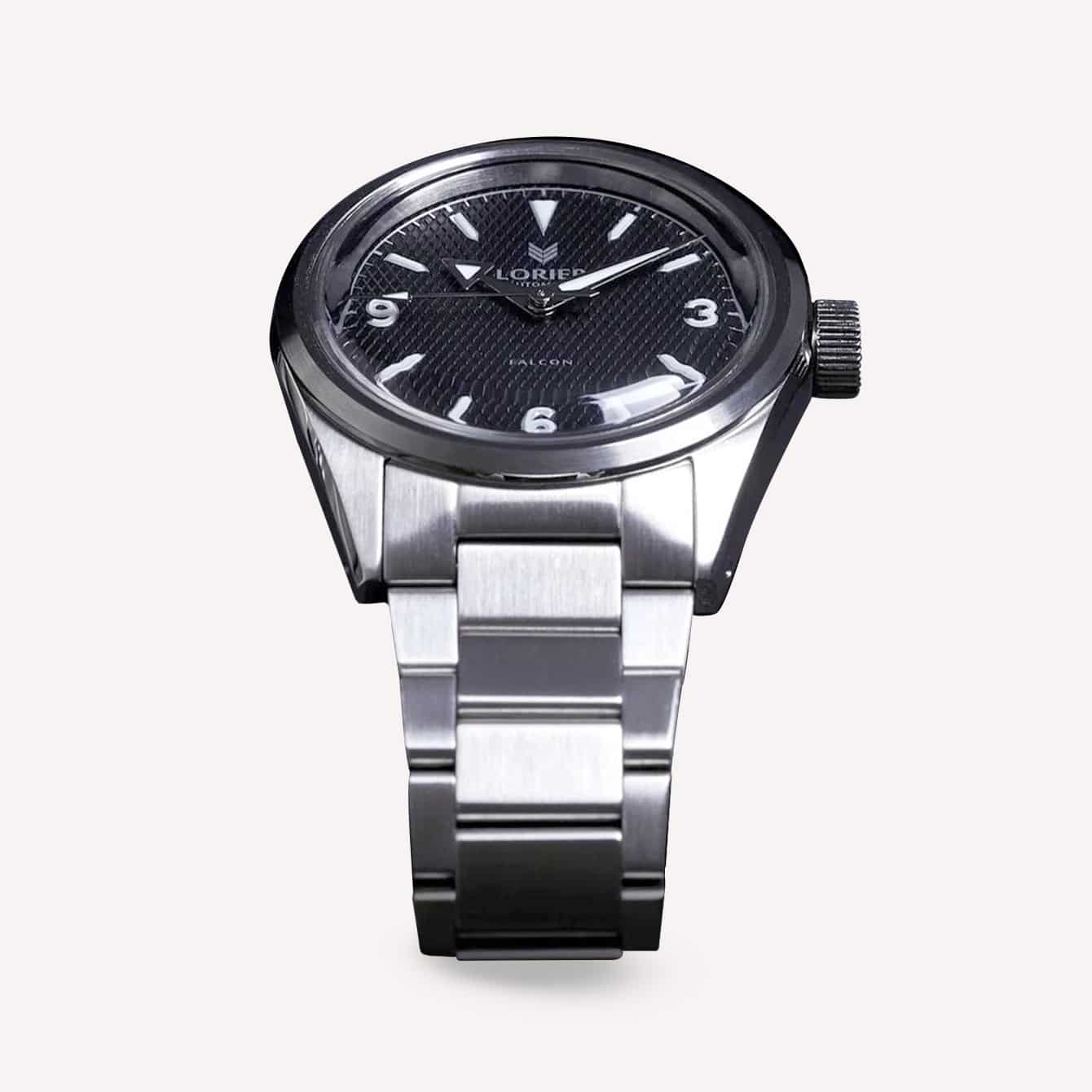 What makes it special is that we see a lot of dressy sport watches on the market, but the honeycomb dial is essentially the only remix on this template.
It shows how much one thoughtful design change can level up the entire look, and this dimensionality and extra glisten is seen at every angle.
The flawless polishing and satining throughout the case and bracelet, made with marine grade stainless steel by the way, further add to this strong yet delicate look.
The more on-template features, such as the arrow hands and Arabic cardinals keep the watch grounded in classicism, as does the unadorned silhouette.
Thickness: 11mm
Case material: Stainless steel
Water resistance: 100m
Basically, it's a low-key decorative piece. People will notice how well-designed and well-built it is off the bat, then later on realize that there are even more interesting visuals beyond the initial impression.
Vaer S3 36mm Quartz
The Vaer S3 is an effortlessly handsome military watch that can go with any casual outfit. This might be surprising considering how matter-of-fact and sensible it looks, but that's exactly its strength. It's neutral, but not lacking in personality.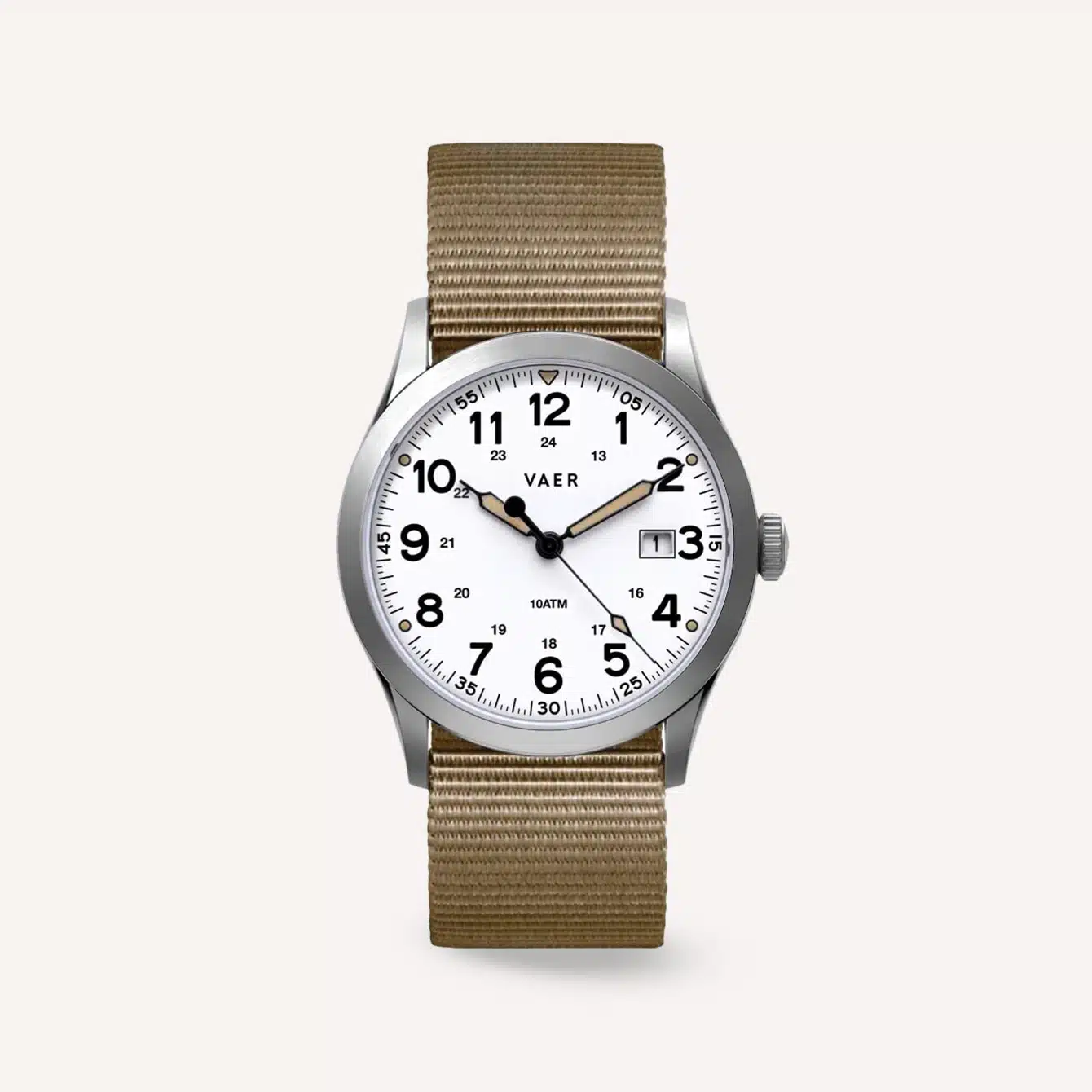 The bold outlines around the syringe hands match the stark indices, while also adding a lively illustrative quality and upped readability.
Moreover, the easy strap-change system means you can quickly transform its overall look. I think having a watch with these quick-change features makes it like you have several watches.
Thickness: 8.4mm
Case material: Stainless steel
Water resistance: 100m
The most impressive thing about the S3 though? It's well under $200 and features premium specs like a sapphire crystal and 100 meters of water resistance.
Marathon Arctic MSAR
Marathon Watch builds professional measuring equipment used by military science labs.
The Arctic MSAR, unsurprisingly, looks like a measurer with a gadget-forward and information-forward design, almost like one of those slide rule watches. MSAR, after all, stands for Medium Search and Rescue.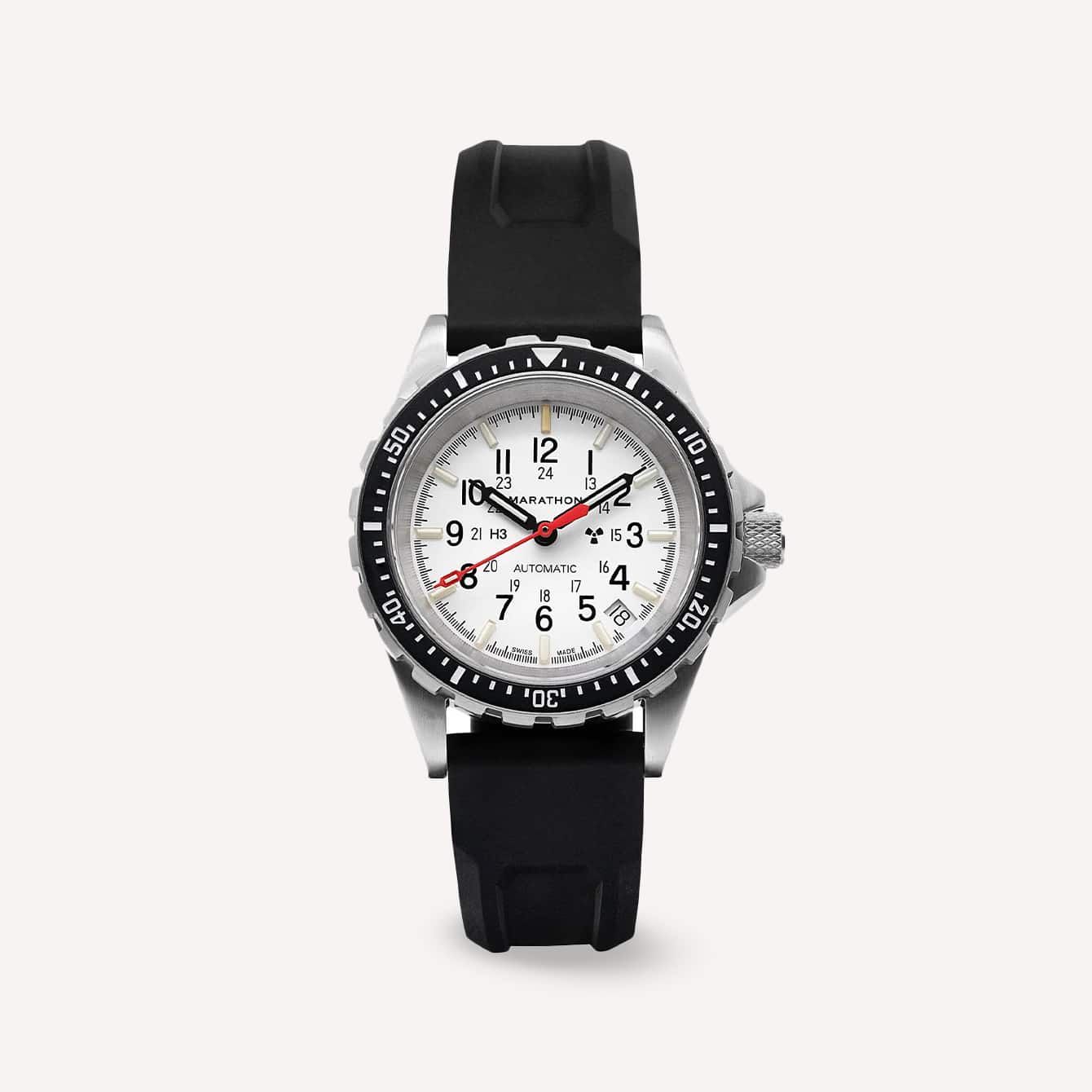 It's a feast of functions and details, but an honest piece of gear at its core. The almost pearlescent indices are applied and marked with Arabic numbers and are outfitted with Superluminova lume powered by tritium gas tubes.
This means it doesn't need light to charge and just activates when it's in the dark, and it has a 25-year life.
Thickness: 14mm
Case material: Stainless steel
Water resistance: 300m
Despite how much this watch has going on, it's pretty easy to use. The grippy knurled crown adds to this, as well as its pro-level looks.
Tag Heuer
This Tag Heuer Carrera Re-Edition is based on the 1965 Carrera and came out in the 1990s.
Still, I couldn't omit it considering it's one of the most important 36-millimeter watches in horological lore. Plus, you can find it on several secondary markets if you just dig deep though.
It has two levels of retro charm, considering it's a '90s re-edition of a '60s watch. The reasonable size and still legible sporty dial, plus the simple pushers and crown are reminiscent of the nostalgic early Carreras.
However, the heavy use of silver and frosted aesthetics is absolutely in line with the millennium-anticipatory visuals popular in the '90s.
Thickness: 13mm
Case material: Stainless steel
Water resistance: 30m
It's a timeless classic, runs on the caliber Lemania 1873, meaning it's manual winding and delightfully tactile, and a true collector's item.
FAQs
Here are some commonly asked questions when it comes to 36-millimeter watches!
Is 36 millimeters too small for a men's watch?
Absolutely not. There was a deluge of extra large watches in the '80s and into the '90s, but men's wrist watches were originally around 36 millimeters.
So even in the '80s and '90s, vintage lovers were still wearing 36-millimeter watches. Today, they're again a common size for men.
Is the 36mm Datejust a man's watch?
Just like the Day-Date and Oyster Perpetual, the 36-millimeter-sized Datejust is categorized as a unisex watch by Rolex.
Conclusion
Again, the 36-millimeter watch is, in a way, the original men's wristwatch. They're great not only because they're comfortable and fit a wide range of wrist sizes, but it wouldn't be a stretch to say the size is rooted in history.
I think that's an interesting component because one of the reasons we love watches is the history and lore behind them. That's why icons like the Explorer or the Speedmaster haven't changed much.
The best part about 36-millimeter watches is how they've come back. Though it really was only a matter of time.
Do you agree that 36mm is the most versatile watch size? Let me know in the comments!