Why in the world would you need a complete guide about how to measure your wrist size? This is pretty straightforward, right? It is, but you have to take into account several factors, including what you are measuring your wrist for. Because I just couldn't find anyone on the Internet talking about all these points in-depth, I decided to write this article for you. I hope it's helpful!
How to measure your wrist size (or circumference):
make sure the palm of your hand is facing up
open your hand (doing so will ensure you get the real size of your wrist when it's the largest)
snuggly wrap a measuring tape around your wrist
read the size on the measuring tape, preferably in inches or centimeters
This value is especially important if you are measuring your wrist size for a watch or a bracelet. If you don't have a measuring tape, you can use a simple piece of string or a sheet of paper. Read on for the full guide.
How to measure your wrist size
Use a tape measure or measuring tape. It's a kind of flexible ruler that used to measure pretty much everything you can think of. It consists of a strip of metal, plastic, or other material. For our purpose here, we'll use the type of measuring tape that used by tailors for sewing.
If you don't have one yet, this is the exact type of tailor measuring tape that I use (Amazon link).
You can read the measure in centimeters or inches, it's super cheap and gets the job done perfectly.
1. Rotate your forearm outward until your palm is facing up and open your hand
This is when your wrist is the largest.
You have to take into account this size because I guess that you are measuring your wrist to get a perfect fitting watch or bracelet (more info on this later in this article).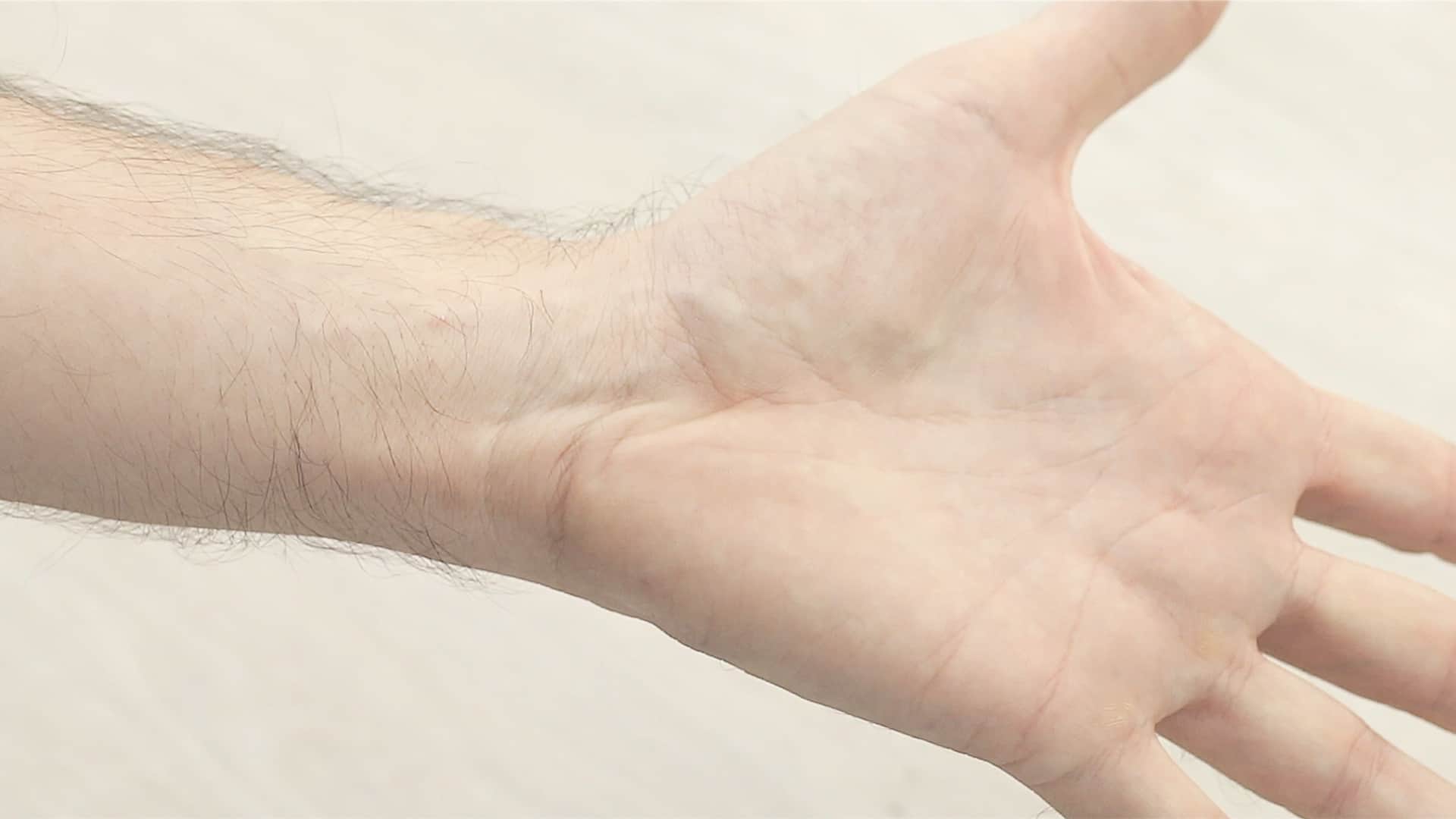 Do not rotate your wrist inward (like you would read the time on your watch) or close your hand, you will get a reading that is slightly smaller than the actual size of your wrist.
2. Place the end of the measuring tape in the middle of your wrist width
Positioning the end of the tape measure there will make it easier to take the reading afterward.
How high or low on your wrist should you place it? The exact placement may differ according to your morphology.
But most of the time, you want to put it on the line where your wrist bone is or just 1 cm or 1/2 inch higher (in the direction of your elbow). This is where your wrist is the smallest.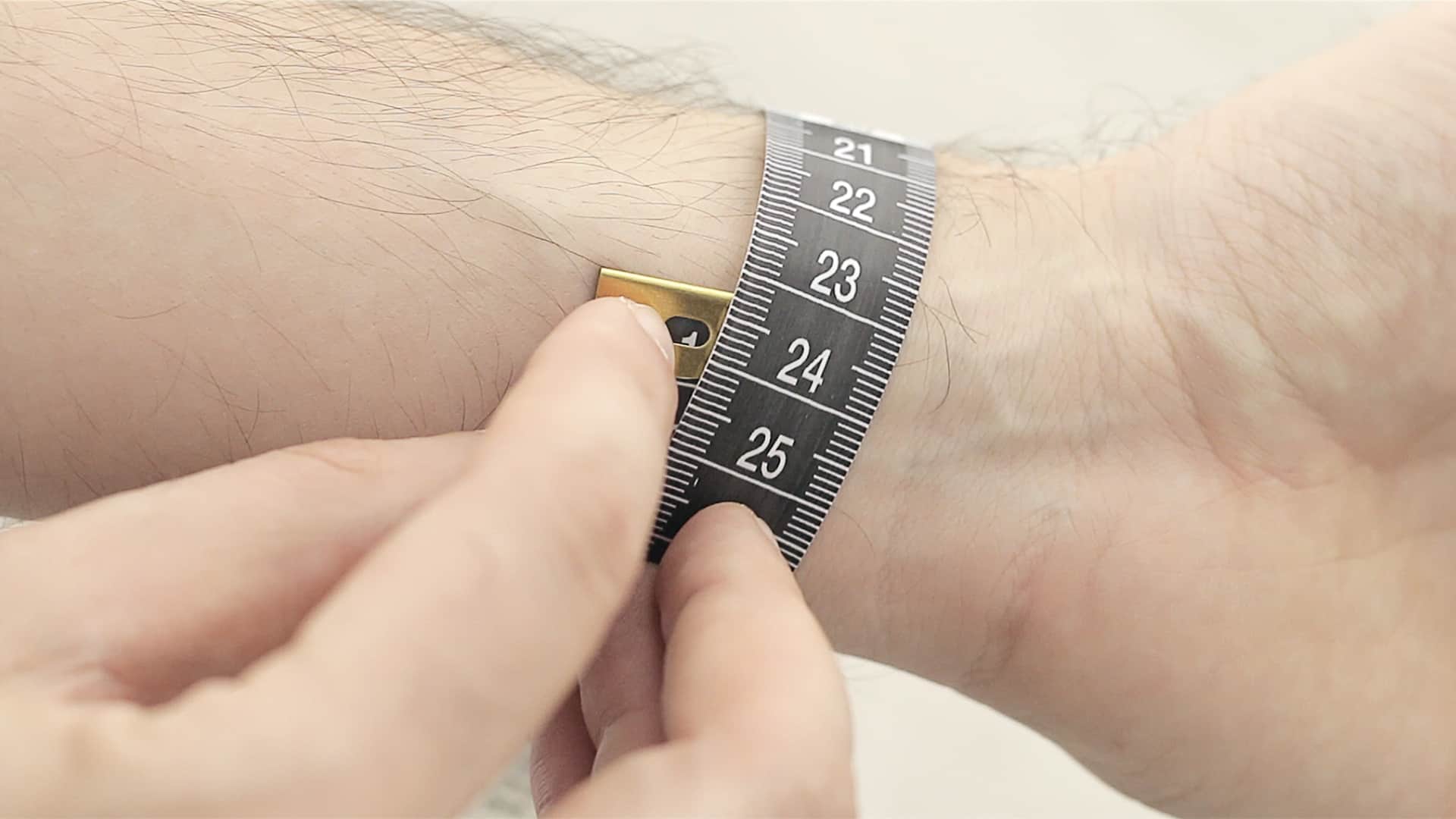 3. Wrap the measuring tape around your wrist and read the measurement
Wrap it firmly against your wrist but not too tightly.
The measurement tape should fit snugly around your wrist, with no play or space between your skin and the tape.
But the tape shouldn't be so tightly wrapped around your wrist that your skin begins to bulge.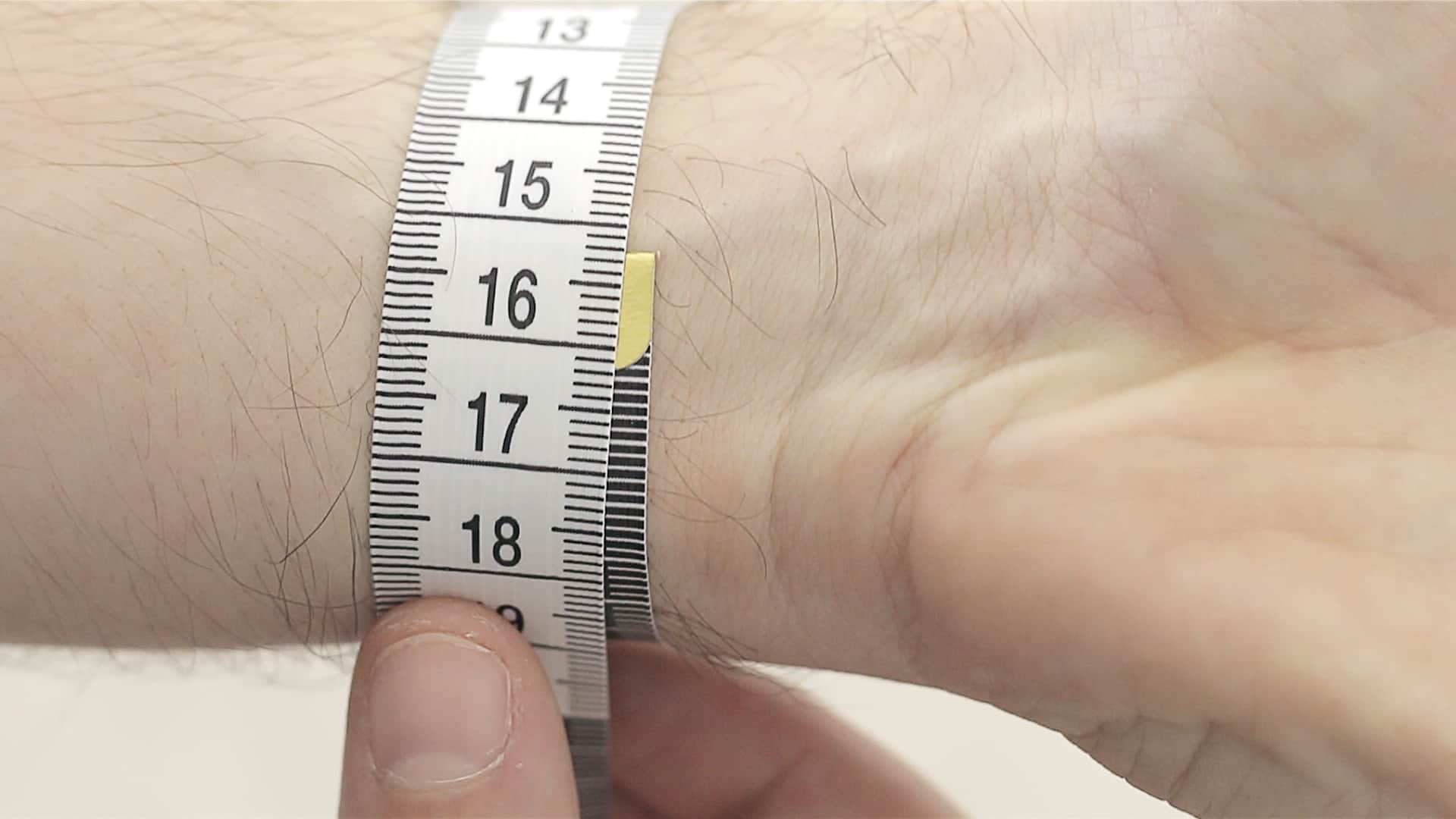 That's it, you have your wrist size!
How to measure your wrist without a measuring tape
If you do not have a measuring tape, don't panic: you can still measure your wrist size no problem.
You can use a piece string and use the exact same method as outlined on the previous point. A fabric string will be the most comfortable and give you the best reading since it's so soft and flexible.
You can also us a garden twist tie and use the same method. Just be careful and don't hurt yourself with this one!
Also, the reading might be a bit off since it's not so flexible as a measuring tape or a string.
Last but not least, you can use a sheet of paper. You will have to use the edge of the sheet, so don't cut yourself with it! Use that edge like you would use a measuring tape or a string.
The piece of paper in itself will wrap around your arm in a skewed way, but the reading you will get from the edge will be good, don't worry.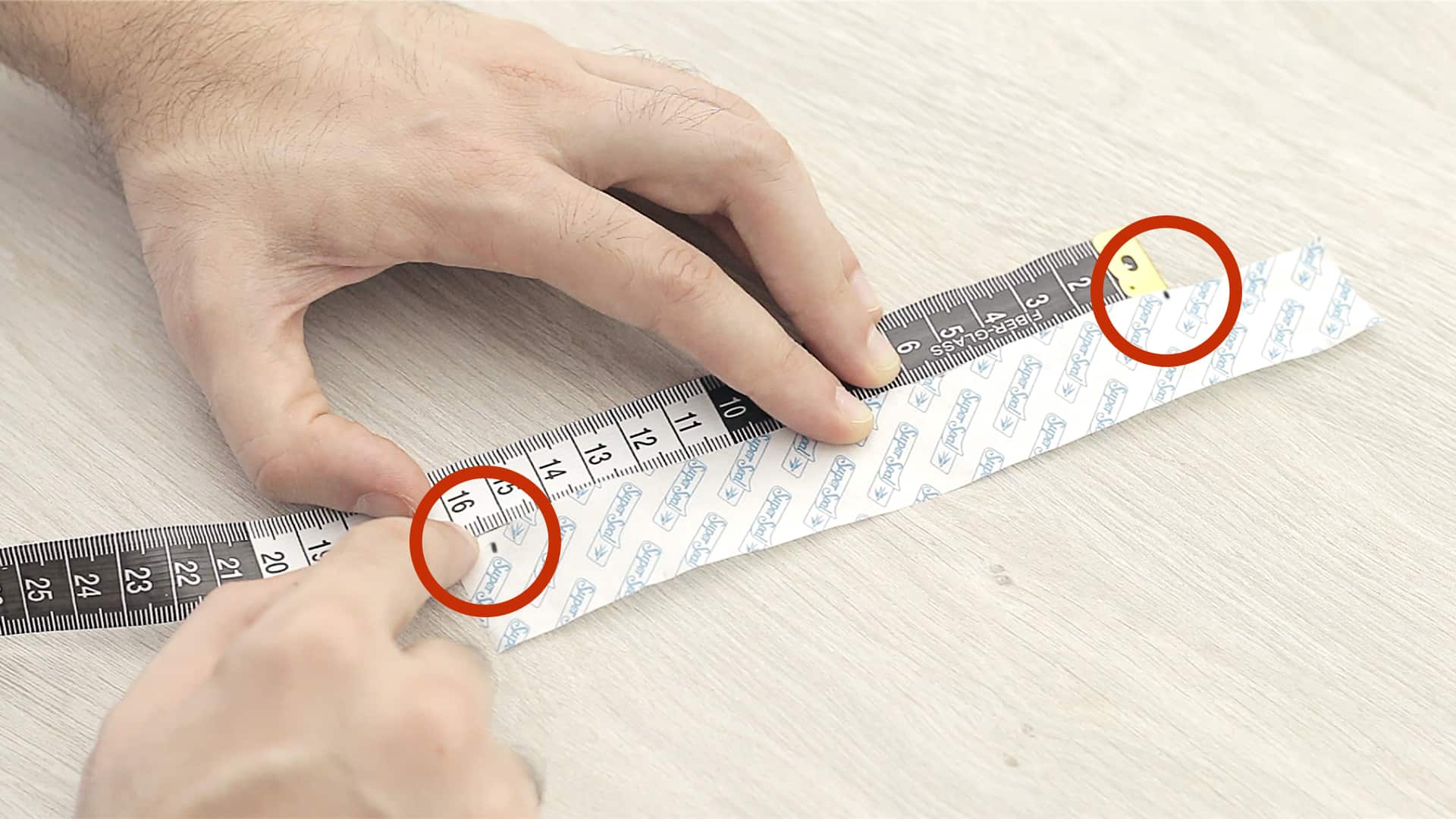 How to measure your wrist for a watch
For a metal bracelet
Most of the time, when you wear a watch with the metal bracelet, it's better if you're wearing a little bit looser.
As a matter of fact, over time, the metal bracelet will take the temperature of your body. Because of that, you will sweat a little bit too.
And this is why your wrist size will grow over the course of the day.
To account for that change in size and to be more comfortable, I would recommend making your bracelet a little bit bigger than your wrist size.
You will get a watch that doesn't fit so snuggly to your wrist that it's uncomfortable, and you will get some air flowing around your wrist as well.
Unless you do prefer a snugger fit for your bracelet: go ahead and do that.
But of course, don't make your metal bracelet so large that it falls on the base of your thumb. it just doesn't look good. Just pick the right balance between comfort and style here.
I know that a bracelet is perfectly sized for my wrist when I can fit my index finger between my wrist and the bracelet.
Now, because a metal bracelet is flexible and can really adapt to the shape of your wrist, you won't add as much to wrist size as you think.
If you want to meet some respect to fit comfortably, I would recommend you add 1 cm or approximately 1/4 to 1/2 inch to your wrist size. I found this to be the most comfortable size for a metal bracelet.
For a leather band or rubber strap
Leather and sweat don't play well together. This is why you would mostly wear a leather strap in the winter, not so much in the summer.
Rubber strap are okay all year, of course – they were made to handle water, sweat and hot temperatures after all.
Because of the way they wrap around your wrist, you want a leather band or a rubber strap to fit more snugly around your wrist.
If you don't, most of the time your watch will turn around your wrist and you will have the face of your watch under your wrist, facing down when you try to read the time.
Yet, a band or strap is not as flexible as a metal bracelet would be. And this is why you have to give your wrist a little more room. I found that adding 2 cm or 3/4 inch to your wrist size is the best dimension you can get for a leather band or rubber strap.
For a Nato strap
Nato straps are great to wear all year long, but they are of course very welcome in the hot summer temperatures.
Nato straps have a very particular way to wrap under your watch and around your wrists. As a matter of fact, there are 2 layers of strap between the watch case and your wrist.
Also, a Nato strap has to go around the spring bars, which is asking for even more room to fit properly on your wrist.
I found that adding 2.5 cm or 1 inch to your wrist size is the minimum you need to be able to wear your watch on a Nato strap.
I know it seems huge, but the path that the strap has to take around your watch case and spring bars make it imperative. You might even have to add a little more room if you prefer a looser fit.
Measure your wrist for a bracelet, band or strap – the cheatsheet!
Want an easy way to remember how much to add for every bracelet, band or strap type? Get the cheatsheet now!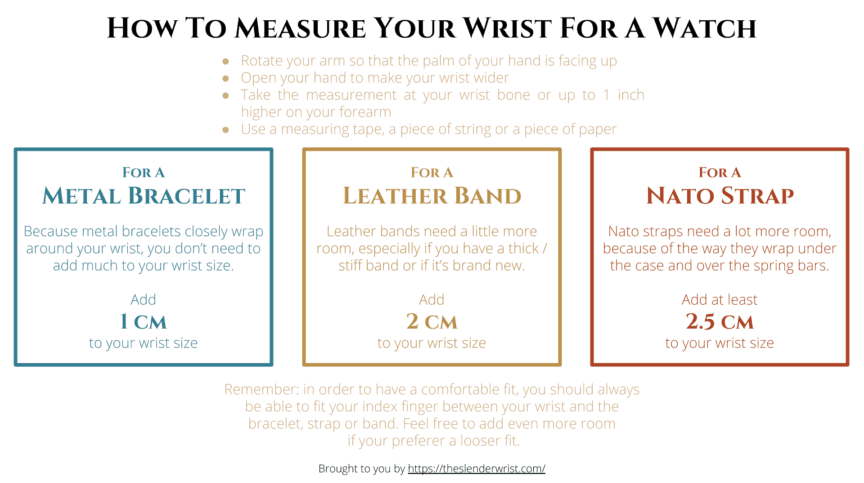 How to measure your wrist for a smartwatch or an activity tracker
Today, most activity trackers (or smart bands, like the ones from Fitbit or Mi) or smartwatches (like an Apple Watch) are equipped with sensors. Namely and most importantly: the heart rate sensor.
If you want to get the best reading for your heart rate – and I guess that's something you want, of course – you should have your smart band or smartwatch fit a little bit snug.
If you don't, you may have a wrong heart rate reading, or even worse, no reading at all.
But again, you don't want it to be so snug that it becomes uncomfortable, or even painful. This is why I recommend that you add 1.25 cm or 1/2 inch to your wrist size for a smartwatch band or activity tracker.
How to measure your wrist for a jewelry bracelets
Here, there is no hard and fast rule. The way you want your bracelets to fit will depend on your style and comfort preferences
I tend to prefer my bracelets to have a good balance between snug fit and comfort, just like a metal bracelet watch on my watch would fit.
If I have to choose between a bit snugger or a bit looser, I will go for a bit looser. But because jewelry bracelets wrap around your wrist way more than a leather band or Nato strap, you don't need that much more room.
This is true for pandora bracelets, bead bracelets, and some rope or paracord bracelets.
So simply add 1.25 cm or 1/2 inch to your wrist size and you should be good to go!