Curious about skeleton watches? Read on to learn about these interesting timepieces and the best ones you can buy.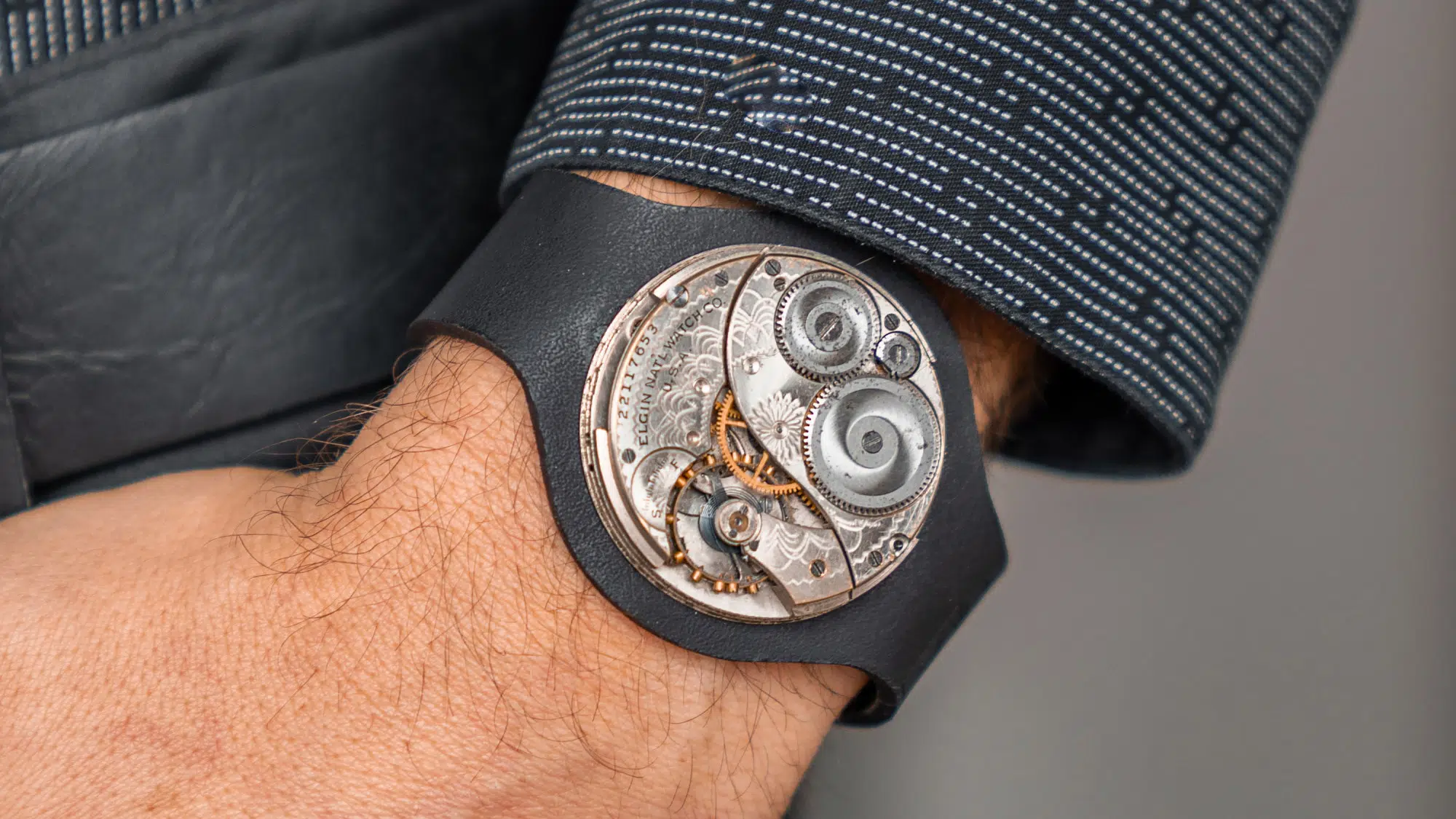 Looking at a skeleton watch, you'll immediately notice something missing — the dial. In its place is a whole lot of intricate machinery. A watch like this affords you an up-close-and-personal look at its movement, the mechanism that powers and regulates its timekeeping.
All those little pieces and parts work in concert to divide the expanse of time into hours, minutes, and seconds. The chance to see that happening every time you glance at your wrist is what lends a skeleton watch its special appeal.
There are some considerations to make before you buy one, though. First, know that you'll likely be paying a premium for a watch that's less than practical.
This is a pricey sector of the market, and, on many skeleton watches the hands can be tricky to spot over the tangle of metal beneath. It might take a few seconds to figure out what time it is.
These watches tend to run large, too. They seem to call out for attention. It's up to you whether those are bad things. It depends on your wrist size and comfort level.
Skeleton watches are easily confused with open-heart watches. Those usually have one or two cutouts in an otherwise full-dialed watch. They could be seen as a classier, or at least a less bold, alternative to skeleton watches and are great for those who are looking for a more conservative-looking watch but still wants to witness the act of timekeeping.
With all that said, let's take a look at several of the best skeleton watches money can buy. We'll be especially interested in watches that sit well on slimmer wrists.
Best Skeleton Watches Under $500
Here are some great options that won't break the bank.
Sturhling Winchester 3982
This watch is listed in Stuhrling's women's section, but its placement there is arbitrary.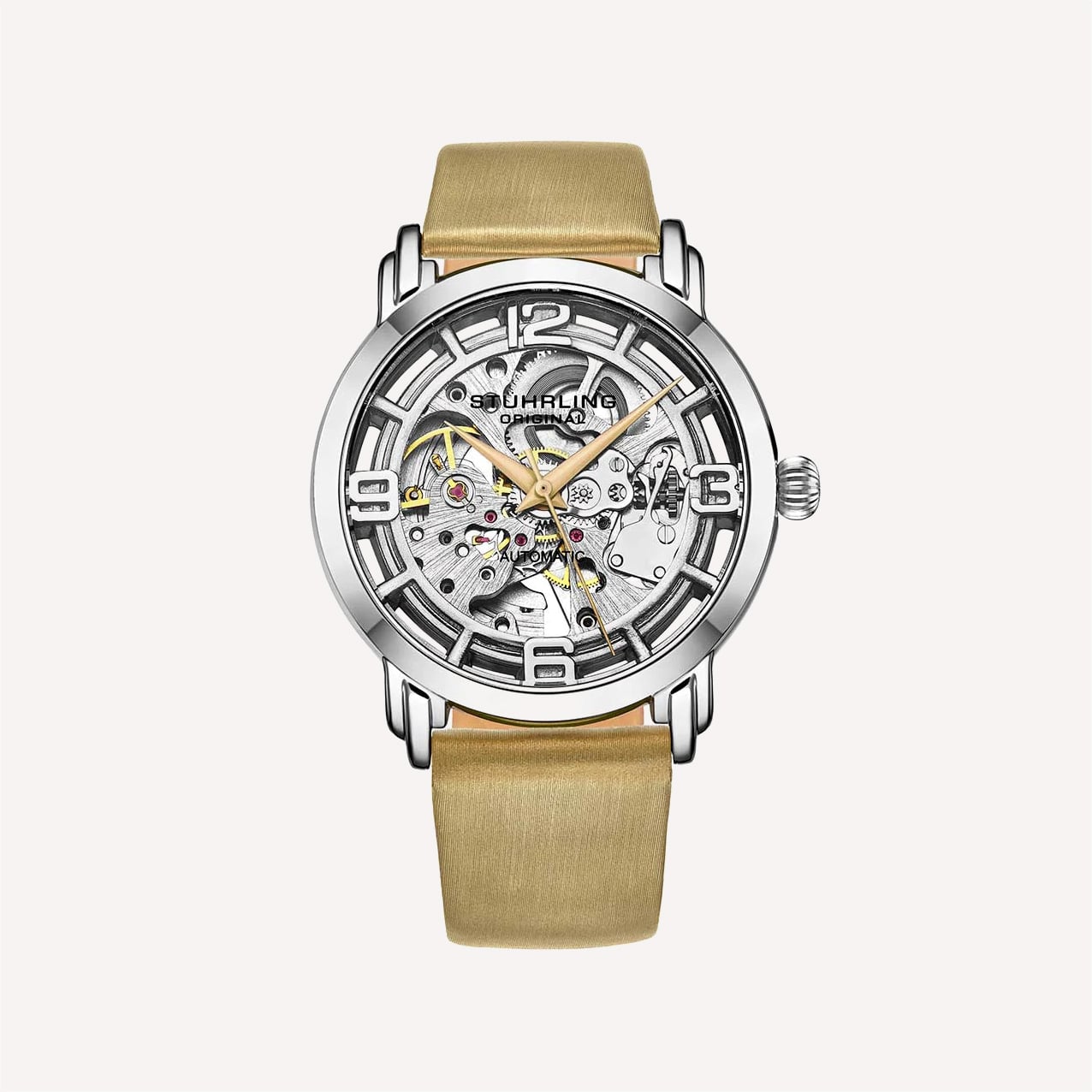 With a wearable 40mm diameter, 50 meters of water resistance, and a price that's often sub-$100, this is a solid, inexpensive choice for men and women alike.
Price: $95
Diameter: 40mm
Also, there are models available with beige, green, pink, and black handsets, leaving you to decide which color you find easiest to read over the exposed automatic movement.
Seagull Double Skeleton M182SK
This Chinese piece has the benefit of a Seagull movement, which is one of the best-looking in this price range. This one happens to be their automatic ST1602 movement.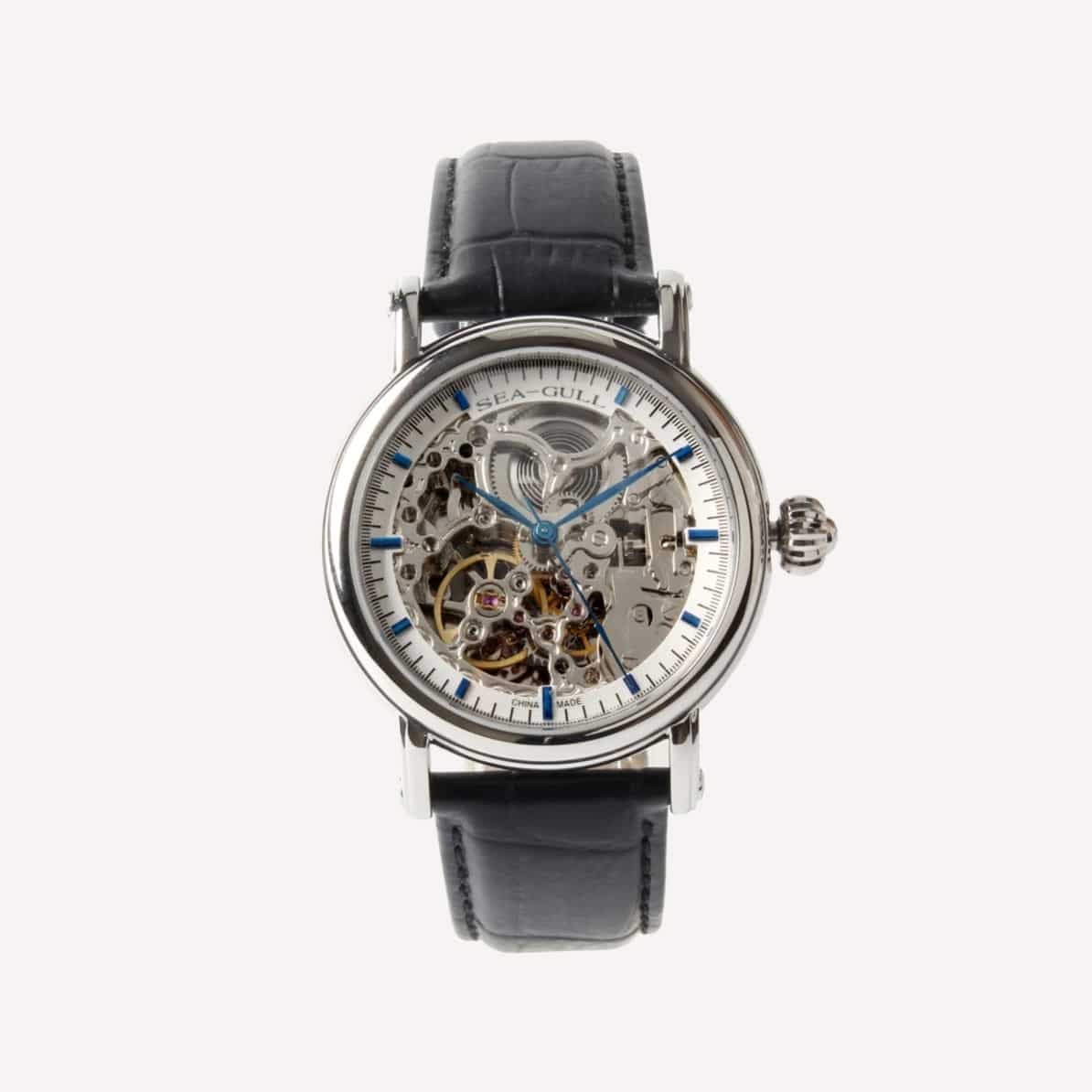 The rotor and other components visible through the exhibition caseback are particularly well-decorated, with swirling patterns that mirror the whirling, twirling aspect of the movement itself. A full chapter ring helps with legibility, as do the available blued hands, but the hands remain quite thin.
Another mark in its favor is brand reputation, which is lacking in many sub-$500 skeleton offerings.
Price: $235
Diameter: 38.5mm
This state-owned firm is China's oldest watch manufacturer and globally the top manufacturer of mechanical movements by volume. Even aficionados give their inexpensive and well-designed timepieces kudos.
Bulova Men's 96A187
On the larger side for a watch on this list, this Bulova still has a lot to offer.
Its bold, blue Roman numeral indices and wide, lumed hands separate themselves easily from the movement. It makes reading the time quite easy.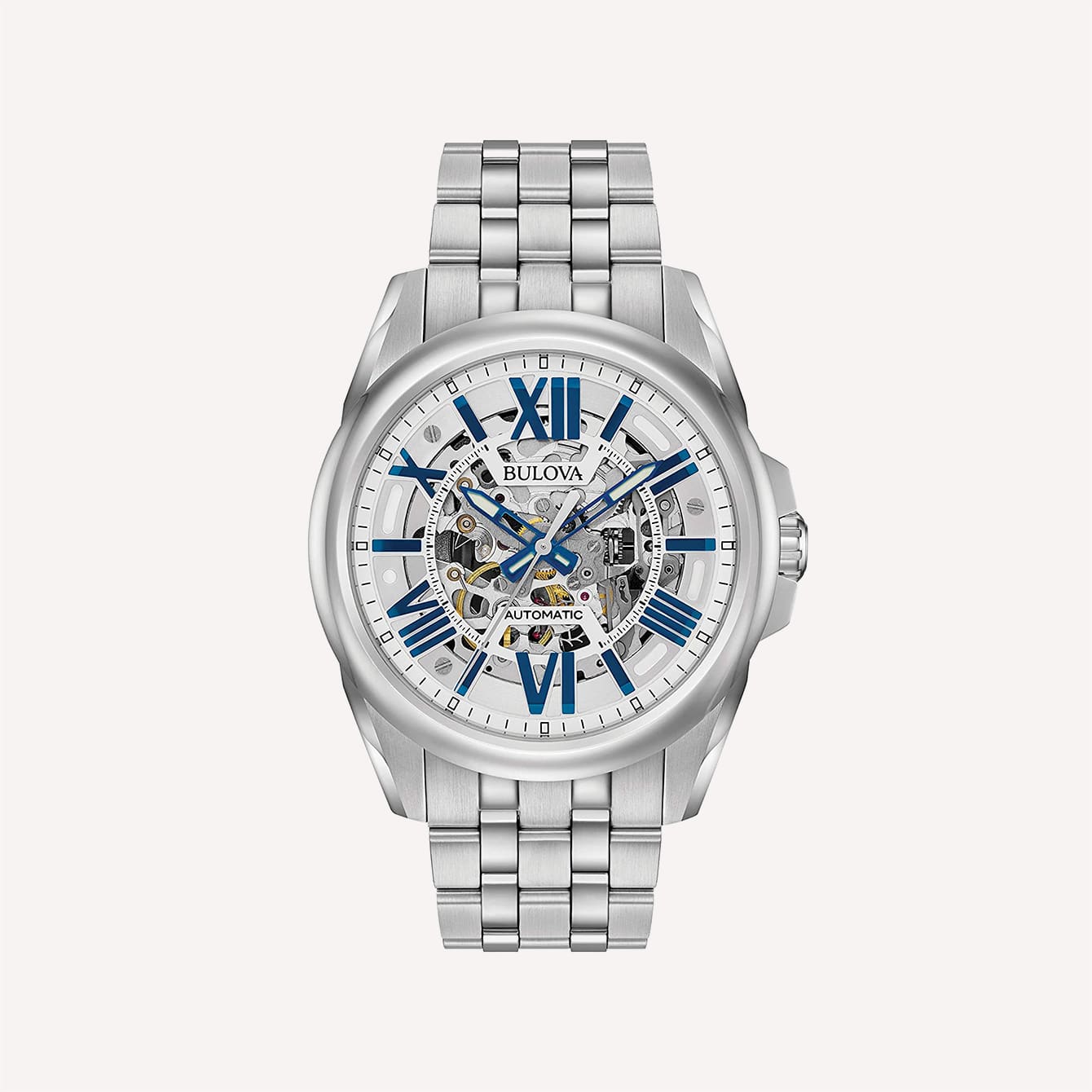 Later on this list, there's an over $1,000 watch I give a lot of credit for a very similar approach but here it is on a $319 Bulova.
A particularly unique touch to this dial is the mixture of flathead screws and bubbly white blobs punctuating the indices.
But it's not all about the design here. This watch has an impressive 100 meters of water resistance, which isn't seen often on skeletons of any price.
Price: $319
Diameter: 43mm
It's powered by an automatic movement that's pre-skeletonized by the manufacturer, Miyota, and can run for about 42 hours.
Best Skeleton Watches Under $1000
If you're willing to spend a little more on a skeleton watch, this is a good option.
Hamilton Jazzmaster Viewmatic Skeleton Gent Auto H42555751
What you can see beneath the sapphire crystal on this skeletonized offering from Hamilton is well-composed and downright spiffy (and I don't think it's just because it has "Gent" in the name).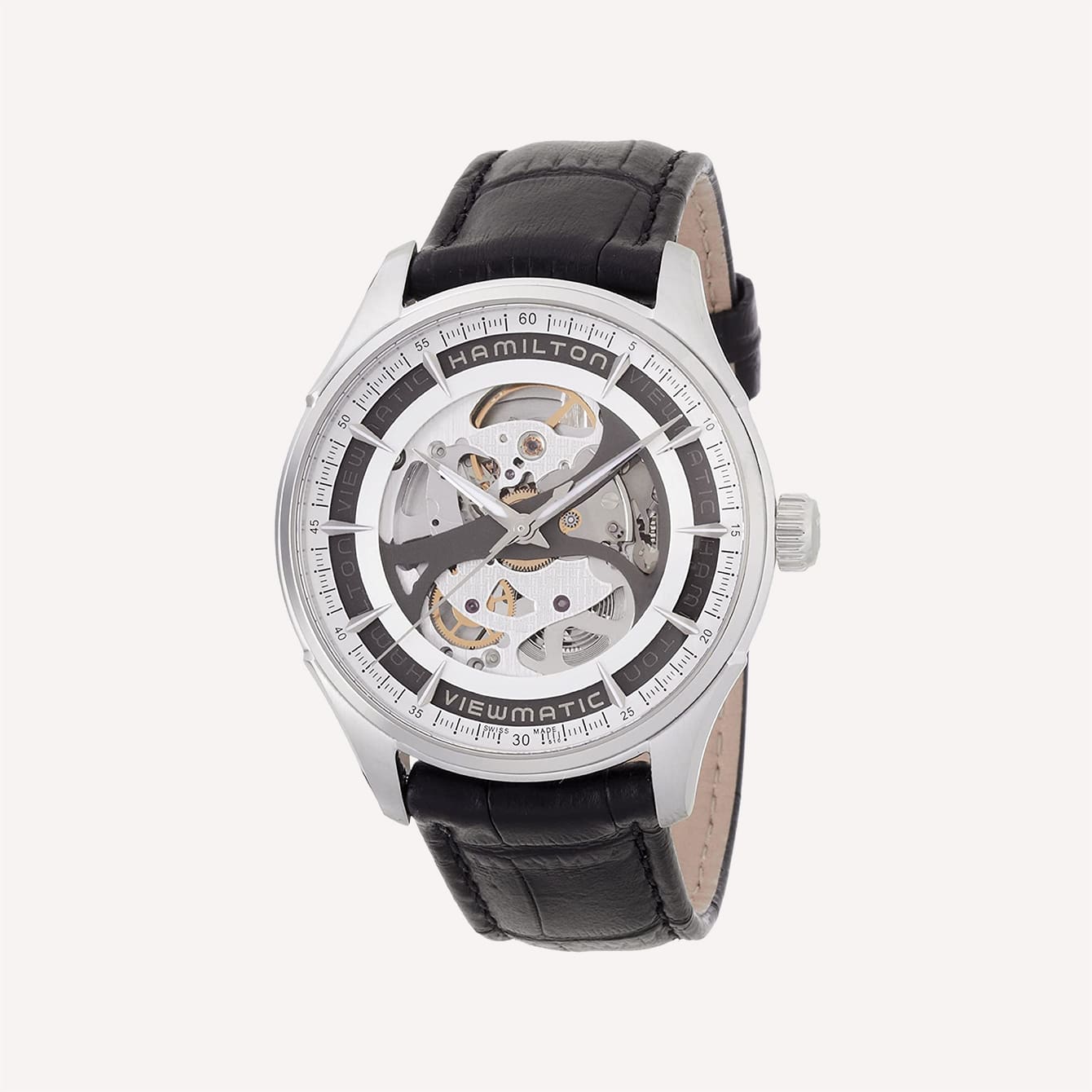 There's a tightness and density to the overall presentation that comes from the finely demarcated chapter ring and the circular repetitions of "Hamilton Viewmatic" running under the indices.
A gray bridge cuts across and curves over the movement, tying the dark outer ring into the metallic tones of the movement.
Many of the components are decorated with a distinctive H-shaped pattern, echoing the manufacturer's name and giving this watch its own flair. Not to mention the bevels where the lugs meet the side of the case, which add some body to it and give off an extra bit of eye candy when the light catches them.
Price: $799.99
Diameter: 40mm
Bringing function to the form is a semi-skeletonized rendition of the company's H-10 movement, which boasts an 80-hour power reserve.
Best Luxury Skeleton Watches
If price isn't a concern for you, these luxury skeleton watches are worth checking out.
Tissot T-Complication Squelette Mechanical
Coming in at the more affordable end of our luxury picks is this piece from Swiss watchmaker Tissot.
The workhorse ETA movement is purely hand-wind and has a 46-hour power reserve.
It also makes a strong impression on the eyes, coming across as an industrial layering of wide and clean metal planes.
A subdial for counting the seconds seems to hang suspended in the air at 9 o'clock.
Often, skeleton watch hands seem stuck in the realm of the dainty, matching the intricate workings beneath. But huge, bold hands make reading this watch a breeze.
Their intense contrast with the movement lends this watch a unique look, and the hands can even be seen in the dark thanks to lume.
Price: $1,329.99
Diameter: 43mm
Lugs with bulging outer edges, indices that protrude from the chapter ring, and a crown with slanted grips and a raised center bearing the company's "T" are other design touches that set this watch apart.
Rado True Square Open Heart
With this automatic skeleton watch, it's as much about the visual context surrounding the movement as it is the movement itself.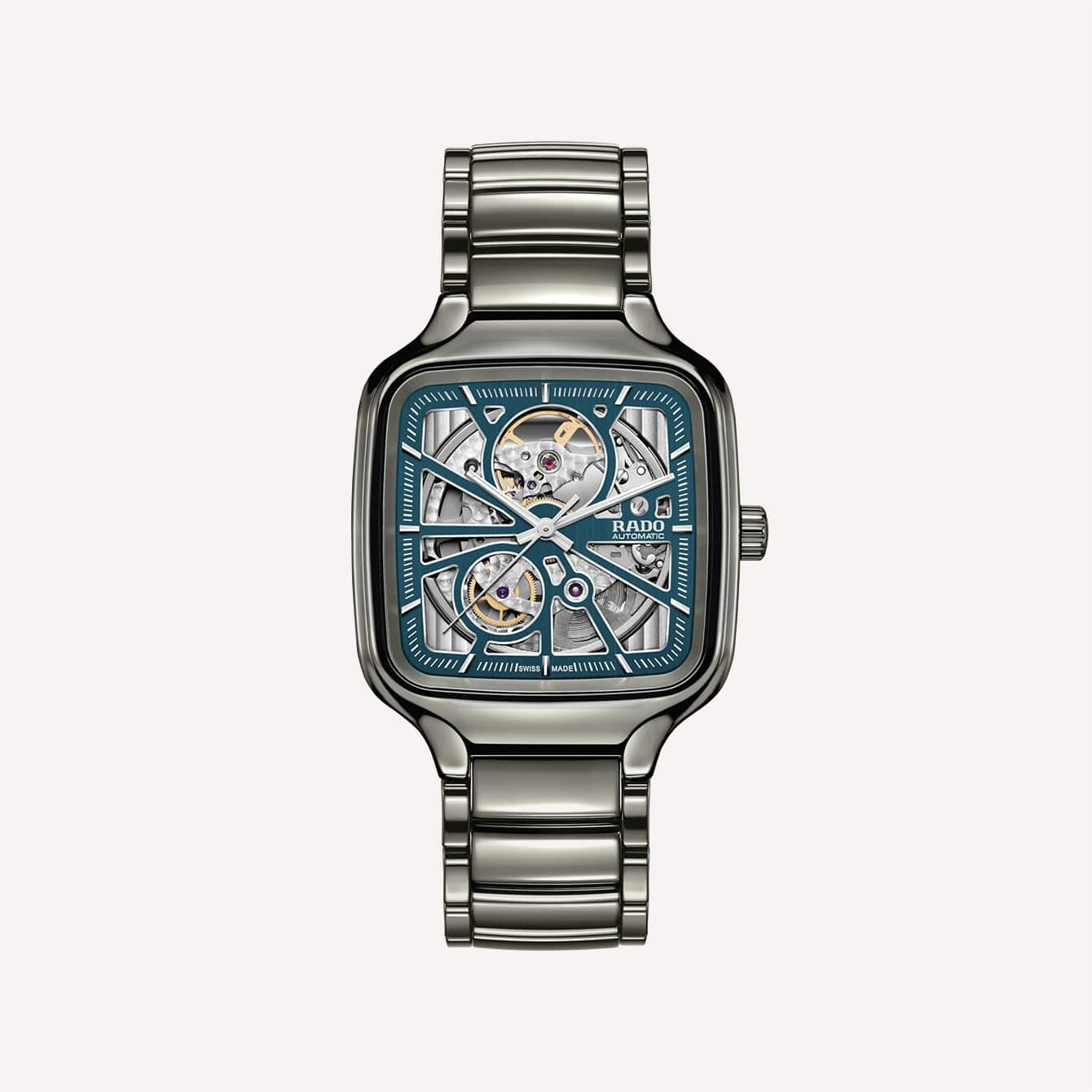 The dial forms a web of bridges that draw your eye into the caliber, with circular cutaways spotlighting the balance, a wheel, and a jewel bearing.
The case and integrated bracelet are fashioned from ceramic in an injection-molding process that creates a lightweight and scratch-resistant product.
Price: $2,550
Diameter: 38mm
You have four interesting colorways to choose from: black-and-yellow, black-and-white, dusty blue, and white-and-tan with diamond indices.
Oris Artelier Skeleton
Some will say no skeleton watch can be described as understated. But it's on this classy piece from Oris that you'll find one of the more moderate watches that remains a bona fide skeleton (and a gorgeous one at that).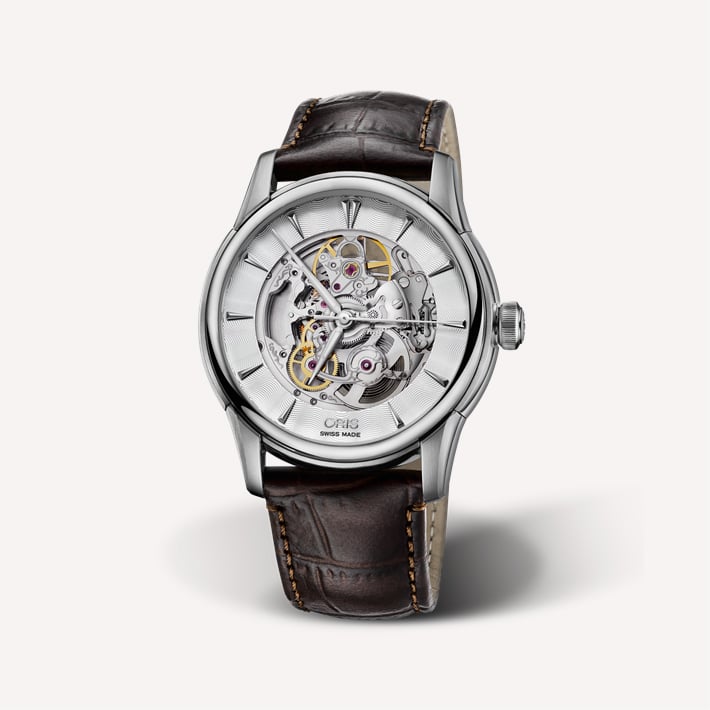 The entrancing silver guilloche swirls on the chapter ring are one of the nicest-looking decorations on this list.
The well-proportioned handset reaches far across the dial, with the minute hand reaching nearly to the bezel. Super-LumiNova C3 lights up the hands for taking the time in the dark.
Pointy indices taper toward the open core of the dial, which shows off a standard automatic movement from Sellita, skeletonized by Oris.
Price: $2,600
Diameter: 40mm
It features a 38-hour power reserve, and it hacks, or stops, the seconds hand when you pull out the crown, letting you set the time precisely.
Zenith DEFY Classic Black Ceramic
This offering from Zenith seems to stand at an interesting crossroad: it's sporty on the one hand, and almost dressy on the other. It's capable and robust but also nearly monotone and fairly low-key.
The black ceramic case is scratch-resistant and light. It's modestly sized, too, with a 9.45 mm thickness that should slide easily under most cuffs.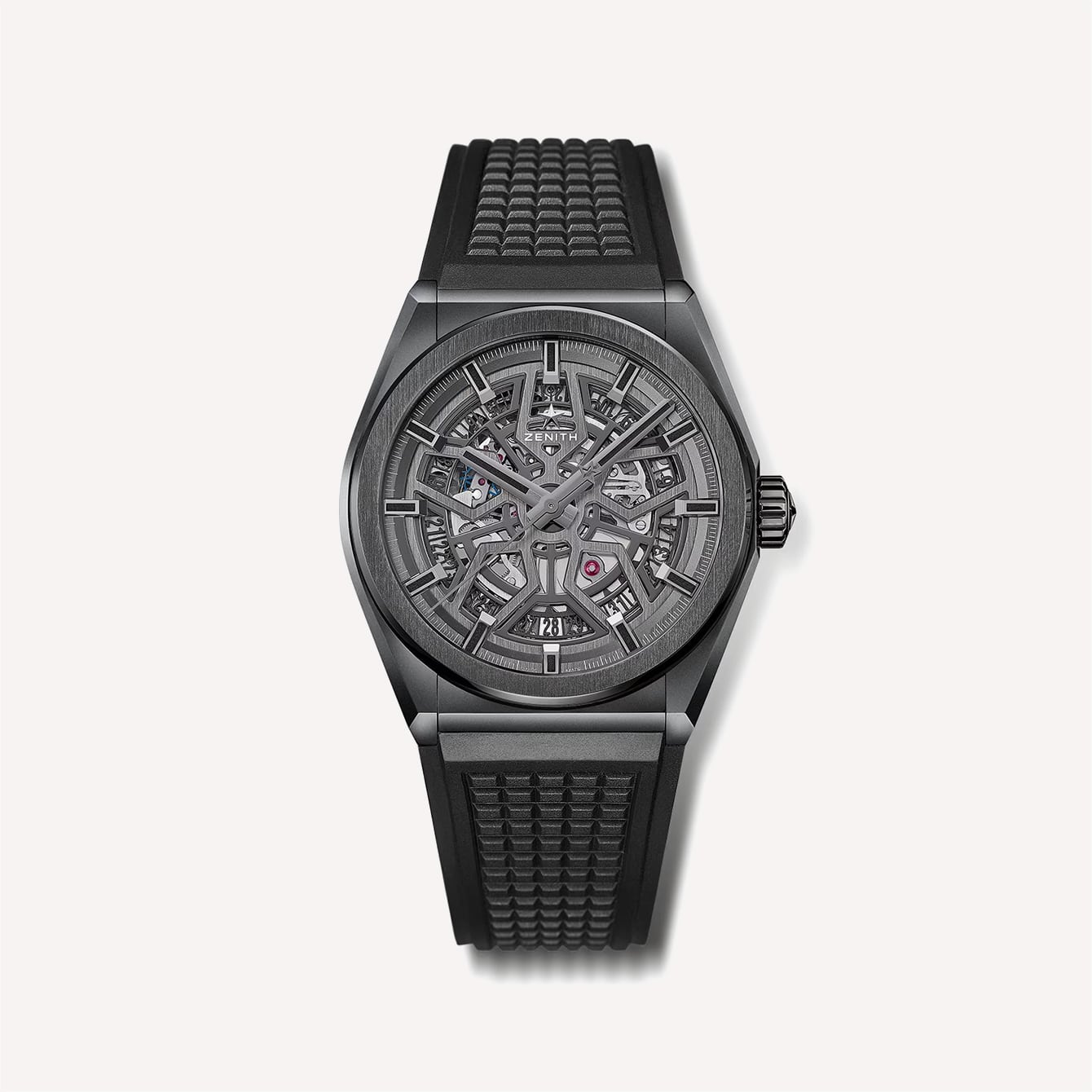 This watch doesn't have a screw-down crown, but still touts 100 meters of water resistance.
Design-wise, the date complication is perhaps the coolest thing on this dial. Skeleton watches tend to forego date wheels because they take up a lot of visual real estate without adding much interest. Zenith has solved that problem with a date wheel that forms a ring around the entire movement.
The current date is at 6 o'clock, with other dates serving as a bit of an ever-changing visual texture around the rest of the dial.
Zenith uses its five-pointed star motif to great effect on this and other similar watches. It's present above the logo and as a counterbalance on the second hand. But most strikingly, a star nearly as big as the dial itself is attached to the rotor visible through the caseback.
Price: $5,835
Diameter: 41mm
You might find it harder to admire Zenith's in-house automatic movement through this dial than on other skeletons. Much of it is obscured by the pattern of five black forks spreading from the center out to the chapter ring, but it's something special about this watch that some will like and others won't.
Audemars Piguet Royal Oak Double Balance Wheel Openworked
This massive leap in craftsmanship, and price, comes from the Swiss firm that brought the world its first skeletonized pocket watch in the early 20th century.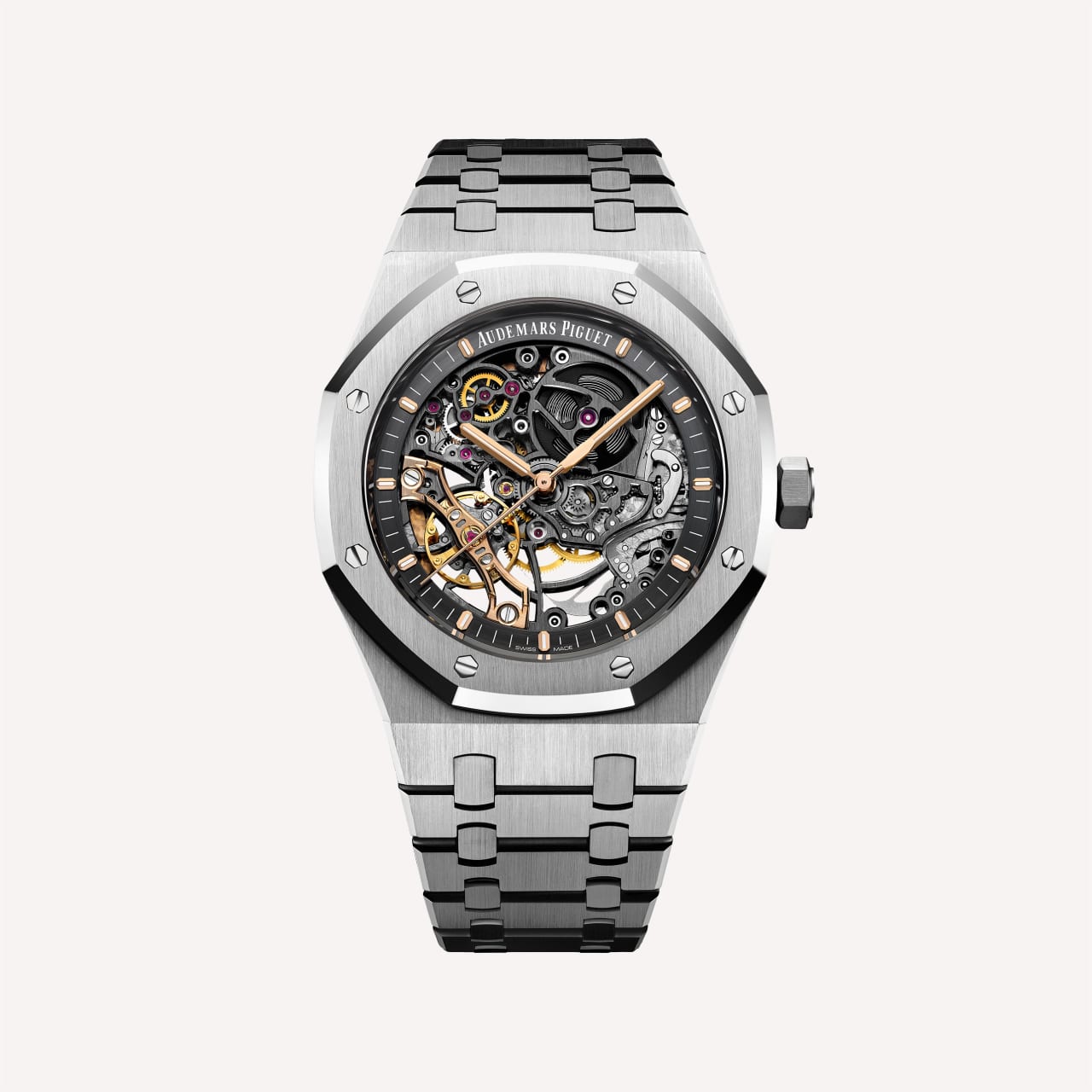 The movement on this variant of AP's iconic Royal Oak features two parallel balance wheels, one visible through the front crystal and the other through the caseback. According to AP's website, this technique stabilizes the wheels and enhances precision.
It's a visually striking caliber, with its namesake balance wheels popping out in gold against the stark blacks and grays. The Royal Oak handset pops, too, helping with readability.
Price: $70,500
Diameter: 41mm
And here's the kicker: Every nook and cranny of the movement is hand-finished, so you can admire not just its engineering but also the manual labor that went into making it beautiful.
Frequently Asked Questions About Skeleton Watches
Here are the answers to some FAQs about skeleton watches.
What Are Skeleton Watches Called?
Several different-but-similar terms get thrown around when talking about skeleton watches.
The process of "skeletonization" is the removal of any extra metal in the movement to give a clear view of all its parts. Movements in these watches can be more or less skeletonized, though, so some people prefer the name "open-dial," "open-face," or "open-worked." However, "skeleton watch" seems to be the crowd favorite.
What's the Difference Between Skeleton Watches and Open-heart Watches?
Open-heart watches stand at the intersection of skeleton and full-dial watches. Most often, they'll have a single cutout showing the balance wheel, as that's one of the biggest pieces of the movement and its rhythmic motion is like that of a heart.
High-end open-heart watches will sometimes show off a tourbillon, an eye-catching complication that rotates the balance wheel.
Why Are Skeleton Watches Popular?
To hobbyists, the appeal is that you get an easy glimpse of horology at work.
For a certain crowd, that's what watches are all about — the mechanics of timekeeping and the engineering wizardry that goes into doing it better. If you're into that side of the business, it's only natural you'd want the least obstructed view of it you can get.
From a non-enthusiast perspective, skeleton watches are fun to look at and make for an interesting bit of show-and-tell. Also, they instantly stand out as not just another watch, making these reliable statement pieces.
Why Are Skeleton Watches Expensive?
If a movement is tucked away between a dial and caseback, it doesn't matter what it looks like. But once it has to be chipped away at and beautified for display, you're paying for a lot more than just a watch.
When the prices get into the tens of thousands, you start to see movements that have been finished and skeletonized by hand, such as those by Audemars Piguet.
Can a Skeleton Watch Be a Dress Watch?
Dress watches are traditionally thought of as small and elegant, if not understated, but skeleton watches are attention-drawing by nature and seldom much smaller than 40mm in diameter.
Times change, however. Less people wear watches now, and many watches look "dressy" compared to an empty wrist. Also, skeleton watches don't have to be very flashy. The key is finding one you feel comfortable being seen wearing on more formal occasions.
Are Skeleton Watches Delicate?
The core idea behind skeleton watches is to get away with using the least material possible, which doesn't exactly lend itself to a rugged final product.
The customarily thin bezels on these watches don't inspire much confidence, and hollowing out metal components can only make them more fragile. Many of these watches come with swimmable water resistance, but there are better timepieces for knocking around.
Which Skeleton Watch Will You Choose?
If you're looking to add another watch to your growing collection, consider a skeleton watch.
If you have any questions that we didn't cover, feel free to leave a comment.
Questions? Comments? Leave them below!