Looking for a military-style watch suitable for small wrists? We've got you covered! Read on to see the best field watches for small wrists.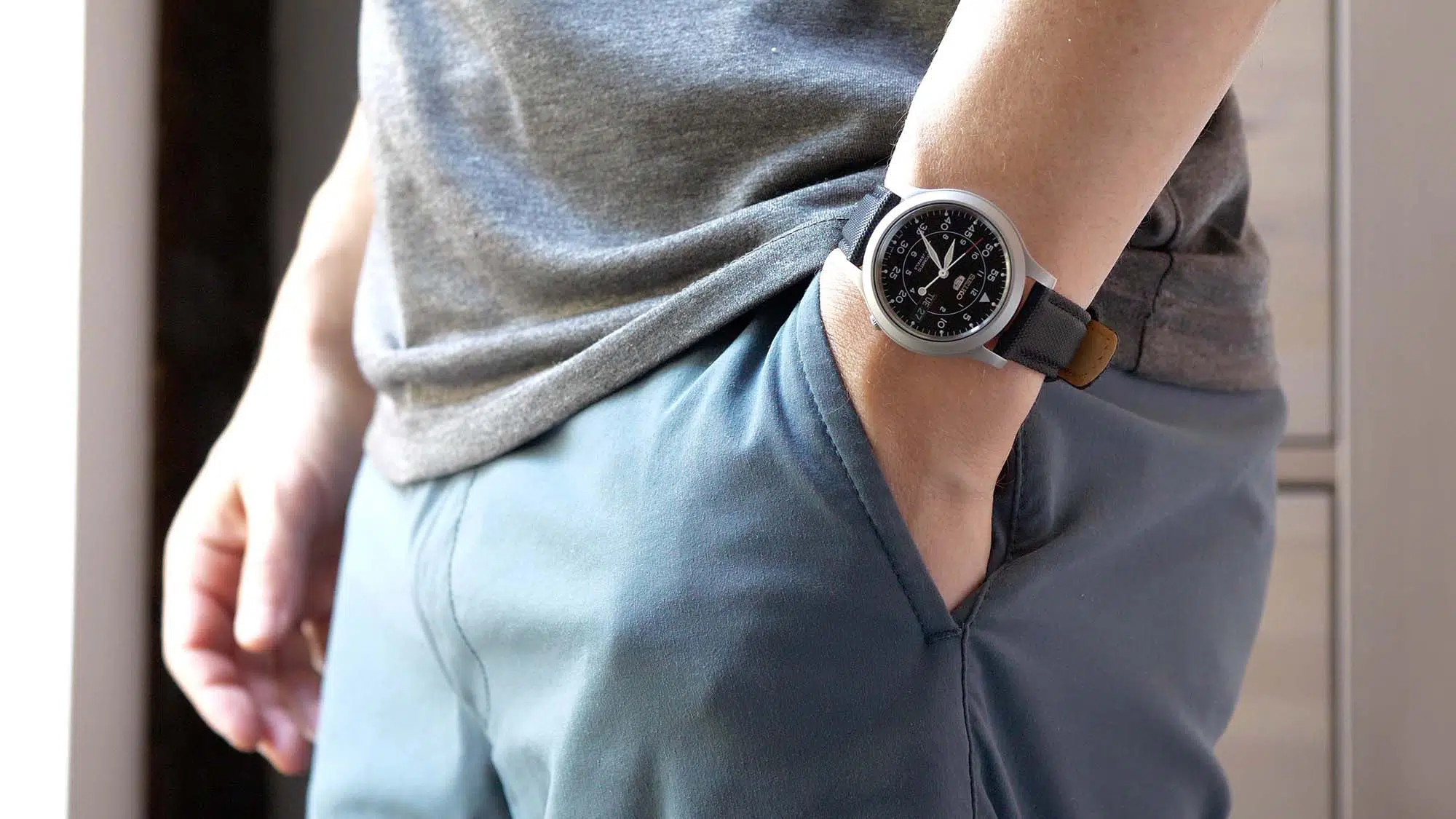 A lot of excellent pieces of men's fashions have come from the military. There's desert boots, trench coats, and of course, the ubiquitous field watch.
No surprise here. When an accessory is useful, it becomes popular, and from there, fashionable. Even today though, modern field watches retain the robustness and reliability that made them so important.
That being the case, they're often worthwhile buys at every price point. They're well-built and classic, and even though we don't need wristwatches to tell time anymore, the military history of field watches make them fun to buy, wear, and show off.
Since a lot of army-inspired timepieces are retro throwbacks, they're a great genre for us small-wristed guys. They harken back to a time when watches were reasonably sized, only today we can get them with modern horological creature comforts.
Small Field Watches for Men
Here they are, 15 field watches all under 40mm, with just one exception.
Bulova Hack
The Bulova Hack sports a delightfully retro look, and is adorned with charmingly distinct details. The ivory dial is accented with that green shade associated with lume.
That you don't have to turn the light off to see that color is playfully self aware. Meanwhile, the cathedral-esque hands and the index font have an illustration-like quality to it because of the black lines.
Aesthetically, the Hack is a lot of fun, but is still a true adult man's timepiece that follows a classic template.
Easily found in the $200 range, you get a lot of bang for your buck with this watch (which is why it's one of my personal favorites). This includes a 21-jewel automatic movement with a 42-hour power reserve, and classic American heritage.
Yes, Bulova is now owned by Citizen, but this design takes its cue from the original archives.
Dimensions: 38mm diameter, 13.45mm thickness
Case material: Stainless steel
Water resistance: 30m
Momentum Atlas 36mm
The Momentum Atlas brings a premium and practical experience onto the wrist of the everyman, in an aesthetically and economically accessible package.
It follows an authentic military tradition by going for quality and function over spectacle. In doing so however, we get a watch that's as subtly impressive as it is handsome.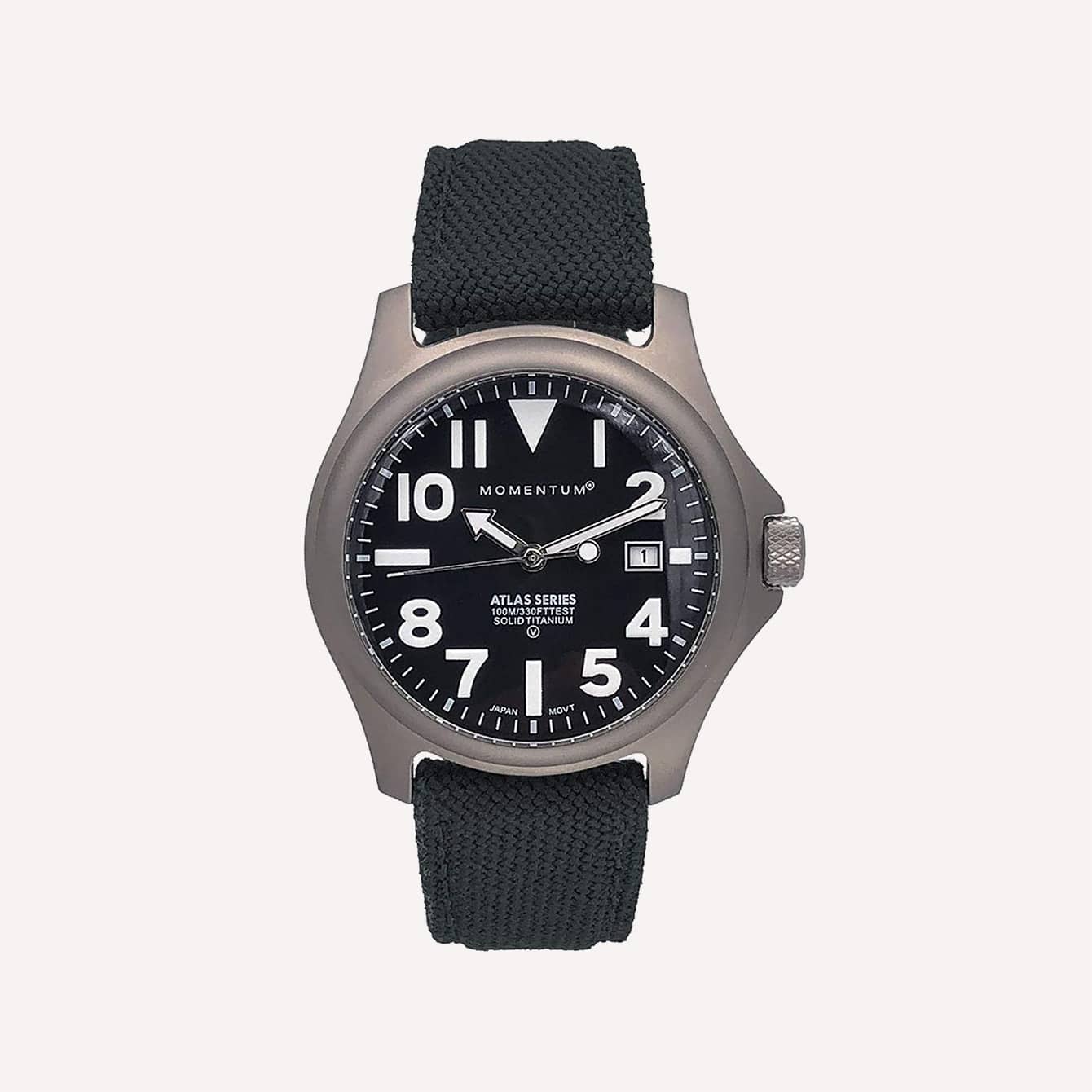 For example, it's not often you get a quartz timepiece with a sapphire crystal, at least not outside of the field watch genre.
Sapphire is considered high-end, usually saved for more "desirable" automatic watches. With the Momentum Atlas though, features are chosen based on how well they function.
Quartz is more accurate than an automatic, while sapphire is the most scratch-resistant dial protector. Meanwhile, the titanium case is lighter and stronger than a stainless steel case would be.
Dimensions: 36mm diameter, 10mm thickness
Case material: Titanium
Water resistance: 100m
Rolex Explorer I
The Rolex Explorer I is one of the crown's most understated offerings, both in design and size. Because of that though, it's a great option for first-time Rolex wearers who want to look like they've been wearing the brand all along.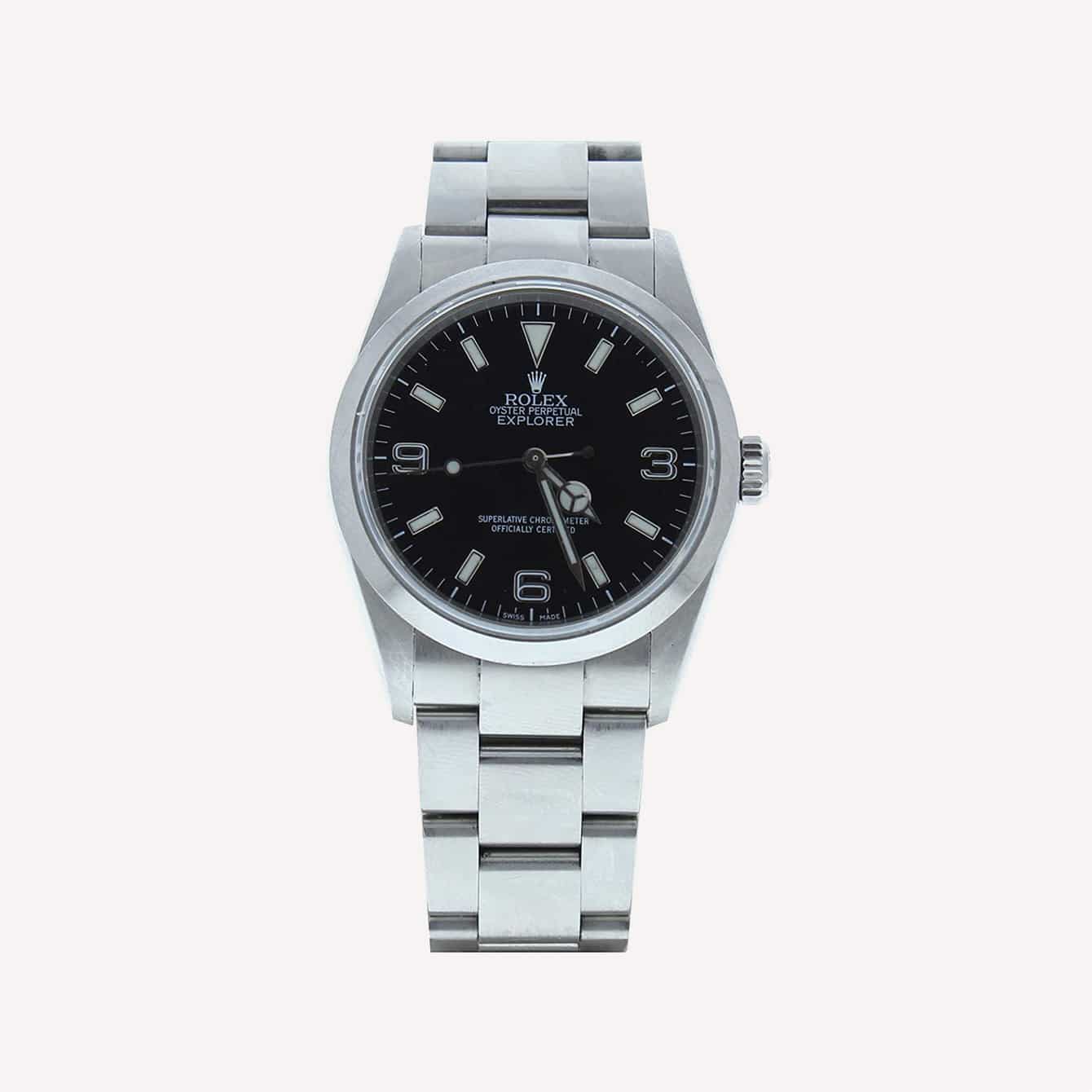 Basically, the Explorer I is a good way to join this exclusive club without making a big announcement. It still checks all of the boxes you want from a Rolex, including a streamlined and sleek design, the iconic Mercedes hands, and superior COSC function.
It also gets points for versatility, capable of being worn extremely casually or with a straight-up tuxedo.
Dimensions: 36mm diameter, 11mm thickness
Case material: 904L stainless steel aka Oystersteel
Water resistance: 100m
C3 | Korean Field USA Quartz 36mm
Another function-focused timepiece with a quartz/sapphire combination, the C3 Korean Field is a design-accurate homage to the watches worn by the military during the Korean War.
The movement is American built, and the Horween leather strap is American tanned. It also comes in a classic stainless steel bracelet and a durable nylon.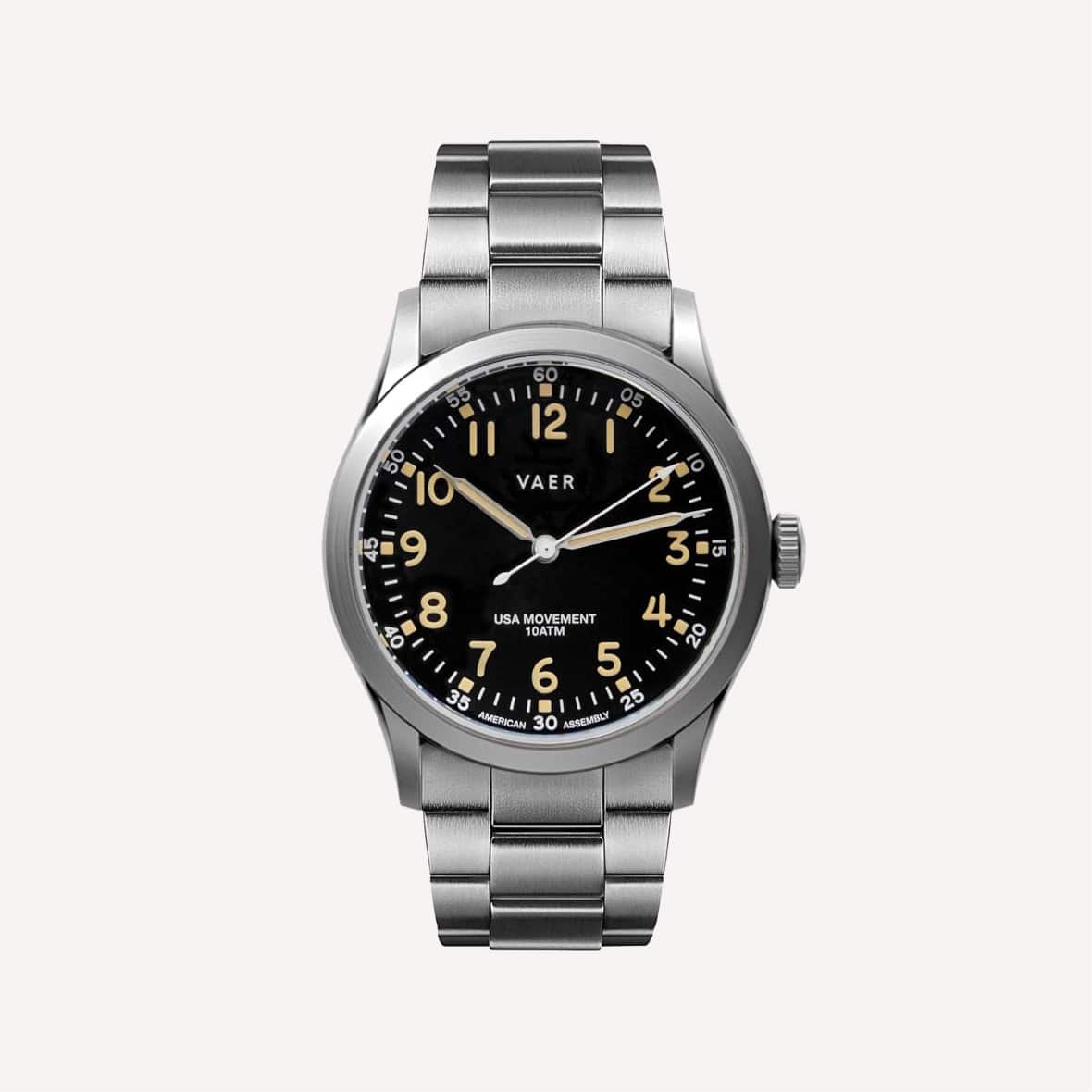 The black-dial-tan-indices palette is sort of like the equivalent of a "pre-distressed" aesthetic in the watch world. It's reminiscent of vintage watches, makes the dial look pre-loved, and adds both legibility and charm.
This is especially so when paired with the quintessential DIN font and the dynamic syringe hands.
Dimensions: 36mm diameter, 8.4mm thickness
Case material: Stainless Steel
Water resistance: 100m
Victorinox Alliance
Victorinox makes durable and slick field watches. We're going to cover the ladies' versions of the next two Victorinox timepieces, which are aesthetically close to the men's, but smaller.
If your wrist can accommodate the 40mm Alliance, which is as small as the men's versions get, go for it!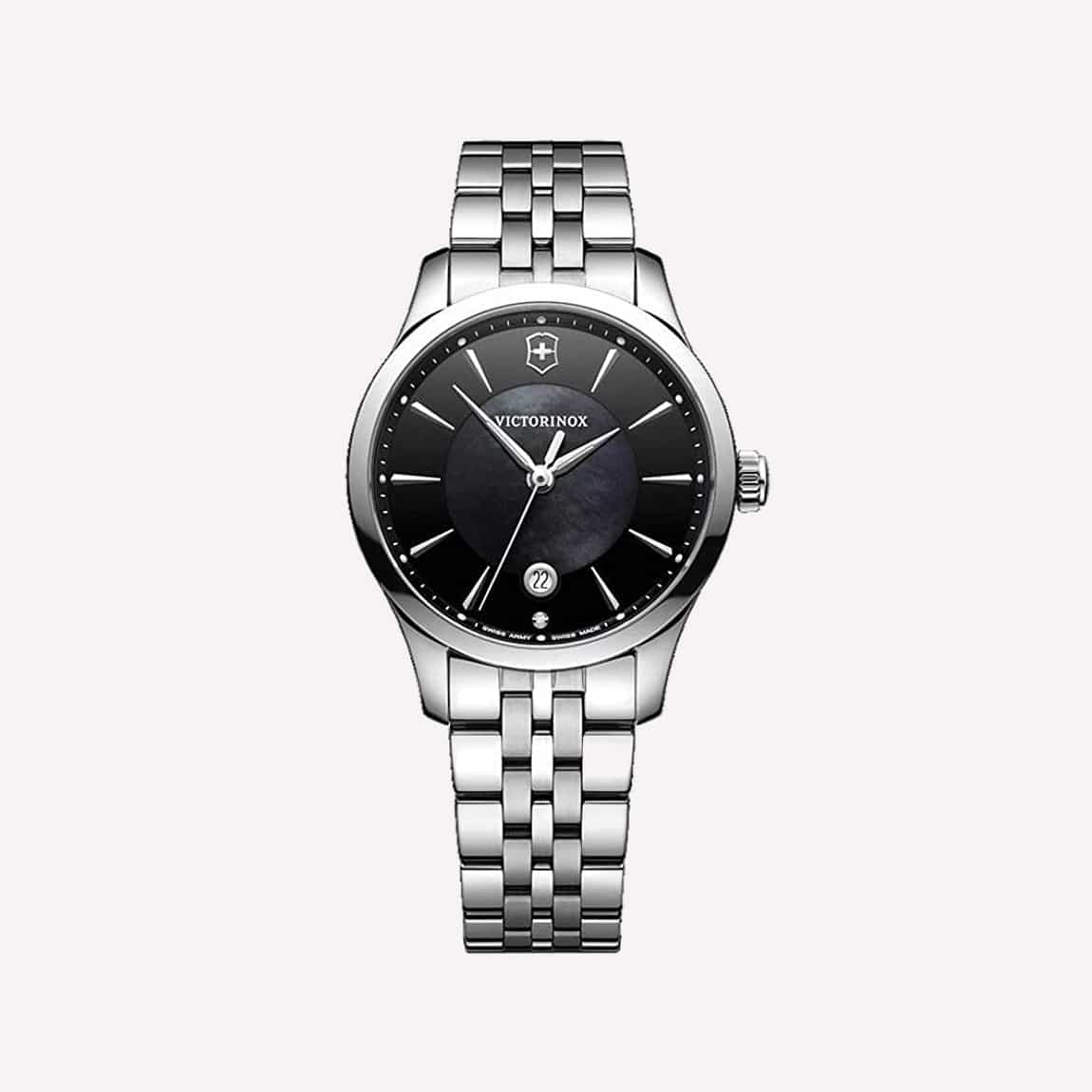 The Alliance is as tough as any military timepiece out there, but is impeccably crafted. The black outer track represents the night sky, while the center dial is an exclusive mother-of-pearl that represents the moon.
There's even a glistening stone in orbit below the date. Like the Explorer I, this equally as versatile timepiece can be dressed down or up. It just has a little more tasteful pizazz to it.
Dimensions: 35mm diameter, 8mm thickness
Case material: Stainless Steel
Water resistance: 100m
Victorinox INOX
A staple in the army watch world, the Victorinox boasts high-performance, durability, and a solid heritage. This model is known for surviving 130 durability tests, so it can literally be worn on the field.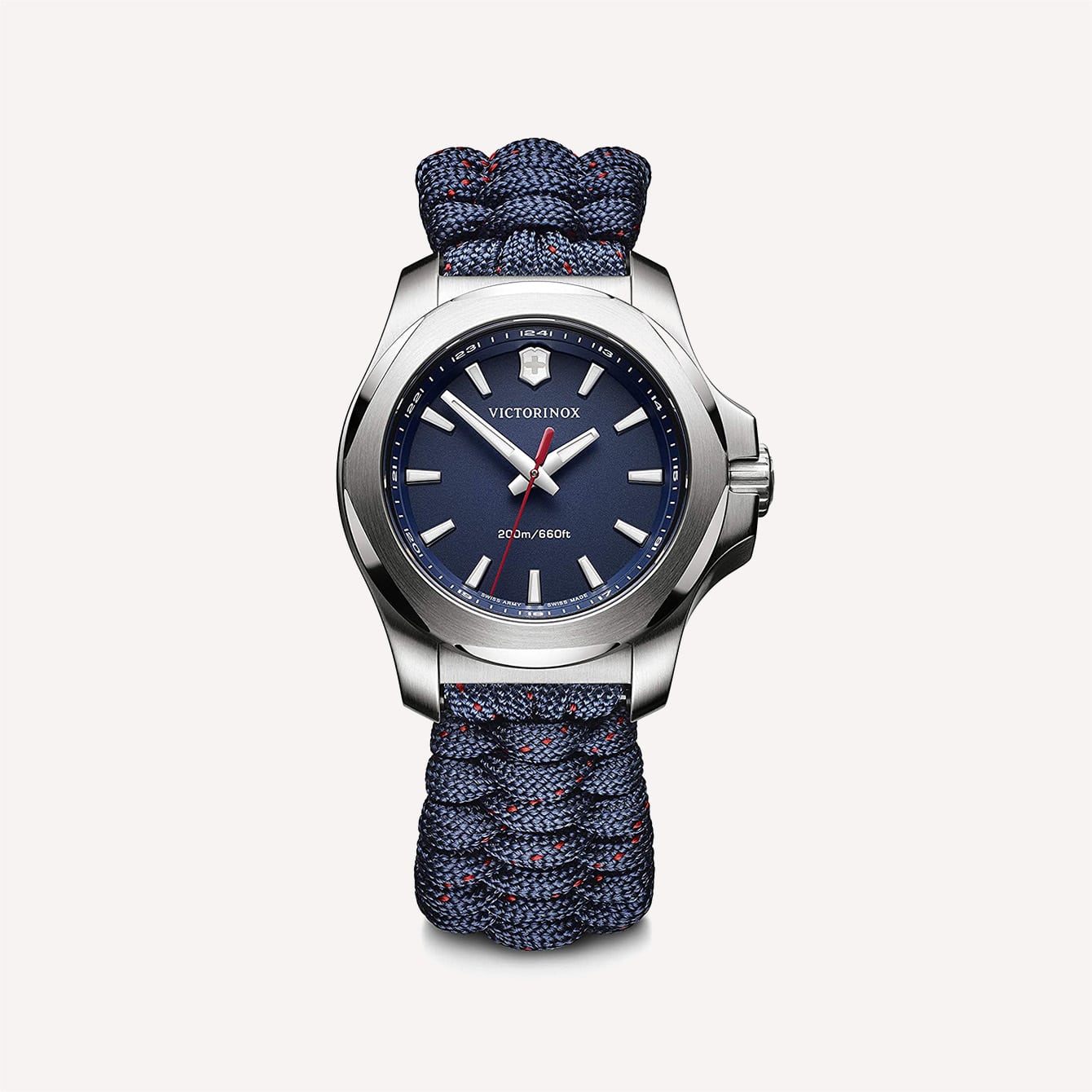 The stainless steel case is dynamic, sporting a hexagonal cutout on top of a round platform on top of another round layer. Suffice to say, this watch's profile has a compelling topography.
You can get the INOX with a stainless steel bracelet, since the face is certainly sleek enough to match it. However, the rugged and stylish paracord strap is iconic, and adds an exciting contrast.
Dimensions: 37mm diameter, 13.8 mm thickness
Case material: Stainless Steel
Water resistance: 200m
Hamilton Khaki Field 38mm
The Hamilton Khaki Field is a fan favorite because it can go from boardroom to campsite, and from pub night to date night. It's as legible as an aviator watch but as well-designed as any luxury sport watch.
The black dial, usually flat on classic field watches, features a racetrack that highlights the hour indices. This adds a sophisticated dimensionality and a practical readability.
The 80-hour H-10 automatic caliber can be admired through the exhibition caseback. This is a big plus since this snail-and-pearl patterned movement has a baroque look that's fun to watch. Overall, the Hamilton Khaki Field Mechanical is an awesome watch.
You can also get it as a 33mm quartz if you prefer a smaller size or more accurate watch. It's often only around $50 cheaper though.
Dimensions: 38mm diameter, 11 mm thickness
Case material: Stainless Steel
Water resistance: 100m
G-Shock GWM5610-1
If the G-Shock GWM5610-1's 43mm case is a dealbreaker, feel free to either skip to the next or go on the challenging hunt for the elusive G-Shock mini watches. Before you do either though, keep in mind that G-Shock watches are meant to look big and bulky, even on the largest wrists.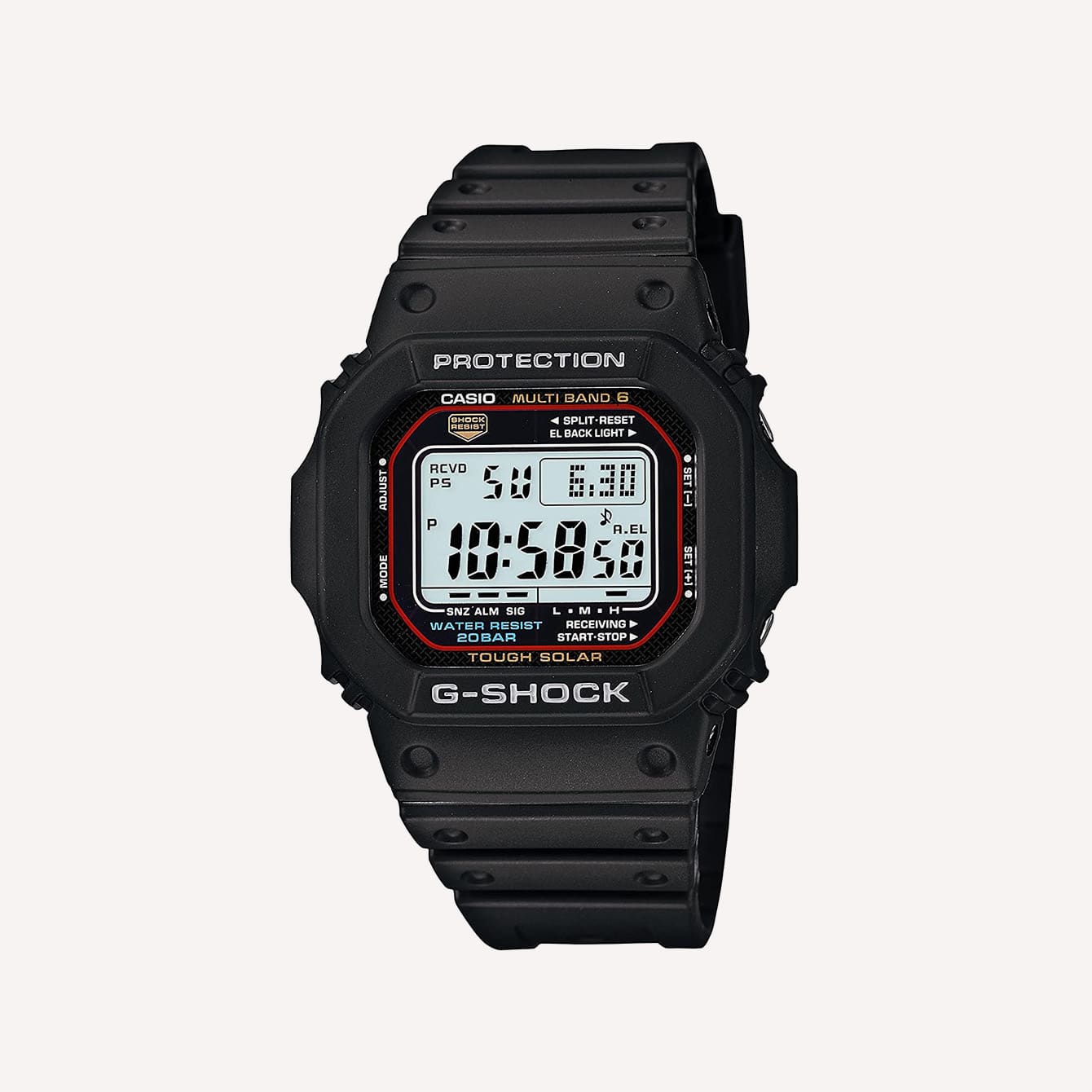 The GWM5610-1 is as small as G-Shock's Solar Atomic watches get. It's self-charging and automatically syncs, which means there's literally no maintenance with this guy.
As with any G-Shock, it's sturdy and tough, boasting every function under the sun. Some of these include five alarms, a stopwatch and timer, world time that includes 48 cities, electric backlight, and more. If you're looking for a genuine survivalist watch, go for the GWM5610-1.
Dimensions: 43mm height, 12.7 mm thickness
Case material: Resin
Water resistance: 200m
Bertucci A-1S
The Bertucci A-1S is clearly designed from a classic field watch template, but with a few features thinned out, widened, and moved. The result is a subtly more dynamic looking timepiece.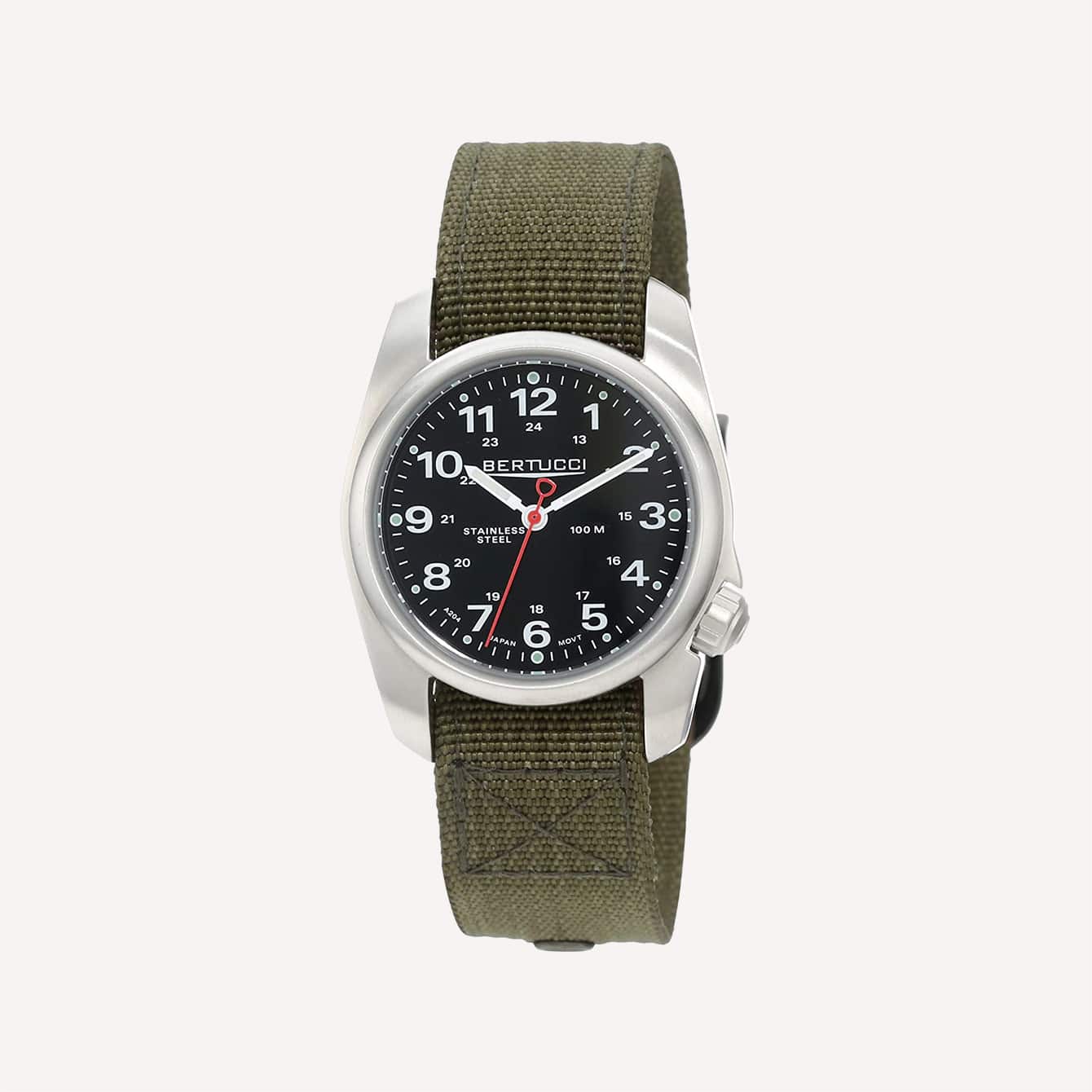 The first noticeable visual quality is that the Arabic indices are sharper and broader than the typical DIN font military watch. With its smaller dial face, it serves up a sort of HD wide screen experience that's extra legible.
The screw-down crown in Bertucci A-1S is moved to the 4 o'clock position for ergonomic reasons. Add a patented brushed stainless steel case and a patented two-ply band, and you have an authentically unique field watch.
Dimensions: 36mm diameter 12.2mm thickness
Case material: Patented stainless steel
Water resistance: 100m
Glycine Combat 6 Classic 36mm
With a true-blue military lineage (mostly Air Force), the Glycine Combat 6 Classic comes in a 43mm case, a 40mm, and a 36mm which works beautifully on most wrist sizes.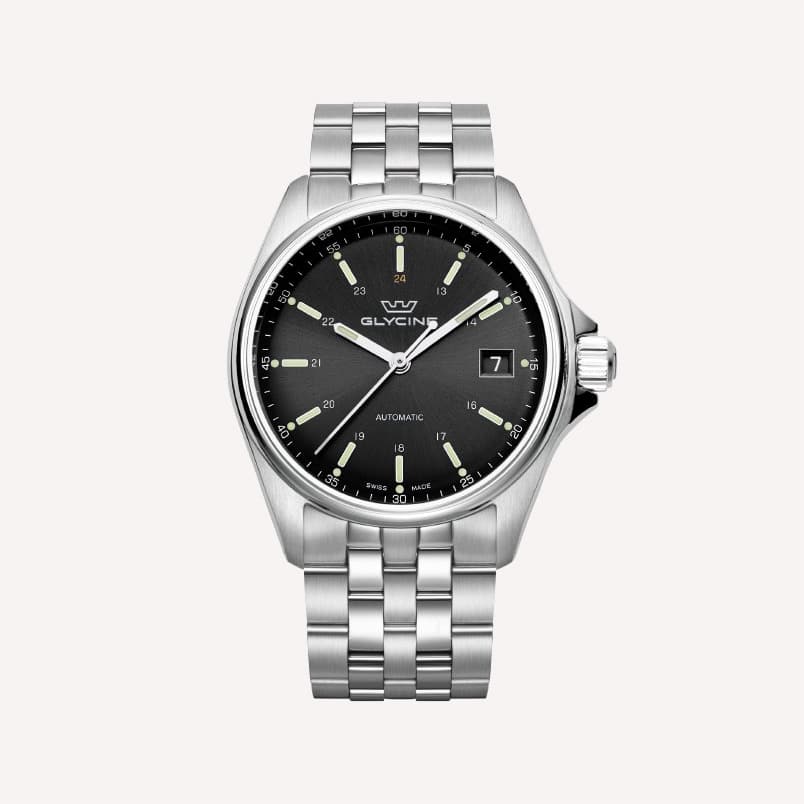 My favorite is the black dial with the light green indices. The silky and subtly brushed black dial contrasts beautifully with the light green indices and hand accents.
This Swiss hard-hitter runs on an automatic movement with a 38-hour power reserve, sports a strong lume, and has a domed sapphire crystal with a whopping three layers of anti reflective coating on the underside.
Dimensions: 36mm diameter 10.6mm thickness
Case material: Stainless steel
Water resistance: 100m
Seiko 5 SNK Series
The Seiko 5 SNK field watches are some of the most beloved pieces out there. Their affordability and different colorways lend themselves to customization and also collectibility.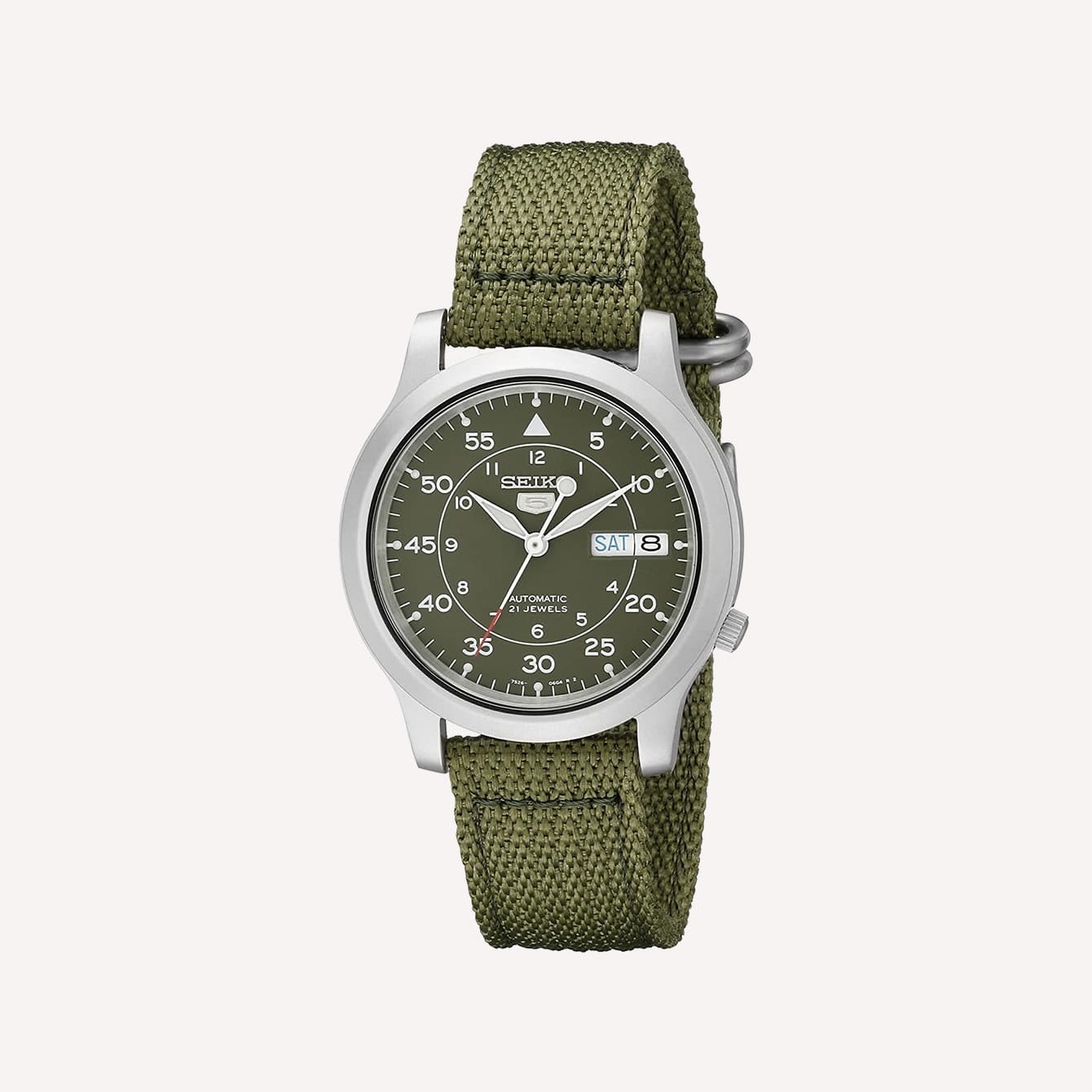 The green SNK805 leans hard into its military inspiration, while the blue SNK807 or black SNK809 (which also looks good with a steel bracelet, if you prefer) are more modern, but still rugged.
The beige SNK803 is summery and fun, and would look excellent with a beige suit or desert boots.
Regardless of which you go for, they sport a classic design and an in-house automatic movement.
I know that their 21-jewel automatic 7S26 movement is considered the lesser version compared to the hacking 4R36. But, it's a heritage caliber with so much lore and history, and you get to watch it via the see-through caseback.
Dimensions: 37mm diameter 11mm thickness
Case material: Stainless steel
Water resistance: 30m
Timex Ironman Digital
Our second digital select comes to us from trusty Timex. The Ironman Digital is a great option if you don't like the size and shape of the prior G-Shock, but love the general aesthetic of it.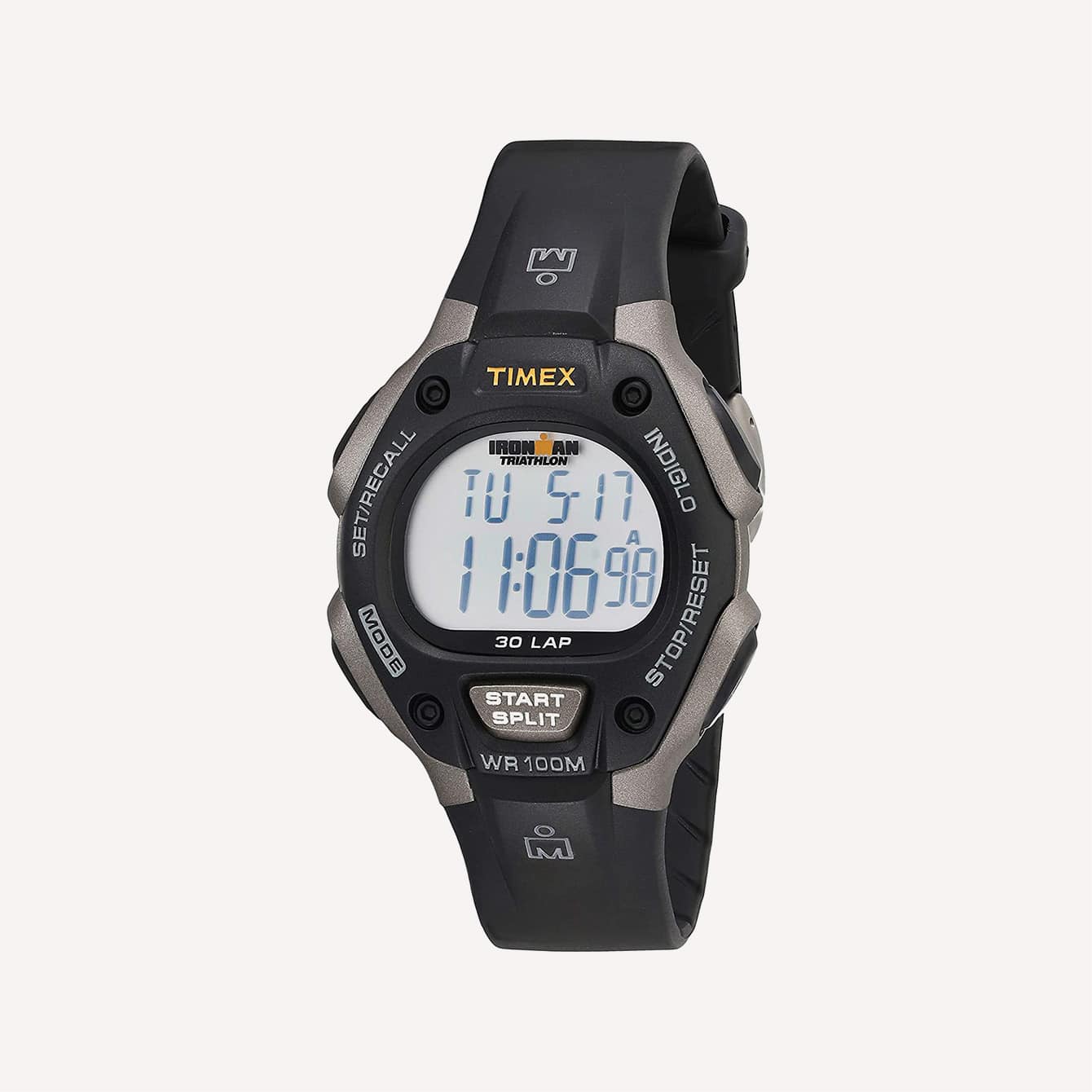 It's just one step up from being no-frills, but is a reliable timepiece overall. The Ironman features a 24-hour countdown timer, a 100-hour chronograph with a 30-lap memory, 24-hour military time, three time zones, and more.
With easy and fun buttons all over this guy, my favorite part about the Ironman Classic is how tactile it is.
Dimensions: 38mm diameter 12.7mm thickness
Case material: Resin
Water resistance: 100m
Timex Expedition Acadia
Another no-nonsense sub-50 field watch, the Timex Expedition Acadia is the manual answer to the Ironman. Visually, I love how Timex uses contrast for legibility because it also adds a fun personalization factor to it.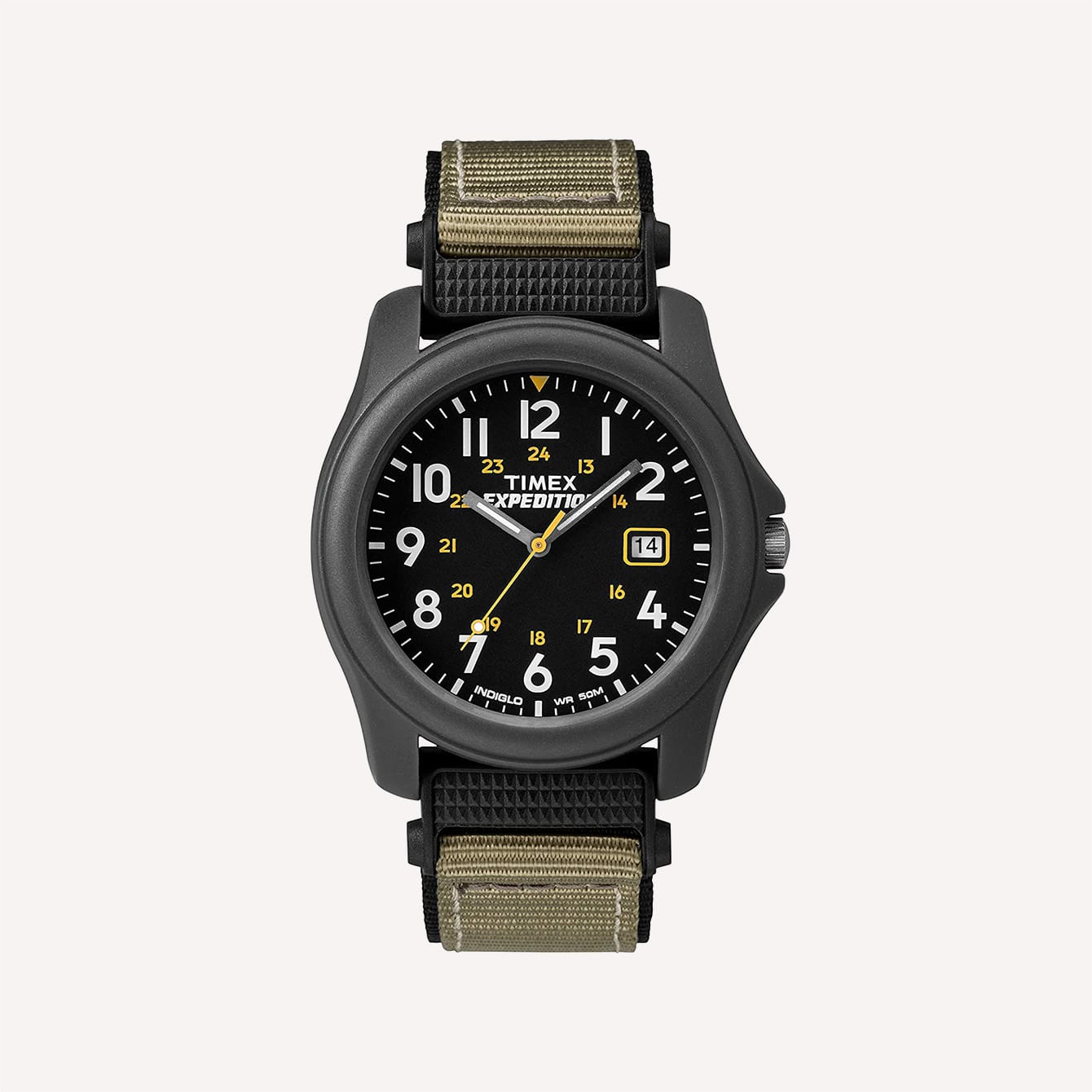 They have a black dial with white 12-hour indices, yellow 24-hour indices, and a yellow second hand available. There's also a blue dial with a red second hand version, a green and yellow colorway, and so on. The Acadia is a by-the-books field watch, but adds Timex's signature cool guy feel.
Dimensions: 39mm diameter 9.5mm thickness
Case material: Resin
Water resistance: 50m
Marathon Mechanical 39mm
If you really want to go authentic, Marathon literally has an active contract with the US Department of Defense. What makes the Marathon field watches distinct is the applied markers on the face, which really stand out and give it a high-end feel.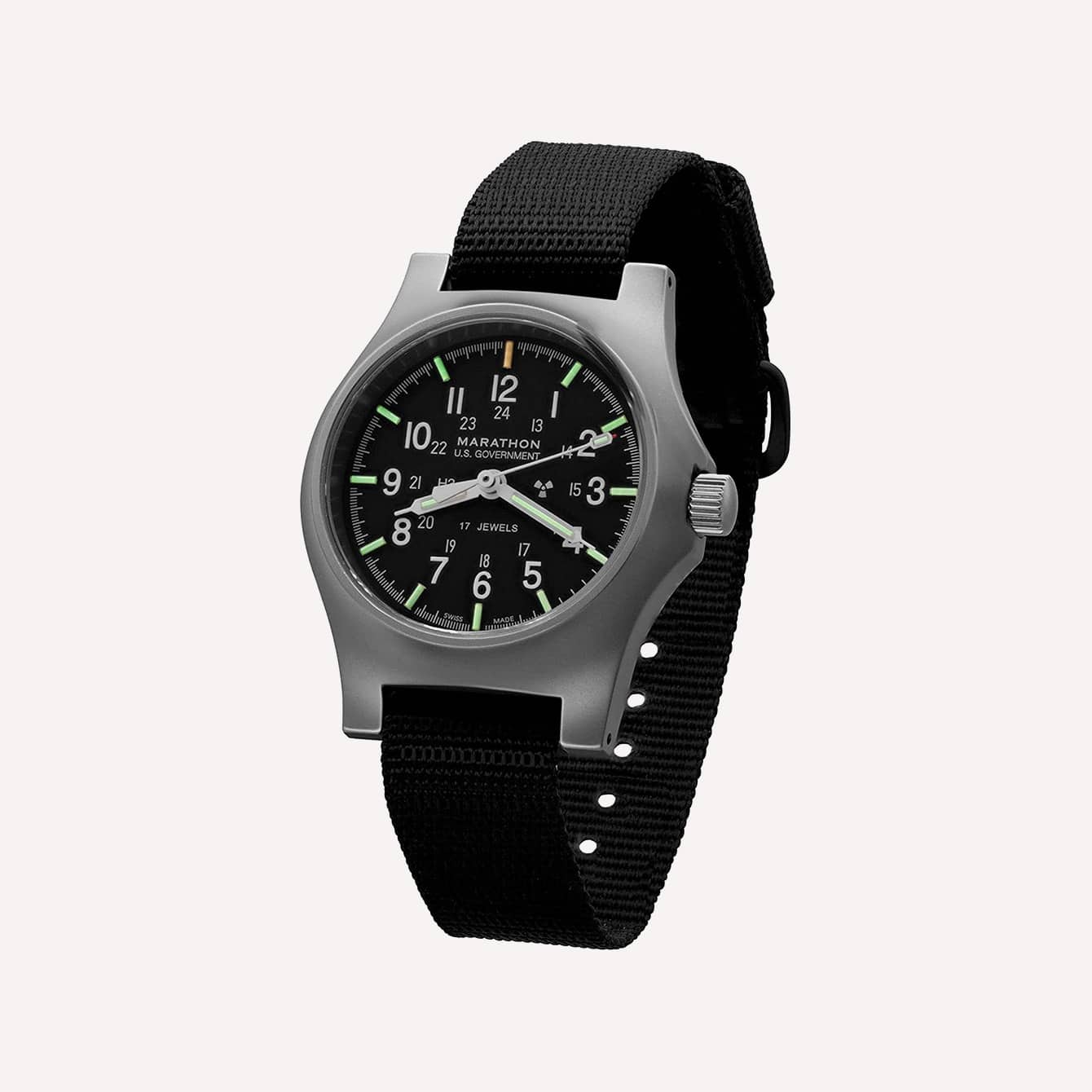 This version is a mechanical hand wind, so if you love an old-fashioned tactile timepiece, you'll enjoy that. If you'd rather be more practical, or are actually using your watch on the field, there's a quartz version too.
The tritium glow is another special quality here. Unlike the photoluminescent lumes used by most, the tritium is self illuminating and provides a glow without needing an external light source.
Dimensions: 39mm diameter 10.6mm thickness
Case material: Stainless steel
Water resistance: 30m
CWC British Military G10
Think of the CWC British Military G10 as the Marathon's British cousin. It features a lot of the same design language, and even has a tritium-powered lume.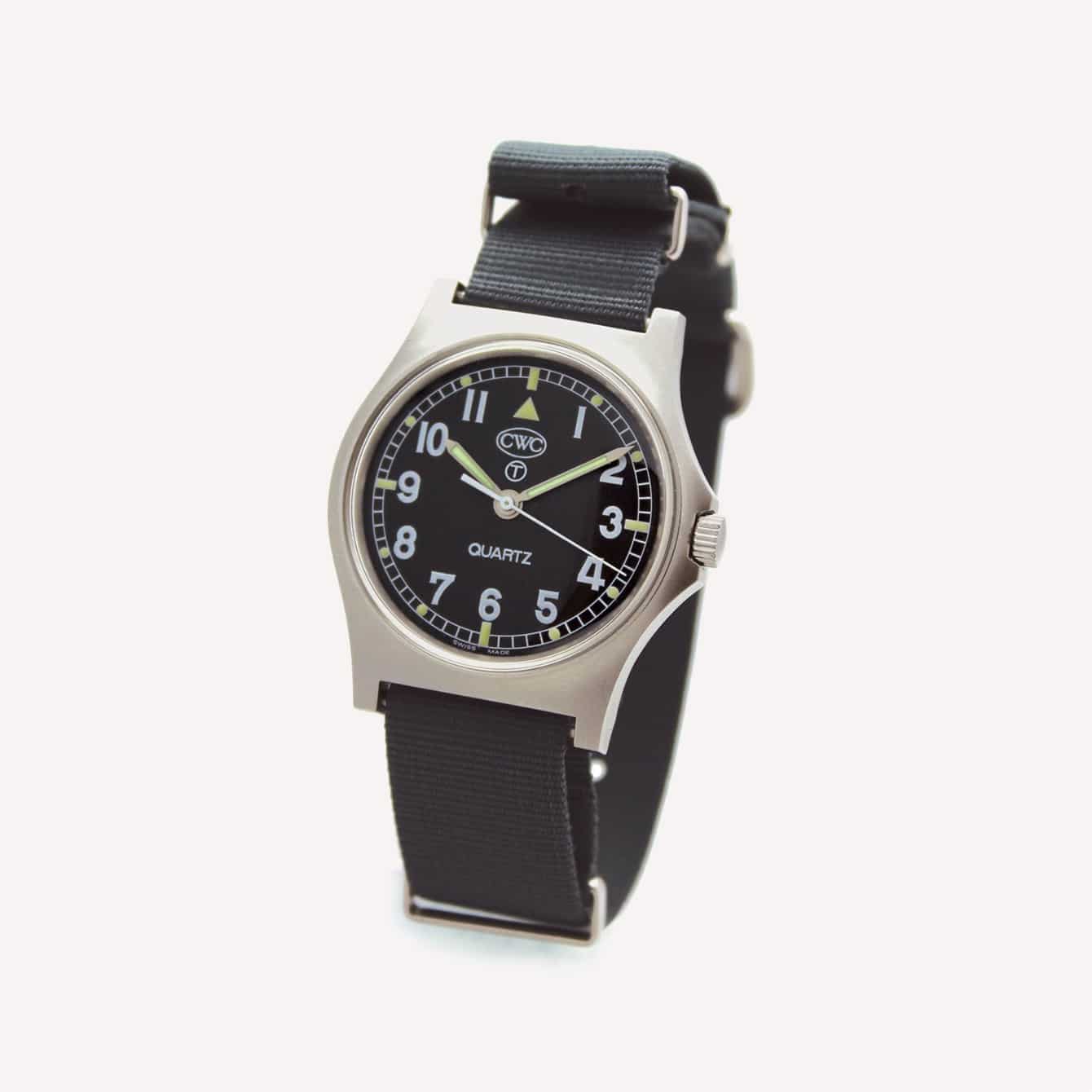 Some key differences include non-applied indices (though they're painted on exquisitely), an ETA quartz movement, and an acrylic glass, which is more in line with traditional military watches anyway. Scratches and scuffs are more acceptable on the field than shatters, after all.
Dimensions: 38mm diameter 18mm thickness
Case material: Stainless steel
Water resistance: 50m
Conclusion
Field watches these days come in so many forms. Looking for an extra luxurious investment? The Explorer I will always be considered top-tier. An authentic watch steeped in tradition? Marathon or even Hamilton has exceptional offerings.
The good news is that field watches work for any guy, regardless of your style or wrist size.