If you're looking for a beater field watch, the Bertucci A-1S might be just what you need. Here's our full review.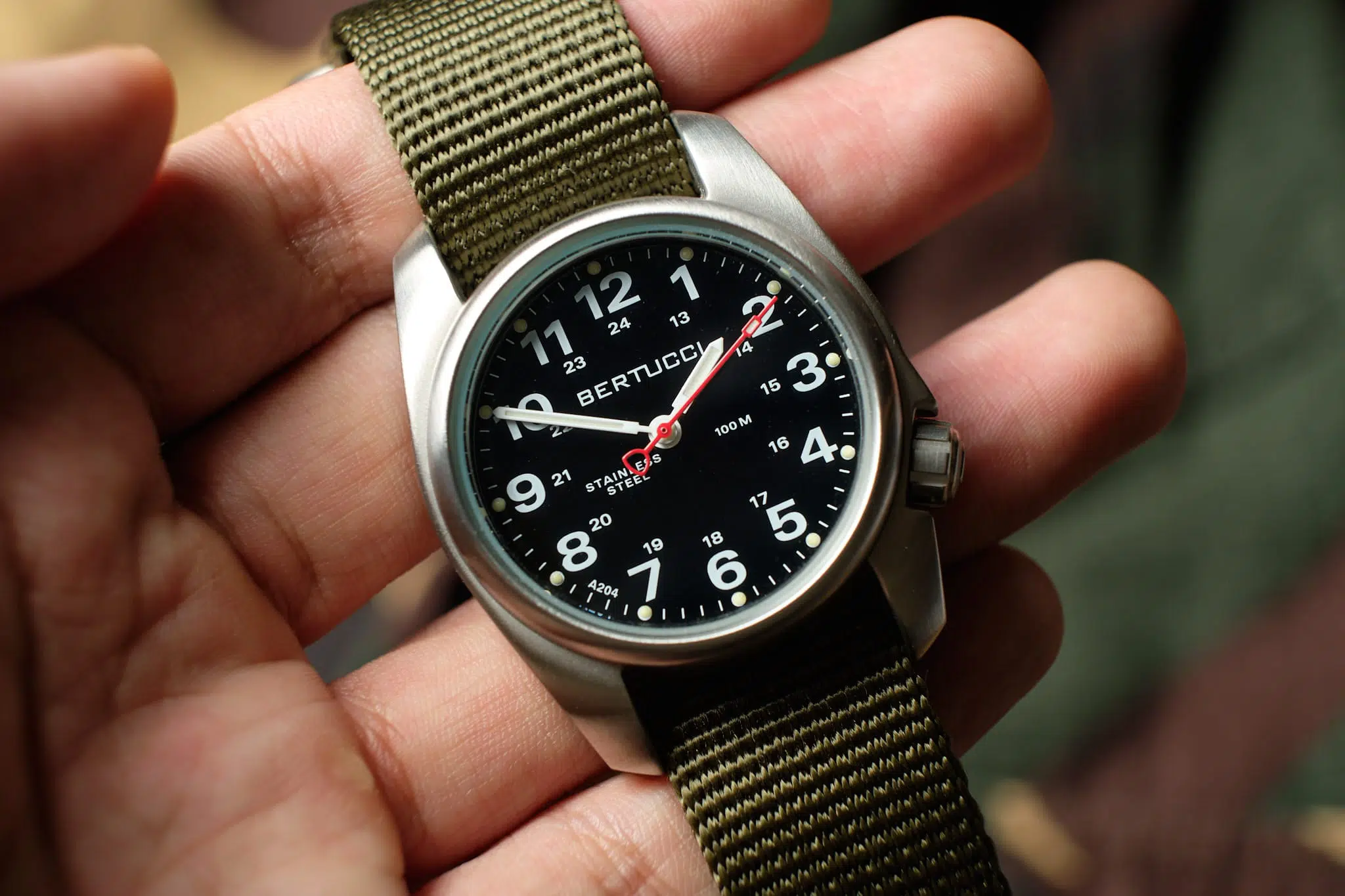 Almost every collector has a "beater" watch — a watch they can wear anywhere and don't mind getting banged up. The field watch is one of the most common watch styles men choose for their beater watch.
Field watches are a great choice for a beater because they're made to survive battles and harsh conditions and because most are available at entry-level prices. These watches come with quartz movements since they are easier to maintain than automatic movements.
The Bertucci A-1S Field Watch is a fantastic example of an affordable and durable beater watch from an obscure brand.
History of Bertucci Watches
Right off the bat, it should be mentioned that little is known about the history of Bertucci Watches.
There is little information on their website about who founded them, and their YouTube video on their story doesn't provide adequate information.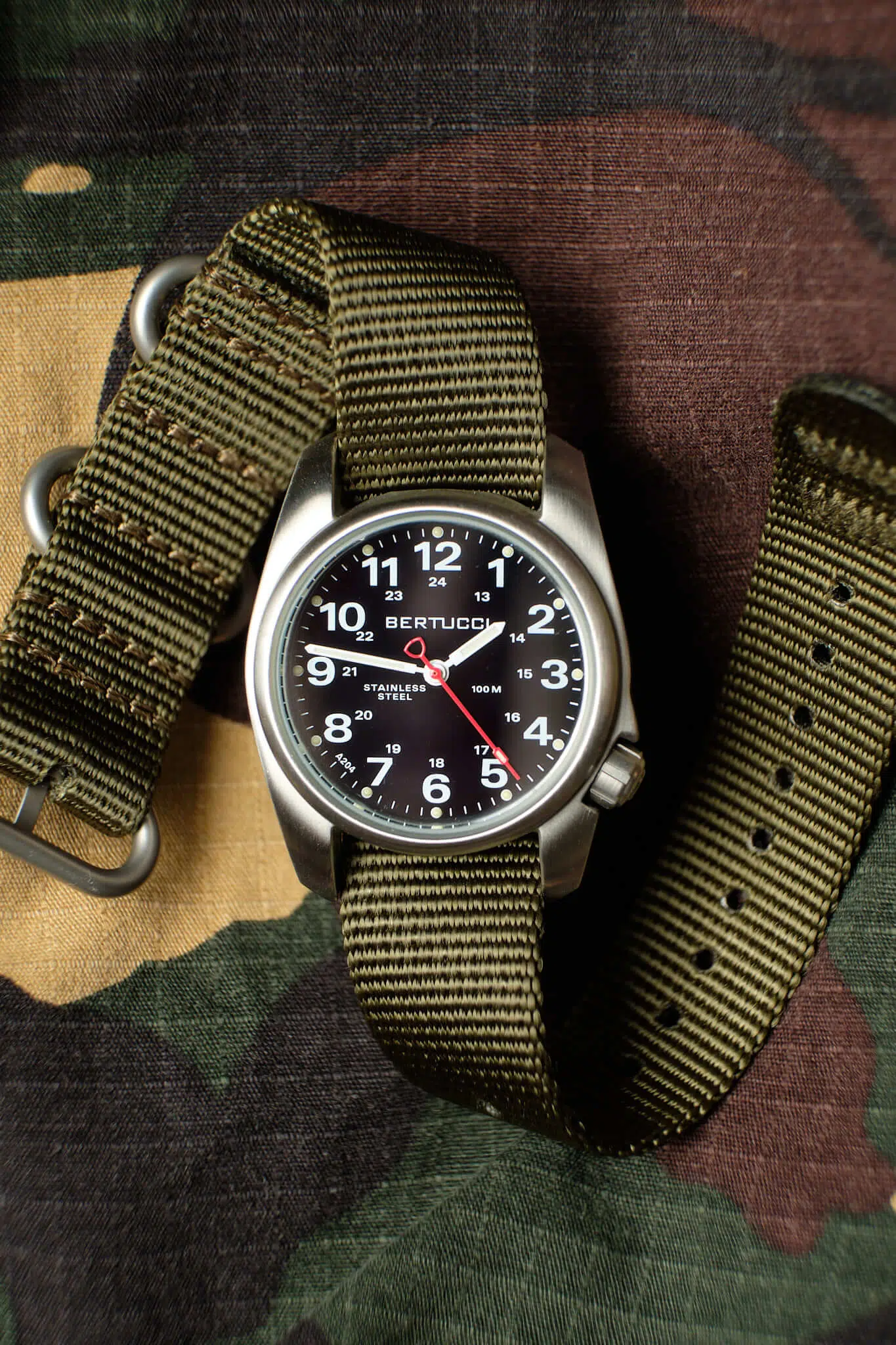 We know that Bertucci Watches was founded in 2003 and started selling watches in 2004. Their first watch was the A-2T, one of their more popular models, which today they offer with many different options.
The brand's vision is "to design and build the best field watch… the ultimate field watch." Since their entire catalog is field watches, they really seem to be focused on their goal.
They pride themselves in assembling their final product in the USA with parts sourced from around the world: Swiss/Japanese movements, cases from China, and Swiss luminosity.
A-1S Field Case
Let's get on to the watch itself.
The A-1S Field is marketed as Bertucci's unisex range since the watch comes in 36mm across. This toned-down case size is matched with the rather short lug-to-lug of 44.8mm.
All in all, the watch wears amazingly on my 6-inch wrist. (36mm is the sweet spot for any wrist under 6.5 inches).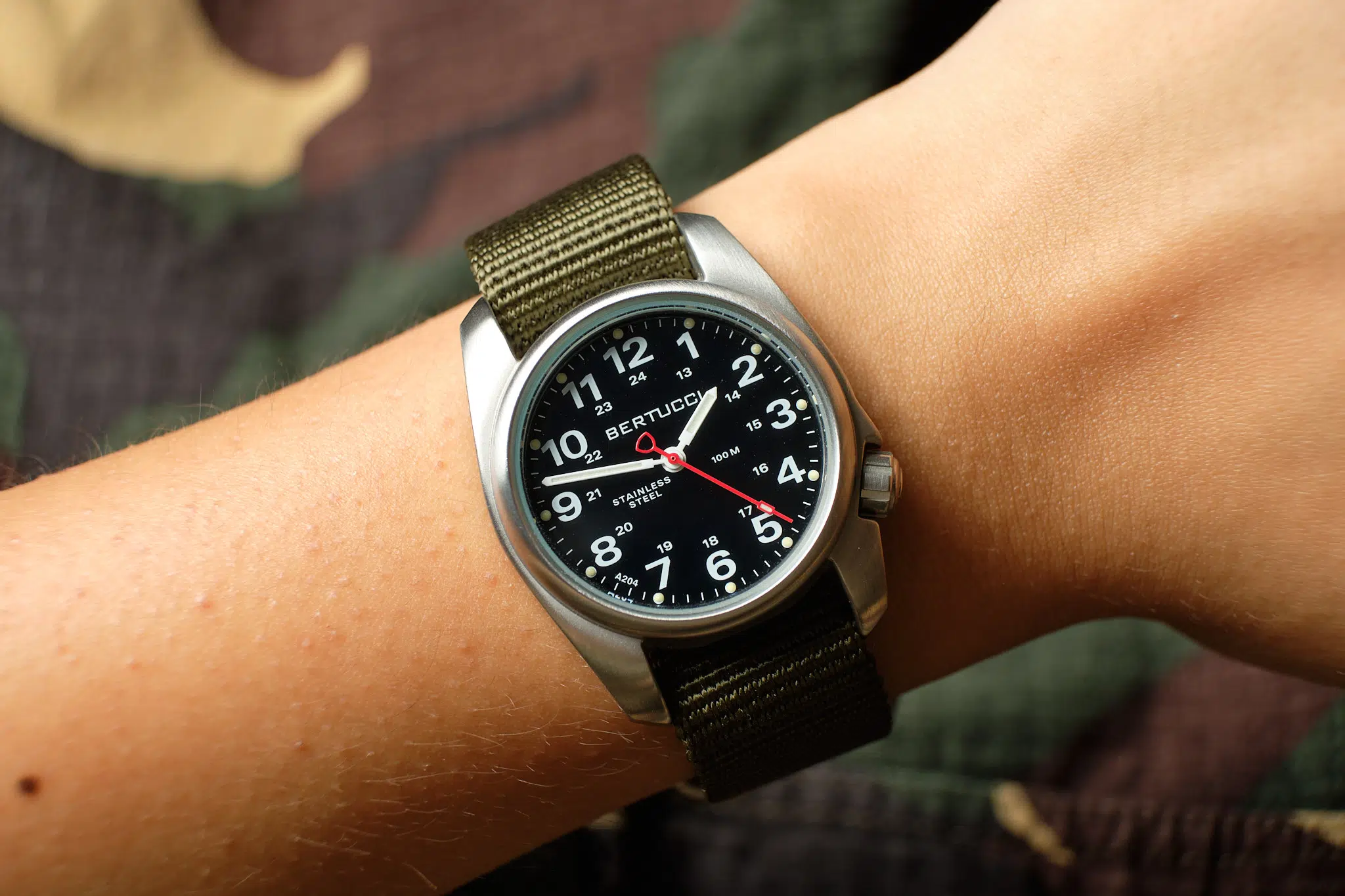 The watch sports an all-brushed stainless steel case, save for the high-polished case back. Faceting is practically non-existent as the case was designed to be molded as a single piece.
The watch may not be a strap monster, for it lacks removable lugs (Bertucci decided to include fixed lugs on all their watches). Furthermore, the lugs are measured at 19mm wide, so even if you have 18 or 20mm NATO straps, they will all look off with the odd-numbered lug width.
Being a field watch for all occasions, the A-1S is rated to a water resistance of 100 meters. To ensure this rating, it comes with a screw-down crown at the 4'oclock. The crown is signed with the curved triangle Bertucci branding.
The case back is full of text detailing the various capabilities of the watch: water resistance, case construction, movement, and, of course, features the Bertucci logo.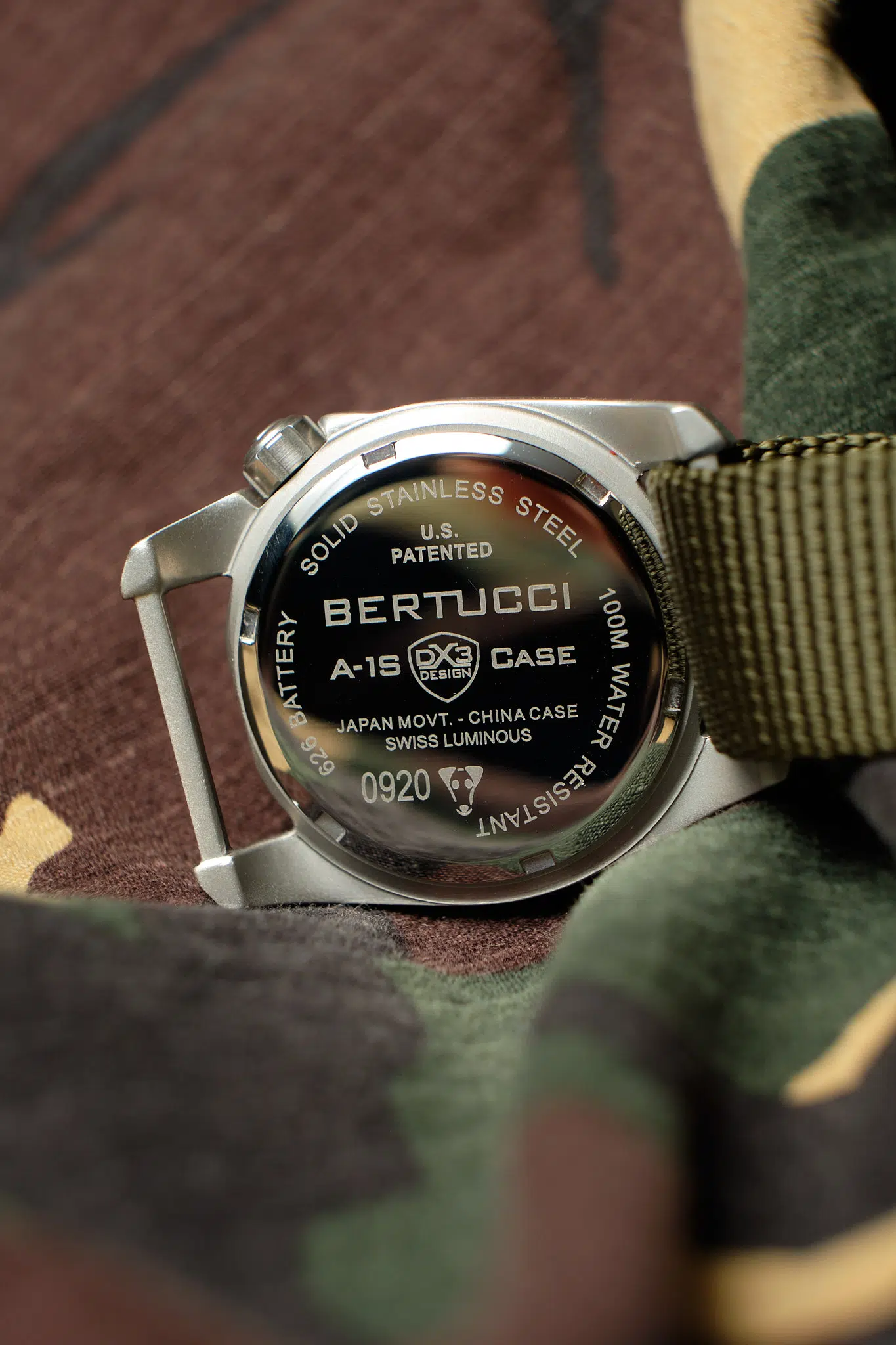 The A-1S comes with an acrylic crystal set slightly recessed from the rest of the case.
A-1S Dial
Let's move on to the dial.
This version of the A-1S comes in a black dial with white painted hour markers. As part of the basic field watch design, situated beside these hour markers are smaller 24-hour markers.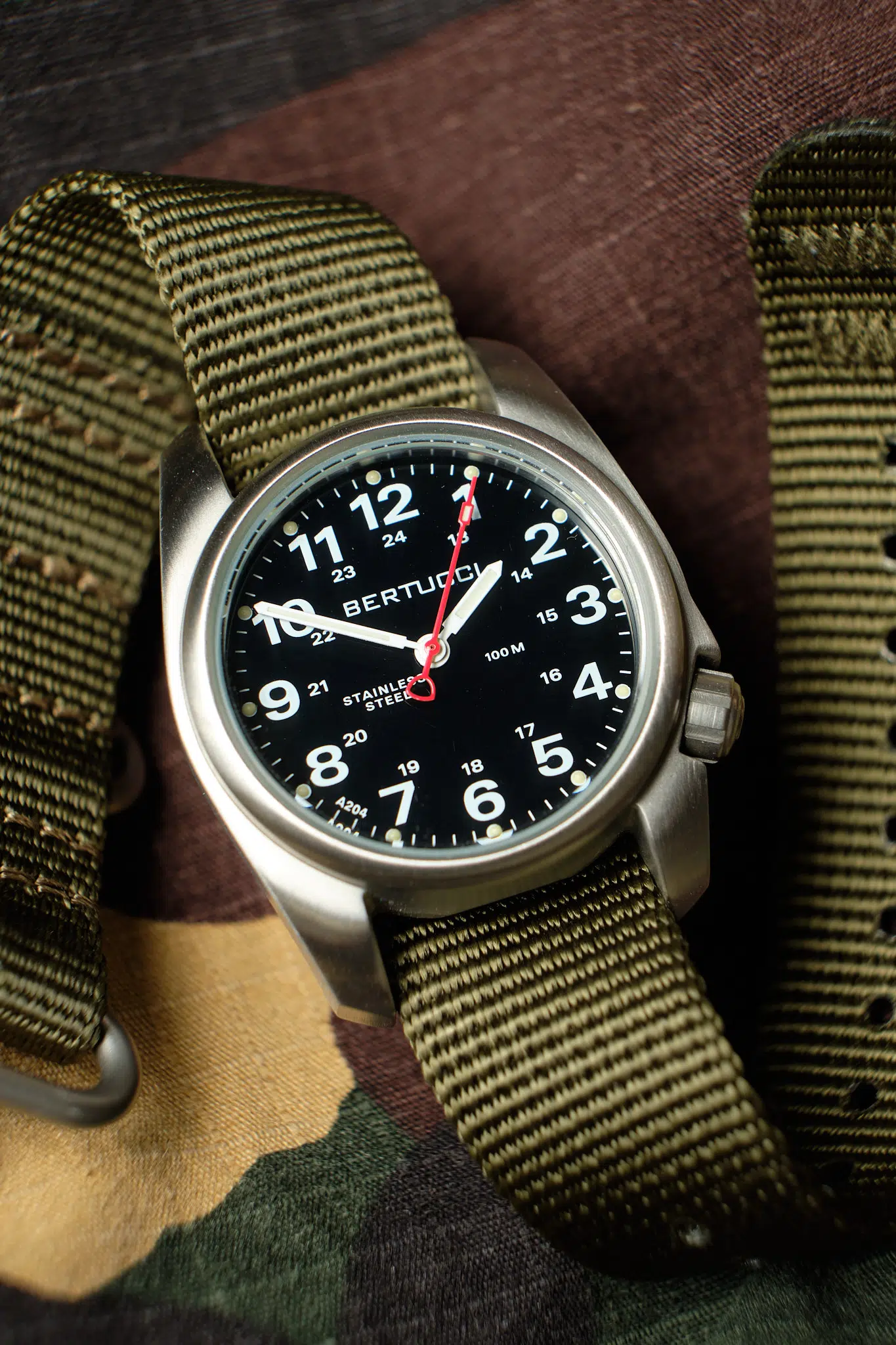 The text on the dial is rather generous. At the 12'oclock, we see the Bertucci logo in all caps. Rotating the dial, we see "stainless steel" in all caps painted at 8:30, with "100 meters" placed at 3:30.
The hour and minute hands are pencil-shaped and are painted a high-contrast white. The second hand is painted in a stark red with the Bertucci logo's curved triangle as the counterbalance.
Lume is generous on the dial, with each hour marker receiving a lume pip to the outer area of the dial. The hour, minute, and second hands each have substantial lume.
Overall, the watch dial screams "field watch." The high contrast between the hands and the dial makes this watch a definite looker. Telling the time is quick and easy.
A-1S Movement
Bertucci uses both Japanese and Swiss quartz movements in their watches. This specific A-1S Field has a Japanese Miyota quartz movement.
Miyota is a known producer of reliable and affordable mechanical and quartz movements and is used in countless watches.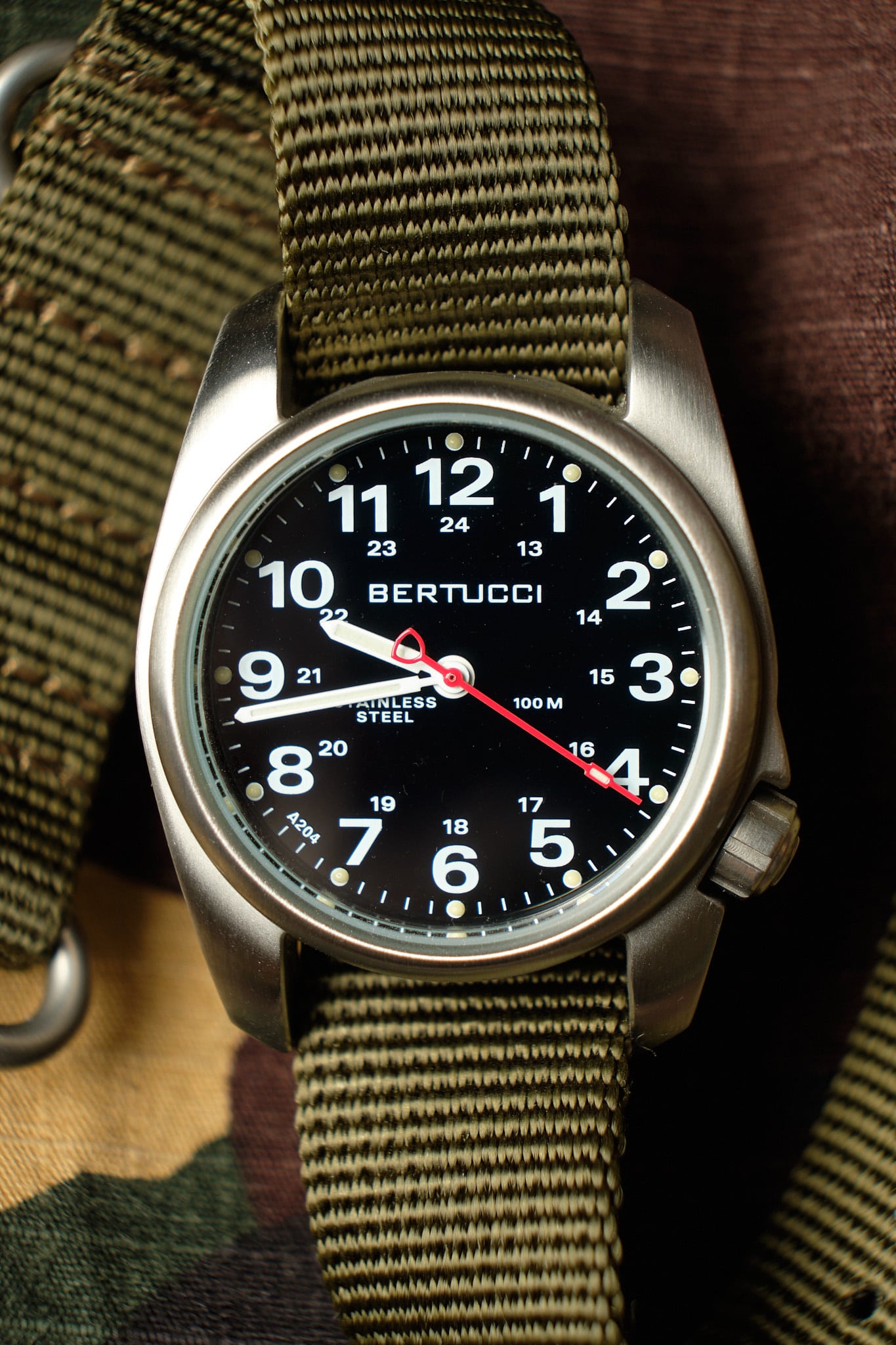 Being quartz, this watch is the perfect grab-and-go for those who just want a watch to work without any frills. The hassle of changing the battery after 3 years is nothing compared to the annoyance of servicing a fully mechanical watch.
There is, however, a discrepancy between the movement and the dial where the seconds hand misses the minute markers ever so slightly. For a brand wanting to make the "ultimate field watch," this is a rather annoying misstep.
A-1S Strap
The A-1S Field comes with a supplied green NATO strap. It is woven thick and wraps nicely around the wrist while retaining structure.
The strap is fitted with 3 buckles to ensure a snug fit. The second buckle sports engraved Bertucci signage.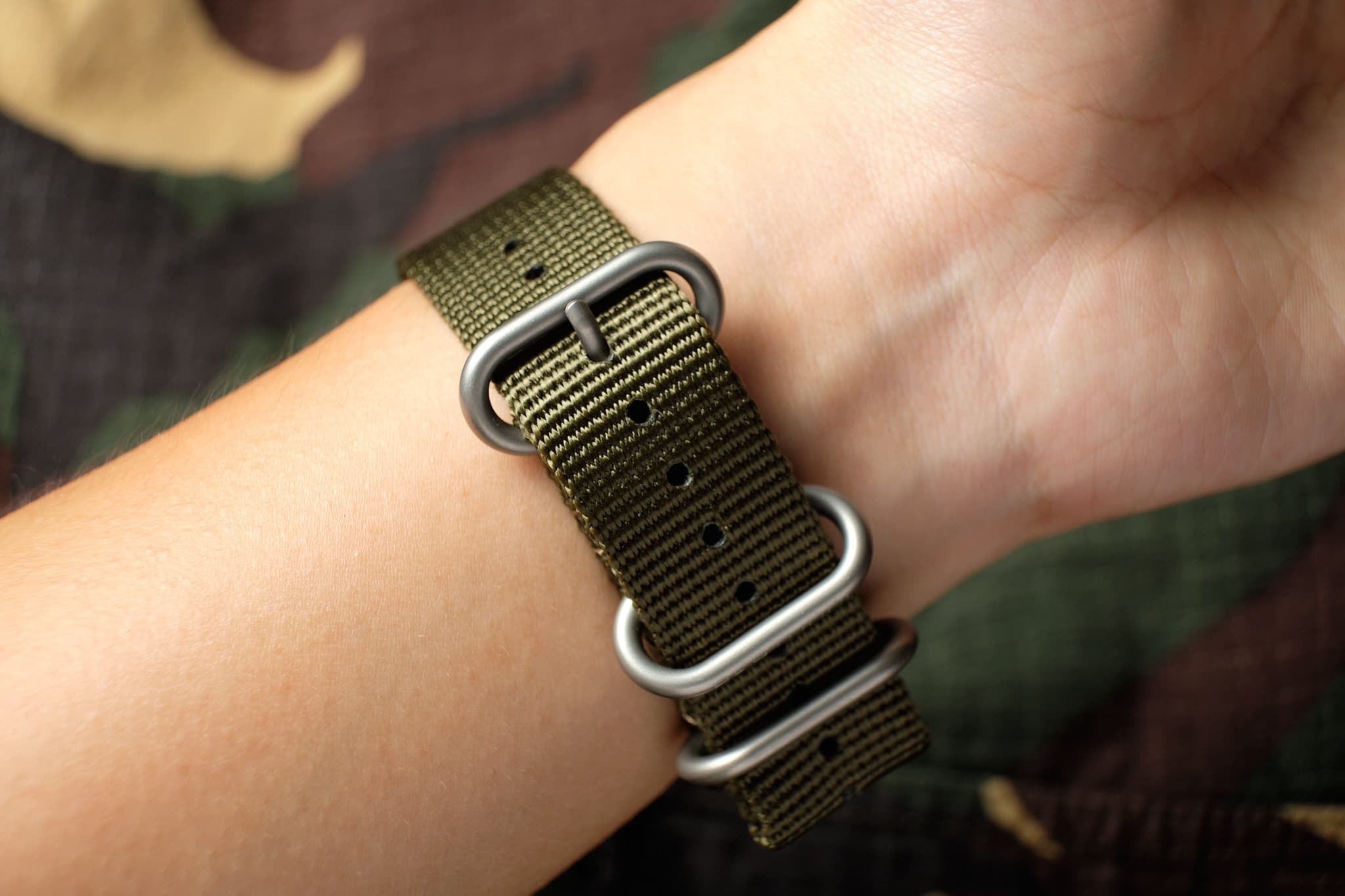 Smaller wrists will feel at home with 12 holes of adjustment on the supplied strap. The strap wraps around my 6-inch wrist nicely at the fourth to the last adjustment.
Bertucci is proud of their strap offerings. They have several other straps available for purchase on their website.
Conclusion: Is the A-1S worth it?
A beater field watch can be easy to come by. Sure, Seiko has a wide catalog of affordable mechanical field watches, and Casio G-Shocks are abundant. It's easy to find a design that suits you.
However, I think the A-1S Field brings something else to the table. It's true to itself.
A quartz field watch that does what it set out to do, to tell the time while being ready to take a beating.
Sure, Bertucci made a rather weird decision to keep the lug width at 19mm while making it impossible to remove the lugs. But there is something endearing about it. A certain "deal with it" feeling that just seems truthful.
Lastly, before you decide whether this watch is for you or not, you have to know the price. This watch sells for a modest $100.
If you are looking for a beater watch that can just "be there" with no other frills, then the A-1S is definitely for you.
Questions? Comments? Leave them below!