If you're looking for info on the Timex Expedition Scout 36mm, you've come to the right place! Here's our review.
It's no secret that most cheap watches are poorly made. The vast majority of sub-$50 watches are just low-quality components with a logo slapped on top.
But when it comes to Timex, it's a much different story. This heritage brand is one of the few companies that knows how to make a good budget watch.
Many of their most inexpensive watches, like the Weekender and Easy Reader, are consistently recommended and put on top ten lists.
One of those watches is the Expedition Scout, a retro field watch that can be found for around $30 to $40 on Amazon. Read on to find out what I thought about this watch (and whether you should get one).
Timex Expedition Scout Overview
The Timex Expedition Scout 36mm is a retro-style field watch with a strong military aesthetic. Timex calls it a "rugged outdoor watch," and it's hard to argue with that.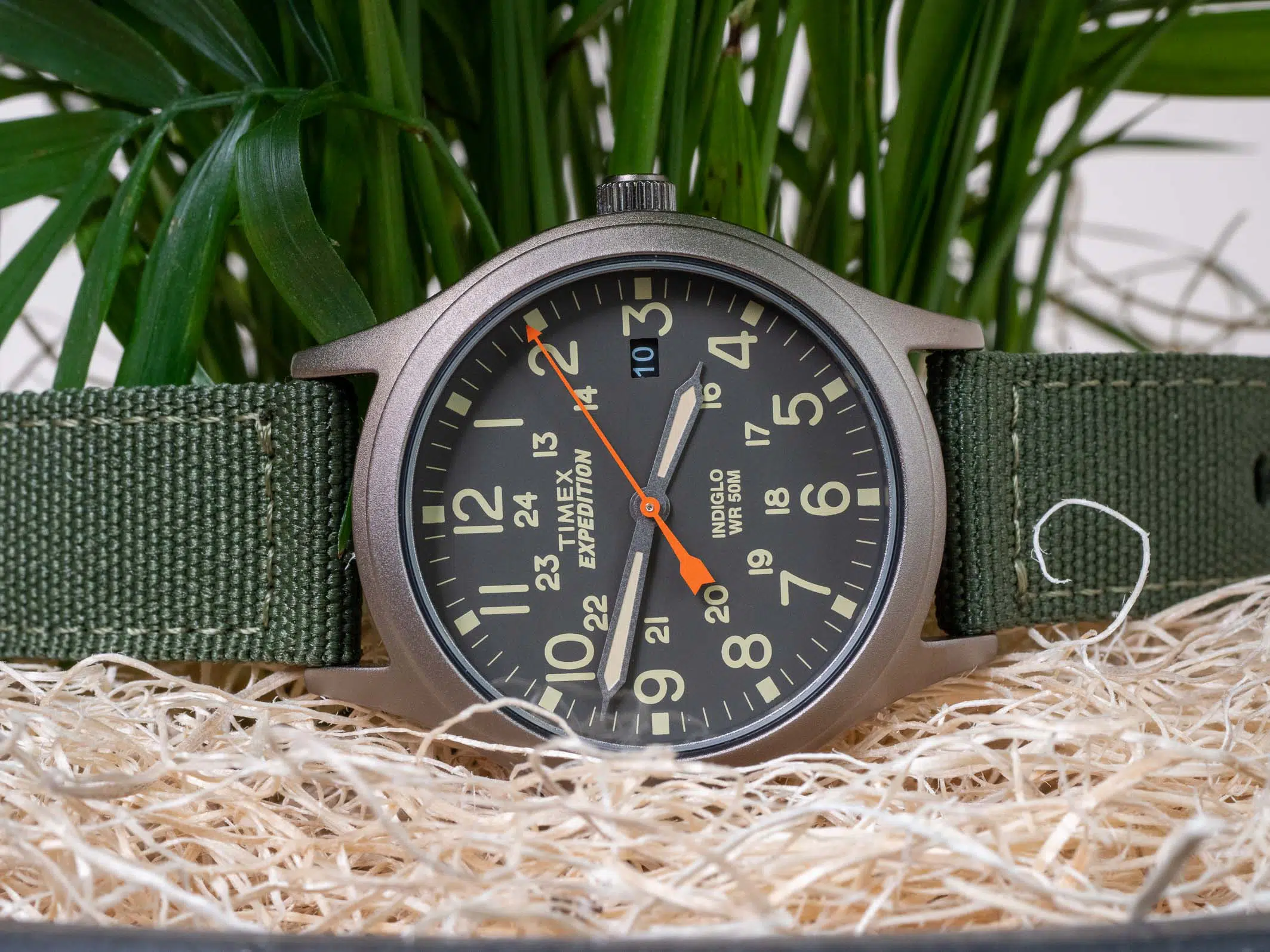 This watch is part of the Expedition line, which is Timex's main range of field watches. The Scout is their take on a more casual field watch that's stylish enough to be worn every day.
I have the green dial version, but Timex makes several versions of the Expedition Scout. However, the 36mm is a little harder to find than its 40mm brother.
Dimensions
Here's the list of dimensions for this watch:
Case diameter: 36mm
Lug width: 18mm
The case thickness and lug-to-lug are difficult to find for this watch. If you know these measurements please let me know in the comment section and I'll update the article.
Although it's on the smaller side, it still has a substantial presence on the wrist due to the thickness and lug-to-lug distance.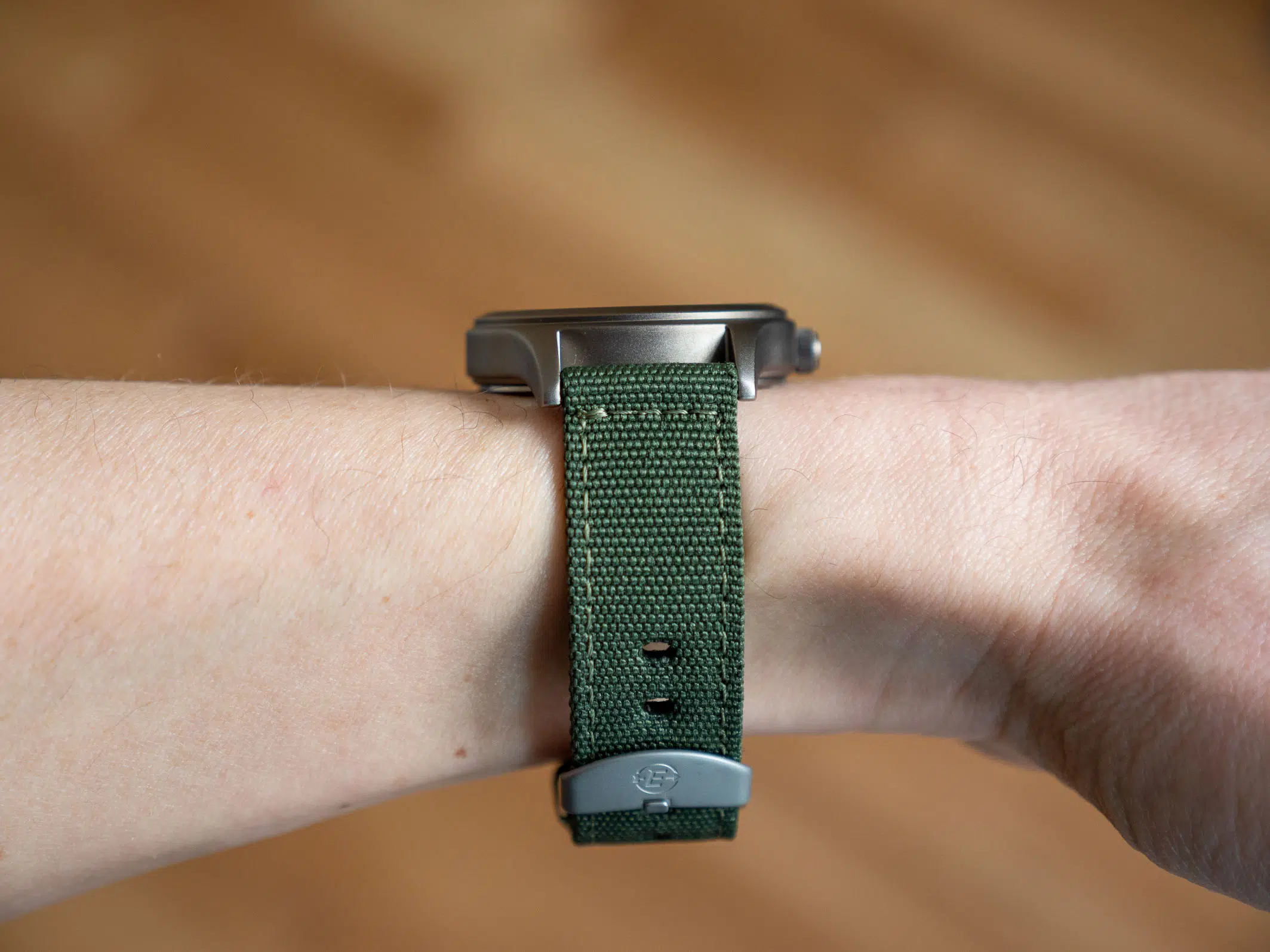 While it doesn't actually wear that much larger, it has a bit of retro chunkiness to it that's typical among field watches.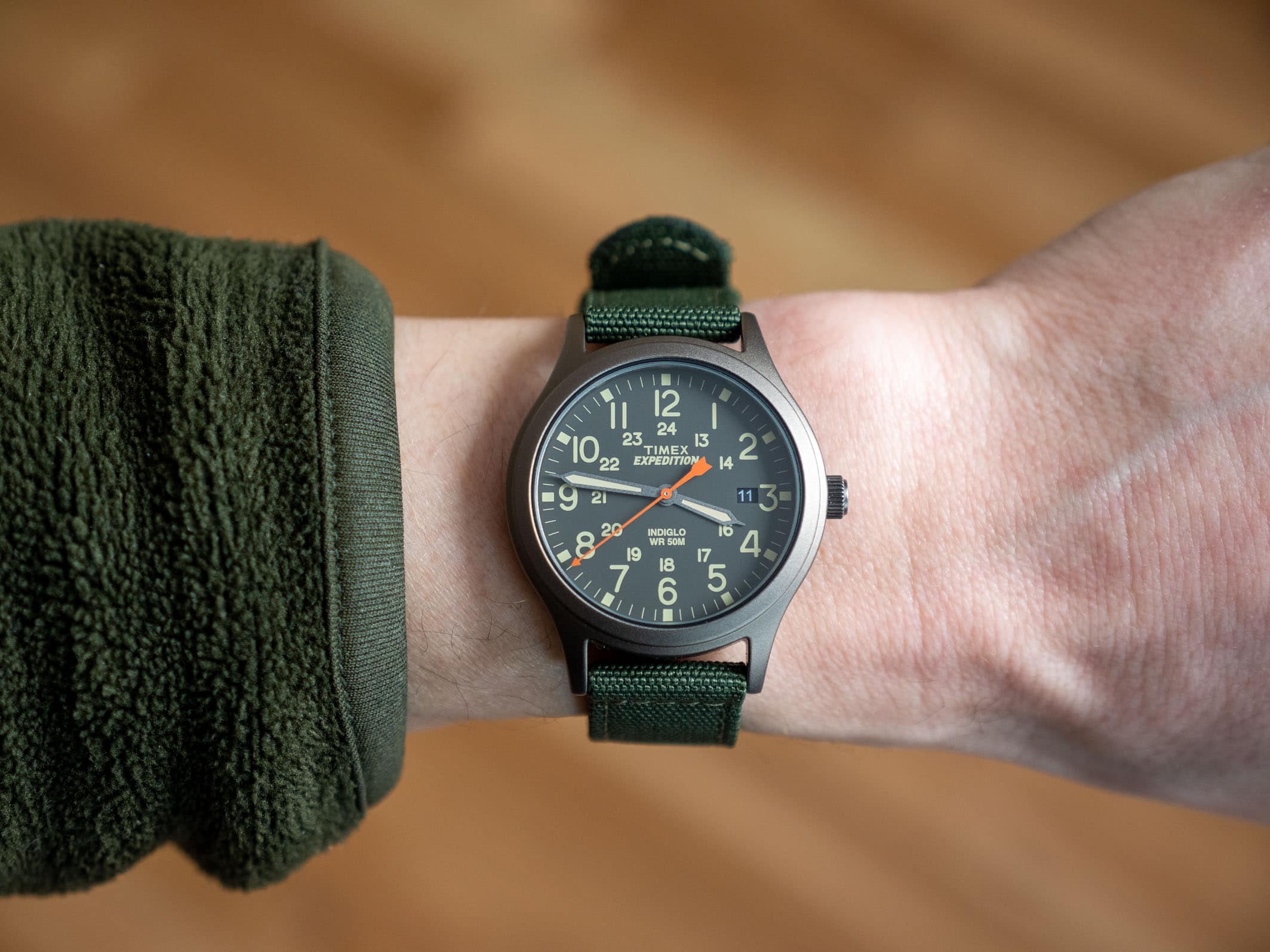 I think it looks great on my 6.3" wrist.
Movement
The Expedition Scout uses a standard Timex quartz movement. It might not seem like much, but keep in mind that Timex's quartz movements are pretty long-lasting and reliable.
Specs
The Scout features a brass case with a stainless steel case back. While it's pretty plain overall, the back does have some decoration in the form of an Expedition logo.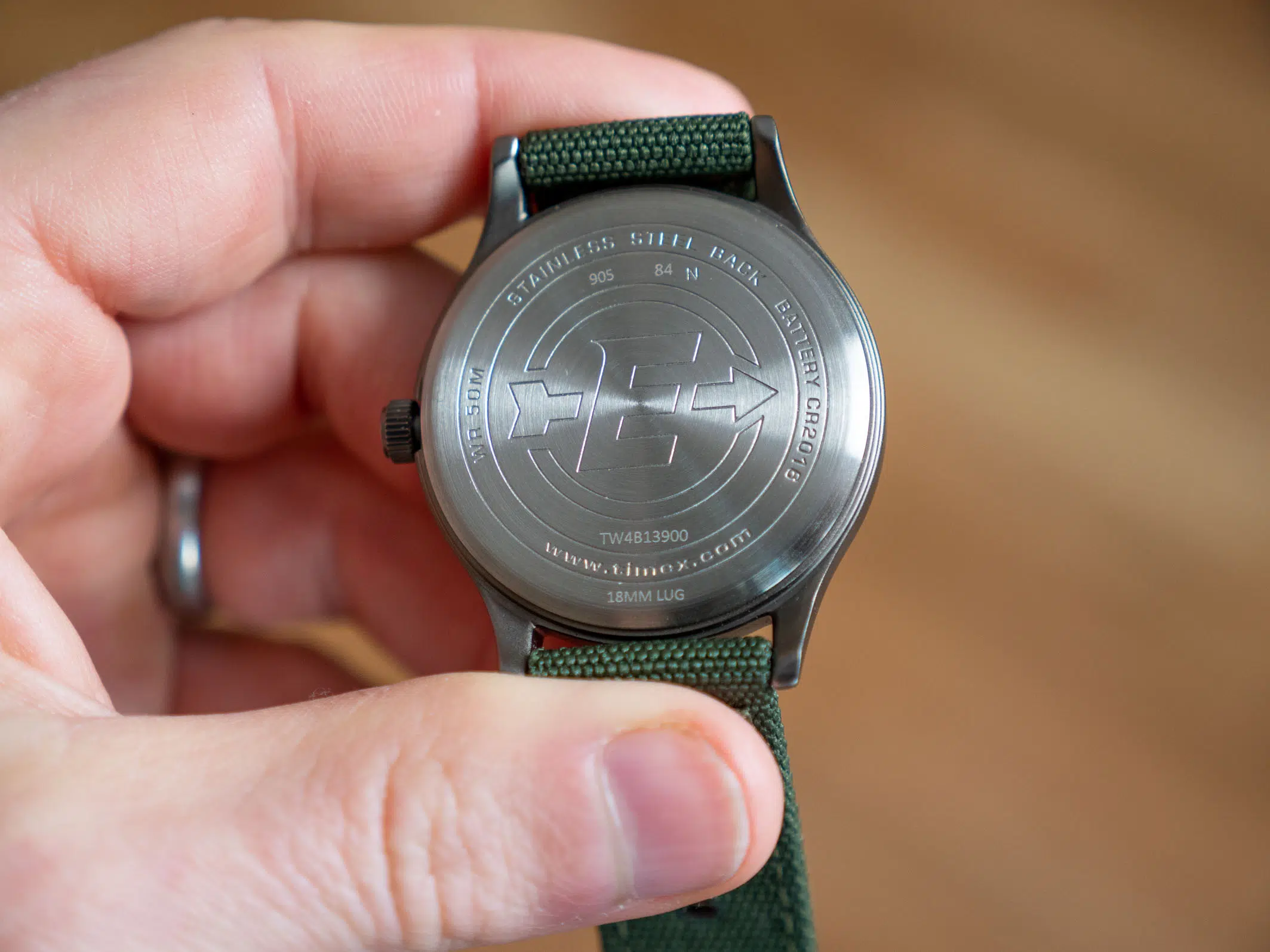 The case has a kind of bead-blasted finish, which is a nice touch. It's a cool way of creating a textured matte finish on the case.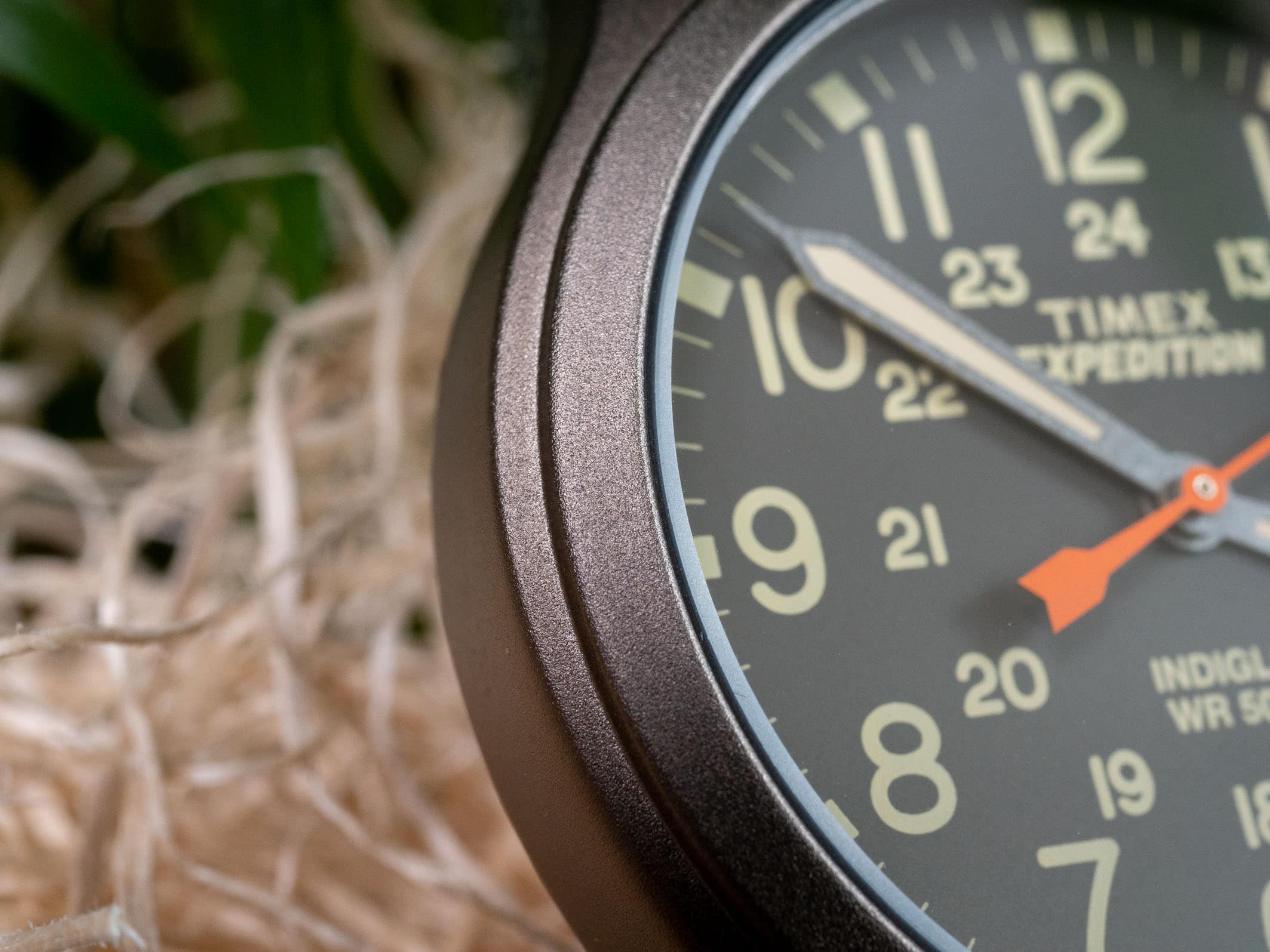 The watch has a flat mineral crystal, and while it's obviously not as nice as sapphire, it's pretty standard for a $35 watch.
The Scout features Timex's INDIGLO backlighting, which you activate by pressing in the crown. The hands also have regular lume, so this watch is extremely visible in the dark.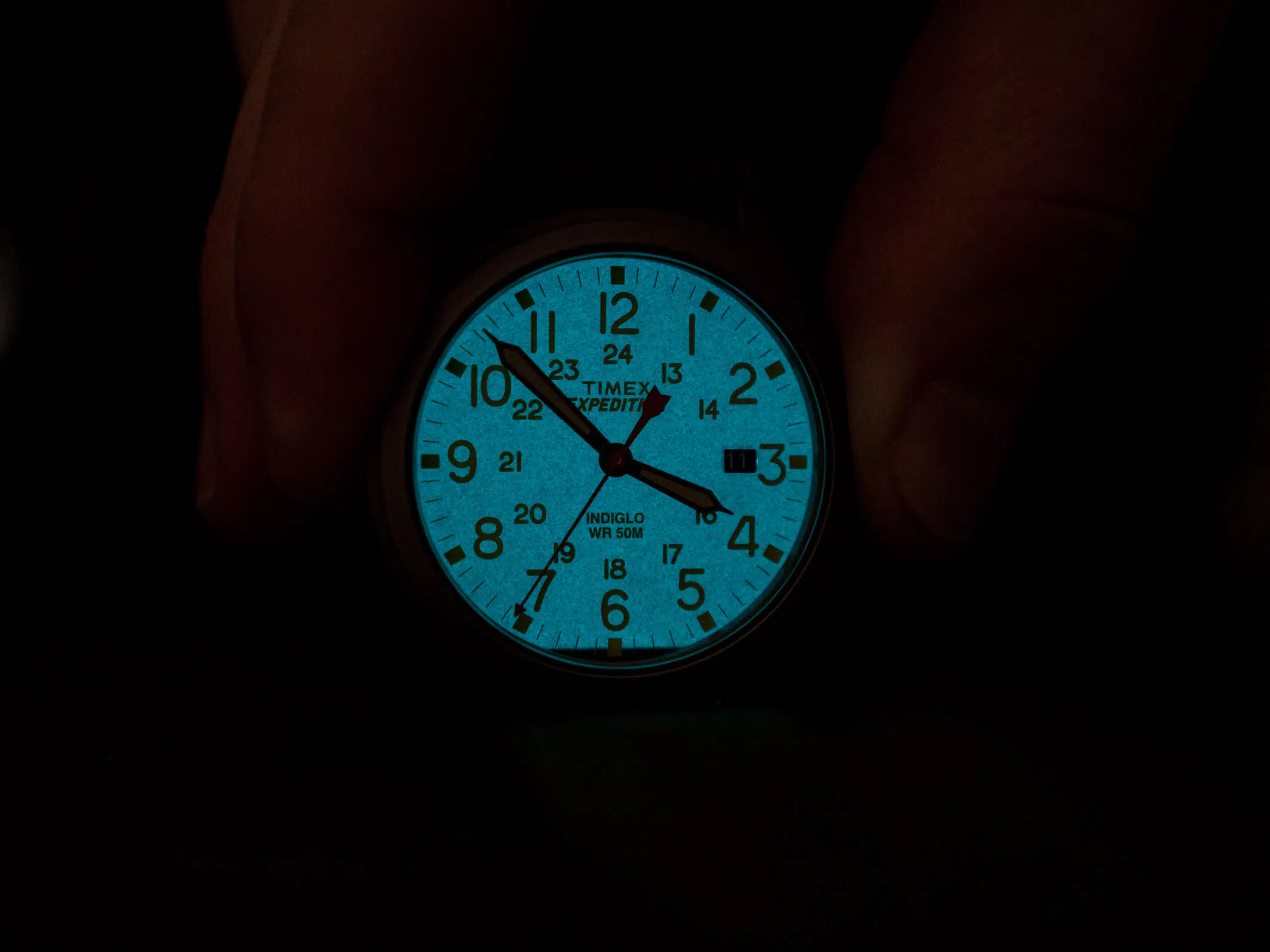 It has 50 meters of water resistance, so it's technically safe to wear in the shower (but you probably shouldn't) or out in the rain. It might survive a swim, but test that at your own risk.
Depending on the specific Scout you order, you'll get either a canvas or leather strap.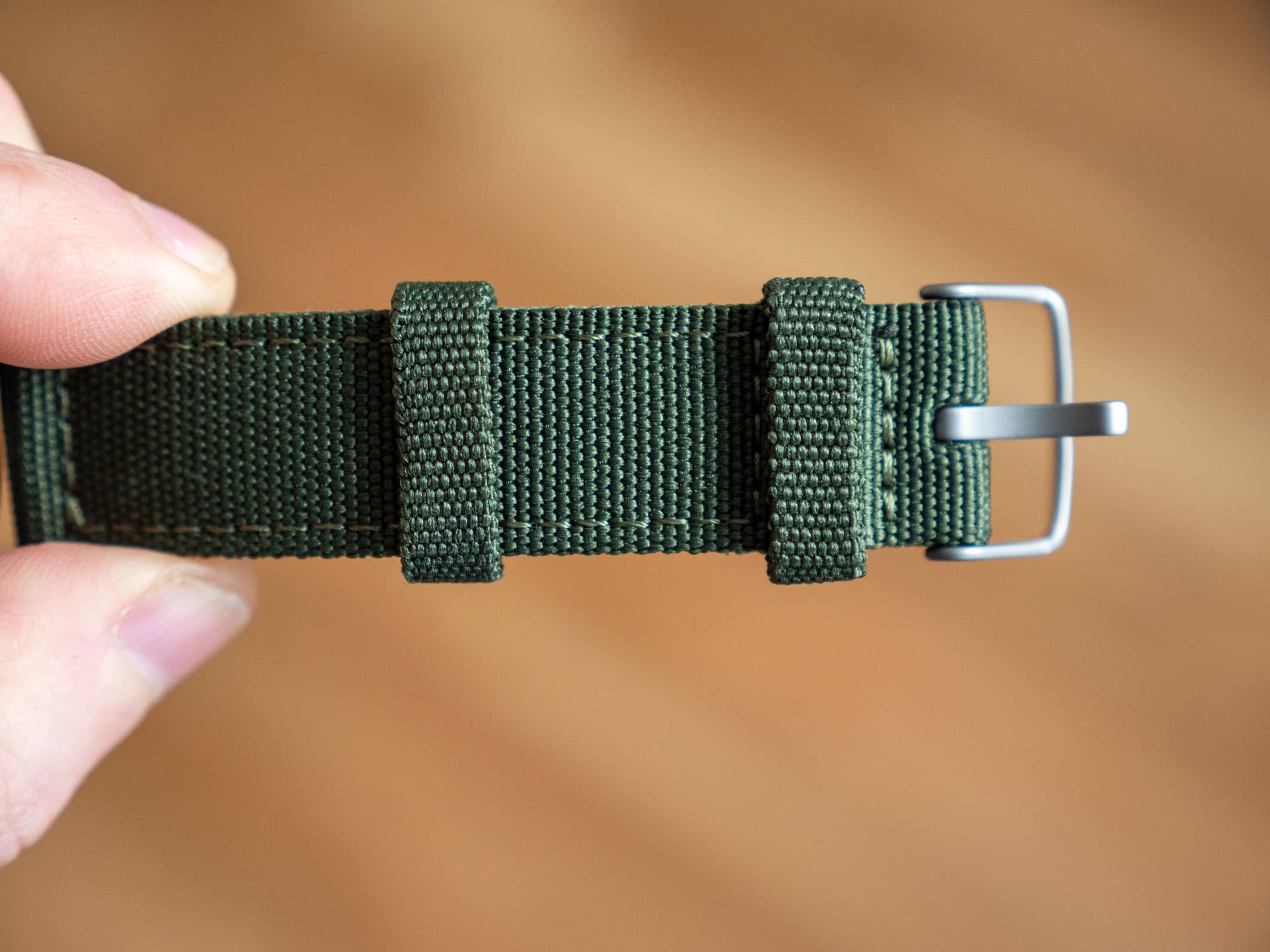 Mine came with a canvas strap, and while it's a little rough right out of the box, I actually think it could be pretty comfortable after you break it in.
Dial & Hands
Along with the standard numerals, you also get 24-hour markings and a date complication at 3 o'clock.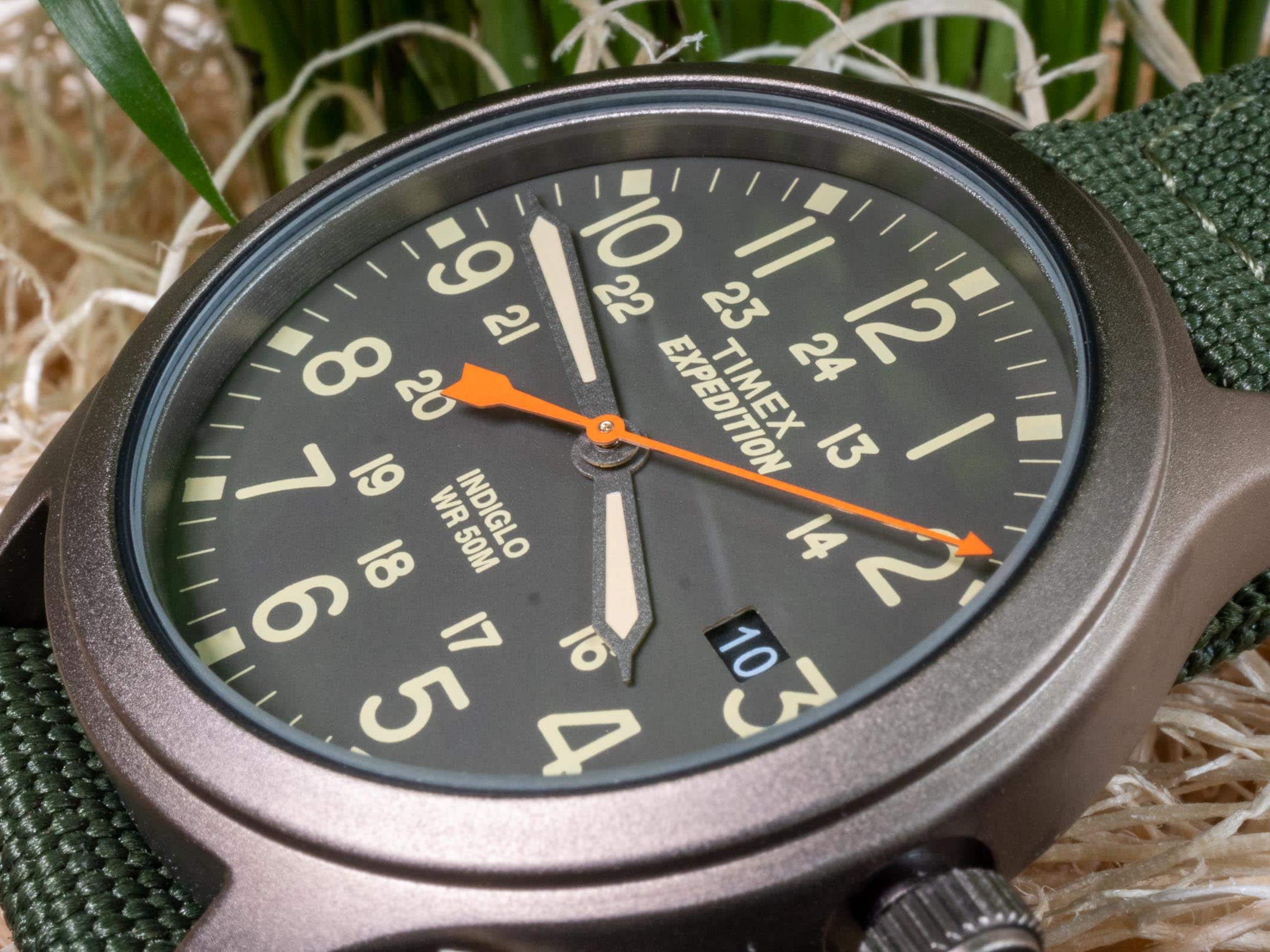 The hour markings are sort of a faint yellow that contrasts nicely against the grey dial.
I'm also a big fan of the bright orange second hand that provides a welcome pop of color.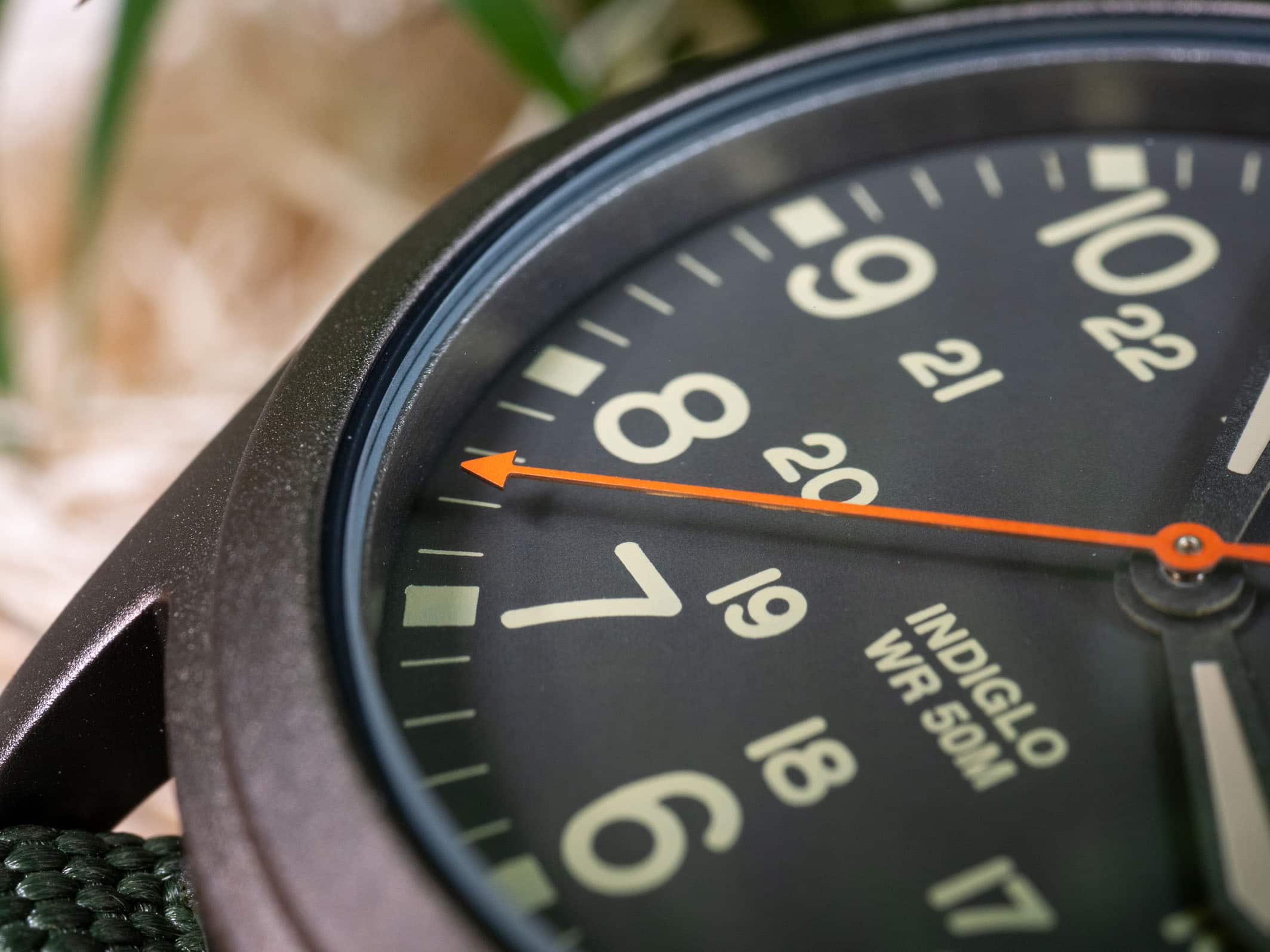 When the INDIGLO is activated, the dial lights up blue-green and all of the markings show up as black, making the watch super easy to read.
Then there's the ticking sound. If you read reviews of some of Timex's cheaper quartz watches, you'll see people talking about how loud the second hands are.
While this doesn't happen with all Timex quartz watches, some of them are louder than others.
Well, the Scout unfortunately has a mild case of the dreaded "Timex tick." I don't notice it when it's on my wrist and I'm going about my day, but if you're in a quiet space, it's pretty easy to hear.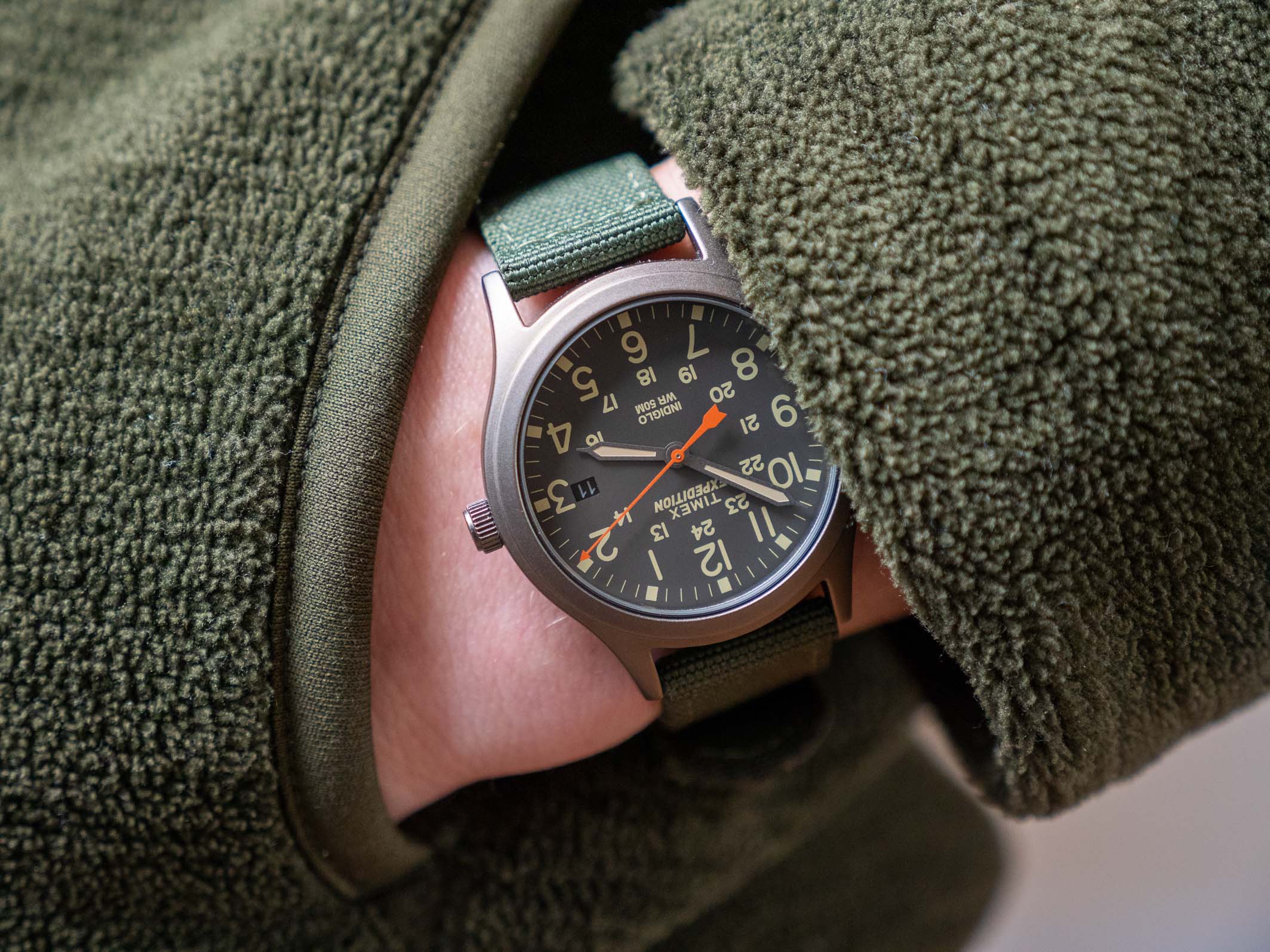 For me, this isn't a deal breaker. It's not loud enough to be heard over talking volume, and if you put it in a case or drawer, you're golden.
That said, there seems to be a lot of inconsistency among Timex watches where some are quieter and some are louder.
Your mileage may vary, but I don't think it should put you off buying one. (Remember the Timex catchphrase, "It takes a licking but keeps on ticking?").
Comments From the Editor
Ryan here — I've had this watch for two or three years now. I really like it because it's very rugged and versatile. I've worn it backpacking, bouldering, and trail running, but if I swap in a leather strap I can also wear it with a sport coat.
I personally don't like the green canvas strap it came with. Consequently, I bought a brown leather strap and a striped NATO strap.
Back to that "loud ticking" deal — yeah, I definitely notice it. On more than one occasion I've had to get out of bed to put the watch in a drawer so I could sleep. Knowing this, I'd still purchase one, but it's something I think potential buyers should be aware of.
Unlike Brock's Expedition Scout, mine has a yellow second hand. I think some small features like this can vary depending on the production year.
Overall, I'm very happy with this watch.
Pros & Cons
Overall, the Timex Expedition Scout is a great watch, and it offers a lot of value for money. At the same time, there are definitely some cons to be aware of.
First, let's start with the pros.
Pros
Incredibly affordable
Sturdy and reliable
Great retro style
Pretty versatile
Obviously, the #1 pro of the Expedition Scout is its price. You're getting a classic field watch for about $40. Compare that to another popular watch like the Hamilton Khaki, which costs around $495, and you'll see why the Timex is so popular.
I also really like the style. The design channels vintage field watches from the 1900s, and I'm a sucker for that aesthetic.
Cons
Thicker than some other field watches
Noticeable ticking noise
Stock strap needs breaking in
There really aren't many cons to the Expedition Scout, but in a perfect world, the case would be a little slimmer. It doesn't bother me when wearing it, but from a pure design perspective, it looks a little bulky.
Like I mentioned, the ticking noise may sway you one way or the other. It's not a huge negative for me, but I think it belongs on the list of cons since it's such a widespread issue.
My Verdict
The Timex Expedition Scout is one of the brand's most popular watches, and after wearing it for a while, I can see why. It's simple, reliable, and well-designed.
Of course, it's no Hamilton Khaki, but it's not trying to be. This is a $40 watch, and while you're getting a lot of bang for your buck, you can't compare it to other field watches that cost ten times as much.
If you want a retro field watch without breaking the bank, the Expedition Scout is a great option.
I also recommend it to anyone looking for a field watch they can actually take out into the field without worrying. Since it's so cheap, it's not the end of the world if it gets banged up.
If you like the overall style but want something a little different (or maybe you're just wary of the ticking volume), take a look at the Timex Camper, another budget field watch that has similar specs and costs about the same price.
Overall, the Timex Expedition Scout is a solid, functional field watch with great design. It gets two thumbs up from me.
Questions? Comments? Leave them below!