In this hands-on review, we look at the Seiko SNK803. Spoiler alert: this watch is awesome.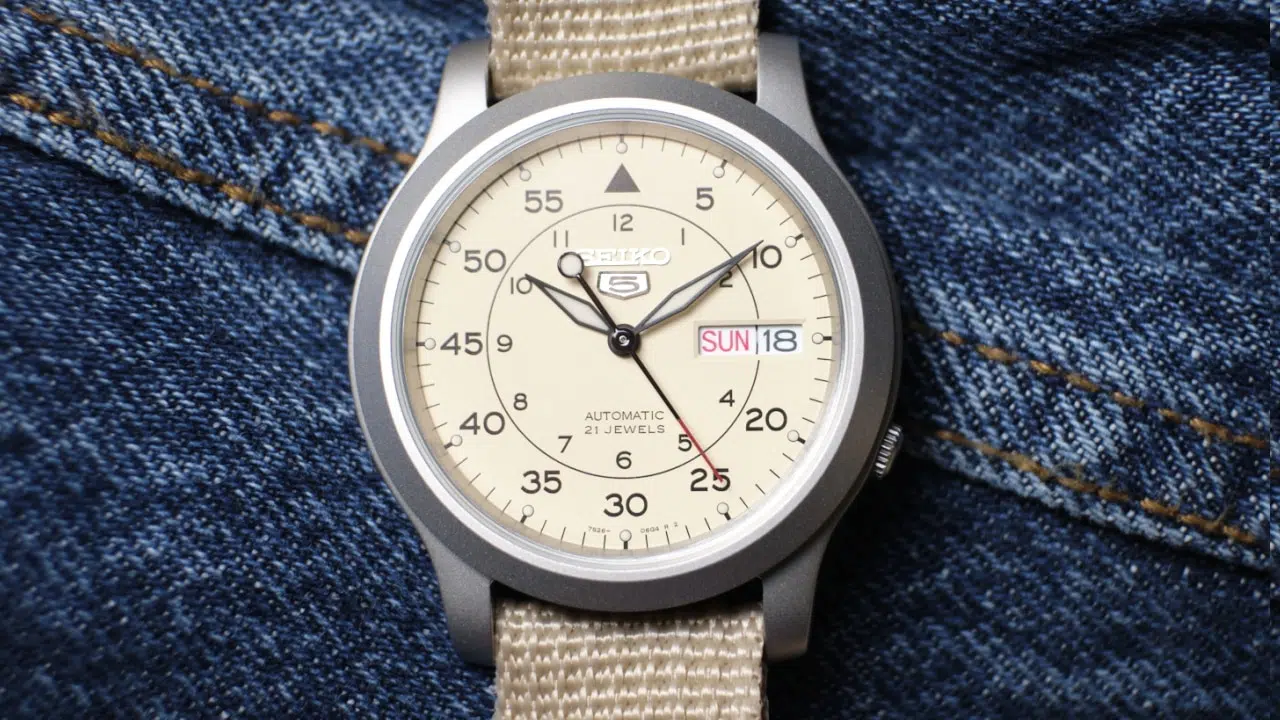 Do you remember your first watch? Perhaps it was a simple quartz watch that your mom and dad bought you on your birthday. That's what initiates many future watch enthusiasts into the world of watches.
However, for most of us watch enthusiasts, there is a separate "first" that we experience that's a jumping point to more complicated and interesting watches — our first automatic watch.
Today we'll take a look at the Seiko SNK803, a watch that a lot of enthusiasts consider to be our first automatic watch. With an amazing colored dial, snug dimensions, and, of course, a reliable automatic movement, what's not to love about the SNK803?
Read on to find out if this classic should be part of your collection (if you don't already have one).
A Brief History of Seiko
Seiko is one of the few watch brands that's a household name. From their humble roots in 1881 Japan, Seiko has become one of the largest manufacturers of watches in the world. 
Kintarō Hattori, the founder of Seiko, opened his watch and jewelry shop called K. Hattori in Tokyo, Japan.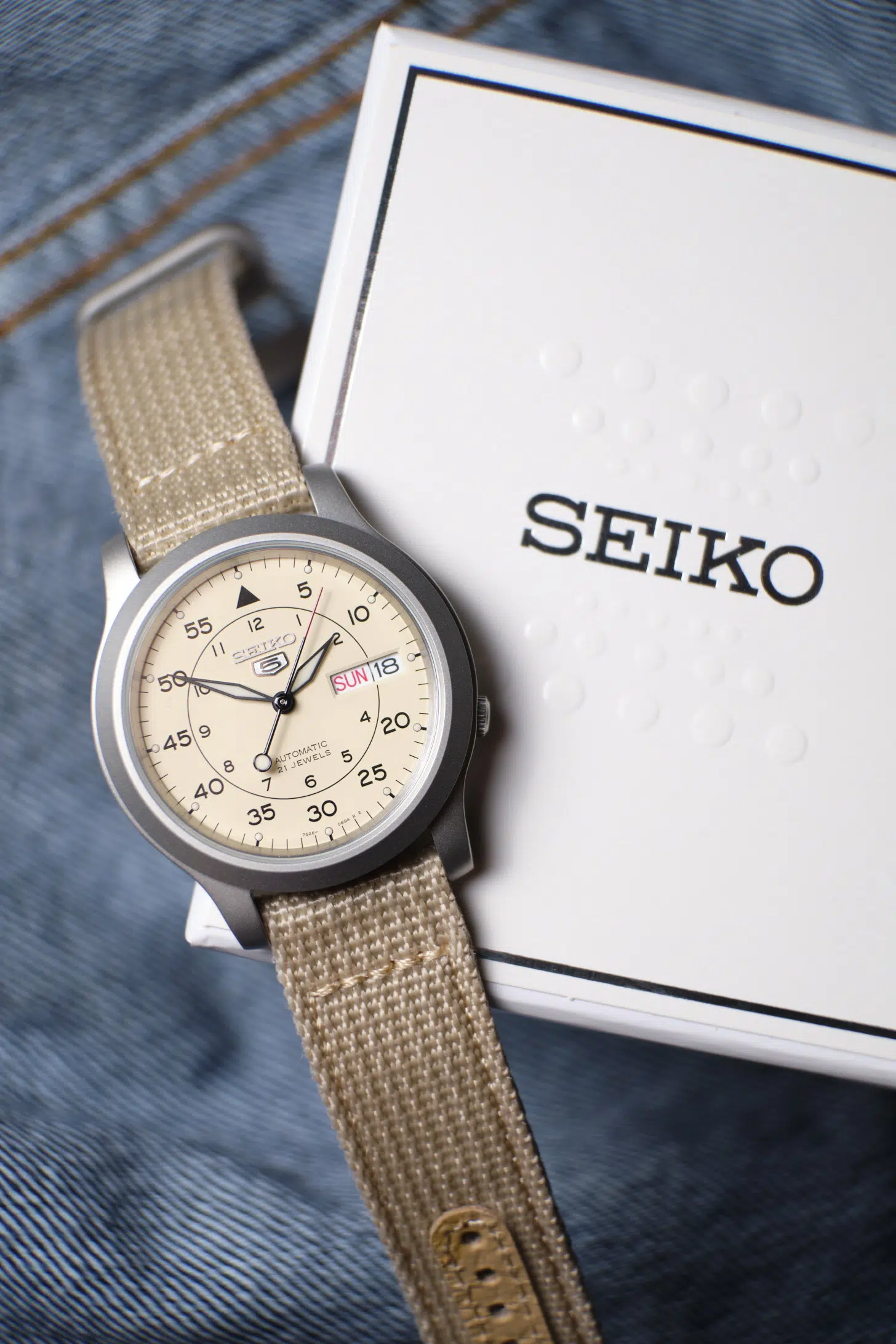 After several apprenticeships and partnerships with foreign trading firms — one being F. Perregaux & Co. — he moved his shop to the main street of Ginza, Tokyo.
In 1892, Hattori began making clocks under the name "Seikosha."
In 1983, they were renamed Hattori Seiko Co., Ltd. and became Seiko Corporation in 1990. After some restructuring and following the creation of its subsidiaries, the company finally became Seiko Holding Corporation.
In 1969, Seiko developed the first production quartz watch, the Astron.
Not resting on their laurels, they then went on to develop the first quartz analog chronograph.
Currently, the Seiko Group has 7 watch brands under their name: Seiko, Grand Seiko, Credor, Pulsar, Alba, Lorus, and Orient.
Overview of the Seiko 5 Line
The Seiko 5 line of watches was first introduced in 1963 and was Japan's first-ever automatic day-date watch. The SNK803 is one of many watches in the Seiko 5 line.
Every watch in the Seiko 5 line has each of these five attributes:
An automatic movement
A day-date display at the three o'clock position
Water-resistance
A recessed crown at the four o'clock position
A case and bracelet built for durability
By keeping these features consistent across all watches in this line, Seiko makes it easier for the consumer to know what they are getting when they purchase a Seiko 5 watch.
SNK803 Case
Looking at the case of this Seiko 5, we can see why this watch was such a hit within the watch community.
For one, there are the snug dimensions of both a 37mm case diameter and a lug-to-lug of 43mm, making this watch wear perfectly on a variety of wrist sizes.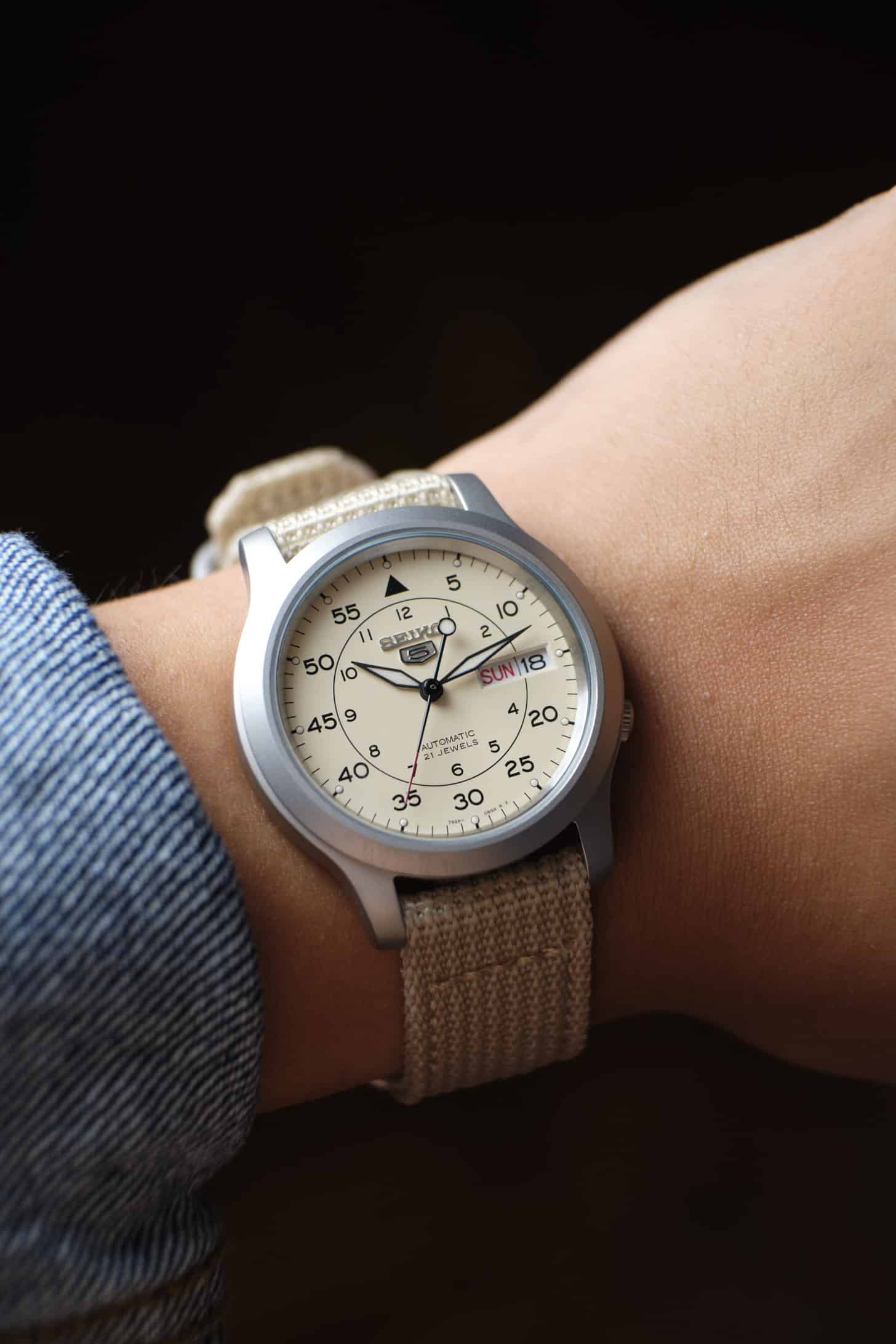 The case height is also a heavy hitter, with it being just 11mm thick. I think this fits a "goldilocks zone" of sorts for case heights. It's not too high and not too short.
The case of the SNK803 is divided into three parts. The faceting of the case makes this watch look smaller and diminutive. Don't take its height too seriously, this watch wears thinner on the wrist.
The case is fashioned out of bead-blasted stainless steel. This gives the piece a field watch feel that extends to the dial, which we will discuss later on.
Turning the watch over, we get a look at the see-through acrylic case back, giving us a glimpse of the 7S26 movement. Interestingly, Seiko decided to fully polish the underside of the case. While perhaps a strange choice, it adds a nice contrast to the case.
Following Seiko 5 design philosophy, the crown of the SNK803 is located at the 4 o'clock. The crown is small and a bit hard to grip, but it manages to do its job.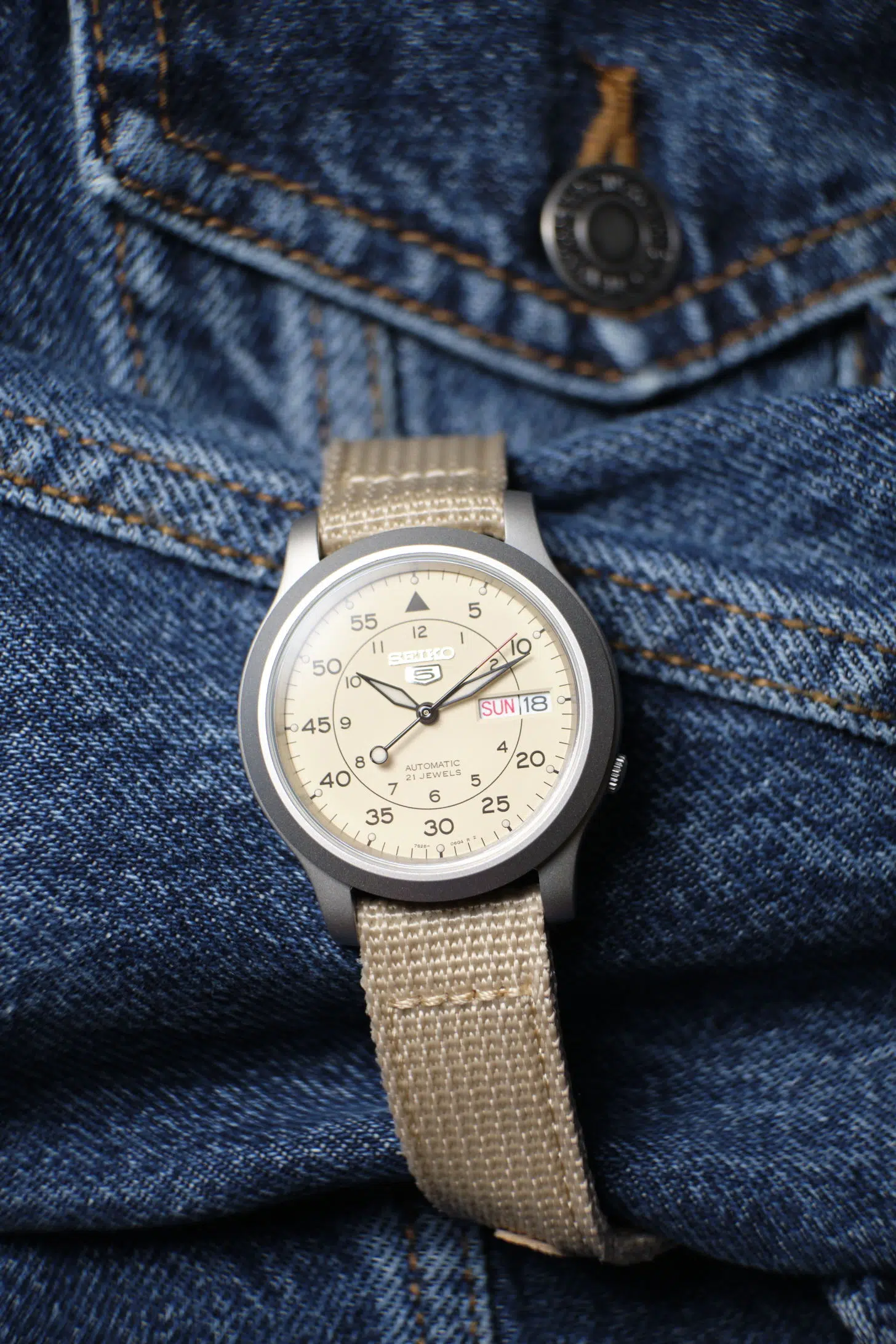 The case of the SNK803 is divided into three parts. The faceting of the case makes this watch look smaller and diminutive.
Although designed to be a field watch, the SNK803 has a paltry 30m of water resistance. That's just about enough to handle some light drops, but you wouldn't be taking this with you when it's pouring outside.
SNK803 Dial
Seiko provides a lot of choices in terms of dial color with their SNK line of watches. Here, the SNK803 boasts a dial of cool beige that, on the wrist, looks nice.
The bright nature of the color choice contrasts well with just about any wrist, making this dial pop.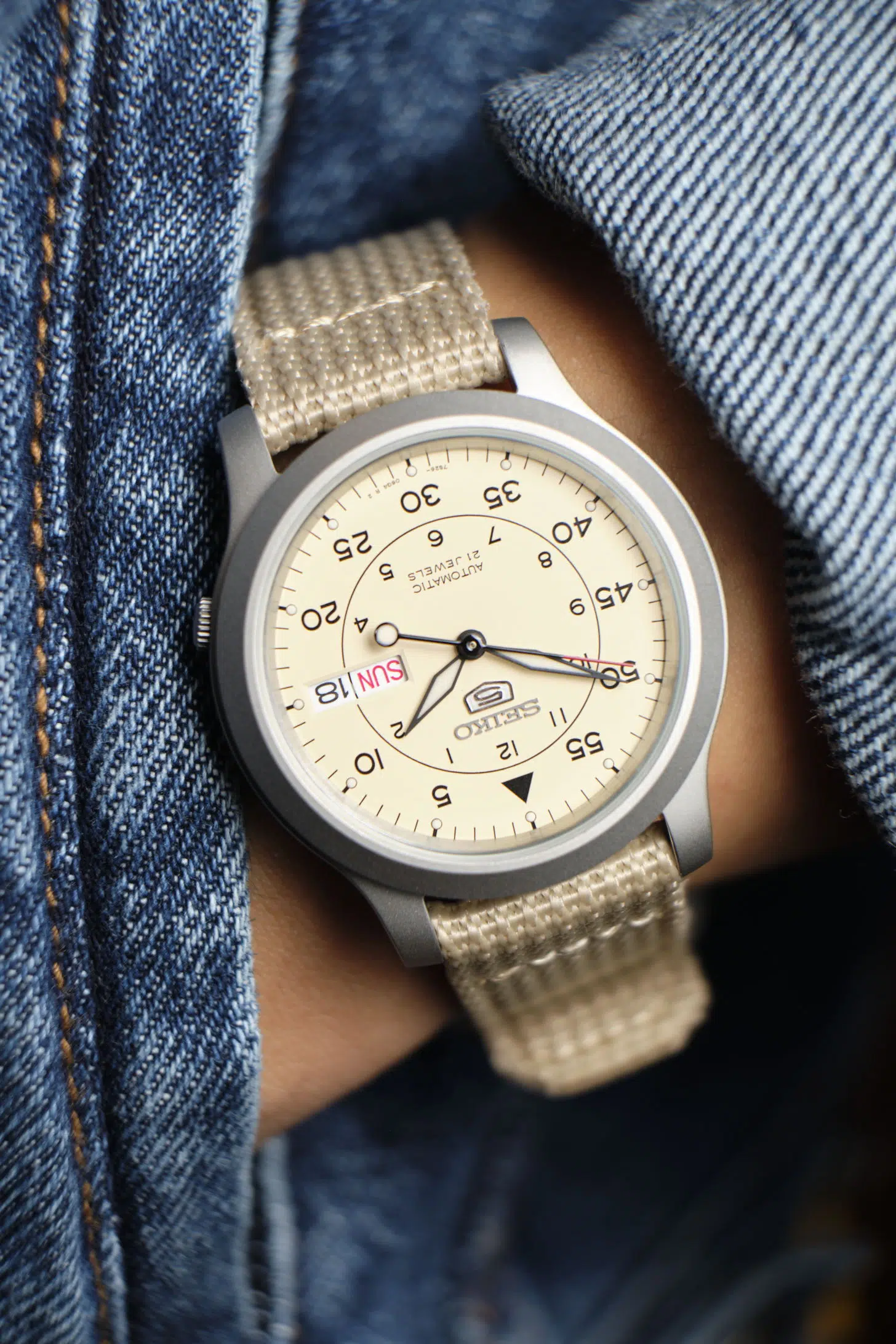 Surrounding the dial are black printed minute ticks, guaranteeing an accurate read of the time. At each five-minute interval is a beige lume pip filled with Seiko's proprietary LumiBrite.
In the style of old German fliegers, the SNK803 minute markers are fashioned after Type B German pilot watches. Surrounding the middle of the dial are minute markings in five-minute intervals. This was designed so that German flight navigators could calculate how much fuel they had left after a certain distance.
A thin black circle surrounds the center, dividing the minute markers outside with the black printed hour numerals inside. At the top is a large triangle, making it clear to the wearer which side is up.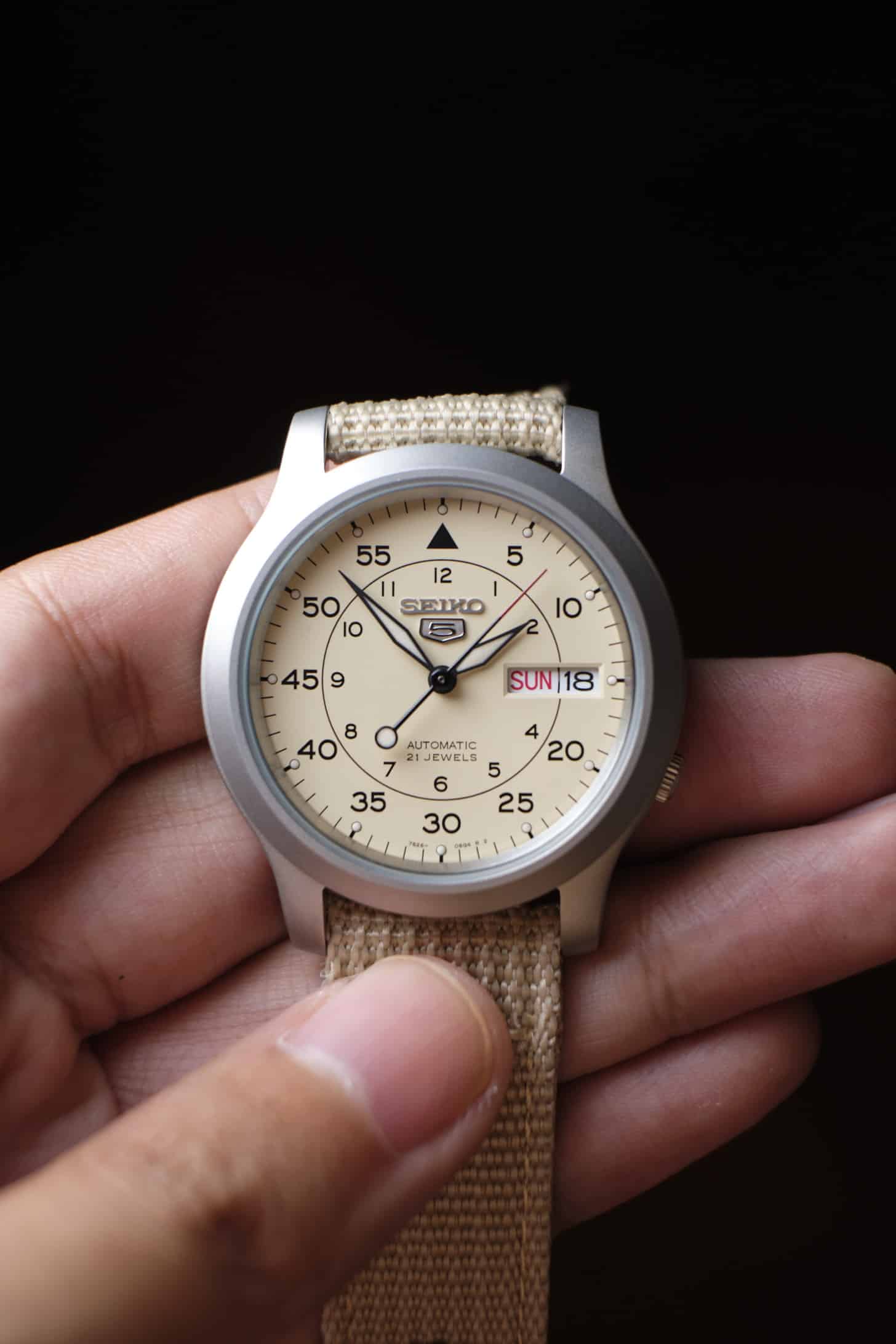 In true Seiko 5 fashion, both the day and date are located at the 3 o'clock, the day being in a blue text when in English and black when in Arabic. The date is in black text.
The SNK803 has sword-style hour and minute hands. Both hands have a generous amount of LumiBrite, making this watch super legible in the dark. The seconds hand is crafted in a lollipop style with a bright red painted pointer and a LumiBrite-filled counterbalance.
Above the hands is the applied Seiko text along with the Seiko 5 shield. Below the hands are "21 Jewels" and "Automatic" printed in all caps.
SNK803 Movement
Powering this Seiko 5 is the venerable 7S26 movement.
Having powered several generations of watches within the Seiko 5 line, the 7S26 is known to watch enthusiasts and collectors alike.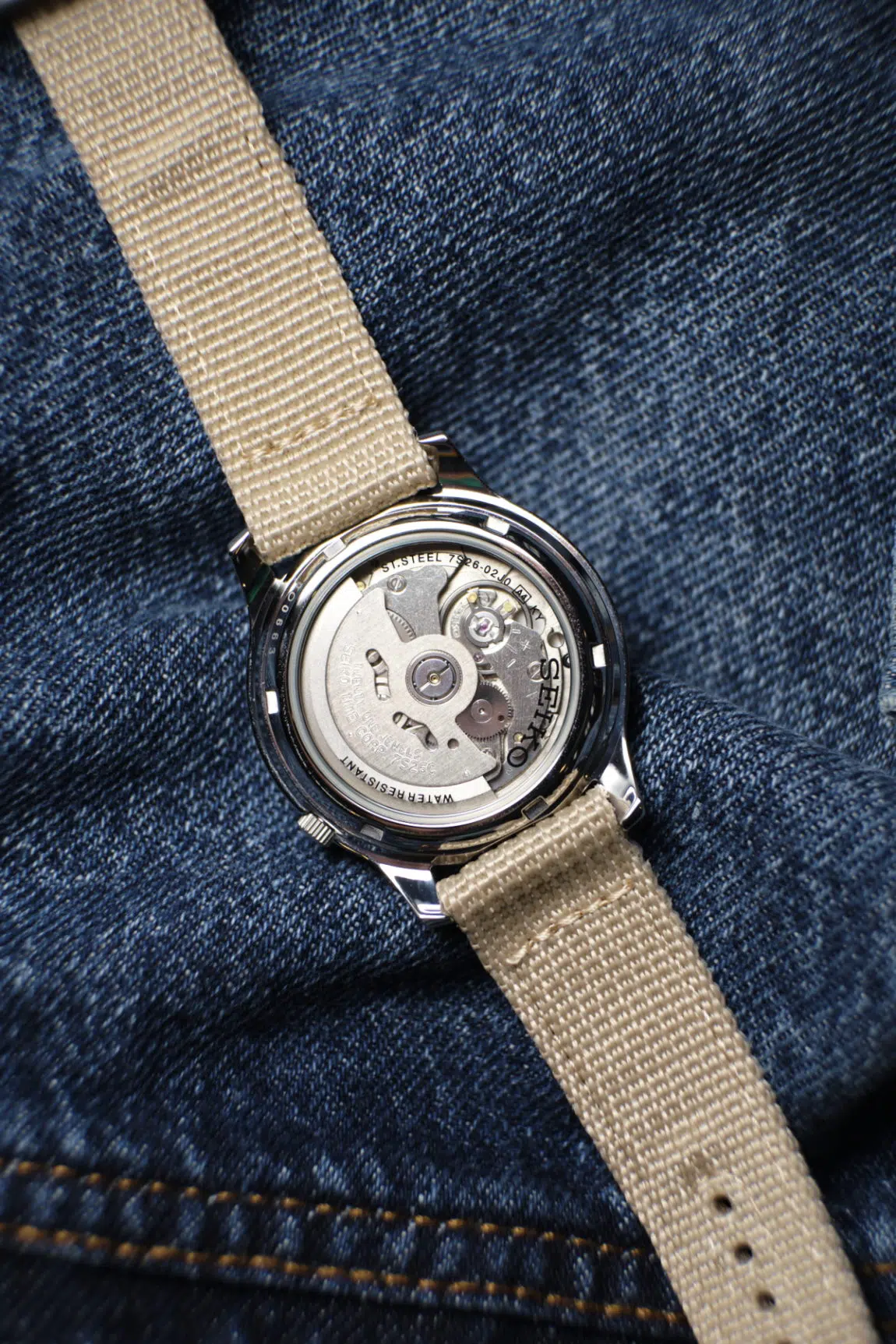 This automatic watch has a power reserve of 38 hours and beats at 3hz. Although being one of Seiko's most used movements, the movement lacks both hand winding and hacking. Along with that, this movement is outdated compared to Seiko's current offerings.
Features present in this movement are variable day and date functions.
SNK803 Strap
Seiko is not known for its straps, and the strap on this watch is no exception.
The SNK803 comes supplied with a woven nylon strap in beige. The strap is rather thick and gives an average fit on the wrist.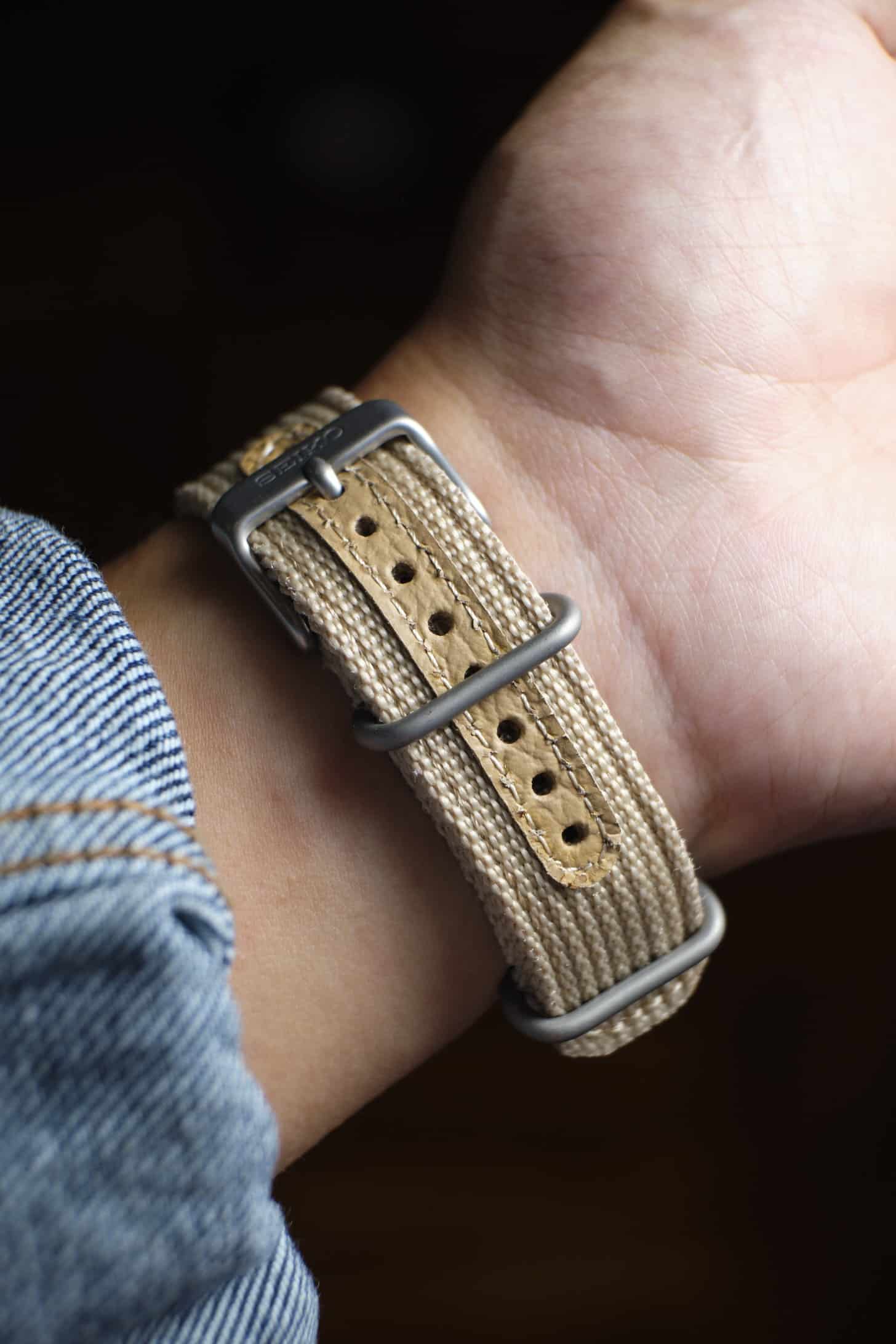 It has ten adjustment holes, so it fits most wrists. Along the adjustment holes, you'll find what seems to be leather stitched to the nylon strap. This gives a slight contrast to the strap.
Securing your strap is a bead-blasted buckle fashioned after the bead-blasting of the case. The buckle has Seiko etched onto it.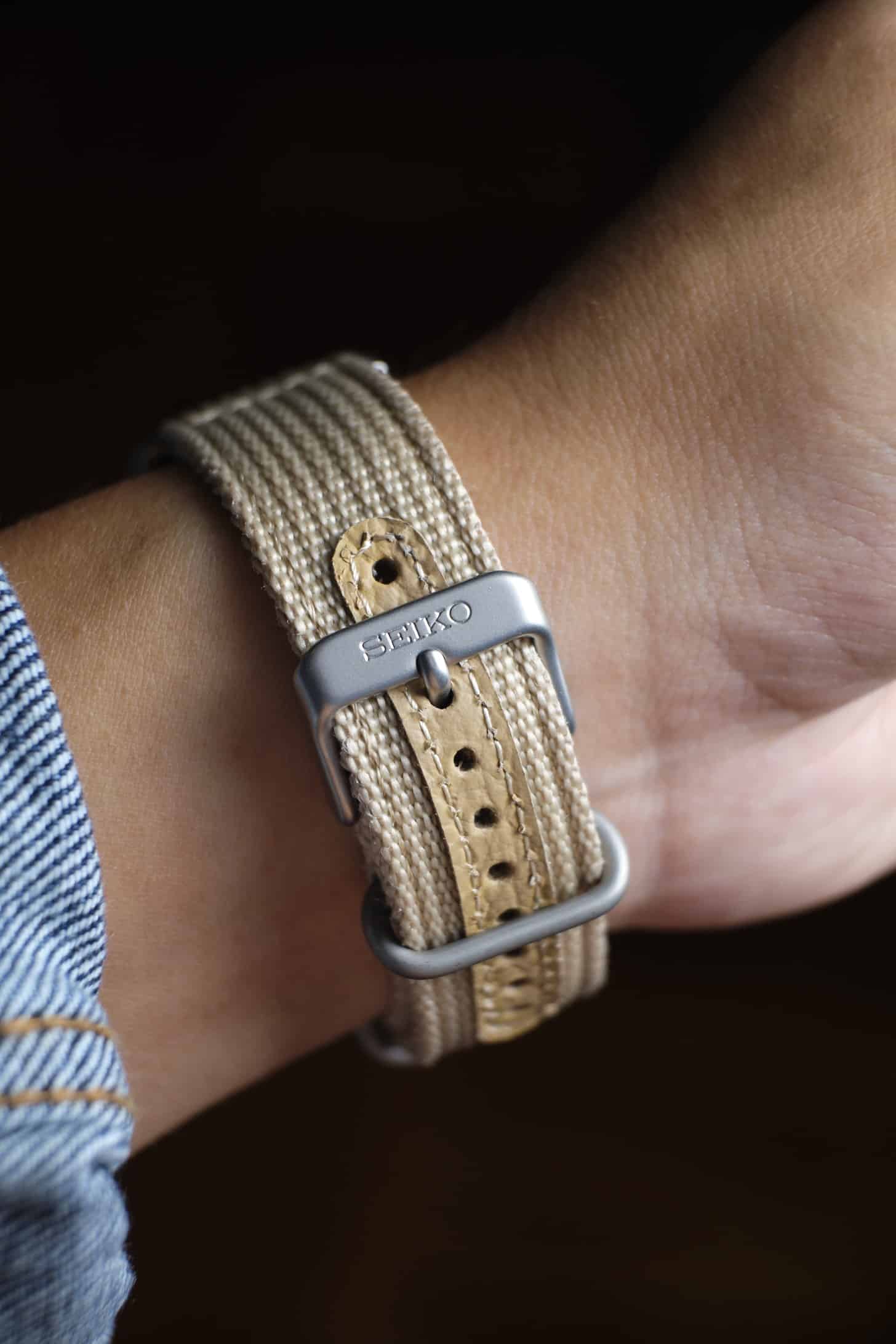 Overall, the strap is… okay. It's nothing to write home about. A positive of this strap is that the lug width is 18mm, making it easy to find replacement straps to swap in.
Conclusion: A No-Brainer
So what makes this the watch that pulls people into the rabbit hole?
Is it the perfect dimensions? The pulling beige dial? Or maybe it's the venerable and reliable — though outdated — movement? Or is it just because this watch says "Seiko" on the dial?
Whether one reason pulls more than another, one thing we know is that this watch is the perfect amalgamation of all that was mentioned.
With a well-executed dial, movement, dimensions, and name, for the price, this watch has a lot going for it.
This watch is an absolute classic. It has graced the watch boxes of those who are deep in the game and those who have just started. If you are looking at this watch to start your collection, or as another addition to it, then you should get it.
Questions? Comments? Leave them below!