Russia produces some of the most unique watches on the market. If you're interested in eclectic designs, check out our eight best Russian watch brands.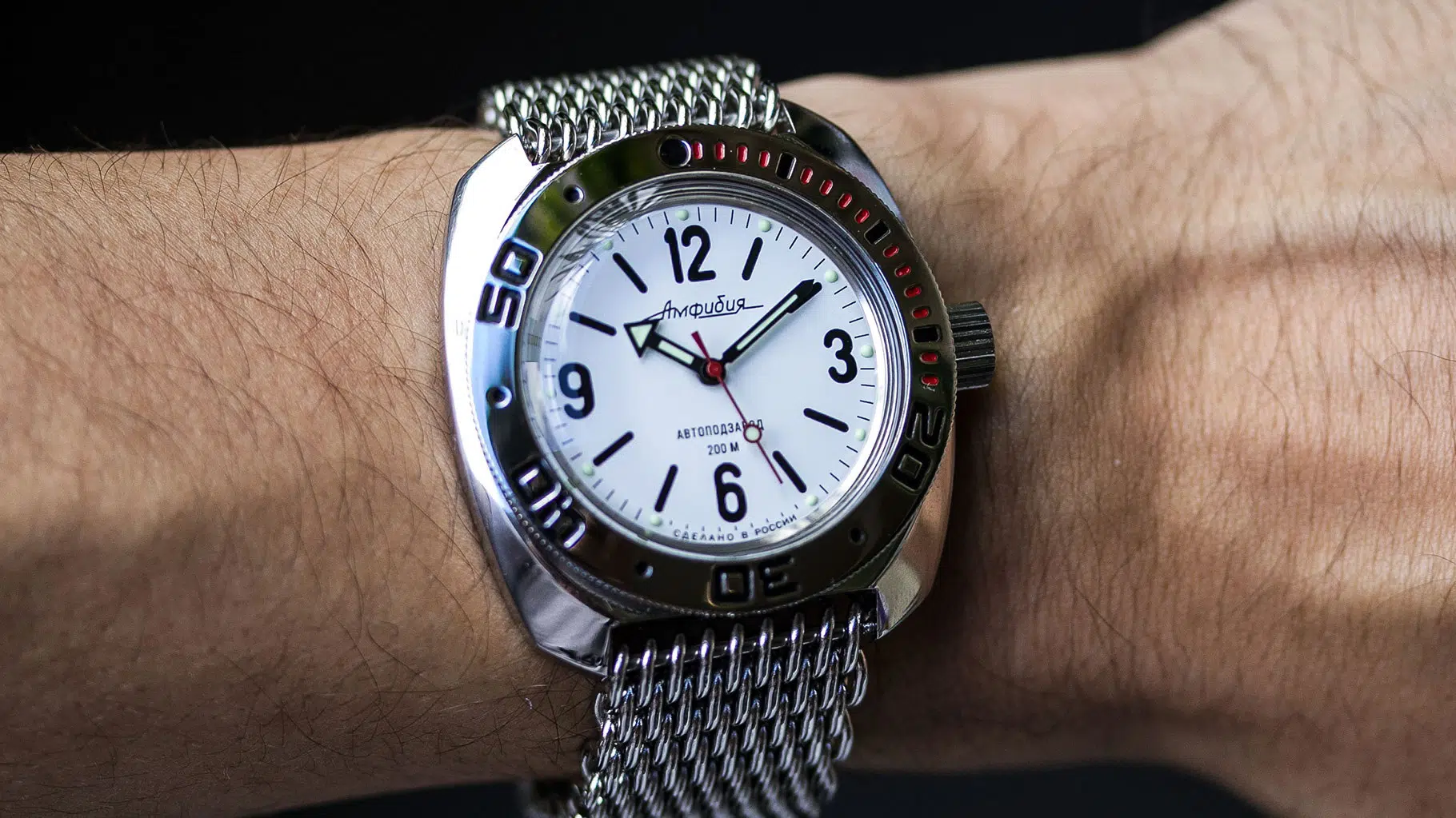 If you are able to find an entry point into the niche world of Russian watches brands, you'll find offerings that are very much functionally and visually outside of the mainstream market. Many watch enthusiasts consider a Russian timepiece the "wild card" in their collection.
If you've never considered a watch from Russia, here are some worthwhile options
The Difficulties of Buying a Russian Watch
Winston Churchill famously said that Russia is "a riddle, wrapped in a mystery, inside an enigma; but perhaps there is a key."
The same could be said about Russian watches — there are significant barriers in the way of Westerners interested in purchasing a timepiece from Russia or several other former Soviet countries. However, it's not an entirely quixotic undertaking.
There are two reasons watch brands from Russia can be confusing to collectors outside of the country.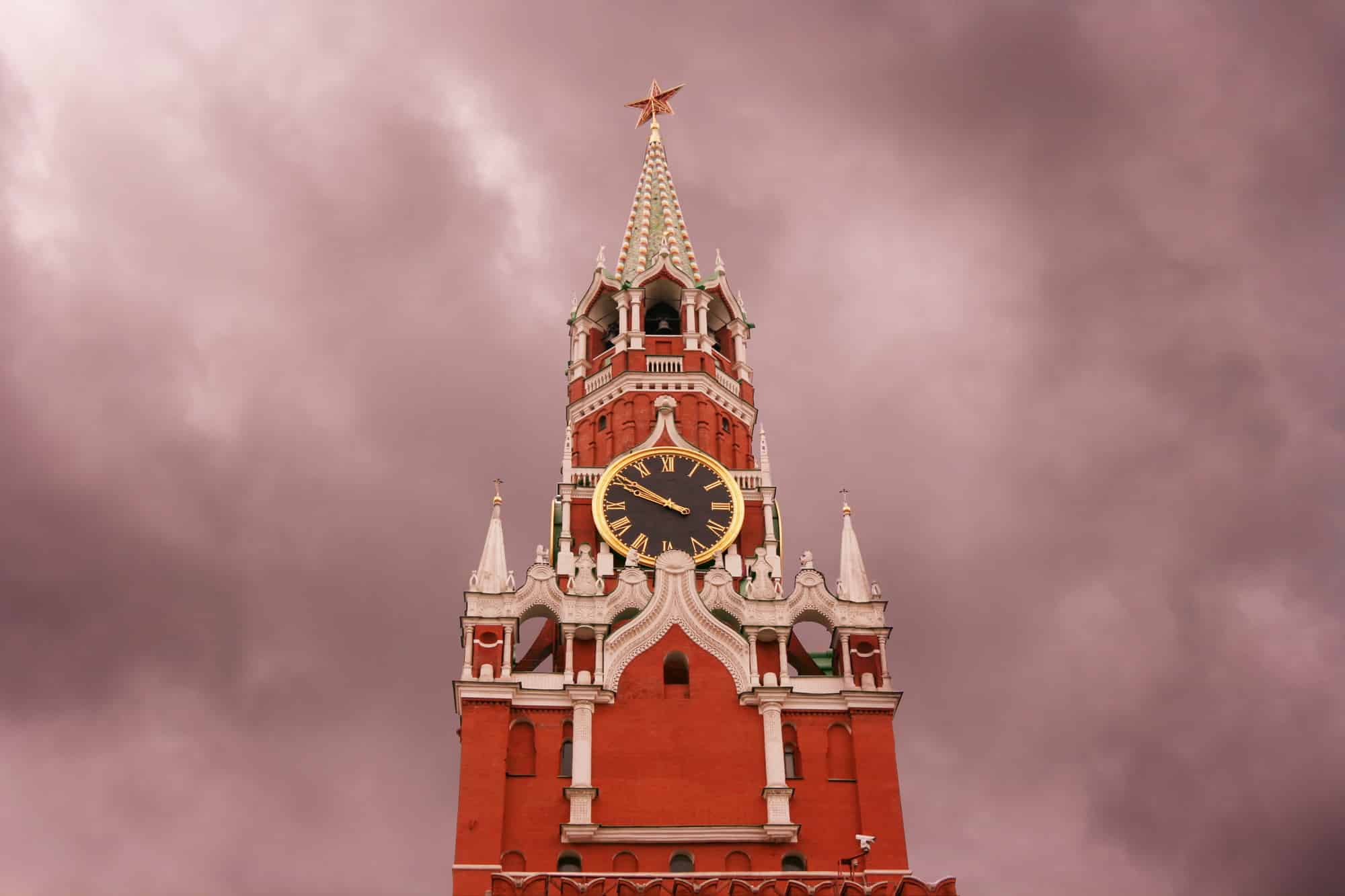 First, besides Vostok, these watch brands can be difficult to find west of Belarus.
Second, if you aren't familiar with the Cyrillic alphabet, it can be very hard to keep the brand names straight.
For instance, when searching for Russian watches you might see the name "Ракета" on a dial. However, since the brand is written in the Cyrillic alphabet it is actually pronounced "Rakyeta" in English.
For novice vintage Russian watch collectors it can be confusing to navigate the muddy waters of brands surrounding brands that were once state-owned that have since been privatized (many of which have gone through name changes and have evolved stylistically).
Where to Buy Russian Watches in 2022?
Due to the tense current geopolitical climate, it's hard for Westerners to import watches from Eastern Europe. At this point, I wouldn't recommend ordering a watch directly from brands in Russia.
Instead, you'd probably be better off looking for watches on eBay. Not only does eBay have many used Soviet and Russian watches for sale, they also stock new watches that ship from individuals located within the US.
You can also find new watches from some brands, like Vostok, on Amazon.
8 Best Watch Brands From Russia
Here are the best watch brands from Russia in no particular order.
Vostok
Vostok is a fan favorite and one of the most commonly found Russian watches outside of Eastern Europe. That's not to say that it's a common brand, at least not by mainstream standards, but you can find their timepieces on Amazon.
Vostok was founded during WWII and specializes in crafting durable mechanicals at affordable prices.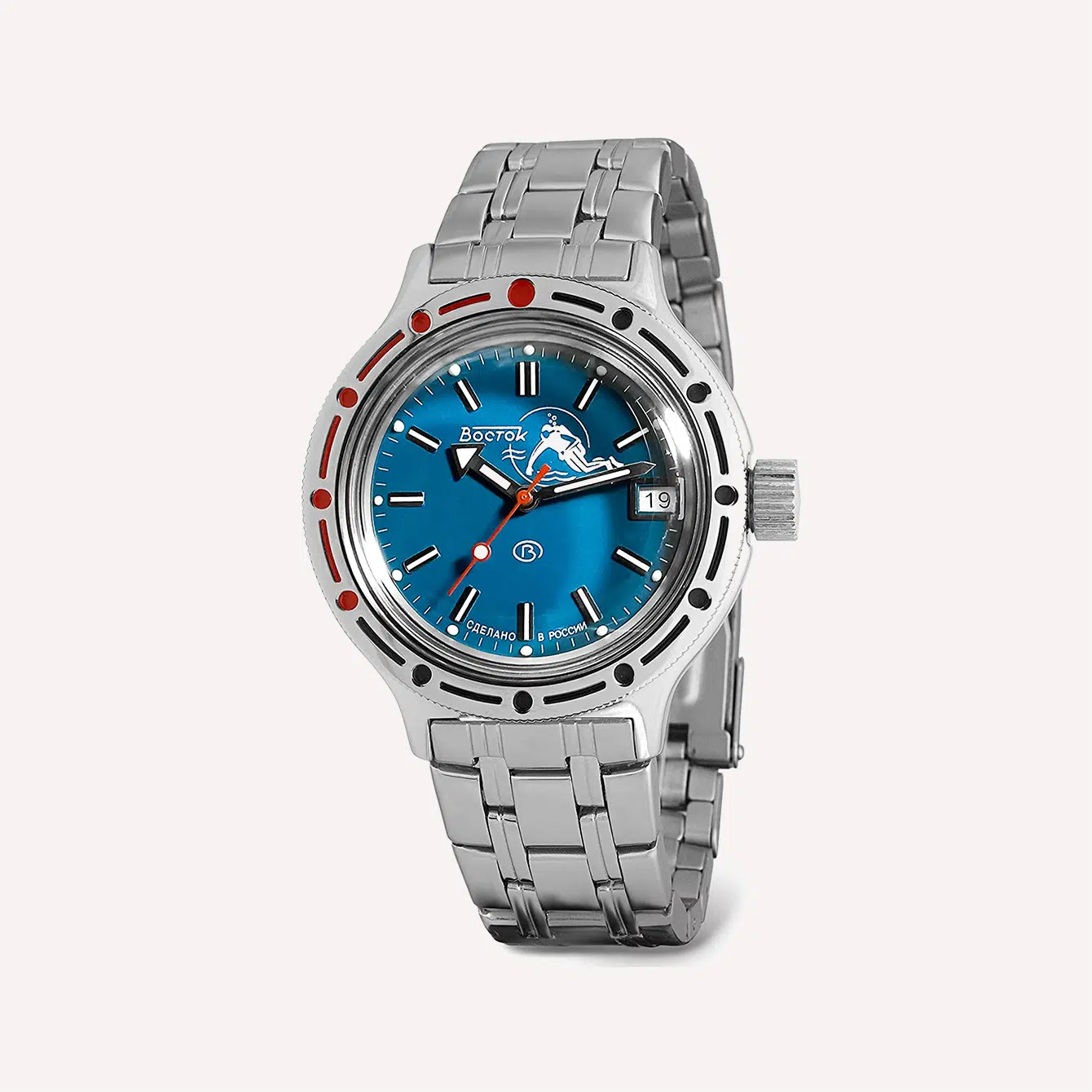 Their aesthetics are quintessentially Eastern European (which is alluded to in the name "Vostok," which means "the east" in Russian). To me, this is manifest in tool watch templates that are familiar, but just a bit off.
It's like a different dialect of the design language Western watches often implement — and this is why they're so coveted.
According to their site, Vostok "is the only watch company in Russia that produces watch mechanisms and mechanical watches… [The name] 'Vostok' indicates compliance with European standards of quality and Russian values." (My translation).
This design sensibility is clearly showcased in their Amphibia 420059, lovingly referred to as the Scuba Dude watch. It features the dive watch basics: Legible, 200m of water resistance, and a unidirectional bezel.
Then there's the thin, almost dress watch-like indices, the dotted bezel, and of course, the diver illustration on the dial.
I also love a thoughtfully-used acrylic crystal, and the Amphibia is the perfect example of this. The dome adds complexity to the watch's profile, which complements the dial color, indices, and illustration, as well as the layered and textured case side.
Dimensions: 40mm diameter, 15mm thickness
Case material: Stainless steel
Water resistance: 30m
With its domed case, the Amphibia is pretty tall, which I think is great since there are so many levels to its side view. But, it might be too tall for you if you prefer a slimmer case.
Sturmanskie
So here's the deal with Sturmanskie and Poljot. In 1961, Yuri Gagarin became the first man to go to space. He wore a Sturmanskie pilot watch, which brought the name great fame throughout the Soviet nations.
So, in 1964, they became "Poljot" (pronounced "Paul-yot") which means "flight."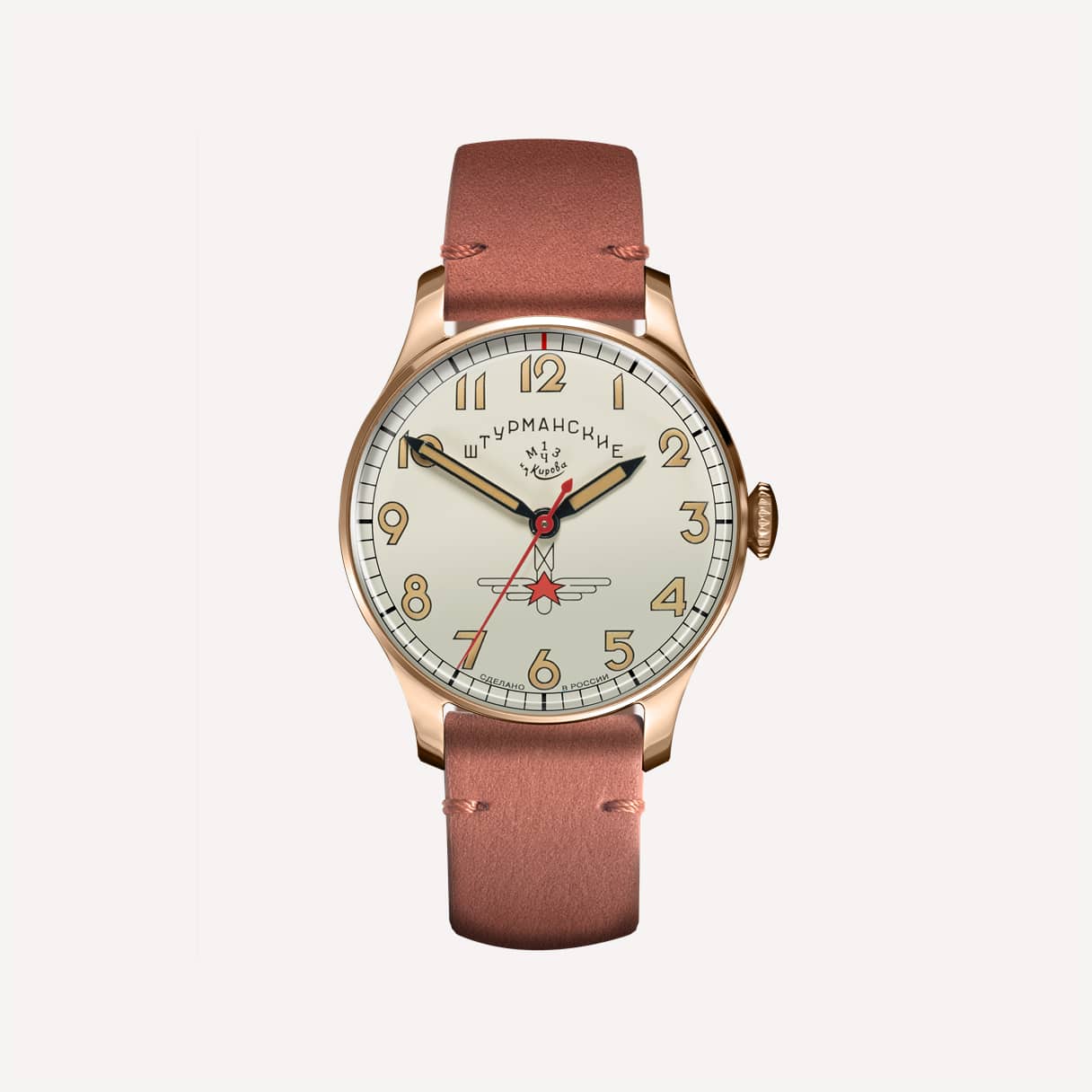 However, the First Moscow Watch Factory, which owns Poljot, eventually got bought out and became Volmax (this is the less complicated version of the story!), and still uses the Sturmanskie name among other discreet brands.
Poljot is sort of still alive, but we'll save that for their own space in this roundup.
For now, we'll focus on the fact that Sturmanskie is an excellent brand to go to for Russian-specific vintage aesthetics. The Gagarin is modeled after the timepiece Yuri wore into space.
It comes in a 33mm case size and is often available on Amazon. Volmax is also the only company authorized to use the Gagarin name.
Dimensions: 33mm diameter, 15mm thickness
Case material: Stainless steel
Water resistance: 30m
It's a classic vintage watch, made just different enough, thanks to the Russian aesthetic touches such as the poster-like illustrative qualities of the indices and the red-starred wings below the hands. Plus you don't get a lot of hand-wound watches at this small of a size these days!
Strela/Poljot
We've already established that the Moscow Watch Factory became Volmax.
After that, MakTime, the producer of Poljot movements, went bankrupt. Then, Juri Levenberg started the Strela brand, which produces watches that run on replicas of the original Poljot movement. 
To further complicate the Poljot befuddlement, both Poljot and Raketa were once sold in England under the brand Sekonda.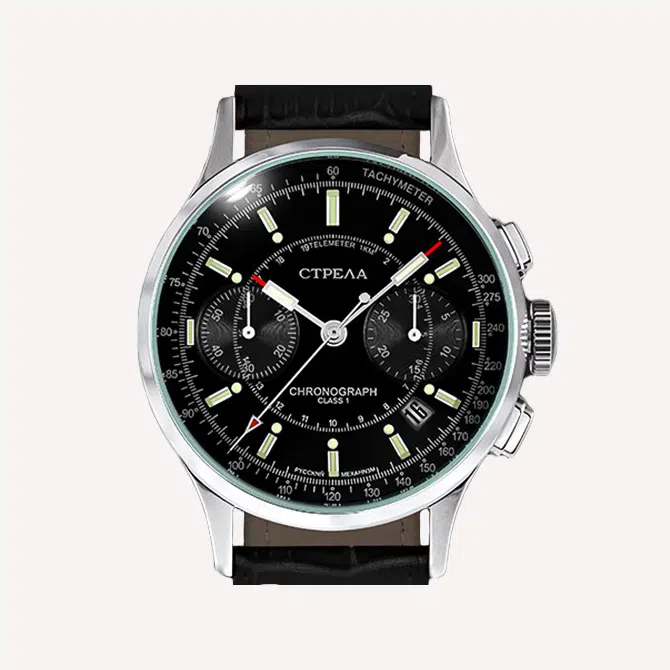 Strela lays an ancestral claim to the Poljot tradition, and function-wise, they're sort of right.
If you want a timepiece with a Poljot branded dial, poljot24.de is a good resource. However, Strela offers what collectors love about classic Poljot watches the most, and that's the 3133 movement. It's a 23-jewel, cam-controlled chronograph that runs at a respectable 3Hz.
Their Cosmos watches are sort of like Russian Bulova Lunar Pilots, and they come in a 38mm version! It has a busy and scientific-looking dial, the kind we often associate with space watches.
Dimensions: 38mm diameter, 15mm thickness
Case material: Stainless steel
Water resistance: 30m
The use of baton indices on such a technical-looking face, plus the Cyrillic writing adds a bit of "exoticness" to us Westerners. Again, it's what collectors look for when opting for an eastern European counterpart to popular western timepieces.
Slava
Slava is known for its in-house movement that uses two mainspring barrels. How? They're connected by a non-moving gear.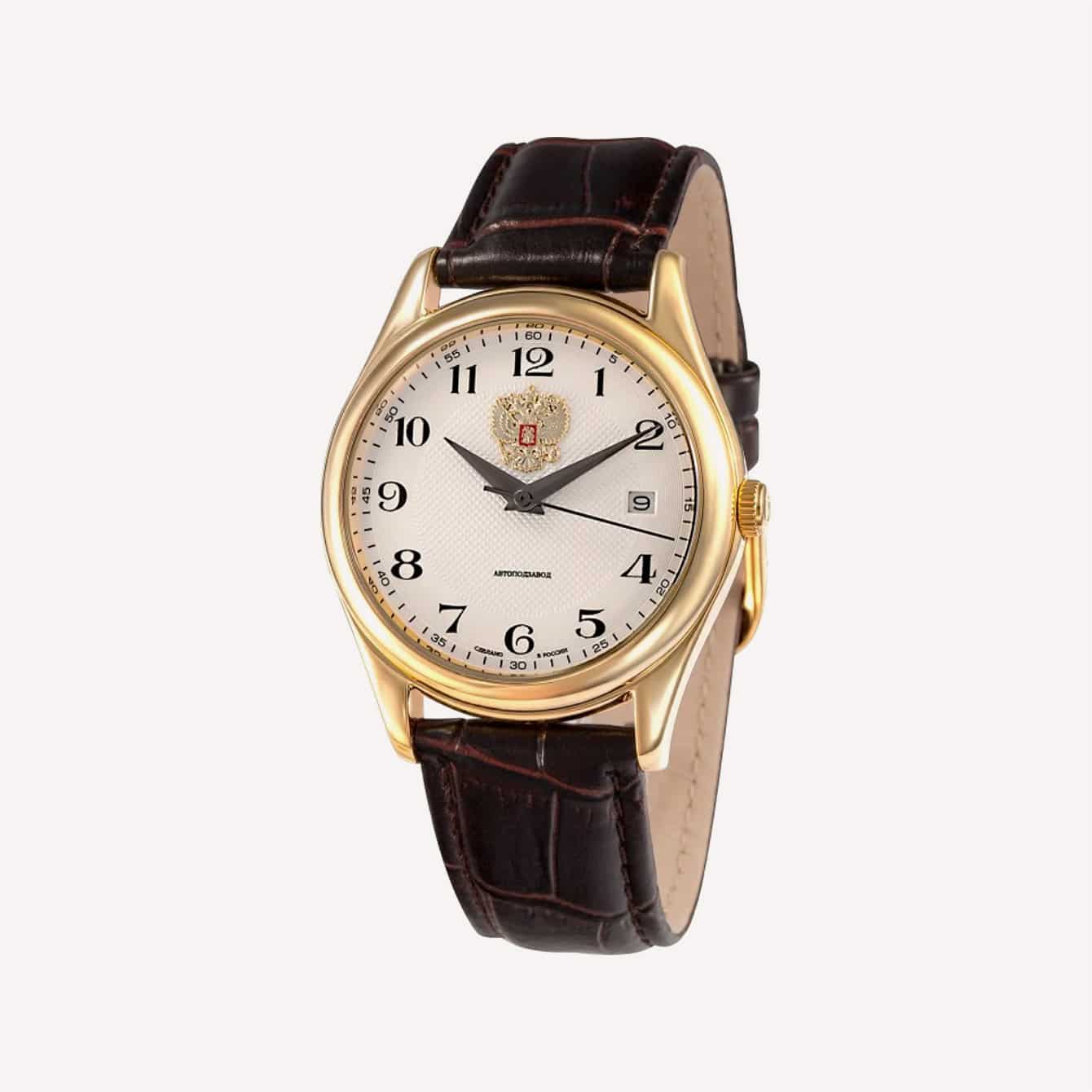 It comes as a manual winding and an automatic, and, honestly, it's an okay movement. All the moving parts give more opportunities for malfunctions, but hey, it's nice to look at! Slava's dress watches definitely have a distinctive Russian look about them.
The Slava Unisex Dress Watch is an automatic timepiece with remixed dauphine hands (thicker and shorter), an exquisitely textured background, and the Russian coat of arms at the top.
Dimensions: 38mm diameter, 8mm thickness
Case material: Stainless steel
Water resistance: Not water resistant
Also worth mentioning: In the critically acclaimed Bulgarian film, Glory, a Slava watch plays a front-and-center role in the plot. (This is fitting since the word "Slava" means "Glory" in English).
Raketa
Located in beautiful Saint Petersburg, Raketa (meaning "rocket") "launched" in the '60s and immediately became a go-to brand for expeditions. For two decades since their inception, Raketa tool watches armed the wrists of Russian Polar explorers.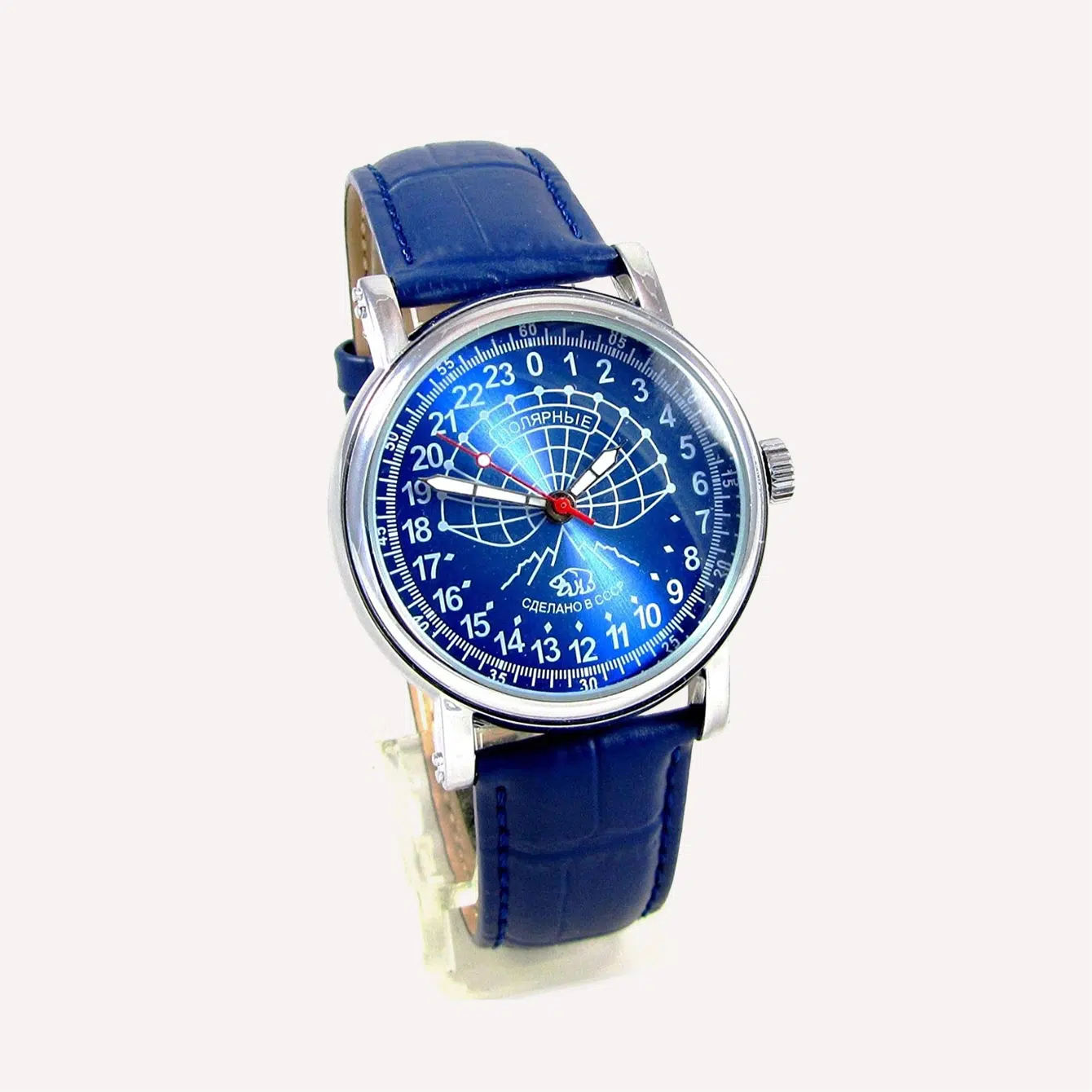 This prompted the development of the 24-hour movement. Even today the brand is still associated with this hard-working movement. It is alive and well in their Polar Antarctica Petrodvorets watch.
Raketa is also known for their inventive dial faces which are very artsy. Raketa is more visually scientific though. An example is the Copernic watch.
Dimensions: 35mm diameter, 10mm thickness
Case material: Stainless steel
Water resistance: 50m
It isn't easy to tell the time on, but boy is it fun to look at it. You've got gold-toned metal circles representing Earth and Jupiter, rotating around the bigger circle, the sun, and an in-house Russian movement.
Another thing Raketa does well? Sub-40mm watch cases.
Zlatoust
Zlatoust watches are humongous. They're so big and bold, that they almost look like a costume piece. While I'm sure Zlatoust uses size as part of its brand aesthetic, it's rooted in practicality and history too.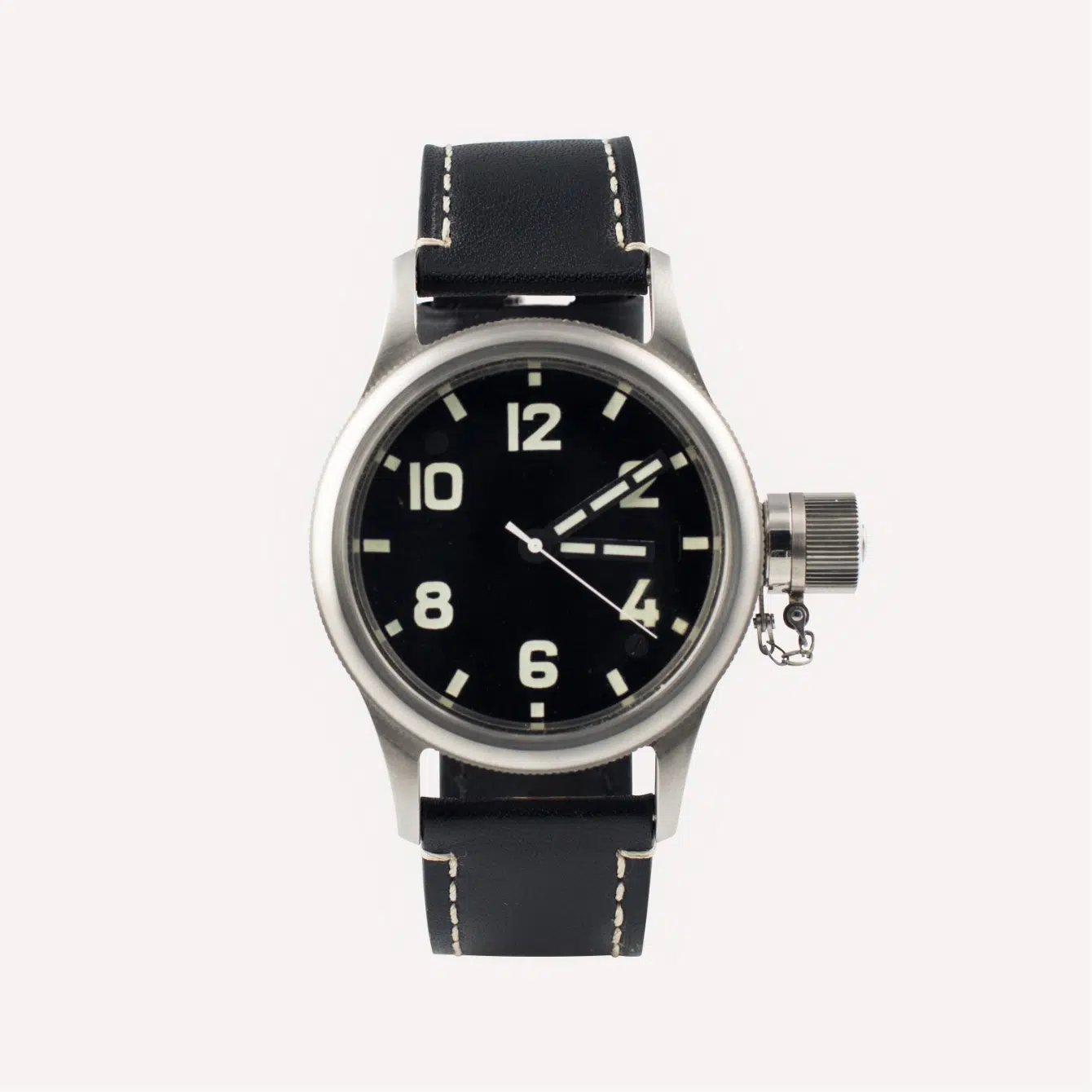 They produced robust divers for the Soviet forces, and their USSR Navy Force watches are water-resistant at a whopping 700m. The distinct caged dial face adds to the "deep sea vehicle" look.
A few other signature features include large even-numbered indices and an oversized submarine crown. These qualities are also present in their modern-day "smaller" models, like the Zlatoust 195 Titanium.
Despite its largeness, this watch is as strong as, but lighter than, a steel watch.
Dimensions: 46mm diameter, 14mm thickness
Case material: Stainless steel
Water resistance: 100m
It sports all of the Zlatoust aesthetics, including the attachment chain between the case and the crown.
Luch
Luch is located in Minsk in Belarus. So technically, it hasn't been a Russian brand since the collapse of the Soviet Union. But as Hamilton is American at heart, Luch was born out of the Russian watchmaking tradition.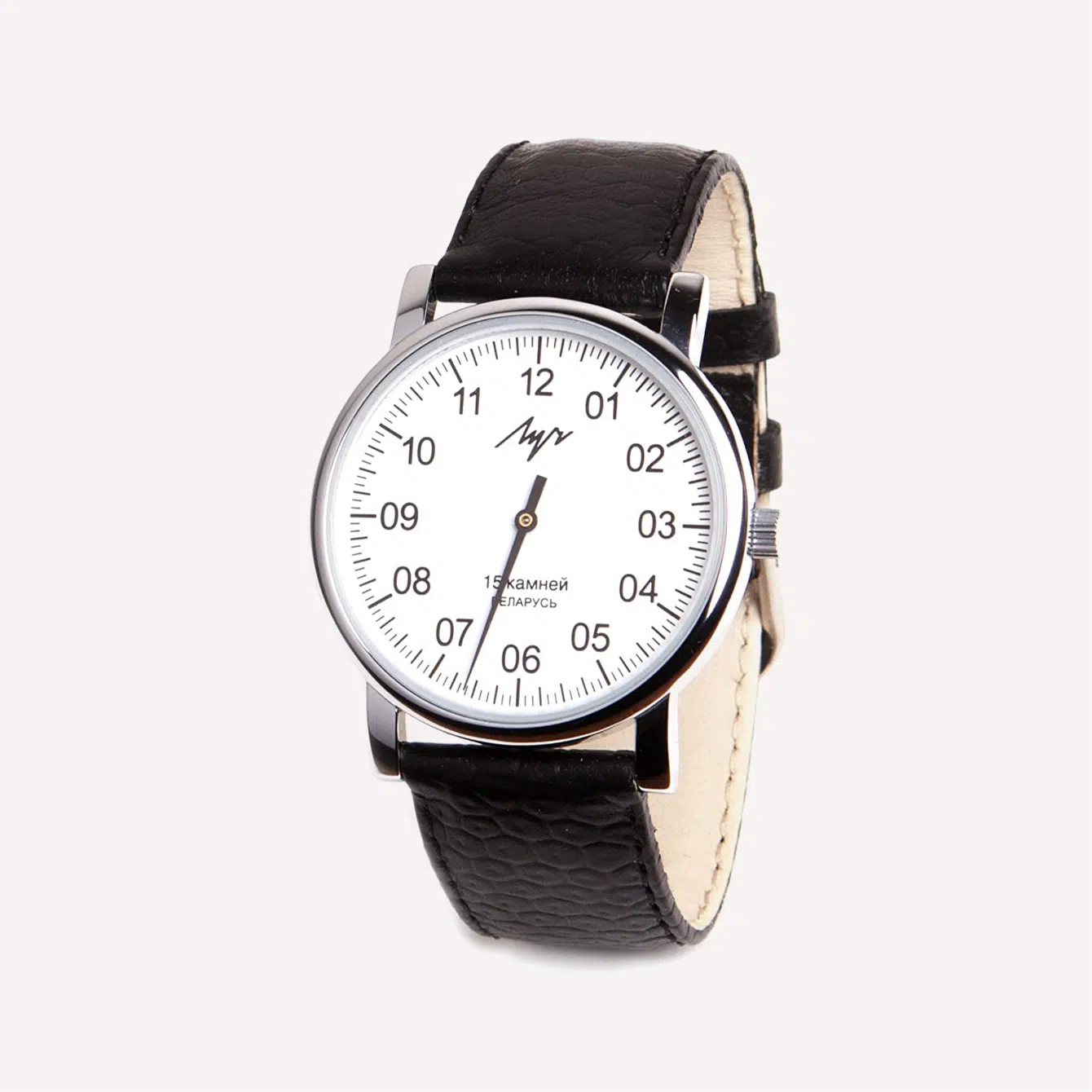 Luch inches into fashion watch territory, some arguing it is a fashion watch. But, at least it follows the "good" fashion watch rules of design: Have a signature aesthetic and at least one feature that the brand can lay claim to as their unique "thing."
In this case, it's the stylishly sterile look and Luch's one-handed dials.
Plus, they're mechanicals. Sure, they're 15-jewel hand-winders so they aren't impervious to wear and tear, but we're talking a $70 price tag here. The 77471760-RUS Luch boasts all of these trademark features, including the movement and affordability.
Dimensions: 38mm diameter, 8mm thickness
Case material: Stainless steel
Water resistance: Not water resistant
Just when you thought watch democratization couldn't get any better than Seiko, the Russians sweep in, a boon to horologically curious collectors with tight budgets.
Konstantin Chaykin
Konstantin Chaykin is unlike anything in the Russian watch industry. He's a genuinely independent watchmaker based in Moscow. He's an artisan, not unlike the Baselworld darlings coming out of Japan's burgeoning independent scene (e.g. Hajime Asaoka).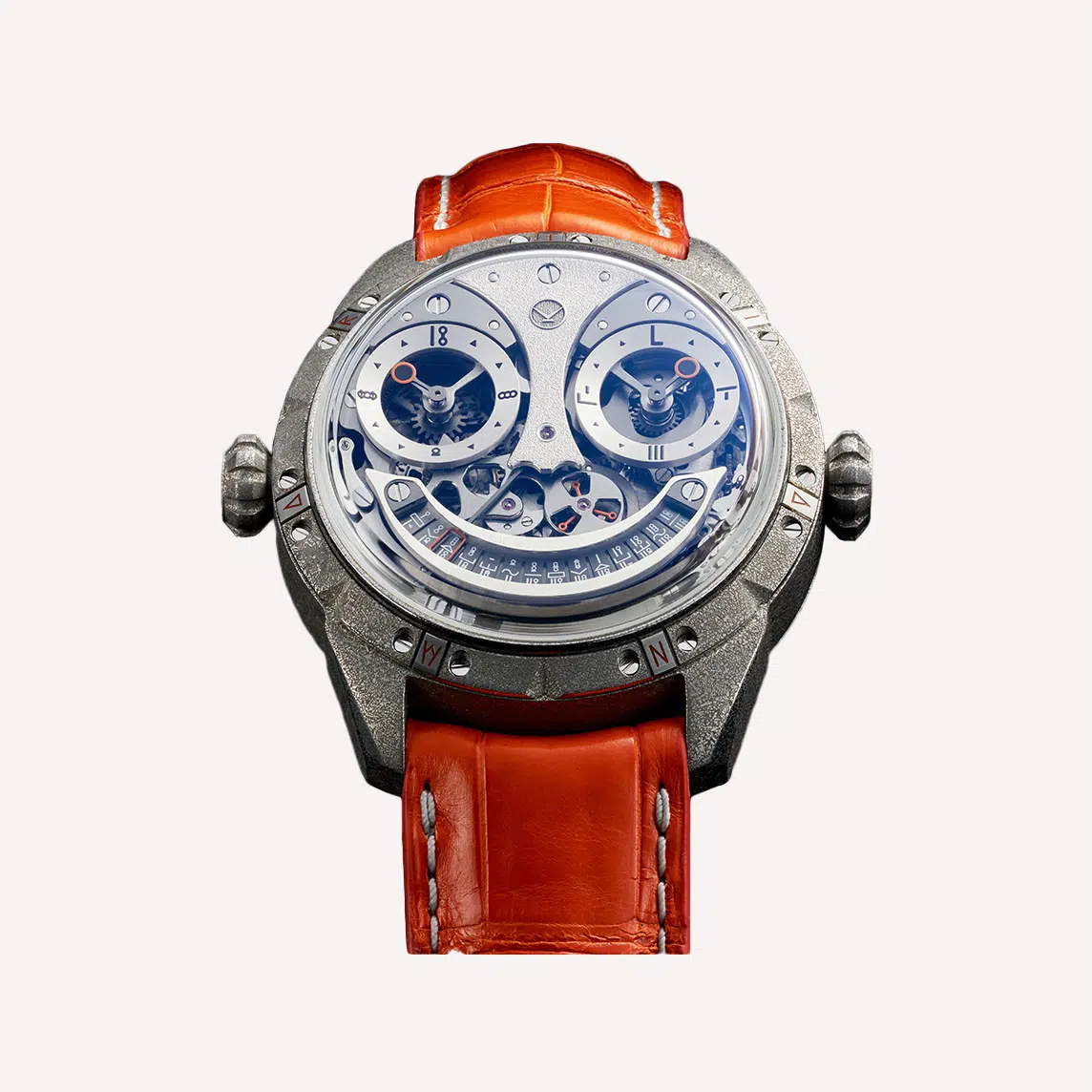 And unlike most Russian watch companies, Chaykin is all about complex designs and impressive complications.
His pieces range from uniquely irreverent, like his Wristmons line, made famous by the Joker Watch that debuted at 2017 Baselworld, to oddly-shaped cases like the Mars Conqueror line.
His Martian Tourbillon sports the face-like designs of his Wristmons watches and is the aesthetic that Baselworld fans most associate with his designs.
Dimensions: 40mm diameter, 13.4mm thickness
Case material: Stainless steel
Water resistance: 30m
It's complex and fascinating, with several constantly moving parts on the skeleton dial face. And for a Tourbillon, 40mm is pretty reasonable.
Conclusion: Not Swiss, and Not Trying To Be
Hopefully, this roundup helps shed some light on the brand confusion that non-Russian speakers tend to encounter.
As niche as Russian brands are, they're a generally good place to turn when looking for something a little unusual, but not over the top. Moreover, you'll find a great and supportive community via online forums since Russian watches are so loved.
Questions? Comments? Leave them below!