In this article, we'll talk all about the best Rolex Datejust alternatives you can buy this year and beyond.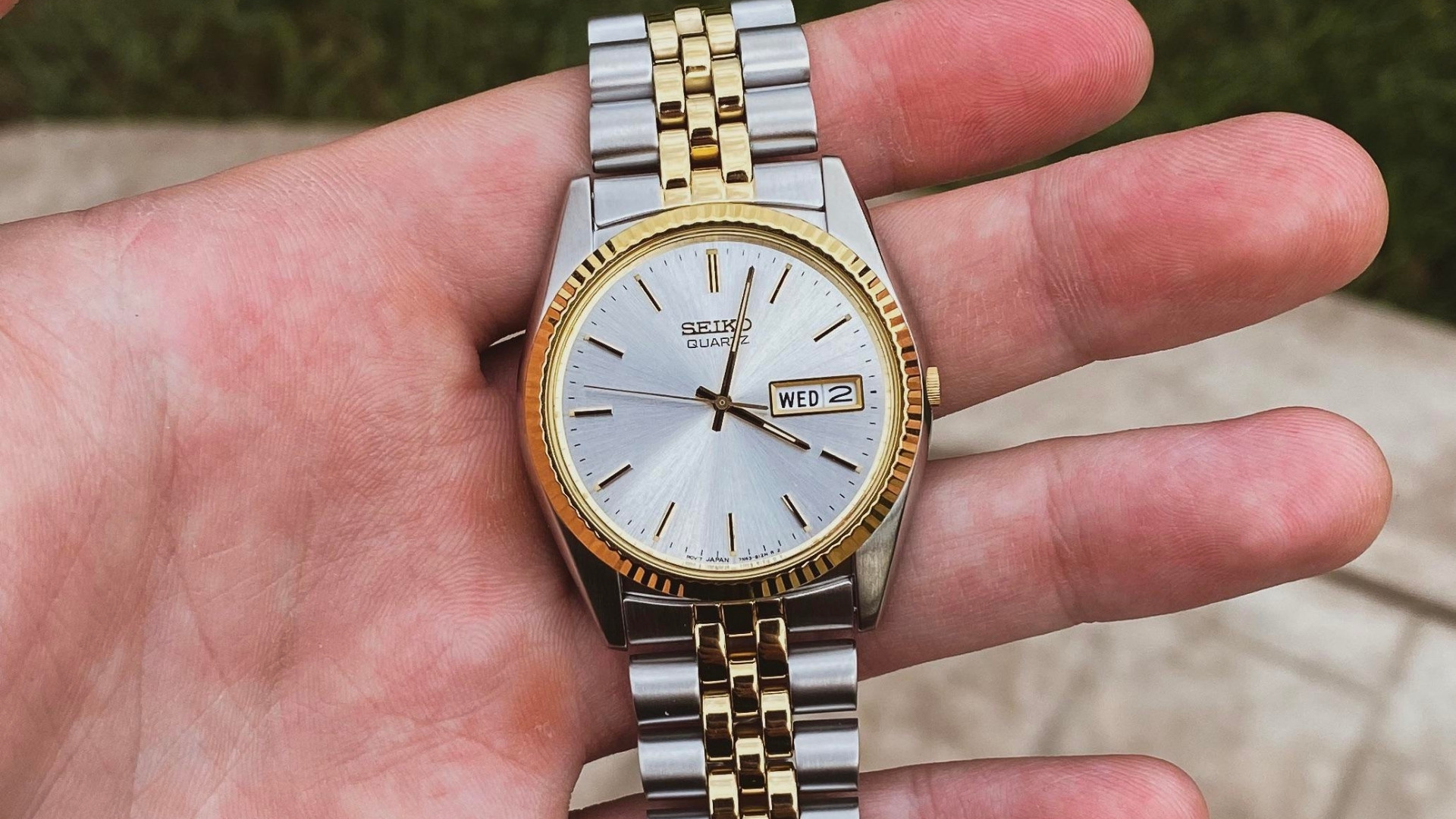 The Rolex Datejust is truly one of the most iconic luxury watches in the world. You'll find it on the wrists of dentists and doctors, as well as high-powered businessmen and classy celebrities.
While the Datejust might be a bit flashy, it has a certain unmistakable air of style and class.
But, with such prestige comes a pretty serious price tag. If you're in the market for a brand new Datejust, you can expect to pay at least $8,500. That's right — closing in on 10gs for a stainless steel watch! Even used Datejusts start around $3k these days.
As much as we all love our watches, not everyone has the means to drop that kind of money on a timepiece. But, if you want a watch with those classic good looks at a reasonable price, you came to the right place.
This article is all about finding affordable alternatives to the Rolex Datejust that are reliable and look awesome.
The Rolex Datejust: What is it?
Before we jump right into the alternatives, let's talk about the original.
Those new to the Rolex Datejust might not realize that the term "Datejust" does not refer to just one Rolex. It's actually an entire line of sports watches. As such, there are a ton of reference numbers and different models.
They come in different sizes and materials. In fact, you could place five or six Datejusts on a table, and they might not look alike at all.
Rolex debuted the Datejust in 1945 as a celebration of its 40th anniversary. The watch featured Rolex's water-resistant 36-millimeter Oyster case (already in production for 19 years), as well as the automatic — or "perpetual" — movement.
It also featured a date window, giving the Datejust the distinction of being the first wrist-worn timepiece with a date function on the face of the watch.
Over the years, Rolex added some additional features. They added a function known as Quickchange that switched the date instantly at midnight instead of slowly over the course of a few hours.
They also added a cyclops, or a magnifying bubble, over the date window to improve its legibility.
Rolex also adapted the movement to change the date independently of the time (known as Quickset) and developed a flatter rotor to shrink the case thickness a bit.
The Datejust is perhaps most famous for its fluted bezel. While that bezel does stand out, Datejusts came with several other bezel types as well, including both a timing option and a smooth bezel. Case sizes have also fluctuated quite a bit over time.
Characteristics to Look for In an Alternative to a Rolex Datejust
It's difficult to nail down an alternative to a watch that has changed or come in so many variants over the years. Here are some characteristics to look for when shopping for your Datejust alternative:
Fluted bezel (though many Datejusts don't have fluted bezels)
Date window
Automatic movement
Baton markers
Baton hands
Metal bracelet
Case size between 36 and 41 millimeters (though many Datejusts were even smaller)
A bit of water-resistance
A relatively subdued dial
Under $1,000 (for affordability's sake)
Now, if you're looking for a watch with all of those characteristics, you should probably just buy a Datejust. If you're willing to let a few of those features slide, you'll be able to find a solid watch with great styling at an affordable price.
As a note, I left the cyclops magnifier off the list as they're becoming less and less common on affordable watches.
The Best Affordable Rolex Datejust Alternatives
This list of the best alternatives to a Rolex Datejust features watches that each meet most of the criteria listed above. Nothing on this list checks all of the boxes, so be prepared to sacrifice a bit of quality, style, or features to save money.
Seiko SGF206
Guys searching for the closest looking alternative to the Rolex Datejust should definitely check out the Seiko SGF206.
This watch looks so much like the real thing that the watch community refers to it as the "Seiko Datejust." So let's see how the SGF206 stacks up against our criteria.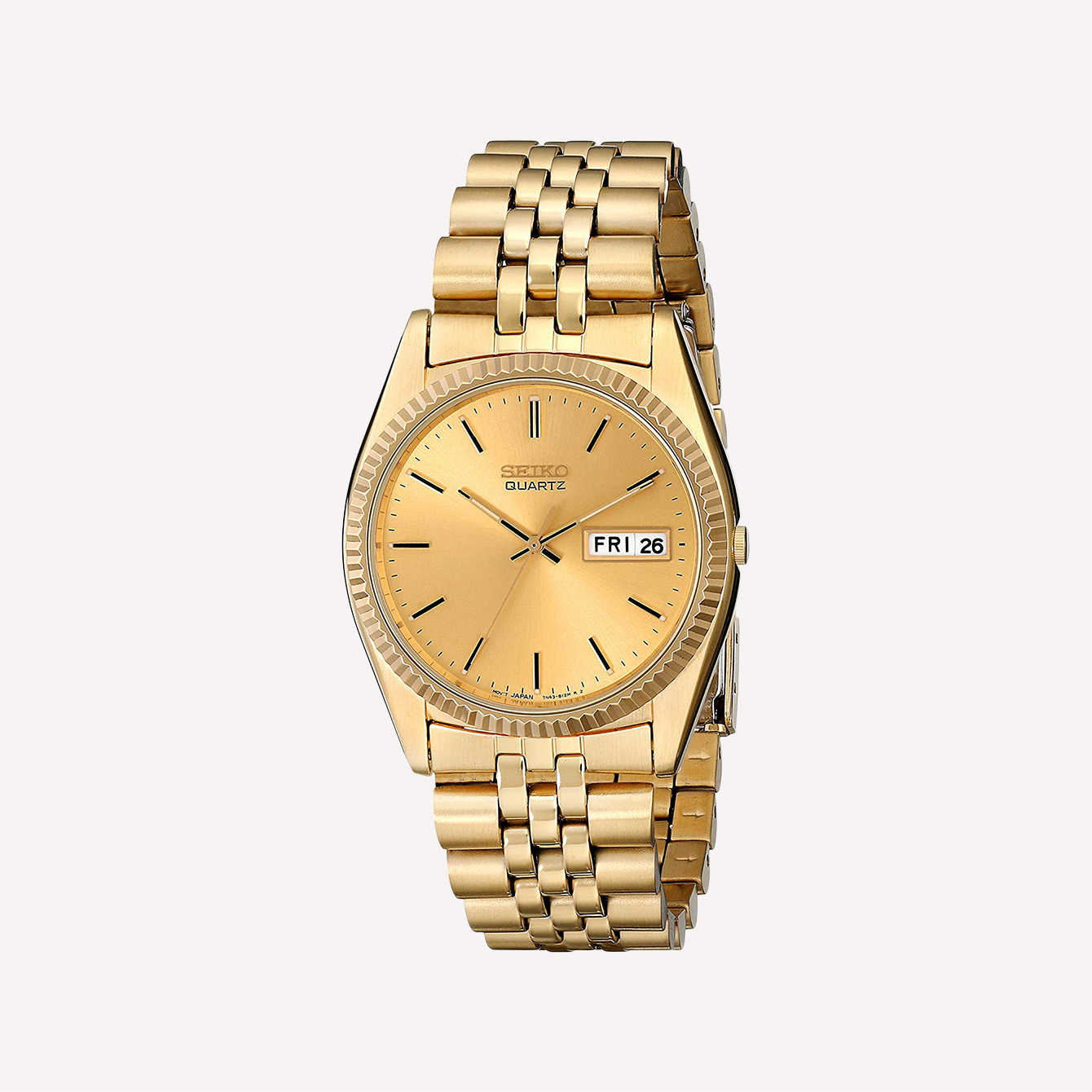 The SGF206 features a stainless steel case and jubilee bracelet, with the case measuring 36 millimeters across.
It has baton hands and baton markers. It also features a subdued dial with a date (along with the day) function at the three o'clock position. It also wears Seiko's rendition of the iconic fluted bezel, and it rings the register under $250.
While it certainly doesn't meet all of the requirements, it meets the most important ones. The areas where it falls short are the quartz movement and 30m water-resistance.
Also, you can't expect the quality to match that of the Datejust. Other than those points, it's an ideal affordable alternative to a Datejust.
Tissot Gentleman
Many watch collectors consider Tissot to be the gateway piece that leads to a serious Swiss watch addiction. It's easy to see why as the Tissot Gentleman is incredibly good looking and packs a lot of value in a relatively small price tag.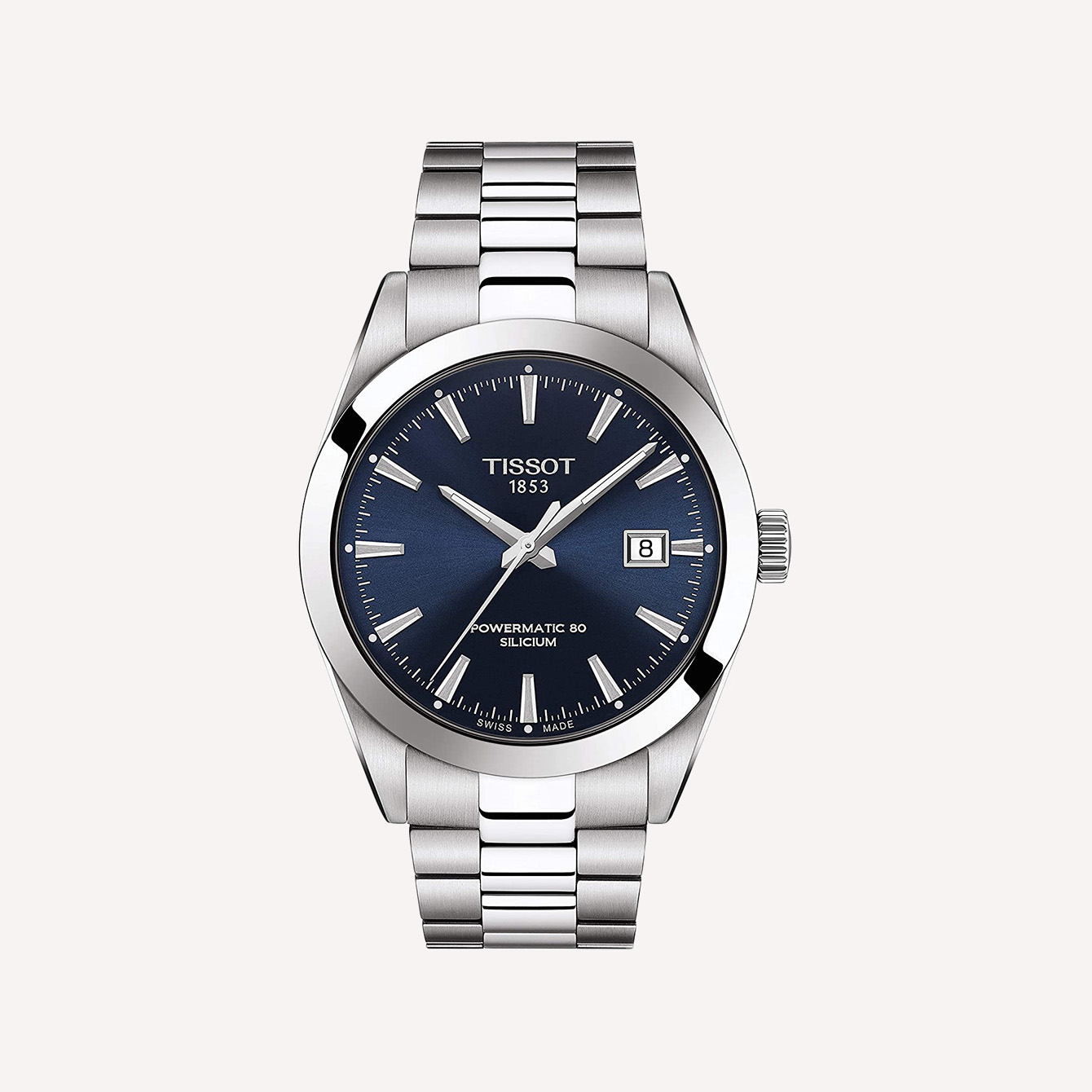 As far as our criteria go, the Gentleman meets a handful. For one, it runs on a Swiss automatic Powermatic 80.811, similar (but certainly not the same) to the Rolex's Swiss movement.
The stainless steel case measures 40 millimeters across, and it houses an attractive and understated dial with a three o'clock date function. The Gentleman features 100 meters of water resistance and a stainless steel bracelet, and it costs around $700.
While it doesn't feature baton hands or markers, or a fluted bezel, it ticks just about every other box, while possibly being the most attractive watch on this list.
Casio "Datejust" MTP1302D-1A1
One quick look at the Casio MTP1302D-1A1 will tell you this watch is an homage, and it's not a terrible one either. If you factor in the price, which we'll get to in a minute, it's definitely the best budget alternative to a Rolex Datejust.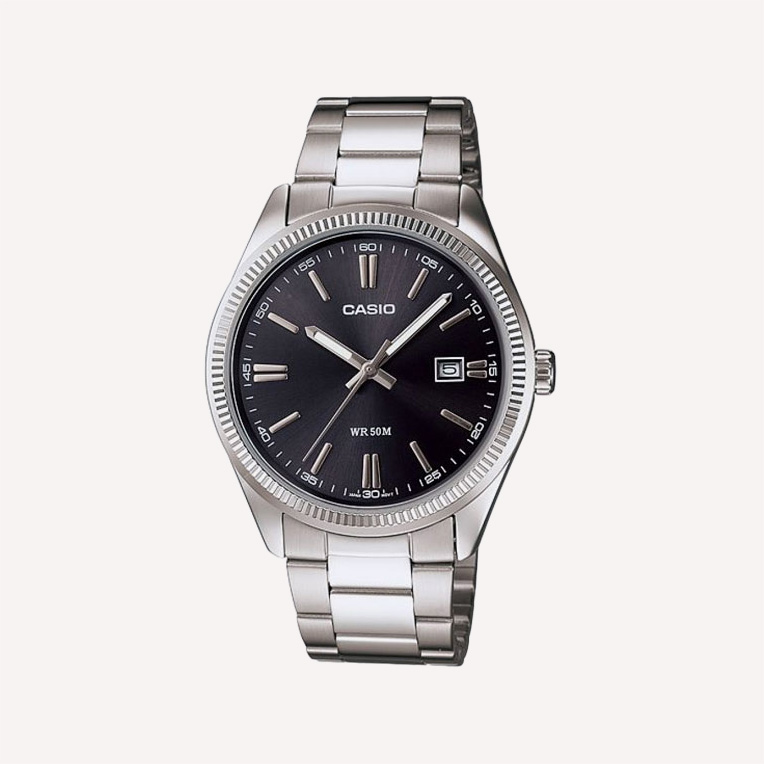 This Casio has plenty of things going for it. The first point — and the first thing you're likely to notice — is it has a fluted bezel. It also has a subdued dial, baton markers, and a three o'clock date window.
The stainless steel case measures 38 millimeters across, and it comes on a stainless steel bracelet. It also provides 50 meters of water-resistance, which isn't bad considering this watch costs less than $40.
Not a bad price, right? The only things it's missing are the baton hands and the automatic movement (this is a quartz piece). While this is not to suggest that this is a quality timepiece, it can pass itself off as a Datejust alternative from a short distance.
Seiko SARB033
So let's be fair: The SARB033 isn't as easy to get your hands on as it once was. That's because it's discontinued, but also because the watch community went on a buying frenzy when Seiko decided to stop producing it.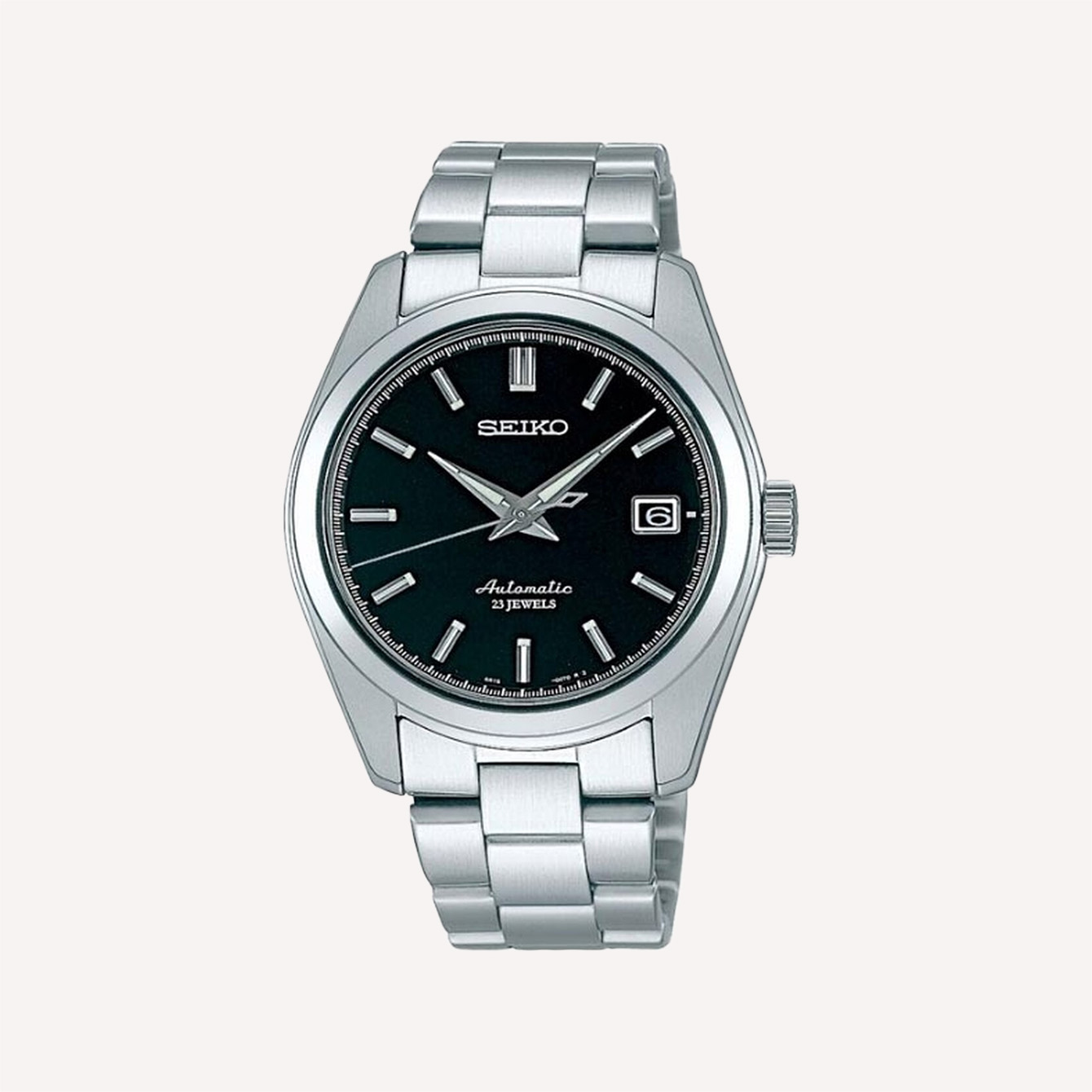 Now that prices are back down to a reasonable level, it makes an excellent alternative to the Rolex Datejust if you can find one.
The SARB033 has a lot in common with the Datejust. It features a clean black dial with baton markers and a date window at three o'clock.
It has a stainless steel case (38 millimeters) and a stainless bracelet, which are both ideal for its 100-meter water-resistance rating.
The SARB033 also has a premium automatic movement, using Seiko's 6R15 movement with hacking and hand winding. All that, plus the $500 price tag, make it a nice alternative to the Datejust.
Based on our criteria, where the Datejust and the SARB033 differ are simply the hands and bezel.
Bulova 96C127 Surveyor
Unless some rare antique prototype moon watch shows up at an auction somewhere, you don't hear much about Bulova.
That's a shame, as this watch company has a rich heritage of innovation and accuracy. As far as a Datejust alternative goes, the Surveyor is worth checking out.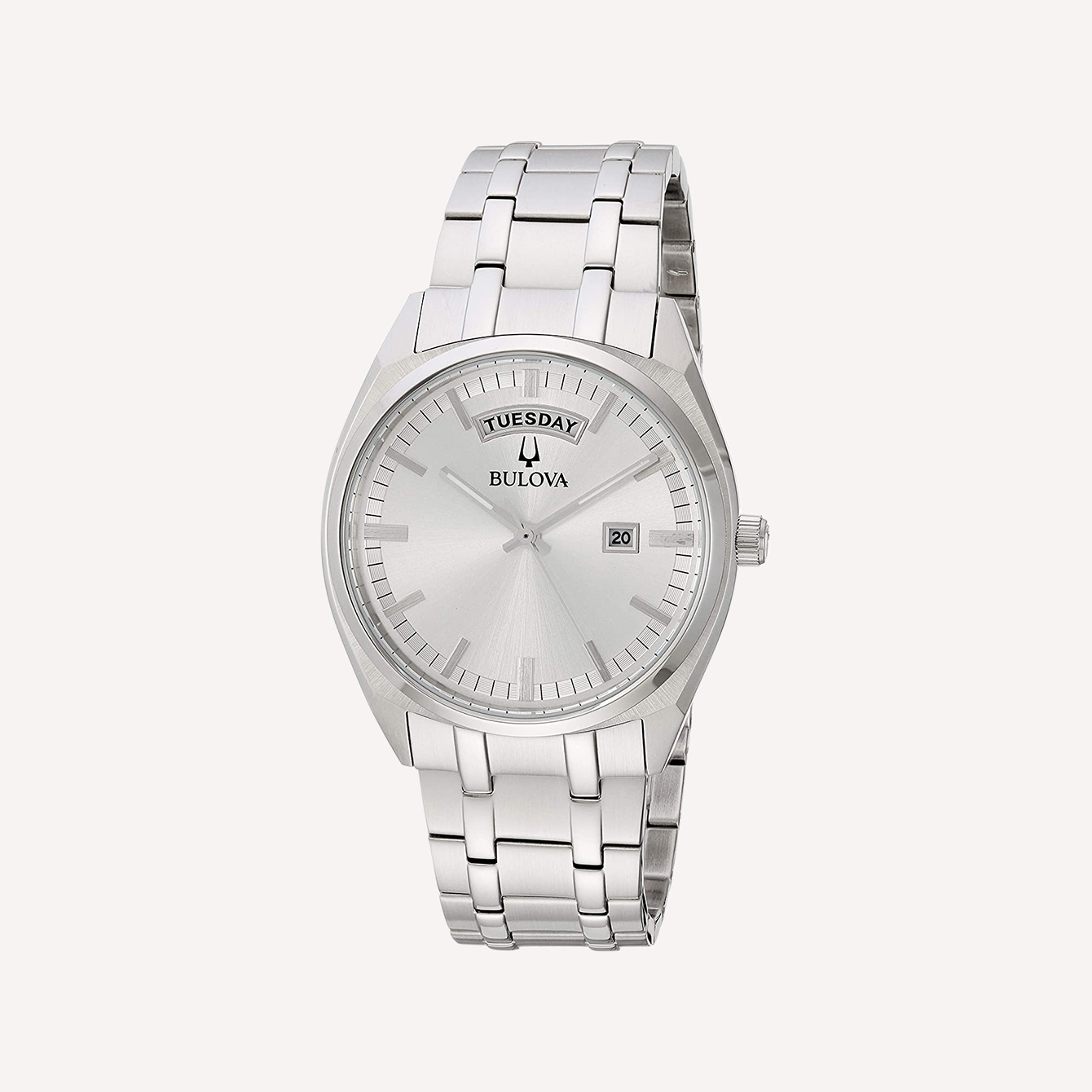 The Surveyor certainly belongs in the Datejust alternative conversation. This 39-millimeter watch features baton hands and markers, which is a rare combination.
It also has an understated dial and a three o'clock date window. Both the bracelet and the case are stainless steel, and the price is under $230.
The biggest deviations from the Datejust's specs are the Surveyor's quartz movement, smooth bezel, and low water-resistance rating (just 30 meters).
Hamilton Jazzmaster Daydate
Although the Jazzmaster is really an icon of its own, and it doesn't have all that much in common with the Datejust, it can serve the same purpose as the Datejust while saving you lots of money.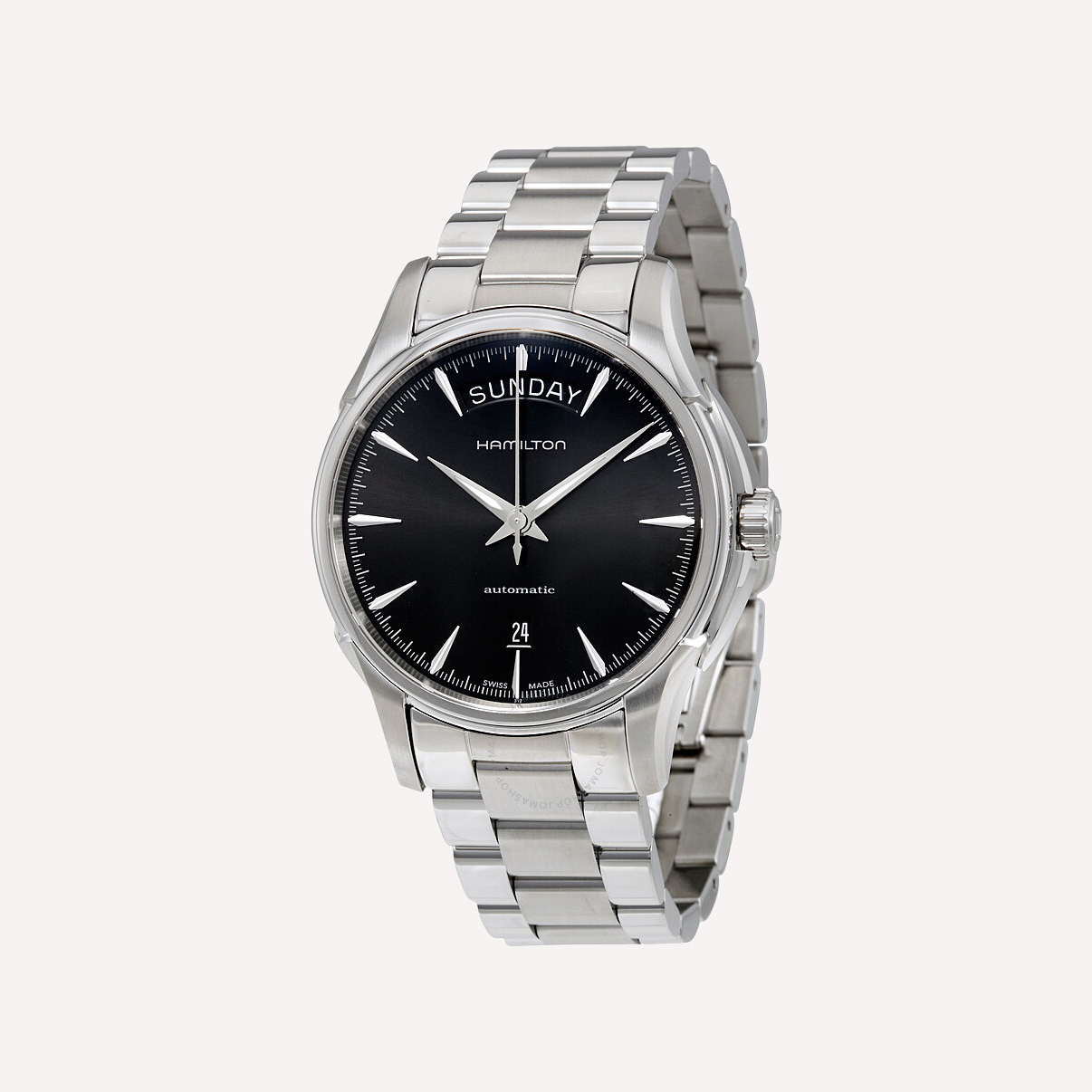 So, what does the Jazzmaster have in common with the Datejust? Both watches feature stainless steel cases, stainless bracelets, and automatic Swiss movements.
The Jazzmaster's case measures 40 millimeters, which puts it in the ballpark of modern Datejusts. It also has 50 meters of water-resistance and commands under $600 — depending on where you buy it.
There are a few areas where the two watches differ. The Jazzmaster doesn't have baton hands or markers. Also, the date window is at six o'clock instead of three. And, of course, there isn't a fluted bezel.
But, the fact that it's a Swiss-made watch in our price range is reason enough to mention it.
Orient RA-AA0C02L19A
In some ways, the Orient RA-AA0C02L19A makes an excellent alternative to a Rolex Datejust.
This affordable Japanese automatic watch has quite a few things in common with the Rolex, missing the mark in only a few areas — one of those area is pretty important, though.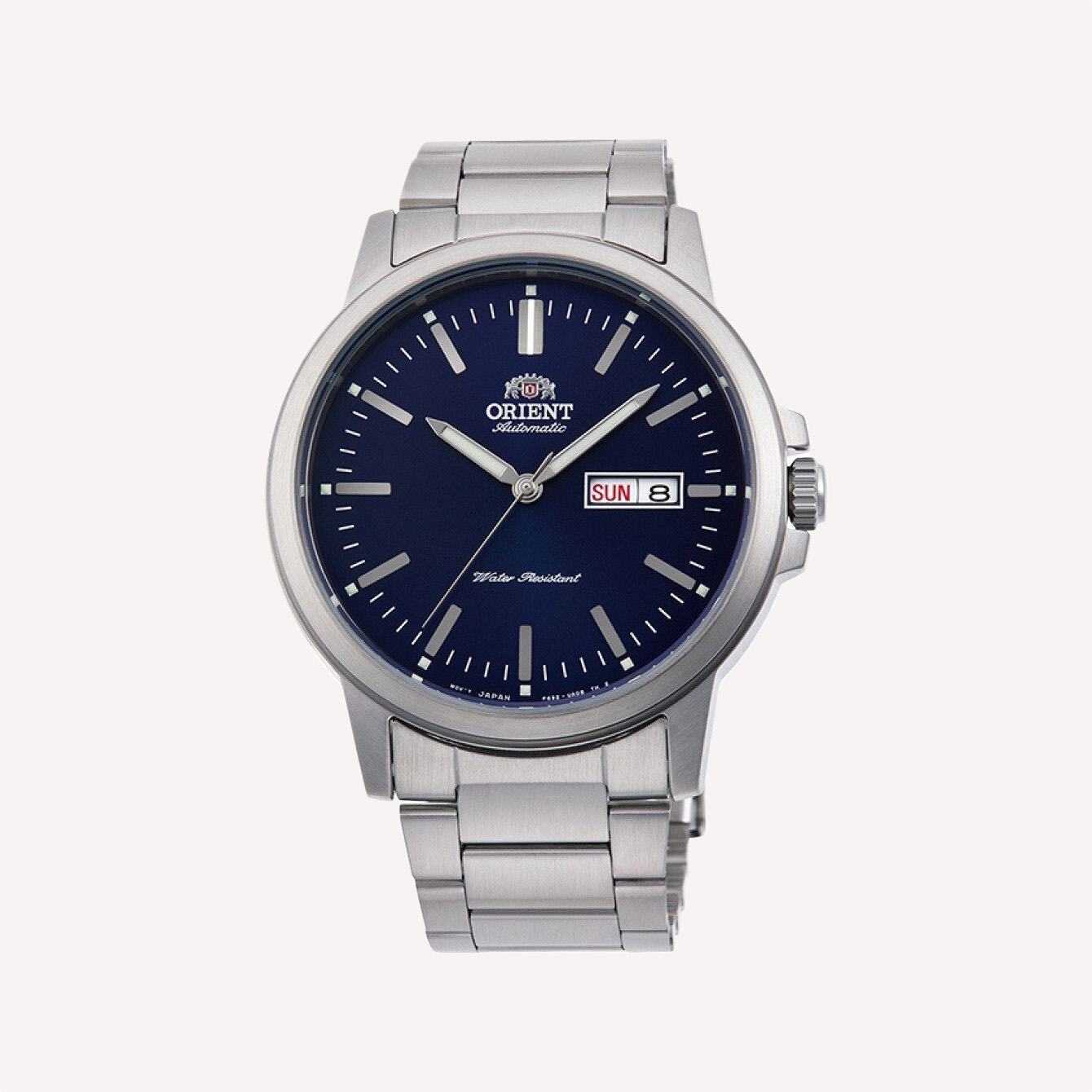 The Orient features a stainless steel case and bracelet, as well as baton markers, which sets this piece off on a pretty good start.
The simple dial meets the criteria, and the 50-meter water resistance is respectable. If you count the automatic movement, you would have a pretty serious contender.
There are a few areas where it falls short, such as the sword hands and smooth bezel. But, this watch also measures almost 42 millimeters across, making it larger than any Datejust has ever been.
Tissot Couturier
You have to appreciate Tissot's commitment to quality at an affordable price. While the Couturier is far from a Datejust twin, it does have quite a few things in common with its fellow countryman.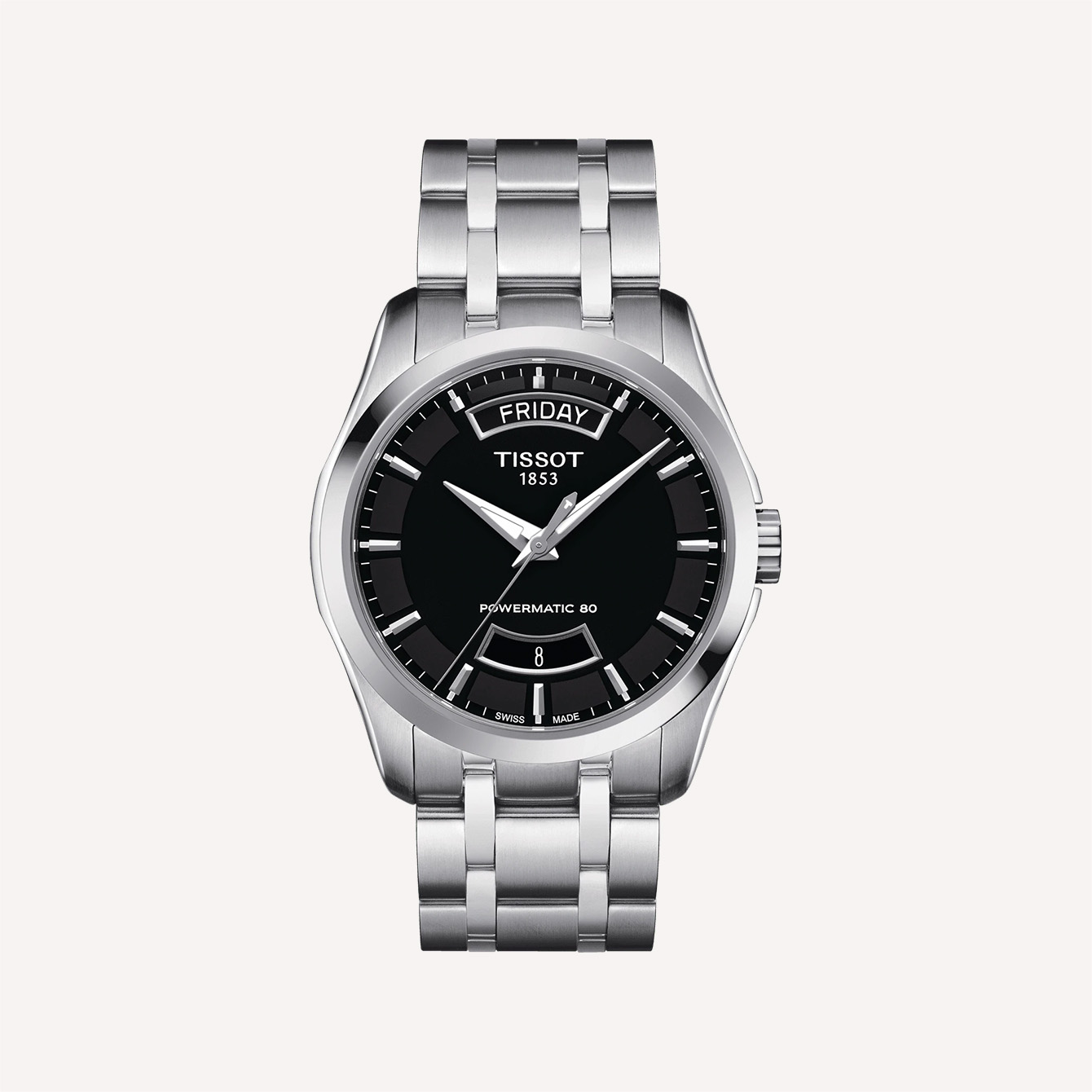 The Couturier features a stainless steel case and bracelet, with the case measuring 39 millimeters across. It features a Swiss automatic Powermatic 80.121 movement as well.
The markers are baton'ish, and it has a water-resistance rating of 100 meters, which makes it one of the most water-resistant options on the list. With its $750 price tag, it falls well under the top of our acceptable range for an affordable Datejust alternative.
Sure, the hands and bezel don't jive. And the six o'clock date window doesn't scream Datejust. But, again, a lot of credit needs to go to the Swiss heritage and utility.
Orient Tristar Deneb
When it comes to actual value, Orient always seems to deliver a lot for the prices that its watches sell for.
The Tristar Deneb is a perfect example, as it's a downright affordable option with plenty of impressive features that make it a great Datejust alternative.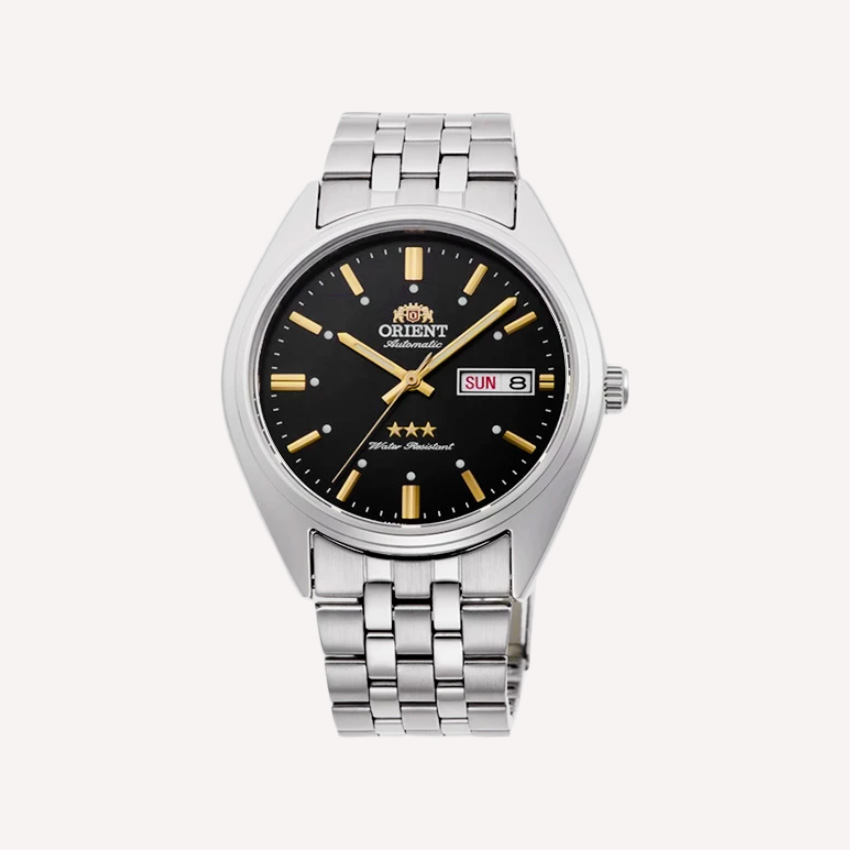 The Deneb makes a good case for itself as an affordable alternative to the Datejust. It features a stainless case that measures 39 millimeters across, as well as a stainless steel bracelet.
It features baton markers, an automatic movement, and a price tag of around $120.
One of the most glaring differences between the Deneb and the Datejust is the Deneb's contrasting markers.
The gold hands and markers stand out quite a bit. Also, the two-tier bezel doesn't jive with any Datejust model, but the rest of the watch is close enough that it can certainly serve the purpose.
Final Thoughts
If you simply enjoy the look of the Datejust but would prefer not to empty your bank account on a down payment, one of the watches on this list should scratch the itch while saving you some cash.
The Seiko SGF204 offers a pretty close appearance, while the Tissot Gentleman is the closest match in quality that you'll find under $1,000.
Whatever your decision is, any of the watches on this list will help you stay stylish without swallowing your entire savings in one bite.