If you're on the hunt for an affordable digital watch with a vintage aesthetic, the Casio A168WA-1 might be your best bet!
It sports a fun and retro design, a versatile case size, and easily-operated functionalities. An update of A158WA, this timepiece is effectively and universally reminiscent of 80s and 90s technology as an era.
Most impressively, it has a lot of crossover appeal and finds its way into high-end collections too. We're going to find out why, and whether or not it's right for you, with this review of the Casio A168WA-1.
This Casio is easy to find for under $20, but don't let that deter you. The sub-40 world is at least free of designer names using their brand to bump up prices. When it comes to heritage watchmakers like Timex and Casio, you'll often get what you pay for in the fairest sense.
Let's start the review by talking about some specs.
Specs
Case Diameter: 32mm
Thickness: 7mm
Weight: 1.8oz
Movement: Japanese Quartz
This watch is small, especially for its G-Shock style digital aesthetic, which makes it an excellent choice for those with thinner wrists.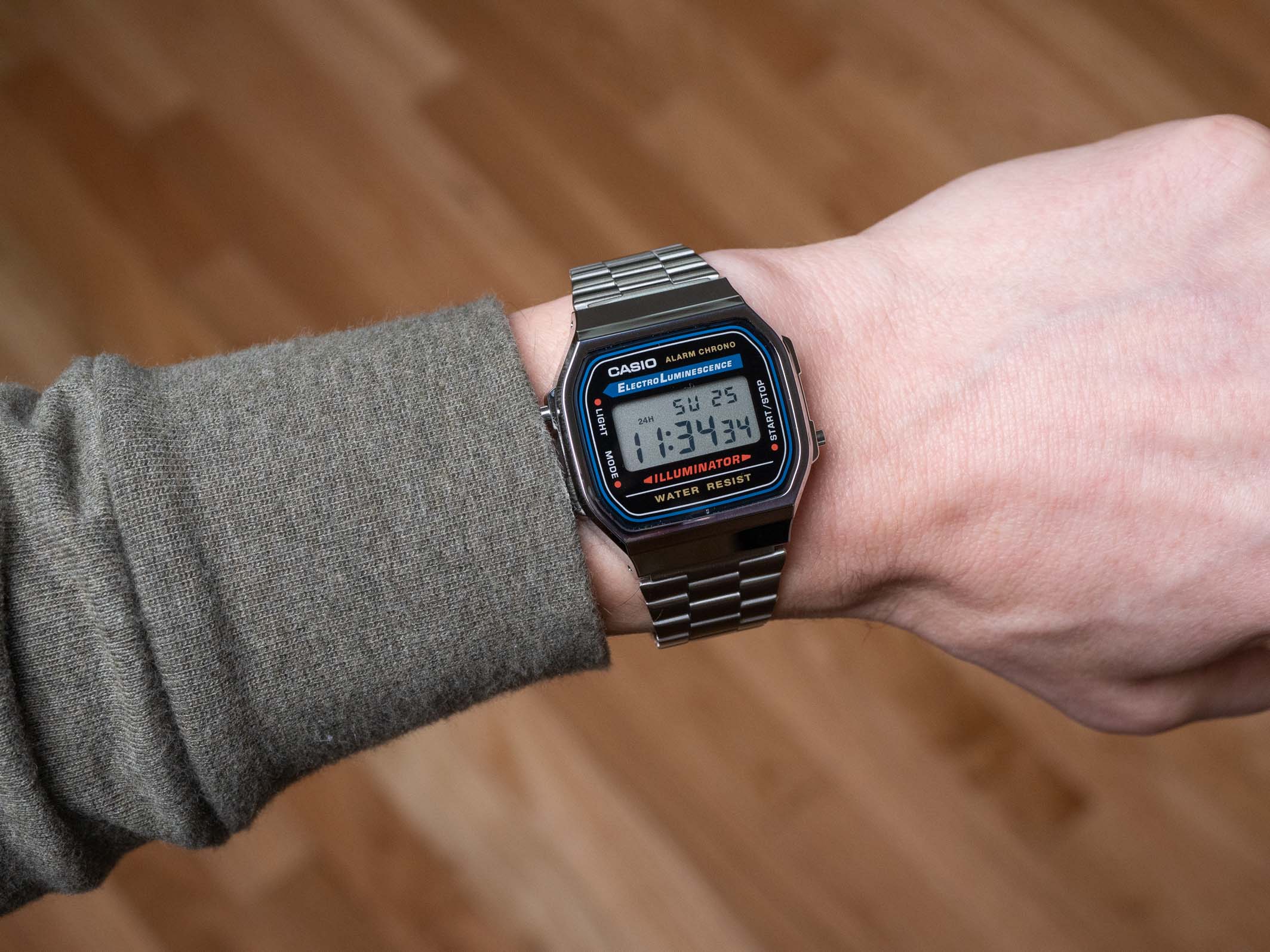 Many say it isn't ideal for men with bigger wrists but I think it's a matter of taste. Since vintage watches are expected to be smaller, I think the A168WA looks great on most men.
If you have a generously-sized wrist and often go for larger round watches, you might consider the A168WA for the superior ergonomics it provides.
The quartz movement is obviously reliable. According to Casio, it has an accuracy of +/- 30 seconds per month, which is better than any budget mechanical. Bonus points for its seven-year battery life, and that it won't need much maintenance in those years.
Functions and Capabilities
The A168WA is controlled by three pushers, two on one side labelled "Light" and "Mode" and one pusher on the opposite side labelled "Start/Stop."
The tactile quality of the operation is fun and satisfying, and the watch seems to respond quickly to the pushers. On top of that, the whole watch is exceedingly user-friendly, easy to operate and program.
Functions and capabilities include:
30m of water resistance
1/100 second stopwatch
Elapsed time, split time
Alarm function
Date display
Electro Luminescent backlight (EL)
Hourly time signal
Automatic Calendar
24-hour format available
The blue backlight is a huge improvement compared to the light of its predecessor, the very similar Casio A158WA. Frankly, the A158WA's backlight isn't very good at all. Anyone trying to decide between the two should definitely give majors points to the A168WA based on this alone.
The A168WA is legible in the darkest situations thanks to its thin, lightweight, and flexible Electro Luminescent panels. EL panels use minimal power consumption (one of the reasons that the battery lasts so long) and are so durable, they work even after being punctured.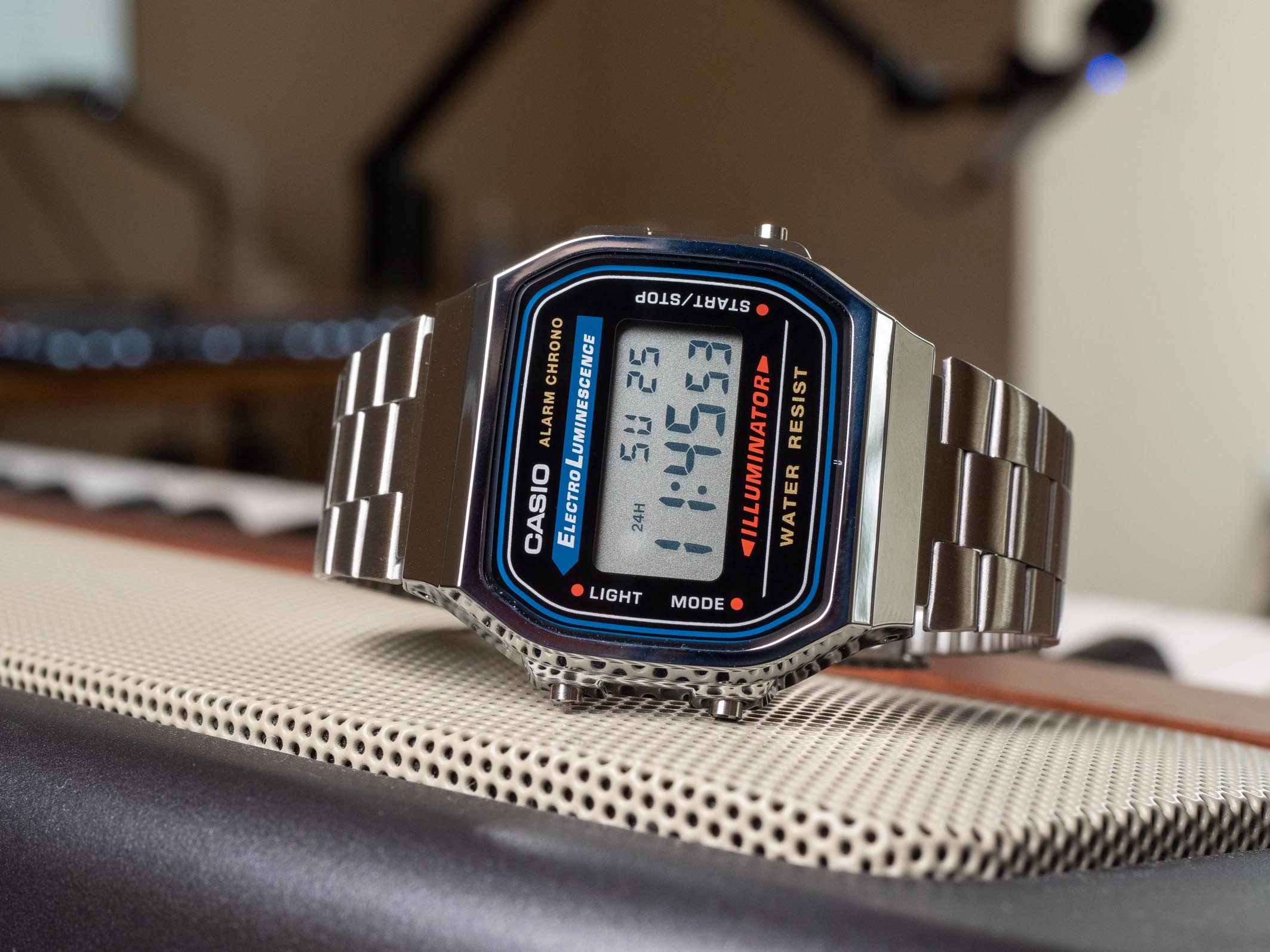 As far as water resistance, some guys have told me that they've safely showered with this watch on. I'd avoid this if you want to play it safe though, especially if you take long hot showers.
Steam can sneak its way into the inner workings of the watch, and 30m of water resistance doesn't protect from prolonged moisture exposure.
It's an overall simple watch on the functionality front. However, it has more to offer than basic analog watches double its price like the Timex Weekender.
Construction
This watch features a plastic construction with a silver-toned top layer. The caseback is stainless steel and the face is protective mineral crystal. Some say that this is where the A168WA loses points since it isn't stainless steel and sapphire.
However, I think the fact that people have this expectation is a testament to its efficient design and reliability.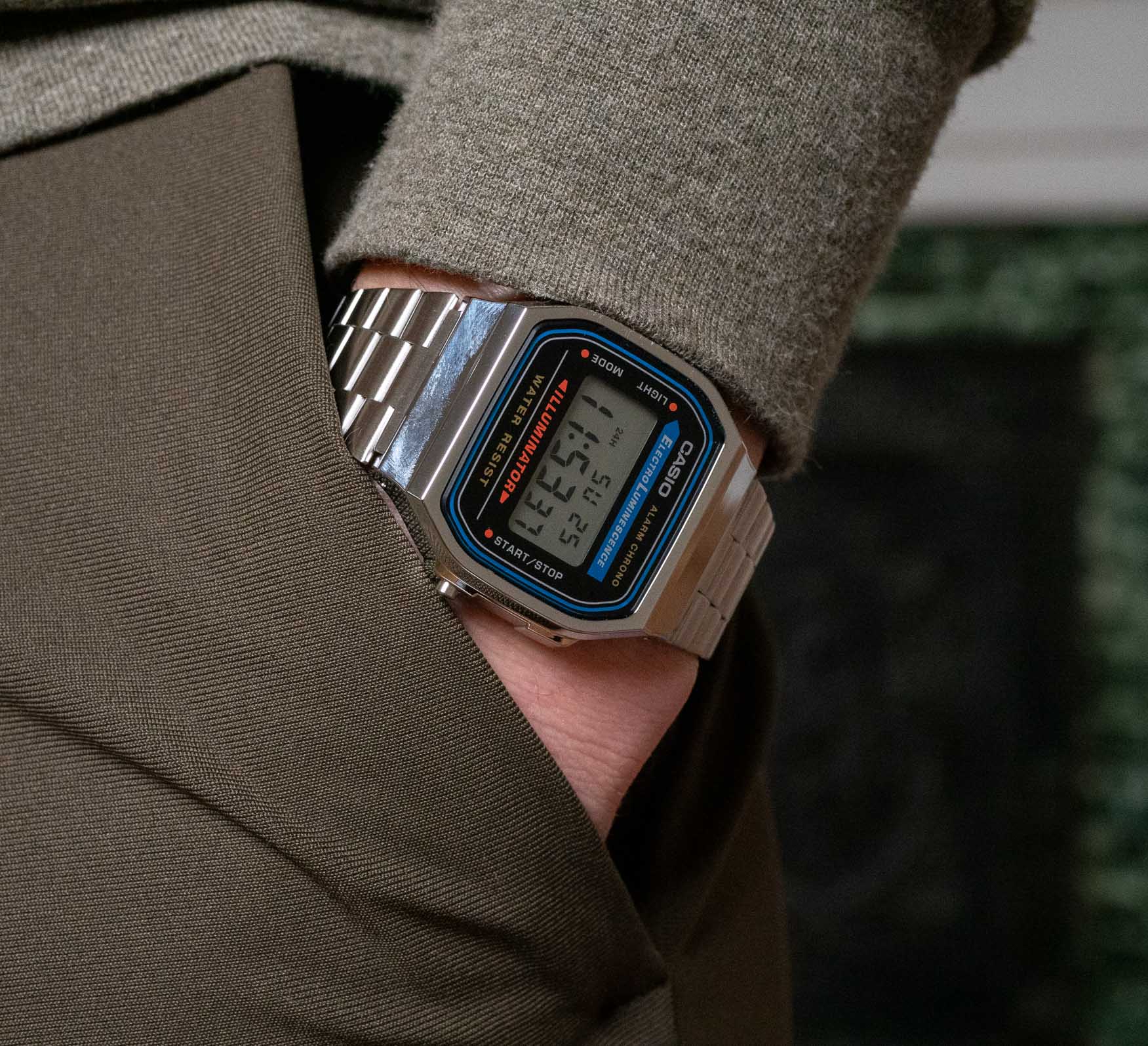 Slim and light, it wears discreetly and tucks neatly under a dress sleeve. You may even forget you have it on.
In the grand tradition of Casio beaters, the A168WA is pretty sturdy and durable for what it is, especially compared to contemporary smart digital watches. It's like an old Nokia vs the latest iPhone, except the A168WA has more charm.
Which brings us to its retro-cool design.
Design
I love the A168WA's sleek and retro digital design. Vintage fans and the nostalgic are its main audience, but it has plenty of crossover appeal. Men with small wrists who are looking for an affordable digital watch love it.
Those who simply need an understated reliable timepiece love it. It's also popular among the techy set, the hip and ironic crowd, and collectors with high-end tastes who appreciate a watch with heritage and lore, price aside.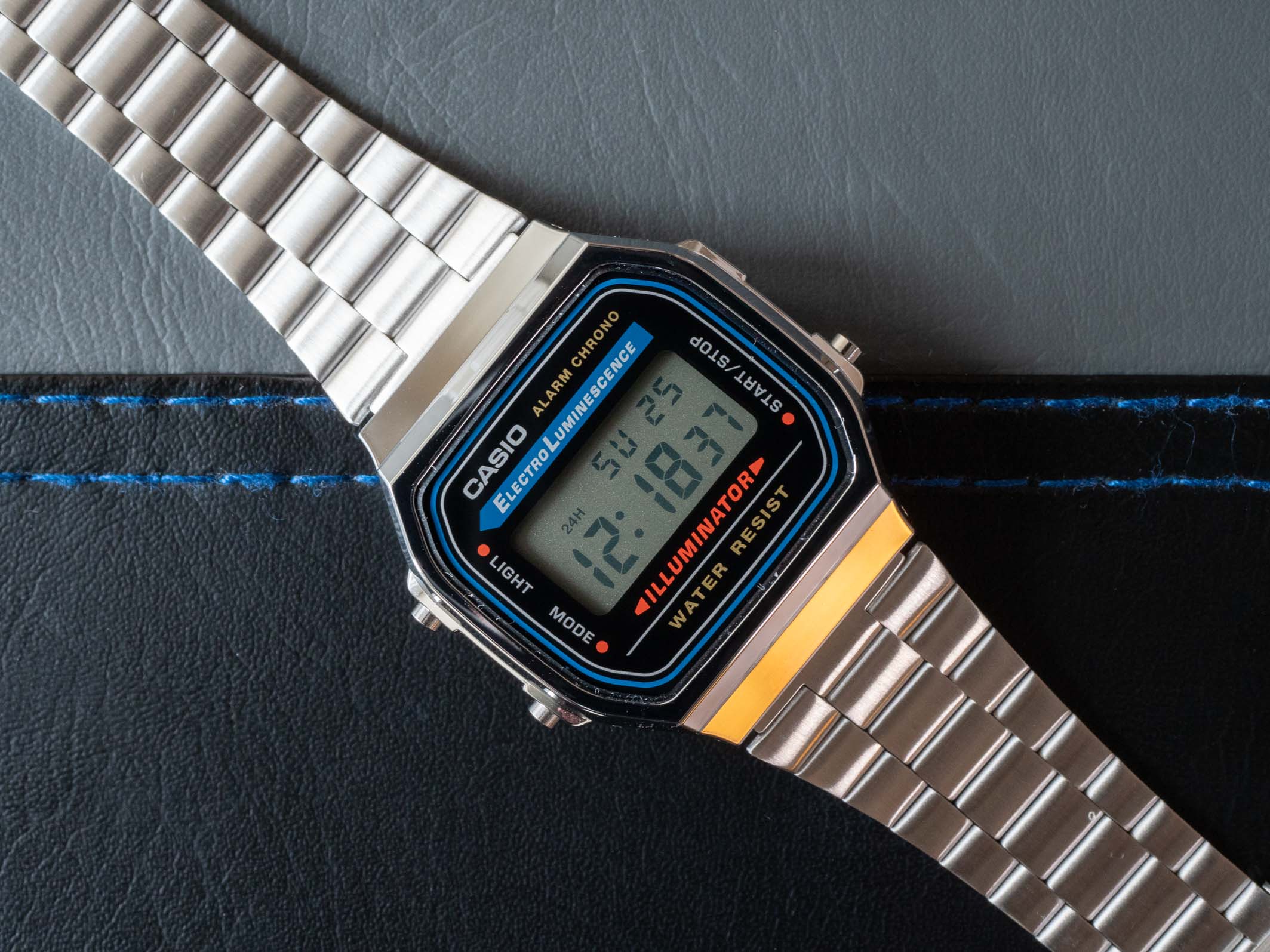 As mentioned, the A168WA is an update of the A158WA, with the main visual difference being the red accents on the face. These take the form of the word "Illuminator" beneath the digital time display and the red dots by the pusher labels.
I find this blue, red, black, and gray color scheme delightful because it's reminiscent of the Nintendo Gameboys from the '90s. It's both a throwback and a testament to its timeless style that fits in with today's low-profile dress sneakers and striped-collared leatherman bomber jackets.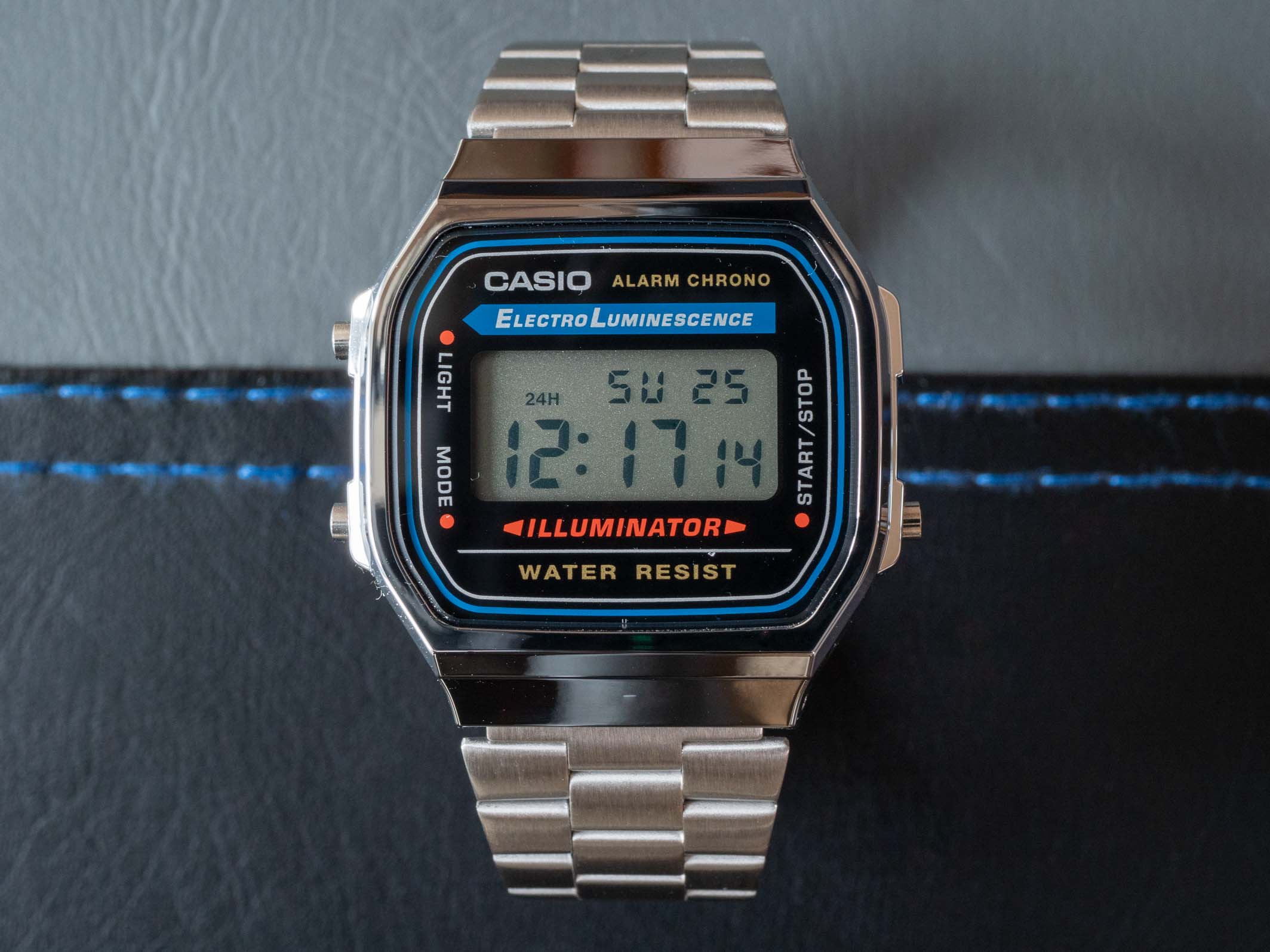 The digital face itself doesn't take up too much room, which gives this color scheme the spotlight. As mentioned, the case isn't real metal, but it's pretty reflective and legible at all angles, even at night. It certainly looks like an affordable watch, but it doesn't look like it's cheaper than it is.
The bracelet, on the other hand, definitely looks like a budget watch strap. The link design is practical, especially when comparing it to the thicker links of its A158WA ancestor.
The thinner links do make it more flexible and adjustable. Though I should mention that some men have complained about hair pulling.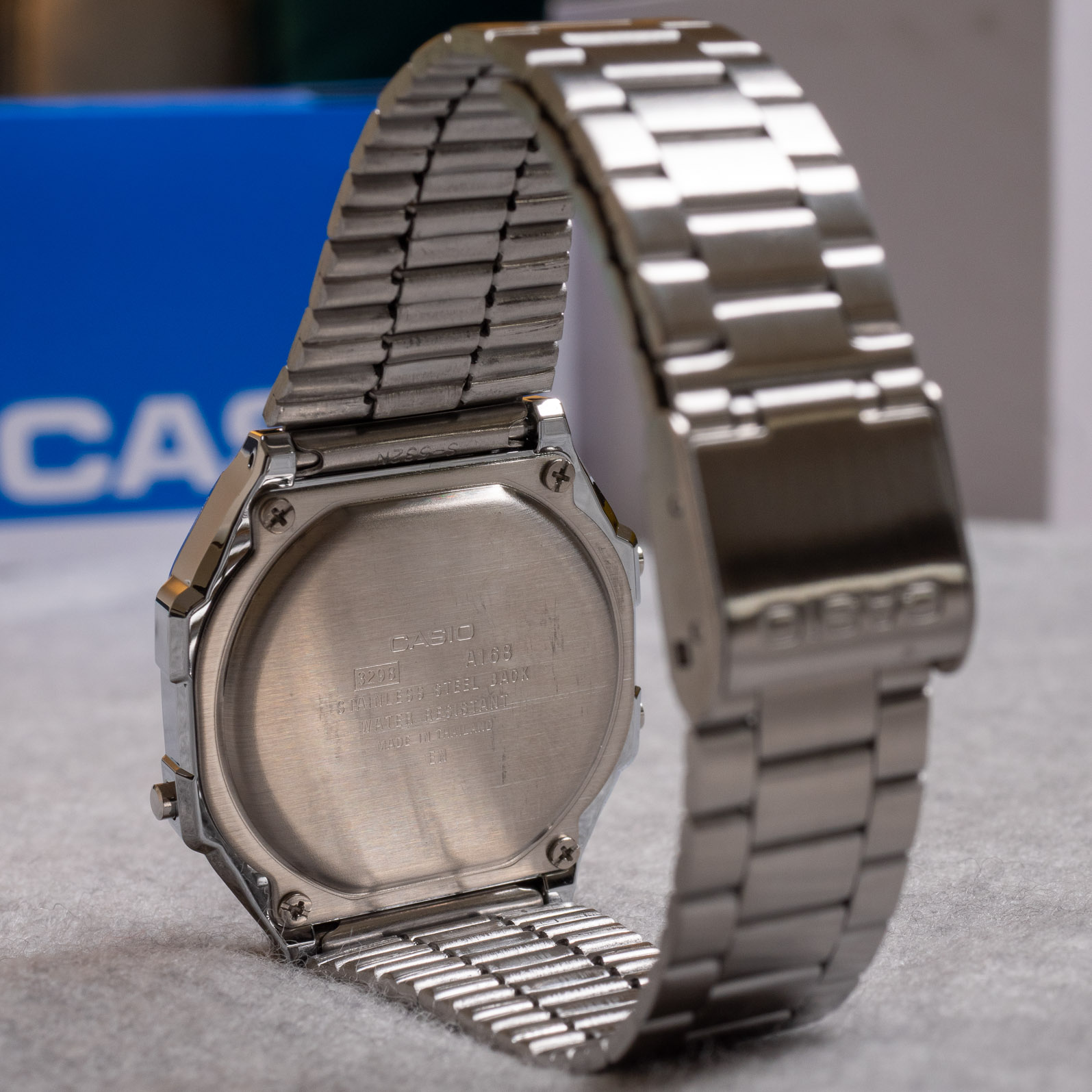 I like how the bracelet graduates into the watch face for a clean silhouette because it adds to the sleek vintage aesthetic. Moreover, the hook and bar deployment clasp makes the watch easy to take on and off, as an everyday beater should be.
Overall, its size doesn't draw attention, but it's well-designed and certainly esteemed by discerning watch enthusiasts.
Final Thoughts
Some A168WA pros include affordable brand recognition, reliability, a quintessential retro style, lightweight wear, and excellent function and design for its price.
Some cons include its plastic construction, average water resistance, and potential hair-pulling from the bracelet's thin links.
In my opinion, this watch's cons or par for the course in this price range (hair-pulling aside). However, the pros punch far above its price-point's weight class.
As mentioned, it has crossover appeal and that includes respect from high-end collectors. Perhaps they love the A168WA-1 because it reminds them of their first digital watch, or perhaps it's the fact that this Casio visually encapsulates a whole defining era of technology.
If it's your style, you really can't go wrong with this retro everyday beater.