If you're looking for a Casio G-Shock watch that's suitable for smaller wrists, this is the perfect guide for you!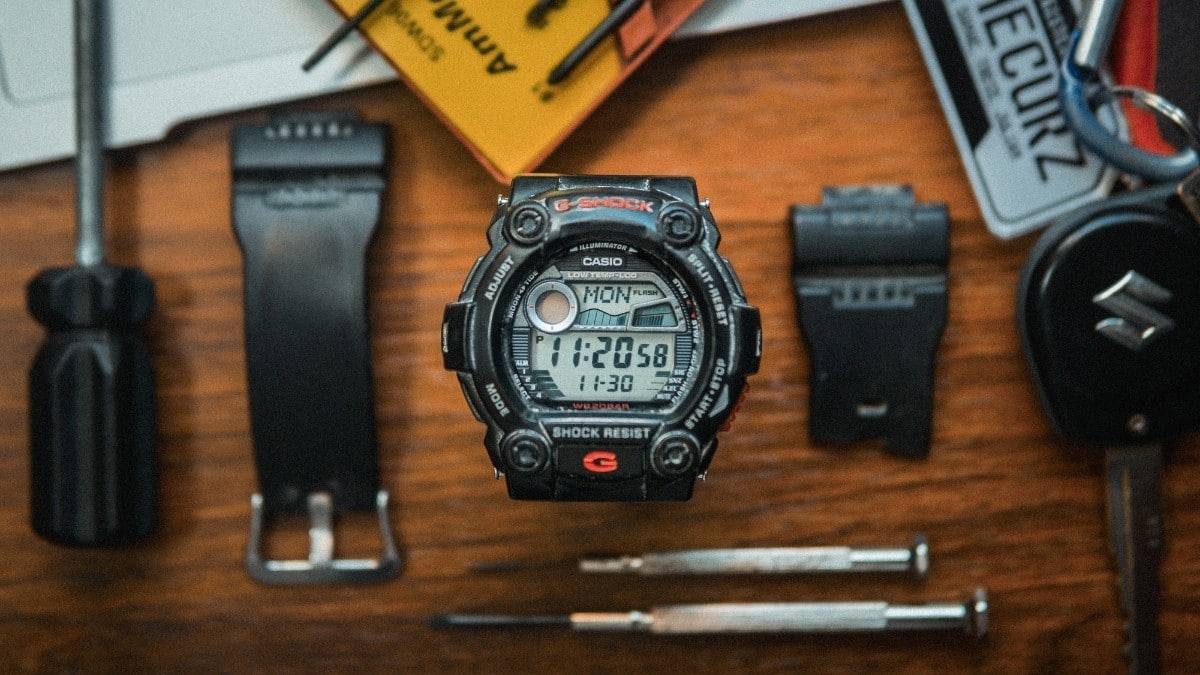 When it comes to functionality, durability, and affordability, Casio G-Shocks truly are the best watches on the market. Where they tend to fail, however, is wearability.
Most G-Shocks are large and clunky, but that doesn't mean all of them are. This list of the best Casio G-Shock Watches for small wrists proves that anyone can benefit from these incredible timepieces.
Originally, G-Shocks weren't extremely large, but they have grown since their introduction in 1983. Their robust design, multiple function, and general design have caused most of the G-Shock line to swell in size.
Many even exceed 50 millimeters — that makes it kind of hard for a guy with smaller wrists to pull one off.
Luckily, there are some current designs that trend toward the original watches' dimensions and styling, allowing smaller framed guys to wear them well. Keep reading to learn more about The 7 Best Casio G-Shocks for Small Wrists.
The 8 Best G-Shocks for Small Wrists
Now that you know there's a real possibility that you'll be able to wear a G-Shock without it looking like a pie plate on your wrist, the trick is finding the right model.
To help, we put together a list of the smallest yet attractive G-Shocks. All but one of the models on this list are less than 44 millimeters across, кемпінговий ліхтар so with G-Shock's design style, they'll work well on any wrist.
Casio Men's G-Shock Quartz DW5600
When it comes to reasonably sized G-Shocks, the DW-5600 is arguably the king. It takes its styling directly from the original 1983-released square G-shock.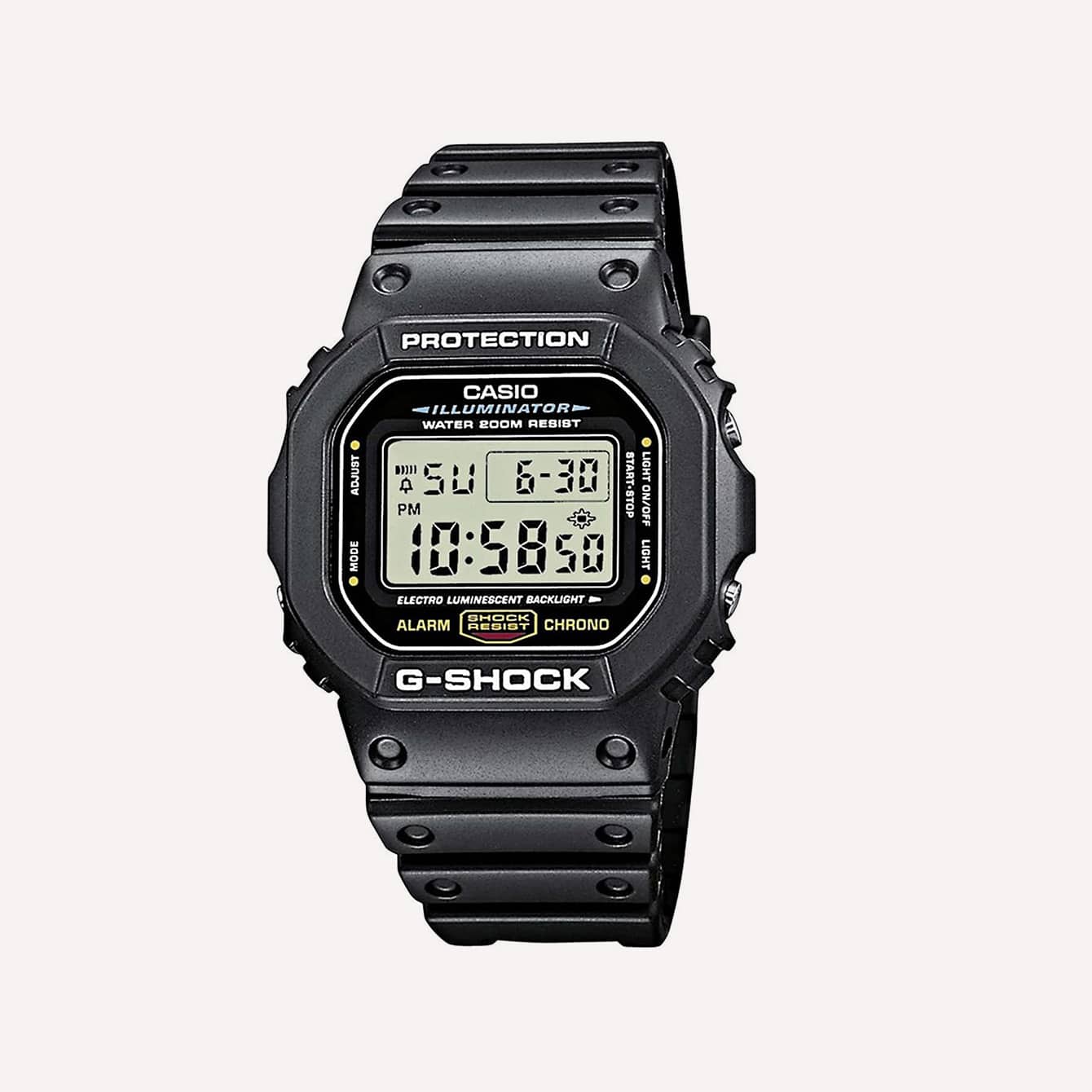 And, it's so popular that there are several subversions, including those with different colorways, Bluetooth, solar, and more.
Because of its long-running history and versatility, just about every watch collector will own one at some point in their watch collecting journey.
The DW-5600 benefits from Casio G-Shock's deceiving square design. Somehow, it looks good on both small and large wrists. It measures 42.8 millimeters across the dial, and it's a comfortable 13.4 millimeters thick.
It also has roughly a 48-millimeter lug-to-lug measurement, though the seemingly-integrated straps do make it feel somewhat larger. The good news is that those straps curve down around the wrist sharply, allowing this piece to wear nicely.
As far as features go, the DW-5600 has everything you'd expect from a G-Shock.
It features a 200-meter water-resistance, a multi-function alarm, a stopwatch, a countdown timer, a beep to indicate hour changes, an automatic calendar, 12 or 24-hour formats, and a vintage-style green backlight.
The case and strap are both resin as well, making the DW-5600 the classic G-Shock for small wrists. Oh, and you can get it for around $40 to $50 — not bad for a tried-and-true timepiece.
Casio Men's G-Shock Sport Watch DW-9052
A favorite among first responders and military personnel across the world, the G-Shock DW-9052 is all about ruggedness and durability. This watch's legendary resilience is thanks in part to its chunky, overbuilt design.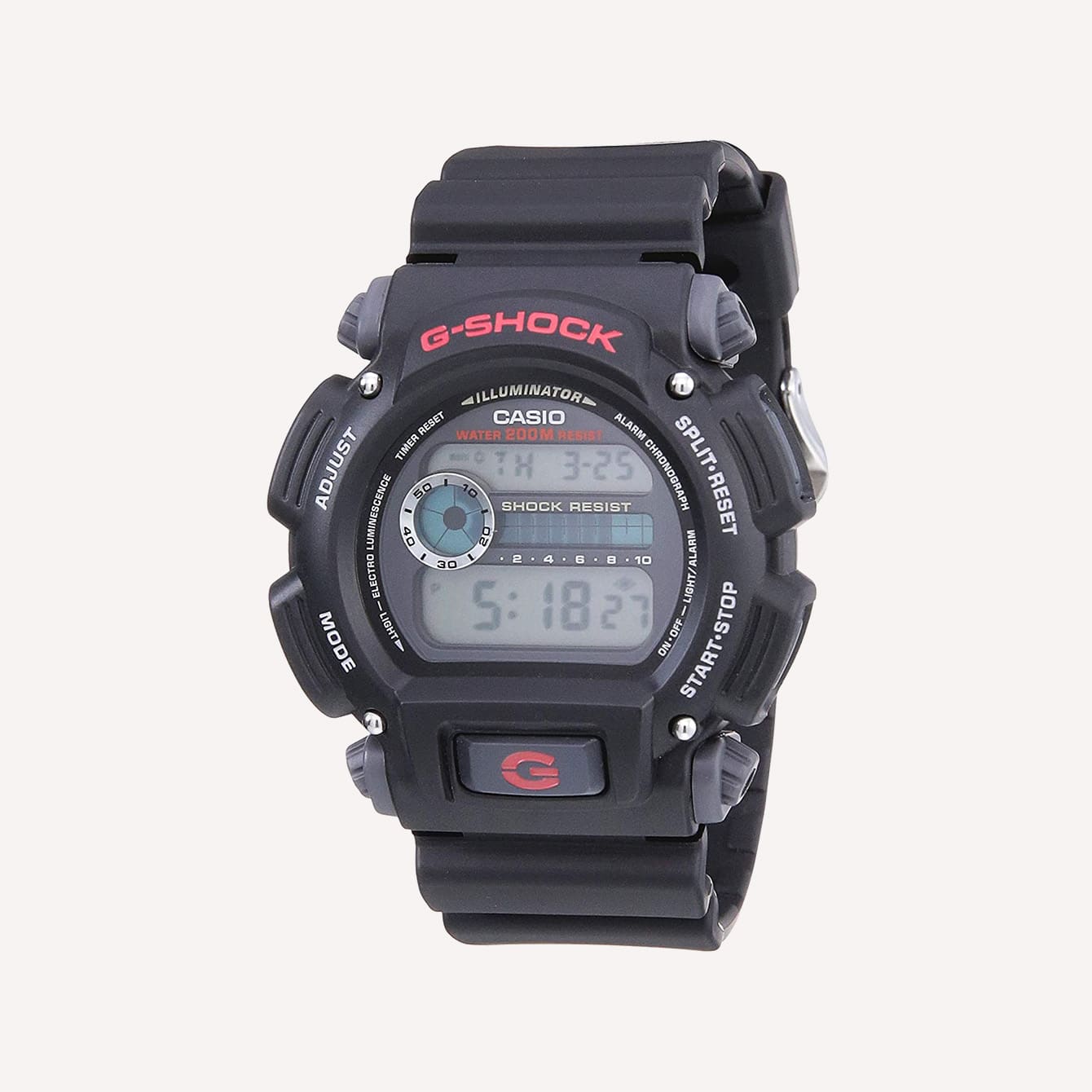 The DW-9052 is not a small watch; the button guards bring it to over 47 millimeters wide. But, with a relatively compact 48.5-millimeter lug-to-lug measurement, it doesn't swallow up a small wrist like the diameter would imply.
Also, it's about 15 millimeters thick, which is chunky but does help make it feel more proportionate. The DW-9052 has all the features G-Shock aficionados search for.
It has a resin case and strap, 200 meters of water-resistance, a backlight, a multi-function alarm, beeps for hourly changes, a countdown timer, a stopwatch, an automatic calendar, and 12 or 24-hour formats.
It's also available for around $45, which is another reason why it's so popular.
Casio Tough Solar Watch GW-S5600
Now for a G-Shock of a different feather убокс. You won't find the GW-S5600 on the shelf at your local Walmart. That is unless you're frequenting a Walmart in Japan.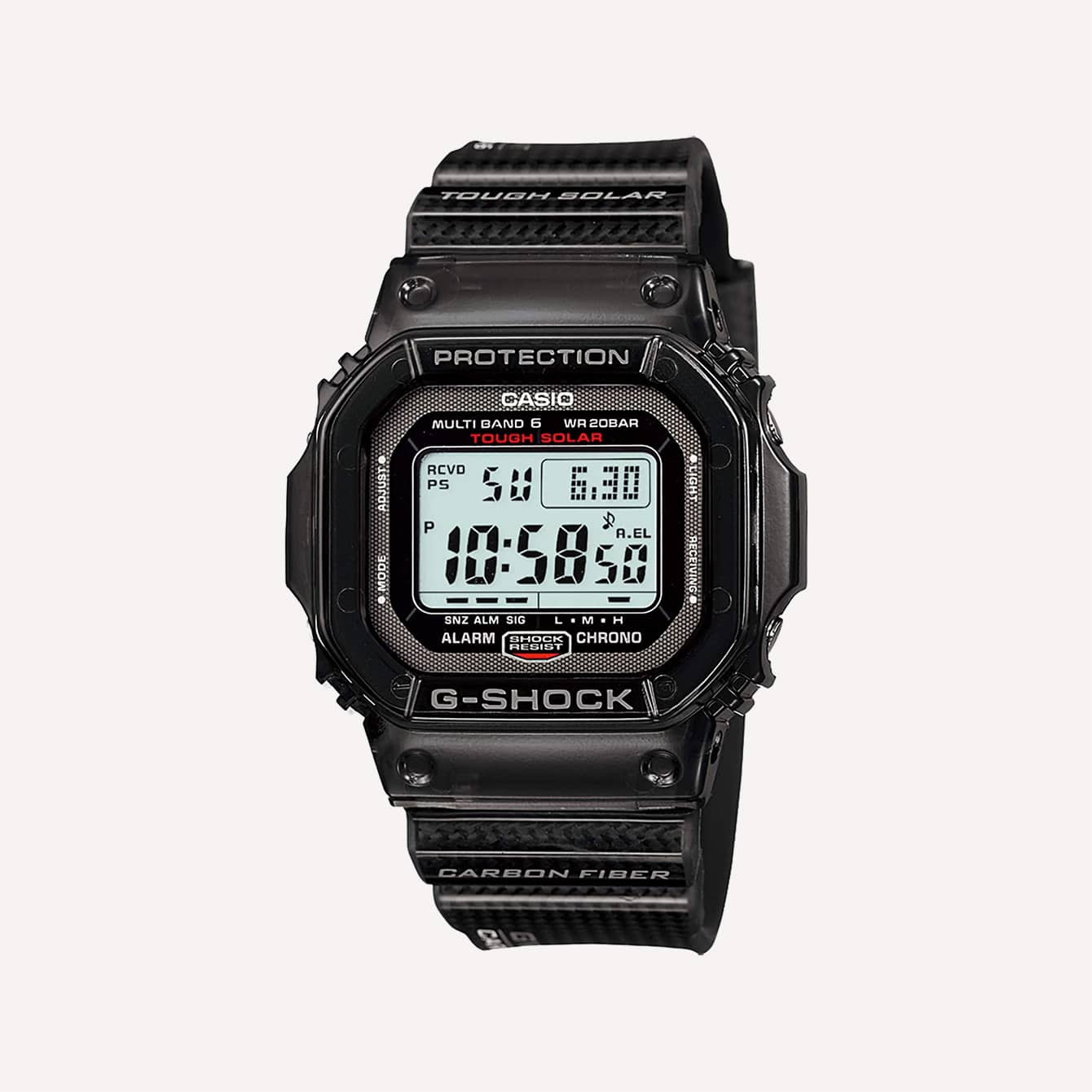 This beauty is a JDM (Japanese Domestic Market) release, and it was never officially for sale in the U.S. It will definitely earn you some street cred with the G-Shock crowd.
Let's start with the dimensions before we get into the really interesting stuff. The GW-S5600 has a similar classic square G-Shock design the like DW-5600, but with different measurements.
This model's case measures 43.2 millimeters across and 46.7 millimeters from end to end, giving this piece an even more square look. And at 12.7, it's not too chunky for everyday wear.
From a distance, the only thing that might tip the GW-S5600's hand is its sheen; this thing's shiny. And it's for two good reasons:
The strap is gel-coated carbon fiber, and the case itself is painted titanium. As a result, this watch weighs just 44 grams. Otherwise, it looks just like a standard G-Shock.
Beyond the unique materials, the GW-S5600 features the same 200 meters of water resistance, multi-function alarm, backlight, 12 and 24-hour format, a beeping hourly indicator, and other standard features.
But, it also features G-Shock's Tough Solar system and nightly atomic clock syncing for long-term and accurate use.
Casio G-Shock Digital Stainless Steel GM-5600
For guys that would prefer something other than the typical resin G-Shock, the GM-5600 is worth a look. It's this watch's stainless steel case cover that makes it so desirable and so unique from other G-Shocks.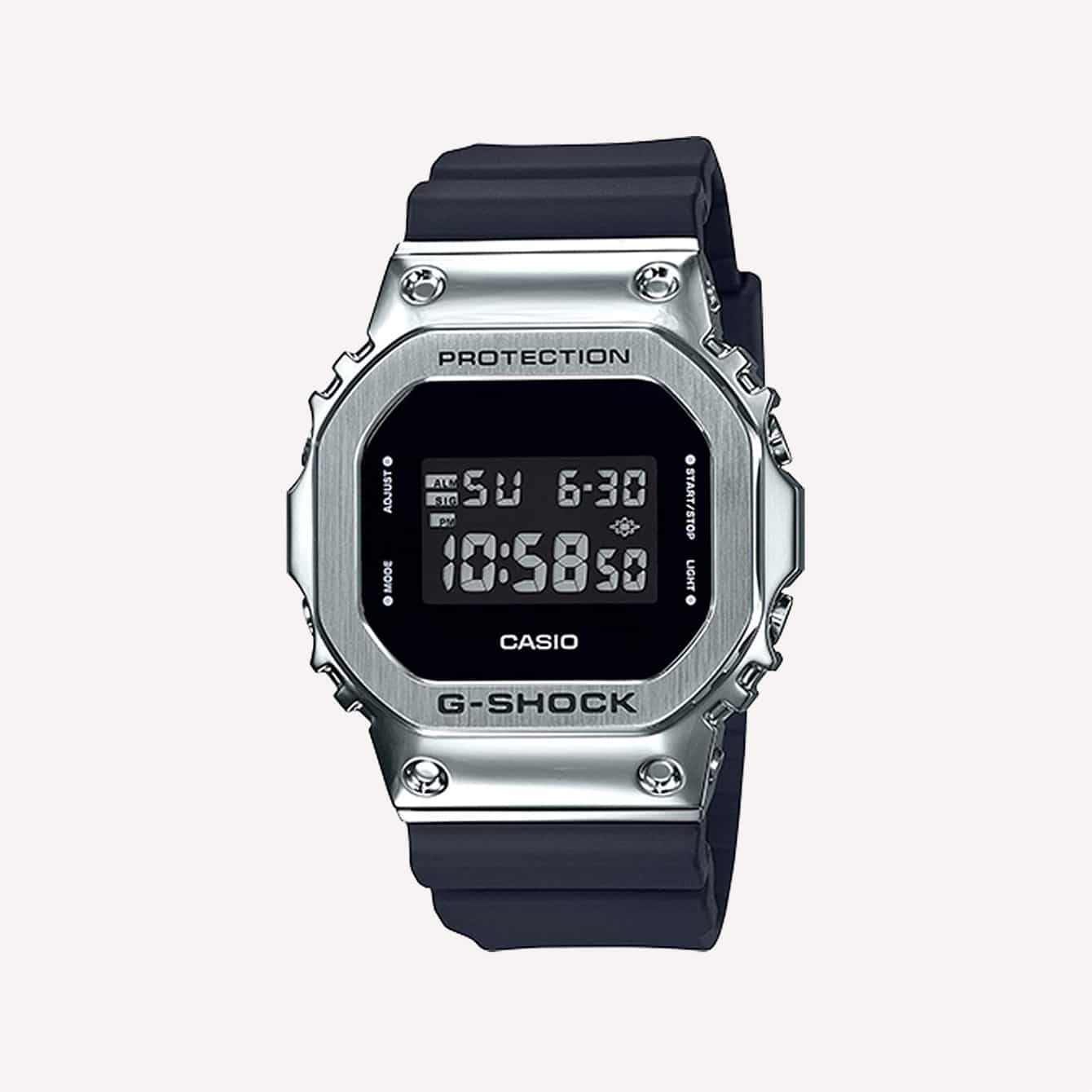 Considering that the GM-5600 measures just over 43 millimeters across the dial and almost 50 millimeters from lug to lug, it's not small.
But its classic square design certainly makes it a comfortable wear. And, the fact that it's 12.9 millimeters thick, including the stainless steel cover, it's not so chunky that it will look strange on a smaller wrist.
As far as features go, the GM-5600 is your basic G-Shock.
It has the standard 200 meters of water resistance, multifunction alarms, a backlight, a stopwatch, a countdown timer, an hourly beep indicator, and an automatic calendar that works up until 2099.
The only downside is that this watch isn't available with a metal bracelet — it comes on a resin strap.
Casio Men's G-Shock GW-M5610
Improving such an incredible timepiece like a G-Shock is a pretty significant challenge. It already has the functionality, the water resistance, and the value.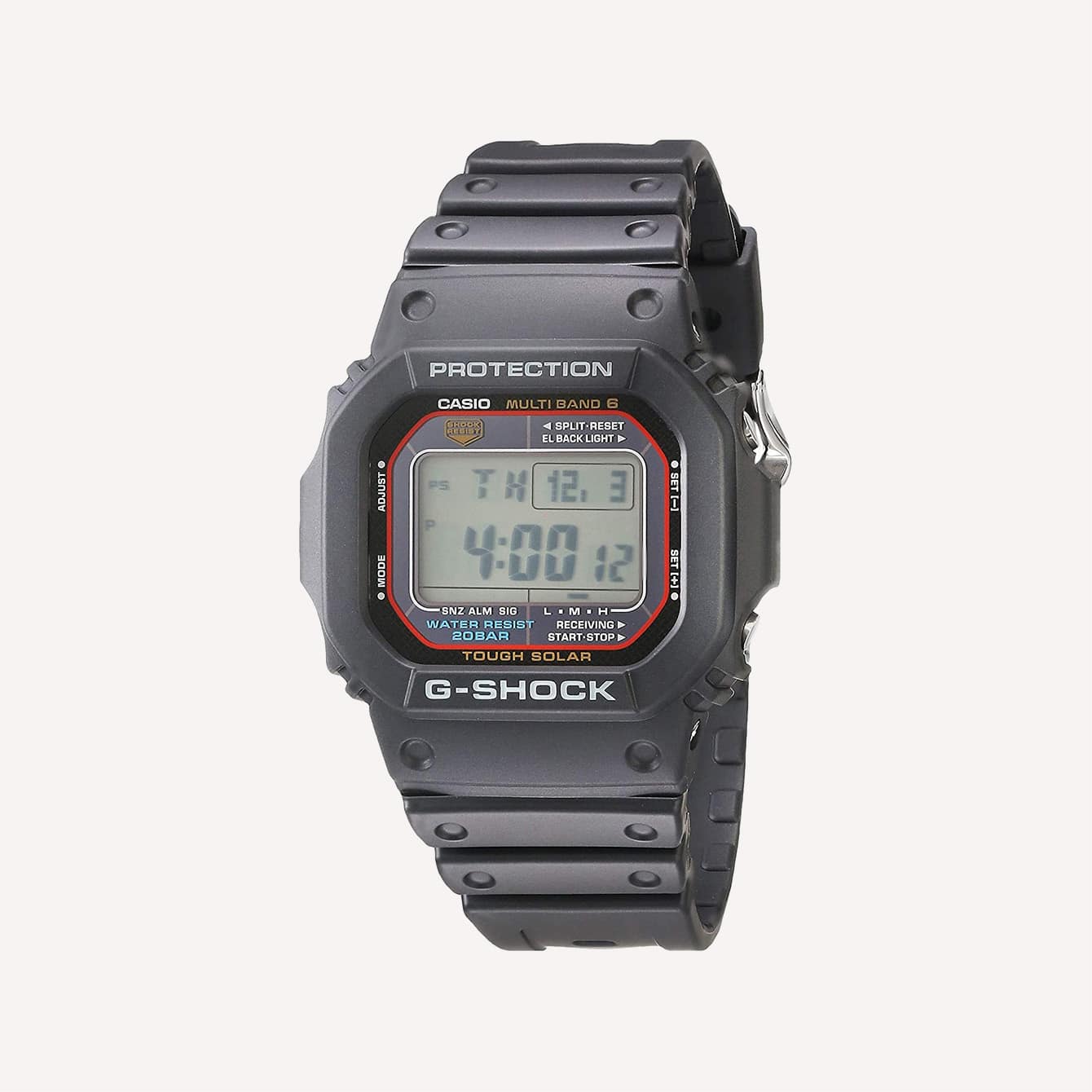 So how do you improve it? Add solar and atomic timekeeping. And that's just what the Casio engineers did with the GW-M5610.
Along with all the standard features, this G-Shock features the brand's Tough Solar. It charges via sunlight and can last for up to 10 months in complete darkness on a full charge. And, it's always accurate as it syncs to atomic time every night.
Like other square G-Shocks, the measurements don't tell the entire story.
But, if you must have them, the GW-M5610 measures 43 millimeters across and about 46 millimeters lug-to-lug, which makes it quite wearable for a smaller wrist. And at just 12.5 millimeters thick, it's on par with most analog sport watches.
On the surface, the GW-M5610 looks like a basic G-Shock, but there's a lot going on behind that crystal. For one, it's solar-powered and features atomic timekeeping, as already mentioned.
But, GW-M5610 also has a world timer function with 48 cities and 29 timezones. It also has the standard 200 meters of water resistance, an automatic calendar, a stopwatch, a countdown timer, and a backlight.
Basically, you're getting all the benefits of a standard G-Shock while adding solar, atomic timekeeping, and a world timer — not bad at all.
Casio G-Shock Connected GMW-B5000
Casio G-Shock has been in the connected watch market for a while now, but some of its Bluetooth options aren't overly attractive or wearable for guys with smaller wrists.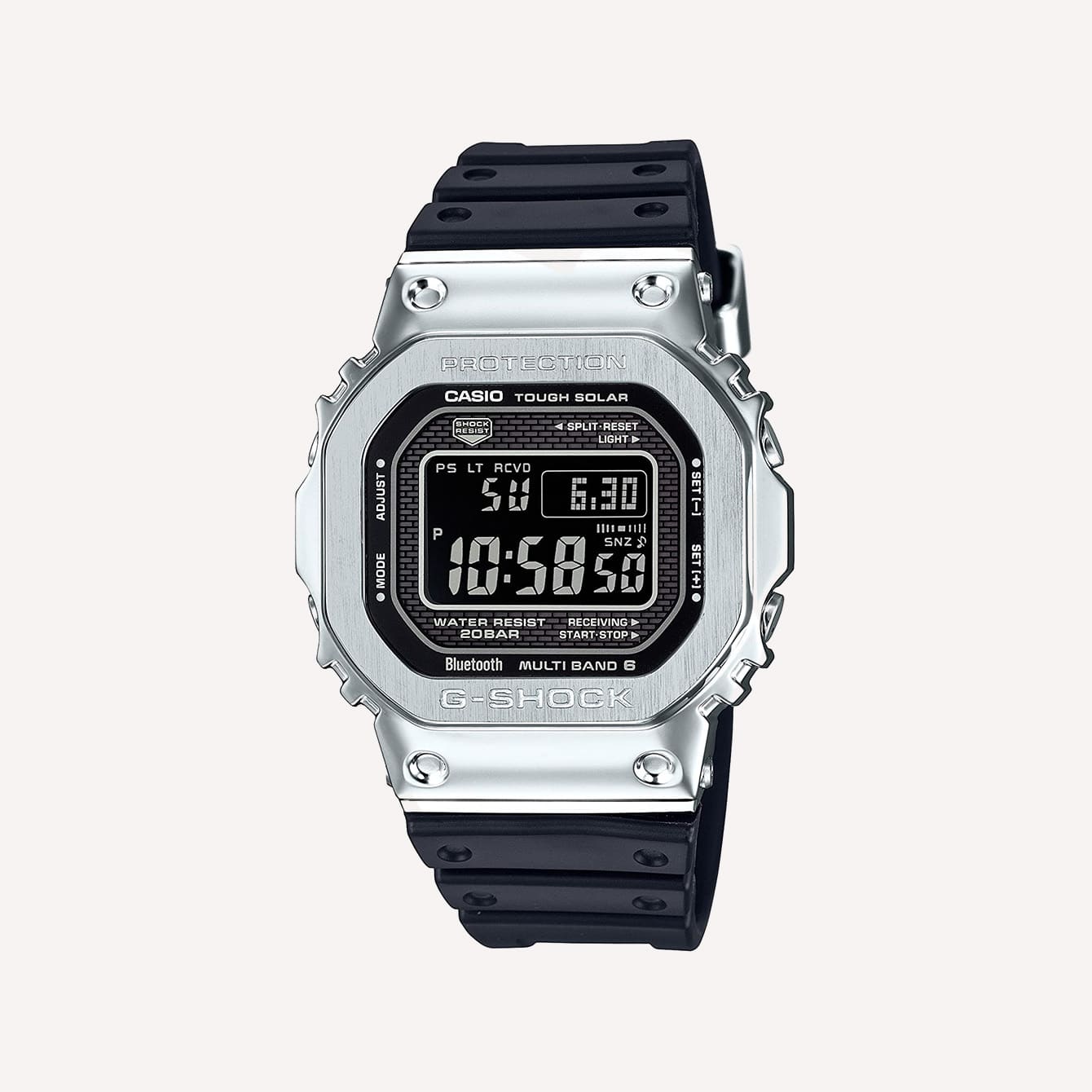 The GMW-B5000 is one exception, with its highly polished stainless steel cover and classic DW-5000-type looks. And, with Bluetooth technology, it does quite a bit more than a standard G-Shock.
Measurements on the GMW-B5000 are just over 43 millimeters across the dial, 49.3 millimeters from lug to lug, and 13 millimeters thick.
With all the features packed inside this watch, the fact that the engineers at Casio G-Shock were able to maintain the modest dimensions is commendable.
Now for the features. The GMW-B5000 has the standard G-Shock menu of options, including the water resistance, timers, and other such standard items.
But it also allows the user to set the time, alarms, and reminders from either their phone or the watch, depending on which they find easier. Also, the GMW-B5000 will track coordinates and provides phone-finding settings for locating misplaced phones.
The great thing about the GMW-B5000 is it's available in several variants, some of which come on metal bracelets.
Casio G-Shock Square Army Green Watch DW-5610
The DW5610 might fit an interesting role in most guys' watch collections. It has the traditional design of a square G-Shock, but it comes in some earthy colors that many guys don't own yet. For that reason alone, it's a G-Shock worth checking out.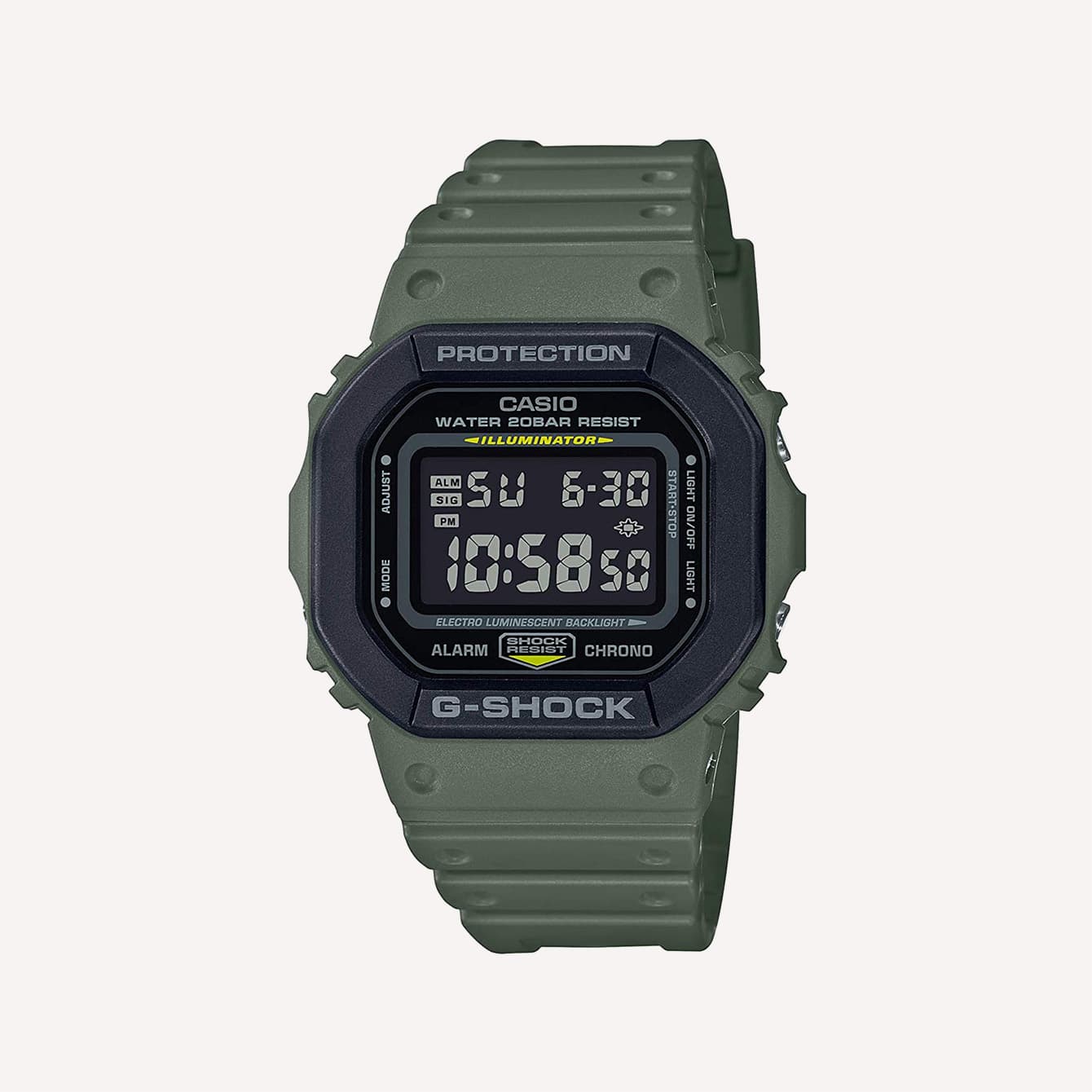 Factor in its modest size, and it becomes that much more appealing.
The DW-5610 has unique dimensions as well. While it measures almost 44 millimeters wide, it's less than 49 millimeters from lug to lug. It's just a bit chunky, too, at 13.5 millimeters thick.
While it doesn't quite fit the same mold as many other square G-Shocks, the design still works for smaller wrists but with a bit more wrist presence.
Like other G-Shocks, the DW-5610 has the slew of standard features that make them so usable and functional. There's a multifunction alarm, water resistance, an hourly beep indicator, a countdown timer, a stopwatch, and an automatic calendar.
As mentioned, the DW-5610 comes in a few different colors, including olive drab green, tan, and a camo-style design.
Casio Women's Baby G BGD140-1ACR
Don't get hung up on the fact that Baby G's are marketed at women, guys. These watches have all the durability and credibility of their full-size G-Shock brethren but often up to 13 millimeters less in diameter.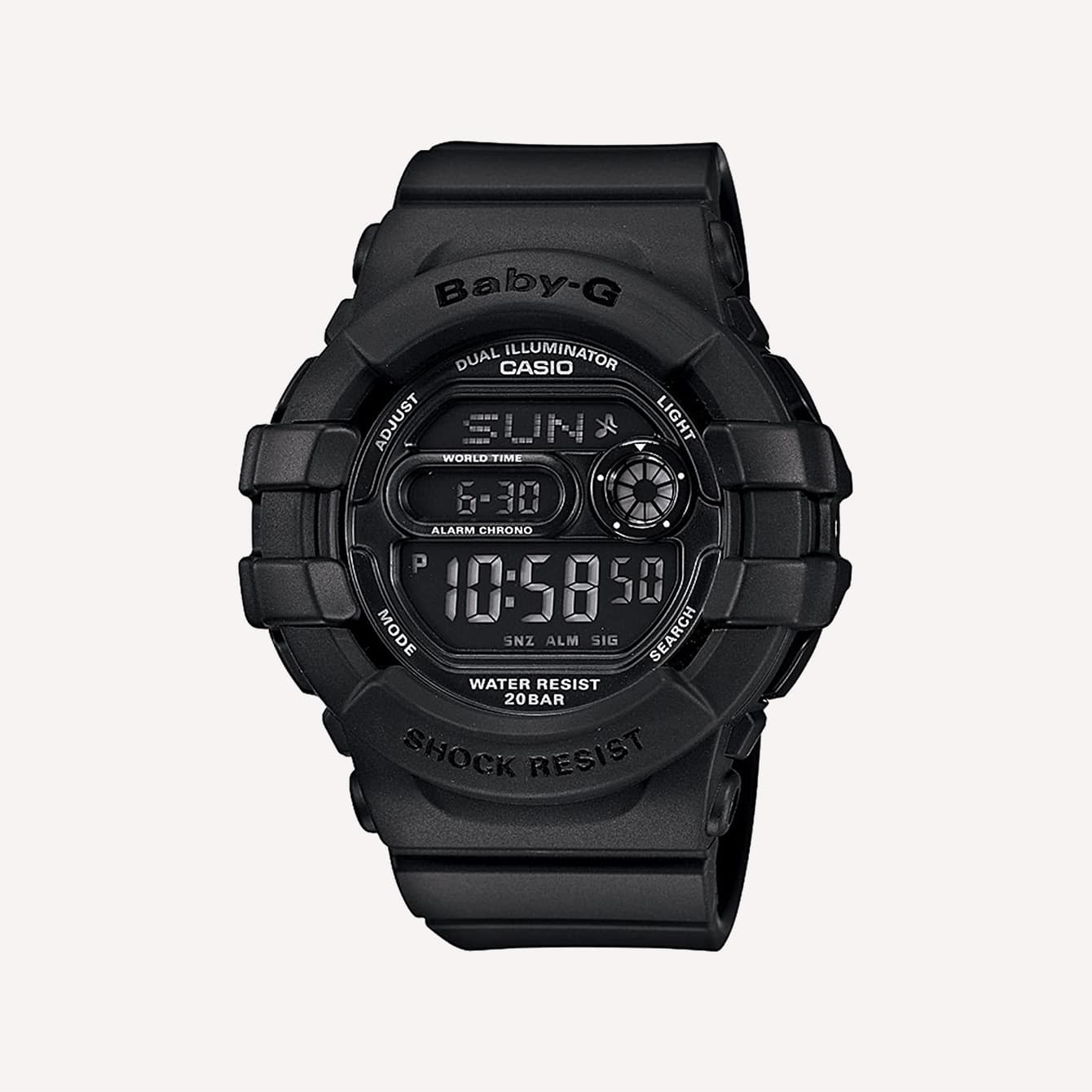 Imagine: A G-Shock with the same diameter as an SKX. Oh, the possibilities.
The BGD140-1ACR is an affordable, capable watch in a compact package. Measuring just 42 millimeters across the dial and just over 46 diktorarbeit schreiben lassen millimeters from lug to lug, it looks at home on almost any wrist.
This Baby-G has a black resin case and a black resin strap, and neither one seems feminine in any way.
Now for the fun stuff: The Baby G doesn't sacrifice much, other than a few millimeters across the dial.
It has a 200-meter water resistance, a perpetual calendar, a stopwatch, a timer, world time, multifunctional alarms, and ghostwriter seminararbeit all the other tricks that full-size G-Shocks offer. Other than the marketing campaign, there isn't much to dislike about this watch.
Final Thoughts
If you thought a G-Shock was never going to be Akademisches Ghostwriting in the cards because they're too large, you now know there are options for almost any wrist.
While it's true that there aren't any truly small G-Shocks (other than Baby-Gs), the G-Shocks on this list are some of the most modestly sized.
For those on a budget, it's hard to beat what the DW-5600 brings to the table. Guys looking for a bit of technology and look-at-me factor might prefer the GMW-B5000. Watch collectors who might like something a little rarer should look to the JDM GW-S5600.
Whatever your taste, you can rest assured that there is a G-Shock out there for your wrist.