Orient is iconic, to say the least. If you want one of their watches, try one of these options.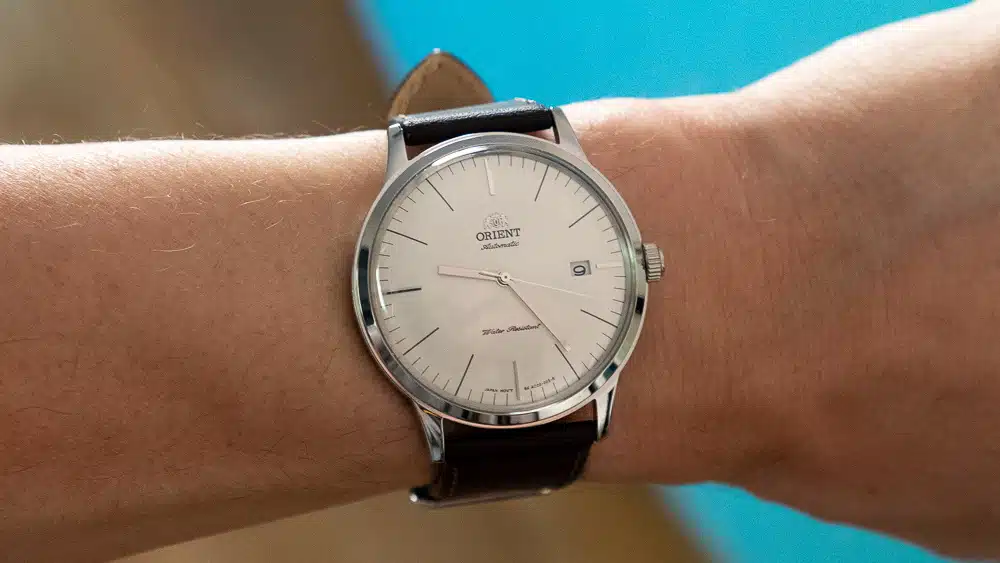 Orient has a diverse watch collection that offers plenty of choice when it comes to growing your watch collection.
It doesn't matter whether you're in the market for a classic dress watch or a robust diver's watch.
The Japanese watchmaker has been specializing in mechanical watches since the 1950s. Soon, it put itself officially on the map for its ability to create affordable models powered by in-house developed movements.
This article covers 10 of the best Orient watches. I also cover some key information about the brand that you probably won't find anywhere else.
I also touch on the history of Orient watches for those of you who want some background knowledge before purchasing your first model.
A Brief History of Orient Watches
Although officially established in the 1950s, Orient can trace its roots back to a small watchmaking shop in Tokyo in 1901.
The shop's founder, Shogoro Yoshida, expanded his business in 1912. From 1912 to 1949 he began focussing on clocks and wristwatches.
Throughout these years, the company changed its name. Initially named the Yoshida Watch Shop, it changed to Toyo Tokei Manufacturing, and then to the Tama Keiko Company. The name Orient coincided with the release of the Orient Star.
The word "Orient" references Japan's heritage. Orient reflects the word "rising" in Latin. It'sa fitting reference to The Land of the Rising Sun.
Closely following behind the likes of Seiko, Casio, and Citizen, Orient remains a leading watch brand. It's popular in both the Japanese sector and across the entire watchmaking industry.
The brand excelled in the manufacture of mechanical movements. It also survived the crushing effect of the quartz crisis during the 1970s.
In 2009, Epson fully acquired Orient. Since then, the brand has gone on to create some incredibly popular models and collections, many of which I'll be covering in this guide.
Contemporary, Sports, and High-End Orient Watches
Do you consider yourself a modern watch enthusiast? If so, you might want to take a look at the Contemporary series by Orient.
Its vast array of designs varies from the sporty to the casual to slightly whimsical and playful. Some models feature a sun and moon display. Others boast an open-heart version. There are also day-date models and more complex perpetual calendars.
For sporty, active individuals, the Orient Sports watch collection wins hands down. Here, you can browse a whole host of pilot watches, chronographs, and a vast array of dive watches. Included among these are the Kamasu, the Mako II, and the Ray II.
More higher-end Orient Watches comprise models like the Classic Skeleton, with gently crafted hands that bring a touch of finesse to timekeeping.
There's also the Orient Star collection, home to the Star Outdoor, the Star Diver, and the Star World watch with a legible World Time display.
Best Budget Orient Watch: Orient Bambino AC08004D
They may be basic in design, but Orient watches are reliable, functional, and accurate. They are popular for their great quality-to-price ratio, many of which cost around the $100-200 mark.
Take the Orient Bambino watch collection, for example. It is part of the manufacturer's Classic series and is known for its compact and wearable design.
The Bambino 2 is another example of a dress watch accentuated by a traditional Roman numeral hour track.
The third generation of the Bambino watch collection is the most contemporary, with slim baton indices and a choice between a grey, black or white dial. For a more complex take on the Bambino, check out the Bambino Heart.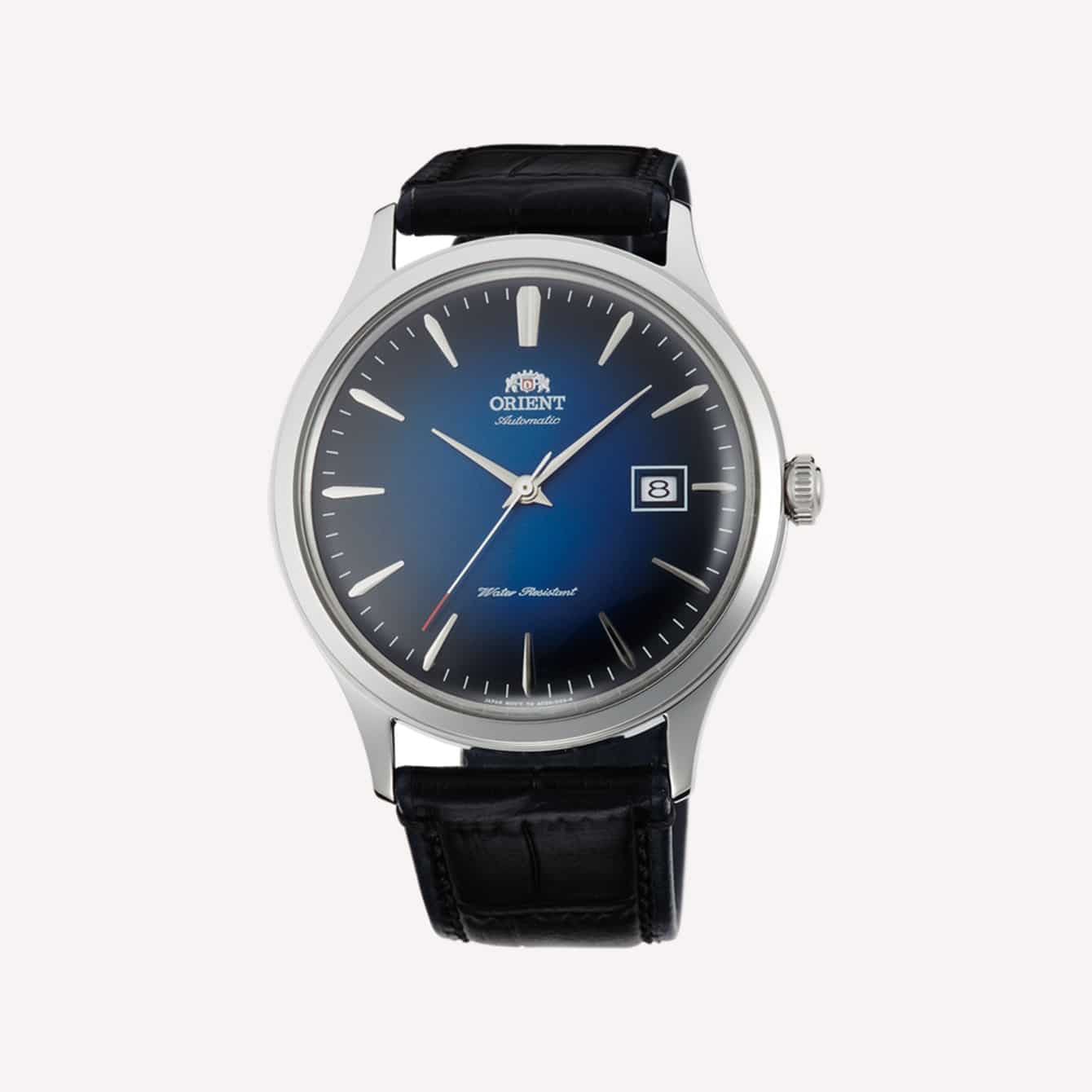 This watch it showcases the balance of the mechanical movement as it performs through an open window on the dial.
The Orient Bambino is a modern and affordable design for those shopping for an Orient watch on a budget. If you prefer simplistic dial designs, the rich blue hue of this 42mm dress watch from the Bambino range is a great choice for you.
Its slim hour markers taper slightly to a point, while the central second-hand stands out with its red-coated tip.
This simple time and date watch features a window at 3 o'clock that shows the date against a white wheel. To enhance its elegant look, you get the watch on a crocodile textured strap.
The Bambino has a mechanical hand-wound movement that provides a useful 40-hour power reserve and a mineral glass caseback.
Best Orient Dive Watch: Orient Mako Arabic Dial RA-AA0818L
The Arabic numeral hour markers seen in the dial of the Mako Arabic watch make it a particularly practical dive tool.
The model RA-AA0818L has a marine-blue dial with a yellow-tipped second hand, visible hands and hour markers, and a rotating bezel for measuring elapsed time easily when underwater.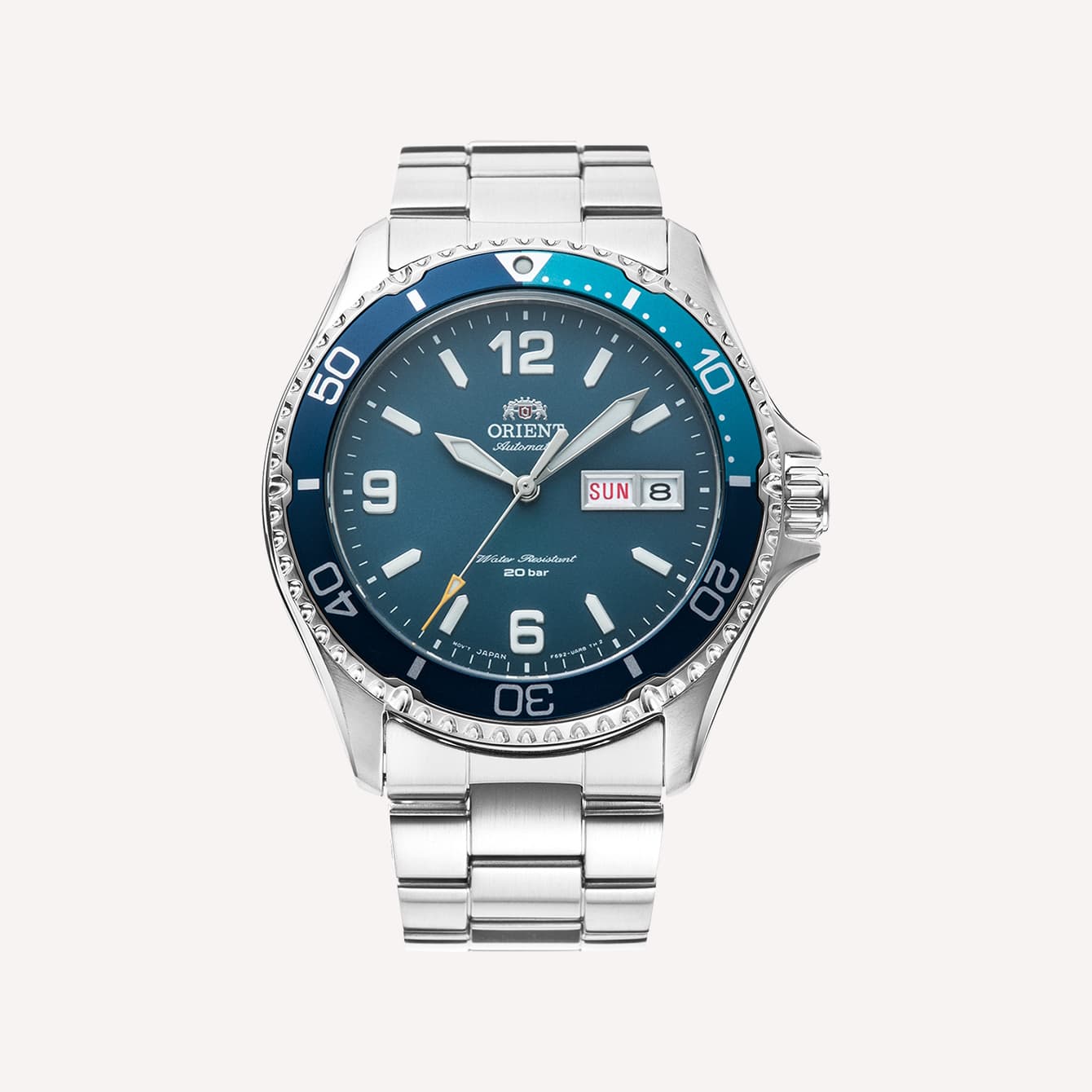 Like many dive watches, the first 15 minutes are marked by a light shade. A 200-meter water-resistant case topped with sapphire crystal glass also helps to protect the hand-wound Orient F6922 movement from water damage.
The Orient Mako watch also has a strong stainless steel bracelet with a folding clasp.
Best Traditional Orient Watch: Orient Bambino Ref AC00009N
Here's another selection from the Orient Bambino collection. I love this line since it is filled with classic designs that offer a touch of charm to elegant evening attire.
For example, the Orient Bambino ref AC00009N has a 40.5mm case crafted from stainless steel and a beautiful cream dial that gives the watch an aged look.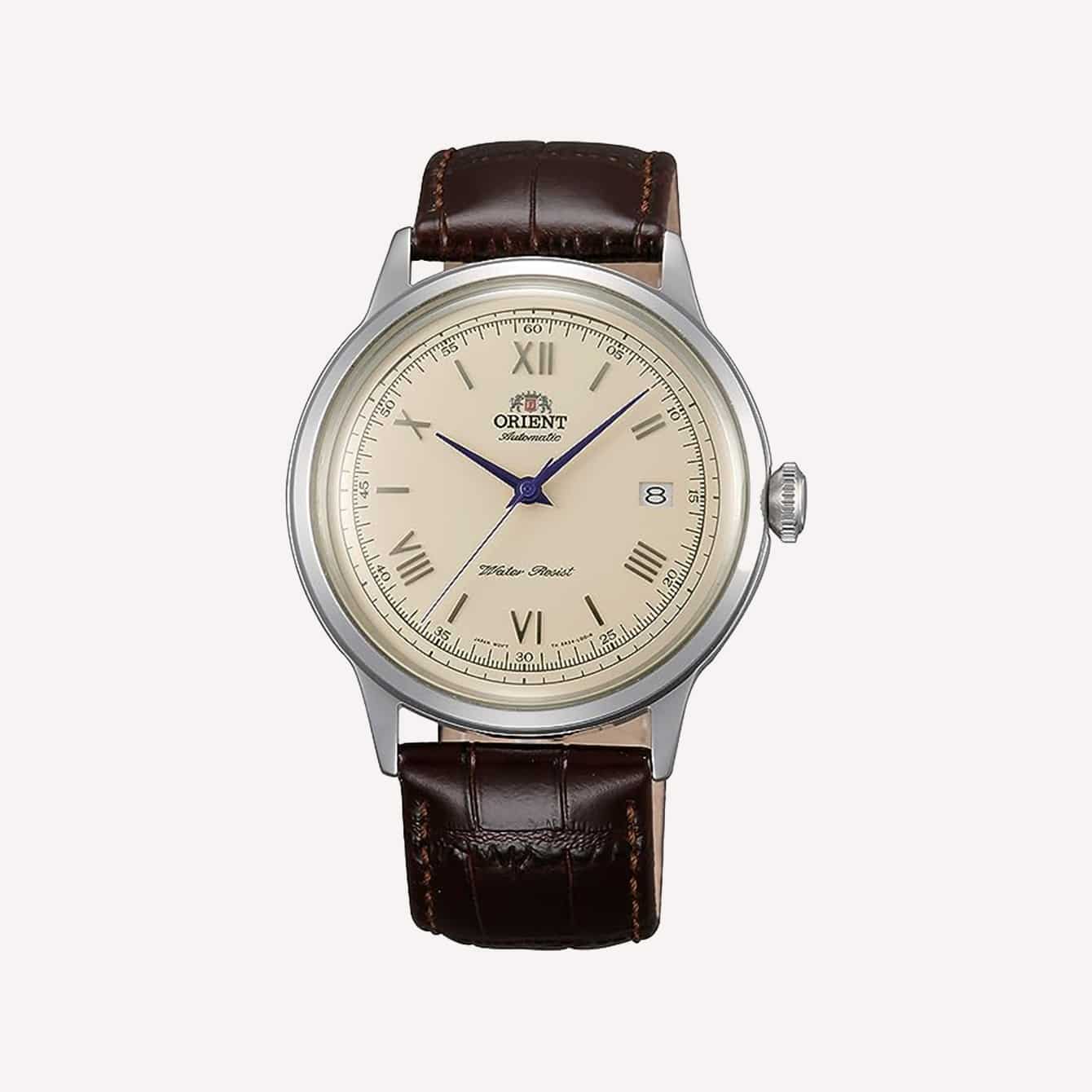 Accompanying this classic color is a set of traditional Roman numeral hour markers with deep blue central hands that are powered by a hand-wound movement.
The watch adds a dressier feel to the wrist with a rich brown crocodile-textured leather strap and an Orient-engraved buckle.
Other Top Orient Watches
Here are some other great models:
The Orient Star RE-AT0203L
The Orient Star watch adds another level of sophistication to any luxury watch.
The reference RE-AT0203L is a great option from this range. It boasts a tasteful pastel-colored blue dial adorned with stick markers.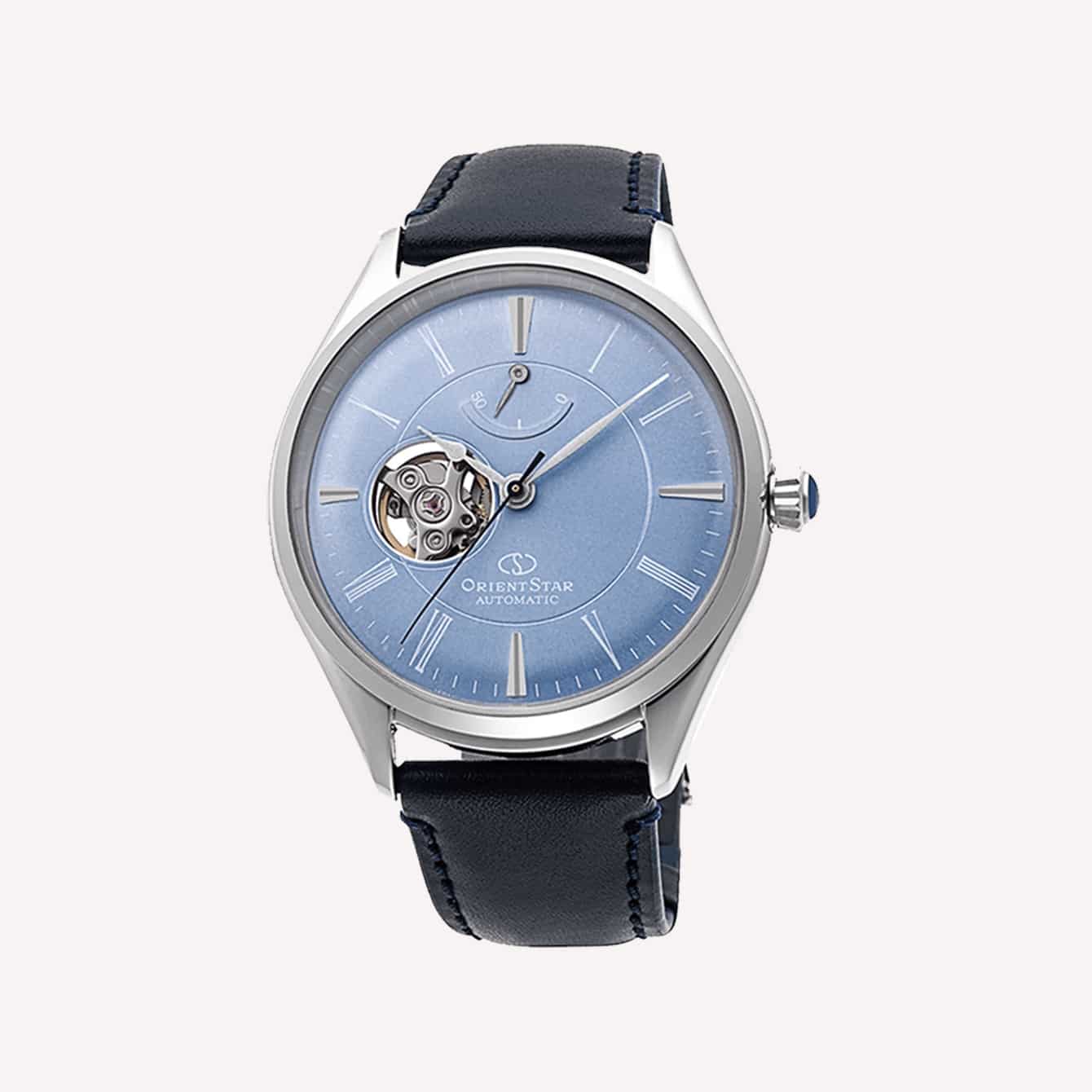 This watch's open-heart design captures the charm and wonder of the mechanical movement.
Of course, flipping the watch over to its underside shows off even more of this movement.
This Orient Star watch is inspired by the gentle sunlight cast upon plants and trees. Its affordable price is yet another bonus, certainly appealing to young and new collectors.
Orient Star ISO Diver Ref RE-AU0306L
The Orient Star ISO diver is a confident dive tool that measures a broad 43.6mm diameter. Its striking deep blue dial creates a huge wrist presence thanks to its Pepsi-style bezel.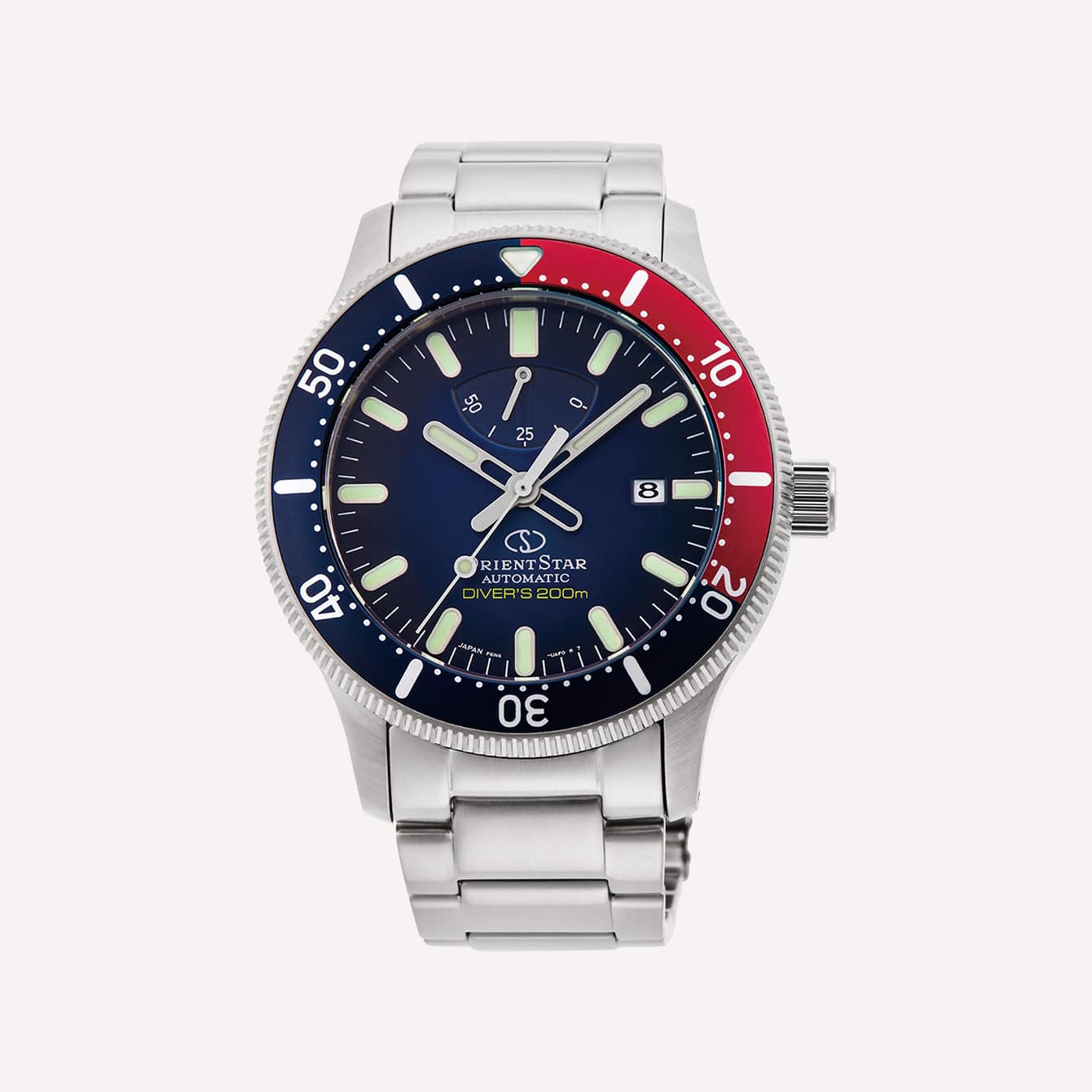 The Star ISO Diver watch has a knurled bezel that frames a very practical power reserve indicator at the northern hemisphere of the dial.
The display shows the remaining energy levels of the Orient Star F6N47 movement.
What's more, the affordably priced dive watch also comes with a stainless steel bracelet, a rubber band, a date window, and a promise of a 200-meter water-resistant rating.
Orient Star Layered Skeleton RE-AV0B02Y
If you like a watch with a little difference, the Orient Star Layered Skeleton watch might be the perfect option. The reference AV0B02Y has a two-layer dial adorned with motifs that tip their hat to herringbone and paisley suit motifs. '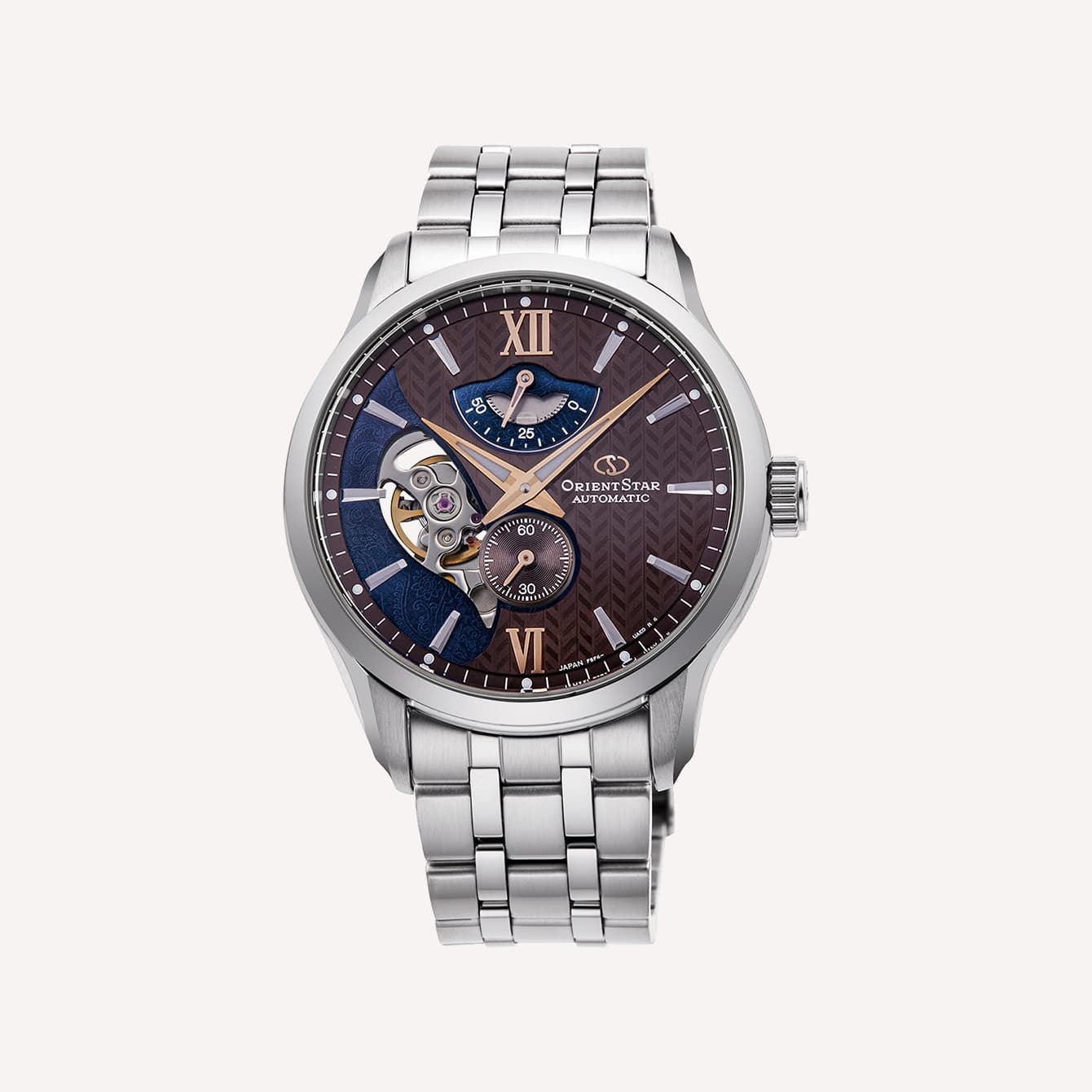 Perfect for the office or an evening event, this Orient Star watch features soft curves and lugs that represent draping fabrics and luxurious materials.
The openwork design with a power reserve display provides a generous view of the movement. The complicated movement operates underneath a sapphire glass front.
The watch also features a small second sub-counter, golden-colored hands, and a beautifully engineered stainless steel bracelet.
Orient M-Force Ref RA-AC0L08Y
Certified by ISO standards, the Orient M-Force watch has an adventurous spirit and a distinctively large case measuring 45mm.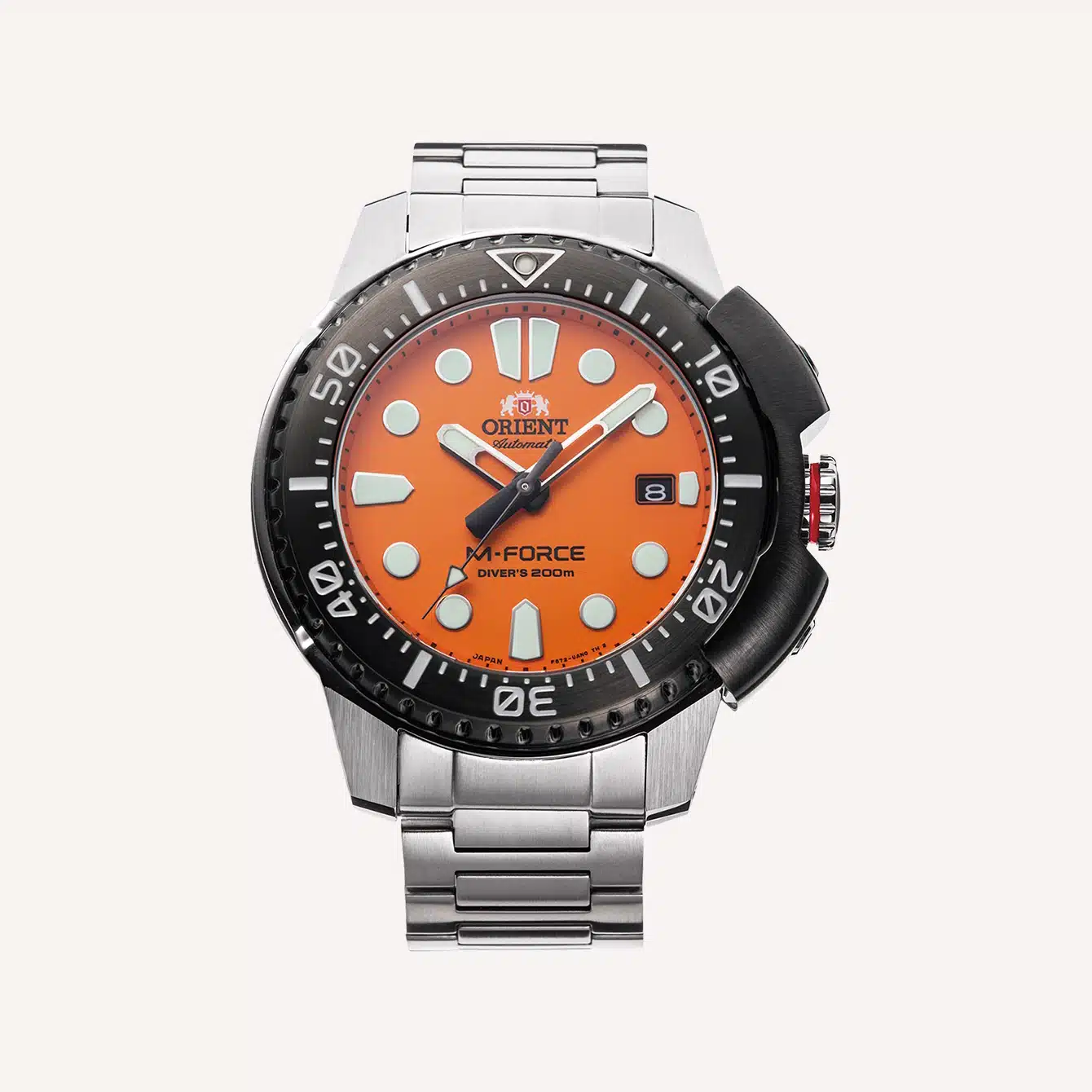 Its vivid orange dial promises profound legibility in dark conditions, plus its robust steel case is water resistant to 200 meters. Behind a solid steel case back is the modified Calibre F6727 movement.
It sits inside a case equipped with a strong sapphire crystal glass front and a screw-down crown.
Orient Ray II FAA02005D9
It seems like every guide to the best Orient Watches has to include a model like the Orient Ray II. It's a great alternative to the Seiko SKX007 and features a 200-meter water resistance and a unidirectional rotating bezel.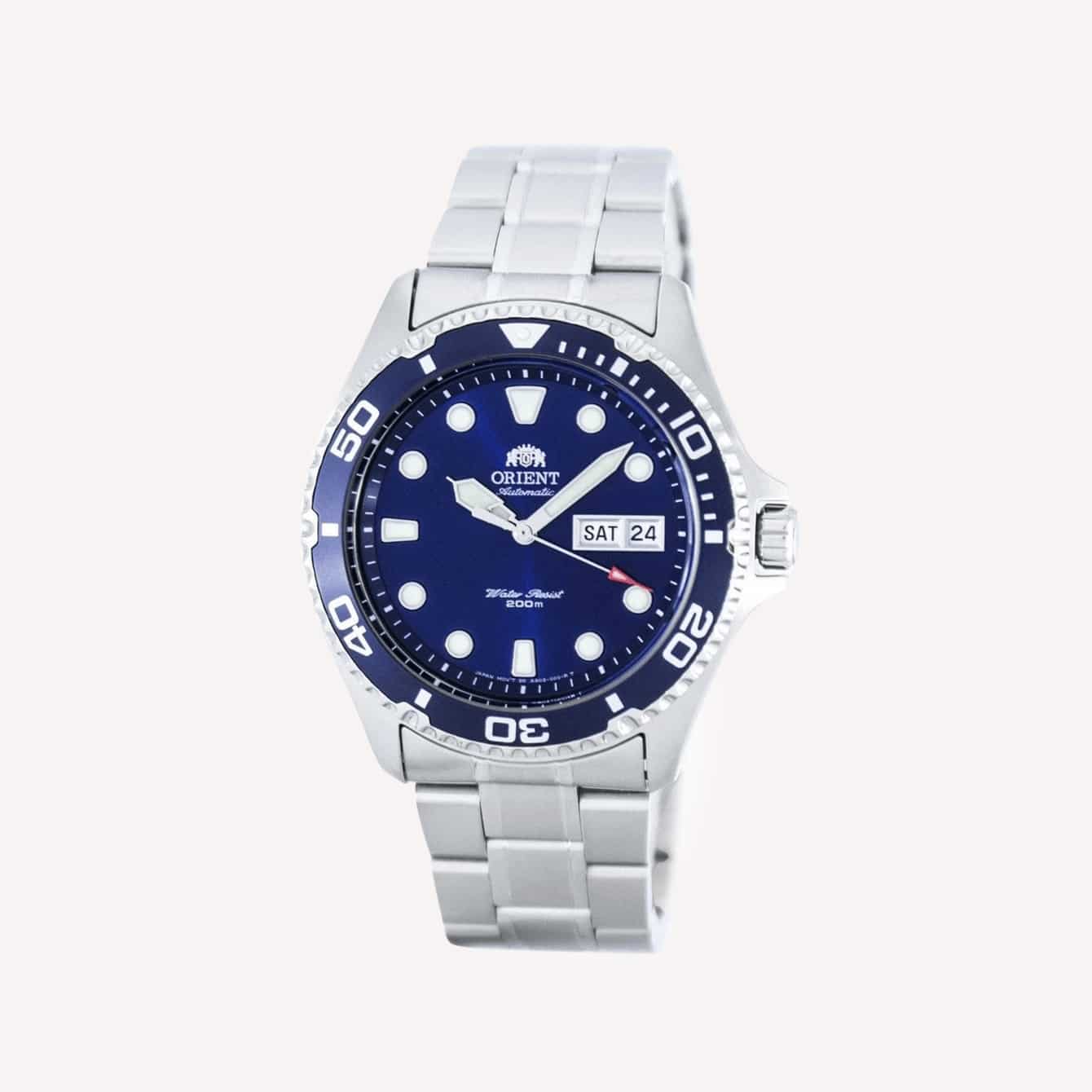 This safety feature is primed for avid divers with a bezel that only rotates counterclockwise. It reduces the risk of extending dive time accidentally.
The F6922 movement is a hand-wound engine that provides a useful 40-hour power reserve. A deep blue dial and luminescent-coated hands and hour markers make the Orient Ray II a particularly stylish dive watch.
Orient Triton Ref RA-EL0003B00A
AKA the Neptune, the Orient Triton was first released in 2018 and takes inspiration from the Ray and the Mako.
This watch has adaptations such as illuminated circular hour markers around the hour track and the date complication at 4 o'clock.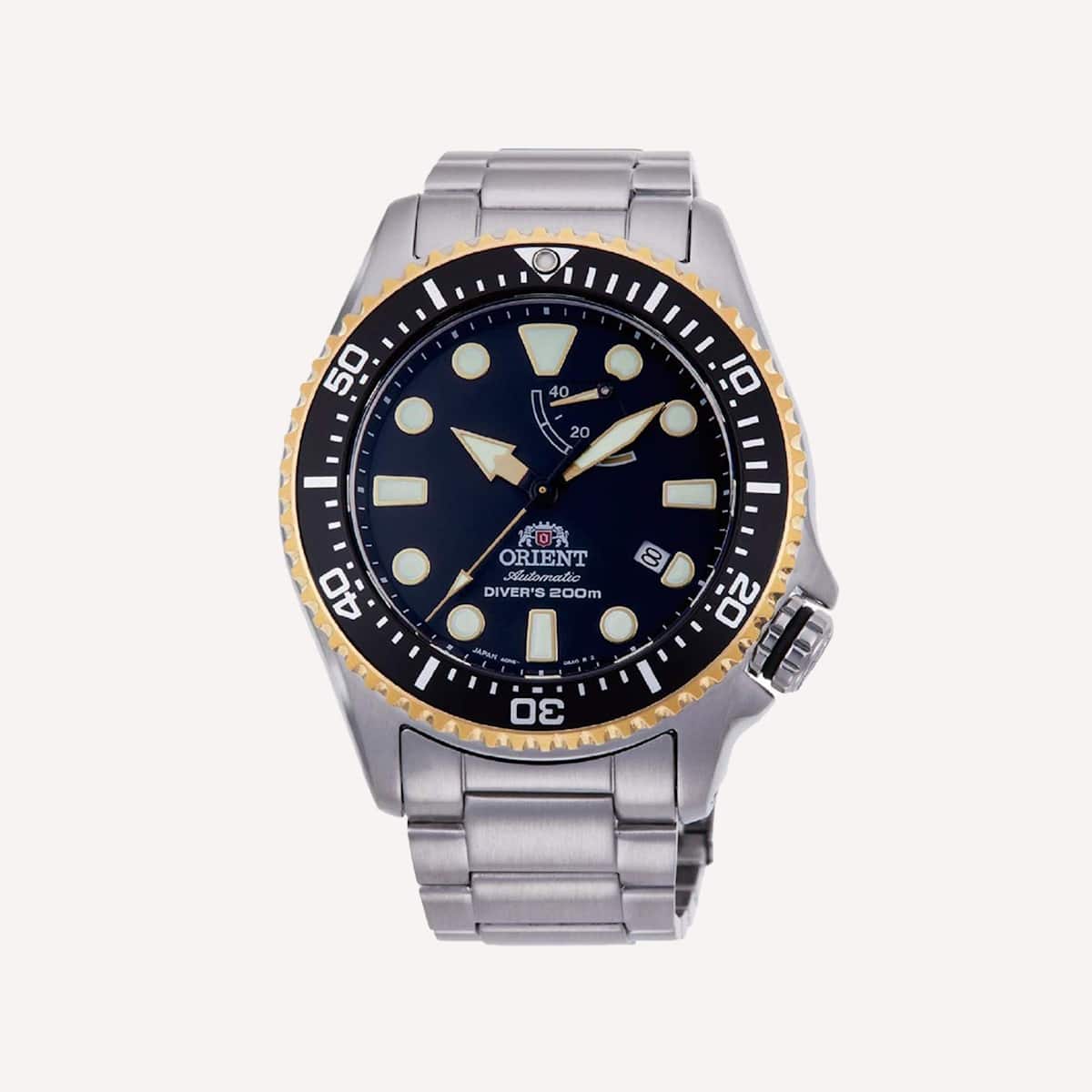 The ref RA-EL0003B00A also features a power reserve at 1 o'clock. This highlights when the movement has reached the end of its 40-hour power reserve.
Its dark silver and gilt combination with a robust stainless steel case and bracelet is perfect for this assertive and bold Orient Triton watch.
Orient Pro Saturation Diver Ref SEL02002B0
The Orient Pro Saturation Diver watch, as its name suggests, is perfect for saturation diving.
It has a winning 300-meter water-resistant feature and a screw-down crown. These combine with a sapphire crystal glass front that protects a power reserve indicator. A set of legible hands are great for telling the time in dark conditions.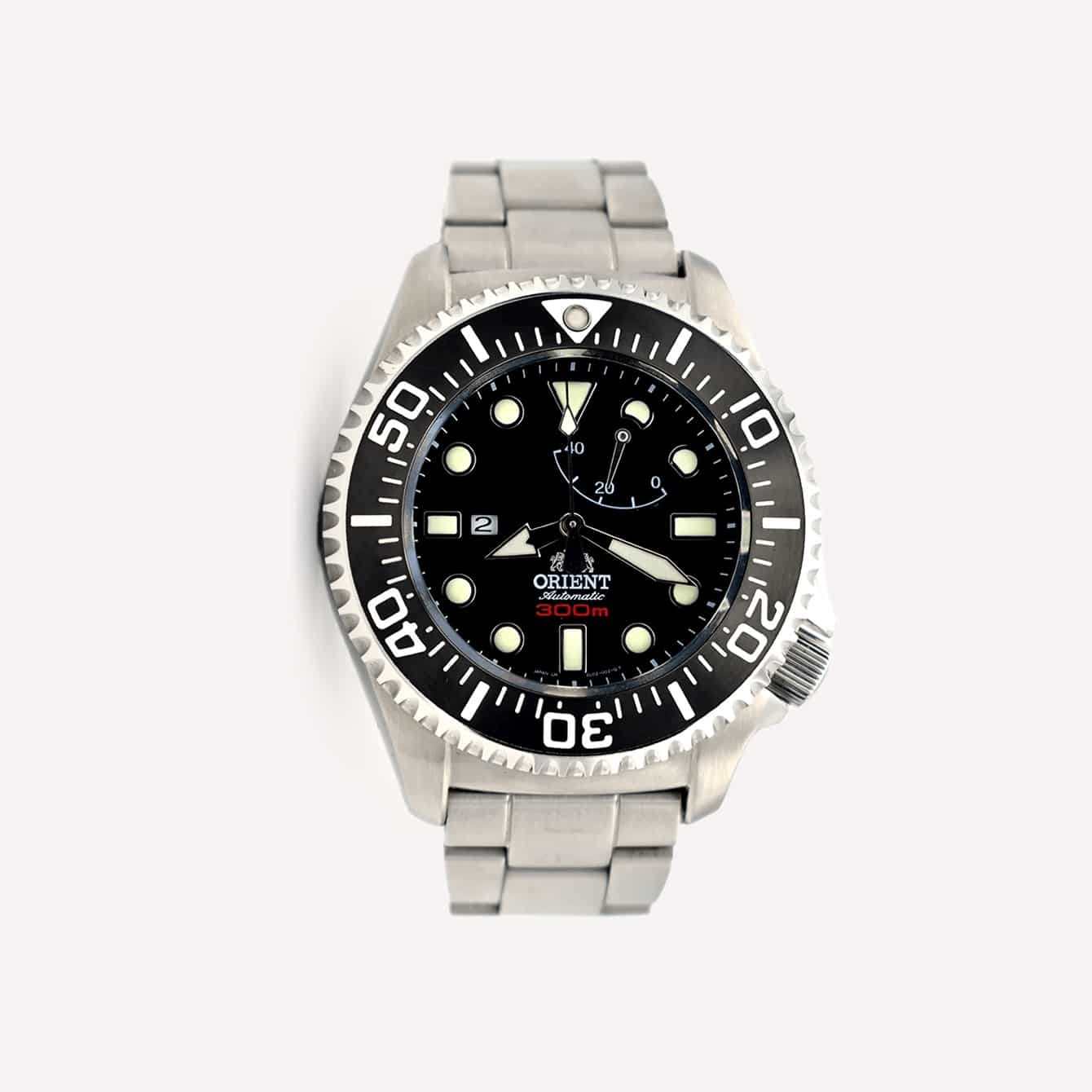 What's more, its black anodized aluminum bezel is great for measuring elapsed time underwater. You can align the bezel with with the minute hand against the watch's rich black dial to carry out this task.
The watch also features a handy date window in the unusual location of 9 o'clock.
Finally, this timepiece has a robust stainless steel bracelet, and is powered by an in-house automatic movement.
The Takeaway
Orient has compelling range of mechanical (and quartz) timepieces certainly provides you with some great options, whether your collection is full of automatic movements or not.
With the quality and the technical expertise required to stand the test of time, Orient has to be one of the best mid-range watch brands out there right now.
What's your favorite Orient watch? Love the Bambino like me? Let me know in the comments!