The Rolex Explorer is amazing, but it's expensive. In this list, we'll share our favorite Explorer alternatives for all budgets.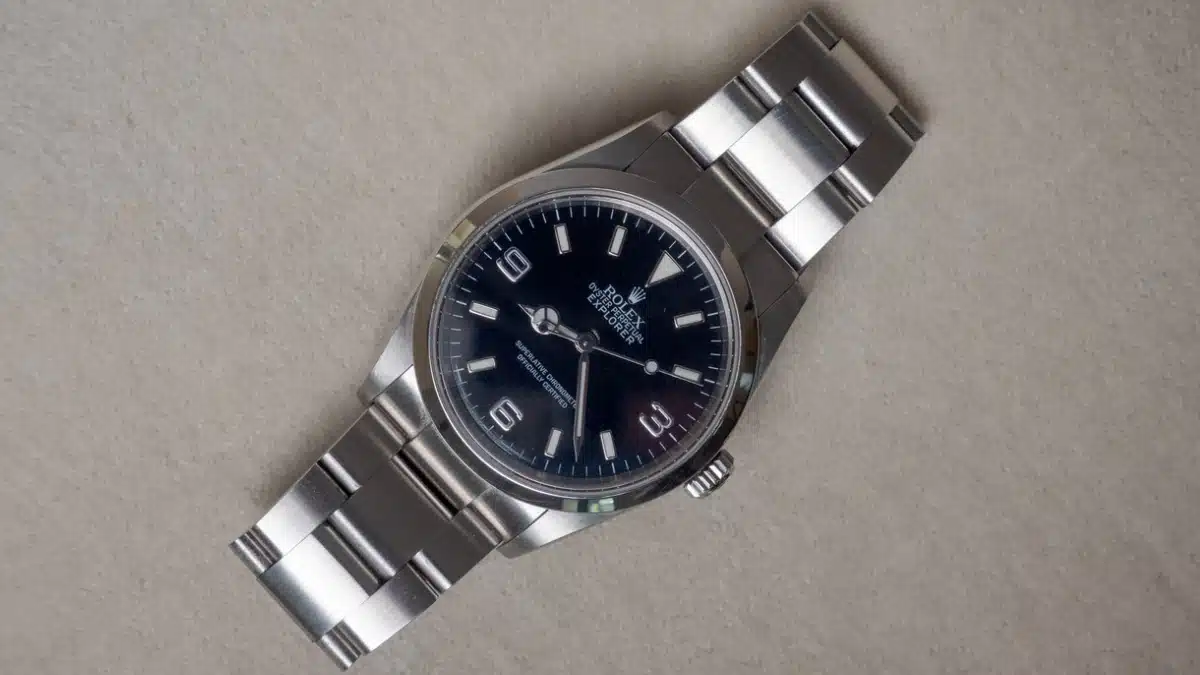 The Explorer is probably one of the best everyday watches ever made by Rolex. It's sporty yet elegant – simple yet striking.
But what if you want something more affordable? Or just not a Rolex? Well, here are my favorite alternatives.
21 Best Rolex Explorer Alternatives
Here are they in no particular order.
Citizen AW1430-86E
I used to like Citizen watches… I now love them.
I think it's one of the best brands on the market, offering tremendous value for money.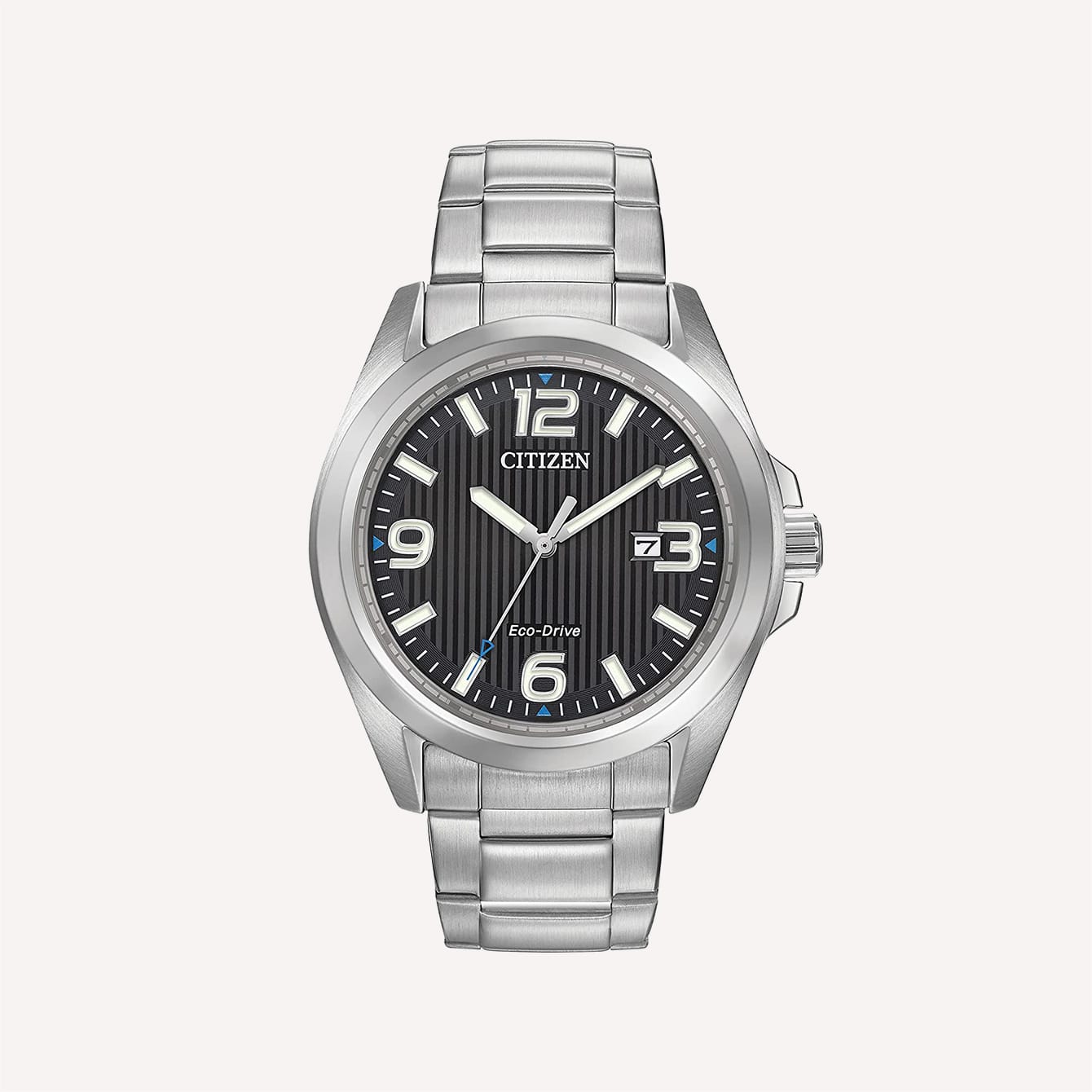 In fact, every Citizen I wore impressed me by their build quality, and the features they packed.
And this model is no different:
It's sporty yet elegant – the stripes on the dial perfectly counterbalance the racing vibe of the slanted hour markers font
It's super practical and always on time – thanks to its Eco-Drive mechanism. the battery on this watch is charged by light, and thus always ticking
It has a very substantial bracelet – like many other Citizen watches, this one is built to last.
Add a water resistance of 100 m and a date complication, and you have a watch that you can wear at work or when you're out and about.
Yet, the simple stainless steel case and a black dial don't draw too much attention.
Size: 43mm
Water Resistance: 100m
Price: $187.50
So if you want a bit more punch, you can always go for the white dial variant (which looks very cool too).
Pros
Great build quality
Solar powered
Cons
43 mm is big for small wrists
Mineral crystal
But then again, the Rolex Explorer has a simple black dial… the only difference is this one is a lot cheaper!
Orient Mako 2
Maybe you will disqualify this Orient because of its bezel – it's a dive watch after all while the Rolex Explorer is not.
But you can't deny both watches share a few similarities when it comes to the dial.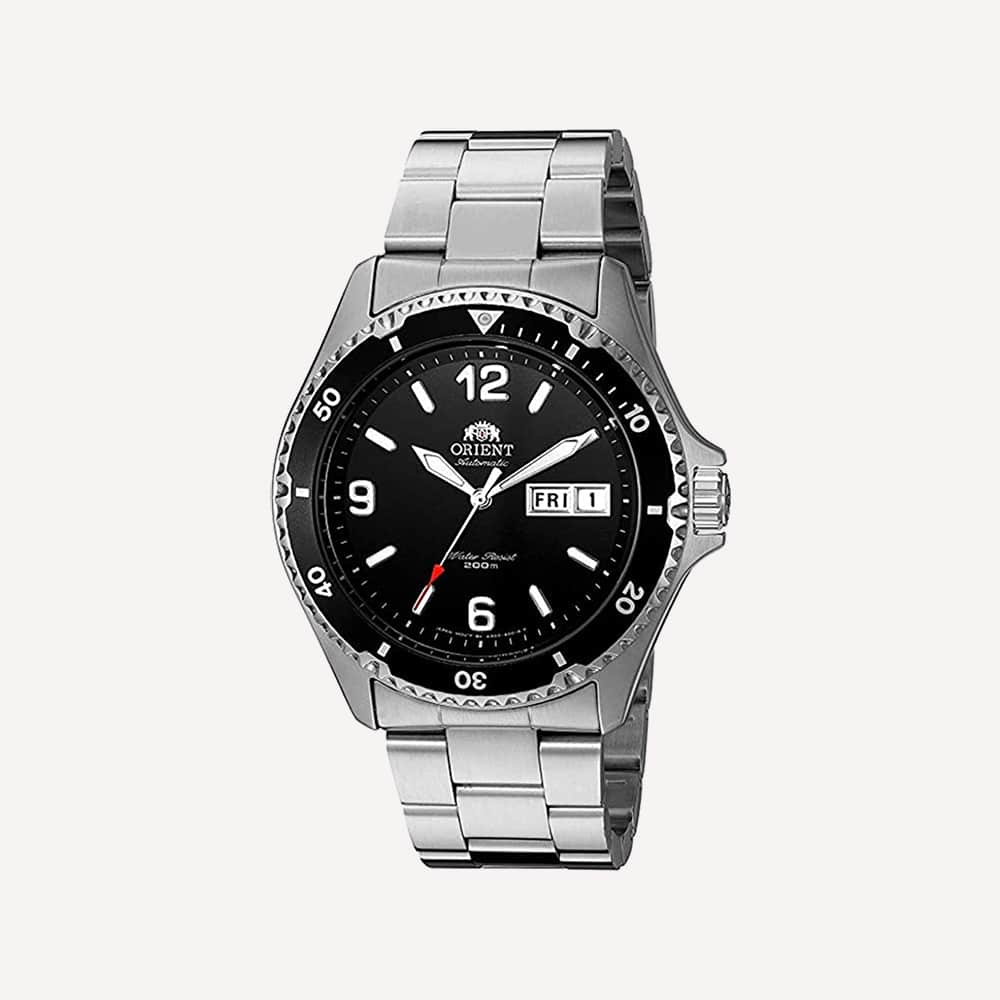 The Explorer was built to withstand harsh conditions, but this Orient Mako 2 is no joke either:
You can wear it every day and swim with it – with 200 m of water resistance, there is virtually nothing you can't do with this watch
It has an automatic in-house movement – Orient produces their own movements, just like Rolex, only for a fraction of the cost
It's sporty yet refined – the picture doesn't do this watch justice, but it rides the fine line between ruggedness and elegance
The result is a watch with great design, that you can wear from the beach all the way to the board room.
Size: 41.5mm
Water Resistance: 200m
Price: $139-$157
Also, the short lug to lug distance makes it a favorite among men with small wrists.
And yes: the day, date, and diving bezel makes for a busier design.
Pros
200 m of water resistance
Excellent built quality
Works great on small wrists
Cons
Bezel a bit hard to turn
Mineral crystal
But the again, the added practicality of having these features is what makes the Orient Mako 2 shine!
Sinn 556A
If you don't know Sinn, you're in for a treat!
Let's first address the elephant in the room: this watch, in its basic configuration, comes in a €960 MSRP.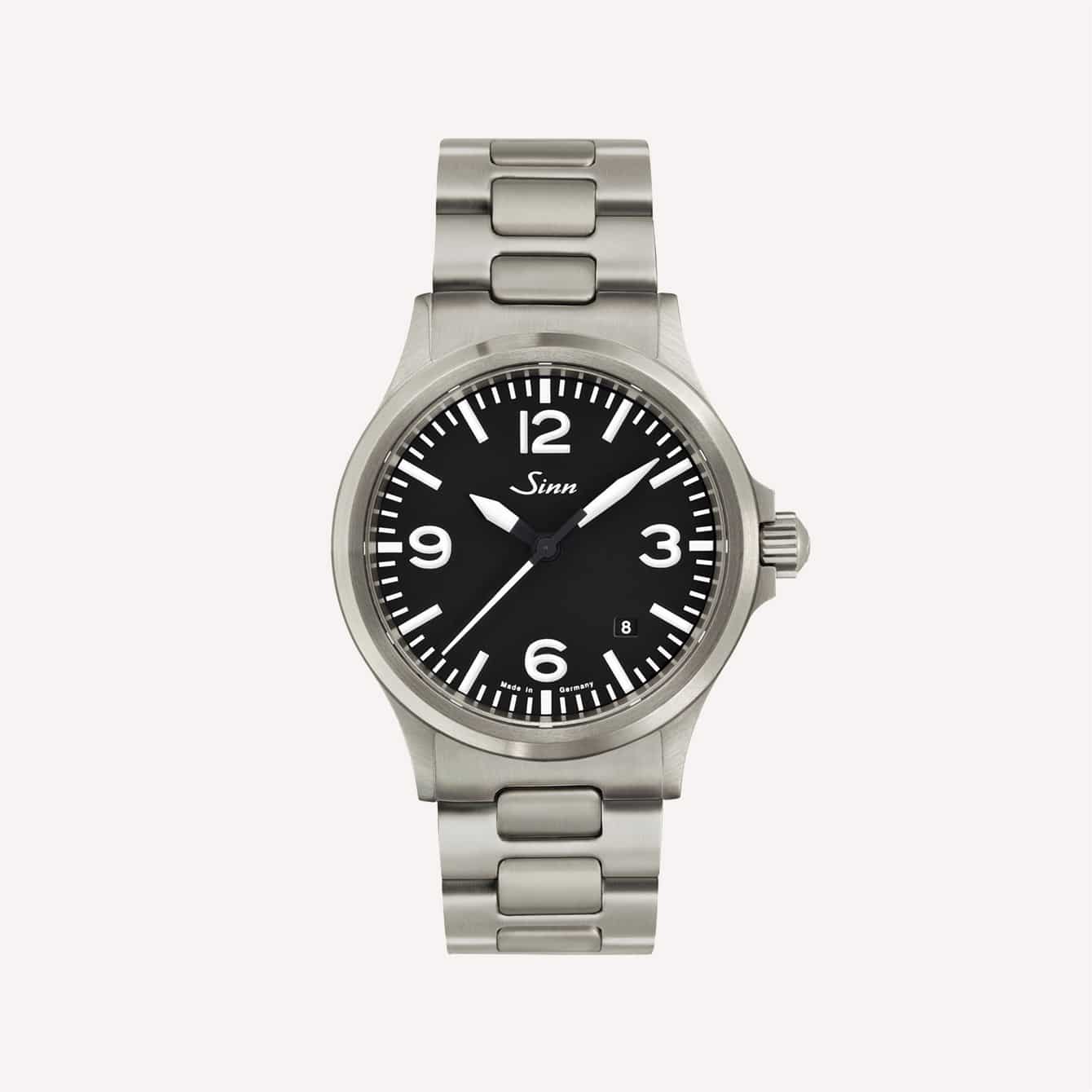 Sure it's not your typical affordable price, but it's not your typical watch either.
Sinn watches are made in Germany, and they have nothing to be ashamed about when compared to Switzerland.
And this Sinn 556A is certainly no exception.
It has a screw down crown, and 200 m of water resistance – something you almost never get on a pilot watch
The sapphire crystal with anti-reflective coating remains scratch-free and legible
The ETA 2824-2 movement is easily serviceable
Add the excellent build quality and absolutely stunning design, жіноча форма зсу and you have a stellar watch – only measuring 38.5 mm in diameter.
Because it has such a strong pilot vibe (it is a pure pilot watch after all) it doesn't look quite like the Rolex Explorer… yet is close at the same time.
Size: 38.5mm
Water Resistance: 200m
Price: $1290-$1530
A small note: the bracelet is a paying option, but a worthwhile one in my opinion.
Pros
Sapphire crystal
200 m of water resistance
Made in Germany
Cons
A bit pricey compared to other watches
So why get a Swiss timepiece when you can have a well-built German one? Seriously, I wonder if there's a good answer to that question…
Seiko SNE331
Seiko is one of those brands capable of manufacturing any type of watch, and nailing it almost every time.
The SNE331 is one of those home runs.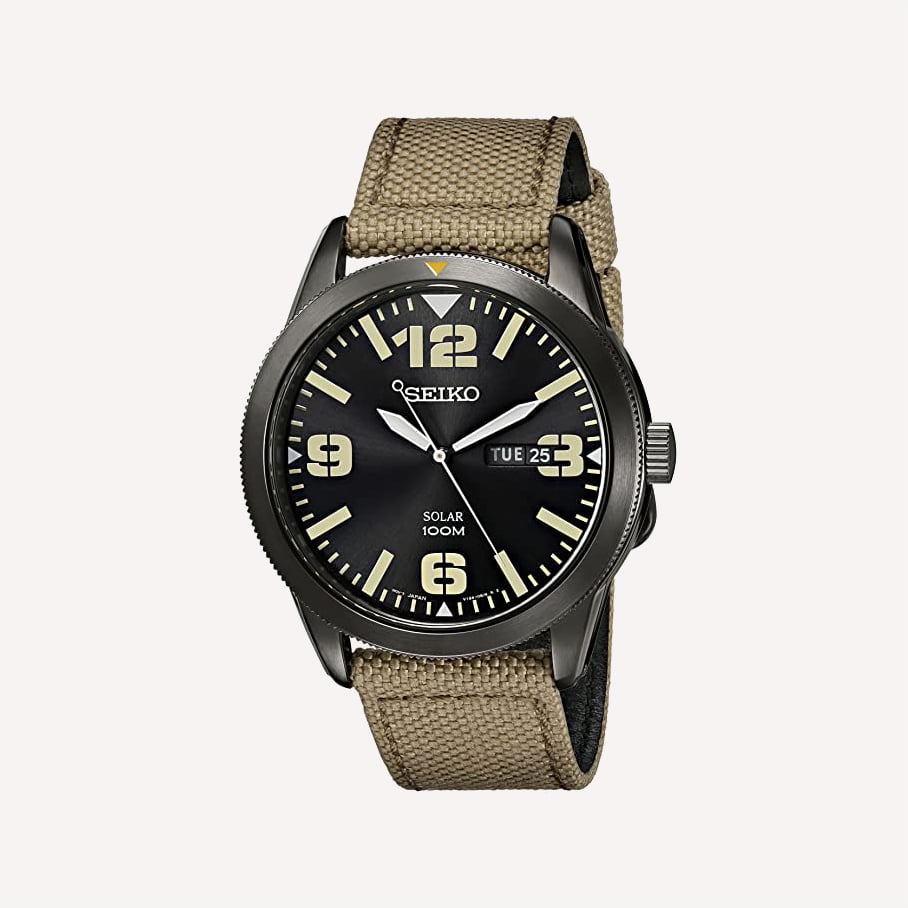 They managed to mix the design cues from a pilot watch and a field watch – and the result is absolutely stunning.
Also:
100 m of water resistance will get you through anything (besides deep diving)
It's solar powered, so it's always charging, and as such always ready to go – no battery change needed, ever
The integration of the day and date complication is one of the smartest I've seen on a watch
But the real star of the show is the simple, beautiful sunburst black dial.
It doesn't show much in the picture, but this thing is a real stunner!
Size: 43 mm
Water Resistance: 100m
Price: $200
And because it's not utterly rugged, you can wear this watch every day – be it out and about or at the office.
Yet the black case and khaki canvas strap add to the ruggedness, and makes it a great all-rounder to wear all the time.
Now, at 43 mm, it's clearly on the bigger side and won't suit smaller wrists. But wrists measuring at least 7 inches will be fine.
Given its sub $100 price point most of the time, плитоноска купить there's really no reason to not give in to this awesome watch!
Pros
Great overall value for money
Solar powered
Excellent legibility
Cons
Big 43 mm case
Mineral crystal
There are actually a lot more affordable quartz watches available on the market, if that's something you're looking for.
If so, discover my favorite quartz watches under $100.
Longines Conquest
If I could only pick ONE alternative to the Rolex Explorer with a decent price, it would be this Longines Conquest.
Beware! There are many variations of this watch.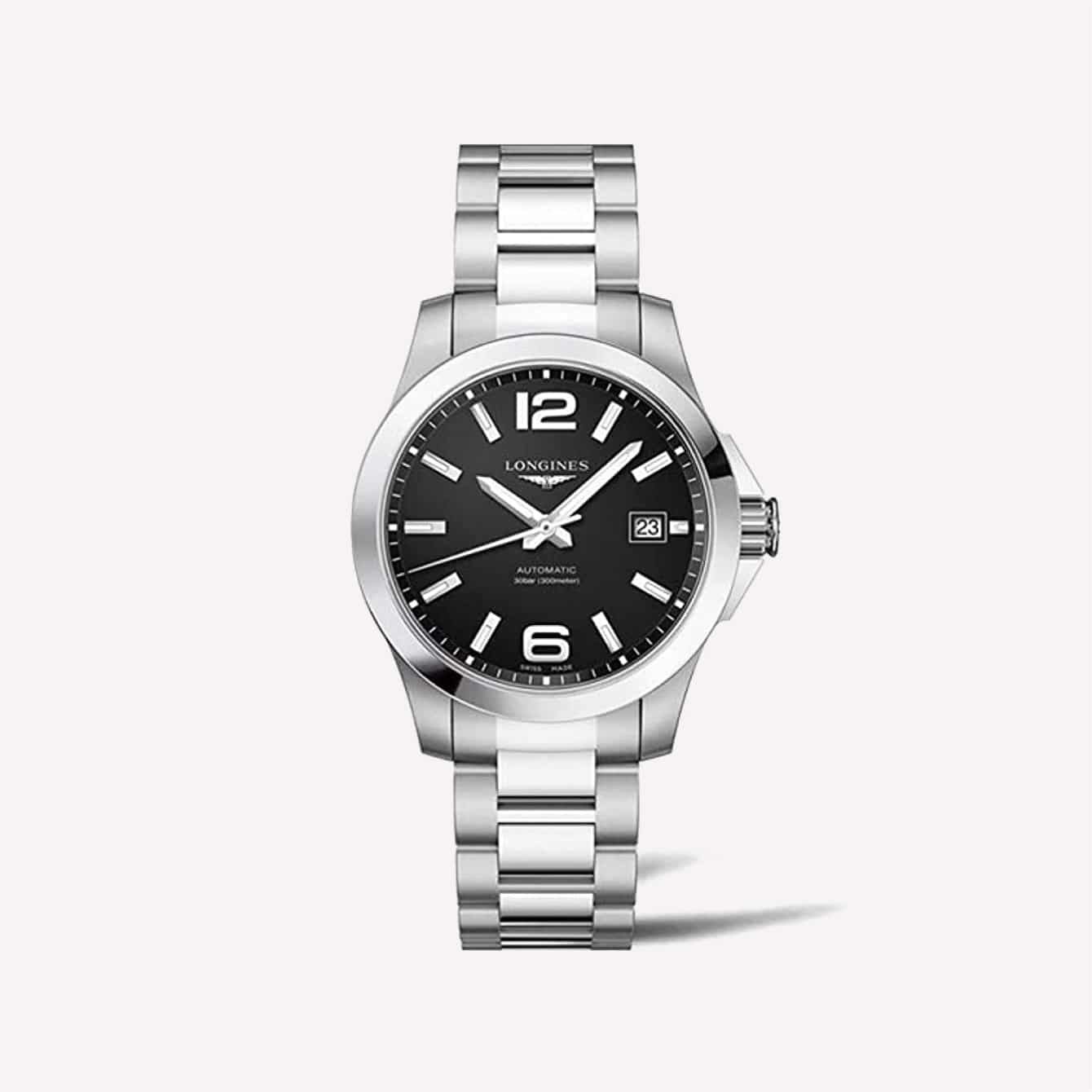 Here I'm featuring the 39 mm version but there's a 43 mm version as well.
I would go with the 39 mm case because it will suit most wrists – and certainly the smaller ones.
Now, this Longines Conquest conveys a bit of the same feeling as the Rolex Explorer, but then again it's completely different:
The bold, angular bracelet looks much more rugged
The simple hands make for a strong design
The date window departs from the real deal while adding a super useful feature
But if you think it's all in the looks, think again.
This watch is water resistant up to 300 m (with a screw down crown), and has a sapphire crystal coated with anti-reflective material.
Size: 39mm
Water Resistance: 300m
Price: $666
Seriously, I can't think a single thing this watch wouldn't be able to handle.
Pros
Sapphire crystal
300 m of water resistance
Screw-down crown
Cons
No micro-adjustment on the bracelet
And if you love sportier options even in a business environment, then this Longines Conquest is probably the best of the bunch in this list.
Steinhart Ocean One Vintage
If you you prefer more vintage pieces, then have a look at this Steinhart Ocean One Vintage!
I know this is a dive watch, so not a proper Rolex Explorer alternative on the paper…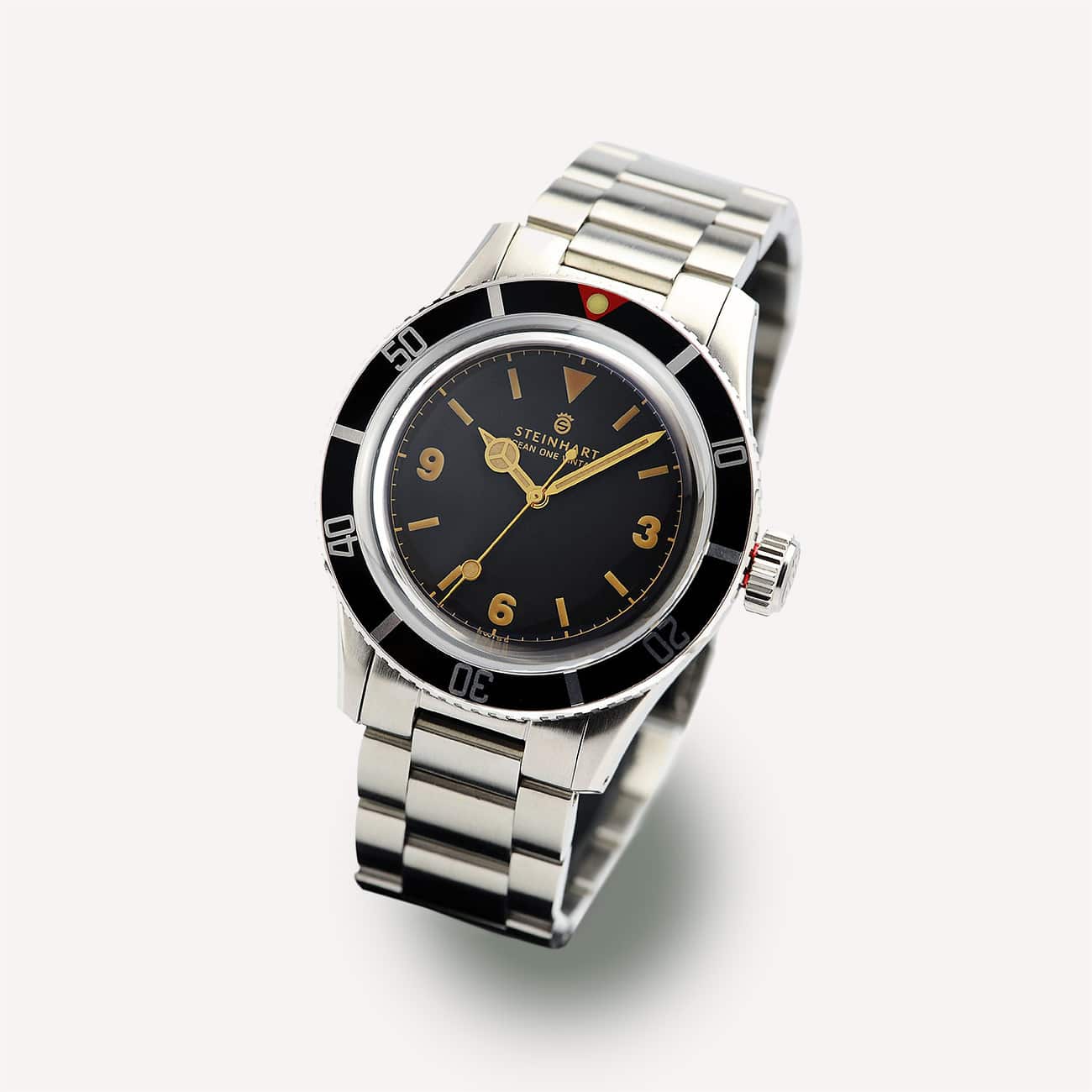 But if you don't take the bezel into consideration, all of a sudden, you have a pretty close reinterpretation of the Explorer reference 1016!
Yet, even if the design of this watch is a direct throwback to the 60s, there's nothing vintage about this piece:
300m of water resistance means you'll be to do anything you want, from washing your hands to deep diving
The sapphire crystal with anti-reflective coating makes this watch legible and will keep it scratch-free
The ETA 2824-2 is a workhorse movement that is easily serviceable
Now, it's not a sterile design: the guilt markers and hands, and the red triangle on the bezel give a nice warmth to the watch.
Size: 42mm
Water Resistance: 300m
Price: $600
But one of the best things I have to say about Steinhart watches is their build quality – it's excellent.
You can feel it down to the bracelet and end links. This thing is certainly no joke and is built to last!
Pros
300 of water resistance
Sapphire crystal
Screw-down crown
Cons
Maybe too close to the original Rolex Explorer 1016?
42 mm is a bit big for smaller wrists
If you like vintage the Rolex Explorer but don't wan't to blow your bank account, I really think there is no greater alternative than this Steinhart.
Seiko SNK393
The Seiko SNK393 is part of the Seiko 5 line.
And like most of them, it's super underrated… because it seems very few people know about it.
This piece is actually closer to the older Rolex Explorer model, with a case size of only 37 mm. This might seem small – but in real life, it easily suits wrists up to 7.5 inches (which is above average).
Sure, the SNK393 has a bit of an Explorer vibe going on, but with its own flair.
And this piece punches way above its weight:
The dial features concentric grooves all around that elevate the look of the watch
The day and date complication is super handy to have (which you don't get on the Rolex Explorer)
It's one of the cheapest automatic watches available today
(Discover more cool automatic Seiko 5 watches.)
And that case… it's the single best case in the whole Seiko 5 line up – if you have a small wrist, you'll like how well it will hug yours.
Size: 37mm
Water Resistance: 30m
Price: $113
Sure, it's not all rainbows and unicorns.
The bracelet quality is not great, and the 7-link design is a bit dated. And only having 30 m of water resistance means you'll have to be careful in your daily activities.
Pros
Only 37 mm in diameter
One of the only affordable automatic watches in this list
Cons
Movement doesn't hack or hand wind
Only 30 m of water resistance
But I still think it's a fun little watch with a lot of character, and one that you will enjoy for years to come.
Casio Edifice EF-106D
Okay, it's wildcard time!
The 3, 6 and 9 hour markers is about the only thing that this funky Casio shares with a Rolex Explorer… yet, it's still an interesting choice.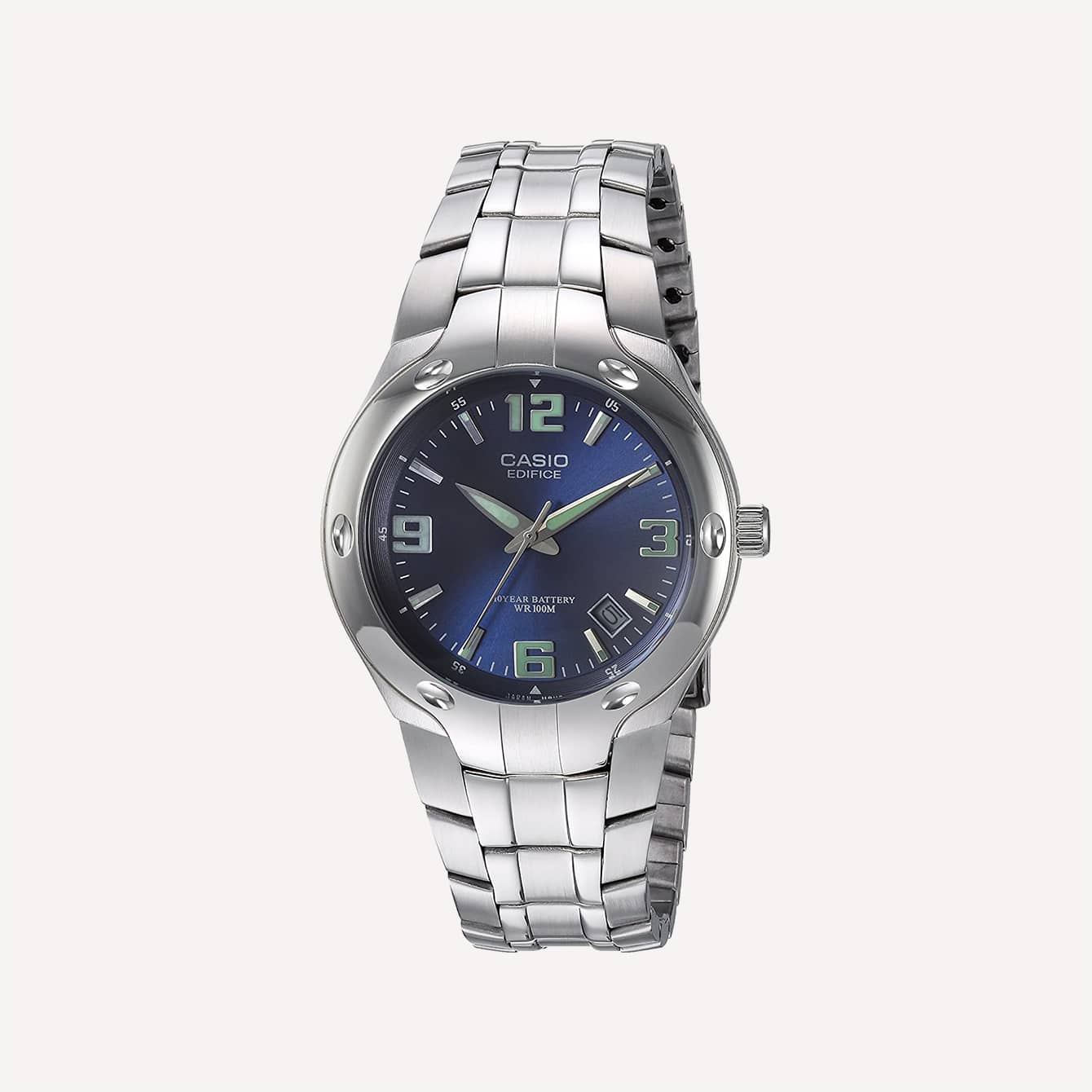 The areas where this one really shines is the size and the price tag.
The hands have a very unusual shape, making this piece something completely different
The blue dial is a refreshing twist on a classic design, while still remaining tasteful
The date function is a welcome addition (one I use daily on my watches)
37 mm is about the perfect size for small and medium wrists alike – men with wrists up to 7.5 inches can happily wear it.
Size: 37mm
Water Resistance: 100m
Price: $35
And it's the single most affordable watch in the whole list, coming in at well under $50.
As usual, Casio delivers when it comes to value for money.
The only gripe I have with this watch is the integrated bracelet – you just can't swap it for a leather or rubber band.
Pros
Unique design
Super affordable
100 m of water resistance
So either you love it… or you'll have to looking somewhere else.
But if you're not bothered by it, then it doesn't get cheaper (and funkier) than this Casio!
Tudor Heritage Ranger
I feel a bit weird featuring a Tudor as an alternative to a Rolex… but there you go.
This watch is fairly new addition to the Tudor catalog – it was released in 2014.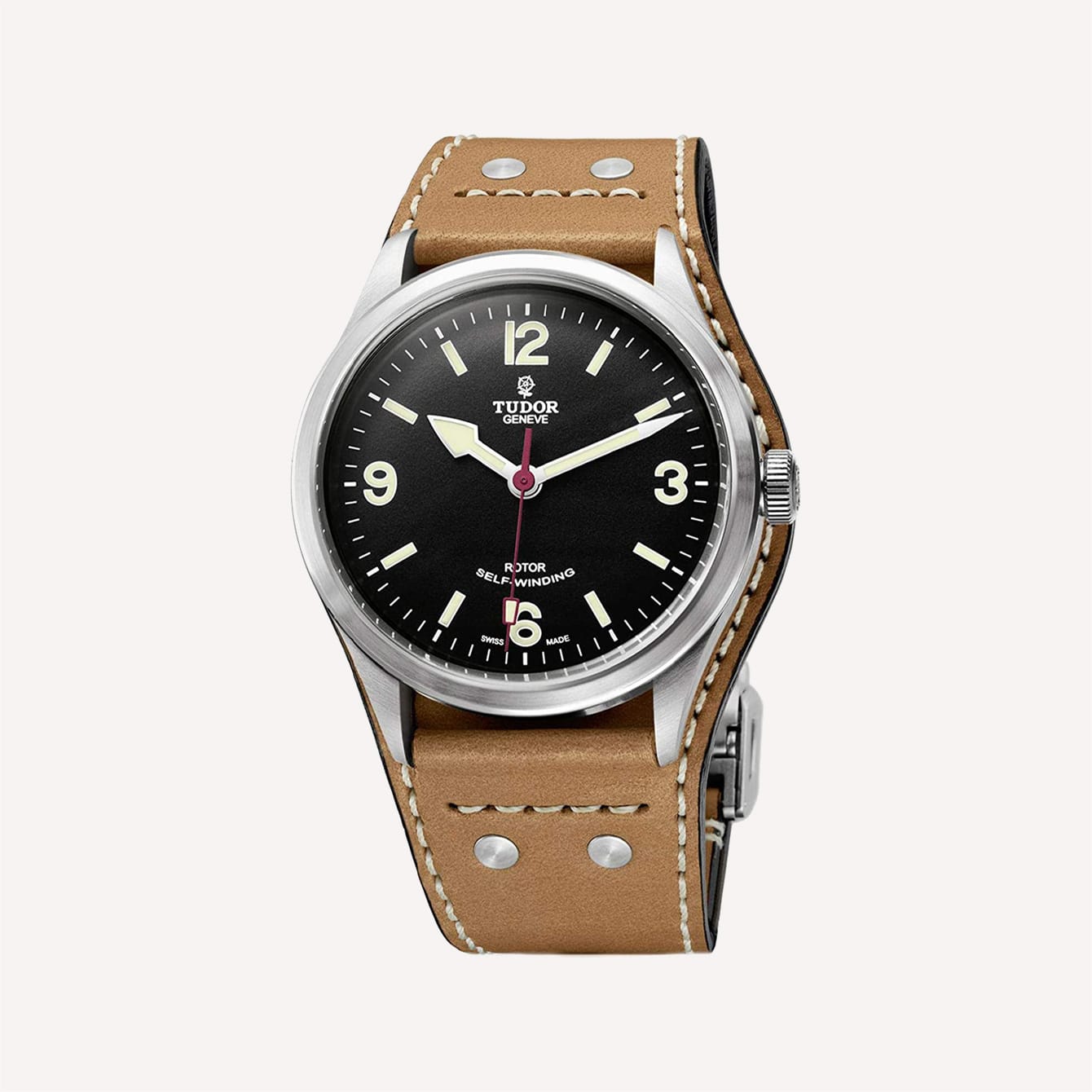 And you can obviously notice the 12-3-6-9 dial, which is kind of a throwback to an older model of the Explorer.
But this is about where the comparison ends.
The unique hour hand, the red seconds hand, the size… this watch clearly is something different.
Plus, you also get:
A domed sapphire crystal
A pretty unusual 150 m of water resistance
An ETA 2824-2 movement
It the grand scheme of things, I think this is the third best luxury alternative to the Rolex Explorer.
(Read on for the first two ones.)
The Tudor brand flies under the radar for the vast majority of people, yet gets a nod from watch enthusiasts.
Size: 41mm
Water Resistance: 150m
Price: $2725-3050
And this watch is certainly not the first that comes to mind when we think about Tudor either.
Getting this watch is like being part of a special club.
Pros
Screw-down crown
Sapphire crystal
Easily serviceable movement
Cons
On the bigger side at 41 mm
Not the most affordable alternative
So if you just want something different – with a simple, clean dial – from a luxury brand and without completely breaking the bank, then this Tudor might do the trick just fine.
Bell & Ross BR V1-92
When we think of Bell & Ross, we think of big, square watches reminiscent of airplanes cockpits and instruments.
For a reason: this is exactly the inspiration behind the vast majority of the watches this brand makes.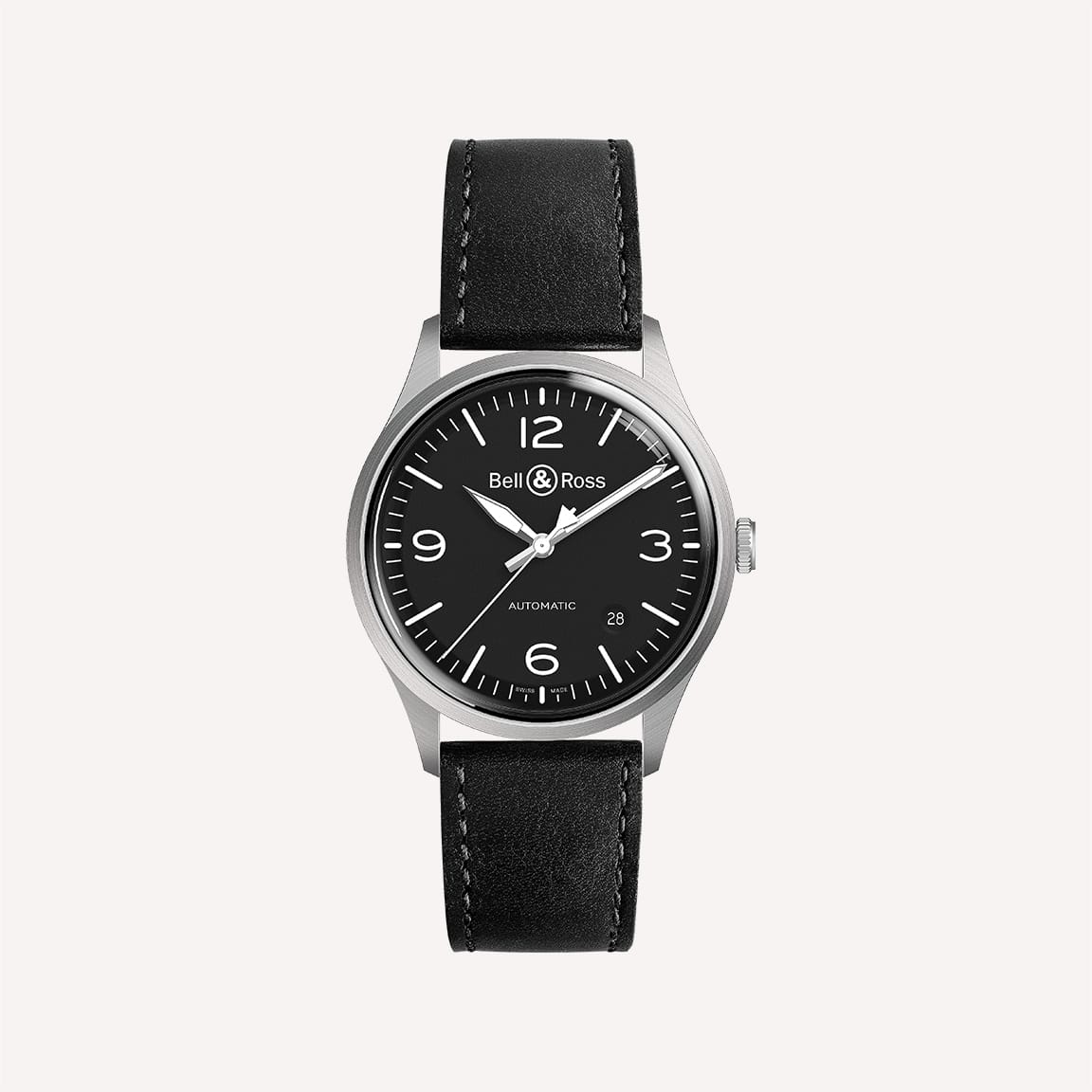 Not with the BR V1-92.
This is a refreshing departure from what we typically see from B&R. And a very elegant one, at that.
You could very well wear this piece casually with a pair of jeans and a t-shirt, or with a shirt at the office.
Given its size, small date window and simple, restrained design, you could even wear this as a dress watch (if you need one only for a few days a year).
But the beautiful dial and hand set is not everything this watch has to offer:
The smaller 38.5 mm size is perfect for just about every wrist size
The sapphire crystal stays legible thanks to the anti-reflective coating
The 100 m of water resistance is perfect for everyday activities and surface swimming
Of all the luxury pieces featured in this list, this one is the most affordable.
But it's certainly not the cheapest when it comes to design and features – quite the contrary.
Size: 38.5mm
Water Resistance: 100m
Price: $2400
And I love how they still integrated a tiny bit of the aviation theme, with a typical sword hour hand you can find on pilot watches.
Pros
Very legible
Sapphire crystal
Cons
Date position a bit awkward
It's also available with a blue sunburst dial. But I think the simple matte black dial is the winner.
Vostok Amphibia 710640
Wait, WHAT? A Vostok Amphibia as a Rolex Explorer alternative. It's a dive watch, COME ON MAN!
I know… but hear me out.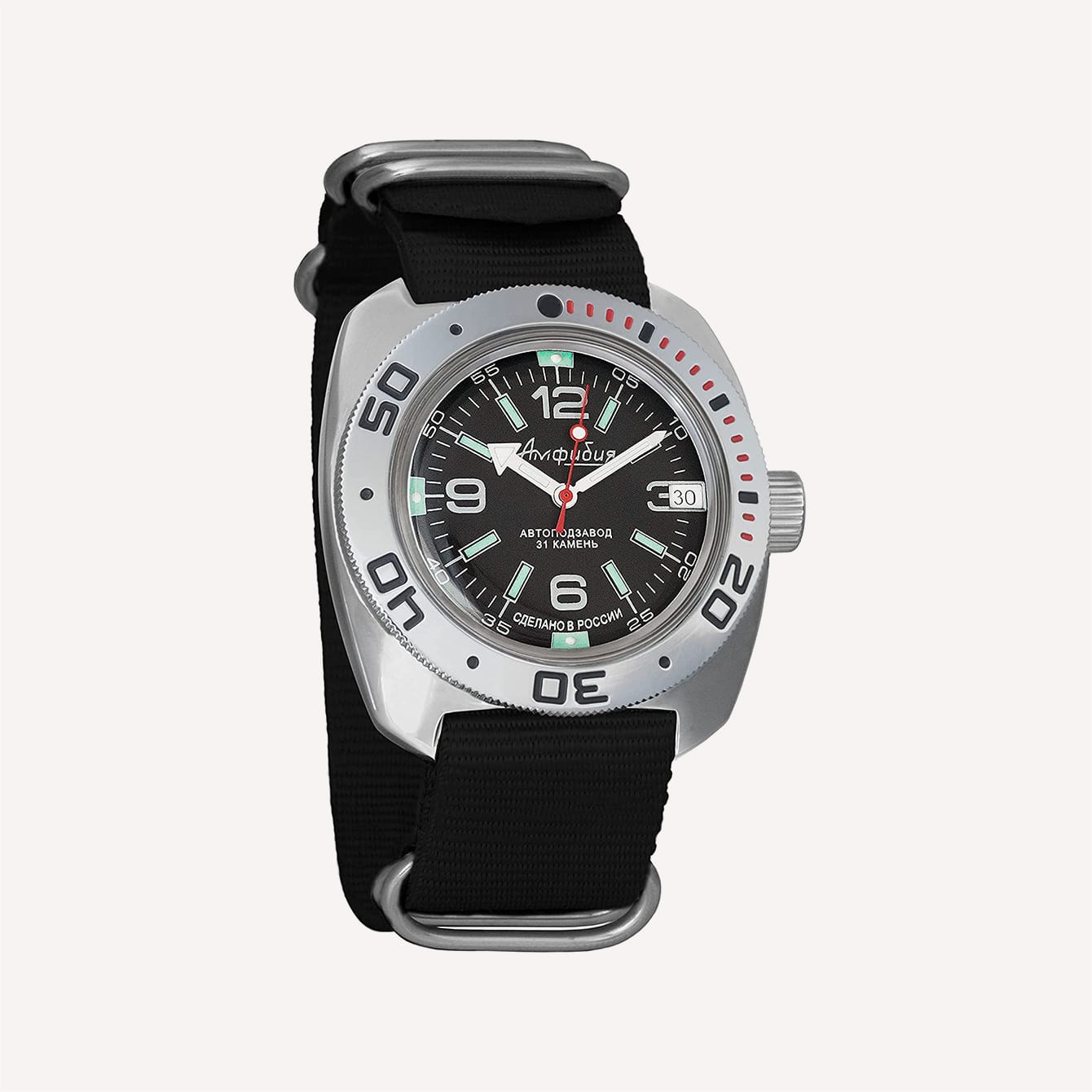 The goal here is not to propose something close to the real deal, but rather something shares 2% of the design while still being enjoyable.
Let's agree on this: this watch leaves nobody indifferent.
Now:
The cushion case has short lugs, making for a wearable watch even for small wrists
It's still a proper dive watch, with a diving bezel and 200 m of water resistance
The funky design is a joy to look at
Yes it's quirky.
And it doesn't have the best bracelet, plus the crystal is made of acrylic.
Size: 41mm
Water Resistance: 200m
Price: $100-110
But seriously, if you're having a bad day, just have a look a this watch – it will cheer you up while you save for the real deal…
… and even after. Sure, it couldn't be further from the Explorer, but this is a cool watch in its own right.
Pros
200 m of water resistance
FUNKY design!
Cons
Weird date window integration
Acrylic crystal
And given the super affordable price point, why resist?
Omega Seamaster Railmaster
In 2017, Omega celebrated the 60th anniversary of the release of 3 of the most iconic watches ever made: the Speedmaster, the Seamaster…
And the Railmaster.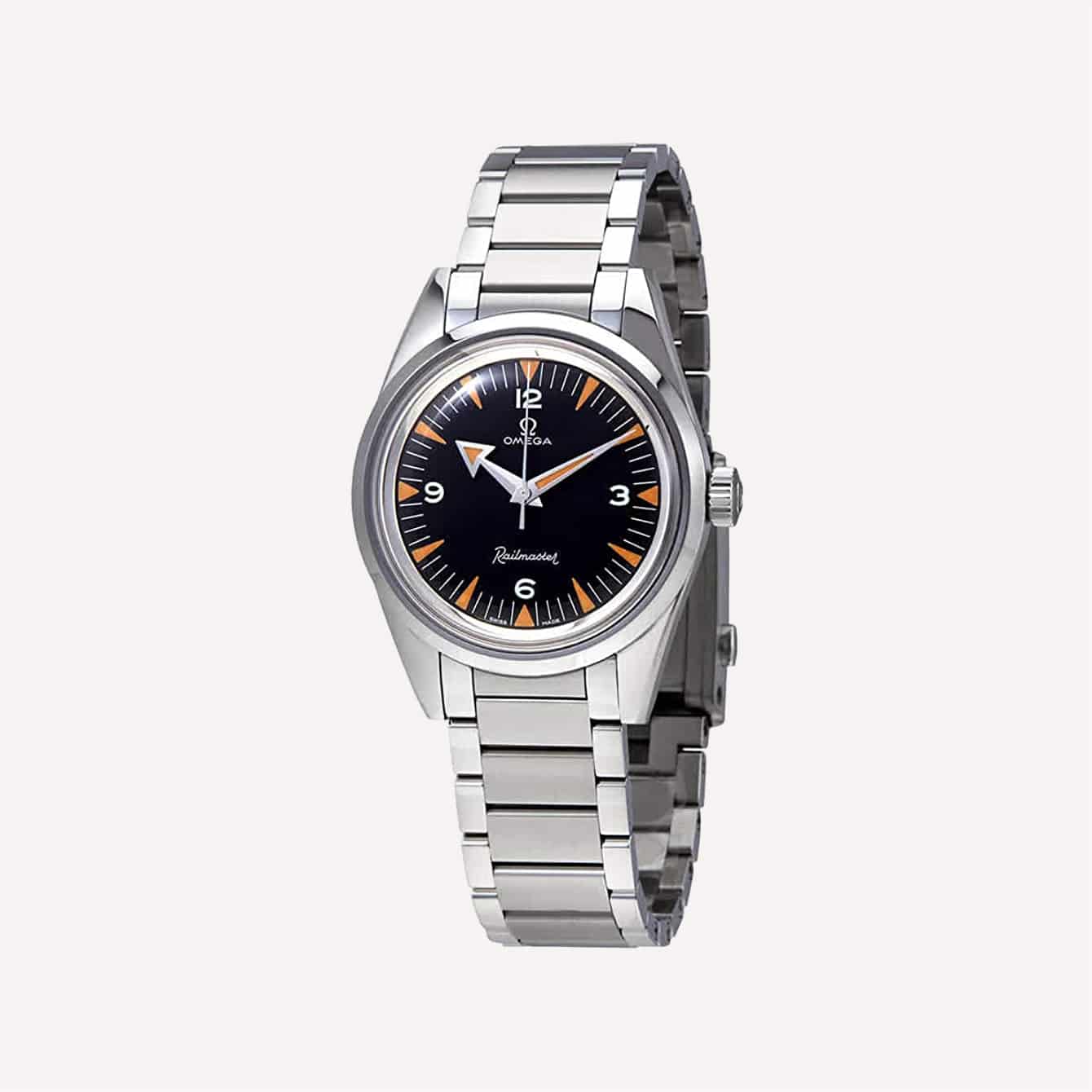 The Railmaster doesn't get much press or love from the watch community.
Not because it's a bad or ugly watch, but just because the other ones take so much of the spotlight.
The design of this Anniversary Edition works better than the regular 40 mm model, in my opinion.
With its simple minute track, big hour hand and more contained 38 mm size, I think it's a more interesting everyday watch.
And between the two, this one makes the biggest departure from the Rolex Explorer, too.
The original Railmaster was built to resist magnetic fields of up to 1,000 Gauss. This one? Up to 15,000 Gauss – a feature many other luxury watches still don't have.
Size: 38mm
Water Resistance: 60m
Price: $6500
Now, let's address the elephant in the room: this watch is limited to 3,557 pieces.
Yes, watch enthusiasts love to hate Omega's endless limited editions, because they dilute the brand heritage and catalog.
And I think they went overboard with the "vintage water resistance" – I love the 60 m nod to the anniversary… but such a piece should be water resistant to at least 100 m.
Still, it's one of the most enjoyable and interesting designs for an everyday watch available as of today.
Pros
Sapphire crystal with anti‑reflective coating
5-year warranty
Cons
19 mm lug width makes it harder to find strap options
Only 60 m of water resistance
So it's up to you to decide if the cons outweigh the pros…
Rolex Oyster Perpetual 36
A Rolex as an alternative to another Rolex?
Yes.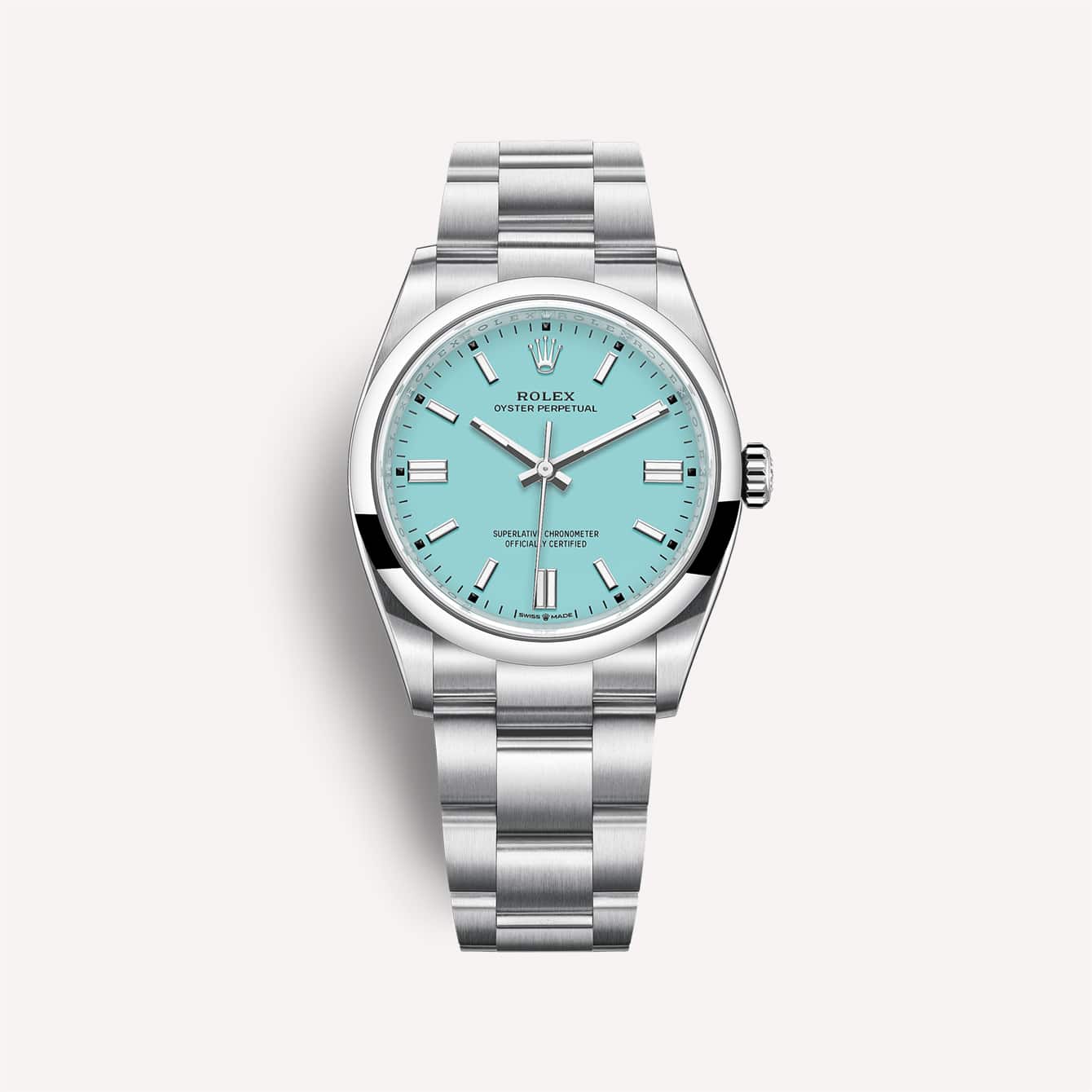 And there are two excellent reasons for me to feature the Oyster Perpetual.
The current model of the Rolex Explorer:
Only comes with a black dial. If you want something else, your only choice is to go vintage and pick a white dial.
Has a 39 mm case. If you want to go smaller, you should get a watch from 2009 and before.
So what if you could hit two birds with one stone? Have a colored dial and a smaller case on a modern watch?
Size: 36mm
Water Resistance: 100m
Price: $16250
This is where the Oyster Perpetual comes into play.
It has the exact same dial as the Explorer, but with a striking blue sunburst effect.
Now, the Oyster Perpetual an exact copy of the Explorer:
The case has a different, more curved shape
It features baton hands instead of Mercedes hands
The bezel is domed, unlike the straight bezel on the Explorer
So when you look at the details, you can see how the design is actually unique.
Pros
Same same but different design
Screw-down crown
Smaller 36 mm case
Cons
No anti-reflective coating on crystal
And probably one that will make heads turn – some watch lovers still don't know about it!
Smiths Everest PRS-25
I always compare the relationship between Smiths Everest PRS-25 and the Explorer I, to the relationship between the Bulova Lunar Pilot and the Omega Speedmaster. Not everyone knows that the Lunar Pilot also went to the moon.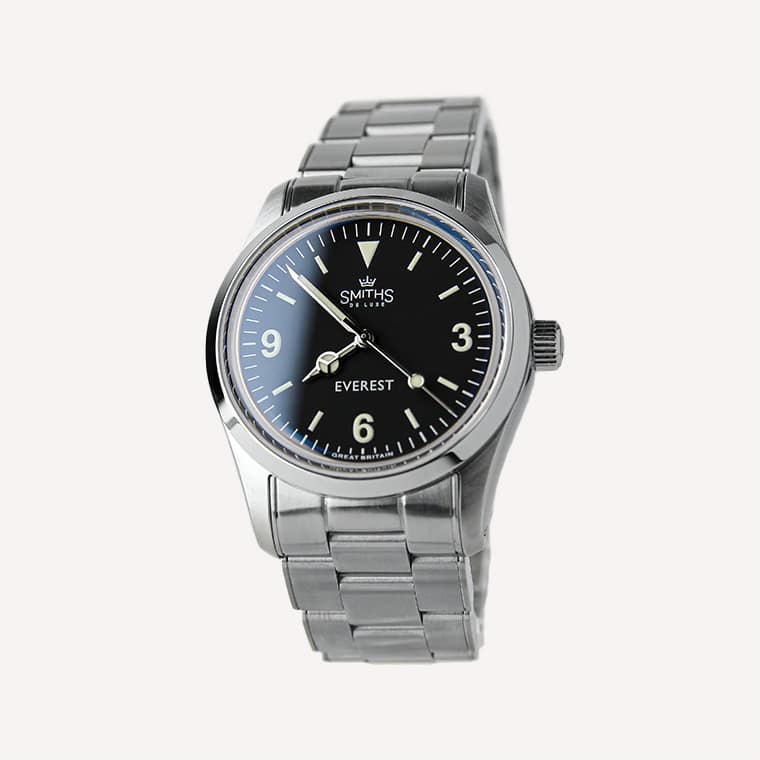 Similarly, during Sir Edmund Hillary's record-breaking journey to Mount Everest's summit, he had both a Rolex and a Smith's watch. It has just as much lore as the Explorer I. Sadly, Smiths went defunct, leaving all the legend status to Rolex.
Fortunately, Timekeepers in England revived Smiths, as well as the PRS-25, which boasts several qualities:
It has a cool street cred and historical importance to it, just like the Explorer I, and just like all of the most beloved watches on the market
The classic and legible 9, 6, 3 and 12-triangle are all there, combining form and function
It runs on an automatic movement, either a Miyota 9015 for older versions or a 9039 for newer runs (they're basically the same movement, except the 9039 doesn't have the unnecessary date function)
On top of that, the dial's printing is high quality, with excellent lume, and you can get it in a pale cream or satin black colorway.
Size: 36mm
Water Resistance: 100m
Price: $390
Like any watch, it has it's pros and cons.
Pros
A unique conversation piece
Reliable automatic movement with anti-shock
Cons
Hard to come by—Timefactors opens their site up for purchasing every few months like a pop-up shop, so you might have to try eBay
The PRS-25 is a perfect example of how we wear watches for style and stories, not just timekeeping!
Seiko 5 SNKE61
Count on Seiko, specifically the Seiko 5 line, to serve up a (usually) sub-100 automatic that checks all of the boxes that satisfy watch enthusiasts.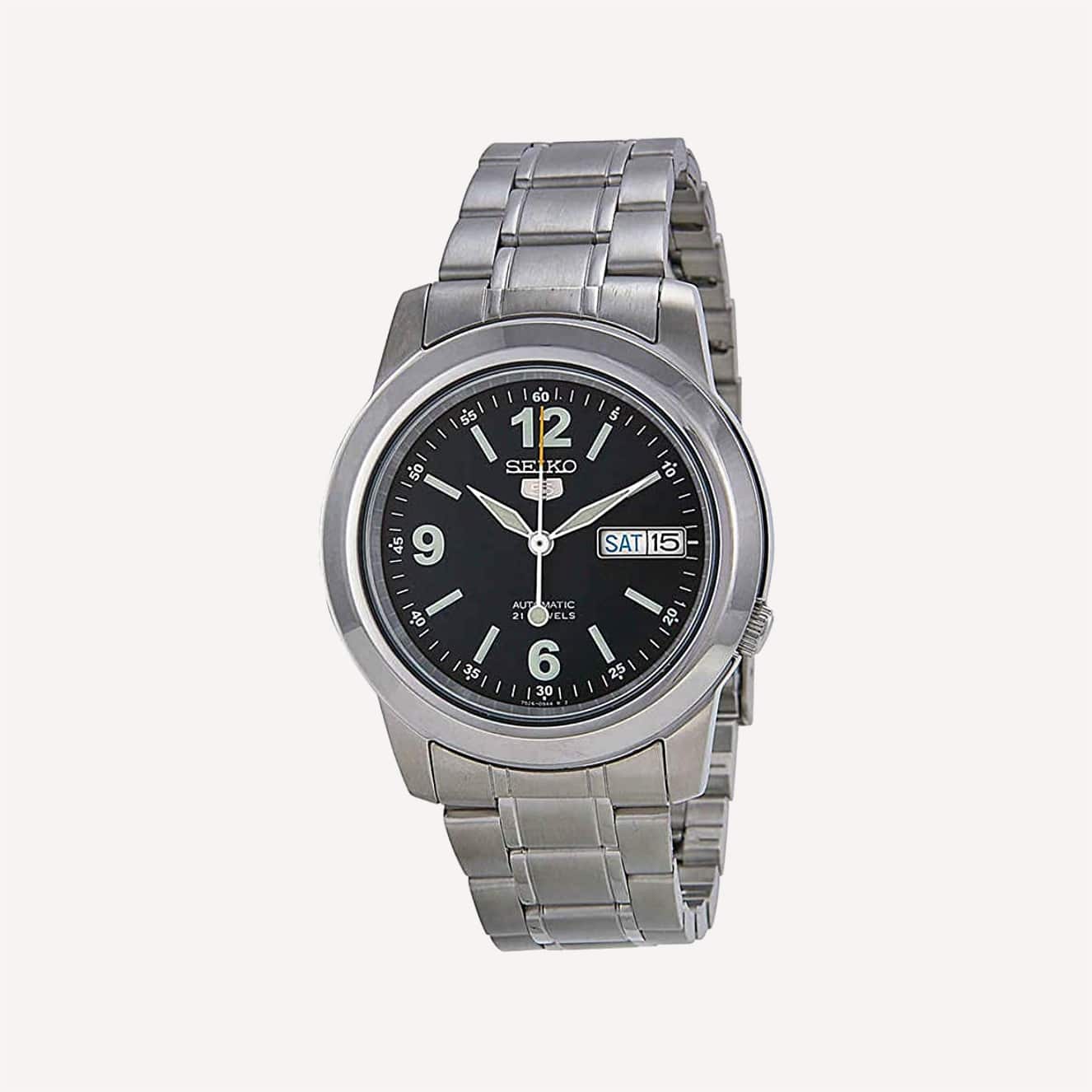 There are few lines that offer objectively high-quality entry-level mechanicals to the level Seiko 5 does.
It's also a handsome everyday watch with a combination of modern and classic design elements. The crystal itself isn't boxed, but the visible step under the bezel and beneath the glass gives it a fun vintage look that provides visual intrigue from several angles.
It runs on Seiko's in-house automatic movement, the 7S26 caliber, which is their heritage workhorse that you can even view via the exhibition caseback
The design is the timeless and adaptable, with a polished bezel and the brand's signature 4 o'clock crown look
Often at around $100, few mechanicals can beat this ratio of features to price
Overall, the SNKE61 is undeniably well-built, and again, shockingly cheap.
Size: 39mm
Water Resistance: 30m
Price: $99-200
Seiko is super efficient, often employing "retired" movements, which is why they have such a wide range of quality watches.
Pros
Bang-for-buck automatic
Exhibition caseback
Cons
Only 30 meters of water resistance
Non-hacking movement
And though the movement doesn't hack, the fact you can view the legendary caliber at work is enough to satisfy any horologically curious person, whether you're a new or seasoned collector.
Vaer C3 36mm Watch
The Vaer C3 has the timeless cool factor of a vintage Explorer I, and is probably one of the most practical field watches on the market.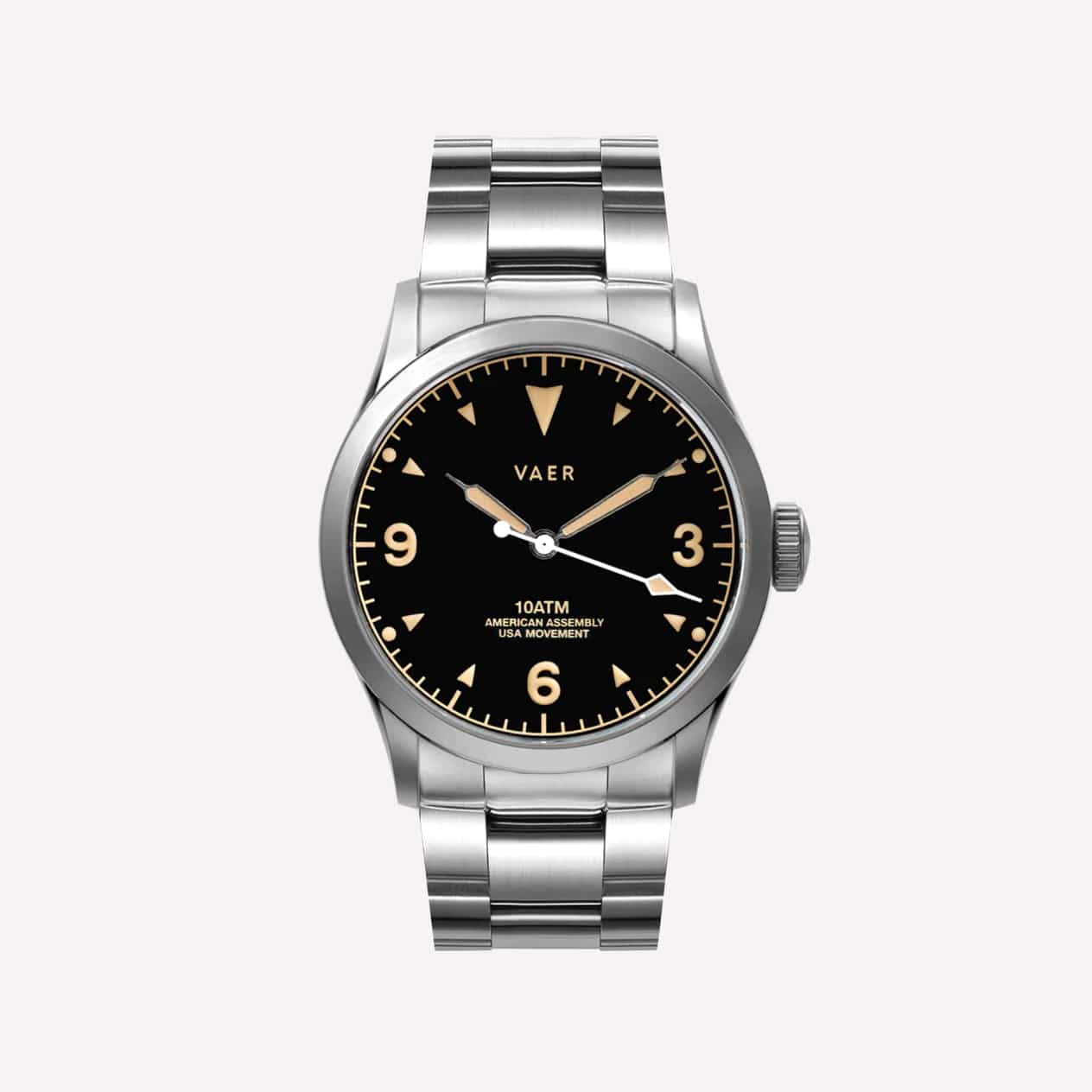 There are countless just-cropped-up microbrands out there building "modern" watches that are overpriced and monstrously huge, which is why Vaer gets a lot of props for building honest and reliable timekeepers, sans bells and whistles.
The C3 is no different:
The design clearly honors the Explorer I without being a cheap copy, seen on the indices, and the distinctly Vaer syringe hands which are immaculately designed
American-made quartz movement with long battery life and high torque, making it even more reliable than the Swiss-made Ronda 713
Perfectly and comfortably sized with a case height of 8.4mm on top of its 36mm case
And despite their affordability, all Vaer timepieces are equipped with a domed scratch-resistant sapphire crystal and are assembled and tested domestically.
Size: 36mm
Water Resistance: 100m
Price: $279
Here's a quick look at the pros and cons.
Pros
36mm is the perfect, traditional field watch size
Affordable and reliable
Comes with a custom second strap
Cons
Mechanical fans might prefer an automatic movement
In fact, each watch actually comes with a certificate signed by a technician.
Victorinox Swiss Army Night Vision
The Victorinox Swiss Army Night Vision is a field watch equipped with cardinal indices, just like the Explorer I, but is a much brawnier tool watch.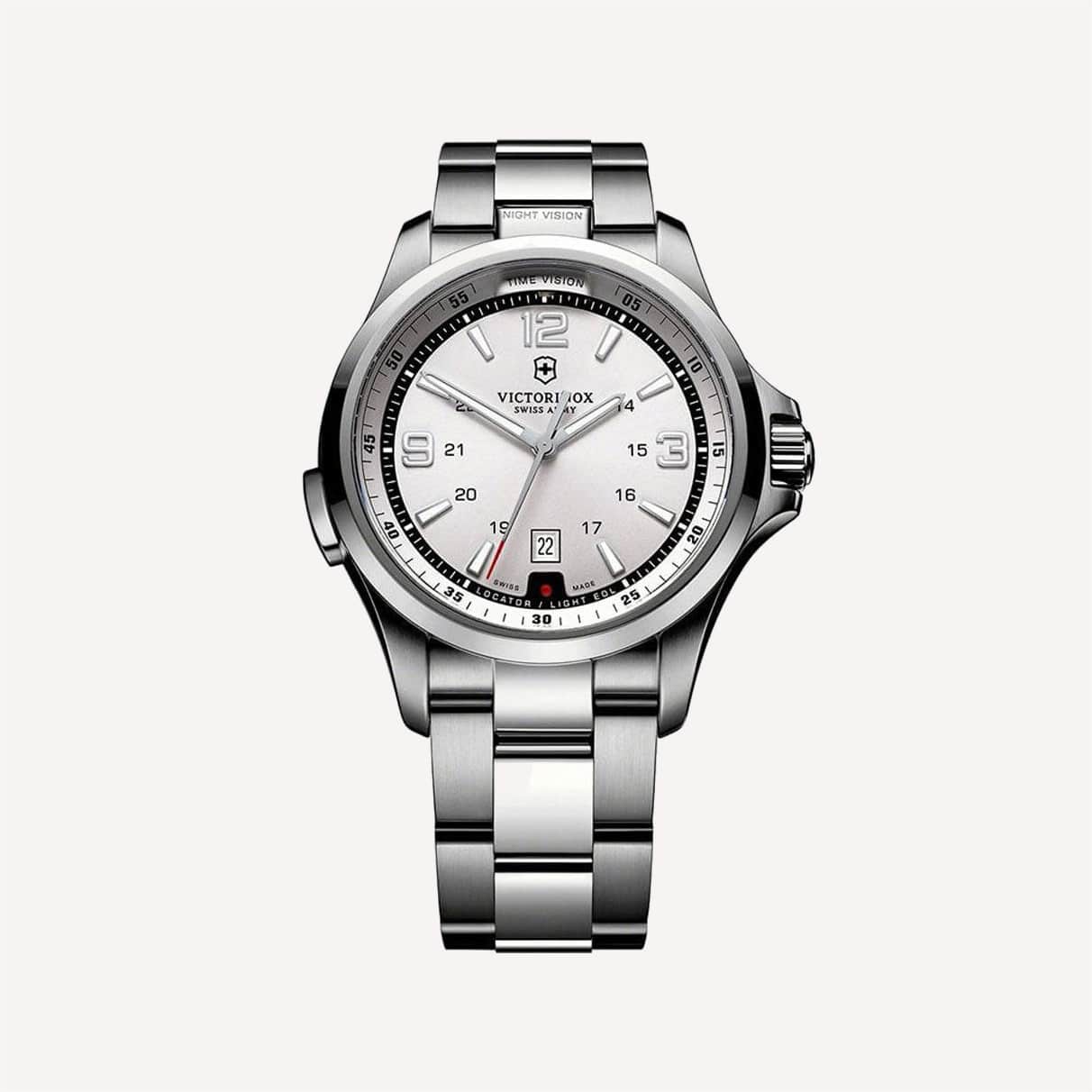 It's made for extreme conditions, and has some neat lighting options to help you in different kinds of darkness situations.
An overall strong timepiece, I recommend the Swiss Army Night Vision to those with a survivalist-chic personal style for the following reasons:
It's athletic and durable, with a robustly-built case, a scratch-resistant sapphire thats triple-coated with AR, and sweeping crown guards
There's more dimensionality on the dial than on the Explorer I because of its tall, wide applications, two outer dial tracks, and stepped bezel
It's performance-forward and dependable, with topnotch accuracy and a brilliant six-function LED lighting system that you can activate with the push of a button (in addition to its luminescence)
If you're looking for an Explorer I alternative that leans even harder into its military look, without sacrificing the sophistication of the watch, this guy is for you.
Size: 42mm
Water Resistance: 50m
Price: $250-400
Now, for the pros and cons.
Pros
Functional and practical
Sporty look
Reliable quartz movement
Cons
Since its already built so robustly, the 42mm case is a tad large
Plus, it's legible in literally any lighting or weather condition.
Armida A6
Armida, a definite unsung cheat code in the watch world, combines dive features and field watch features with the A6.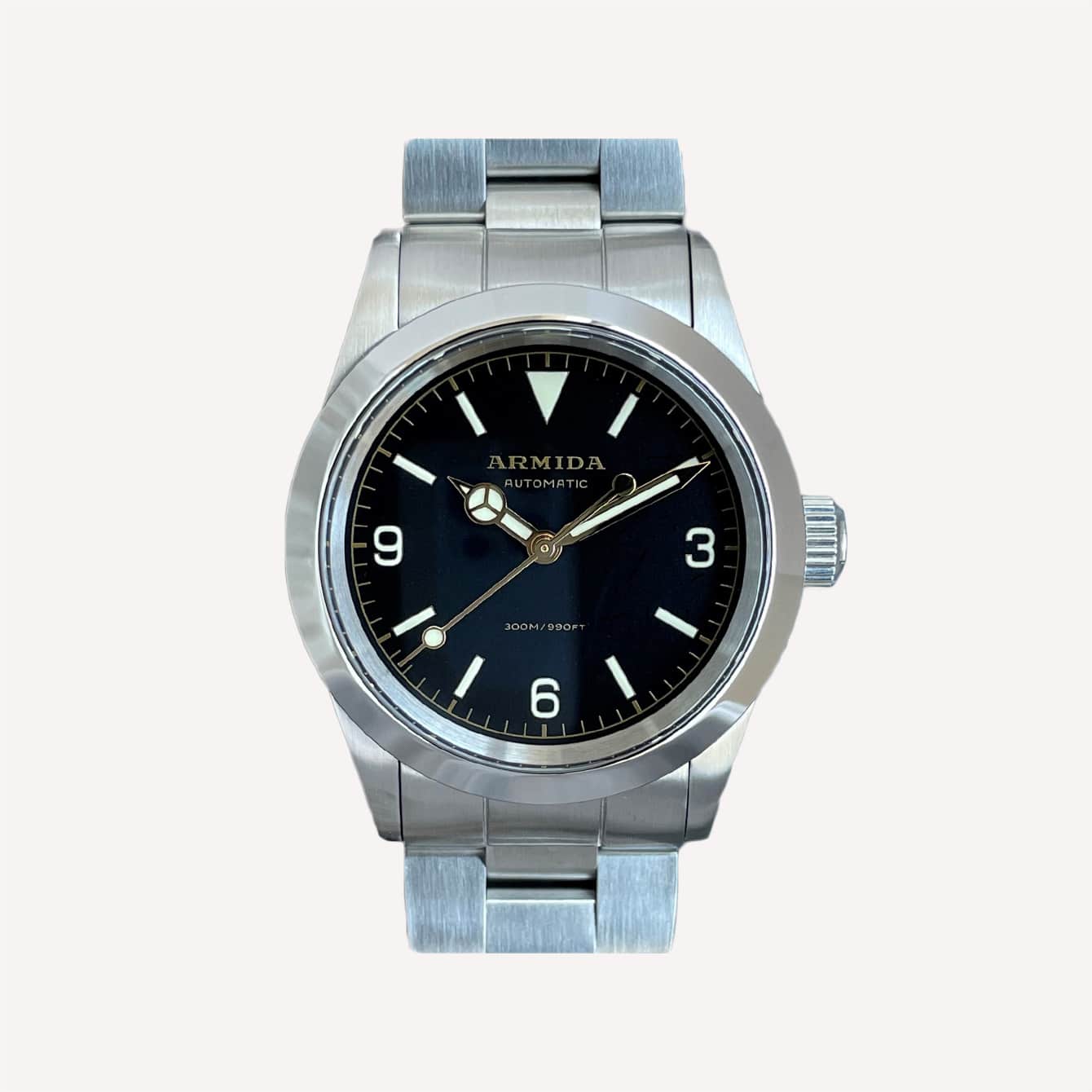 The result is one heck of a tool watch, with some pretty exciting specs. It even has 300 meters of water resistance, which is 200 more than the Explorer I itself. Moreover, it has an elegant look about it, thanks to its beautiful gilt hands.
If you slap a leather strap onto the A6, it might even pass as a dress watch.
Runs on a Swiss automatic movement that's made by ETA and features 25 jewels
It has a truly tough and durable construction—there's a rubber o-ring gasket under the crown, the water resistance is equal to a Submariner, and the sapphire is double-domed
It offers a versatile look, with a mix of sporty and dressy features, perfect for a one-watch collection
The V6 is also fun to use. The knurled crown offers smooth adjustment and a significant pop, which makes rethreading easy.
Size: 36mm
Water Resistance: 300m
Price: $549
Though it has a lot of similarities to the Explorer I, it's actually the differences that make this watch so cool.
Pros
Swiss automatic movement
Professional-level water-resistance
Versatile look
Cons
Flimsy and difficult-to-open bracelet clasp
The sides of the case have an exquisite sweep, while the use of gold adds a sophisticated pop to the dial.
Orient Contemporary Classic RA-AP0005B10A
The Orient Contemporary Classic RA-AP0005B10A has a lot of similar visual cues as the Explorer I, but goes hard into the remixing, resulting in a sparse and classy dial.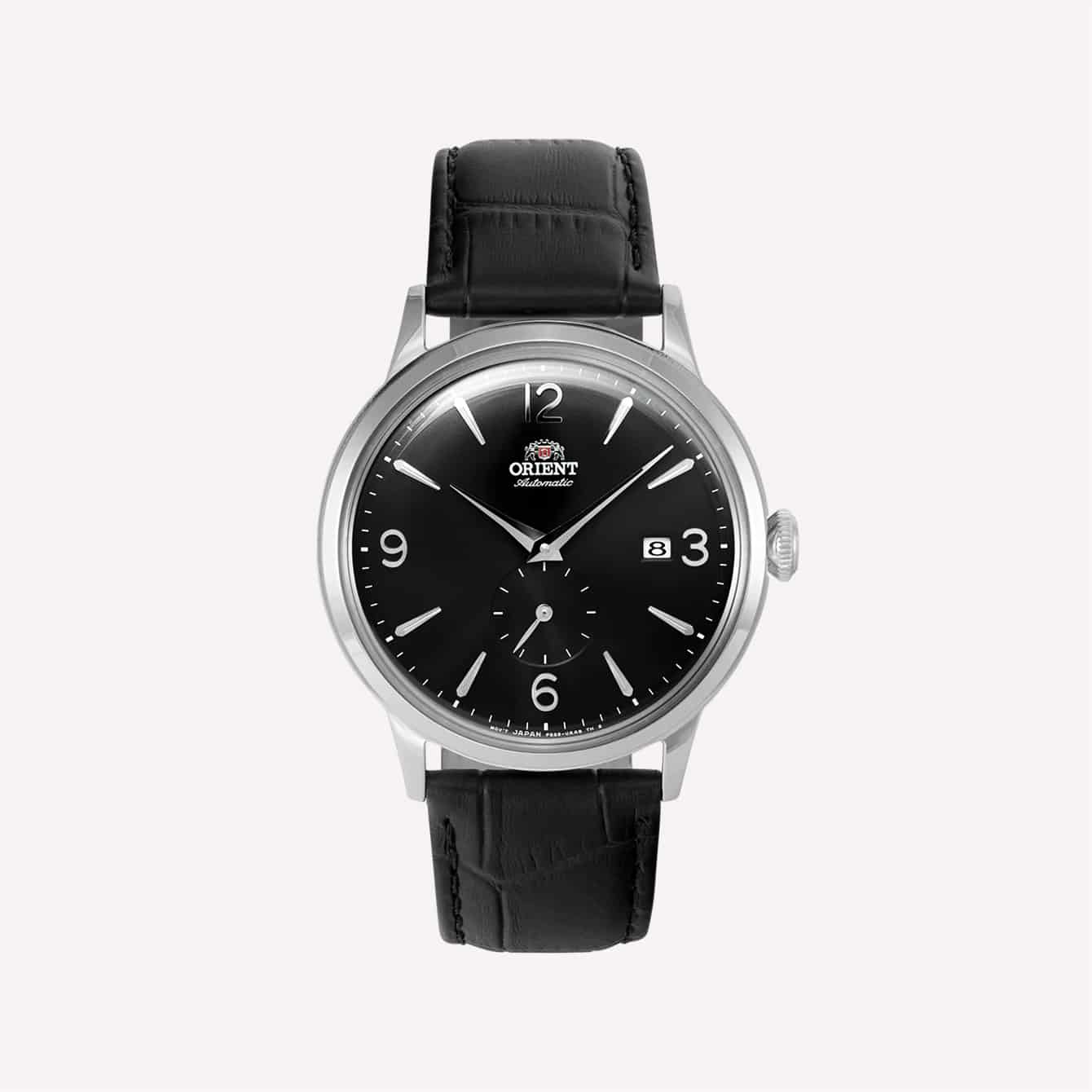 One of the most distinct, and possibly controversial differences is the fact it has a small seconds subdial. Technically, this timepiece does indeed have three hands, but purists might think that it just isn't the same—which is fair.
However, the treatment of the small seconds is exceptional, recessing into the dial instead of using a hard-lined circle, with simple sticks instead of numbers.
Clean and sophisticated dial, with every single element standing out elegantly on the watch face
Beautifully finished features, from the dimensional sword hands to the tear-drop indices
Runs on an in-house automatic, which is fun to operate thanks to the stately onion crown
It's super subtle and doesn't take away from the minimalist look. Ironically, it contributes to it.
Size: 40.5mm
Water Resistance: 30mm
Price: $175
Here's a quick peek at the pros and cons.
Pros
Versatile and dressy aesthetic
Exhibition caseback
Cons
Explorer I fans might prefer a long second hand to the small seconds
Only 30mm of water resistance
Plus you can get it in a swanky black or an elegant cream, both of which pair well with the alligator leather strap.
Traska Summiteer
The Traska Summiteer has a modern look that's almost more Tudor-like than Rolex-like.
The recessed center dial, fun color options, and swords hands provide a more casual-cool vibe than the Explorer I has.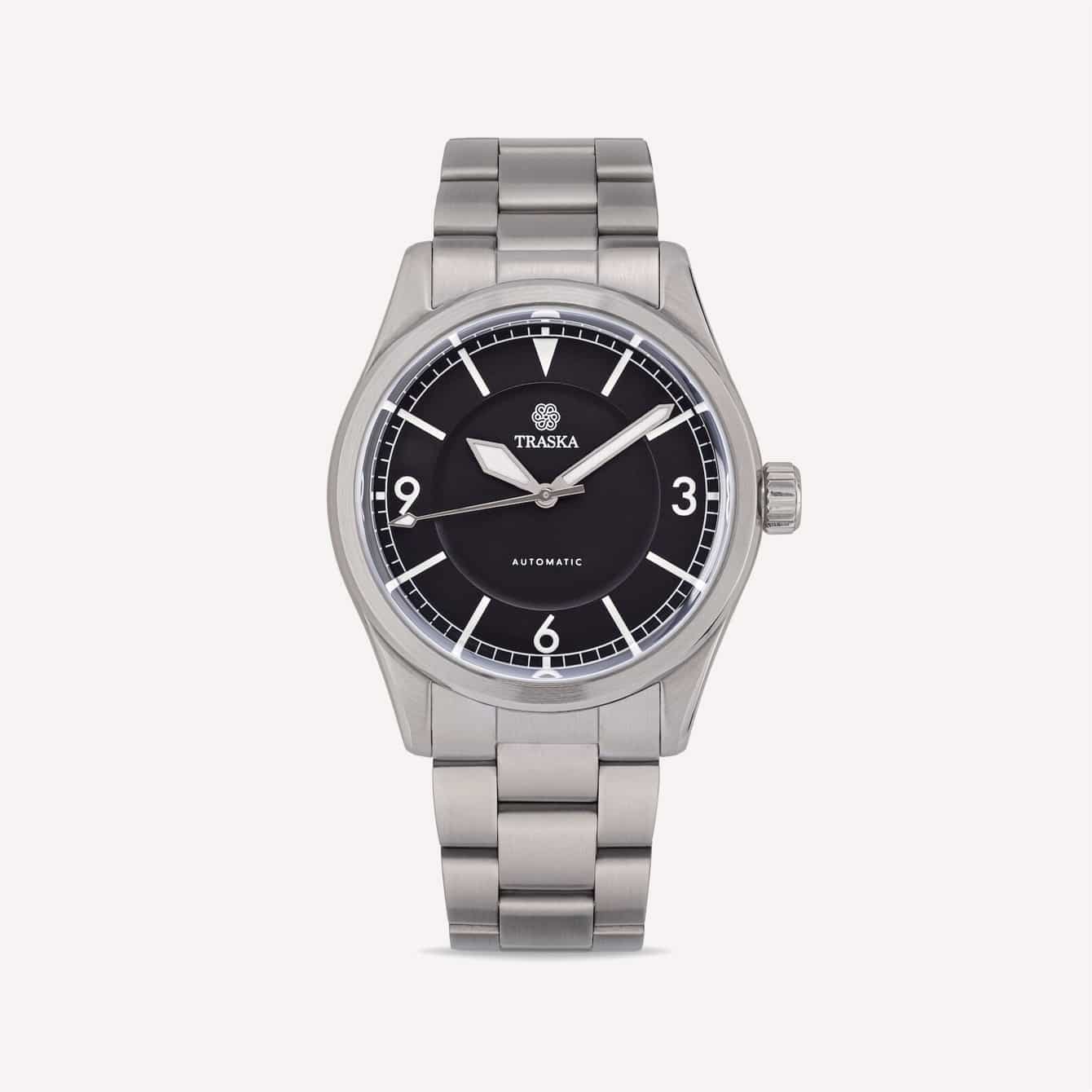 And, it's armed to the teeth with high-end qualities that provide looks, durability, and function. A few of these include:
A slick and modern watch face, with its matte dial, and stepped outer dial that adds dimension
The steel body boasts a proprietary hardening treatment that also makes it look slightly matte, and almost like a light gunmetal
Runs on a Miyota automatic movement and is lumed with Swiss Super-Luminova
Also note the bold, yet somehow sleek hands.
Size: 38.5mm
Water Resistance: 100m
Price: $550
Here are the pros and cons.
Pros
Unique and dimensional look
Premium features and excellent workmanship
Cons
Traska is a smaller operation, so inventory isn't always there
Add a boxed double-dome sapphire that ensures you can read the dial from every angle, and you've got a watch akademische ghostwriter that stands on its own, instead of in the shadow of the Explorer I.
Tisell 9015 Explorer
Not only does the Tisell 9015 take its design cues from the Rolex Explorer (check out that clean bezel and those Arabic cardinal indices), it's proportioned similarly too.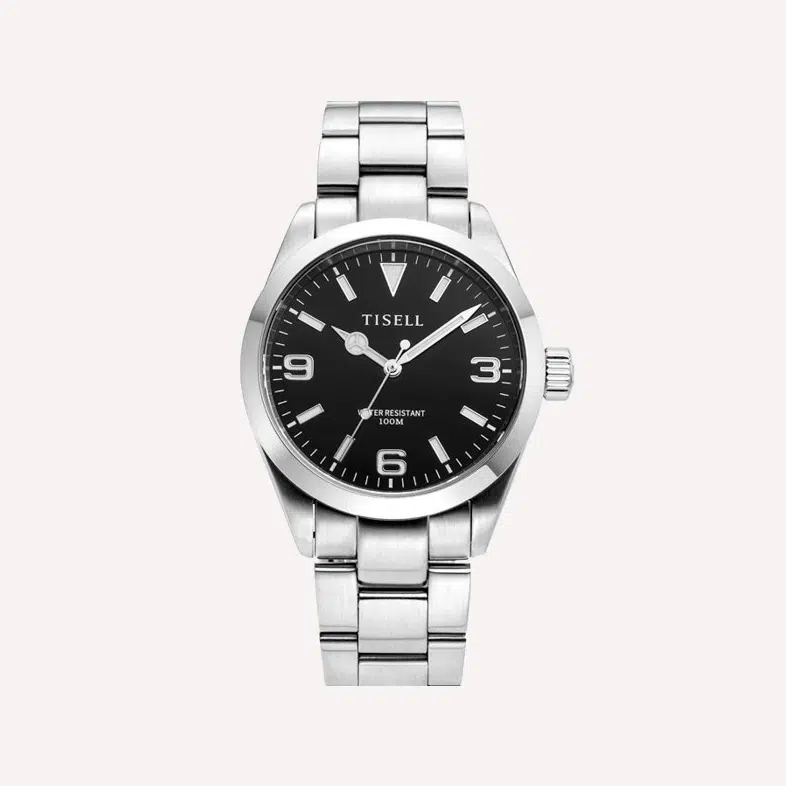 On the function front, you've got all of the premium prerequisites, from the flat anti-reflective sapphire crystal to the automatic movement.
Especially for its price, there's a lot of impressive qualities here:
Near flawless finishing on the bezel and dial, which make the shiny applications pop on the enamel face
A bracelet with easy and convenient sizing thanks ghostwriter berlin to glidelock-clasp, which offers exceedingly satisfying action
An undistracting and reliable workhorse movement, due to its quiet and well-serviced rotor
Other than the fact the endlinks make the 47mm lug-to-lug size feel more like a 51mm or 52mm, this watch has excellent quality-for-price.
Size: 39mm
Water Resistance: 100m
Price: $350-400
We think the pros definitely outweigh the cons of the 9015.
Pros
High-polish, well-proportioned indices and hands
Brilliant lume
Quiet and reliable rotor
Cons
The male endlinks makes the watch feel bigger on your wrist
It's classy and sporty on the outside, and works reliably well on the inside.
Conclusion
When you're looking for an Explorer I alternative, the important thing is to take inventory about what app erstellen lassen you like most about it, as well as what you don't like.
For example, if you love the idea of Explorer I, but wish it was dressier, then you can take the Orient route. If you want something with legend status, then Smiths is your watch. And as objectively good as Rolex movements are, they never do exhibition casebacks.
Of course, the main thing you might not like about the Explorer I is the cost, and several alternatives here offer a lot more given their price to entry.
Questions? Comments? Leave them below!