A watch isn't complete without the right band. Here are my top picks for the best leather watch straps.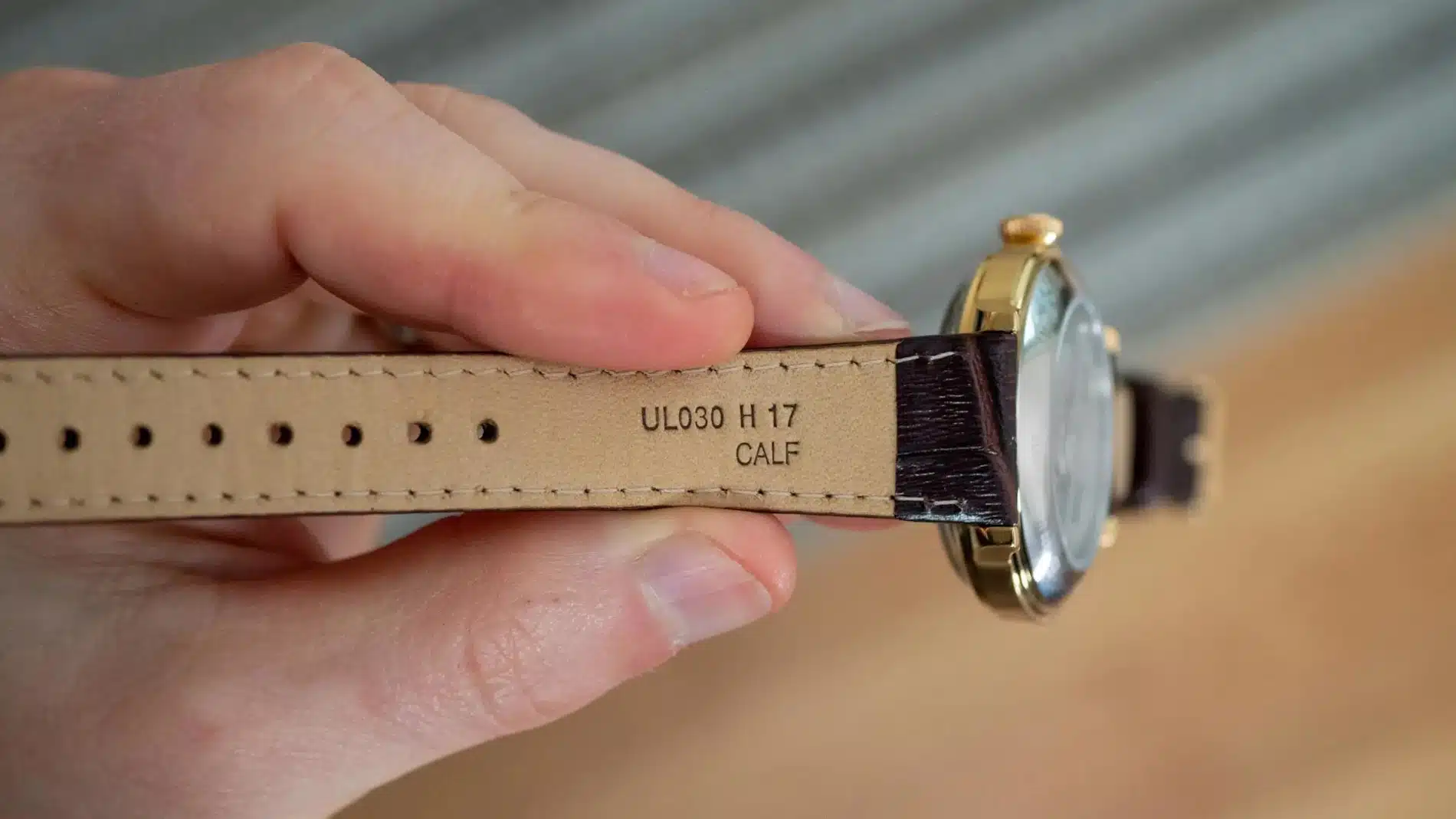 Get a proper strap for your watch and you'll never look back. It's true! Leather watch straps are an essential companion to a luxury watch and, let's face it, if you've spent a lot of money on your new pride and joy, you want to make it count with a decent leather watch band.
The market for leather watch straps is vast and (sometimes) overwhelming. How do you know which one to choose? Where can you find a reliable and reputable supplier? What style of leather strap will best suit your favorite timepiece?
Of course, if you build your strap collection up, you'll soon have plenty of options for transforming your wristwatch depending on the occasion and your outfit, so the key to choosing the best designs is important.
Have you also considered that it's much more cost-effective to build up a leather strap supply than it is to extend your luxury watch collection itself?
That said, you don't just want to buy on impulse. That's why I've outlined all the best leather watch strap bands out there on the current market so that you can cut down on time and minimize the risk of wasting your money.
So, where do you start? Top grain, cordovan, suede, nubuck, or full grain? Let's not waste any more time!
Quick Take
In a hurry and need a quick list of my top three picks? Here it is…
Worn & Wound Model 2 Premium
The Model 2 Premium leather strap from Worn & Wound offers a clean fit, creating a dressy and sporty finish.
Barton Espresso Leather
If affordability is key, this classic black band with quick-release spring bars is a must.
Bas And Lokes Everett Light Grey Suede Watch Strap
With a gently tapering profile, this elegant strap made from grey suede makes any watch look handsome.
Affordable Leather Watch Straps
You don't have to compromise on quality and durability just because you're shopping on a budget. Here are some of the best affordable watch strap options out there.
Worn & Wound Model 2 Premium
The Model 2 Premium leather strap from Worn & Wound offers a clean fit, creating a dressy and sporty finish.
Hand-made details, several layers of color, and a fixed metal loop give this affordable leather strap a military edge that is slightly retro in design and perfect for creating a masculine yet elegant finishing touch to your favorite military diver watch or vintage chronograph.
Barton Espresso Leather
If affordability is key, this classic black band with quick-release spring bars is a must. Add this versatile band to your collection and wear it with your dress watch one day and your smartwatch the next.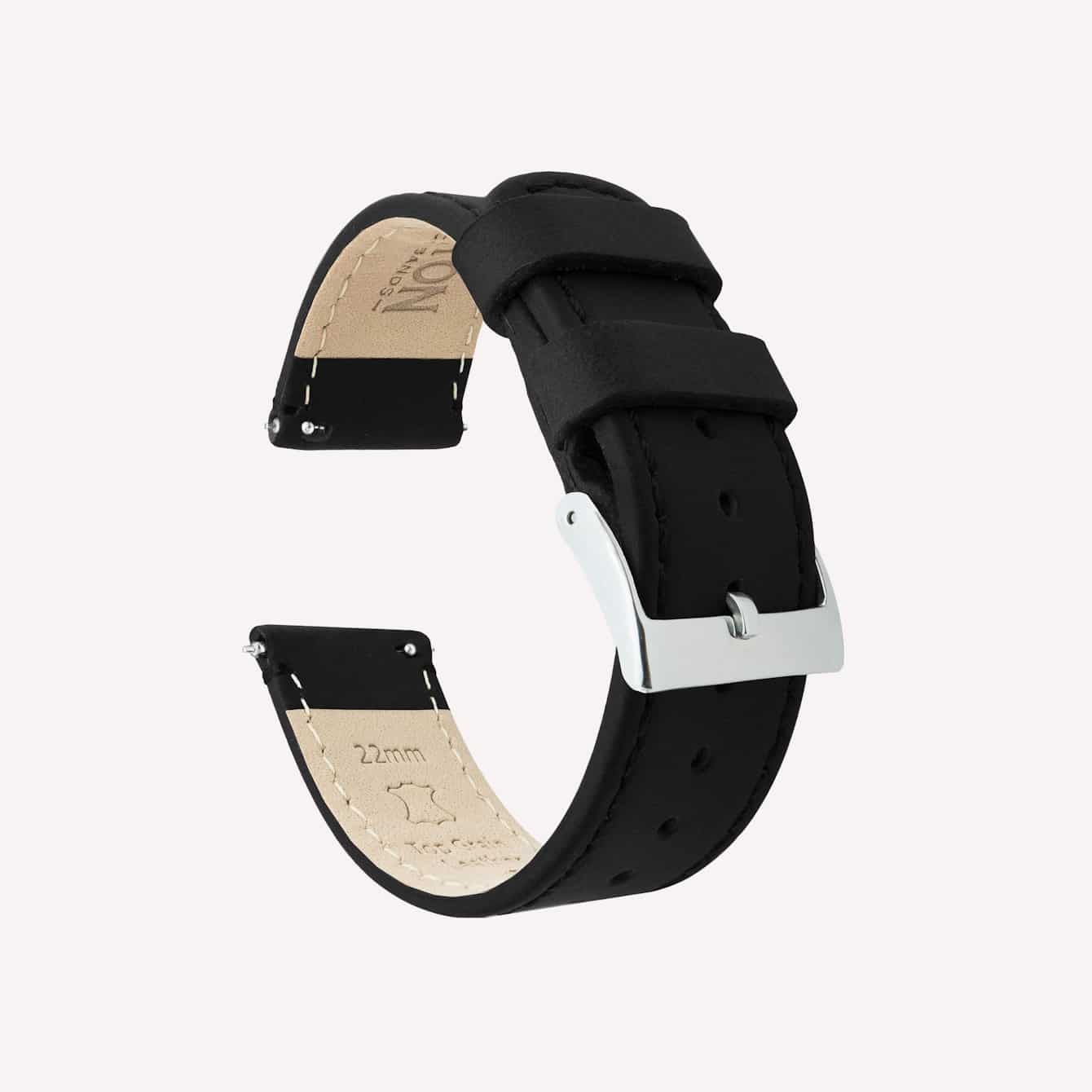 Its quick-release spring bar design is a key feature that will come in handy when swapping the strap from one model to the other. What's more, there are two lengths to choose from — both of which are crafted from top-grain leather. Click here to read our Barton Bands' review
Hirsch Osiris
If you're looking for an entry-level watch band, Hirsch has you covered with its diverse range of leather straps from the Osiris collection.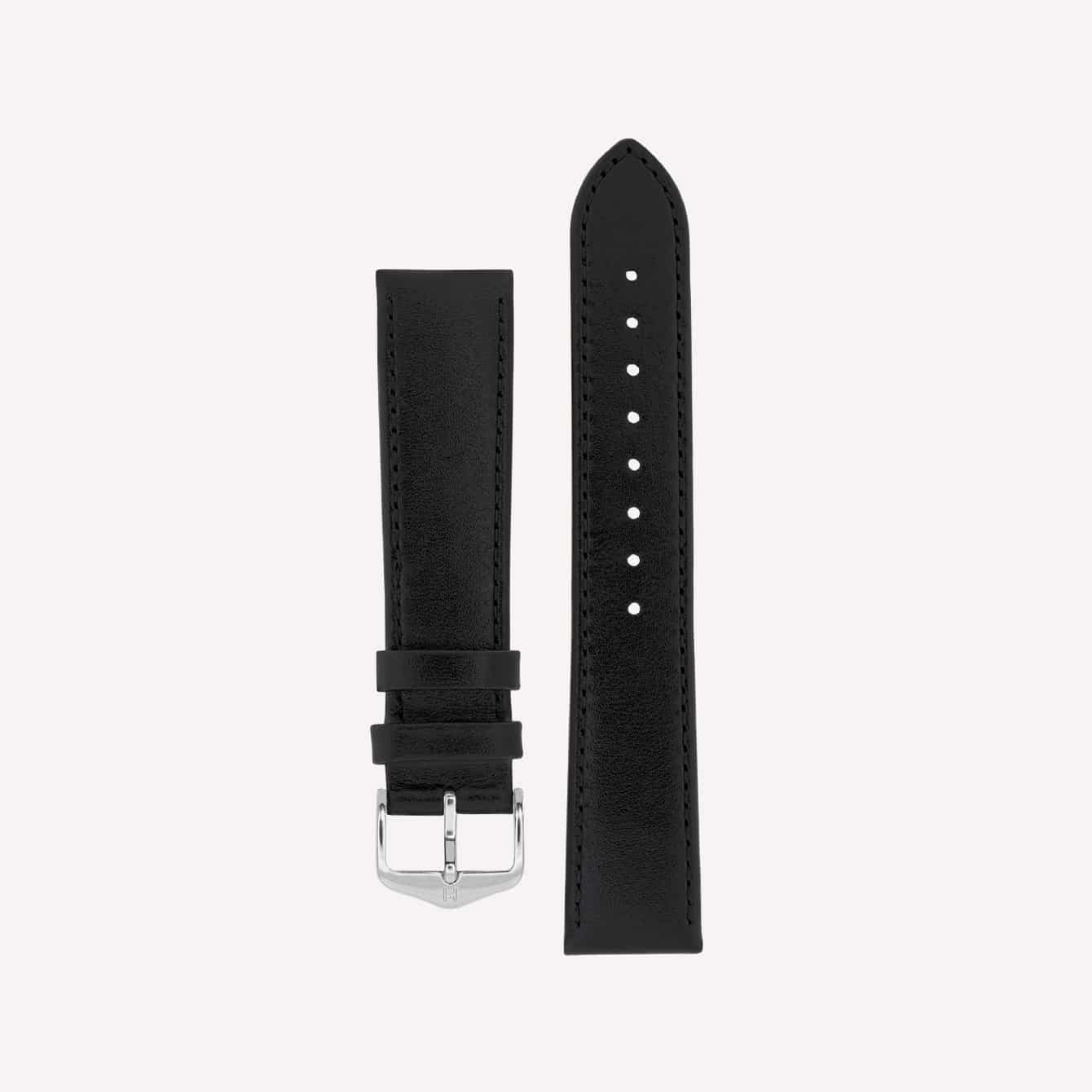 These are the kind of pair-with-anything straps that you can throw on and forget about. Additionally, they are splash-resistant, enabling you to get on with your daily tasks without having to consider whether your watch strap will hold up.
Hirsch's Osiris strap collection offers plenty of color choices and an option to select your desired bandwidth too.
Crown & Buckle Brynn
You can enjoy the feel of a high-quality leather watch band even when you're watching the pennies, and Crown & Buckle is an example of this.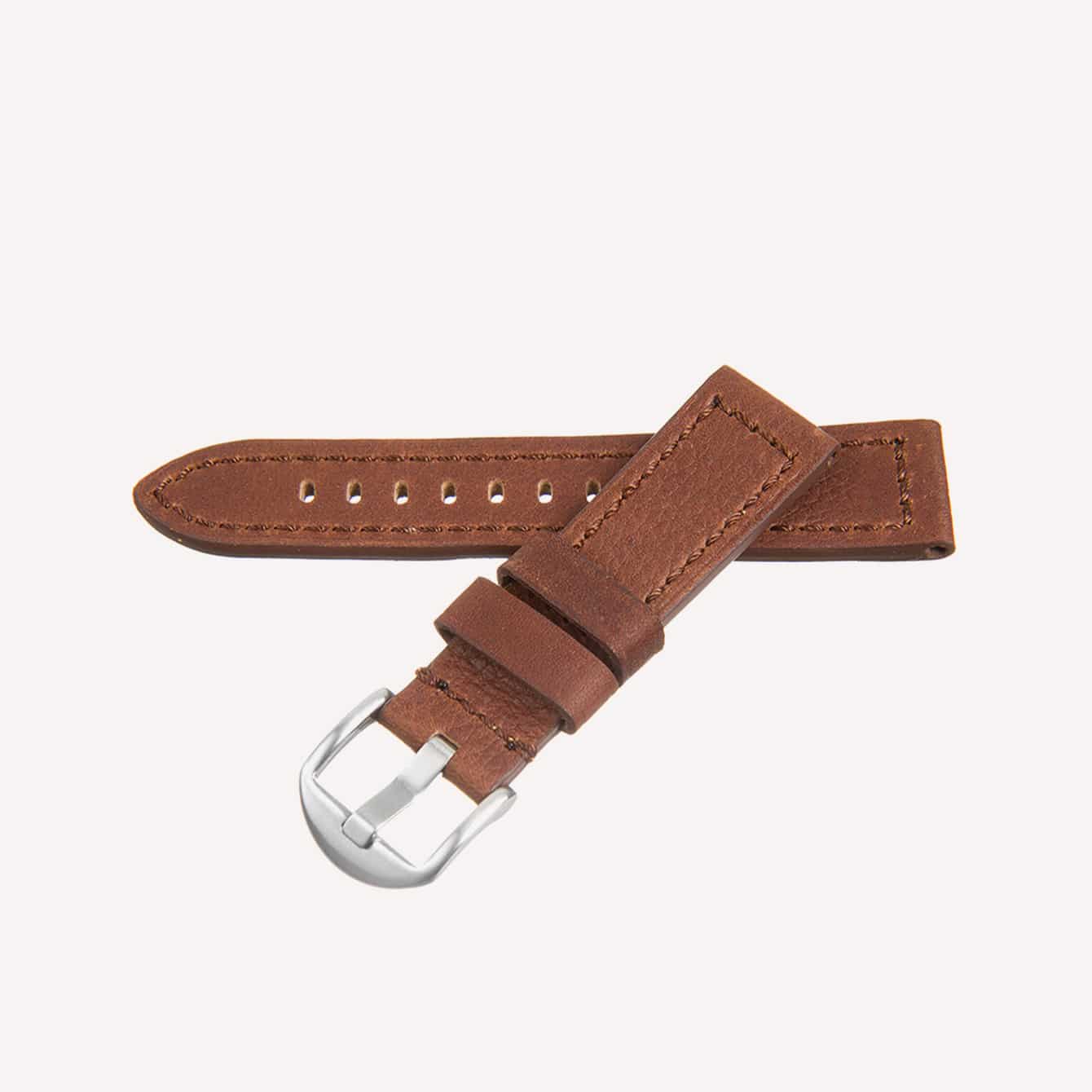 Brynn straps from the company's diverse catalog use the same type of oiled leather as seen in its Chevlon collection but are lighter in shade.
This classic brown leather strap has a fully boxed stitched effect running down the sides in a matching brown thread and secures with a brushed Thumbnail buckle.
This quality Italian leather band for under $100 is a no-brainer for anyone wanting to buy a new leather strap for their watch without breaking the bank.
Fluco Horween Shell Cordovan Leather Strap
You can't go wrong with Fluco watch straps. The brand offers budget straps as well as mid-range options too. Fluco has a large fan base with customers that swear by the quality of its straps.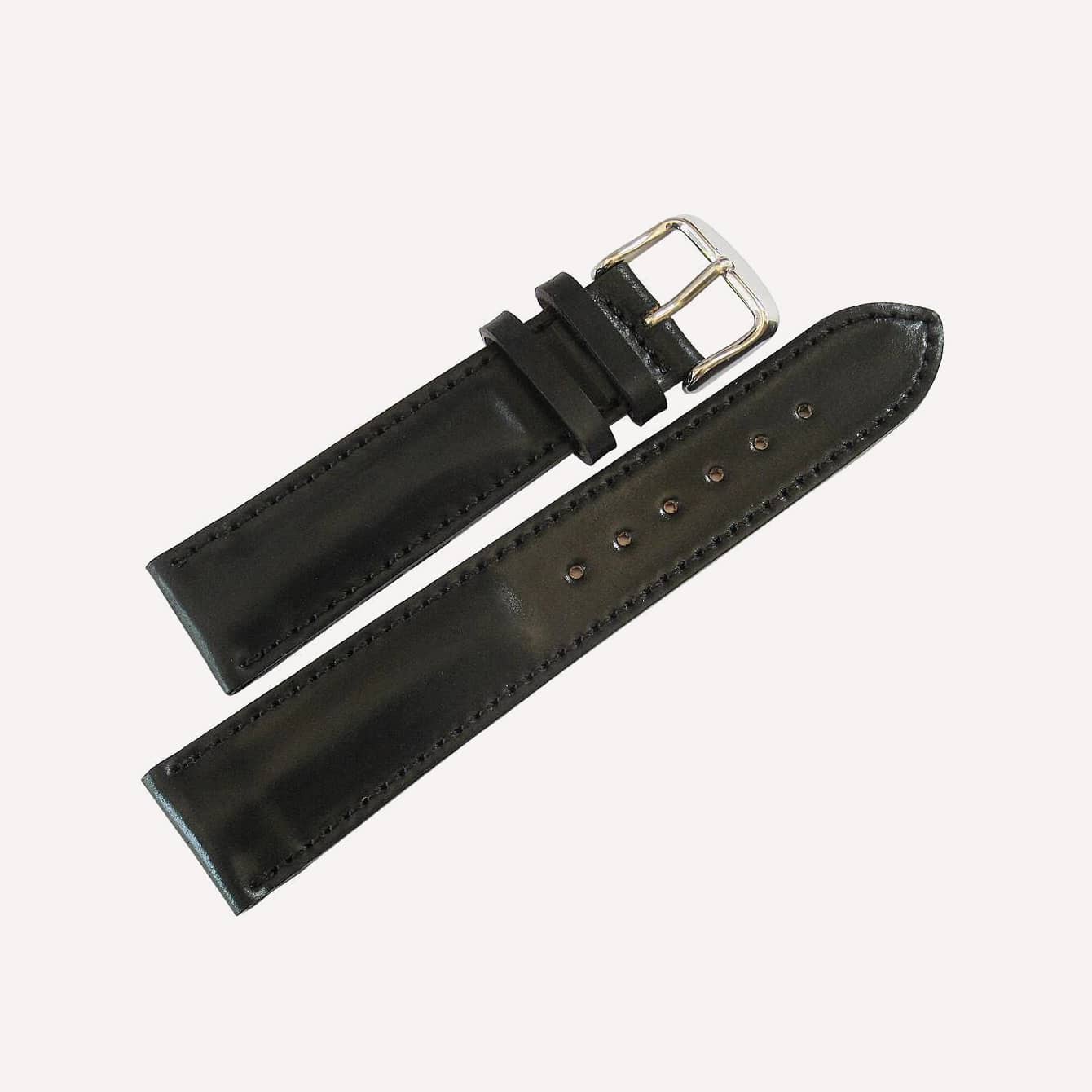 Its most expensive leather band still comes in under $100 and is crafted from genuine Horween Shell Cordovan leather, handmade in Germany.
As the longest operating tannery in the US, Fluco's Horween Shell Cordovan leather strap comes with a pair of double-flange stainless steel spring bars and a matching steel buckle.
Hadley Roma MS2042
Reminiscent of a Panerai buckle, Hadley Roma's MS2042 steel buckle is beautifully polished to elevate the premium feel of this leather watch band.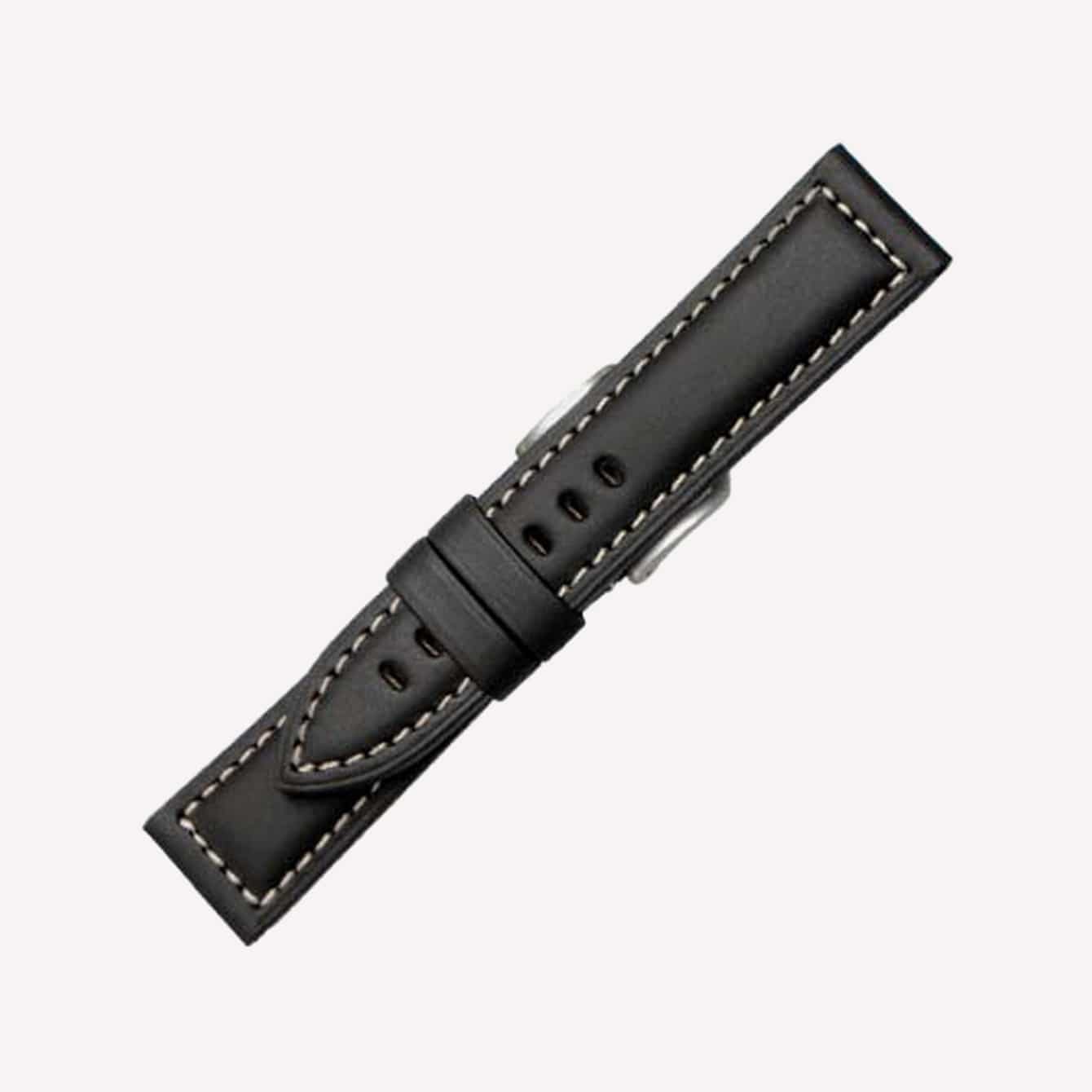 Made from Cordovan style oil-tanned calf leather, the deep brown shade of this leather watch strap, complete with tone-on-tone stitching down the sides, is enough to add a touch of opulence and refinement to any classic chronograph or vintage pilot's watch.
Leather Watch Bands Over $100
If you're looking for the next level up on a leather strap for your watch, you've got options. Choose between specialist watch strap manufacturers to watchmakers that offer their own selection of elegant bands.
One promise in the leather watch bands we've selected for this $100 or more category is premium quality.
Bas And Lokes Everett Light Grey Suede Watch Strap
With a gently tapering profile, this elegant strap made from grey suede makes any watch look handsome.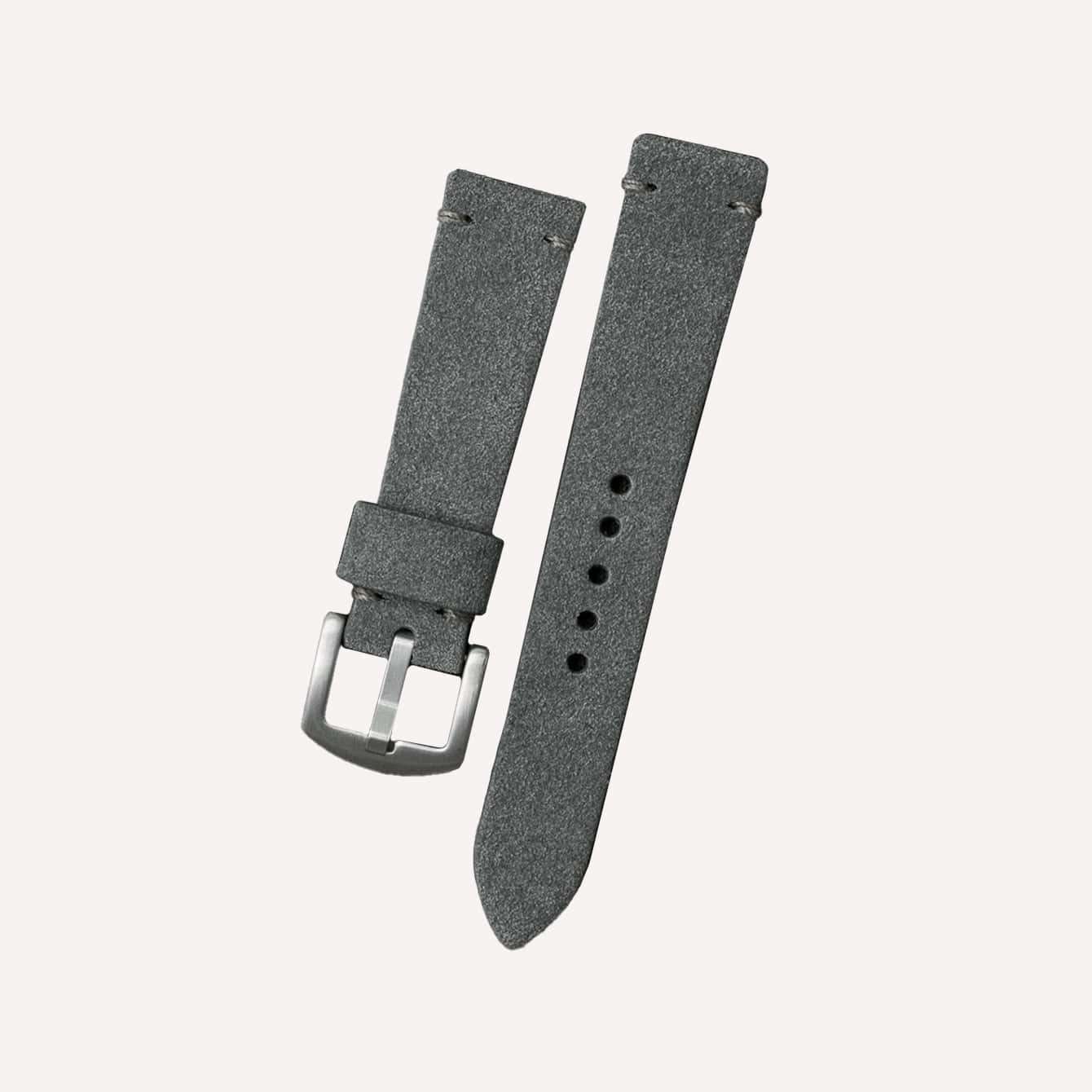 Its contemporary grey tones will look perfect on a Nomos or Junghans watch, whilst beefier dive watches get a whole new look with this semi-bespoke band.
With plenty of choices in the way of color, length, buckle finish, and taper width, a strap from Bas & Lokes will serve you well for just about any occasion.
NOMOS Horween Genuine Shell Cordovan Leather Strap
German-based NOMOS Glashütte fits many of its minimalist Bauhaus-inspired wristwatches on Horween Genuine Shell Cordovan leather straps.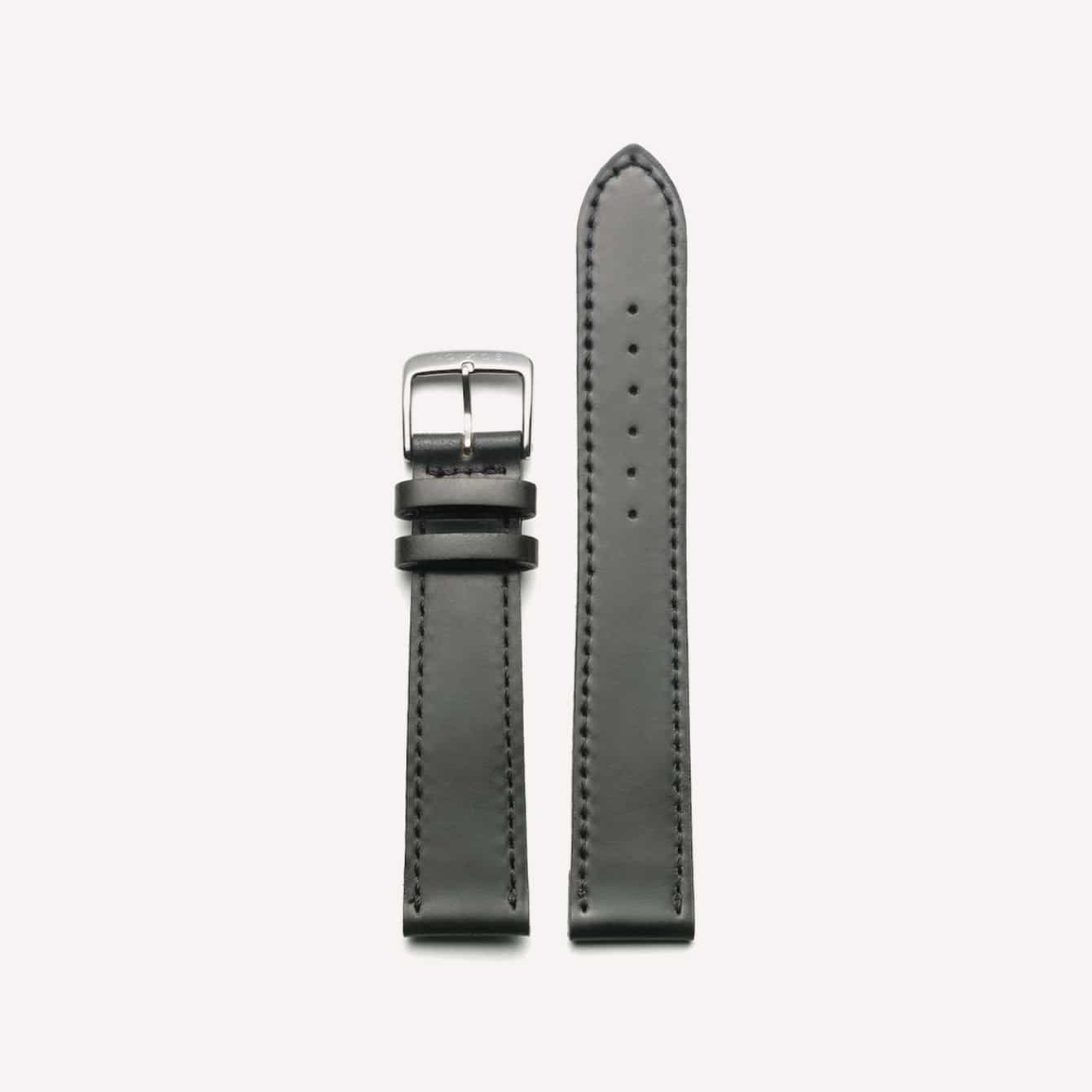 Considered one of the finest leathers in the world, these comfortable and durable leather bands are tanned in Chicago and sourced from a small area on the horse's back to create a smooth and indulgent finish.
Whether you're looking for a new strap to fit your current Nomos watch or have other plans for it, the Horween Genuine Shell Cordovan leather strap is a sleek and modern option for any minimalist wristwatch.
Bulang and Sons Olive Grey Nubuck leather Strap
Premium but without being presumptuous, Bulang and Son's nubuck leather straps epitomize elegance with their understated yet classy style.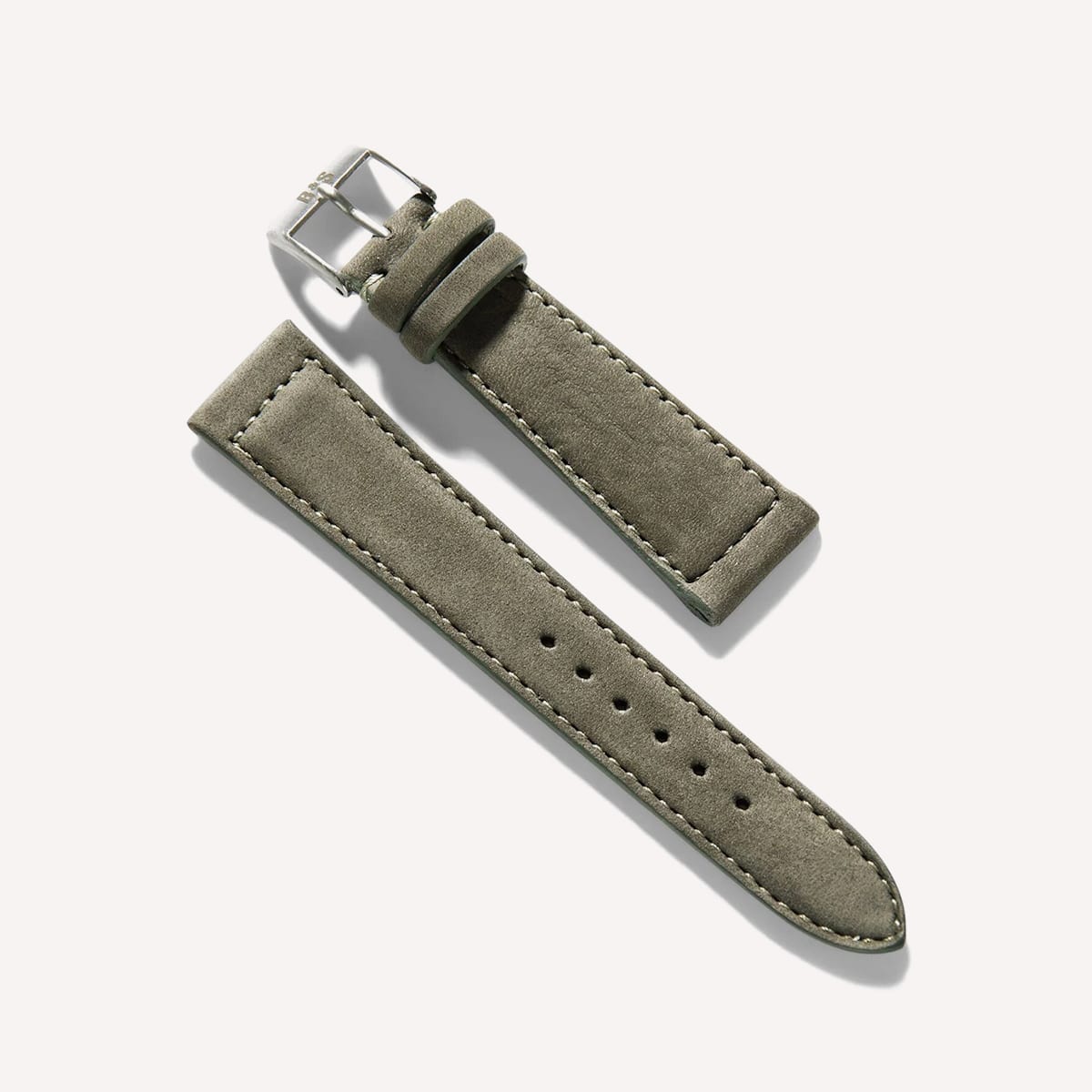 Handmade in Tuscany, the genuine nubuck leather straps from this brand,e particularly the one in Olive Grey, are soft and durable and will certainly hold up over time.
The company uses natural and traditional vegetable tanning on its products and each one is beautifully finished by an artisan craftsman to ensure a unique feel against the skin.
Hodinkee Calfskin Watch Strap
Hodinkee certainly makes some of the world's most stylish leather watch straps, including its classic calfskin strap in dark brown. If that doesn't take your fancy, however, the company offers bands in lighter shades too.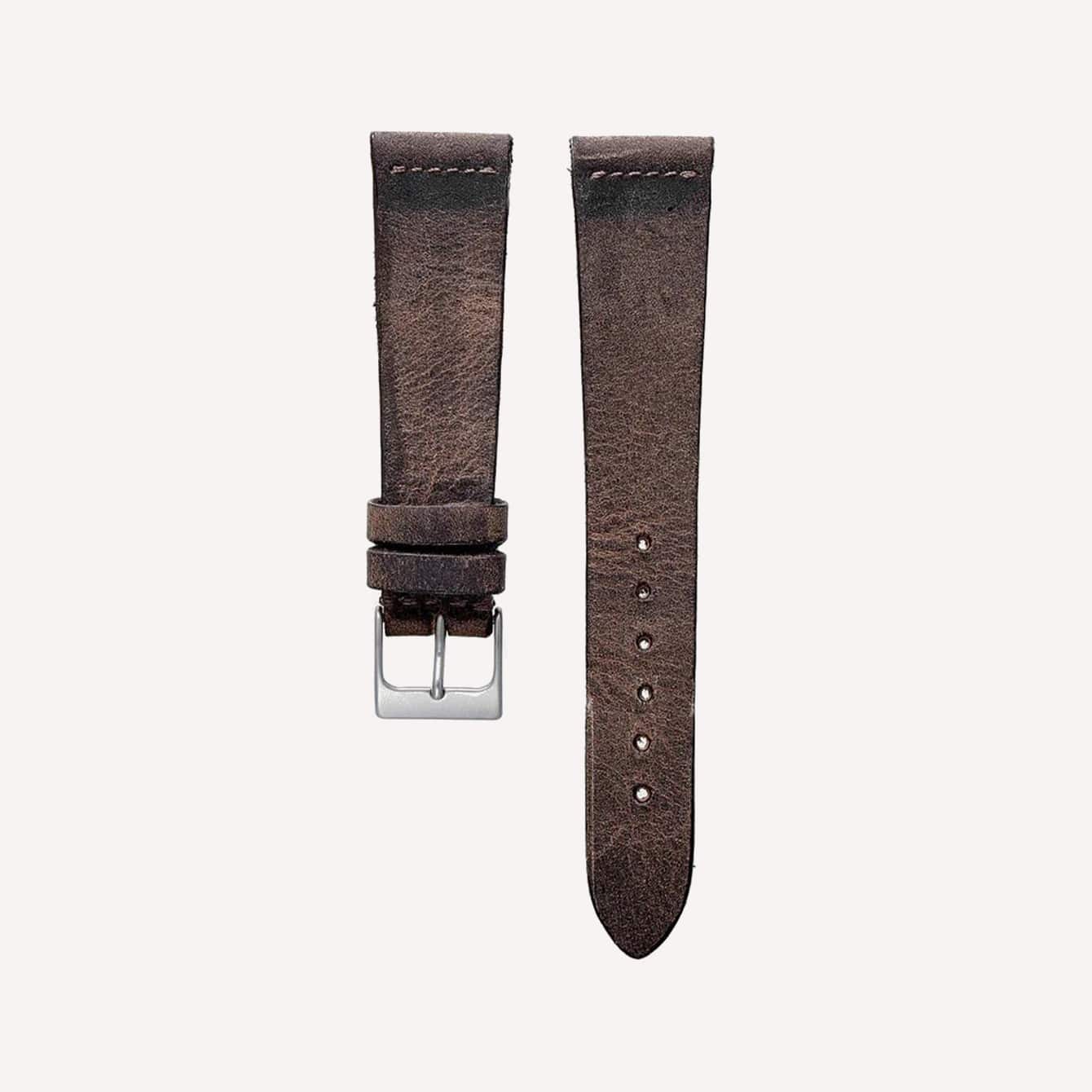 Hodinkee's calfskin leather watch straps go with many different dial styles including cream, beige, blue, and black dial colors.
Over time, the leather straps will acquire a character of their own, developing a patina and turning matt to create an aged and worn look.
WatchGecko Ostend Baranil Leather Watch Strap
WatchGecko takes its watch straps very seriously and offers the best of both worlds — with chrome tan and vegetable tan effects all rolled into one. This effect can be seen in its Baranil leather watch strap.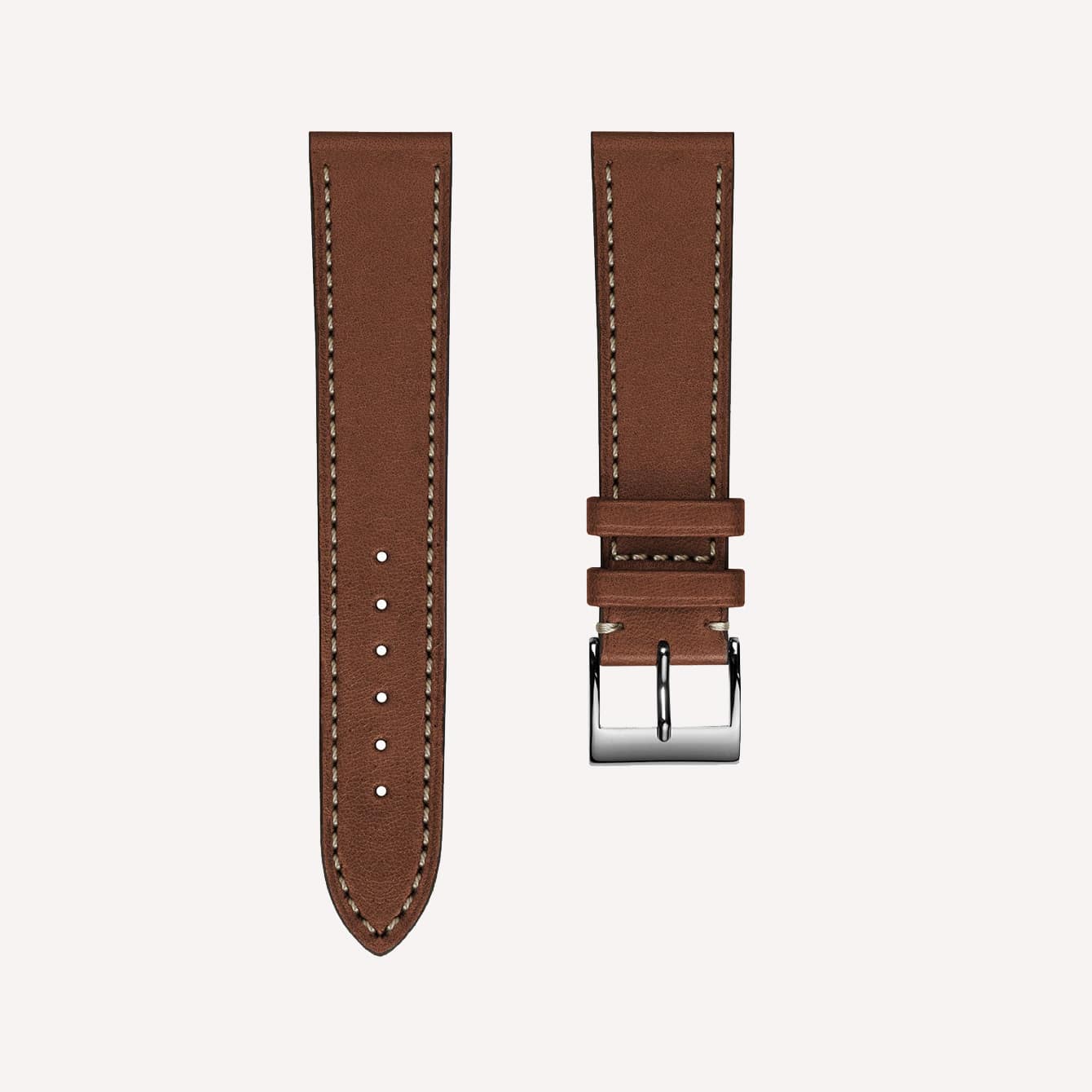 The contrast stitching down the sides of this dark brown leather band creates a subtle vintage-inspired look whilst a level of water resistance implemented into the surface of the lining constitutes a very durable option for wearing every day of the week.
Delugs Nubuck Slim Strap
The Nubuck Slim strap from Delugs offers a light grey style that looks elegant and contemporary.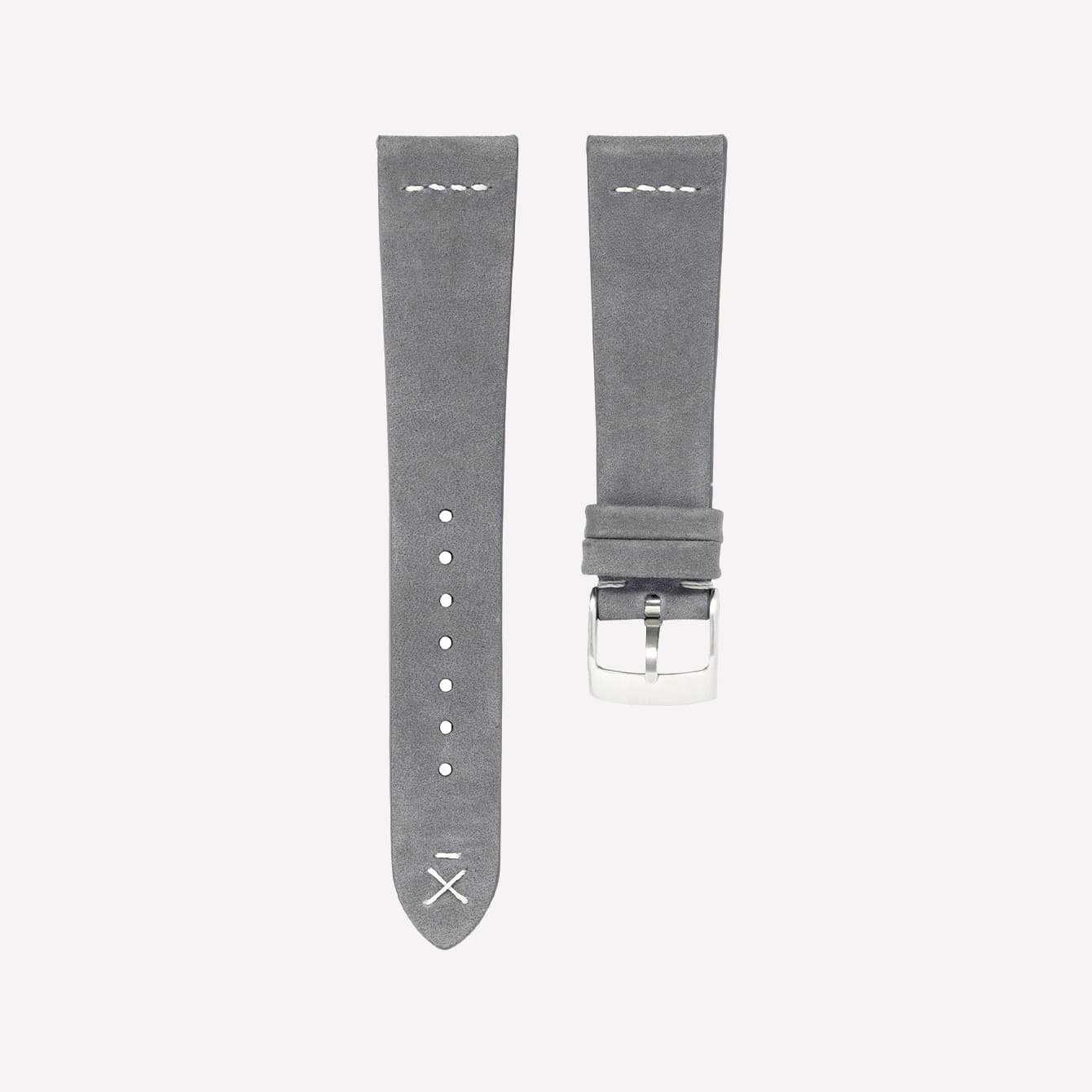 Paired with a minimalist dial or a simple three-handed time and date watch, this watch strap is soft and comfortable to the touch, making it a perfect alternative to a regular leather strap texture.
Veblenist Unlined Bourbon Shell Cordovan Strap
This Shell Cordovan strap from Veblenist is stretch resistant making it a great option for wearing every day of the week.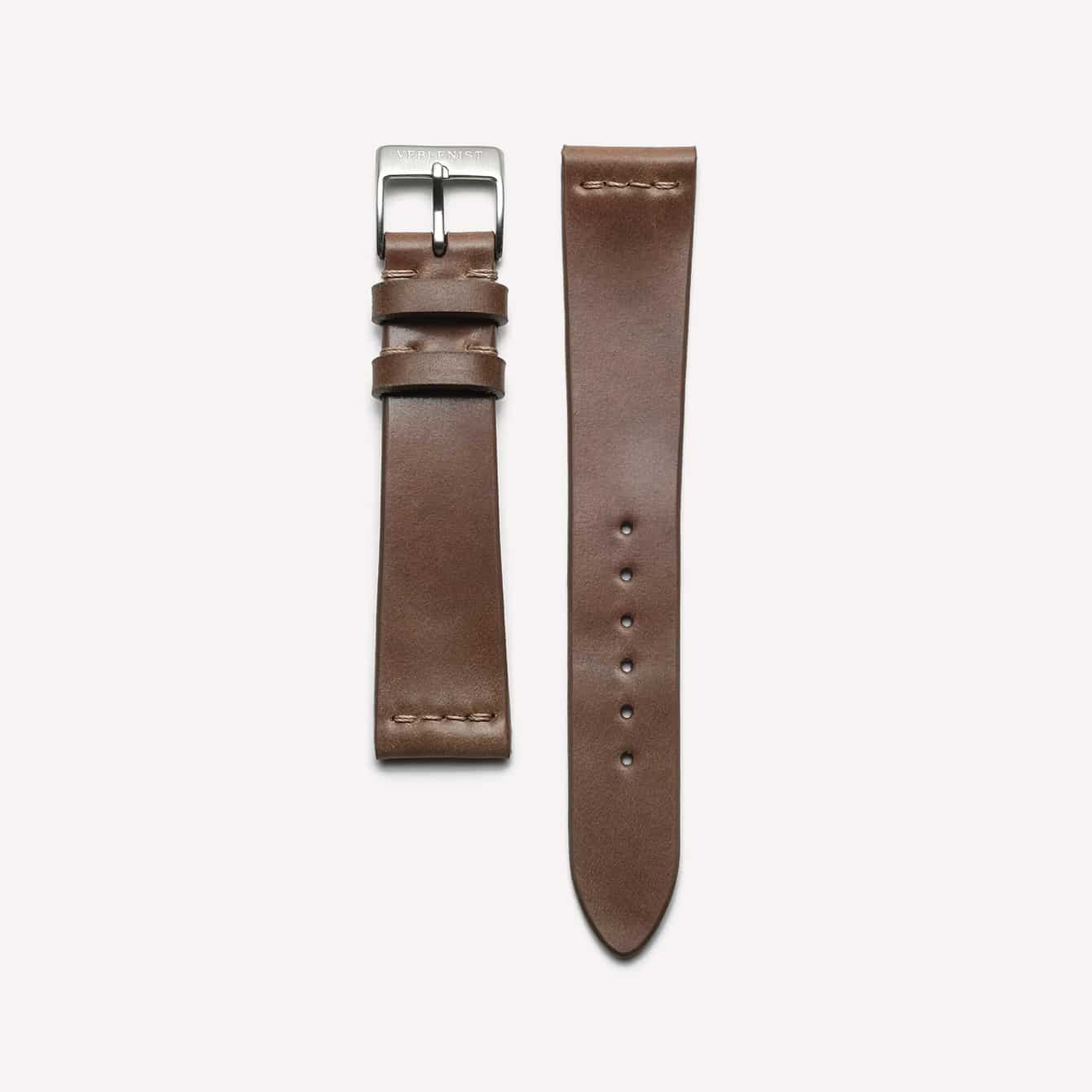 There are several cool customizable options offered by Veblenist such as squared or pointed ends, not to mention vintage-esque golden tones for a timeless finish to a classic pilot's watch or chronograph.
Although tough in nature, the Shell Cordovan leather is light and breathable on the wrist, making it great for field watches too.
JPM Italian Vintage Leather Watch Strap
JPM's Italian Vintage Leather Watch Strap is handcrafted and hand finished in Italy where its delicate and carefully distressed texture imparts a luxurious and premium feel.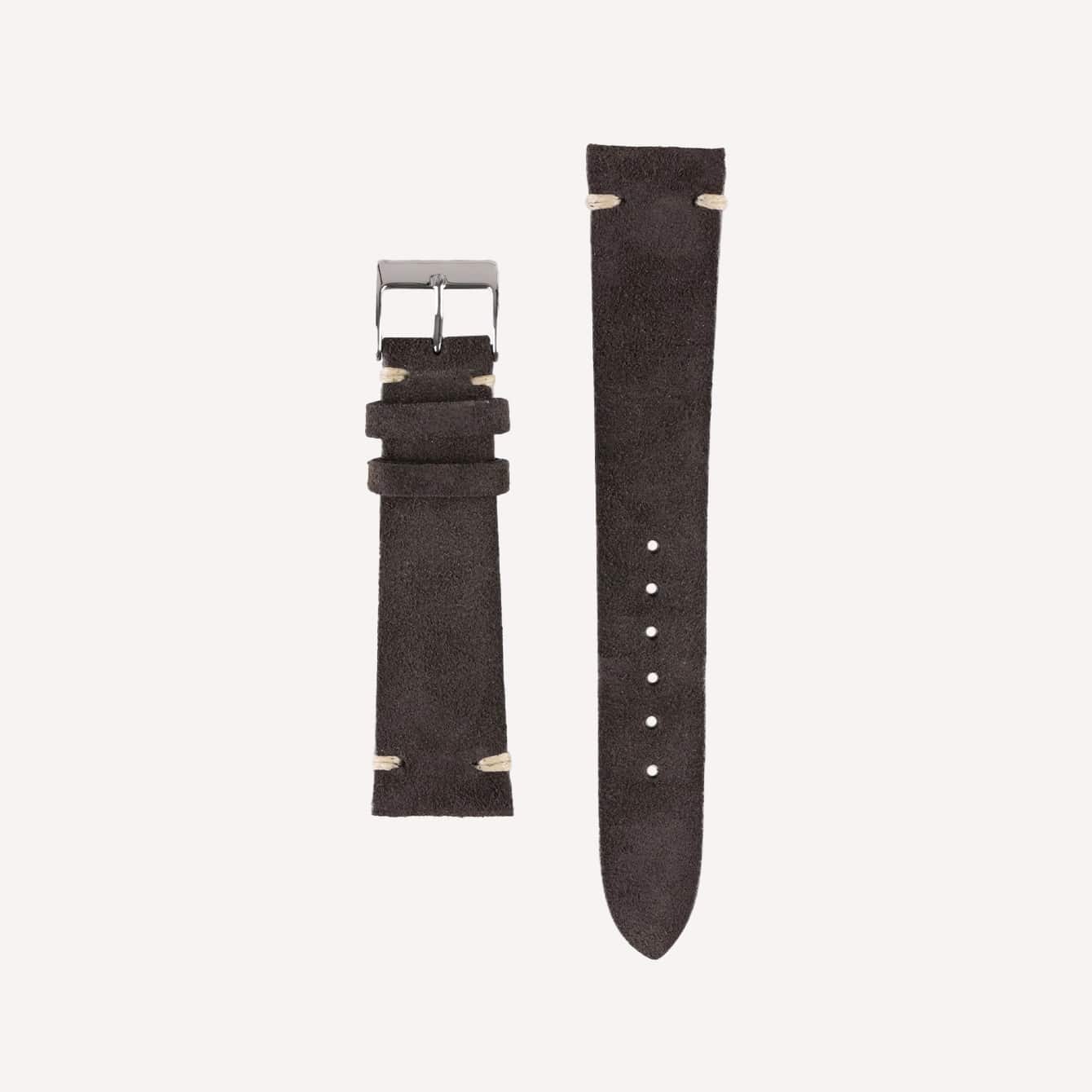 Certainly not a budget leather watch strap, Jean Paul Menicucci ensures every design is executed to the highest standard.
This strap is the soft and supple suede type, with off-white rustic contrast stitching that brings the entire design together.
Handmade Gold Brown Marble Strap by Seventhcreation
The Gold Brown Marble Strap by Seventhcreation is fully handcrafted and features a veined "marbling" texture that gives each strap a unique and artisanal feel when worn on the skin.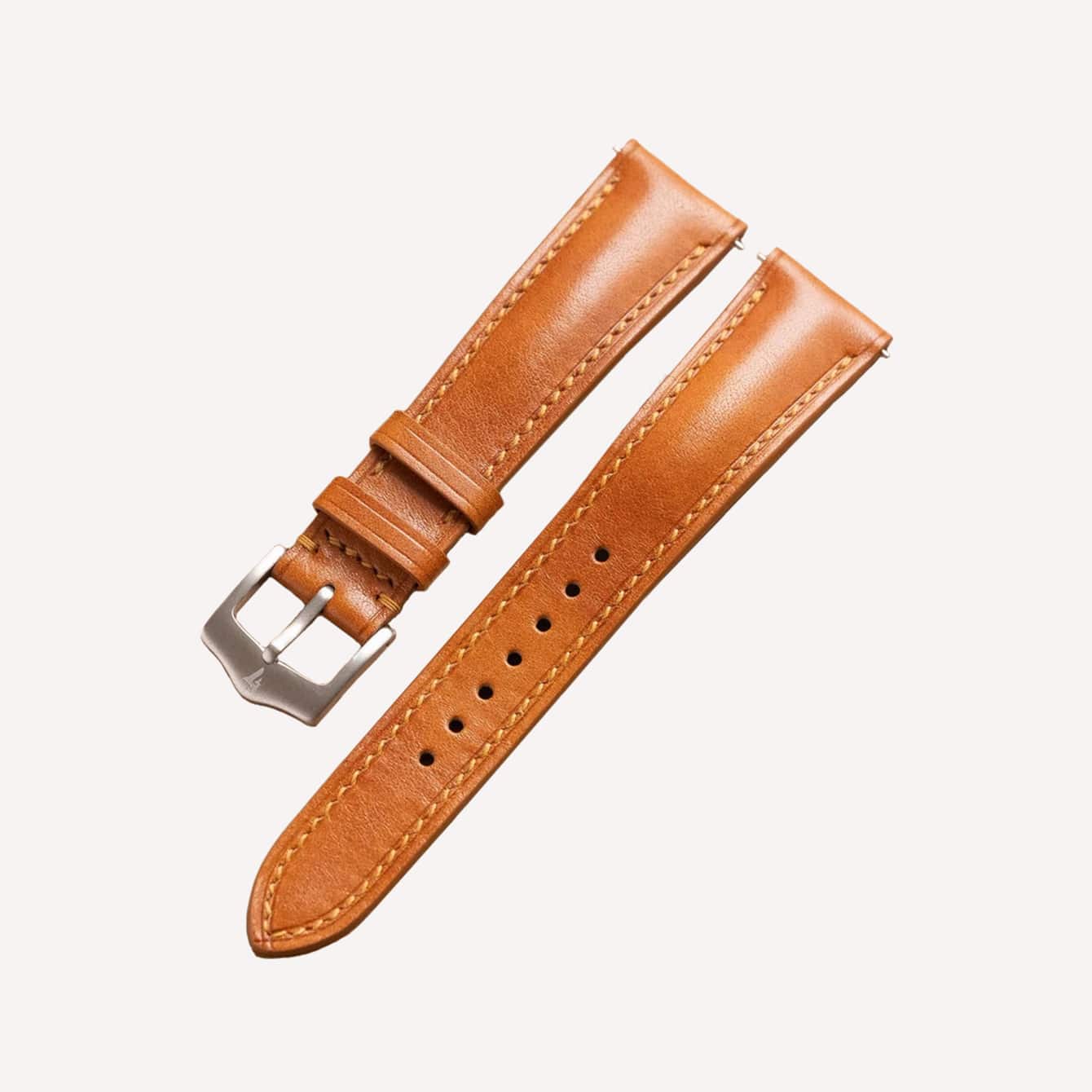 What's more, the surface of the band patinates with time making it a great option for pairing with an explorer watch, especially since its lining from Zermatt is also sweat-proof.
Epsom Calfskin Strap at the Strap Tailor
Strap Tailor's Epsom calfskin strap is beautifully textured and has a tapering effect that looks as though it has been cut straight out of a designer leather bag.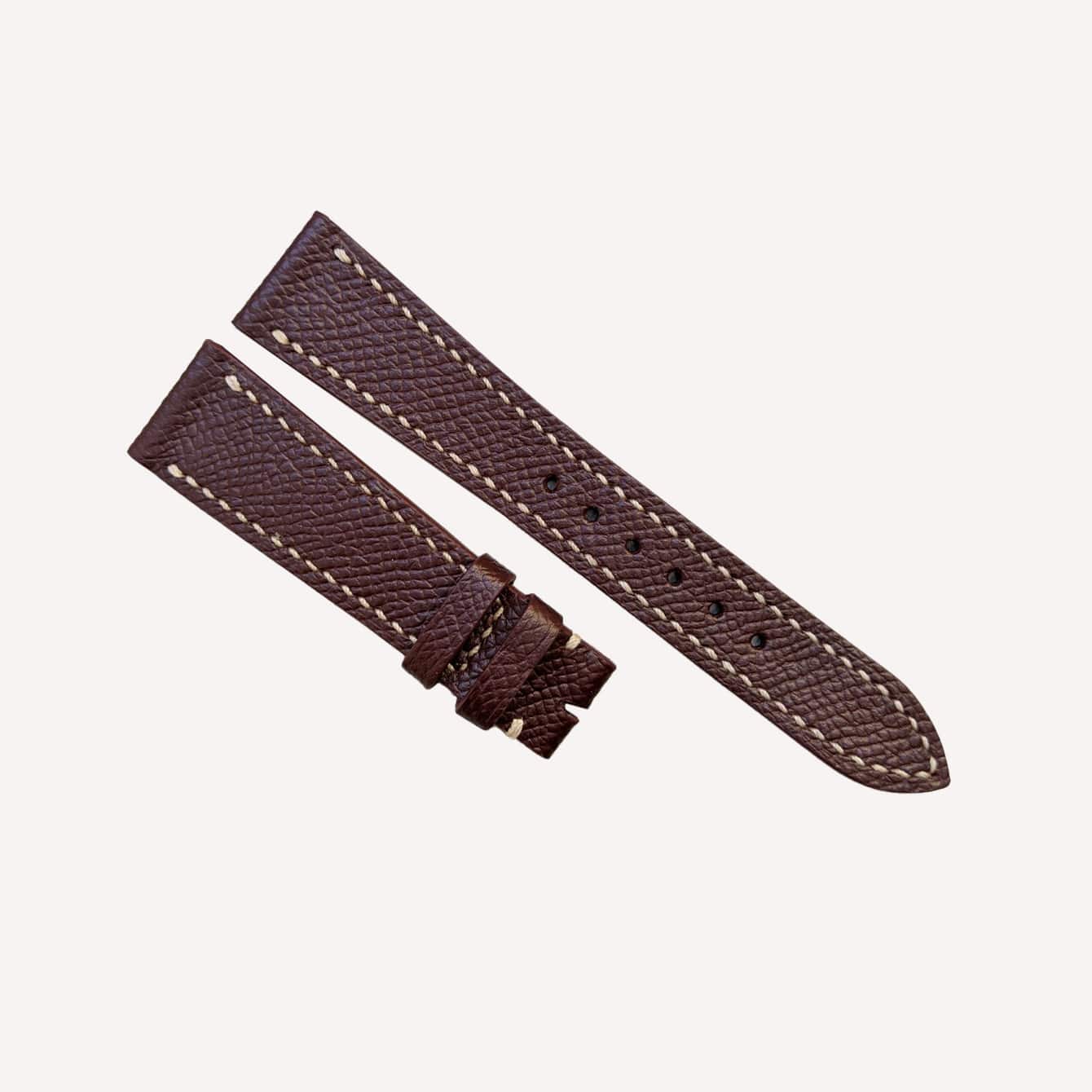 Opulent and refined, this kind of strap is flattering on a lady's watch too and boasts a natural aesthetic that is more scratch resistant than regular cowhide.
B & R Bands Calf Leather Band
Choosing a classic black leather calfskin band like one from B & R Bands' catalog is a great choice if you want an understated band that is also incredibly versatile.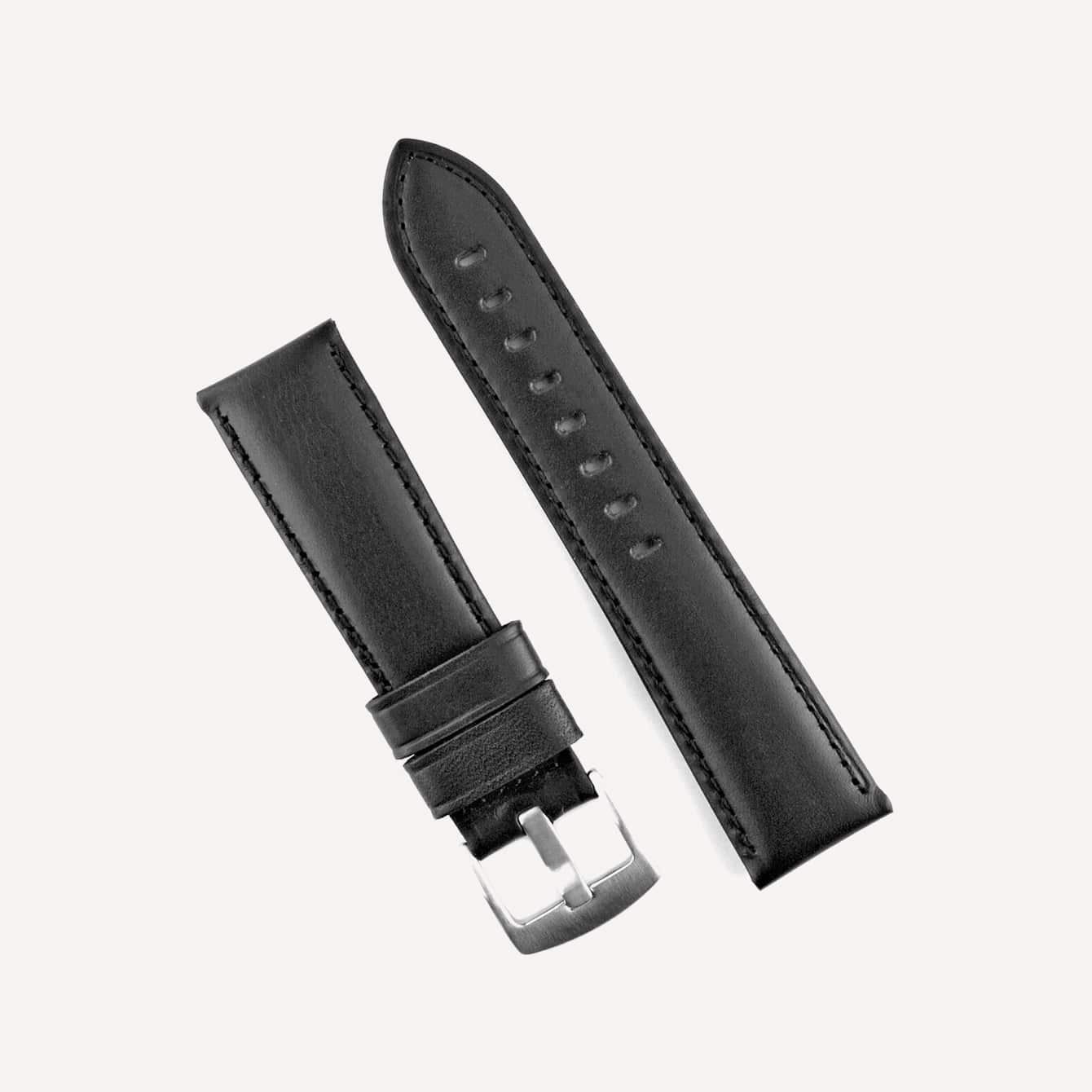 Whether you're planning on fitting a sports watch or tool watch to this elegant black calf leather strap, you'll do well to find a watch that won't go perfectly with it.
The band is soft and cushy on the inside and boasts a premium finish on the outside, complete with durable hardware in stainless steel.
Morellato GAUDÌ Leather Watch Strap
This slimline handmade watch strap with square padding is produced from high-quality calfskin leather and is crafted in Italy to create an authentic and refined finish to a favorite dress watch or perpetual calendar complication, for example.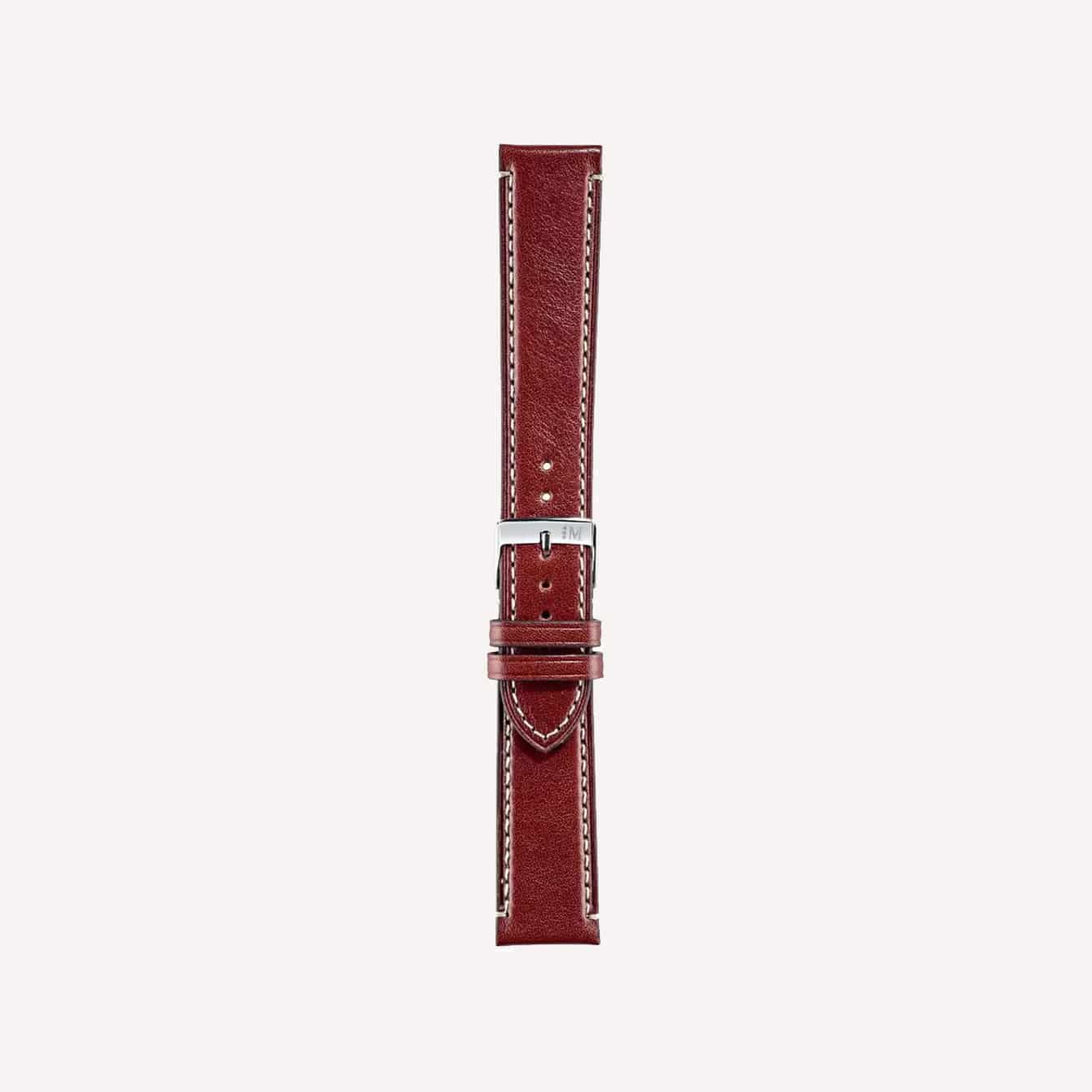 It comes in a choice of four earthy hues with contrast stitching that gives the band a handsome profile for pairing with dressy or casual attire.
FAQs About Leather Watches
Here are answers to some of the most frequently asked questions about the best leather watch bands for guys:
Which leather Is best for watch straps?
The type of leather chosen for a watch strap is down to personal choice, however, low-quality leather straps (often called genuine leather) do not last as long as full-grain leather options.
What is the softest leather for watch straps?
Chrome-tanned leather as opposed to vegetable-tanned leather straps, and lambskin leather products are soft right out of the box, however, most leather strap types require a breaking-in period to soften to the shape of the wrist.
Can you put a leather band on a dive watch?
Yes, you can put a leather strap on a dive watch. Bear in mind, however, that leather won't tolerate water as well as a quick-drying nylon or rubber band.
Are leather watch straps better?
Preferred over metal bracelets for comfort and a casual look, leather watch straps are a popular choice amongst many luxury watch enthusiasts.
Can I wear a leather watch strap every day?
Yes! Thanks to its ability to soften up and develop a worn patina over time, leather watch straps grow in appeal when worn every day.
Is alligator leather better?
Although it costs quite a bit more, a genuine alligator leather strap will offer nothing superior in the way of comfort or durability but will give your favorite timepiece a desired dressy look.
Conclusion
There are tons of leather watch straps on the market. Which will you choose?
Let me know in the comments!