Looking for a really small watch? Check out these 34mm options.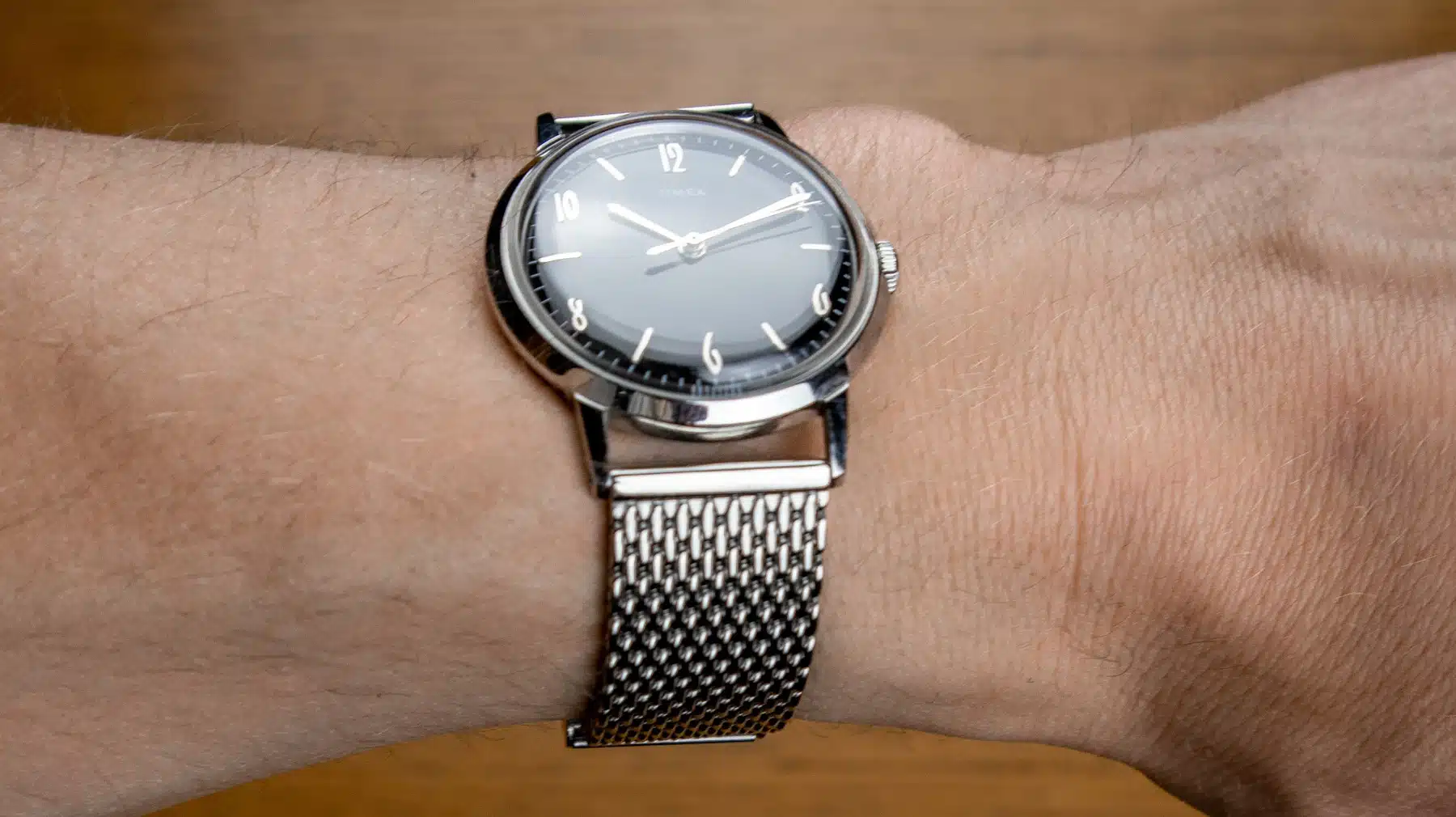 I'm a big proponent of small watches. I love telling people that I wear my 28-millimeter Omega Seamaster from the '90s as a dress watch because I'm not a big dress watch person.
Is it a ladies' watch? Yes, technically. But compared to its Mid Size and Full Size counterparts, it's definitely dressier — applied indices, a touch more shine, and that really cool embossed clasp.
Plus, here's the worst-kept secret in the watch world: There's really no such thing as men's watches and women's watches, at least when it comes to size. This is definitely a controversial statement, but hopefully I can get you on board with it with at least one of the watches in this round-up.
There will, in fact, be two or three watches here that brands might categorize as for the ladies. However, one look at any of them, and you'll likely agree that they're at the very least unisex.
15 Excellent Men's 34mm Watches
Here are my 15 choices, representing all styles and budgets:
Undone Urban 34
The Undone Urban is categorized as a ladies' watch, but it comes in the Killy Brown, which doesn't look feminine at all.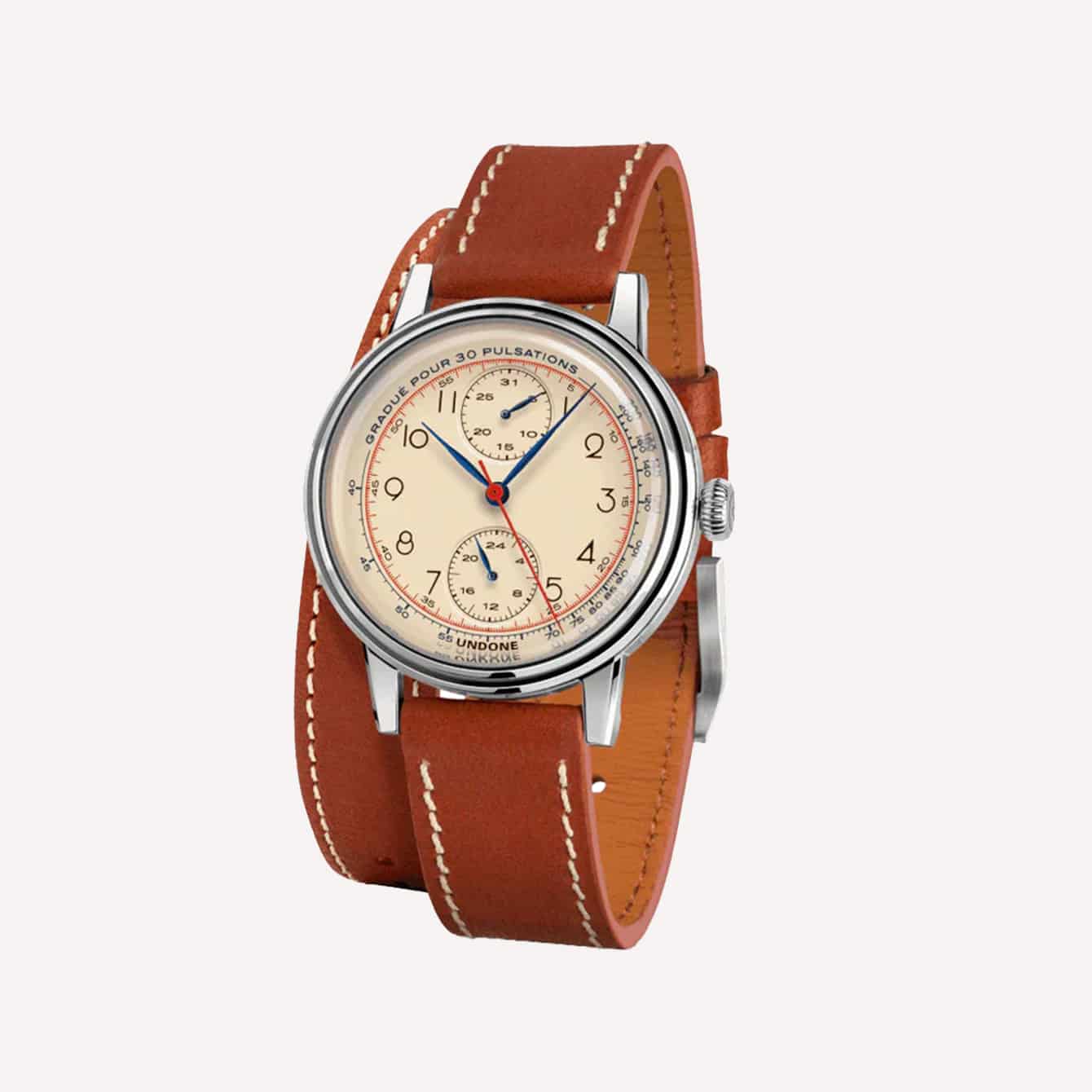 The Stellar Tiff Blue is arguably more traditionally feminine looking because of the strap's Tiffany blue hue.
If you're comfortable sporting it, more power to you. It's a stunning color.
Otherwise, you can always change the strap. These watches are equipped with quick-release systems making bracelet changes easy and fast.
The Urban has a sort of gadget-like aesthetic to it, with a touch of vintage charm. The railroad outertrack and the domed crystal, as well as that classy onion crown, come together in a lively yet practical way.
I think the Killy has a helicopter pilot adventurer vibe to it. The dressy feuille hands were likely intended to give it a feminine look, but it really just gives the otherwise fun watch a mature elegance.
Thickness: 11mm
Case material: Stainless steel
Water resistance: 30m
Uniquely, the Japanese VH61 movement is exhibited through the caseback, which I love because rarely do brands ever showcase a quartz movement.
Victorinox Swiss Army Maverick
Yet another timepiece labeled as a women's watch, the Victorinox Swiss Army Maverick, 100% has a more masculine way about it. I think it would look super stylish on a lady's wrist, but in that sort of Annie Hall menswear way.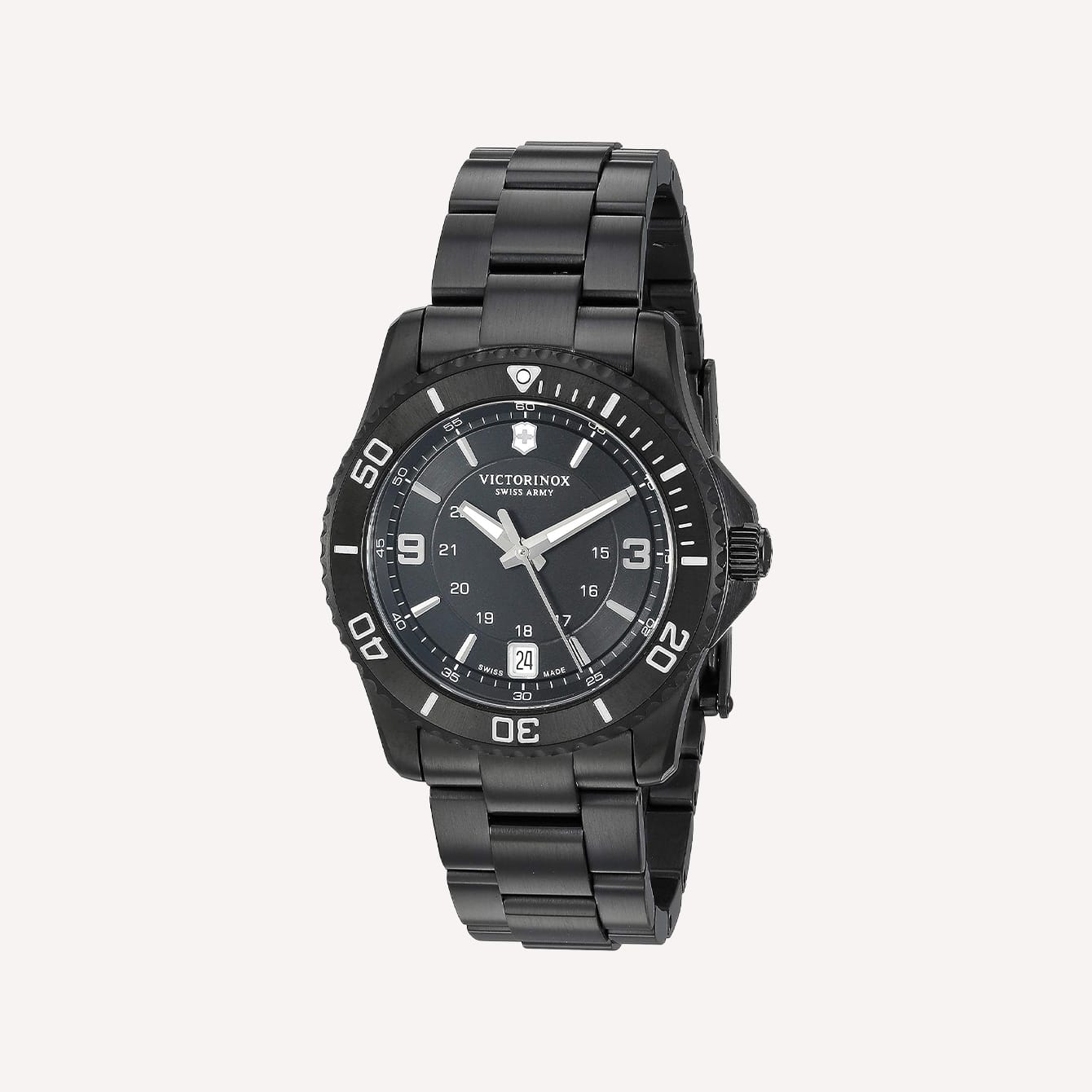 That being the case, the all-black design is sleek and commanding, and really thoughtful of Victorinox to serve up that black ops look for people with smaller wrists.
Even more clever is the fact that despite the monochromatic look, the watch is perfectly legible. Legibility is retained thanks to the fact the entire build features plenty of topography, different surface finishes, and sectioning off, which also adds to its cool gear-like look.
This is definitely an EDC watch. Even the lug corners break off, displaying the polished sides complementing the matte surface.
Thickness: 10mm
Case material: Stainless steel
Water resistance: 100m
The beautiful obsidian hue comes from the black PVD finish, which, since all of the visuals are inextricably linked to function, provides extra durability.
Timex Marlin Mechanical
Timex's first mechanical since the '80s, the Marlin is definitely one of the brand's icons. And for good reason.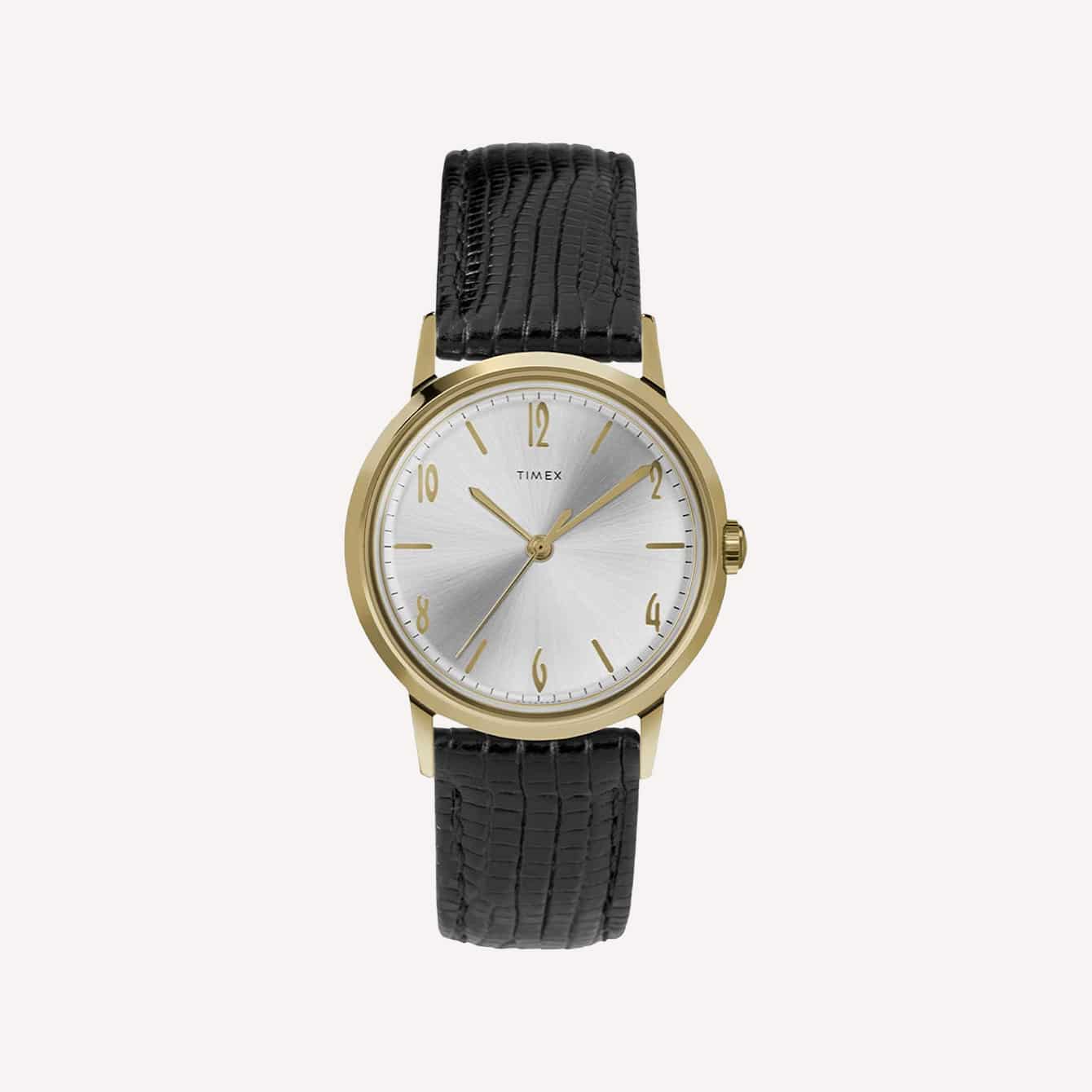 It also preceded the comeback of smaller, more reasonably-sized watches happening now. Though 34 millimeters is definitely exceptionally small for men's watches, it still has that subversive streak to it.
It's a reissue of a model from the '60s, so it's definitely swanky, with its ornate indices, sunburst dial, and distorted acrylic glass. The crown is almost flush giving it a clean, dress watch silhouette.
One of the straps it comes with is what looks to be a lizard-style leather, fully cinching the watch's martini-in-hand energy.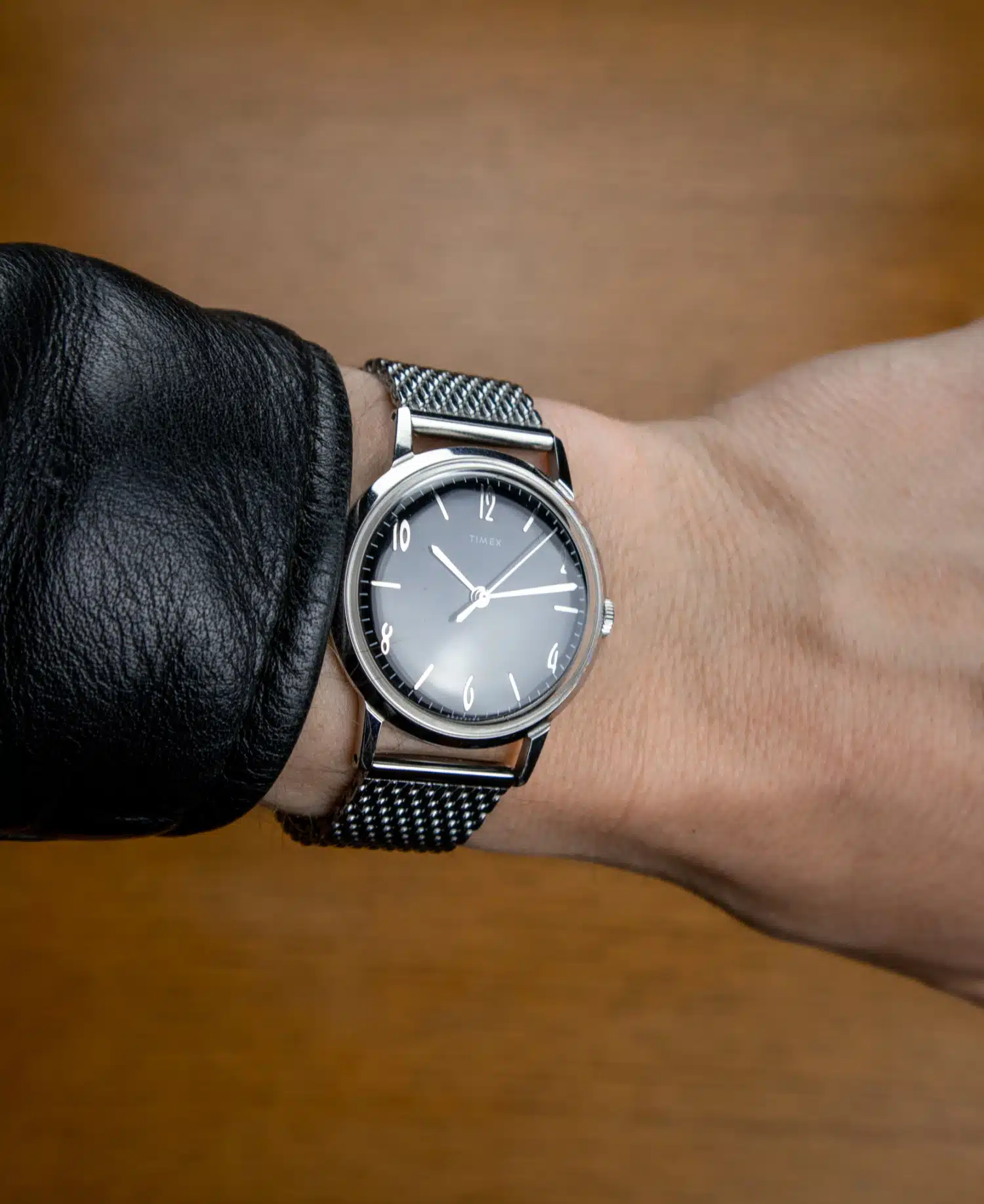 Here are the specs:
Thickness: 10mm
Case material: Stainless steel
Water resistance: 30m
I also love the mechanical movement, which gives the Marlin a tactile and engaging experience.
Omega Aqua Terra 34
Of all the Swiss hard-hitters, Omega has never been afraid to give us options. They often do iconic models in different sizes and with quartz movements.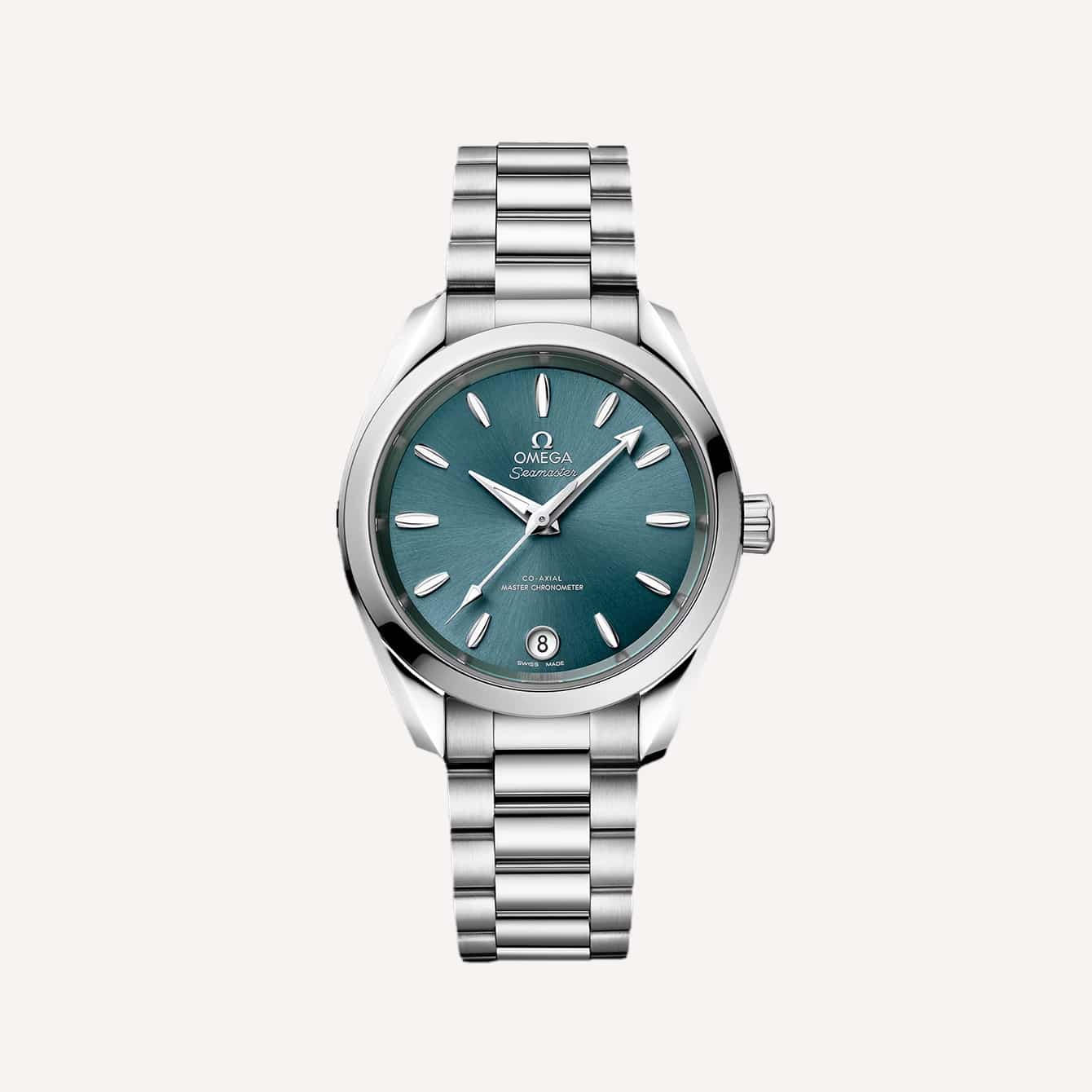 The Aqua Terra serves up a lot of the hallmarks we love about Omega, with a slimmed-down version of the broad arrow hands, and of course, the co-axial Chronometer movement.
By the way, the co-axial escapement ensures that the movement gets more accurate throughout the years with little servicing.
The impeccably brushed brass dial, which is sophisticatedly lacquered and brushed, as well as the wave-edge design, make this Aqua Terra a refined dress watch. Still, the small hints of sportiness also make it a compelling everyday watch.
Thickness: 11.9mm
Case material: Stainless steel
Water resistance: 150m
And going back to that masterful automatic movement, this watch comes with an exhibition caseback. Omega really knows how to give their audience what they want. The fact they do transparent backs is one of the reasons why they're my favorite Swiss brand.
Rolex Oyster Perpetual 34
The Oyster Perpetual is the most essential Rolex watch, the template that all Rolex watches are made from. It's simple, versatile, and undeniably elegant.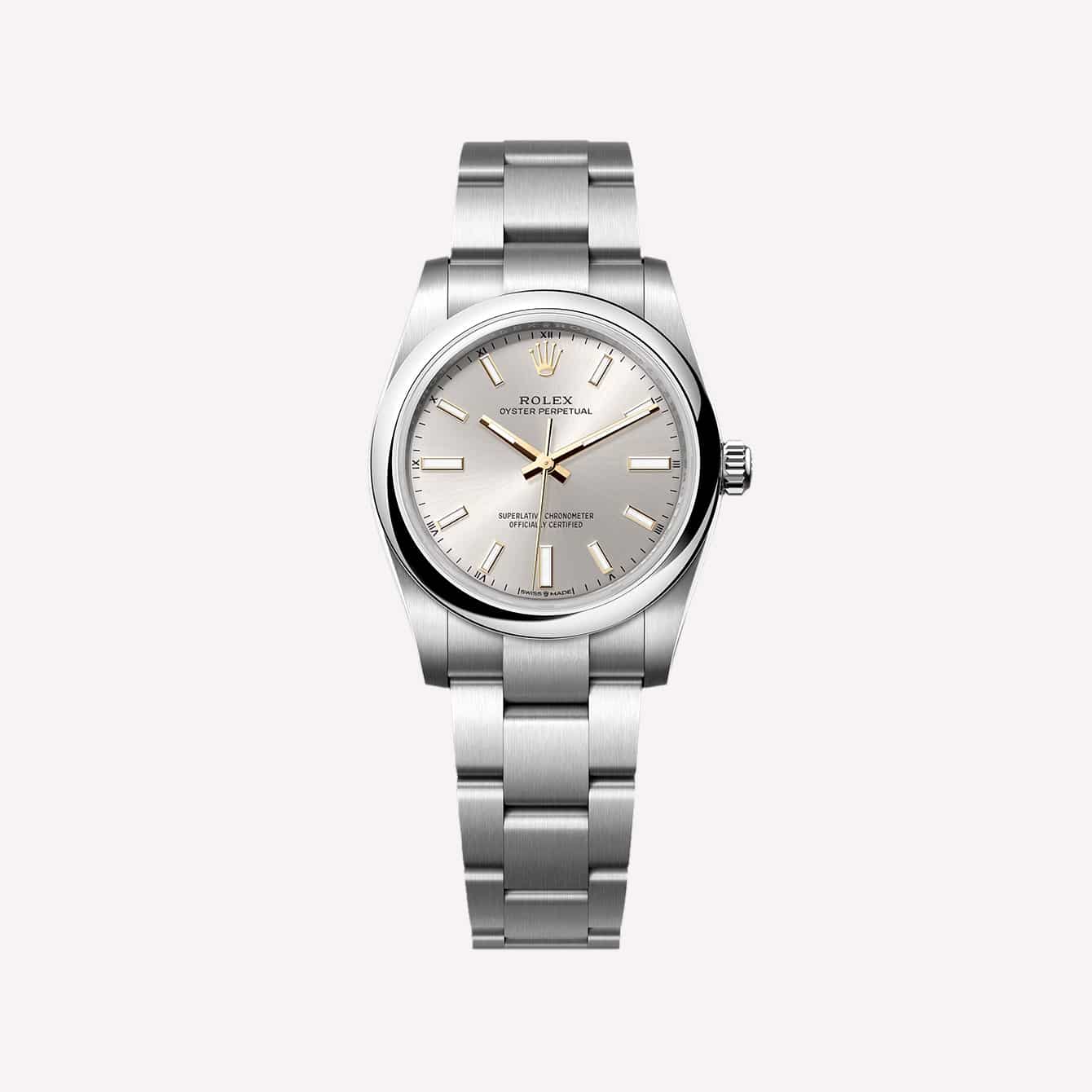 That being the case, it's no surprise, but still welcome, that the crown makes it in a range of sizes — including this 34-millimeter version.
I prefer this watch in a smaller size because the minimal design is so classy and anti-gaudy, that the understated case size is more in line with its sensibilities. It's a historically important model that also comes in different dial colors.
Regardless of which one you go for though, OPs are the kind of Rolex watches that make you look like you've been wearing Rolexes your whole life.
Thickness: 11.6mm
Case material: Stainless steel
Water resistance: 100m
Naturally, modern OPs run on COSC movements with the brand's Parachrom hairspring which makes it stronger, while upping its performance. This caliber, and that perfectly-proportioned dial, are protected by Rolex's famed twinlock, screw-down waterproofing system.
Cartier Santos-Dumont
So technically this Cartier Santos-Dumont has case dimensions measuring 38 millimeters by 27.5 millimeters, but between the two sides, it wears pretty small.
The Santos-Dumont is definitely for the fancy guy who likes high-class aesthetics, not least of which is because of the brand name.
Beyond that, elements like the pearled jewel crown, royal blue hands, and stately Roman numerals are balanced out by the industrial-leaning exposed screws and the sturdy case.
As always, every detail on this watch is immaculate, from the polish of the bezel to the lustrous dial. It wears like a piece of really artistic jewelry.
Thickness: 7.3mm
Case material: Stainless steel
Water resistance: 30m
Going for a steel bracelet will bring out the more industrial side of the watch, but the alligator bracelet it comes with is on-point with its strapping yet decorative look.
Nomos Glashutte Ref. 101
Nomos Glashutte makes this particular design in a few sizes, and this Ref. 101 is a bit of a cheat. It's a bit bigger than 34 millimeters. Between its 35-millimeter diameter and its 6-millimeter height though, it wears just as comfortably.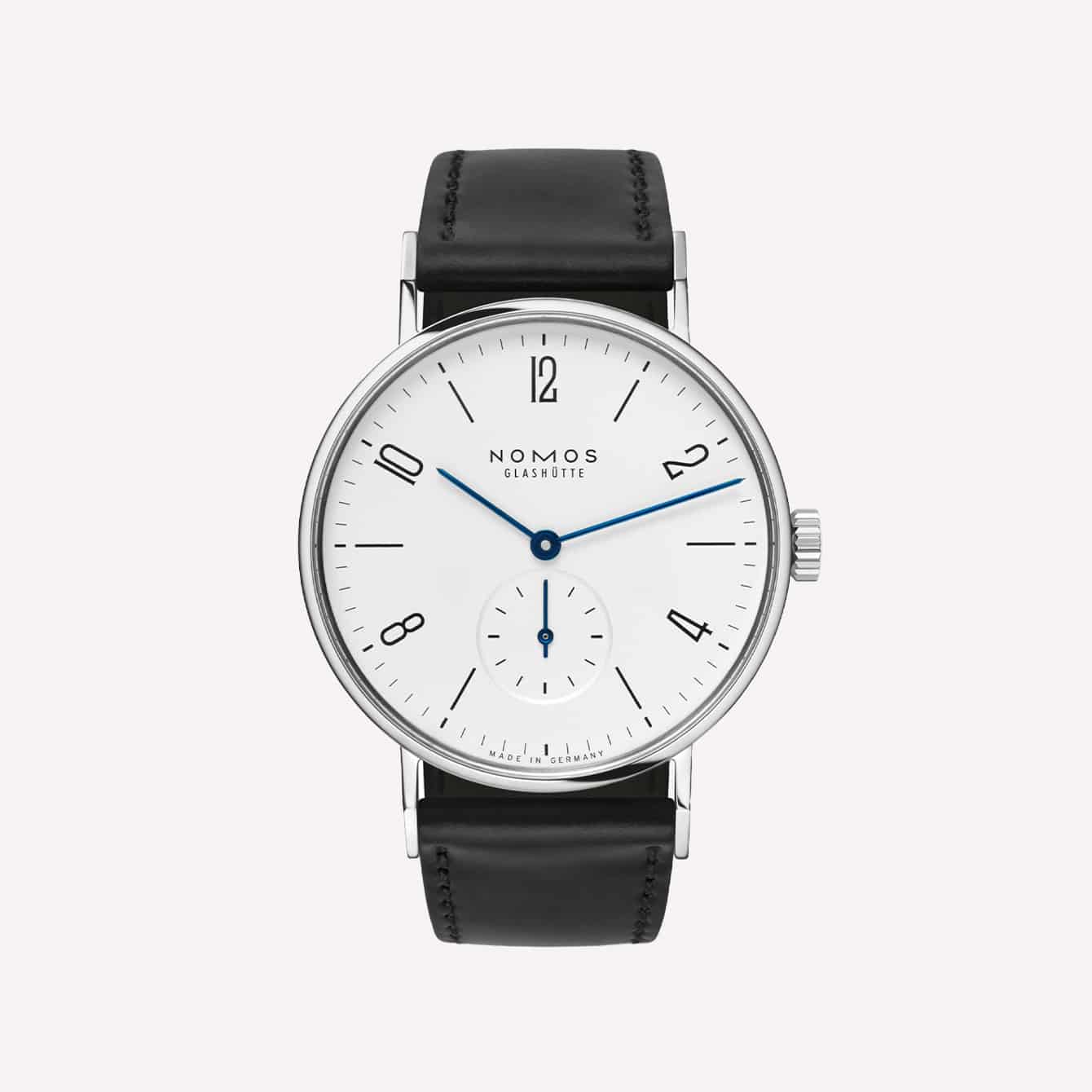 Going back to the design, this is a classic Bauhaus look, the brand's specialty. Even though this smaller version has less surface space, the elongated elements and line-forward look remains.
This isn't just part of the minimalist charm of the watch, it also makes it easy to read. The hands go all the way to the edges, so there's no mistaking where you're at in the day, to the second.
Thickness: 6.2mm
Case material: Stainless steel
Water resistance: 30m
It also runs on a super thin movement (2.6 millimeters to be exact), the Alpha manual. Like the Timex Marlin, this guy is a manual winding, making it a fun piece of gear to tinker with.
Longines Hydroconquest Quartz
I love a watch that's designed so well that it can take up visual space on your wrist without taking up actual space. As with any classic diver, the quartz version of the Hydroconquest by Longines is a brawny tools watch, with a thick bezel and strong case.
It also combines pilot watch qualities, like the large, contrasting cardinals, which provide excellent legibility from every angle.
If you're looking for a classic, athletically-sized dive watch but find that most are too big, this Hydroconquest is perfect. It's not too big for anyone, really.
And as any diver should be, it's spec-forward, boasting 300 meters of water resistance, a crisp coin-edged ceramic bezel, and a scratch-resistant sapphire.
Something to note is that this 34-millimeter version has a reference number of L3.340.3 or .4, with the last three digits varying depending on the colorway, of which there are many.
Thickness: 10.8mm
Case material: Stainless steel
Water resistance: 300m
Depending on your personal style, you can go for black and gold, or rose gold and black, or even rose gold and blue.
Junghans Max Bill Hand-Winding
First off, I want to give Junghans some praise for not separating their 36-millimeter watches or even their 34-millimeter watches into the ladies' section. Every size they make is unisex, including this efficient minimalist Max Bill.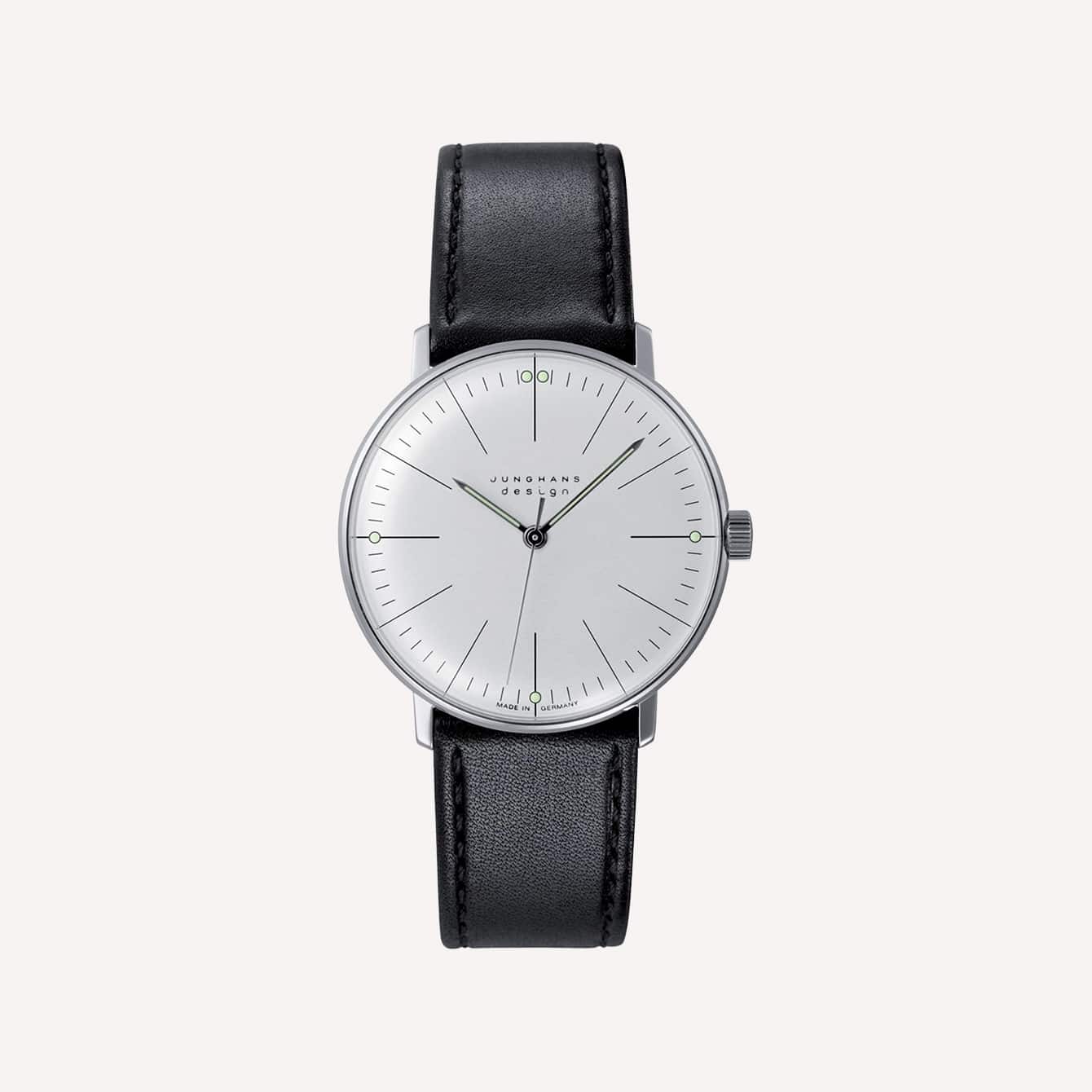 Furthermore, since the design is so attractively sparse, the smaller cases suit it more. There would be far too much negative space in, say, a 45-millimeter version.
Max Bill is an industrial designer whose clocks are in the MOMA collection, making this watch a piece of art in its own right.
I especially enjoy the lume green cardinal indices and hands, which give the watch an illustrative pop without taking away from its minimal character.
Thickness: 9mm
Case material: Stainless steel
Water resistance: 30m
All that together results in a timepiece that can be worn as an unstuffy dress watch or a leveled-up casual watch, depending on the strap you put it on.
Marathon General Purpose Mechanical
The Marathon GPM, or General Purpose Mechanical, is a military watch oozing with cool factor.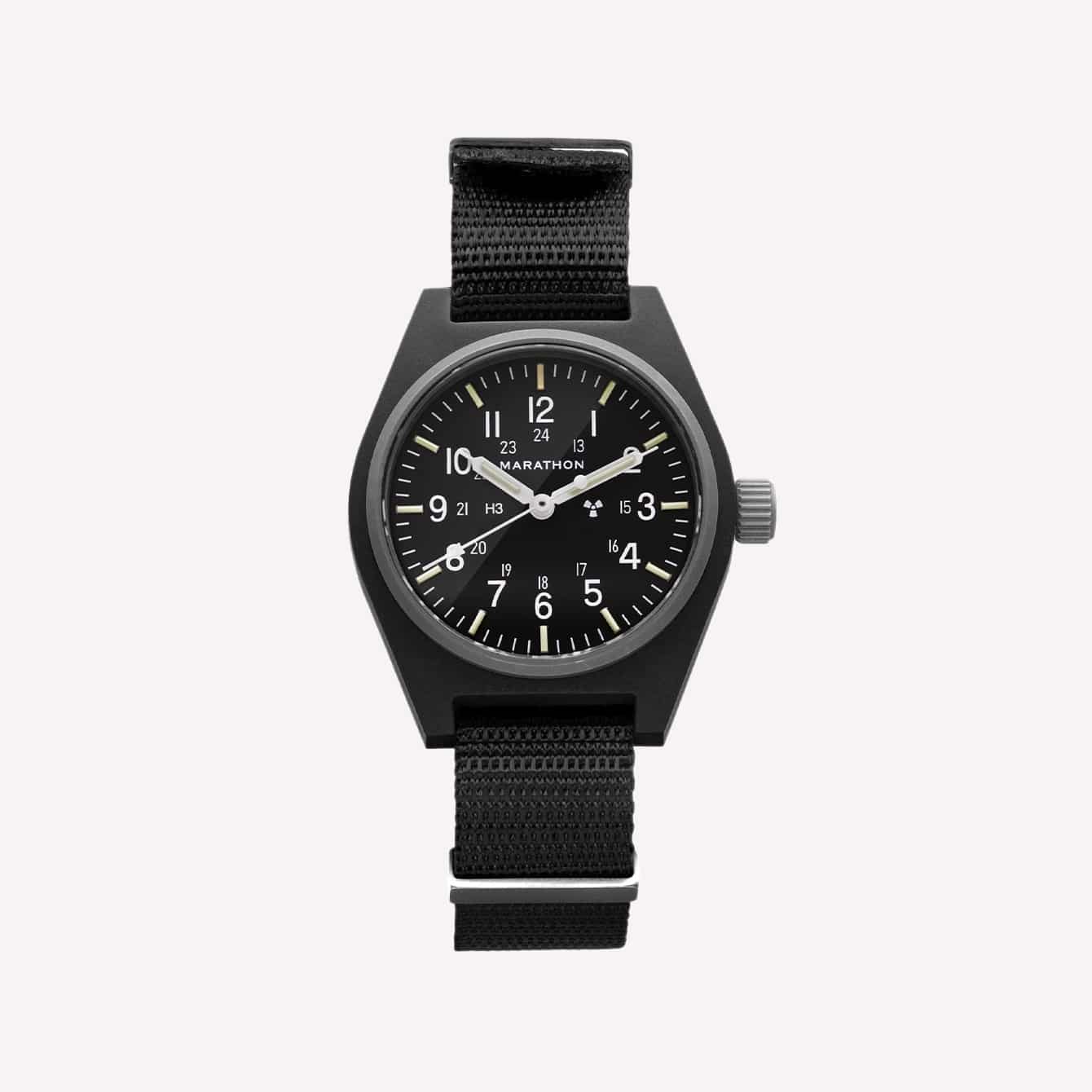 It's built to strict military standards, meaning this watch is a true beater that can handle anything you throw at it, while also adding a pop of style to your casual outfits. I can see the GPM going handsomely with some service boots.
The crystal is scratch-resistant sapphire, and the movement is fully automatic. I think we sometimes forget that automatics are still mechanicals, so the name "General Purpose Mechanical" might be confusing to some. You can still wind it up using the crown though.
Thickness: 11mm
Case material: High-Impact composite fiber shell
Water resistance: 30m
Arguably, one of the most special specs on this watch is its composite fiber shell. It gives it a matte, crisp, and modern style, and is super tough.
Casio World Time A500WGA-9DF
The Casio World Time, reference A500WGA-9DF, is retro-cool encapsulated. It's small and timelessly vintage.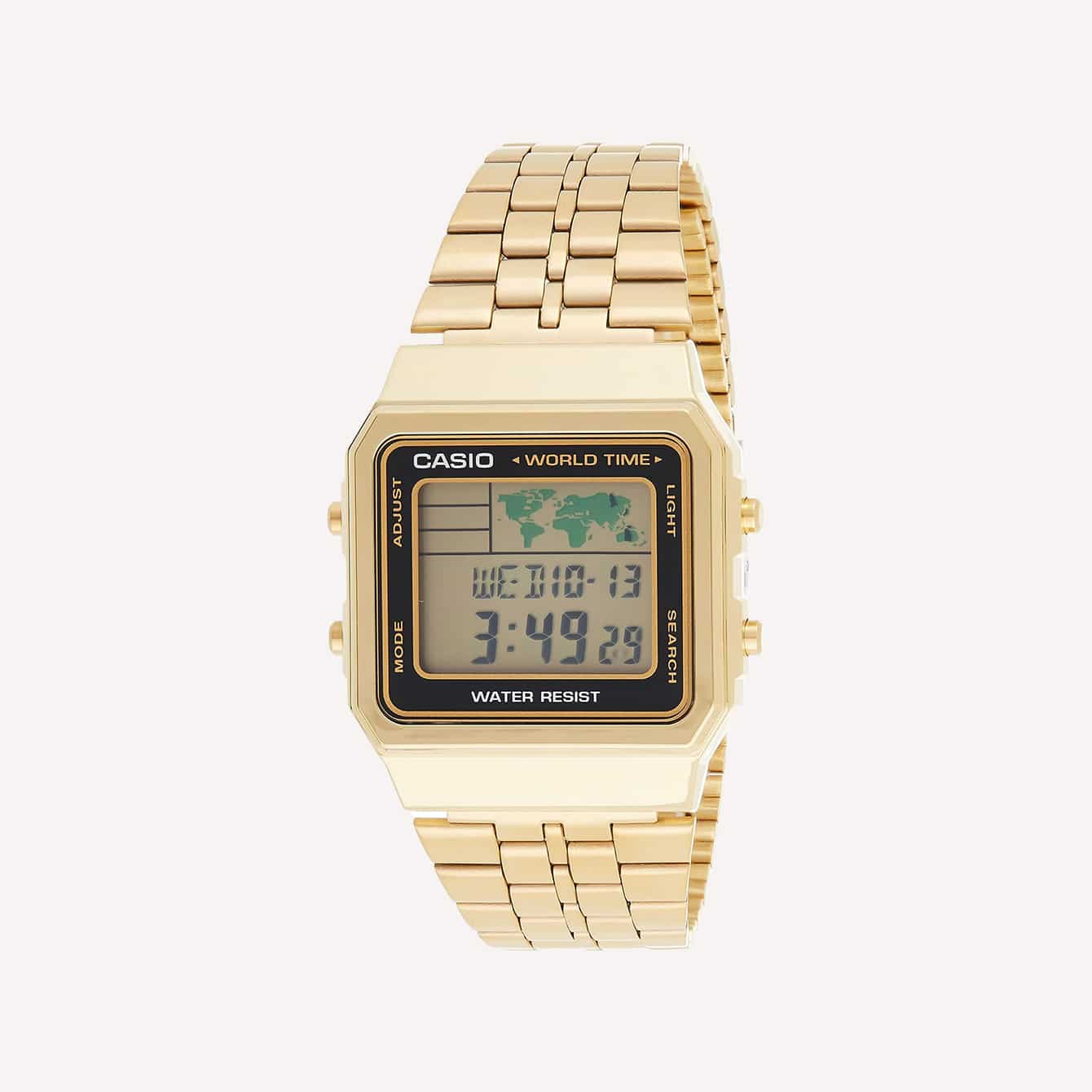 I know that "timelessly vintage" is an oxymoron, but let's be real; this watch will always look like a blast from the past in the best way possible, no matter what kinds of timepiece designs go in and out of style.
That being the case though, its understated size and time capsule vibe makes it the perfect entry point for those of you flirting with the idea of an all-gold watch, but aren't quite sure if it's for you.
The color is perfectly appropriate considering it's hat-tipping the '70s, the era of the Pulsar watch.
It's also function-forward, and function-forward-looking. The green-toned map of time zones makes it look like a secret agent's watch, while also complementing the yellow-gold hue of the body.
Thickness: 9.6mm
Case material: Resin
Water resistance: 30m
I always say that the A500WGA-9DF effectively balances gadget-esque aesthetics with jewelry-like characteristics.
Tissot PRX Powermatic 80
Here's one more cheat for the round-up (as in, this watch is just about 35 millimeters). The Tissot PRX Powermatic 80 does something visually similar to watches like the AP Royal Oak, in that it combines dressiness with an industrial brawn.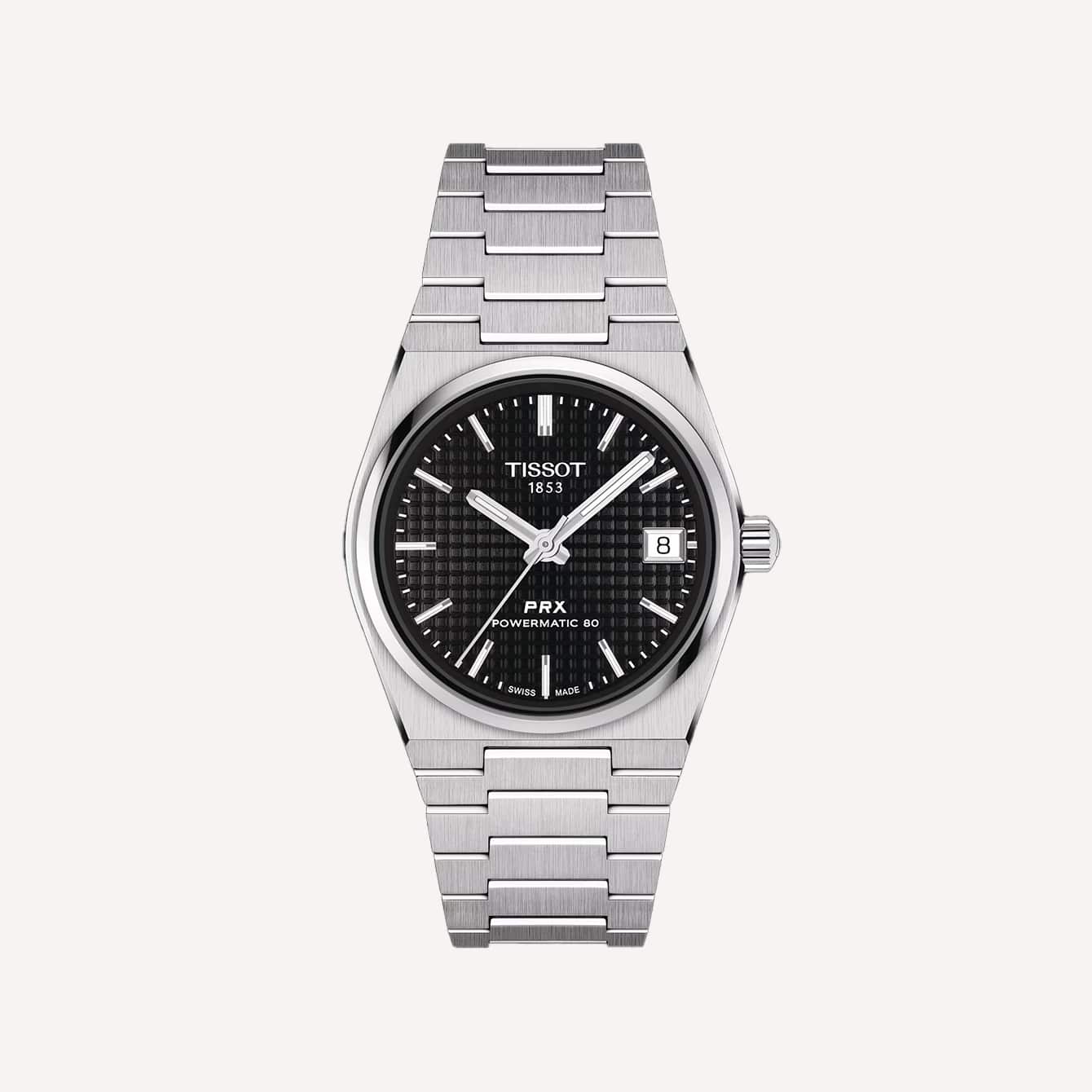 Just look at the dimensional waffling on the dial face. The result is a perfect everyday watch, the kind you can wear with a suit to work, or with, well, anything over the weekend.
The integrated bracelet makes it wear like a cuff, so even though the watch itself is small, the wear is substantial but not overbearing. You can always count on Tissot to give us a versatile timepiece, complete with the coveted Swiss-Made moniker for less than a grand.
Thickness: 10.9mm
Case material: Stainless steel
Water resistance: 100m
On the functional side, the Powermatic 80 is one of the brand's pride-and-joys. It's an automatic with, as its name indicates, a whopping 80-hour power reserve, and a Nivachron balance spring making it extra resistant to magnetic fields.
Timex Waterbury
If the Timex Marlin is just a little too swanky for you, allow me to direct you to the Timex Waterbury.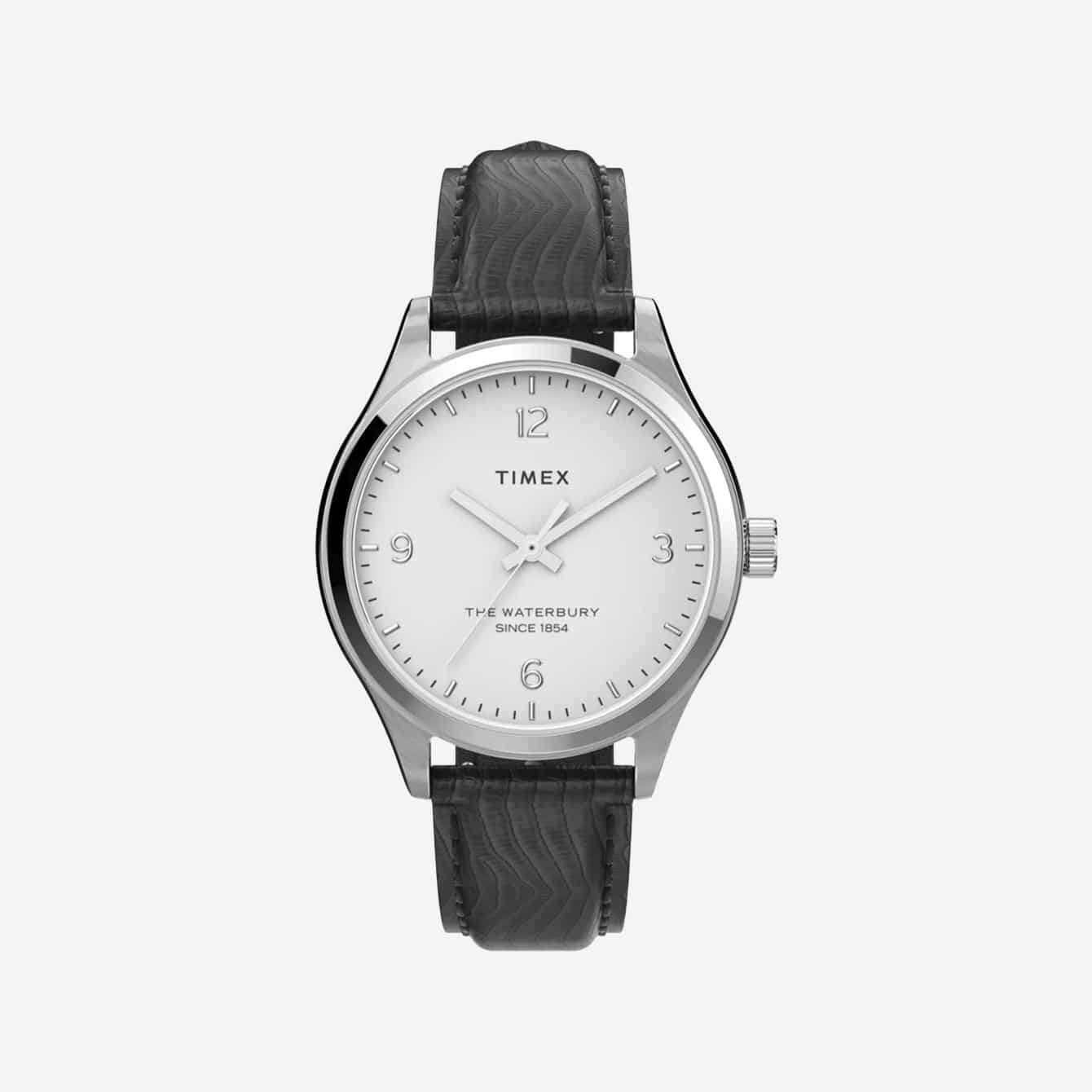 A lot of the same broad strokes are there, from the simple and classy silhouette to the Arabic twelve, three, six, and nine markers.
Even the lizard-style leather strap is included. However, the overall look is more traditional, with a straightforward font, a matte dial, and stick hands. It's a stylish watch that doesn't seem to try to be stylish.
Thickness: 11mm
Case material: Stainless steel
Water resistance: 50m
This simplicity and no-nonsense approach is balanced out with the prior-mentioned strap and the swerves of the case moving into the lugs. It's both modern and classic and can be worn in practically any situation imaginable.
Rolex Air-King 14000
When it comes to the kinds of guys the Rolex Air-King is for, it's been suggested that it's more for the Robin than the Batman.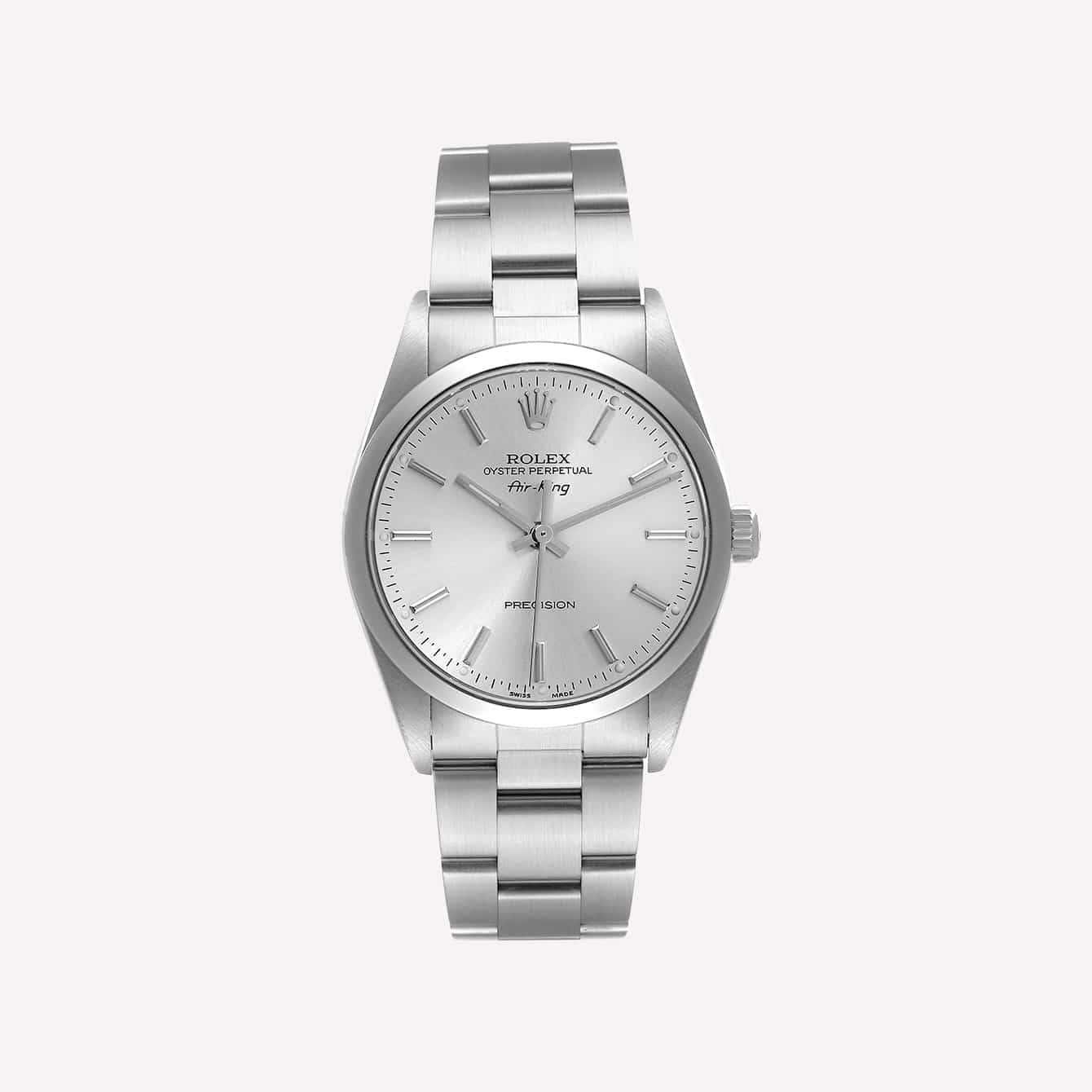 First off, as this round-up has proven thus far, smaller watches can be perfectly commanding and grown-up-looking.
Second, some guys embrace a boyish, impish, and "Robin-like" mentality, and the Air-King is arguably a sophisticated rendition of those values.
It's a pro-function watch that became a style icon incidentally. After all, it was meant to be a tribute to flight when it first came out in 1945. While the GMT-Master II is more of a cosmopolitan jet setter watch, the Air-King has a sense of "frontierism" about it.
Thickness: 11.5mm
Case material: Stainless steel
Water resistance: 100m
Whether you go for the all-baton dial or the ones with the prominent cardinals, the Air-King 14000 is 34 millimeters in size and features that charming cursive Air-King appellate.
Seiko Presage SRP837J
I bet you didn't know that Seiko made a 34-millimeter watch for men. Okay, so technically the Seiko Presage SRP837 is a unisex watch, but what it does well is it takes the bling mentality of the Cocktail Time sublime and shrinks it down, effectively making it more wearable for a much wider range of personal styles.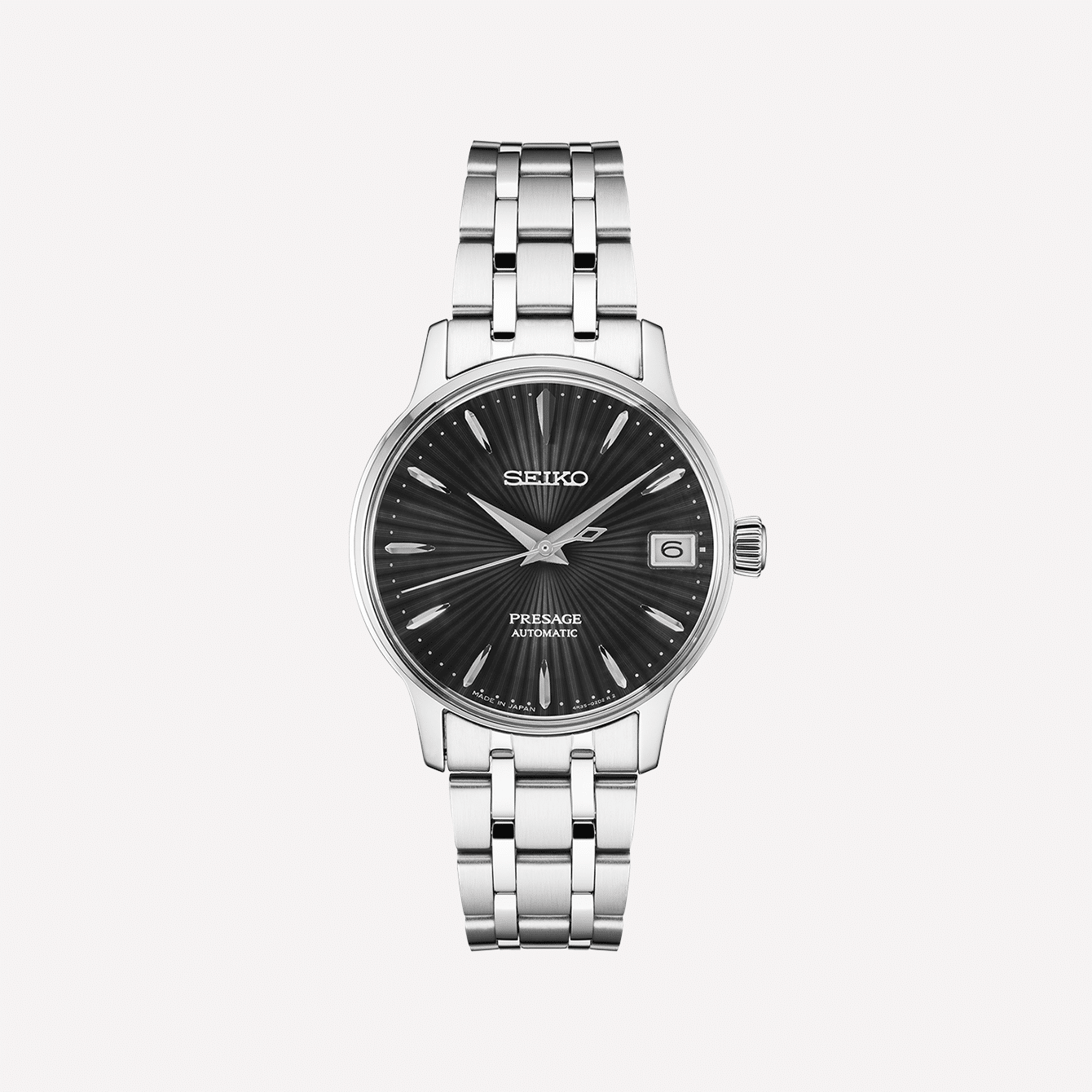 The dagger indices are precise and refined, pointing right back at the sword hands, and popping beautifully behind the fan pattern on the dial.
This watch really sparkles. Again though, this is tempered by its size and overall sophistication. Basically, it looks and feels more expensive than it is.
Thickness: 11.3mm
Case material: Stainless steel
Water resistance: 50m
Turn the watch around to see the 4R35 automatic movement, which is a traditional Seiko workhorse with hacking and hand-winding.
FAQs
Here are some quick answers to commonly asked questions about 34-millimeter watches — in case you have any more concerns!
Are 34mm watches for women?
Many brands will categorize watches under 36 millimeters as women's watches. However, a lot of these watches are also visually similar to larger versions categorized for men. That being the case, anyone can wear a 34-millimeter watch if it suits your wrist size.
Is 34mm too small for a man?
The classic size for a men's watch is 36 millimeters. If you're a man with a smaller wrist, you might consider a 34-millimeter watch. You might even consider it for dress watches, regardless of your wrist size, since they're meant to be daintier.
Conclusion
So yes, it does take some digging to find watches with 34-millimeter cases for men. Fortunately, I did that for you here.
I think that it's a fine size for minimal watches because it reduces negative space, as well as tool watches since they're often built to be visually brawny already. And, of course, dress watches are always suitable in smaller sizes.
My main piece of advice when it comes to watches under the 36-millimeter mark is to not be afraid of checking out the ladies section. As some of the pieces here proved, they're not always hyper-feminine in the traditional sense.
Often, brands will in fact just shrink down popular men's models to create these ladies' versions, making them exactly like the men's versions aesthetically.
What size is your smallest watch? Tell me down below!