In this article, we round up our picks for the best Audemars Piguet Royal Oak Alternatives. Read on to see the full list.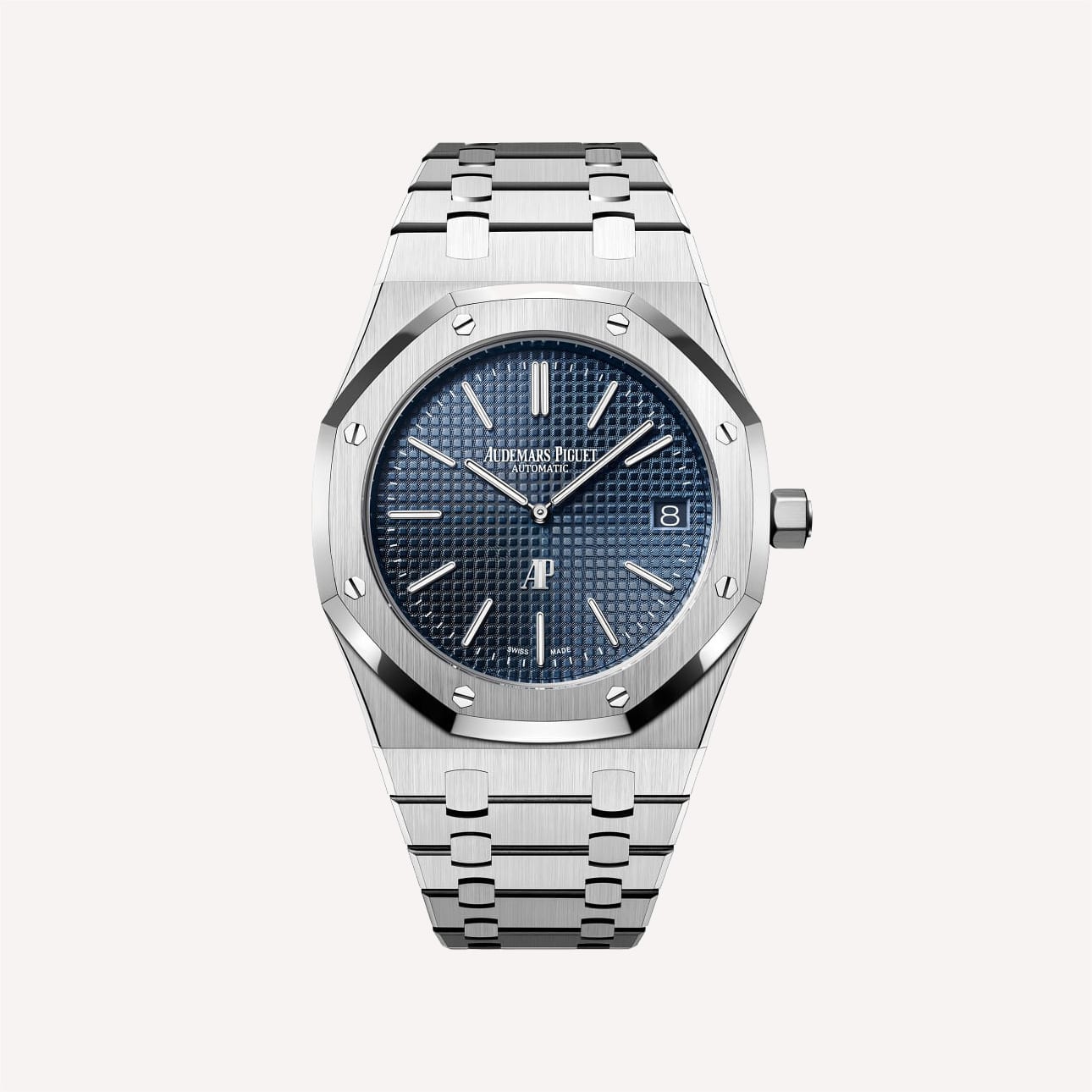 When it debuted at Baselworld in 1972, the Audemars Piguet Royal Oak was the hottest must-have in the watch world.
The revolutionary design was the Swiss brand's radical response to the quartz crisis, which ravaged many heritage watchmakers at the time. Today, it's both a collection staple and a status symbol.
The modern Royal Oak line comes in several variations. Every version maintains most, if not all, of the following features:
Octagonal bezel
Eight hexagonal screws
An integrated and complex bracelet, inspired by the back of a seahorse
Guilloché tapisserie dial
Steel case
We've rounded up 10 Audemars Piguet Royal Oak alternatives, a mix of homages and competitor pieces with similar vibes. We threw in a luxury piece, but each entry is still more affordable than an actual AP.
If you're looking for a low-priced lookalike or a Royal Oak remix, you're in the right place.
Watches That Look Like Audemars Piguet Royal Oak
Here are some watches that look similar to the Audemars Piguet Royal Oak.
Bulova Classic 98D103
This Bulova Classic is a glimmered-up version of the now-elusive Bulova Royal Oak, which was as close to the Audemars Piguet a watch can get while still maintaining its own identity.
Two big differences between this Classic and both original Royal Oaks include the faux-diamond indices and the bracelet. Instead of the sophisticated ladder design, the 98D103 is strapped onto an oyster-like three-link bracelet.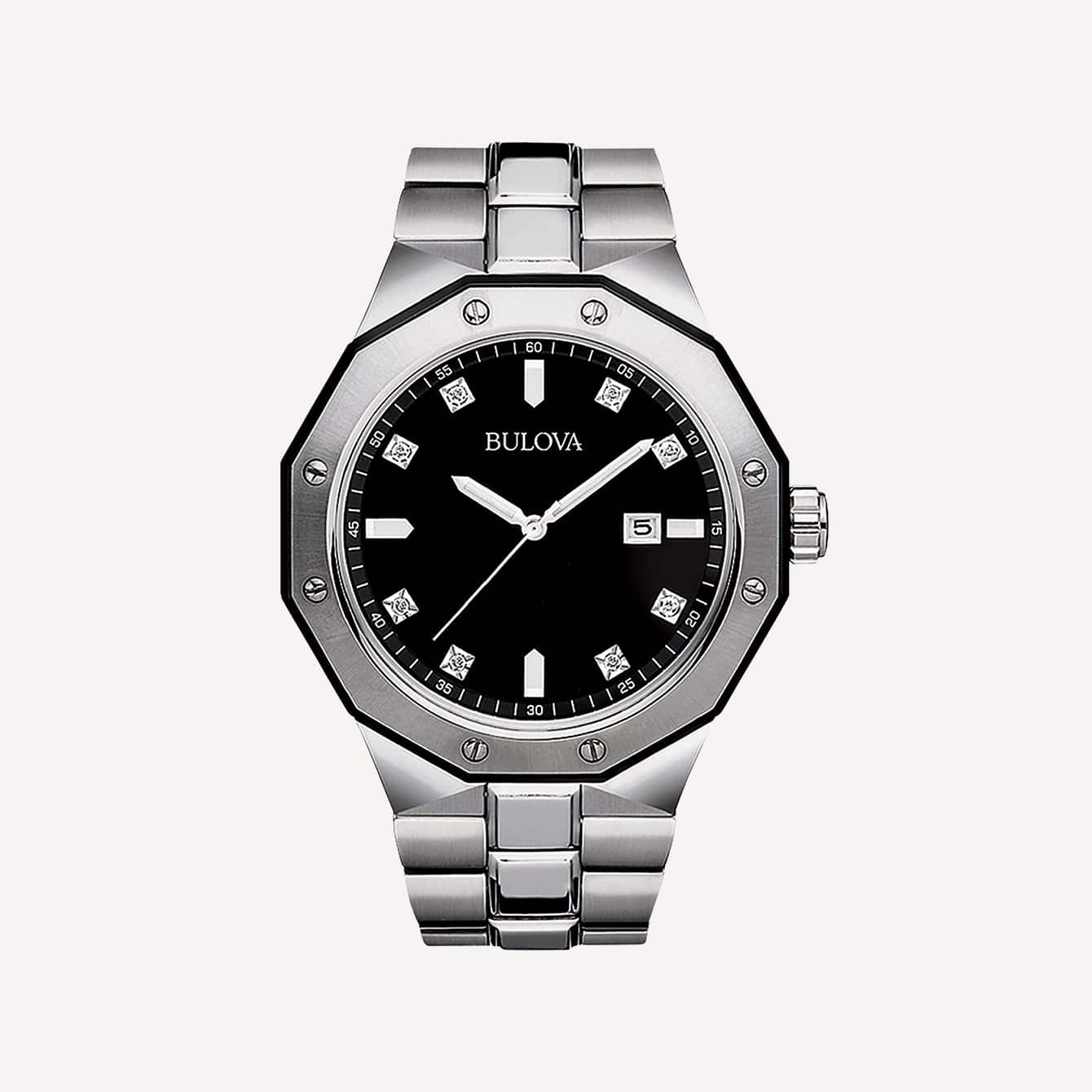 The polished middle link is raised, providing more surfaces for light to hit, which adds more sparkle to the visual experience.
Neither the original Bulova Royal Oak nor this Bulova Classic 98D103 have the tapisserie dial. It's more like the diamond-bejeweled Royal Oak Jumbo Extra Thin, rather than the core model.
Some specs include a 44mm case, a mineral crystal-window, 100m of water resistance, and batons for the 3, 6, 9, and 12 markers. It runs on the basic but can't-go-wrong Citizen 2117 quartz movement.
Moreover, the Bulova's bezel has a whopping 12 sides compared to the Royal Oak's eight. Overall, there are more lines on the Bulova for a more architectural, modern, and masculine look.
Perry Ellis Decagon Watch
What I like about this watch is less about its similarities to the Royal Oak, and more about the thoughtful differences.
In general, there is a lot more linework in the design of the Perry Ellis Decagon. The bezel is ten-sided rather than eight, the links are thinner and more crowded, and the indices are dagger-like. Even the hands are sword-tipped, while the crown guards feature hard edges.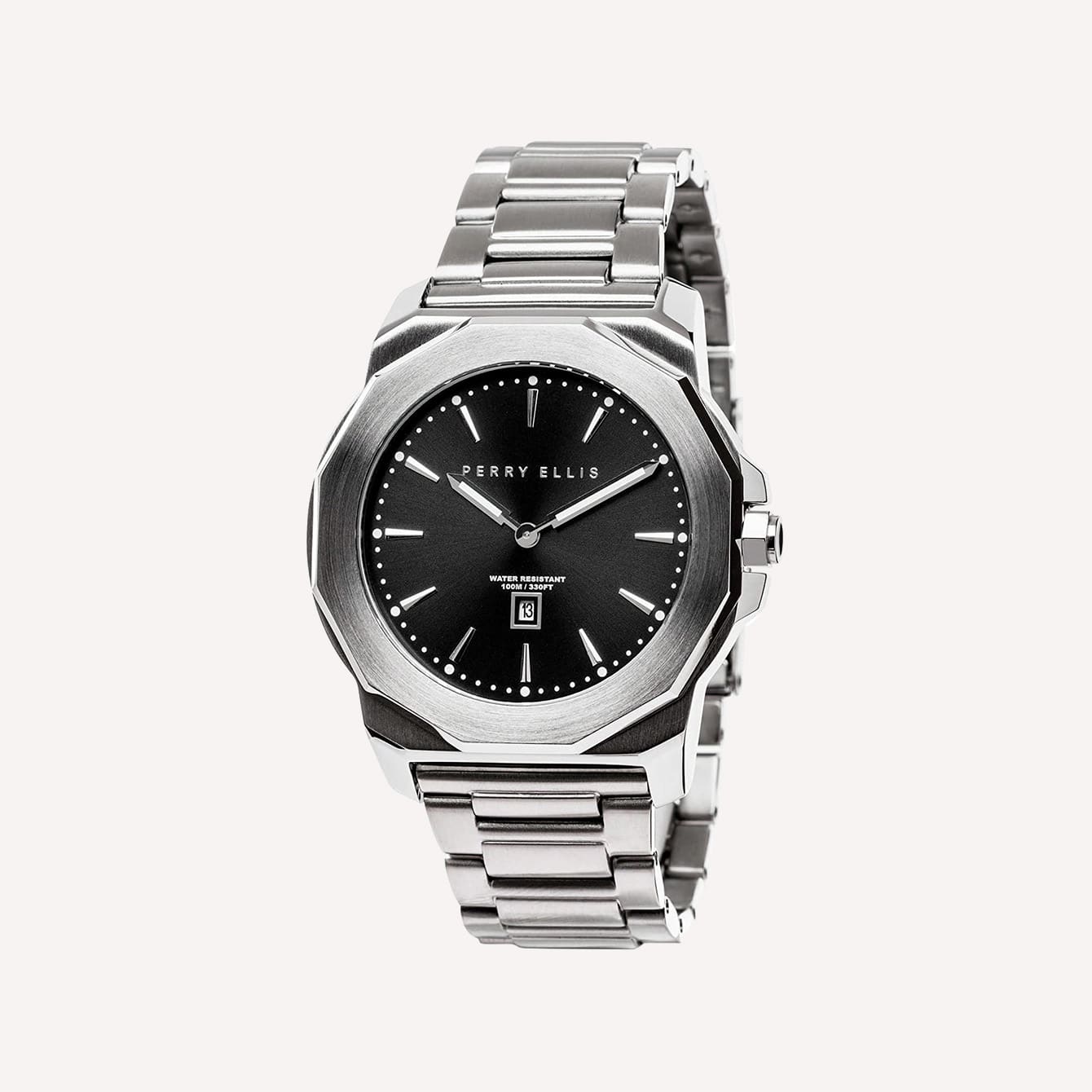 It's a laser-sharpening of the original Royal Oak's design, shaving off the touch of industrialism of its source material. Even the screws were left off the bezel.
The silky black dial is brushed with a sunray face adding elegance and balance to the harder-designed body of the timepiece. The case itself is 42mm and runs on a Japanese quartz movement with an analog date.
This date sits right above the 6 mark, encased in a window that's designed on-theme with the rest of the watch: Long, sharp, shiny.
Is it a fashion watch with a designer brand on its face? Yes, but it's a fashion watch with a respectable 100m of resistance, a two-year warranty, and surgical-grade stainless steel construction.
Moreover, at least Perry Ellis is known just as much for its sportswear as it is for its dressy lines. They know how to combine form and function, and this watch is proof of it.
Feice FM019
The Feice FM019 is 100% a copy-and-paste job, the blueprint fully lifted from the Royal Oak.
You've got the octagonal bezel inspired by a ship's porthole, eight hexagonal screws, and the tapisserie dial. Even the integrated bracelet features the same different-sized links arranged in diminishing order to keep the watch from weighing down.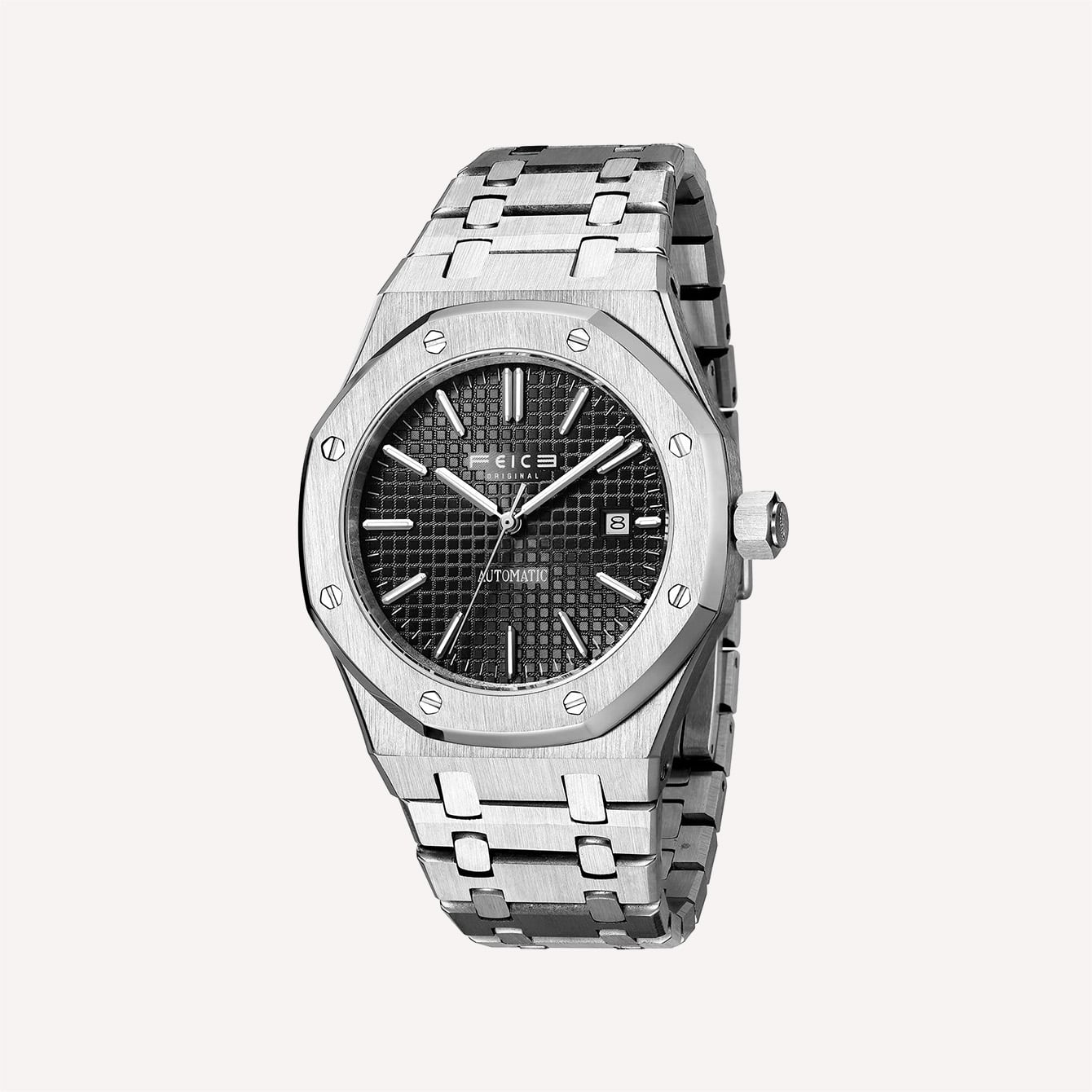 For an affordable Chinese homage, I'm impressed that the bracelet has screw adjustments, and not just push-pins.
Other accurate details include the horizontal brushing on the side of the case, the polished stepped bezel with a brushed top, the paddle hands, and the double indices for the 12 o'clock position.
The FM019 is 42mm with a sapphire-like crystal. All of Feice's descriptions use the word "sapphire" to describe this mirror, but it's a synthetic imitation that isn't as strong. It is glare proof though.
It runs on China's Seagull movement, which is a simple and hand-winding automatic that has an excellent 72 hours of power. Other than its reserve, it's a pretty straight-forward, no frills caliber. At this price though, it's enough to satisfy the horologically curious.
A lot of homage-seekers often compare Feice to San Martin, another Chinese manufacturer. They're the exact same price-point as Feice, but with far superior finishing. Admittedly, the FM019's finishing isn't perfect.
When it comes to the Royal Oak though, it's all about the design template and Feice followed it to a tee.
Citizen Corso
As a Royal Oak alternative, this gold-toned Citizen Corso is specific to the gold-on-gold edition of the Jumbo Extra-Thin.
Like most entries, the Corso features the necessary octagonal bezel. However, the slightly bowed edges is a nice detail that homages often leave out.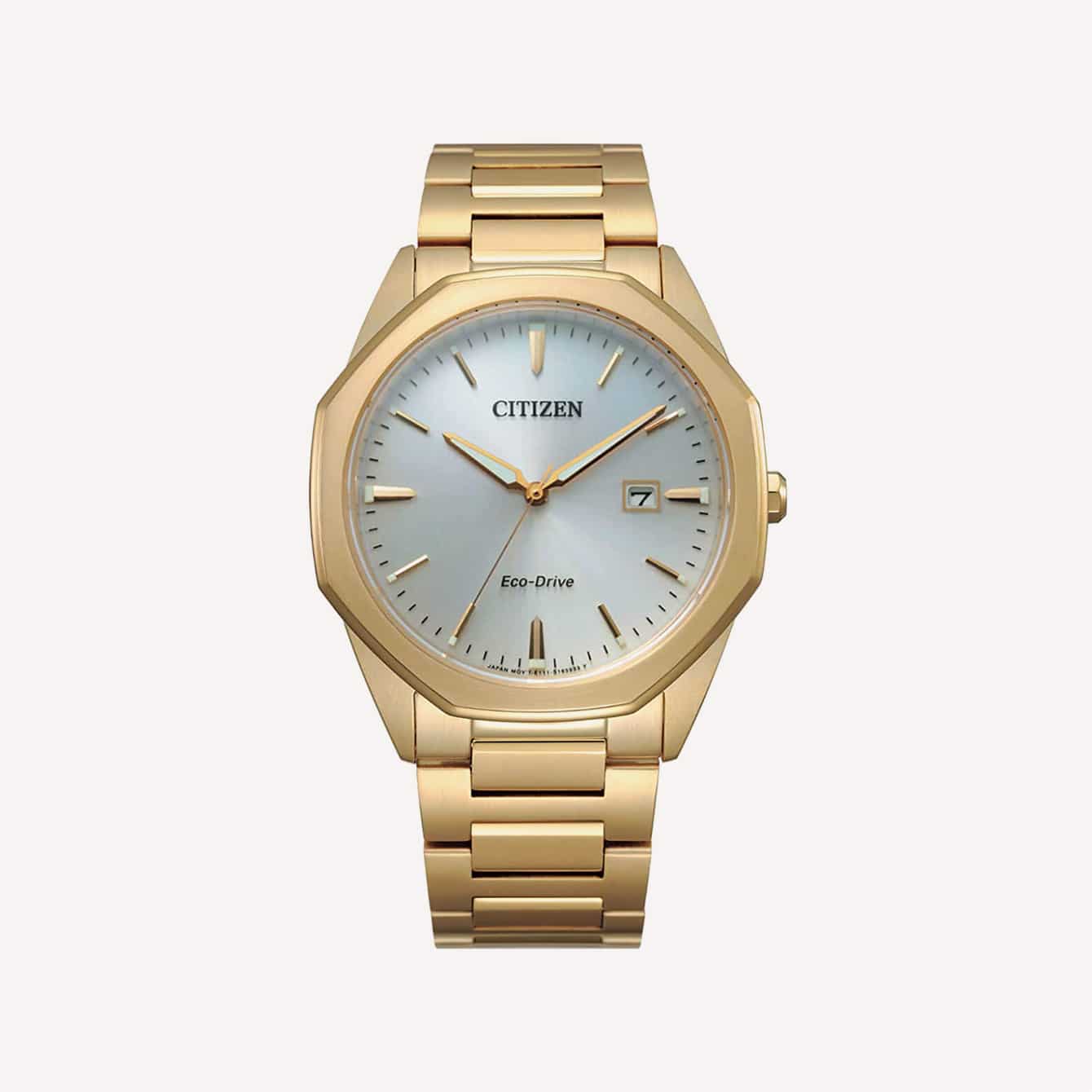 This watch leans harder into the dressy aspects of the Royal Oak, and less into the industrial elements. By keeping this small detail, it's still reminiscent of its source material, despite the lack of exposed screws and a perfectly integrated bracelet.
It also has a high-gloss silver-toned dial, making it a shiny but more understated watch than the Audemars Piguet. 
The Corso's case is 41mm, it's protected by a sapphire crystal, and has 100m of water resistance. It runs on Citizen's famous Eco-Drive technology, a sustainable power source fueled by light that can last up to 10 years on full charge.
Citizen is a good brand for homages for two reasons. First, they obviously have horological chops. Second, they're a heads-down, technical-focused company that doesn't really have a brand-focused aesthetic.
As such, they're never trying to infuse other watchmakers' designs with any sort of "Citizen" treatment.
Generally, going for a reasonably-priced alternative to an expensive model's all-gold variation can prove wise in the long run, since precious metal timepieces don't always keep their value.
Timex Essex Avenue
I think of the Timex Essex Avenue as a modern reboot of the original Royal Oak. It doesn't faithfully apply any single design feature from its source material, but instead revamps each feature for a cool, contemporary audience.
The Essex Avenue has a smoother bezel, with a whisper of an octagon. The dial is a stark, minimalist black. This serves up a stylishly legible contrast with the green hands and indices, the exact shade as the famous Timex Indiglo lume, which this watch is obviously equipped with.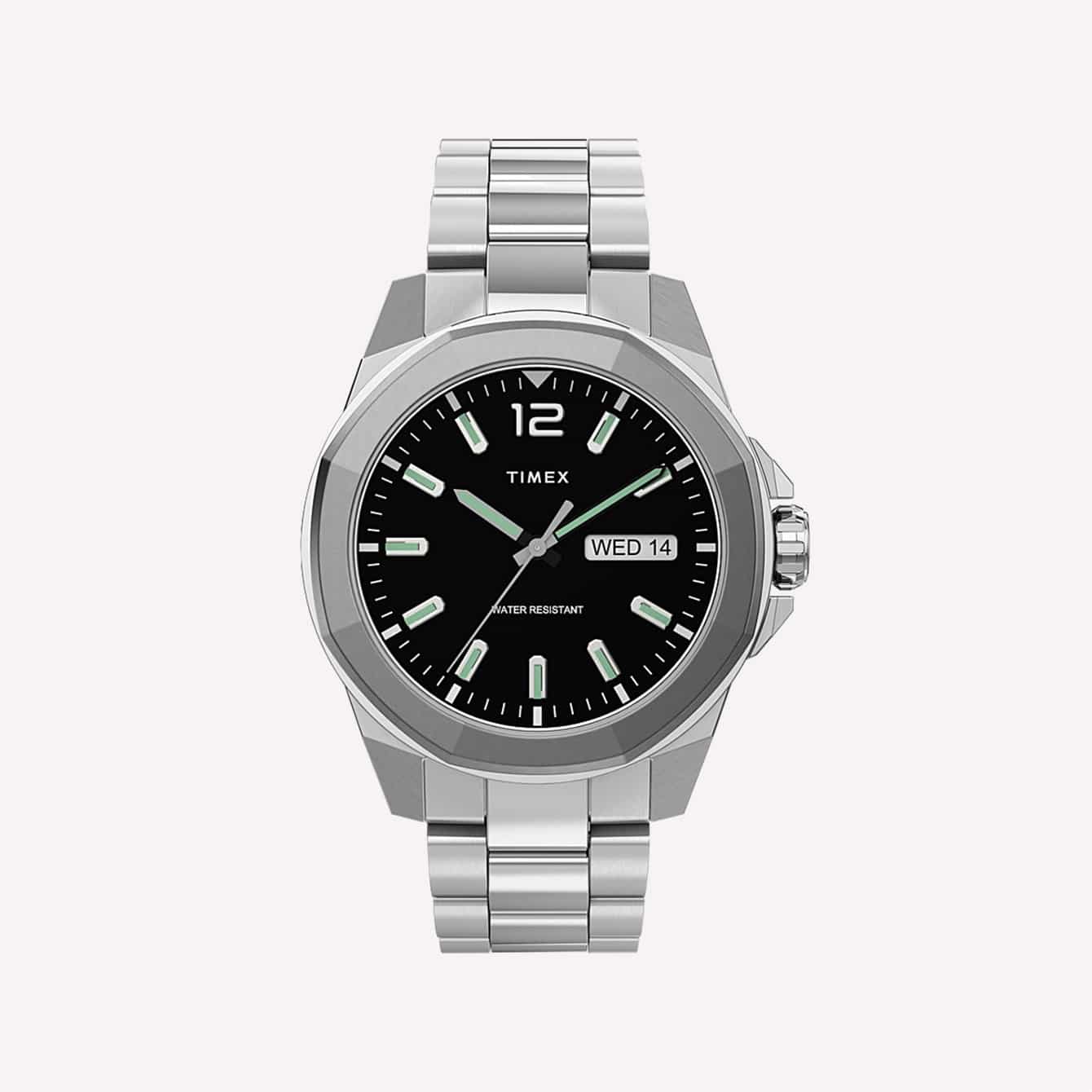 Interestingly, they don't fully integrate the bracelet, despite the fact integrated straps are not uncommon in Timex's design inventory (ie: Q Timex Todd Snyder).
The lugs are cut off half way down to create sharp edges for an overall techno-crystallized aesthetic. Again, it's clear they're going hard on the cool and contemporary factor with this design.
Spec-wise, we've got a 44mm low lead brass case, a mineral glass, a 22mm strap, and 50m of water resistance. It runs on a precise quartz movement.
If you're looking for a youthful but still professional and classy take on the Royal Oak, the Timex Essex Avenue is for you. It's the sort of watch that looks hip and trendy, but not in the way that it'll go out of style, thanks to its minimal approach.
Casio G-Shock GA-2100-1AJF
Any Royal Oak roundup will often present the all-black G-Shock GA-2100-1A1 as a tool-heavy alternative to the ceramic Openworked or open-heart Extra-Thin Tourbillons. This is so common that the GA-2100-1A1 is nicknamed "CasioOak."
However, I prefer the 1AJF because I think the gray accents are closer to the Royal Oak's color palette. They also give it a layered and dimensional aesthetic reminiscent of the Openworked Tourbillon's exhibition dial.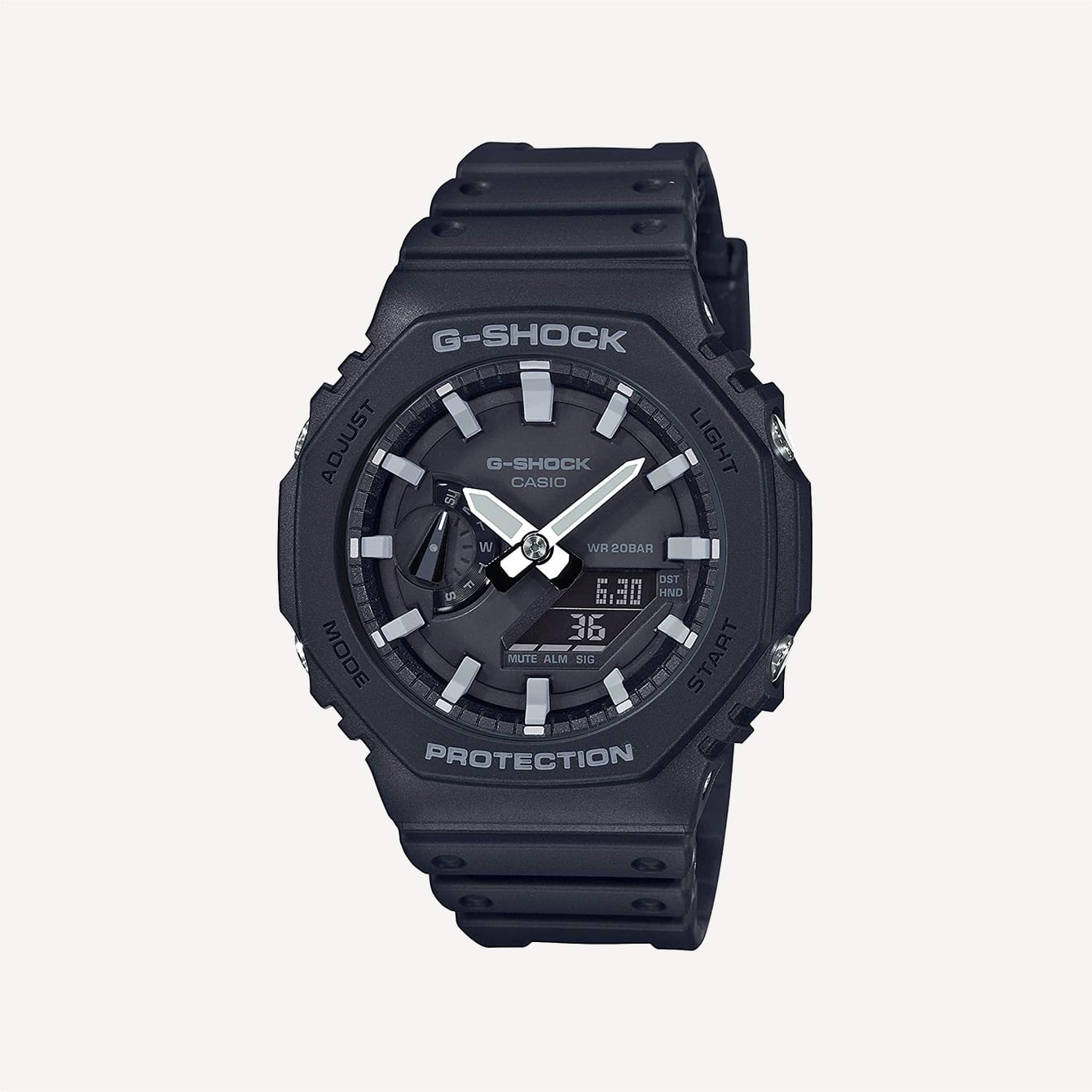 On top of that, the gray indices and white outlined hands add a sophisticated touch, without taking away the trademark G-Shock utilitarian look. After all, if you're going for this alternative, you're likely more attracted to the Royal Oak's industrial aspects over its fancier qualities.
What the 1AJF doesn't skip out on though, is the integrated bracelet. You'll notice that this G-Shock doesn't forgo any of the Royal Oak's brawnier features.
The robust octagonal case is 45mm, not too far off from the black Royal Oak's 44mm case. It's made of a matt resin and durable carbon fiber construction.
Features include a 200m water resistance for swimming and diving, a stopwatch, countdown timer, five daily alarms, world time, a perpetual calendar, and a three-year battery life.
The Casio G-Shock GA-2100-1AJF is like the Royal Oak's sturdy and rugged brother, for those who prefer a tactical watch. It does wear more sleekly on the wrist that you'd realize, to the surprise of many.
D1 Milano ATRJ02
The Royal Oak has crossover appeal because it straddles several aesthetic languages without letting one overpower the other. It's industrial but dressy, and retro but futuristic. The D1 Milano is like a Royal Oak that fully lets the futuristic side take over.
It's almost Batman-esque (Chris Nolan's, not Adam West's from the '60s): Monochromatic, refined but rugged, and absolutely authoritative. This is partly because its finishing is impressive for its price.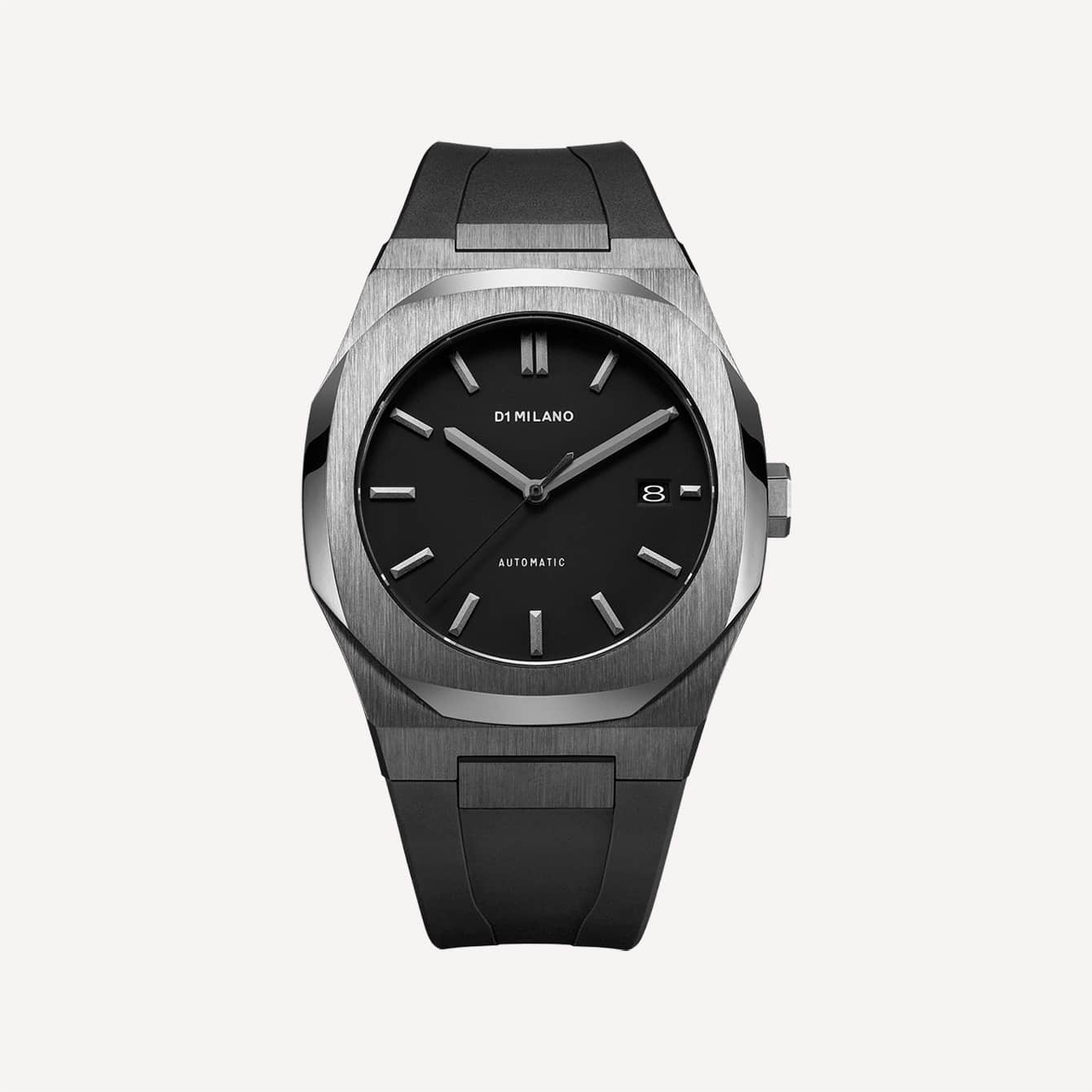 The brushed black stainless steel looks classy sitting next to the polished edges which slant downward, visually framing the bezel even when you look straight at it. The screwless bezel is technically an octagon, but it's more like a square with the edges flattened out.
At first glance, the D1 Milano looks more luxurious than it actually is. Faux-expensiveness aside, it always looks chic and fashionable. Its legible black dial and applied markers complement the overall construction.
The crystal protecting its 41mm case is a scratch-resistant sapphire, and the strap is a clean industrial black rubber.
Function-wise, it runs on an automatic movement, Seiko's 41-hour power, 24-jewel NH38A caliber to be exact. At 50m of water resistance, the ATRJ02 can withstand splashes and rain.
If you're looking for a minimalistic and masculine all-black variation of the Royal Oak, the ATRJ02 is a visually straight-forward option that isn't too shabby in the function department either.
Bulova Chronograph 96D138
The Bulova Chronograph 96D138 is the sparkly rendition you don't quite get among actual Royal Oak chronographs, nor would you necessarily want to spend the money on it if it did exist.
Because of its gem indices, this chrono is more luxurious than Royal Oak's chronos. However, it's not as flashy as the diamond-encrusted bezel variations of the Royal Oak.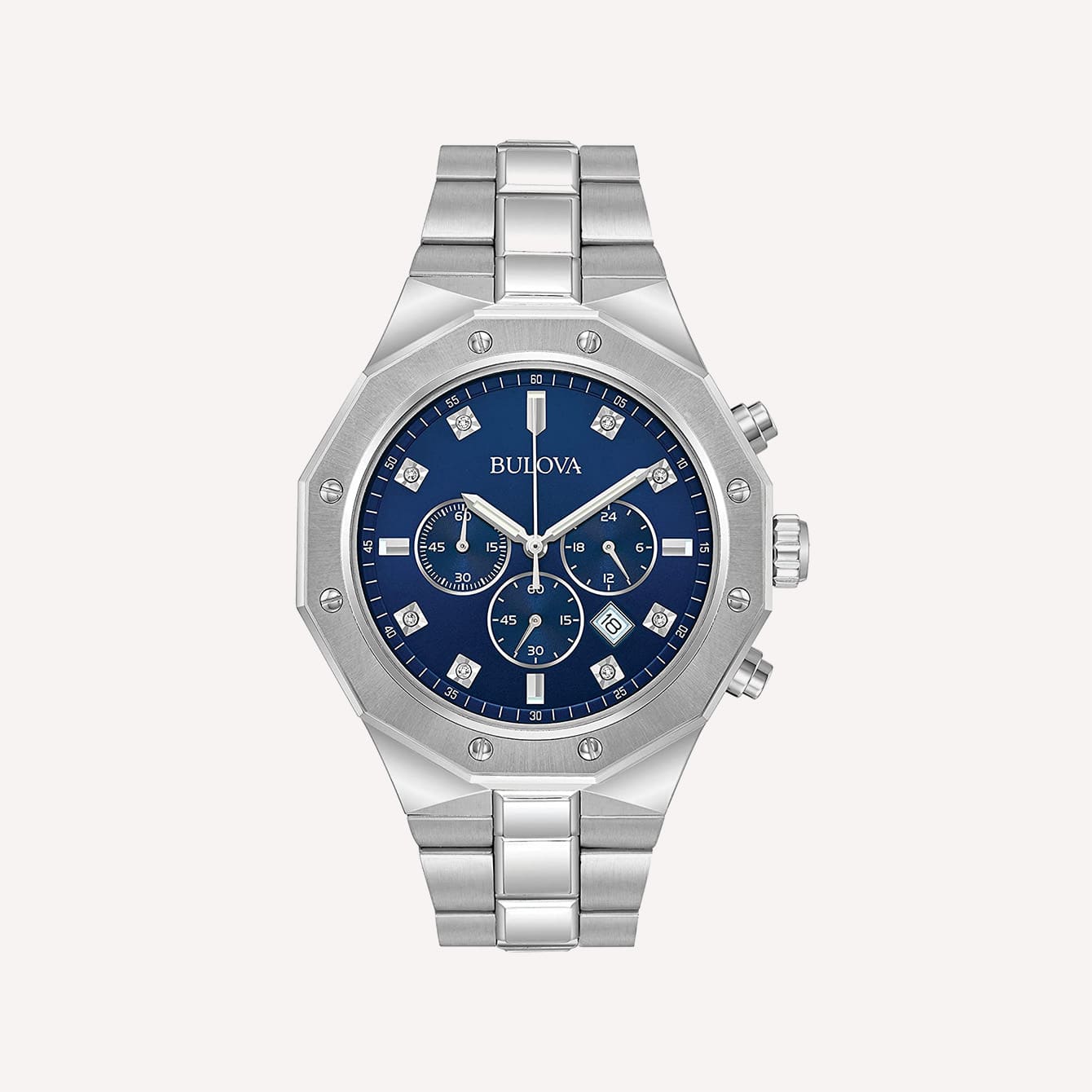 This timepiece uses the exact same basic template as the Bulova Classic 98D103. Being a chronograph however, its face is completely different especially with its aristocratic midnight blue dial face.
Other differences include the extra pushers that come with any chronograph, and its fully silver-toned case compared to the Classic's darker bezel sides.
This dress watch is for a similar collector as the one who'd go for the Citizen Corso. It's a classy middleground and it seems like Audemars Piguet should've created a version like it. Yet, it's probably best produced at Bulova's more reasonable price points anyway.
Cadisen C8180 Automatic
Upon seeing the Cadisen C8180 Automatic, you'll likely immediately ask, "why this over the Feice?" Both are true-blue homages, with just a few differences that can tip the scale.
First off, the Cadisen is more minimalist than the Feice. The 12 marker is a single baton instead of two side by side, which is also different from the actual Royal Oak. The exposed screws on the bezel are smoother. Finally, the bracelet is far less complex than the Feice and the Royal Oak.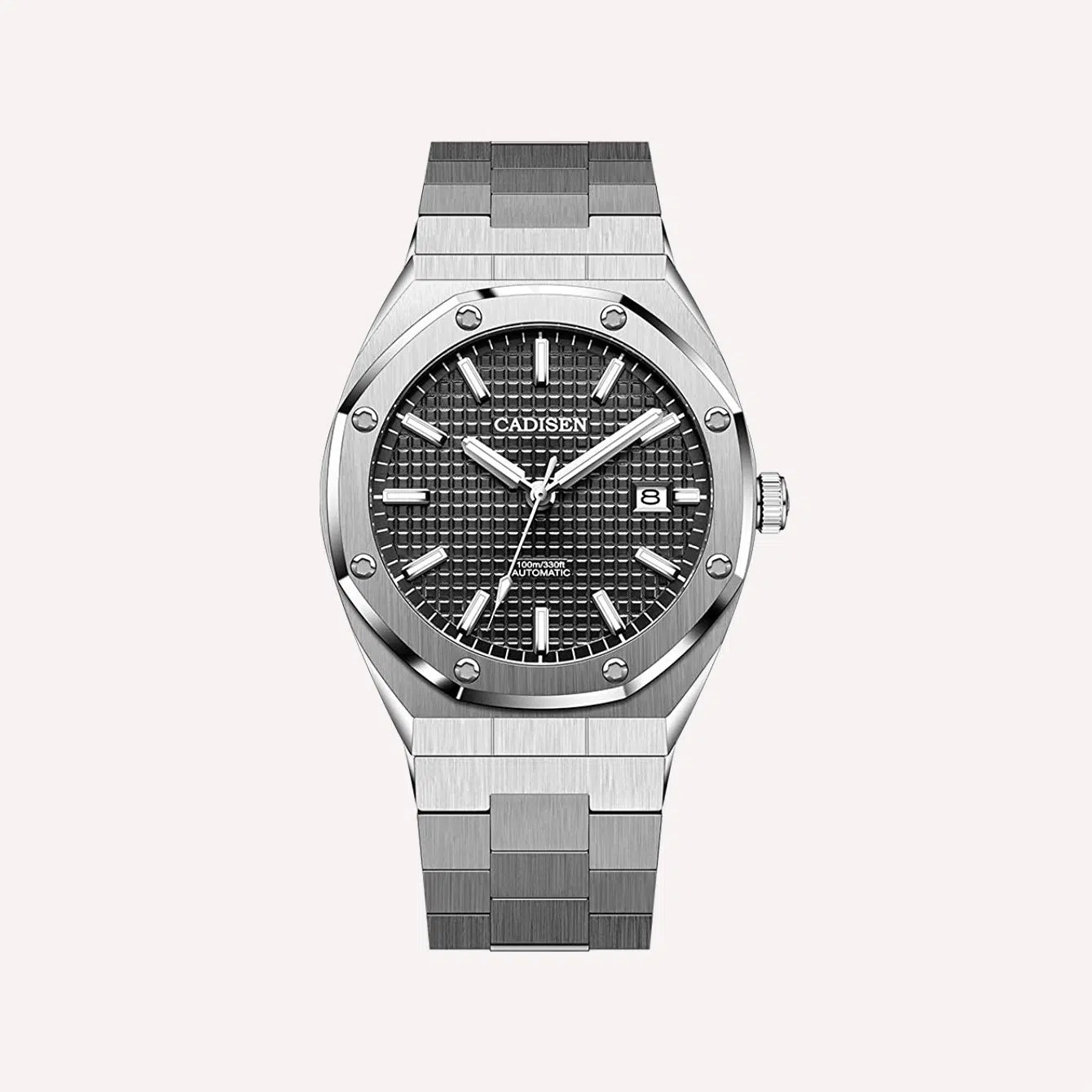 The three-link bracelet looks more fortified and less flexible than the Royal Oak's complex strap. It's also more straightforward than an oyster, giving it a fortress-like quality. Arguably, this is aesthetically more inline with the porthole design of the dial.
The second reason is functionality. The Cadisen is more waterproof than the Feice at 100m. It runs on Seiko's NH35A automatic movement, which is a 24-jewel self-winding movement that's equipped with Seiko's DiaShock system for durability.
So basically, if you want something more minimalist and sturdy, or if you trust Seiko over the Chinese Seagull movement, choose this homage over the Feice. Often, it's also a good $90 cheaper.
Maurice Lacroix Aikon Automatic
Similar to the Lunar Pilot's relationship with the Omega Speedmaster, I actually don't consider the Maurice Lacroix Aikon a lower-tier alternative as much as a competitor in its own right.
Sure, it's more affordable (emphasis on the "more"), and yes, the Aikon is a combination of textures on an integrated bracelet like the Royal Oak. However, the Aikon is uniquely distinct and also boasts a luxury construction.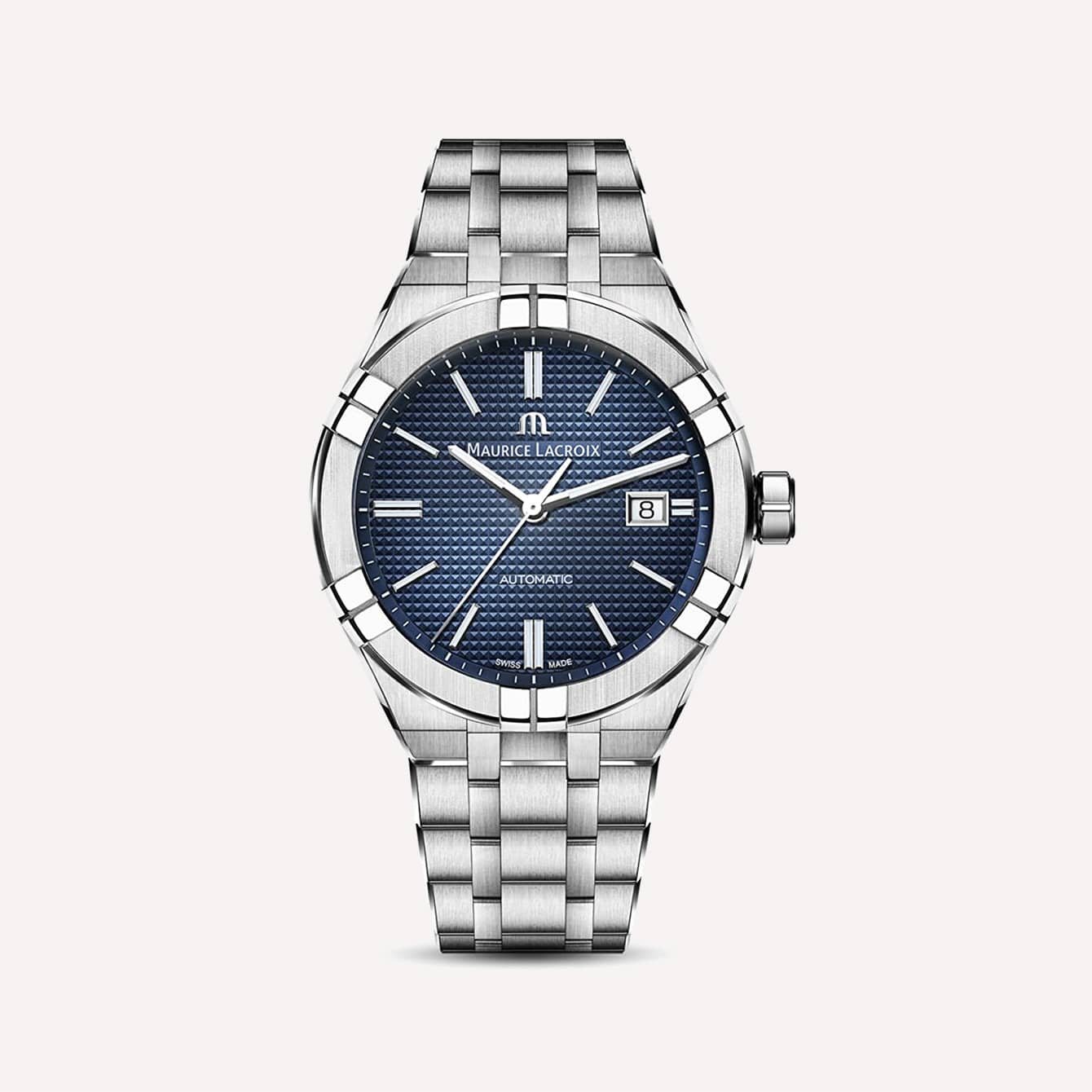 The blue dial features a detailed rhodium and anthracite design, which is sort of an inversion of Audemars Piguet's guilloché dial. The round 42mm case looks more like a traditional dress watch.
Instead of exposed screws, the Aikon has design accents throughout its bezel reminiscent of the Omega Constellation's eagle talons. Overall, it's simply a more formal watch than the Royal Oak.
It also performs as well as a luxury timepiece should. It's water resistant at 200m, and it runs an 26-jewel automatic ML115 caliber. At 28,800 VPH, you can count on excellent precision from this guy.
Final Thoughts
There are a few routes you can take, depending on your priorities.
If you're looking for a straight-up copy, then you can go for the design homages like the Cadisen or the Feice.
Since the Royal Oak equally combines so many styles, you may want a version that leans more one way over the other. Something flashier? Either Bulova will do. Something more rugged? The G-Shock.
Of course, if the Audemars Piguet is your grail, you should buy what you love. But if you're taking some time to save up, there's no harm in an affordable alternative in the meantime.