Hamilton started their journey in 1892 and are still going strong today. Want to know more? Read on!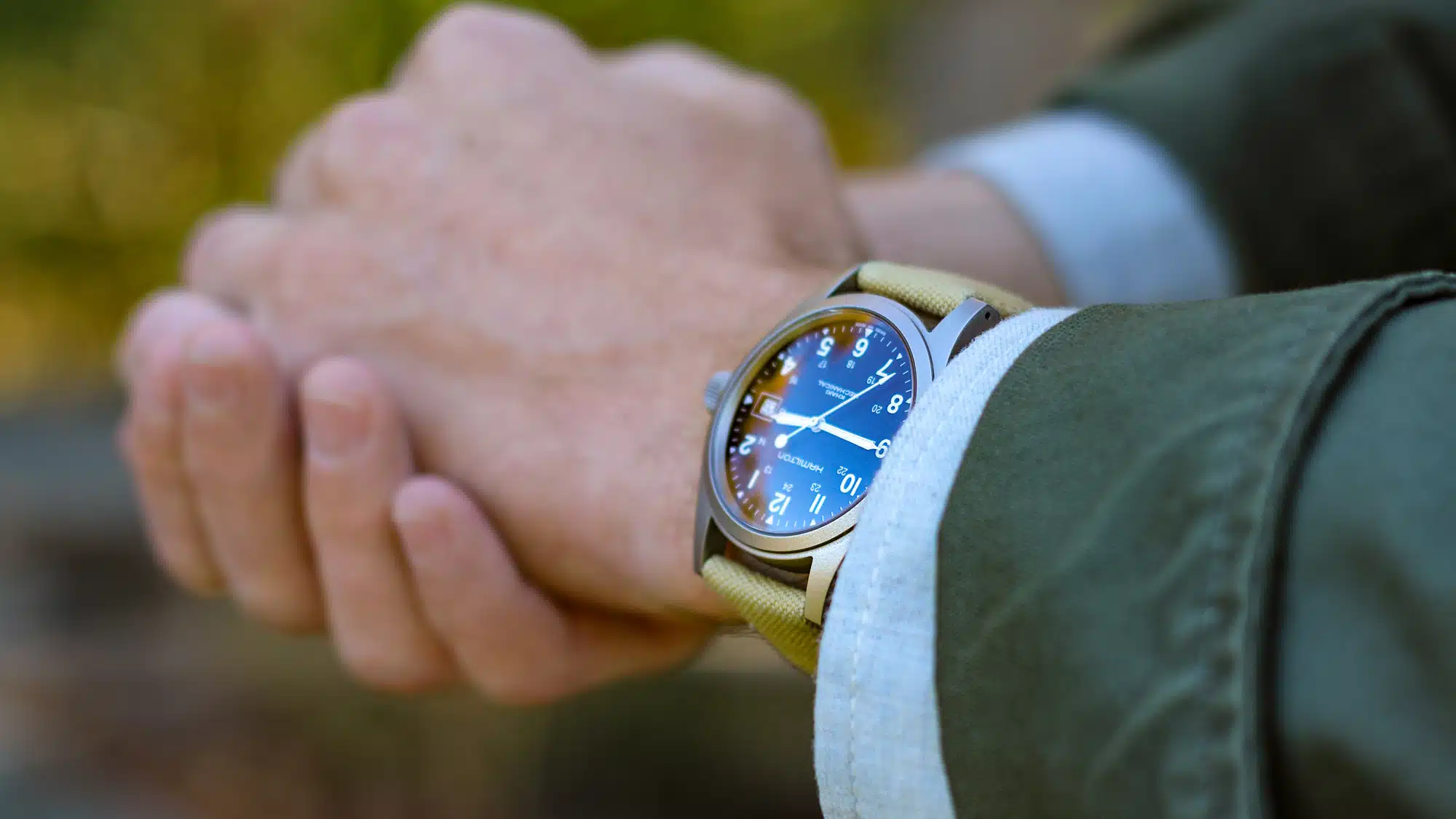 Hamilton is a Swiss manufacturer of luxury watches rooted in the American spirit.
The company has been in existence since 1892 and has a history steeped in traditional watch manufacture, offering everything from simple three-handed time and date models to military-inspired chronographs and legible pilot's watches.
Some of the company's most impressive ranges are those such as the Jazzmaster, the Ventura, the American Classic, and the Khaki Field line.
Whether you're new to Hamilton watches or a long-time collector, after reading this article I'm confident you'll agree that the brand's interesting backstory is just one of the brand's many USPs.
A Brief History of Hamilton Watches
Hamilton made its very first watch in 1893 but was formed a year earlier when it inhabited a factory in Lancaster, Pennsylvania. The factory was home to three former watchmaking companies that had met their untimely demise before Hamilton's arrival.
Hamilton, however, built its success upon values of accuracy, functionality, and performance and soon became the supplier of timekeeping devices to 56% of the railroad community in America.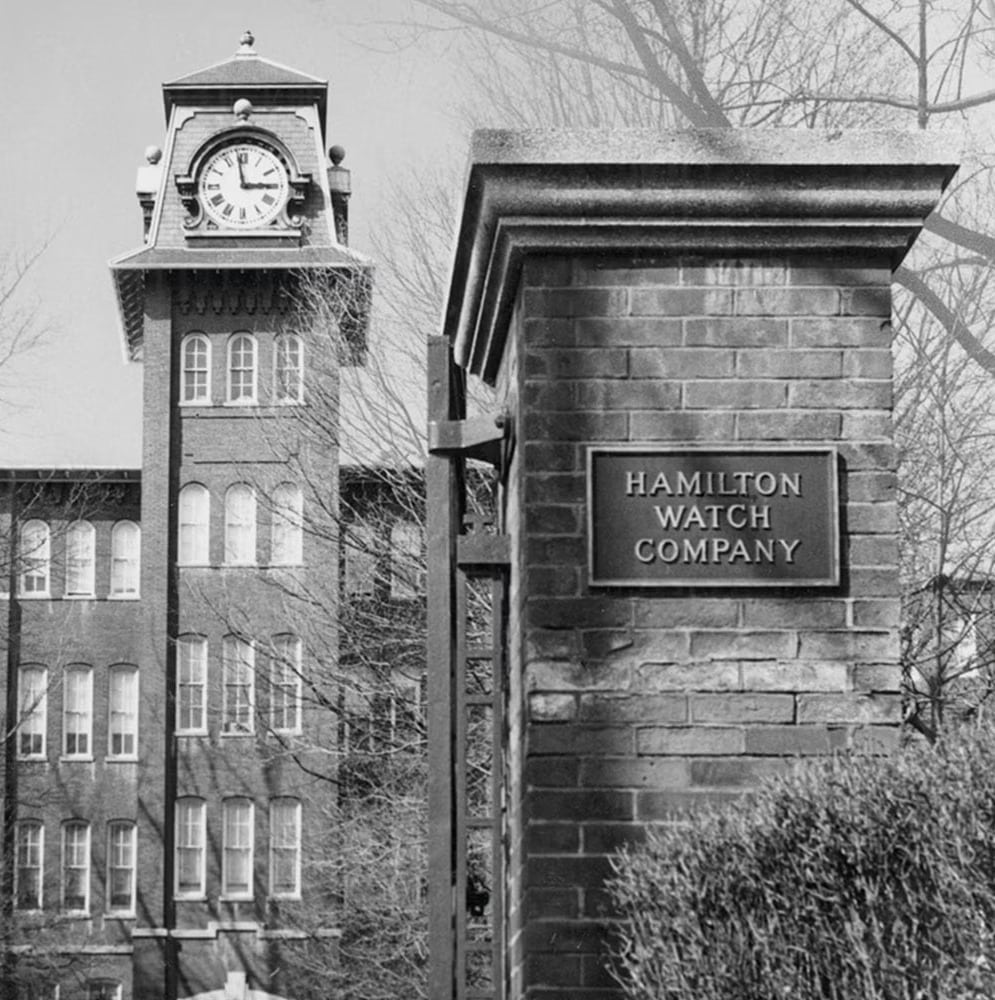 The need for such equipment came at a time when America's railroad system required an accurate standard for timekeeping to eradicate the risk of death arising from small discrepancies in time.
The 926 pocket watch developed in 1902 was the answer to this, followed by the Hamilton Railroad Pocket Watch a decade later, signifying its strong connections to America's largest transportation system.
In 1914, Hamilton began supplying its watches to America's armed forces. When American soldiers arrived in parts of Europe, they noticed many had begun wearing watches strapped to their wrists to free up their hands for more crucial tasks.
Hamilton, wanting to stay ahead of the game, took note and produced the 981 wristwatch.
Having specialized in military wristwatches, Hamilton was in a great position to begin supplying timepieces to pilots on their first mail air delivery, and, as aviation watches began to swamp the market, Hamilton remained at the forefront of this specialist category.
It developed watches for land, sea, and air, playing an integral role on the wrists of military personnel during the Second World War.
The Evolution of the Hamilton Khaki
Having become a military contractor to the US military during the First and Second World Wars, Hamilton ceased production of its watches for the civilian market in 1942.
Hamilton won the "E, award (for excellence) in 1943 for its advanced timekeeping equipment for use during the war. These included its bomb timers and incredibly accurate chronometers.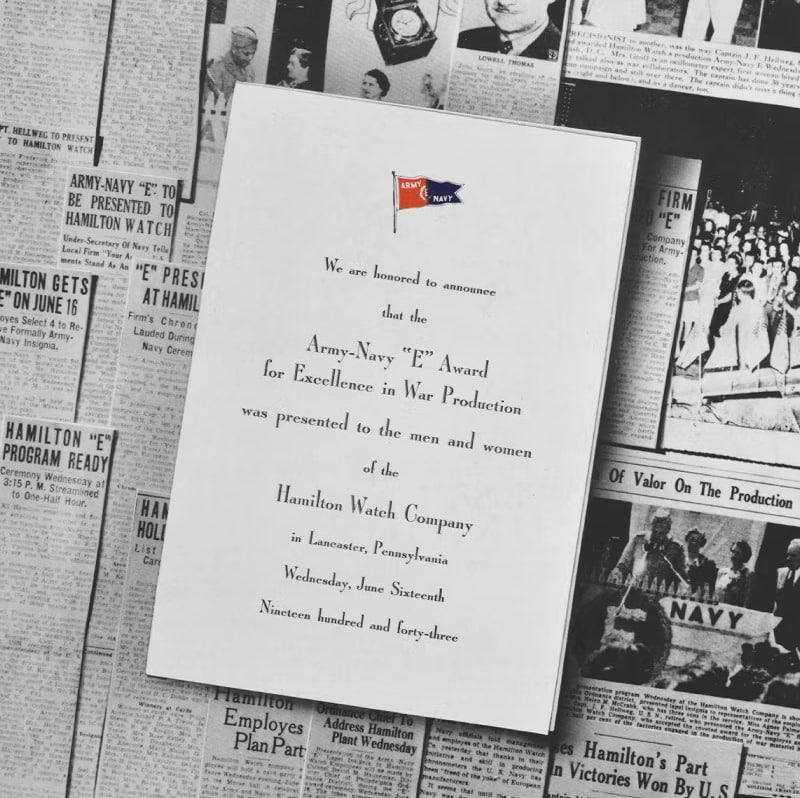 The brand's success as a supplier of these important instruments to the military during these crucial periods was solidified when "the Frogmen" film was released, featuring the Frogman watch, paying homage to the many Hamilton watches it was inspired by.
Today, modern Hamilton Khaki Navy watches are distinguishable by their unidirectional rotating bezels that measure elapsed time underwater and their screw-down crowns with special crown guards, as well as their 300-meter water-resistant ratings.
The current Hamilton Khaki Field collection pays tribute to these special military watches with designs characterized by their robust stainless steel cases and 12-hour (and additional 24-hour) scales.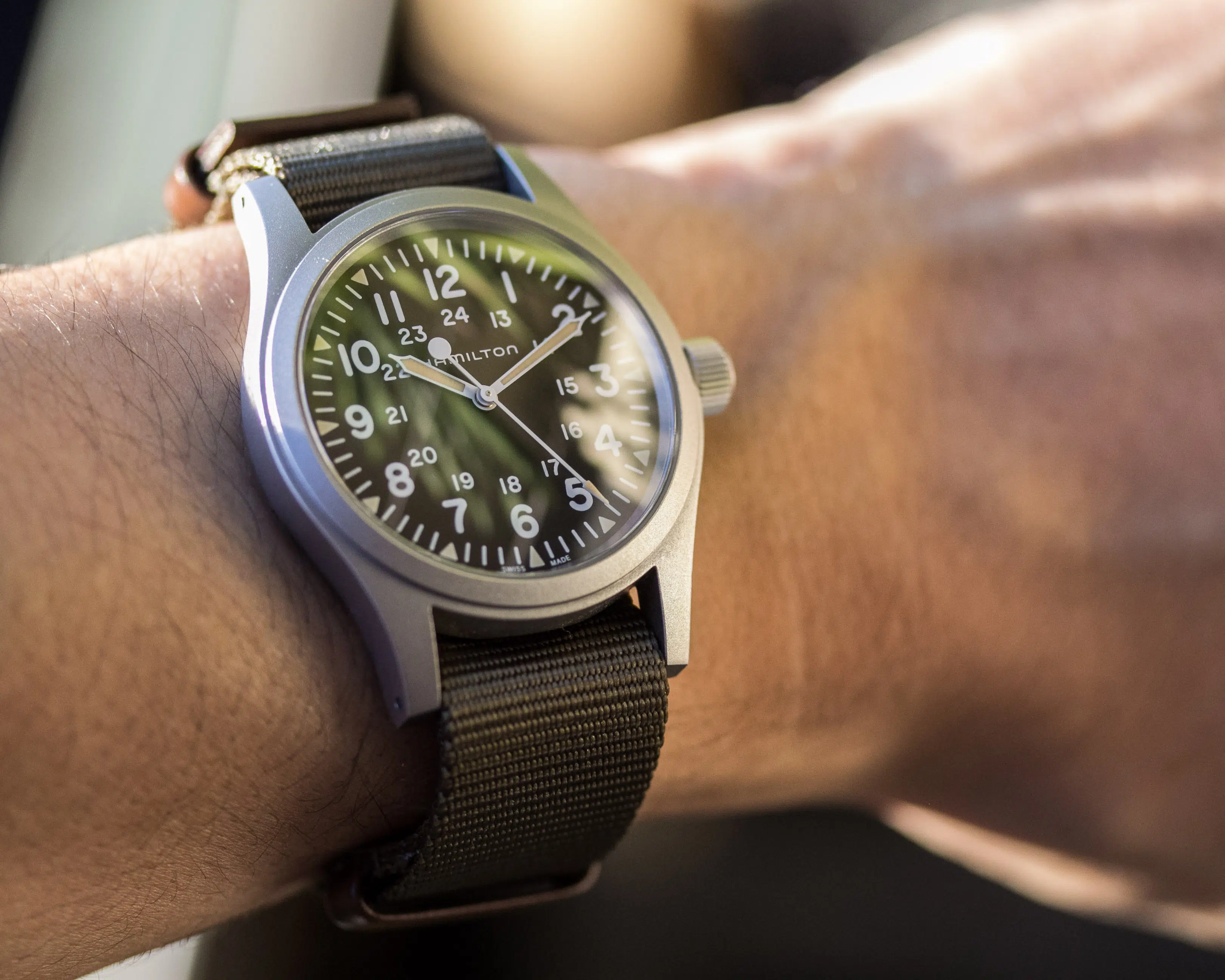 Additionally, watches in this collection have triangular hour markers and hands have been treated with plenty of Super-LumiNova to assist with readability in dark conditions.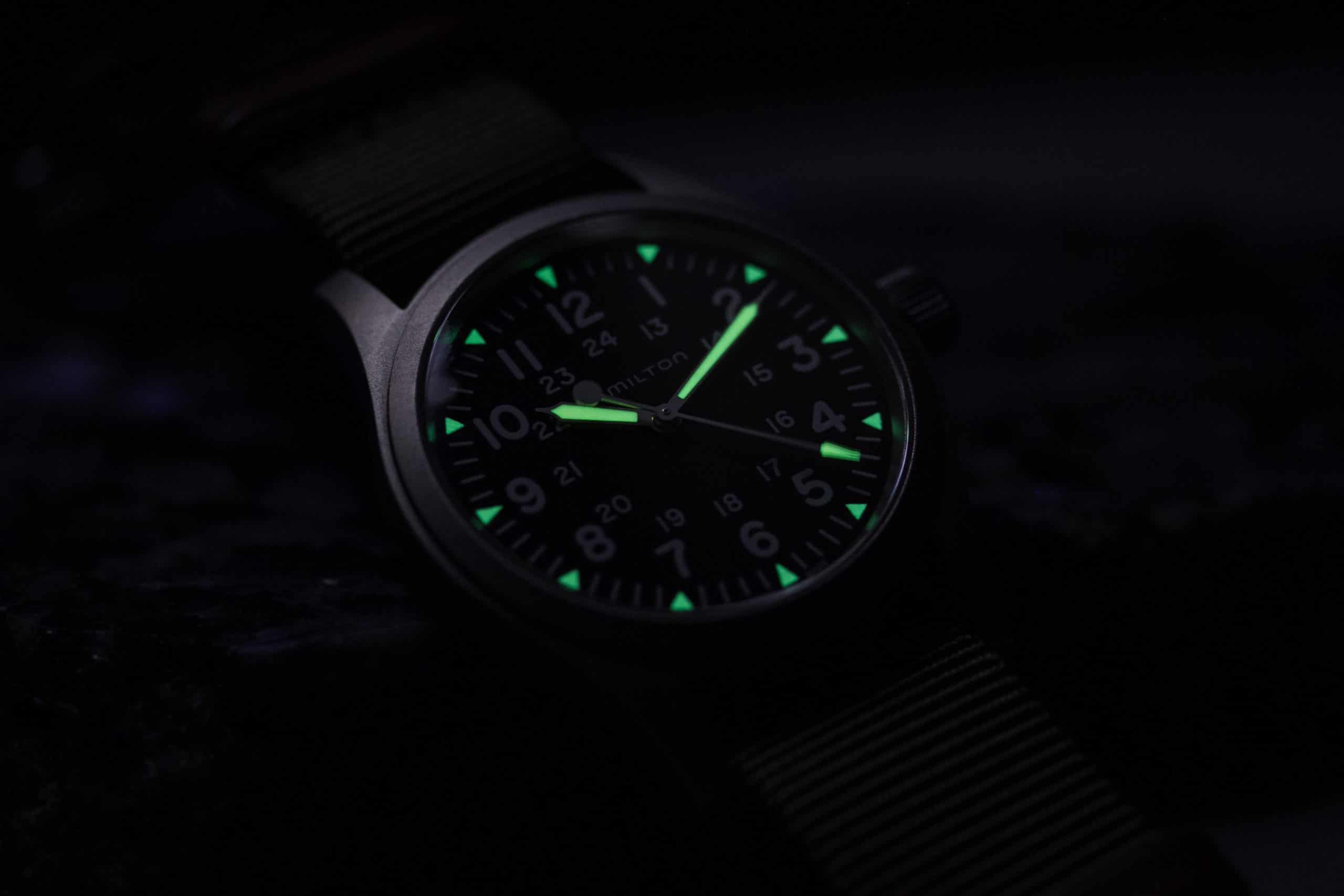 More recent models come fitted with a hand-wound movement equipped with a three-day power reserve.
The Khaki Field Auto watch is another great choice for those with a preference for automatic watches. Powered by the H-10 Calibre, these watches offer an 80-hour power reserve.
For fans of the chronograph function, Hamilton offers the Khaki Field Auto Chrono with a confident 42mm watch diameter, chronograph sub-counters, and a day-date feature.
The brand's expansive Khaki Aviation series is home to similar configurations: three-handed, chronographs and day-date functions, as well additional features like a drift angle calculator for calculating cross winds during flight journeys.
Popular models from this collection to date are those such as the Khaki Aviation Pilot Pioneer Mechanical watch with a design that evokes the wristwatches supplied to the Royal Air Force during the 1970s.
1957: The Ventura Is Born
The 1950s marked the decade when Hamilton re-entered the civilian watch market during a rise in the consumer economy. Watch enthusiasts had more money to spend and Hamilton was vastly progressing.
1957 was a particularly important year for Hamilton since it released the iconic Ventura — the first battery-powered watch in the world.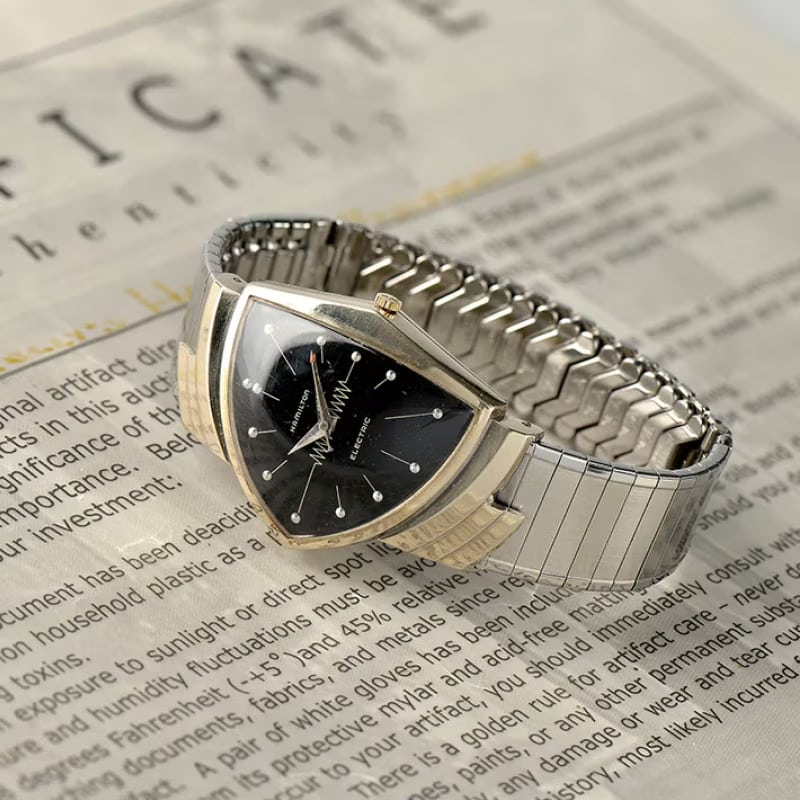 The Hamilton Ventura was designed by sci-fi illustrator Richard Arbib.
Sported on the wrist of Elvis Presley, the watch had an unusually shaped case that took the world by storm and was featured in the 1962 film, Blue Hawaii.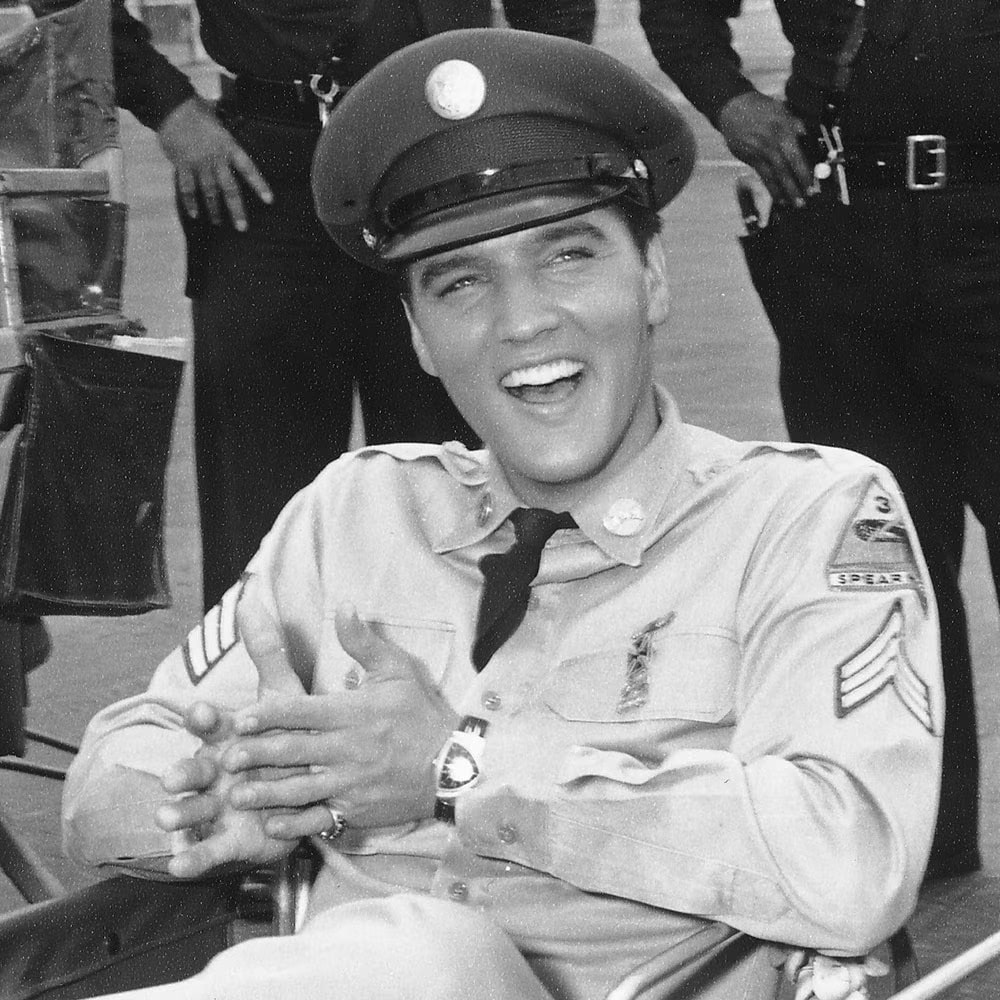 The instant sensation not only revolutionized the watchmaking industry during this time but became the watch to wear on the rock & roll scene.
The Ventura was produced in a seven-year run before becoming discontinued. Due to such high demand, however, it was brought back in 1988 and has remained in production ever since with various designs crafted from a mix of materials and finishes.
Less than two decades after the success of its military wristwatches, Hamilton developed the Khaki Field watch for the Vietnam War.
The GG-W-113 is an example of one watch that was supplied en mass to US soldiers during this time and remains almost identical to the Hamilton Khaki field watches we see today.
These military spec watches pay homage to various 20th-century conflicts and the crucial role they played during this time.
The First Pulsar Watch
If you thought that was just about as interesting as Hamilton watches get, you'd be wrong. In the 1960s, the watchmaker acquired Buren Watch Company and its innovative micro-rotor.
Adding this component to its watches enabled Hamilton to produce slimmer watches powered by automatic movements.
Advancing in the line of futuristic watches, Hamilton was approached by Stanley Kubrick in 1966 and was asked to design a unique wristwatch for his film 2001: A Space Odyssey. Hamilton responded, not only with a wristwatch, but also with a desktop clock that became iconic in itself.
In 1969 Hamilton produced its first chronograph movement, the automatic Caliber 11, followed by the world's first digital wristwatch in 1970. The Pulsar was unveiled on "The Tonight Show" with a digital screen that replaced any moving parts.
Two years later, the watch was opened up to the public with a display created by LEDs, activated by a button.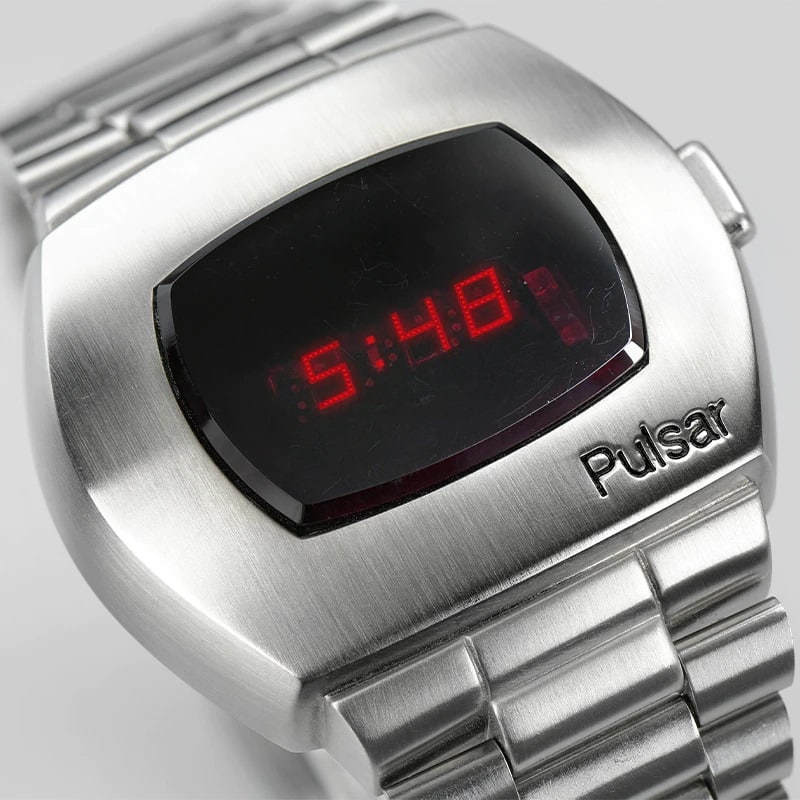 Hamilton was sold to the Swatch Group in 1974 and soon the brand soon began revisiting many popular designs from its past.
At this point, the brand made a gradual transition towards creating more elegant and classical-styled watches.
Hamilton watches continued to make an appearance on the silvers screen, featuring on the wrist of A-list actors in films such as "Men In Black", "Independence Day" and "Lethal Weapon."
In 2003, the Hamilton watchmaking facilities moved from America to Biel in Switzerland, enabling the brand to stamp its watches with the "Swiss Made" mark of authenticity.
By 2011 Hamilton was producing its own personalized ETA movements with extended power reserves. These included the Calibre H-10, H-30, and H-40.
This accomplishment came just before the watchmaker began partnering with the world's top air squadrons to develop the Khaki Flight Timer, cementing its partnership with Air Zermatt.
The last decade has been just as interesting for Hamilton since it saw the brand release the Murph watch — a unique timepiece for the smash hit film, "Interstellar" and the Khaki BeLOWZERO watch for the film "The Martian".
FAQS
Here are some common questions about Hamilton:
Is Hamilton a luxury brand?
Hamilton is a luxury watch manufacturer that specializes in developing value-for-money watches that are Swiss-made.
The brand has American roots, having first been founded back in 1892 in Pennsylvania where it began nurturing a reputation for supplying accurate pocket watches for a vast proportion of America's railroad systems.
What are Hamilton watches known for?
Hamilton is known as the movie brand in the luxury watch industry, having appeared on the silver screen throughout its history.
Hamilton watches are associated with robustness, accuracy, and value for money, many of which were supplied to America's Armed forces during the First and Second World Wars.
Hamilton is also renowned for manufacturing the world's first electrical battery-operated watch — the Ventura and is also the innovator of the Khaki Field watch series, the Jazzmaster, and the American Classic, as well as the world's first digital electronic watch — the Pulsar.
What happened to Hamilton watch company?
In 1974, Hamilton Watch Company was sold to the Swatch Group, the world's largest watch-manufacturing conglomerate. Hamilton also moved its manufacturing facilities from America to Biel in Switzerland and, from that point on, began showing the "Swiss Made" mark on the dials of its watches.
The Takeaway
Hamilton has an impressive history and continues to write new chapters to its story.
If you're looking for a functional, legible, and affordable starter watch, this brand is a great place to start your search.
No matter whether you buy a simple three-handed model from the American Classic range, something military-inspired from the Khaki Field collection, or an off-the-wall design like the company's Face 2 Face watch, Hamilton watches are the gateway to affordable luxury watch collecting and make great all-around daily beaters.
Questions? Comments? Leave them below!