Curious about how the iconic watch brand Omega got its start and how it's remained relevant throughout the years?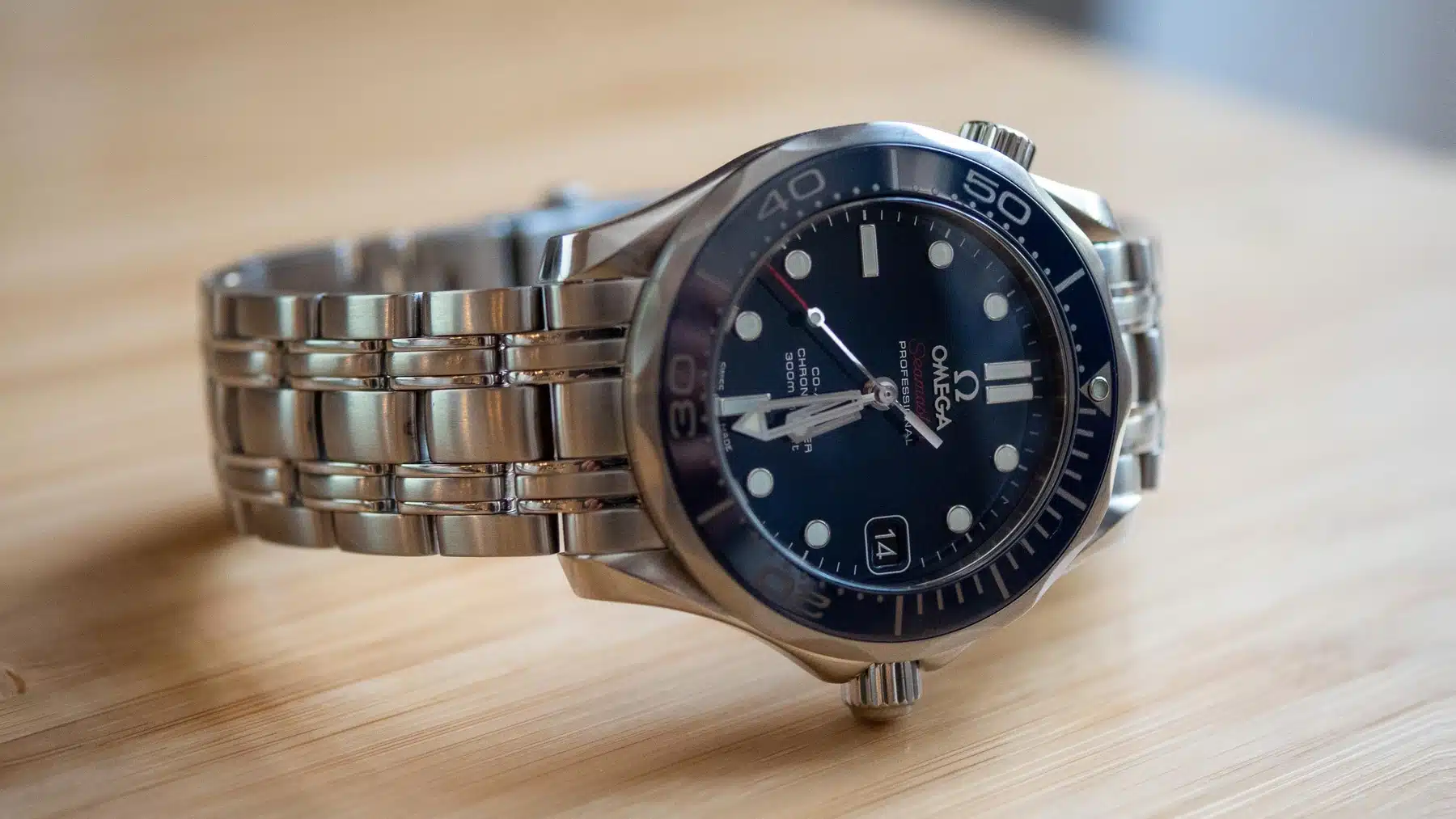 Omega offers classic styling — after all, they are one of the original and most prestigious brands. But you'll also get incredible workmanship that lasts more than a lifetime, leaving a legacy of accuracy and innovation.
Watch companies that have been in business the longest are the ones that are mechanical and/or stylistic innovators. Omega is best known for their chronographs, classic dress watches, and the niche markets and affiliations they've cultivated through the years.
The Founding of Omega
Louis Brandt opened his watch workshop in 1848, using the family villa in the Swiss village of La Chaux-de-Fonds when he was only 23 years old.
Le Generale Watch Co. reflected Brandt's passion for precision by offering accurate, practical watches. His 2 sons joined the company after Louis' death in 1879.
Louis-Paul and César moved the company to Biel/Bienne where it's still located. They continued to focus on improving accuracy and expanding their father's business.
Their first step was to introduce a mass-produced watch movement (caliber) which was used in the Labrador pocket watch. Ten years later, in 1895, their 19-ligne "Omega" caliber would revolutionize watchmaking and set new standards for precision.
Not only was it extremely accurate, but each component could be replaced, without modification, by any watchmaker in the world. For the first time, a watch was set and wound via the stem and crown, the same mechanism used today.
Eventually, the company proudly changed its name to Omega.
After the Brandt brothers died in 1903 the company was run by 23-year-old Paul-Emile Brandt and their 800 employees were making 240,000 watches a year. Omega had grown from a small watchmaking business to an established, global watch leader.
Conquering the Land, Sea & Air
Since Omega placed such emphasis on accuracy, their timepieces were, and still are, a favorite for sporting events, the military, railway systems, pilots, and divers. During the First World War, Omega became the official supplier of the British Royal Flying Corps and supplied the American Army.
By 1931 they had set precision records in every trial at the Geneva Observatory and created a chronometer that kept time more accurately than any other watch produced.
They engineered an automatic movement that used 2 weights so that the watch wound in both directions, improving efficiency. Again, this is another innovation that remains the standard today.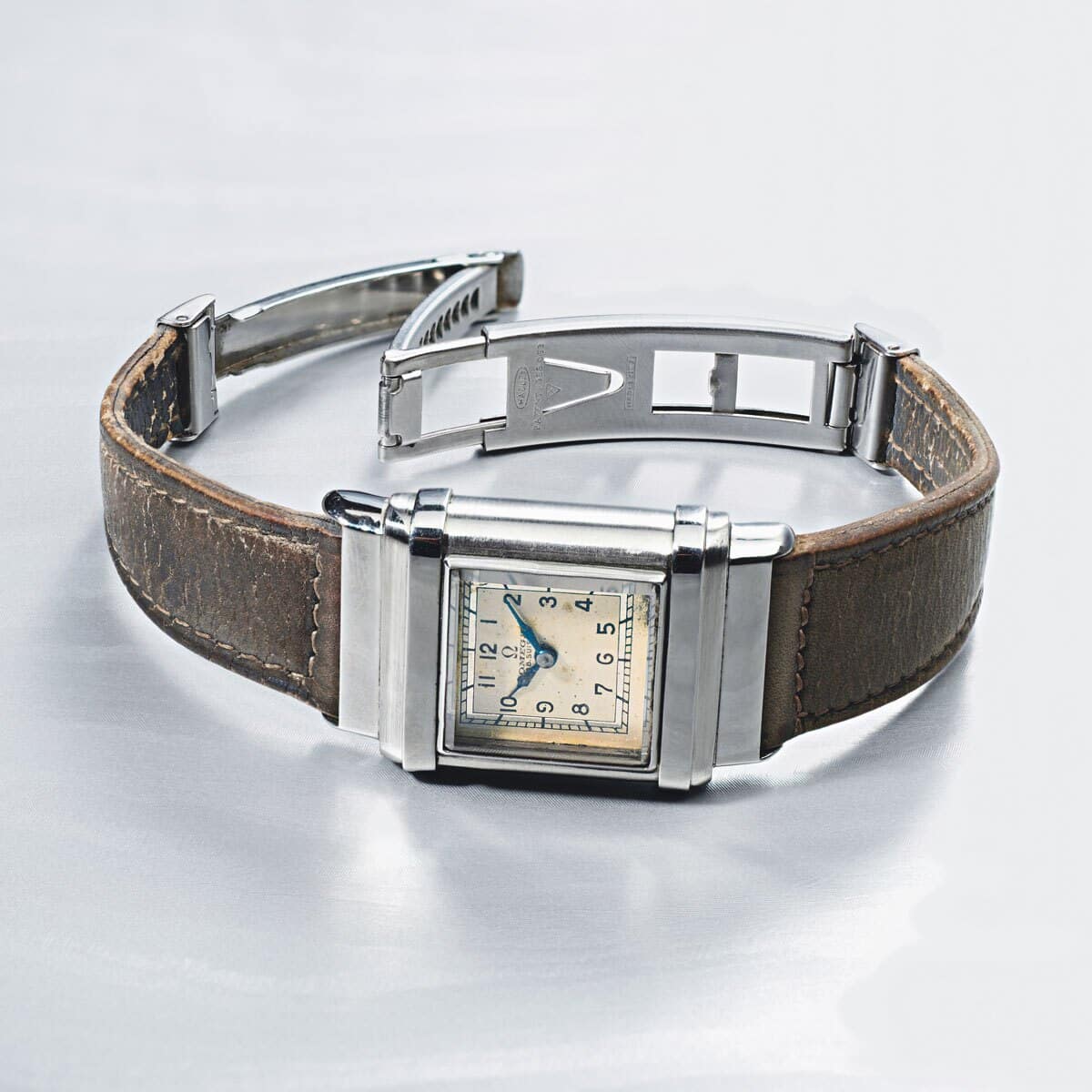 In a way, the 1930s to 1940s can be considered the dawn of today's Omega watches.
Their first commercially available divers' watch, named Marine, became available in 1932. It used a patented double case that was sealed with cork to keep water and the elements away from the mechanics.
It had a clasp that featured an extension so the watch could fit on the wrist and above a wetsuit and was tested in Lake Geneva to a depth of 73 meters. Five years later, their Omega's divers were completely waterproof to a depth of 135 meters.
Not only were these waterproof and water-resistant qualities prized by the military in World War II, but Omega's shockproof and antimagnetic watches made them perfect for wartime conditions.
The Medicus wristwatch was the first model to feature a central seconds hand and because it was larger than a secondary dial, it was much easier to read. This watch became a favorite of nurses for taking pulses.
Omega made watches solely for the Allies, in spite of being based in the neutral country of Switzerland and being under pressure from Axis countries.
The watches made for the military-inspired their post-war designs. The original Seamaster, released in 1948 for the 100th anniversary of the company, not only withstood immersion in water but also extreme temperatures.
To test it, a watch was strapped to the hull of a plane that traveled from Amsterdam to Canada via the polar route in 1956. Despite 9 hours of exposure to the elements, it still kept good time.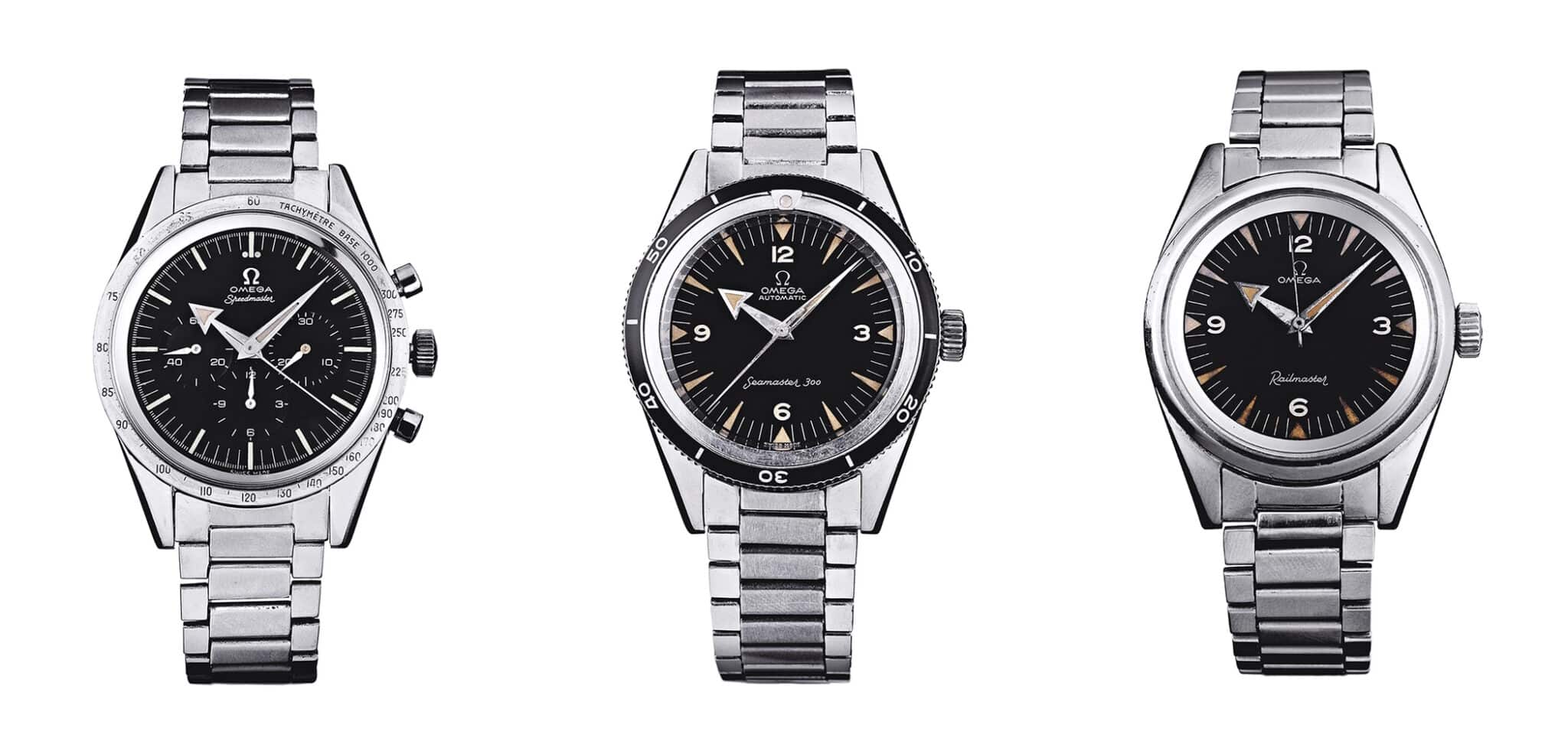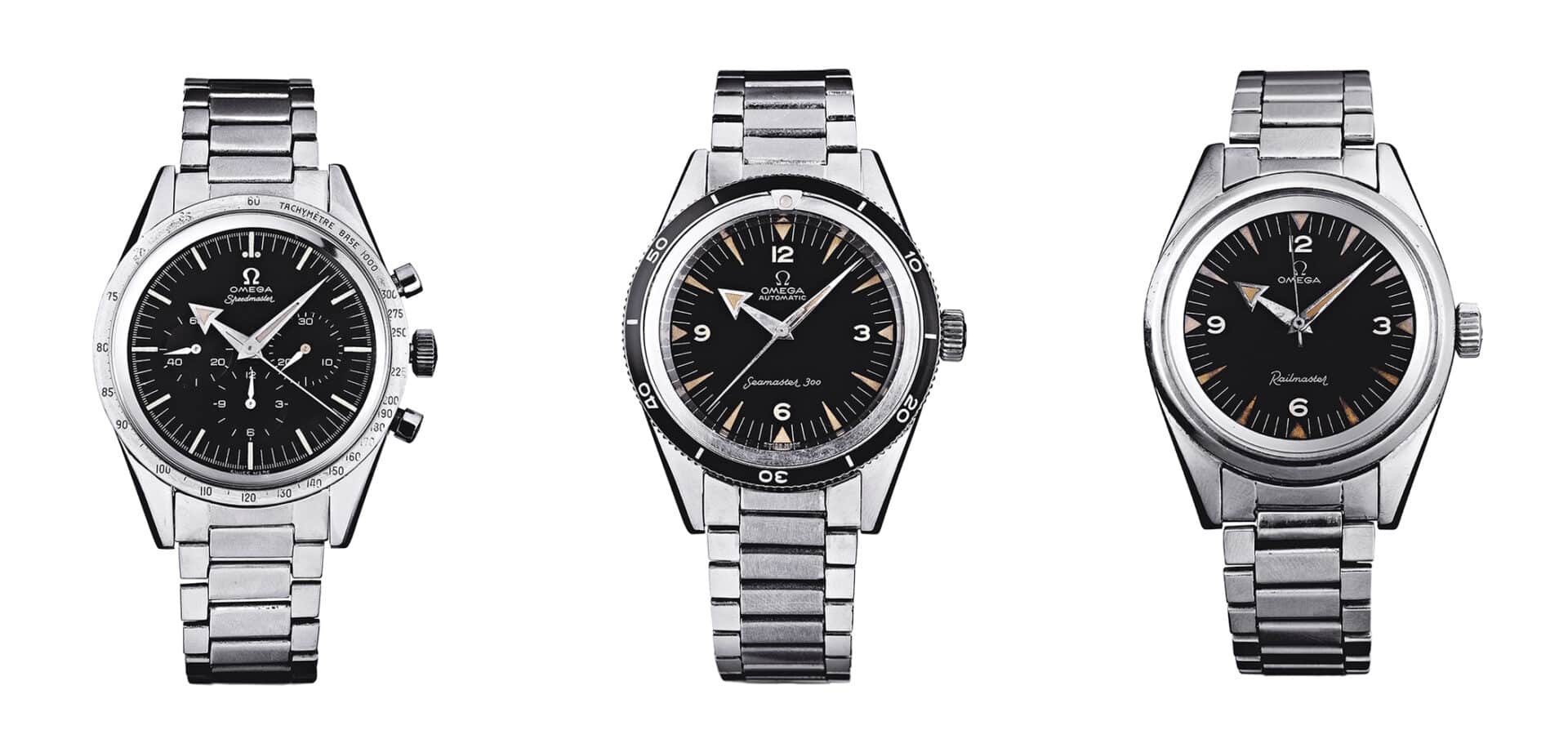 This test was a prelude to the introduction of Omega's lineup of "tool watches" in 1957: the Seamaster 300 (sea), the Speedmaster (air), and the Railmaster (land).
As already mentioned, the Seamaster is Omega's answer to deep dives. They've continued to increase their ability to withstand pressure and have even descended to the bottom of the Mariana Trench, a depth of 10,928 meters.
Omega was the first diver's watch to shift the emphasis from the hour hand to the minute hand to accommodate the diver's mindset. They also added size and bright colors for ease of viewing.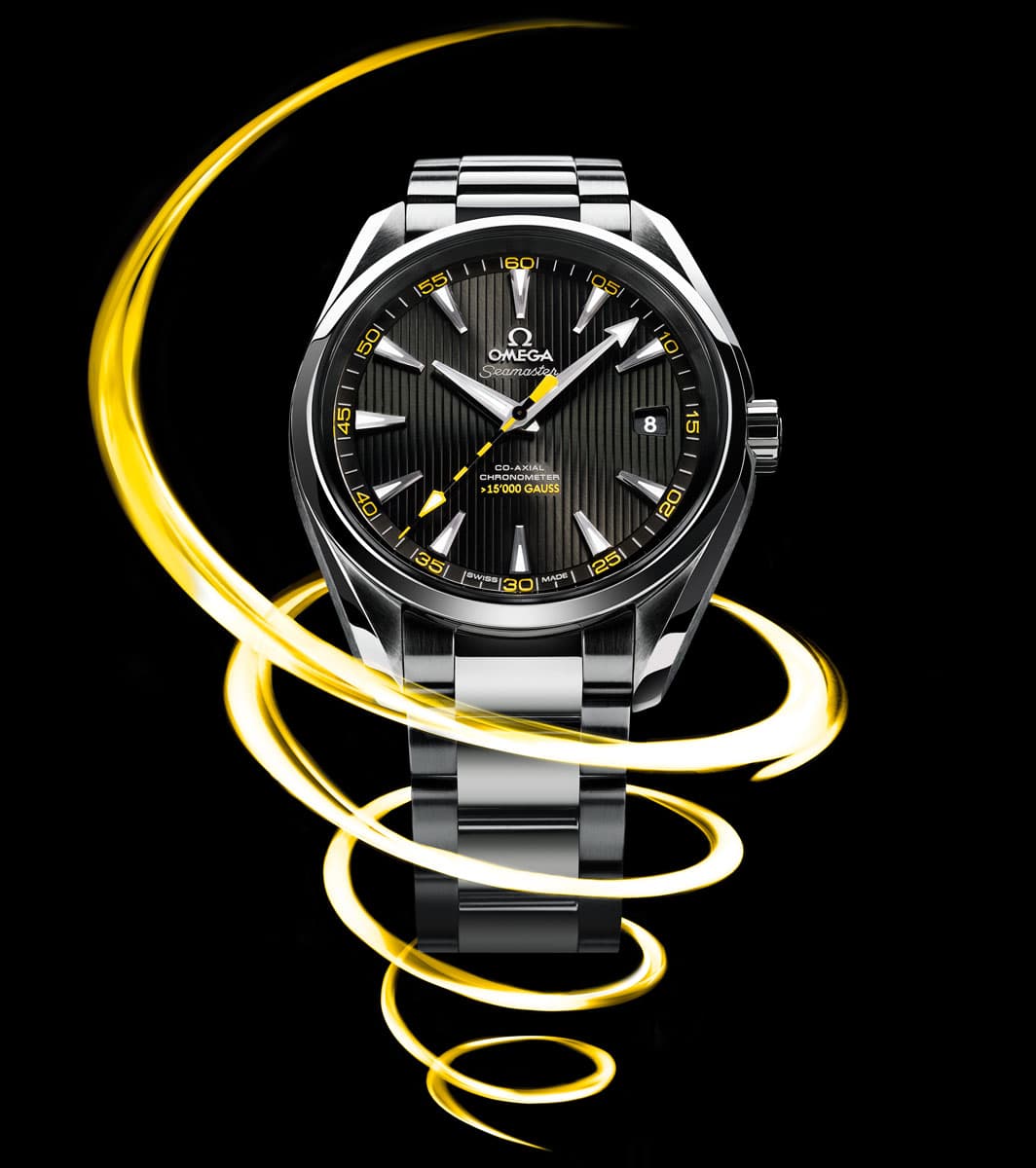 The Railmaster was designed for the railway industry to resist magnetism. This isn't something you hear a lot about in watches and you might wonder why it matters.
The answer is that magnetism affects the accuracy of a watch. The original Railmaster was effective to more than 1,000 gauss. (A gauss is the unit of magnetic induction).
This has become increasingly important in modern society since we're now surrounded by smartphones, microwaves, tablets, and other wireless technology. The Railmaster has become Omega's version of a field watch.
In 2013 Omega created a new watch movement that's resistant to magnetism of more than 15,000 gauss.
Instead of relying on a protective inner case, watches like the Railmaster and Seamaster Aqua Terra use a non-ferrous metal movement that resists magnetism. The new watch has a sapphire crystal case back so you can view the inner workings.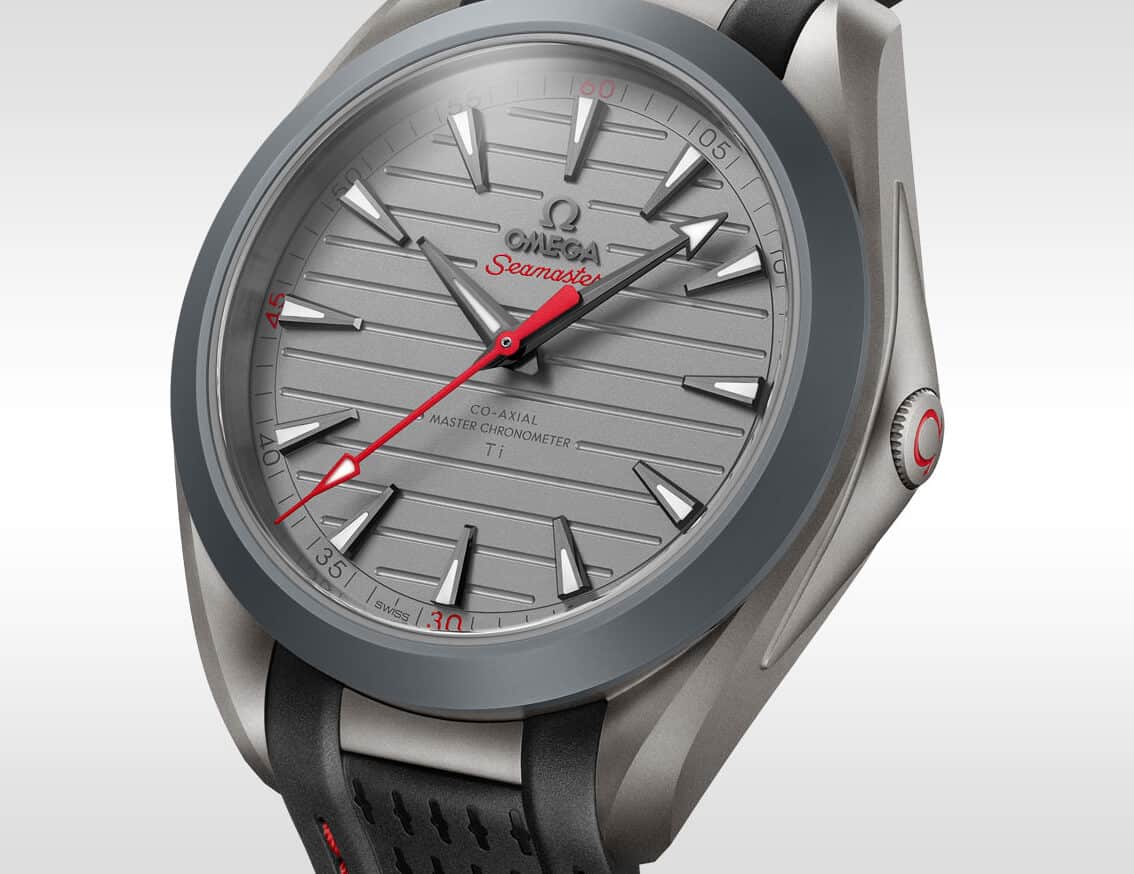 The final tool watch created by Omega was the Speedmaster. They are notable for their importance to NASA, and even the Russian Space Agency as this is the only watch that was able to pass the rigorous requirements to keep time in space.
Wally Shirra wore his personal Omega with its chronograph and tachymeter functions on the Mercury Sigma 7 mission in 1962. After Omega became the official watch of NASA, it was worn on every space mission.
While Buzz Aldrin wore his Omega on his famous moonwalk, Neil Armstrong left his in the lunar module tacked to the wall to replace the craft's broken clock.
Keeping up with the Times and Technology
Although Omega has always been a classic mechanical watchmaker, it was also the first Swiss company to offer a quartz watch in 1974.
The Megaquartz movement was certified as a "Marine Chronometer" with an accuracy of fewer than 0.002 seconds per day. It remains the first, and only, wristwatch to receive this distinction.
While quartz watches are only a very small portion of Omega's offerings, they helped Omega navigate the quartz revolution.
Omega was able to emerge from this turbulent time for the industry by focusing on their strategic partnerships and streamlining their offerings. Instead of over 2600 models in production at the beginning of the 1970s, Omega now offers about 80.
Who and what Omega associated themselves with is almost as significant as the mechanics of their watches. In addition to the space program, Omega is affiliated with the Olympics and the James Bond franchise.
Pierce Brosnan was the first Bond to wear an Omega (a Seamaster) in Goldeneye in 1995. A Seamaster has been worn in every single James Bond movie since then. In 2020, Omega issued the James Bond Watch to celebrate the 25th year of the association — a titanium Seamaster Diver 300M 007 Edition.
Later, they released the James Bond 50th and 60th Anniversary Collector's Seamaster watches. (Dive Into The Secret History of James Bond's OMEGA Watches) and (OMEGA James Bond's Watches)
If you're more athletically inclined, you may choose to celebrate Omega's 90-year association with the Olympics. They've been the official timekeeper of every Olympics since 1932. At that time, they were chosen for the accuracy of keeping time to the 1/10th of a second.
Today, that has been reduced to 1/1000th of a second. They also offer limited edition lines of Olympic Seamasters or co-axial master chronometers that are inspired by the heritage stopwatches used at the Olympics.
Finally, for watch fanatics, Omega created the world's first self-winding watch with a central tourbillon where the balance is placed in the center of the watch face.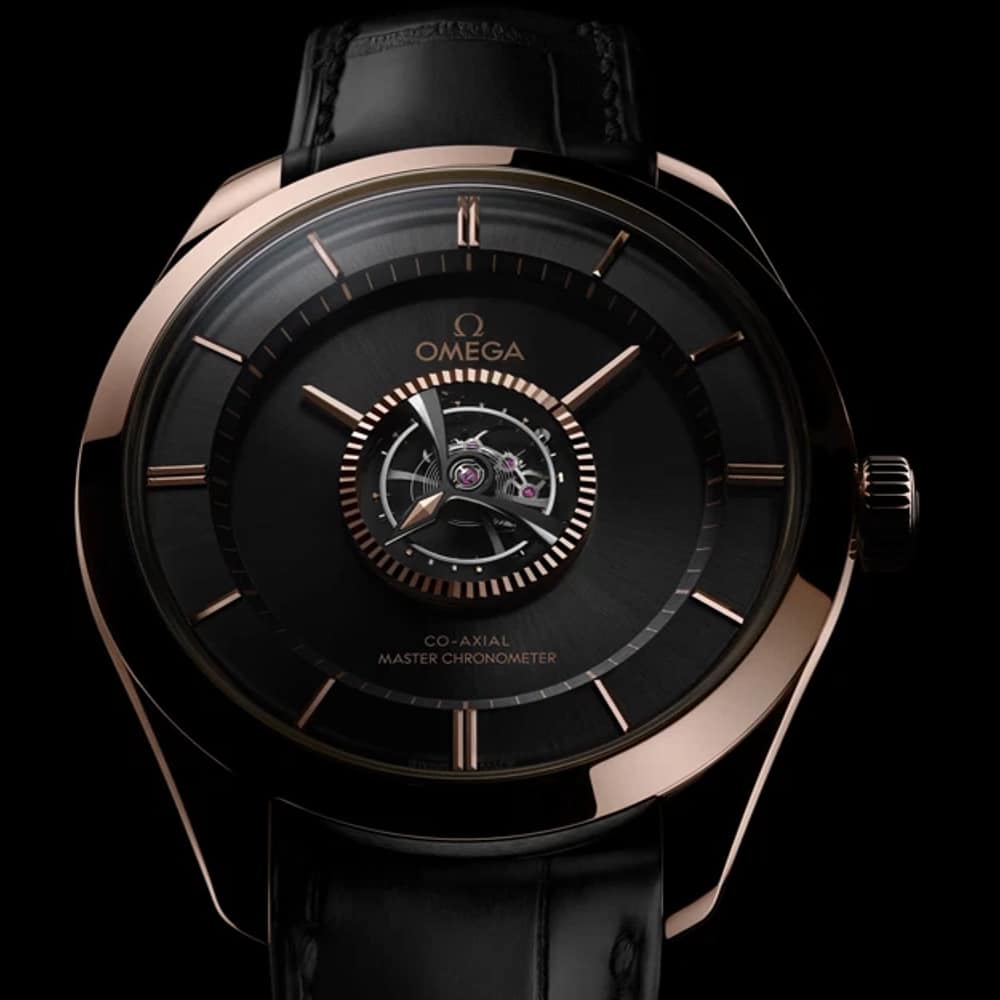 The De Ville Tourbillon comes in a variety of co-axial master chronometer options. These watches offer styling that's deserving of the unparalleled mechanics found within.
FAQs
Here are a few common questions people have about Omega watches.
Is Omega owned by Rolex?
Omega and Rolex are not affiliated. Omega merged with the Swiss watch conglomerate ASUAG, renamed SMH, in 1983. Today, the group includes Omega, Swatch, Rado, Hamilton, Longines, Tissot, Blancpain, Breguet, as well as Harry Winston Jewelry.
What are Omega watches known for?
Omega is a classic watch known for its precision and timeless durability. They are closely affiliated with NASA, the Olympics, and James Bond.
Why is Omega called Omega?
Omega is the last letter in the Greek alphabet and symbolizes accomplishment and perfection.
The La Generale Watch Co. first used the name for their 19-ligne caliber watch movement and later renamed the company Omega to reflect the brand's devotion to accuracy and fine workmanship.
Final Thoughts
Whether you're an avid collector of watches, thinking about building a collection or just looking for an everyday watch that will keep time, look great, and last a lifetime while keeping its value, there's an Omega for you.
These iconic watches grace the wrists of celebrities and politicians, yet are rugged and durable enough to be found in space, the deepest parts of the ocean, on athletes, and in the field.
This is one watch brand that always leads the way in accuracy and durability encased in a quality, and classic design.
Questions? Comments? Leave them below!