In this hands-on Seiko Presage SRP837J1 review, I'll do my best to convince you to buy this gorgeous little watch.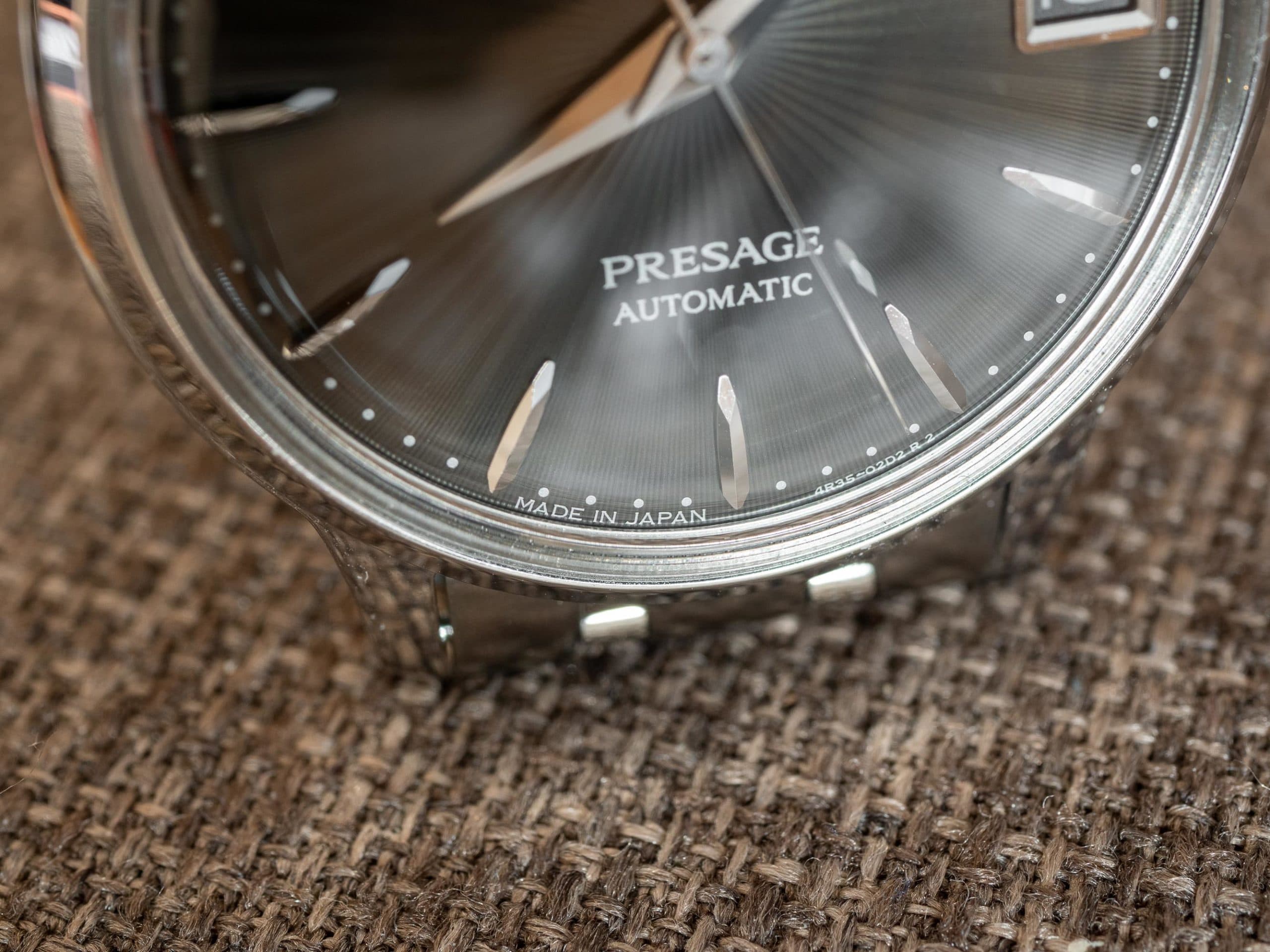 Hey, I'm just being honest. I really like this watch. It's even better in real life than it is in the photos, and I think it's the best Presage for Seiko lovers with smaller wrists.
If you're reading this, you're probably already interested in the SRP837J1. Maybe you're not quite sure if it's worth the price, or if it's the right size watch for your wrist.
If you're on the fence, I say go for it. Just pull the trigger on this watch (check availability on Jomashop). You won't regret it, especially if you love the 40mm Cocktail Time but think it's too big for you (which is exactly how I feel, and my wrist is about 6.3 inches around).
Seiko Presage SRP837J1 Overview
Before we talk about how this watch looks, let's quickly review its dimensions, movement and specs.
SRP837J1 Dimensions
Small by contemporary standards, this Presage has classic dress watch proportions:
Case: 33.8mm
Thickness: 11.3mm
Lug to Lug: 40.4mm
This watch is from the "women's" or unisex Presage line, but don't let that scare you way from wearing it if you're a guy.
SRP837J1 Movement
This watch is powered by Seiko's 4R35 automatic movement. It has a date window at 3 o'clock; it's hacking; and it can be wound by hand.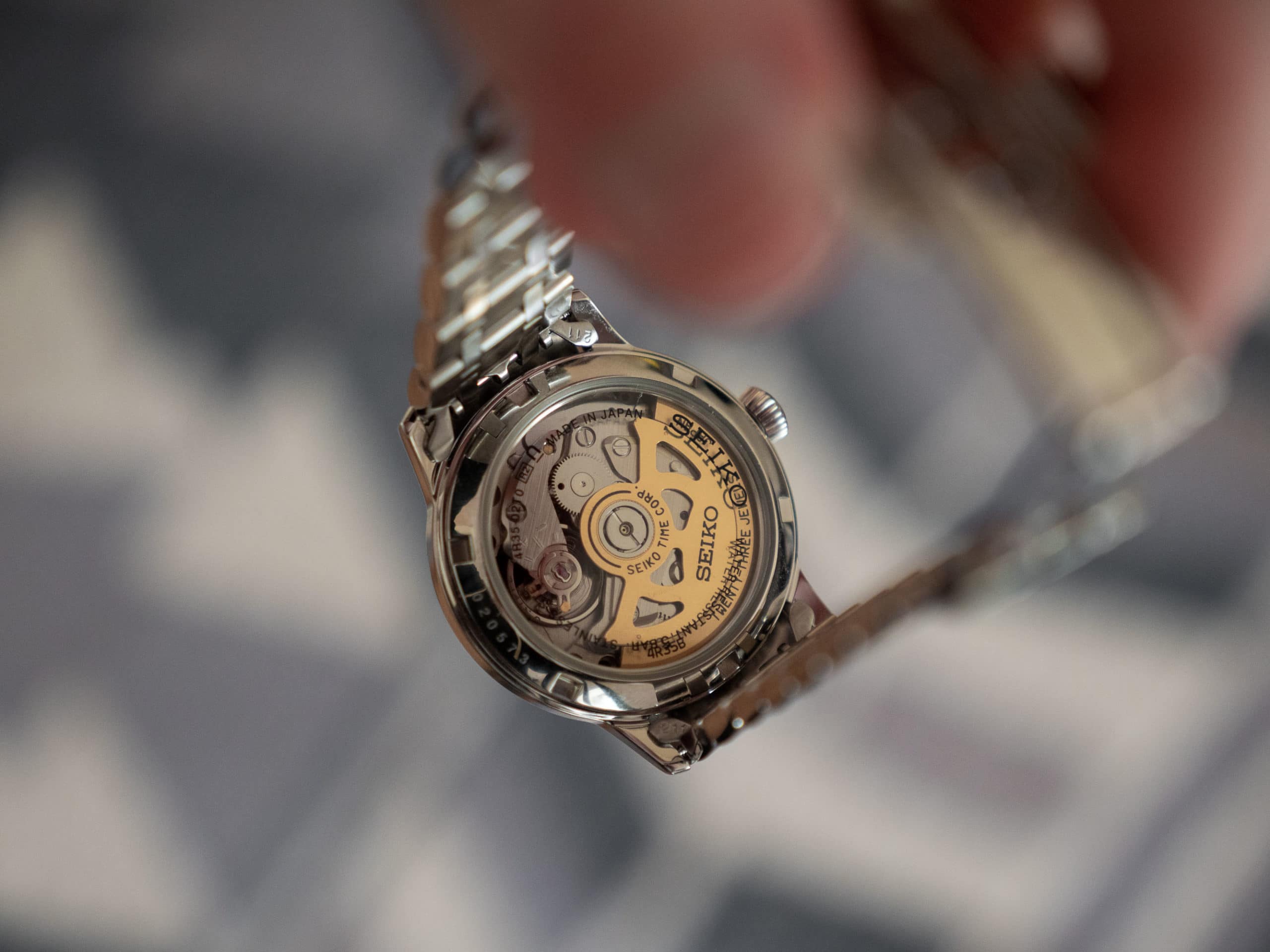 The power reserve is roughly 41 hours for this 23 jewel count Japanese movement, and its accuracy rating is +45 / -35 seconds per day (according to Seiko).
SRP837J1 Specs
The Presage SRP837J1 (check availability on Jomashop) has a stainless steel case, box-shaped Hardlex crystal over the dial, a deployment clasp and see-through case back.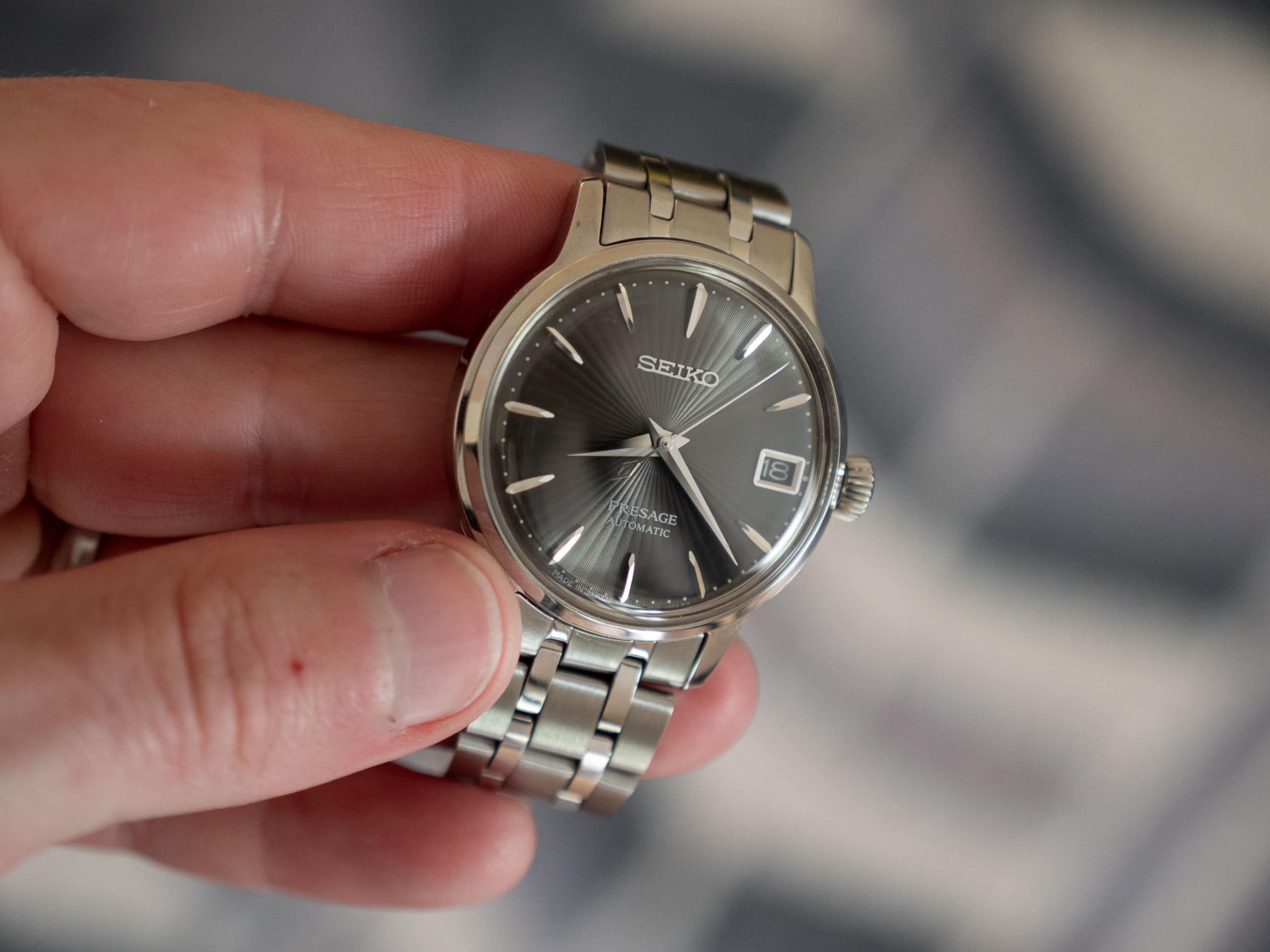 This watch is 50 meters water resistant, so you can wear it in the shower, but swimming or diving may be risky.
Seiko Presage SRP837J1 Style
I'm not gonna lie: I've never been enamored by the Cocktail Time aesthetic. Looking at photos of these watches online, they always seemed a bit too…classic. Or maybe too flashy.
There was just something about the dial pattern and bracelet style that felt too dressy for my taste, especially at 40mm. That's a lot of bling.
But when I tried the ~34mm "ladies" Presage on for the first time, I was sold.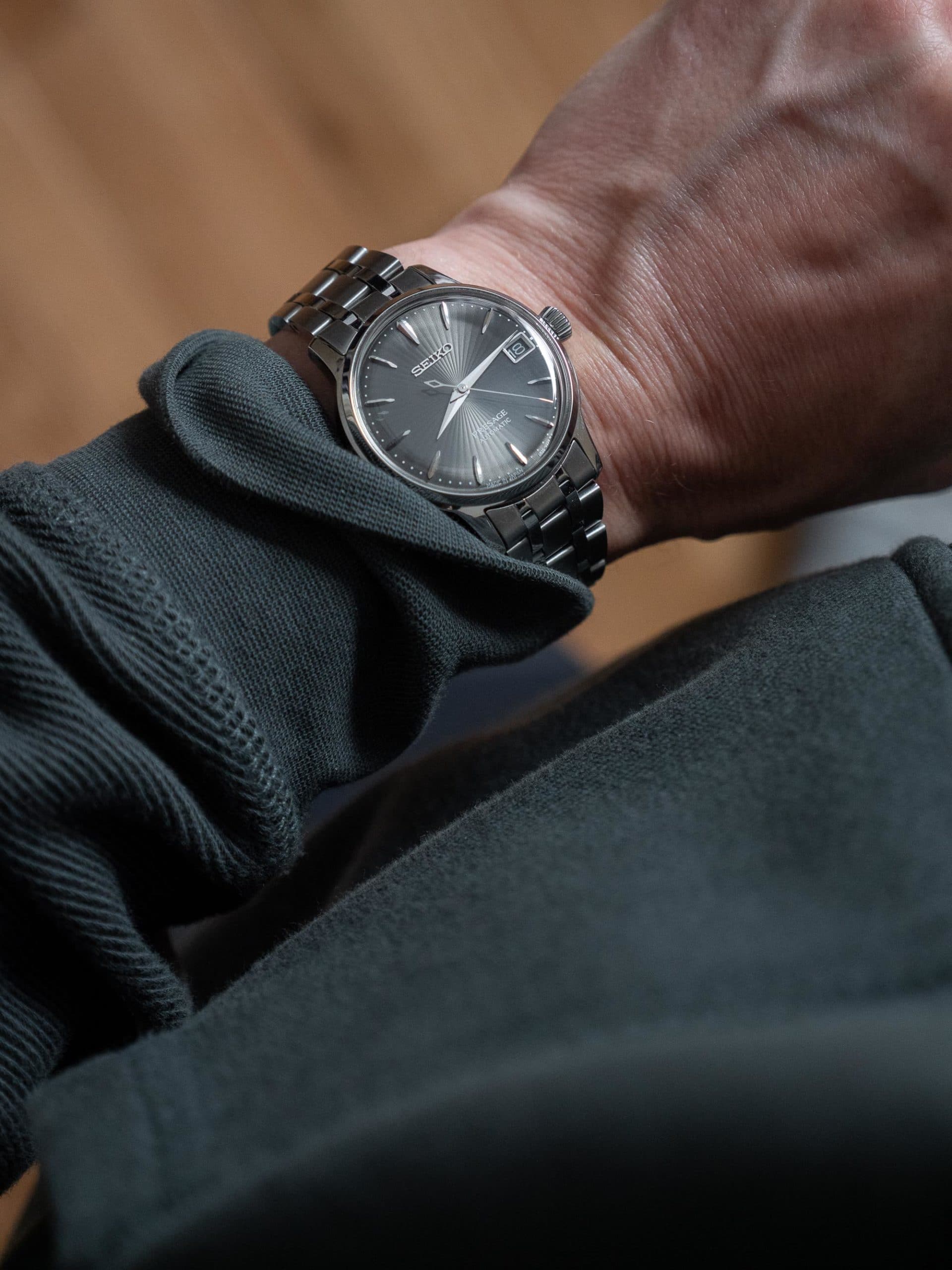 Yes, it's dressy. It really sparkles – to the point of being hard to photograph – and it will be noticed.
But even worn casually, there's just something about this watch. Much like the legendary SARB033, the SRP837J1 feels more expensive than it is.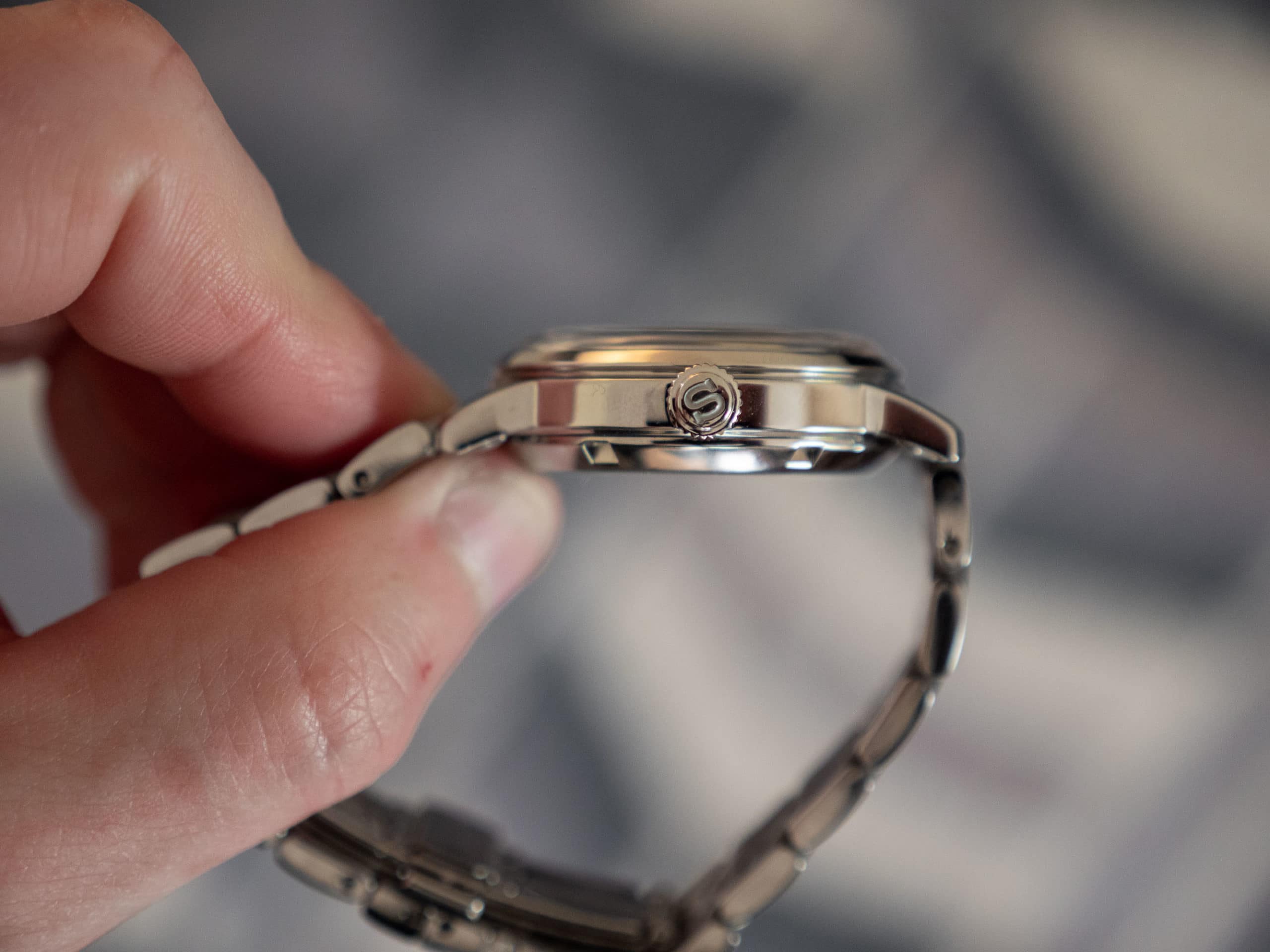 It's the weight of the case, the attention to detail on the dial, the engraved crown, the hackable, hand-winding movement, and the soft feel of the bracelet around your wrist.
The deployment clasp is solid and practical; the push button release is satisfying and quick.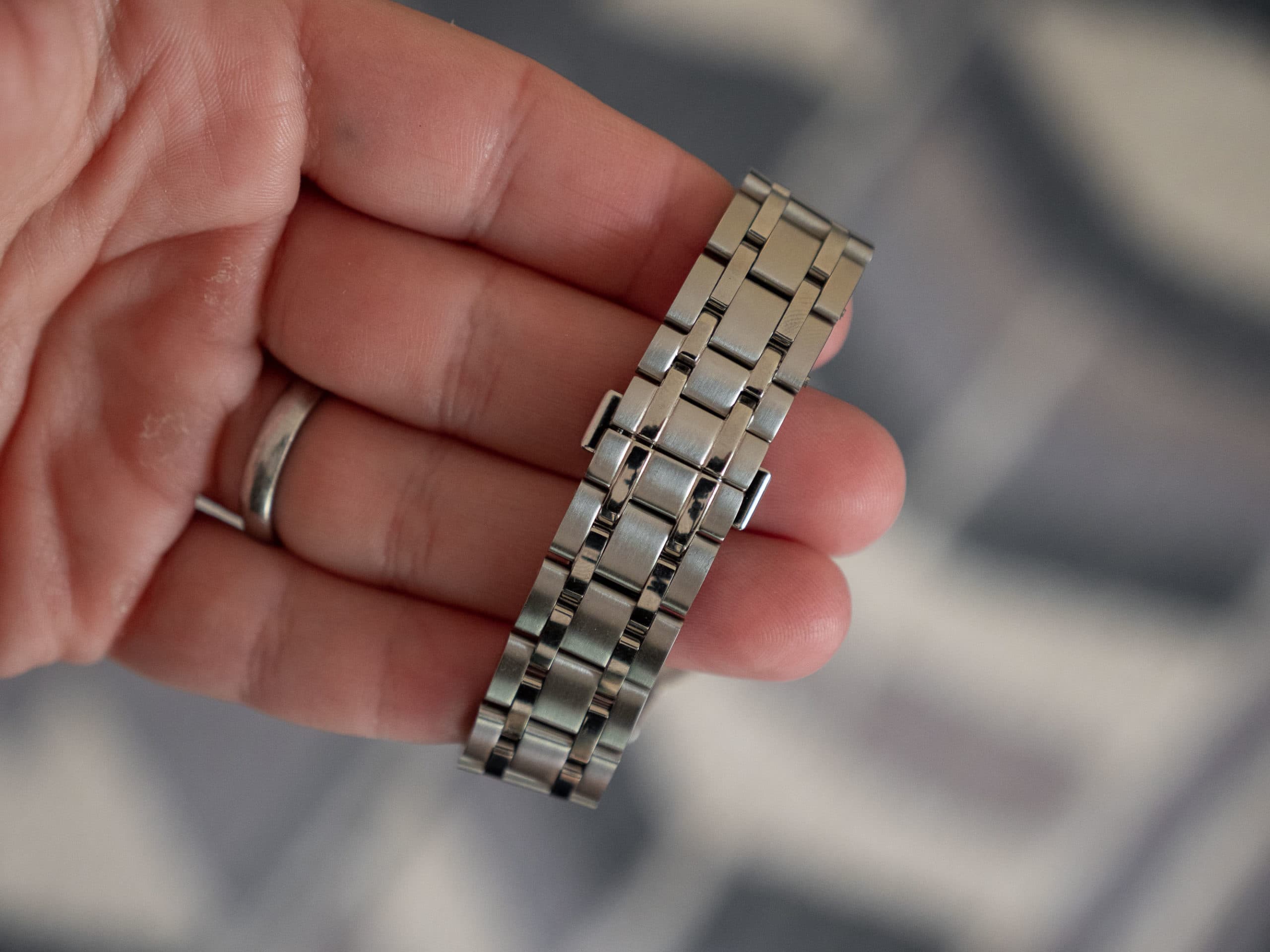 It just seems like a luxury watch, even though you can regularly find it for less than $300 on Amazon or Jomashop.
This one, in particular, has a warm grey dial that looks good in any lighting, from bright daylight to soft incandescent.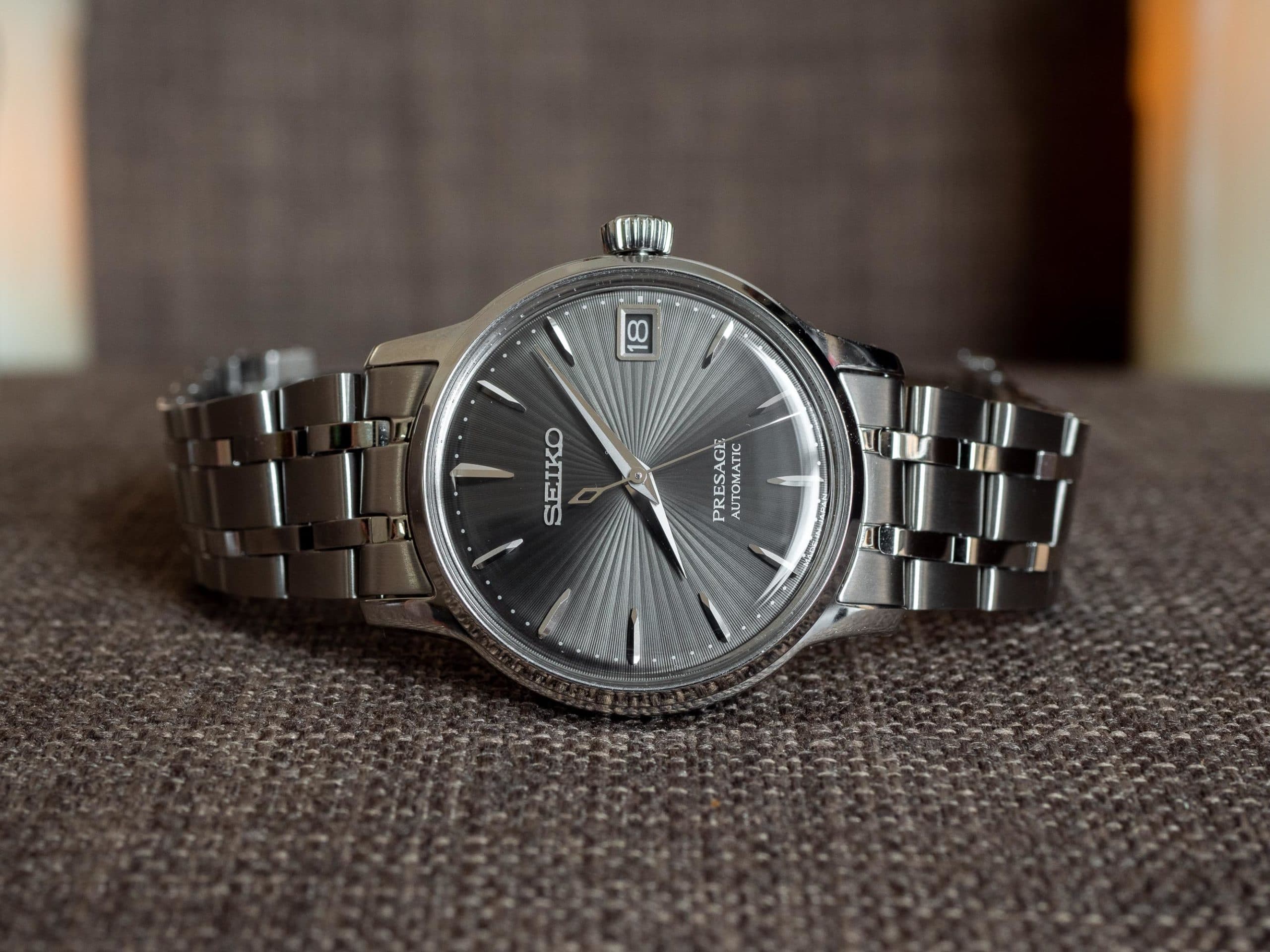 The way light travels around the fan pattern on the dial as your tilt your wrist forward and backward is incredible (and impossible to show in a photo).
The bottom line is: like many Seiko watches – especially from the Presage line – this one fights way above its weight class.
A vintage 34mm Rolex Datejust is usually my go-to dress watch, but recently I've caught myself eyeing this little Presage while suiting up.
If that doesn't convince you to buy this watch, I don't know what will.
What I Don't Like
There are two things I don't like about the Presage SRP837J1 (check availability on Jomashop). Both have to do with the bracelet, and only one is a possible deal-breaker.
First, I wish the bracelet (or lug width) was a bit wider at the top. I think this watch would look slightly sportier without losing any dressy-ness if it had a slightly wider lug width and more obvious taper toward the clasp.
This is a minor complaint and probably just personal bias after wearing sportier steel watches as daily drivers.
Second (and more important), this watch would be so much better with some micro-adjustability in the bracelet.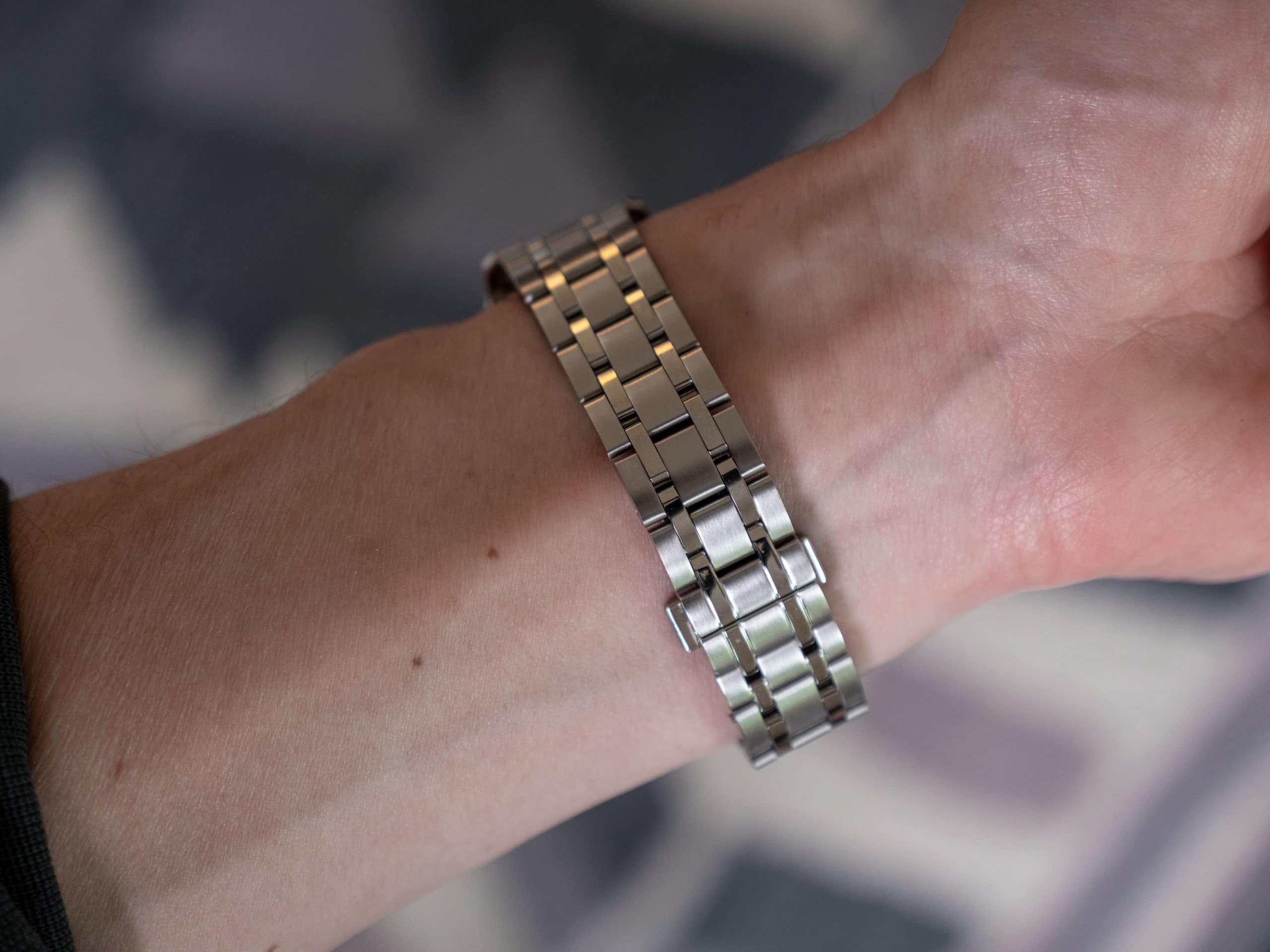 After removing a couple of links from each side, I found the bracelet is slightly too loose on my wrist. If I remove one more link, it's definitely too tight.
I don't have a lot of experience with deployment clasp bracelets, so I'm not sure if they typically aren't micro-adjustable, but in this case, that would be ideal.
Of course, this won't be a problem for many wearers. It will come down to your individual wrist size and shape.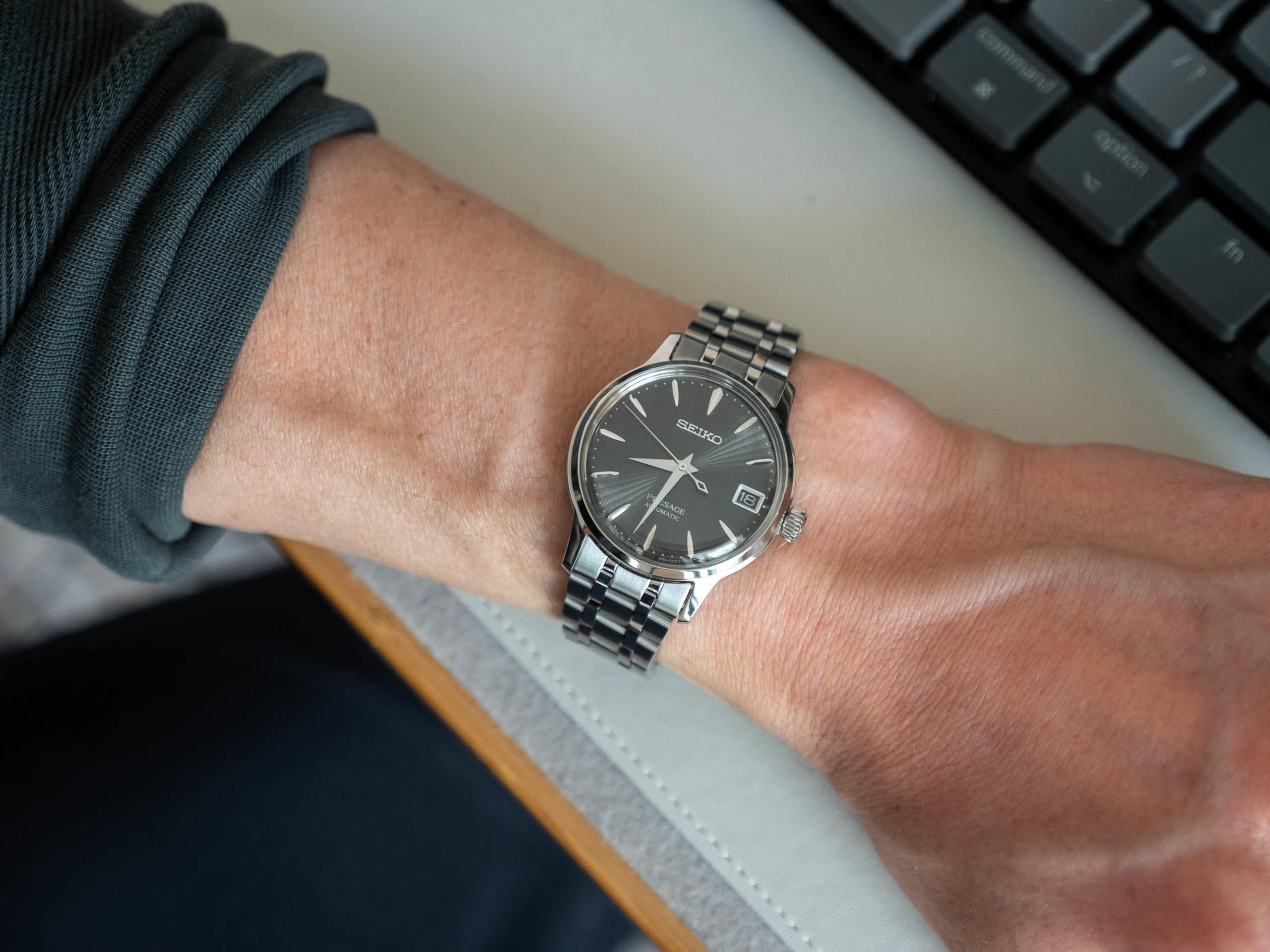 And, of course, you could put this watch on a different bracelet or a nice leather strap. I even think it would look cool on a curved end rubber strap, maybe even with the original deployment clasp… 🤔
For now, I'll wear it a bit loose and enjoy the occasional jingle as I go about my day.
My Overall Recommendation
Yes, you should buy this watch. If you love the look of the classic Cocktail Time watches but feel the 40mm size is too big, you'll love the "ladies" Presage.
It's on sale all the time, so be sure to check Amazon and Jomashop to find it for under $300, rather than paying the nearly $600 MSRP.