If you have small wrists and are looking for a dress watch that fits, here are some great options.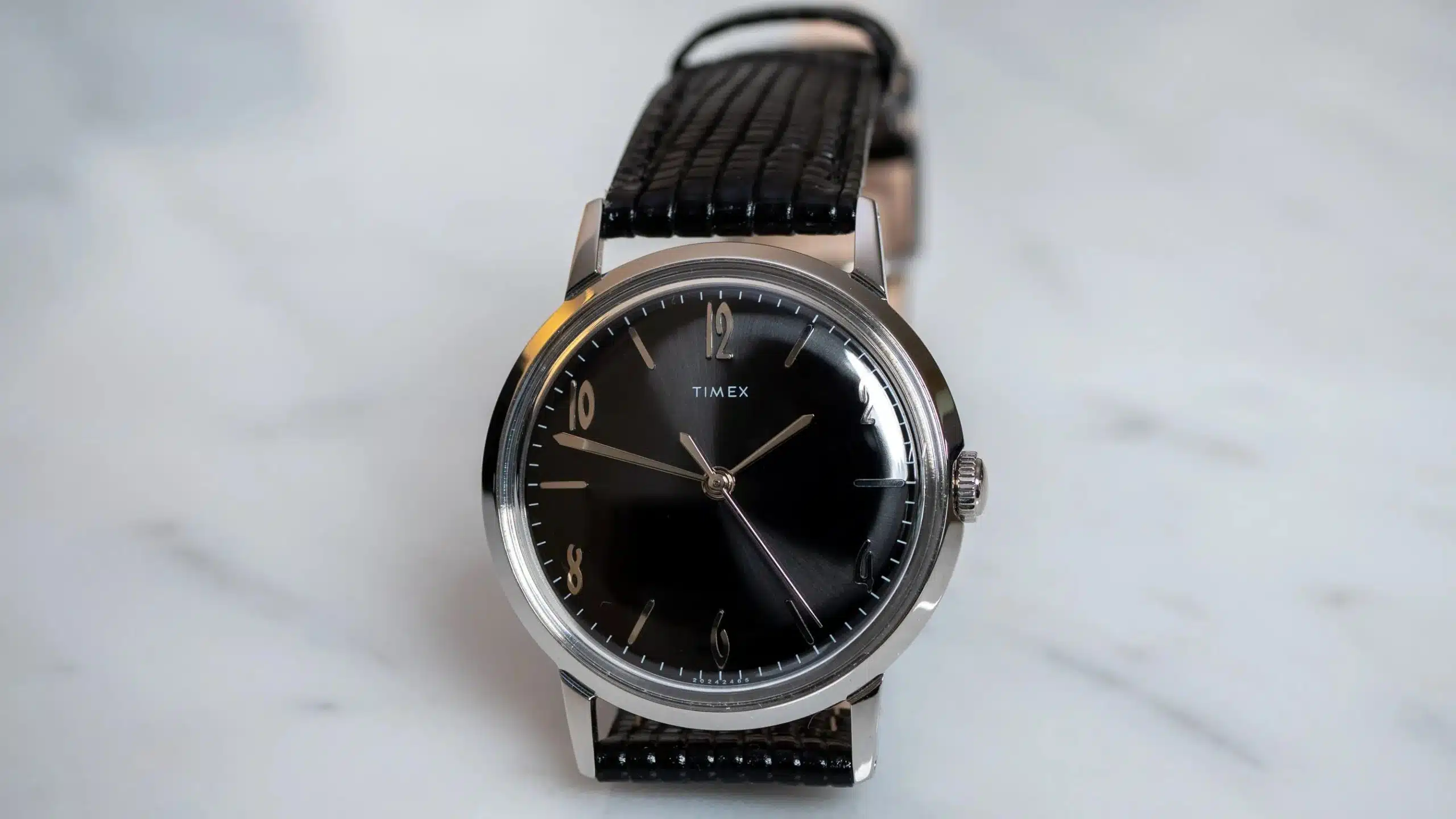 Traditionally, dress watches were meant to be worn with more formal attire. These days, the rules are more flexible.
If you have small wrists and you require a stylish dress watch that won't swamp your arm, this guide to 15 of the best sleek dress watches for small wrists is sure to provide you with plenty of inspiration.
15 Great Dress Watches That Fit Small Wrists
Dress watches are elegant timepieces for those that take pride in their appearance and want their preference both in style and design to be apparent at first glance.
These days, wearing a pilot's watch with a suit is about as normal as wearing a dress watch with casual attire.
Although the definition of a sleek dress watch may differ from one watch aficionado to another, what tends to be agreed upon is that a dress watch (whether for a small wrist or not) must be slim, elegant, and simple.
Generally speaking, a watch measuring between 33mm and 40mm is perfect for a slim wrist.
Orient Petite Sun and Moon Quartz Watch With Sapphire Crystal
Somehow, without crowding the dial, Orient manages to incorporate the Sun and Moon Version 3 watch design into a much more compact case size of just 34.8mm.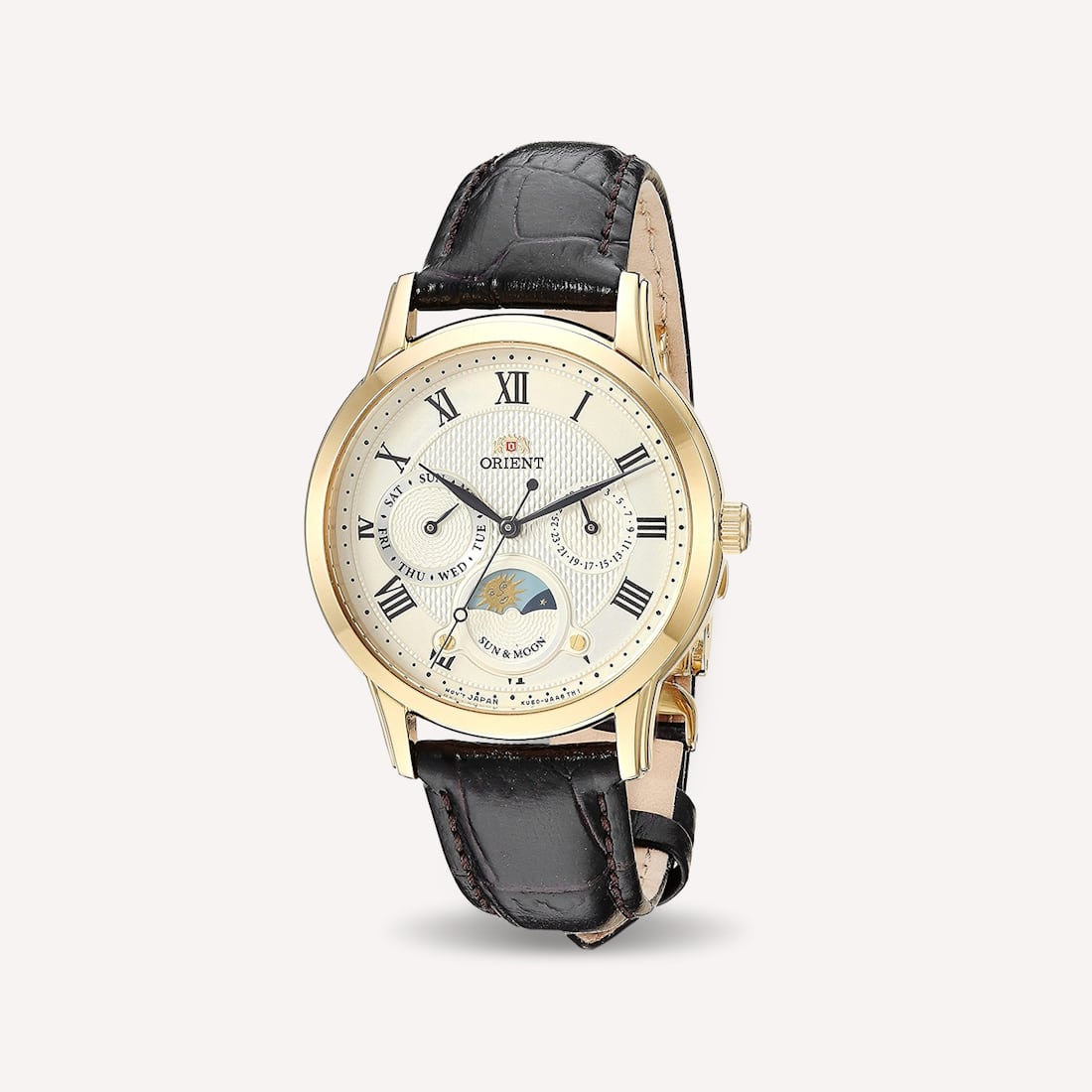 Its slender case height, afforded by a reliable quartz movement, also contributes to these ideal proportions for the small wrist.
This elegant dress watch from Orient is crafted from stainless steel and features a champagne basket-weave-textured dial with sub-counters at the 3-6-9 layout offering the date, the sun and moon feature, and the days of the week, respectively, adding a twist to the simple time and date dress watch design.
Timex Marlin Hand-Wound 34mm Leather Strap Watch
The purist design of the Marlin Hand-Wound watch by Timex is actually a reissue of a 1960s model.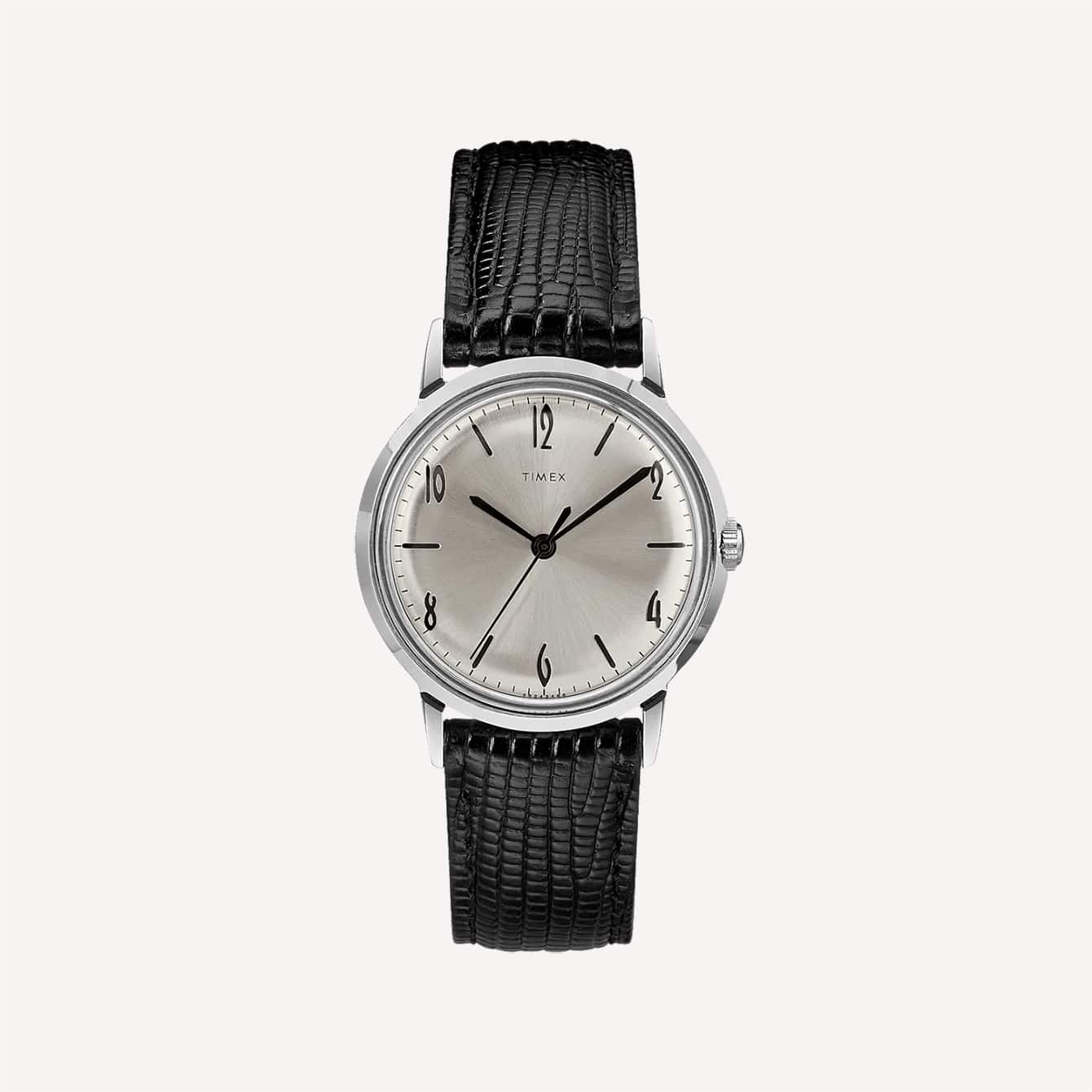 Its simplistic design gives off a sleek style, whilst inside its 34mm stainless steel case is a hand-wound movement that makes timekeeping extra special.
Sitting at a 10mm height, this dress watch for small wrists is sealed with an acrylic front and features a silver dial with crisp black Arabic numerals, sword-shaped hands, and a black leather strap for wearing anytime and anywhere.
Click here to read our full review.
Nomos Orion 309
Original designs and in-house movements are what make Nomos watches so popular within the luxury watch world. They're also very affordably priced.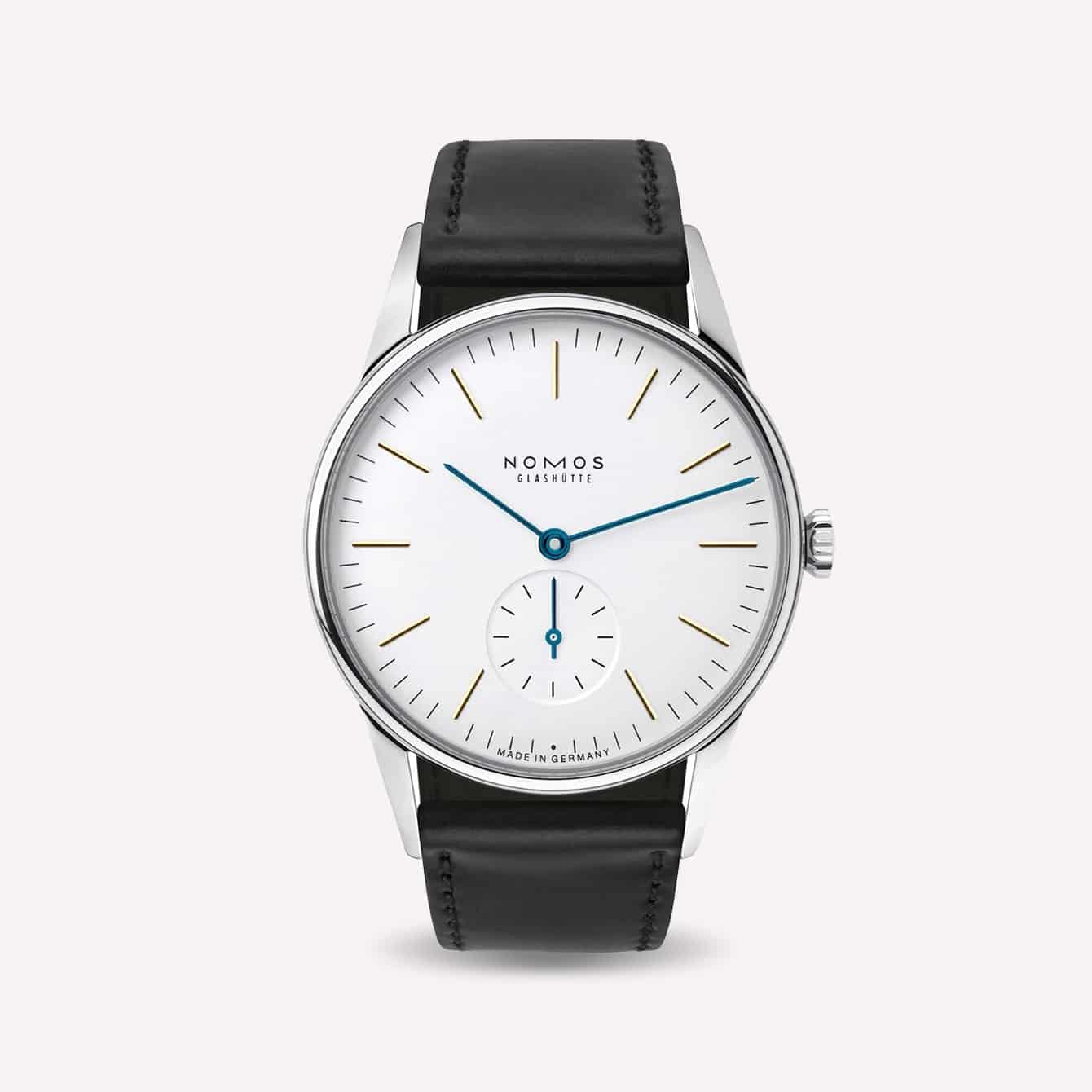 The Nomos Orion watch collection is a great place to look when shopping for watches for small wrists.
This 309 Nomos Orion model measures a compact 35mm diameter and features a black calfskin leather band for pairing it easily with casual attire.
The watch has been reduced down to the essentials with a simple two-handed stick index dial in galvanized white and a small seconds sub-dial at 3 o'clock.
Sea-Gull 38mm Hand Wind Cocktail Time Dress Watch #0N2705
Fitted with a hand-wound mechanical movement at its center, the Sea-Gull Cocktail Time dress watch is a 38mm model with a steel case and a see-through caseback to admire the Calibre TY2705 whilst at work.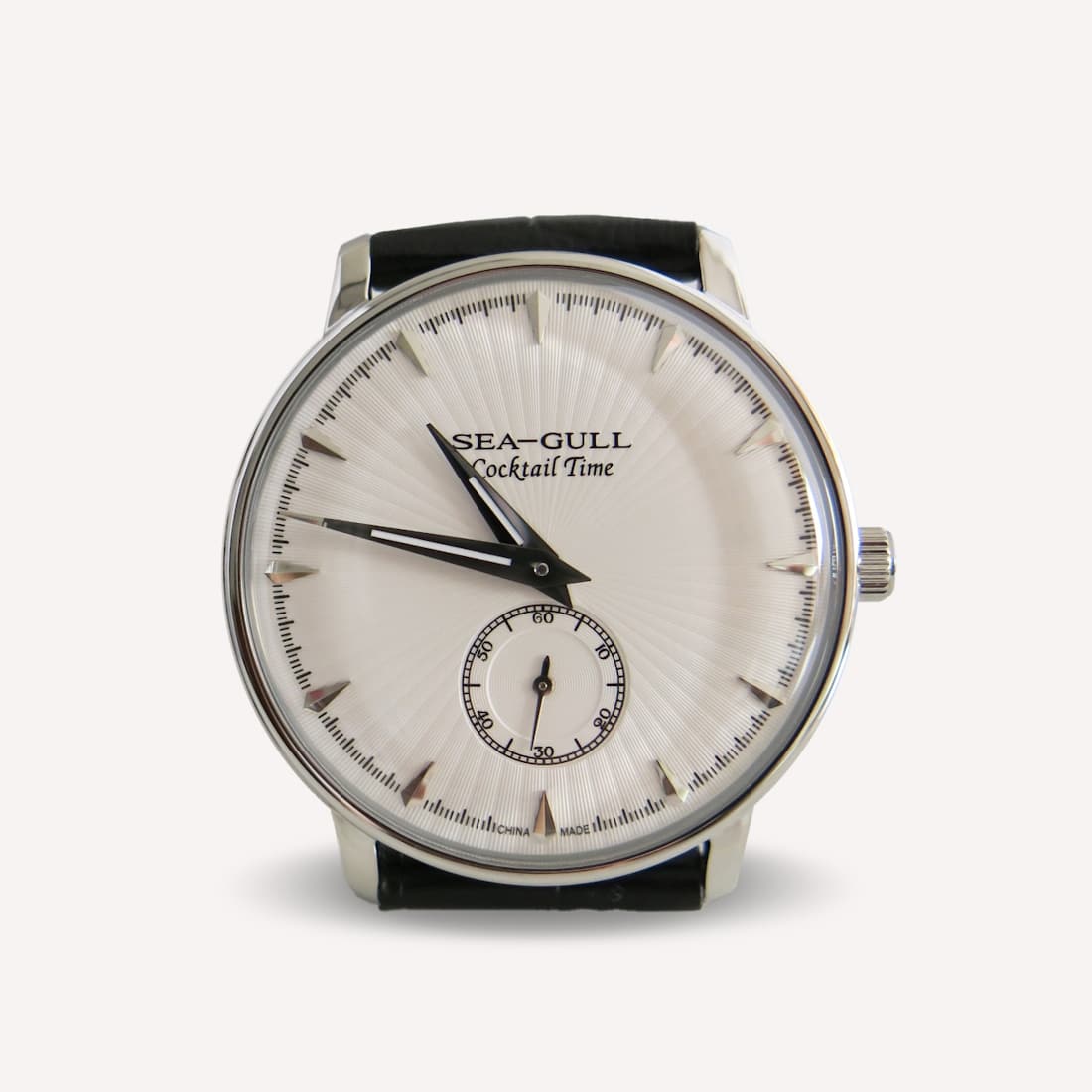 Its strong sapphire crystal glass front allows a clear view into a sunburst white dial with a detailed seconds and minutes scale, shard-like hour markers, and a small second sub-dial.
Hamilton Intra-Matic Microrotor watch
If you're a vintage watch collector, you may consider the Hamilton Intra-Matic microrotor watch manufactured back in 1969.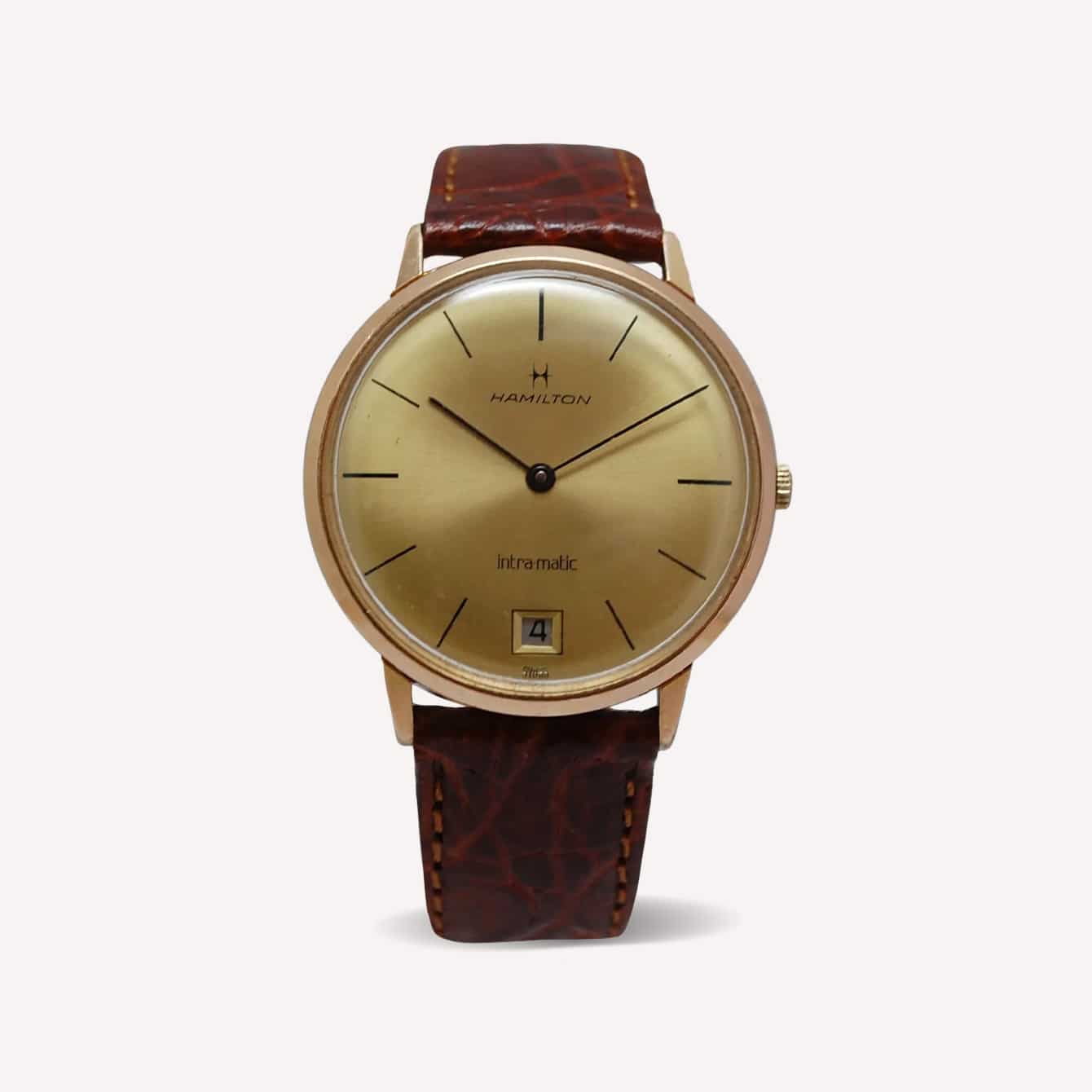 This vintage collectible has an interesting backstory and can be found for an affordable price on the pre-owned market.
Hamilton bought Buren during the 1960s and began developing watches that shared Buren's technology. As a result, some Hamilton Intra-Matic watches were manufactured in Switzerland — others back in the USA.
This small dress watch's small gold plated case measuring 34.5mm gives way to a gold dial with a semi-quickset date, a low domed crystal, and a slim bezel for a resolutely classic feel.
1969 Seiko 5601-9000 "Lord Matic" Automatic (Arabic)
The Lord Matic watch by Seiko was born at a time when the hand-wound Lord Marvel watch became equipped with an automatic caliber.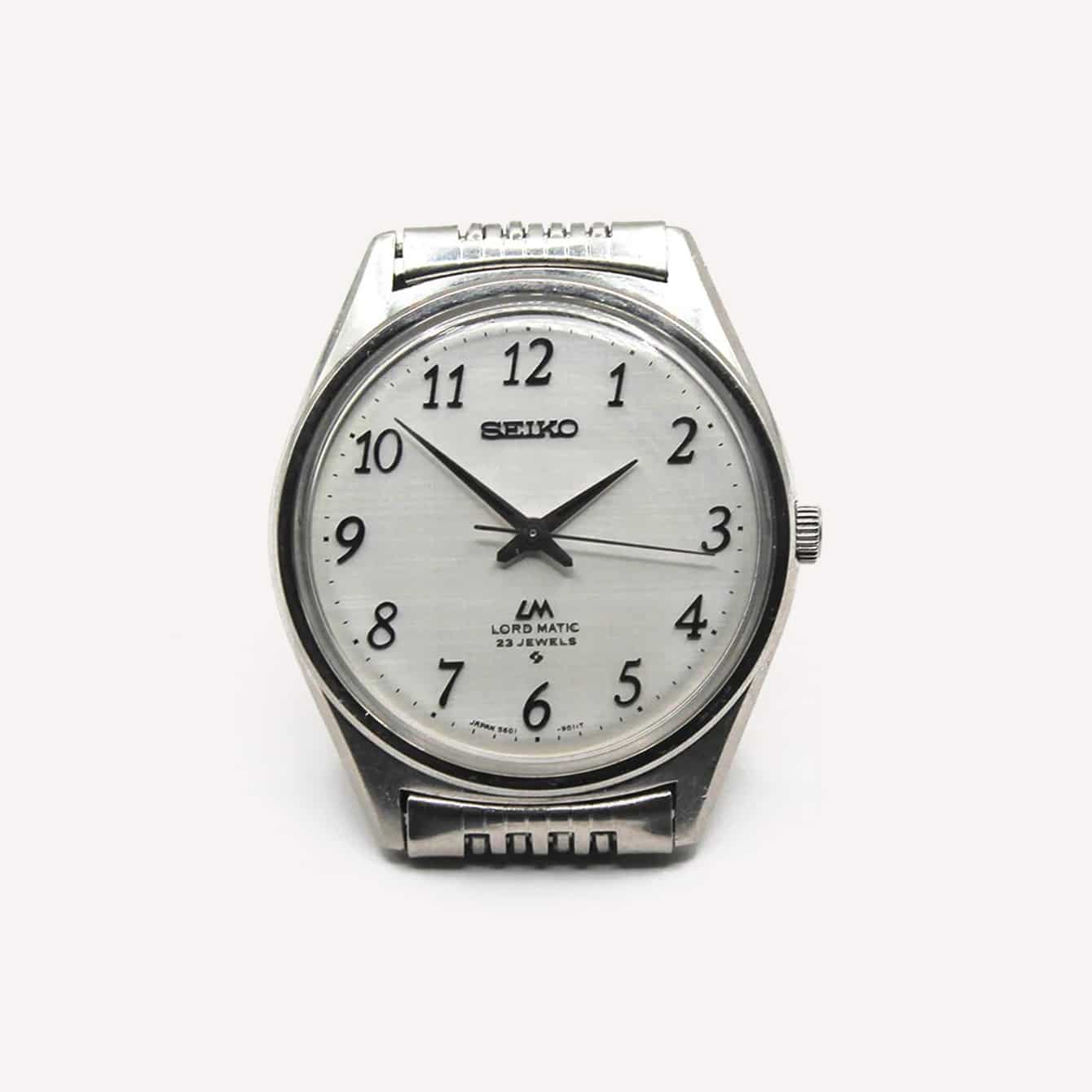 This vintage dress watch by Seiko, powered by the Suwa 5601 movement, features a monocoque case style with a pressure-fitted acrylic front and bezel.
Its 36mm diameter makes for a great fit for any slender wrist, whilst crisp black Arabic numerals provide quick and easy timekeeping when on the go.
Junghans Gents Watch MAX BILL Analogue 027/3700.00
Junghans MAX BILL watches are an ideal option if you love the Bauhaus tendencies of this prestigious German watch brand.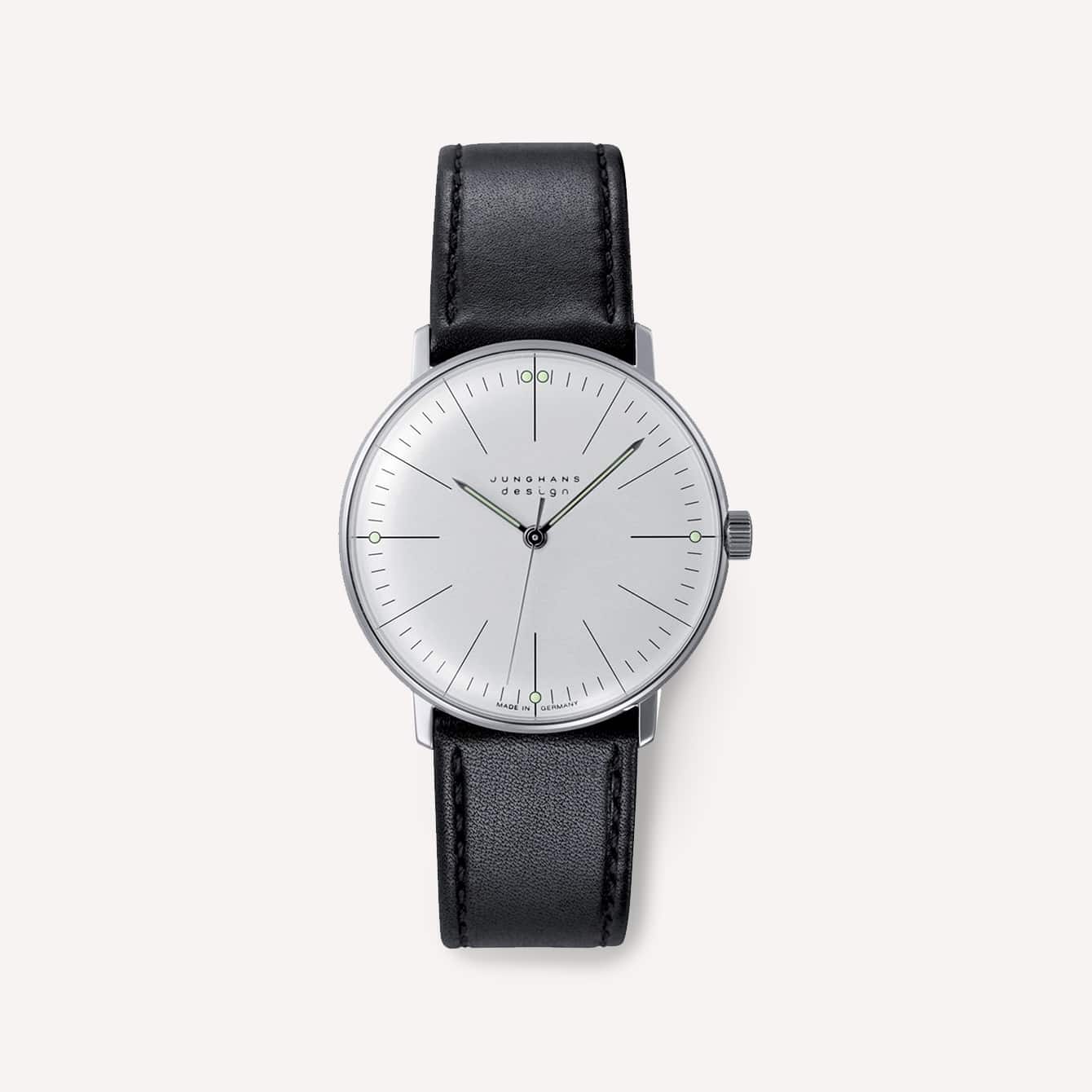 Models like this one are parred back and minimalist in design to evoke the simplicity of the German art school.
Bauhaus scholar Max Bill lives on today through designs like this 34mm model with needle-fine hour markers, slender hands powered by a hand-wound movement, and an incredibly thin case depth of just 9mm.
Vintage Omega Constellation Automatic Solid Pink gold
Crafted from 18ct rose gold, this vintage Omega dress watch from the Constellation collection is a refined and elegant design that can still be found in pretty good condition on the pre-owned market.
Its silver dial with onyx-black indices creates a clean and uncluttered look across the display, while the central hands that taper to a sharp point evoke clean lines and a refined look that works well in the modern world. A date at 3 o'clock also adds another functional layer to the dial.
Longines Heritage Mens 35mm Automatic Mens Watch L16114752
If you want classic, go for a dress watch like the Longines Heritage watch.
Its mix of golden tones against a silver dial creates the perfect backdrop for an unusual date location at 12 o'clock.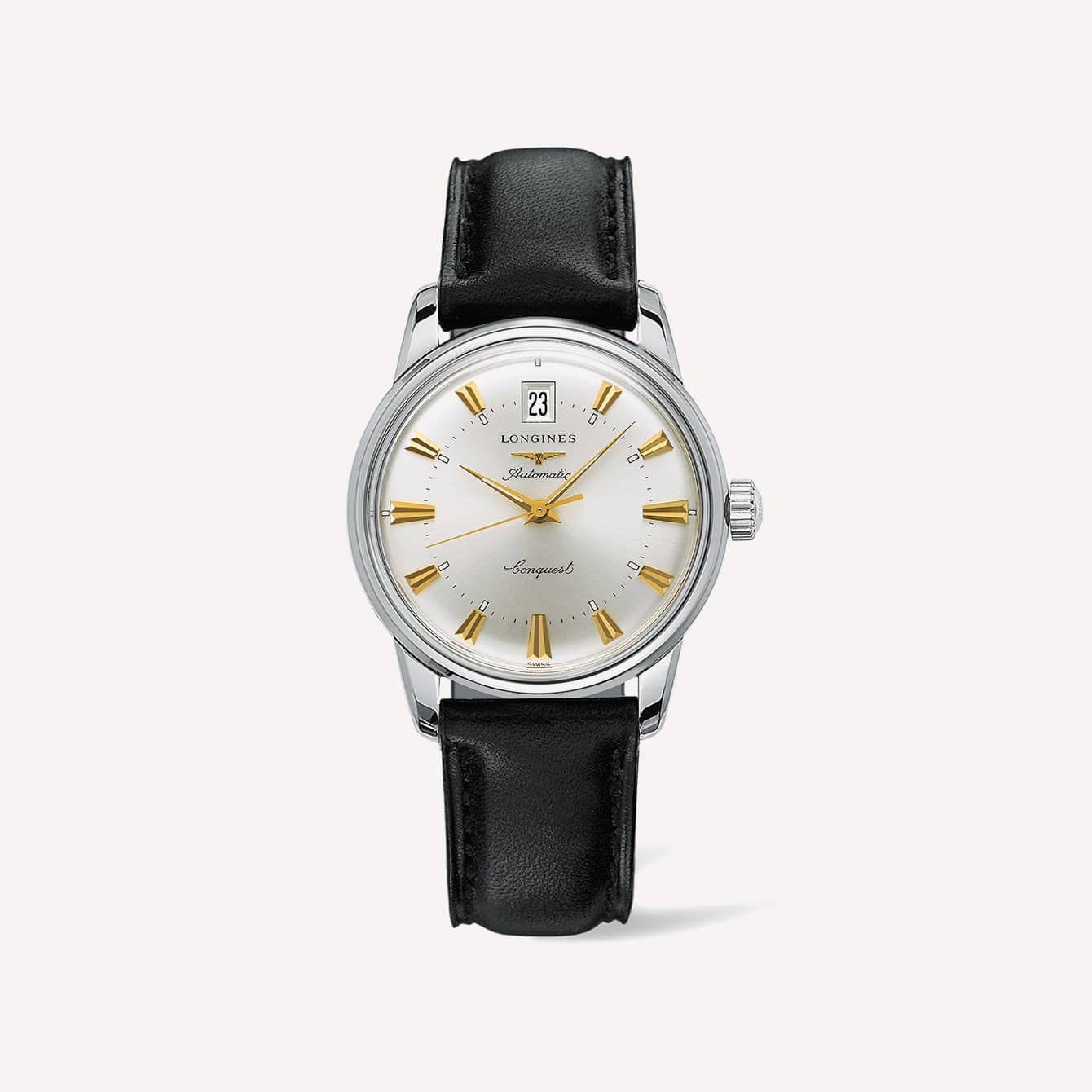 The design is a re-interpretation of the vintage Conquest watch line and is powered by the L633 caliber movement, which provides a healthy power reserve of 38 hours.
The advantage of its black leather strap is that it's ideal for formal occasions.
Rolex Datejust 16013
If you've got a flexible budget but can't afford a new Rolex, a vintage Rolex could be the way to go.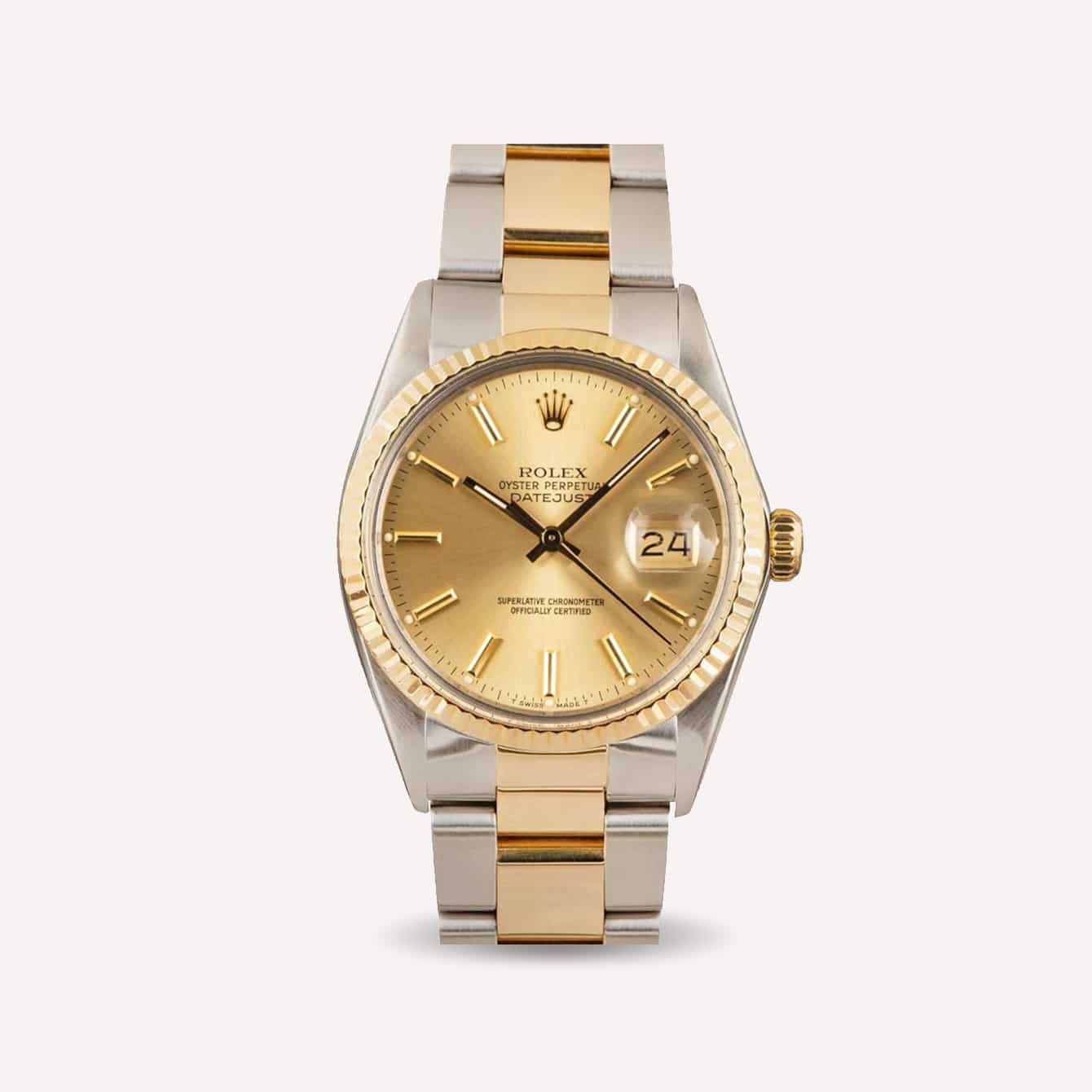 The great thing about the Rolex Datejust watch is that it comes in dimensions that are friendly for small wrists to manage. Despite this, it loses nothing in the way of charm or character.
This Rolex Datejust watch is a 36mm model crafted from a mix of stainless steel and 18kt yellow gold. It features the iconic fluted bezel and an acrylic crystal top for a truly retro vibe.
To finish, its tritium-filled hands and lume plots against a champagne dial make timekeeping easy during the night.
Louis Cartier Tank
The Cartier Tank has been around for a very long time and is a popular option as a tuxedo watch.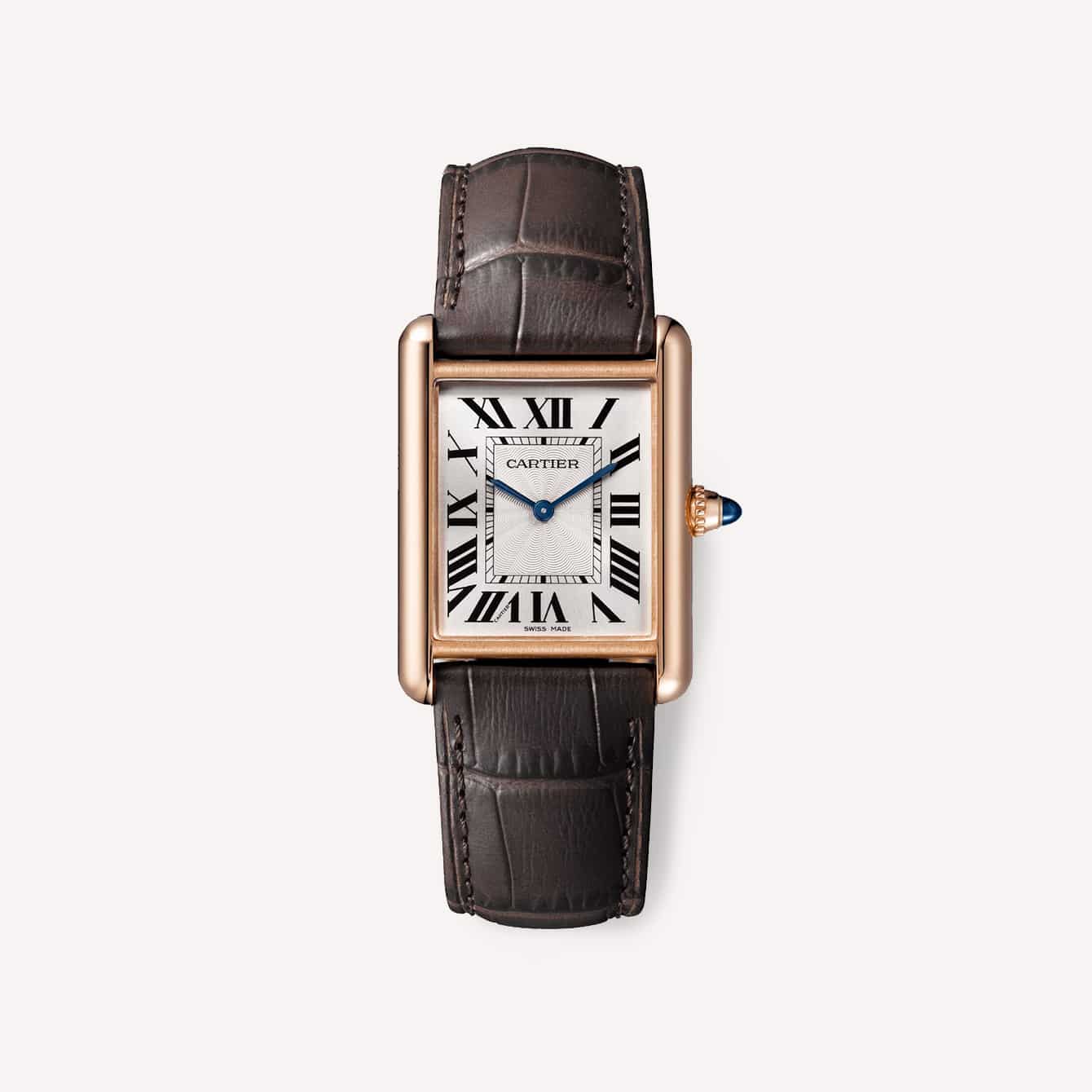 Its rectangular-shaped case evoking the profile of military tanks used in the First World War comes in several variations, yet none are more classic than the Louis Cartier Tank models.
This watch is still going strong in Cartier's catalog and is distinguishable for its Chemin de Fer chapter ring, blue sapphire cabochon embedded crown, blued steel hands, and bold Roman numeral hour markers.
Jaeger LeCoultre Master Ultra Thin Kingsman Knife
Jaeger-LeCoultre has produced some of the most exquisite dress watches in the world and is globally recognized for its higher-priced timepieces, but if you have the budget to spend, luxury dress watches don't come more breathtaking than the Jager-LeCoultre Master Ultra Thin Kingsman Knife watch.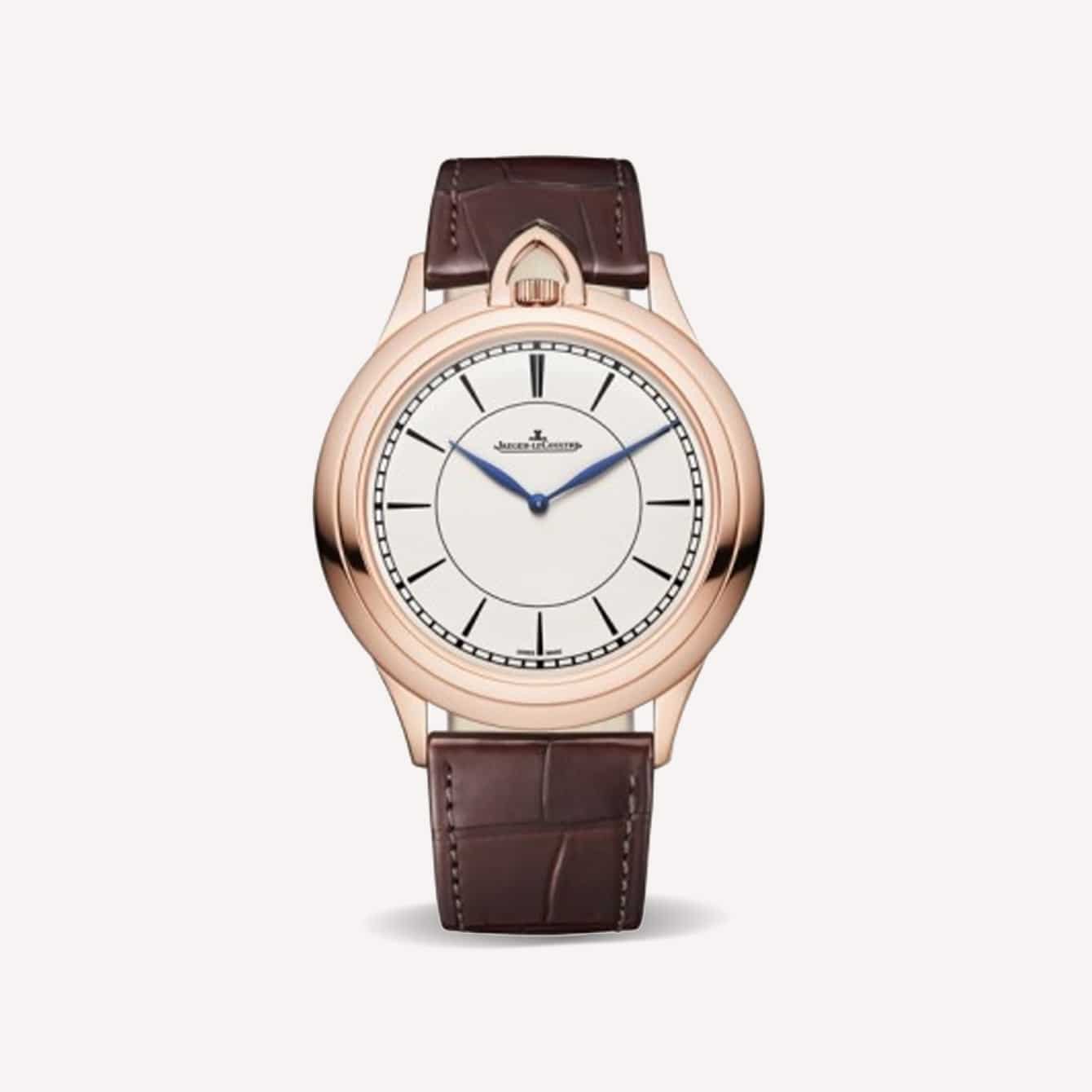 It measures at the top end of the ideal proportions for a dress watch at 40mm but features a stunning 18ct rose gold case that only measures a thickness of 4.25mm, hence the "Ultra Thin" reference in its name.
This is a perfect dress watch for sliding under the sleeve of any elegant suit.
Luch 77471760
Don't try to fix what isn't broken. It seems like this was the motto for Luch when creating the watch reference 77471760, which hasn't been changed in half a century.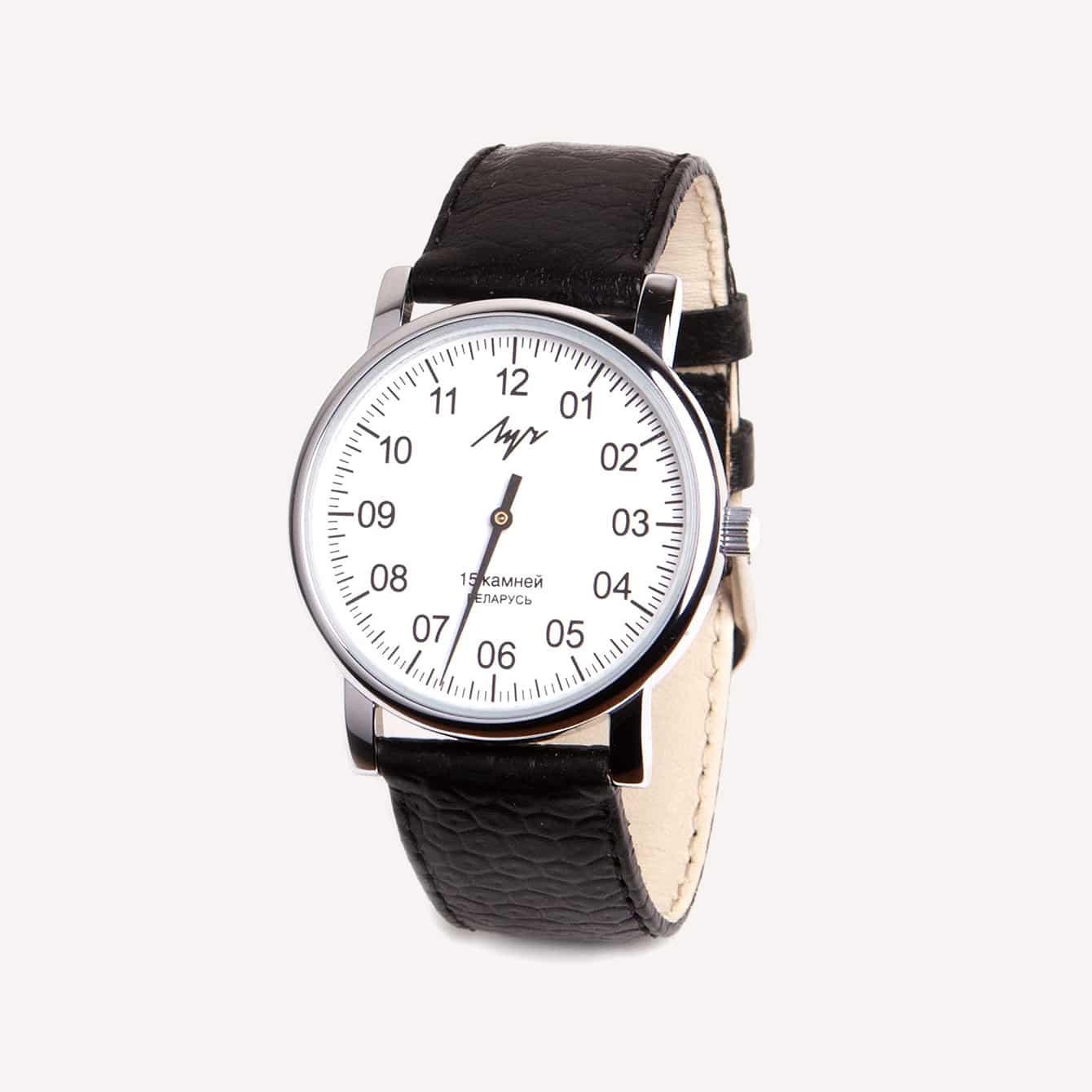 Interestingly, it doesn't tell the direct time, more so, it only displays the hour hand.
This affordably priced dress watch for small wrists features a silver dial with double-digit numeral hour markers that introduce a unique way to read the time, while its hand-wound movement and single hand dial design are a real conversation starter for fellow watch enthusiasts.
H. Moser & Cie. Vantablack Black Hands
H. Moser & Cie is known for its experimental approach to aesthetics, pairing the modern with the classic in a unique way.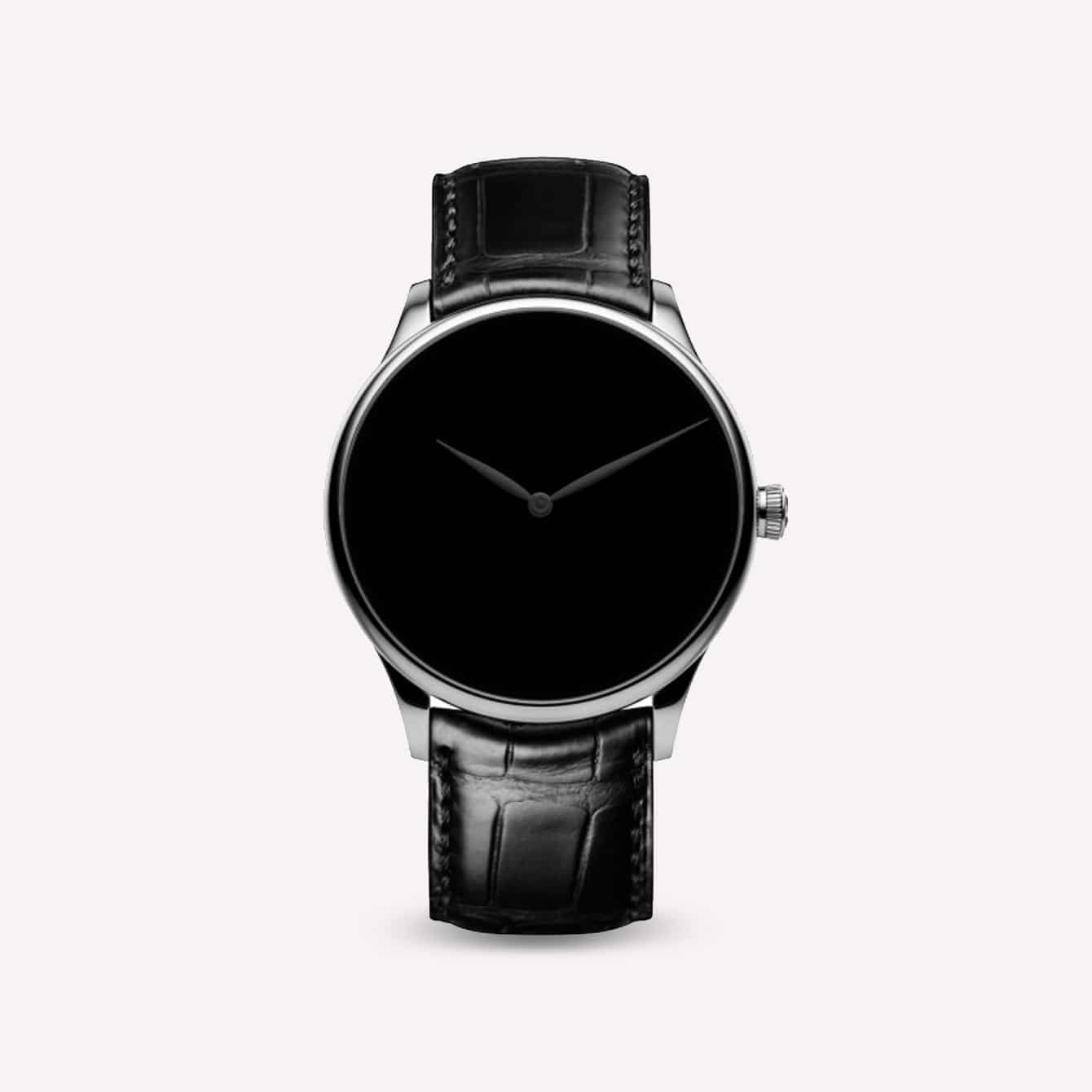 The H. Moser & Cie Ventablack Black Hands dress watch boasts a stealth-like design and is a good match for a small wrist, measuring in at a comfortable 38mm diameter.
What's more, its manual winding HMC 327 Calibre is equipped with a very useful 3-day power reserve.
Its Ventablack dial is the blackest of black pigments, absorbing 99.965% of light. Even more interesting is the Ventablack hands of this dress watch, which were made as part of a joke but due to the resounding positive feedback they attracted, were kept permanently for the design.
Grand Seiko SBGW258
If you like a bit of history behind your watch, the Grand Seiko SBGW258A was developed as a homage to the Grand Seiko First — a much earlier design.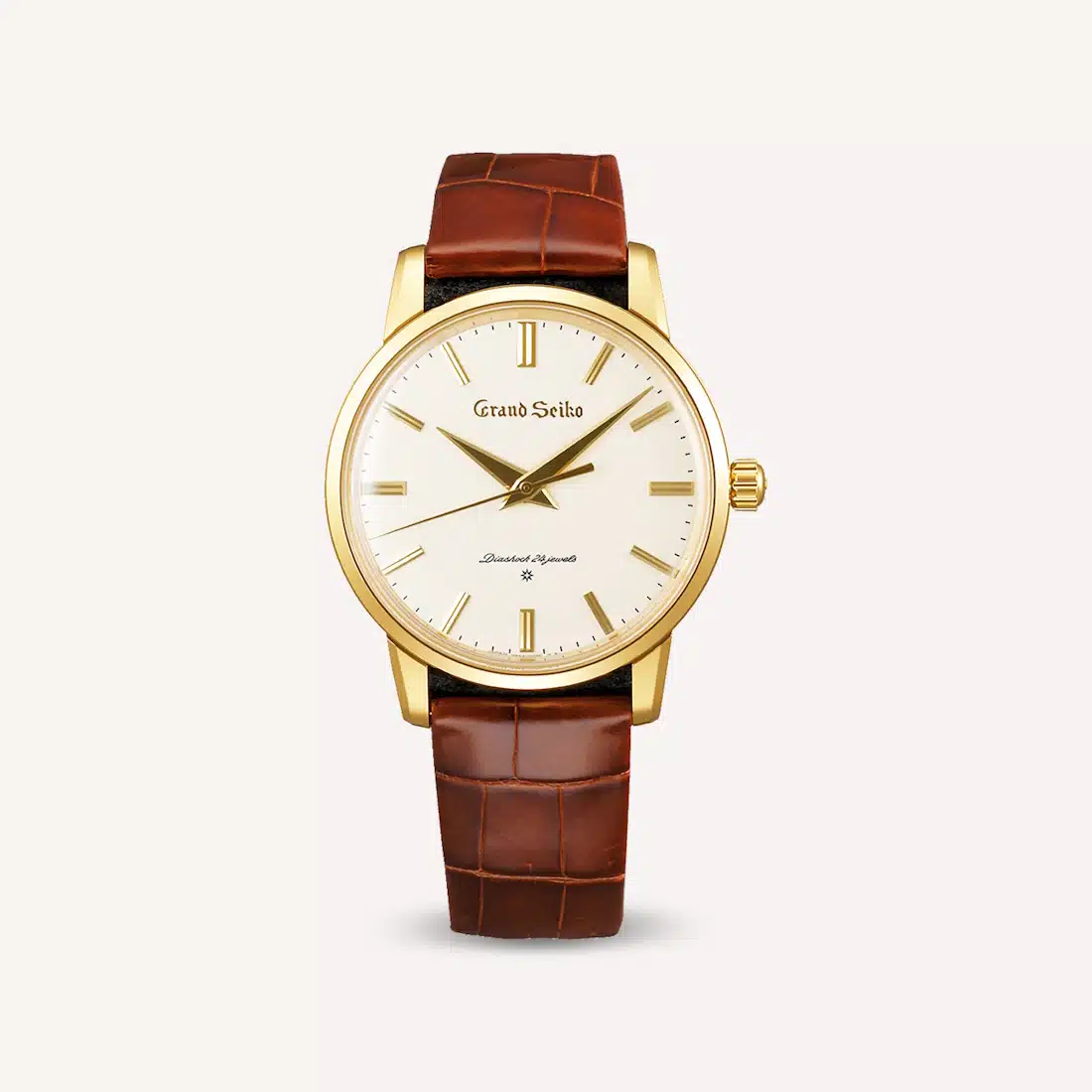 It was released as part of the Japanese brand's way of marking its 60th anniversary.
Its case has been enlarged from an original 35mm to a 38mm diameter, yet still offers a great fit for a slender wrist. The 18kt yellow gold case is matched in color by gold-toned hands and indexes and the watch is finished on a brown alligator leather strap for an even more luxury-enhanced feel.
What Makes a Good Dress Watch?
At one time, dress watches were only worn to sophisticated and formal events but are now appealing to a wider audience.
Pairing a dress watch with casual attire can create a dressed-down look tastefully.
Furthermore, they can be slid under the cuff of a shirt or suit for a more understated look but can also become the talking point of an elegant suit when worn correctly.
Dress watches are most appreciated for their slim profiles, lending themselves a more elegant look. They should also be modestly sized.
Many luxury dress watches are crafted from precious metals such as 18kt gold or platinum, creating a refined finish to any outfit.
With minimal complications, a good dress watch should be able to present the time simply and quickly without fuss and can be enjoyed as a statement piece when the need arises.
Conclusion
Whether you're searching the market for a luxury dress watch or a more budget-friendly timepiece, there are plenty of sleek dress watches for small wrists to choose from.
As you may have gathered, some of the latest releases from leading luxury watch brands (if your budget will allow) can provide a very modern finishing touch to any wardrobe, while vintage dress watches are the way to go for more character and a more affordable option.
Before purchasing any dress watch, however, make sure you have a price in mind, a preferred case, a size, and maybe even favorite dial colors and strap options to begin your search.
When it comes to buying dress watches, the key to finding the perfect match for your small wrist is to choose a design that will pair easily with most of your wardrobe so that whatever the occasion, you can be sure to get the most out of your chosen design.
Do you own a dress watch? Let me know in the comment section below!