If you're looking for an affordable, minimalist, stylish watch that borders between casual and dressy, you've probably stumbled across the Timex Marlin.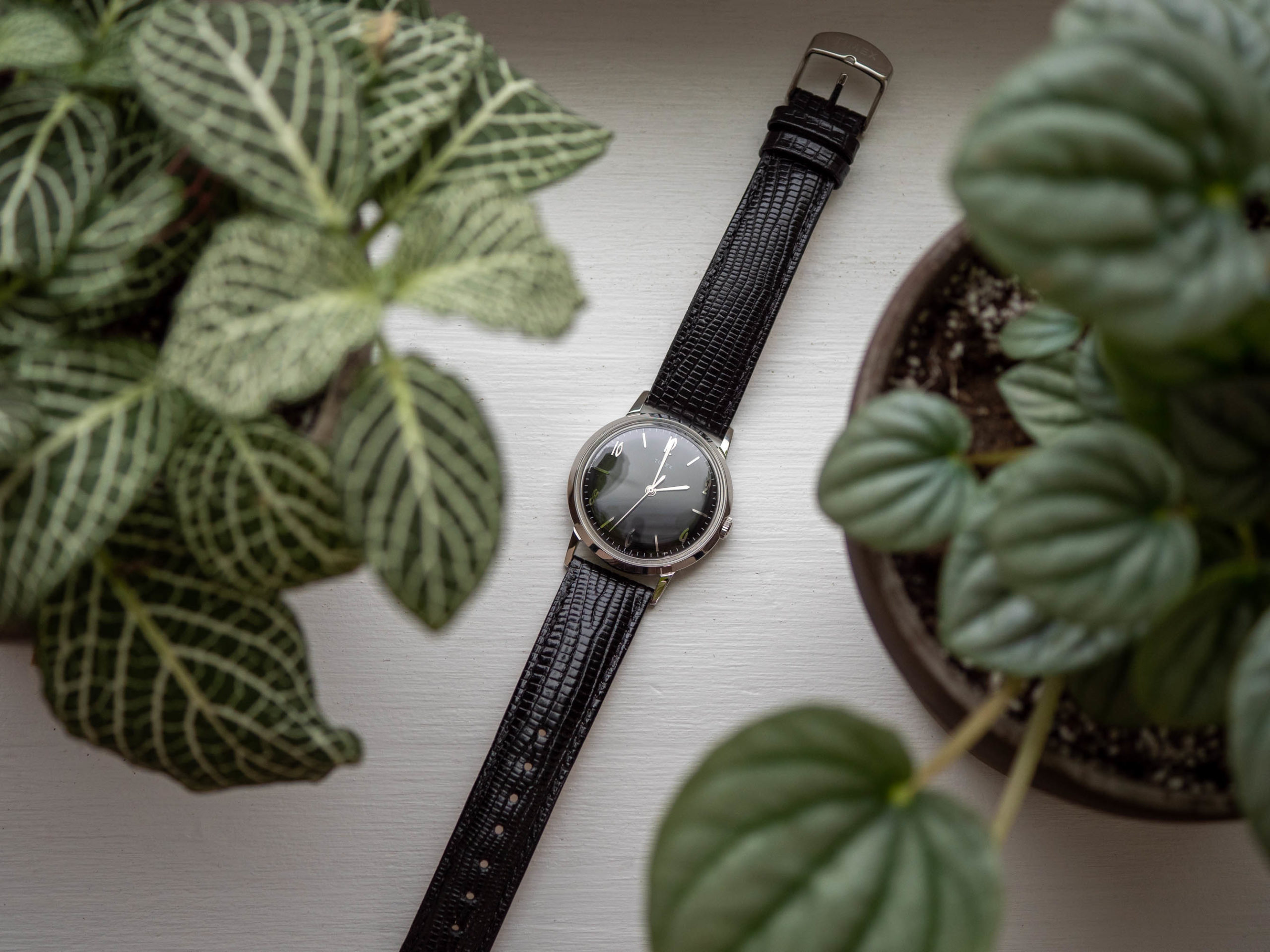 With its simple design, non-modern case size, and attractive brushed dial, it caught the attention of collectors and fans. But why? Well, this Timex Marlin Review will explain.
You see, for over 25 years, Timex didn't have a watch that fit the description of the Marlin. When the company released it in 2017, it caused quite a stir in the community.
Suddenly, a watch no one knew they always wanted was available, and it became a bit of an icon overnight.
Let's dig into the Marlin to get a better idea of why this watch was so instantly popular and if it's actually worth the hype.
Timex Marlin: The Original
When Timex released the Marlin in 2017, it was the first time the company decided to create a mechanical timepiece since 1982. It was quite a surprise that such a prominent watchmaker would revert back to its ways of a quarter-century prior.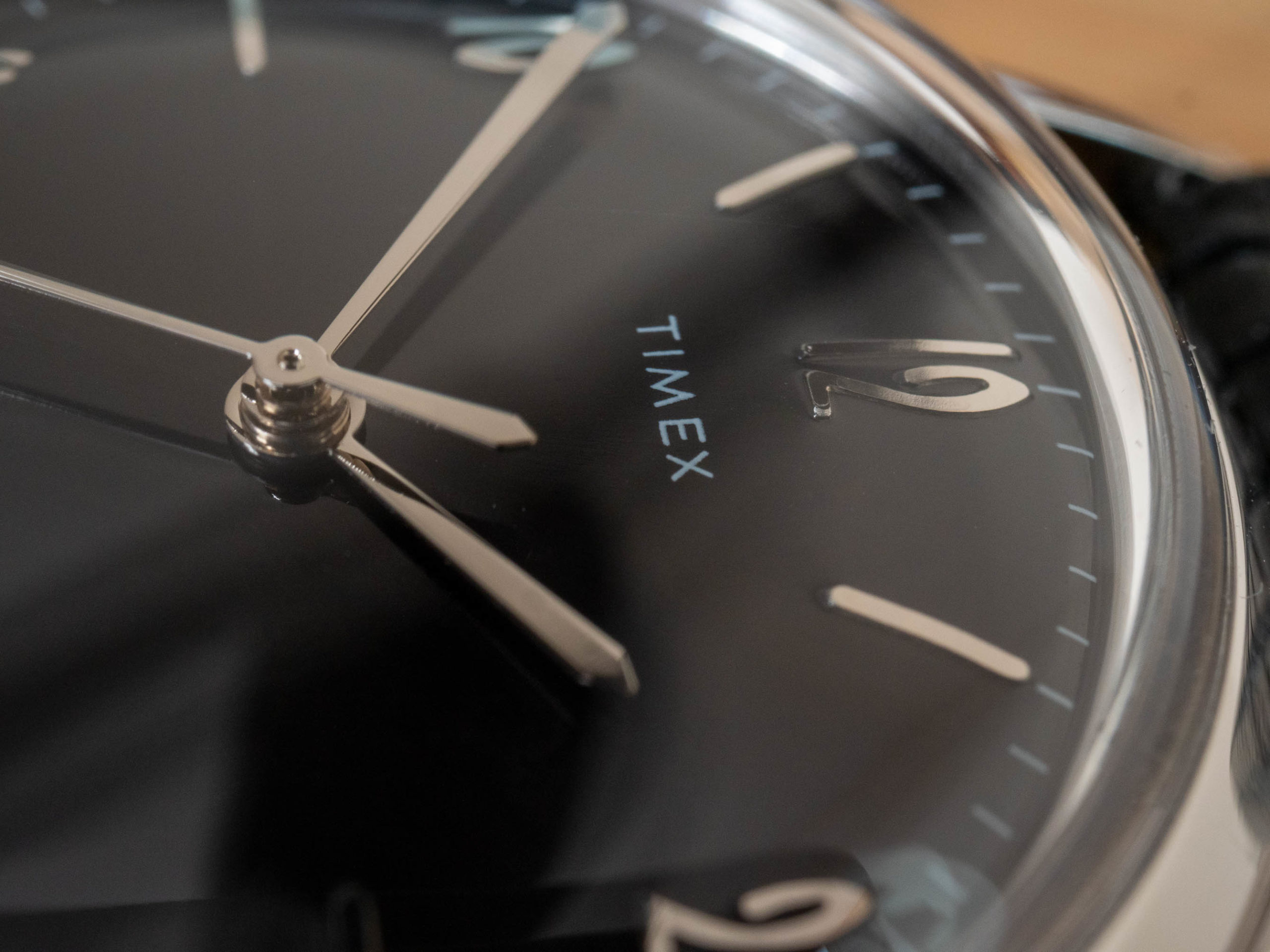 The fact that the watch was a reissue just made it that much more special.
Timex sold the original Marlin wristwatch in the 1960s. This was Timex's hey-day, when everyone knew a Timex could "take a licking and keep on ticking."
Similar to the company's slogan, the Marlin was so-named as it was incredibly water-resistant for the time.
But, like so many watches from the 1960s, the Marlin was small by today's standards. The case was only 34 millimeters across and only 10 millimeters thick — a far cry from the bulky modern watches we wear today.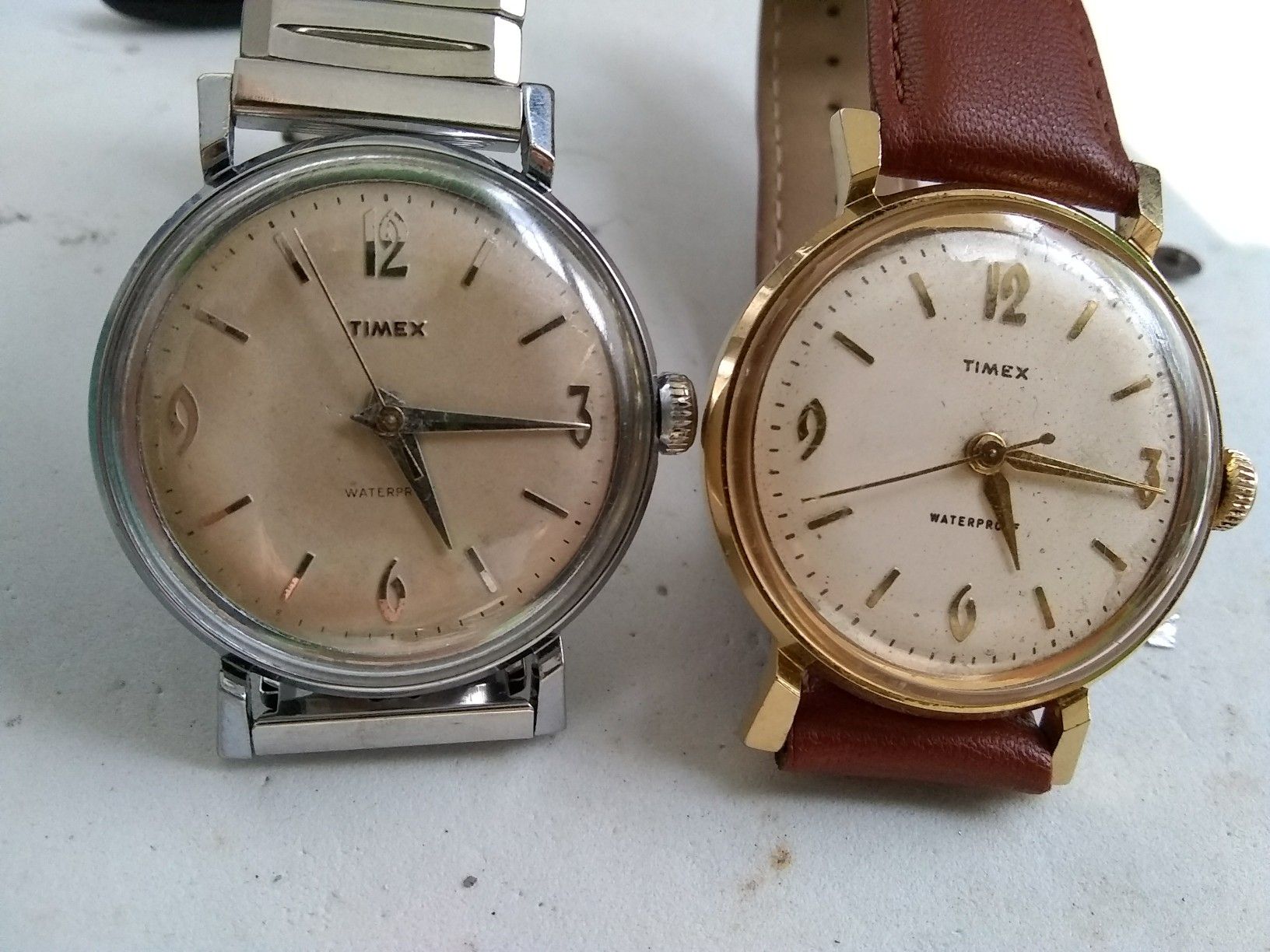 And, it featured a hand-winding movement, a beautiful pearly brushed sunburst dial, and markers at the 3, 6, 9, and 12. It also had a wonderful acrylic domed crystal. A true classic, indeed.
Surely, if Timex were to reissue a watch, it would have to take a much more modern approach, right? A 34-millimeter watch would never sell in a market flooded with 40-millimeter divers and 43-millimeter chronographs.
Well, maybe that's not entirely true.
Timex Marlin Review: The Reissue
With so many large watches on the market, Timex threw caution to the wind and stayed faithful to the original. It bucked the trend and released a watch so closely-designed to its inspiration that the watch community ate it up.
They were incredibly difficult to get your hands on.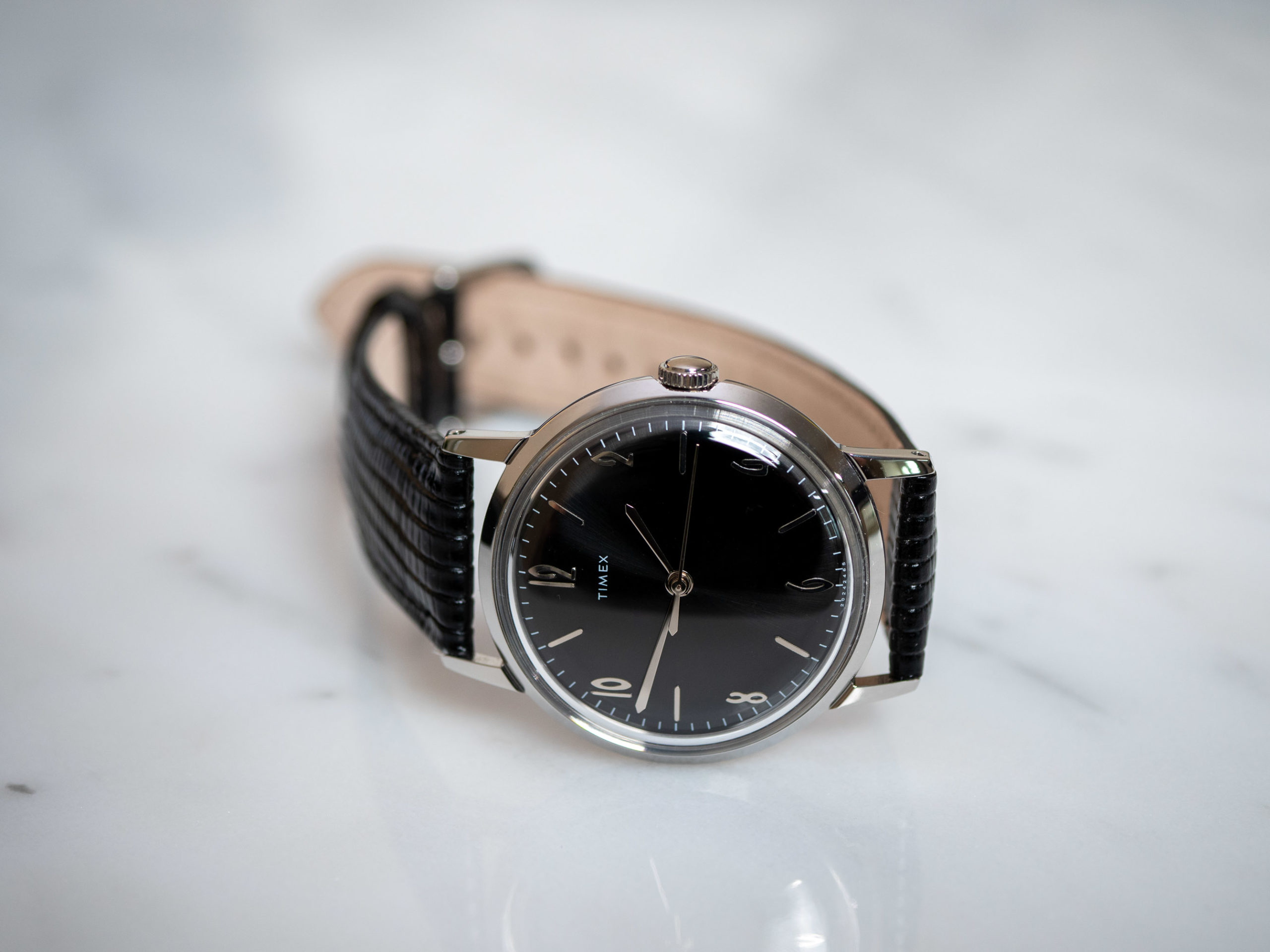 The 2017 Timex Marlin Reissue measured 34 millimeters across the dial and (just over) 10 millimeters thick. It featured a similarly-designed domed crystal as the 1960s model, an 18-millimeter strap, and it came with a hand-winding movement.
Its brushed sunburst dial was an instant hit. It was as true to the original as possible.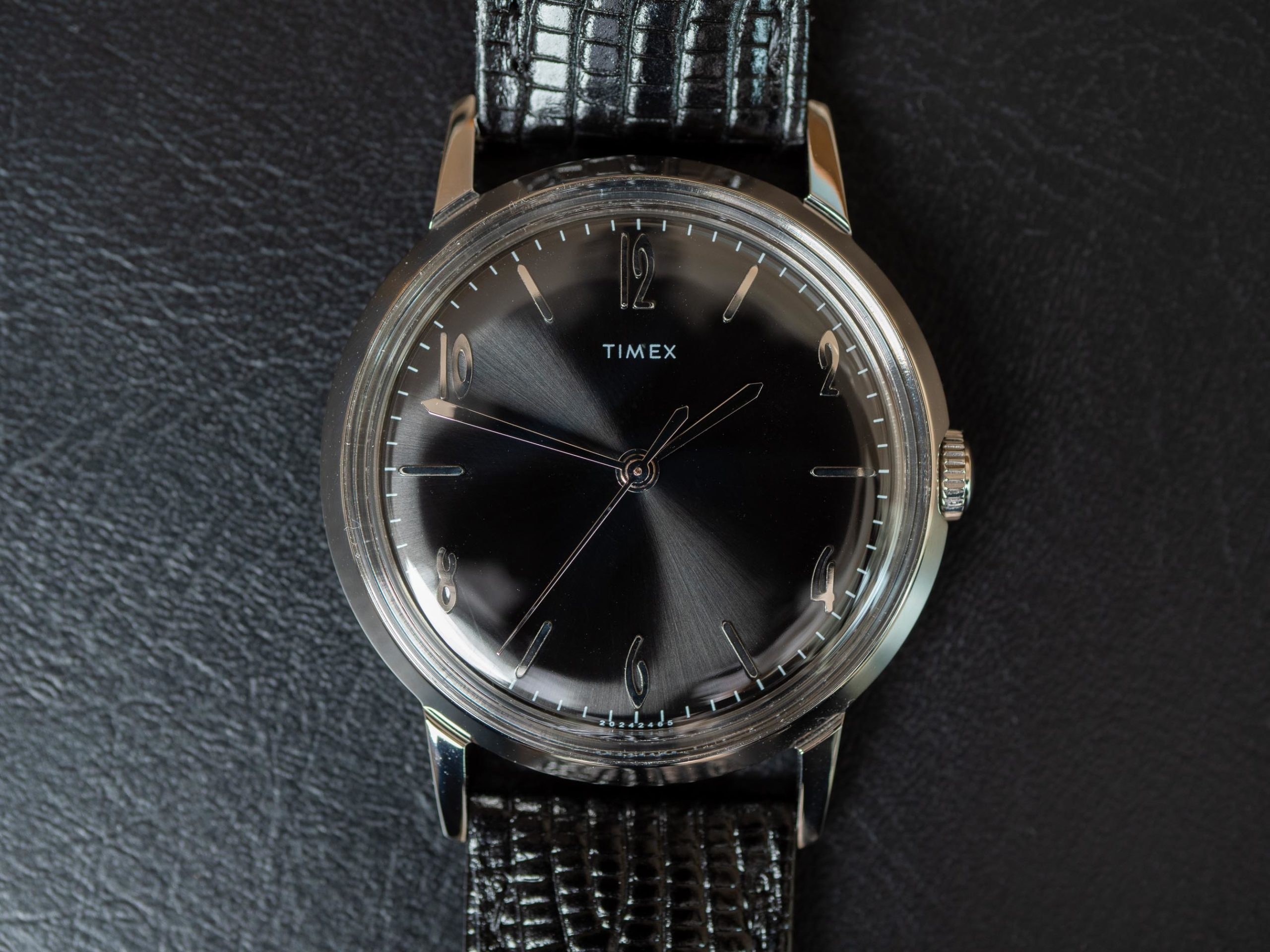 While the 34-millimeter Marlins sold incredibly well, Timex decided to cater a bit more to the big watch crowd and released another version in 2018.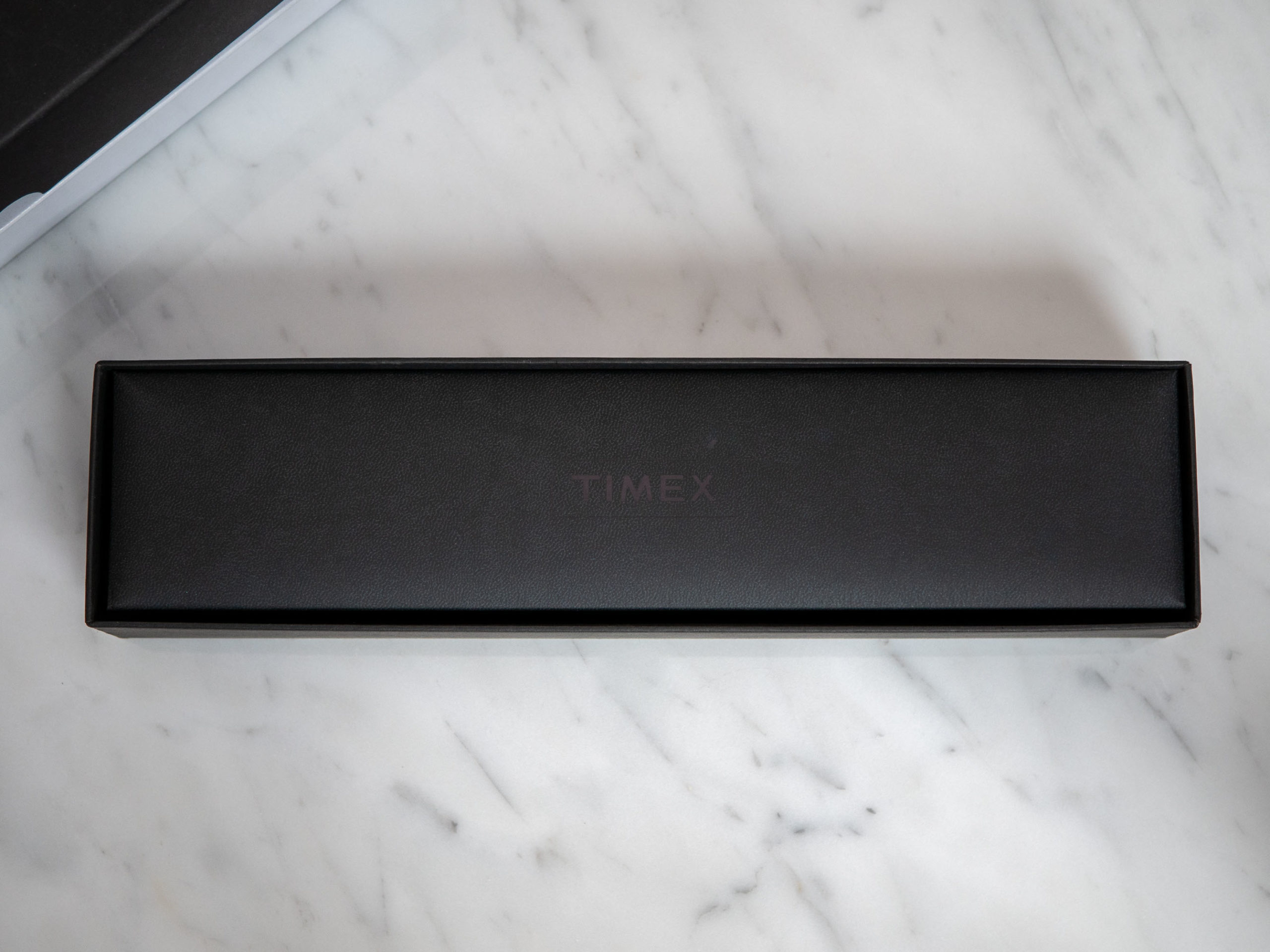 This release, running alongside the 34-millimeter Marlin, measured 40 millimeters across the case and featured a 20-millimeter lug width.
And, like the 34-millimeter model, it featured a hand-winding (and automatic) movement, a beautifully brushed sunburst dial, and a nicely domed crystal.
The only notable deviations there were from the original Marlin were:
The change in numerals from the 3, 6, 9, and 12 design of the original to the even number markers on the 34-millimeter Marlin
The change from numerals to stick markers on the 40-millimeter piece
The addition of a date or day-date complication on the 40-millimeter models
Otherwise, these watches were quite faithful to the originals.
Timex Marlin Movement
It might seem counterintuitive for two watches so similar in design not to use the same movement, but that is the case for these two timepieces.
Let's go over the movements for each so you'll better understand what's hiding behind those beautiful dials.
The 34mm Timex Marlin Movement
When Timex first released the 34 millimeter Marlin, they were rather hush-hush on the origin of the hand-winding movement.
All that anyone really knew was it was a movement sourced from China. Which manufacturer it came from was a mystery.
After a few months, it was believed to be on good authority that the movement in the 34-millimeter Marlin was a Seagull ST6 with the automatic winding mechanism removed.
Somewhat of a strange choice, but it was affordable for Timex. And, if I may take liberty, I would guess that removing the automatic mechanism allowed Timex to use a thinner case.
While it isn't a robust or well-refined movement by any stretch of the imagination, it does get the job done. It's not unheard of for an ST6 to maintain time to within ±15 seconds each day, though power reserve is around 34 hours.
The 40mm Timex Marlin Movement
The 40-millimeter version comes with an entirely different movement from the 34-millimeter option. It comes with either a Miyota Caliber 8205 or 8215, both of which offer automatic and hand-winding.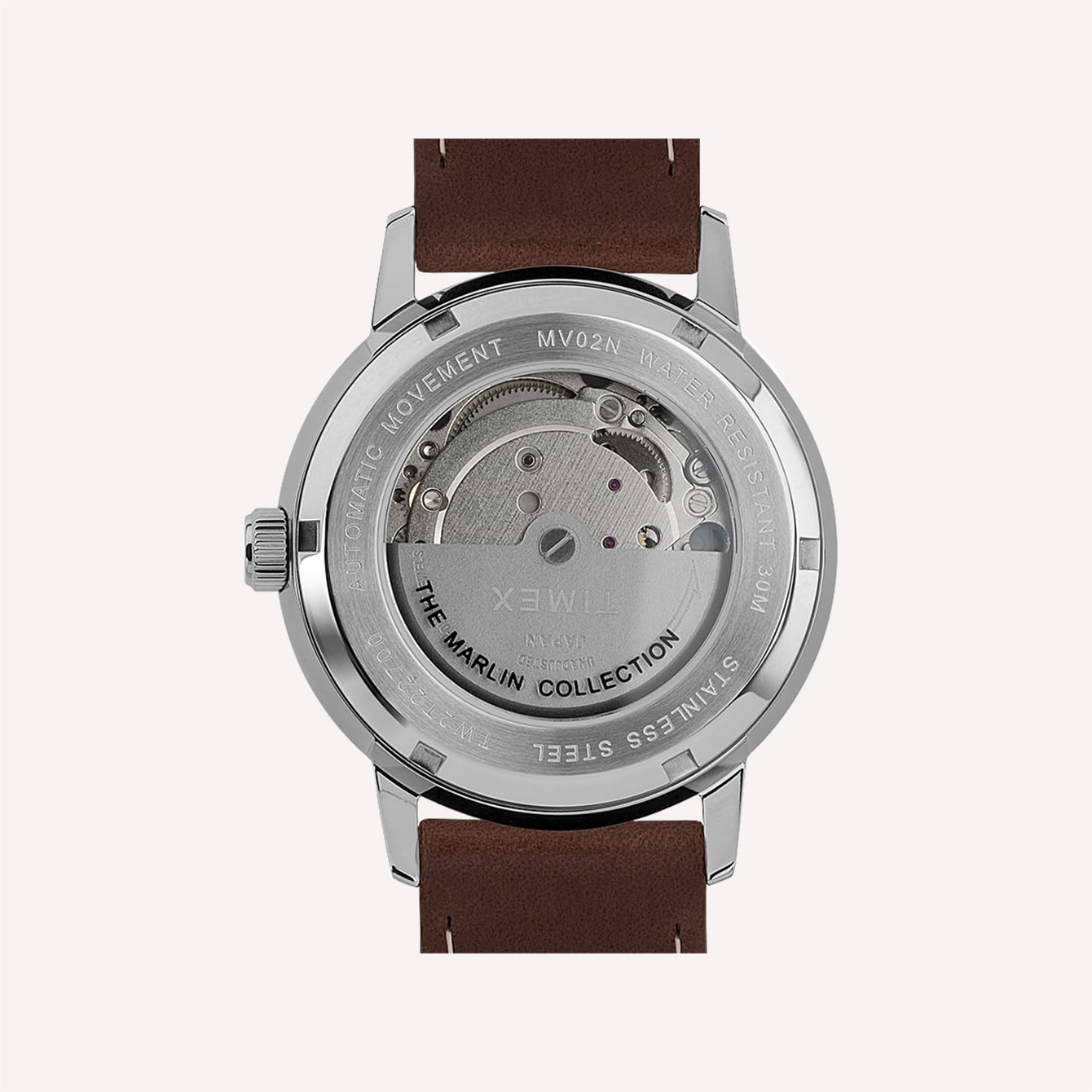 The difference between the 8205 and the 8215 comes down to complications. You'll find the 8205 in Marlins with day and date functions.
The 8215 does not offer a day function, so it's the movement of choice Marlins with just date windows or no complication at all.
The Miyota is much further ahead than the ST6 is, but it's still a reasonable choice for Timex. For one, it maintains all its automatic charging mechanisms.
And, the 8205 and 8215 give it a tough, serviceable heartbeat while also providing about 40 hours of power reserve.
Timex Marlin Specs
Obviously, there are some significant differences between these two watches. Though we already pointed out a few of those variances, it's worth going through all the specs at one. Here's a quick rundown for reference.
The 34mm Timex Marlin Specs
The smaller of the two Timexes is obviously the 34-millimeter version. This version features a stainless steel case that measures 34 millimeters across and 10 millimeters thick — just like the original — and it features 30 meters of water-resistance.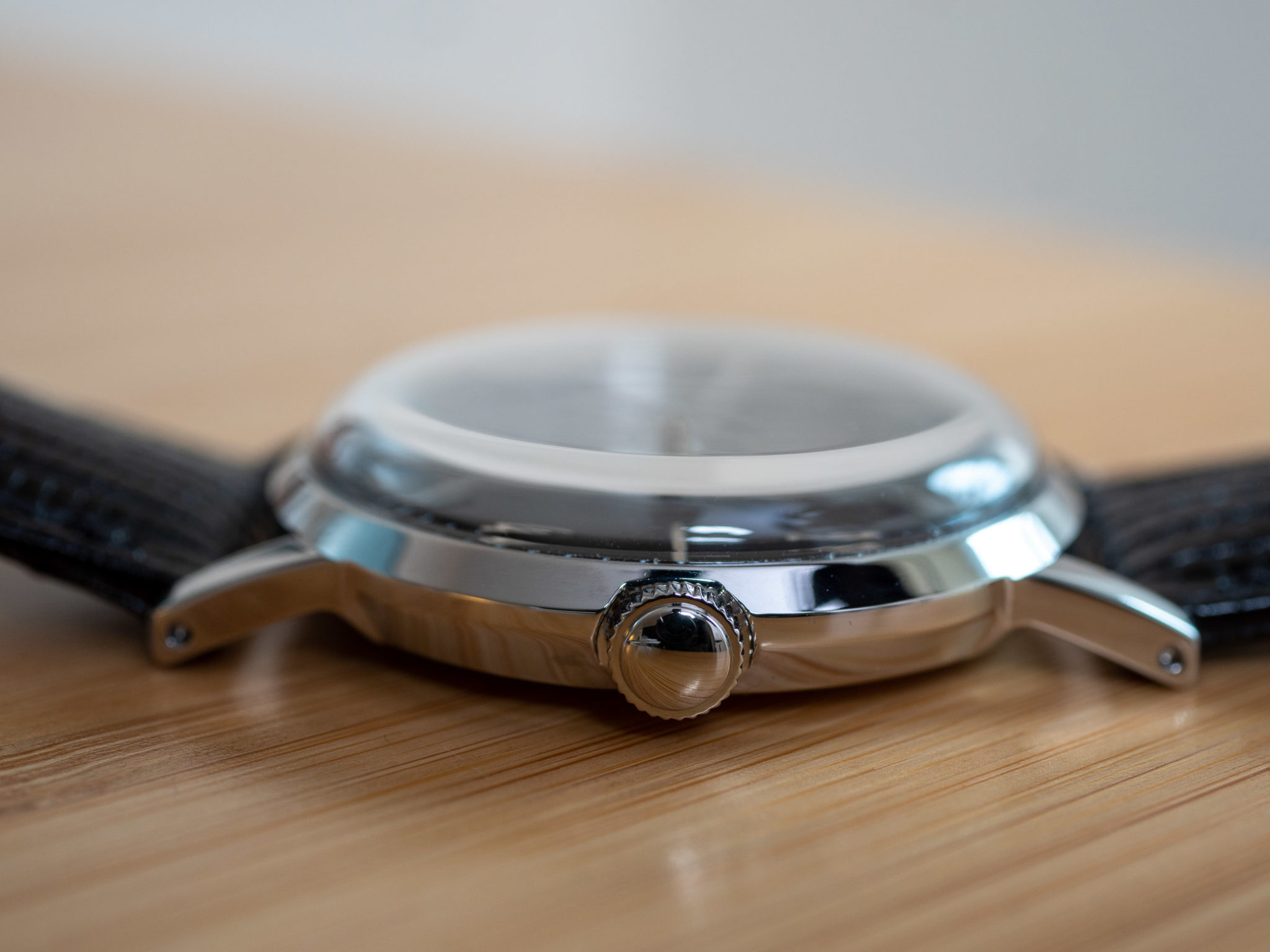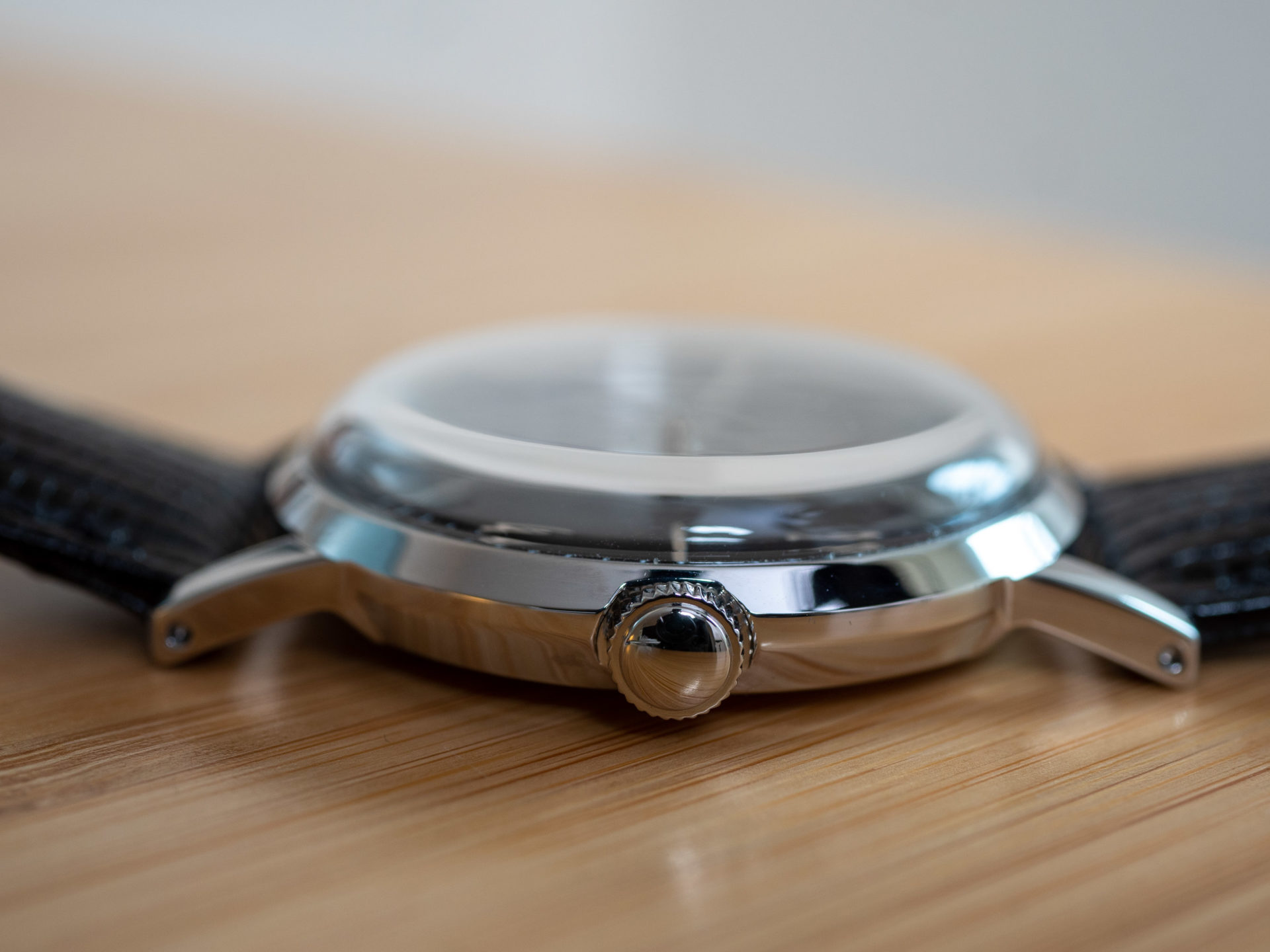 The lug width is 18 millimeters, and it features drilled lugs for simple strap changes. Also, the crystal is a nicely domed piece of acrylic.
This Marlin is available in three color combinations on Timex's website, Jomashop or Amazon:
Black dial with a polished case and a black leather strap
Silver dial with a polished case and a black leather strap
Silver dial with a polished gold case and a brown leather strap
The straps are of decent quality, and they feature a lizard-grain pattern. There are also more combinations available on the market elsewhere.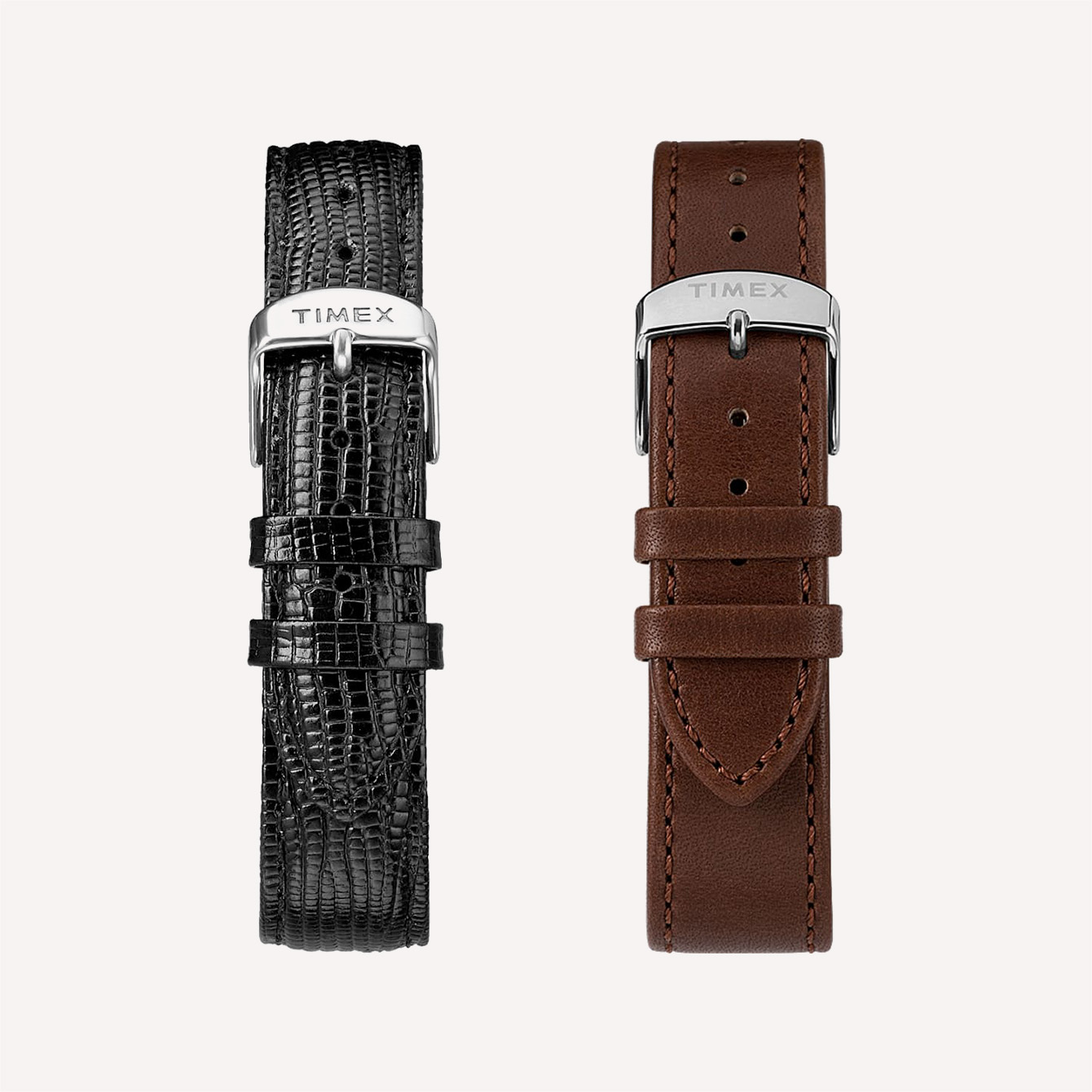 Regardless of the color combination you go with, the brushed dials will feature mid-century font numerals on the even numbers and standard batons for odd markers.
As this watch uses the utilitarian ST6 movement, there are no day or day-date complications available. Just a simple, no-nonsense dial.
The 40mm Timex Marlin Specs
The larger Marlin features a stainless steel case that measures 40 millimeters across and 13 millimeters thick. The crystal is a domed piece of acrylic glass.
It also features drilled lugs with a width of 20 millimeters, making it even easier to find straps for swapping than the smaller version. As for water-resistance, the larger Marlin features 50 meters of resistance.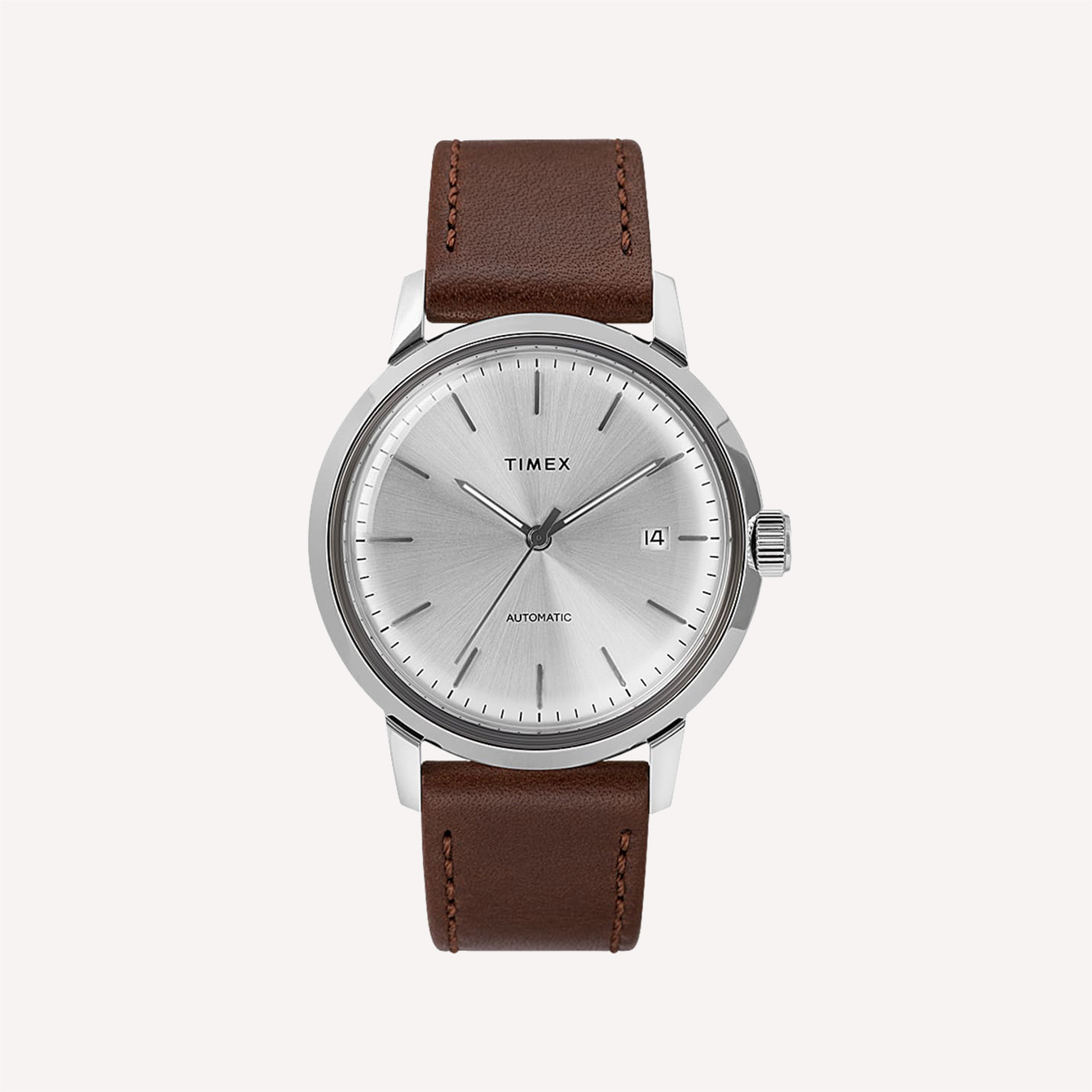 This version is available in a wide range of color combinations and finishes. It comes in silver polished, rose gold, and gold case finishes, as well as black, cream, green, silver, and dark navy dial colors.
As for markers, most models feature stick-style, without any numerals. However, there are few versions that use a combination of standard and Roman numerals.
Some colorways use gold hands and markers. You can even choose between leather straps and mesh bracelets in a variety of colors.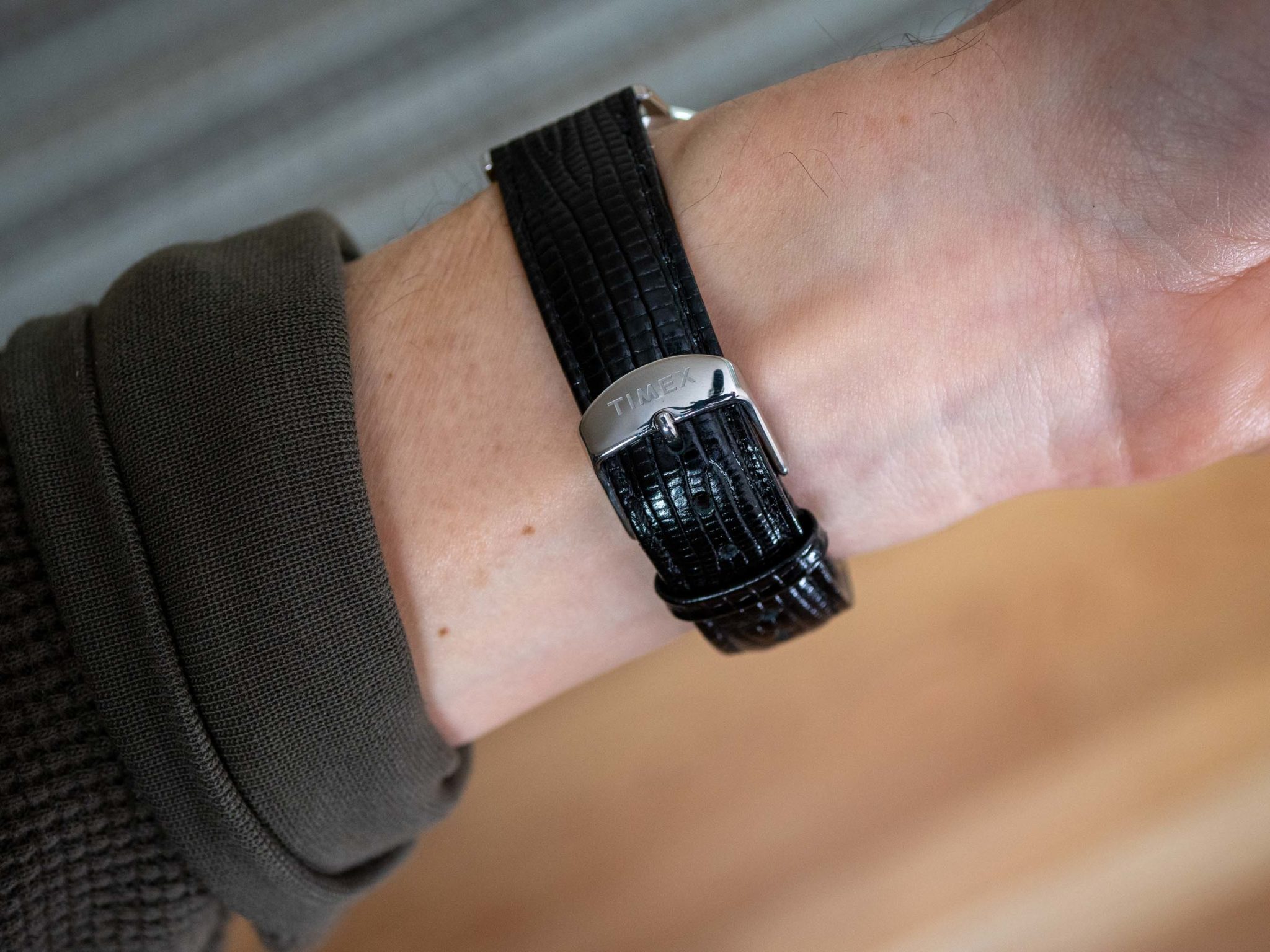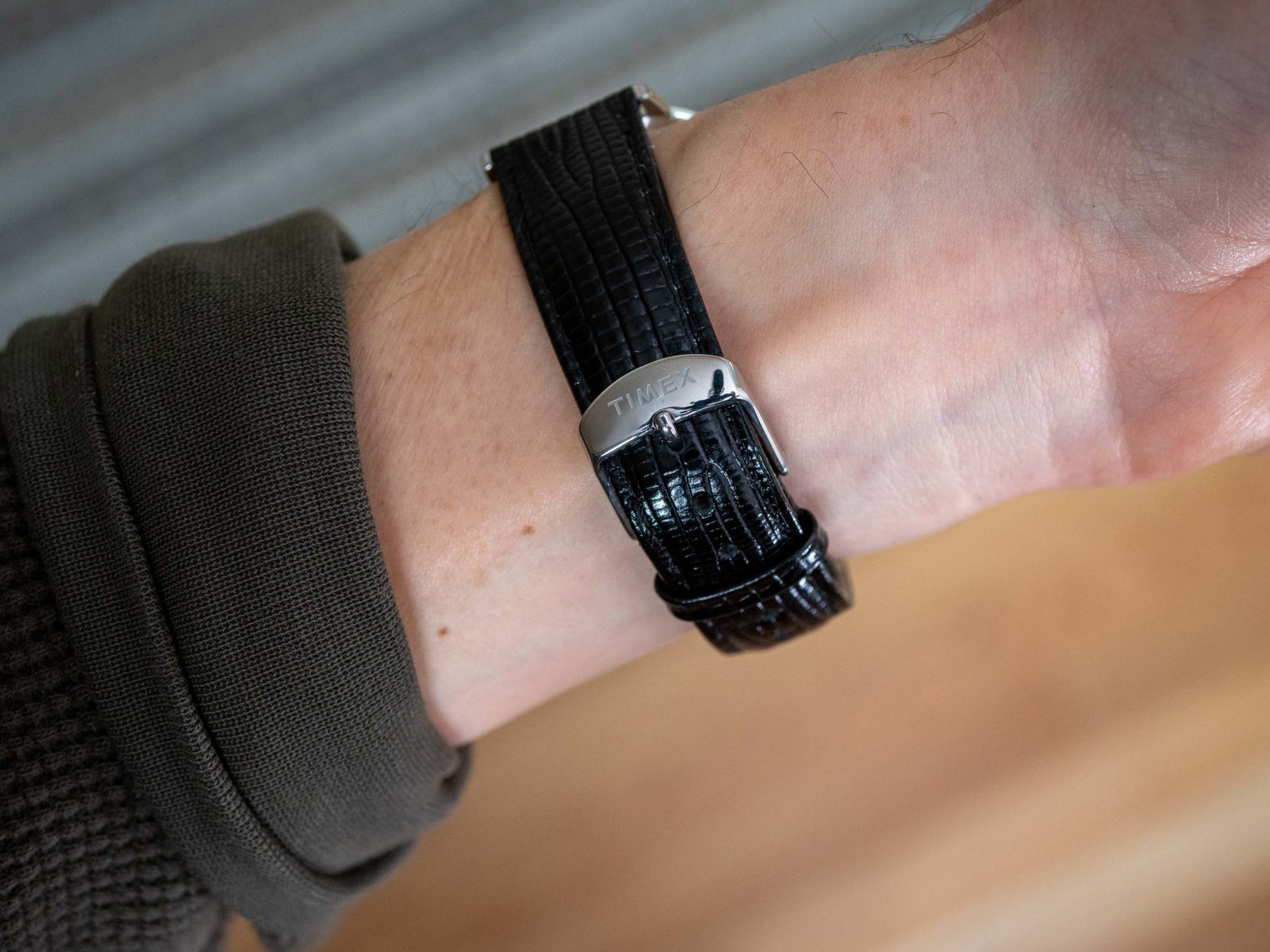 Beyond basic aesthetics, there are yet more features you can find with the larger Marlin. For example, there are both day and date-date pieces.
Which version you go with will determine which movements you get: The Miyota 8215 for no-date and date versions, and the 8205 for day-dates.
There are also several pieces with Peanuts characters on their dials, celebrating the brand's partnership with the comic strip icon. To be quite honest, they're some of my favorite Marlins.
Timex Marlin Review: My Opinion
Overall, both versions of the Marlin are really interesting watches, and they're well worth the $130 to $200 price tag (depending on where and when you find them). They both have a very retro style that lends itself well as a dress or casual watch.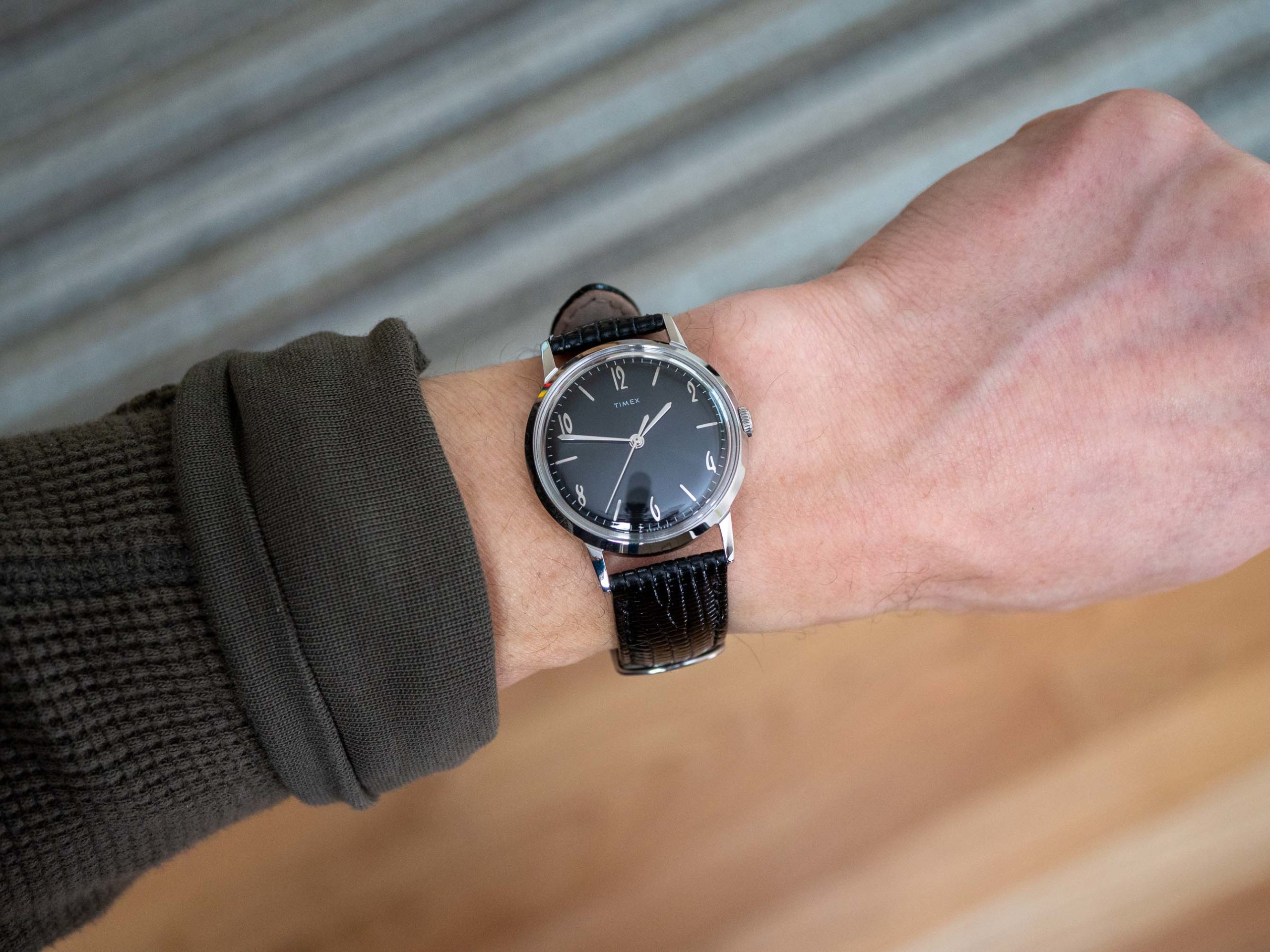 As far as a classically-styled dress watch goes, it's pretty hard to argue with the value that the smaller Marlin has to offer. Sans date window, and with that great sunburst-effect brushed dial, it really looks great on the wrist.
And there's a common thought throughout the watch community that although it's definitely a small watch, it wears a bit larger than it lets on.
The only thing that I might possibly change would be the numerals: I'd opt for all stick markers. But, that's just me.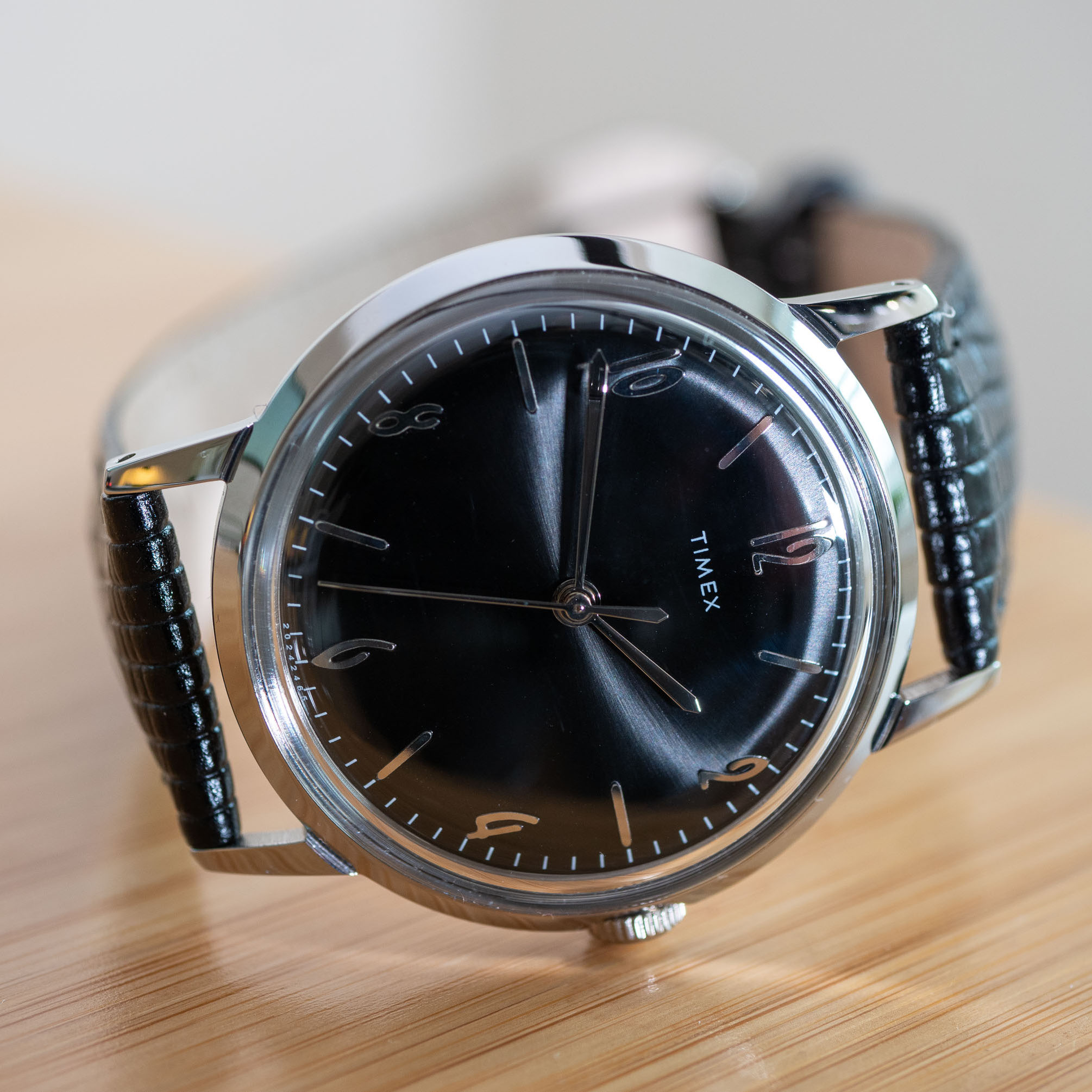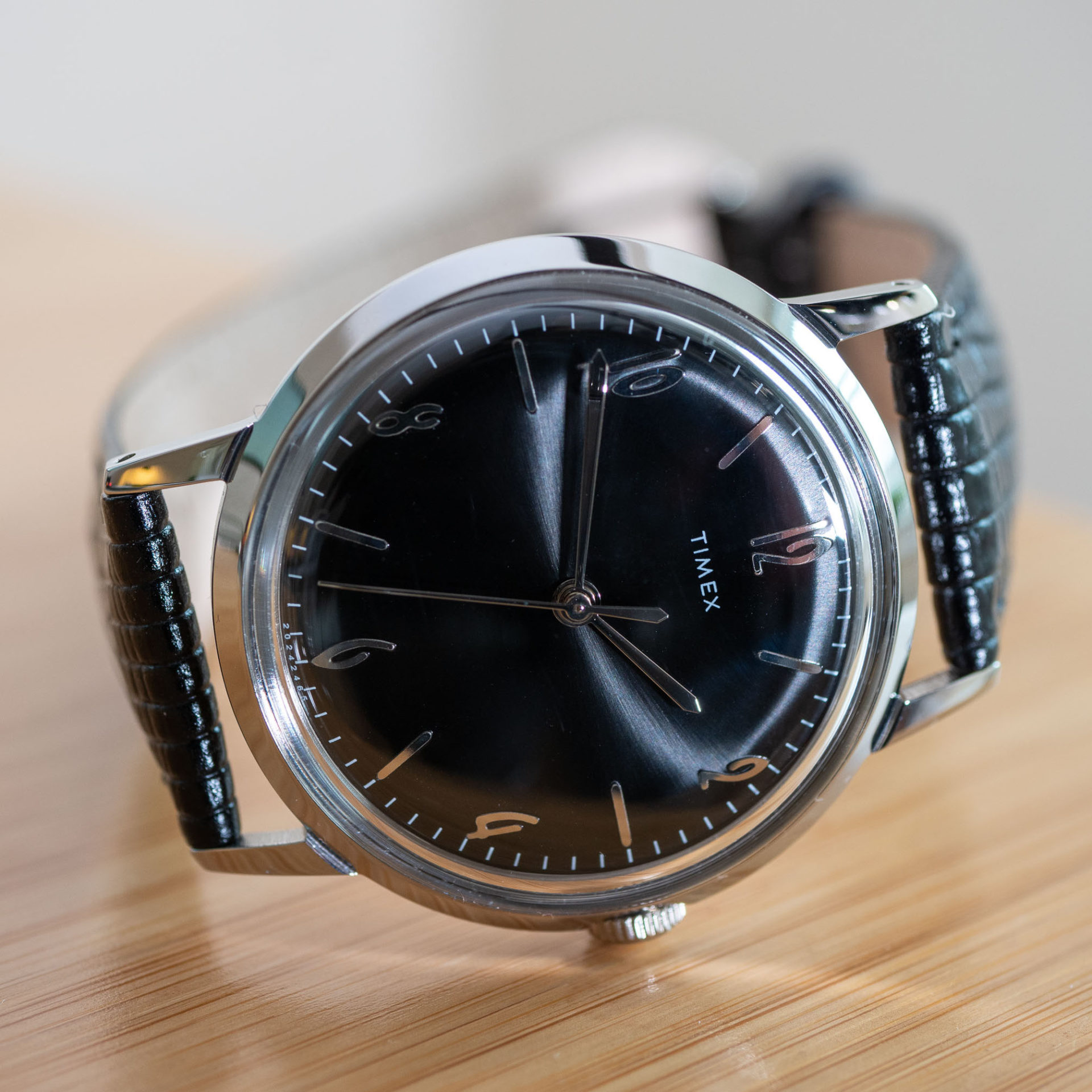 The downside to the smaller Marlin is probably its movement, but that's really splitting hairs. It's still a good movement; it just doesn't have the provenance that some might expect from a reissue.
When it comes to the larger Marlin, the overwhelming benefit is that it has more of that awesome sunburst dial.
You can really appreciate how well it plays with the light with its surface increased with that extra 6 millimeters of space. And, if you need a day-date complication, you have the option. Plus, who doesn't like the Peanuts?
I think the biggest complaint with the larger Timex is something completely avoidable. I feel the addition of a date or day-date window just detracts from the gorgeous dial.
Thankfully, I can simply choose a model without them. Other than that, it's a wonderful value at its price point.
Final Thoughts
Where affordable, retro-inspired watches are concerned, the Timex Marlin might be one of the best in either size. The brushed sunburst dial, the thick domed crystal, and the overall modest dimensions offer some handsome good looks.
As far as an everyday watch goes, the Marlin can do the job without breaking the bank.
That's a tall order these days, and only a few companies are excelling at it. While the rest of the Timex lineup appears to be creeping in price, the Marlins still offer plenty of value.