Are you looking for an automatic timepiece that fits smaller wrists? Here are 18 great options to choose from!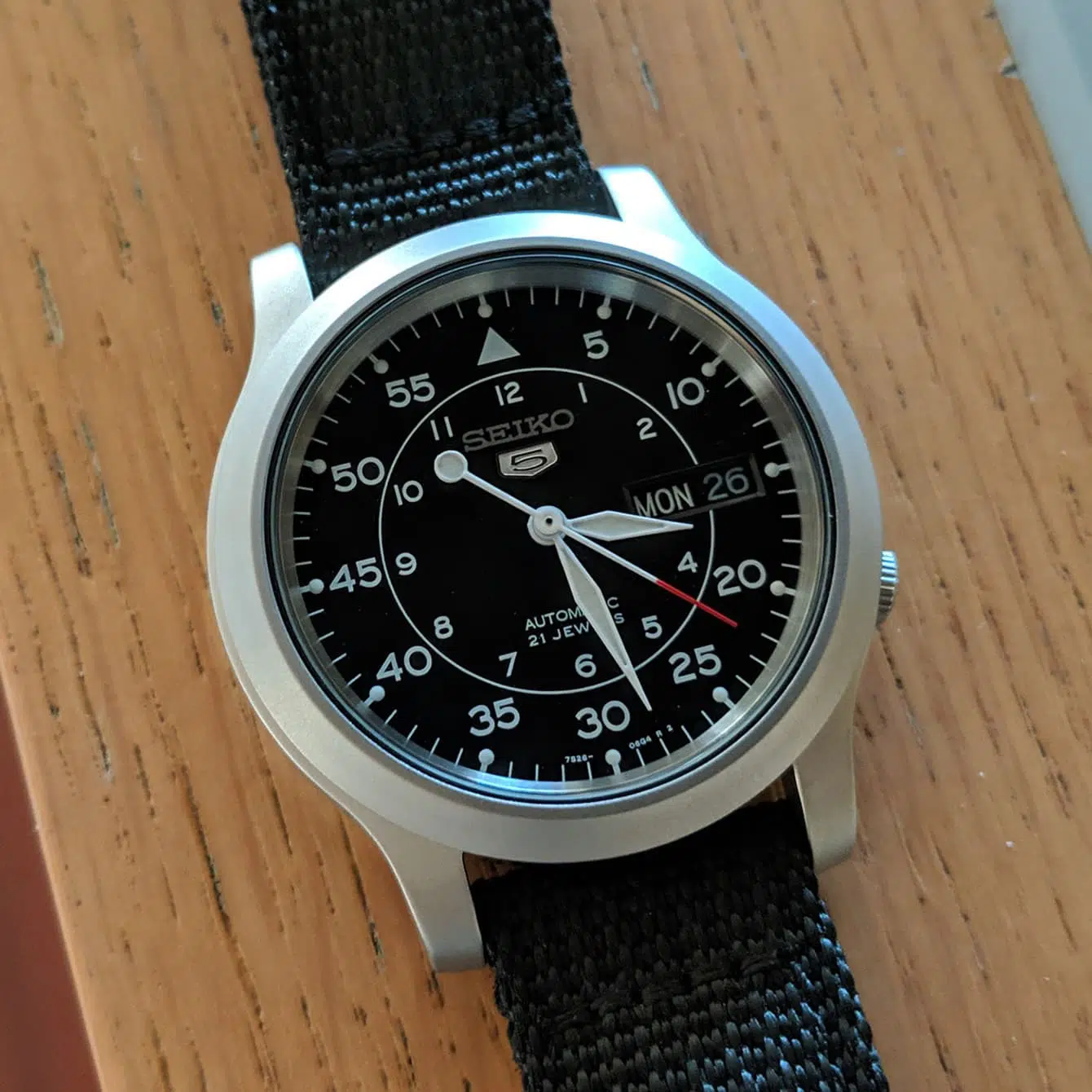 We've been living in an era of large watches for some time now — these days it's the norm for automatic watches to measure 40mm-and-up.
Watches haven't always been so big. For example, when the Omega Speedmaster debuted some sixty years ago it measured 38.5mm. Today's Speedmaster is a whopping 42mm.
At the height of the bigger-is-better craze, many of us slender-wristed gents often had to go vintage to find an automatic timepiece that suited us.
Fortunately for us, the pendulum of the watch market seems to be swinging back towards timepieces on the smaller end of the spectrum. While we'll always see gigantic watches on the market, they don't seem to be the rule anymore.
In 2021, the new Explorer I came out at a beautiful 36mm, bringing its "size journey" full circle. Even chronographs and other complex movements come in thin-wrist-friendly options these days.
18 Best Small Automatic Watches
Here they are in no particular order…
Rolex Explorer I
Rolex's approach to the 2021 50th anniversary Explorer I was, and is, exciting for those of us with small wrists. In fact, it's exciting for anyone who simply prefers sub-40mm watches.
They've gone back to the original 1953 Explorer 36mm size and also serve up a super effective lug situation.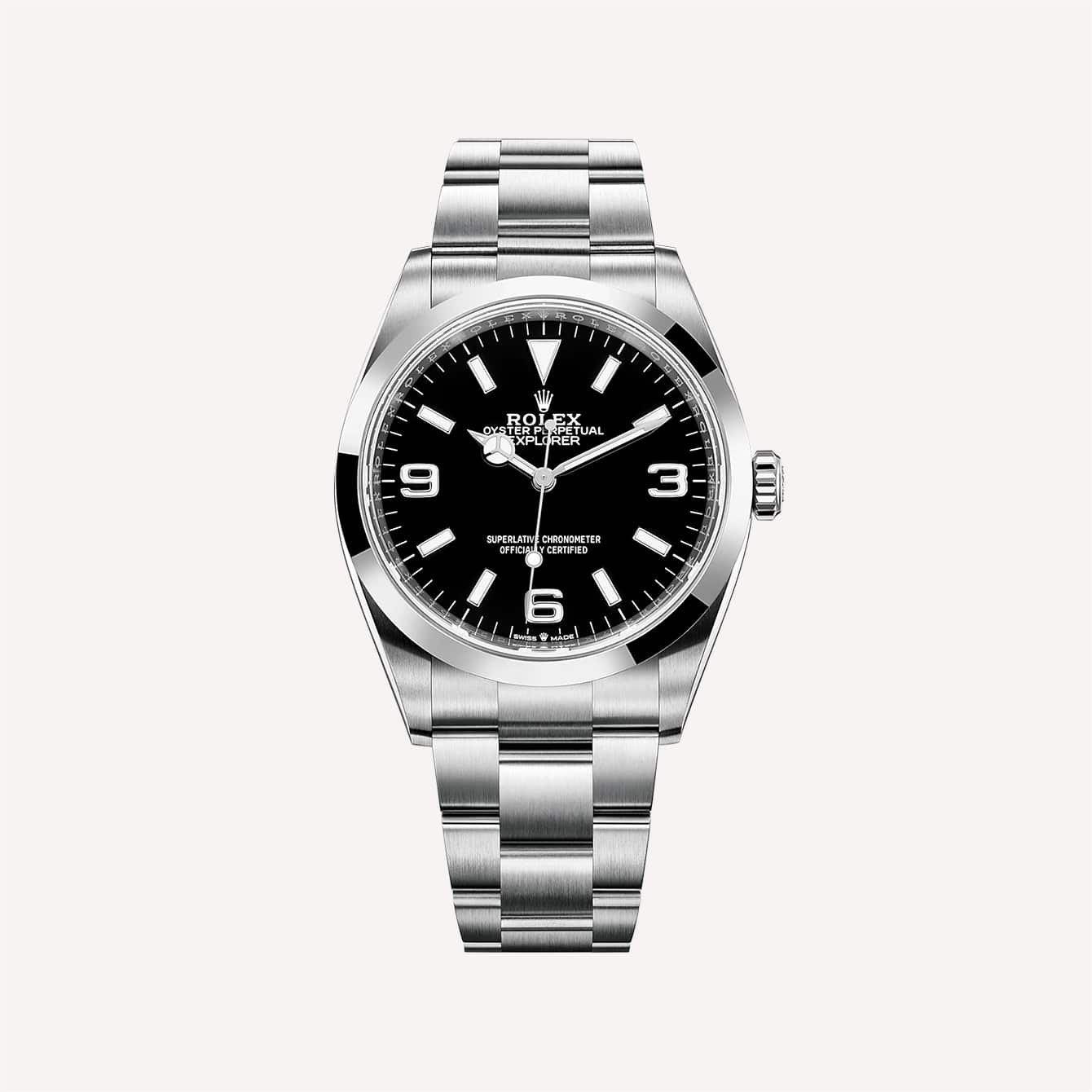 The terminal is slightly curved and brushed like the bracelet's end links. With a reduced lug distance, the watch face not only looks bigger on the smaller dial, but it wears comfortably. I think it wears similarly to the 36mm Oyster Perpetual range.
Dimensions: 36mm diameter, 11.5mm thickness
Case material: Stainless steel
Water resistance: 100m
And of course, it has all of the great Rolex qualities (including several patented features that you can't get anywhere else), an intriguing and prestigious history, and that COSC movement. Between the smaller size, non-blocky lugs, and lack of a bezel, this versatile new Explorer really encapsulates the "luxury sport watch" look.
The Ascendent by Mr. Jones
Fine art and horology marry in the Mr. Jones studios. The Ascendent was created by Marion Labbez, a gilding artist, which explains the incredibly skilled gilded palladium throughout the watch.
The dial face features an elegant moving mountain, star, and moon illustration. Labbez says it represents hope, looking forward, and exploration.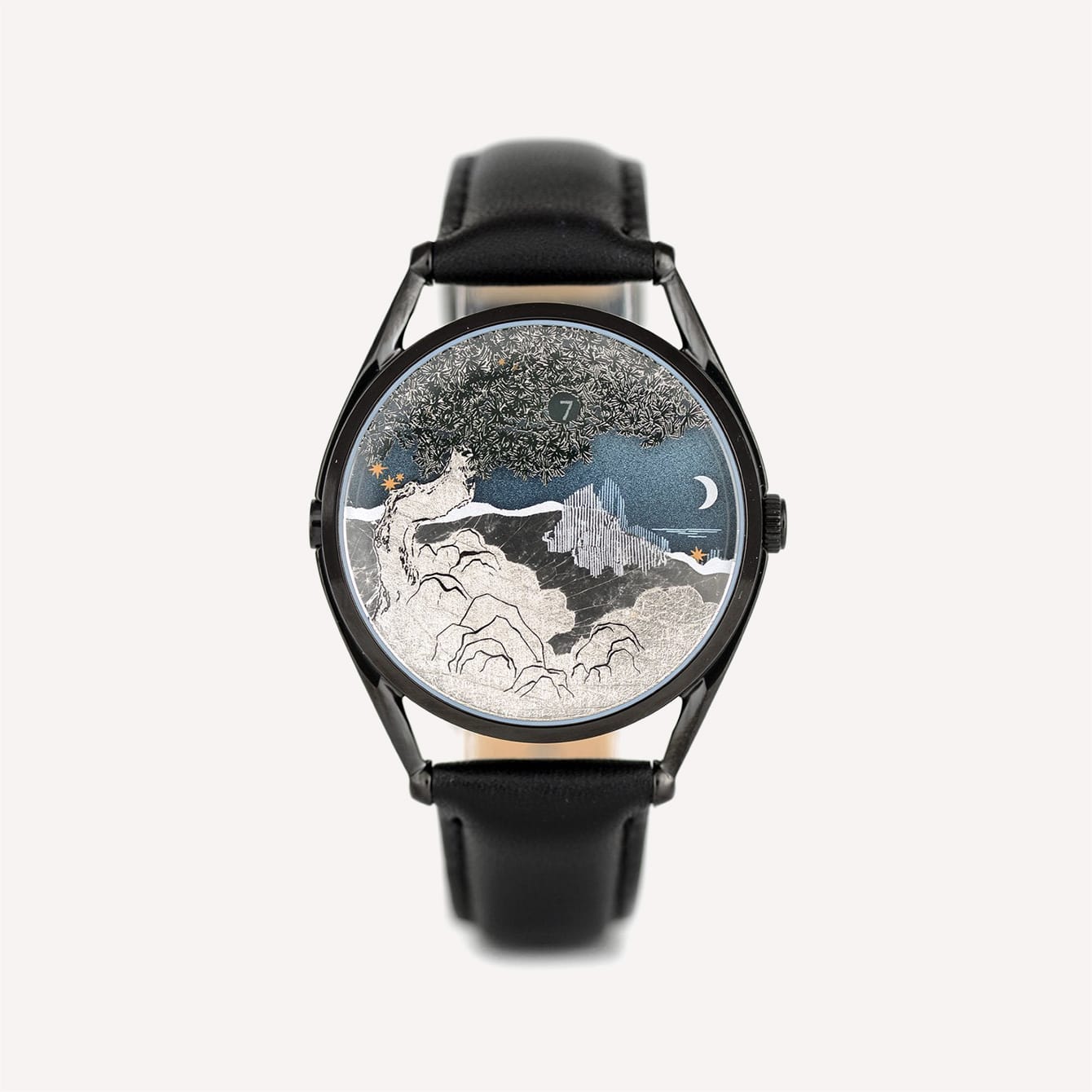 Each watch is made in London one at a time, with the glass printed and gilded by hand. The Ascendent runs on a 20-jewel Seagull automatic.
Telling time on a Mr. Jones watch is an art in and of itself. The small gold star represents five minutes, while the large gold star represents ten minutes.
Dimensions: 37mm diameter, 10mm thickness
Case material: Stainless steel
Water resistance: 50m
The silver star is 30 minutes, and the moon represents no minutes past. It's the opposite of a digital watch face— it's fascinating, exciting, and difficult to read without practice. Using this watch to tell time is definitely fun, but can be tricky when you're in a hurry.
Seiko 5 SNK series
I fully credit the Seiko 5 SNK series for democratizing automatic field watches for modern-day collectors.
They're efficient, handsome yet fun, and they tend to live in the $100 range. Even today, as a mid-advanced collector, I find myself picking up an SNK here and there because of their cool factor.
They come in multiple colorways, which also adds a level of collectability.
The green 805 version is a go-to because it's the most military-looking, but the beige 803 has either a "summery" or desert aesthetic depending on the outfit you pair it with. The blue 807 and the black 809 are modern and stylish.
Dimensions: 37mm diameter, 11mm thickness
Case material: Stainless steel
Water resistance: 30m
The main difference between the two in-house movements Seiko uses for this series is that their 4R36 features hacking, while the 7S26 heritage caliber does not.
Bulova Breton
I'm a big fan of Bulova dress watches, and I always recommend them to collectors who love vintage American designs.
They may be owned by Citizen now, but they're always pulling looks from their archives — and it doesn't hurt that they're equipped with Citizen-disciplined build and construction.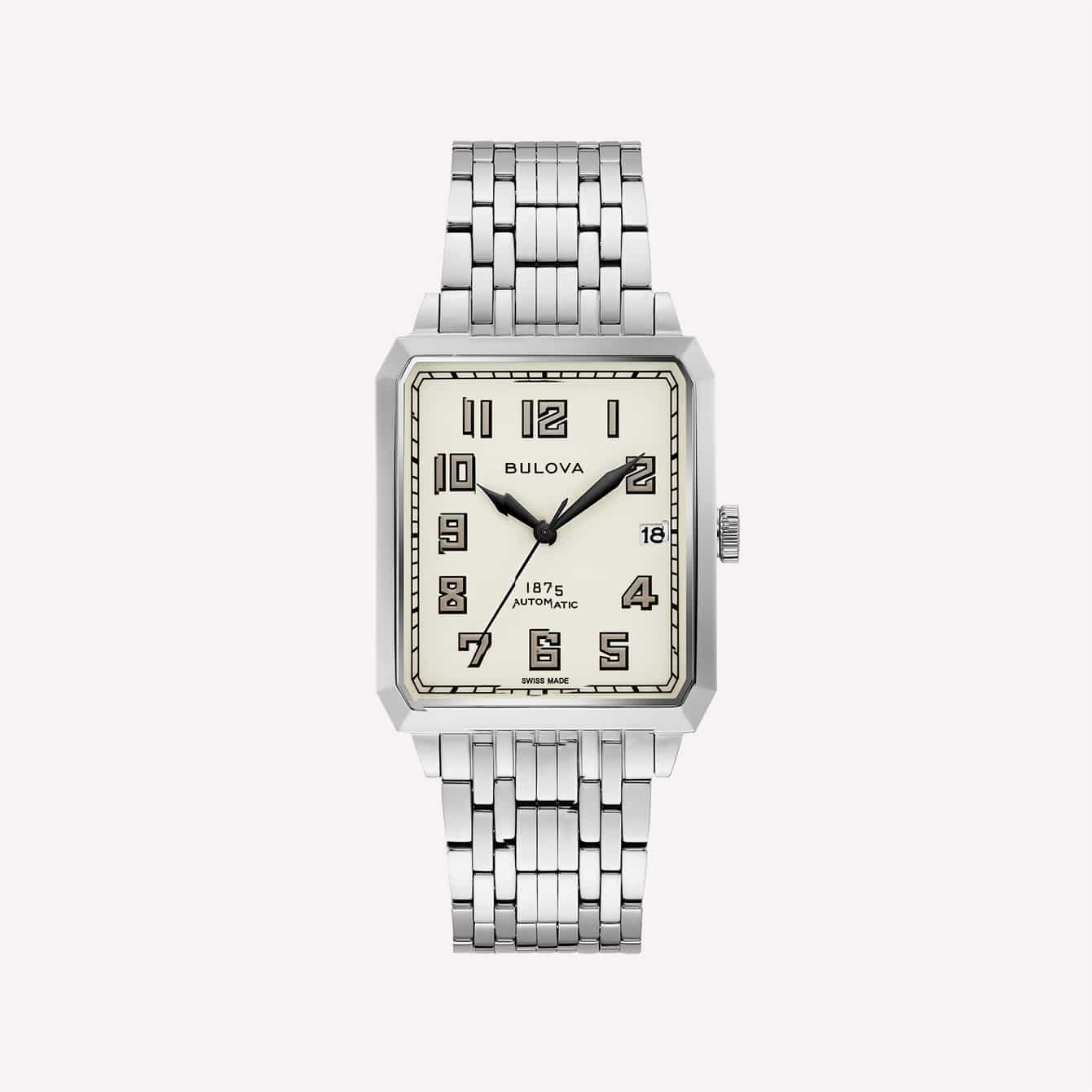 The Breton is a classic and simple tank, from its almost "Deco-y" indices, the complex bracelet, and the super short crown.
Dimensions: 32mm diameter, 10.5mm thickness
Case material: Stainless steel
Water resistance: 50m
The subtle pleats on the corners add a gem-like characteristic to the case. Details like this show how creative Bulova can be with a small 32mm canvas. The back of the watch is also posh. It has an embossed Joseph Bulova signature and a sapphire caseback so you can admire the Swiss automatic movement.
Christopher Ward C60 Trident Pro
Christopher Ward's C60 Trident Pro is one of the most detail-oriented simple dives I've seen in this price range. There's an efficient face-to-bezel ratio, with the ceramic insert taking up its entire space, allowing the watch to look slightly smaller than its 40mm size.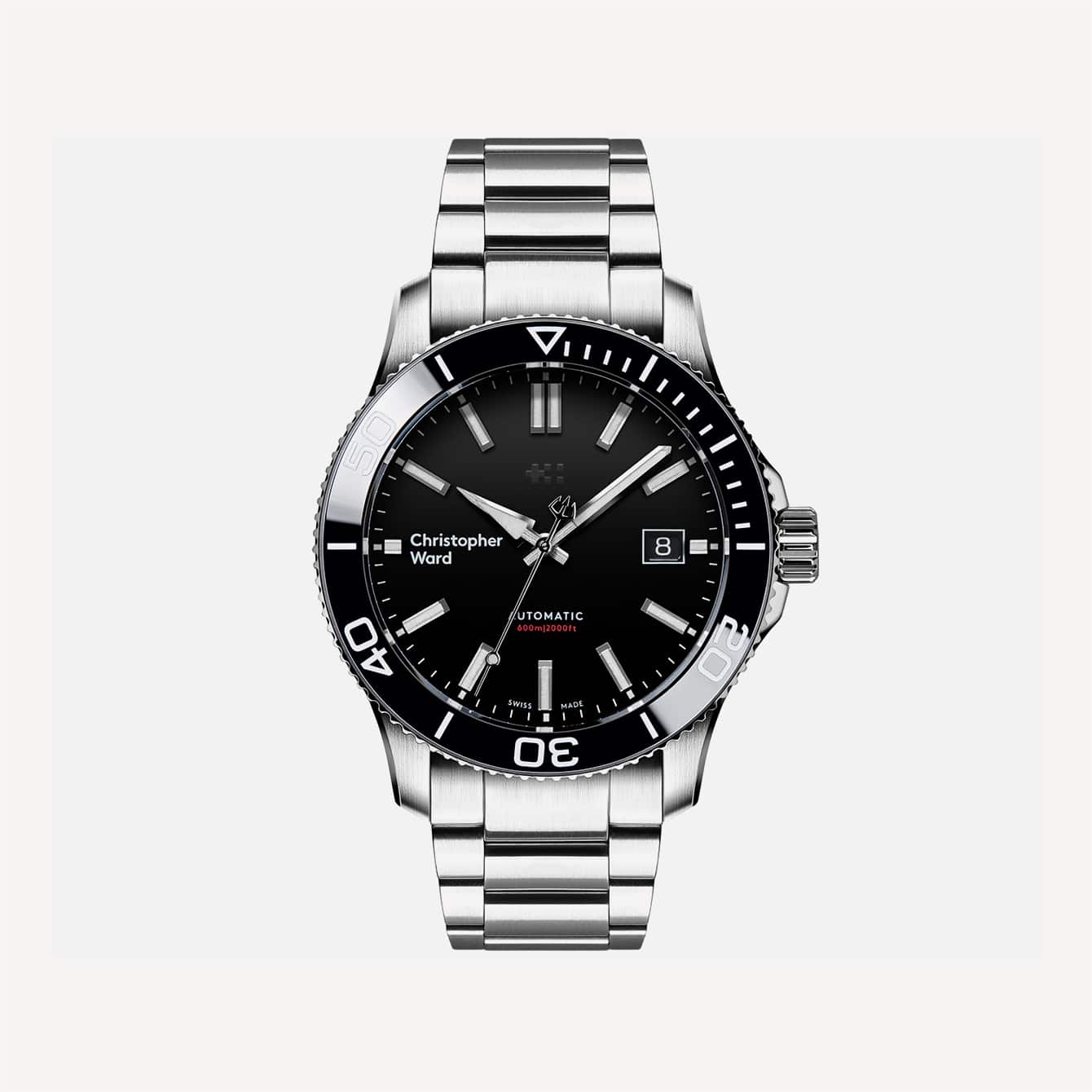 The dial itself is exquisitely lacquered, and beautifully complemented by polished and brushed indices.
Dimensions: 40mm diameter, 12.95mm thickness
Case material: Stainless steel
Water resistance: 600m
The combination of a thin arrow hour, a stick minute, and a lollipop second hand also adds character. It runs on a 26-jewel Sellita automatic, with a twin-flag engraving over the rotor. Did I mention the 600m of water resistance?
Hamilton Intramatic
We're pushing it just a bit with this 40mm Hamilton Intramatic, but for a chronograph of its time, this guy is an excellent size (especially with its standard 20mm lug size). Plus, it's one of the more reasonably-sized panda dials on the market.
It's sporty and classic, with that signature Hamilton pizzaz via the dimensional indices, making effective use of black and white contrasts and complements.
Dimensions: 40mm diameter, 14.45mm thickness
Case material: Stainless steel
Water resistance: 100m
I think a black leather strap best highlights the Intramatic's snazzy dial, but it's sporty enough to go with almost any bracelet. It runs on the 27-jewel Hamilton Calibre H-31, which has an impressively refined barrel and escapement, as well as a 60-hour power reserve.
Omega Speedmaster Calibre 321 Ref 311.30.40.30.01.001
There are two benefits to this specific Omega Speedmaster. First off, it's the most famous chronograph in the world, surrounded by expansive history and lore, but in a reasonable 39.7mm packaging.
Second, for you movement enthusiasts out there, it runs on Omega's Calibre 321.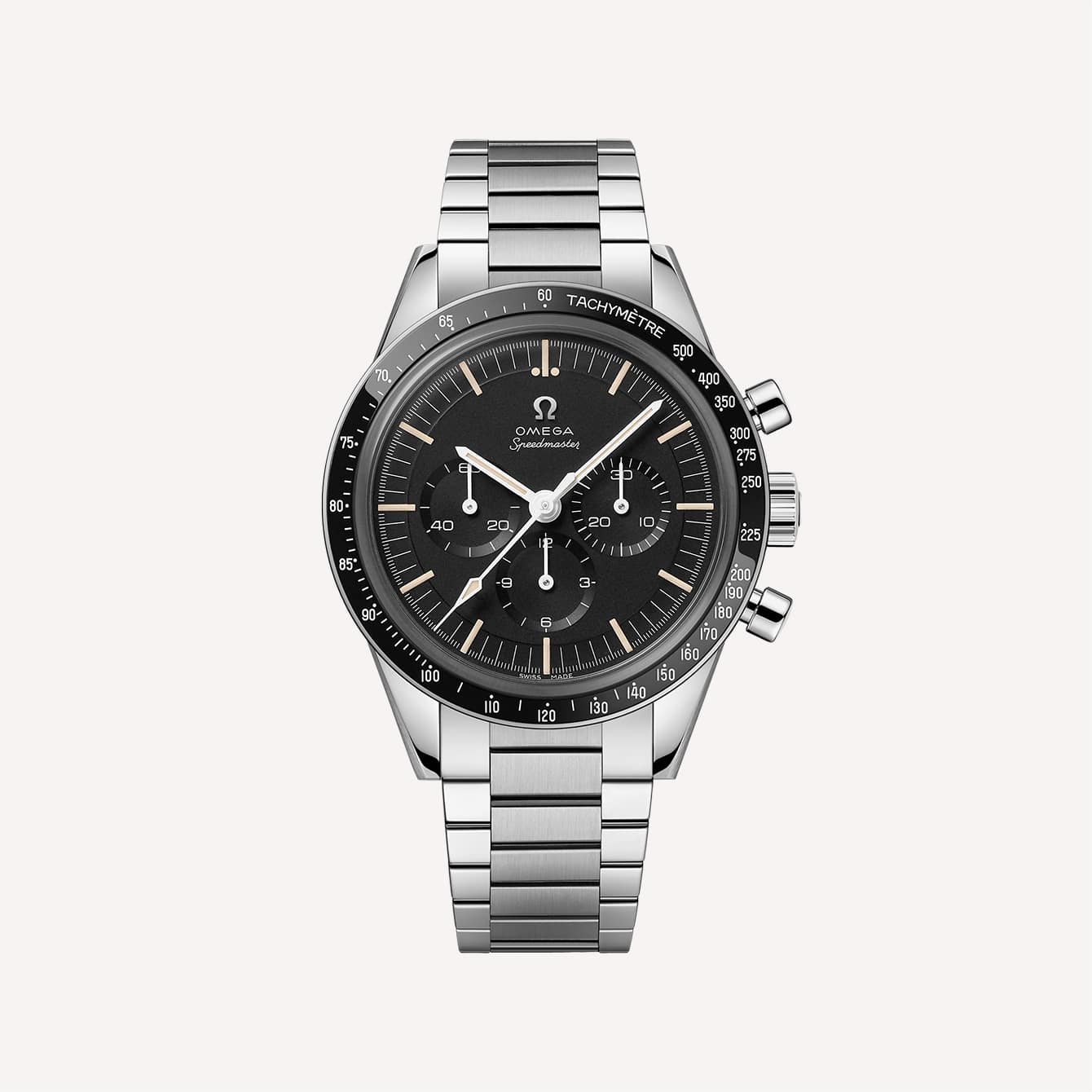 Contemporary Speedmasters can run on the 1863 or the 321 caliber. The 1863 movement is a variant of the 861 caliber designed by Piguet, which is what original Omega Moonwatches ran on.
The 321 caliber, however, is the movement that ran watches from the Apollo missions. This rare and highly coveted movement has decreased beat rates.
Dimensions: 39.7mm diameter, 13.8 mm thickness
Case material: Stainless steel
Water resistance: 50m
On this watch, you have the famous, high-end design to admire on the front and, thanks to the transparent caseback, the legendary horological triumph to look at on the back.
Omega Seamaster 300 Midsize
Omega definitely gives us more options than Rolex. The Seamaster 300, with its instantly recognizable blue wave dial face, dimensional bezel, and distinctly complex bracelet, comes in 42mm and 36mm sizes.
Regardless of wrist size, I think this iconic design looks better in the smaller size.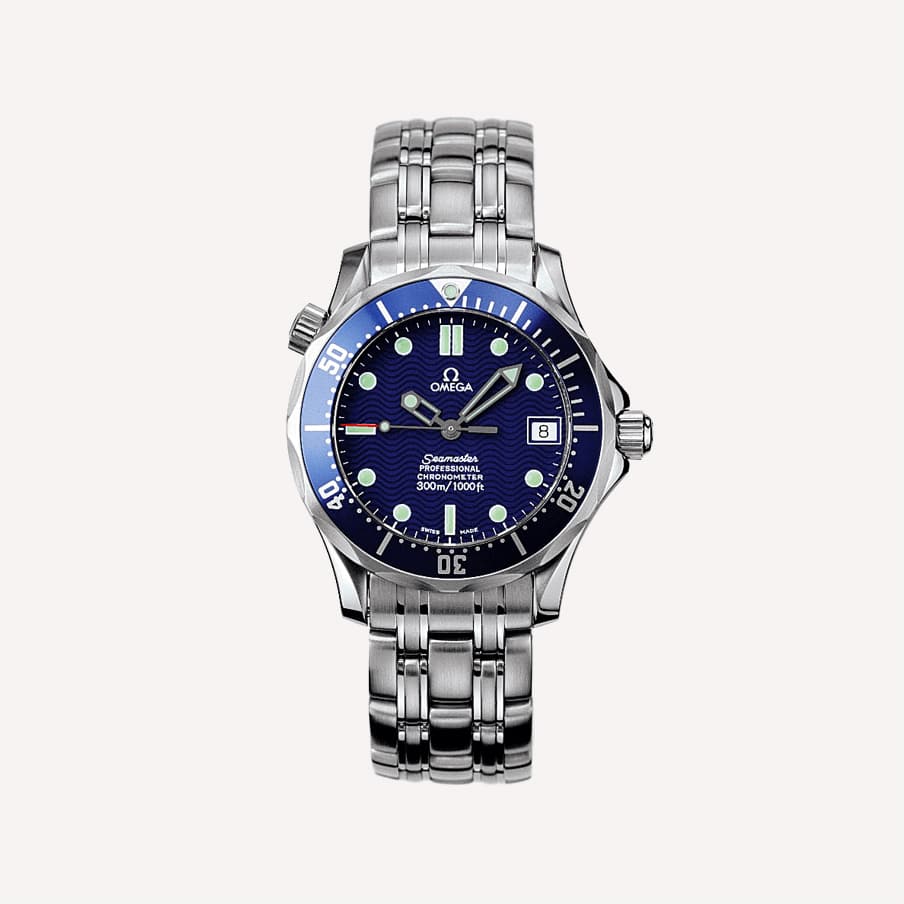 The dial is a lot more aesthetic-forward than, say, the simple Submariner. The smaller size reigns in a potentially loud collection of features, resulting in a more refined watch.
Dimensions: 36.25mm diameter, 11.4 mm thickness
Case material: Stainless steel
Water resistance: 300m
Of course, the 300 was the first model worn by 007 but the Seamaster is the other James Bond watch. It also runs on an Omega's 1120, which is a lovely Chronometer-grade automatic, clad with rhodium-plated finishing.
Sinn 556 I
I like to describe the Sinn 556 I as a Rolex Explorer I, remixed to German design sensibilities.
The stark black dial, satinized steel case, and glossy indices combine in a sporty yet polished way. Compared to an Explorer or a Railmaster, the all-stick indices give a more minimalist Bauhaus look.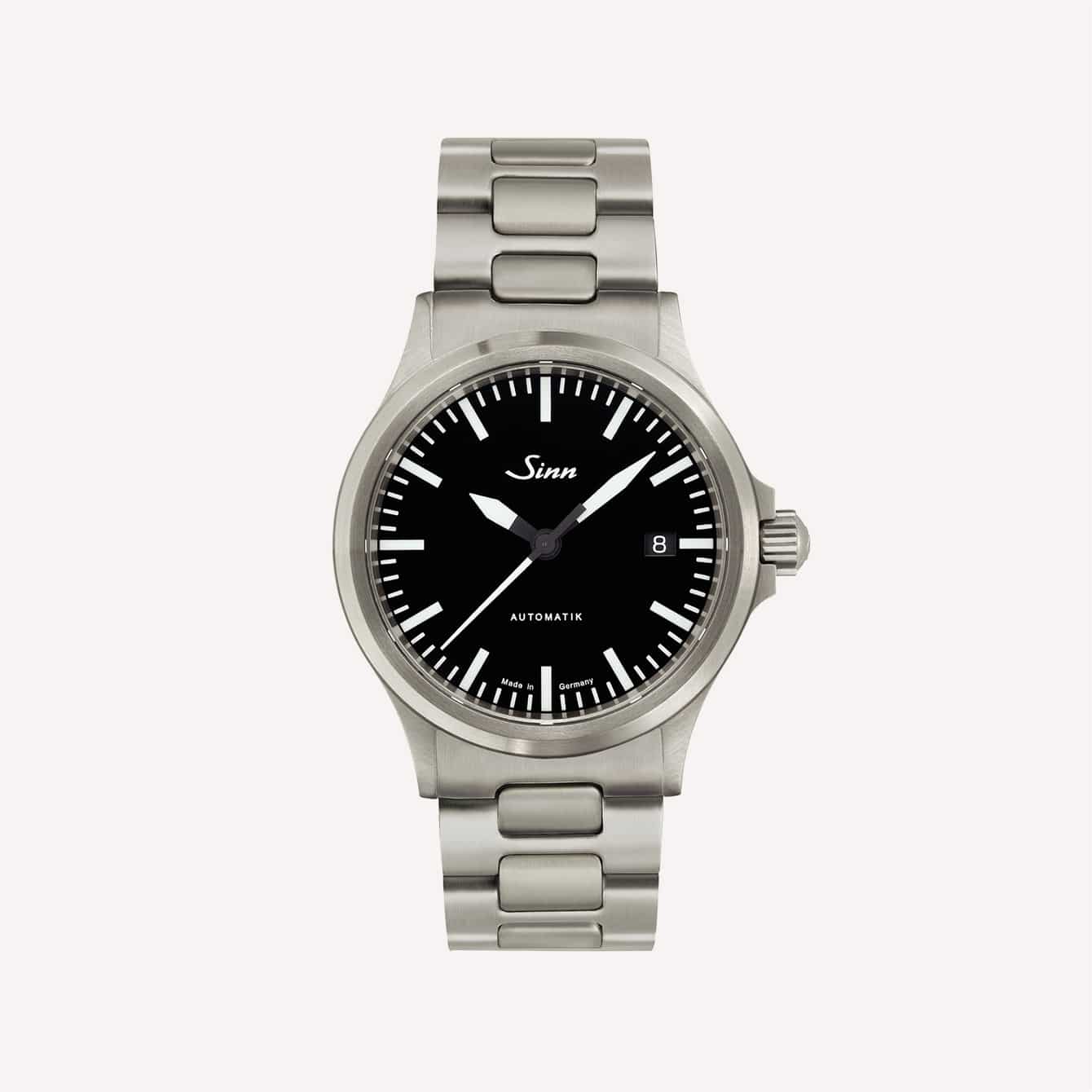 You can watch the SW200-1 movement via the exhibition caseback, which is a real treat because of its antiquey, almost steam-punk filigree aesthetic. And regardless of this watch's professional ruggedness, it looks and wears well on every wrist.
Dimensions: 38.5mm diameter, 11mm thickness
Case material: Stainless steel
Water resistance: 200m
Not only is the 38.5mm diameter a great size in casual settings and when you need it to tuck under your sleeve a bit, the 11mm height is thin and comfortable.
Tudor Heritage Black Bay 36
The best part about Rolex's little brother, Tudor, is that you often get Rolex-level timepieces at lower prices. On top of that, you get smaller case sizes and fun Tudor-specific design features, as we do with this Heritage Black Bay 36.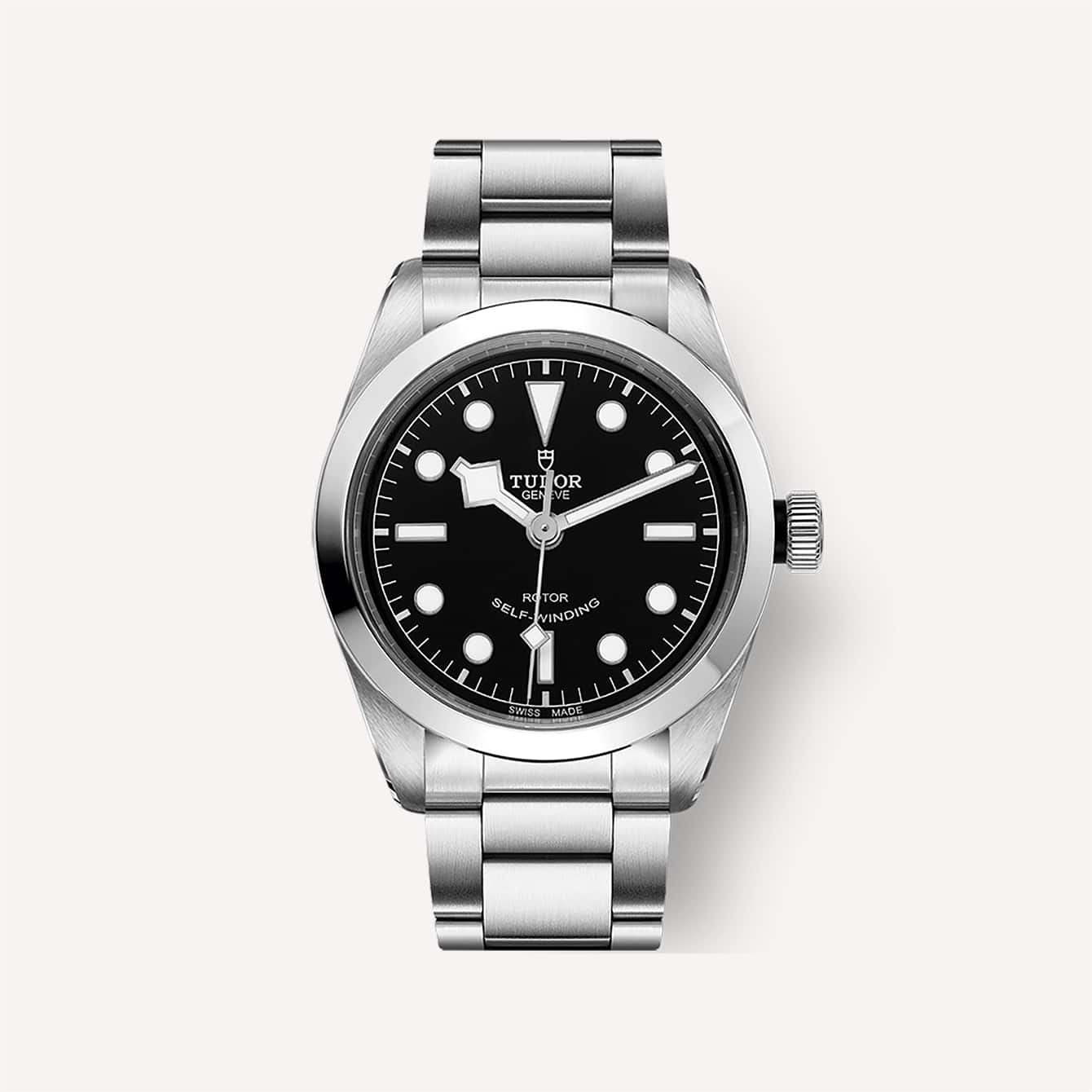 This sophisticated timepiece sports the brand's signature snowflake hands, which are both timeless and modern because they add a contemporary cut-out look to the classic sport watch template. Overall, it's an impressively versatile watch.
Dimensions: 36mm diameter, 10.5mm thickness
Case material: Stainless steel
Water resistance: 150m
The ETA 2824 movement is reliable and considerably strong. It's a 25-jewel automatic with a 38-hour power reserve.
Seiko Prospex Alpinist SBDC093
The green dial Alpinist is a collector's favorite, and for obvious reasons. It's beautifully designed — somewhat eccentric but not unwearable as an everyday watch.
It has exquisite detailing throughout. Seiko's SBDC093, however, is a more understated rendition. The dial features far less contrast, for more traditional elegance.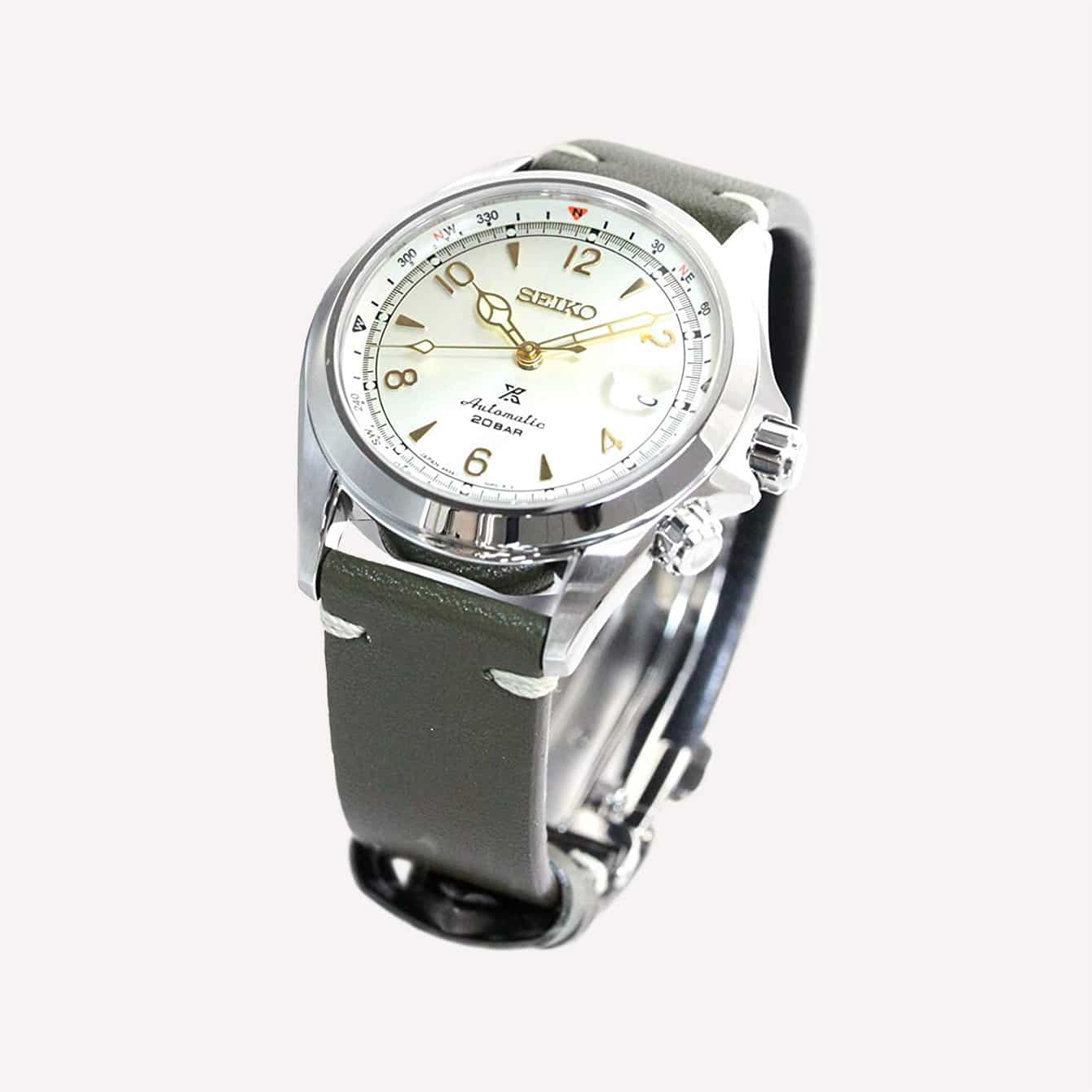 Still, the forest green leather strap is a nice tip-of-the-hat to the original's iconic green dial face.
Dimensions: 39.5mm diameter, 13mm thickness
Case material: Stainless steel
Water resistance: 200m
This is one of those field watches you can definitely wear with a suit. Function-wise Seiko's 6R35 automatic caliber is one of the brand's high-performers, equipped with a 70-hour power reserve.
Tag Heuer Vintage Monaco
The legendary square chronograph has always sported an efficiently-sized case. Tag Heuer's Monaco watch, with its glorious red-accented blue dial, was first seen in the 1969 film Le Mans, on the wrist of the King of Cool himself, Steve McQueen.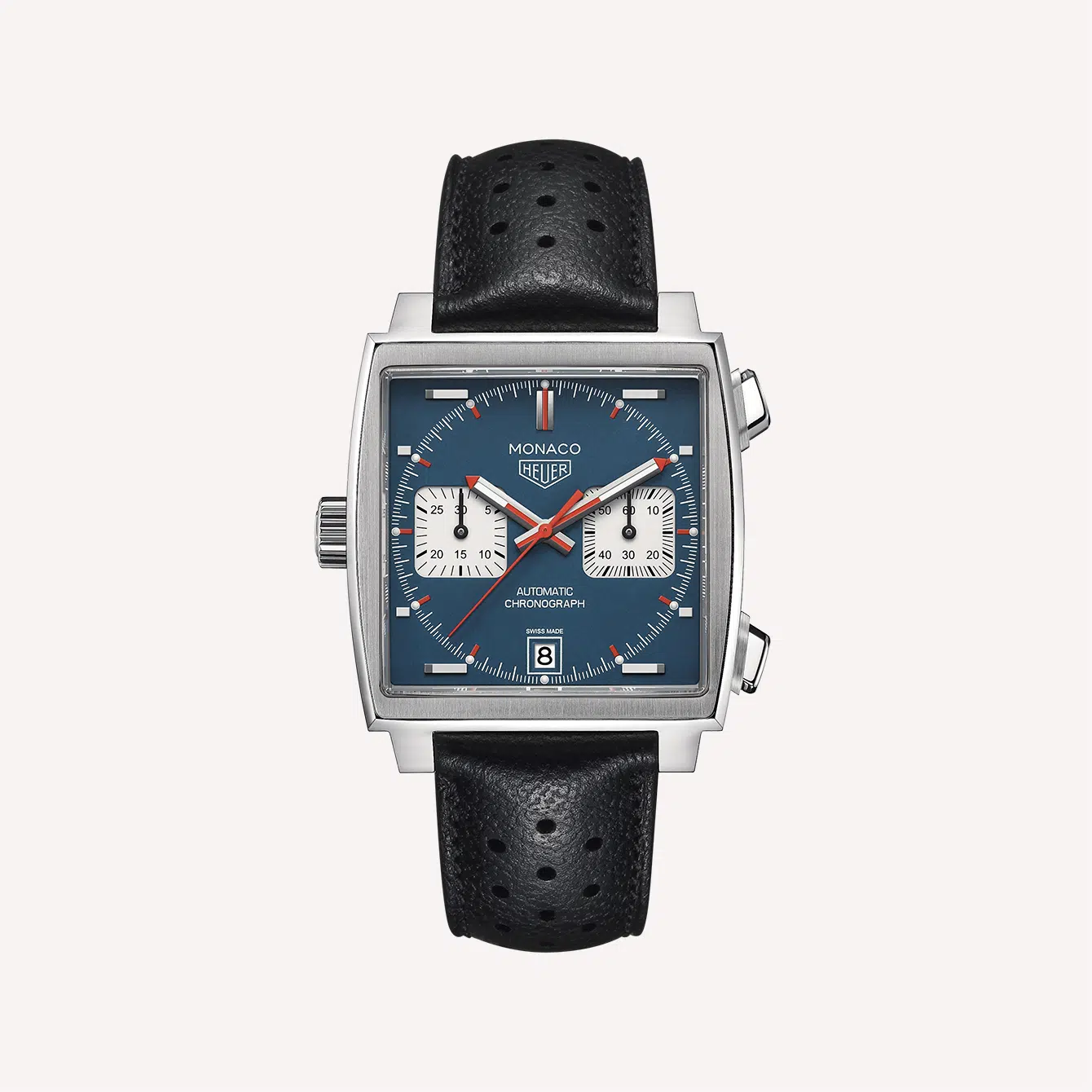 The square subdials and polygonic pushers made waves back then, and today this watch is a must-have for chronograph-specific or pop culture-focused watch collectors.
Dimensions: 39mm diameter, 14mm thickness
Case material: Stainless steel
Water resistance: 100m
The Calibre 11 movement it runs on is also iconic. Also called the Chronomatic, it was one of the first self-winding chronograph movements. Regardless of how many reissues this distinguished design gets, it wouldn't be the same if it ran on any other caliber.
Alpha Explorer
For about $100, you get a lot out of this watch. Clearly an Explorer I homage, this forum-famous automatic has impressively well-placed finishing, ensuring it looks more expensive than it is.
Sure, the back inner lugs, and perhaps an index or two aren't perfect, but no one would notice at first or second glance. Plus, it's built with 316L stainless steel and a sapphire crystal.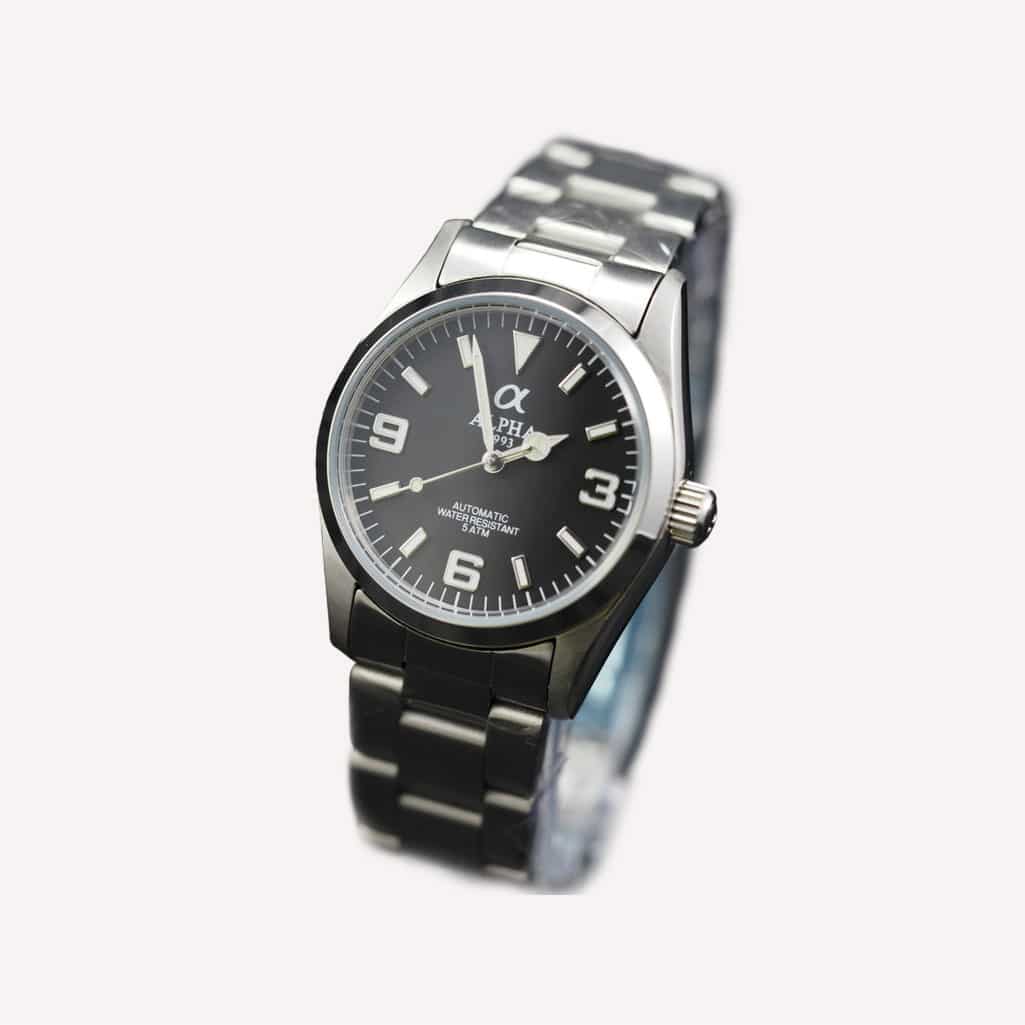 Chinese Seagull movements are a nice "financial cheat code" in the automatic world (i.e. they're inexpensive).
They work just fine as long as the watchmaker services them before placing them in the watch. Alpha seems to do this since there aren't a lot of complaints about this timepiece's performance.
Dimensions: 36mm diameter, 12.5mm thickness
Case material: Stainless steel
Water resistance: 50m
They also offer a warranty. Again, this watch really punches above its class.
Seiko 5 SNKK71
There are few brands as great as Seiko when it comes to entry-level automatics for the horologically curious.
At best, the Seiko 5 SNKK71 is excellently versatile, and at worst, it's visually inoffensive. At any rate, it's a great tool for beginners who want to learn about automatic movements.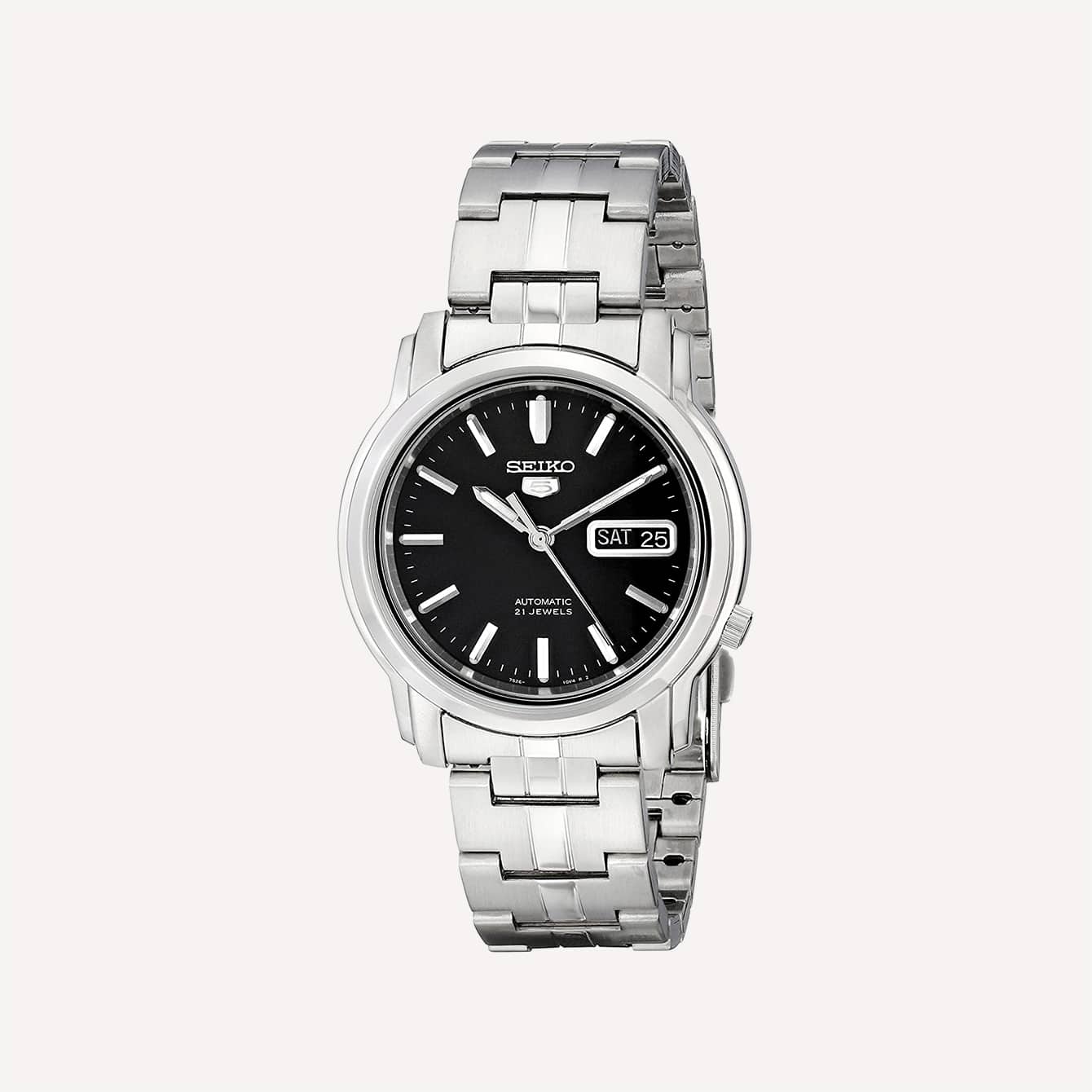 The small case and impeccable black dial makes this watch appropriate in more formal situations, and its stainless steel body makes it easy to wear casually as well.
Dimensions: 32mm diameter, 6.6mm thickness
Case material: Stainless steel
Water resistance: 30m
Most importantly, you can watch Seiko's 21-jewel, easy-to-understand 7S26 caliber through the exhibition caseback. I don't ever say this because it sounds trite, but you truly can't go wrong with the SNKK71 for its price.
Junghans Max Bill Kleine
Junghans is definitely the standard-bearer for the Bauhaus look. Even within the brand, Max Bill's designs are the gold standard.
The Kleine automatic is both classic and current, modeled exactly after the original 1961 version. Of course, it's leveled up to modern standards, which includes a convex sapphire crystal and silver-plated indices with environmentally-friendly lume.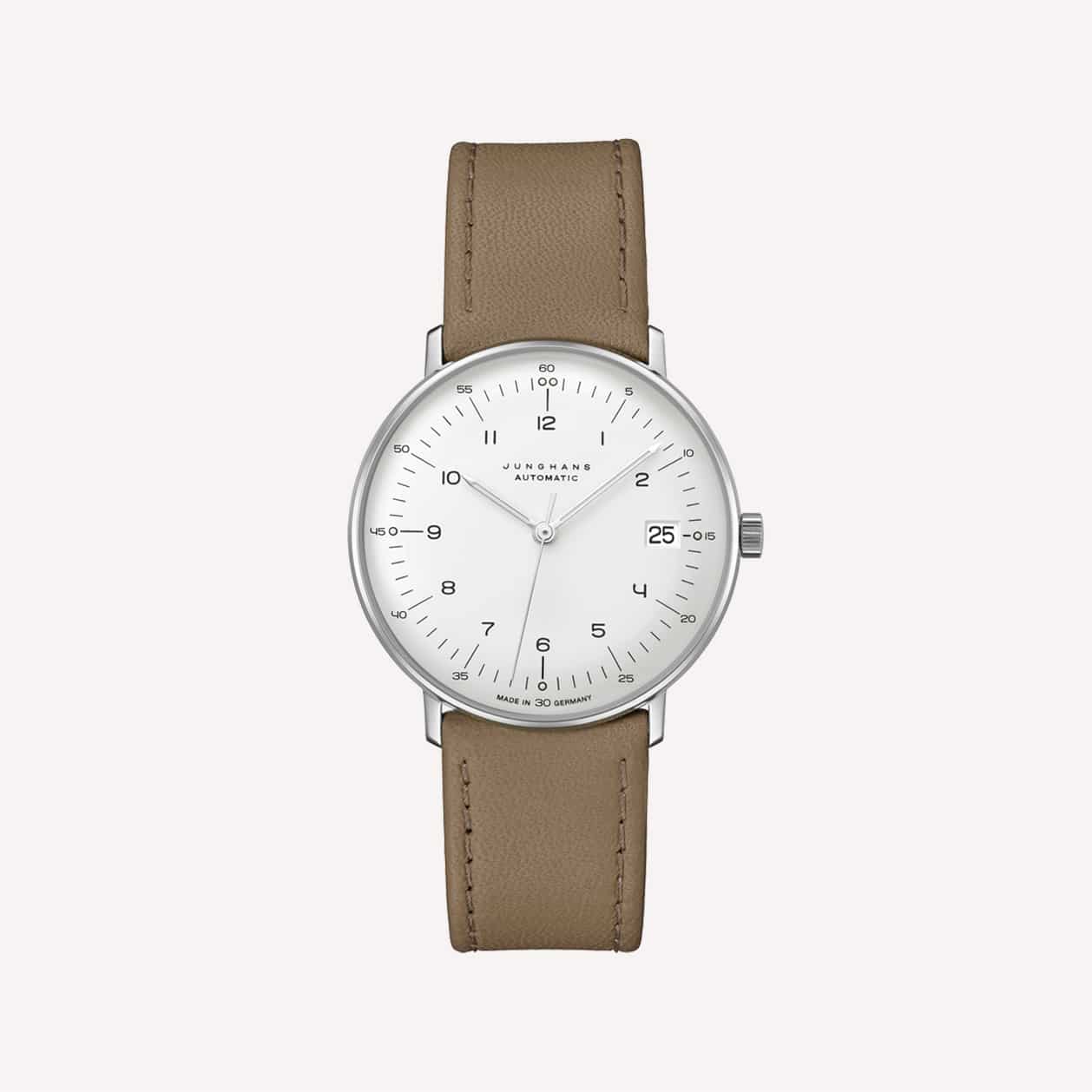 The 34mm case is more in-line with the minimalist German look.
Dimensions: 34mm diameter, 10mm thickness
Case material: Stainless steel
Water resistance: 30m
In my opinion, any bigger and this watch would have too much inefficient negative space.
Nomos Glashutte Tangente Neomatik Midnight Blue
The Nomos Glashutte Tangente Neomatik, reference 177, is a slightly more dimensional take on the classic Bauhaus look. Still, it doesn't compromise the minimalist aesthetic we love about German watch design.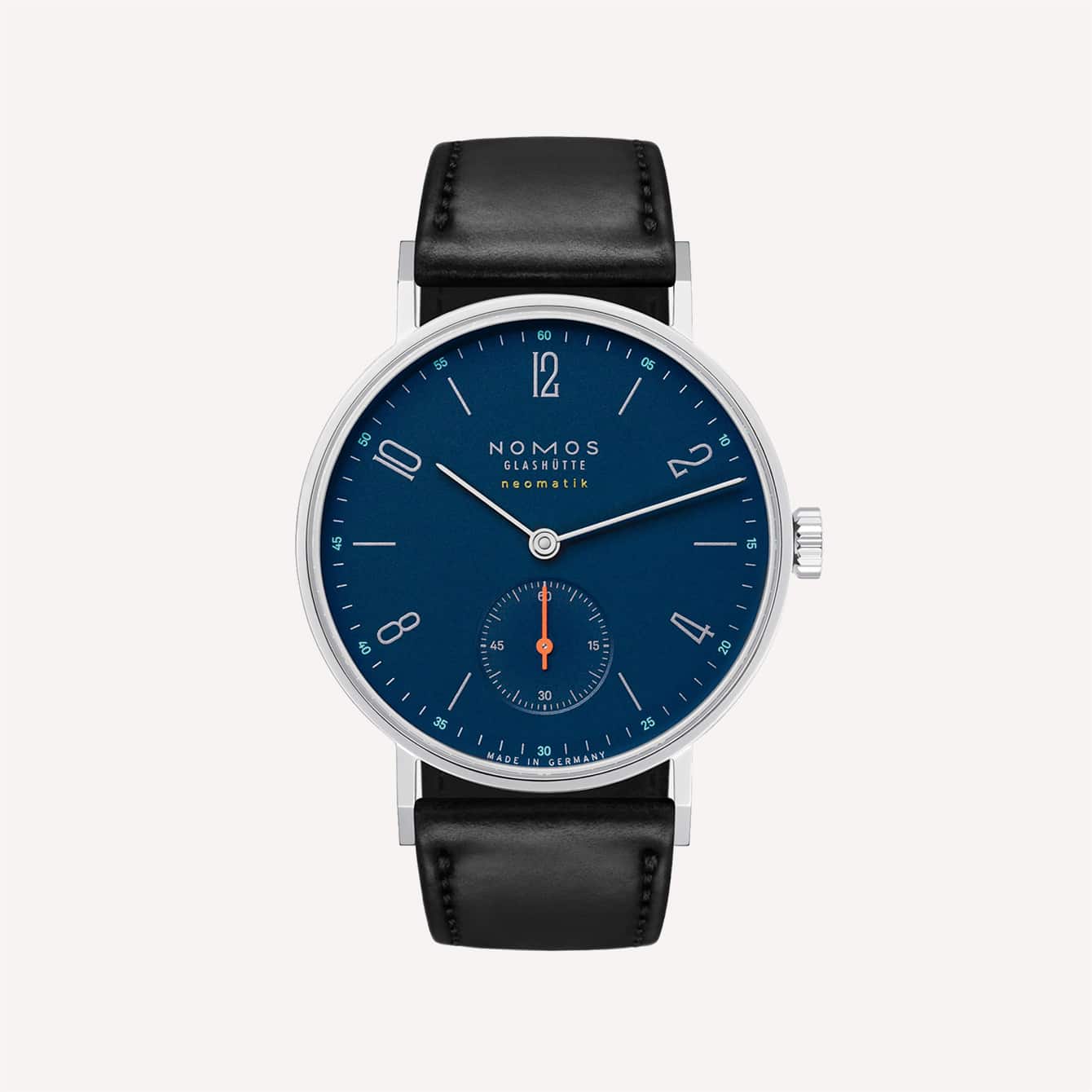 The extra oomph comes from small touches, like the subtle racetrack on the subdial, and also from the striking but understated color palette. The 177 features a midnight blue dial, complemented by a dash of neon on the outer ring and just a touch of red.
Dimensions: 35mm diameter, 6.9mm thickness
Case material: Stainless steel
Water resistance: 30m
It runs on Nomos' 27-jewel DUW 3001 movement, which is equipped with the brand's proprietary swing system. This is their in-house escapement known for being accurate and outrageously thin. In fact, this watch is only 6.9mm tall.
Tissot PR 100
The Tissot PR 100 is impressively-priced considering it's a Swiss automatic.
The 39mm dial wears reasonably, but the 10mm thickness makes it feel even smaller and more comfortable on the wrist. It can definitely slip under a shirt sleeve, dress watch style.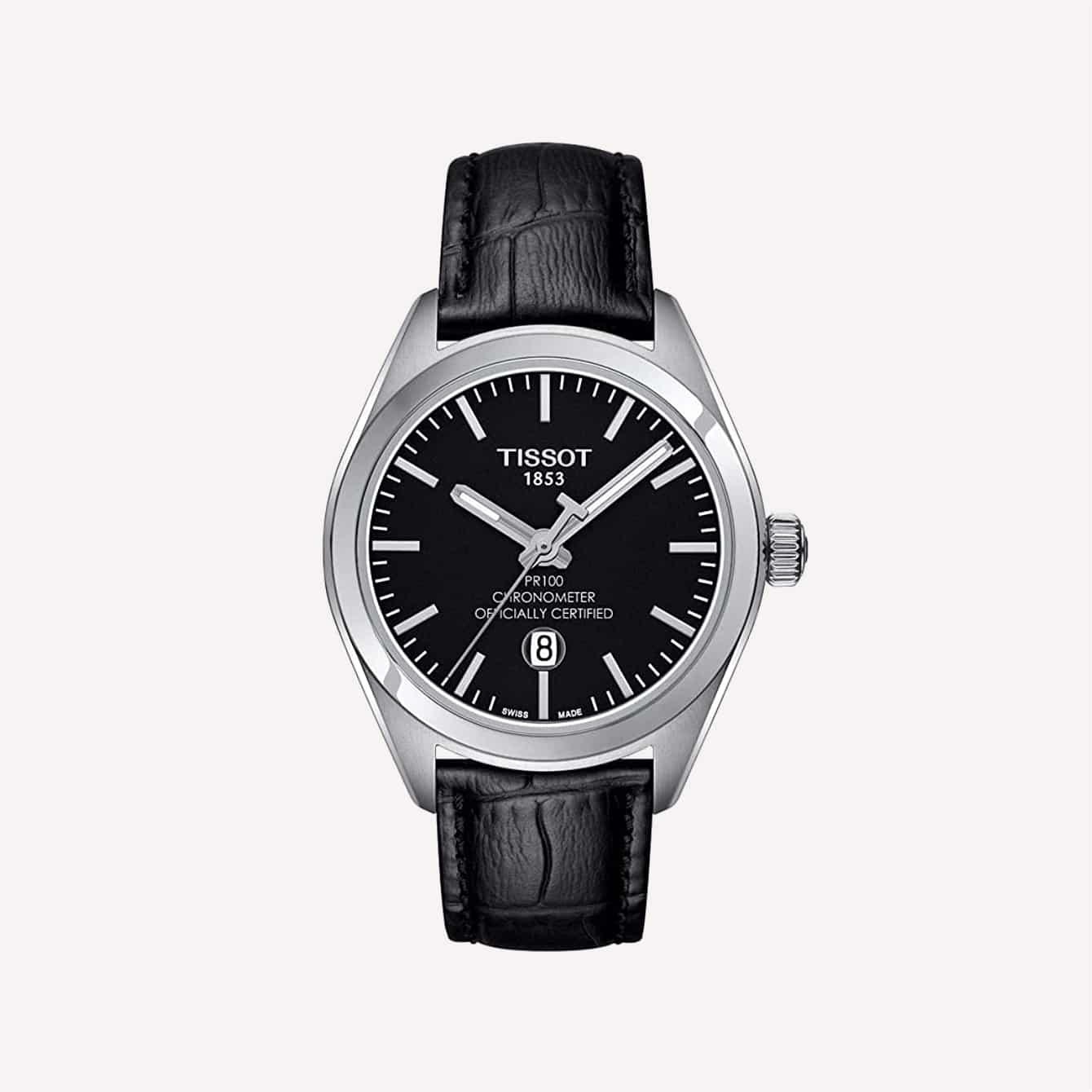 If you're dead-set on the Swiss-made label and are on a budget, Tissot is a generally good brand to turn to.
My tip with this one is to contact the seller before pulling the trigger. There are two versions of this watch: One powered by a COSC Chronometer movement, and one powered by Tissot's Powermatic 80 movement.
Dimensions: 39mm diameter, 10mm thickness
Case material: Stainless steel
Water resistance: 100m
Most people will want the Chronometer because of its insane accuracy and prestige. If that's not as important to you, the Powermatic 80 is reliable and has a huge power reserve, making it more than worth the sub-250 price tag.
Seiko SYMK13K1
If your wrist is as small as mine, then dress watches wear beautifully on you in the 24mm-28mm range. One of my favorite things to do is wear women's sports watches as a formal watch (and I totally do it with my 28mm Omega Seamaster).
If you're like me and prefer a sportier dress watch, the Seiko 5 SYMK13K1 is a rare and effective find.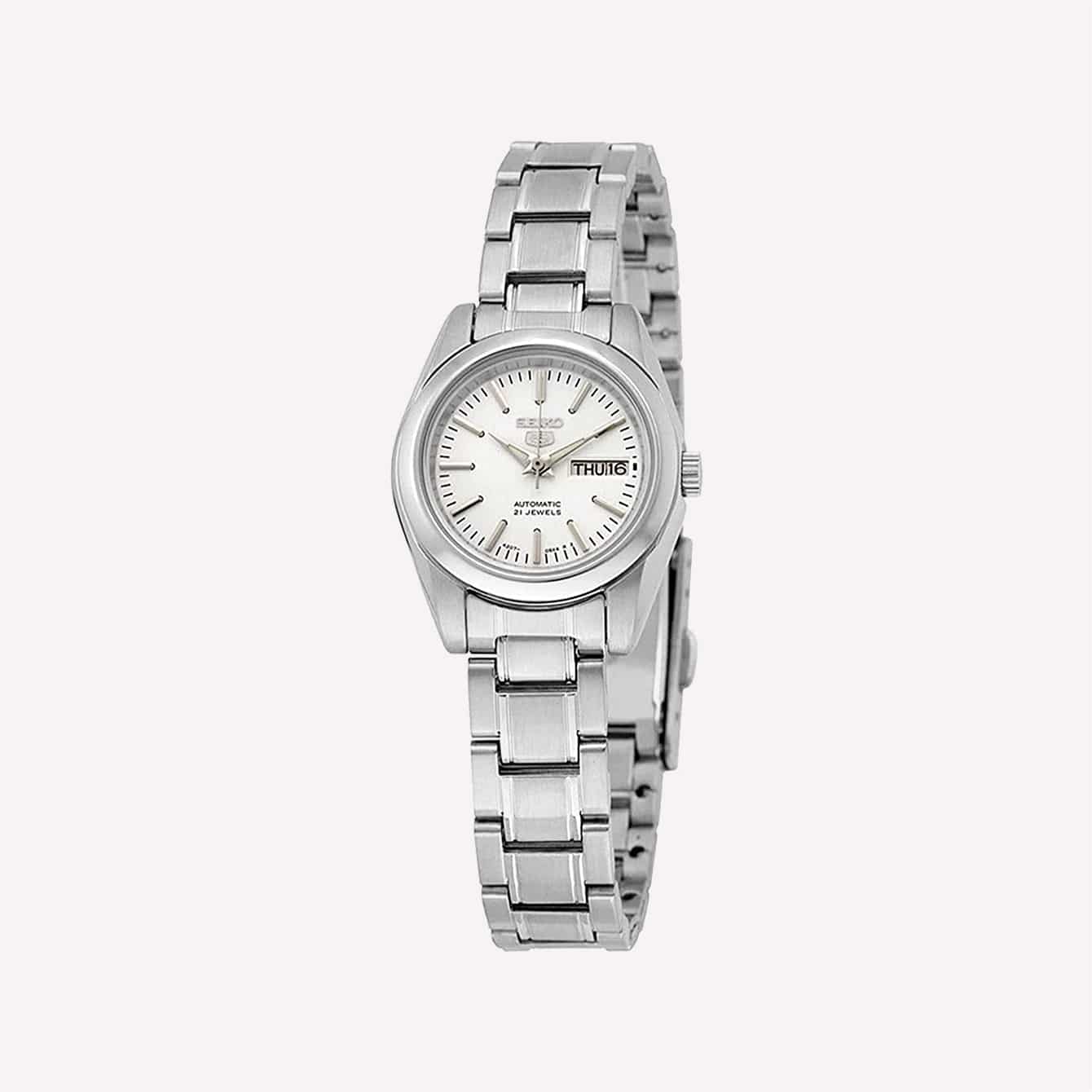 The glossy fixed bezel with a white dial doesn't protrude from the bracelet, giving it a sophisticated look. And unlike my Seamaster, it's an automatic — at 24mm!
Dimensions: 24mm diameter, 10mm thickness
Case material: Stainless steel
Water resistance: 30m
I have no idea how Seiko does it. It runs on their 4207, which has 21 jewels and a 24-hour power reserve.
Which Watch Will You Choose?
In the world of watch collecting, I don't think we'll ever completely shake off the effects of the gigantic watch craze.
Still, it's good to know that there's a big world of automatic watches for small wrists, that's only getting bigger.
Between the demand for more authentic reissues to classics becoming the new trendy, it's a good time to be a small-wristed watch collector.
Questions? Comments? Leave them below!