Are you looking for a real military watch? Here are 15 of the best military watches you can get!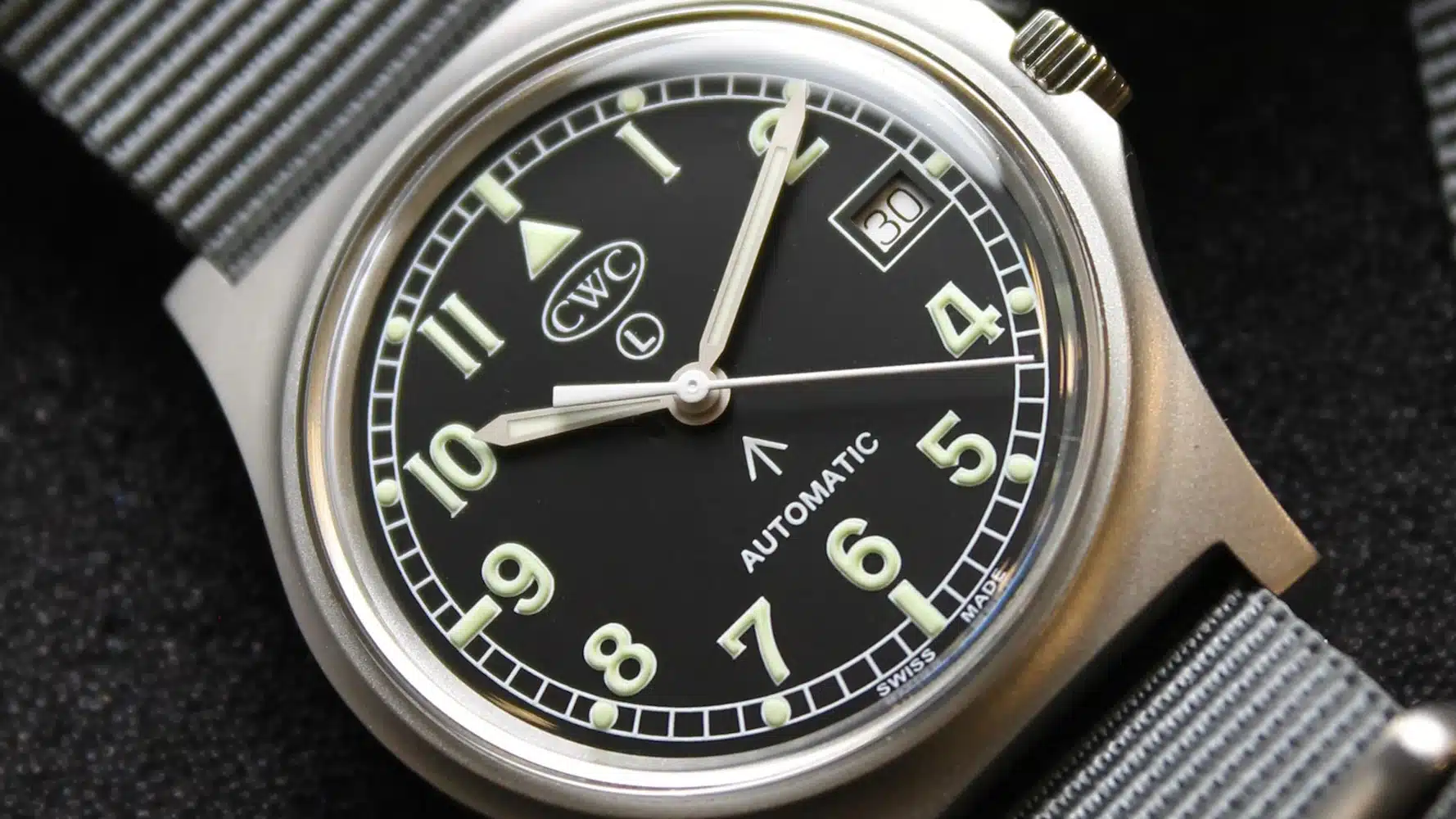 I've always said that a field watch is the perfect distillation of a good, honest timekeeper. Once upon a time, wristwatches were worn only by women.
Thanks to our men in uniform, this eventually changed. Soldiers started wearing field watches due to the impracticality of pocket watches in the trenches.
So, a field watch is pretty much just one that's accurate, legible, and durable.
Today, it's also a style. You know it when you see it. It's often vintage-inspired and usually has Arabic indices and sword hands. It probably has a round case and an unguarded crown.
Still, navy men wore dive watches and Air Force men wore aviator watches. So, the category of real military timepieces spans more than just that core style.
The 15 models rounded up here are genuine military watches, each with the proper associated history and functions (and therefore the capacity for everyday wear).
Military Watches: 15 of the Best
Here they are! As always, all price points are represented:
CWC G22 Automatic Watch
Coming straight from CWC's G10 line, the very same watches supplied to Britain's Ministry of Defense, the G22 is no-nonsense and incredibly reliable. Despite being built for practicality, it's pretty stylish too.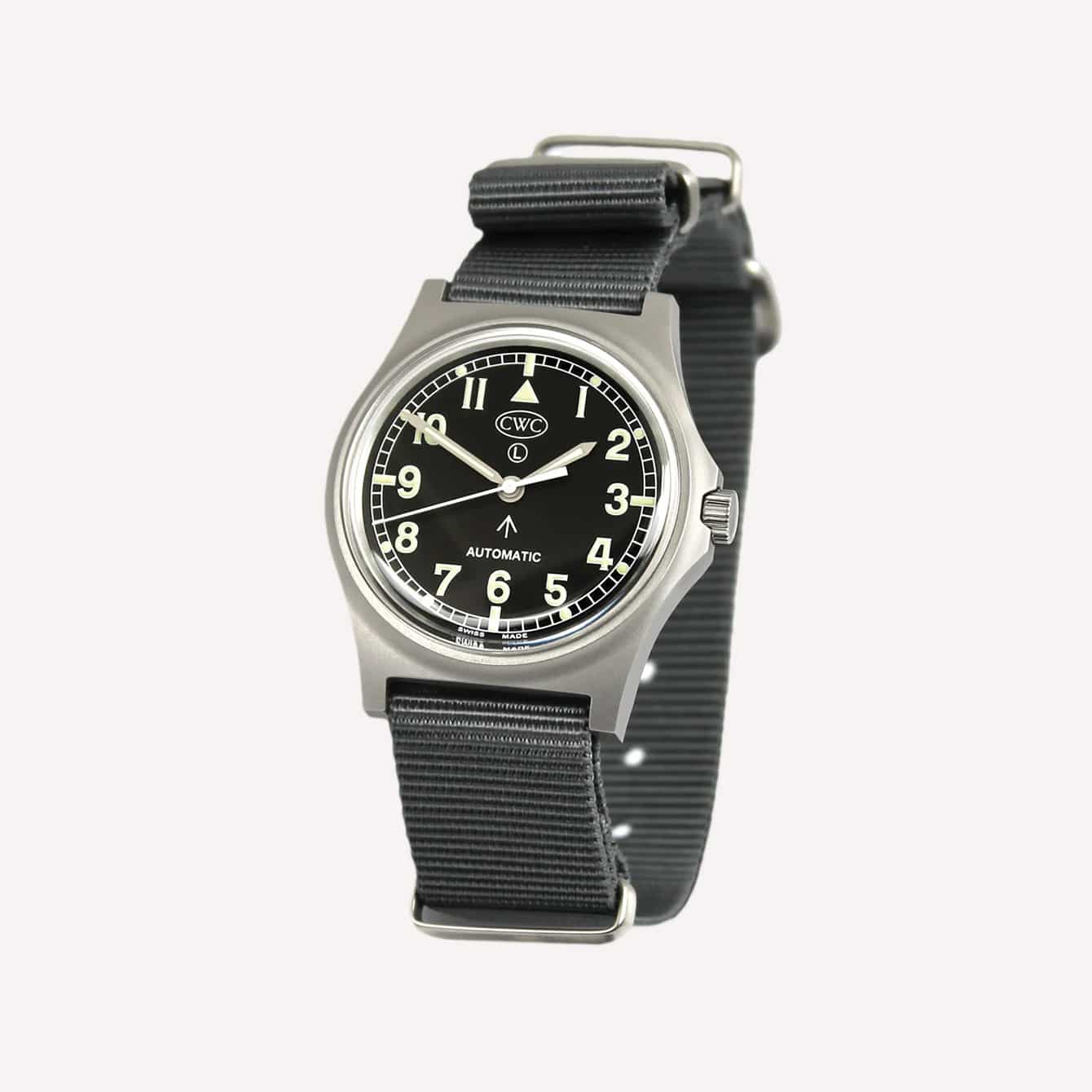 The sweeping case features hard edges on the side, giving it a blocky yet graceful look. This style is perfect for casual wear and even professional wear, depending on the strap you use. It's also slightly matte with fixed bars, adding to the hearty look of the perfectly sized 38.5-millimeter case.
The dial is highly legible with slightly protruding Arabic indices and brilliant lume. At the same time, the no-shatter acrylic crystal beautifully blurs the edges.
Dimensions: 38.5mm diameter, 11mm thickness
Case Material: Stainless steel
Water resistance: 50m
This specific G22 runs on an automatic movement from Sellita. The best part about this 26-jewel movement is that butter-smooth secondhand sweep.
Marathon GPQ
The quartz rendition of Marathon's General Purpose watches, the GPQ, is based on their historic GG-W-113. It was commissioned by the US military for their pilots in the late '60s. Today still fulfills the present-day government standards.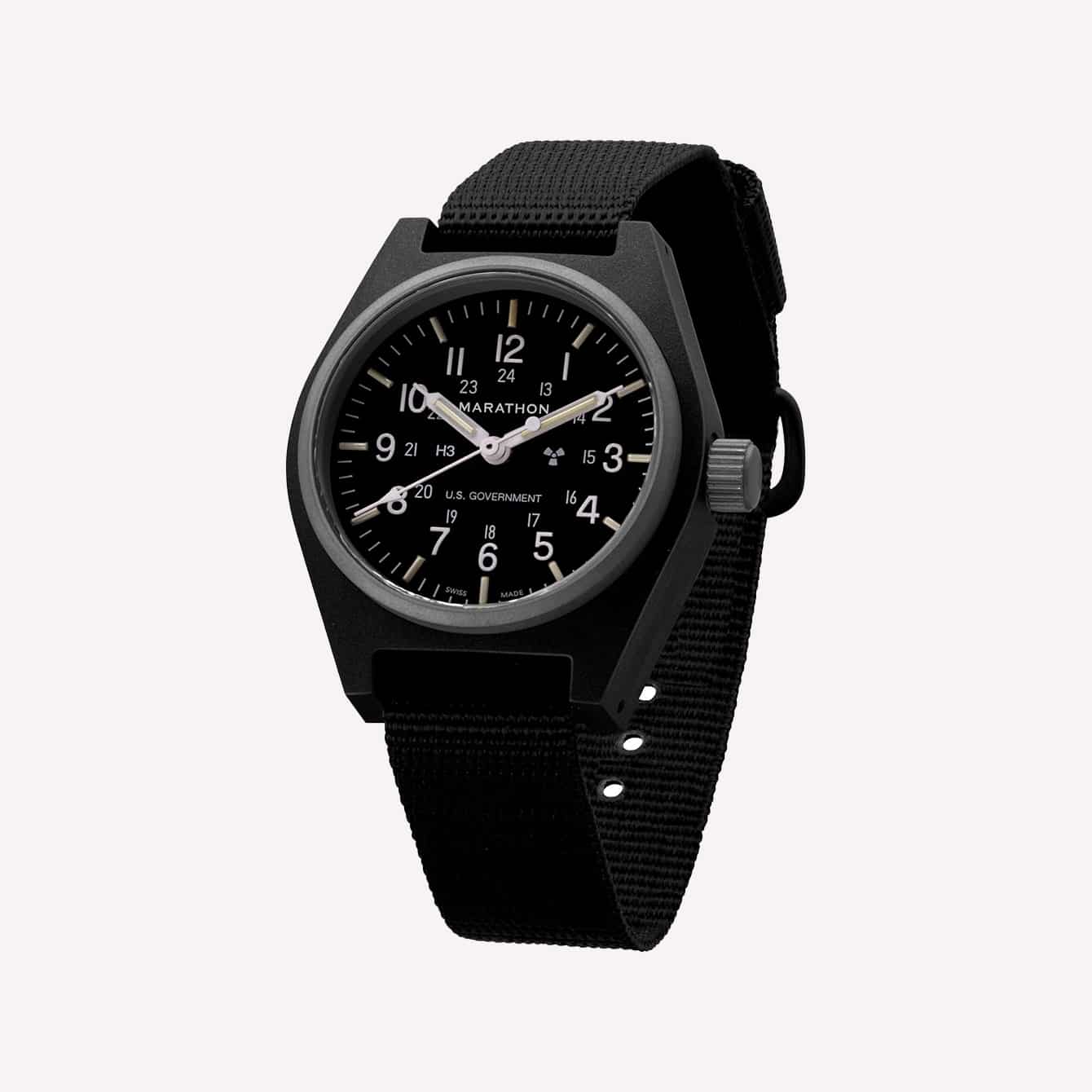 In fact, you can even get the special USAF-branded version for those of you with affiliations!
Even for us civilians, though, this is a good-looking and reliable timepiece. First off, the 34-millimeter case is mercifully comfortable on the wrist. It's made out of composite fibershell, which has excellent strength for weight.
Second, the crisp syringe hands and mix of 24-hour Arabic indices with the flush, lumed batons make for an easy-to-read dial at any angle.
Dimensions: 34mm diameter, 14mm thickness
Case Material: Composite fiber shell
Water resistance: 30m
Speaking of readability, the lume is tritium-powered. This means it just automatically lights up in the dark — no need for charging in the sun, no need for a push-button.
G-Shock DW-6900
Unsurprisingly, G-Shock is a favorite among soldiers and police officers thanks to its strength, precision, and bang-for-buck price tag. The 6900 is particularly popular since it's the quintessential G-Shock in looks and functions.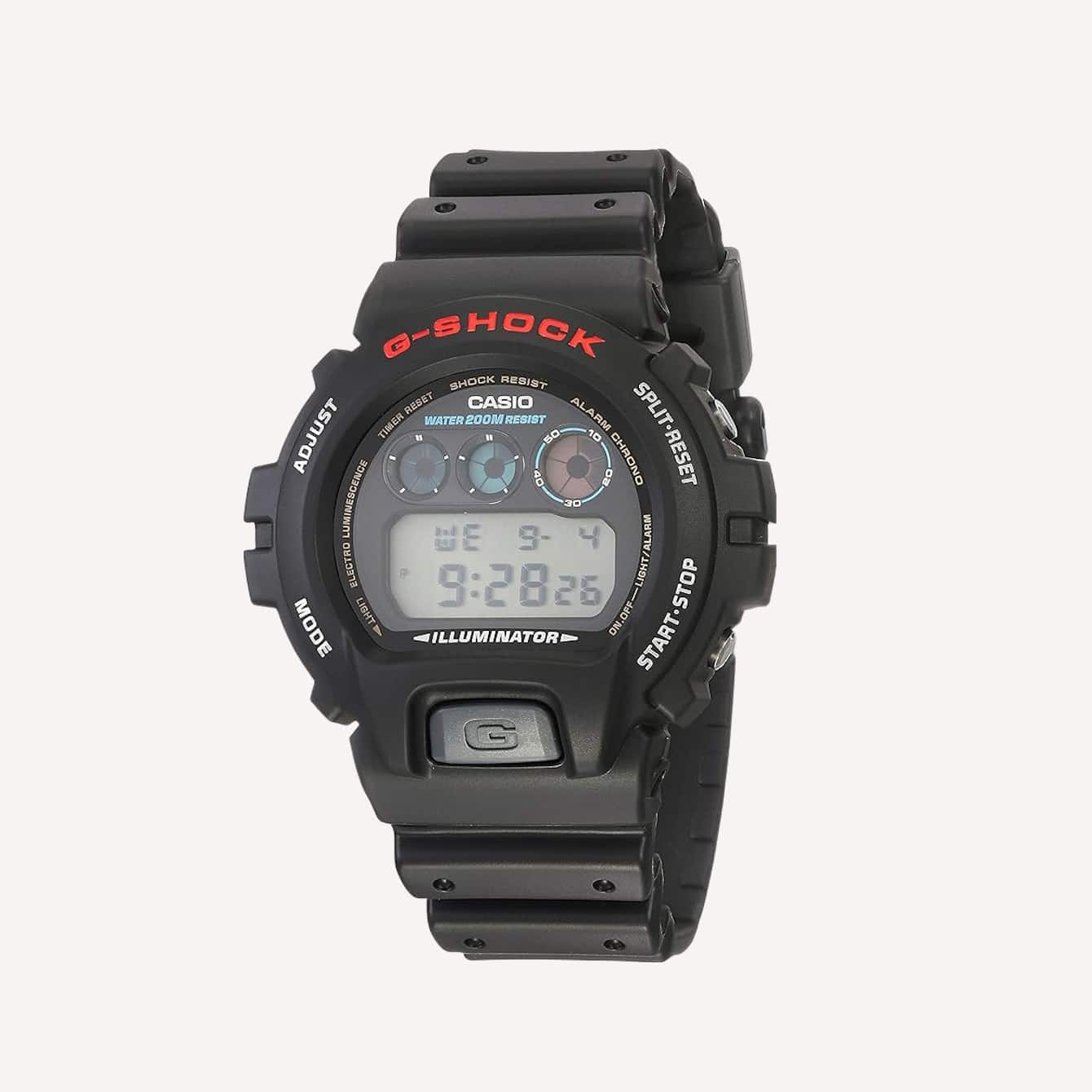 Of course, it has the kind of shock resistance that can survive a multi-story fall. It also comes with a stopwatch, a countdown timer, and several alarms. I love how the iconic blue-green electro-luminescence has a substantial afterglow.
Imagine needing to time something and not having to reach for your phone. Suffice it to say, G-Shock functions are also cool party tricks.
Dimensions: 45mm diameter, 15mm thickness
Case Material: Resin
Water resistance: 200m
As with any G-Shock, this guy has a hard-edged, industrial, and heavy aesthetic. However, at 45 millimeters, it's not the biggest model and sits pretty comfortably, even on my small wrist.
Luminox Original Navy Seal Watch
The robust and commanding Original Navy Seal Watch first debuted in 1994. Luminox's goal was to develop a brawny yet undistracting timepiece for Navy SEALs.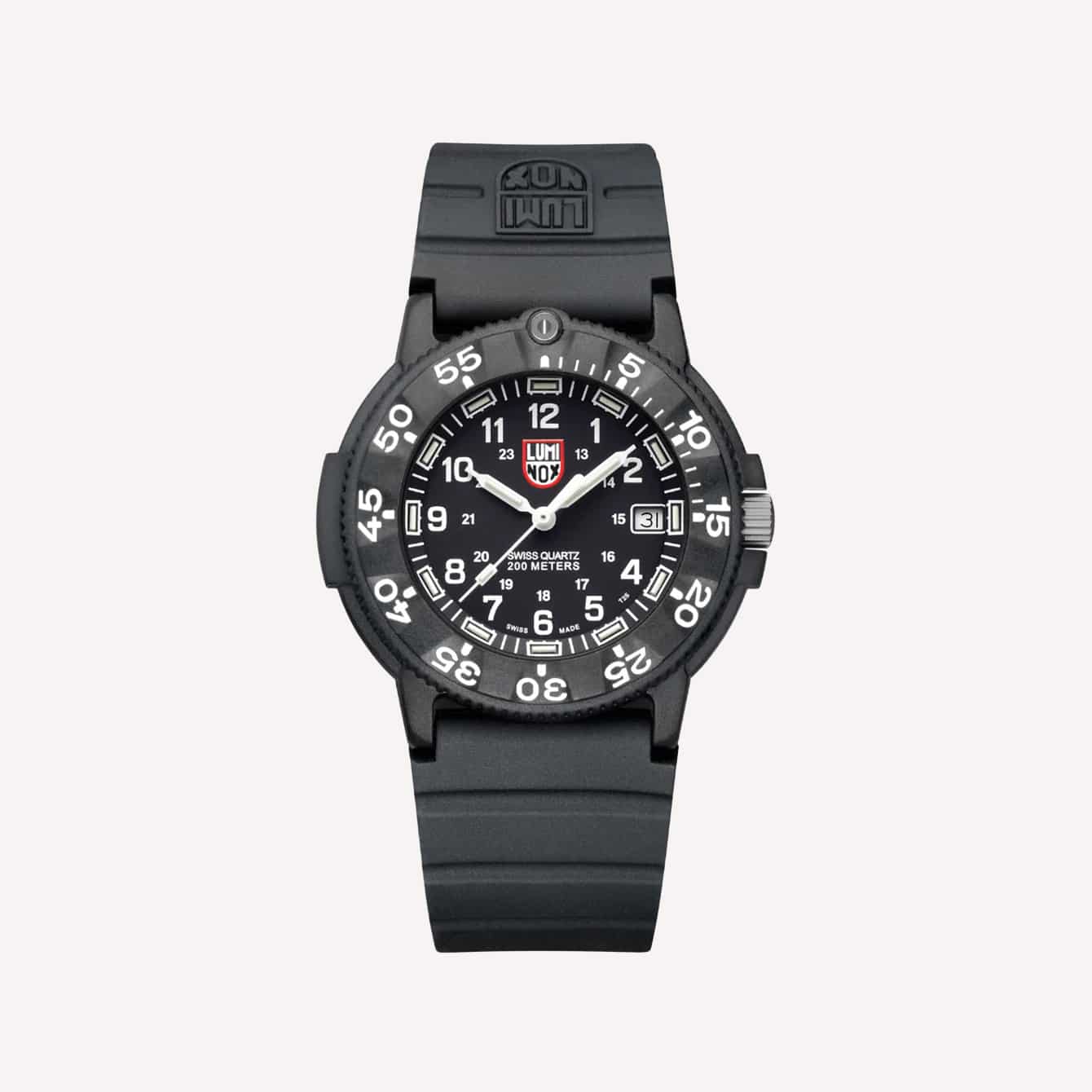 They succeeded in combining these unlike characteristics by creating a special carbon compound case.
It's made with something Luminox calls Carbonox. It's six times lighter than steel, and therefore three times lighter than titanium, and is fully anti-allergenic.
Do you find that every watch and bracelet you put on your wrist turns it green? This watch is a good option for you. It's also anti-magnetic, shock and scratch-resistant, and it looks magnificent.
It gives the watch a matte yet slightly textured look. It looks as strong as it is and even has this sci-fi sort of organicness to it. Again, it's really commanding.
Dimensions: 43mm diameter, 12mm thickness
Case Material: Carbon compound
Water resistance: 200m
I should also mention that this timepiece is fully CO2-neutral, so it gets extra credit points for the sustainability factor.
Marathon GPM Mechanical
This Marathon watch is the mechanical counterpart to the previously mentioned GPQ — hence its name, GPM.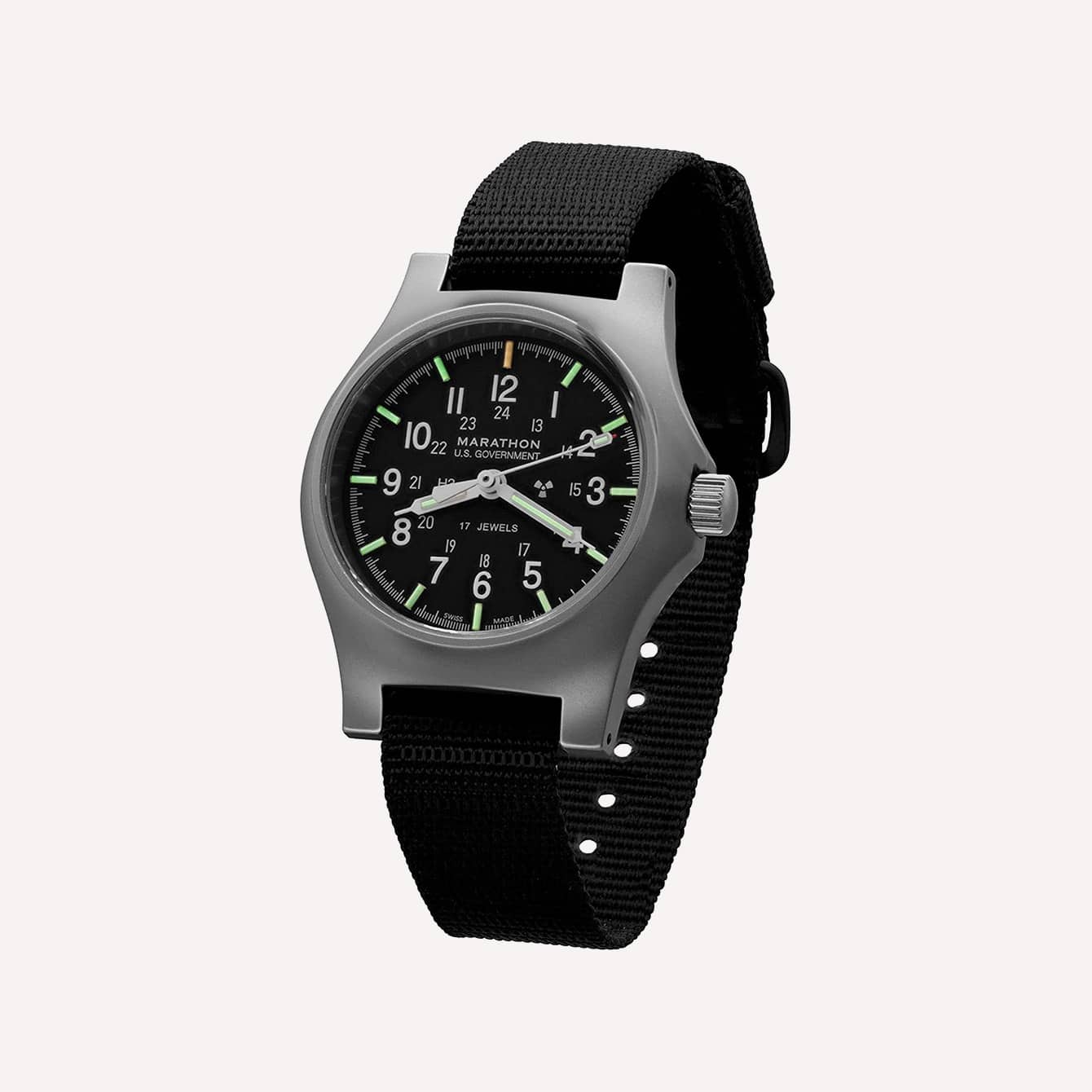 Like the GPQ, it has a crisp and easy-to-read dial. It features that swervy yet block-like case that looks as stylish as it is practical. Its lume is also powered by tritium gas tubes. Again, this feature ensures that it lights up in the dark without needing a charge.
The distinguishing qualities the GPM has are its stainless steel case and its movement. The case is surgical-grade and even more, is sanitized. That's why it has that textured graphite finish. It sits somewhere between matte and shine, has an almost gunmetal quality, and gives the watch true visual intrigue.
Dimensions: 39mm diameter, 10.6mm thickness
Case Material: Stainless steel
Water resistance: 100m
Meanwhile, the 17-jewel mechanical movement provides the watch with a fun, tactile characteristic. One of the reasons I sometimes prefer mechanicals to automatics is that they're so much more high-engagement than a watch that'll wind itself.
Vaer C3 Korean Field
As its name indicates, Vaer designed the C3 Korean Field as an homage to the military watches. Specifcally, a homage to watches worn by allied soldiers in the 1950s during the Korean War.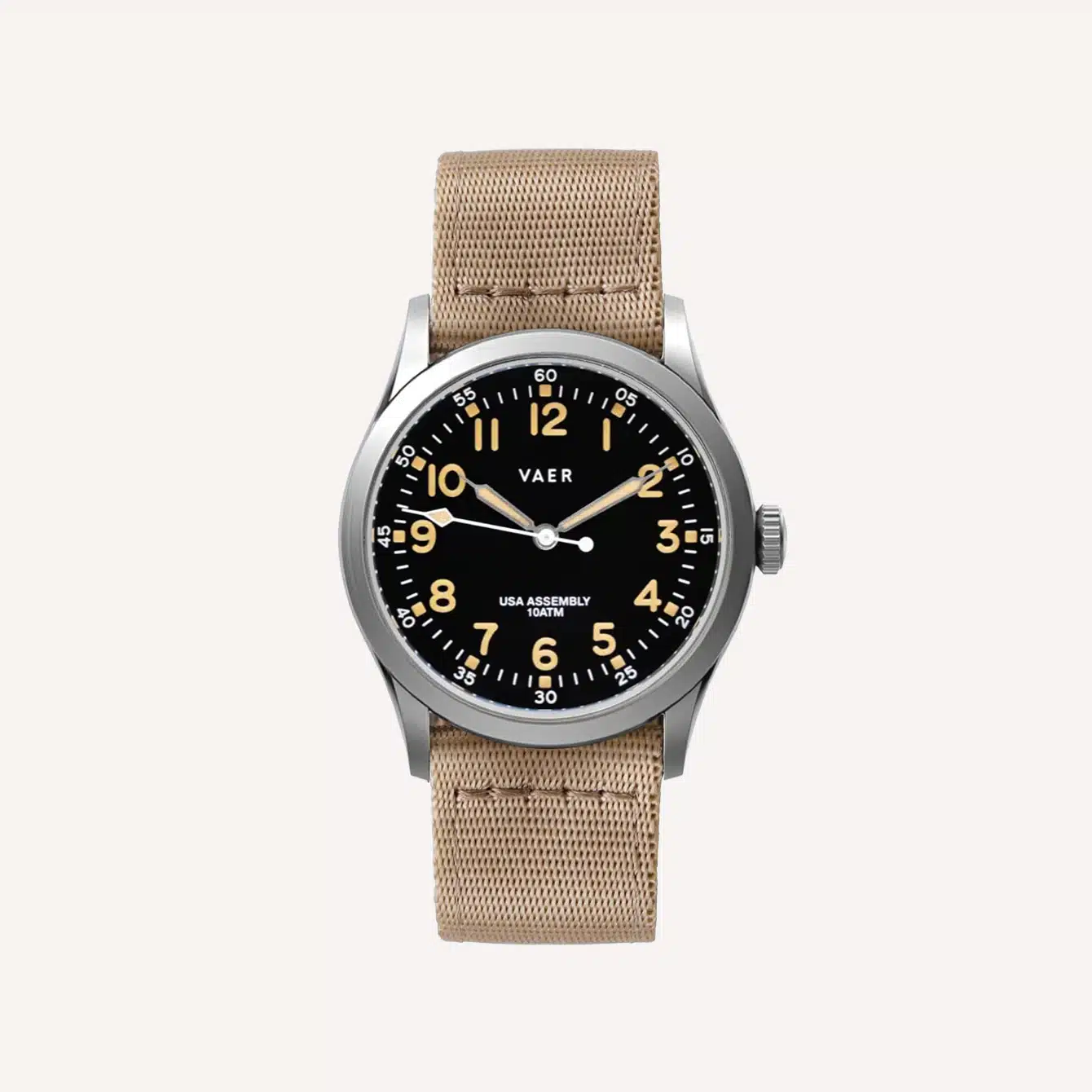 It has a pragmatic low-profile case, a close-to-body crown that won't get in the way, and a high-contrast dial.
Between the All-Arabic indices (in that official-looking DIN font) and syringe hands, you can read this tropical-and-black watch face from any angle. The diamond at the end of the second hand adds to this readability and its good looks.
This American-built variation of the C3 is solar-powered. It's highly accurate and reliable.
Dimensions: 39mm diameter, 9.4mm thickness
Case Material: Stainless steel
Water resistance: 100m
In fact, just six hours of sunlight will add six months to its power reserve. It can actually work on any kind of light, natural or otherwise. And for those of you possibly living in a Victorian existence, even candlelight will power this guy up.
Benrus DTU-2A Field Watch
The original DTU came out in 1964 after the US Military requested Benrus make several modifications to the prototype. This DTU-2A Field Watch encompasses all of those very qualities.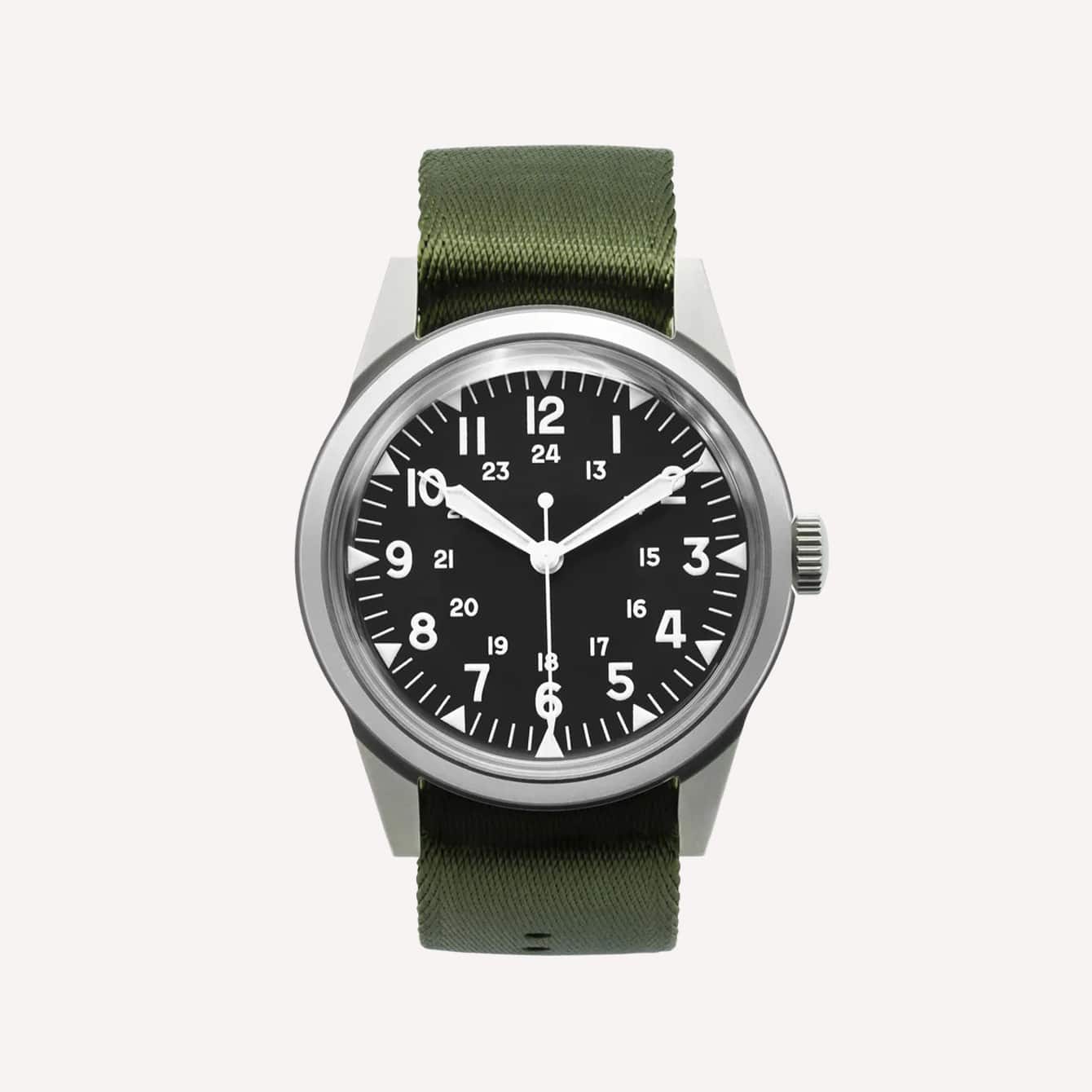 It's a combat-ready piece of gear with a bead-blasted stainless steel case that makes it even harder than it already is naturally.
Style-wise, this Benrus has a dynamic quality about it, with the flush triangular indices and energetic line-forward design.
The white outline and white filler on the hands have a sculptural aesthetic. The the fact both hands literally slide over the indices makes this dial exceedingly legible.
Dimensions: 39.5mm diameter, 12.8mm thickness
Case Material: Stainless steel
Water resistance: 50m
On the function side, this timepiece runs on a 17-jewel Swiss automatic movement with a 38-hour power reserve and hacking.
Bremont Broadsword
To develop the Broadsword watch, Bremont worked directly with Britain's Ministry of Defence. It was one of 12 watches issued to soldiers of the British Army during World War II, known as "The Dirty Dozen" set of watches.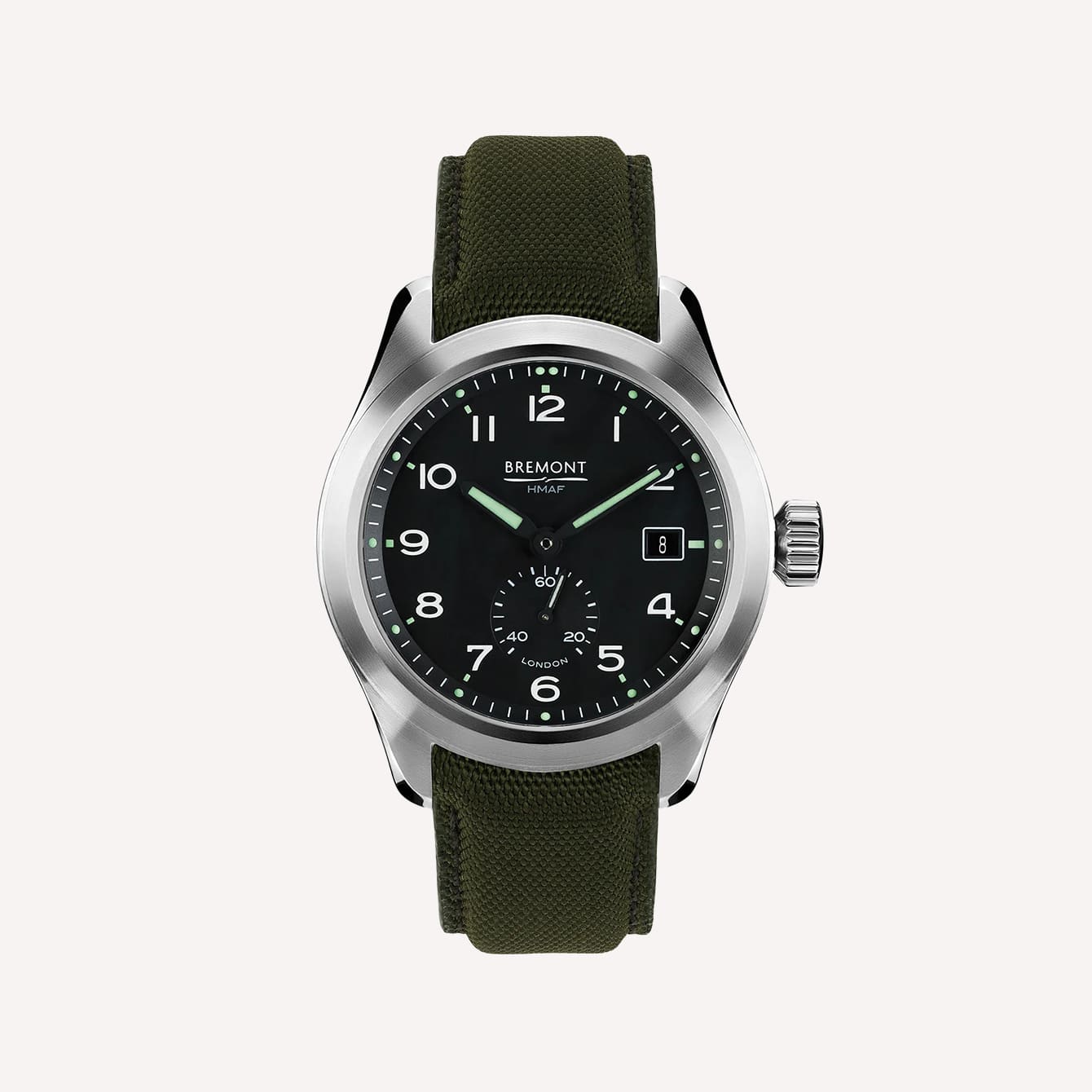 This modern Broadsword is built just like the original. It meets the exact military standards while also sporting a domed sapphire crystal for clarity and impact resistance. Oh, and it's no big deal, it also runs on a Chronometer-certified automatic.
Even its steel case, satin and polished, is hardened for extra strength and a cool gunmetal-like look.
Basically, this handsome watch can satisfy both military soldiers and horology aficionados.
Dimensions: 40mm diameter, 12.5mm thickness
Case Material: Stainless steel
Water resistance: 100m
A true partnership with the British MoD, this watch has a 15% military subsidy. Its caseback features the heraldic badges of the Royal Navy, the Royal Air Force, and the Army.
G-Shock GD350
Admittedly, the G-Shock GD350 is a monster of a watch. However, Casio built it specifically for military use, and it boasts several features that other G-Shocks don't. Plus, it's in the ~$100 range.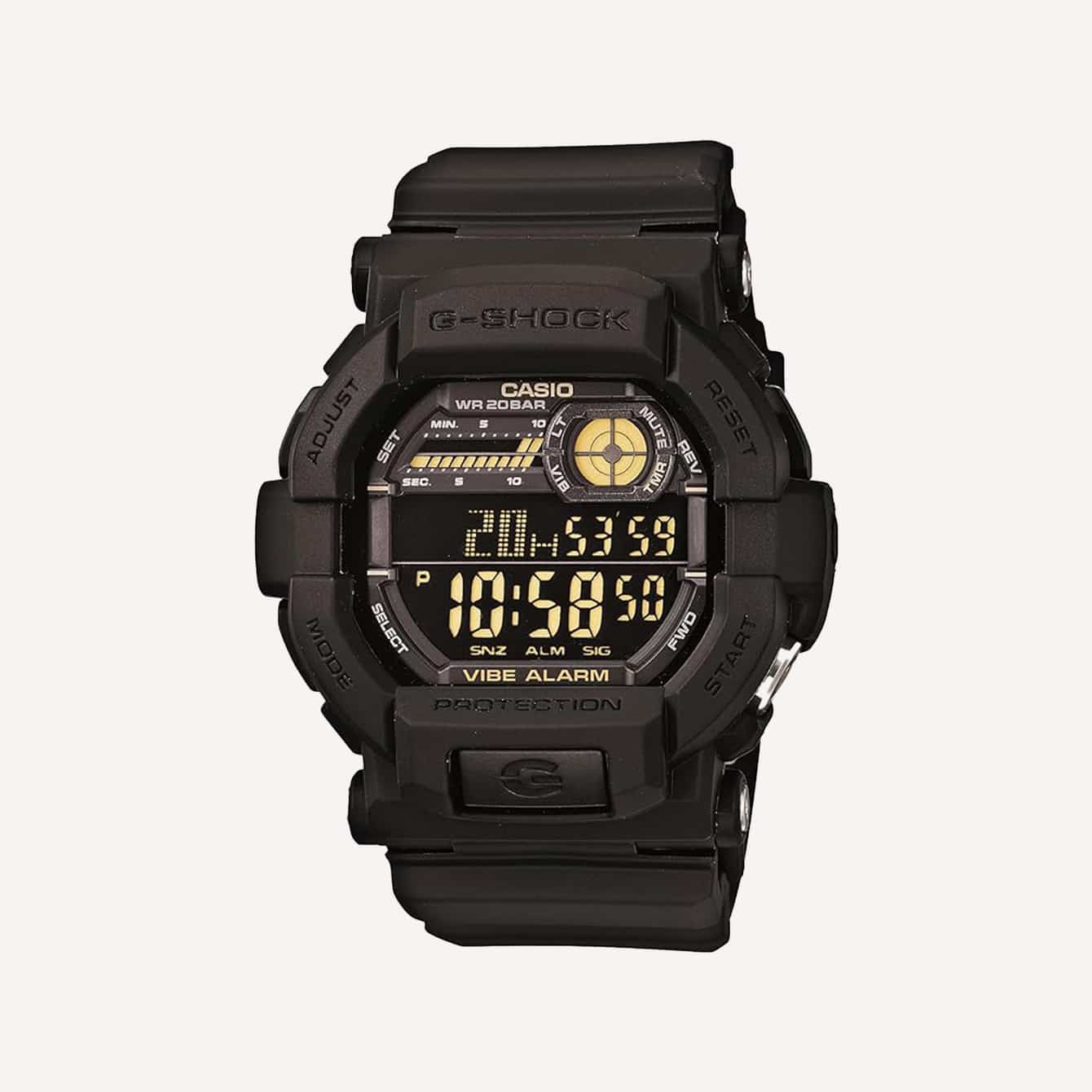 Whether in the military or a hunter, the silent alarm feature will be handy. You don't want the enemy, or wild animals, to know where you are after all.
When it comes to everyday use, maybe you're in the middle of a meeting, and you need a reminder to take your medicine or check in on your dog sitter.
The dedicated timer button gives you access to the countdown timer with just one push of the screen. It's super easy, and you don't have to dig through a menu to get to it.
Dimensions: 49mm diameter, 16mm thickness
Case Material: Resin
Water resistance: 200m
Finally, the buttons on the case are extra large so that they're accessible even if you have gloves on. This means they're even easier to use gloveless while leveling up the tactile quality we all love about G-Shock.
Seiko Prospex SBDC111 Captain Willard in Green
The Seiko SBDC111 lays claim to military heritage and pop culture cache. Its namesake, Captain Willard, is the character Martin Sheen famously played in Apocalypse Now.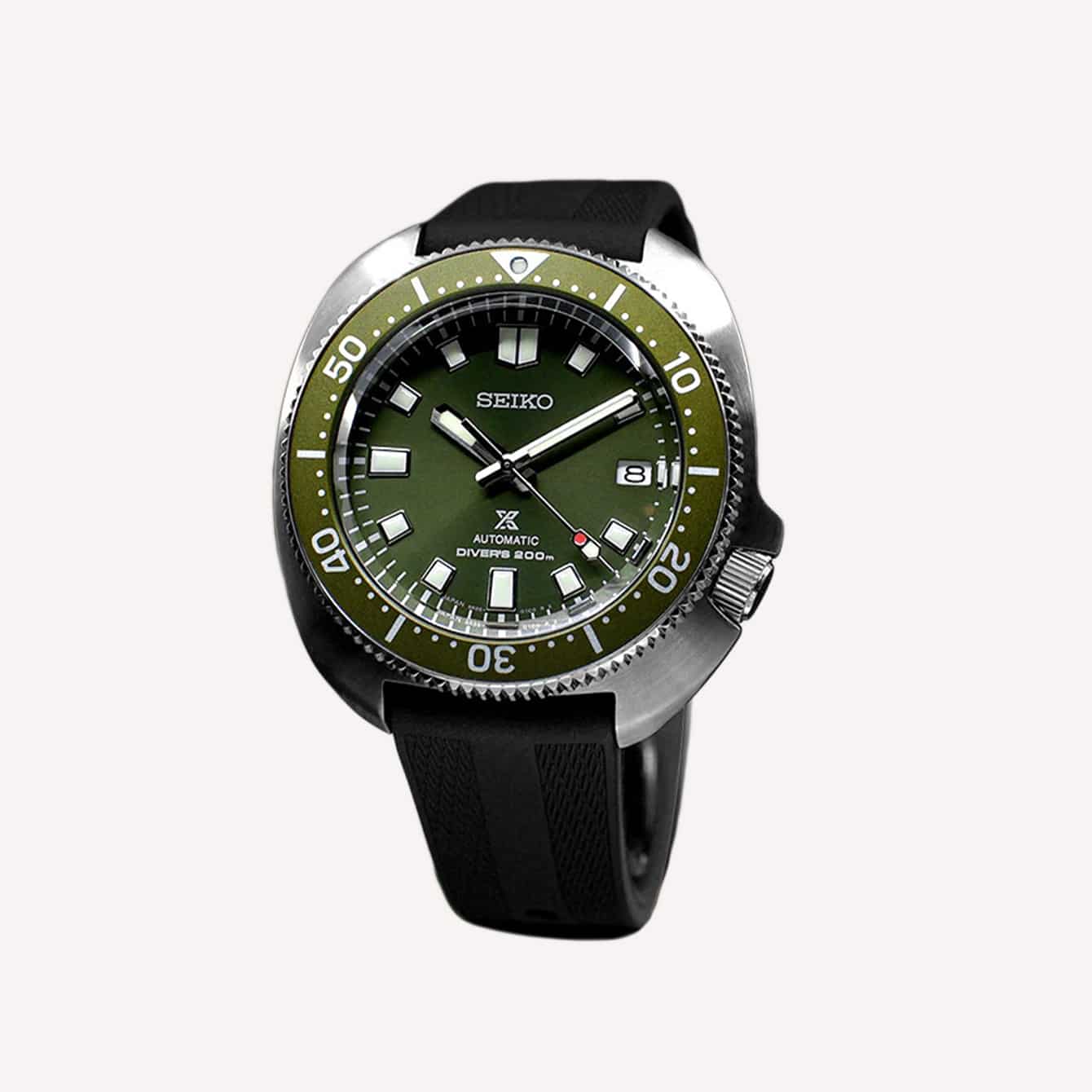 He wore a black version of the iconic Seiko 6105. This green reissue has the exact architecture but in a military hat-tip green shade.
From its beautifully brushed cushion case to the impeccably-applied dial, this watch has pragmatic good looks. It's distinguished yet classic. That dial, by the way, is protected by an anti-reflective sapphire.
Moreover, the SBDC111 runs on Seiko's 6R35, which has manual winding and a whopping 70-hour power reserve.
Dimensions: 42.7mm diameter, 13mm thickness
Case Material: Stainless steel
Water resistance: 200m
If you want the more screen-accurate black version, check out the Prospex SBDC109.
Bulova Mil Ships
When it comes to good field watches, I know that the Bulova Hack gets a lot of love. It certainly deserves that love, and I've definitely highlighted the Hack on several occasions.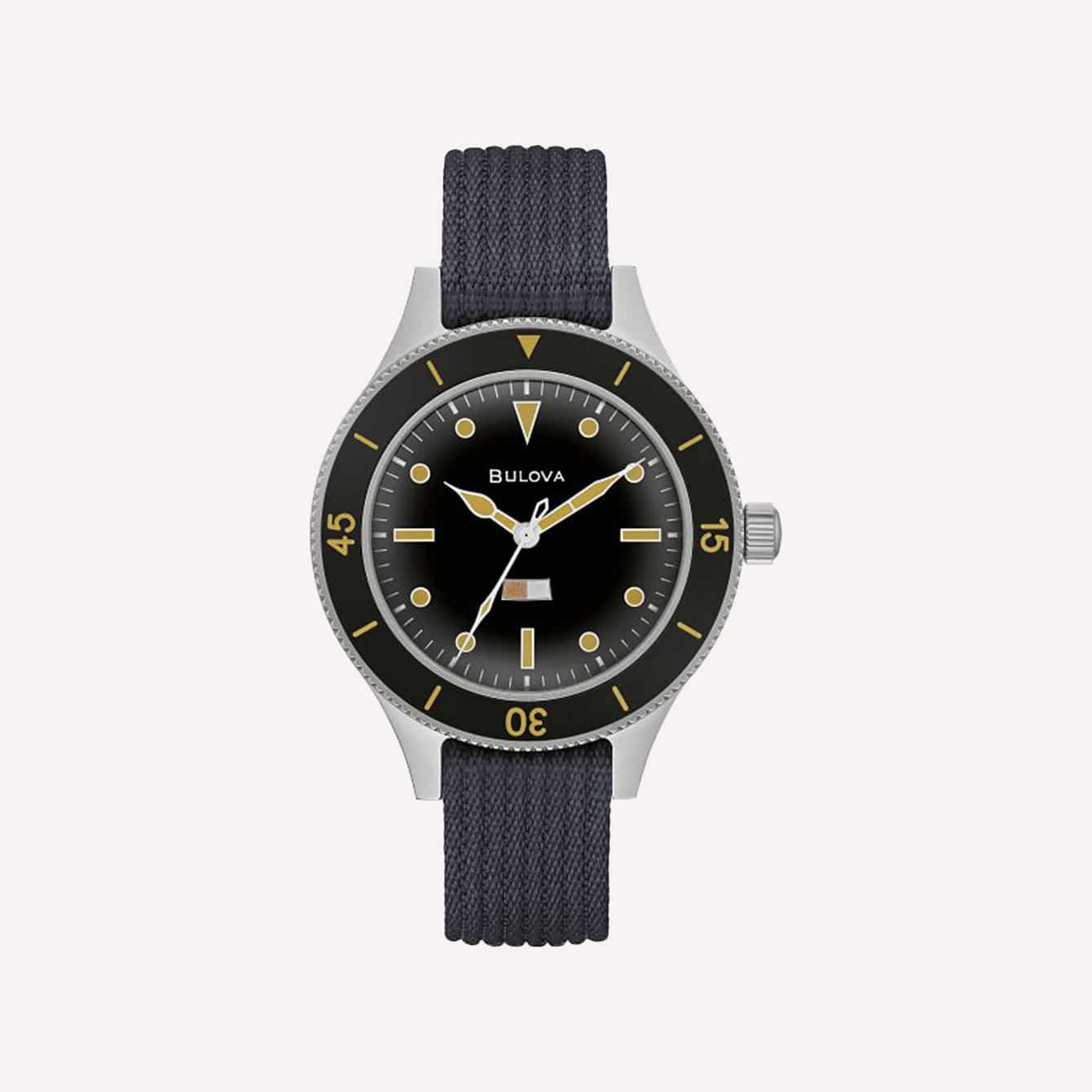 But, the Bulova Mil Ships is truly special in that it's based on a US Military diver that never actually made it into commercial production. This reissue is based on that elusive prototype, and it hits the nail on the head. It reflects quintessential military divers from the '50s and '60s.
It honors the tried-and-true templates but also manages to create its own identity with model-specific features like the cathedral hands and the moisture indicator. That latter feature really legitimizes this model, making it feel like a real blast from the past.
Owning this watch is like owning a rare vintage piece, minus the pain that comes with actually sourcing and owning a rare vintage piece.
Rolex MilSub
Speaking of sourcing and owning a vintage military piece, there's none more iconic (and iconically difficult to find) than the Rolex MilSub. Short for Military Submariner, Rolex created this sub-variant specifically for the armed forces.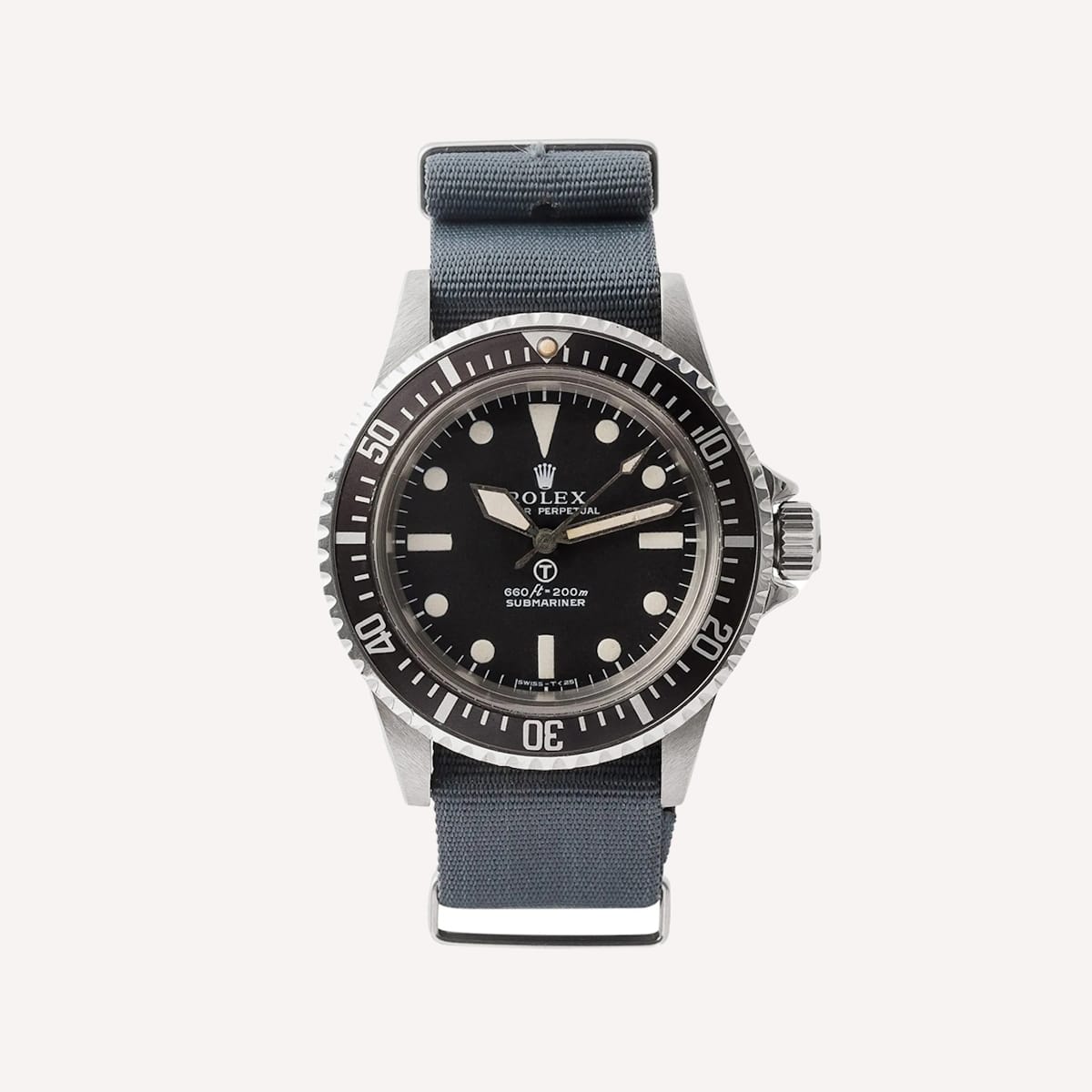 They also only issued it specifically to the military, never to the great public.As aresult, production numbers were small. Today, the watch has a rare collectibility factor.
It flaunts many upgrades from the standard Submariner. The bezel diameter is increased to the point it hangs over the side of the case, while the edges have a serrated coin-style.
Additionally, the soldered bars between the lugs are perfect for a NATO strap.
Dimensions: 40mm, 12.5mm thickness
Case Material: Stainless steel
Water resistance: 200m
This high-functioning dive is high in demand, low in supply, and a true grail for military watch aficionados.
Sinn EZM 1
The EZM1 was designed in 1997 as the first mission timer for Germany's special units customs authority. It's one of many models Sinn has built for the military and for the police.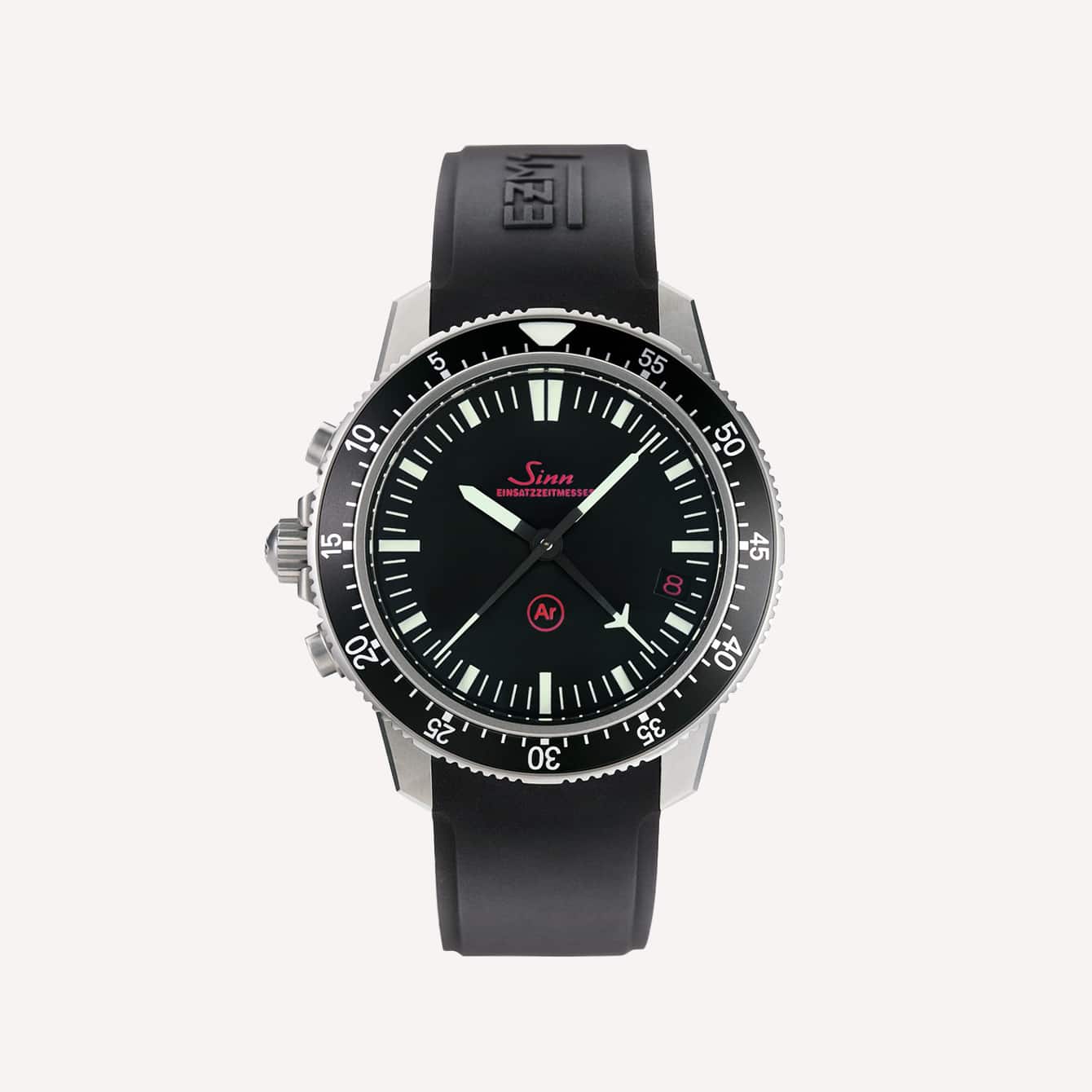 Design-wise, I've always described the EZM watches as what it would look like if the Submariner and the Speedmaster had an offspring, and then raised it in Germany.
It has a sturdy, diver build but a speedy line-forward dial, combining strapping elements with dynamic ones. Even the lugs are sleek and sharp.
Since this is Sinn, this spec-heavy tool comes with loads of high-end functions. Its case is titanium, which is as strong but lighter than stainless steel.
Dimensions: 40mm, 16mm thickness
Case Material: Titanium
Water resistance: 300m
It's also nickel-free, which makes it hypoallergenic. Meanwhile, the dehumidifying technology ensures the dial is always readable in any weather situation.
Yema Flygraf French Air & Space Force UTC
Since the Yema Flygraf is the official watch of the French Air & Space Force, you'd probably assume that it's an excellent specimen of design and function. You'd be 100% correct in that assumption.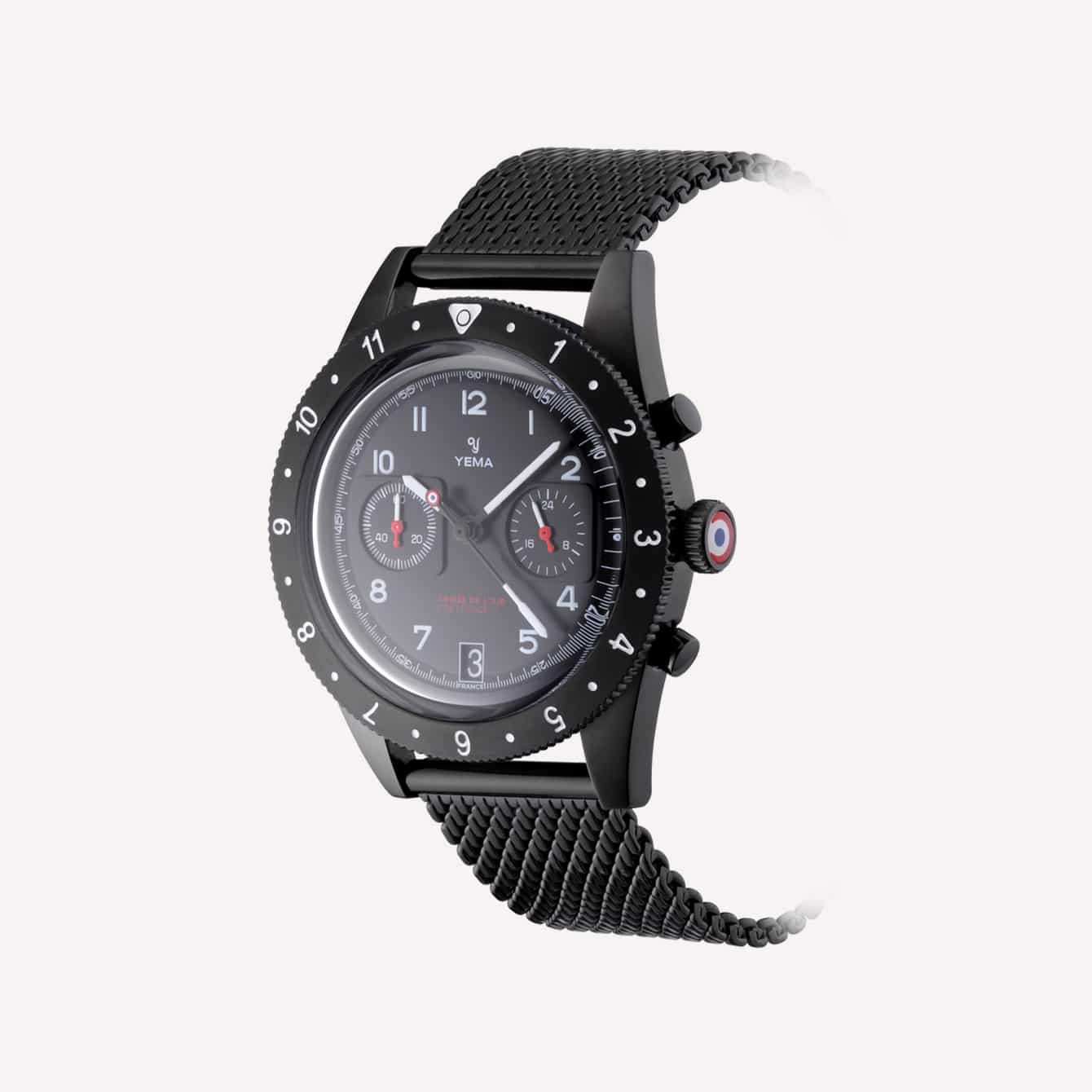 The design itself has so much cool factor. It has an all-black palette, squared applications framing the subdials, and red, blue, and white accents throughout the dial and crown. It looks as official as its status truly is. This watch can level up any thrown-together casual outfit by several hundred points.
Dimensions: 41mm, 13mm thickness
Case Material: Stainless steel, black PVD coat
Water resistance: 100m
Science, sports, and military buffs can enjoy its status, while horology buffs love the mecha-quartz movement. This watch is powered by Seiko's VK64, which features a combination of tuning-fork-quartz precision, a smooth second sweep, and an instant reset.
Laco Flieger Karlsruhe Pro
You can always count on Laco to serve up an authentic Flieger timepiece. With its sword hands, lively line-forward dial, and elegant onion crown, the Flieger Karlsruhe Pro is a true German pilot watch.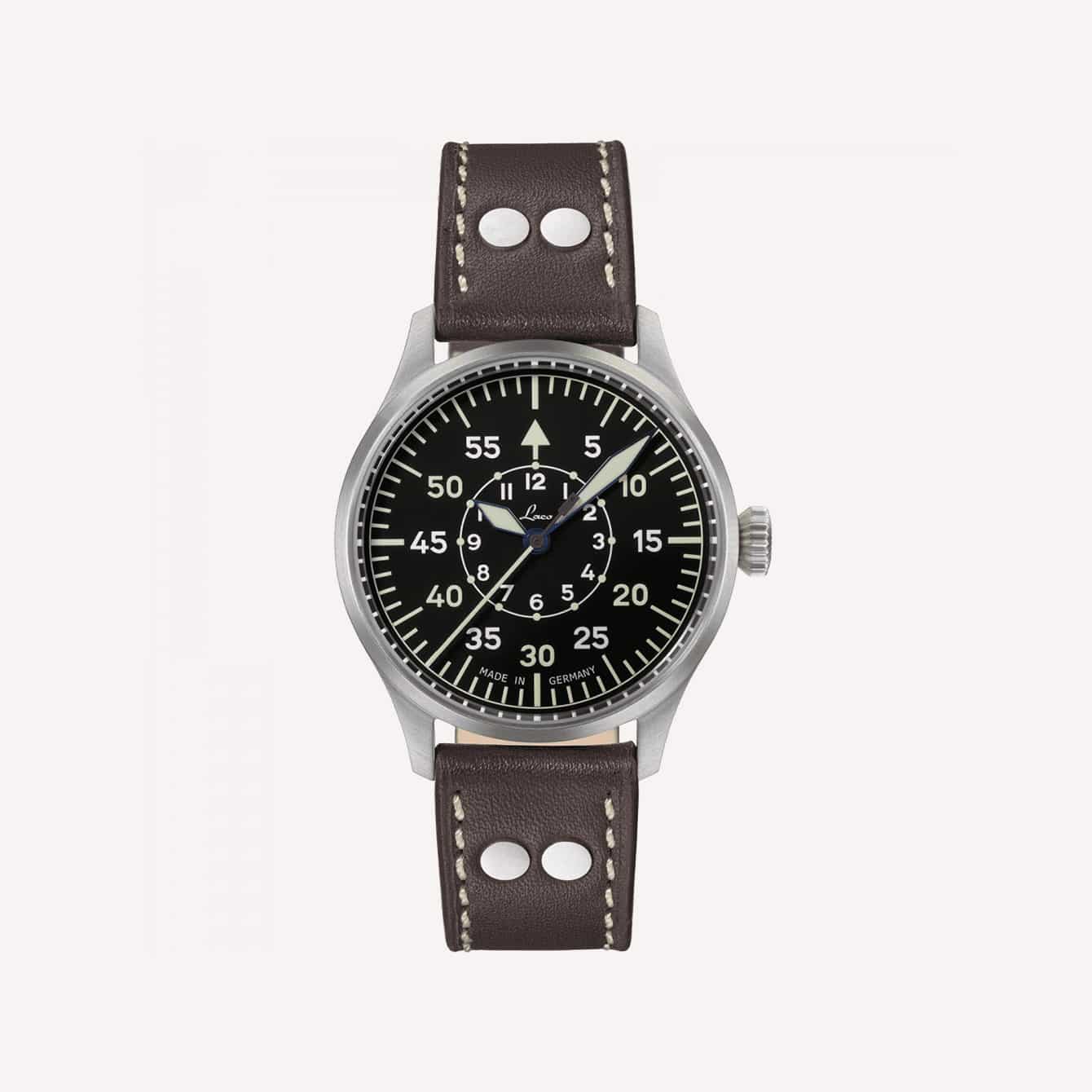 The best part is that Laco allows you to take this authentic template and make all sorts of customizations to it. None of the customizations, however, compromise the watch's legitimate aesthetic.
Do you want a double-domed sapphire crystal with one AR-coated side or both? Maybe you want a satin finish on your stainless steel case or a commanding sandblasted finish for a darker look.
Dimensions: 37mm, 10.95mm thickness
Case Material: Stainless steel
Water resistance: 200m
You can choose between an automatic movement, so you don't have to think about winding it up, or a mechanical hand-winding for that engagement factor. Either way, you can also choose to see that movement via a sapphire caseback or not.
It's all up to you.
FAQs
Here are some quick answers to commonly asked questions about military watches:
What watches do the military use?
They use durable, legible, and accurate field watches. Common brands the military goes to include Marathon, Casio, Seiko, CWC, and Luminox.
What brand of watches do Navy SEALs wear?
They wear military watches with diving capabilities. Brands they turn to include Casio, Luminox, and even Rolex and Omega historically.
Did Rolex make military watches?
Rolex famously made the Rolex MilSub, which was used by soldiers starting in the '50s. It was a Submariner upgraded with brawnier features.
Conclusion
Military watches are the perfect kinds of timepieces for the comprehensive collector. Think about it. They unequivocally check all of the boxes.
Since they need to be combat-ready, they're durable, and they're accurate, which means they can handle anything a civilian's day-to-day can bring.
Even more, one of the reasons we collect watches is because certain models have a history and lore to them that make them a conversation piece. I can't think of anything more legitimate than a military heritage to fill that prerequisite.
Which military has the best horological heritage? Let me know what you think in the comment section!