The Rolex Submariner is arguably the most famous and iconic luxury watch of all times.
Introduced in 1954, it's been worn (and still is) by millions of men around the world. For good reason: it's a tough, extremely good-looking, sporty yet timeless wristwatch. It makes for a great one-watch collection. And with its 40 mm case, even small wrists can wear it!
You just can't go wrong with this one. But what if you want something cheaper? A more affordable alternative to the Rolex Submariner? Look no further, I got you covered.
Here are my favorite alternatives to the Rolex Submariner:
And because it wouldn't be fun to list you every single watch under the sun that loosely match the Submariner (and there are a lot of them!), I set some rules, too. For a watch to be considered a proper Rolex Submariner alternative, it has to:
be an alternative, not an homage. Meaning, their design can't be an exact copy of the Submariner. The goal is to have a watch that has its own design and vibe going on.
feature a working, unidirectional diving bezel
have at least 100 m of water resistance
cost $500 or less
come from a reputable brand, so that you'll be proud to wear it.
So without further ado, here we go!
| | |
| --- | --- |
| Size | 41 mm |
| Water Resistance | 100 m |
| Price Range | $$$ |
Okay, let's start strong!
I bet that when I say dive watch to you, you probably would never think of Hamilton. Not as the first, second nor tenth brand.
And that's normal, Hamilton is well-known for their field and pilot lines of watches, and their very unique Ventura watches. You know, the one Elvis wore.
But does it mean that Hamilton isn't capable of building a perfectly fine dive watch? This couldn't be further from the truth. In fact, this piece is as serious as any other proper dive watch out there.
Why it's a great alternative
This 40 mm timepiece is no joke. You get a case that has the same size as the Submariner. But the design is totally unique. The hour markers, hands shape and seconds hand red tip gives this watch a vibe like no other.
Sure, it can only withstand 100 m of depth instead of 300 m for the Submariner, but do you really need more?
I mean, just the fact that it has a sapphire crystal and an H-10 automatic movement with 80 hours of power reserve should make you consider this very cool Hamilton.
But what makes it a great alternative is its bold look. And you can even find some cool versions with blue or orange details on the bezel or the seconds hand, if that's your thing.
Read the customer reviews on Amazon
---
| | |
| --- | --- |
| Size | 41.5 mm |
| Water Resistance | 200 m |
| Price Range | $$ |
Does this watch need an introduction? I think not.
This Orient gets a lot of press and love all around the interwebs, and for good reason: it's a cracking dive watch.
Orient is owned by the Seiko group, so you know that you're buying a quality timepiece here. And the value proposition of this one is second to none.
Why it's a great alternative
The blue sunburst dial. The in-house movement. The depth rating. The look. The price tag. The reputation. The nod from the watch enthusiast… need I say more?
This 41.5 mm diver wears more like a 39mm, thanks to its recessed bezel. By the way, this bezel has a crazy stiff action, so it just won't let you down if you actually dive (down to 200 m) with it.
And even if it borrows a lot of cues from the Submariner, not a single detail is actually the same. Really, try to find one! And you get a day complication which is quite cool as a bonus. I know I use it!
Even if my favorite Ray is the black one, the blue dial has a lot of supporters. And for good reason: this dial just sings in direct sunlight. Be prepared for a crazy strong blue/indigo sunburst effect. It's mesmerizing!
Read the customer reviews on Amazon
---
| | |
| --- | --- |
| Size | 41 mm |
| Water Resistance | 100 m |
| Price Range | $$ |
This Seiko is part of the Seiko 5 family. And all Seiko 5 come with: an automatic movement, a day/date complication, a shock-resistant mechanism, an unbreakable mainspring and water resistance.
When it comes to watches, Seiko needs no introduction. From the Padi to the turtles to the SKX to the Tuna to the Monsters… Seiko knows what the hell they're doing.
And of course, this Seiko "Sea Urchin" (that's her nickname) is no different.
Why it's a great alternative
This baby flies under the radar like an older Submariner would. No detail is out of place or loud. Yet it gets the job done, with a great no-nonsense look.
This is basically what the Seiko 5 line is all about, and this one is no exception (check my favorite Seiko 5 watches).
Yes, from a distance, you could confuse it for a Rolex, but get closer and you'll start to like what this Seiko as to offer. Specifically, the chapter ring here makes all the difference!
This 41 mm piece manages to have a reasonable 49 mm lug to lug distance. So it will still work on smaller wrists down to 6.5 inches.
Throw in 100 m of water resistance, a workhorse 7S26 non-hand winding and non-hacking movement (how badass is that?), and you just found one of the most affordable yet desirable alternatives to the king of divers.
Read the customer reviews on Amazon
---
| | |
| --- | --- |
| Size | 44.5 mm |
| Water Resistance | 200 m |
| Price Range | $$ |
I say "Japanese diver", you say? "Seiko".
I say "try again", you say? "Citizen". Yes, my friend!
Citizen has a lot of dive watches under its belt, all executed with a lot of character. This is really what strikes me when I see their designs. They're all infused with some kind of grit, some kind of strength.
However, quality is part of the game as well. What good would a watch be if you couldn't rely on it? Especially a diver! With Citizen, rest assured that you're all set.
Why it's a great alternative
That design and that dial!
All details just play perfectly together in this watch. That magnificent blue bezel with minutes markers nicely contrasts with the chapter ring.
Which in turn delicately underline the bold yet gorgeous hour markers. Top it off with a textured blue dial and a contrasting bright orange seconds hand, And you have a winner.
This piece is bold and glorious!
Yes, it's a bigger watch at 44.5 mm, but not all wrists need a 40 mm diver! But besides that stunning design, you also get Citizen's Eco-Drive movement that is a quartz solar-powered movement.
Goodbye setting the time every time you change your watch. Hello grab-and-go diver! This alone is a reason to get this Citizen.
Read the customer reviews on Amazon
---
Steinhart Ocean Vintage Military NEW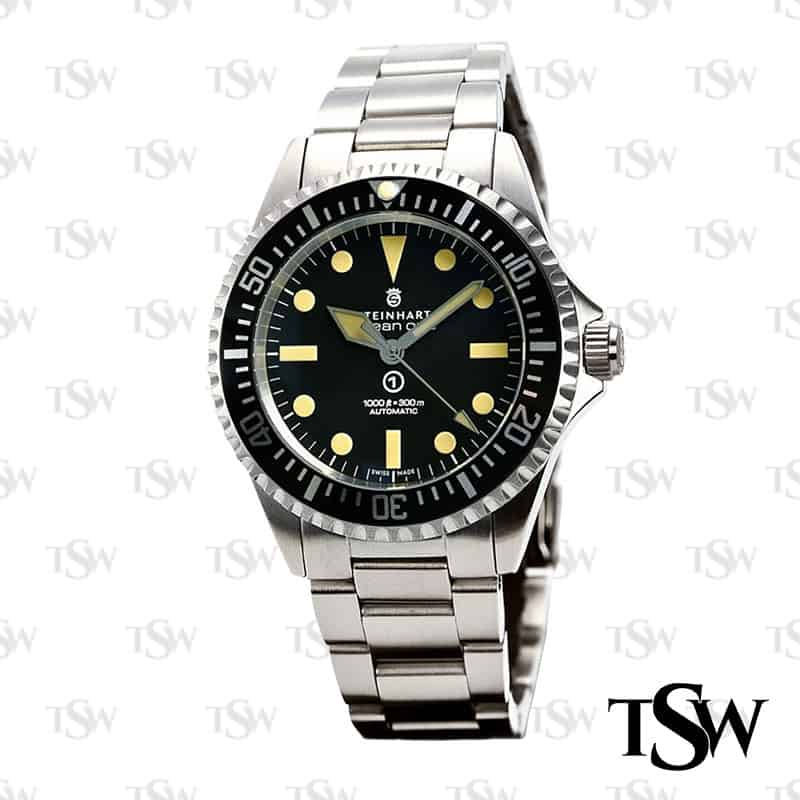 | | |
| --- | --- |
| Size | 42 mm |
| Water Resistance | 300 m |
| Price Range | $$$ |
View on website
If you don't know Steinhart, here is the breakdown.
Steinhart is a German watch company who sells Swiss made watches. They have some custom-designed models while others totally borrow from other. Namely, their Ocean One line is a straight homage to the Rolex Submariner.
They sell quality watches featuring ETA movements for a very good price. Their value proposition is excellent.
This OVM is actually an homage to a Submariner, but to a model that has been discontinued for decades, has become rare and extremely expensive.
Maybe you've heard about the Milsub? The Rolex reference 5513 or 5517? Well, this is basically it.
Why it's a great alternative
So I know I said "no homage!" in my rules, but it was WAY too good to pass! And technically, it's not an homage to an existing Rolex model so…
But this thing is built like a tank. You can feel the heft from every single part of the watch. The case, bracelet, clasp, bezel, and crown are built to very high standards. That's really unbelievable considering the price!
And besides that very sought-after look (painted guilt hour markers, sword hands, minute markers all the way around the bezel), you get a great ETA 2824-2 movement (no date, hell yeah!) and 300 m of water resistance.
This watch is the only one on this list that can go as deep as the Submariner. What are you still doing on this page? You know you want one!
More info on website
---
| | |
| --- | --- |
| Size | 44 mm |
| Water Resistance | 200 m |
| Price Range | $ |
When you mix Casio and dive watches in your mind, what do you see? Probably a G-Shock. A Protrek maybe. And these are all valid answers, but they can't really be considered as valid Rolex Submariner alternatives, right?
This is when this unpretentious but lovely MDV106 comes into play. I mean, the resemblance is striking, don't you think?
And yet, this super affordable piece packs a lot of punch. This has got to be the very best value for money if you're not into mechanical watches and just want the job done – from a design and features point of view.
Why it's a great alternative
The "poor's man Submariner", as it is sometimes called, is nothing to be shy of. It sports a 40 mm case, just like the real thing. And it borrows a lot of cues from the original too, the bezel being the most obvious one.
Yet being a quartz watch made by Casio, you know that you'll get a quality piece for a fraction of the cost. Because yes, this thing can dive down to 200 m… probably much deeper than you will ever dive in your life.
And in pure diver fashion, it sports an appropriate rubber strap. But not without a delicate sunburst effect on the dial.
Balance and affordability, these are the main words to brand this watch.
Read the customer reviews on Amazon
---
| | |
| --- | --- |
| Size | 43 mm |
| Water Resistance | 100 m |
| Price Range | $$ |
If you don't know Victorinox, now is your chance to discover this amazing Swiss brand.
Victorinox is not much cited when it comes to dive watches (online, at least). Rather, you often read and hear about their field watches.
But you might them know better from what they're most famous for: the Swiss army knife! Yes, it's the same brand.
Yet, I don't understand how this piece is forgotten in the dive watch discussion. This is a sin, pure a simple.
Why it's a great alternative
This watch mixes cues from the Submariner and the Explorer I at the same time, all the while being absolutely balanced and beautiful. The design execution is great.
Love the Rolex Explorer? Find some alternatives here.
I wish my wrist could rock a 43 mm watch because it would be in my collection for sure.
100m of water resistance, Swiss quartz movement, screw-in case back, triple-coated anti-reflective sapphire crystal, end-of-life indicator and military time… it has it all.
But really, the design is what makes this watch really shine! Don't you think?
Read the customer reviews on Amazon
---
| | |
| --- | --- |
| Size | 44 mm |
| Water Resistance | 100 m |
| Price Range | $ |
In 1978, Seiko Watch Corporation of America bought the Pulsar brand Hamilton.
Since then, Pulsar is part of the Seiko family, squeezed between Lorus (which is the entry-level brand of Seiko) and Seiko itself. And because Seiko takes even its affordable brands very seriously, Pulsar is an alternative worth considering.
And I get it. You may pass by the Pulsar watches to get to the more famous brands. But you may be passing by a great opportunity, too!
Why it's a great alternative
This affordable timepiece (maybe not as affordable as the Casio Duro MDV106, but still) packs quite a lot of punch.
It's 100 m water resistant, is solar powered – so that you don't have to worry about changing the battery ever again – and has quite a unique look.
For some reason, the hour markers and wave pattern on the dial remind me of some Omega Seamaster models (a great, luxurious alternative to the Rolex Submariner, by the way). Yet it manages to have its own flair and design.
I particularly like the design of the lugs which gives it a lot of character. My 6 inch wrist can't handle it, but if you like bigger watches – this one is 44 mm – then go for it!
Read the customer reviews on Amazon
---
| | |
| --- | --- |
| Size | 42 mm |
| Water Resistance | 200 m |
| Price Range | $$ |
Okay guys, you knew this one was going to be in this list, right?
I mean, can we really talk about affordable dive watches without mentioning Seiko? Heck, without mentioning this exact model, the all-mighty SKX007?
This watch has a large following, for a reason. The cult is real: you can see this watches some watch boxes next to a Patek Philippe. It's been worn by actors in movies.
Simply put: the SKX has made history.
Why it's a great alternative
It has a great design. It's its own thing. You have a bezel with every minute marker, which – with the no-nonsense painted hour markers – gives this watch a very toolish look.
Best Super Clone Rolex Watches for their budget, there are Rolex Super Clones watches available at a fraction of cost.
The bracelet is a bit flimsy but super comfortable. And surprisingly, it dresses up the watch so that you can even rock it in a business environment.
But don't be fooled: this watch is no joke with its 200 m of water resistance and threaded crown.
It really doesn't get any better than this. And if you wish the original was not that big at 42 mm… well, Seiko knows better.
You can get the SKX013 at 38 mm, which is the one I happen to own (read my full review of the Seiko SKX013). The only thing changing here is the size; you get the exact same features.
But if you're really serious about diving, this is the only one of the bunch that is ISO certified. Even the Submariner is not! All that for 1/30 of the original… just get one now!
Read the SKX007 customer reviews on Amazon (42 mm).
Read the SKX013 customer reviews on Amazon (38 mm)
---
Dive watches are exceptional tools, and they look cool, too. But maybe you want something that you can wear every single day? If so, check out my favorite men's watches!