Rolex is an expensive brand. There's no doubt about that, but they do make some timepieces that are relatively more affordable.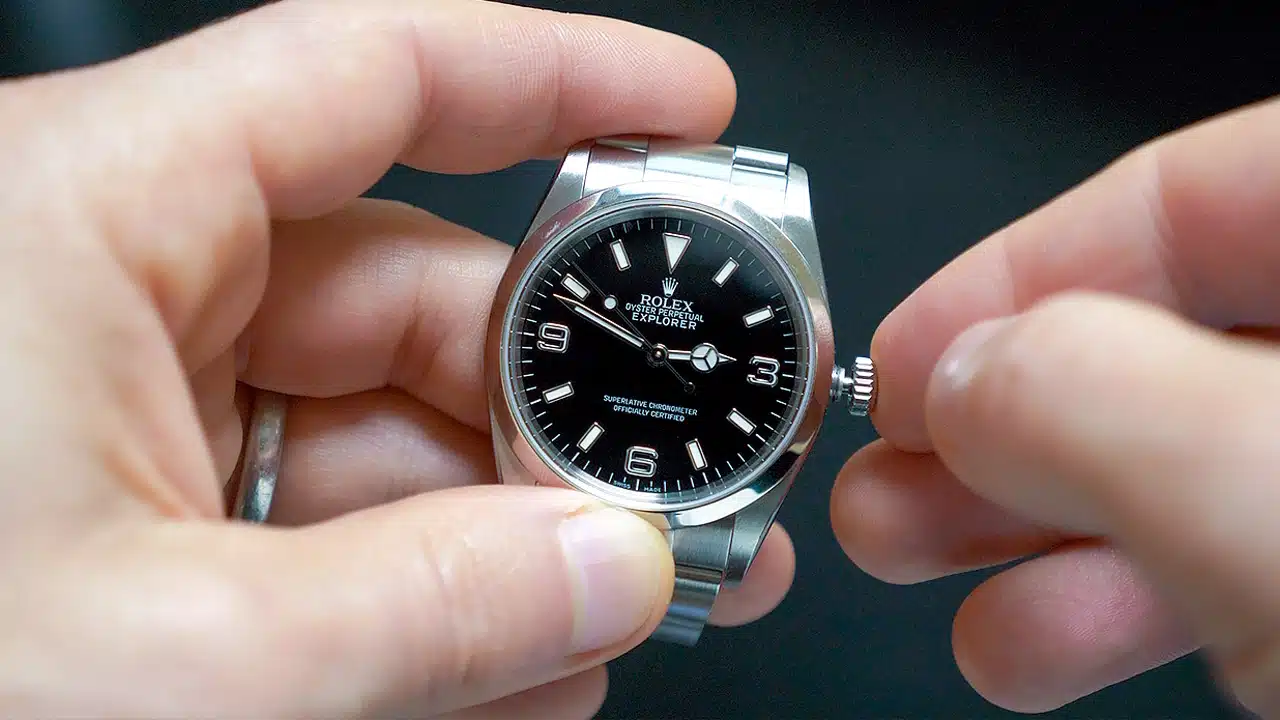 Generally speaking, the most affordable Rolex watches are the Datejust, the Air King and the Oyster Perpetual. (Let's face it, the Rolex Daytona sold for nearly $18 million back in 2017 and no average enthusiast can comfortably stretch to those prices)!
The truth is, Rolex watches are expensive whatever way you look at them, but there are options out there for those that don't want to re-mortgage their home in the process.
Rolex prices have been increasing at a rapid pace over the last few years and it's no wonder why. They're some of the most coveted and desirable in the industry and there's a huge demand for models that have been discontinued along the way.
Why are Rolexes So Expensive?
If you're looking at investing in your first Rolex watch, you may be wanting to know what you get for your money, so a quick recap on that first.
Rolex watches are expensive because they offer functions and features that are practical and usable in the real world as opposed to just whimsical decorative add-ons.
You get what you pay for when it comes to a Rolex watch – a world-renowned brand backed by provenance with a storied history in producing some of the world's most iconic timepieces like the Submariner and the Daytona, and a wristwatch developed from solid, hardwearing fault-proof materials.
10 Most Affordable Rolex Watches for Men
The good news is that there are countless affordable Rolex watches on the market, you just need to know where to look and what models to keep an eye out for.
Here's my guide to the top ten cheapest Rolex watches. I've included a mix of both pre-owned and brand-new affordable Rolex watches for every style and every wrist size.
The Rolex Air-King 5500
If you're looking for an affordable pre-owned Rolex watch and you like simplicity, get the Rolex Air-King 5500.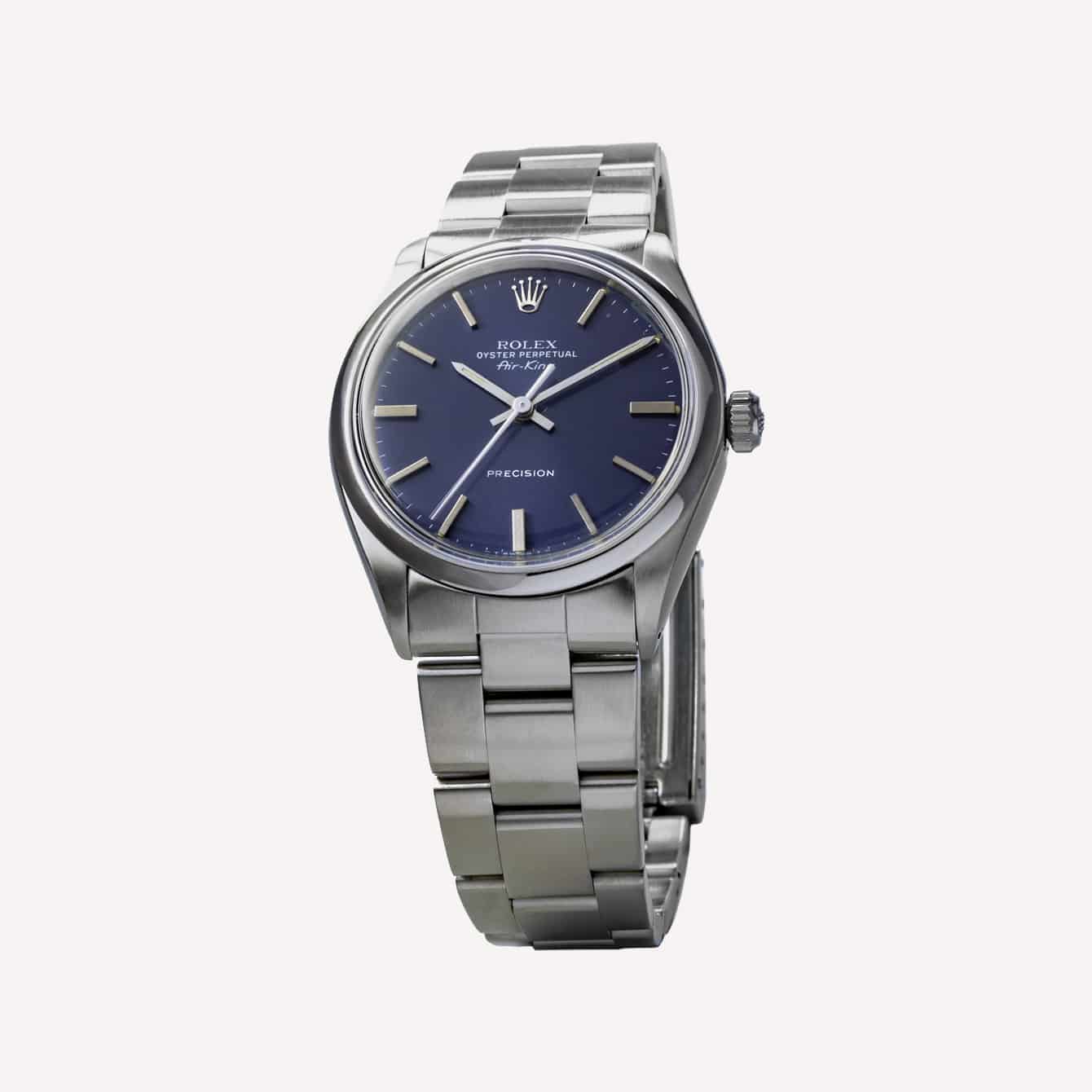 You can still find plenty of the 5500 models on the pre-owned market and it's a great option for a smaller-sized wrist, since it only measures 34mm in diameter.
That said, it certainly wears larger than that once on, with its robust stainless steel case, a plexiglass front, and 100-meter water resistance.
The Rolex Air-King 5500 was in production for three decades and can be found in many variations, including models powered by the Caliber 1520 or 1530. The 5500 models were also the first to replace the Hunter movements.
The Rolex Explorer 14270
With a slightly larger diameter of 36mm, the Rolex Explorer 14270 first came onto the scene during the 1980s and features the Oyster case and Oyster bracelet crafted from robust stainless steel.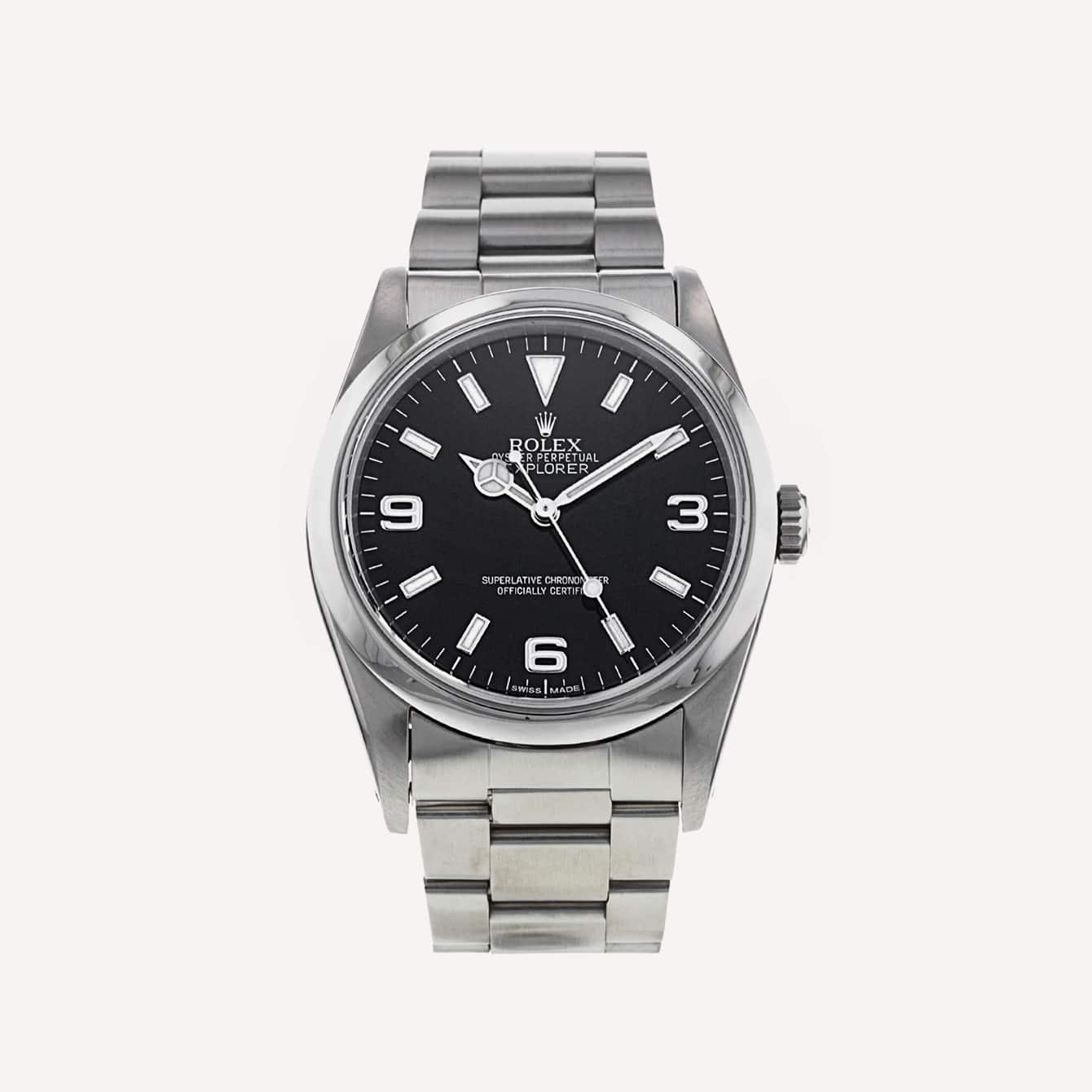 Its classic black and steel aesthetic is enhanced by Arabic numerals at 3, 6 and 9 o'clock and hand-applied white gold hour markers as opposed to painted ones.
The Rolex Explorer 14270 has modifications compared to its ancestors, including a glossy black dial and an anti-reflective sapphire crystal glass front for protecting the display from dust and damage caused by moisture.
Overall, the Rolex Explorer 14270 is one of the cheapest Rolex watches out there but still comes packed with hardwearing, reliable features and a distinct aesthetic, combined of course with a superior movement — the Caliber 3000.
The Datejust 16234
If you're looking for an affordable Rolex watch but can't afford a brand-new one, the Rolex Datejust 16234 is a perfect dress watch for all occasions.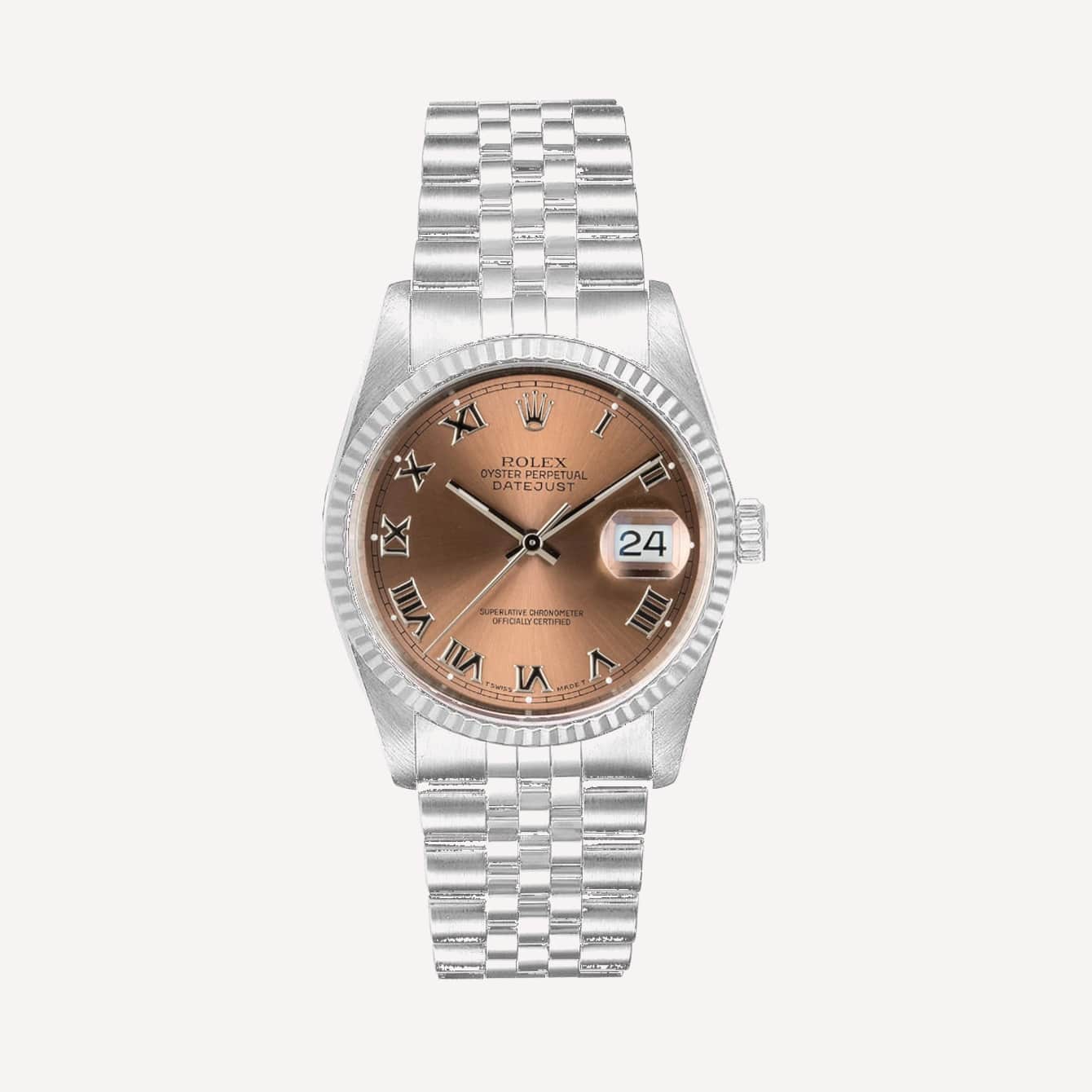 The 36mm model crafted from stainless steel and 18ct white gold boasts a sunning salmon dial, characterised by traditional Roman numeral hour markers that give the timepiece a distinct look.
A cyclops date window at 3 o'clock completes this dial, along with central hour and minute hands that have been treated with luminous material.
This Rolex Datejust is completed on a classic Jubilee bracelet and offers 100-meter water resistance.
The Rolex Oyster Perpetual 116000
Recalling the days of the "Bubbleback" of the 1930s, the Oyster Perpetual watch was the first to be fitted with the brand's perpetual winding movement and water-resistant Oyster case.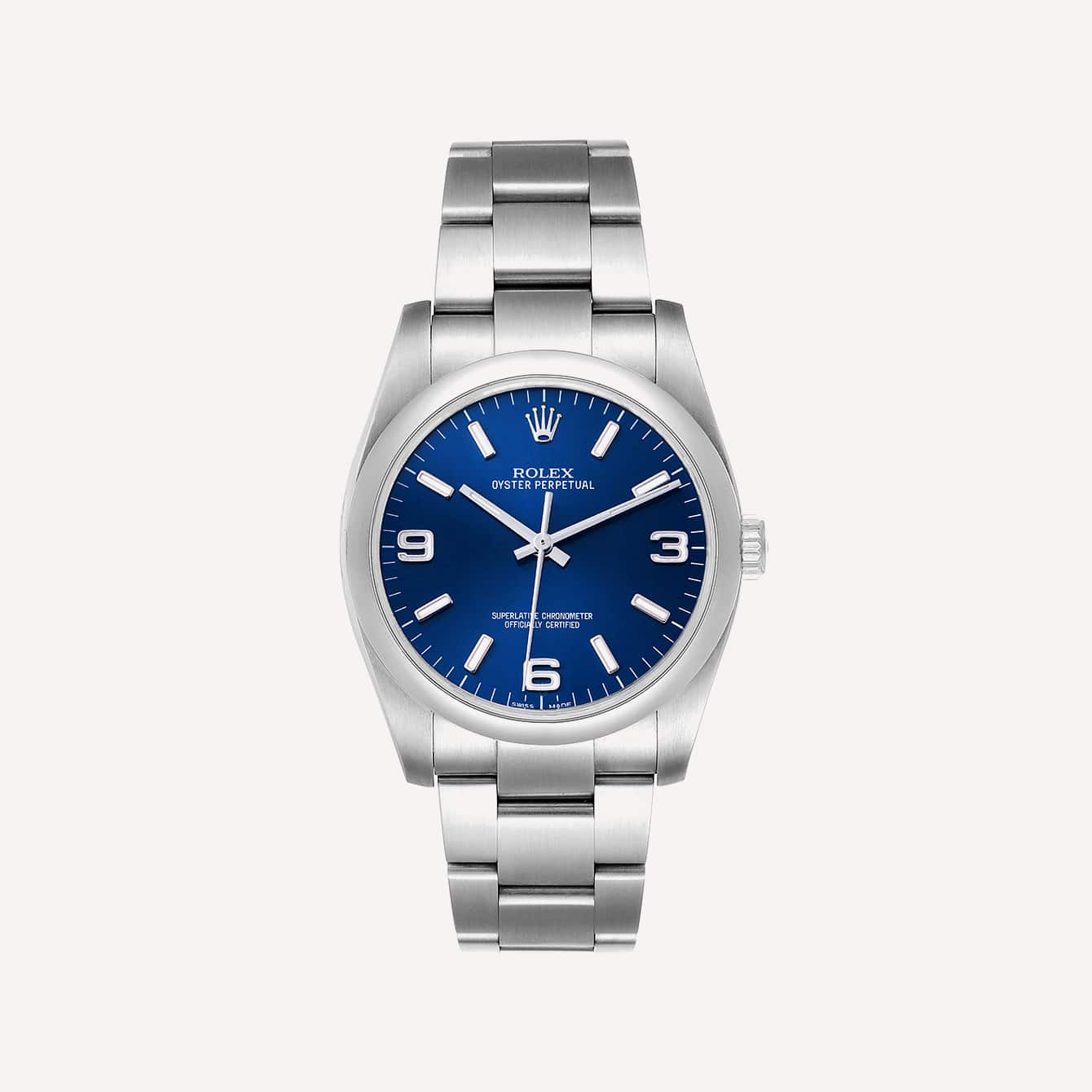 Measuring 36mm across and enrobed in robust stainless steel, the Rolex Oyster Perpetual 116000 is an affordable option that boasts a striking rich blue sunray dial with Arabic numerals positioned in the 3, 6 and 9 o'clock layout.
The 100-meter water-resistant model is powered by the COSC-certified Caliber 31030, which provides a 48-hour power reserve.
The addition of a Twinlock crown makes this affordable Rolex watch a great option if you're looking for an all-around reliable daily beater with stacks of class and a sophisticated steel bracelet for pairing with smart attire when needed.
The Rolex Air-King 114210
The Rolex Air-King 114210 watch offers a parred-back aesthetic for plenty of versatility.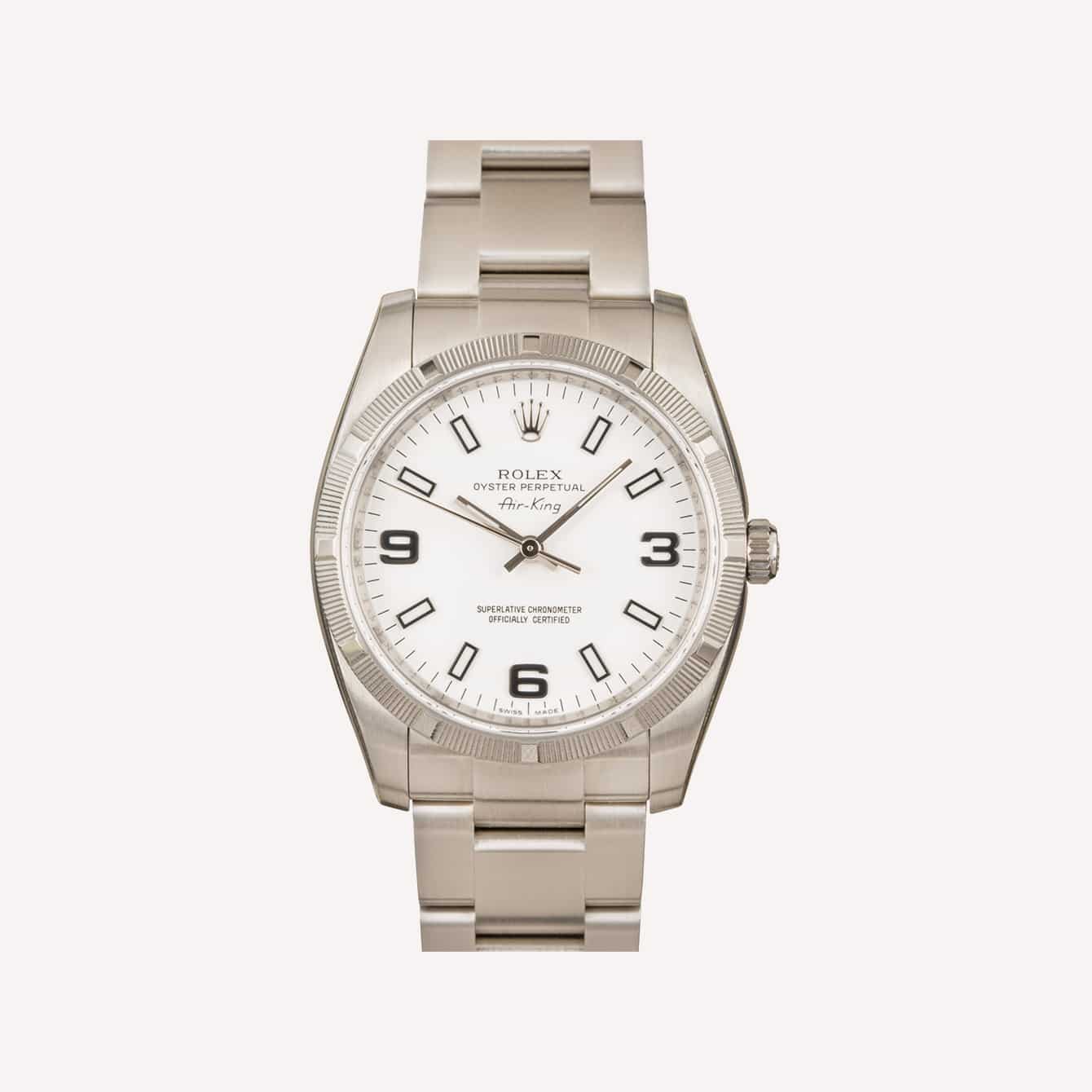 The 34mm case size retains the signature pilot-style aesthetic of this series but with added sporty elements.
The watch was made available to the public after its use as a reliable tool by the RAF. The Air-King, like so many Rolex watches, is a good choice for investors and collectors, holding its value well but also proving an entry-level point into the world of Rolex watch collecting.
The 114210 model comes in many variations but the white dial with black hands and hour markers in a mix of stick markers and Arabic numerals exudes a real classic feel on the wrist.
This Rolex Air-King watch is finished on a steel Oyster bracelet with a robust Oyster safety clasp.
Rolex Air-King 14000
Powered by the Caliber 3000, the Rolex Air-King 14000 model is familiar to most Rolex fans and was produced between the late 1980s and late 1990s.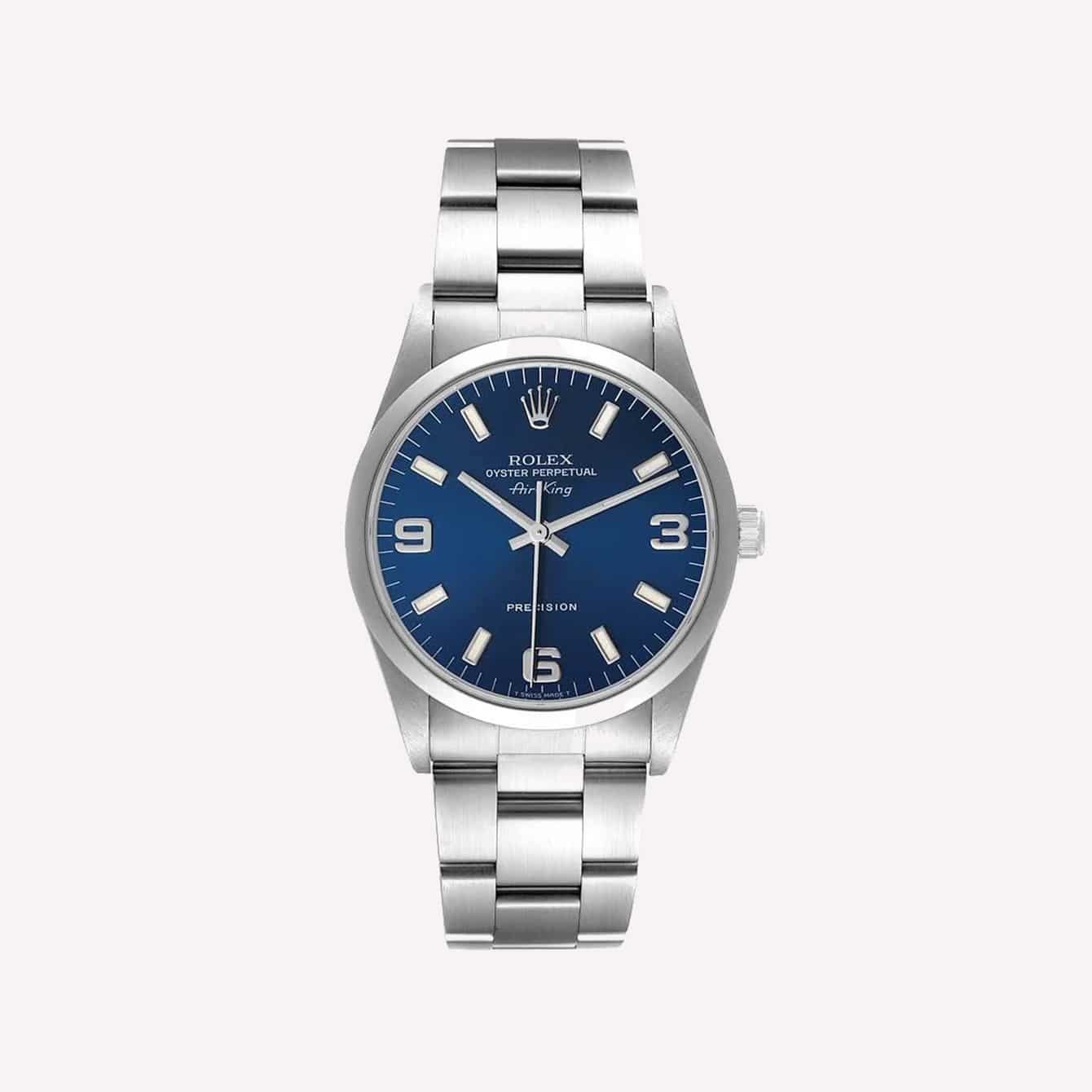 At only 34mm, the watch is incredibly compact making it another great option for those with smaller wrists.
A deep blue dial forgoes a date window or cyclops, stripping timekeeping back to the essentials.
On the bottom of the dials of the watches from the 14000 series, the "T Swiss T" lettering can be seen, signifying the use of tritium luminous material during this period of manufacture.
This no-nonsense watch is a great addition to any Rolex collection and secures to the wrist with a robust Oyster bracelet.
Rolex Submariner M124060
If you're wanting a brand-new Rolex watch and you've always longed for the Submariner, know that there are "affordable" versions available in the brands line up. Don't entirely rule out pre-owned Submariner watches either.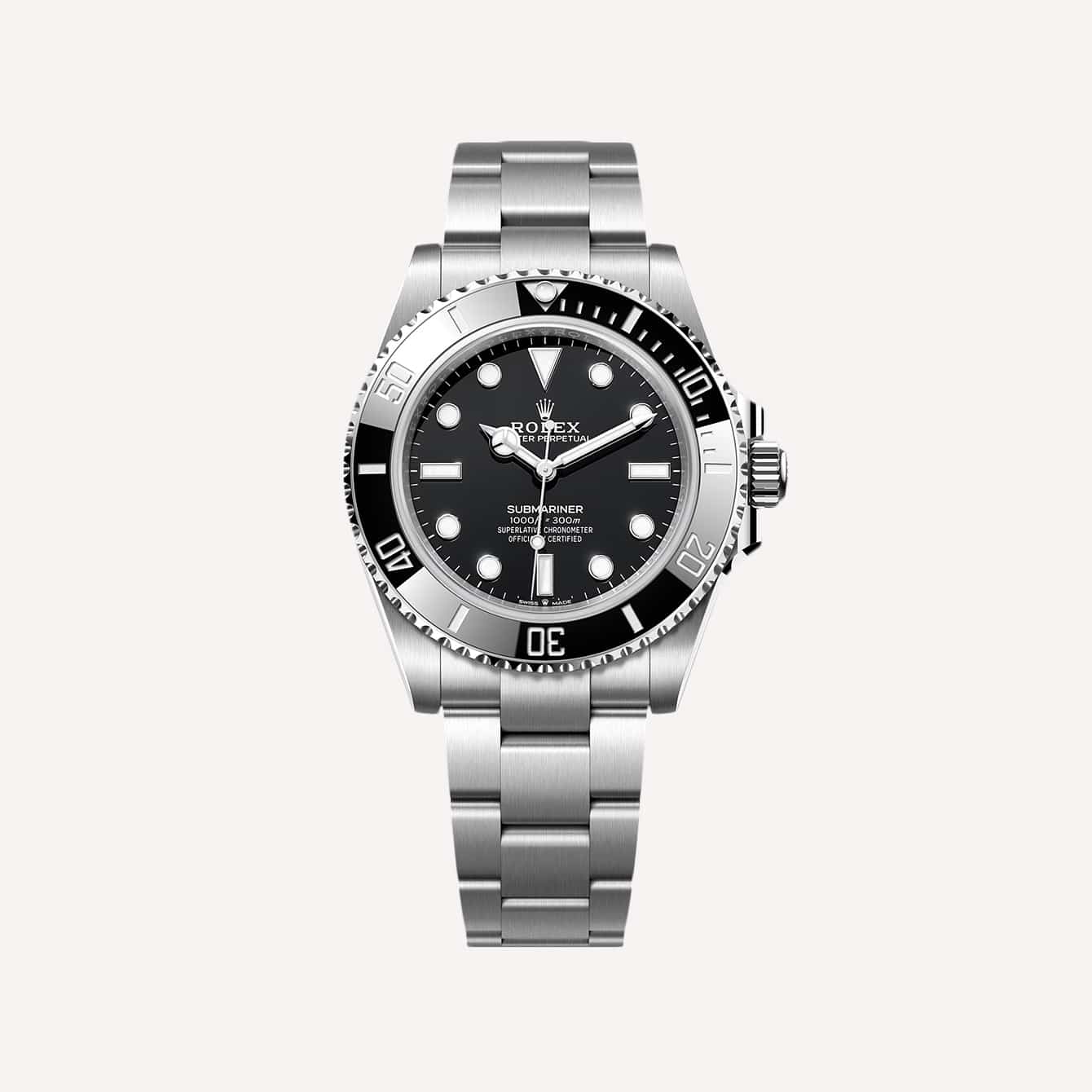 The current Rolex Submariner 124060, for example, distills the essence of the classic Rolex dive watch with a legible black dial, and a no-date layout (like the original Sub), but promises an improved 300-meter water resistance courtesy of a Triplock triple waterproofness system for ensuring a water-tight inner case.
Modern Submariner watches do, of course, come with many improved features including a Cerachrom bezel insert for improved colour-fade resistance.
The unidirectional rotating bezel also features a 60-minute scale for intuitive timekeeping underwater.
Even the Caliber 3230 offers advanced features like a Parachrom hairspring and Paraflex shock absorbers.
Rolex Explorer M124270
The Rolex Explorer 124270 is one of the most recent additions to the popular Explorer line.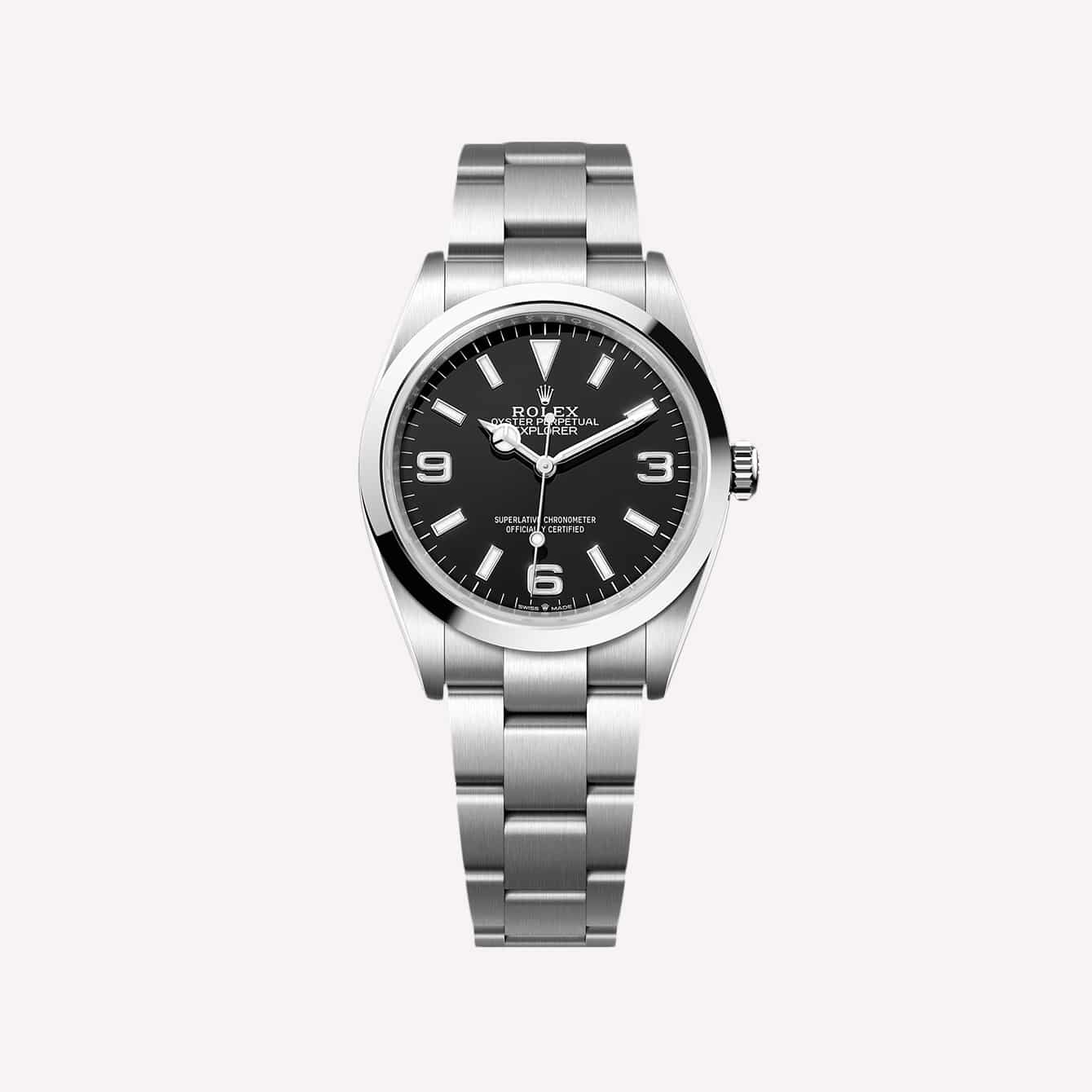 It features a 36mm diameter, a Chromalight display for reading the time in the dark and a solid Oystersteel case that is highly resistant to scratches.
As well as its long-lasting blue-glowing emissions on the dial for optimal legibility, the Rolex Explorer 124270 also promises 100-meter water resistance and an automatic movement that provides an impressive power reserve of 70 hours.
This Rolex watch is a safe bet for anyone exploring the cheapest Rolex watches but wants to buy new as opposed to pre-owned.
Rolex Air-King M126900
Back to the Air-King again, but this time a brand new option. The Rolex Air-King 126900 extends upon the brand's aeronautical heritage with an original black dial and a 5-55 minute track around the edge in luminous material markers.
This watch, despite offering a classic look, adds a touch of colour to the wrist with the Rolex name in green and a yellow crown logo.
If you're in search of a value-for-money watch, you won't be disappointed with the Rolex Air-King 126900 watch.
The key features of the watch are its flat three-piece link bracelet in robust steel, a high-performance movement and a screw-locked crown with a Twinlock double waterproofness system.
Rolex Datejust 126334
Finishing our guide to the cheapest Rolex watches is another current model in the brand's catalogue. The Rolex Datejust 126334 features a much broader 41mm diameter, making it a great option for larger wrists.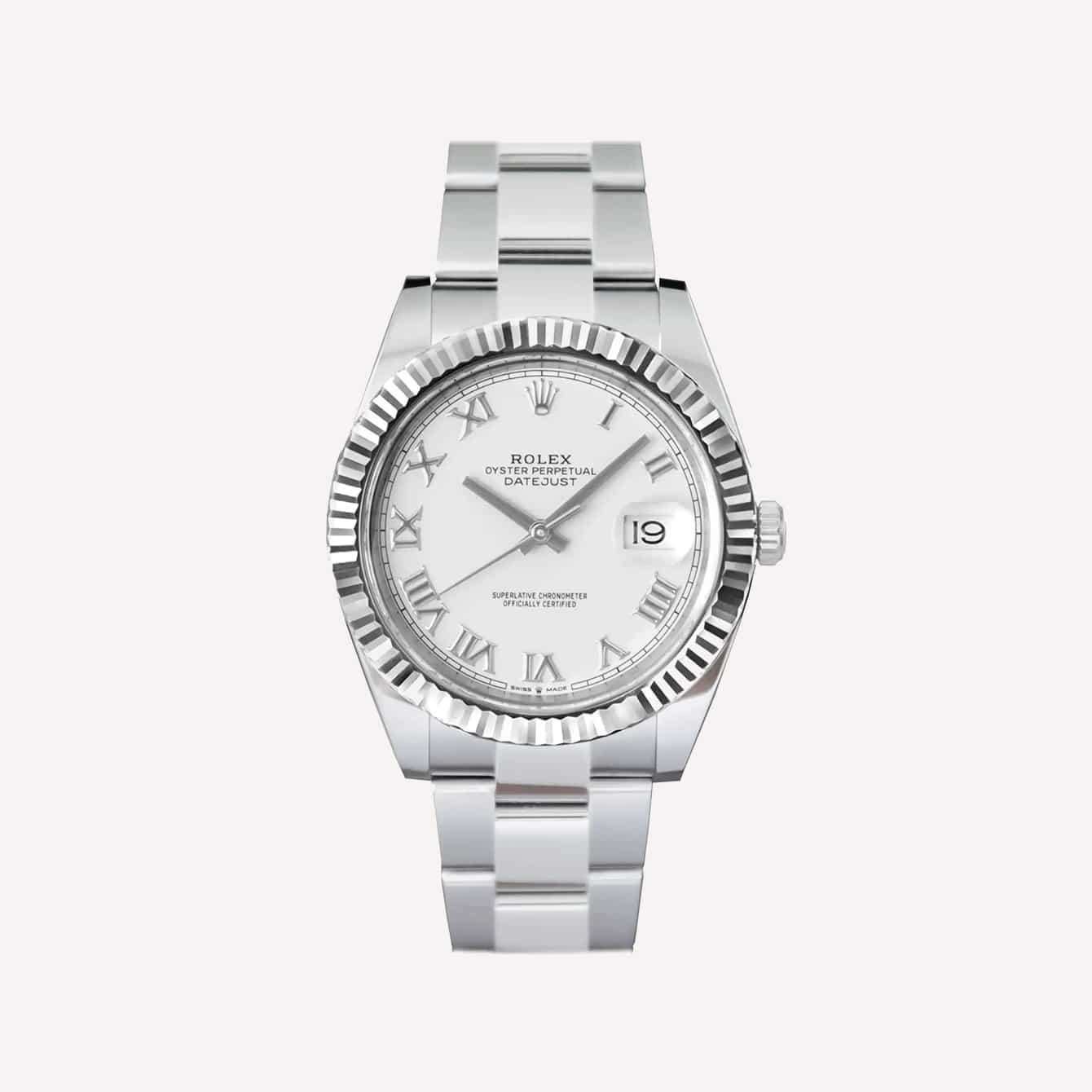 The model's white dial and Oyster bracelet are a perfect match together, paired with a fluted bezel that plays a functional purpose, ensuring to uphold the 100-meter water-resistant capability of the watch.
Additional features like an Easylink 5mm comfort extension link makes the Rolex Datejust 126334 watch a great tool for those who frequently pursue plenty of outdoor activities.
Conclusion
Before shelling out a small fortune for an upper-tier Rolex, consider trying out a more affordable option first. Rolexes generally retain value well so if you decide that the brand's not for you, you could always resell it.
What do you think about Rolex? Would you buy one? Why or why not? Let me know in the comment section below!