Looking for a stylish dive watch that looks great on smaller wrists? Read on to see our favorite dive watches for small wrists.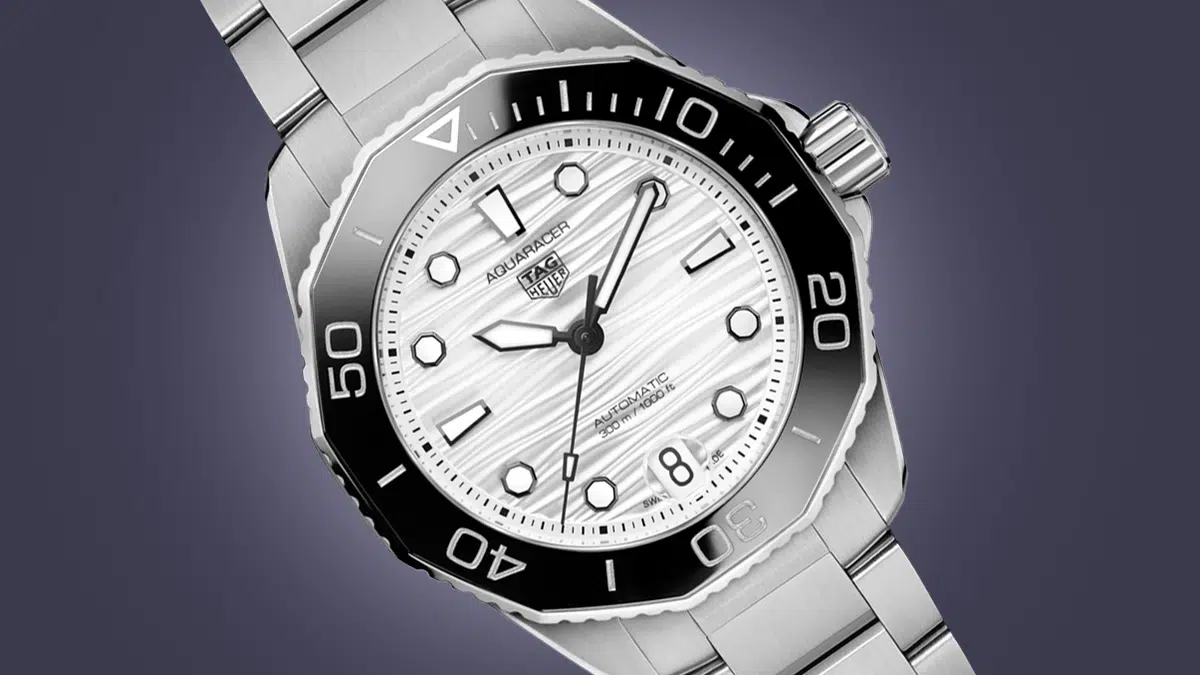 If you have small wrists and a love for dive watches, you might consider this a cursed combination. However, as a skinny-wristed fellow and a long-time admirer of classic sporty divers myself, I can assure you that there are more options for us out there than you may think.
We've rounded up the 15 best dive watches for small wrists here, at a range of prices.
Why do these seafaring tools tend to be large? Men who dive need big legible watches since they wear masks. They also need to be able to work the bezel and buttons even while wearing gloves.
Some say that divers are also built big for the same reason armored vehicles are big, but Bruce Lee taught us that you don't have to be big to be tough.
Classic sporty timepieces can be worn casually and smart casually. Ever since James Bond paired a Submariner with his dinner jacket in Dr. No, many styles can even be worn formally. Basically divers are extremely versatile, so all men, of all sizes, should have access to them.
Dive Watches for Small Wrists
Here are our favorite fifteen, all under 40mm.
Tag Heuer Aquaracer Professional 300
An effective mix of elegance and robustness, the Tag Heuer Aquaracer Professional 300 can be worn with any outfit a Submariner can be worn with. This versatility is thanks to how thoughtfully balanced every design detail is.
The angular 12-sided bezel gives the watch a brawny quality, so it's not dainty looking despite its slim profile. The bezel, of course, is scratch-resistant ceramic, and the case combines brushed and polished steel.
While there are also black and blue colorways, the silver dial makes the wave topography look more upscale and distinguishes it from the Seamaster's iconic blue and black wave design.
As far as the bracelet, the angular slope of the middle link makes it more exciting than a regular flat three-link.
The microadjustment pushers on the clasp can be slid up and down for an exact fit (it's also fun to use). And finally, the Aquaracer runs on an ETA-based 38 hour automatic movement.
Dimensions: 36mm diameter, 12mm thickness
Case material: Stainless steel
Water resistance: 300m
Note: Some sellers group this as a ladies watch. Few legitimize this categorization, including Tag Heuer.
Longines Hydroconquest
Proof that you don't need a huge dial for legibility, the Longines Hydroconquest features generously-sized 6, 9, and 12 indices, and stark white markers contrasting the bezel and background throughout.
The Hydroconquest combines pilot watch level readability with the function and durability of a diver. Further cinching its place as one of the most practical selects on the list, it also runs on a reliable Swiss quartz movement and boasts all the qualities of Swiss manufacturing.
Dimensions: 36mm diameter, 10.2mm thickness
Case material: Stainless steel
Water resistance: 300m
The bezel is ceramic, its coin-edged clicks are crisp and unidirectional, and the crystal is a scratch-resistant sapphire.
Oris Diver Sixty Five
If you like a remarkably straightforward design language, the Oris Divers Sixty-Five is for you. It doesn't even have crown guards, which gives it a charming vintage flair.
In fact, Oris combines a vintage-like minimalism with fun details and colors. It features a boyish navy dial, faded tan indices similar to 1950s luxury divers, hour and minute hands with an obelisk-meets-pencil design, and a lollipop second hand.
Dimensions: 36mm diameter, 11.2mm thickness
Case material: Stainless steel
Water resistance: 100m
The Sixty Five is playful but sophisticated, and respects the conventions of a classic dive while being wholly unstuffy.
Omega Seamaster 36mm
The Omega Seamaster is the Submariner's pop culture pinch-hitter.
Brosnan's 007 sports a Seamaster in Goldeneye, a moment I call the great Omega switch of '95. By the time Daniel Craig's now legendary Bond comes along, the brand is even name-dropped after Vesper Lynd mistakes his watch for a Rolex, affirming its status as the "other" Bond watch.
Today's Seamaster has the iconic wave style design, a co-axial escapement for low-maintenance but high-performance, and mercifully comes in a 36mm version.
Dimensions: 36mm diameter, 12mm thickness
Case material: Stainless steel
Water resistance: 300m
If you're looking for something eye-catching but classic, with a lot of heritage and lore, the Seamaster is a good choice -and one of my personal favorites.
Also, here's a related bonus:
Omega Seamaster 28mm
This quartz Seamaster is technically for women (though I already established few believe in this distinction), but works excellently as a dress watch.
Even for men, a traditional dress watch should be a bit on the dainty side. As a sport watch-specific collector, I love wearing my 28mm Seamaster with my tuxedo.
Dimensions: 28mm diameter, 9.5mm thickness
Case material: Stainless steel
Water resistance: 300m
It's 100% appropriate and I don't have to compromise my personal style.
Baltic Aquascaphe GMT
For you divers/world travelers, the Baltic Aquascaphe GMT has everything you need in a dive watch, including a 24-click bidirectional sapphire bezel, 100m water resistance, and a screw down crown.
On top of that, as its name indicates, it also has a stylish GMT hand for other time zones. The sapphire glass is double-domed, which means the face will be clear and undistorted at every angle, and the timepiece itself runs on an automatic Swiss movement.
Dimensions: 39mm diameter, 12mm thickness
Case material: Stainless steel
Water resistance: 100m
The blue and green colorway with the weave-textured rubber strap is becoming an icon in hip microbrand circles. It looks appropriately nautical, while still hat-tipping the bi-color bezel style often associated with GMT watches.
Christopher Ward C60 Trident Pro 600
Despite being a fairly young brand, England-based Christopher Ward's C60 Trident Pro already has an immediately recognizable design language. Namely, watch collectors love the combination arrow hour hand with the Trident-lollipop second hand.
Since Christopher Ward is direct-to-consumer, they can offer high-end qualities like ceramic bezels and sapphire crystals for a lot less than big name brands can. At around $1000, the C60 Trident is no exception.
Dimensions: 38mm or 40mm diameter, 12.7mm thickness
Case material: Stainless steel
Water resistance: 600m
Functionally, It runs on a Sellita SW200-1 movement, which is a 26-jewel automatic with a smooth 4Hz frequency, aka eight ticks per second. Most impressively, the C60 boasts a whopping 600m of water resistance, so it's a good watch for you true-blue divers out there.
Tudor Black Bay Fifty Eight
At 39mm, the Tudor Black Bay Fifty Eight looks and feels a bit like the original 36mm Submariners from Tudor's brother brand. It has the domed crystal, the slightly tapered lugs, and the much-loved and nostalgic black-and-tan colorway.
However, the impressive 70-hour MT5402 automatic caliber and scratch-resistant sapphire mean that the Fifty Eight is much more levelled-up than yesteryear dives.
Dimensions: 39mm diameter, 12mm thickness
Case material: Stainless steel
Water resistance: 200m
Add in the trademark snowflake hands and Chronometer status, and you've got a legend in its own right, outside of its brother's shadow but not nearly as spotlit.
Vostok Amphibian Classic
In recent years, Vostok has been reminding me of the early days of the Seiko 5 line. Vostok developed a cult following because their no-nonsense divers are robust, automatic, and super affordable.
Between this Amphibian Classic's teal and orange palette and its "Scuba Dude" illustration, it sports an almost irreverently playful vibe.
Also like Seiko automatics, people love to mod this guy, but with funkier additions. My recommendation for this watch is to have fun with it. Pair it with a bright orange strap.
Dimensions: 39mm diameter, 15mm thickness
Case material: Stainless steel
Water resistance: 200m
Or, if you're interested, try your hand at some modding even if you've never done any before. As a $100-$130 automatic, the risks are low.
Seiko SKX013
The legendary Seiko SKX013 is really just a 37.5mm version of the legendary SKX007. It sports a very classic diver design and runs on the automatic 7S26 movement. This 21-jewel workhorse caliber isn't perfect, but it's definitely robust and a Seiko mainstay.
The SKX013 is discontinued, but easy to find on the grey market. Some people don't love the jubilee-esque bracelet it comes with.
Dimensions: 37.5mm diameter, 11.5mm thickness
Case material: Stainless steel
Water resistance: 200m
It's admittedly pretty flimsy, but at this point, the stock look is so iconic that I don't even mind it.
Marathon Diver Medium
If you love that tough Sinn-esque German military aesthetic, but find that those divers always tend to be humongous on your small wrist, look no further than the 36mm Marathon Medium. It's Swiss-made, but has that hearty submarine look.
The dial is set deeply and far back. It's made out of 316L surgical grade stainless steel and runs on a 26-jewel automatic movement. Another stand-out feature is that its lume comes from self-contained tritium gas tubes.
Dimensions: 36mm diameter, 13mmmm thickness
Case material: Stainless steel
Water resistance: 300mm
Unlike the more common photoluminescent lumes, the glow is perpetual and won't fade after a few hours.
Momentum M-Ocean
The Momentum M-Ocean is a practical sub-200 diver that comes in several colorways. It has a vintage field watch look to it complete with legible Arabic numerals. This is a style that lends itself to a range of colors (just look at the Seiko SNKs).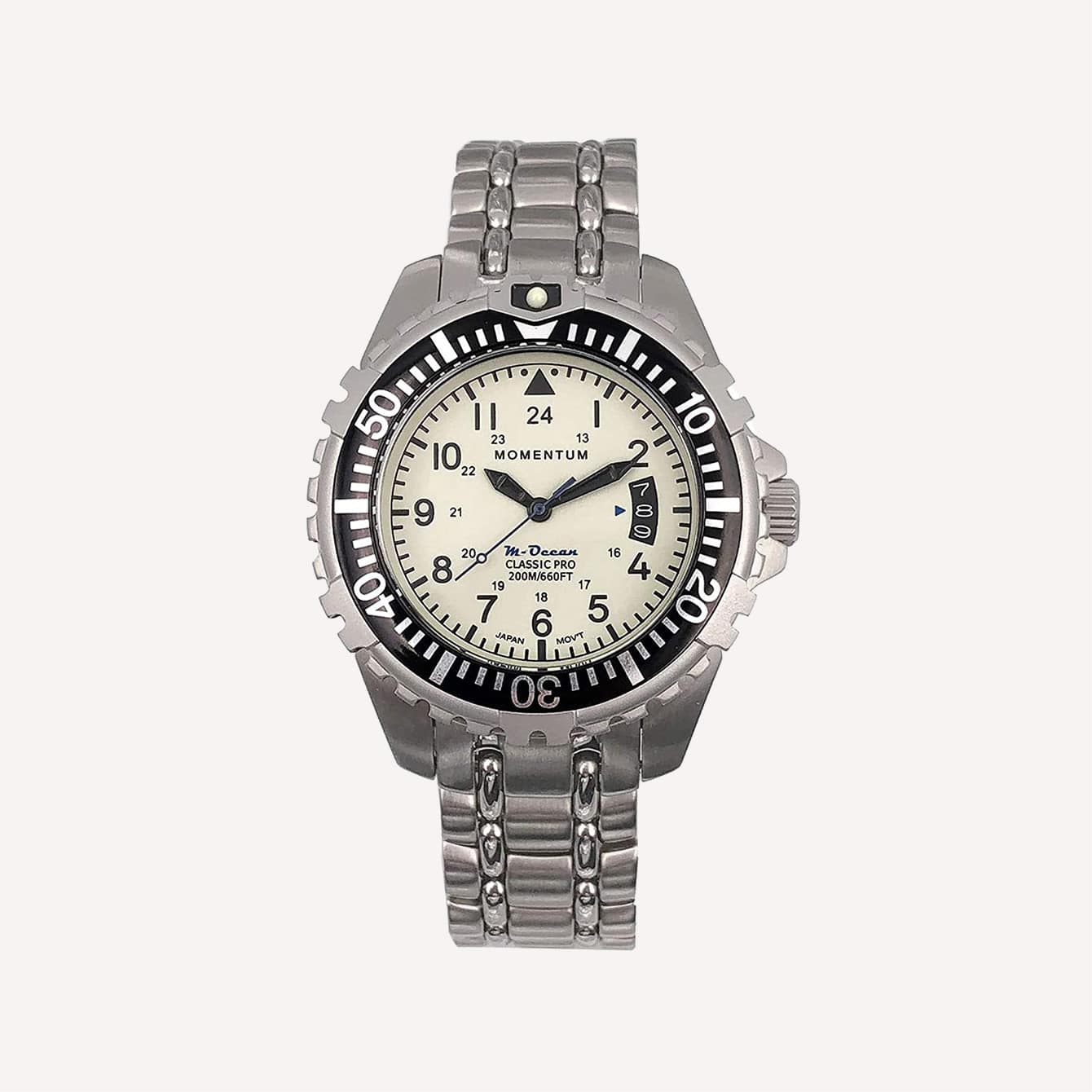 Impressively at this price point, every colorway boasts a responsive unidirectional bezel and a sapphire crystal. The black is chic and classic, while the white has a vintage feel to it.
Dimensions: 39.5mm diameter, 11mm thickness
Case material: Stainless steel
Water resistance: 200m
The blue bezel is almost reminiscent of the Seamaster 300, especially when paired with the metal bracelet, which has an interesting Terminator T-1000 liquid aesthetic.
Rolex Yacht-Master Ref. 268622
Obviously, the Rolex Yacht-Master 268622 is our over-the-top luxury pick. But in the tradition of Rolex, it's as high-functioning as it is upscale. And there's nothing about this watch that isn't fancy.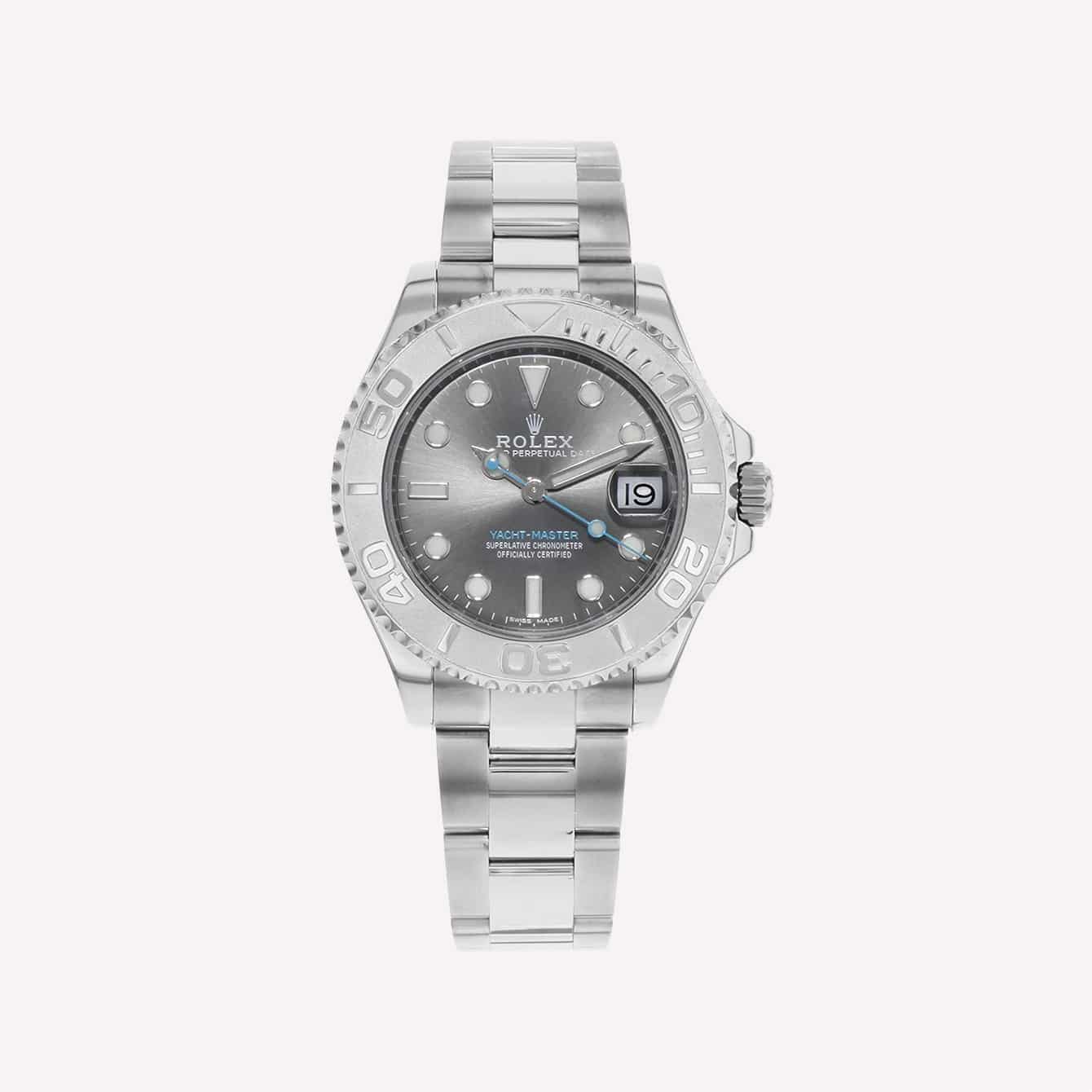 The rhodium dial is exquisitely silky, adding a jewelry-level of decor plus durability. This is also the case with the platinum bezel.
Dimensions: 37mm diameter, 11mm thickness
Case material: Stainless steel
Water resistance: 100m
The Yacht-Master is built with Rolex's 904L-grade Oystersteel, which is both stronger and shinier than the standard 316L steel that most high-end watches use. Meanwhile, the 2236 in-house Chronometer movement has an accuracy of -2/+2 seconds a day.
Rado Captain Cook
The high-polish Rado Captain Cook, at 37mm, is obviously appropriate for men with small wrists. I also want to mention that the 42mm wears more like a 40mm since it's only 48mm lug to lug, so that's something some of you might be able to consider.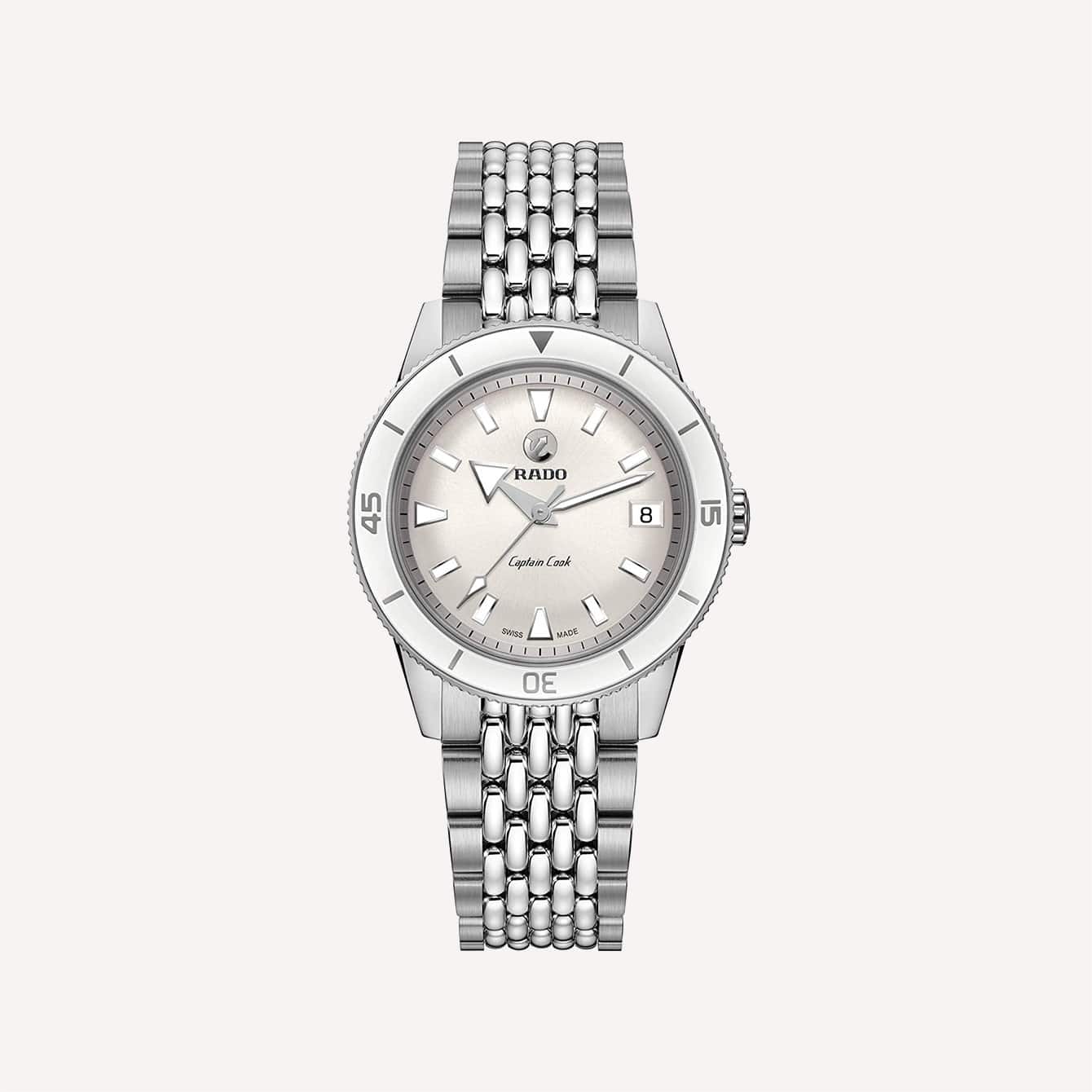 The design is based on a 1962 Rado diver. It sports fun classic elements like a box crystal, upgraded to sapphire, and a bezel that sinks in a bit, upgraded to ceramic. The applications and hands are all meticulously designed.
Dimensions: 37mm diameter, 11mm thickness
Case material: Stainless steel
Water resistance: 100m
The beautifully applied logo, for example, is adorned with the Rado anchor that moves around in its casing.
Glashütte Original SeaQ
The Original SeaQ is a luxury diver based on Glashütte's Spezimatic Type RP TS 200 from 1969.
Quality-wise, I consider it on par with the Submariner, but is distinguished by its playful and bold aesthetic. The finishing is actually a bit nicer than the Sub, and I especially love the vertical brushing on the side of the case.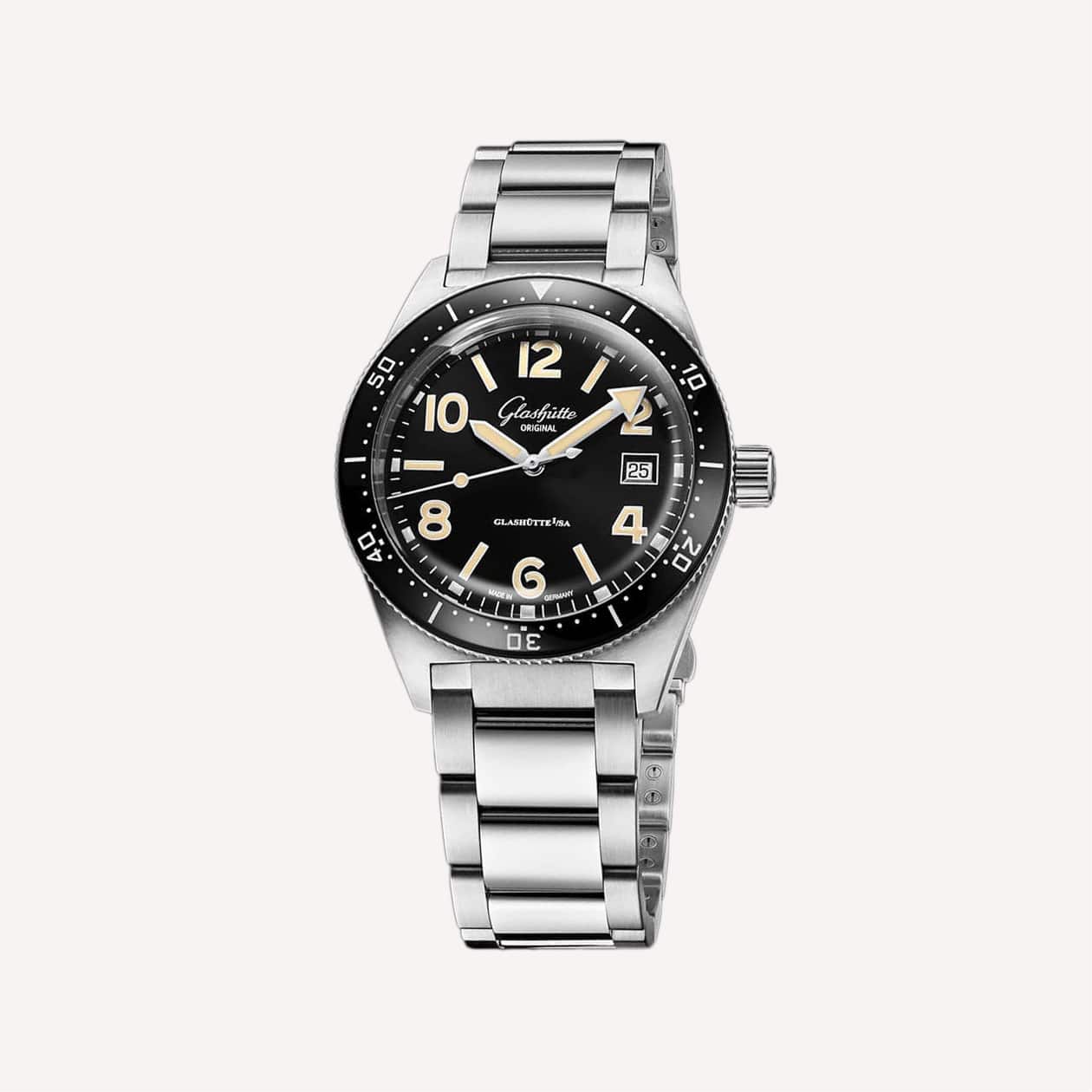 Meanwhile, the crown action is more tactile and satisfying than a lot of Omegas, and the bezel action has no backplay whatsoever. The lugs bend slightly, following the natural curves of your wrist making for a very comfortable watch.
Dimensions: 39.5mm diameter, 12.2mm thickness
Case material: Stainless steel
Water resistance: 200m
The crystal distortion you get on the large markers is another fun and charming personality trait that you don't get from other by-the-book luxury divers, along with the slightly warm radium-toned lume.
Overall, the SeaQ is a bold but clean sport watch that boasts enjoyable mechanical-feeling operations.
Breitling SuperOcean 36
The Breitling SuperOcean 36 is similar to the SeaQ in that it's another high-quality, detail-oriented dive watch, infused with a fun and impish vibe. The sky blue dial is eye-catching and spirited, borderline dandy without going all the way.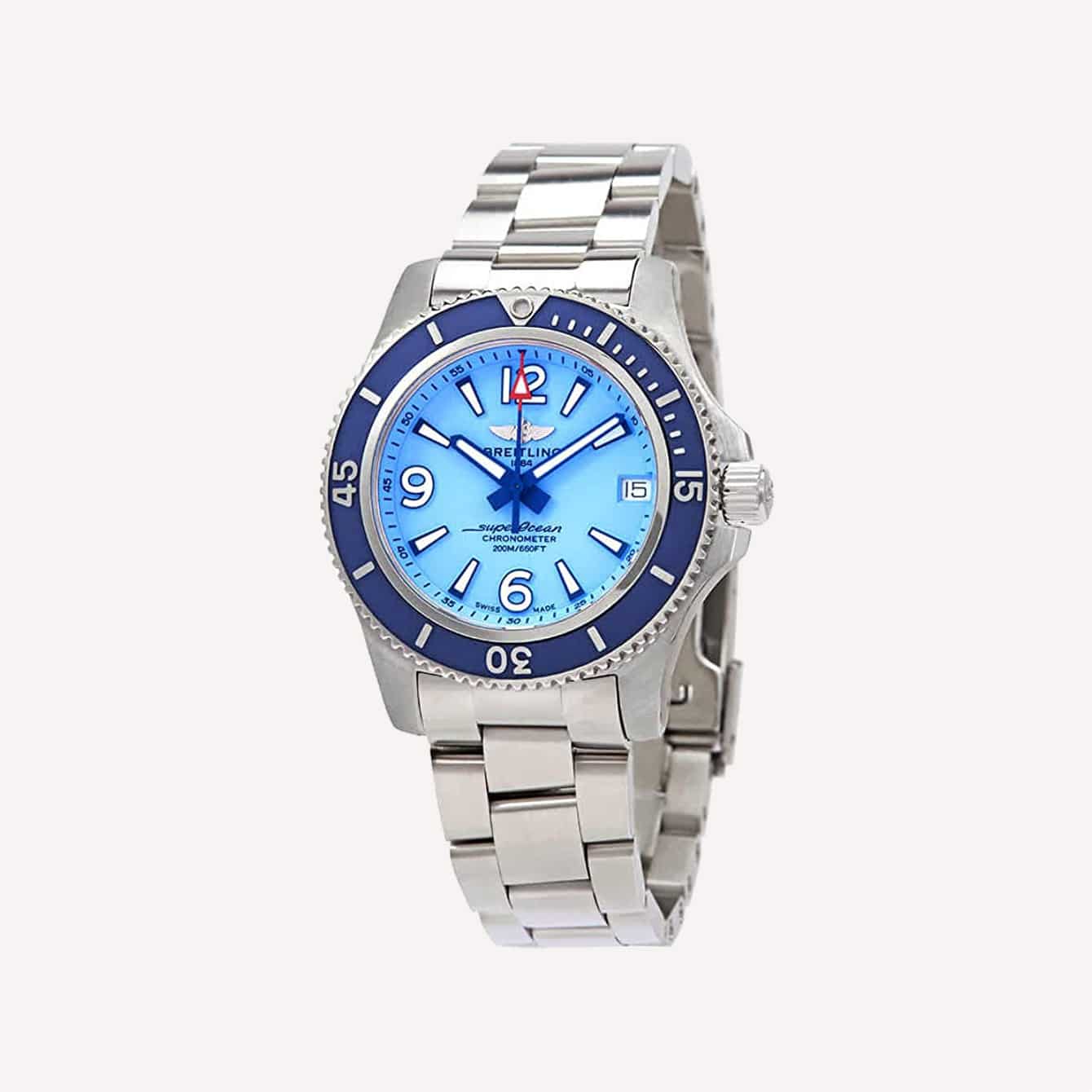 It boasts all of the luxury qualities you expect at this price point including a crisp bezel, a scratch-resistant sapphire crystal, beautifully applied details, and a Swiss automatic movement.
Dimensions: 36mm diameter, 11.25mm thickness
Case material: Stainless steel
Water resistance: 200m
If you're looking for a fun and feel-good watch that's still upscale and perfectly grown-up, the SuperOcean is one of the best out there.
Conclusion
There were historical reasons for divers to be large, none of which apply anymore. Between that and the long-lasting bigger-is-better trend brought on by the 80s, a lot of us small-wristed dive watch lovers found ourselves either settling for timepieces that are too big or not exactly our style.
Two pieces of good news: First, we don't have to do either of those, thanks to the 15 watches here. Second, the huge watch trend is tempering as we speak, and I'm sure that dive watches will continue to find new life in smaller sizes.