If you're interested in mecha-quartz watches, here are some great ones to consider buying.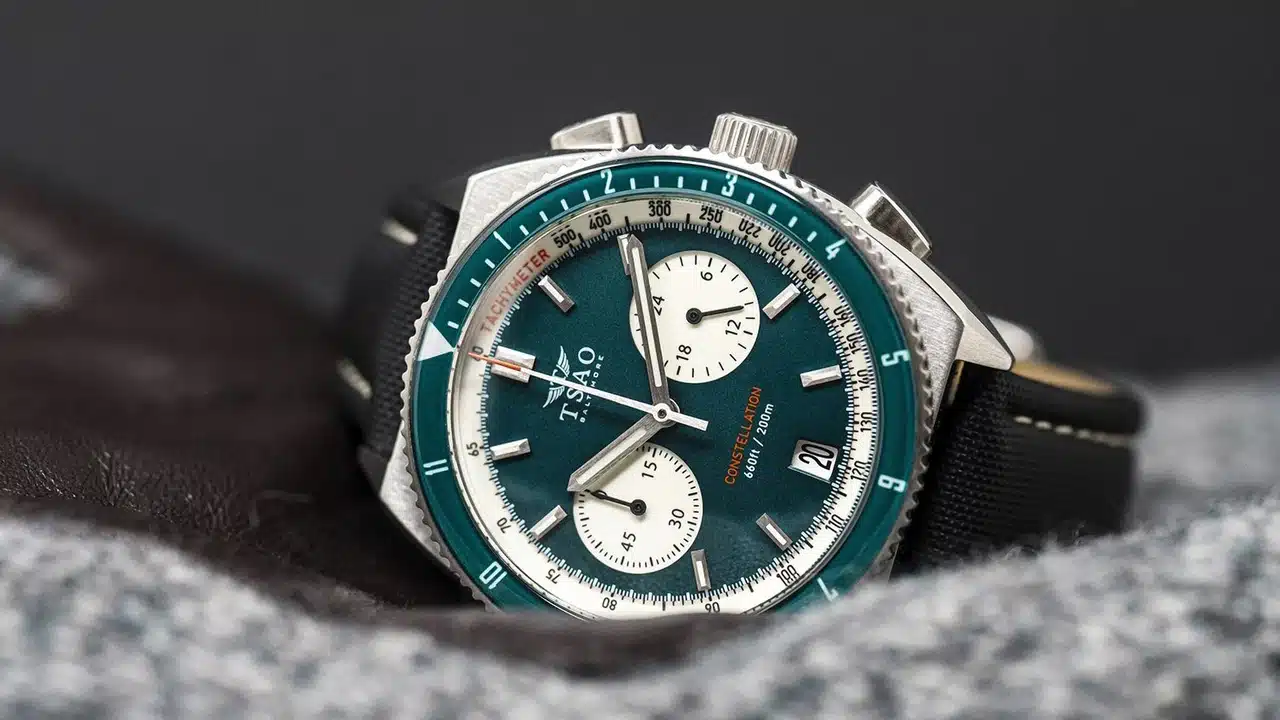 A mecha-quartz hybrid movement is a chronograph caliber within which the time-telling function is powered by a quartz movement. However, the stopwatch is powered by a mechanical unit, allowing the hand to sweep smoothly. Both use the same battery.
And yes, several official brand pages spell it differently, some omitting the H in mecha, others omitting the hyphen. We're going to stick with mecha-quartz for consistency here.
Believe it or not, there are plenty of mecha-quartz watches on the market that don't come from Seiko. (Though as a brand that's mastered both mechanical and quartz movements, their models are pretty darn good).
Still, if you're creative enough with your searching, you might even find a dressy one with Swiss heritage — or you can just check out our worthwhile choices here to save you time.
11 Best Mecha-Quartz Watches
Here they are, representing a wide range of styles and prices!
Hemel HFT20
If you love a tactile sport watch, check out the Hemel HFT20. With its thick bezel and that onion crown, that's more like a gem crown, this watch is downright sculptural. It has an army aesthetic about it and is built as strong as it looks.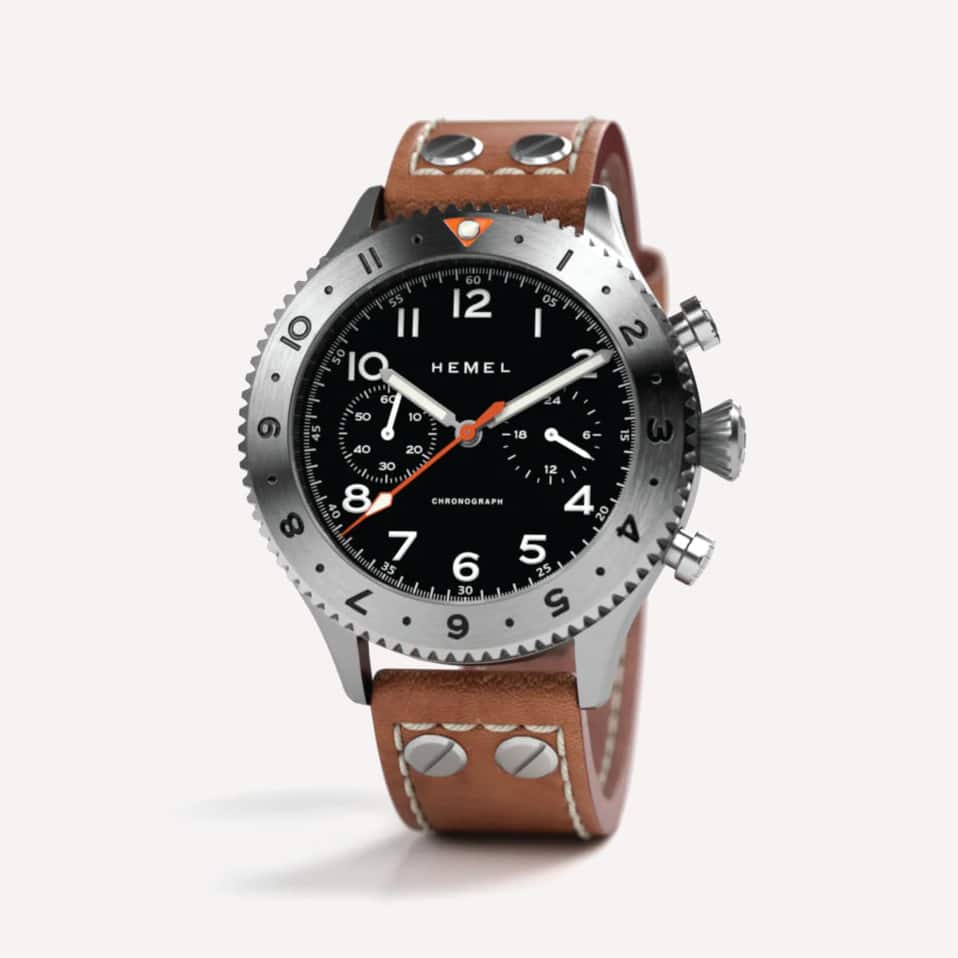 The sapphire crystal is perfectly flat, which lets the bezel and sweeping lugs take center stage, as far as the silhouette goes.
Basically, this watch has the look of a true piece of gear, while still pairing handsomely with a leather strap since the face itself isn't actually that busy for a chronograph.
Dimensions: 42mm diameter, 13mm thickness
Case material: Stainless steel
Water resistance: 100m
It would wear like a statement piece with a t-shirt and jeans, and match the look of a leather aviator jacket.
Yema Rallygraf
The Yema Rallygraf comes in a few variations, each featuring its signature bloated rectangle cut-out subdials. This eye-catching design makes it one of the most unique chronos on the market.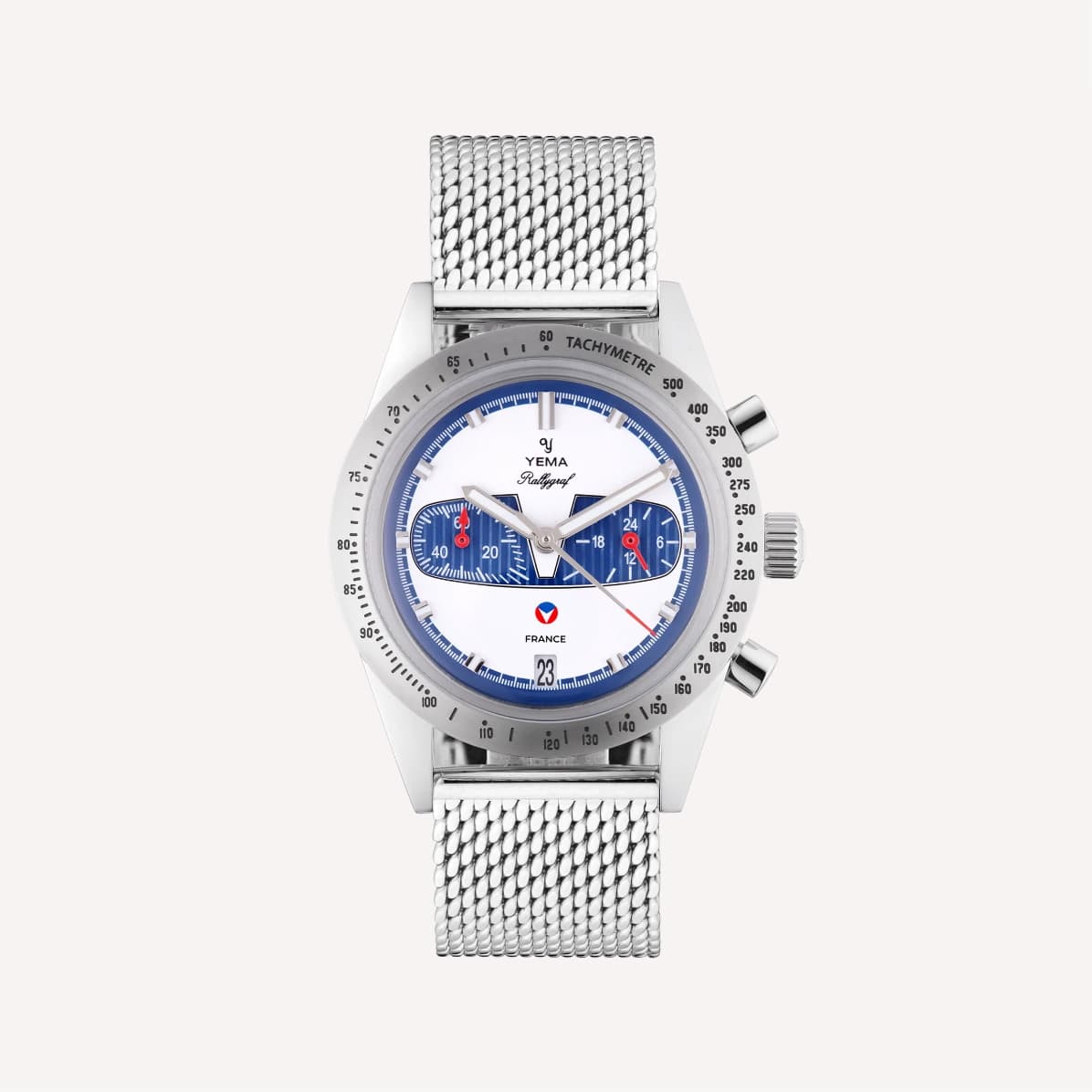 This mecha-quartz version really shines, thanks to its lustrous dial and that dressy beads-of-rice bracelet. As sporty as it is, I don't think anyone would bat an eye if you wore this watch with a three-piece suit. 
And since Yema is an official watch for not only the French Air Force but the French Space Agency and Navy, the Rallygraf comes with a level of esteem.
Dimensions: 39mm diameter, 13mm thickness
Case material: Stainless steel
Water resistance: 100m
I also love a well-placed mineral crystal, and the edge blurring you get here at certain angles is charmingly vintage-looking.
Jaeger-LeCoultre Odysseus (Vintage)
The Jaeger-LeCoultre Odysseus is an amazing vintage find for several reasons, all of which check the boxes of what makes an older timepiece a real collectible.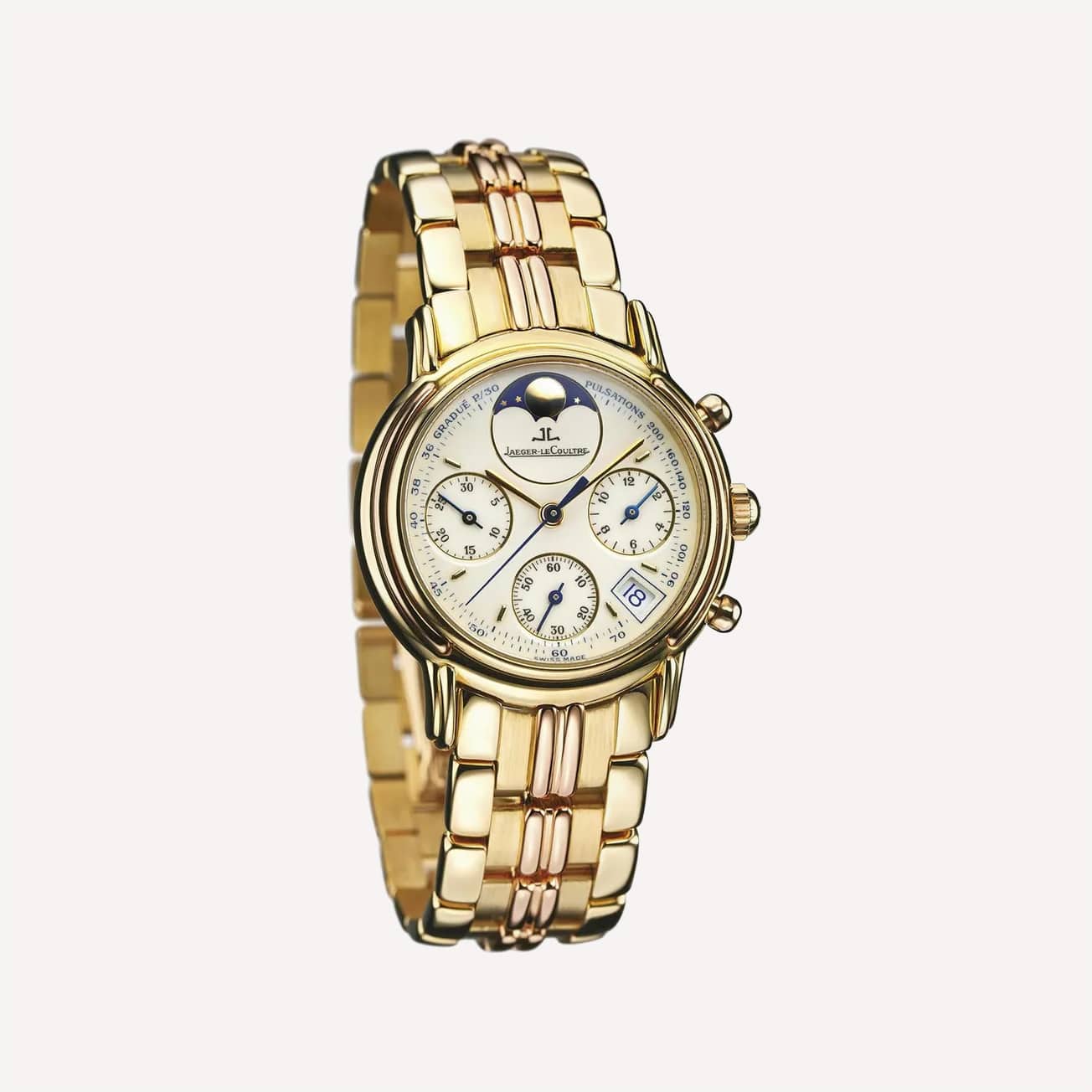 First off, it's unique in that it's a chronograph, but it's also a dress watch — the romantic moonphase and yellow gold construction help with this.
Second, it has a story and historical pedigree. The Caliber 630 came out, complete with rhodium bridges and Côtes de Genève finishing, as a response to the quartz crisis aftermath.
Relatedly, you just won't find a mecha-quartz watch in the world of Swiss luxury today, making it even more uncommon.
Dimensions: 34mm diameter, 8mm thickness
Case material: Yellow gold
Water resistance: 30m
Plus, you can usually find these guys on the secondary market for around $4,000, which isn't so bad considering what you're getting.
Vaer R1 USA Racing Chronograph
With its cushion case and balanced use of primary colors and details, the Vaer R1 Racing Chronograph is a truly purposeful design.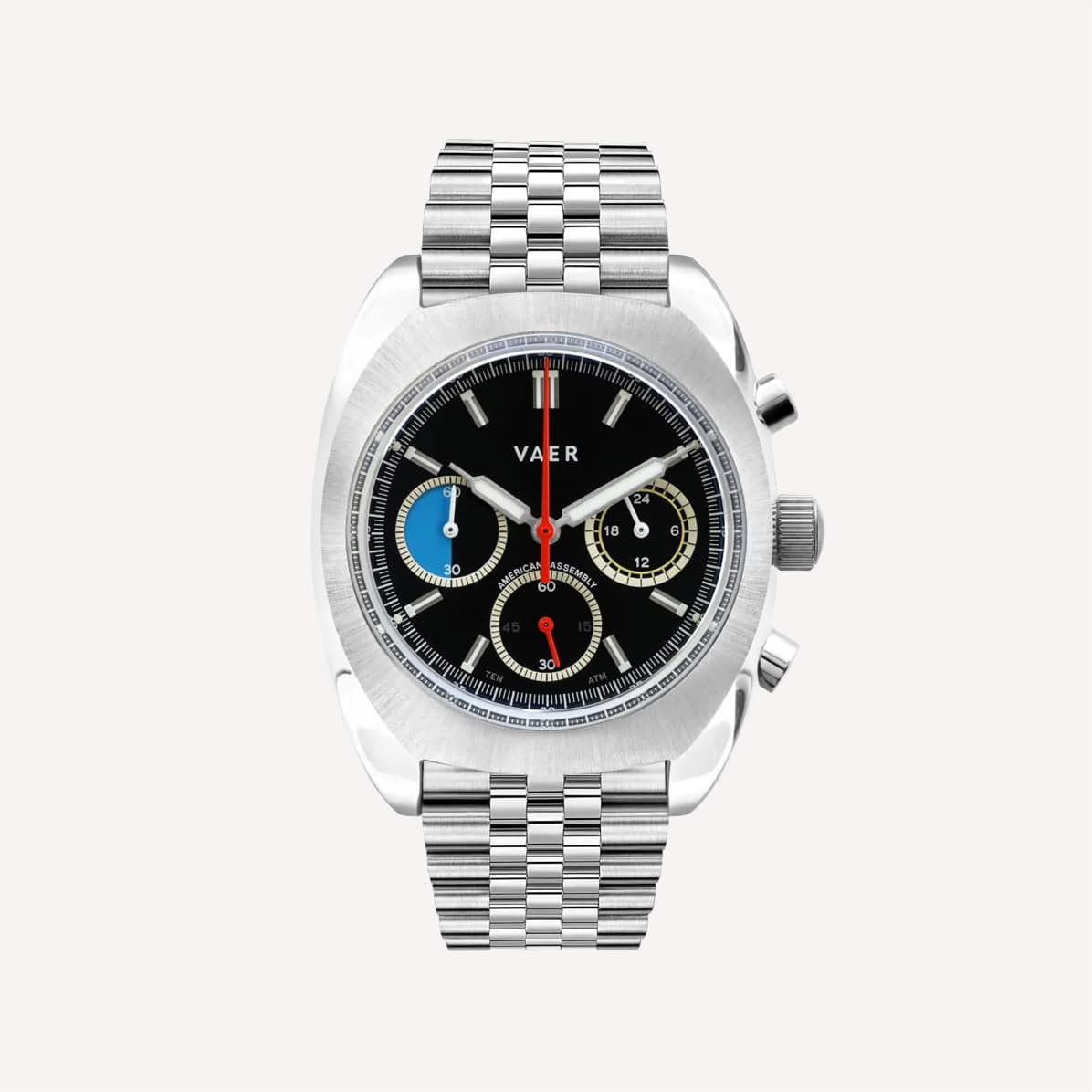 The brushing around the dial implies the shape of a more traditional round case and bezel and allows the polishing just around it to glisten extra, with complementarity.
It has a retro cool look about it that's in line with the retro cool vibe of mecha-quartz movements in general.
Dimensions: 38mm diameter, 12mm thickness
Case material: Stainless steel
Water resistance: 100m
Since the overall look perfectly balances playfully different and classically sporty, this watch partners excellently with any strap, from leather to nato to stainless steel.
Seiko SBTR027
From the reigning champion of mecha-quartz movements, this Seiko SBTR027 oozes sporty sophistication. It has all of the quintessential elements of a canon chrono, from the three subdials to the tachymeter.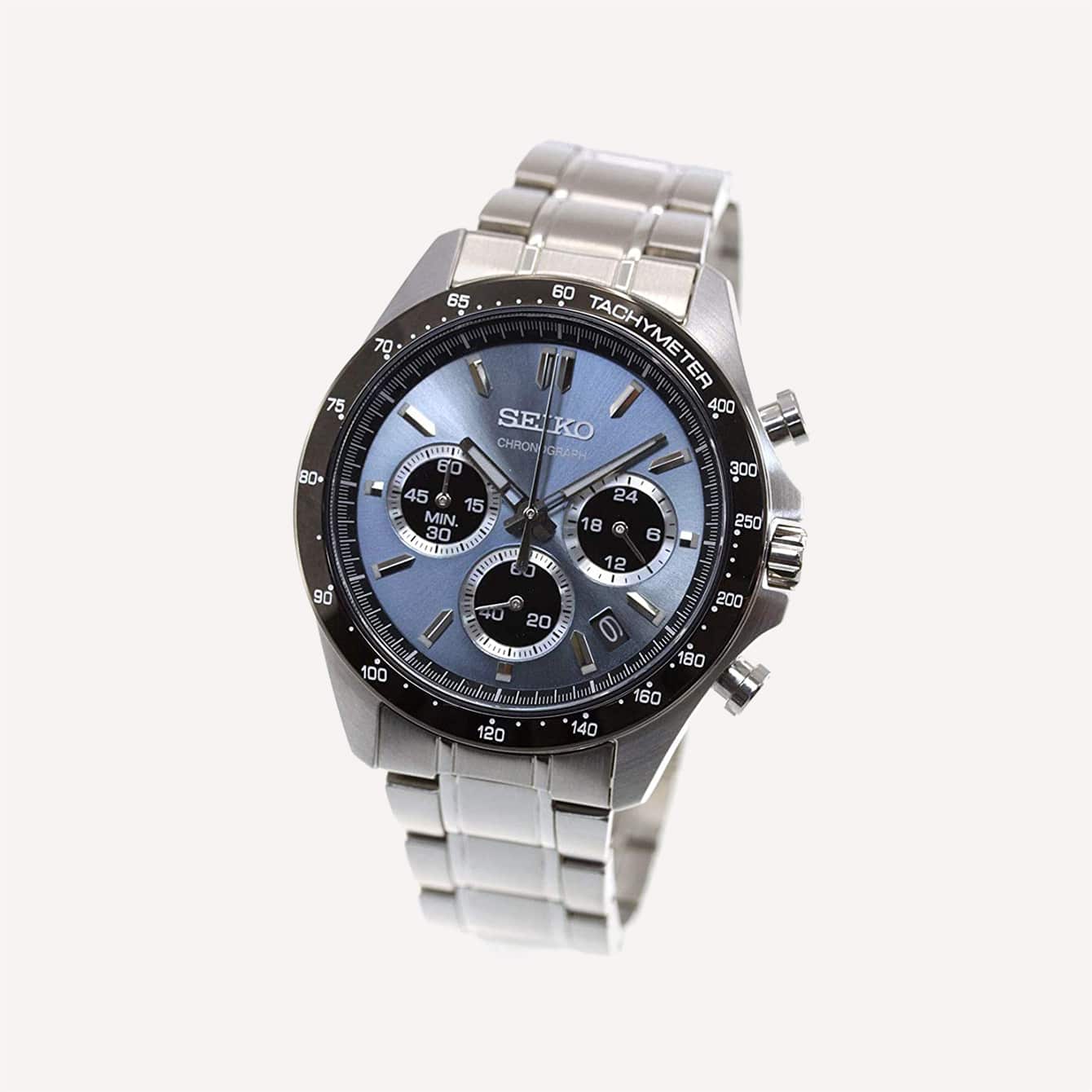 However, I think that the different kinds of shine on the dial levels this watch up, almost like an Omega Seamaster combined with a Constellation.
You've got the silky shine of the dial, the dark glisten of the bezel, and the gem-like sparkle of the indices and subdial edges, all of which complement each other versus competing for attention.
Dimensions: 47mm diameter, 11.5mm thickness
Case material: Stainless steel
Water resistance: 100m
The catch here is that it's a whopping 47mm in size. I will say that if you are a smaller-wristed guy who wants to push that boundary, this watch isn't the worst option since it's only 11.5mm thick. Still, it is huge.
Wolbrook Skindiver
The Wolbrook Skindiver has a bit of a Breitling quality about it in that it incorporates fun, bold elements into what would've been an otherwise standard professional watch template.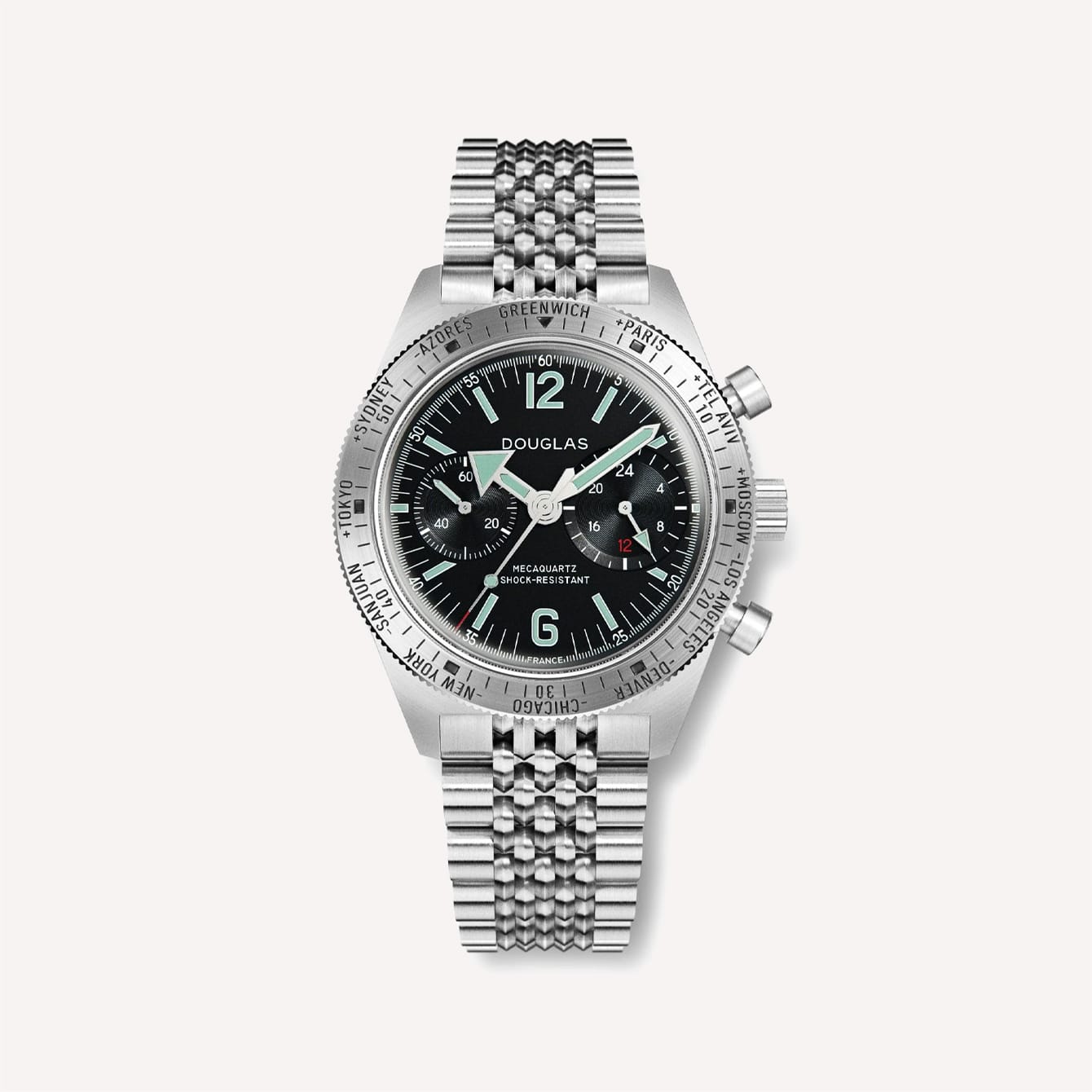 The mint-colored accents throughout are charming but not loud, as are the stepped rings serving as jubilee-like middle links on the bracelet.
Of course, the Hesalite protector is boxed and visually pulls the dial edges towards it.
Dimensions: 40mm diameter, 13.5mm thickness
Case material: Stainless steel
Water resistance: 100m
Also worth noting are the SuperLuminova applications on the hands and hour markers, which are extra bright.
Brew Retrograph Technicolor
Coffee-inspired, American microbrand, Brew, is mainly known for their core Retrograph, which became the if-you-know-you-know watch in 2017 after a successful crowdfund.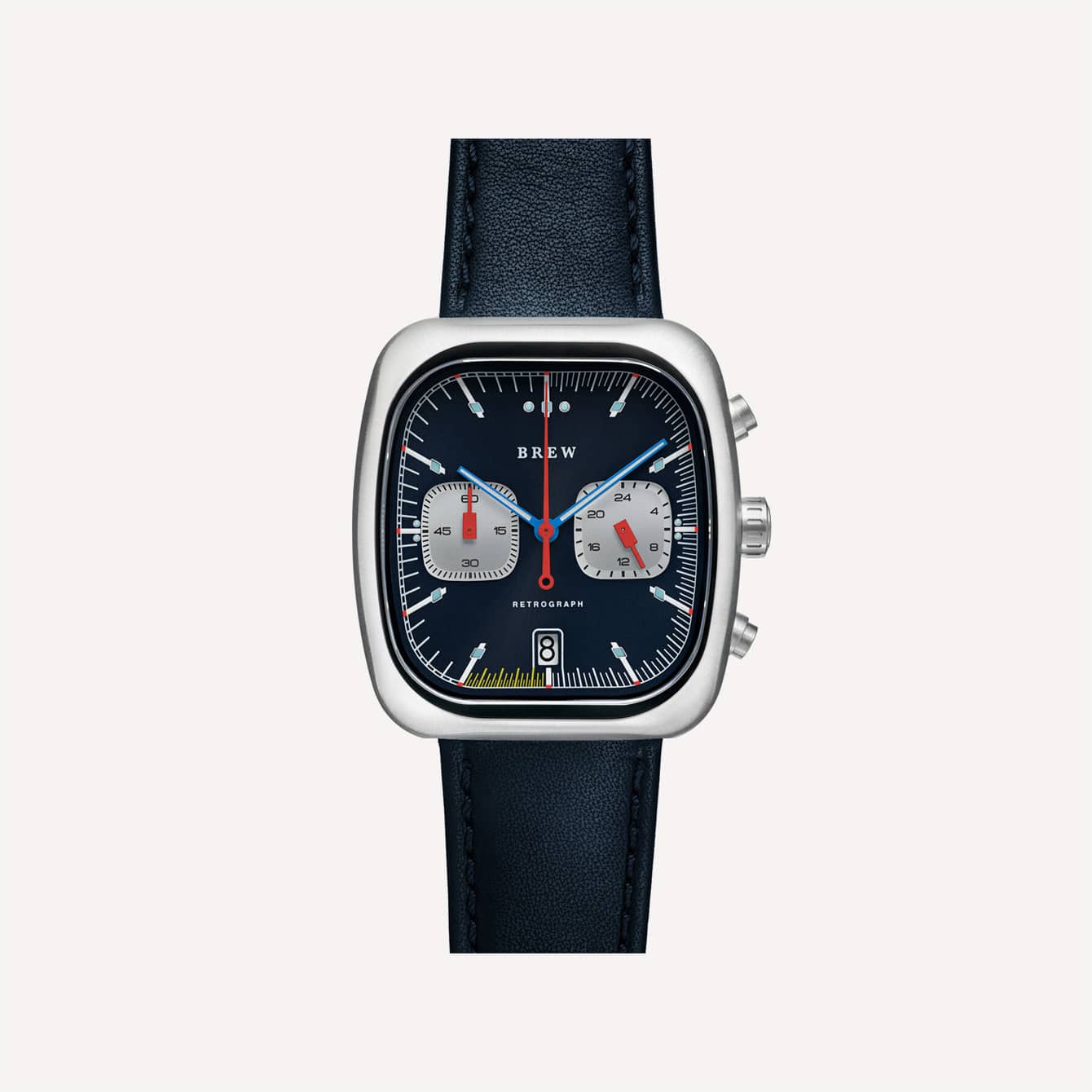 Style-wise, this Technicolor variant we're highlighting here sits somewhere in between the classic Retrograph and the super playful 8-Bit variant.
It still sports the soft-chrono look, with its sweeping, non-sharp trapezoid case and subdials, and generally retro vibe.
Dimensions: 38mm diameter, 10.4mm thickness
Case material: Stainless steel
Water resistance: 50m
Beautifully finished, this watch is also immaculately brushed and polished throughout. The bright reds, blues, and limited yellow accents are lively but tempered by a very grown-up navy dial.
Dan Henry 1964 Gran Turismo Chrono
Whether you go for a three-subdial version (Tricompax) or a two-subdial (Bicompax), Dan Henry blesses the market with affordable and well-built panda watch models, and panda-adjacent models, with this Gran Turismo Chrono.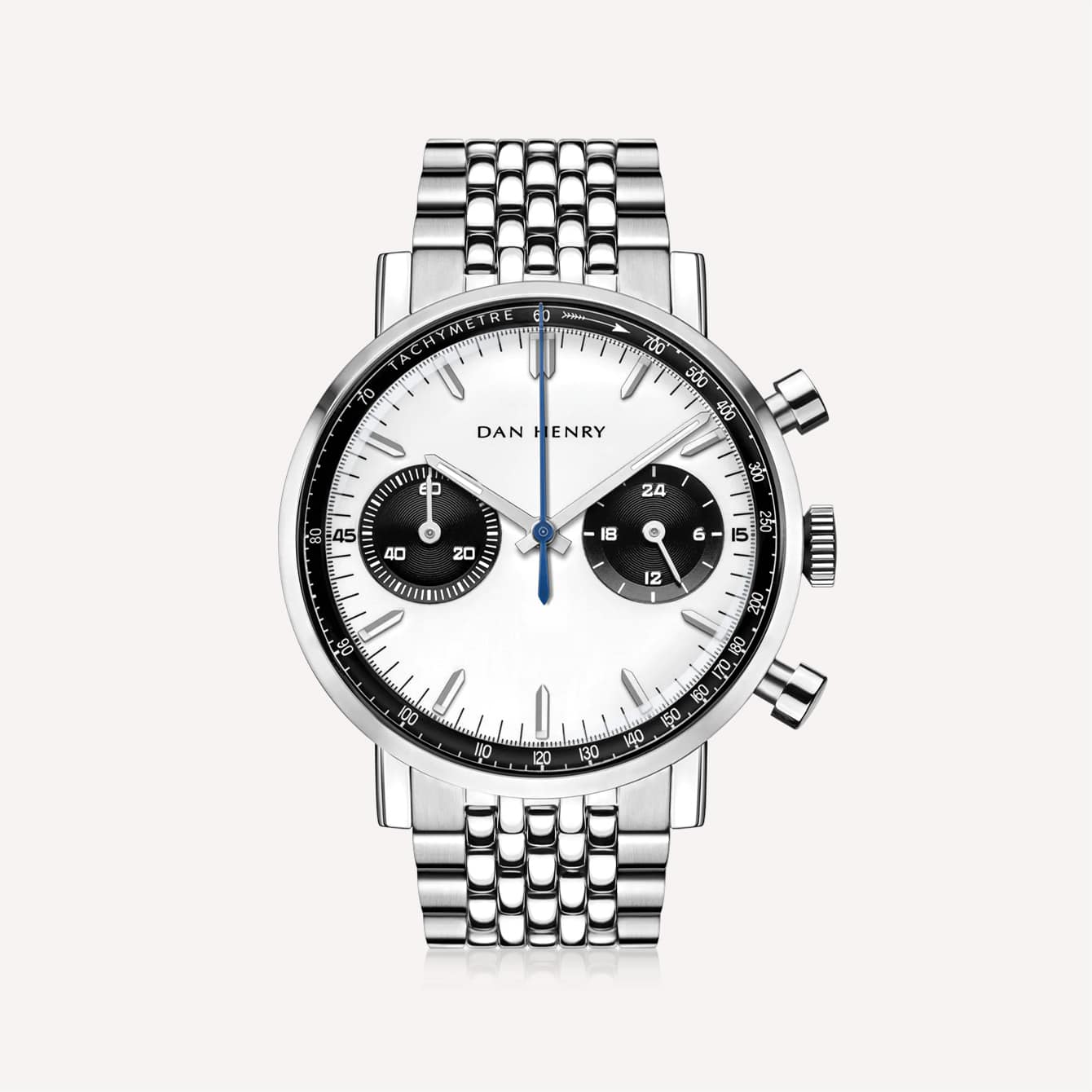 Variations include a classic panda, a reverse panda, or even a panda-esque silver sunray with black subdials, among several others.
Dimensions: 38mm diameter, 13mm thickness
Case material: Stainless steel
Water resistance: 50m
They're athletic yet elegant, can go with a suit or a jean jacket, and flaunt a well-sized 38mm case.
AVI-8 Spitfire Lock
The Spitfire chronograph was inspired by a WWII hero, Eric Lock, known for his ace flying and being the highest-scoring pilot in the Royal Air Force, during the Battle of Britain.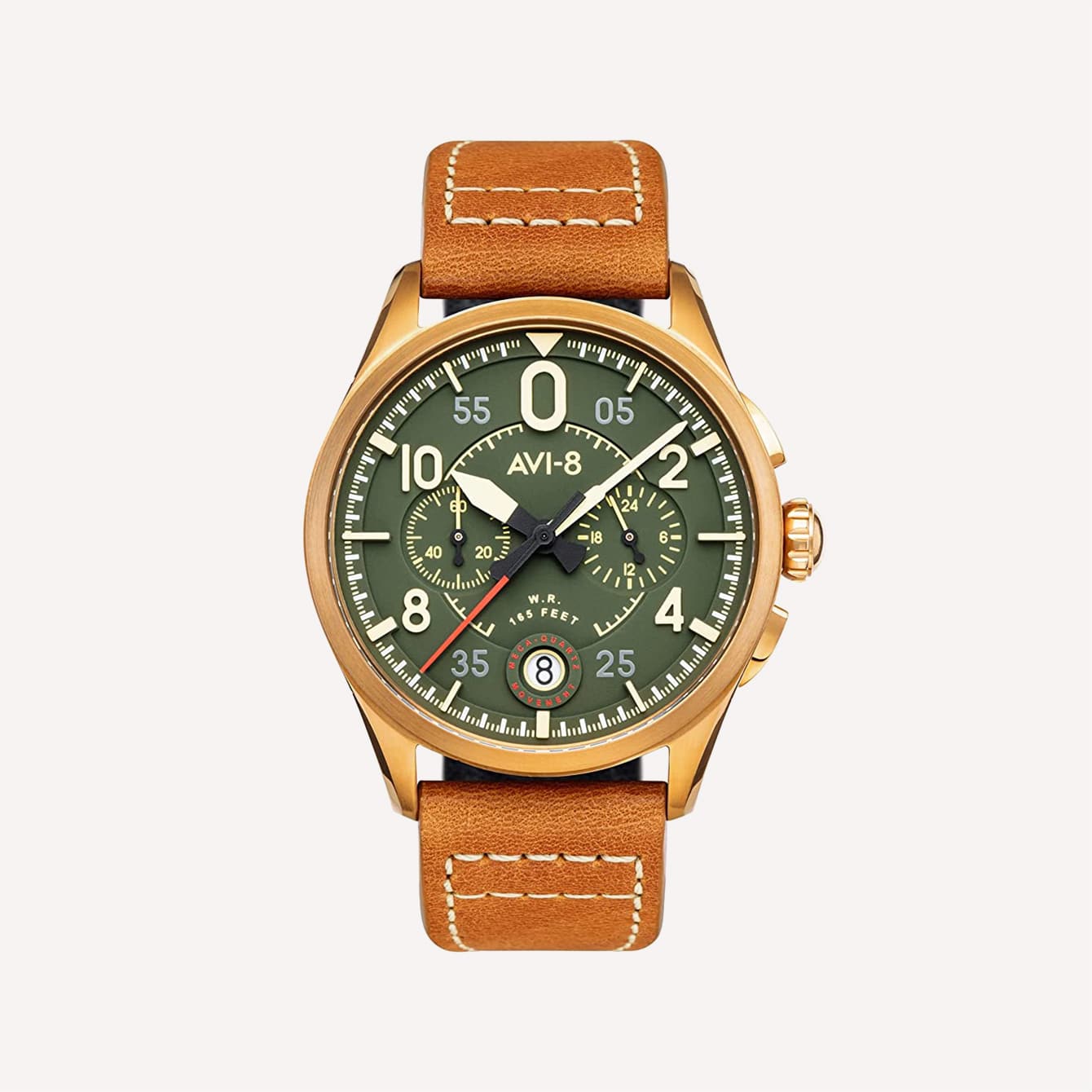 That being the case, AVI-8 seems to take a prototypical pilot watch but infuses it with monumental, celebratory design cues like the gold-toned case, dressy crown, and large hour markers.
The dial surface is so topographical, it almost looks like modern art. It's actually reminiscent of the inner workings of a clock, with all of the moving parts, none of which are impractical or idle.
Dimensions: 42mm diameter, 12mm thickness
Case material: Stainless steel
Water resistance: 50m
If you're looking for a distinct aviator chronograph with a cool story behind it, this watch satisfies all the requirements.
Seiko SSB403
At a far more reasonable 42mm size than the Seiko SBTR027, this SSB403 isn't as sparkle-forward and instead goes hard on the athletic side of the spectrum.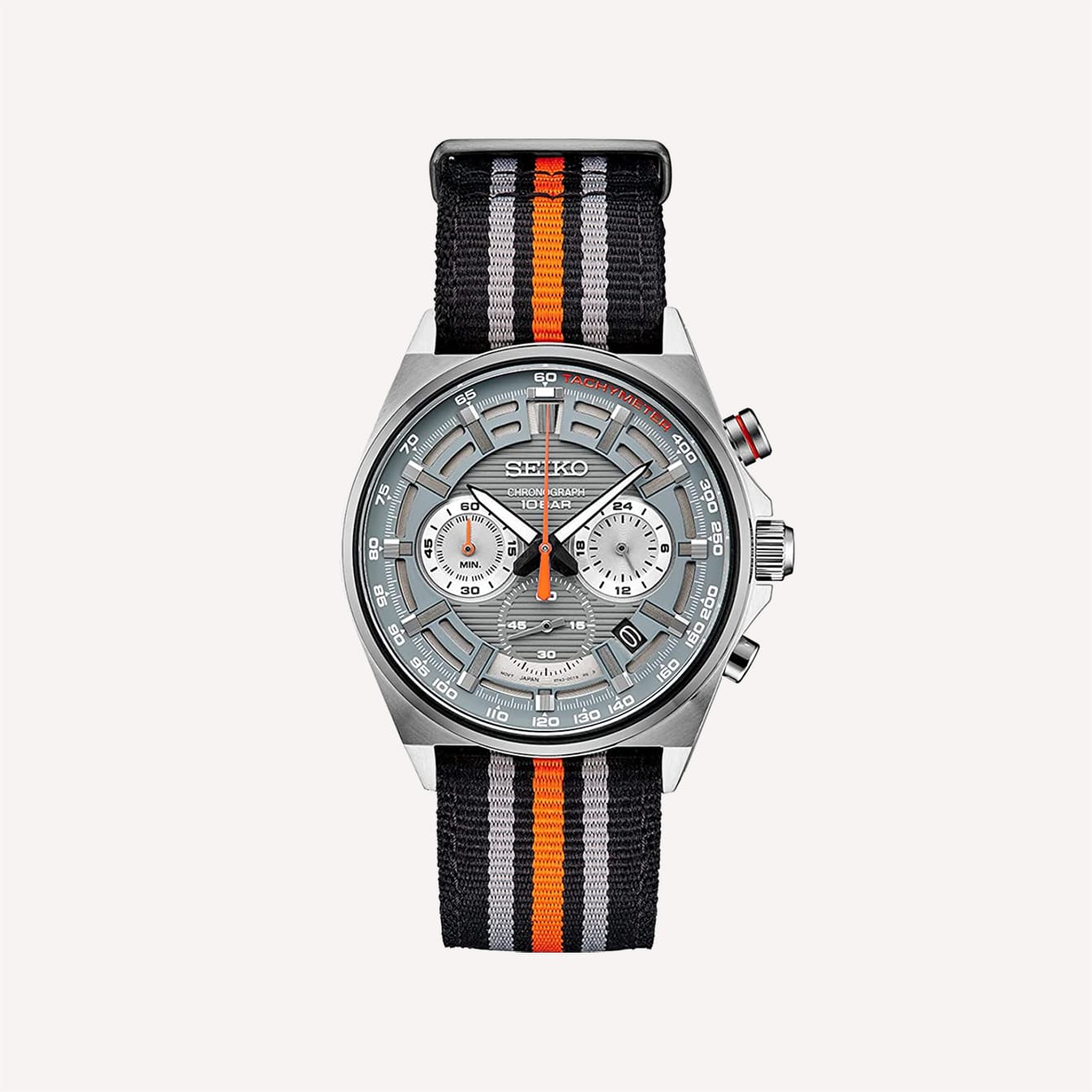 It's super sectioned-off, almost looking a bit like a spaceship repurposed into a chronograph watch.
Details like the grill-clad middle layer — which is exposed via cut-outs on the top layer, and the stunner-shade center, to which the bottom subdial sinks — give the dial a truly complex and impressive look.
The almost-hooded lugs cinch the solid, carrier vehicle aesthetic.
Dimensions: 41mm diameter, 12mm thickness
Case material: Stainless steel
Water resistance: 100m
Its stock strap is a nato with an orange accent stripe that's tonal with the stopwatch hand for a pop of color.
Tsao Constellation Chrono Diver
A watch forum darling, the Tsao Constellation Chrono Diver is a racer watch combined with a diver watch, making it a super sport watch of sorts.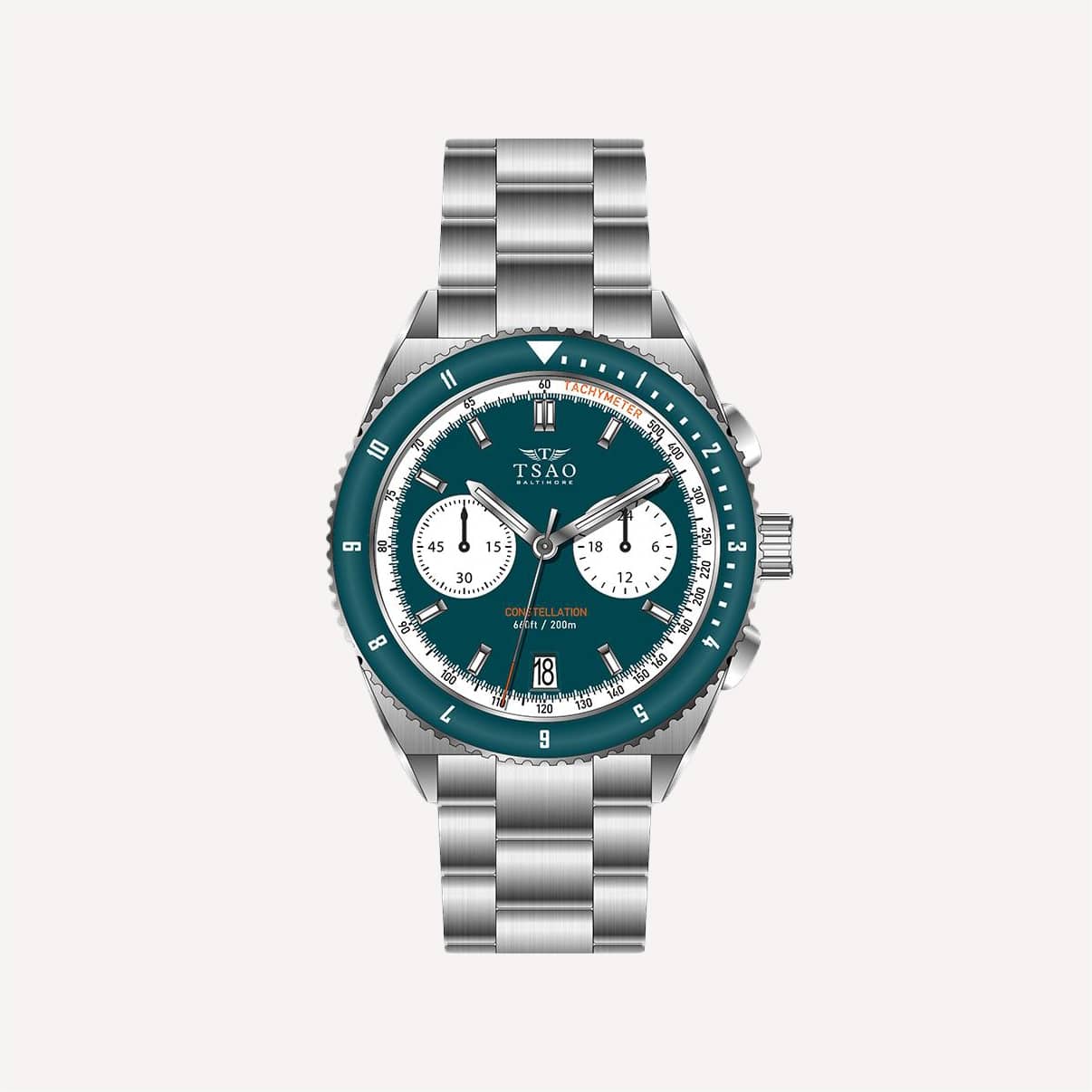 It wears like, and can be styled like, classic divers, though the inner tachymeter and subdials make it stand out a bit more. The vivid aquamarine hue helps with this too.
And to add some lore to the model, Tsao named this watch after the USS Constellation.
Dimensions: 41mm diameter, 15mm thickness
Case material: Stainless steel
Water resistance: 200m
It was an 1853 ship and the last sail-only warship in the United States Navy (besides, of course, Old Ironsides).
Conclusion
From racers to divers, and even a dress watch, mecha quartz chronographs are an interesting genre. They're often just as affordable as regular quartz watches, but you get a touch of mechanical street cred in there too.
Plus, there's nothing like a wristwatch that's meant to be interacted with.
Questions? Comments? Leave them below!