Are Delugs straps as good as they seem? We'll share our honest opinion in this hands-on review.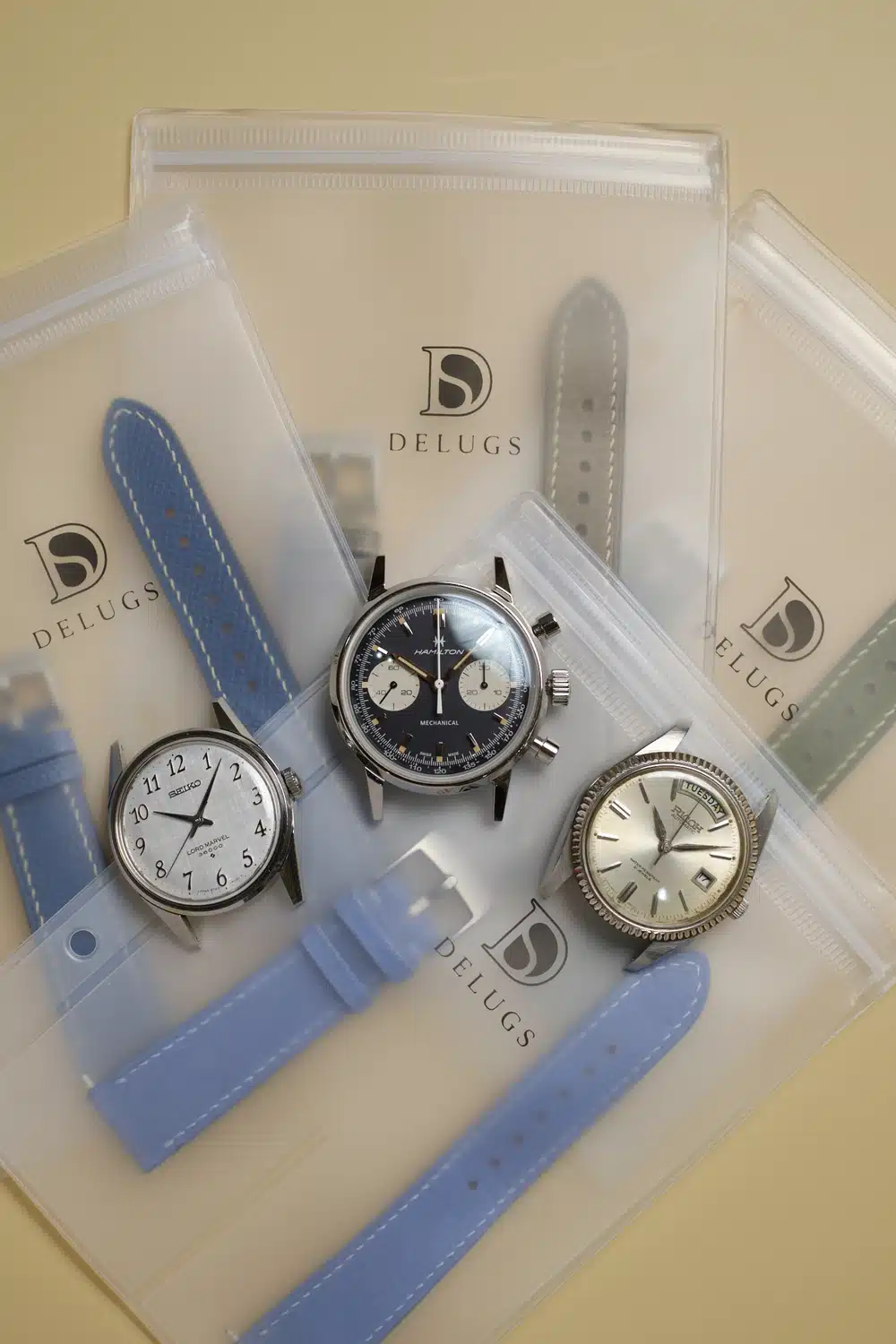 Craftsmanship begets art. Beautiful pieces come from painstaking labor, which in turn comes from years of training and honing technique. Yet, we know that art is also in craftsmanship. One can see the beauty in the process showcased through the craftsman.
Perhaps no other hobby — or addiction — is this connection more evident than with watchmaking. Although watches now act as jewelry, they are still representations of craftsmanship and art.
In my mind, we should have the same high expectations we have for watches for watch straps. Just as a fine pair of leather Oxfords go with a well-tailored suit, well-made straps should go with beautiful watches.
For review today are four handcrafted leather straps from Delugs. Read on to find out if you should pair a Delugs strap with your watch!
History of Delugs
Delugs began in Singapore with leather crafters interested in creating quality leather goods. By happenstance, these craftsmen became watch collectors.
With a love for leather working and watches, they began making custom watch straps for friends and family.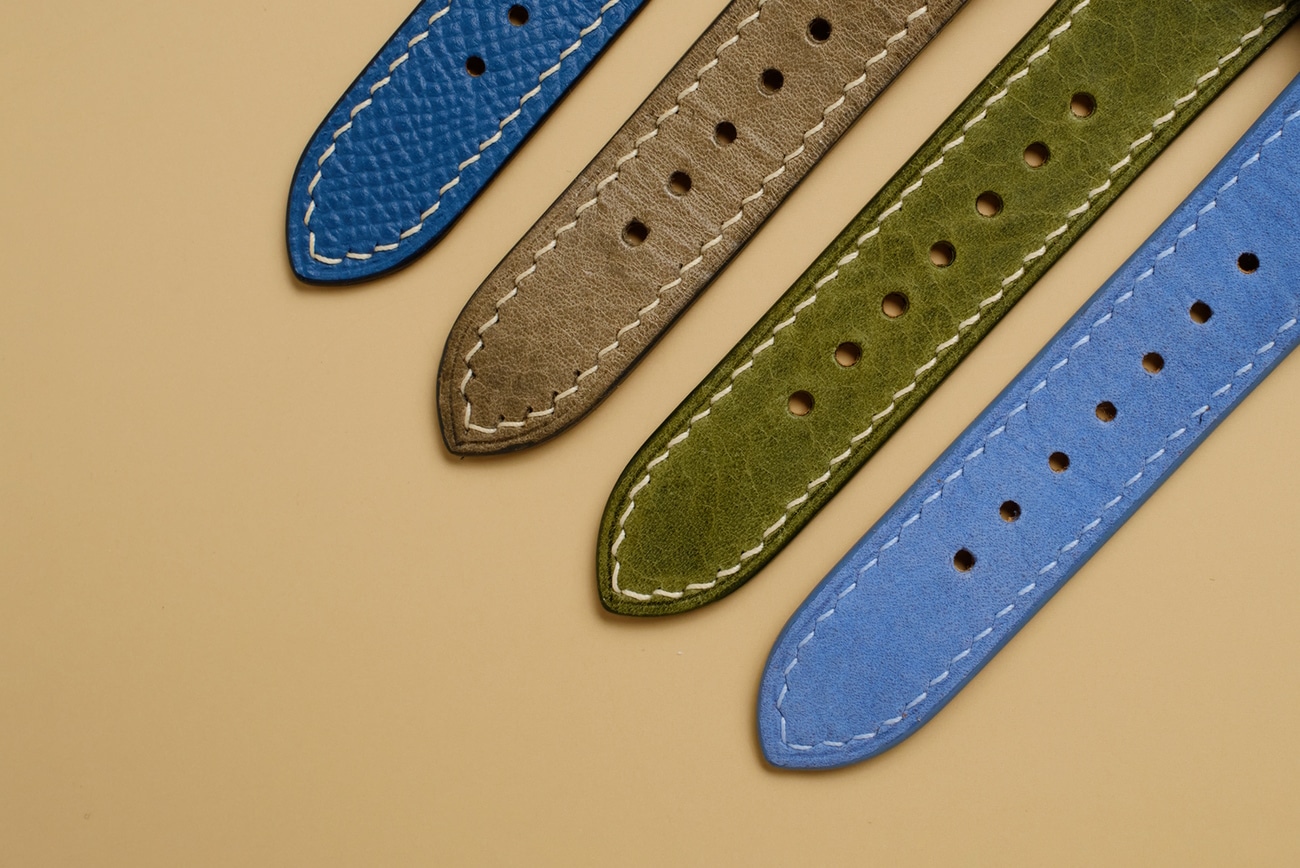 After a while, they founded Delugs with a selection of available leathers — Shell Cordovan, Chromexcel, Buttero, and Epsom.
Starting with made-to-order straps, Delugs has come a long way in the making of high-quality watch straps for every enthusiast.
From international shipping to a lifetime warranty, Delugs have streamlined the ownership process of their straps to be completely rewarding.
Aside from their vast strap and colorway catalog, they let you customize made-to-order straps with their Custom Strap Builder. From leather material to buckle finish, even the dimensions, and stitching colors — you can change almost every detail of your strap.
Finding the perfect strap to match your watch is easy with Delugs' Strap Finder. Ever wondered what your Seiko SKX would look like with an Avocado strap?
Choose your watch from a list of famous watch models from various brands and see how they would look with Delugs' entire strap catalog.
Delugs continues to be a brand for fellow watch enthusiasts with innovative designs for watches with integrated bracelets.
Brands and models like the Tissot PRX, Vacheron Constantin Overseas, MB&F, and several others now have access to custom straps from Delugs.
Since collectors sometimes misplace or forget where they place their watch straps, Delugs provide various strap folios and watch boxes.
Buying Your Delugs Strap
Delugs has designed every aspect of its buying experience to be as seamless and helpful as possible.
Before buying any Delugs strap, you are first asked what strap length you'd like. Unsure of what will fit? Delugs provides guides on how to measure your wrist and helps you determine what size strap you need.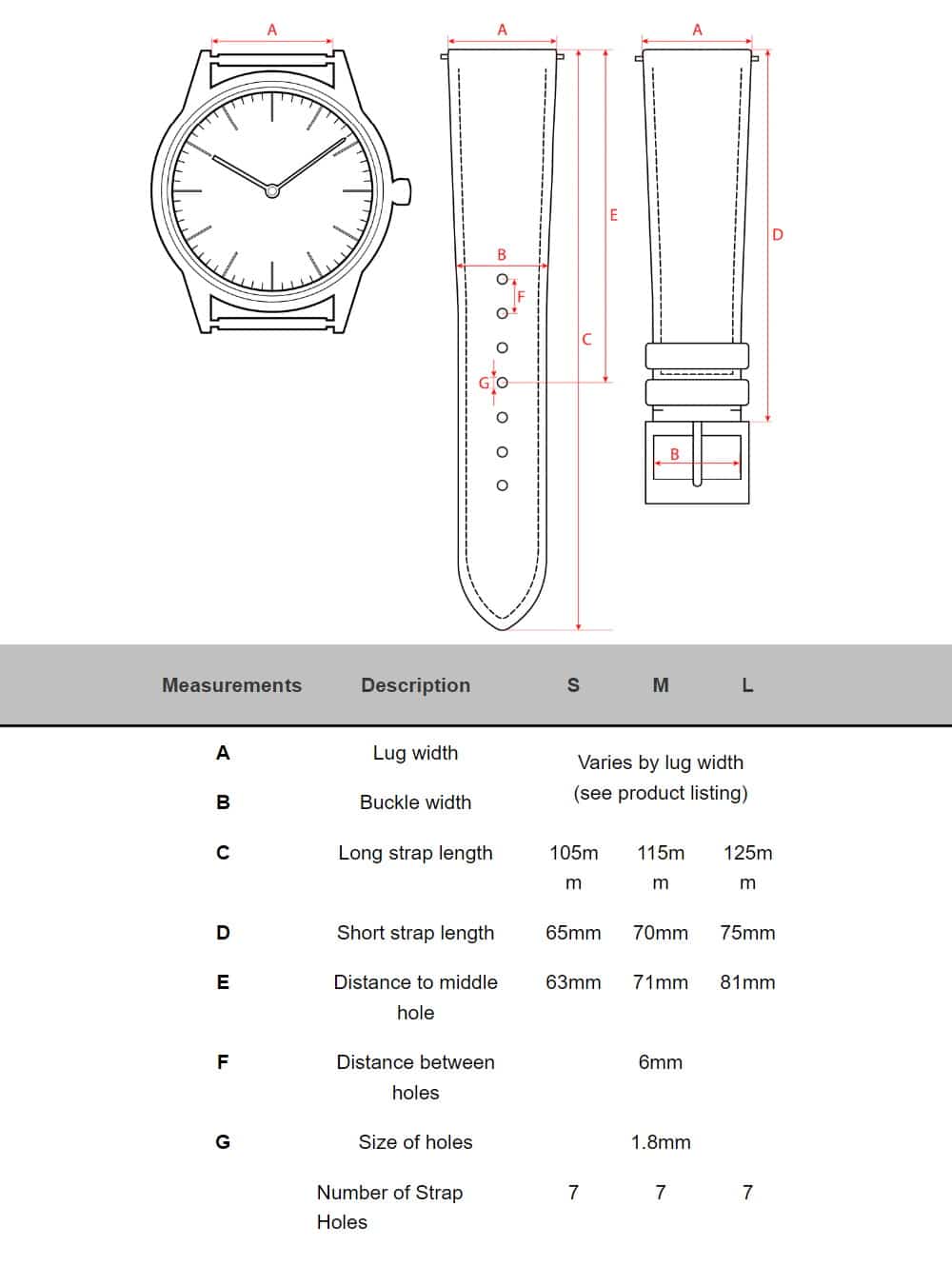 They offer three different strap lengths: Small (105/65mm), Medium (115/70mm), and Large (125/75mm).
On my 6-inch wrist, the medium size fits perfectly snugly with an extra hole for a tighter fit. There is barely any extra strap jutting out of the wrist.
Almost all straps are available in odd-numbered lug widths, so Seiko fans don't fret, they supply 19mm lug widths. Straps are available from 17mm up to 22mm.
You also have the option of adding a deployment clasp for an extra $20.
Every strap comes with quick-release spring bars for easy strap changing. This helps you match your watch strap with your watch without the need for tools.
All straps are lined with a hypoallergenic Zermatt leather lining that is both water and sweat resistant. Being based in Singapore, Delugs thought to provide proper straps for their clientele in tropical climates.
Each strap underside is debossed with the Delugs branding, lug width, and chosen strap length.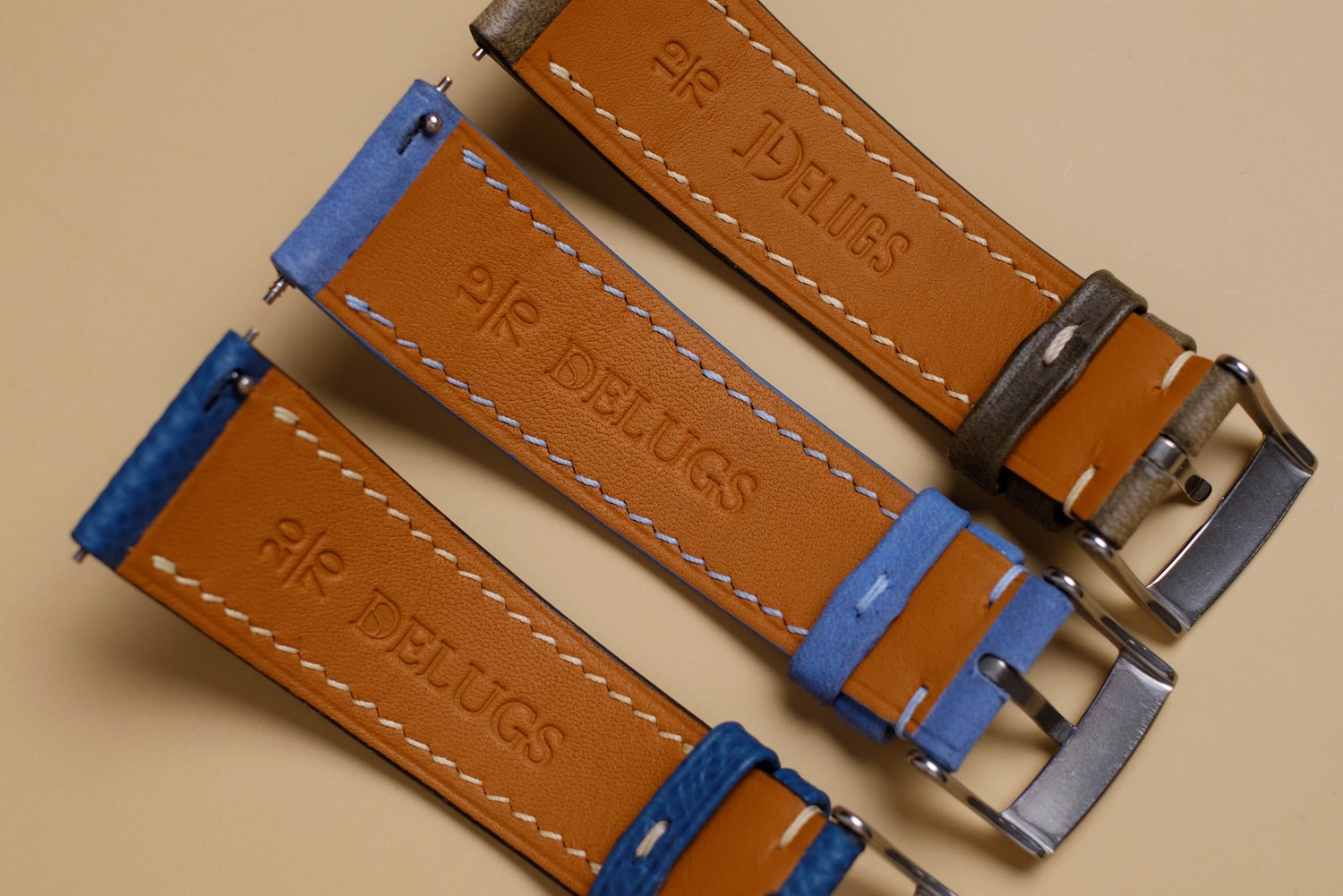 All straps come with 316L stainless steel buckles with engraved Delugs branding.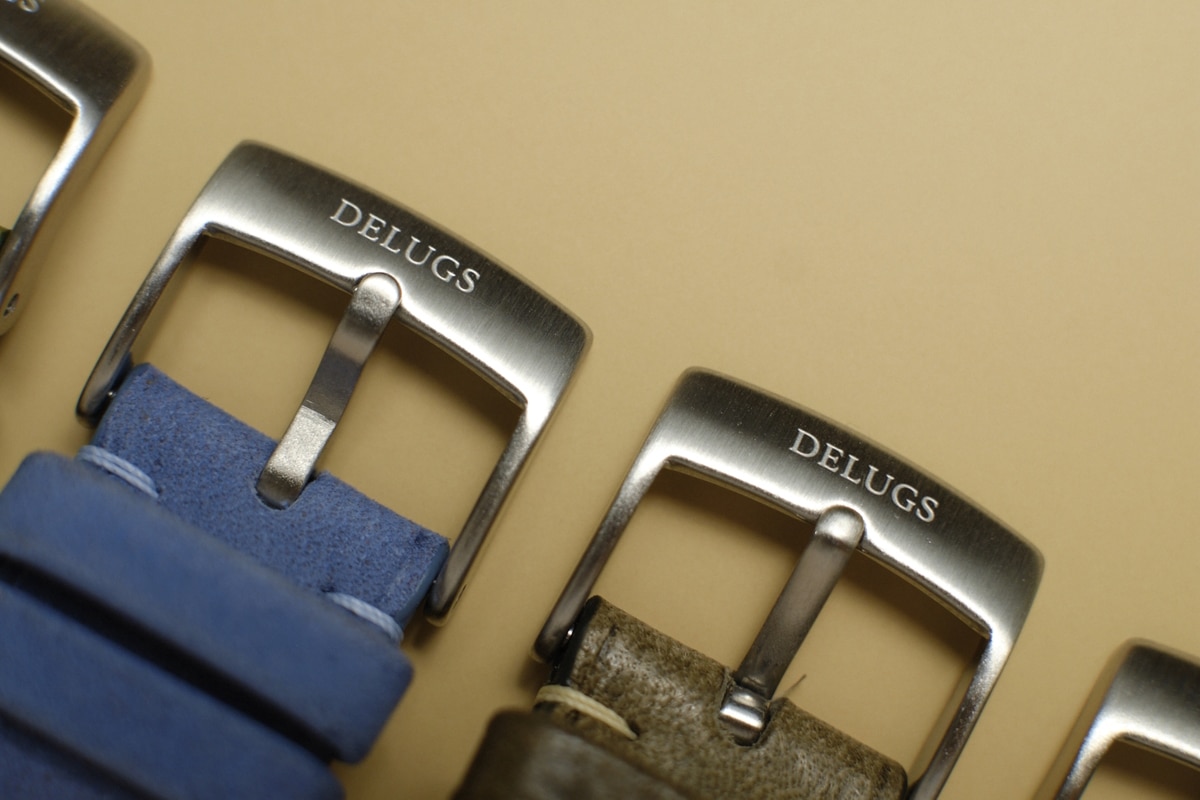 Lastly, all straps are shipped in individual silicon packaging. Each package sports printed Delugs branding along with a divider in the middle to separate the two strap pieces.
Two eyelets are positioned to the side of each container for use with Delugs' strap folios.
Pastel Blue Nubuck Slim Strap
Now, on to the straps. First up is the Nubuck Slim Strap in Pastel Blue.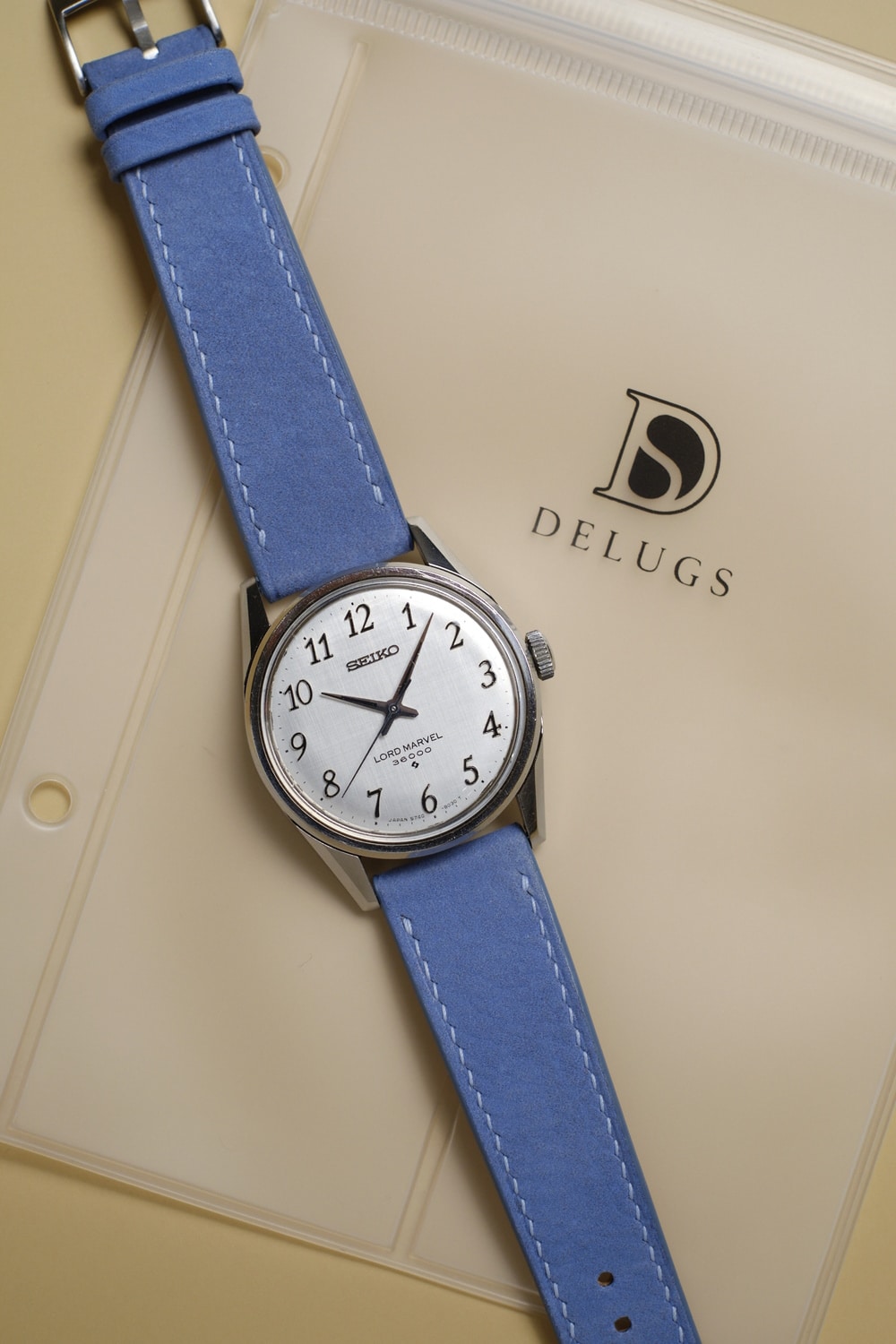 Pastel blue is an interesting color. Being lighter than other blues, it evokes a sense of casual style. Paired with the Nubuck leather, this makes the strap and color perfect for the summer.
This colorway will work with any light-colored watch dials like champagne or linen. The pastel blue is complemented by the light blue stitching that flows through the strap's sides. The taper is moderate from 19mm down to 16mm.
On the wrist, the strap feels snug while still allowing my 6-inch wrist to breathe. The taper slims down the already thin presence of the strap.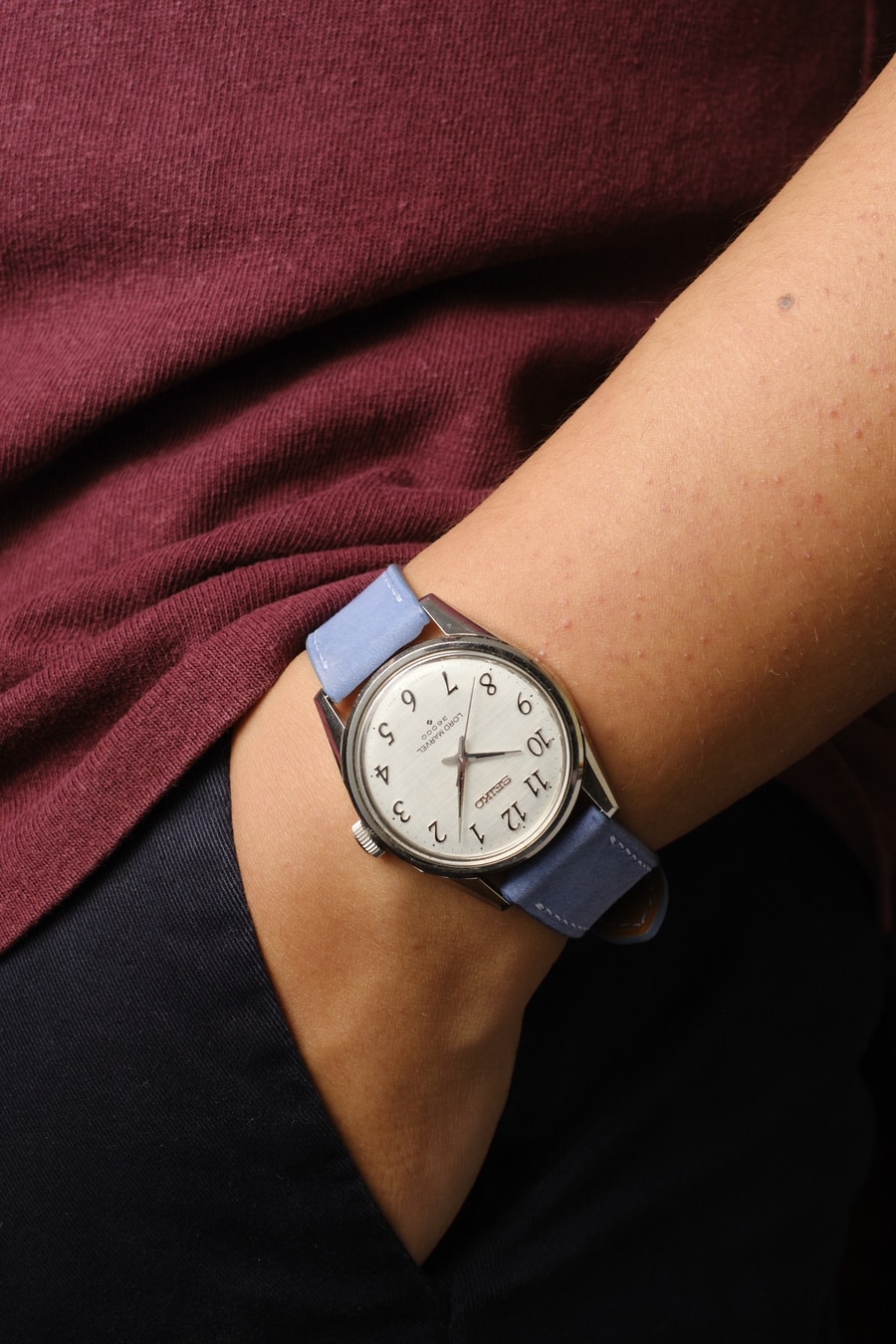 Compared to Suede, Nubuck is softer and more durable. The leather is made by brushing/sanding down the grain side of the leather hide. This makes the material more water and scratch resistant.
After several days of use, the leather started picking up colors from various brushed surfaces.
Personally, this isn't a problem. I find the natural brushing and patina a nice way to add age to the look of the strap. It is, however, something to note when thinking of purchasing this strap.
Overall, the strap is light and thin while still being sturdy. Perfect for the summer and light-colored dials, the strap should be for anyone looking for some fun.
Grigio and Green Waxy Slim Strap
The next straps on hand are the Waxy Slim Straps in the Green and Grigio colorways.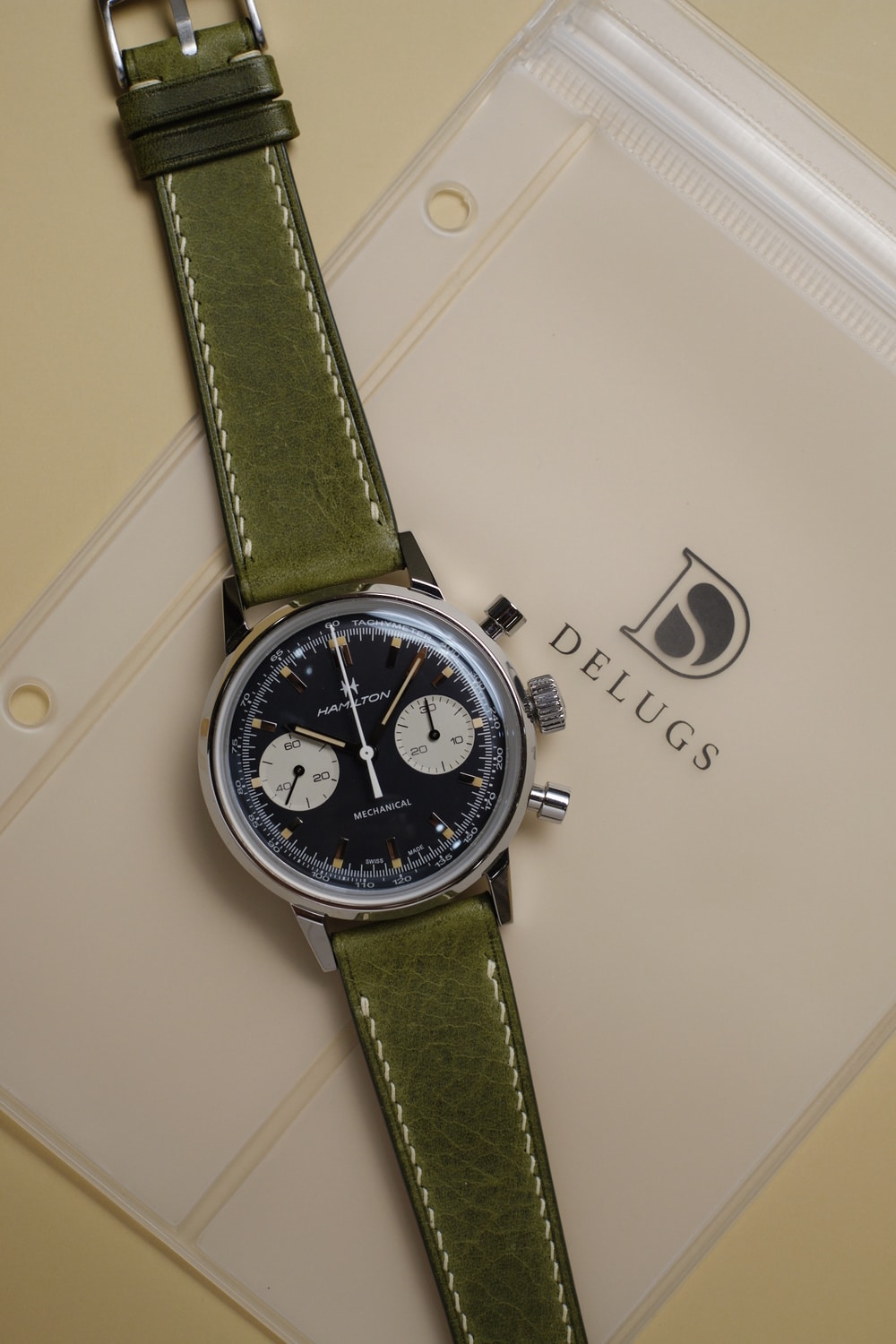 Boasting a durable yet soft leather, the Waxy Slim Straps are the perfect strap for future patina.
The pull-up leather used in these straps showcases itself in pale white streaks that show over time.
The Grigio colorway is a mix of green, gray, and brown.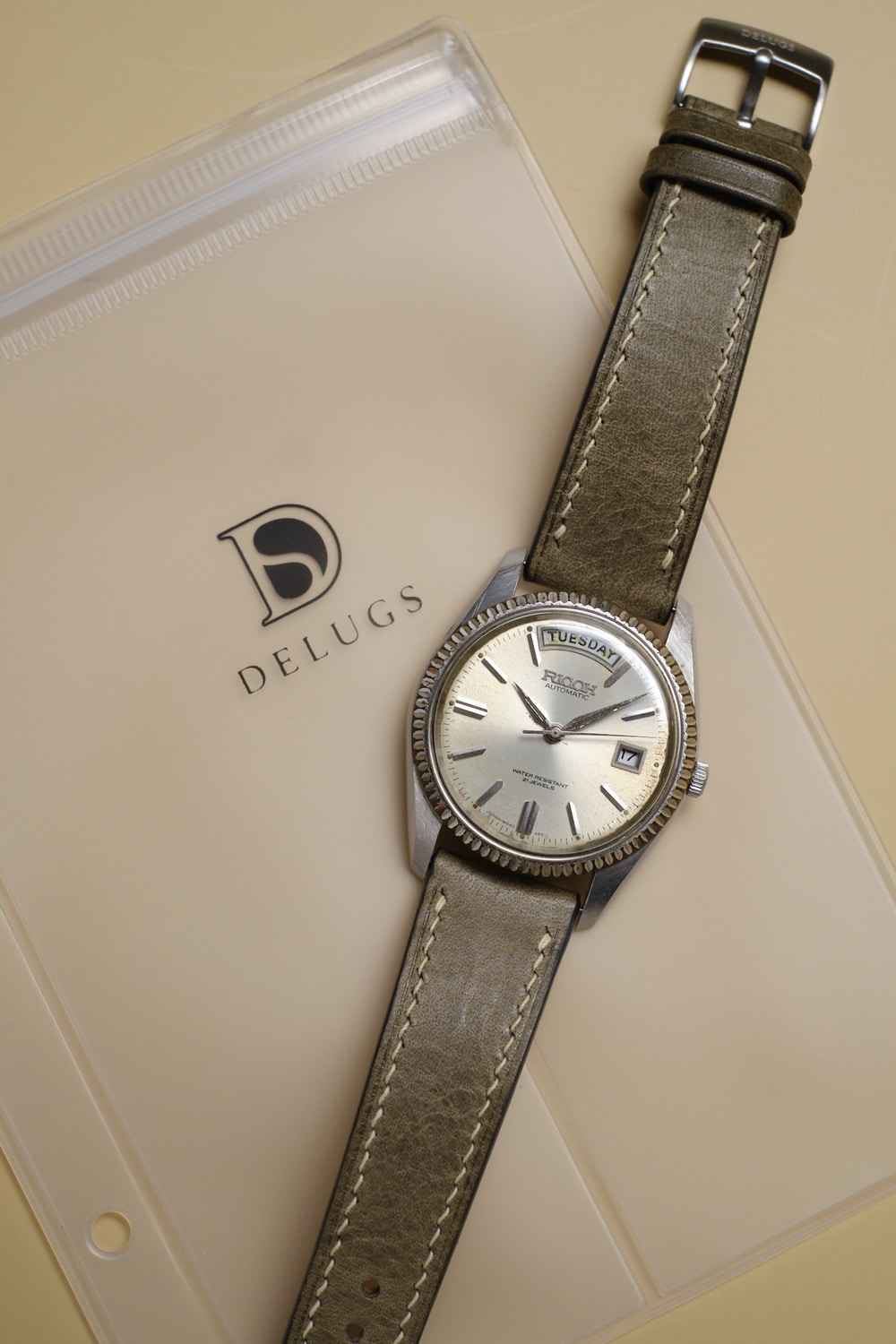 On the wrist, the colorway shines when paired with lighter dials along with dark blues.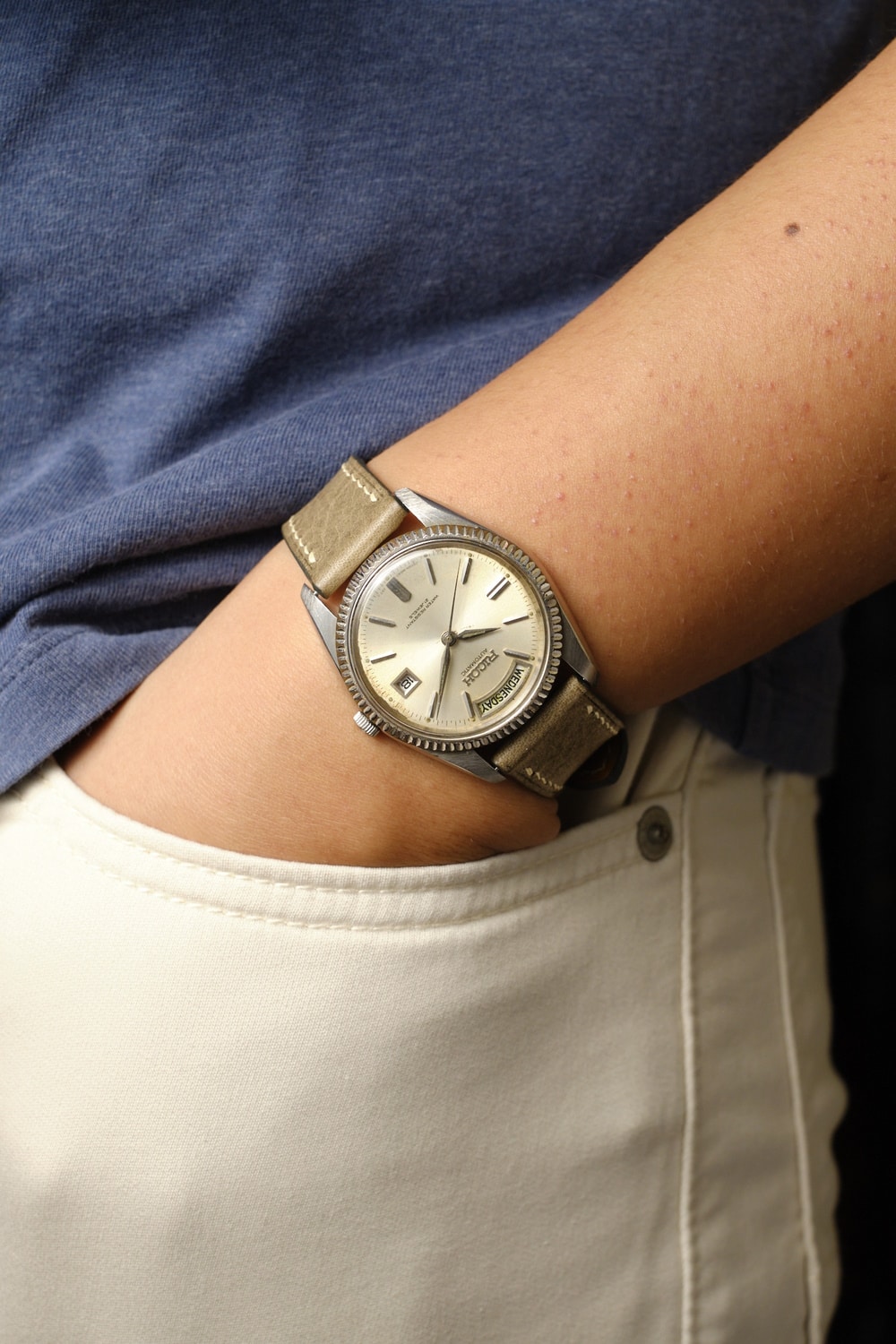 The Green colorway shaves off the mix of gray and brown and leaves just the dark green as the star of the show.
The green is deep while showcasing the textured finish of the Waxy leather. This strap works well with deep black dials along with creamy whites.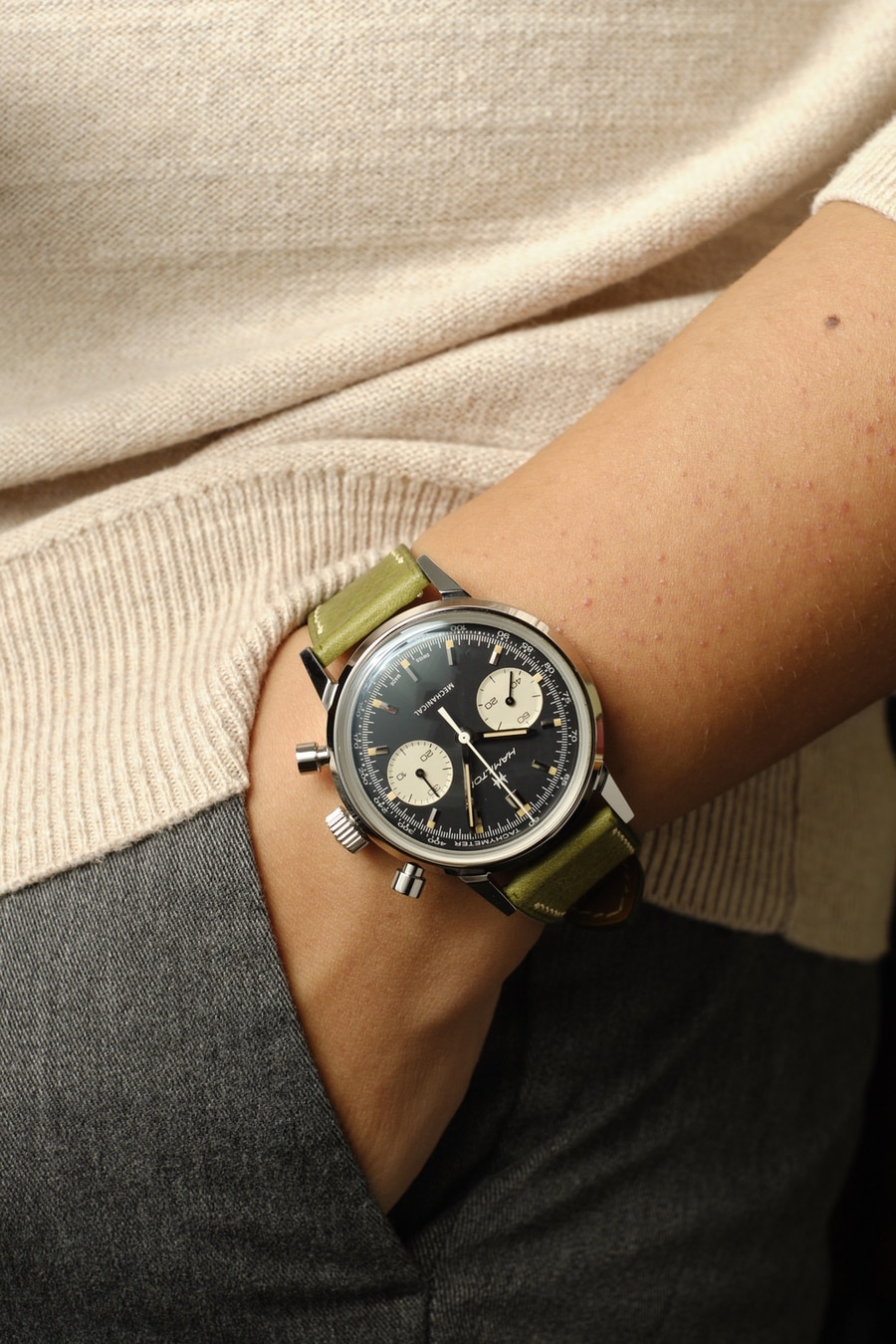 Both straps have cream-colored stitching on the sides with a cross stitch by the buckle. This adds a nice contrast to an already amazing colorway mix.
As with the Nubuck Slim Strap, the straps have an extra hole for tightening while leaving enough breathable space on my slender wrist.
Overall, this is one of the best-looking straps in the Delugs catalog, perfect for future patina and even scratches.
Navy Epsom Slim Strap
The last strap for review is the Epsom Slim Strap in Navy.
The first thing one notices with the Navy Epsom Slim Strap is the striking contrast between the navy and cream stitching.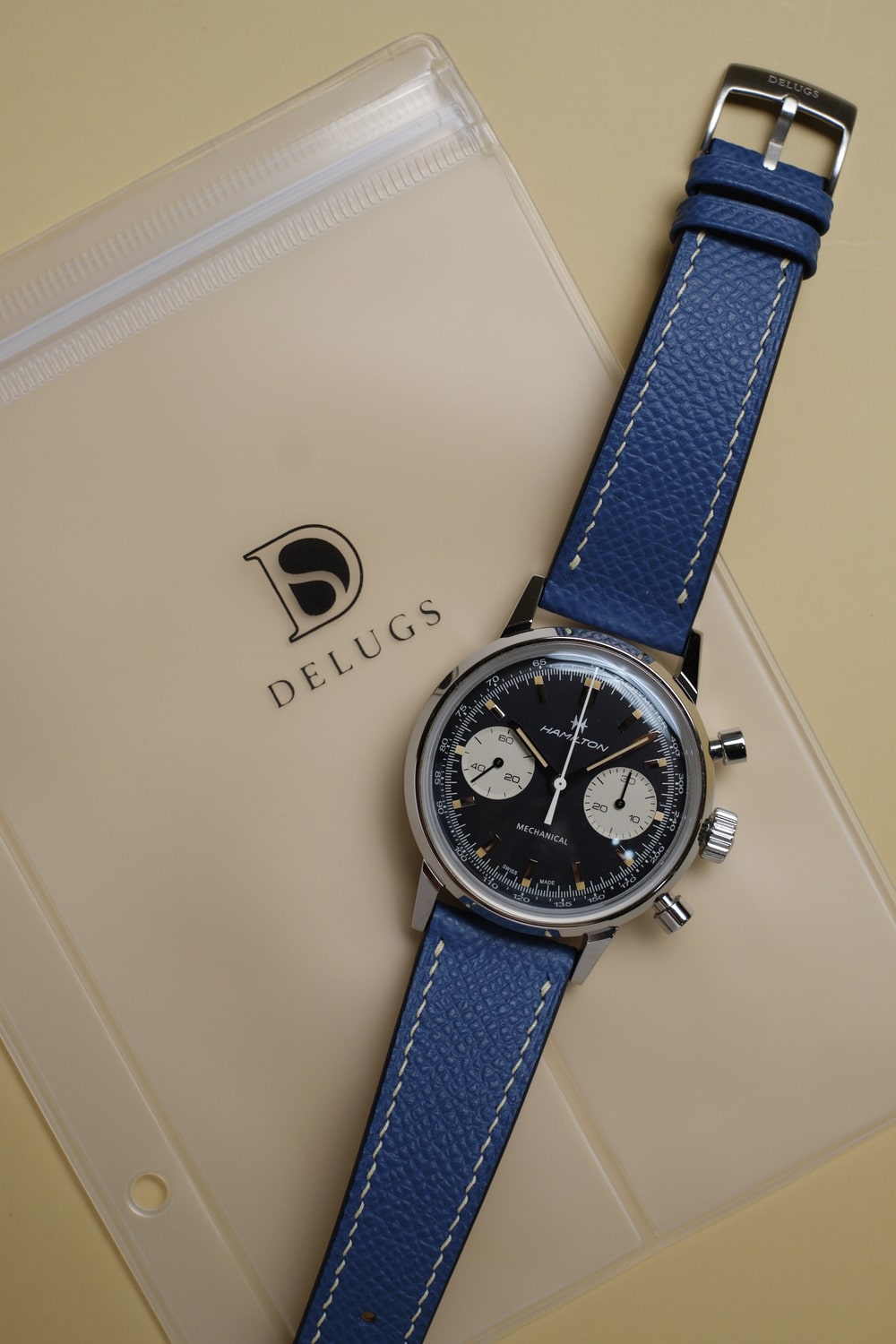 From light and dark dials to striking pastel dials, navy can jazz up just about any watch. Combine this with the cream stitching and you get a feast for the eyes.
The cream follows the perimeter of the strap and ends with a cross stitch by the engraved buckle.
On the wrist, the Epsom leather is supple and pliable. Wearing this straight from the packaging is no problem with how it forms on the wrist.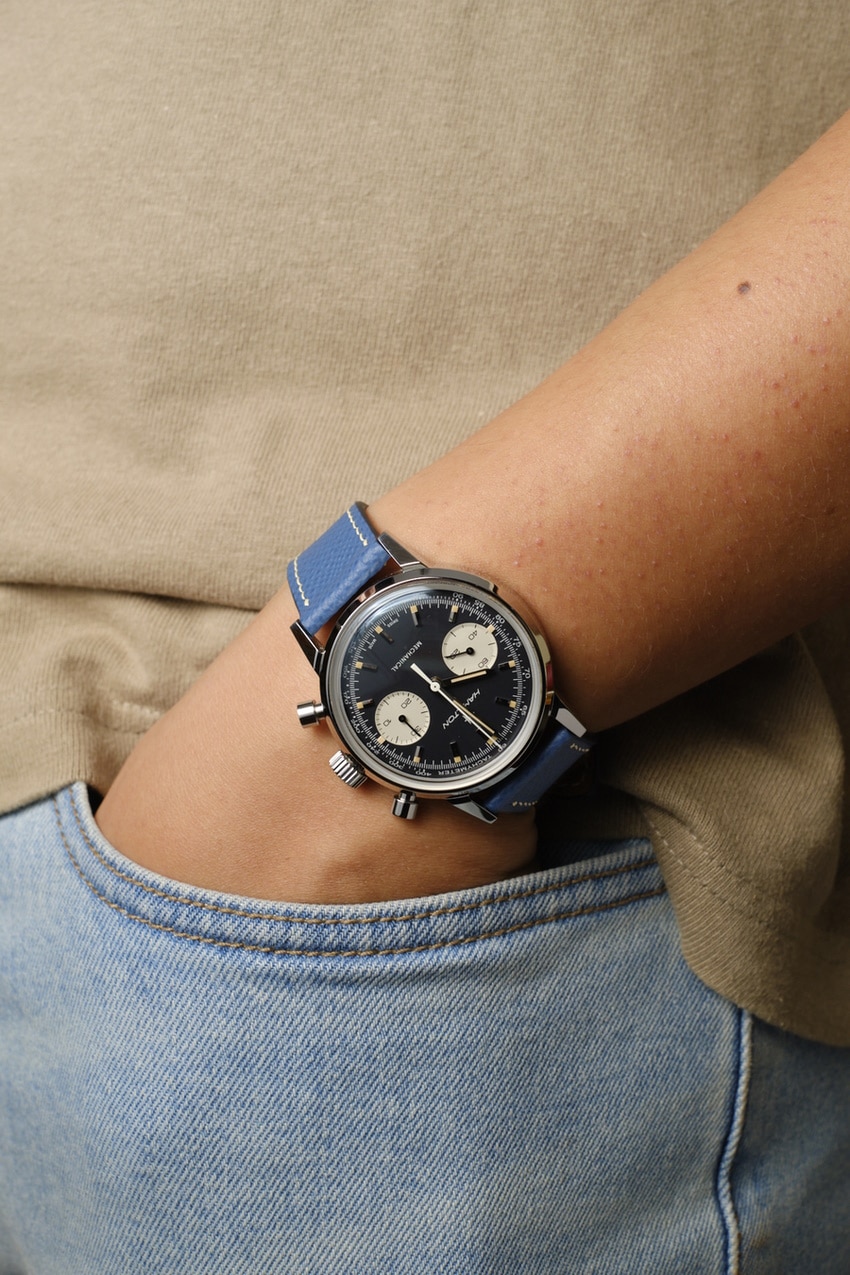 The leather sourced for this strap comes from the Tanneries Du Puy in France, the same tannery that supplies the Hermès brand.
The strap is water-resistant and more durable than the Nubuck Slim Strap. It will not patina as well as the Waxy Slim Strap, making this the strap for those who want to keep the original look.
Overall, if you want a strap that will last for a long time, then the Epsom Slim Strap is the one to get.
Conclusion
For over two weeks, the Delugs straps have been on my wrist every day.
The brand prides itself in being a strap store that caters to enthusiasts and it shows in their quality. From buying to finally owning the straps, the experience has been a blast every step of the way.
With their lifetime warranty and the ability to see your strap on different watches, Delugs made sure to make the process as seamless as possible.
Crafted from European leather, the straps are the epitome of craftsmanship and art.
However, before buying a strap, one should consider the price. At $95 a strap, Delugs markets its straps at a pretty high price compared to other strap suppliers.
This price is offset by the perks that they offer like their Strap Finder, Custom Strap Builder, lifetime warranty, and amazing packaging. Personally, the strap cost walks the fine line between being a bit too expensive and being worth it.
Overall, Delugs is bringing its A-game in the realm of high-quality crafted watch straps. If you're willing to pay the higher price for their extra benefits, then their straps are surely worth it.
Questions? Comments? Leave them below!