Interested in the Timex Camper 36mm? Here's our hands-on review of this inexpensive field watch.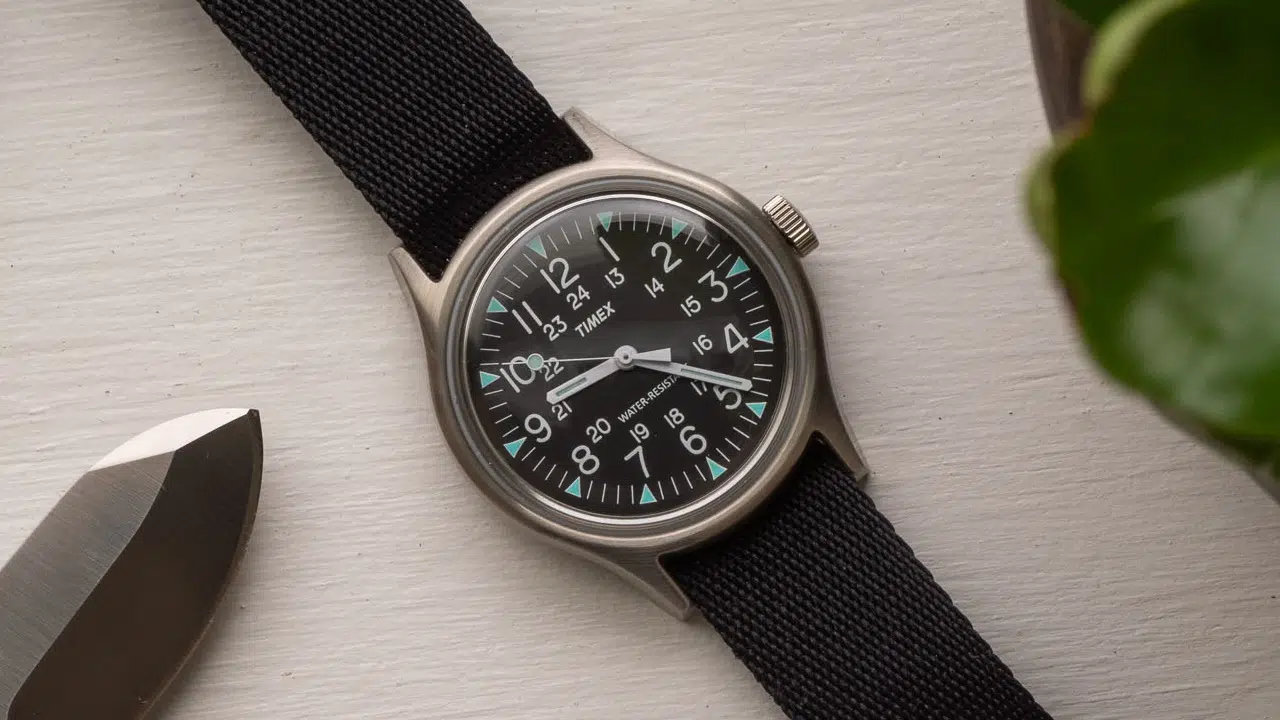 Interested in the Timex Camper 36mm? Here's our hands-on review of this inexpensive field watch.
If you're looking for a budget-friendly field watch that looks great on smaller wrists, the Timex Camper is hard to beat.
This watch costs around $50 new, which makes it one of the most affordable field watch options out there. It's got a great vintage look, and because it's a Timex, you can rest assured that it'll last for a long time.
If that's piqued your interest, keep reading to learn more about the Timex Camper.
Timex Camper 36 Overview
The Timex Camper 36mm TW2R58300 is a recreation of Timex's original Camper watch, which came out in the early 1980s.
This redesign stays pretty faithful to the original, especially in terms of aesthetics. Like many vintage field watches, the Camper is on the smaller side, which makes it a good choice for slender wrists.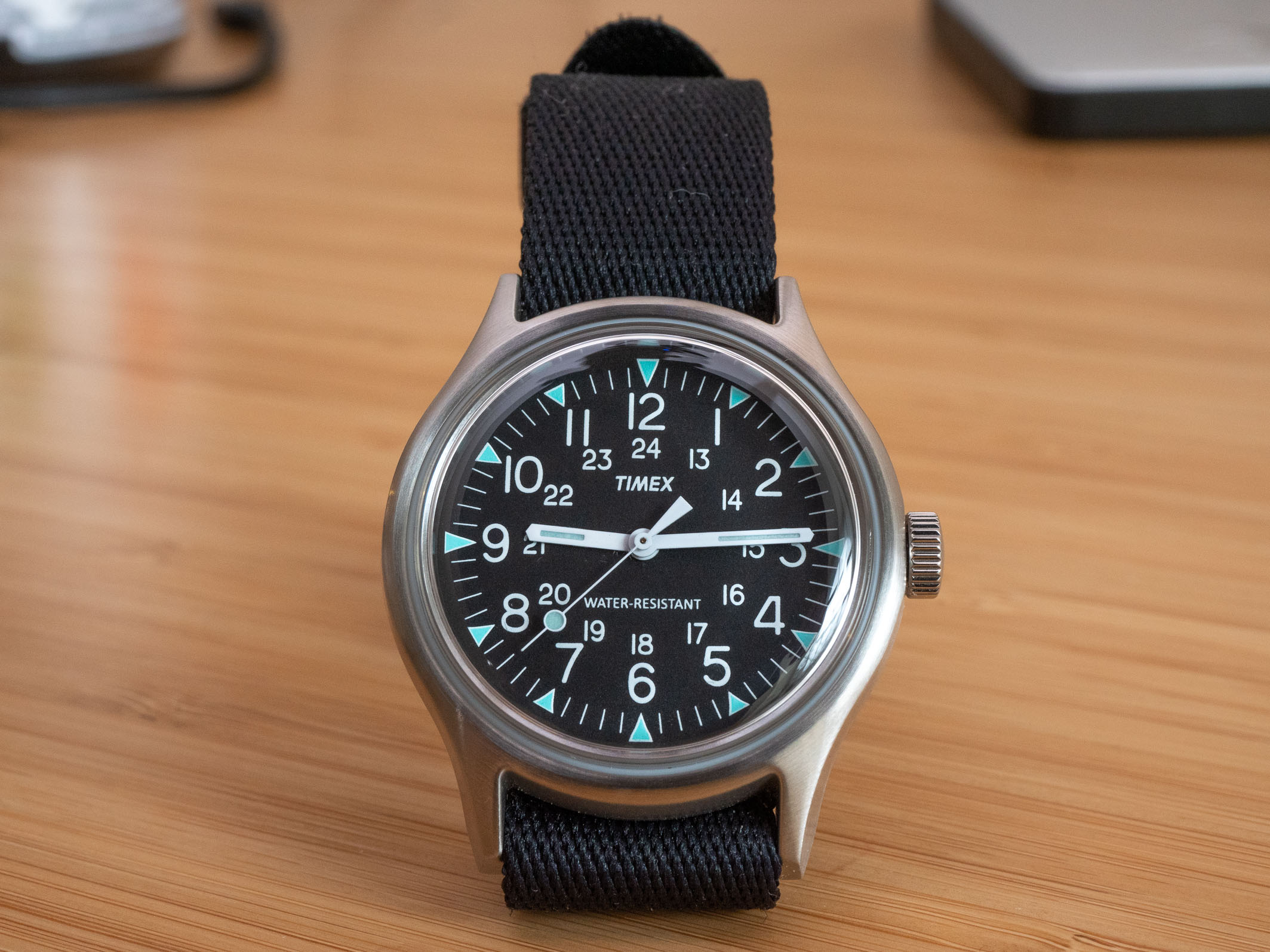 The Camper can usually be found for around $50, though you can sometimes find it for even less than that. The typical market price ranges from about $40 to $60.
Thanks to its affordability, the Camper is an excellent entry-level field watch, and it also makes for a great gift.
Timex Camper Dimensions
Here are the full dimensions:
Case diameter: 36mm
Case thickness: 10mm
Lug to lug: 43mm
That lug to lug distance means that the Camper does wear a bit more like a 38mm, but it still looks great on small wrists.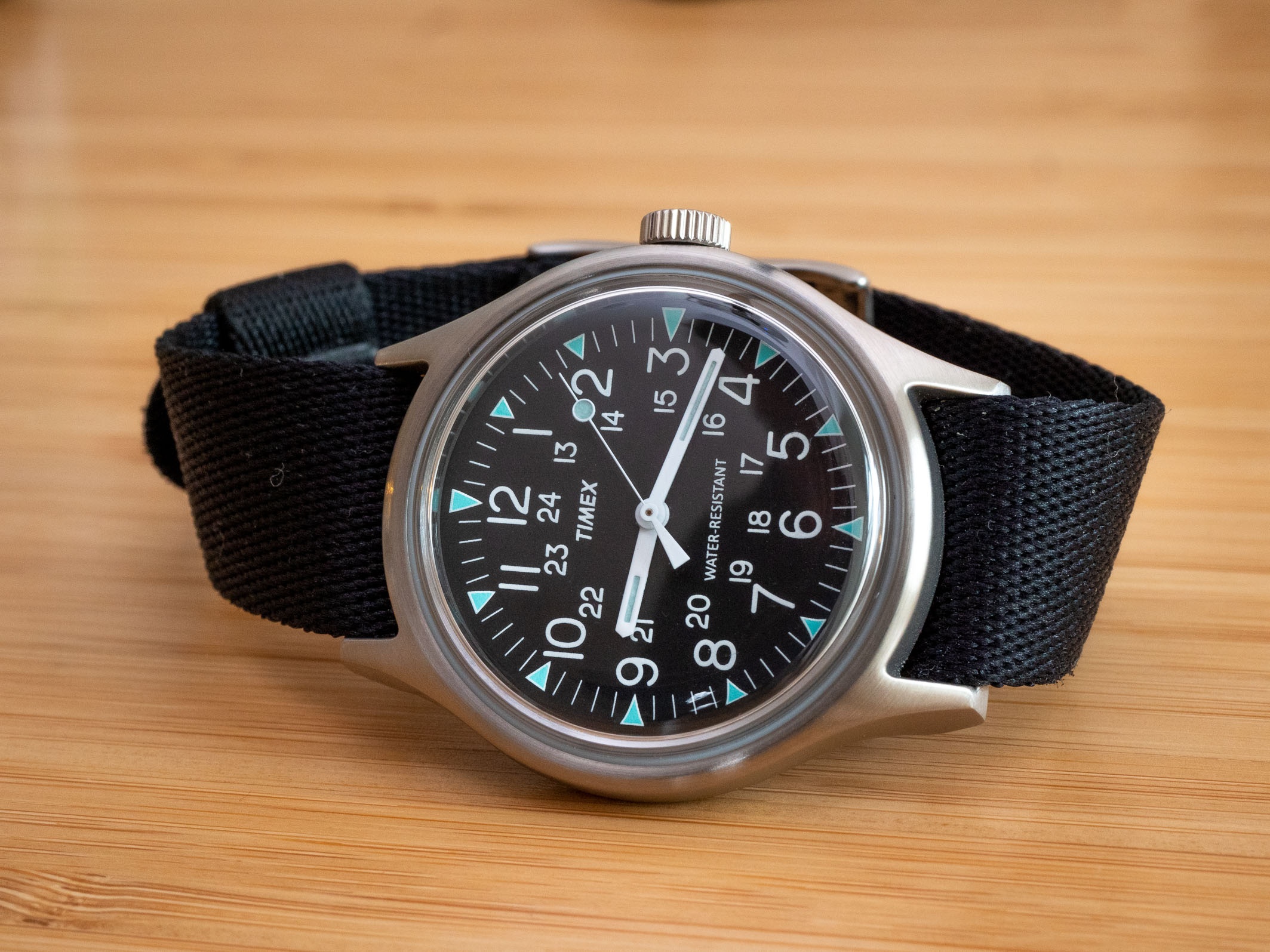 The 36mm size strikes a nice balance between being easy to read and not taking up too much space on the wrist.
If you've got wrists that are 6.5" or smaller, this watch will be a great fit for you.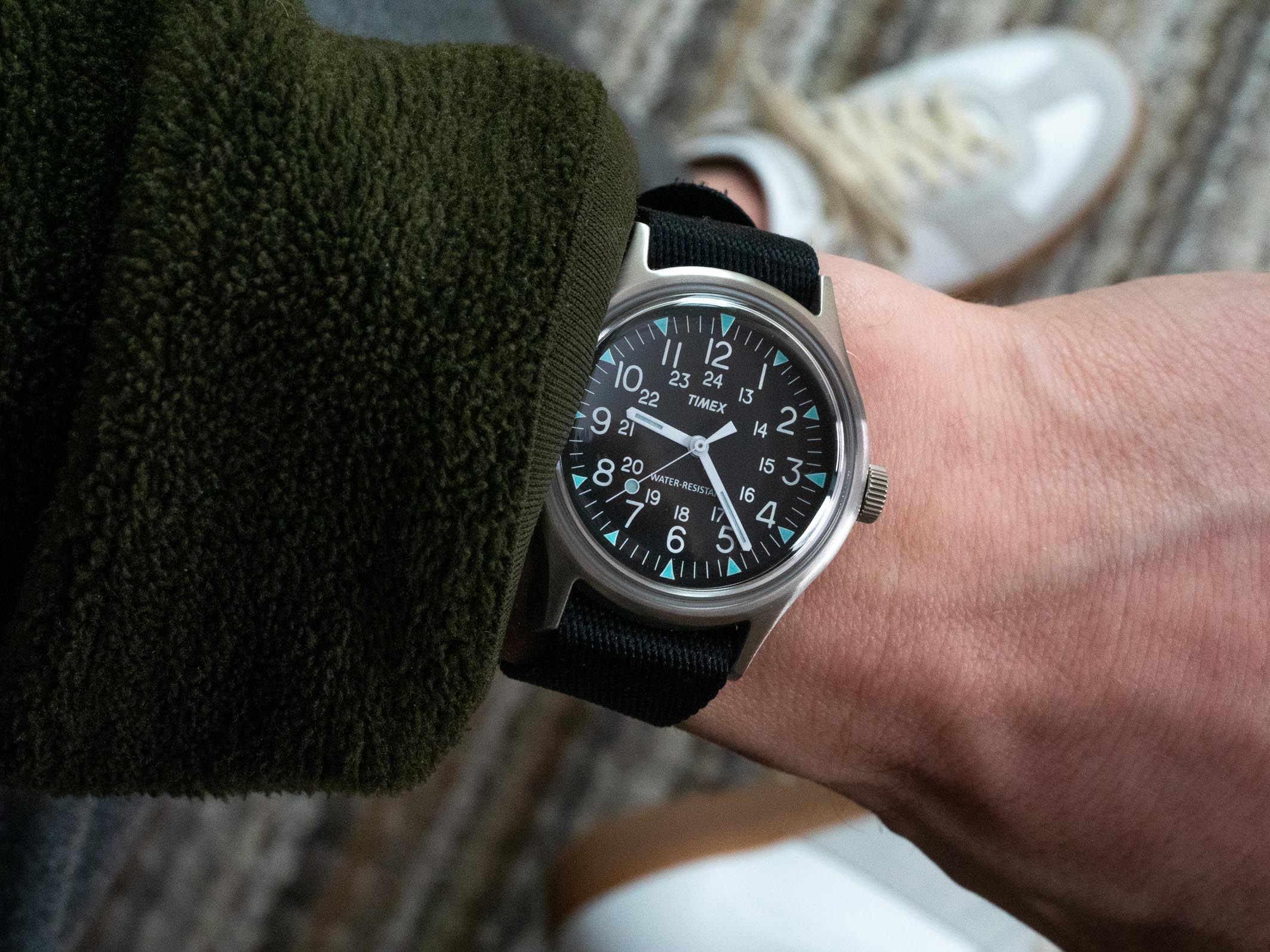 If you're above 7", it might feel a little small.
Timex Camper Movement
The Camper uses a standard battery-powered quartz Timex movement. At the time of this writing, no automatic option is offered.
Timex Camper Specs
The TW2R58300 has a stainless steel case, domed acrylic crystal, and an easy-to-read dial with secondary 24-hour markings.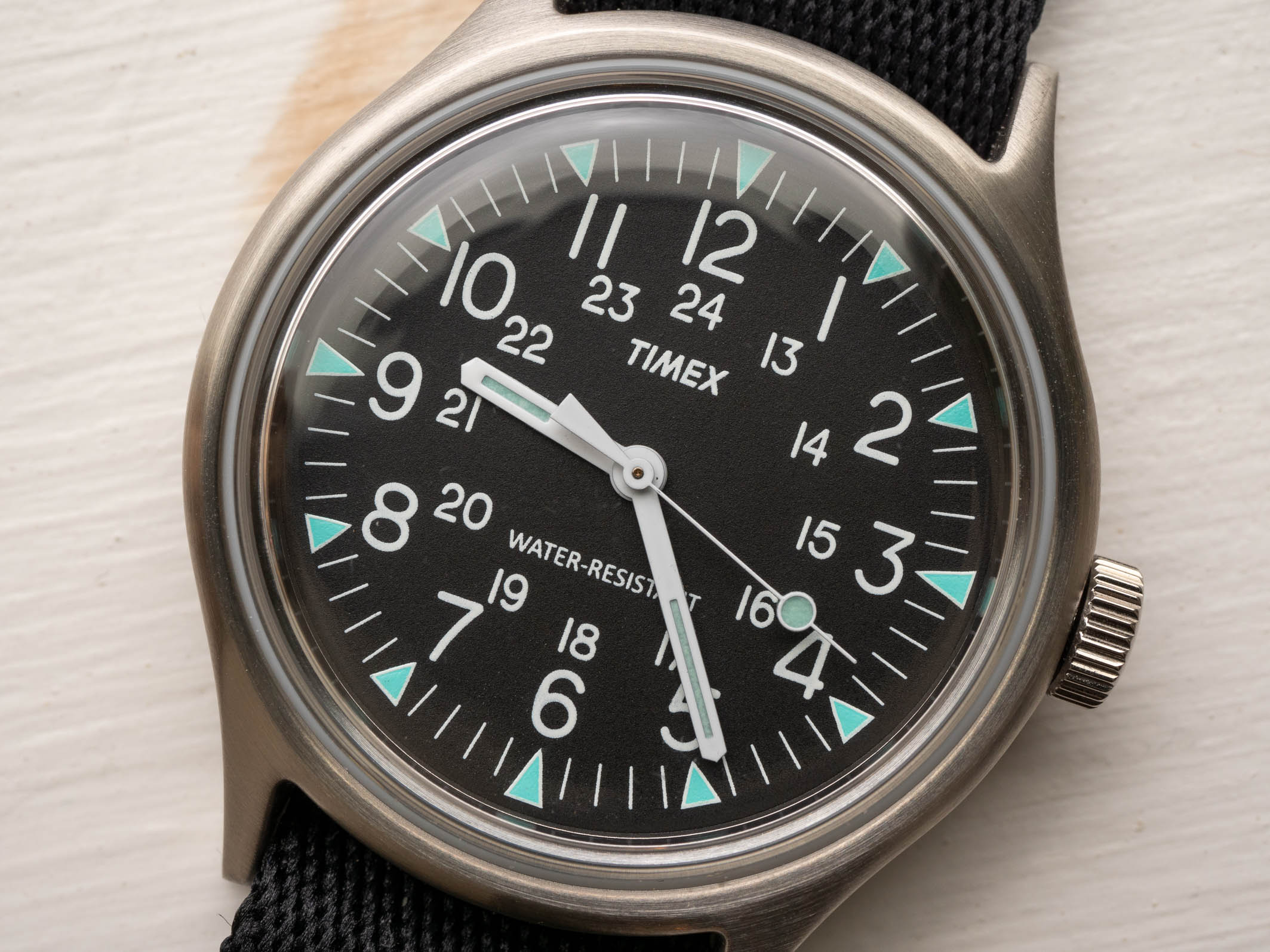 It weighs in at 16 grams, and it has a fairly standard 30 meters of water resistance.
Staying true to vintage field watch specs, the Camper has fixed lugs, so you're limited to pass-through straps.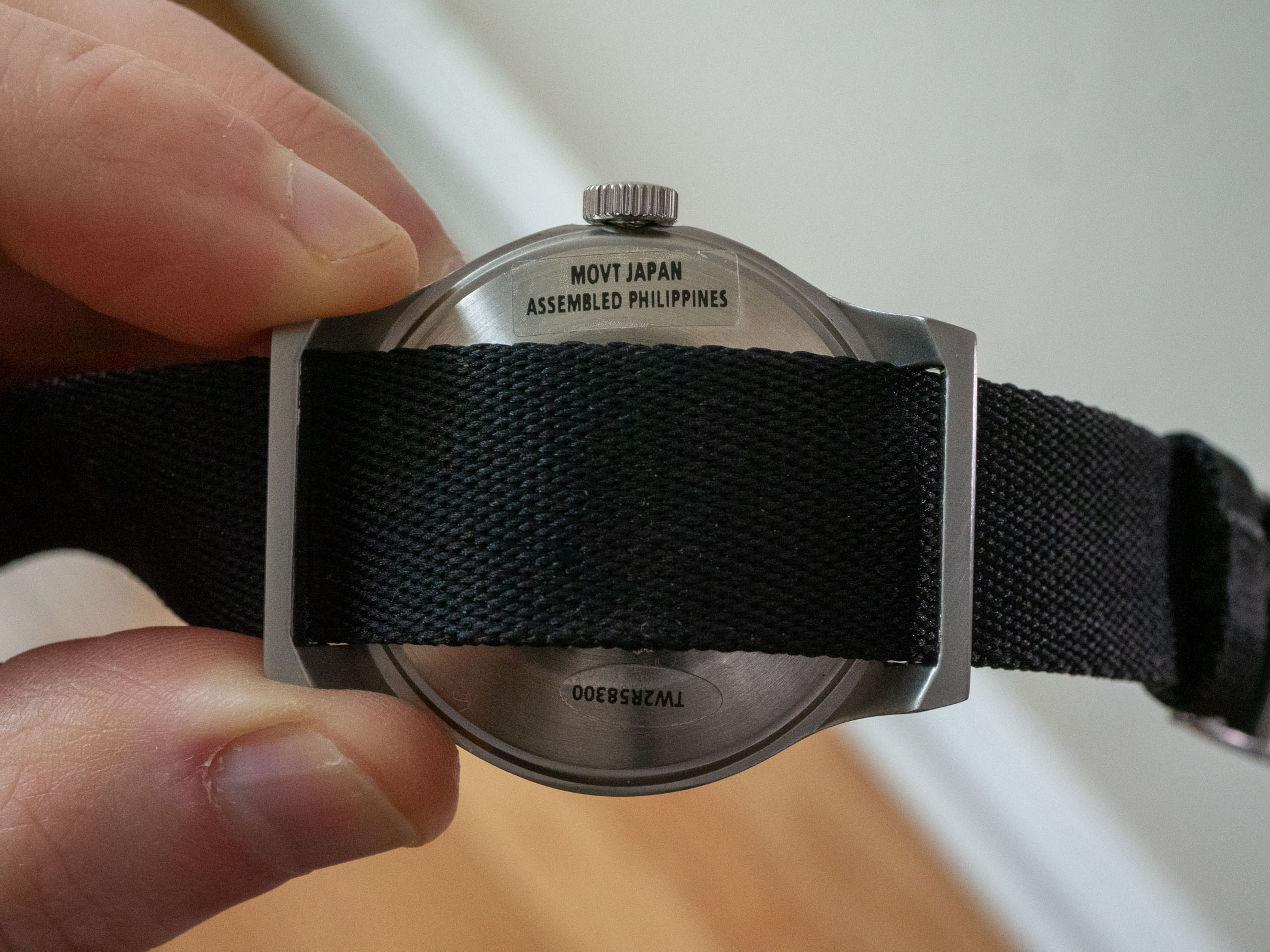 This might seem limiting at first, but since field watches and NATO straps go together like peanut butter and jelly, this isn't that big of a deal, in my opinion.
You can always opt for a leather NATO if you want something that looks more like a two-piece strap.
But if you absolutely can't stand the look of pass-through straps, this will probably be a deal breaker for you.
Design & Style
The Timex Camper 36 is a field watch through and through. It's clearly inspired by military watches, and it has a ton of vintage charm.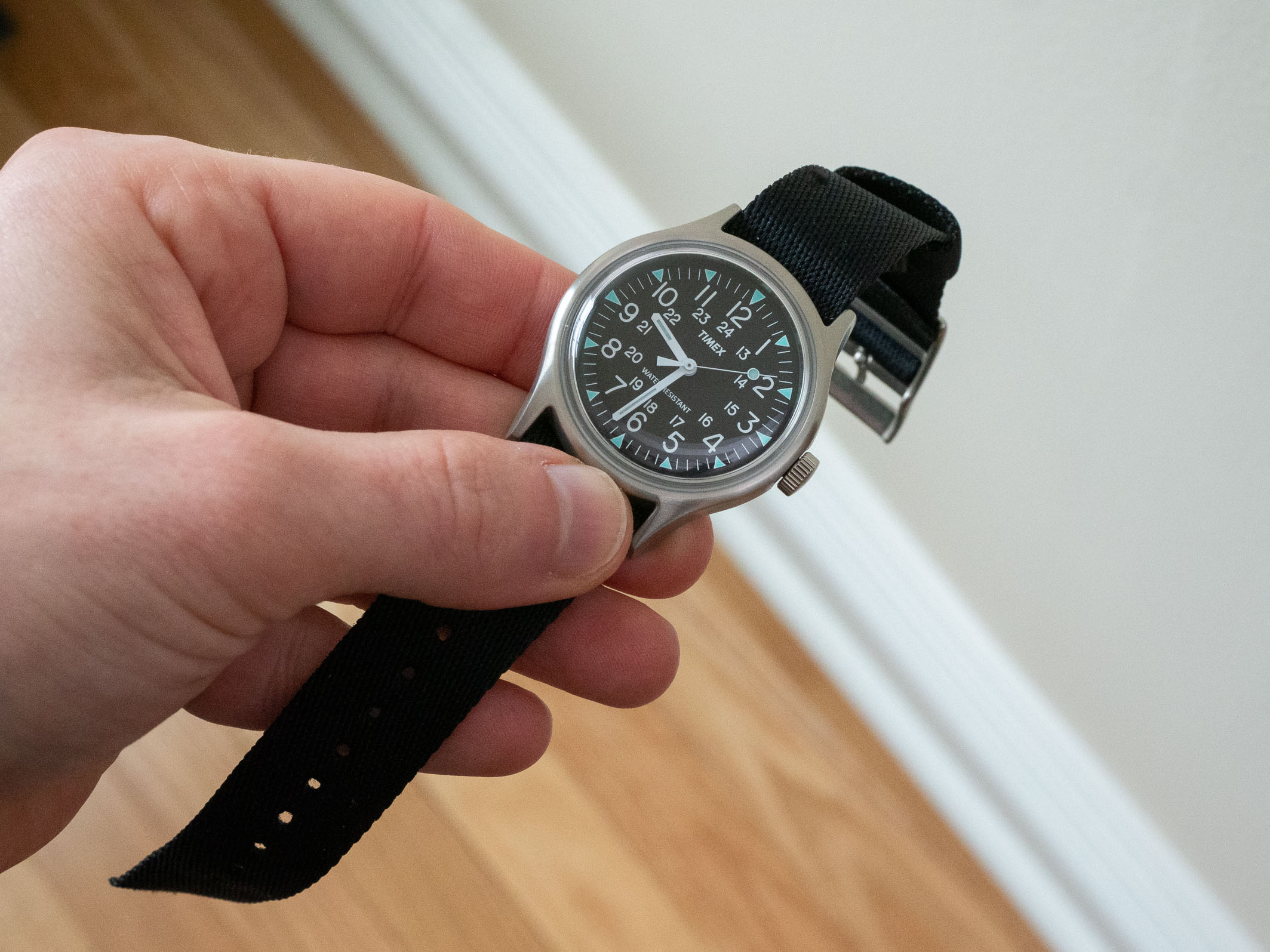 It really feels like something out of another era. It's easy to imagine this watch on the wrist of a WWI soldier.
That retro feel is one of the biggest selling points of this watch for me. This is a simple, utilitarian watch with a rugged yet classy look.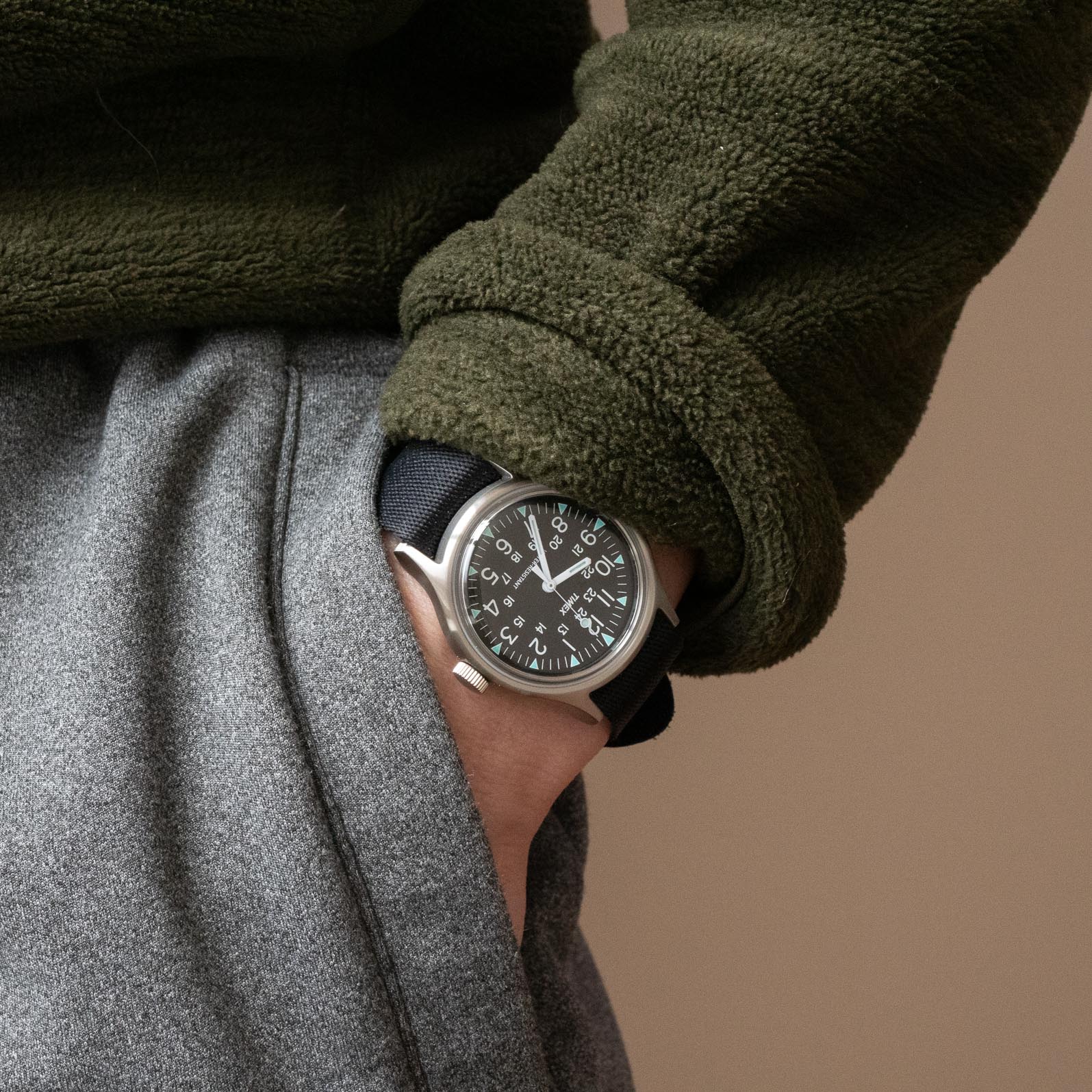 It's really hard to go wrong with the design of the Camper. While this watch is lacking in some areas, style certainly isn't one of them.
Room for Improvement
Of course, the Timex Camper 36 isn't a perfect watch. After all, this is a $50 quartz watch, so it's not going to be as nice as a $500 automatic.
Most of the Camper's negatives are what it lacks. It's not automatic, and it doesn't have a nice sapphire crystal. At this price range, those are compromises you have to make.
The fixed lugs are probably the biggest downside of this watch.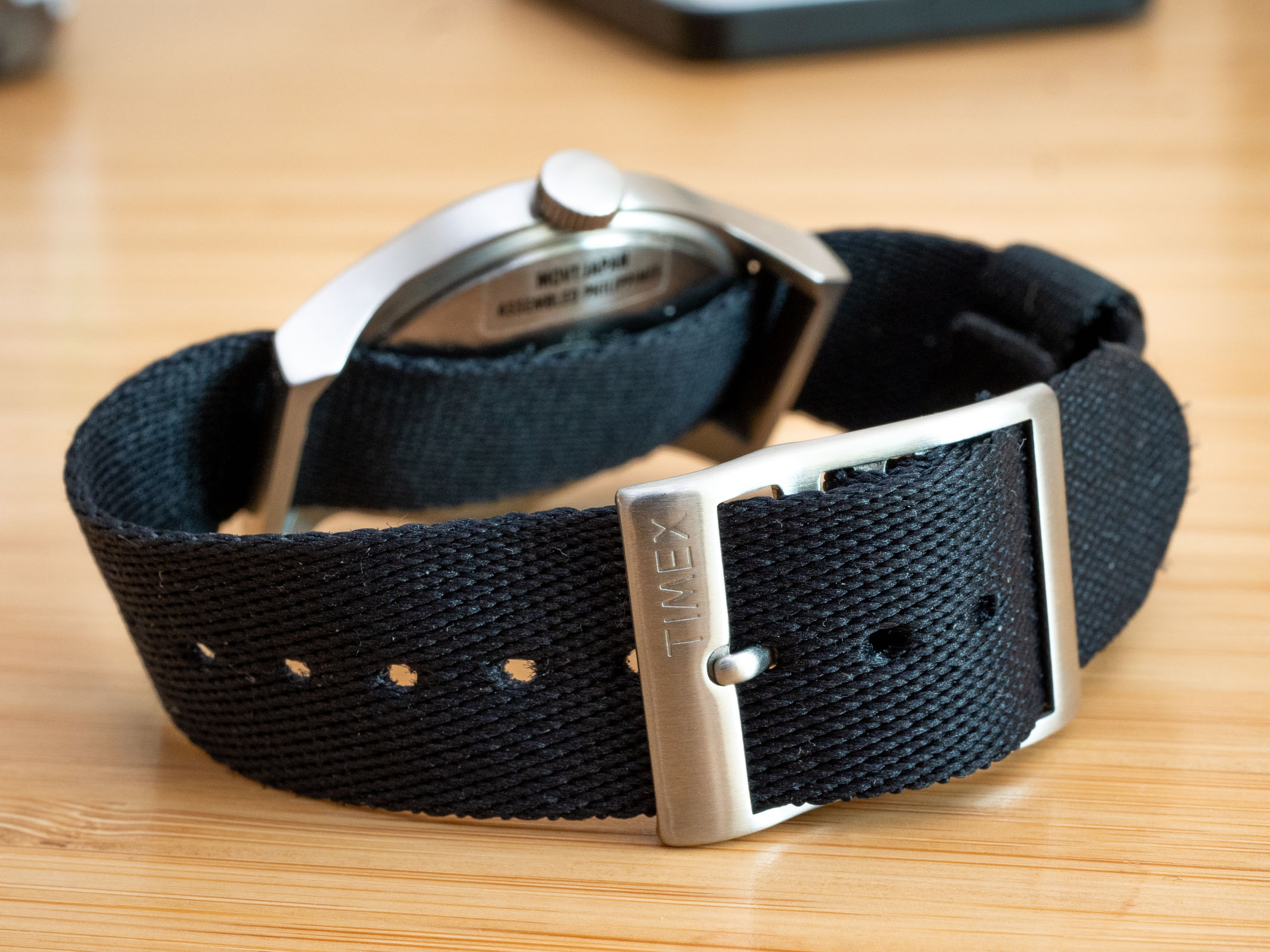 While the Camper looks great on a NATO, it'd be nice to have the option for a two-piece.
It does lack a date complication, but that's something you don't see on a lot of field watches anyway.
All in all, this is a $50 watch, so it's not going to have a crazy feature set.
You get a lot for your money, but you're not getting a high-end watch by any means. If you're looking for better features, you'll need to up your budget.
Questions About the Timex Camper 36
Here are the answers to some common questions about the Camper 36.
Is the Timex Camper 36 Mechanical?
No. Right now, the Camper is only available with a quartz movement.
Is the Timex Camper 36 Water Resistant?
The Camper 36 has 30 meters of water resistance, which means it can survive light splashes. This is not a watch you'll be able to swim with.
How Loud Is the Timex Camper 36?
While some Timex watches are notorious for their loud ticking, the Camper 36 is relatively quiet and does not have the dreaded "Timex tick" issue.
Is the Timex Camper 36 on Amazon?
Yes, although it goes in and out of stock. You can check availability on Amazon here.
Are the Timex Camper and Timex Expedition Camper the Same?
No. There are a few Timex models that use "Camper" in the name, but the reference for this particular watch is TW2R58300.
What Are Timex Camper 36 Alternatives?
If you're looking for an automatic alternative to the Timex Camper 36, I recommend the Seiko SNK809. It's slightly more expensive, but it has a similar style, and you get the upgrade to an automatic movement for relatively cheap.
My Recommendation
The Timex Camper 36 is a solid retro field watch that's hard to beat for the price. If you're into the aesthetic, then this is basically a no-brainer.
Overall, I've enjoyed wearing this watch, and I recommend it to anyone looking for an inexpensive yet well-built field watch.
Questions? Comments? Leave them below!