Considering a Swiss watch? You're in the right place. We've rounded up the best Swiss brands you can buy from right now.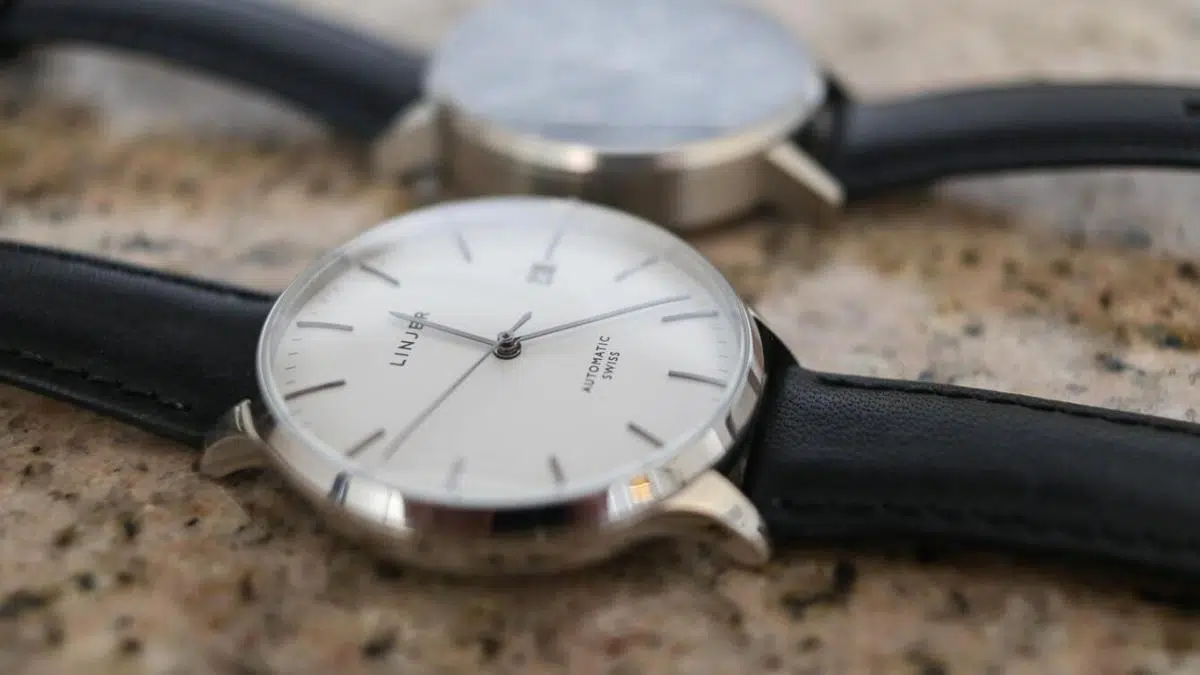 Considering a Swiss watch? You're in the right place. We've rounded up 20 topnotch Swiss brands, all slender wrist friendly, and at a range of price points.
Horology's deep historical roots in Switzerland has made the "Swiss made" moniker highly coveted in watch collecting. Patek is an auction house darling, while Rolex is the most recognized watch brand in the world.
These brands, and many like them, are objectively high-caliber, undeniably artisanal, and historically important.
However, not all Swiss brands are manufacturers of seemingly unattainable timepieces. Some serve as mid-priced brands for a bigger watch group, allowing for Swiss craftsmanship at lower prices. Brands like this are similar to a fashion diffusion line, but better.
Often, they were their own brand with their own history before being adopted. And at least for the ones we've included here, they've kept their unique brand identity.
The brands in this roundup represent a gamut of price points. Whether they're high-priced Swiss hard-hitters or budget brands, each select has something unique to offer.
The Best Swiss Watch Brands
Here they are, in no particular order!
Tissot
Tissot is a Le Locle original dating back to 1853. Unlike other Swiss heritage brands that've remained affordable, Tissot managed to stay in Switzerland. Of course, having been adopted into the powerful Swatch family helped make this possible.
I like to describe Tissot by comparing it to its most famous wearer in pop culture: James Stewart in Rear Window. Just as Sean Connery's aspirational glamour captured the Rolex brand, Stewart was an everyman.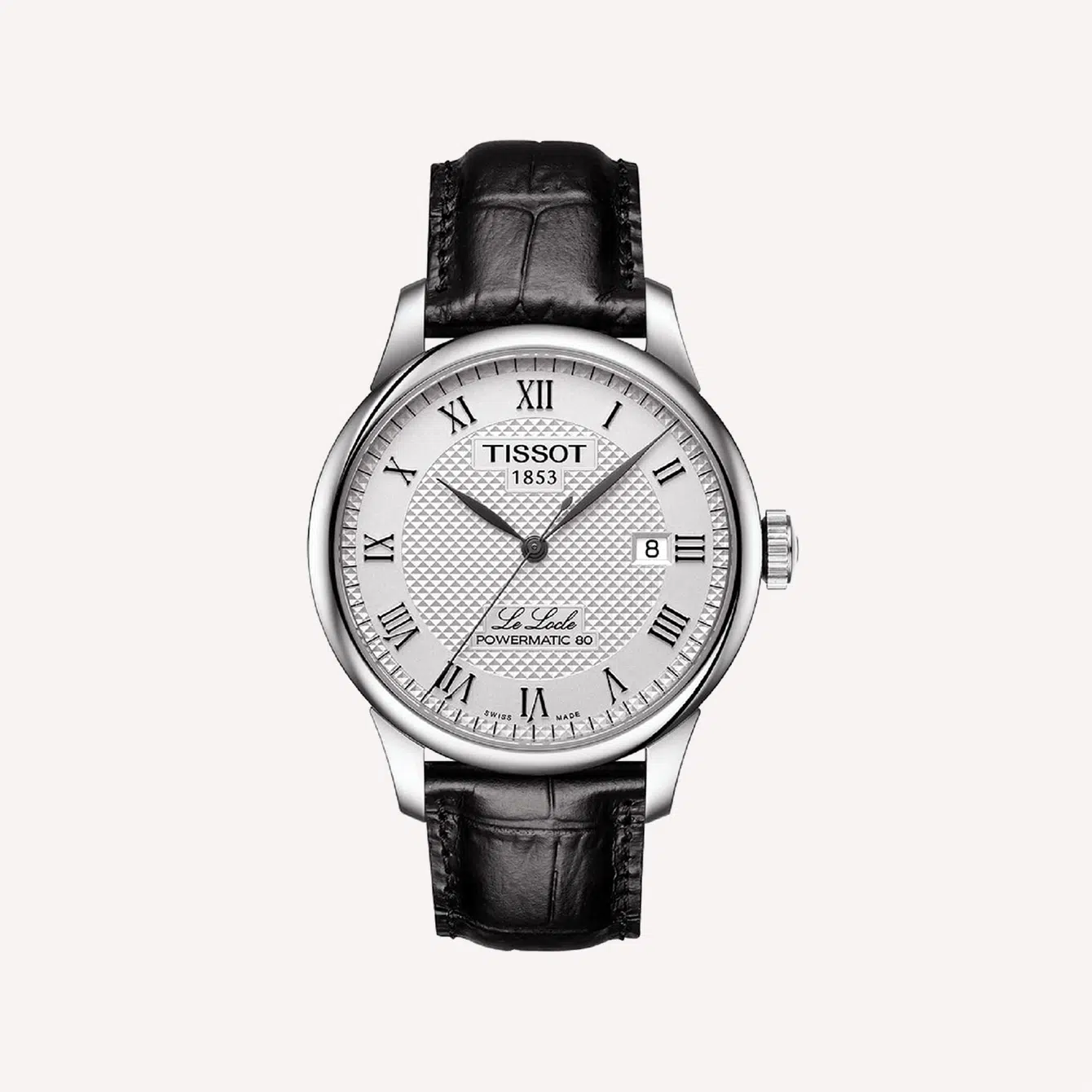 Tissot is esteemed but attainable. For Tissot fans and rare watch collectors alike, the unsolved mystery of Stewart's referenceless Tissot also adds compelling lore to the brand.
Overall, Tissot is a good entry-level Swiss brand. They have great design value and they offer a range of movements, from cheap quartzes to their own mechanicals.
Being part of the massive Swatch Group gives Tissot the benefits of economy of scale, so they're able to serve up the Swiss Made logo at low costs. I'm not saying there's zero cut corners here, but the Swiss label is legally protected.
And of course, less shortcuts are taken with their higher-end models than their affordable ones (applied logos vs printed logos, as one example).
At 39mm, the Le Locle is an elegant dress watch that suits most wrists. It's equipped with a Swiss automatic movement and a sapphire crystal.
Design-wise, the pale silver face features beautiful patterning on the center dial that reappears at the edge of the dial and stately Roman indices.
Dimensions: 39mm diameter, 9mm thickness
Case material: Stainless steel
Water resistance: 30m
Glycine
Founded in 1914, Bienne-based Glycine was highly favored by the military and commercial pilots in the 1950s. Glycine is definitely niche in the general market, but if a watch brand can boast patronage from the military and pilots, that means they're serving up quality timepieces.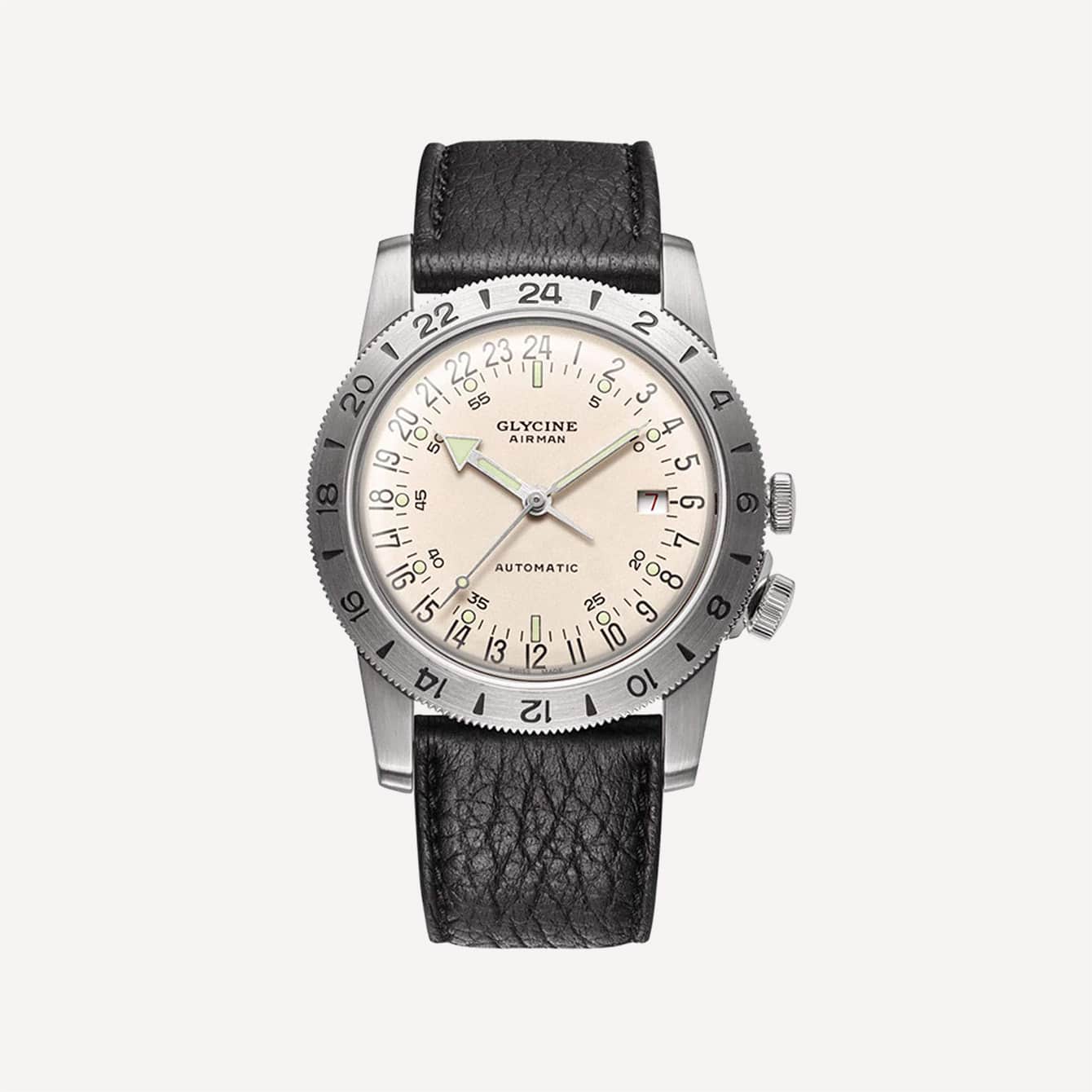 Glycine isn't heavily sought after by the high-end watch collecting world, though a vintage Airman will occasionally make its way into a Sotheby's or Christie's catalog. Fans of the brand and those who collect pilot watches specifically are a devoted base.
Even if you don't fall into either of these categories, you may want to consider Glycine if you're looking for a high-quality, reasonably-priced Swiss watch that few others wear.
The original Airman watch debuted in 1953, becoming a flagship of sorts. Air Force pilots wore this reliable watch during the Vietnam War. Glycine never stopped making the Airman line, though in 2014, they released a reissue of the original.
The Airman No.1 line comes in a few variations and colorways, including a 36mm version.
Dimensions: 36mm diameter, 11.9mm thickness
Case material: Stainless steel
Water resistance: 100m
Mondaine
Yes, you can find Mondaine at your local Costco, but they have the distinct flex of laying claim to an immediately recognizable design. That's admittedly 100% what you're paying for. That being the case, you aren't paying much. If you love the Swiss Railway Clock look of Mondaine, there's no reason not to pull the trigger.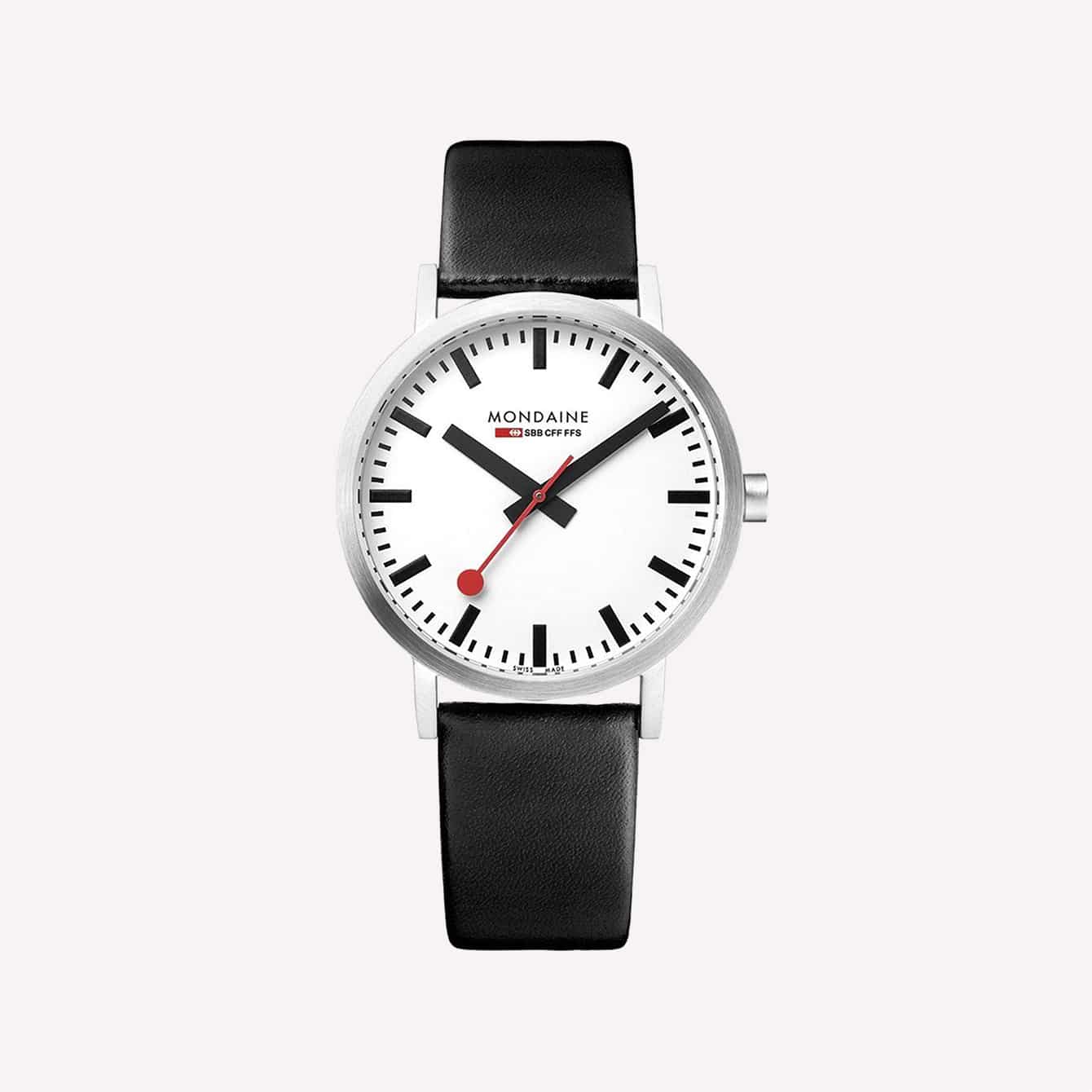 I'd say that even their affordable core line is a step up from a "fashion brand." In fact, out of the bigger Mondaine-Luminox group, the M-WATCH label is the official fashion brand.
Launched in 1986, Mondaine watches are actually officially licensed by the Federal Swiss Railways, so they have this officialness that you don't get from your typical mall brand.
The quality isn't bad for what it is, on par with the Timexes and Swatches of the world. They'll last you a good four years, and they're as accurate as any standard Swiss quartz watch.
The 36mm quartz version is standard, reliable, and sports an unremixed version of the iconic look.
Dimensions: 36mm diameter, 8mm thickness.
Case material: Stainless steel
Water resistance: 30m
If you want something less boilerplate and more complex, there are higher-level automatics like the 40mm Big Evo. On the quality front, I'd say that these watches are on par with automatic Seikos (mineral crystals, exhibition casebacks).
They're more expensive though, and again, you're paying extra for the aesthetic. If you do love the Swiss Railway look though, it's great that Mondaine gives you a range of options to weigh out.
Oris
Based in the postcard-worthy Swiss village of Hölstein, Oris was founded in 1904. They're the lower-cost premier Swiss brand, building only mechanicals, and invoking simple, vintage silhouettes.
They've built about 230 fully in-house movements, though in recent years they've been using Swiss ETA and Sellita as bases. In 2014, they built the highly-regarded 110 movement, which may signify a gradual return to building from scratch.
Regardless, Oris is the perfect example of a premium Swiss watch brand that's a fraction of the cost of the hard-hitters. Any watch collector who cares predominantly about horological chops will likely hold Oris in high regard.
Some may say that Oris is overdoing it with the Diver Sixty-Five models. On the bright side, building a lot of slightly different versions of the same line lays fertile ground for potential investment value with a moderately-priced buy-in.
The 36mm Oris Divers Sixty-Five is remarkably straight-forward. Its lack of crown guards gives its silhouette a vintage look that doesn't overtake your wrist. The entire aesthetic is classic but playful, and sophisticated but wholly unstuffy. It runs on the Oris 733 automatic movement, based on the reliable and accurate SW 200-1.
Dimensions: 36mm diameter, 11.5mm thickness
Case material: Stainless steel
Water resistance: 100m
Victorinox
Victorinox watches are a staple in the army watch world. Coming from the same company that makes Swiss Army Knives, these watches are equal parts timepiece and EDC gear.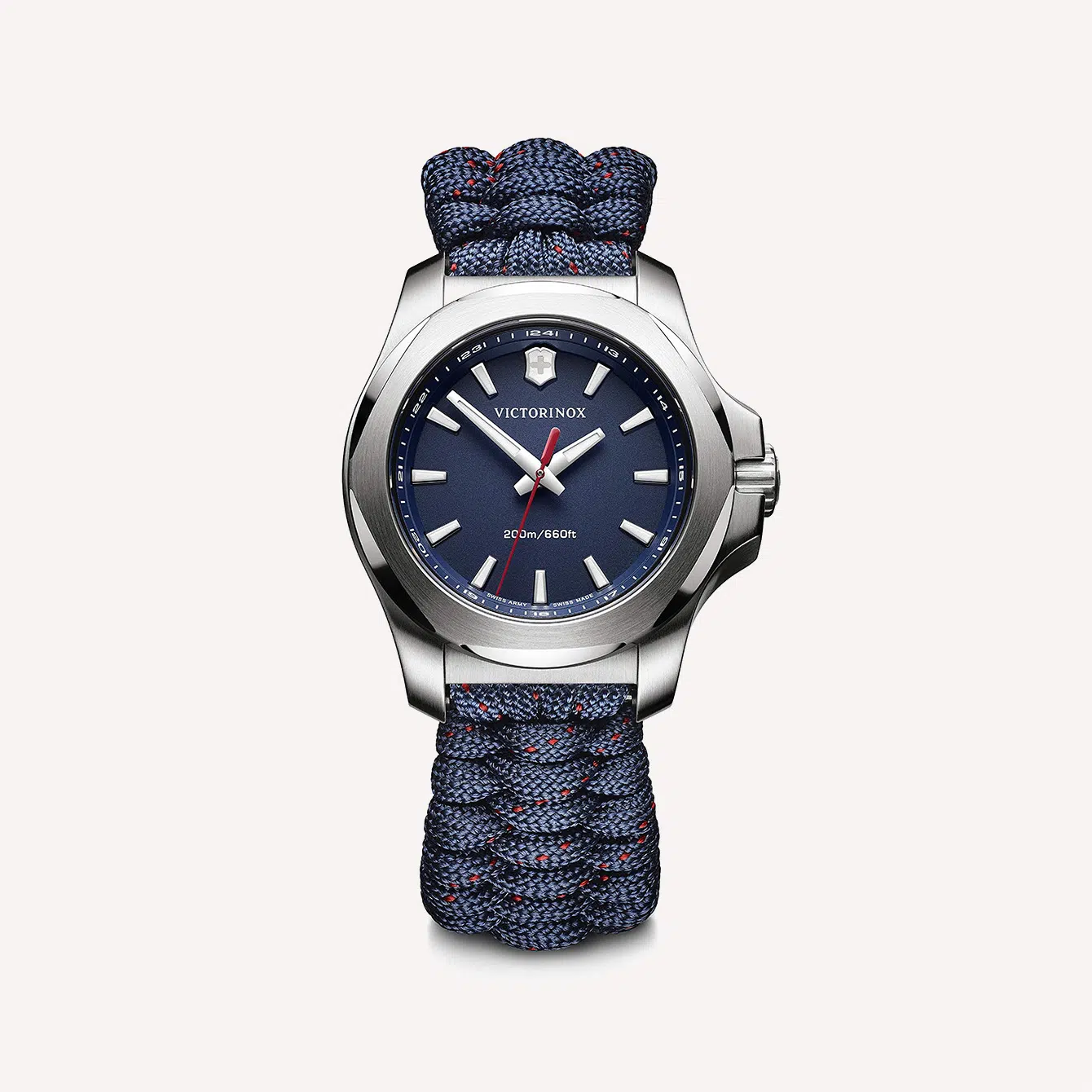 That being the case, they are indeed built in a practical and useful way, even if they lack deep horological complexity. This makes them similar to Glycine, but they have more modern, sleek-looking, and no-nonsense offerings -though they aren't without their charm!
The caveat with Victorinox is that their smallest men's watches don't go below 40mm. Controversially, I don't really believe in "men's" and "women's" watches for the most part.
At any rate, there's nothing conventionally feminine about most of their ladies watches, and they'll give you a wider range of sizes. Even those of you with bigger wrists might want to consider ladies sizes, since Victorinox watches are already so robust.
The blue 37mm Victorinox INOX is put through 130 durability tests. It features a compelling case too, a hexagonal cutout placed on a round platform.
I think the paracord strap adds a rugged and fun contrast, but you can definitely pair it with a stainless steel bracelet if you want something more slick looking.
Dimensions: 37mm diameter, 13.8 mm thickness
Case material: Stainless steel
Water resistance: 200m
Tag Heuer
Known for being a sports watch brand, Tag Heuer has a lot of feathers in its cap. They were an Olympic timekeeper in the '20s, they introduced the first dashboard stopwatch, and they were chosen as a partner for the Porsche Formula E team. Naturally, the sport Tag Heuer is now most associated with is auto racing.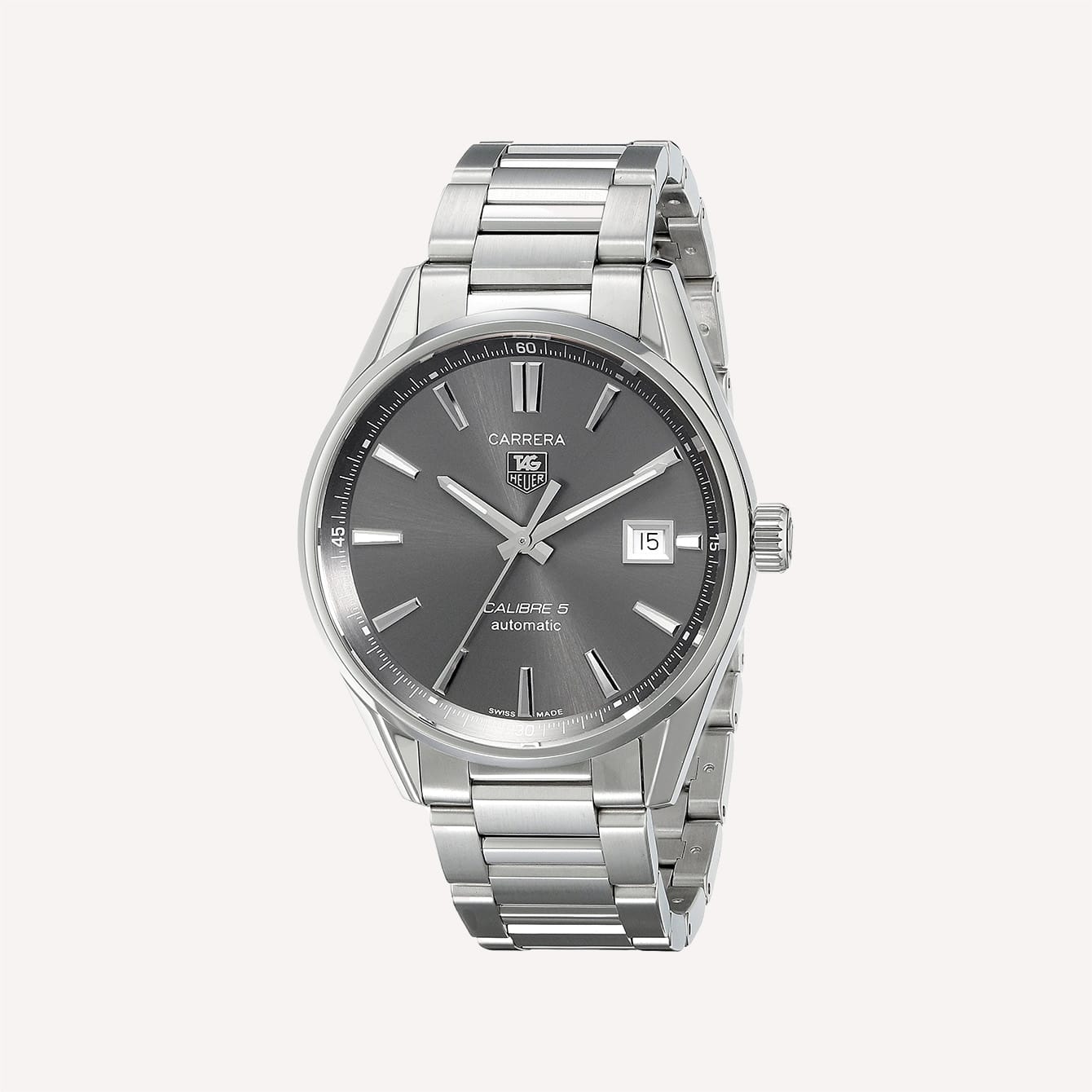 Originally just Heuer, automotive company TAG purchased them, and the car association became official.
They make their iconic models in several sizes. The Carrera, their flagship racer watch, comes in a 39mm. It's named after an open-roads race in Mexico often considered to be the most dangerous in the world.
As with any watch world icon, the Carrera has a recognizable design, a recognizable movement name with its Calibre 5, and a story behind it.
Dimensions: 39mm diameter, 12mm thickness
Case material: Stainless steel
Water resistance: 100m
The blue Carrera also comes in a 34mm women's. The main difference here is the cleaner edgework and bezel.
Zenith
Along with Tissot, Zenith is in the Le Locle clan of watchmakers, and was founded in 1865. What makes them unique is that they've consistently produced their movements in-house, a feat even higher-end Swiss brands can't always lay claim to.
Their most famous movement is the El Primero, which was horology's first integrated automatic chronograph movement. That the Rolex Daytona used to use this movement is a huge flex for Zenith -deservedly so!
Like Rolex, Zenith is known today for accuracy and precision. Sure they don't hold their value as confidently as Rolex does, but no brand really does.
Their famous El Primero Chronomaster comes in a 37mm version, which suits wrists big and small. These smaller versions look nigh identical to their bigger counterparts, except that the date is at the 4 o'clock position instead of the 6.
Everything else is there, including the stark stylized subdials, the sapphire crystal, and the exhibition caseback in all its 31-jewel glory.
Dimensions: 37mm diameter, 12.6mm thickness
Case material: Stainless steel
Water resistance: 50m
Longines
As an equestrian, I'm quite fond of Longines. While many Swiss brands boast sporty heritages, Longines is the only brand famous for its relationship to horse racing.
This has been the case since 1878, when Longines produced a chronograph with an engraved jockey on it. Today, they're partners with several equine-related sports.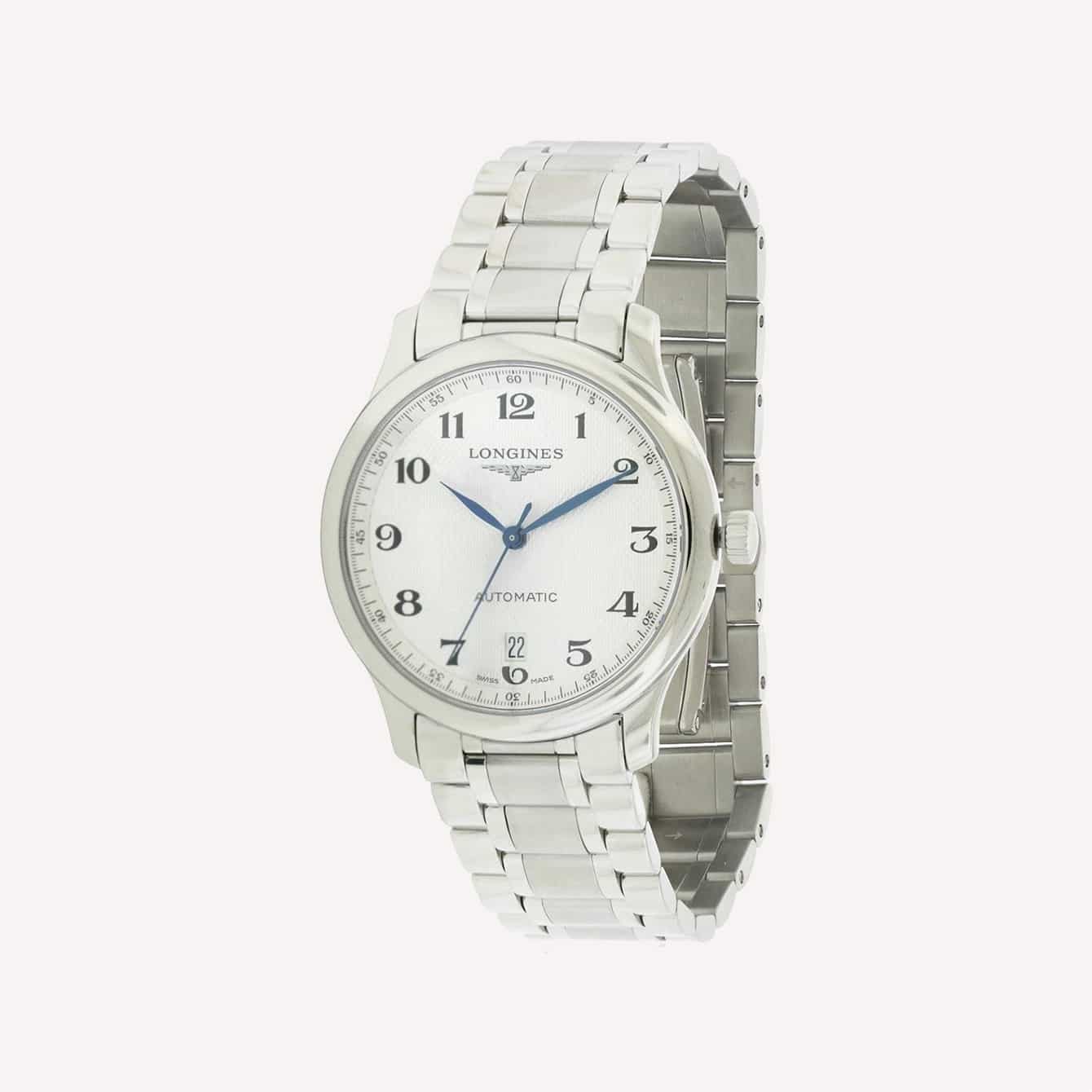 Like the sport it's associated with, Longines is known for endurance and performance, but with noble and borderline aristocratic design languages.
Pertinent to this quality of the brand, we're going to focus on their Master collection. All fitted with self-winding movements, the Master timepieces often combine romantic design features like Roman numerals and royal blue feuille hands, with sportier qualities like chronographs or power reserves.
The L26284786 Longines Master is an elegant standard. With no bells and whistles, this piece relies only on the high quality of build, featuring a legible and versatile face, a Swiss automatic movement, and a scratch-resistant sapphire crystal.
Dimensions: 38mm diameter, 9.5mm thickness
Case material: Stainless steel
Water resistance: 30m
Jaeger-LeCoultre
Another watch brand with ties to upper crust sports, Jaeger-LeCoultre has historically been a movement provider for all of the top brands, including Patek and Piguet. They're known for complex horological achievements, including an irreplicable clock that uses temperature to keep it ticking.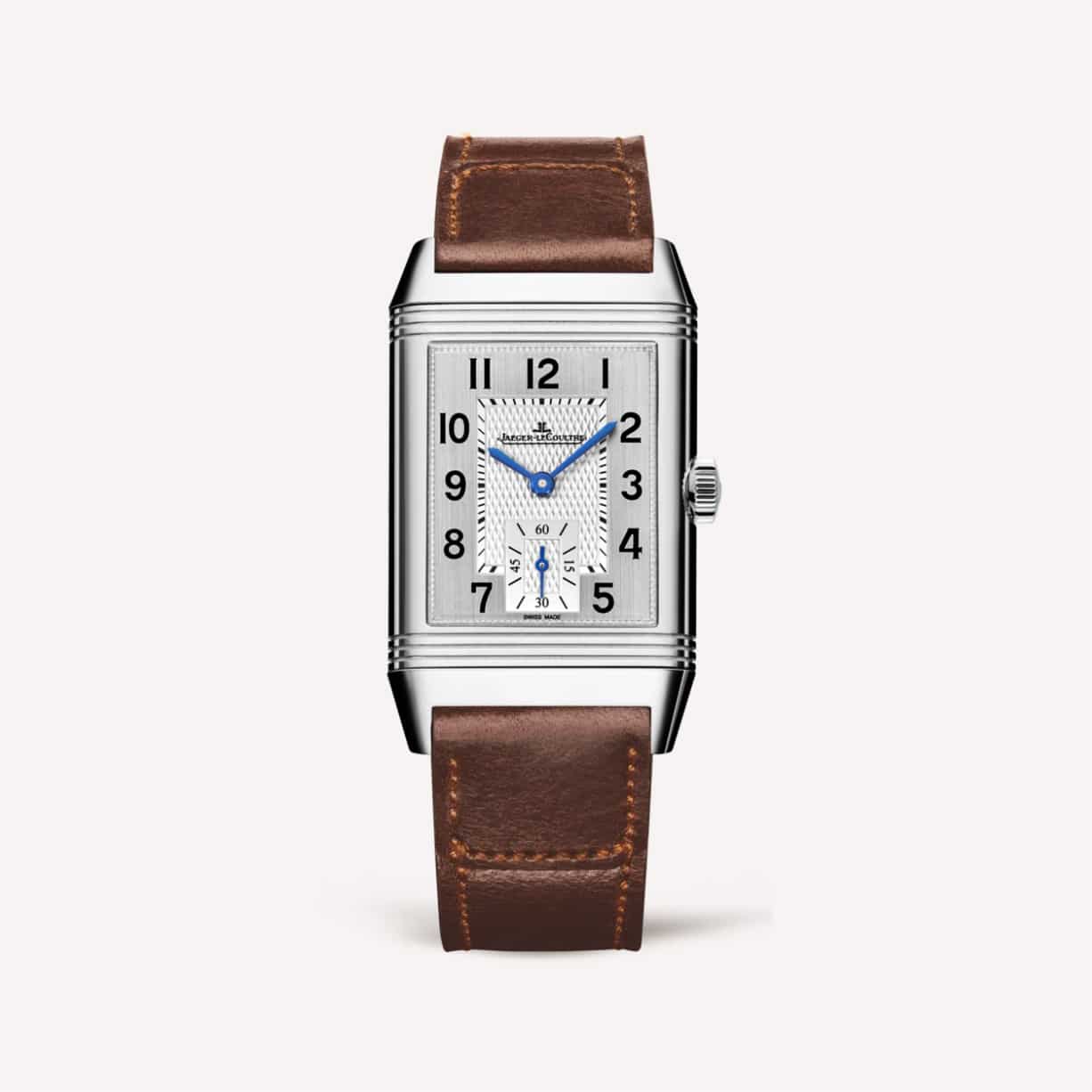 While not all of their inventions are practical, the brand is a veritable experimental laboratory for horology. This is why Jaeger-LeCoultre is known as the "watchmaker's watchmaker.".
If you love that old world, pheasant-hunting-in-the-English-countryside kind of charm, you'll likely find a timepiece or two in Jaeger-LeCoultre's collection that you love. While Longines is known for its relationship to horse sports in general, JLC's Reverso is tied to polo specifically.
It was built with a flippable dial as a means for protection while players were out on the field. And of course, its Art Deco aesthetic has a dress watch quality, since noblemen have to look fancy even while playing sports.
The medium-size Reverso's 42mm dial sits comfortably on small wrists, since it's only 25mm wide.
Dimensions: 42mm diameter, 8.6mm thickness
Case material: Stainless steel
Water resistance: 30m
If that's still too much dial real estate for you, there's a small-sized quartz version at 35mm, and a 34mm ladies version that's automatic, and arguably suits the rectangular dress style better than a 42mm size does.
Piaget
Piaget might be the perfect watch brand for those interested in Swiss craftsmanship who have small wrists. They're literally the go-to watchmaker for the world's thinnest movements. In fact, the Altiplano is the thinnest hand-wound mechanical watch ever.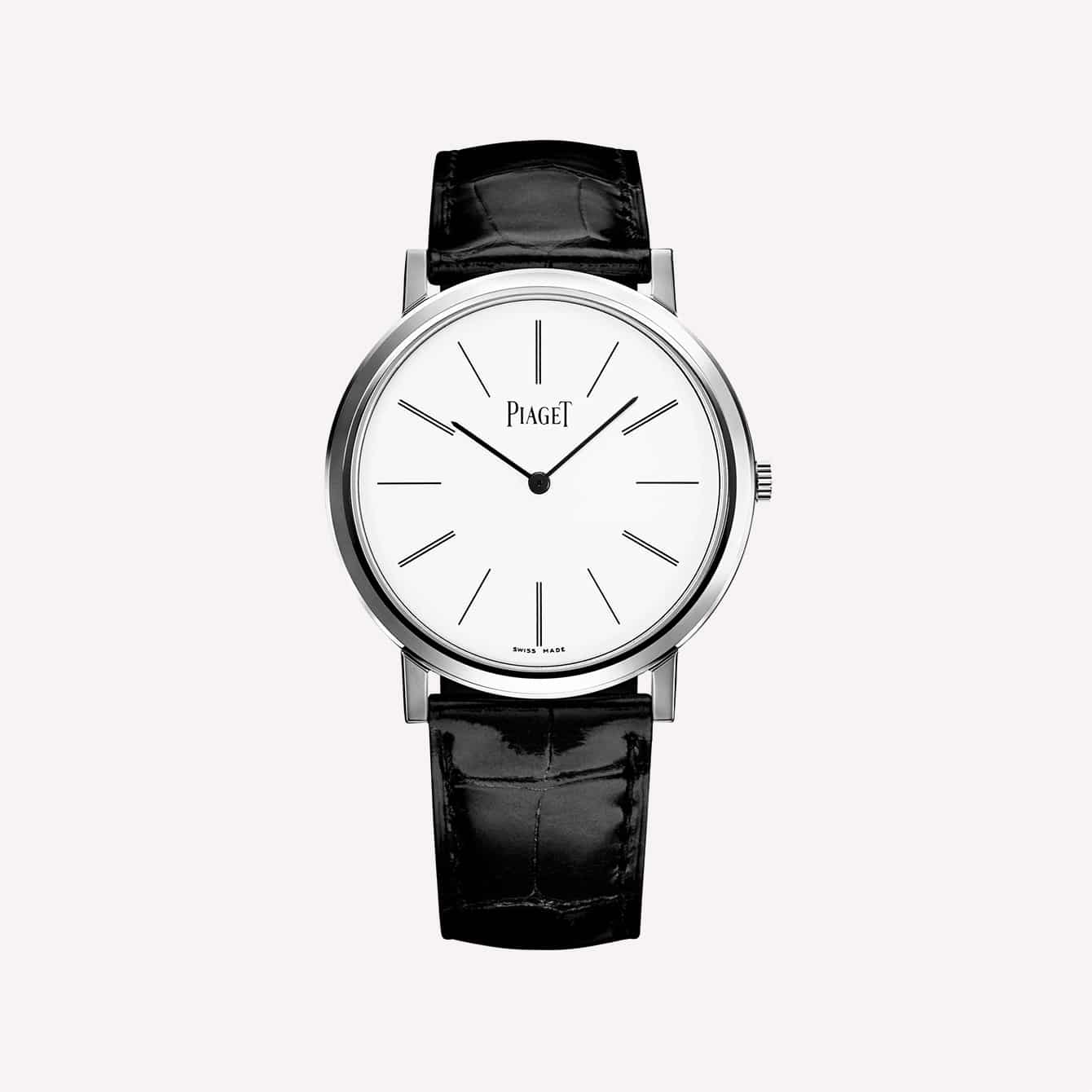 Piaget started in La Côte-aux-Fées in 1874 and is currently part of the Swiss Richemont group. They're famous for creating authentic horologically-focused timepieces with the artistic refinement of jewelry. This emphasis is likely why they're so focused on making slim mechanical movements.
The elegant and dressy Altiplano watch comes in a 38 mm variation, though Piaget does make several small men's watches. The Altiplano showcases the brand's watchmaking skills, with its Piaget Calibre 430P hand-winding movement and sapphire crystal. However, it's also a beautiful piece of men's jewelry, simply-designed with a precious metal case.
Dimensions: 38mm diameter, 6mm thickness
Case material: 18kt white gold
Water resistance: 30m
Baume et Mercier
Baume et Mercier is like the straight-A student of the Swiss watch brands. It's not necessarily always the most popular, but skill, quality, and reliability are assured.
Founded in 1830 in Swiss Jura, Baume et Mercier was originally known for complex complications, like chronographs.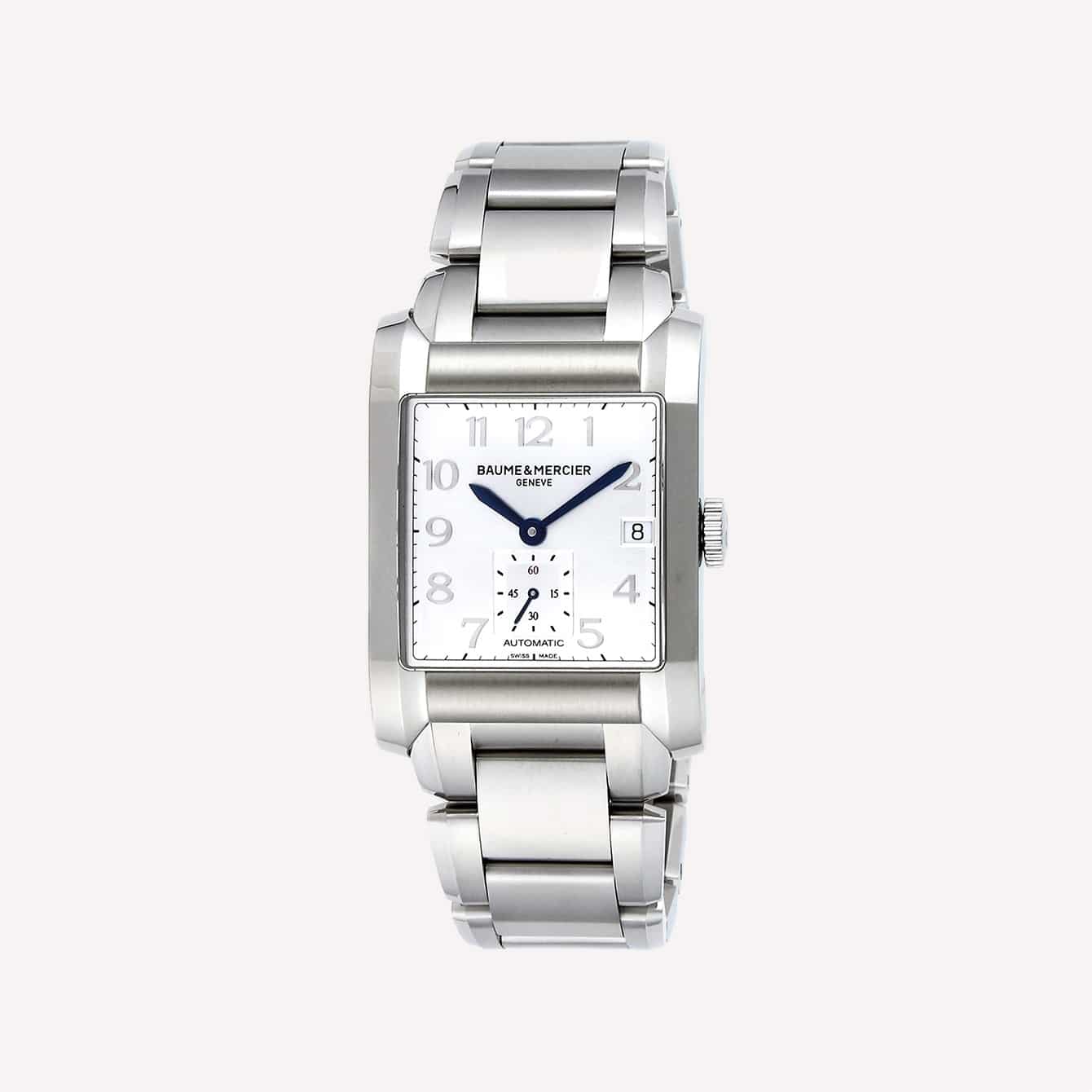 They've since won several Grand Prix awards, gold medals at international watch exhibitions, and even received the "Poinçon de Genève" quality hallmark, aka the Geneva Seal, which is given to high-quality watches by the state after a thorough product inspection.
Overall, these accurate and often creatively shaped timepieces boast quality and pedigree, and at lower prices than their more famous classmates.
Baume et Mercier invokes several past glory day models for their 32mm Hampton watch. The vintage aesthetic suits the small frame perfectly, while the sundial, automatic movement, and applied details perfectly balance charm and simplicity.
Yes, it's Art Deco, but it's a more delicate, entry-level Art Deco that can satisfy Deco and non-Deco fans alike.
Dimensions: 31mm diameter, 11mm thickness
Case material: Stainless steel
Water resistance: 50m
Van Cleef & Arpels
The tried-and-true reputation of Swiss watches doesn't always result in textbook designs. Like Piaget, Van Cleef & Arpels has a jewelry-like approach to timekeeping, with genuine scientific know-how in gemology.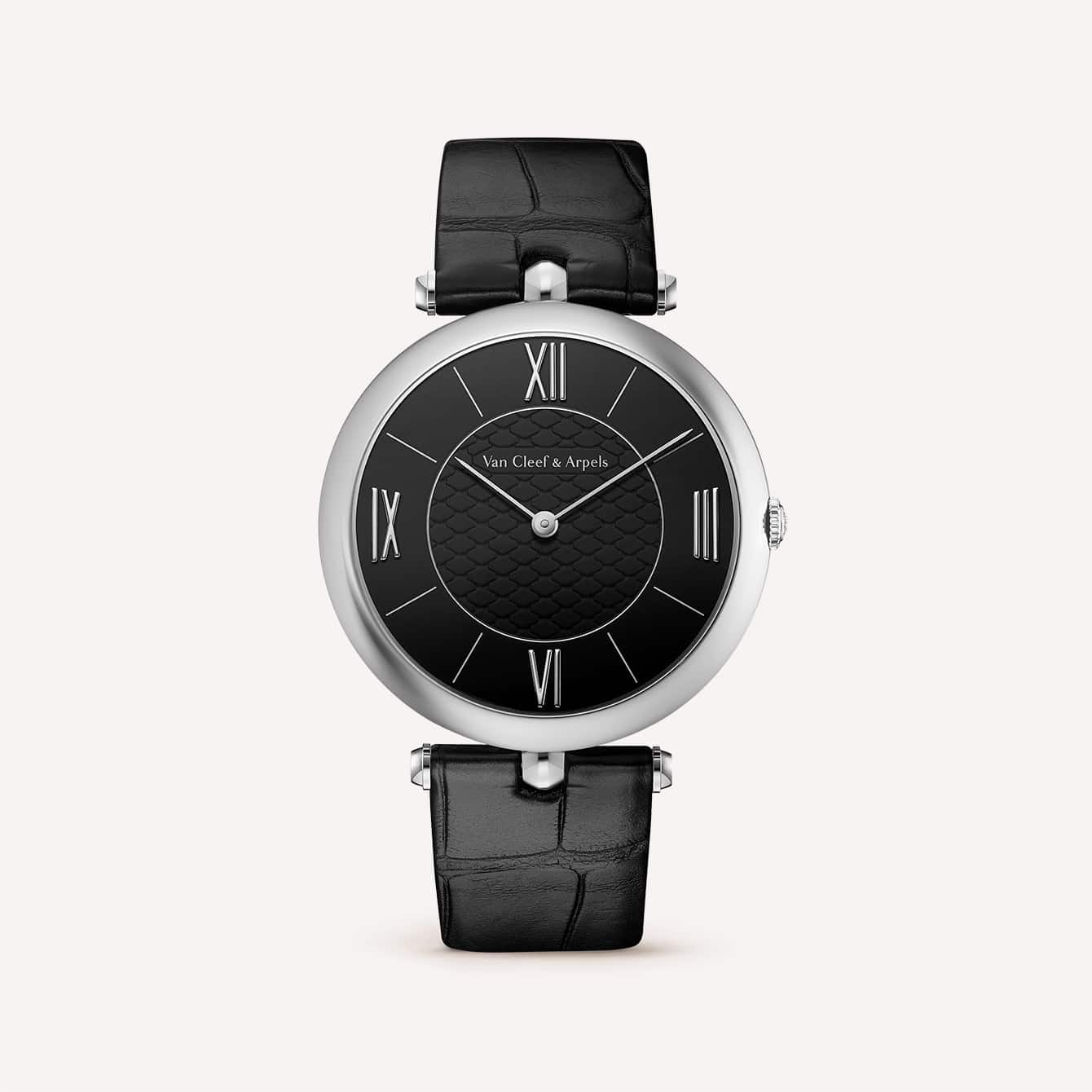 They serve up unique, almost irreverent timepieces, but often with a romantic undertone and always with respect to the craft of Swiss horology. If Van Cleef & Arpels were an Ivy League School, they'd be Brown.
They have many creative pieces, artistic enough to be included in several art exhibitions, including at the Cooper Hewitt in New York and at the Muséum National d'Histoire Naturelle in Paris. They aren't just pretty faces though.
Behind every beautiful dial on a Van Cleef & Arpels timepiece are skillfully built complications and movements.
Moreover, not all of their watches look like they're straight from a fairytale. The Pierre Arpels is a sophisticated dress watch, built with precious metals, this version featuring a platinum case.
The black lacquer dial sports a honeycomb motif while the platinum crown has a diamond on it, giving you a hint of the poetic aesthetic the brand is known for.
Dimensions: 32mm diameter, 8mm thickness
Case material: Platinum
Water resistance: 30m
Omega
I wouldn't call Omega un-fancy, but it's certainly the more down-to-earth brand in the elite club.
In any Christie's or Sotheby's catalog, you'll often find almost as many Omegas as you will Rolexes and Pateks, but they aren't the ones breaking the big records (though for most of us, the investment value of an Omega is pretty solid).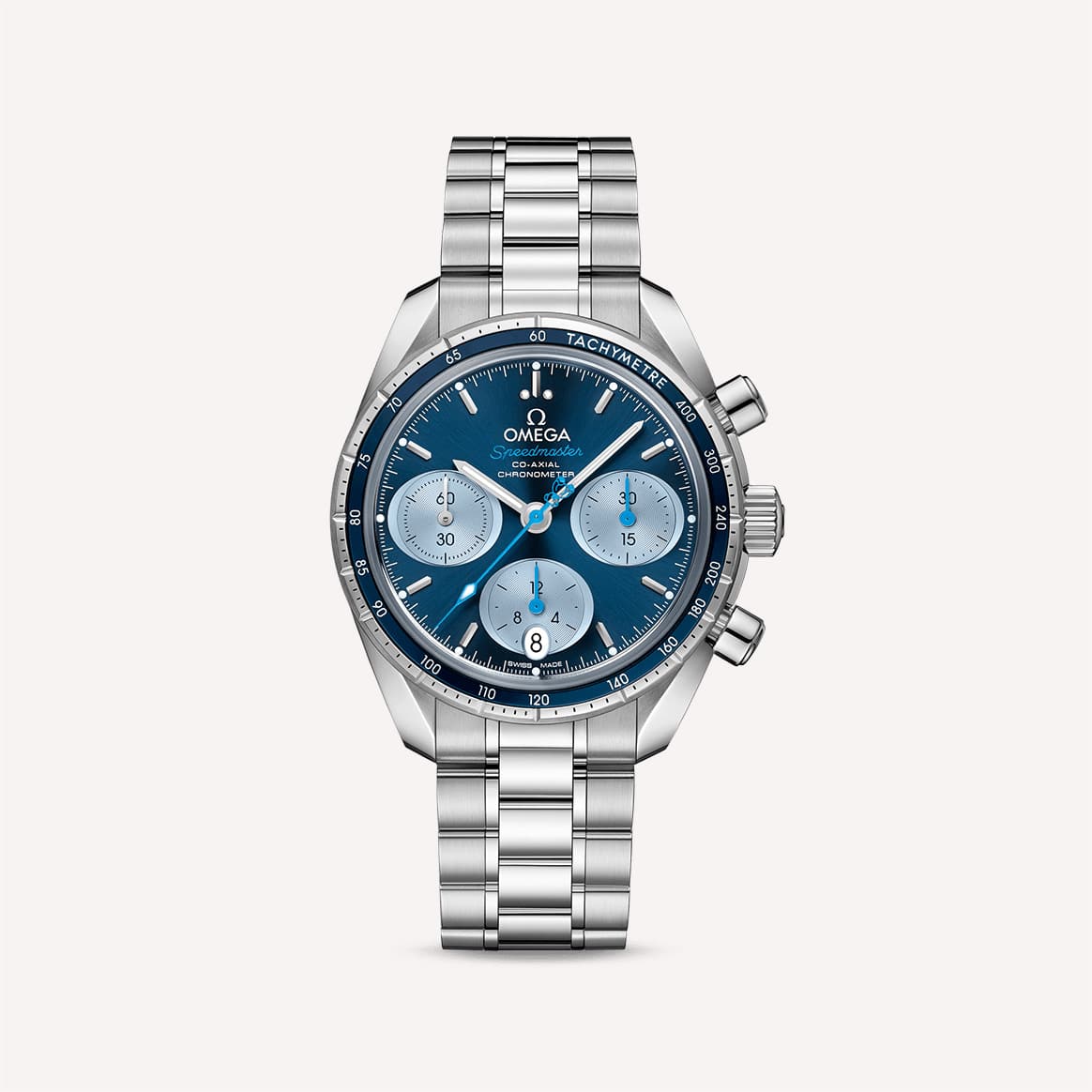 Historically, their Speedmaster is the moonwatch, while culturally, the Seamaster is the other Bond watch. Regardless, they aren't above building good quartz pieces or letting the Swatch Group adopt them so they could efficiently build a wider range of watches.
The Speedmaster is obviously their most famous watch. While it doesn't include the Moonwatch Speedy, the Speedmaster 38 line is a whole collection of reasonably-sized Chronometer chronographs with several sophisticated colorways.
The Orbis Speedmaster 38 sports a blue palette colorway, along with its co-axial equipped movement and COSC status.
Dimensions: 38mm diameter, 13mm thickness
Case material: Stainless steel
Water resistance: 100m
IWC
Despite being headquartered in Schaffhausen, Switzerland, the International Watch Company was founded by an American entrepreneur in 1868. IWC was known to offer sophisticated Swiss horology with brawny American engineering.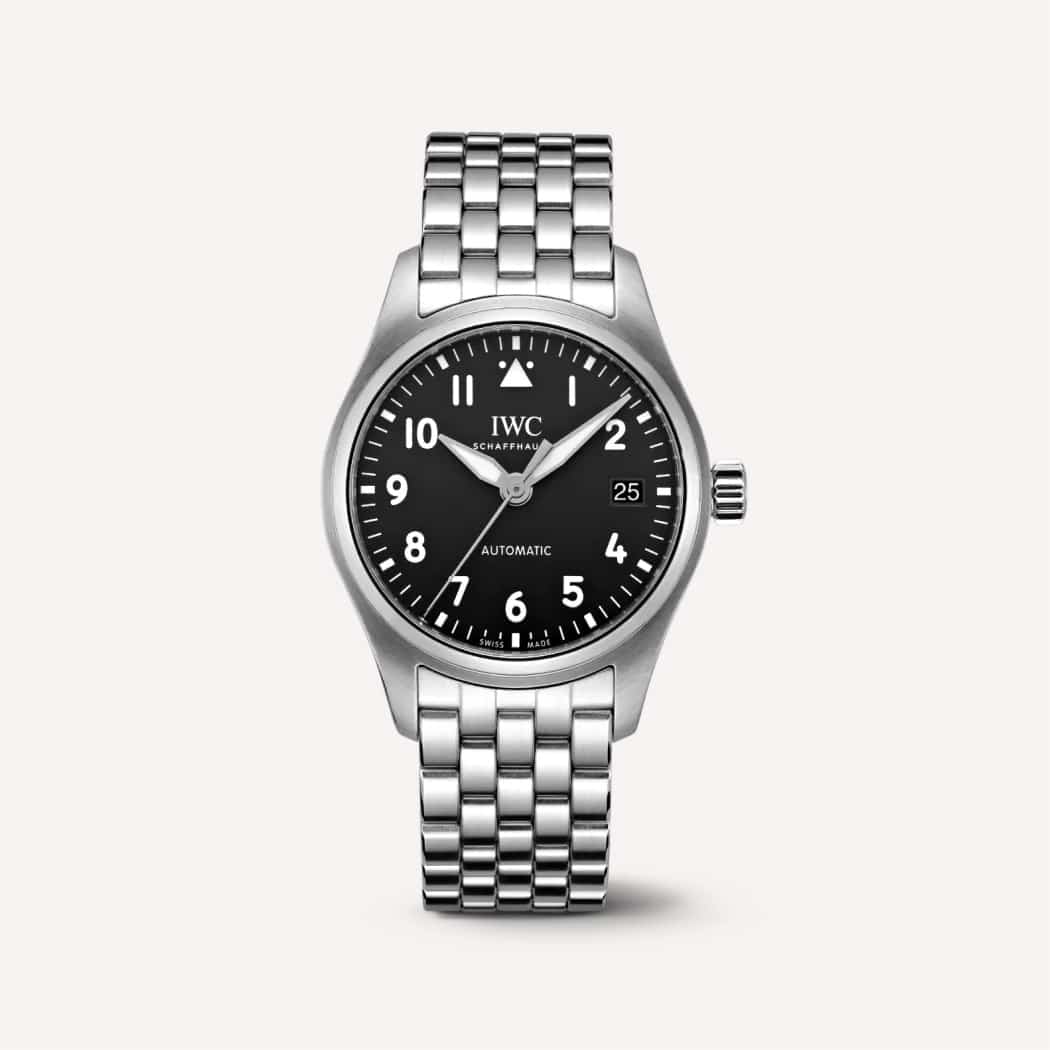 On top of that, it's the sole representative of German-influenced Eastern Switzerland. Suffice to say, IWC has always been about efficiency, even inventing the Pellaton winding system which uses every single part of the movement.
IWC isn't particularly known for small watches, but their iconic pilot watches are perfect examples of strong and efficient build combined with Swiss timekeeping.
The Mark, despite being 40mm, is proportionate to smaller wrists because of the simple silhouette and short crown. Meanwhile, the Pilot 36 is popular for its austere and legible face.
However, I prefer the Pilot IW324001. It sports the same clean look and efficient automatic movement, but the silky grey dial and stepped edges give it dimension while still being simple.
Dimensions: 36mm diameter, 10.5mm thickness
Case material: Stainless steel
Water resistance: 60m
Breitling
Breitling, founded in 1884 in Saint-Imier, gets its prestige from its precision-focused Chronometer watches, aviator pieces, and the maximalist markings on their dials. This comes straight from their heritage as the first watchmaker to put a chronograph inside of a wristwatch.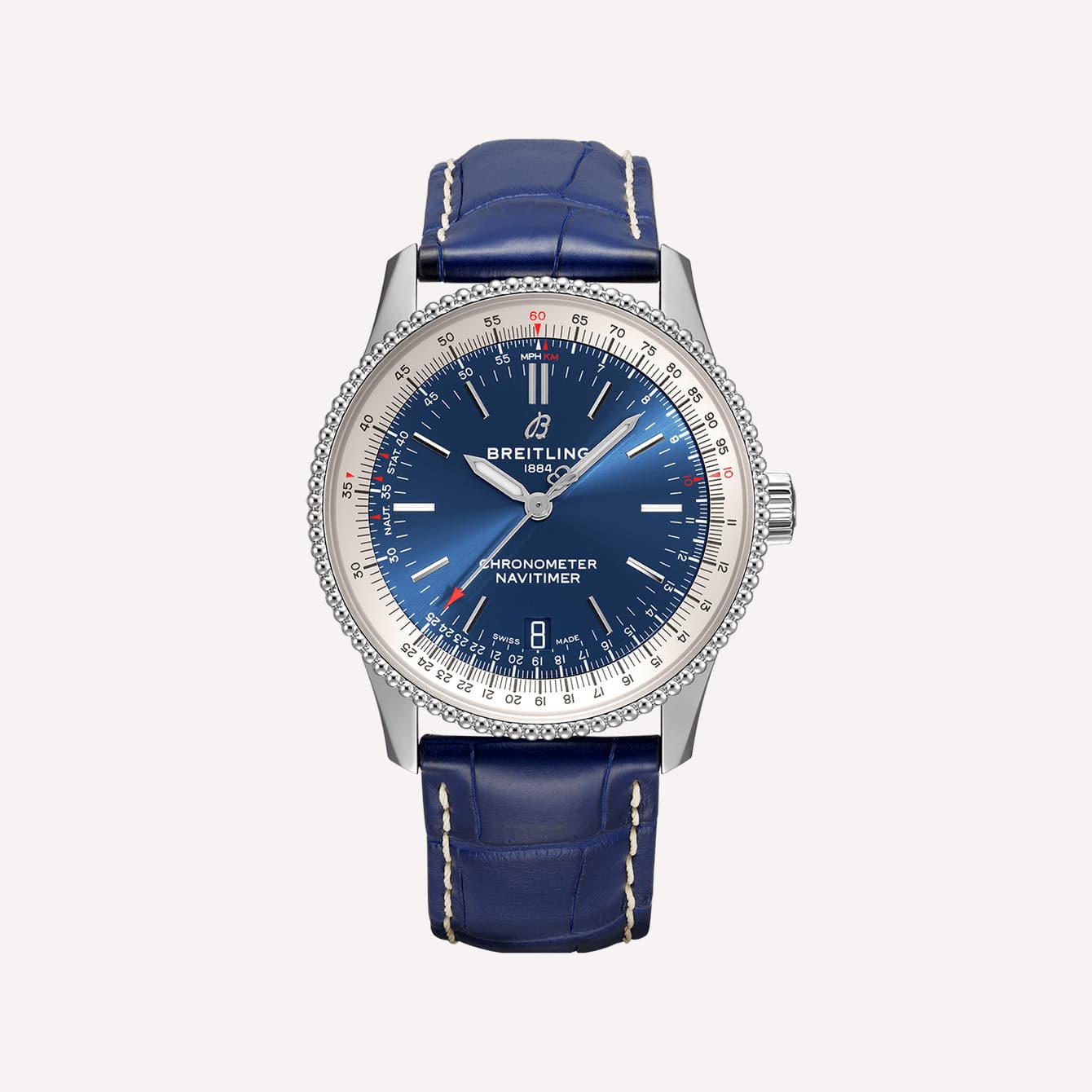 Breitling didn't invent chronographs. However, the founder's son, Gaston Breitling, updated it with a central second hand, a 30-minute counter, and pushers -basically the chronograph we're all familiar with today.
Presently, Breitling continues to give us novelty but quality. They introduced the Navitimer 1 Automatic 38 during Baselworld 2018. Per Breitlings well-loved design trademarks, it pushes the limits of how many lines and markings you can put on a dial.
Of course, this attention-grabber is an automatic Chronometer, and its bezel is a unique pearl-work pattern.
Dimensions: 38mm diameter, 10mm thickness
Case material: Stainless steel
Water resistance: 30m
Rolex
Despite the level of one's watch fluency, no one would ever be surprised to see Rolex on this list. It's literally the most recognized watch brand in the world. They boast over 400 patents, which means their watches are truly unlike any other out there.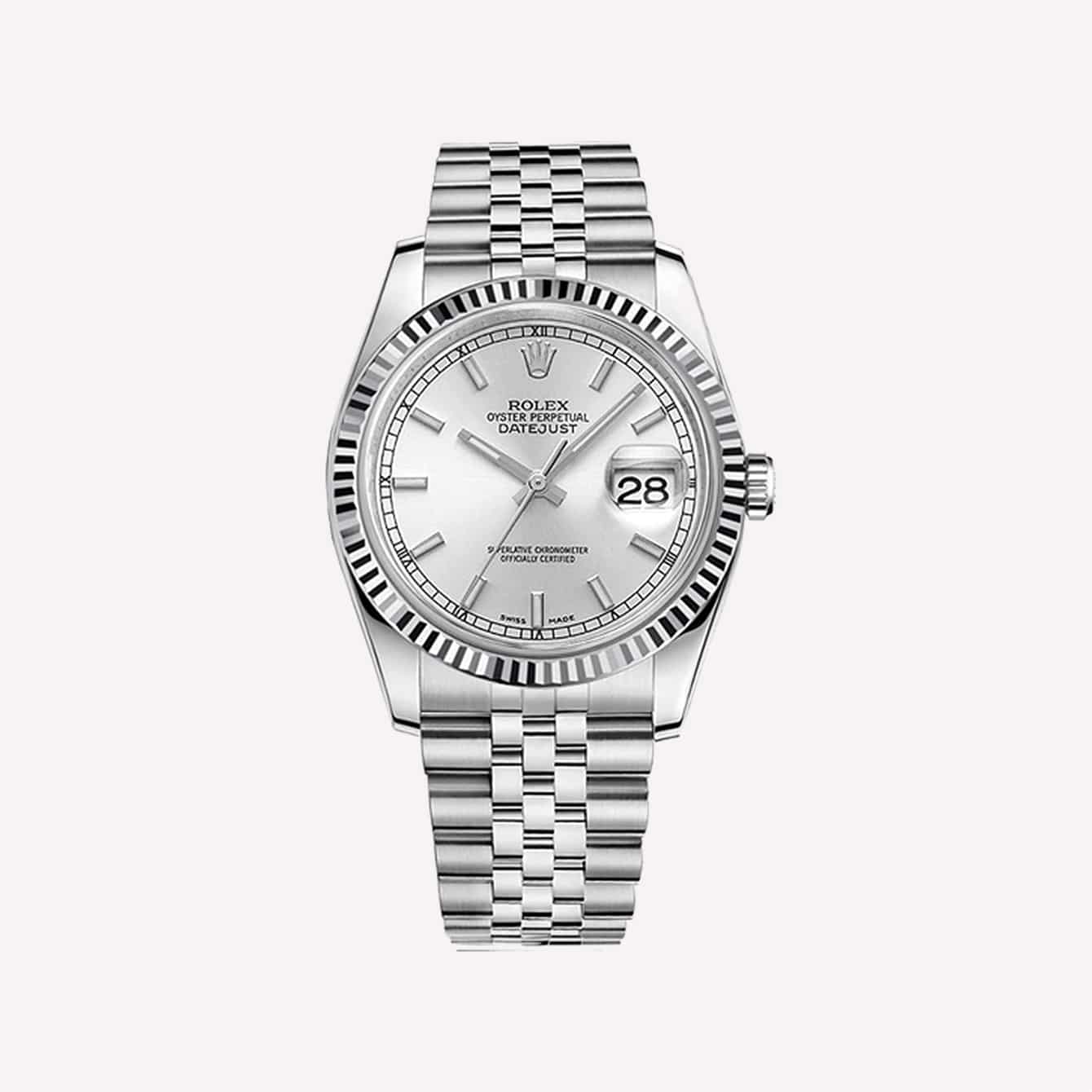 They even have their own stainless steel. Rolex Oystersteel is a type of 904L steel, often used in aerospace, that's durable and as anti-corrosive as precious metals.
The brand is historically and culturally important, with the Submariner being the most famous wristwatch in history. In case anyone needs convincing, you genuinely can't go wrong with a Rolex when it comes to quality, reputation, and investment value -budget willing, of course.
If you want a Rolex below the 40mm mark, there are a few options like the Explorer I or the standard Oyster Perpetual. There's also countless vintage models out there.
One of the reasons Rolex is so popular is that their designs are legendary, the Datejust being one example of this. It's refined and strong, featuring that iconic pie-pan bezel. Though not patented, this bezel will always be associated with the Datejust.
Rolex also goes above and beyond. There isn't a big need for a dress watch to have a 100m water resistance or be as strong as the Datejust is. Since it can be worn with basically any outfit, having this level of quality makes it an effective everyday watch. You'll get a lot of wear with a Datejust.
Dimensions: 36mm diameter, 11mm thickness
Case material: Stainless steel
Water resistance: 100m
Blancpain
Blancpain is notable for two reasons. First, it's a survivor brand that is almost 300 years-old. Founded in 1735, this makes Blancpain the oldest watch brand in the world. Second, they're known for inventing the world's first automatic tourbillon watch, complete with an eight-day power reserve.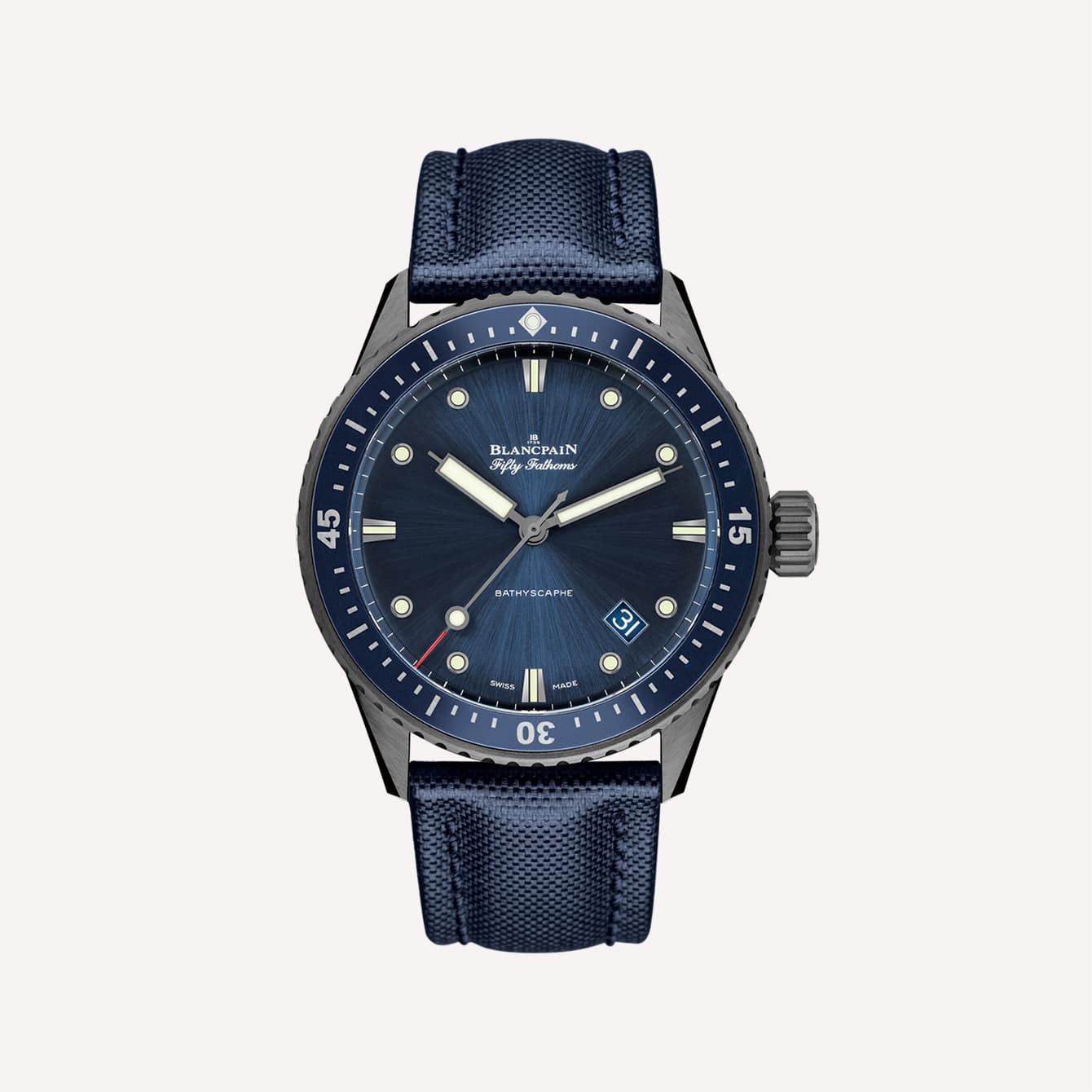 Two years later, in 1991, they'd build upon this with the Blancpain 1735, the most complicated mechanical watch ever made.
One of their most famous models is the Fifty Fathoms. The Fifty Fathoms Bathyscaphe 38 is a take on that model, with a 38mm case size.
It comes with all of the classic dive watch necessities, along with a beautiful silky dial and the automatic Blancpain Calibre 1150, which has a whopping 100 hours of power.
Dimensions: 38mm diameter, 11mm thickness
Case material: Stainless steel
Water resistance: 300m
Breguet
Breguet will always have a level of importance in the watch world, not least of which is because its founder Abraham-Louis Breguet created the first ever self-winding watch.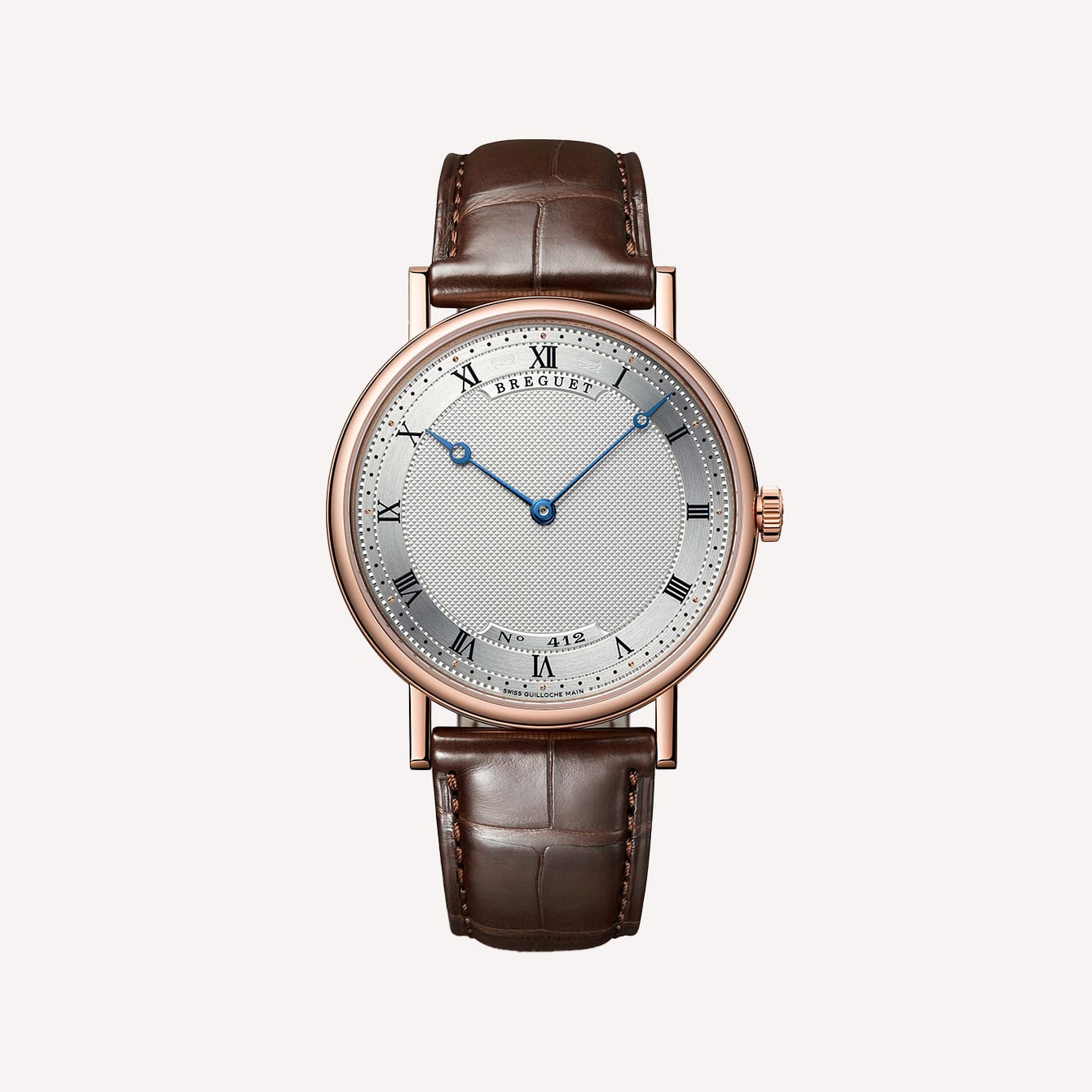 Then, at least according to some sources, Breguet provided the first wristwatch ever to the Queen of Naples in 1810. Others claim it was Patek who made the first, for Countess Koscowicz of Hungary, in 1868.
Whether it's all fact, or half fact and half lore, Breguet definitely at least brought us automatics. And even in an age in which we don't need watches to tell time, much less automatic watches, they remain the most highly desired.
The extra-thin Classique 5157 is a quintessential Breguet. An 18kt gold case with a timeless round silhouette, this Classique is adorned with stately Roman numerals, the famous Brequet hands, and a guilloché dial.
The self-winding movement is also beautiful, boasting a hand-engraved rose engine that you can admire through the sapphire caseback.
Dimensions: 38mm diameter, 5.4mm thickness
Case material: 18kt gold
Water resistance: 30m
Vacheron Constantin
And so we enter the Holy Trinity of Swiss watch brands. While Blancpain is the oldest watch brand, Vacheron Constantin, founded in 1755, is the oldest with uninterrupted history (Blancpain went out of business in 1932 for some time).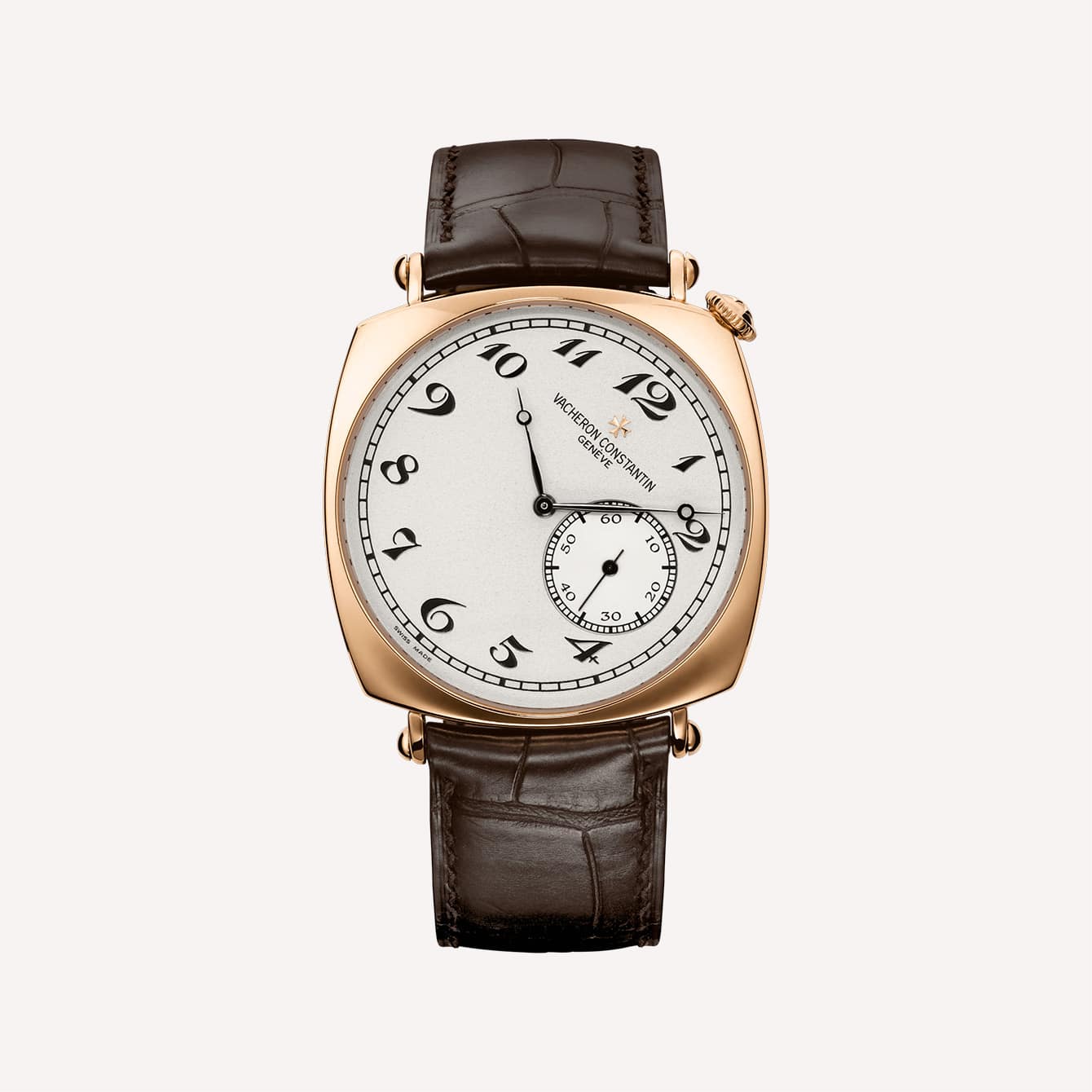 Today, Vacheron is known for elegant timepieces that are finely finished. They're known for beautiful movements, inventive dial and case designs, and attention to detail. If you're looking for a Baroque status symbol, Vacheron is the brand for you.
The Vacheron Constantin Historiques American 1921 is definitely a conversation starter. Its slanted dial and Wonderland-esque indices are fanciful and cheeky. Yet its 18kt gold construction and horologically impressive super-thin automatic movement are quite serious, and undeniably sophisticated.
Dimensions: 36.5mm diameter, 7.2mm thickness
Case material: 18kt rose gold
Water resistance: 30m
Audemars Piguet
Audemars Piguet is the avant-garde member of the Big Three. As a brand, AP has always been artfully progressive. They made the first skeleton watch, now the watch designers' go-to "eccentric" composition, and they introduced the first minute-repeating movement.
During the quartz crisis, Audemars Piguet fell on hard times. Highly-regarded watch designer, Gerald Genta, leaned into the brand's experimental approach, and created the world's first steel sports watch, the Royal Oak.
Of course, the AP Royal Oak is their most beloved line today. Fortunately for those of us with slimmer wrists, it comes with a 37mm case.
The Royal Oak perfectly encompasses the AP brand's bold design sensibilities, and its ambitious horological approach. This guy runs on a 40-jewel automatic movement comprising 280 parts.
Dimensions: 37mm diameter, 9.8mm thickness
Case material: Stainless steel
Water resistance: 50m
Patek Philippe
Patek Philippe holds its value to a level above and beyond that of the other two brands in the Swiss Triumvirate. Founded in 1839 in Geneva, Patek has an almost monopolistic grip on world records when it comes to most expensive auction results.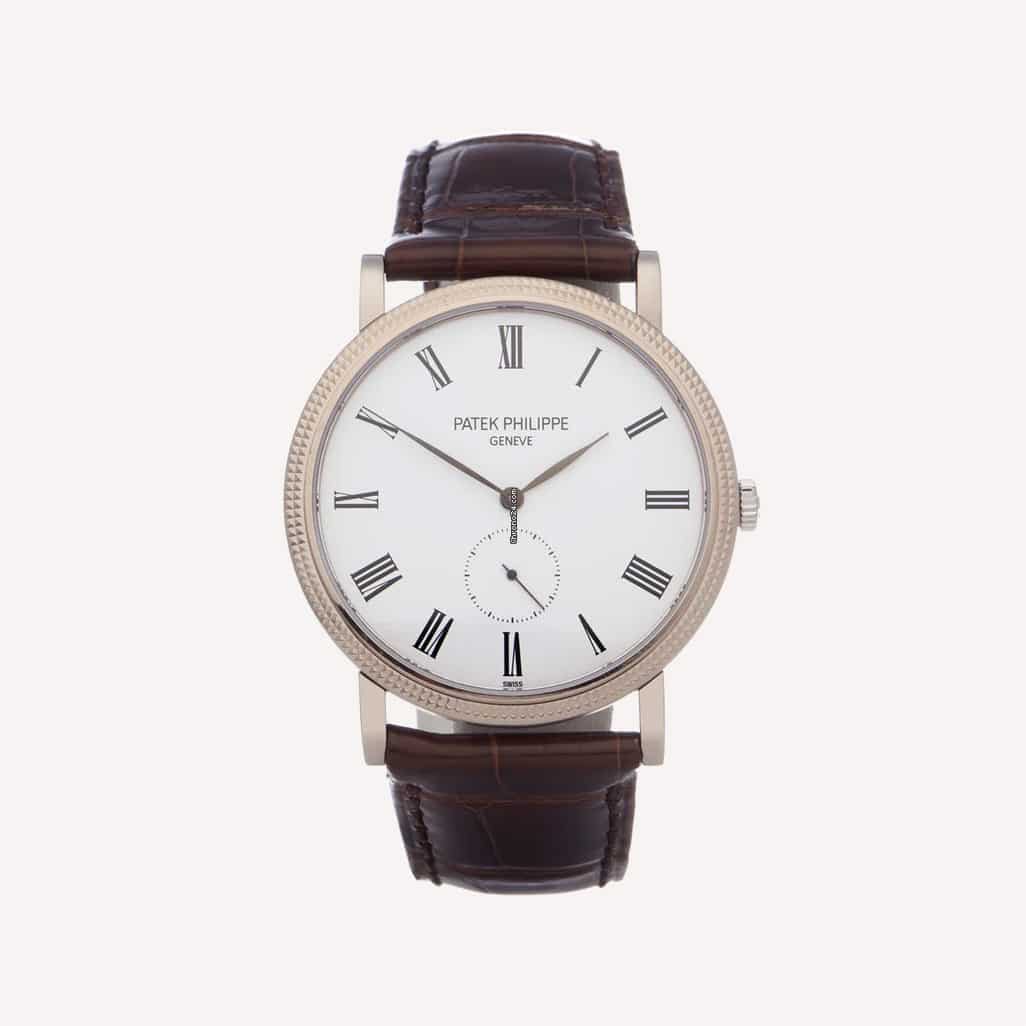 Money aside, there's no doubt that Patek is one of the finest timekeepers in the world. They create heirloom-worthy pieces with movements that are precise, durable, and can last you forever. The Nautilus is one of their most famous models, and therefore worth mentioning.
Since it was also designed by Gerald Genta, it does have a lot in common with the AP Royal Oak, which we already covered.
Instead, let's look at the standard-bearer for the simple round-cased guardless dress watch, the Calatrava. It comes in several variations, from baton hands to Roman hands and clean bezels to beaded ones.
I think that the white gold beaded case with the small seconds subdial perfectly balances timeless simplicity with a hint of ornateness. Regardless of which you go for, any Calatrava boasts technical brilliance and strong investment value.
Dimensions: 36mm diameter, 8mm thickness
Case material: 18kt white gold
Water resistance: 50m
Conclusion
There are plenty of reasons to go the Swiss watch direction. On the higher end of watch-buying, many of the best-made timepieces really do come out of Switzerland. For the budget crowd, you might be advised to just find a more affordable Asian equivalent.
This is certainly good advice since a lot of Seikos are cheaper and just as good as lower-priced Tissots or Mondaines. As always though, watch buying should be fun. Once you do your research and decide that the Swiss Made label will make you happy, then go for it.
Questions? Comments? Leave them below!